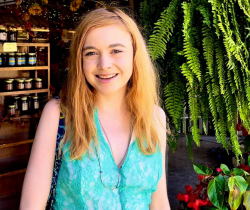 Latest posts by Erin Jamieson
(see all)
The Cannes Music Festival has always been a major event not only for film but also for fashion. And 2022 was one of the best years to see ideas for accessorizing your look, including the diamond hoop earring trend.
The theme of the night was clear: glamorous diamonds. Diamonds, of course, are a classic for such events, but it was clear that, after a year hiatus, guests and nominees were determined to make a brilliant splash.
Likely the most eye-catching look of the evening could be claimed by Maggie Gyllenhaal, with her 43-carat Chopard diamond necklace. There were other large carat accessories on display, including the 10-carat diamond ring (also Chopard) worn by Bella Hadid.
And most notable? Diamond hoop earrings. As stunning as Gyllenhaal's necklace was, it was her matching diamond hoop earrings that showed how much the trend can transform a look.
The good news: you don't need to have a celebrity budget to wear diamond hoop earrings. But you do want to be selective when it comes to buying the best options. In this guide, I'll tell you what you need to know about diamond hoop earrings, how to select them, and my ideas for 2022. 
Are Diamond Hoop Earrings in Style?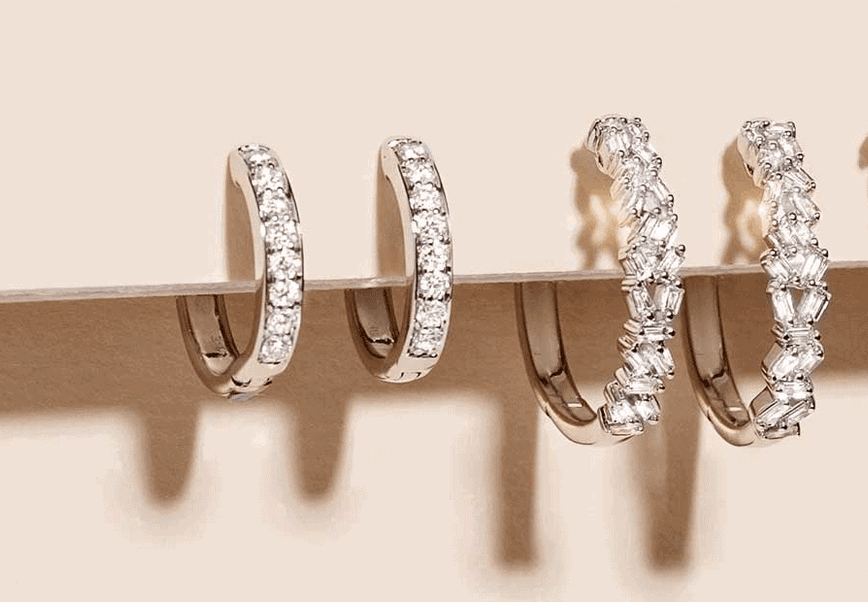 Diamond hoop earrings are very much in style for 2022. Diamond hoop earrings are always a safe bet– they have a classic, timeless appeal that can work with any formal outfit and even some casual outfits. But hoop earrings are quite interesting.
Hoop earrings are not as much of a classic as diamond stud earrings, but they've been increasingly seen in 2020 and 2022. Hoop earrings are being worn by influencers and everyday Americans.
 Perhaps in the wake of all that happened in 2020, accessories have become more expressive and personal. While minimalist looks are not out of style, there's not a trend toward more glamorous and bolder statements. 
What Does a Diamond Hoop Earring Symbolize?
While many simply opt for diamond hoop earrings for the style, add from wear them for symbolic meaning. The first hoop earrings were said to have appeared in 2500 BC in Nubia (modern-day Sudan). They were also commonly worn in Ancient Egypt, and later civilizations, as a sign of social status. 
Today, hoop earrings symbolize strength, infinity, insurance, and completeness. They have also been commonly worn amongst minority populations as a sign of strength and are particularly prominent in Latin cultures.
Diamonds symbolize commitment, endurance, strength, love, and even spiritual meanings, such as courage and faith. Taken together, diamond hoop earrings carry powerful symbolic meaning.  
Can I Wear my Diamond Hoop Earrings Every Day?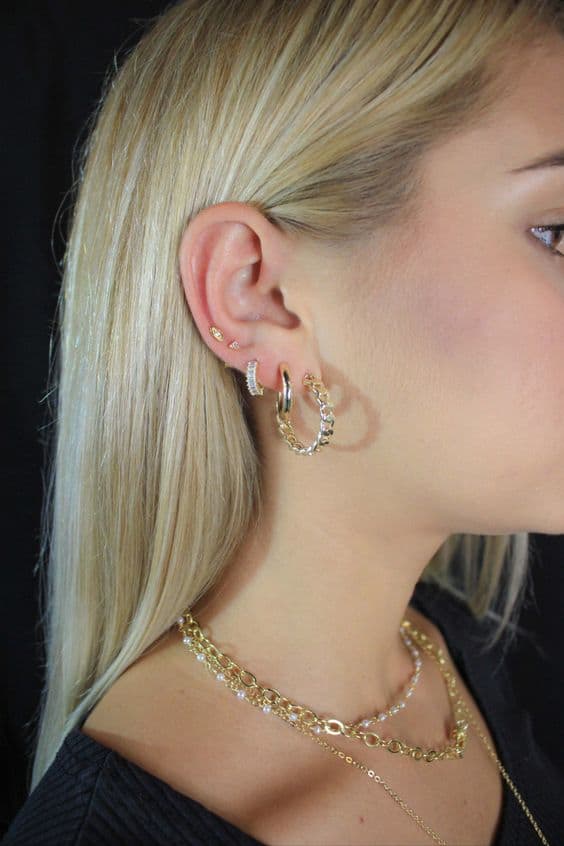 Diamond hoop earrings are a natural choice for a special occasion– but what about wearing them every day? One exciting thing about fashion in 2022 is that trends are becoming more and more both personalized and flexible. Because of this, you can spot diamond hoop earrings being worn not only for formal occasions but also for everyday clothing.
The good news is that if you invest in solid-quality diamond hoop earrings, you can wear them every day. But you also need to be mindful about how and where you wear them.
Should You Wear Your Diamond Hoop Earrings to Bed?
While falling asleep with your earrings in doesn't necessarily mean they'll become damaged, I highly recommend taking your diamond hoop earrings out before going to bed.
Even for high-quality earrings, pressure can dislodge or even break prong settings. Plus, wearing earrings to bed can have negative effects on your ears. The only exception is a stud for a new piercing, according to the official instructions you receive. 
Can I Wear My Diamond Hoop Earrings in the Shower?
Diamonds themselves have a high-level surface tension– when exposed to water, droplets will form. But the biggest concern is not the water so much as the soap and other agents they will be exposed to.
There really is no reason to wear diamond hoop earrings in the shower, and there's a chance they may become damaged. Even natural oils and gentle soap over time can leave a film, which reduces the brilliance of your diamonds.
There are also metal types you shouldn't get wet with. Base metals, such as brass, bronze, and copper, can even turn your skin green if they get wet– which is one reason I personally don't recommend buying any diamond jewelry with these metals. 
How Often Should You Clean Diamond Earrings?
Another important tip: clean your jewelry. For diamond hoop earrings, you should clean them whenever they start to look a bit dull. For earrings you regularly wear, once a month is a good rule of thumb. 
To safely clean your diamond hoop earrings, prepare a warm water and bleach-free, gentle dish soap solution. You can soak your earrings for 15 to 30 minutes, then gently dry with a cloth or let them air dry. 
How Do You Select the Best Diamond Hoop E

arrings?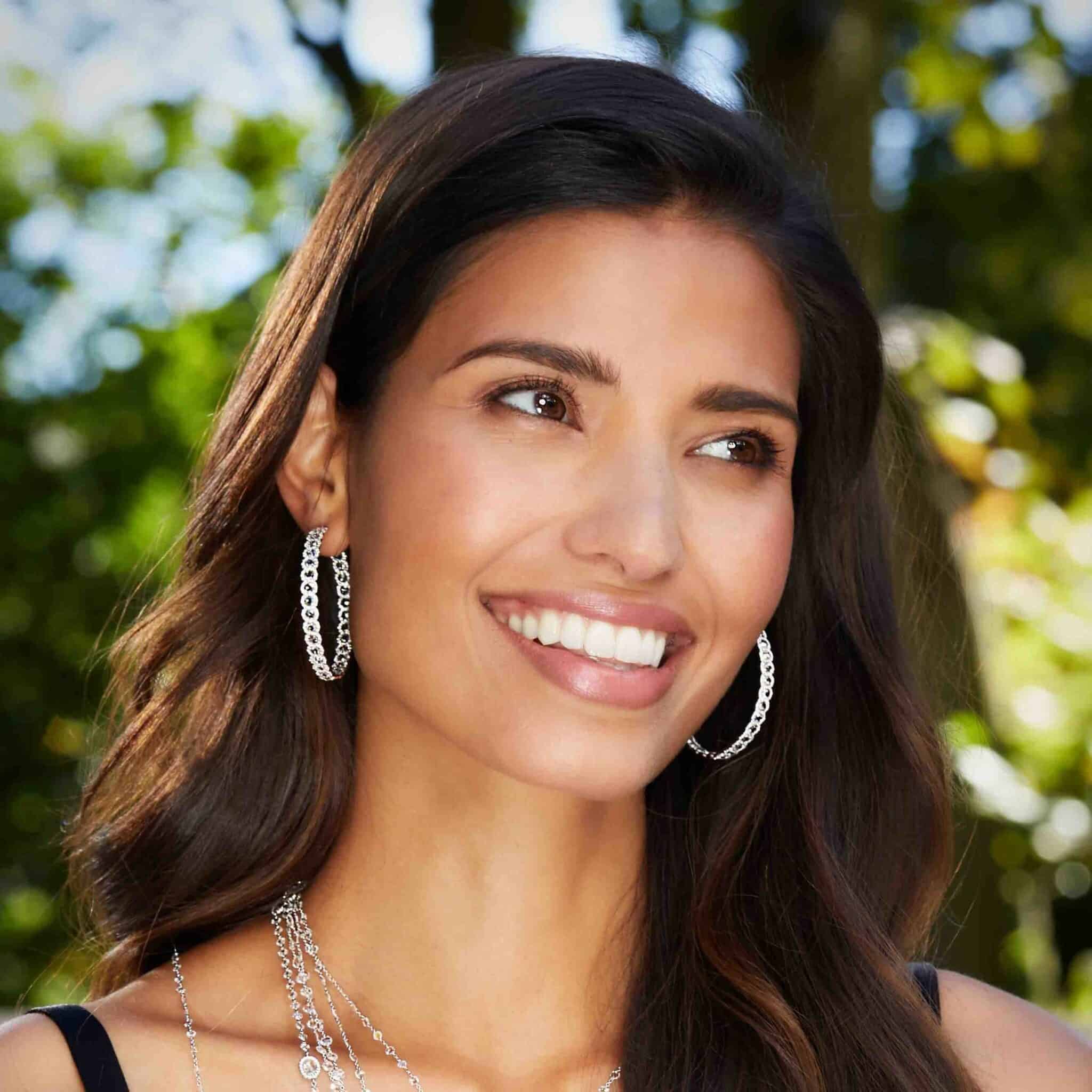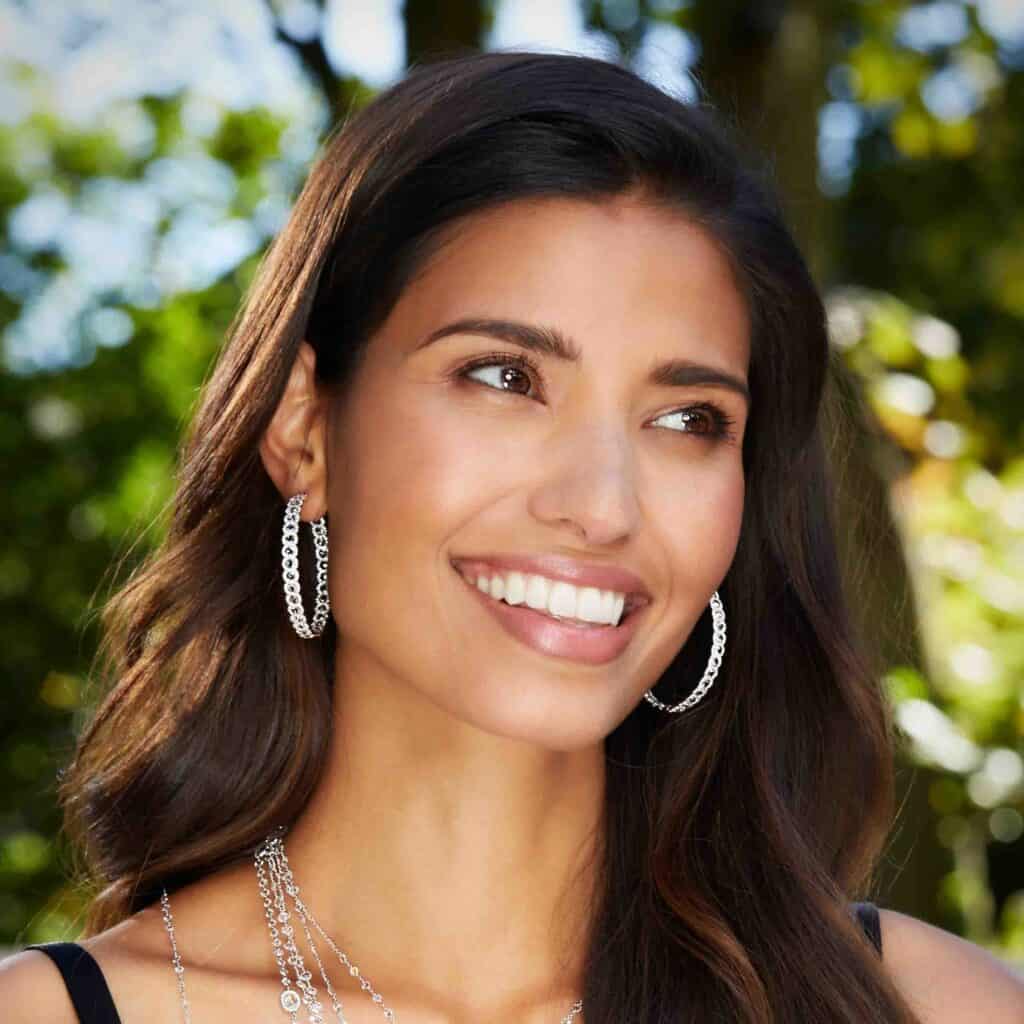 When selecting diamond hoop earrings, you don't have to be quite as picky as you should be when buying a diamond engagement ring. That said, you still need to pay attention to quality if you want earrings that will last. You also need to be realistic about the cost and who you should buy from. 
How Much Does a Real Diamond Hoop Earring Cost?
Diamond hoop earrings can cost as little as $150 up past $10K and beyond. You'll pay a deal more for hoop earrings covered in diamonds vs. small hoop huggie earrings with tiny diamond accents. Another big factor is metal type.
Base metals will be the cheapest, followed by stainless steel (which are hard to come by) and sterling silver. Aside from stainless steel, the most durable options– 14K to 18K gold or platinum– are going to add to the cost. Expect an average of $300 to $3,000 for a pair of diamond hoop earrings. 
How Can You Tell if a Diamond Hoop Earring is Real?
Diamond hoop earrings ideally should be purchased by a jeweler who specializes in fine jewelry and/or diamonds. That's why my top picks all come from reputable names in the diamond industry.
In addition, there should be some information about the cut, clarity, and color of the diamonds–or the ability to inquire. I also look for a history of sales, consumer reviews, and a detailed description. 
Make sure to be aware of terms, as well. Lab-grown diamonds are real diamonds that have the same physical properties and are as durable as natural diamonds but less valuable and thus don't cost as much. If the diamonds are labeled simply as man-made, read carefully: you may be buying a diamond simulant. Too-good-to-be true prices are also a bad sign. 
Already bought your earrings? Take a look at the scintillation. Diamonds should have clear to white scintillation (vs. rainbow hues) and refract in multiple directions.
What's the Best Metal for Diamond Hoop Earrings?
My personal favorite metal for overall value is either 14K or 18K gold (white, yellow, or rose). Used commonly in fine jewelry, both are more valuable and offer more luster than 10K gold but aren't as soft as 22K gold. Platinum will be about as durable as you can get, but it can get pricey. 
As an alternative, stainless steel can be a great option. It's durable, sleek, and quite affordable. The bad news is that there aren't many diamond, stainless steel hoop earrings to choose from, so you'll have more limited hoop earrings styles to choose from. You'll also still need to make sure you're buying from a reputable seller. 
Diamond Hoop Earrings: My Ideas
With all of that criteria in mind, here are my top picks for diamond hoop earrings in 2022. These come from respected diamond retailers and in contemporary and classic styles. I've focused on quality while keeping in mind tighter budgets as much as possible. All of these earrings feature genuine diamonds and thoughtful craftsmanship, hopefully for earrings that will become a staple for you for years to come. 
My picks are priced from most to least expensive under each brand. 
Blue Nile Diamond Hoop Earrings
Founded in 1999, Blue Nile primarily sells diamonds online but also has showrooms in New York, Virginia, New Hampshire, Oregon, and Washington. They employ a team of experts in the industry and focus on diamond cuts to enhance sparkle.
Will diamonds are either lab-grown or responsibly mined and conflict-free. They do offer diamond price matching for loose diamonds and engagement rings, and even their other pieces tend to be a fair price per industry standards. All diamonds are GIA-rated and certified. 
Their diamond hoop earrings are most eternity hoops, with some other options, like classic princess cuts and petite huggie hoops. The styles are modern with a classic appeal. 
Shop All Blue Nile Diamond Earrings Here (includes studs and dangle/drop).  
Petite Diamond Huggie Hoop Earrings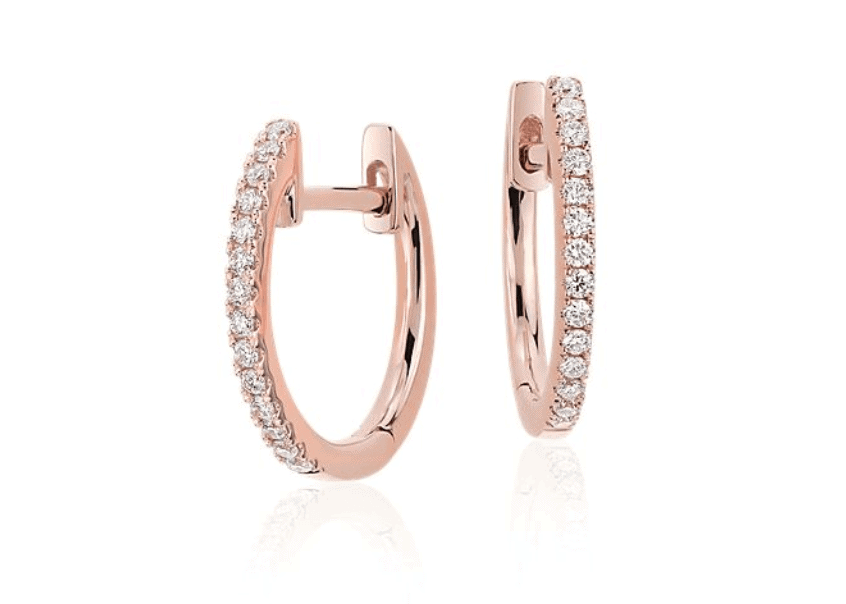 The Blue Nile favorite, these petite diamond huggie hoop earrings are accented with 1/10 carat of brilliant-cut pave diamonds. The brilliant cut is widely known as the optimal cut for sparkle, meaning you'll enjoy more scintillation than you might expect from the modest carat weight. These petite huggie hoop earrings are well proportioned and available in 14K rose, white, or yellow gold. Buy Here. 
Diamond Pavé Hoop Earrings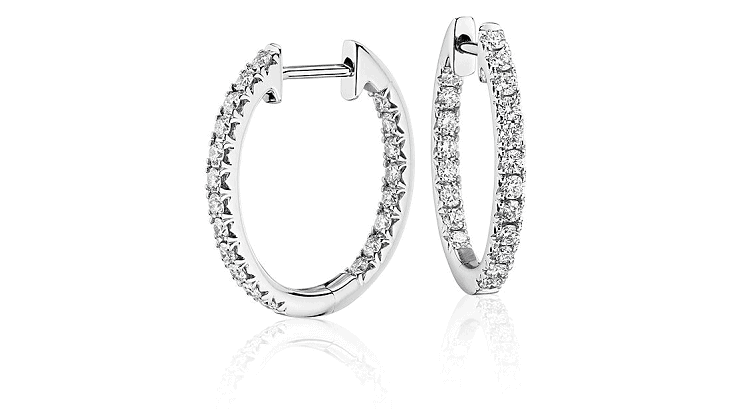 These best-selling diamond hoop earrings from Blue Nile feature 20 prong-set diamonds for a total carat weight of 0.60. Available in 14K white or yellow gold, these classic but contemporary diamond hoop earrings will become an instant staple in your wardrobe. Buy Here . 
Princess-Cut Diamond Hoop Earrings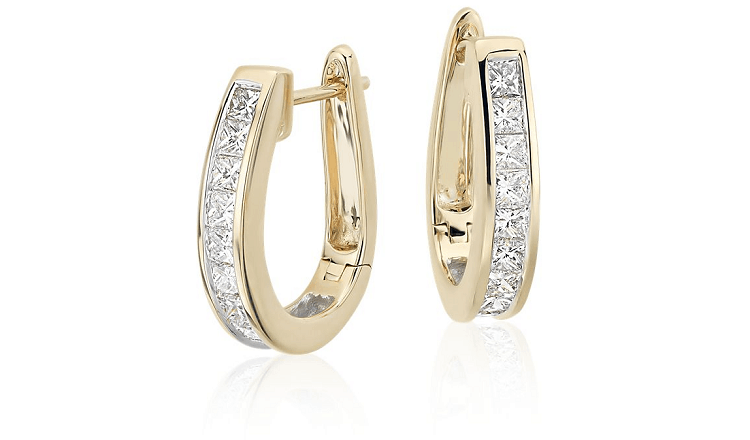 Now on sale for 25 percent off, these princess-cut diamond hoop earrings offer a modern take on vintage styles, with a dazzling 1.5 carats of diamonds. The glossy 18K yellow gold exudes warmth in yellow gold and sophistication in white gold. Buy Here . 
Diamond Hoop Eternity Earrings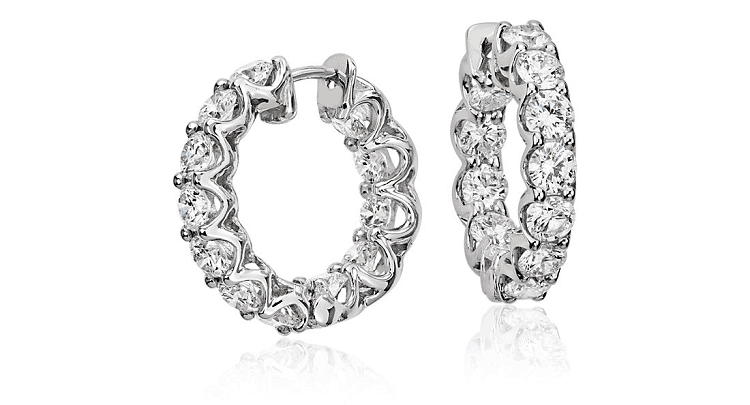 3 carats of round-cut diamonds make for seemingly endless sparkle on these eternity hoop earrings. Eternity styles are popular in 2022 for necklaces, earrings, and bracelets. Combined with diamonds, eternity-style earrings make for a powerful fashion and symbolic statement. Crafted on 18K white god; Buy Here . 
Oversized, Slim Band Eternity Hoop Earrings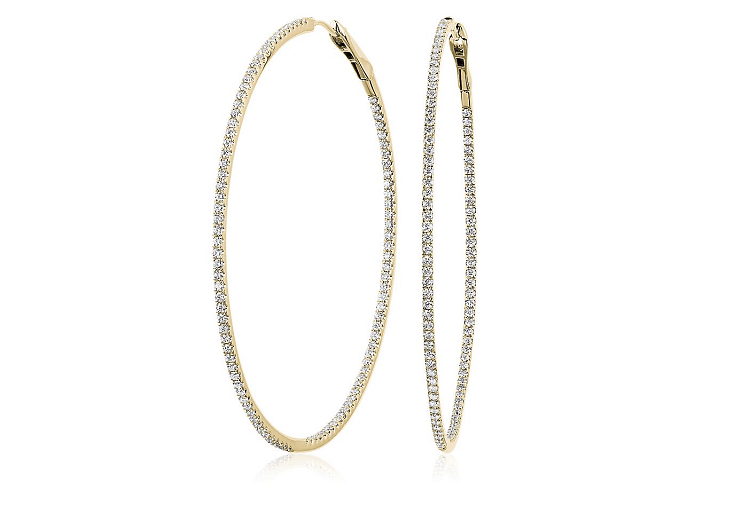 These oversized hoop earrings make for a bold but modern statement. 2.04 carats of sparkling round cut diamonds accents minimalist 14K yellow or white gold hoops with hinged backs. Wear these for dressing up casual looks or a semi-formal occasion. Buy Here . 
Brilliant Earth Diamond Hoop Earrings
Brilliant Earth continues to be a leader in online diamonds and diamond jewelry. Opened in 2005, this San Francisco-based jeweler. Said to have been a key influencer in the push towards ethically sourced diamonds, Brilliant Earth diamonds are "Beyond Conflict Free."
This means that their natural diamonds are conflict-free but also support community development, protect against human rights abuses, and are mined to minimize degradation of the environment.
Brilliant Earth earrings and other products are exquisitely crafted, durable, and instant classics. Their diamond hoop earring collection features crisp, modern hoop styles, including diamond Huggies, clean lines, and artistic geometric shapes. Shop All Brilliant Earth Diamond Hoop Earrings Here .  
Silver Petite Diamond Huggie Hoop Earrings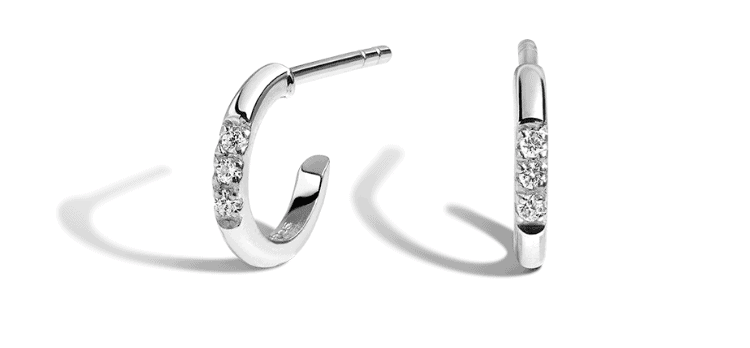 Sterling silver isn't my favorite metal choice– I prefer 14K or 18K gold for overall value– but sometimes you're on a budget and can't afford 14K gold. When worn carefully, and properly cared for, these sterling silver diamond huggie hoop earrings are a steal for just $150.
Thoughtfully crafted with modern elegance, and also available in 14K yellow gold, high quality, 6 round diamonds (0.04 carats) add just a touch of sparkle. Buy Here . 
Baguette Cluster Diamond Hoop Earrings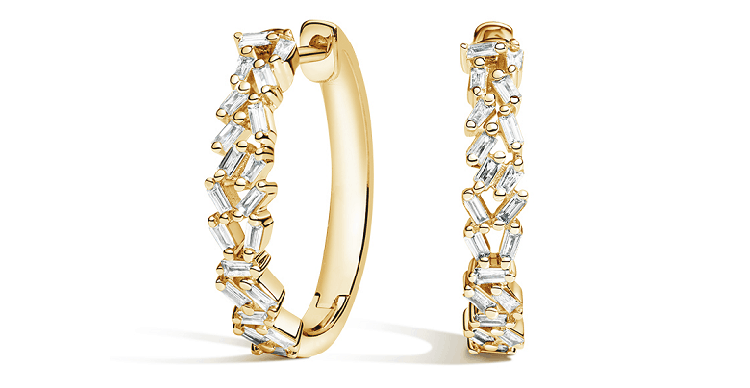 These beautiful baguette diamond hoop earrings are at once modern and artistic. A sense of timeless elegance exudes from warm, polished 18K gold, accented with ¼ carat of baguette diamonds. Available in white rose and yellow gold; Buy Here . 
Luxe Diamond Huggie Hoop Earrings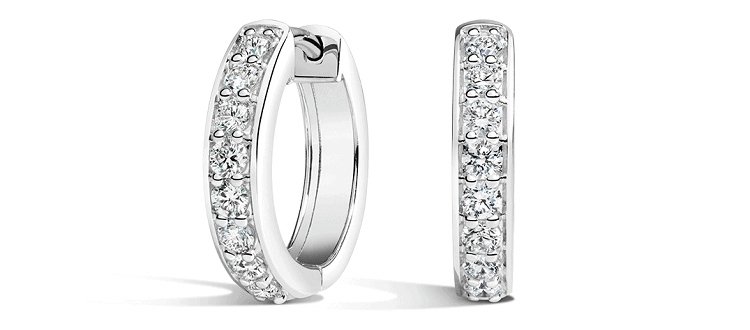 The name says it all. These diamond hoop earrings are luxurious, even though the carat weight (0.5) is more modest than some glamorous options. These Brilliant Earth bestsellers are crafted with prong-set diamonds in an opulent row of 18K white or yellow gold. Though elegant, these diamond hoop earrings are also versatile enough to wear with professional and everyday outfits. Buy Here . 
Tribeca Diamond Hoop Earrings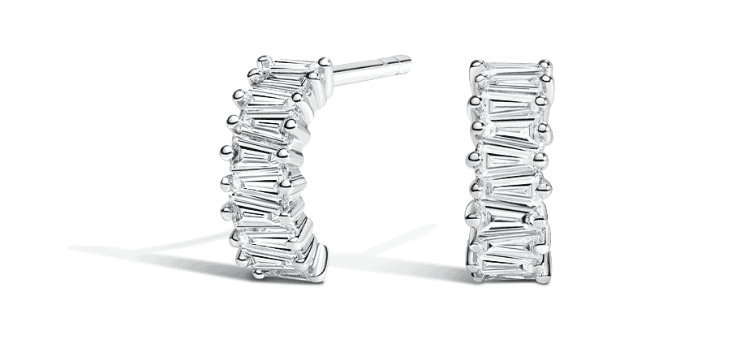 If you're looking for dazzling diamond hoop earrings with a futuristic look, these earrings may be the right choice for you. The baguette diamonds (0.5 carats) are arranged to capture light uniquely. These stylish diamond hoop earrings are innovative, artistic, and can easily be dressed up or down. Buy Here . 
Cressida Diamond Hoop Earrings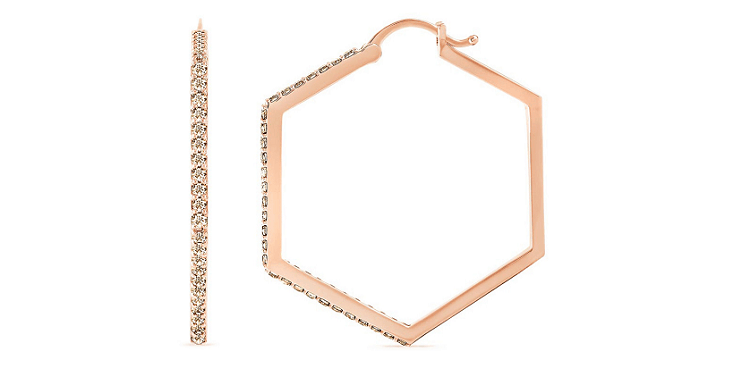 58 round-cut diamonds (⅞ carats) accent these modern, hexagonal earrings. Crafted with 14K rose or yellow gold, these stunning modern diamond hoop earrings feature warm, earthy tones. These hoop earrings are at once playful and beautiful. As a plus, some profits go towards Feeding America's COVID Relief Fund. Buy Here. 
James Allen Diamond Hoop Earrings
As much as I admire Brilliant Earth and Blue Nile, I truly understand being on a budget. The good news is that you don't have to sacrifice quality if you have less to spend. James Allen diamond hoop earrings are more affordable and run sales to help you save even more. 
James Allen diamond hoop lean classic earrings, with timeless glamor that's understated and elegant.  Shop All Diamond Hoop Earrings Here. 
Then there's James Allen as a company. They have GIA experts on staff, and all earrings and all pieces are eligible for free cleaning at the storefront twice a year. Their lab-grown diamonds also come with a lifetime warranty against manufacturing defects. 
14K Gold Inside Out Petite Diamond Hoops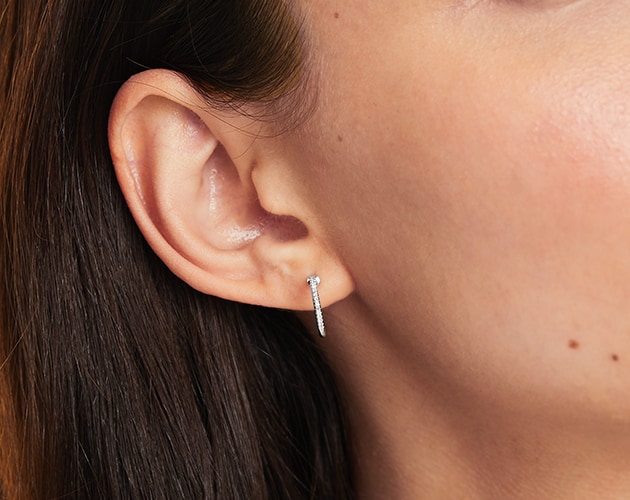 On sale for under $300, these petite diamond hoop earrings feature a modern inside-out design. Polished white gold is accented with 48 round-cut diamonds with beautiful sparkle (0.10 carats). These earrings are an excellent choice for something versatile, at a great price, and with understated elegance. Buy Here. 
14K Gold Petite Milgrain Huggie Diamond Hoop Earrings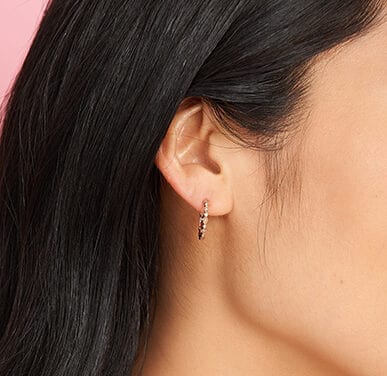 Available in 14K white, rose, or yellow gold, these petite diamond hoop earrings retail for just under $500 and are a great buy. Round, brilliant-cut diamonds (0.07 carats) sparkle with bezel and pave accents for a classic vintage-inspired look. Buy Here. 
14K Yellow Gold Open Circle Single Piercing Diamond Hoop Earring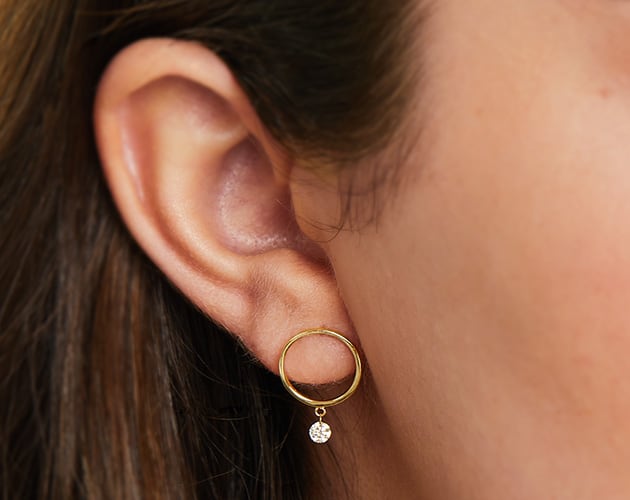 Meant for a single piercing, this 14K yellow gold earring offers an alternative take on a diamond hoop earring. The sleek, open circle design is anything but confining and is a nod to modern freedom. Two round diamonds weigh 0.20 carats. Buy Here . 
14K 0.25/ 0.5 Carat Diamond Hoop Earrings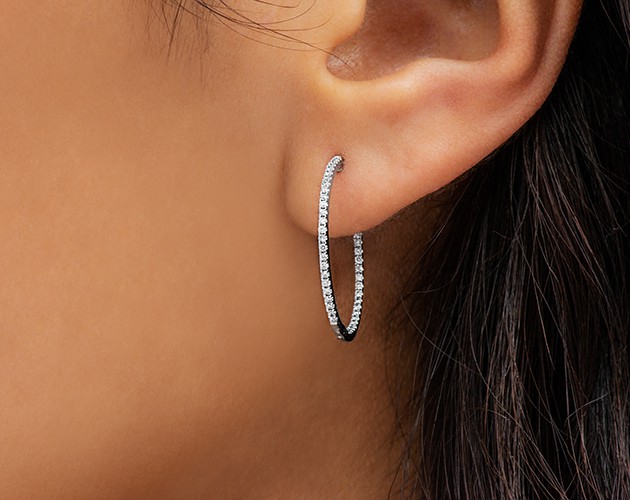 These are the same popular inside-out design of my first pick, but with a higher carat weight, suited for average-sized hoops. Polished 14K white or yellow gold is accented with 50 round-cut diamonds for a classic and timeless appeal, for a price that's hard to beat. Buy Here. 
Frequently Asked Questions
Question: Are Hoop Earrings Unprofessional?
Answer: Hoop earrings are not unprofessional– it's how you wear them. While many professions have become more flexible with attire, traditional business, banking, and related professional fields tend to still favor more conservative jewelry looks.
This means that not all businesses would be open to multiple piercings, and some do not favor cartilage piercings or oversized hoops. Small to medium hoop earrings are a safe bet for nearly every place in the US that allows jewelry while you're working. 
Question: Is it Bad to Wear Hoop Earrings All the Time?
Answer: Even if you love hoop earrings, you shouldn't wear them to sleep, shower, or swim in. I also don't recommend wearing them while you're working out or playing a sport.– at the very least, not oversized hoop earrings. Mostly, hoop earrings are safe to wear– you just need to practice common sense. 
Question: What Are the Big Hole Earrings Called?
Answer: Big hole earrings are generally referred to as gauges. These actually stretch the shape of your ear and are far more complicated than wearing simple hoop earrings. 
Final Thoughts 
Diamond hoop earrings are a beautiful statement for semi-formal and formal outfits. From sleek and geometric to subtle and classic, it's easy to see why they remain popular in 2022. If you want a statement piece, it may make more sense to go with a cocktail ring or bracelet to balance your look.
Diamond hoop earrings would be with any colors, but black and midnight blue are both striking choices. Deep hues tend to provide a beautiful contrast with white gold. Less common, rose or yellow gold can also be a fantastic complement for a romantic and warmer look.