Latest posts by Erin Jamieson
(see all)
Jewelry isn't just a matter of accessories– from bracelets to necklaces and earrings, sometimes it's a matter of identity.
And when it comes to cartilage earrings, some picks are ways to express oneself in unique, eye-catching, and meaningful ways.
That's true for Willa Bennett, who explained how a summer camp helped her explore her identity. In an interview with Teen Vogue, Bennett, a 17-year-old at the time, enrolled at Sunshine Summer Camp. During this camp, she began to dig deeper into her sexual identity, as well as what matters most to her.
Though Bennett spent the first day of camp hiding details about her life, she gradually opened up. Through poetry, making friends, and a deeper connection with one camper, Bennett was finally able to open up more about who she is.
And while she didn't get her cartilage piercing while at the camp, it became a symbol of that summer and what it meant to her. In some ways, her willingness to express herself in the first place– showing that a cartilage earring isn't always just an earring.
But even if you're just looking for a different look or to brighten up your current one, cartilage earrings can be a great idea. Consider this your guide to cartilage earrings and piercings, and my picks for the best styles you can buy in 2022.
Is it dangerous to pierce your cartilage?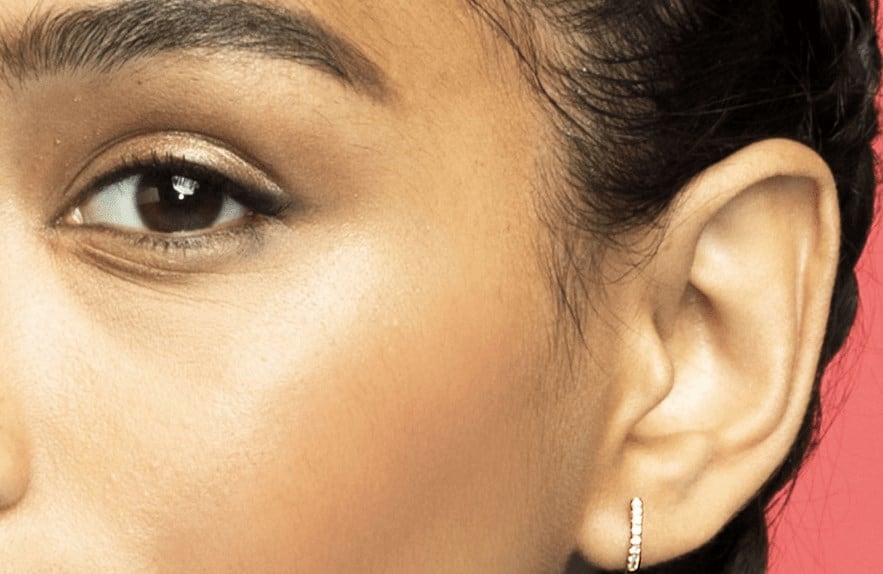 Cartilage piercings, like any ear piercing, can carry risks if not done correctly. You shouldn't pierce your own cartilage because you risk infection and other serious complications. The good news is that, even though some risks do exist, they are greatly reduced when the piercing is performed by a professional.
Can piercing your cartilage paralyze you?
There is a common but unfortunate myth that piercing cartilage can result in paralysis. It's most likely that the myth began due to the case of 15-year-old Grace Etherington. In this case, her cartilage was pierced, but she also was discovered to have Guillain-Barre Syndrome. The piercing itself did not cause paralysis, and even if not pierced in a conventional way, there is no reason to fear this side effect.
Do cartilage piercings hurt more?
Another concern is that cartilage piercings are especially painful. The truth is that they will be initially more painful than an ear lobe piercing. That said, they tend to be less painful than a majority of body piercings.
How long does a cartilage piercing hurt?
Healing, as is the case with all piercings, can take some time. You can expect the most discomfort right after the piercing, for up to a few days. General pain can last from two weeks to a month, though it is not typically severe. To reduce pain, and facilitate healing, get one cartilage pierced at a time, or on one side, and try to avoid sleeping on the side of the piercing.
Do cartilage piercings get infected easily?
Another common and understandable reason to be wary of piercings is the risk of infection. It is true that cartilage piercings both take longer to heal and are more susceptible to infection than lobe piercings. That said, with proper care, you can greatly reduce that risk. During the healing process, it is normal to experience some redness, light bleeding, itching, some oozing, and discoloration. It may take a full 4 to 12 months for complete healing.
Signs of infection include bumps, fevers, nausea, and vomiting. You'll need to narrow down whether you may be having a nickel allergy reaction and need a hypoallergenic option.
You should also follow directions given to you after the piercings, which includes how often and how to clean your jewelry and your ear. This will greatly reduce the chances of infection.
Are cartilage earrings right for me?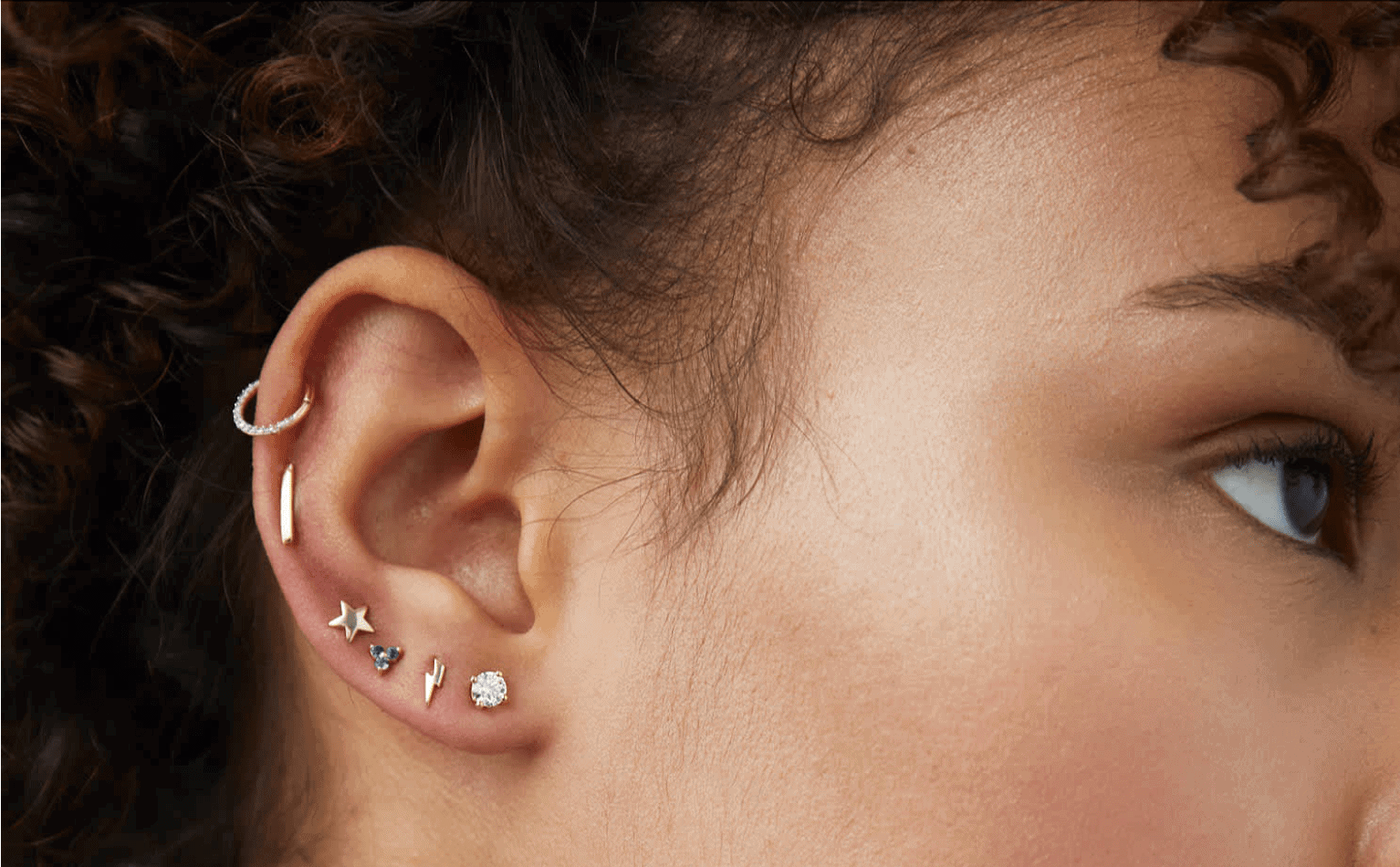 Cartilage piercings require more attention and care than lobe piercings, but they are generally safe and provide a unique look. In addition to being willing to care for your piercings, there are a few other things to consider before buying any cartilage earrings.
How much do cartilage piercings cost?
Cartilage piercings themselves cost around $40- $50 for a helix piercing, which is the preferred method. While you can opt for a piercing gun for about half that, it's ill-advised. Meanwhile, cartilage earrings range in price, from under $10 to over $1,000. Like all earrings, it depends on the quality and type of earrings.
In other words, you can find earrings on any budget, and they aren't more expensive than other earrings.
Can you put normal earrings in cartilage?
Hoops, posts, and studs can sometimes be used for cartilage piercings. In fact, it is not uncommon for some to use normal earrings in their cartilage piercings. That said, it's not the best idea. Cartilage earrings are made especially for those piercing types, making them more comfortable. They are typically made thinner to accommodate the smaller piercing and will fit more suitably.
In other words: while you can use normal earrings in a pinch, everyday wear it's more advisable to buy cartilage earrings.
How long should a cartilage earring be?
The standard post-stud length should be around ¼ of an inch. Obviously, other types of piercings will vary. To ensure you're selecting a cartilage earring that will be comfortable, buy cartilage-specific earrings vs relying on typical earrings.
What earrings are best for cartilage piercings?
When it comes to types of cartilage earrings, you have several options. Small hoops, posts or studs, barbells, and cuffs are the most common. Barbell cartilage earrings are usually circular metal hoops that pass through the ear and connect to a beaded bar on either side. Ear cuffs fit around the outer ear and are suited for helix piercings.
Where can I buy cartilage earrings?
Cartilage earrings are a little trickier to find than lobe earrings, but as cartilage piercings have become more common, options have expanded. From ear cuffs to studs and hoops, options range from modern to more classic.
I'll show you where to buy based on metal or gemstone type so you can find the right cartilage earrings for your occasion or lifestyle. From diamonds to gemstones and solid metal, here are my top picks and where to buy them.
Diamond Cartilage Earrings
While many may associate cartilage earrings with more casual occasions, diamond cartilage earrings can be paired with other glamorous accessories, even something as unexpected as a jade necklace or a black diamond cocktail ring. A bit of glitz elevates any earring.
White Diamond Huggie- The Last Line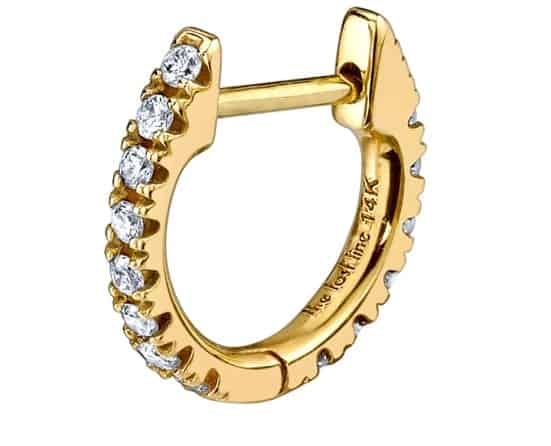 This cartilage earring hugs the curve of your ear and is elegant, with pave diamonds set on 14k yellow gold. It's just the right touch of subtle sparkle to elevate an outfit from day to evening. Buy here.
Diamond Engraves Lotus Threaded Stud- Maria Tash
This exquisite diamond cartilage earring can be bought in post lengths of 5 mm to 9,5 mm and is available in 14K white, yellow, and rose gold. Marquise diamond surrounds a petite center diamond to form a unique lotus flower shape. Buy Here.
Diamond Star Threaded Stud- Maria Tash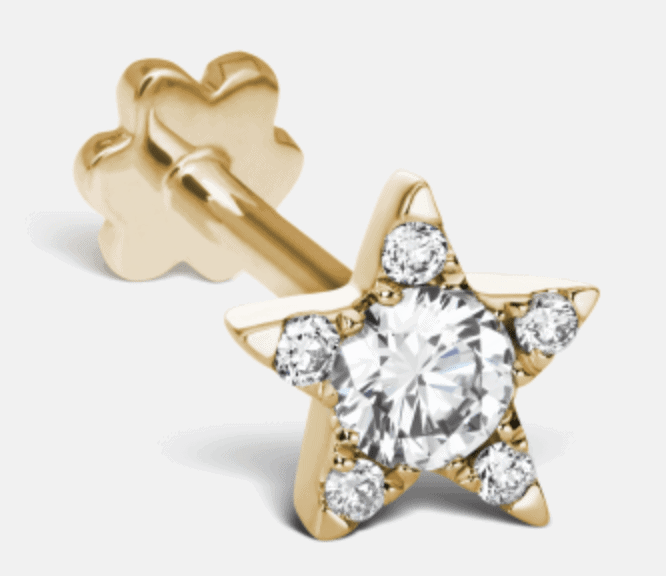 A diamond-studded star offers a festive twinkle, perfect for a holiday event. Five diamonds surround a center diamond in this hypoallergenic cartilage earring. You can buy in multiple post lengths and with 14K yellow, rose, and white gold finish. Buy Here.
Diamond Baguette Huggie Hoops- Local Eclectic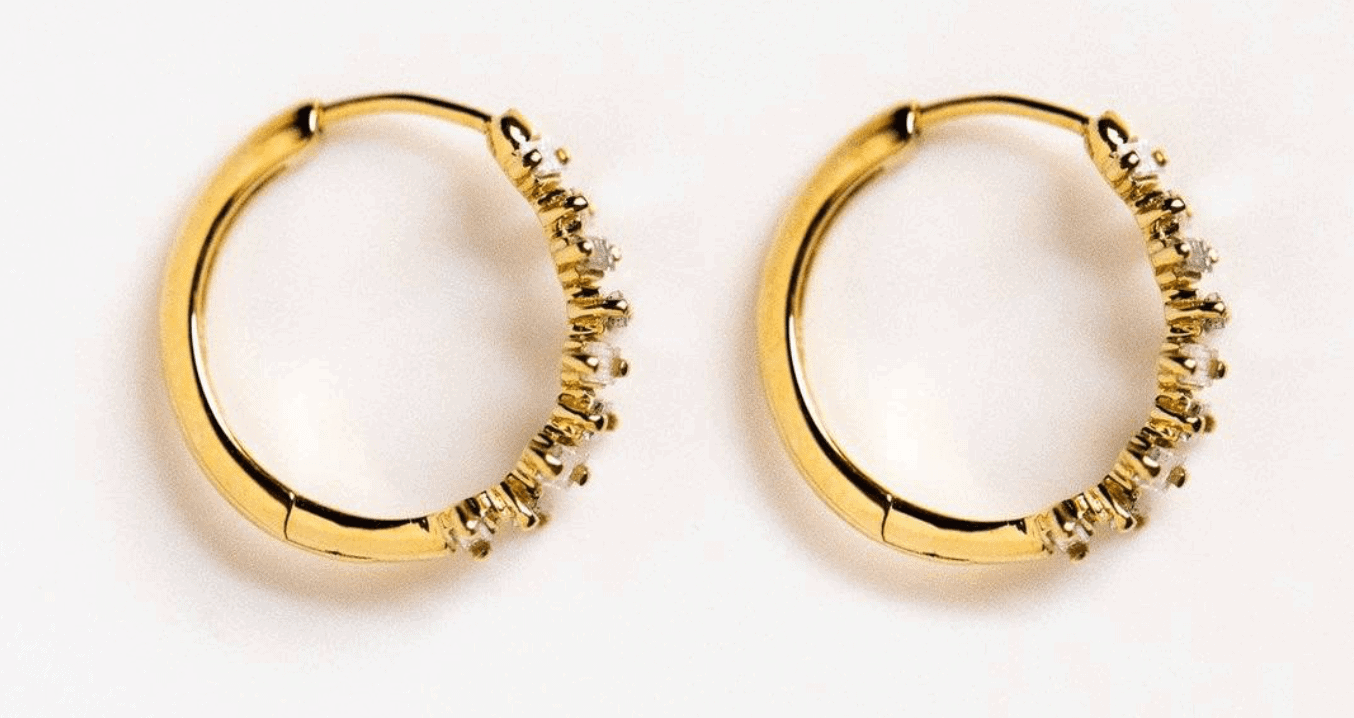 This timeless look will dazzle any formal occasion. Meant as a modern update on a classic, baguette diamonds are arranged in a geometric pattern and alternated in a way to bring the ultimate sparkle. 9K yellow gold is a bit softer than some other options but can be used when worn for a special occasion. Buy Here.
Pave Stud Diamond Earring-Bvlgari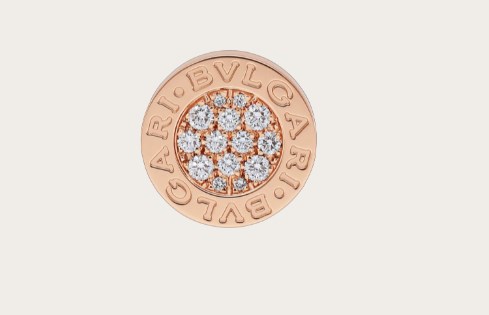 This single stud cartilage earring is special enough to be worn to an important occasion, even a wedding, and is one of the most expensive– but also one of my favorite picks. Easily paired with gemstone necklaces or bracelets, pave diamonds add sparkle to an 18K rose gold stud earring. Buy Here.
Diamond Huggie Hoop Earrings- Ross Simmons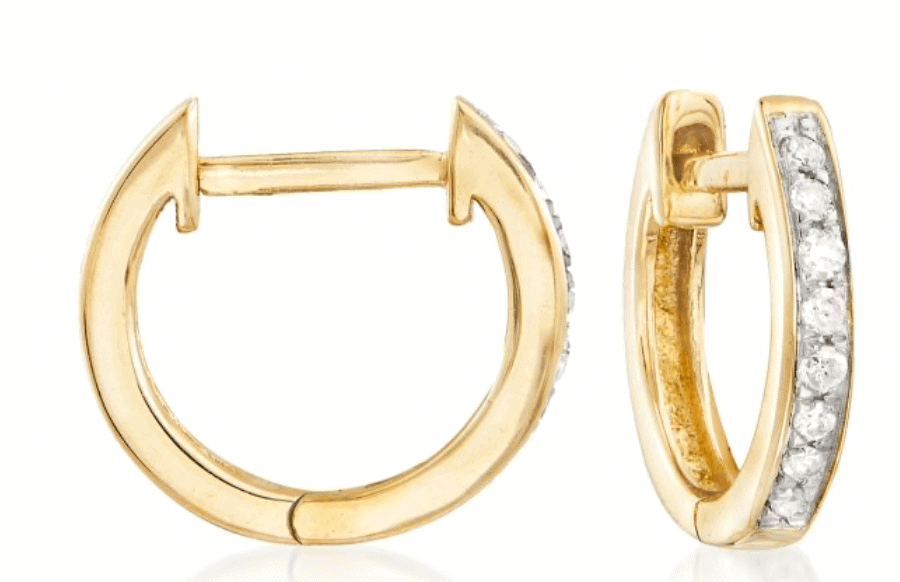 Perfectly paired with a black dress, these earrings from Ross Simmons feature .10 carats of white diamonds, set on polished 14K yellow gold. Buy Here.
Cartilage Pave Diamond Mini Hoop- Mejuri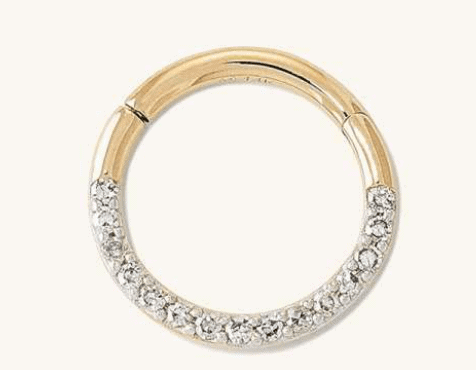 This highly rated diamond cartilage earring comes with a 2-year warranty, as well as 60 days of free exchanges. Made from conflict-free diamonds and set on 14K yellow gold, this is my favorite pick for this category. Buy Here.
Mini Diamond Ear Cuff- Ring Concierge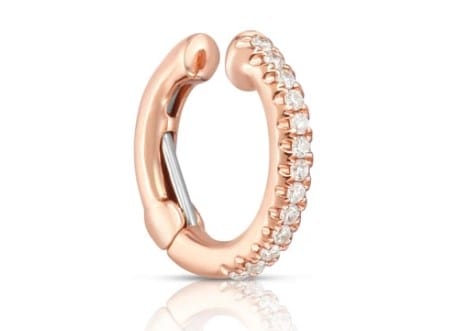 26 diamonds cover this ear cuff, for just the right touch of classic sparkle. The single hinge cuff offers a secure fit, while 14K solid rose, yellow or white gold makes for a durable option. Buy Here.
Flower Frame Gemstone Cartilage Earring- Musemond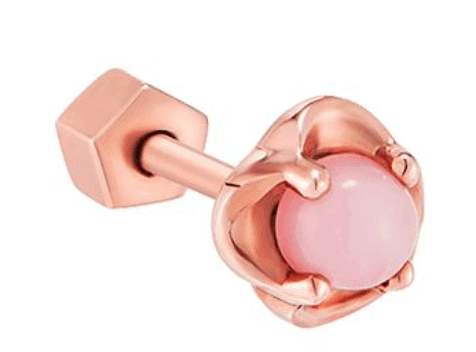 A gemstone is inset on 14K rose gold (or yellow gold) to form a floral design. You'll have your choice of pink opal, ruby, blue topaz, peridot, emerald, sapphire, pearl, a blue diamond, and other options. Buy Here.
Evil Eye Gemstone Cartilage Earring- MinimalBijoux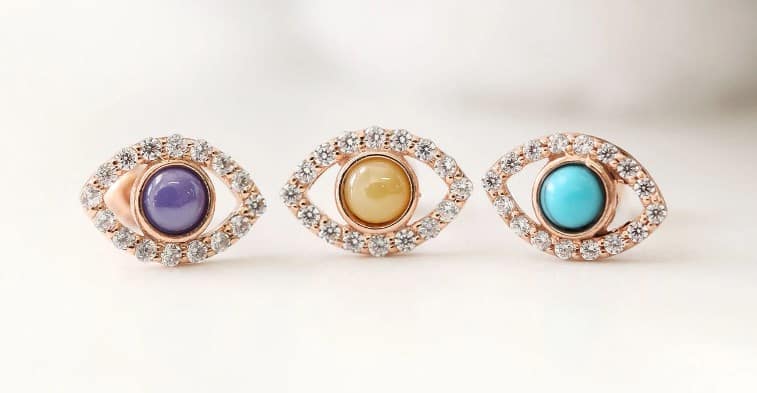 Select from a purple, yellow, or turquoise gemstone for a unique gift or look for yourself. The Evil Eye is associated with protection and has a rich cultural tradition behind it. The gemstone is cubic zirconia and set on 14K rose or yellow gold. Buy Here.
Teal Surgical Stainless Steel- Rebel Bod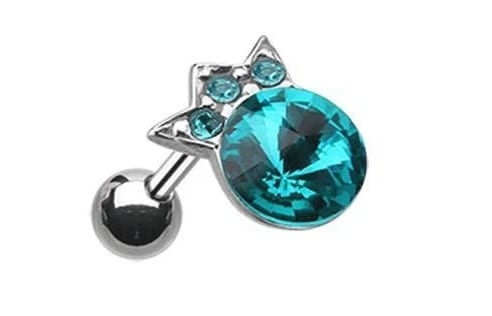 If you're looking for both a hypoallergenic and affordable option for under $20, consider this barbell cartilage earring. A teal hue accompanies a mini crown design with the ideal ¼ inch length. Buy Here.
Natural Gemstone Cartilage Earring- Minimal Bijoux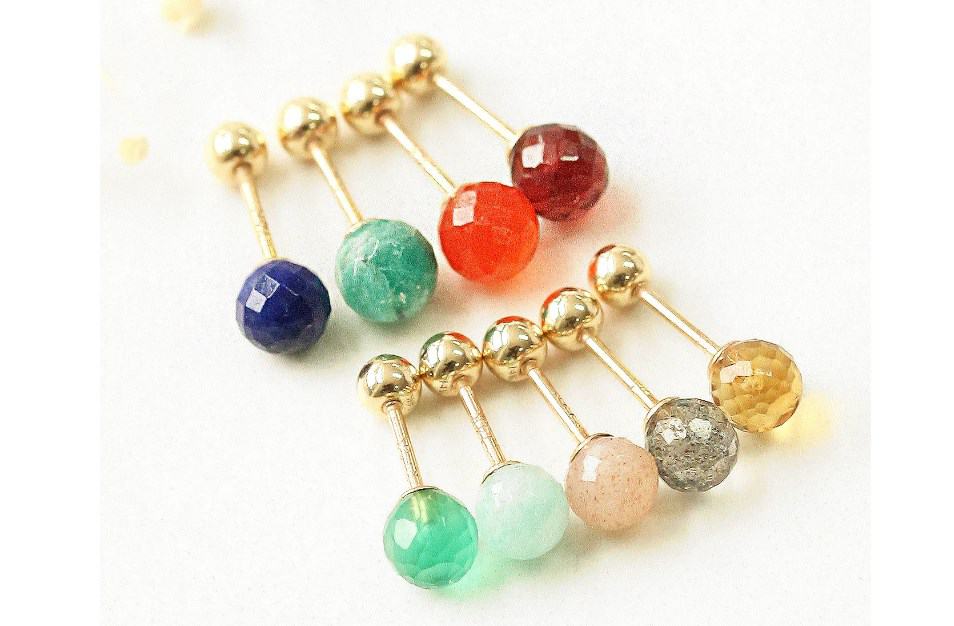 Select from carnelian, citrine, amazonite, garnet, green onyx, labradorite, peach moon, and rainbow stone. 14K gold accompanies a minimalist, modern design that can add just the right accent of color for any outfit. Buy Here.
Teardrop Gemstone with Diamond Accent- Fresh Trends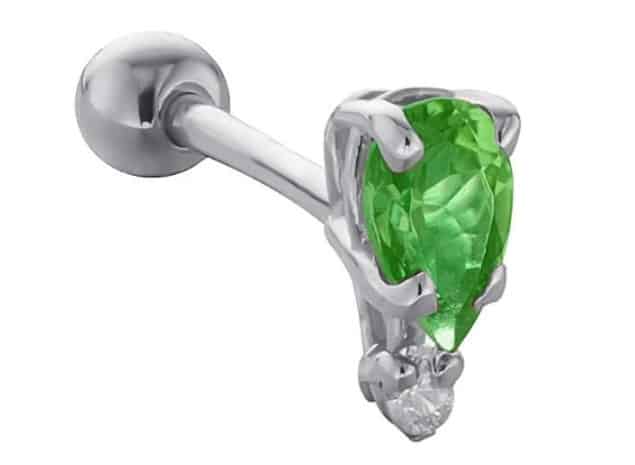 A natural teardrop gemstone is brought to life with an accent diamond for this cartilage stud. A genuine round cut diamond is set on nickel-free 14K gold, with a 5/16" barbell size. You have a choice of three gemstones, including cubic zirconia, amethyst, aquamarine, citrine, emerald, garnet, topaz, peridot, tourmaline, ruby, and sapphire. Buy Here.
Triangle Gemstone Cartilage Earring- Minimal Bijoux
These modern, minimalist cartilage earrings feature a moonstone, pink opal, turquoise on 14K yellow or rose gold. Buy Here.
Gem Butterfly Ear Clicker- Rebel Bod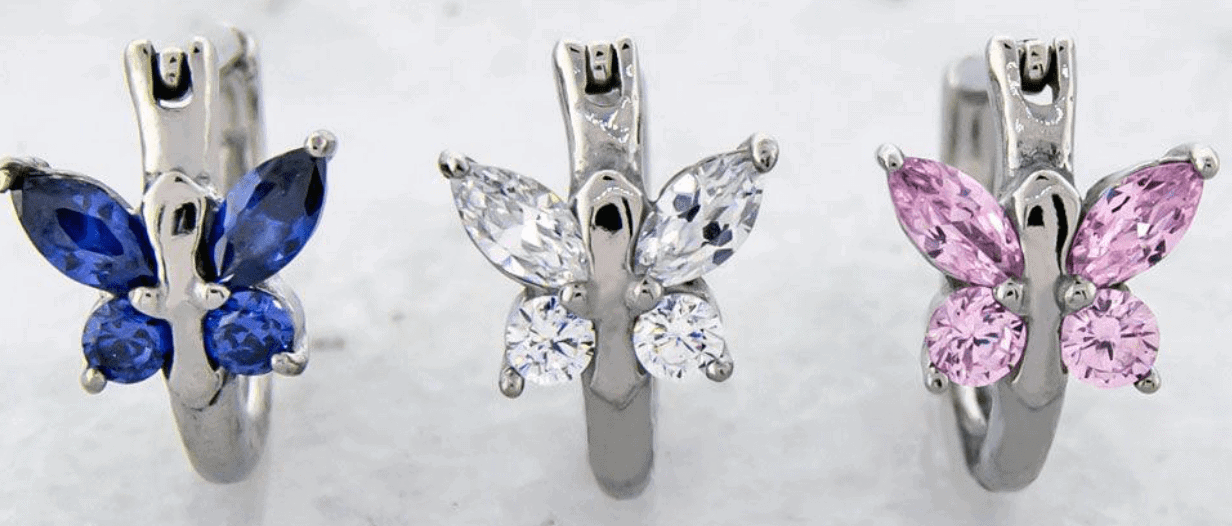 Select clear or pink Swarovski crystal accents, set on steel cast iron. The click and lock design is safe for initial piercings and features a whimsical butterfly shape. Buy Here.
Turquoise Stone Cartilage Earring- Minimal Bijoux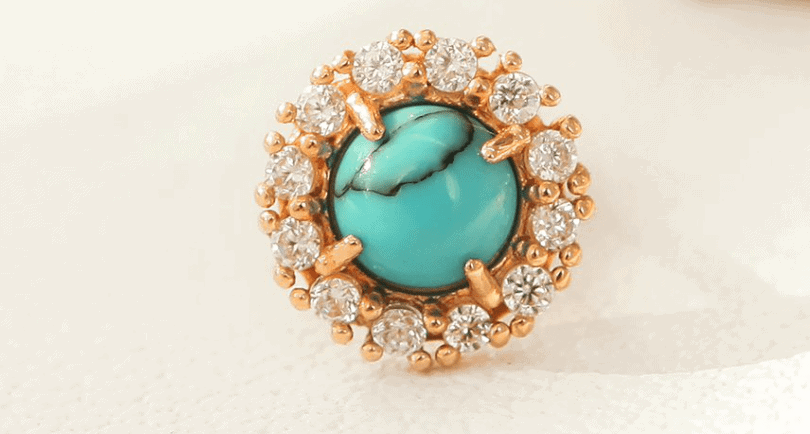 This stunning cartilage gemstone earring is my favorite pick for this category. The turquoise pendant is set on 14K solid gold and enhanced by cubic zirconia accents. Buy Here.
Mini Stone Cartilage Earring- Minimal Bijoux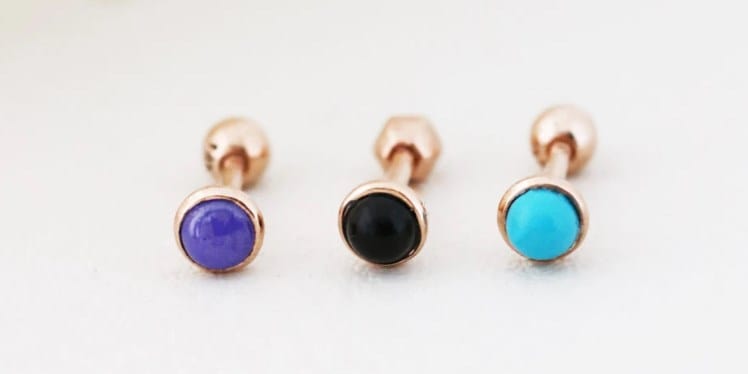 Choose from black onyx, turquoise, or purple gemstone for a modern, fun, and minimalist stone center. 14K rose or yellow gold makes for a more durable option. Buy Here.
Gold Cartilage Earrings
Tiny Single Cartilage Hoop Earring- Astley Clarke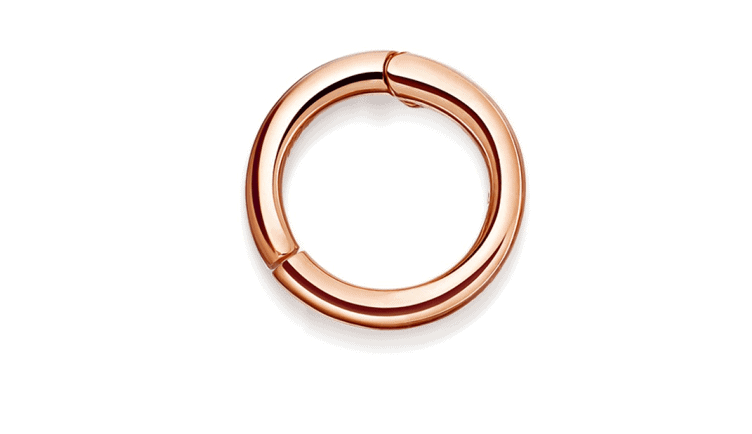 This single cartilage hoop earring is modern, sleek, and polished. 14K white, rose, gold yellow makes it durable, and it can easily be worn for cartilage, but even lobe piercings. This earring is an effortless statement. Buy Here.
Solid Cartilage Chain Huggie Earring- Adinas Jewels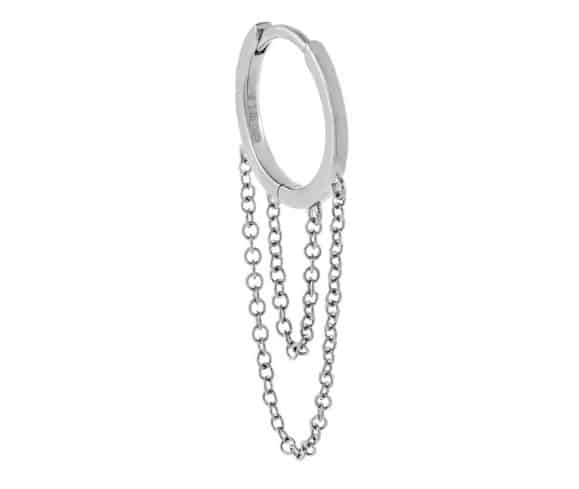 For an alternative look, consider this solid cartilage chain huggie earring. Available in 14K white and rose gold (yellow gold is currently unavailable) this feature cascading delicate chains that shimmer in the sunlight. Buy Here.
Heart-Shaped Cartilage Earring- Rebel Bod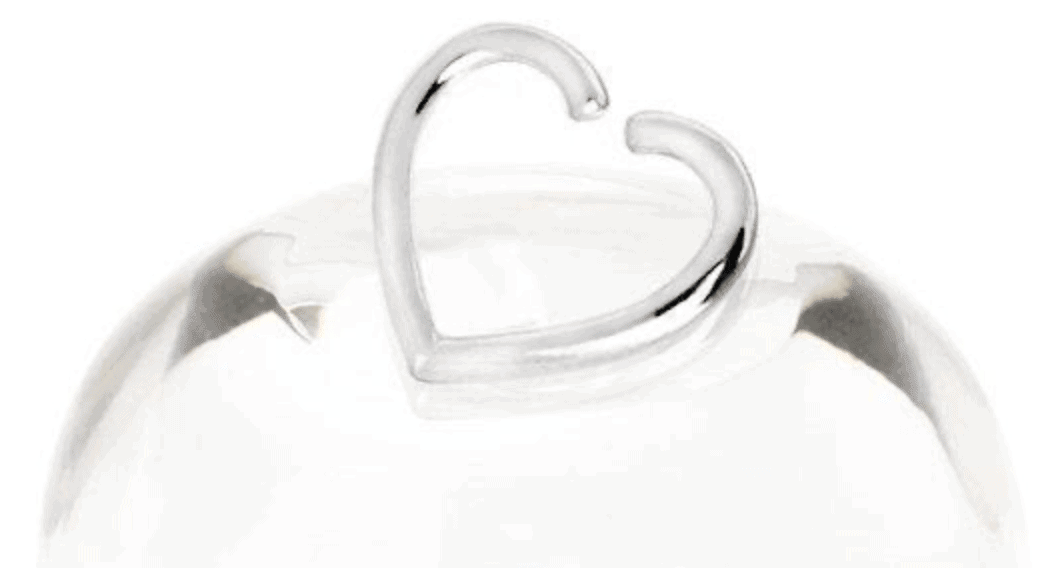 This heart-shaped cartilage earring is made with solid 14K white gold. The design is modern, sleek, and minimalist and would look at home with a boho style. Buy Here.
Gold Moon Cartilage Earring with Hidden Snap Post- Lavari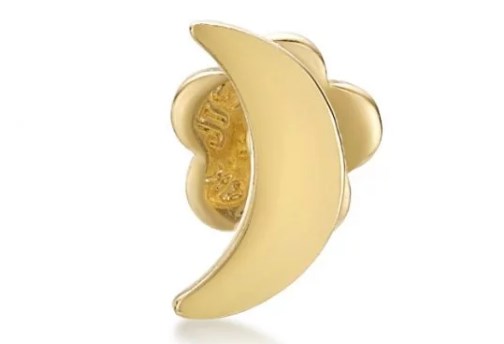 At once versatile, elegant, and edgy, this gold moon cartilage earring features a hidden snap post for a seamless, sleek look. Cubic zirconia adds a touch of sparkle to the 14K yellow gold finish. Buy Here.
Heart Threaded Stud- Maria Tash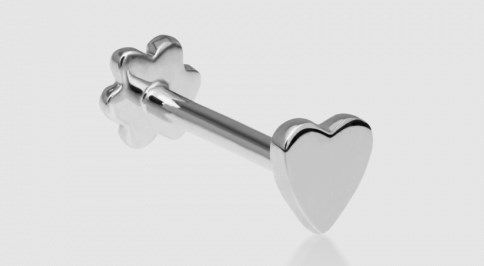 A small heart-shaped threaded stud provides a subtle touch to a casual or even semi-formal outfit. A flower-shaped ball backing and the entire body is nickel-free and hypoallergenic and in rose, white, and yellow gold. Buy Here.
Bee Cartilage Ring- AlaPopJewelry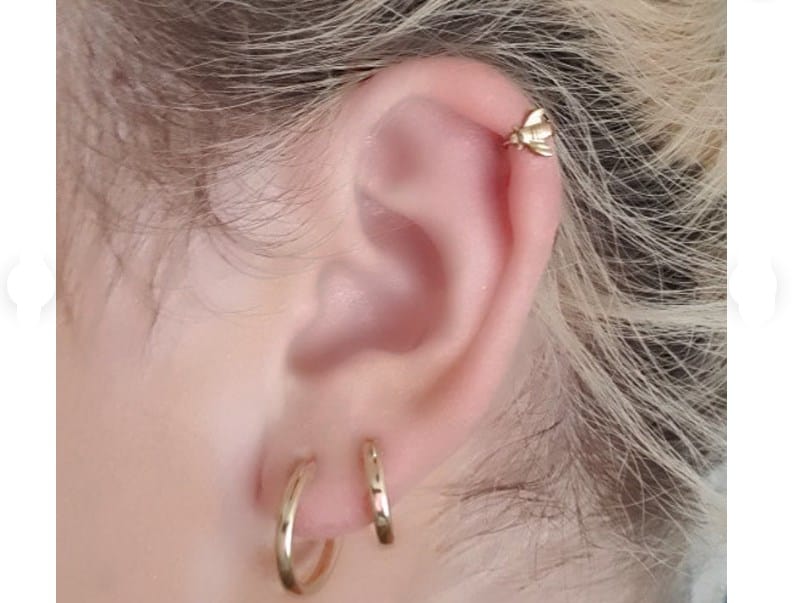 This handcrafted cartilage ring is unique, featuring a honey bee design, and priced at under $25. While it is not made with solid gold, it's made with gold-filled wiring. This is preferable to gold plating, as it does not tarnish the way plating does and is also thicker. This is fun for a boho or casual look. Buy Here.
"U" Huggie Earring- The Last Line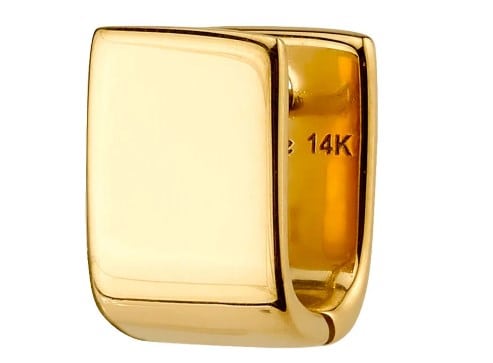 A wide "U" shape makes for an expression, modern, and chunky geometric themed cartilage earring, set in polish 14K yellow gold. Buy Here.
Ball Trinity Threaded Stud- Maria Tash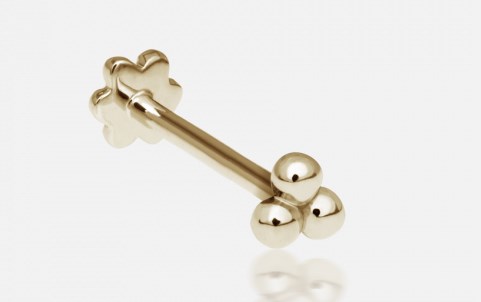 Nickel-free and hypoallergenic and available in yellow rose, and white gold, this minimalist cartilage stud earring features a three-ball cluster and a unique design. Buy Here.
Frequently Asked Questions
Question: Why won't my cartilage piercings heal?
Answer: Keep in mind that cartilage piercings are slow to heal; it may take anywhere from four to twelve months for them to heal fully. During this time, some bleeding, irritation and even pus can be expected. Help your piercing heal by rinsing with saline solution as directed, and try to avoid sleeping on the side of the piercing, especially the first few weeks. The only causes for concern would be fevers, chills, nausea, or other symptoms outside those typical of healing.
Question: Can you shower with a new cartilage piercing?
Answer: As with any new piercing, you must take care to properly clean and understand the protocols immediately after. You may take a shower after– just make sure to keep away strands of hair from the piercing site. You also will want to check there is a little space between your earlobe and the earring backing so that you can properly wash away dirt and pus. Use warm, instead of cold or hot water. Avoid any harsh soap; a saline solution is often recommended.
Question: Do cartilage piercings bleed?
Answer: It is natural for cartilage piercings to bleed. You can expect more blood than a lobe piercing, but keep in mind that cartilage doesn't have its direct blood supply the way a lobe does. The bleeding can be a sign of healing, so long as it isn't excessive.
Question: Why won't my cartilage piercings heal?
Answer: Keep in mind that cartilage piercings are slow to heal; it may take anywhere from four to twelve months for them to heal fully. During this time, some bleeding, irritation and even pus can be expected. Help your piercing heal by rinsing with saline solution as directed, and try to avoid sleeping on the side of the piercing, especially the first few weeks. The only causes for concern would be fevers, chills, nausea, or other symptoms outside those typical of healing.
Final Thoughts
Cartilage earrings come in hoops, suds, and barbells. From solid metal to precious gemstones and even diamonds, you can wear cartilage earrings by themselves or as a complement to other jewelry.