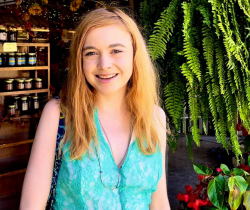 Latest posts by Erin Jamieson
(see all)
From diamond studs to precious gemstones to casual enamel, there are more styles and ideas than ever for earrings. But few have so smoothly combined casual luxury as Swarovski earrings. Perhaps that's why they remain among the top picks for trendy earrings in 2022. 
Swarovski crystal earrings offer a dazzling array of glitz while staying updated with current trends. With the new Millenia collection, Swarovski has been making even more fashion headlines for just that reason. Bold, chunky, and colorful hues compromise what feels like a celebratory collection after a year and a half, and going on two years– of uncertainty around the world.
Featured in fashion outlets including Grazia Magazine, the collection includes glam earrings that can be worn with casual clothing– and shows how Swarovski continues to stay on top of trends. In fact, the line can just be seen as a greater emphasis on what Swarovski earrings are known for.
Bringing innovative ideas, artistic allure, and the iconic Swarovski name, there's little doubt that these earrings are in fashion for 2022. 
Yet that isn't the whole picture. Just what are Swarovski earrings, really, and are they the right choice for you? In this article, I'll give you the scoop on Swarvoski's dazzling line, and my top picks from their earring collections in 2022. 
What is special about Swarovski Jewelry?
Swarovski, of course, is known for its glass crystal jewelry. The designs are beautifully crafted and precisely cut. The craftsmanship and artistic designs are eye-catching. The Austrian-bas jeweler (now with headquarters in the United States and elsewhere) has been selling products since before 1900–adding to its iconic name. But put simply, Swarovski has made a name for itself by offering glam accessories that also can be worn casually. There are few pieces of similar jewelry and none quite like it. 

Why is Swarovski so expensive?
All told, Swarovski will cost you less than most fine jewelry– but it is more expensive than you might expect, considering the materials used, The expense comes down to a few things. For one, brand recognition will always play a role. Another factor is the precision of the craftsmanship. It takes careful, precise cuts to achieve their designs.
Is Swarovski Jewelry good quality?
Beyond the name and initial beauty, you do want to consider and understand what you're buying. Swarovski does indeed have signature craftsmanship. But the materials used are remarkably different from other casual luxury brands. On one hand, this makes Swarovski unique. On the other hand, there are a few downsides as well. 
Is Swarovski a luxury brand?
Swarovski does sell lab-grown diamonds through another company. However, the regular Swarovski line is not considered a luxury brand. This is an understandable misinterpretation. They do provide casual luxury looks– but the materials used aren't considered. Technically, to be considered a luxury brand, fine metals must be used. This includes gold and platinum, as well as sterling silver. 
What is so special about Swarovski crystals?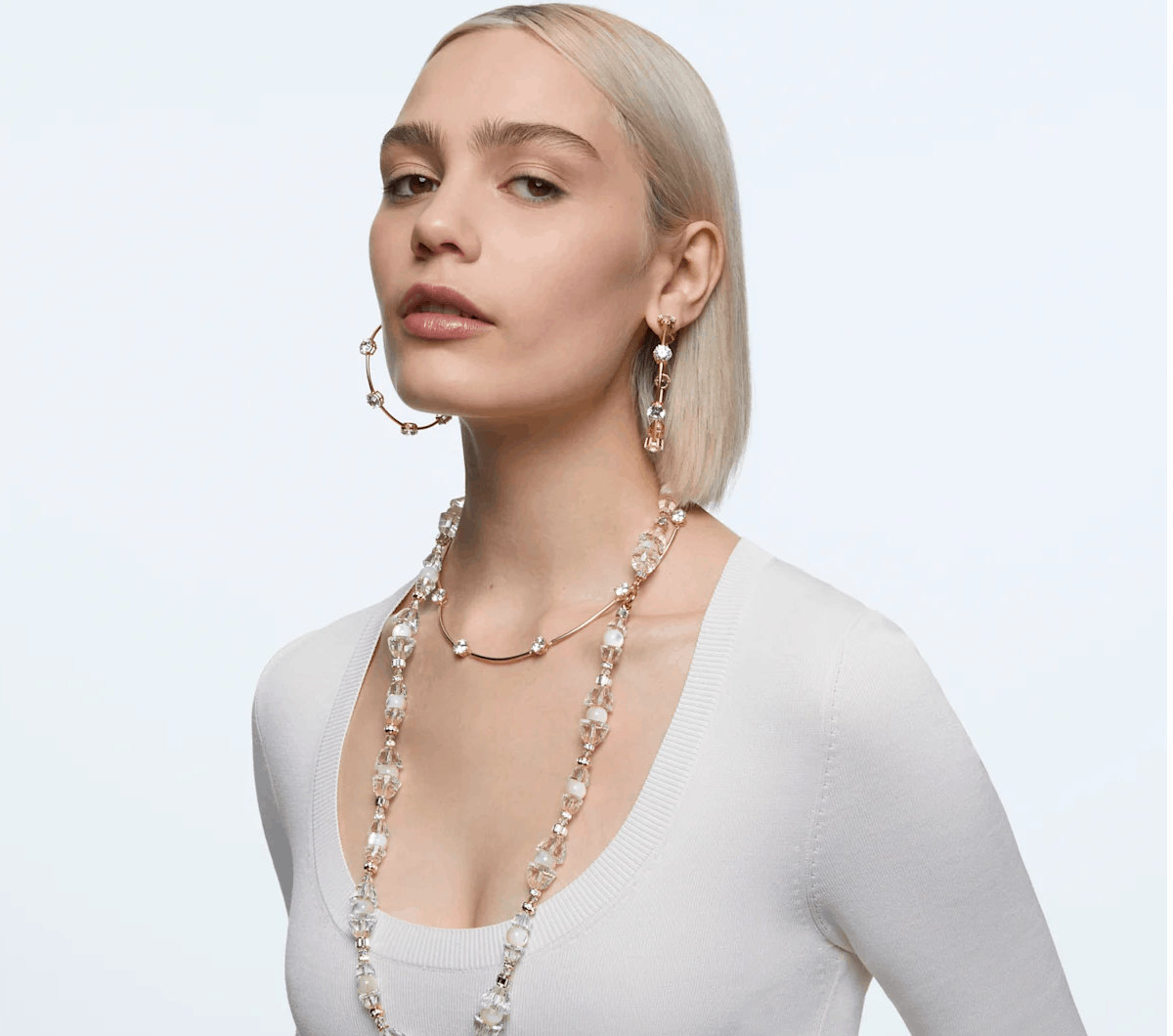 If you're considering Swarovski earrings, you need to consider the crystals themselves. What makes them special is how precisely cut they are. Swarovski uses precision cutting to create refined, intricate designs. Some crystals, such as AB crystals, have an additional coating to optimize shine and sparkle. 
Our Swarovski crystals worth anything?
You'll get some value simply due to the fine craftsmanship and Swarovski name, but truth be told, the crystals themselves aren't that valuable. The beautiful Swarovski crystals are actually made out of high-quality glass lead. You will get a higher resale value vs other glass lead products. They also use higher-grade glass lead that's meant to enhance sparkle (and clarity). 
Do Swarovski crystals last?
Swarovski crystals are a form of glass and need to be treated with care. They can shatter or crack. They shouldn't be worn in the shower, when swimming, or near harsh chemicals. Professional cleaning once or twice a year and regular cleaning can keep them looking polished. As a whole, you must be gentle, and won't last as long as precious gemstones. 
Are Swarovski earrings real?
Swarovski earrings, true to the Swarovski name, are made from Swarovski crystals– assuming you're not buying a fake from a third-party seller. Swarovski uses the same, non-precious lead glass crystals. With the best earrings, you can expect the same clarity and sparkle that Swarvoski is praised for, with some cons as well. 
Are Swarovski earrings' silver real?
Swarovski earrings are made with rhodium and gold plating for the most part. Rhodium plating is often used as a protective cover that minimizes scratches. Gold plating consists of gold being pounded into a thin layer. The look is polished and has a nice shine, but plated metals typically wear off after a few years. Depending on the pair of earrings, you may have a different base metal.
Can you wear Swarovski earrings in the shower?
Unfortunately, just as I'd recommend with most Swarovski accessories, wearing earrings in the shower or for swimming isn't a good idea. This can cause wear and tear to the crystals but even more so to the plated metals. 
What kind of earrings does Swarovski sell?

Swarovski does indeed offer an impressive variety of alluring crystal earrings. You'll find drop and dangle earrings, ear cuffs, hoop earrings, single earrings, and even clip-on earrings. The earring collection is bold, colorful, and trendy. While you can find some simpler styles, you'll find elaborate designs and plays with geometric patterns and shapes. Earrings are priced from $49 for simple studs to $549. 
Swarovski Earrings: My Picks
Now I'll give you my top picks for Swarovski earrings in 2022. Ordinarily, I'd base the majority of my selections on the quality of materials. Since mist Swarovski earrings are on equal footing for this, I'm focusing on styles that either are classic and versatile or really showcase Swarovski's eye for trendy, artistic flair. I am also taking into consideration the cuts used. For each category, I've pierced my ideas from least expensive to most expensive. 
Swarovski Drop Earrings
Drop and dangle earrings look excellent with ponytails and updos. These earrings make a classic to the dramatic statement and mean you can go easier on other accessories. Swarovski drop earrings range from classic crystals to gold tones and more colorful hues. All of these add touches of glamour. You'll find contemporary, artistic, and boho designs. These earrings are priced from $69 to $379. Shop All Drop Earrings Here. 
Swarovski Infinity Earrings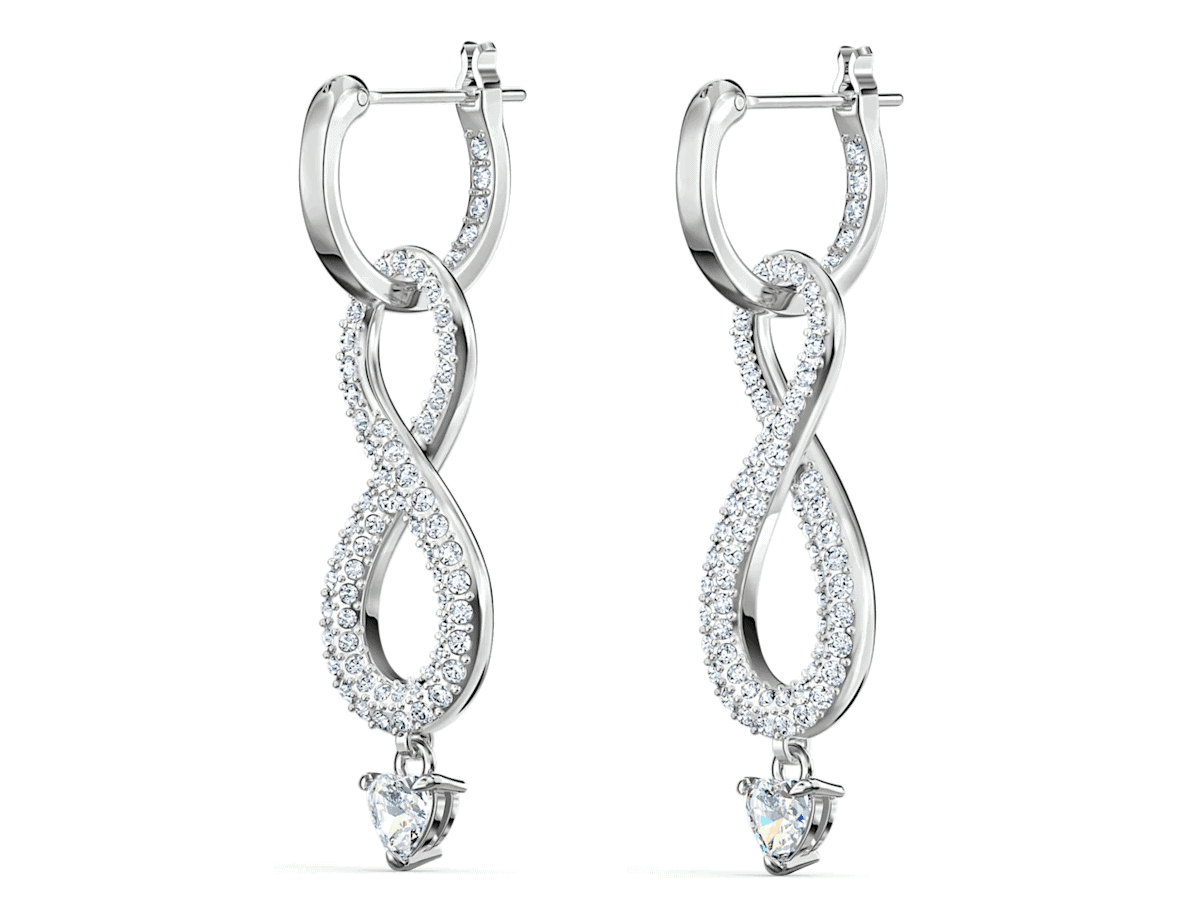 Infinity jewelry is becoming more popular than ever, as consumers seek out accessories with meaning. The infinity symbol is a motif for endless or eternal love, connection, and even strength. These Swarovski earrings are one of the most affordable drop earrings, priced at $99. Crystals sparkle over rhodium plating for a clean, timeless look. Buy Here. 
Swarovski Tennis Deluxe Earrings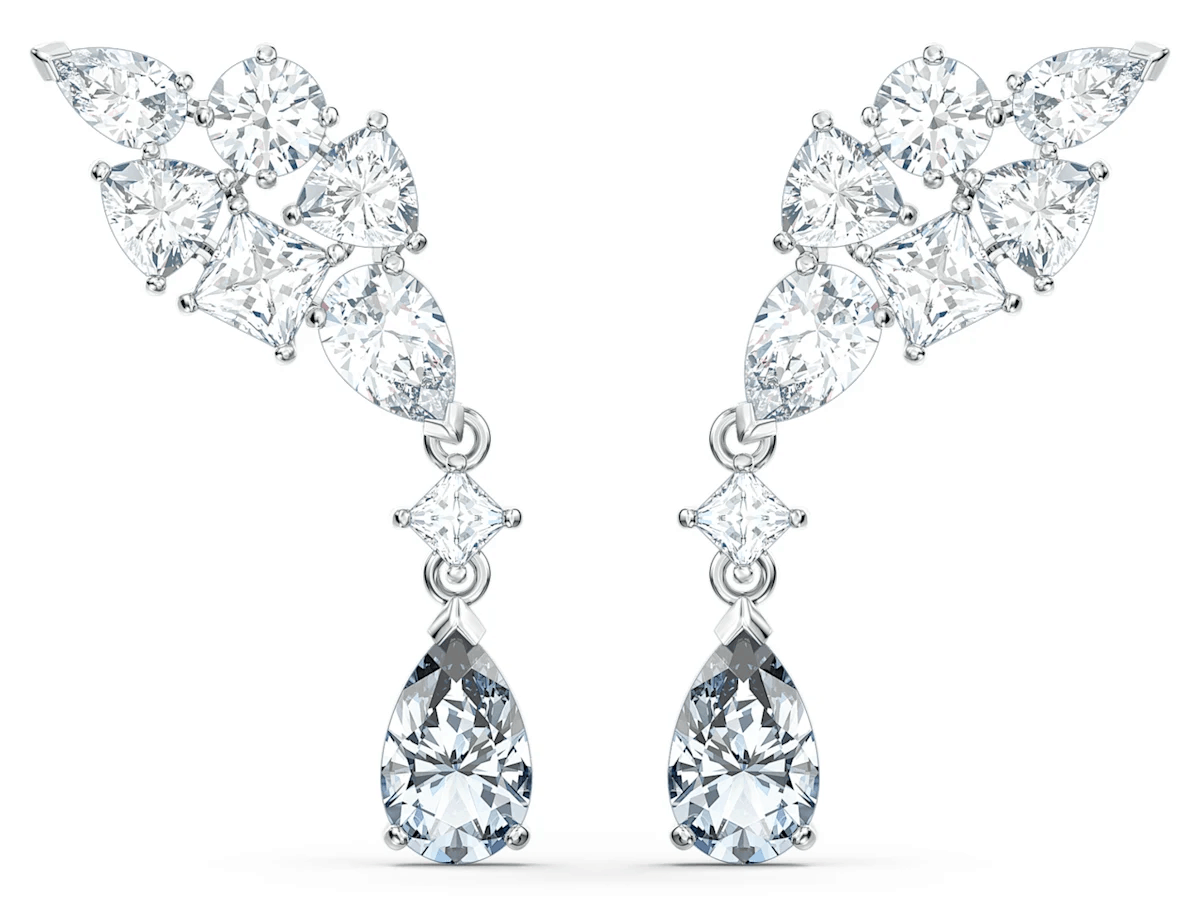 Elegant, glamorous, and priced at $119, these stunning earrings showcase the beauty of Swarovski crystals. Faceted white tones are paired with sparkling square, round, oval, and trillion crystals. The dropped stone presents in a silvery gray hue. These earrings can be worn from day to night. Buy Here. 
Swarovski Dancing Swan Earrings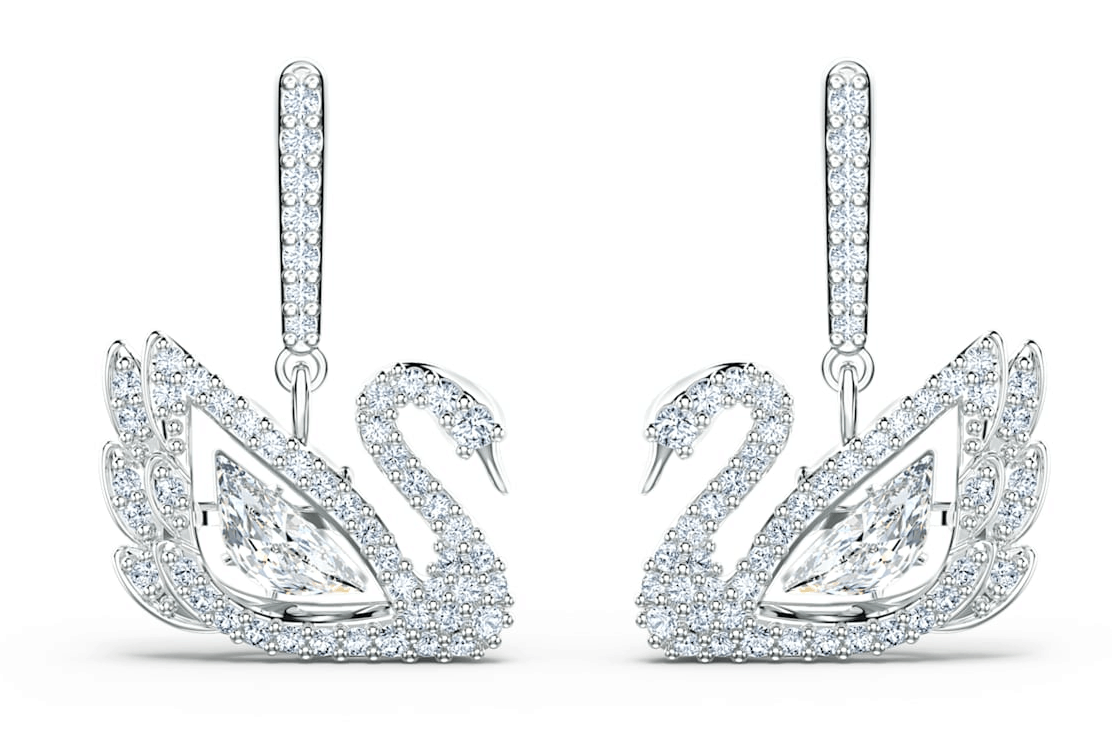 Can you look at a Swarovski collection and overlook the iconic swan motif? These earrings are as classic Swarovski as you can get. Retailing for $149, two swans sparkle with clear crystals and polished rhodium plating. While Swarovski recommends pairing with a matching swan necklace, I think these sparkling swan earrings make a more nuanced statement when worn alone or with a simple silver chain necklace. Buy Here. 
Swarovski Beautiful Earth By Susan Rockefeller Earring Jackets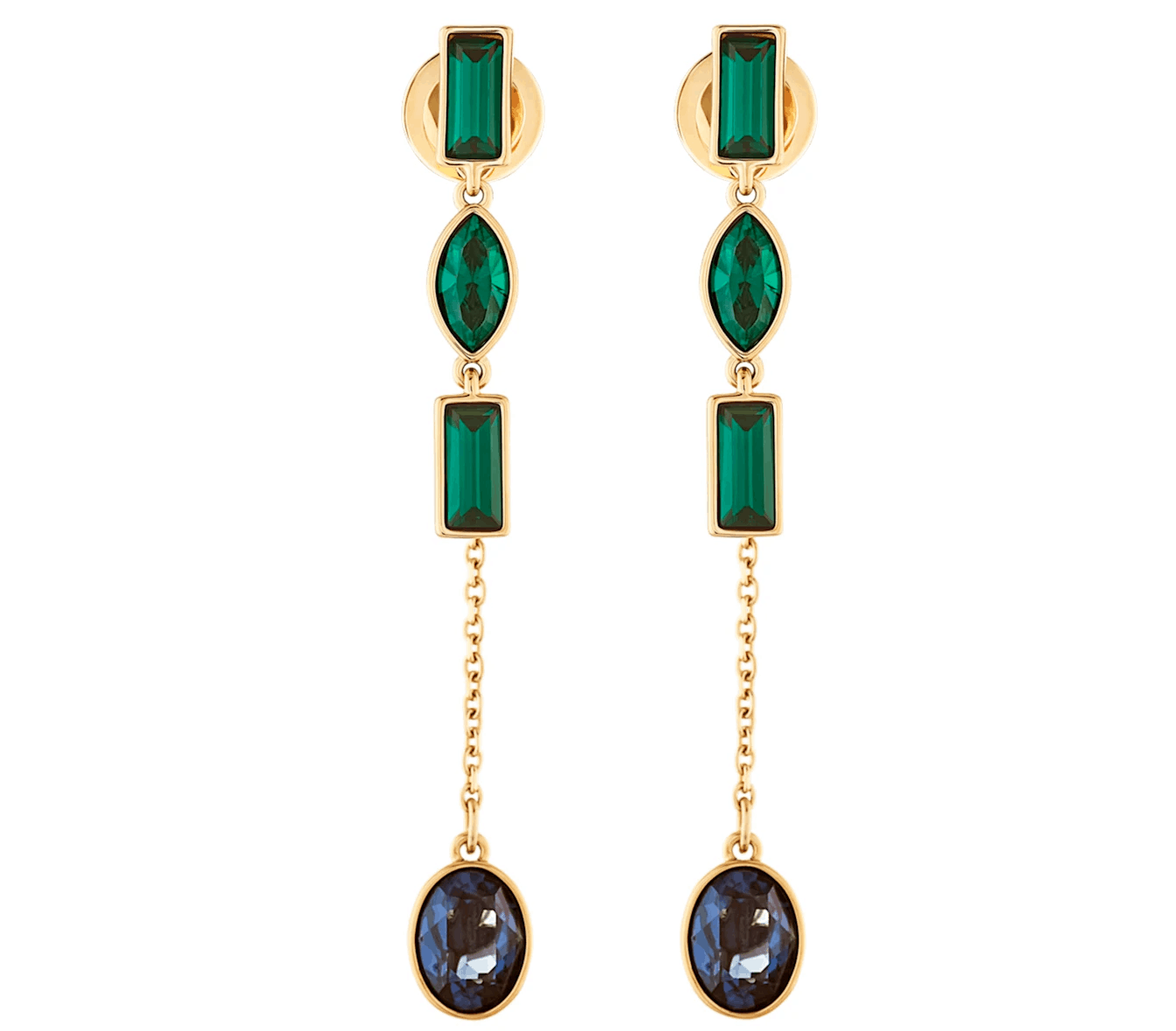 These unique drop earrings aren't your typical Swarovski. These drop earrings, priced at $199, come from the special Beautiful Earth collection. The collection was designed by conservationist and designer Susan Rockefeller, who wanted to design accessories that remind us of the panda and Earth's natural beauty. Green crystals sparkle on gold-tone plating, reminiscent of lush vegetation. Buy Here. 
Swarovski Ear Cuffs
Ear cuffs are worn on the outer ridge of your ear. This alternative style fits snugly and is often paired with other earrings. Swarovski ear cuffs feature both minimalist and maximalist styles, all with striking hues and clever designs. Sleek and sure to make a statement, this collection is priced from $59 to $229. Shop All Ear Cuffs Here. 
Swarovski Millenium Crystal Ear Cuff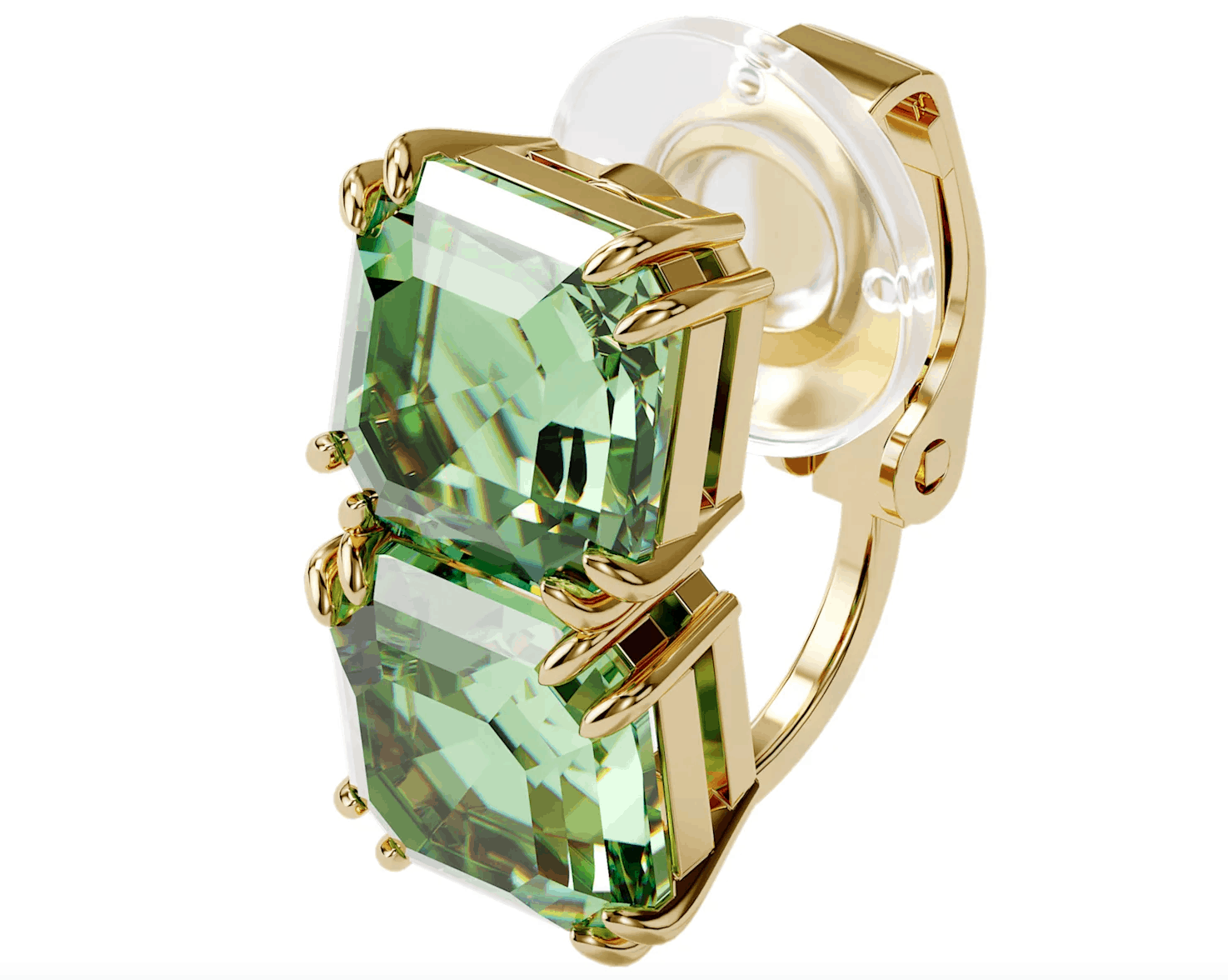 The Millennia collection is quite popular– many of the new line's products are sold out. But this is a great example of what Swarovski's newest collection does well: colorful, playful, maximalism. Peridot, princess-cut crystals are attached on a double-prong setting. The gold tone adds an elegant accent. Even better, this ear cuff is available in multiple hues. Priced at $59. Buy Here. 
Swarovski Tigris Ear Cuff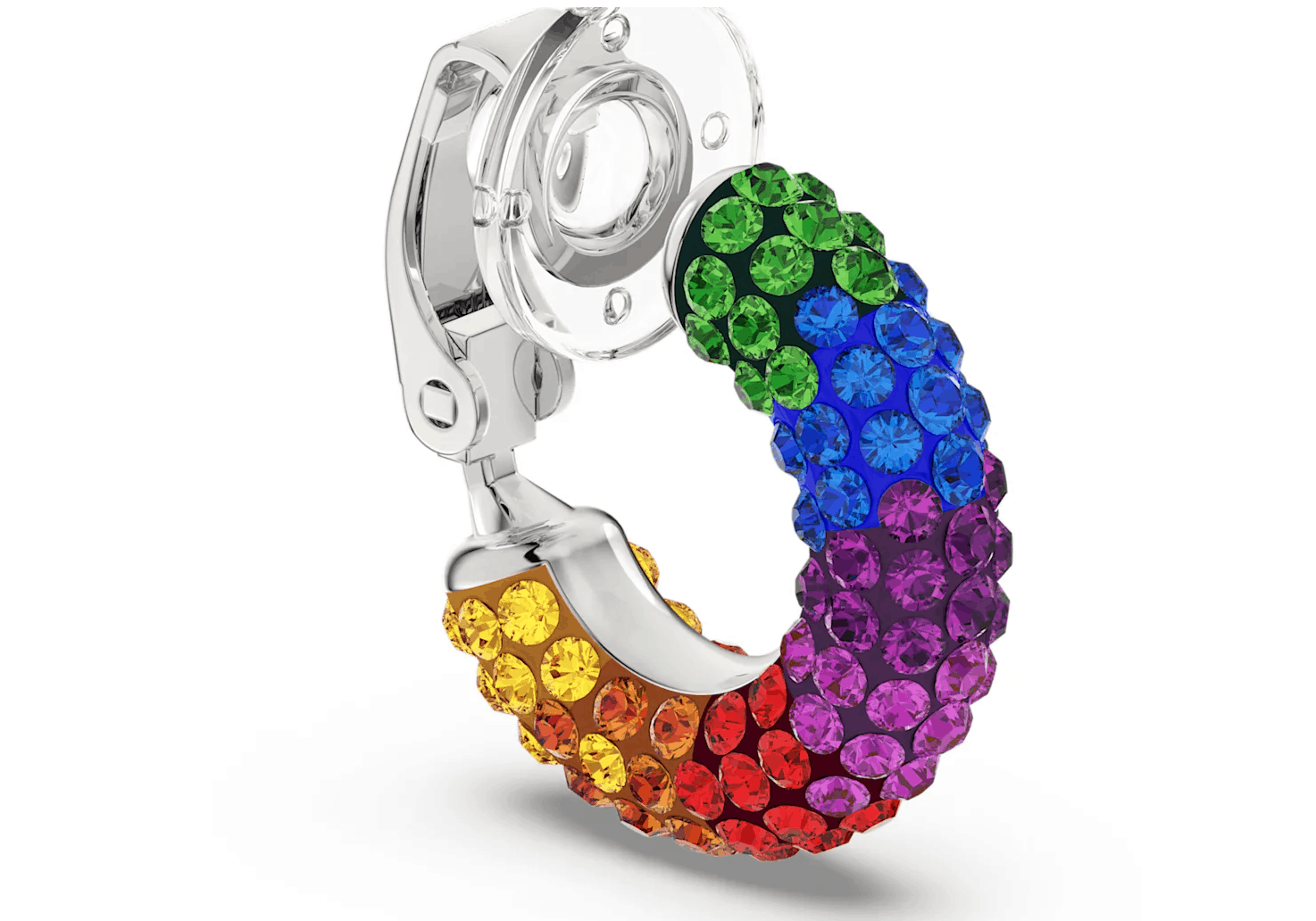 From the Tigris collection, this Swarovski ear cuff is playful and unique. Bright crystals are set with a special Swarovski technique to add dimension. This ear cuff can be paired with just about anything but is also perfect for a statement accessory. Available in orange, multicolored, blue, pink, red, yellow, and green, rhodium plating adds a modern, sophisticated touch. Priced at $69; Shop at the links provided. 
Swarovski Dextera Ear Cuff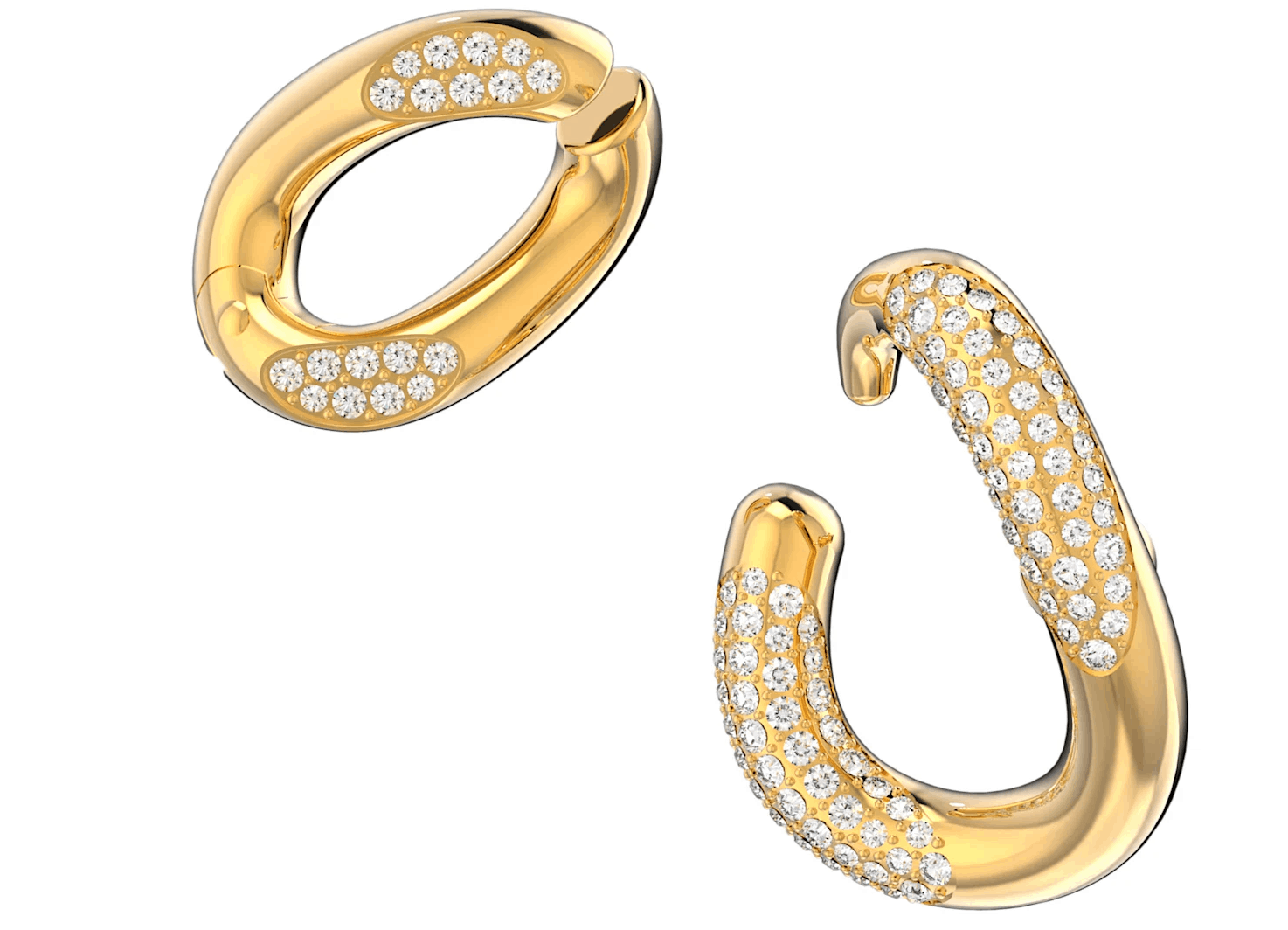 These ear cuffs turn a classic look on its head. The gold-tone plated earrings are studded with Swarovski crystals. The intricate but bold design nods to an industrial style, with unique angles. Designed to be worn on the right ear, this ear cuff would look spectacular with simple gold stud earrings. Priced at $129. Buy Here.
Swarovski Hoop Earrings
Hoop earrings are a symbol of freedom, independence, individuality, and unique beauty. Swarovski doesn't stick to just classics but goes bold and innovative with its hoop earring collection. Here, you'll find some of their most colorful and dramatic earring designs– often with a touch of whimsy and fun flair. Swarovski hoop earrings are priced from  $69 to $379. Shop All Hoop Earrings Here.
Swarovski Vittore Hoop Earrings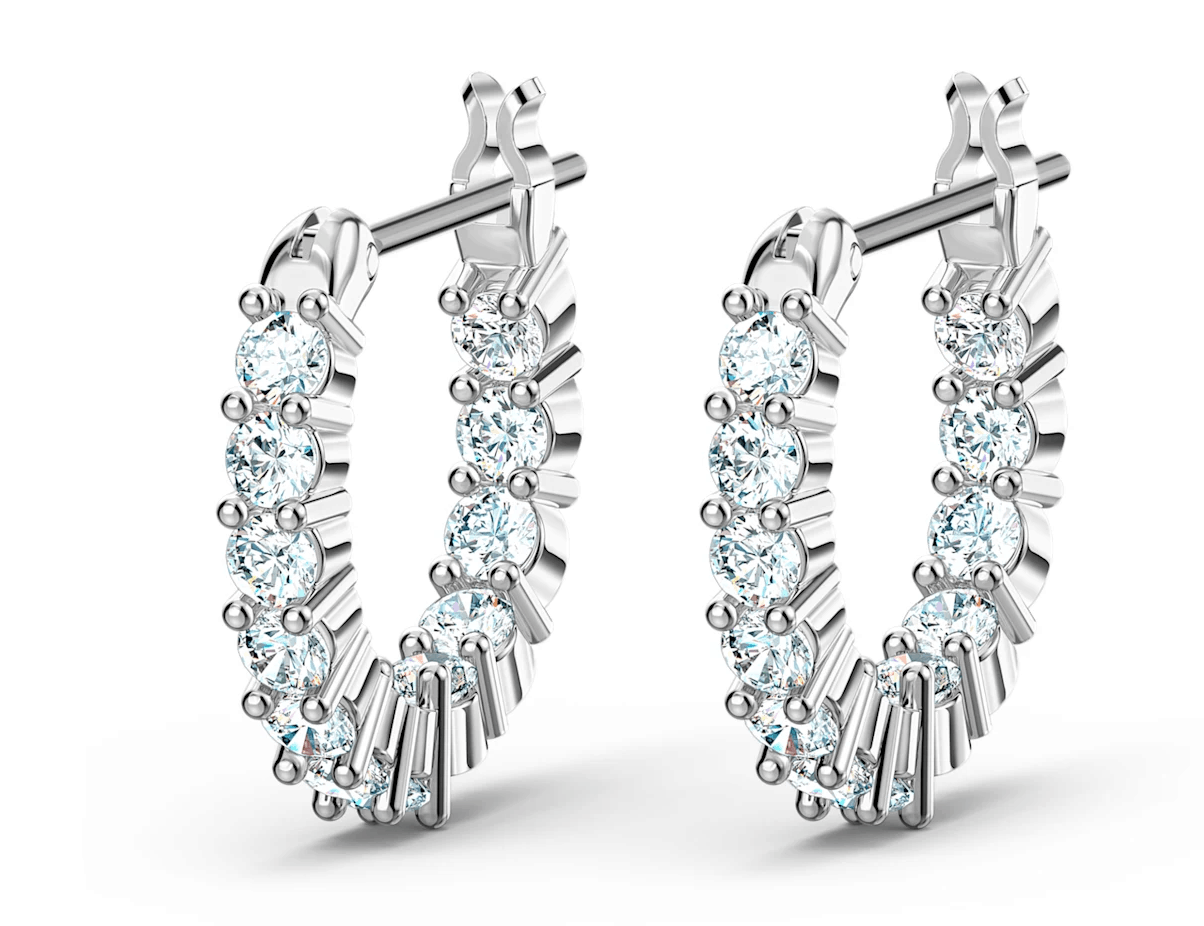 Make no mistake: Swarovski has other hoop earrings, with a classic style. But these are the first ones that feel unique from other brands. Priced at $79, these crystal hoop earrings and white with rhodium plating for an elegant look. But it's The unique prong set and modern details that make these earrings stand out. Buy Here.
Swarovski Tennis Deluxe Hoop Earrings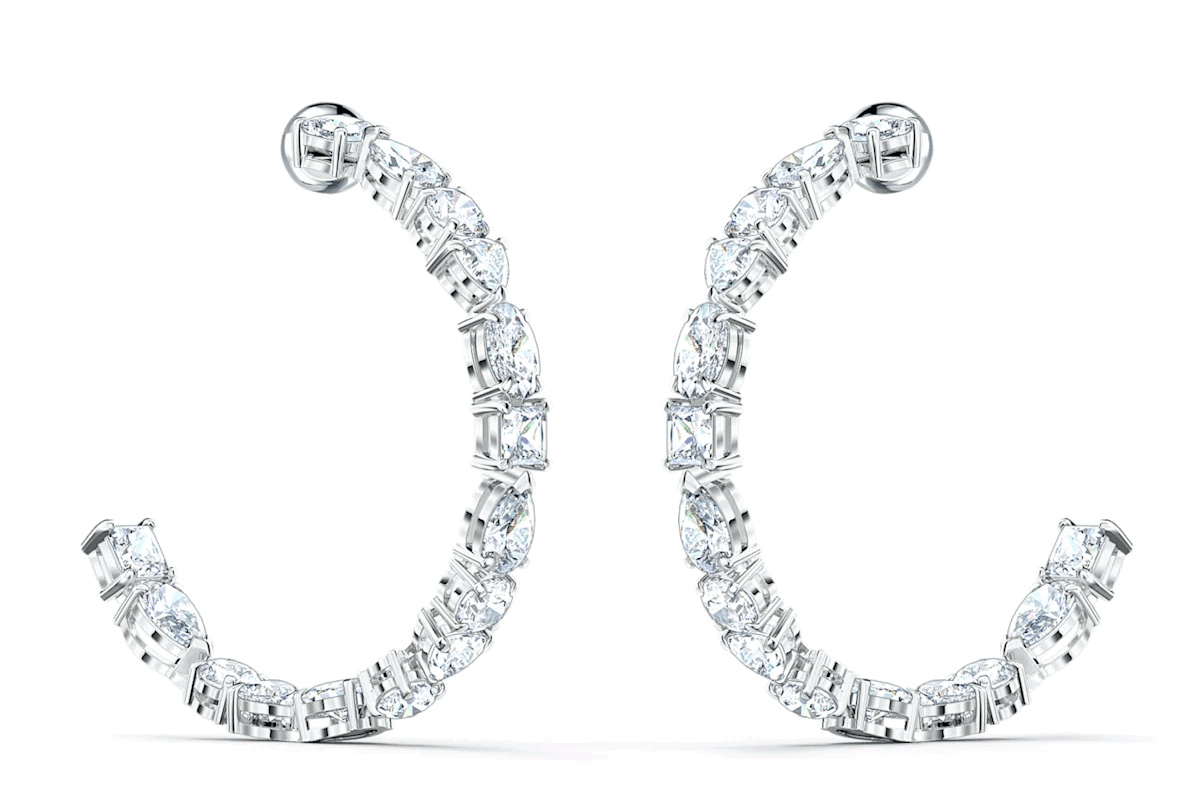 The tennis deluxe style makes its appearance again with these glam Swarovski tennis hoop earrings. These earrings aren't just about sparkle, though. Mix cut crystals include round, square, and trillion cuts for a dazzling array of modern glamour. Set with rhodium plating and priced at $129; Buy Here. 
Swarovski Constella Hoop Earrings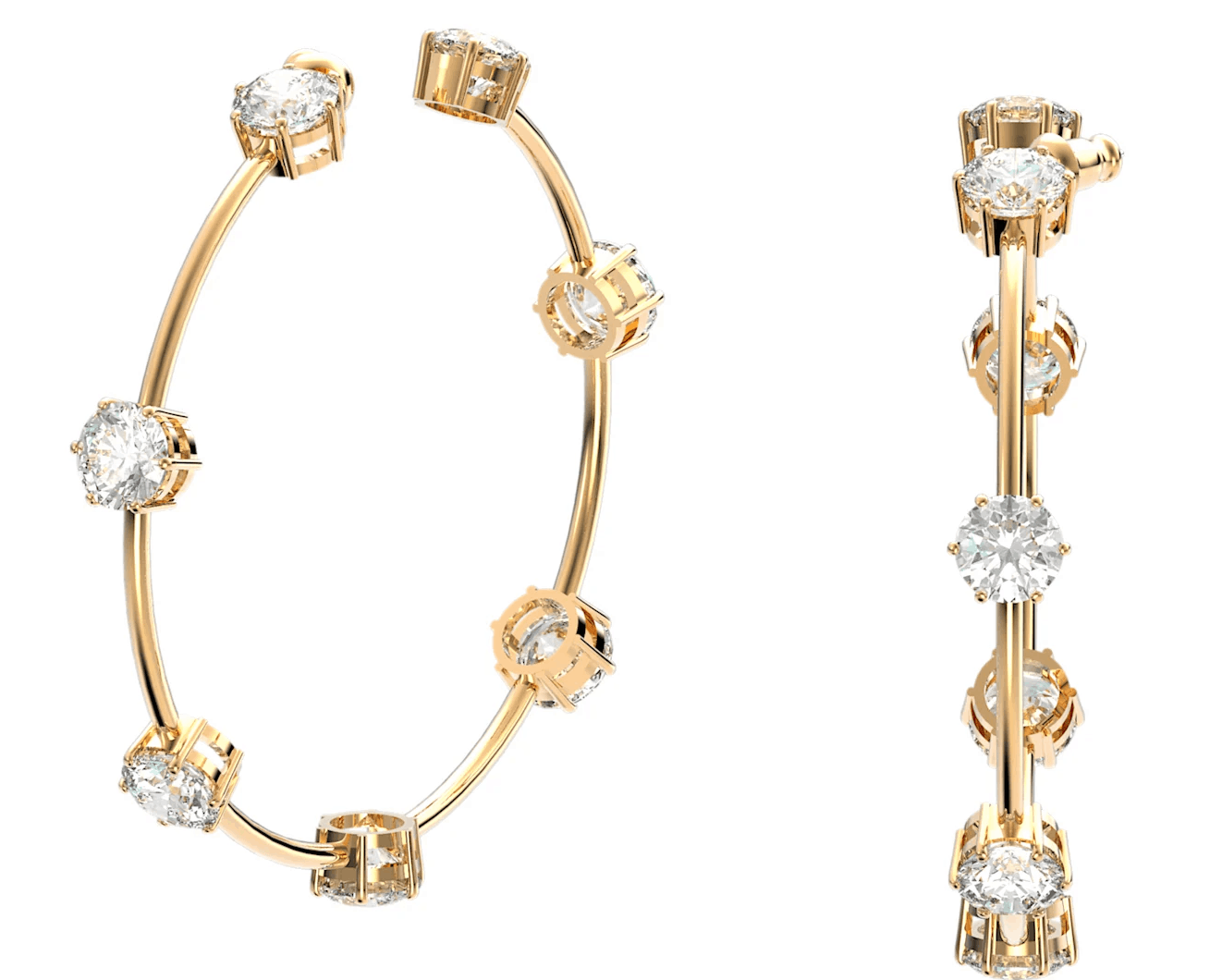 'Once again, Swarovski combines elegance, sparkle, and unique modern details. These hoop earrings are specially designed by Giovanna Engelbert and are meant to evoke the beauty of constellations in the night sky. A minimalist, gold-tone band is accented with station crystals, The look is ethereal and still versatile. Priced at $169: Buy Here. 
Swarovski Millenia Hoop Earrings, Pink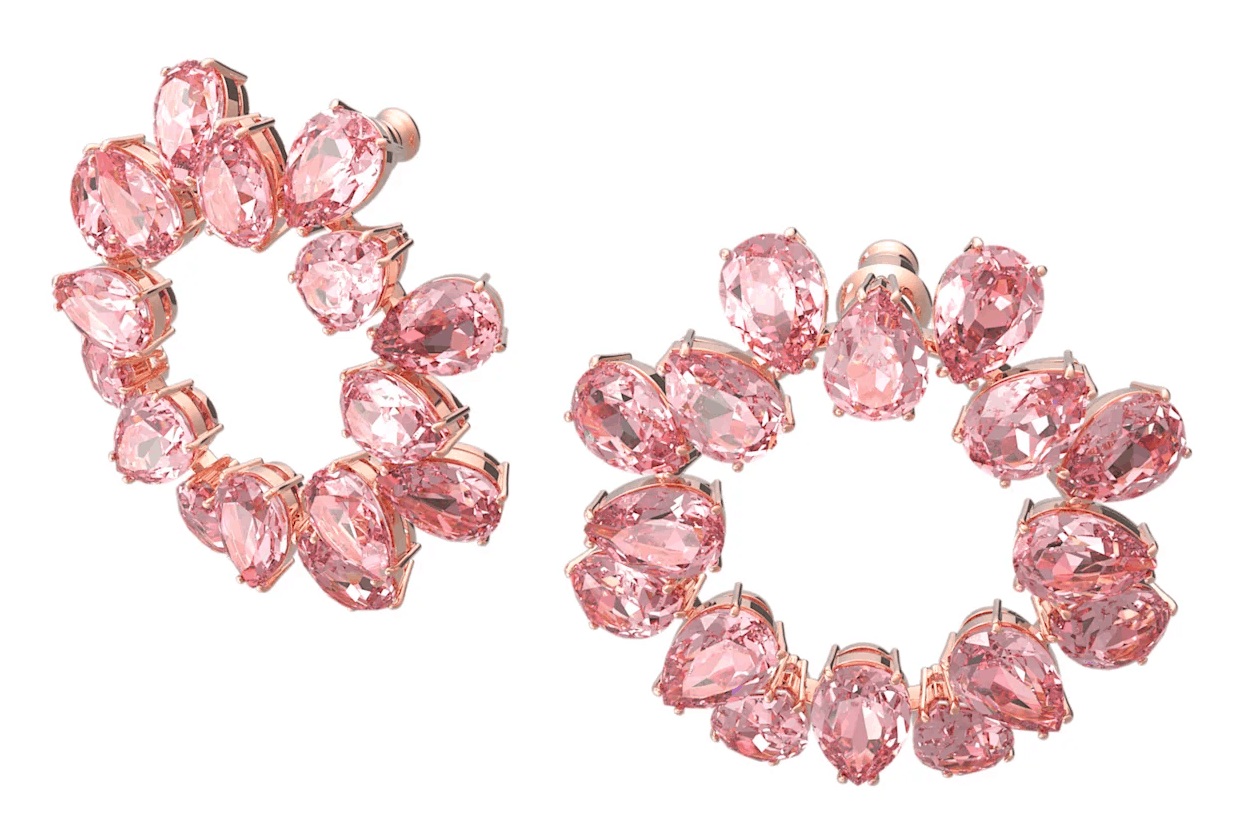 These new, striking hoop earrings show why the Millennia collection is popular. Pink, pear-cut Swarovski crystals are paired with rose gold plating for a romantic hue. The arrangement features a playful geometry and sparkles with brilliant color. Priced at $189; Buy Here. 
Swarovski Single Earrings
Single earrings, of course, can be worn for individual piercings. But a popular trend now is mismatched earrings, which you can also do with this Swarovski earring collection. In many ways, this small collection of Swarovski earrings blends much of what the brand is known for. You'll find a few classic clear crystal earrings, as well as bold jewel tones, and playful elements of geometrical patterns. Some of these overlap with other categories. Single earrings are priced from $49 to $429. Shop All Singles Here. 
Swarovski Orbita Stud Earrings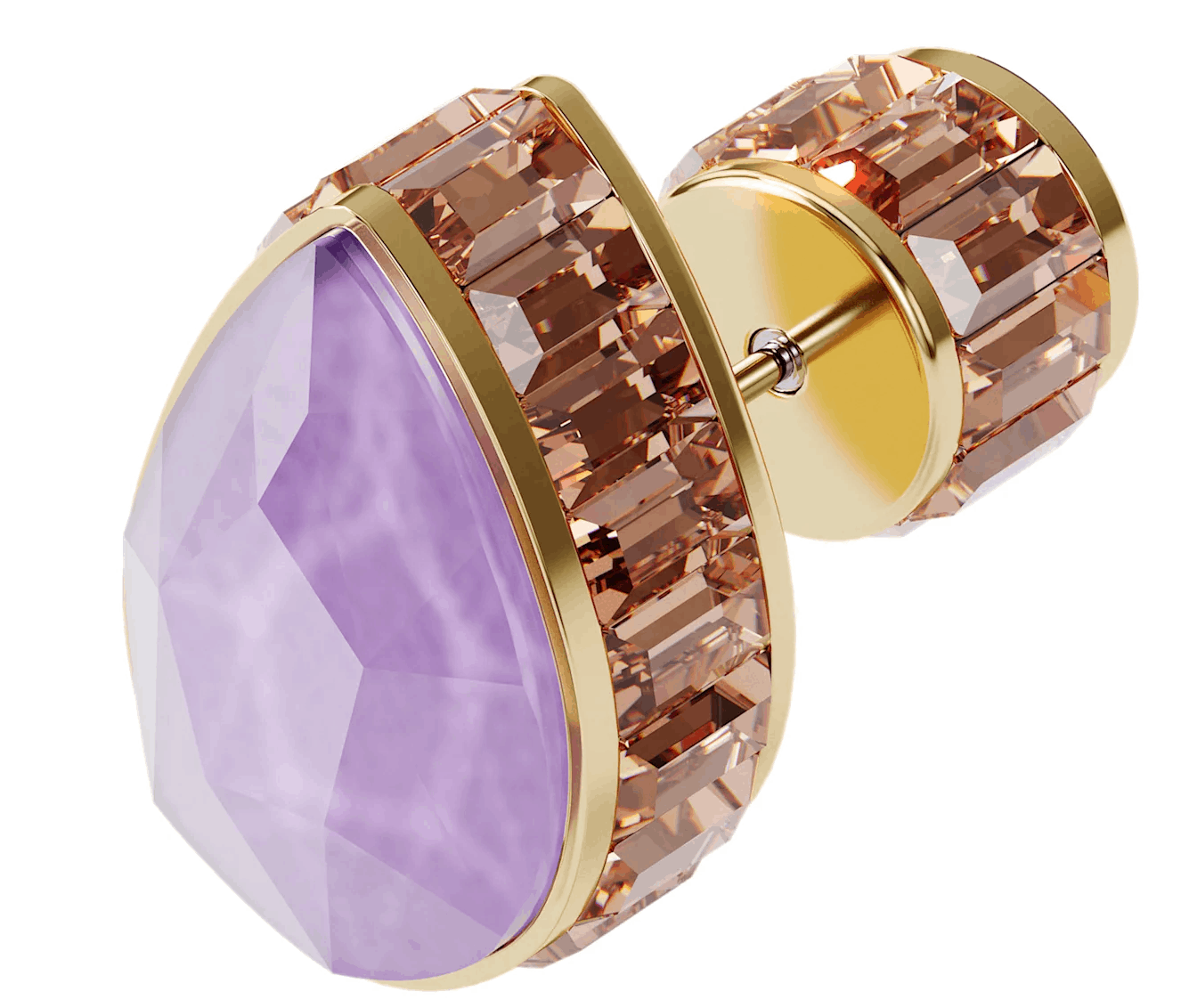 This single stud earring is immediately striking. The three-dimension backing provides the foundation for a versatile, double-sided style. A drop cut crystal wows with a multicolored, lilac hue. The gold-tone plating adds a layer of modern elegance. Priced at $89: Buy Here. 
Swarovski Lucent Stud Earrings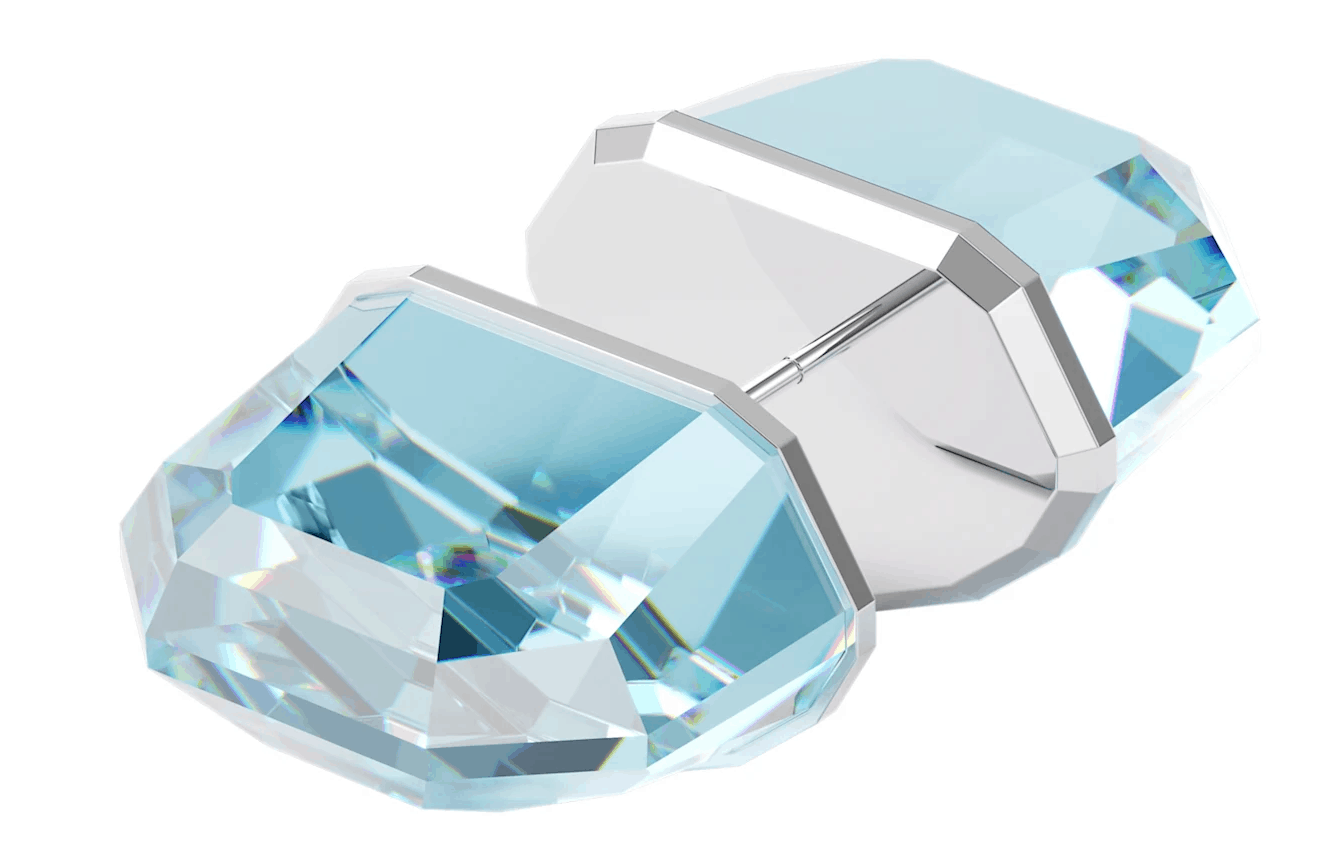 Available in green, pale blue, red, or gold, this stud earring features gentle jewel tones and rhodium or gold plating. Priced at $99, the Swarovski stud earring pairs two octagonal cuts for a modern but not overly complicated design. The geometric details can be stacked with other earrings from the Lucent collection or worn alone. Buy Here. 
Swarovski Round Curiosa Stud Earring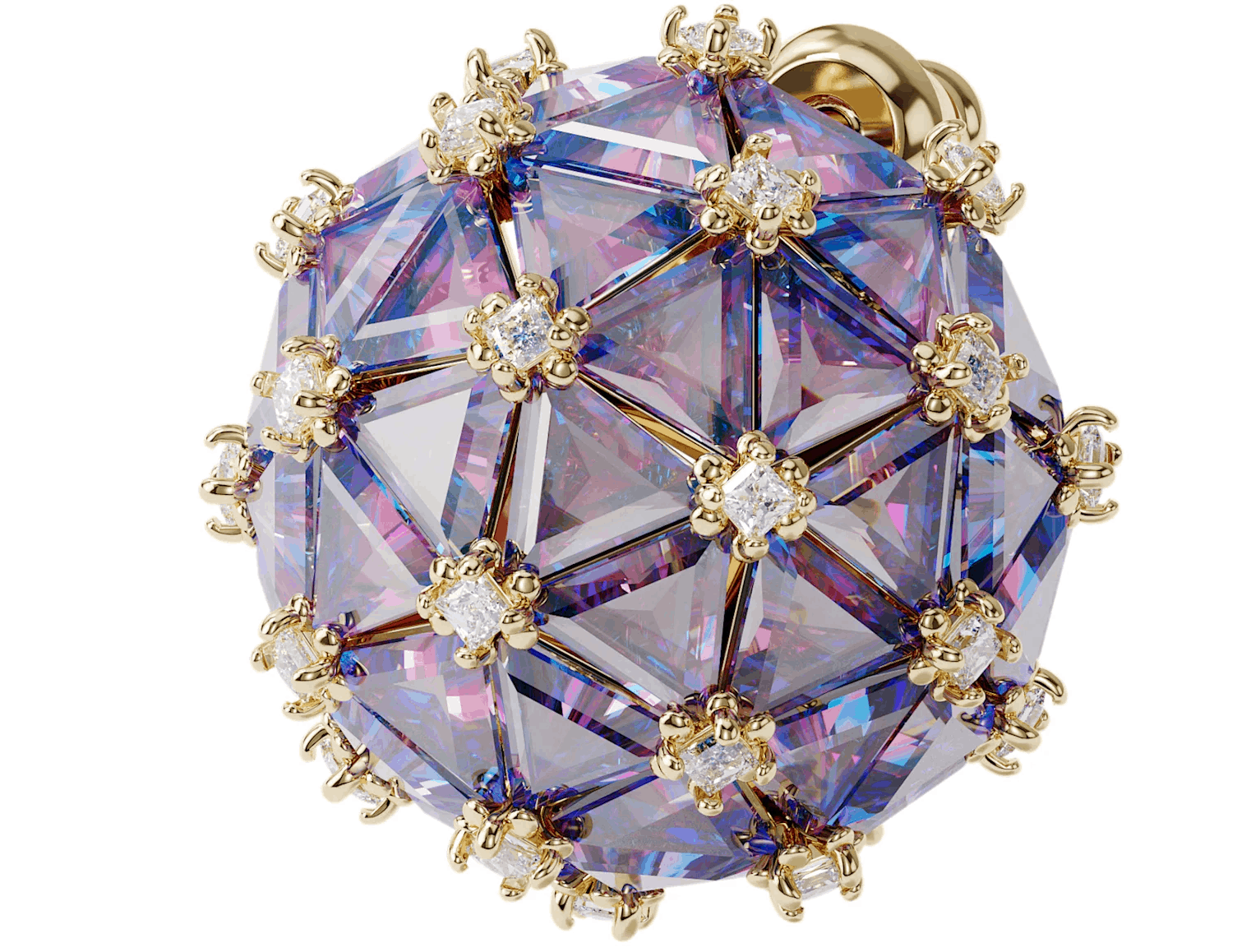 The only Curiosita single stud earring currently in this stock is sure to make a statement. While I think the $379 price point is high, there's no denying that the ornate detail and innovative layering make this practically a work of art. This enchanting Swarovski earring presents in a spherical shape, with special bichromatic technology that features blue triangle princess-cut stones for a kaleidoscope allure. Clear crystals add to the lilac hue, and both gold-tone and rhodium plating add an aura of modern sophistication. Buy Here. 
Frequently Asked Questions
Question: Why is the Swarovski logo a swan?
Answer: The Swarovski swan is now iconic– but it wasn't always the company's symbol. In fact, the logo used to be simple "SC" block letters. The swan was introduced in the late 1980s as a symbol of beauty and grace. This is meant to reflect the elegant and refined styles and precision of the cuts used for Swarovski crystals. Today, it's nearly impossible to mention Swarovski and not also mention the swan. The swan motif can be found in nearly every product they sell, with options for necklaces, earrings, bracelets, and more. 
Question: How can you tell if Swarovski earrings are real?
Answer: Swarovski earrings and other products are sold by third-party sellers, but be careful. The truth is that many of these sellers are selling fake products. If you want to ensure yours is real, I still recommend buying directly from Swarovski. Aside from that, examine the crystals. There shouldn't be any air bubbles. Knock-offs may likely have less precise cuts and less intricate designs as well. 
Question: Which is better, CZ or Swarovski?
Answer: Swarovski crystals have plenty of sparkle, clarity, and beautiful details. The downside is that they are fragile and may wear out over time. Cubic Zirconia is a harder stone– in fact, it's considered quite durable and resistant to scratches and everyday wear. Between the two, cubic zirconia is a more durable option. Expect multicolored scintillation and a different hue– it's not an exact diamond substitute, but it does add that sparkle you may be looking for from Swarovski. 
Final Thoughts
Swarovski crystal earrings are playful, artistic, and certainly stylish. It's easy to see why many would love to wear them as a new go-to accessory. 
At the same time, they may not be the best option for everyone. I wouldn't recommend Swarovski earrings for someone with young children or someone who tends to be rather hard on their jewelry. 
If you want a sparkling alternative that's a bit more durable, I recommend cubic zirconia earrings with precious metals. You'll still save money but these earrings will last longer. Collections I recommend include Ross-Simons CZ Earrings and Neiman Marcus CZ Earrings.