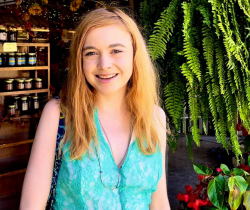 Latest posts by Erin Jamieson
(see all)
Diamond earrings will always be timeless, but in 2022, we're seeing more colorful gemstone looks than ever. And it's the captivating green of emerald earrings that evoke allure for one of the most beautiful and statement looks this year.
Love it or hate it, The Bachelorette is as much known for its fashion as it is for the competition. And the finale didn't disappoint, continuing the green theme of the 2022 season. 
In the three-hour finale, Bachelorette Katie Thurston stunned in a plunging green gown with sequin details. The look was glamorous but also boho-inspired, with a high slit and a flowing skirt. With her hair down, she looked at ease compared with the difficult decision that lay ahead.
But what really made her look was a pair of gold, drop emerald earrings. The jewel tones and sparkling green hue tied into the detailing on the dress, making it finale-worthy.
And it's not just TV where emerald earrings are being worn. From influencers to formal occasions, the green hue is inspiring in 2022. But are emerald earrings right for you?
In this article, I'll tell you what you need to know to select the most beautiful emerald earrings. I'll also show you some of my top picks for where to shop.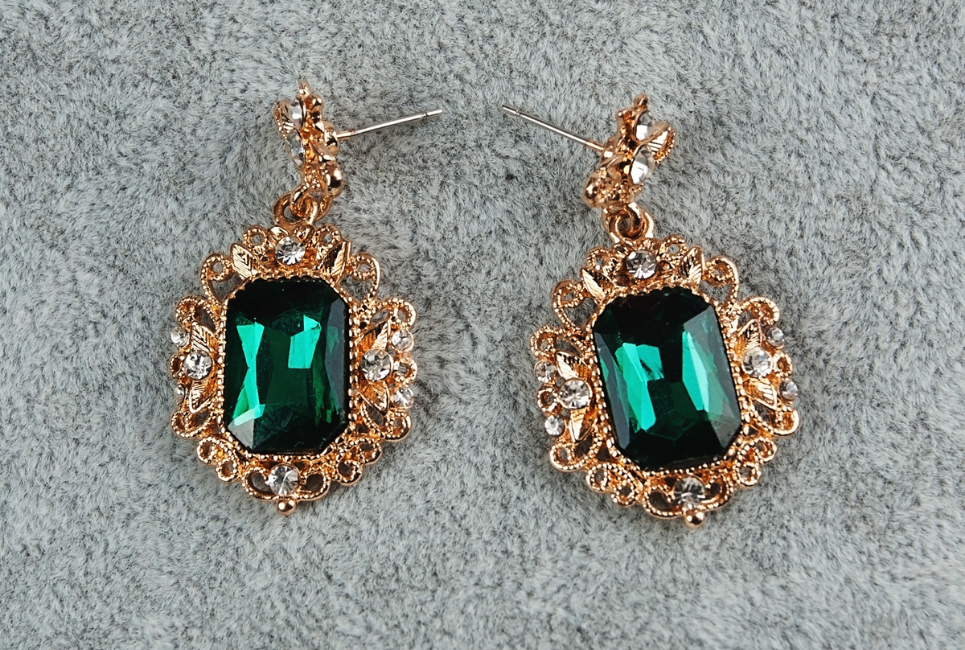 What are emerald earrings good for? 
Emerald earrings are most often worn for more formal occasions, though they can be given a more casual look, depending on how you accessorize. They're at once classic and more unique than your average gold or diamond earrings. But they also happen to be tied to symbolic meanings, which makes them all that much more attractive as a unique earring style. 
What do emerald earrings symbolize?
No matter the hue, emerald earrings have long been rich for their connection to lore and myths. Emeralds have always been associated with power and were mined in Ancient Egypt. Green was seen as a sacred color, tied to the fertile land by the Nile. In fact, at first, only Pharaohs were allowed to wear emeralds. 
Emeralds were and still are, believed by some to have healing powers. In fact, many ancient amulets have been found featuring emeralds as a form of protection. They continued to be used in Ancient Rome, the Middle Ages, the Renaissance, and beyond. Popular in Europe and India, emeralds have solidified their identity with power, protection, and royalty.
Today, however, the color of emeralds connects them to growth, peace, balance, and fertility.
Do emerald earrings attract money? 
In some cultures, especially India, emeralds are thought to attract wealth. Called the gemstone of abundance, the idea is that emeralds bring clarity to make wise decisions about finances. 
Who should not wear emerald earrings?
Some believe that Aries should not wear emeralds, due to astrology. It is said that it can be an unlucky stone. But if you don't follow astrology, really anyone– an Aries like myself included– can wear emeralds. The biggest reason why you wouldn't wear emeralds is that you don't like the green hue, or you find emerald earrings don't fit your personality or lifestyle. 
Are emerald earrings easily damaged?
One lifestyle factor? How well you tend to treat your earrings. Emeralds are rated at 7.5 to 8 on the Mohs hardness scale. This is softer than some gemstones, but still considered well suited for wear. It is possible to scratch emerald earrings. The bigger concern is that natural emeralds have fractures, which can make them less tough and easier to chip or break than some gemstones.
Overall, emerald earrings, with proper care, should last a long time. But they need to be stored carefully, and you shouldn't wear them during an intense contact sport or physical activity. 
How do I select the best emerald earrings?
Sold on the allure of emerald earrings? There are several factors you need to consider before you start shopping. From how much you should expect to pay, to find the best quality, here's what I consider before buying.  
Are emerald earrings expensive?
The first thing you should know is that emeralds are not cheap. Of course, how much emerald earrings cost is highly variable, based upon emerald quality, the metals used, and the designer craftsmanship? 
Natural emeralds are rarer than diamonds and thus are actually usually more expensive than diamonds of comparable quality. Lab-grown emeralds will cost a  good deal less, but natural emeralds fetch anywhere from a few hundred to $18K per carat.
Most fine jewelry emerald earrings start at a few hundred dollars up through several thousand. If you see emerald earrings retaining for under $200, chances are they aren't reputable quality. 
What's the best type of emerald?
Your main choice for emerald types includes lab-grown, synthetic, and natural. Of these, natural emeralds are the most valuable and most expensive. Lab-grown has the same physical properties as natural emeralds but cost less. Either is an excellent option. Avoid synthetics, which have little to no worth and also tend to not be durable or even look the same as genuine emeralds. 
Are light or dark emeralds better for earrings?
While a deep green is often associated with emerald earrings, but it isn't always the most desired. The range of emeralds considered the best quality includes green with blue undertones to pure green. Hue and saturation play a big factor. The highest quality emeralds (heirloom) are a vibrant green, no matter the shade, You should look for saturation and clarity (from little to moderate inclusions).
Emerald color is rated by the GIA based upon even color distribution and how vivid the hue is. You should look for even color, and a saturated hue (for natural and lab-grown). If you do prefer a darker shade, just make sure the color is even. 
What is the best cut for emerald earrings?
A deep cut tends to add deeper color to light stones, and a shallow cut lightens an emerald's base color. The best cut optimizes the hue and saturation of the emeralds. Round, octagonal, oval, and pear are all excellent choices, as is the so-called emerald cut. If you want a brilliant hue, I recommend avoiding deep cuts. 
What is the best metal for emerald earrings?
My favorite options for metal for any earrings are 14Kor 18K gold and platinum, or stainless steel when it's available. All are durable enough for everyday use and offer a nice polished shine. Rose and yellow golds bright out the warmth of vivid green tones, while white gold complements the cool blue undertones of some emeralds. Avoid gold-plated earrings, which won't last as well.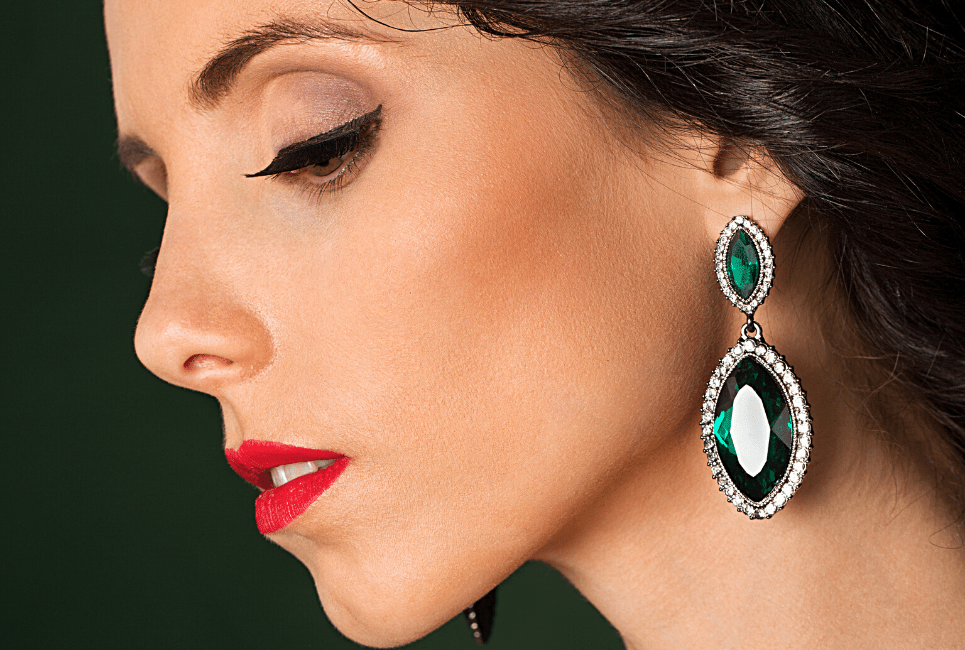 Emerald Earrings: My Picks
All of my picks for emerald earrings come from fine jewelers. There are much poor quality and/or synthetic emeralds on the market, so buying from a reputable jewelry store will ensure a better fit for your investment. The problem? Not all diamond jewelers sell emerald earrings.
 I've found three collections from Brilliant Earth, Blue Nile, and James Allen. All three collections offer exquisite, natural, or lab-grown, genuine emerald earrings. From understated elegance to a bit more glamorous, all of these emerald earrings are beautiful and worth your money. 
Brilliant Earth Emerald Earrings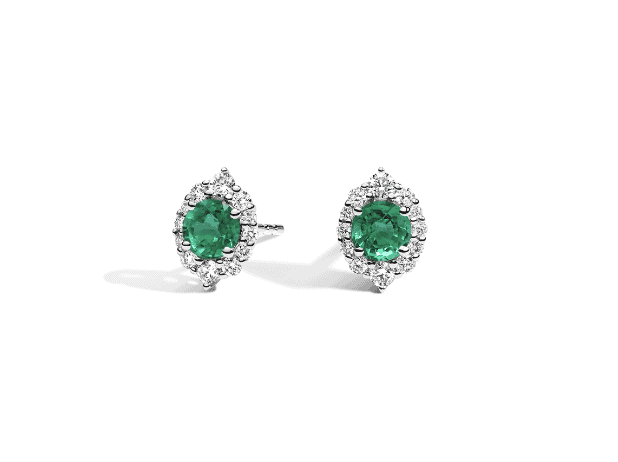 Brilliant Earth goes above and beyond when it comes to quality and sourcing standards. Their materials are sustainably sourced and all their gemstones are conflict-free. Known for their quality, ethical standards, and striking modern designs, you'll see that reflected in this collection of stud emerald earrings.
The modern polished hue comes from striking 18K white or yellow gold. Priced from $490 to around $2,000, this collection is actually more affordable than many fine emerald earrings. Shop the entire collection here. 
Emerald Stud Earrings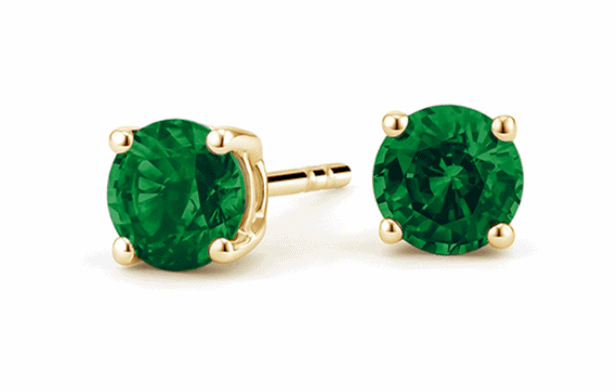 If you're looking for a classic, versatile pair of emerald earrings, look for further. These exquisite emerald stud earrings are classic but chic, with a saturated, deep emerald set in four prongs. The round, natural emeralds have a bluish undertone, are ethically sourced, and have only slight inclusions. Crafted in 18K yellow or white gold and priced at $1,650. Buy Here. 
Trilogy Emerald Stud Earrings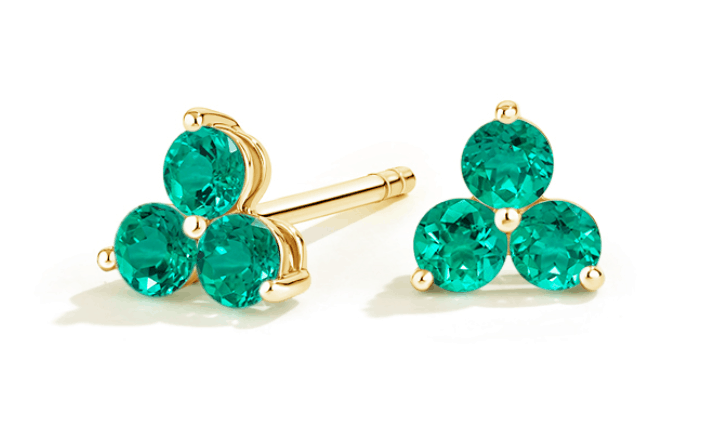 These playful emerald stud earrings pair a trio of vibrant green, ethically sourced gemstones, crafted with warm 18K yellow gold. The bright hue has bluish-green undertones and looks splendid in the sunlight. The design is simple and incredibly versatile– pair with your favorite blouse and casual jeans or dress it up with an 18K yellow gold necklace. Priced at just $650; Buy Here. 
Emerald Halo Diamond Earrings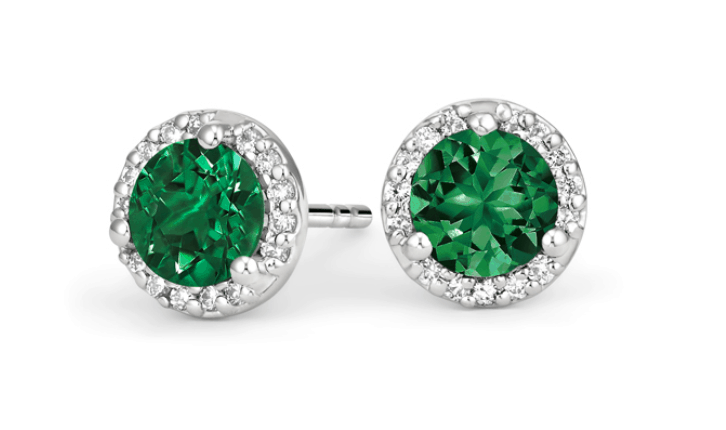 These emerald earrings exude sophisticated glamour. A vivid, deeper green round cut emerald is brought to life. Pave diamonds surround in a halo to enhance the beauty of the emeralds without distracting them. 18K white gold complements the diamonds with a polished, icy finish. All gemstones are ethically sourced. Priced at $1.990. Buy Here.
Mirasol Spiral Emerald and Diamond Earrings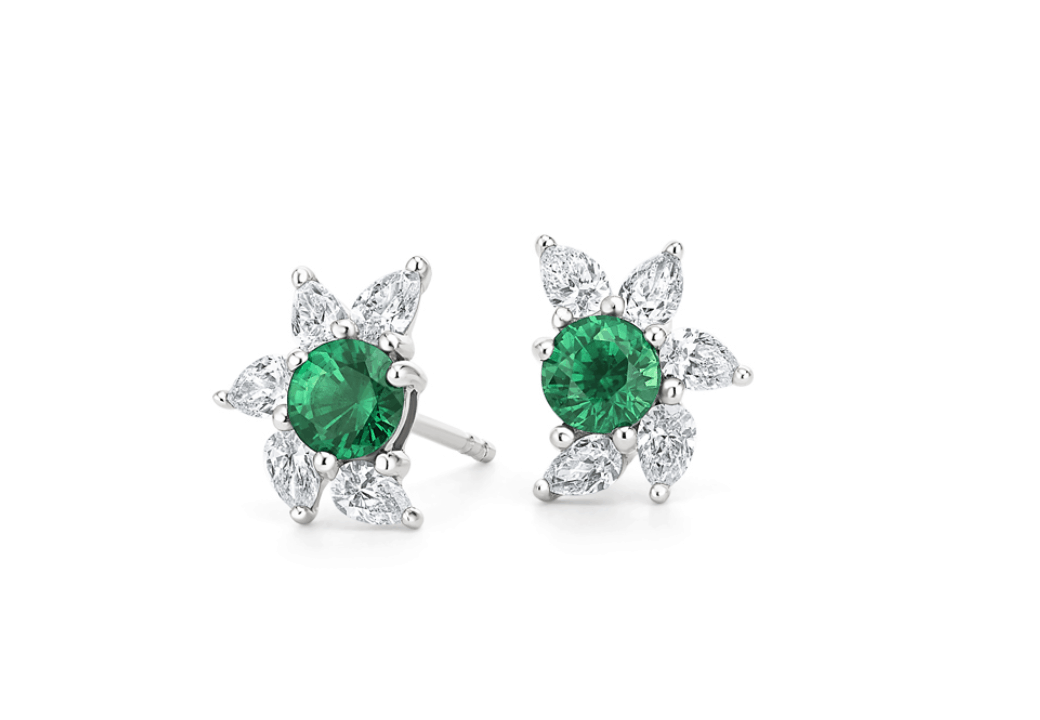 These dazzling earrings are a perfect example of Brilliant Earth's modern and elegant designs. Priced at $1,690 and crafted in gorgeous 18K white gold, this design immediately reminds you of floral-themed accessories. At the same time, these earrings are more versatile, with a spiral of tilted, diamond-studded petals. A round emerald with a beautiful green hue is striking and lively. Buy Here. 
Blue Nile Emerald Earrings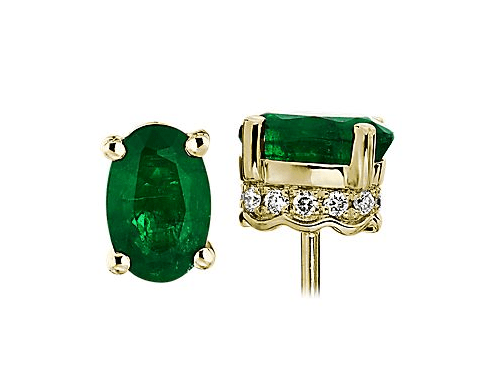 Blue Nile is a fantastic online jeweler that provides customer-friendly service, alongside beautiful gemstones and diamonds. From free secure shipping to product warranties, price matching for diamonds, and more, Blue Nile makes online shopping less stressful. 
Longing for vintage-inspired and classic emerald earrings? Then Blue Nile may just be the collection you're looking for. Diamonds add vintage glamour to pear, emerald, cushion cuts. You'll find dramatic, opulent drop earrings and classic emerald studs. This collection is priced from $400 to $36,000- but most options are under $2,000. Shop the entire collection here.
Mini Emerald Earrings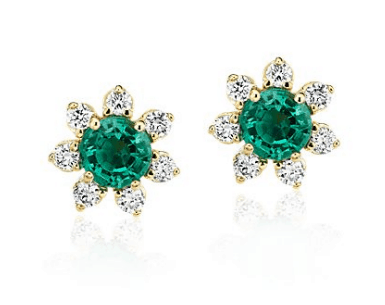 These bestselling emerald earrings from Blue Nile offer a delightful touch of iconic green and sparkle. These emerald earrings are simply whimsical, with a pleasing blossom design. A round cut emerald is surrounded by diamonds-studded, round diamonds, all with a classic prong setting. These emeralds are a pleasing medium green and have moderate inclusions, which is fair for the price point of $700 (but won't have the highest level of clarity). These five-star-rated earrings are crafted with 14K yellow gold. Buy Here. 
Staggered Emerald and Diamond Hoop Earrings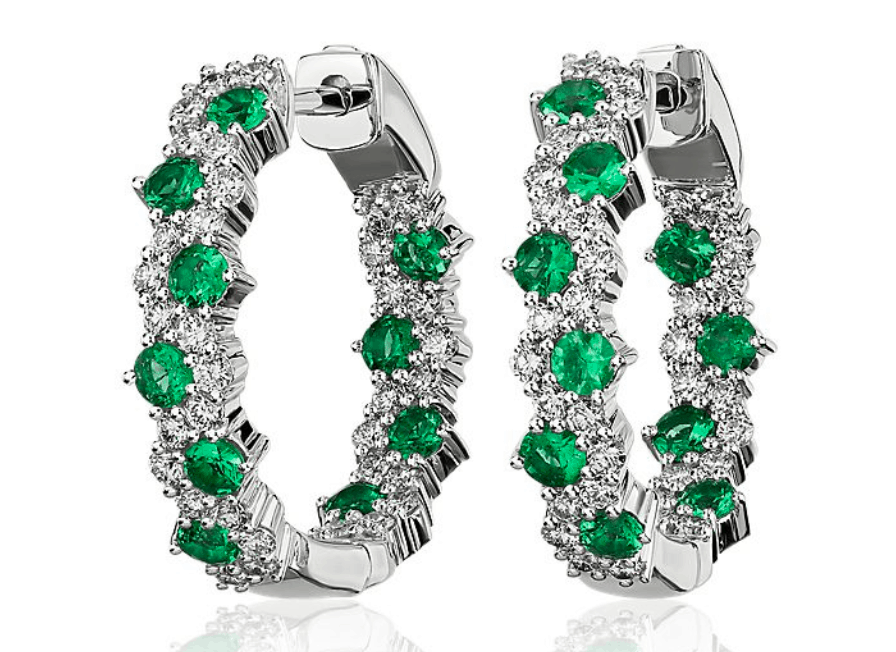 Have a larger budget? These beautiful earrings showcase emeralds with excellent clarity (light inclusions) and a medium green hue. The blue undertones are complemented by the 14K white gold band and side round diamonds. The staggered design is a play on geometry, with an artistic but classic appeal. Buy Here. 
Emerald-Cut Stud Earrings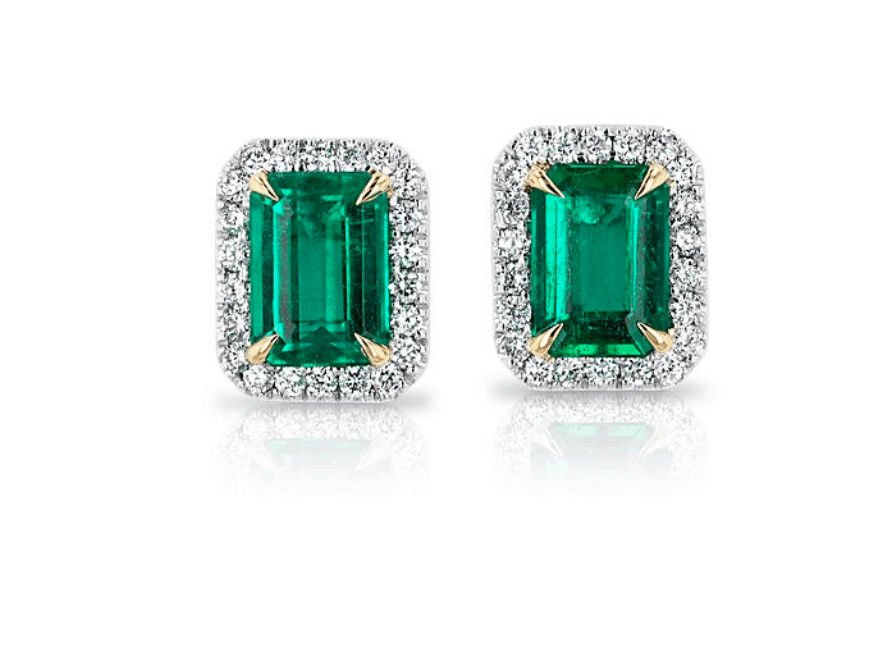 Emerald cuts, no surprise, are ideal for emeralds. This type of cut enhances the hue of emerald, and it shows with these $5,520 earrings. Vivid green emeralds with light inclusions are surrounded by a halo of round diamonds, crafted with 14K white or yellow gold. Old-world glamour exudes from this opulent pair of emerald earrings. Buy Here. 
Extraordinary Collection Emerald Earrings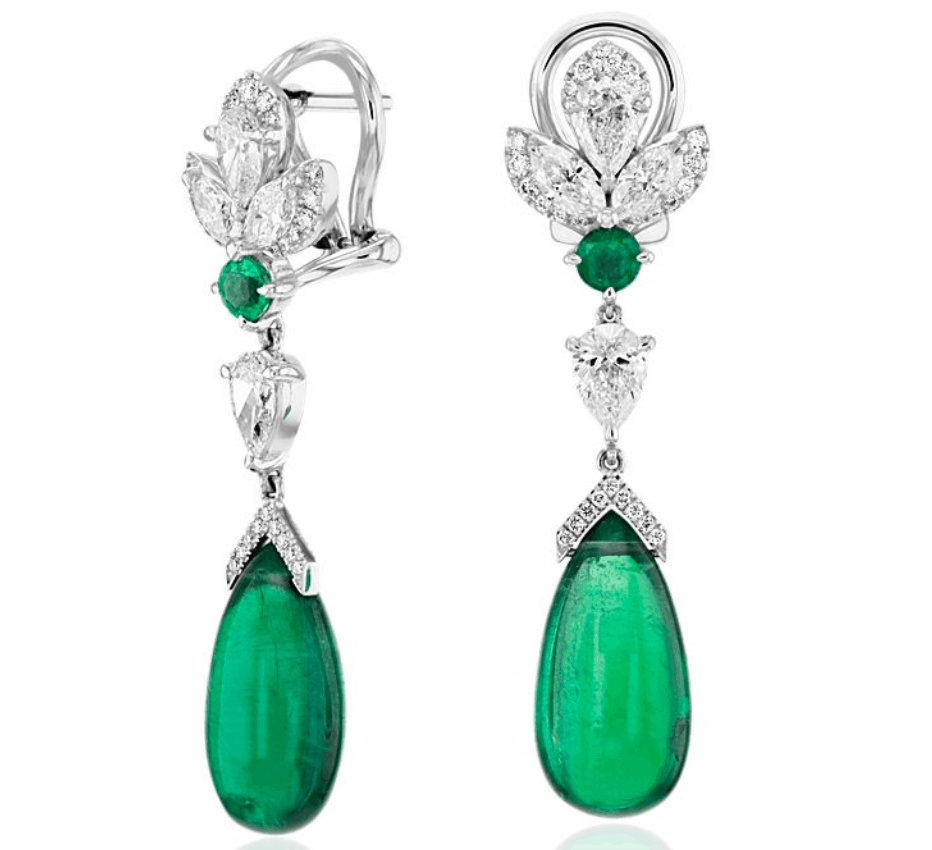 While out of most people's price range, I'd be remiss if I didn't mention the Extraordinary Collection from Blue Nile. This collection offers luxury jewelry and gemstones in unique, breathtaking designs and precious gemstones. Emerald earrings from this collection include butterfly drop earrings, beautiful cabochon teardrop earrings, and several pear-shaped designs. These earrings are priced from $14,500 to $36,00. 
James Allen Emerald Earrings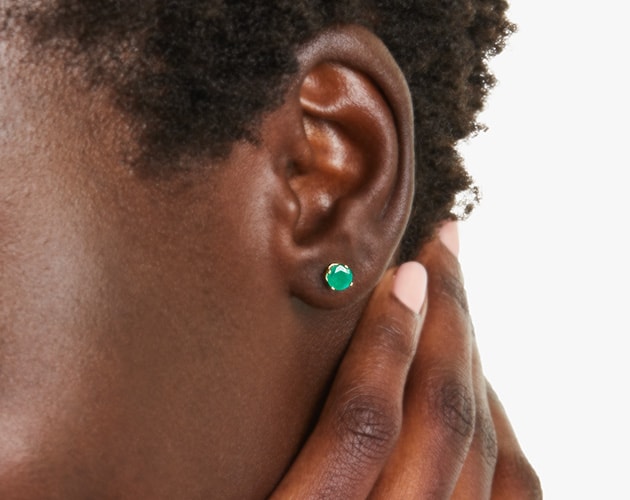 Chances are, you've heard of James Allen. And chances are you've heard about James Allen because of their diamonds. But James Allen, which enjoys an A+ rating from the Better Business Bureau, also sells a small collection of classic emerald earrings. Another plus for James Allen is you can also shop in person at physical storefronts, and it's been in the business for over a decade and a half. 
Halo diamonds are the star of these emerald earrings, for a classic allure that has a timeless appeal. Earrings are crafted in 14K or 18K gold and priced from $250 to $2,300 (setting price only).  Look for "fine" clarity and avoid "included." Shop the entire collection here. 
Double Row Pavé Emerald Hoop Earring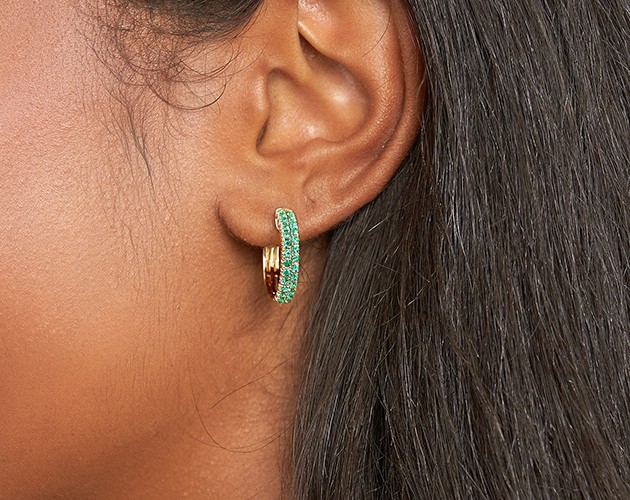 These top-selling emerald earrings are classic, beautifully dazzling with their dimension. A unique approach to emerald earrings, pave rows of saturated, deep green makes for a statement. The medium hoop earrings are crafted in 14K yellow gold and priced at $1,390. Buy Here. 
Double Halo Emerald and Diamond Stud Earrings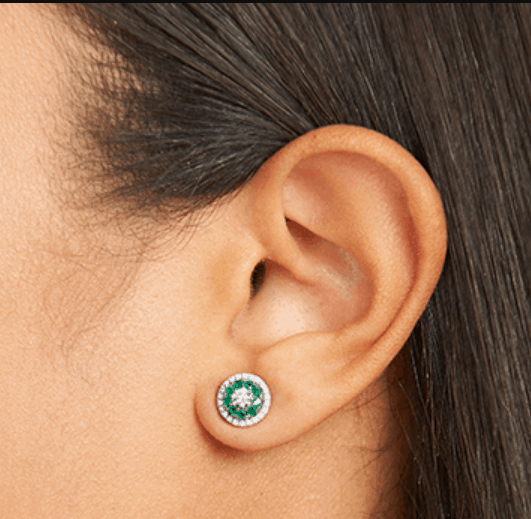 These beautiful emerald earrings are priced at just over $2,000 and offer classic glamor. Luxurious, medium green emeralds and round diamonds combine in alternating halos. The vivid dimension and thoughtful style make these 14K white gold earrings stand out. Buy Here. 
Petite Drop Oval Emerald Earrings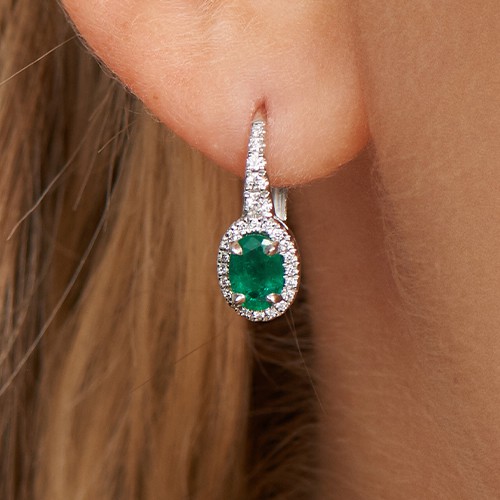 These emerald earrings are a great option if you want a classic look with understated elegance. Petite drop earrings are subtle and work as an accent with other statement jewelry, or even can be worn with more casual outfits. The oval shape allows the medium green hue to shine. Sleek 18K yellow gold adds a beautiful luster, accented with 0.19 carats of round-cut diamonds. Priced at $2,380. Buy Here. 
Frequently Asked Questions
Question: Are emeralds a good investment?
Answer: Natural emeralds are more expensive than common diamonds. They retain value and are taken care of, but some are more precious than otters. For instance, Colombian emeralds are known for their value, as well as retaining that value despite inflation. 
Question: Are emeralds in demand?
Answer: The popularity– and demand– of emeralds remain. Emeralds are only growing in demand globally, and are even being used as diamond alternatives to engagement rings and other fine jewelry. 
Question: What do you wear with emerald green?
Answer: Emerald green– whether that's emerald jewelry or emerald green clothing– can actually be styled in several ways. Emerald green looks fantastic with white, ivory, cream, and gold hues. You're safe with almost any neutrals. But if you want a bolder look of contrast and a pop of color, you might also consider purple tones. 
Final Thoughts
Emerald earrings bring a brilliant pop of color and don't scratch easily. However, since they can break or chip, you should practice caution when wearing them. Other naturally green gemstones include jade and tsavorite garnet. Jade is less likely to break but also scratches more easily. Garnet is softer than both jade and emeralds.
For a green gemstone, emeralds are the most valuable and elegant choice you can make– just know that you may have to spend a little extra for your earrings if you want to ensure they're good quality. To do that, opt for few to moderate inclusions. Any emerald earrings simply labeled as 'included' will likely disappoint you.