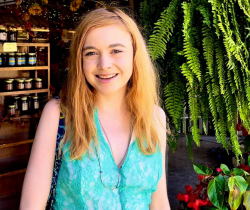 Latest posts by Erin Jamieson
(see all)
For some, earrings are a finishing touch to an outfit. But for others, inspiration comes from gemstones like opals for earrings that showcase culture and identity. And with jewelry, more personal and expressive than ever, 2022 just might be the best year yet to find some beautiful opal earrings. 
For Laura Merino-Franco, a 25-year old recent graduate from Minnesota State University, opal earrings, and accessories are a way of earning a living– while also sharing her culture with others. 
Merin-Franco had a penchant for jewelry making even as a young kid, making and selling beaded bracelets in school. She took that passion to the next level when she founded Primitiva Jewelry, which aligned with many of her values: connecting with others, healing, and supporting artisans. It also was a way for Merin-Franco to reconnect with her native country of Columbia. 
Described as "soulful, artisan jewelry," the company sells necklaces, rings, and earrings made by Colombian artists. In addition, the company is in partnership with One Tree Planted, which is dedicated to planting a tree for every sale made. 
Merin-Franco's story shows that opal earrings aren't always just earrings– but meaningful statements. But artisan earrings aren't your only option. I'll tell you what you need to know about opal earrings, how to select the best styles, and my picks for 2022. 
Is opal expensive?
Most opal is not terribly expensive, but it does vary greatly based upon the type of opal. An anomaly is a black opal, which is priced at around $10K per carat for the highest quality. However, most opal earrings are more common forms of opal. You can expect to spend a few hundred to a few thousand dollars for a high-quality pair of opal earrings, on average. 
Why are some opals so cheap?
If you find an exceptionally cheap pair of opal earrings, there could be a few reasons behind the budget price tag. One reason is lower quality. By nature, you'll pay a higher price the greater the color and clarity grade. Some cuts are also more expensive than others. Another reason is you're buying Ethiopian opals. 
Ethiopian opals are of fine quality and genuine, but they tend to be quite affordable. The Ethiopian market is not price-controlled and often sold below the market value you'd expect. Of course, common opal colors will also run cheaper. 
The third and final reason likely only applies if you're buying from a seller that doesn't have much of a reputation and is offering opal earrings for an incredibly low price: you may be buying fake opal earrings. 
How can you tell if an opal is real?
Most genuine opals are not universally even, especially if you're buying a raw stone. If you're buying lab-grown opals, the surface appearance will be more uniform, but you should be able to see some dimension. Be wary of opals that appear especially flat. Of course, if you're truly concerned, then the best path is to request information about sourcing and grading, preferably from the AGS or GIA. 
Is lab-created opal worth anything?
When you're shopping for opal earrings, chances are you'll have many options for buying lab-grown opals. Lab-created opals are not the same as stimulants– which you want to avoid. Lab-created opals are not worth much, but they're as durable and have the same physical properties as natural opals. They'll also save you money if you don't care about your earrings being less valuable. 
What does Opal do spiritually?
Some are attracted to opal earrings and accessories for their symbolism. Some believe that opal contains metaphysical properties which impact one's mood, emotions, and overall well-being. 
What are the benefits of wearing Opal?
Some of the cited benefits of opal include healing eye issues and promoting a healthy immune system. Others believe that opals can inspire creativity and artistic talent, as well as produce fortune, peace, and happiness. While there is no scientific evidence to support healing properties, for many, it is meaningful or even just a symbolic reason to wear opal earrings.  
Is opal a good choice for earrings?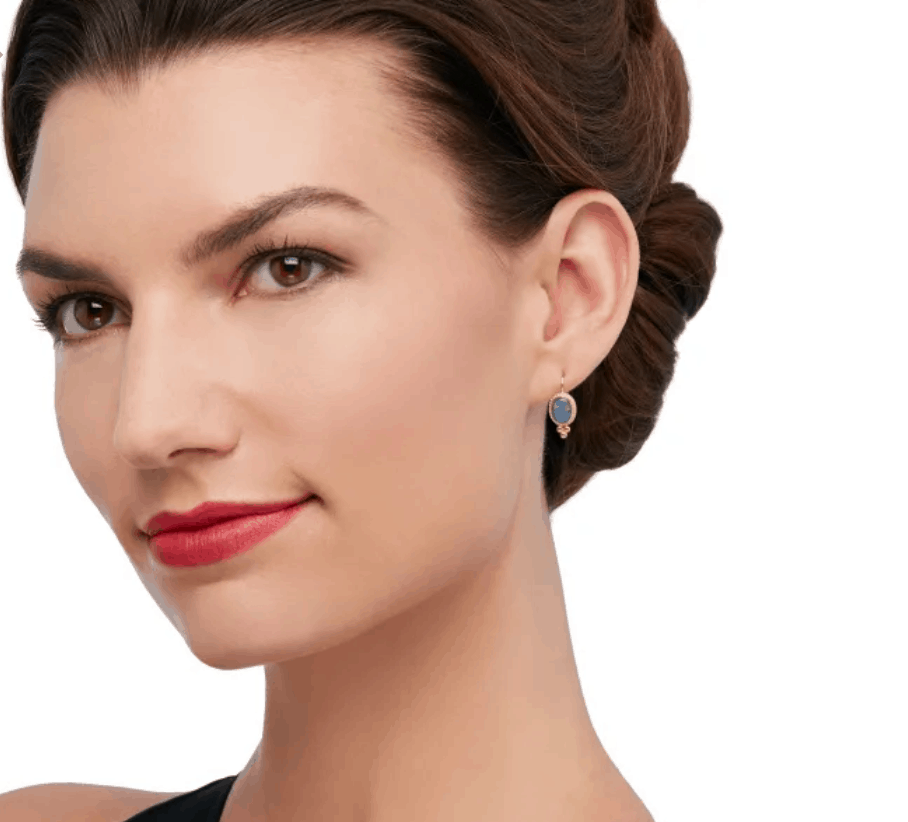 Opal earrings are meaningful and artistic. But are they the right choice for you? With opal, there are some pros and cons you need to consider before buying earrings. 
Does opal scratch?
Opal is not the hardest gemstone- in fact, it's considered relatively soft, with a Mohs hardness rating of 5.5 to 6 out of 10 (diamonds are 10). While this is less concerning for earrings than a ring, you do need to wear and store them with care. If you tend to be hard on earrings, you should look for a secure and protective setting. Store your earrings in their own protected soft cloth and away from other accessories. Opals have the same hardness as most glass. 
How do you keep opals from cracking?
The good news is that it's actually unlikely that your opal earrings will crack. Opal tends to be a stable stone, meaning it does not tend to crack under pressure from environmental changes. In addition, the selection and polishing process of the best opal earrings means they should be durable in this regard. Simply use common sense and wear them as you would normal earrings. 
Can you wear opal earrings in the shower? 
The good news? One or two times in the shower or being caught in a rainstorm is unlikely to ruin high-quality opal earrings. That said, generally, it's not a good idea to wear your opal earrings in the shower, rain, or swimming pool. It is possible too much water exposure can cause a build-up and make your opal cloudy in appearance. 
How do I find the best opal earrings? 
You don't need to spend above your means to buy a great pair of opal earrings. But even if you've found a pair of opal earrings from a reputable seller, there still are a few more factors you should consider before buying. 
What is the best color for opal earrings?
Opals are interesting– and in part appealing–because of the unique qualities of their color. All opals have a spectrum of colors rather than one solid color. The greatest factor for opals is the dominant body color, with black being the most valuable. Opal color is actually not uniform but created by interlocking "spheres" which impact what you see. 
The separation between these spheres produces different hues. Blue and green tones are caused by small gaps, while warmer tones (yellow, orange, and red) are caused by larger gaps. The warmer tones are more valuable, though not necessarily more popular. White opal is perhaps the most popular color and can range from translucent to milky. 
A bigger concern is how color is dispersed. You generally want to look for opal that has a fairly even distribution (though not perfect) of color. Lower quality opal will instead have patches of color. 
What is the best cut for opal earrings?
Oval, cabochon, and cushion cuts, as well as round cuts, are quite popular for opal. For earrings, select a cut that allows enough surface area to see the range of hues.  Cabochon is my personal favorite, as it allows for a spectrum of hues to really show– which is a large part of the appeal of opal gemstones. 
What else should I consider? 
You'll also want to consider what types of precious metals make sense for opal earrings. Sterling silver and gold are most common. Of these, I most prefer 14K and 18K gold for durability. However, though sterling silver can tarnish, if kept well and professionally cleaned once a year, it's not a bad choice for affordable opal earrings. 
In terms of hue, it's a matter of personal preference, but white gold is often a fantastic accent for cooler tones, and yellow or rose gold for warm opal tones. 
Opal Earrings: My Picks
Here are my picks for opal earrings in 2022. I've selected earrings made with high quality, precious metals and thoughtful, stylish designs. From dangle/ drop earrings to stud earrings and even hoop earrings, hopefully, one of these will give you inspiration for your next occasion. 
Opal Dangle/ Drop Earrings
Dangle and drop earrings add a classic, elegant look and especially look great with short hair or an updo. Opal dangle and drop earrings make a statement without being overpowering and, depending on the hue, can add an artistic statement to a suit, dress, or even more casual look. Diamonds and even dual gemstone accents make for a stunning pair of earrings. 
Pear-Shaped Opal Drop Earrings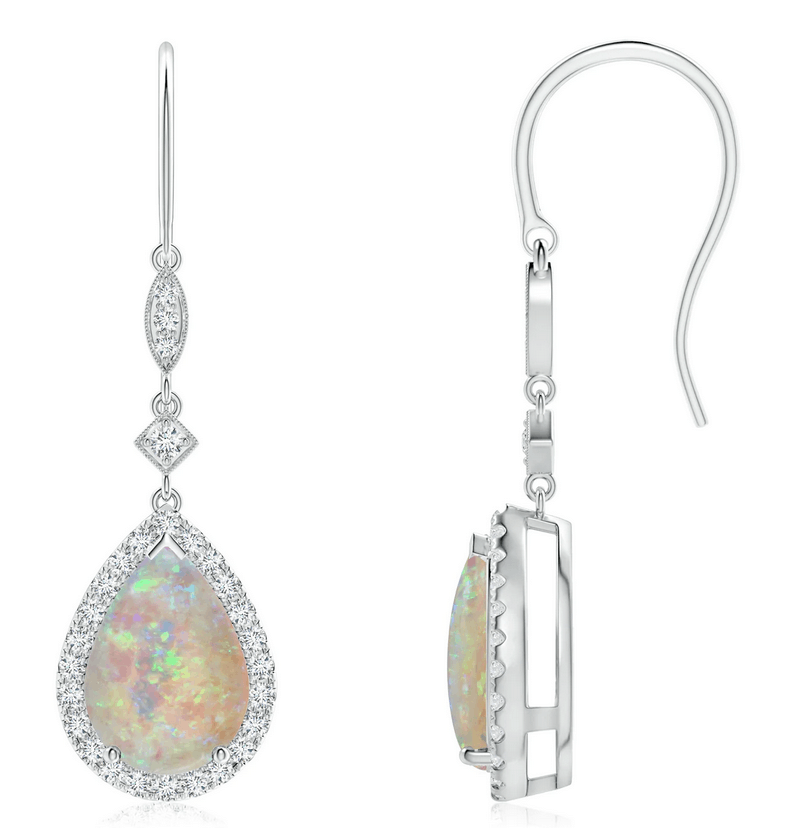 One thing I love about Angara's gemstone jewelry collection is how many choices you have. Select your desired gemstone quality (good to heirloom), as well as your choice of 14K rose/white/yellow gold or platinum. A halo of square and marquise diamonds frames the cabochon cut opals to optimize brilliance. Priced from $854 to $1,574. Buy Here. 
Lab-Created Opal and White Sapphire Earrings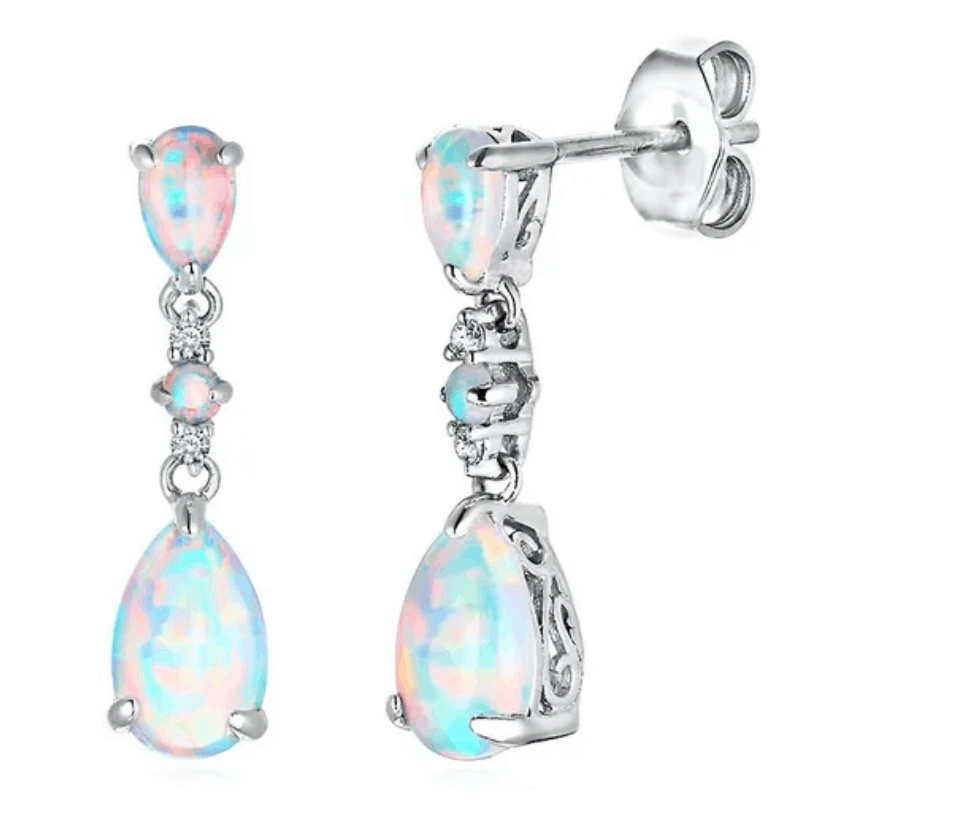 With a Mohs hardness rating of 9 out of 10, white sapphires are more durable than opals– which is partially what makes these Helzberg Diamonds earrings clever. Pear-shaped opals and round-cut white sapphires coordinate for a sophisticated look, set on polished sterling silver. Priced at $179. Buy Here. 
Blue Opal Triplet Drop Earrings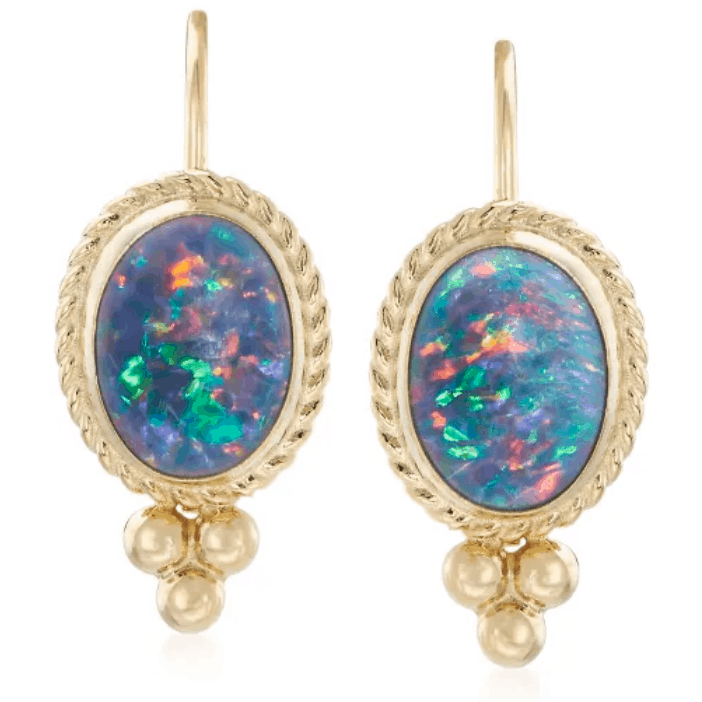 White opal earrings may be popular, but these blue Ross Simmons drop earrings show how beautiful another hue can be. A striking cabochon cut showcases flashes of pink and green. The 14K gold frame has a vintage appeal. Priced at $262. Buy Here. 
Opal Double Drop Earrings with Diamond Accents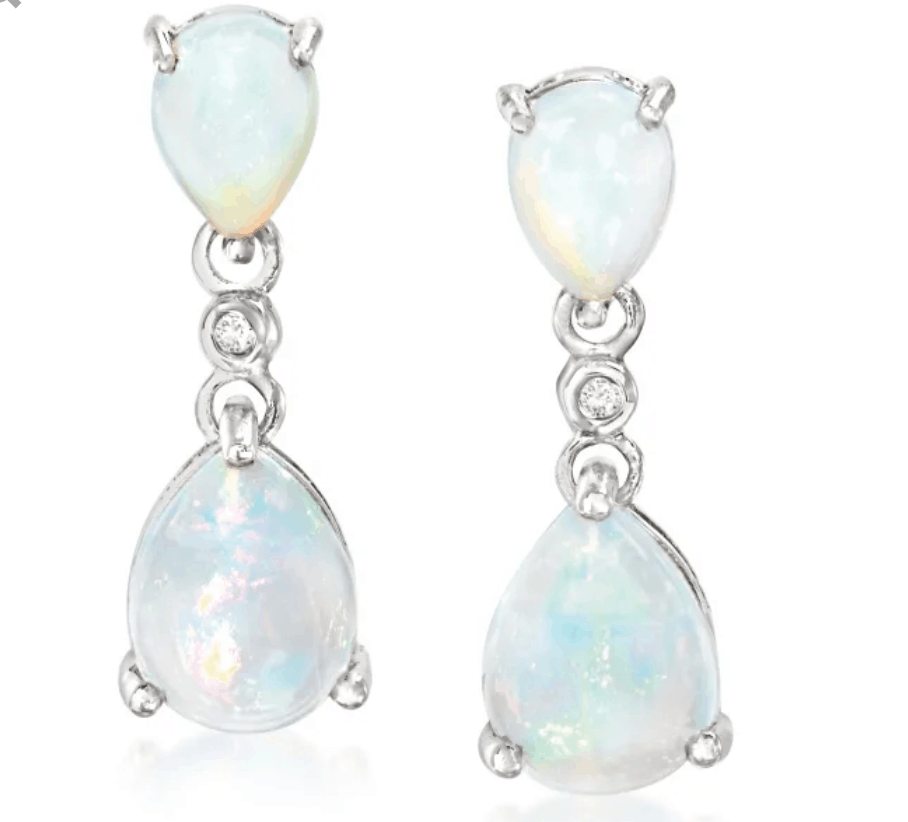 These clearance earrings from Ross Simmons retail for $169 and exude modern allure. The sophisticated design showcases double pear-shaped, cabochon cut opals. A tiny halo of accent diamonds is featured on the sterling silver drop. Buy Here. 
Opal Hoop Earrings
Whether you're donning oversized or petite styles, hoop earrings are a symbol of freedom, expression, and independence. Opal studded hoop earrings keep a clean look, but with a luster and array of colors, you wouldn't expect. These earrings lean more boho and whimsical and can be worn with everyday outfits and flowing skirts or dresses.
Pear-Shaped Opal Hinged Hoop Earrings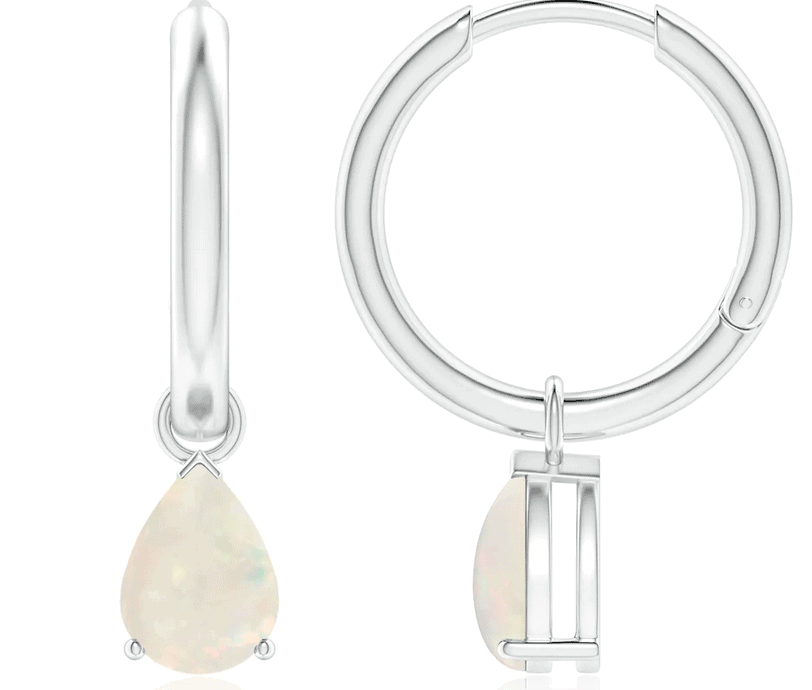 Sophisticated and sleek, these Angara opal earrings feature a hinged hoop style. The most popular option is white gold, but you can also select 14K yellow or rose gold. Opals are available in good to heirloom quality. The pear shape allows a full array of colors for higher-quality opals. Priced from $485 to $1,070. Buy Here. 
Ethiopian Opal Hoop Earrings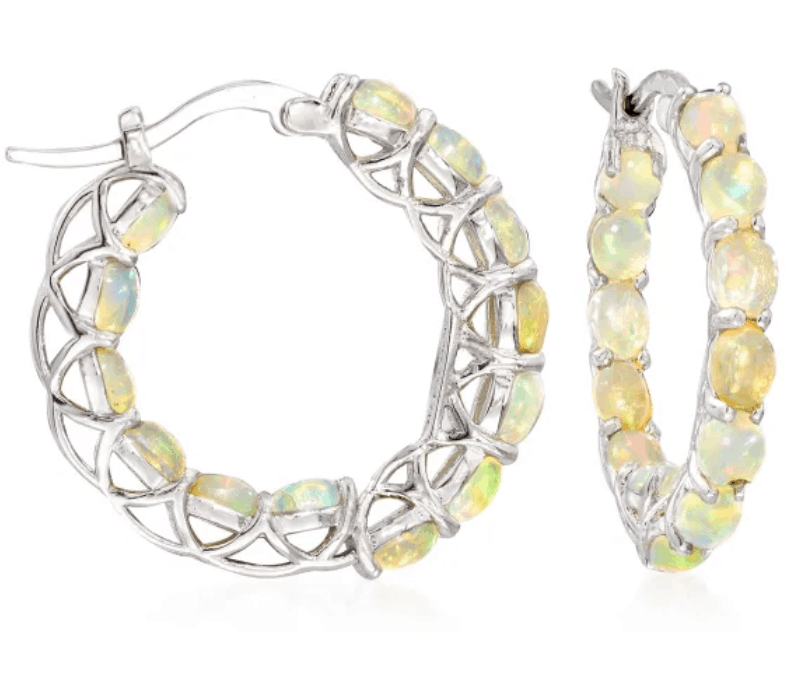 Priced at $139, these Ross Simmon hoop earrings are playful yet sophisticated. Cabochon cut opal stones are set with sterling silver. The intricate underlay adds dimension and a geometric look to your typical hoop earrings. Buy Here. 
Cartilage Opal Mini Hoop Earrings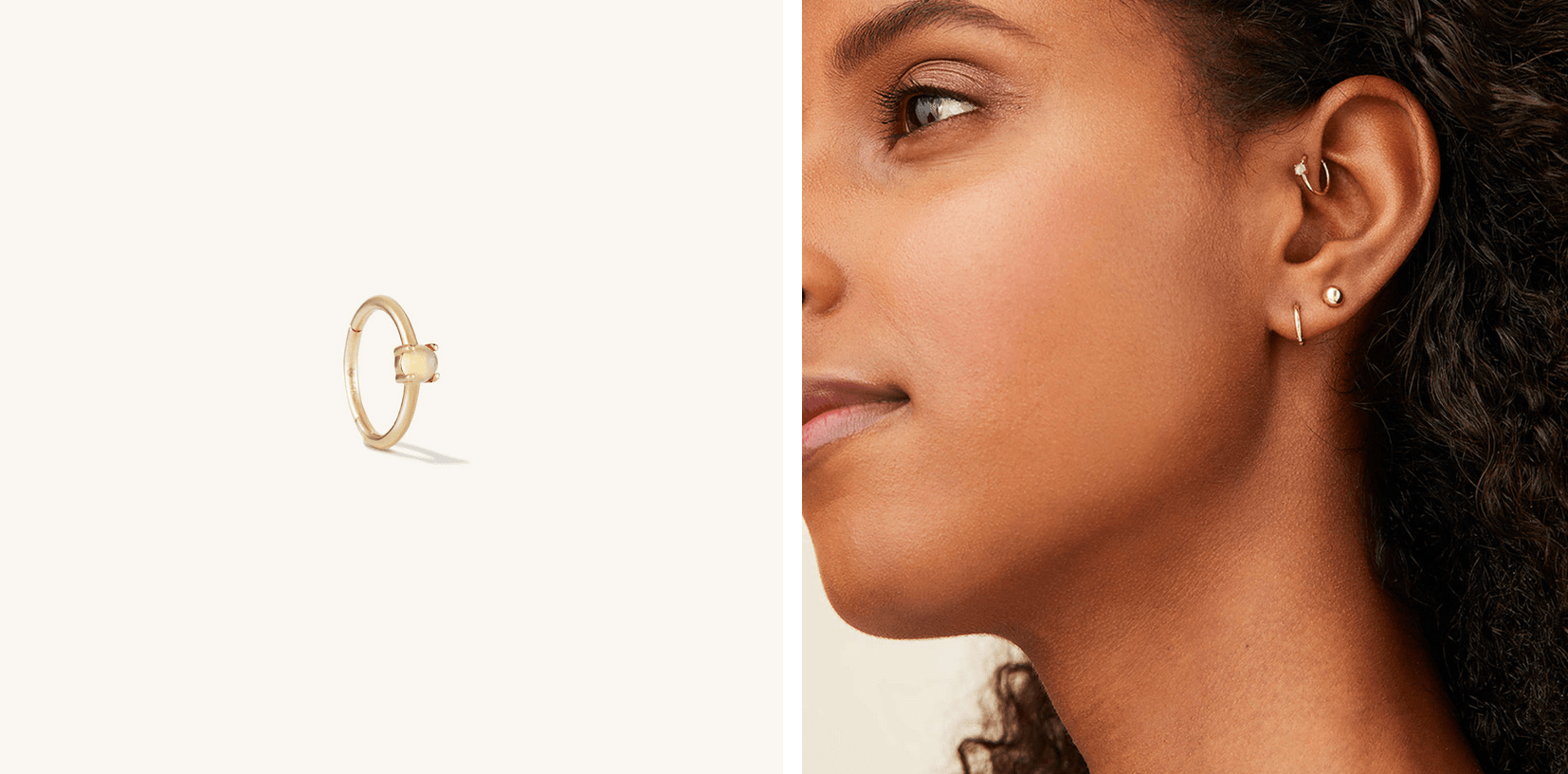 Buy for a single piercing, or buy two for a pair. These mini hoop earrings are crafted with carefully selected, high-quality opals and set on 14K yellow gold. You can easily pair these with larger hoop earrings, studs, or even dangle earrings to add dimension. These earrings retail for  $125; Buy Here.
Opal U Hoops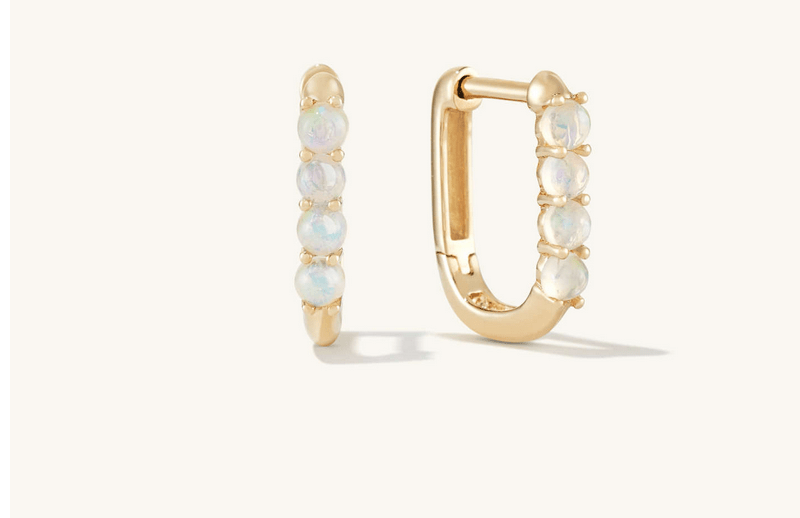 These beautiful opal earrings from Mejuri are priced at $270. A huggie hoop style is becoming increasingly popular and can easily be layered with other piercings. These petite hoops are subtle, with tiny opal gemstones set in 14K yellow gold. Buy Here. 
Opal Stud Earrings
Stud earrings will never go out of style. Perfect worn alone, with more studs, or even layered with hoop earrings, stud earrings are perhaps the most versatile and classic style you can opt for. This style is also an excellent choice if you like the look or idea of opal earrings but aren't sure how fully you want to commit. These earrings lean more classic, understated, and allow the opal to shine for itself. 
Vintage Style Opal and Diamond Fleur De Lis Earrings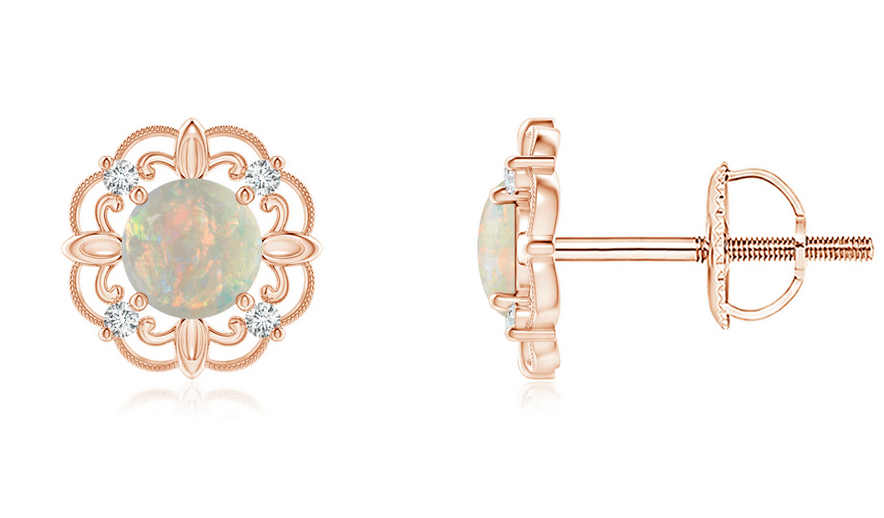 If you love vintage-style accessories as I do, you'll want to consider these gorgeous opal stud earrings from the Angara. A dreamy floral pattern frames round opals, cut specifically to showcase an array of hues. Four accent diamonds adorn the milgrain border. Select your choice of opal quality, and from sterling silver, 14K yellow/ white/ rose gold, and platinum. Priced from $219 to $2,006. Buy Here. 
Opal Round Solitaire Stud Earrings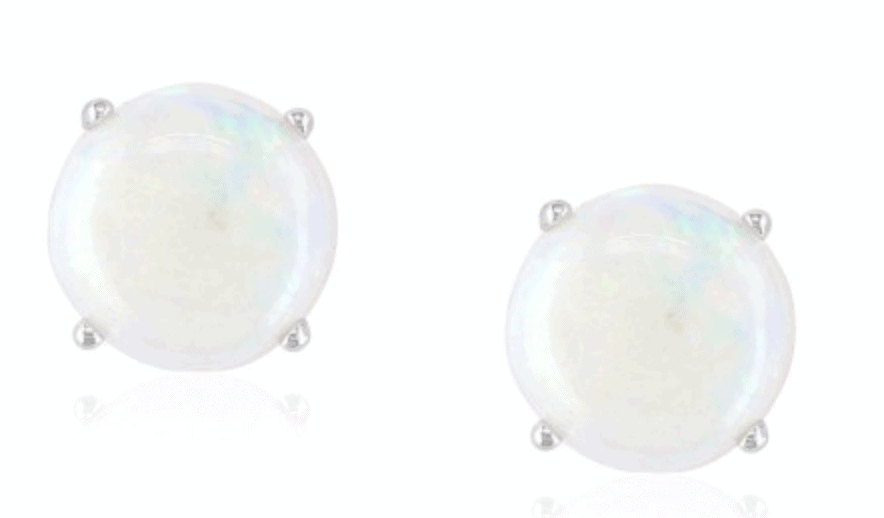 Classic but minimalist, these stud earrings from Reed's Jewelry can be taken from day to evening. While the 10K white gold won't have as much luster as a high carat, it's a harder material, making these opal earrings easier to wear daily. A polished white appearance provides a simple and modern look for genuine opal gemstone earrings. Priced at $170. Buy Here. 
Opal Cabochon Studs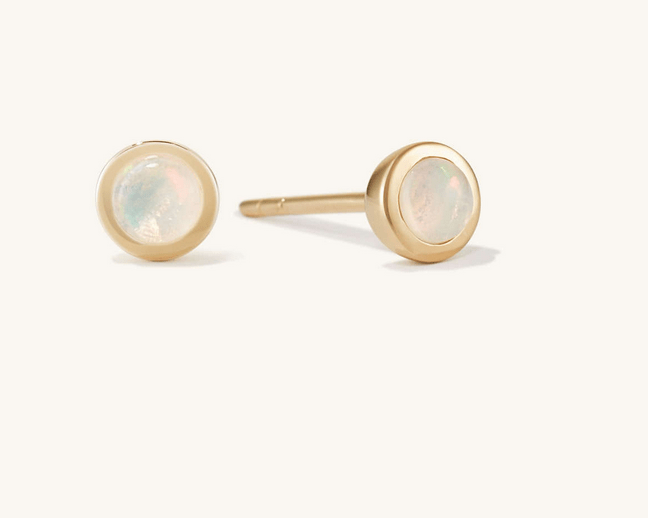 These petite opal studs are crafted with 14K yellow gold and come with a two-year warranty. A modern and sleek round sound frame complements the faint hint of pink with these opal gemstones. Pair with other stud earrings or even a pearl or opal necklace to complete your look. Priced at $160; Buy Here. 
Lab-Created Opal Crown Earrings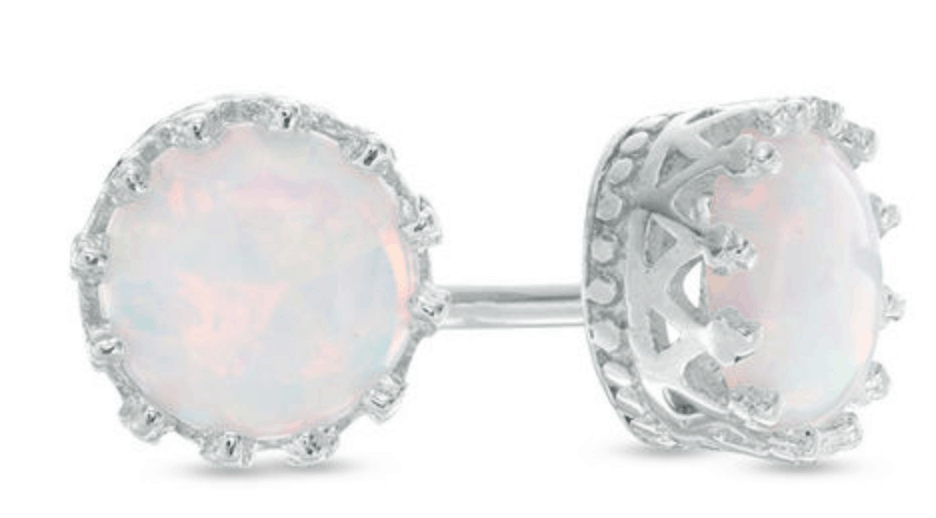 These sterling silver opal earrings from Zales are budget-friendly– now on sale for $49. It's hard to find real (which included both lab and natural) opal earrings for under $150, so these are a steal if you don't have much to spend. If you actually like a milky-white appearance for a more mystical look, you may find these are just what you're looking for. Buy Here. 
Saks Fifth Avenue Rose Gold Opal Earrings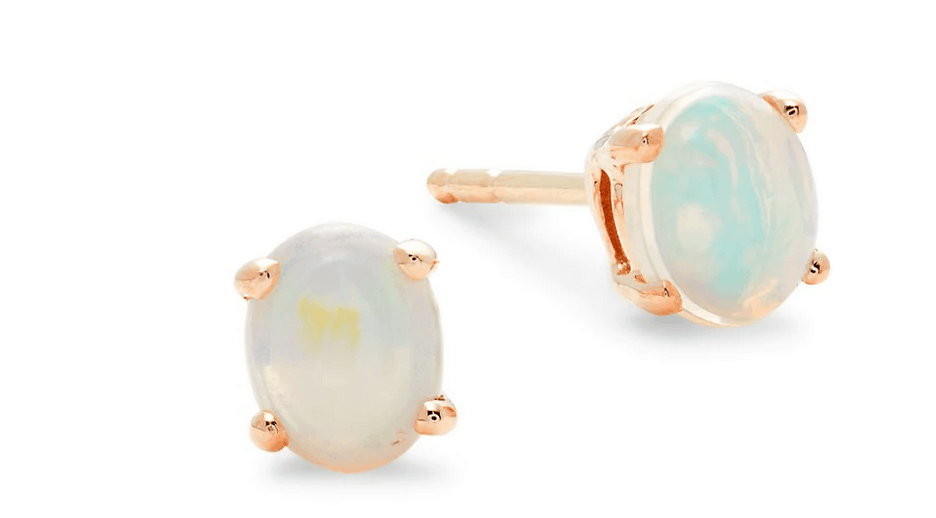 Now on sale for 60 percent off (current price: $200), these opal earrings are at once classic and sleek. Iridescent opal gemstones are secured with a 14K rose gold post back. These are simple enough that just about any accessories work, and the rose gold brings out unexpected hues from the opal gemstones. Buy Here. 
Frequently Asked Questions
Question: Is an opal worth more than a diamond?
Answer: In most cases, diamonds are worth more than opals, but this is not always the case. The quality of the gemstone and how rare it is greatly influence the price of opals and diamonds. For instance, a rare opal of high quality will fetch more than a diamond that is quite common. 
Question: Why did my Opal turn yellow?
Answer: Usually, opals turn yellow when exposed to water. They absorb water and change color, usually temporarily, either to brown or yellow. However, if the exposure is brief, opals will usually return to their original color after drying. 
Question: How can I make my opal shine again?
Answer: Over time, an opal may become cloudy or faded, but there are steps you can take to make it shine again. Use a mild soap and warm water, and take a damp cloth. This should improve the appearance of the exterior of your opal. You can also take opal earrings in for professional cleaning, but you should never use a harsh cleaning agent like bleach.
 
Final Thoughts
Opal earrings are meaningful and unique ways to express yourself. Of course, they are a little more prone to damage than some other stones, so you'll need to store them carefully.
Make sure you're buying genuine opal. Opalite is not real opal but a synthetic stone– this is easy to confuse. I also highly recommend, if you select your own choices, to investigate the seller a bit. I came across many jewelers and stores selling opal earrings who had less than stellar reputations amongst customers and the Better Business Bureau.