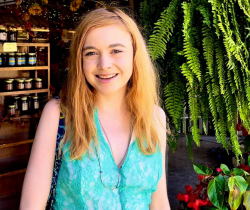 Latest posts by Erin Jamieson
(see all)
From model Rosie Huntington Whiteley to singer Halsey and Instagram influencers, a fun jewelry trend is making a statement in 2021. Ankle bracelets, with more types than you might imagine, are proving fresh ideas for adding whimsical accents to outfits.
One of the biggest trends? Pairing ankle bracelets with swimwear. The look has been seen on Kelly Rowland, Heidi Klum, and other influencers this year. Heidi Klum's anklet drew special attention to how this trend is not only becoming popular again in 2021 but can be styled in many ways.
Sported a printed striped bikini and a wide smile, the "America's Got Talent" judge and model added an unexpected accent. A fine chain anklet added a subtle accent to her look. The anklet coordinated with the bikini and was sported barefoot.
For other celebrities, anklets have been fun and whimsical, with shells, colorful beads, and even touches of glamour with sparkling diamonds. It's truly been a time where we've seen just how different anklets can be.
Of course, you don't need to be a celebrity or influencer to rock the ankle bracelet trend in 2021. In this article, I'll tell you my top anklet types– and where to buy them.
| Product Image | | Primary Button |
| --- | --- | --- |
| | | |
| | | |
| | | |
| | | |
| | | |

What does wearing an anklet symbolize?
If you've ever considered wearing an ankle bracelet, you should know that there's a lot of confusion when it comes to how to wear an ankle bracelet, and what it means to wear an ankle bracelet. Most of these misunderstandings have limited the degree to which people enjoy ankle bracelets, purely based on myths and misconceptions.
The good news is that anyone can wear an ankle bracelet.
Is wearing anklets a sin?
Some have mistakenly believed that ankle bracelets are against certain religions, but there is no evidence to support that ankle bracelets are against any major religion. It is possible that some of these myths stemmed from their brief mention in The Bible. However, in their mention in Isaiah, there is no correlation between wearing an ankle bracelet and it being a sin.
Ankle bracelets have been worn for a very long time. Their earliest use may date back to the Ancient Egyptians– if not earlier. In Egypt, ankle bracelets indicated one's social status. In India, wearing an ankle bracelet can indicate if you're single or married. But in Western cultures, including the United States, most don't associate wearing an ankle bracelet with any specific meaning.
Are anklets bad luck?
Another misconception is that anklets are bad luck. If you practice Feng Shui some anklets have been used in Feng Shui for just the opposite reason. It is said that wearing on the right ankle will bring wealth, Worn on either side, anklets are also said to protect against theft. If anything, some wear anklets for good luck.
How do I wear an ankle bracelet?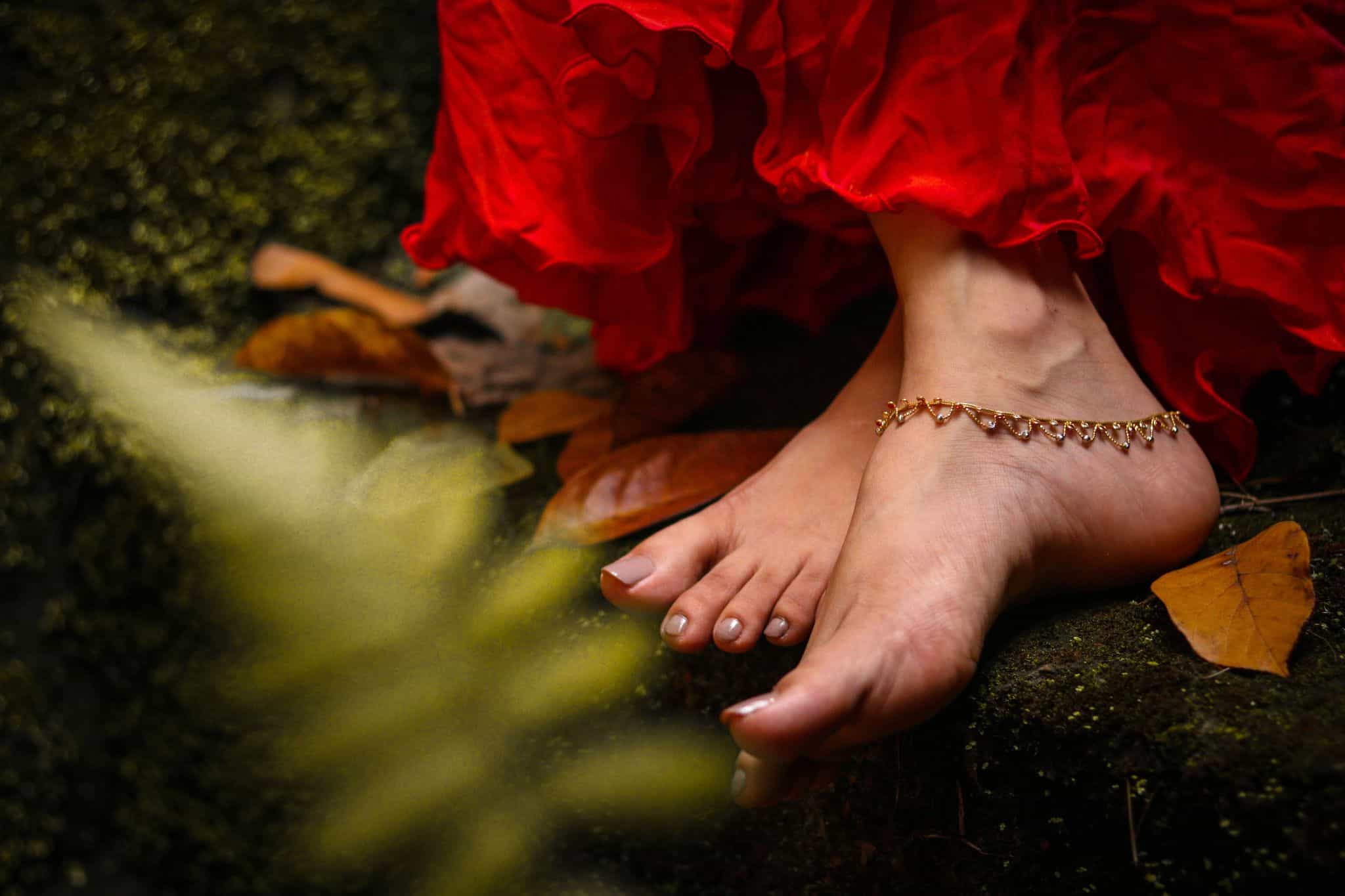 How you wear an ankle bracelet is entirely up to you. More casual ankle bracelet types, such as beads, can be worn barefoot or with flip flops. Precious metals, gemstones, and diamonds call for a more formal look. Pair these ankle bracelets with pumps and a pantsuit, or a formal dress.
Meanwhile, shell ankle bracelets work well, of course, for beach looks. Think swimwear, boho skirts, and bare feet. Pearl anklets can be worn with pretty much anything– from bare feet to sandals to formal footwear.
On which leg should an anklet be worn?
Another misconception? That you have to wear an anklet on only one foot. Not only can you wear an ankle bracelet on either side, but you can also wear them on both sides. Some even pair one type of anklet with another type for a more dramatic effect.
While ankle bracelets have been known to be more casual, it doesn't mean you have to opt for a casual option. That said, indeed, ankle bracelets are still not typically worn for work.
How many types of anklets are there?
There are many different types of ankle bracelets, more than you can imagine. Types of ankle bracelets are divided by both style and materials. These range from very inexpensive to expensive, from casual to semi-formal. What ankle bracelet is right for you depends on your budget and why you're buying it.
Materials
For ankle bracelets, you can relax a little about quality if you're buying a casual option. They may not last forever, but they tend to be very affordable– and most people don't wear an anklet every day. The exception is for more formal, expensive anklet types.
Main materials include beads, seashells, pearls, diamonds, gemstones, fine metals (sterling silver, gold, and brass with gold plating), rope, and leather. Faux materials are not uncommon, such as faux leather, or faux pearls, for instance.
Embellishments
Embellishments, such as diamonds and gemstones, are for a more formal look. For these, you should pay more attention to quality. If you're going to invest in buying a diamond anklet, you need to opt for suitably durable metal. That includes gold (preferably 12K to 14K), stainless steel, and palladium. Sterling silver is also another option, just know you shouldn't get it wet or humid, as silver can tarnish.
Styles
There are also countless general styles. The most common types of anklets are single strands– whether that's something as casual as a beaded anklet or as formal as 14K yellow gold. There are also wrap-around anklets, which, as the name suggests, hug your ankle, ankle cuffs (thicker bands), and double or multiple strand anklets. In addition, ankle bracelets can include charms, both casual and with fine jewelry options.
Ankle Bracelets: My Picks
Now I'll give you my picks for the best type of ankle bracelets– and where to buy them– in 2021. While I've included many affordable and casual options, I've also included more formal options as well. Each type of anklet has a unique way to style– ensuring you can find one that's just right for you.
You'll also enjoy a range of options when it comes to cost. From under $10 to a few hundred dollars, here are my ideas for stepping out with a new anklet.
Beaded Ankle Bracelets
Beaded ankle bracelets range from multicolored to simple. They are best suited for casual and beach-inspired looks. Beaded ankle bracelets are typically among the most affordable anklets you can buy. Youthful and easy to wear, they're popular as an expression of free-spirited style. If you aren't on a beach and going barefoot isn't an option, flip flops, casual sandals, and even fashion sneakers like Keds are also great options.
Nari Anklet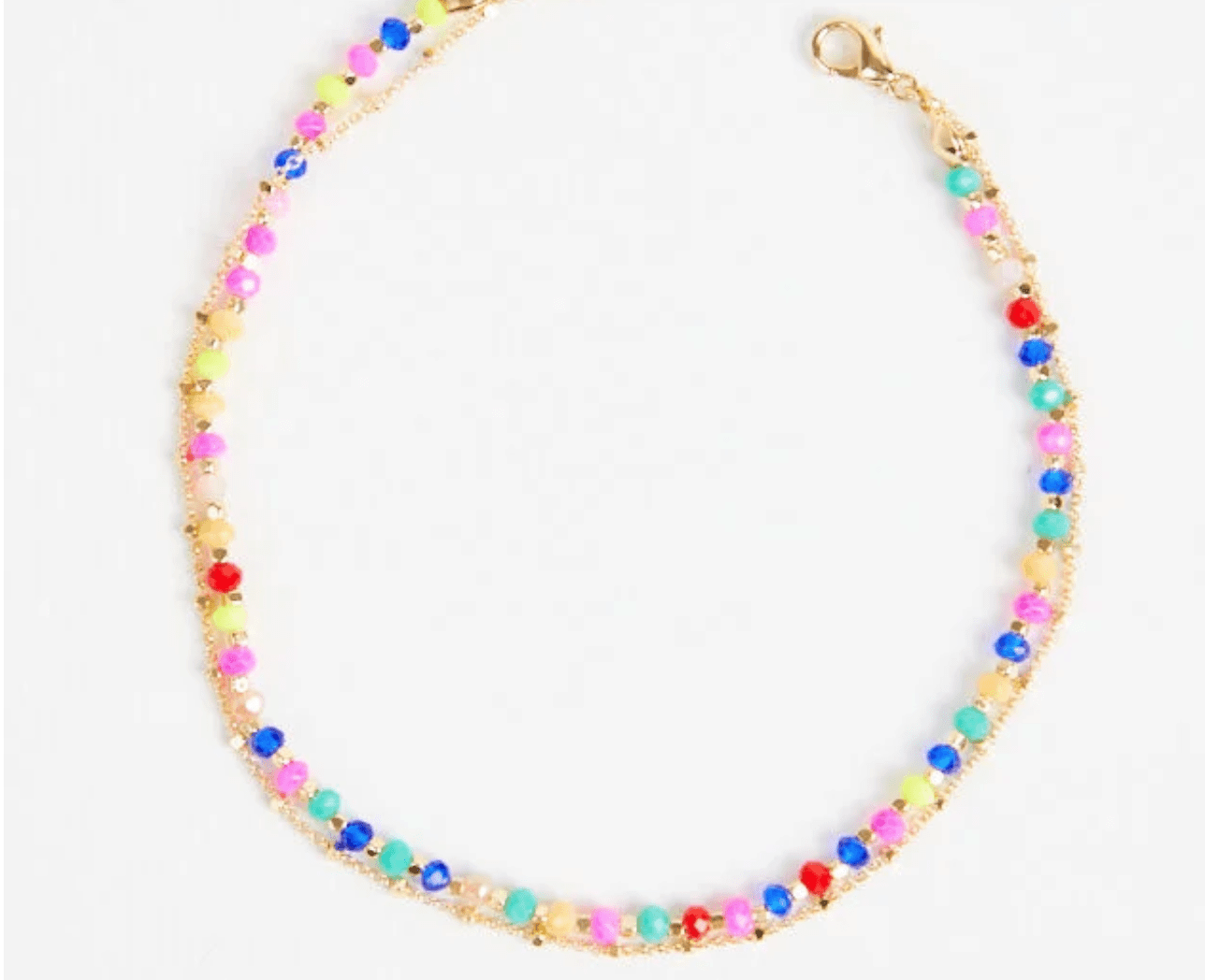 The playful beaded anklet features a 2-1 design. Opt for a colorful strand of beads, with bright red, blue, yellow, pink, and turquoise tones. Turn over to rock a solid beam chain look. The bright jewel tones add an alluring hue to a beach outfit. Priced at $14.95. Buy Here.
Turquoise Seed Bead Anklet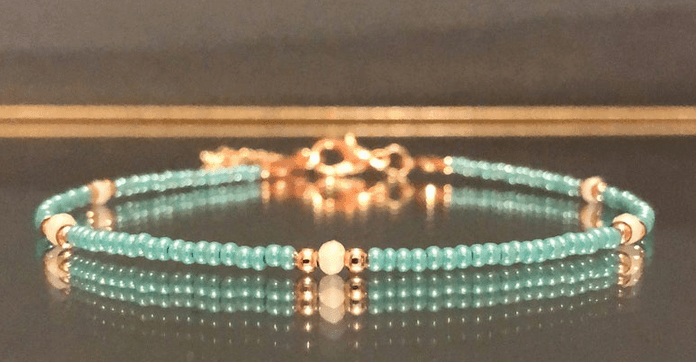 Priced at just around $7.99, this anklet is both minimalist and boho. The handmade ankle bracelet features turquoise glass beads, accented with metallic hues. It's slightly dressier than some multi-colored ankle bracelets.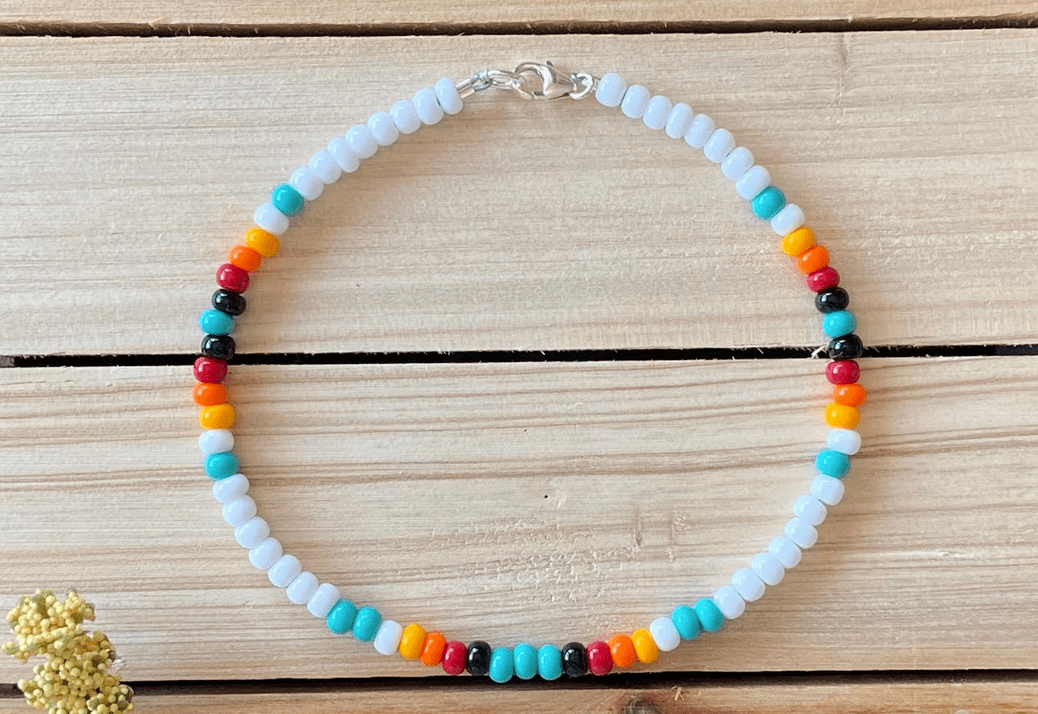 This beaded anklet is in tune with nature. Light blue and turquoise glass seed beads evoke a sky, while red, yellow, and orange showcase the spectrum of a sunrise. The around $10 anklet includes a lobster claw closure and a thoughtful design. Buy Here.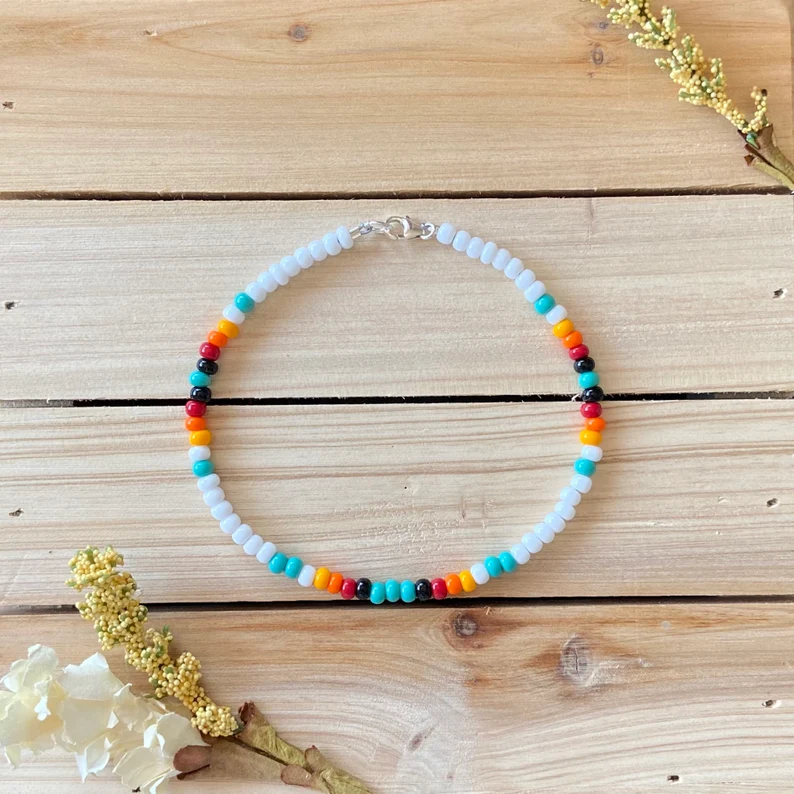 Sunrise Beaded Anklet | Etsy
The Sunrise Anklet is perfect for a fun day in the sun. The ombre colors make you feel like you're at the beach...even if you can't actually be there.
Check Price
We earn a commission if you make a purchase, at no additional cost to you.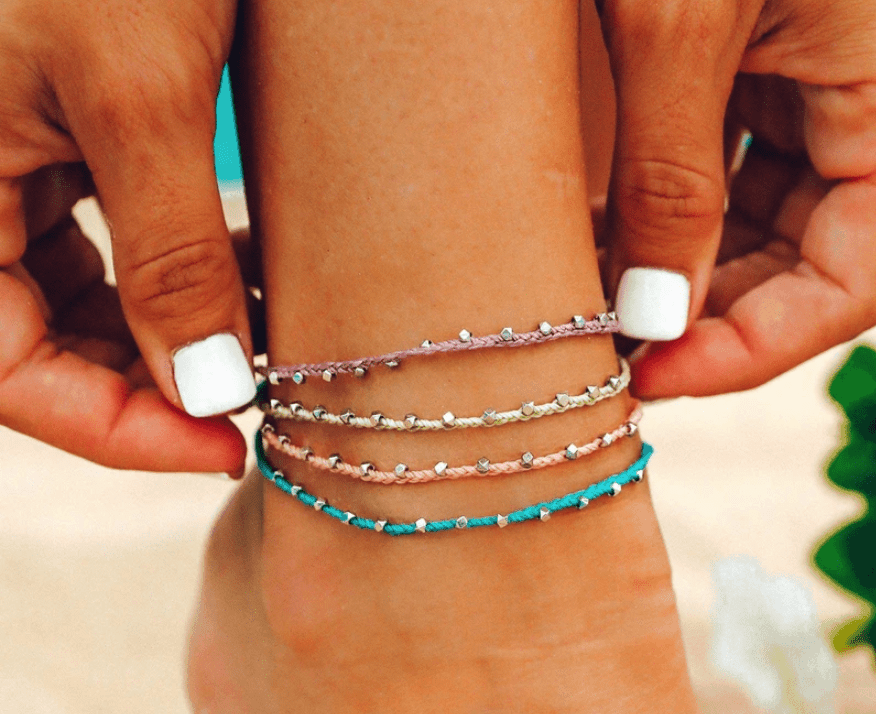 Tiny silver beads add subtle texture to a braided wax band. An easy-to-adjust design and careful feel make this anklet perfect for casual wear. Priced at $12, you'll have your choice of turquoise, pink, lavender, or light green. Since these anklets are minimalist, you can easily layer multiple ankle bracelets. You might even consider buying a few colors if you like one well enough. Buy Here.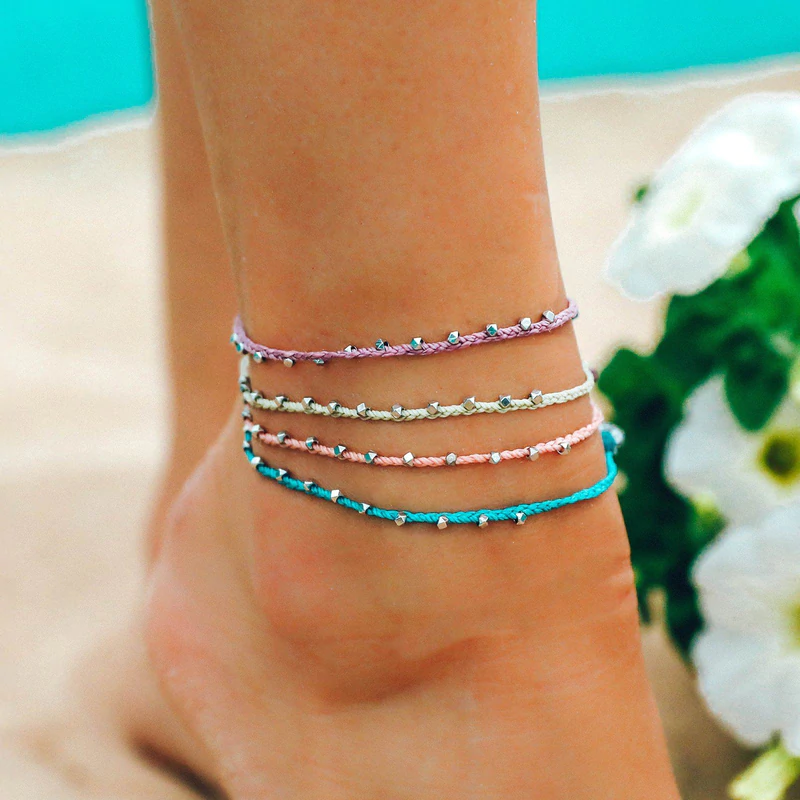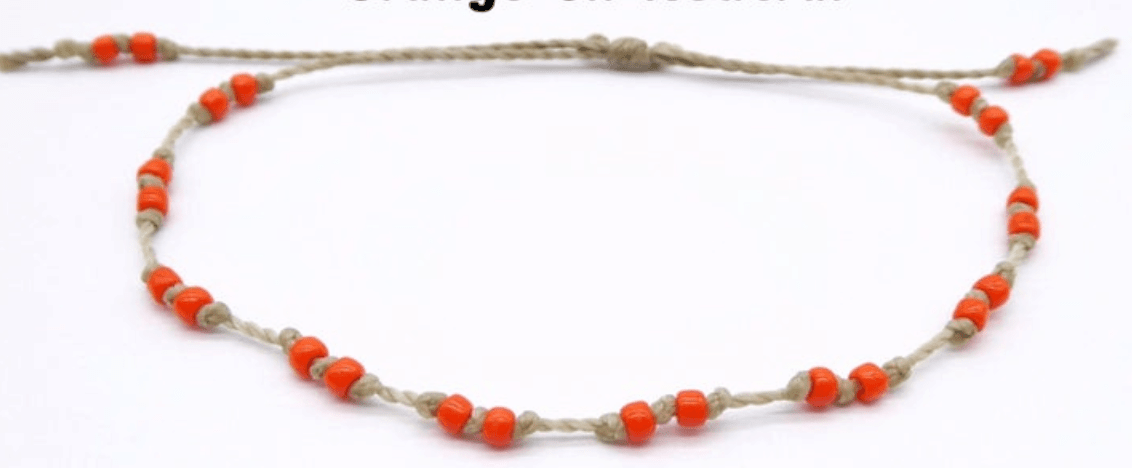 This $8 ankle bracelet is my top pick if you plan to wear your ankle bracelet everywhere, beach and pool included. The handmade anklet is waterproof and comes with a simple style that you can easily pair with swimwear. Choose from turquoise and brown, gold and green, honey and green, silver and black, gold and black, gold and maroon, black and maroon, or orange and neutral. Buy Here.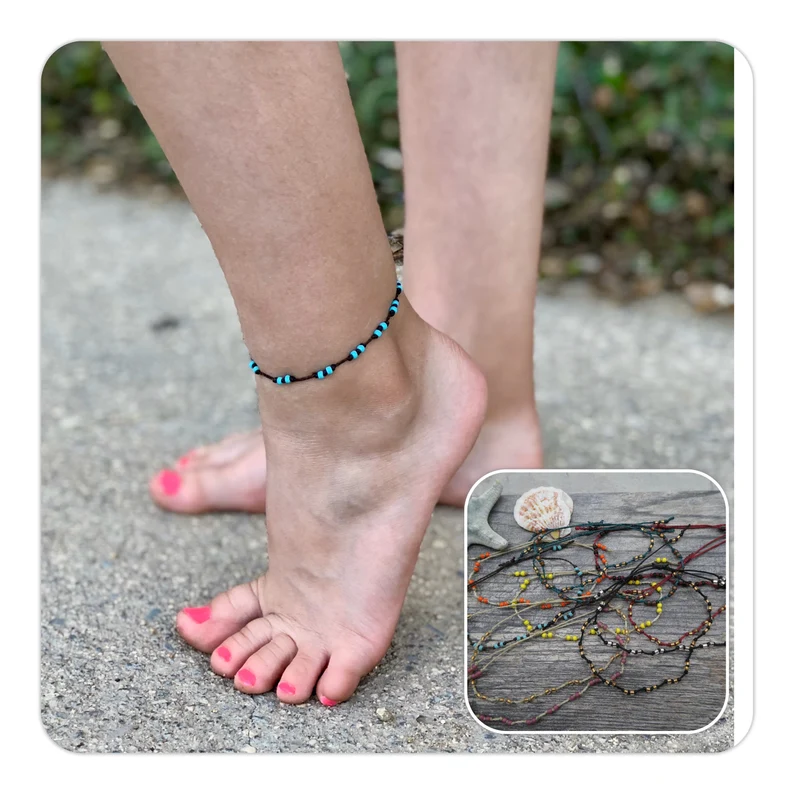 Cuff Ankle Bracelets

Cuff ankle bracelets are a bolder style, and sure to make a statement. While less versatile in many ways, cuff ankle bracelets add enough of an accent that you don't need to worry about accessorizing with statement shoes. Keep your shoe classic, with solid colors. Cuff anklets are usually metallic and paired with formal heels or flats, along with dress pants, a pantsuit, or a classic dress. I will say that it's hard to find cuff anklets– and you'll most likely need to buy gold plating vs solid gold options.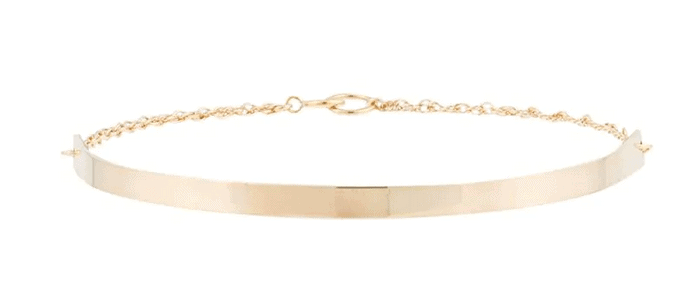 A statement band is accompanied by a delicate chain closure. This around $142 is crafted with 14K gold plating over rhodium for a classic shine. With the sleek but bold style, you can easily wear this look with a pair of heels or flats. Buy Here.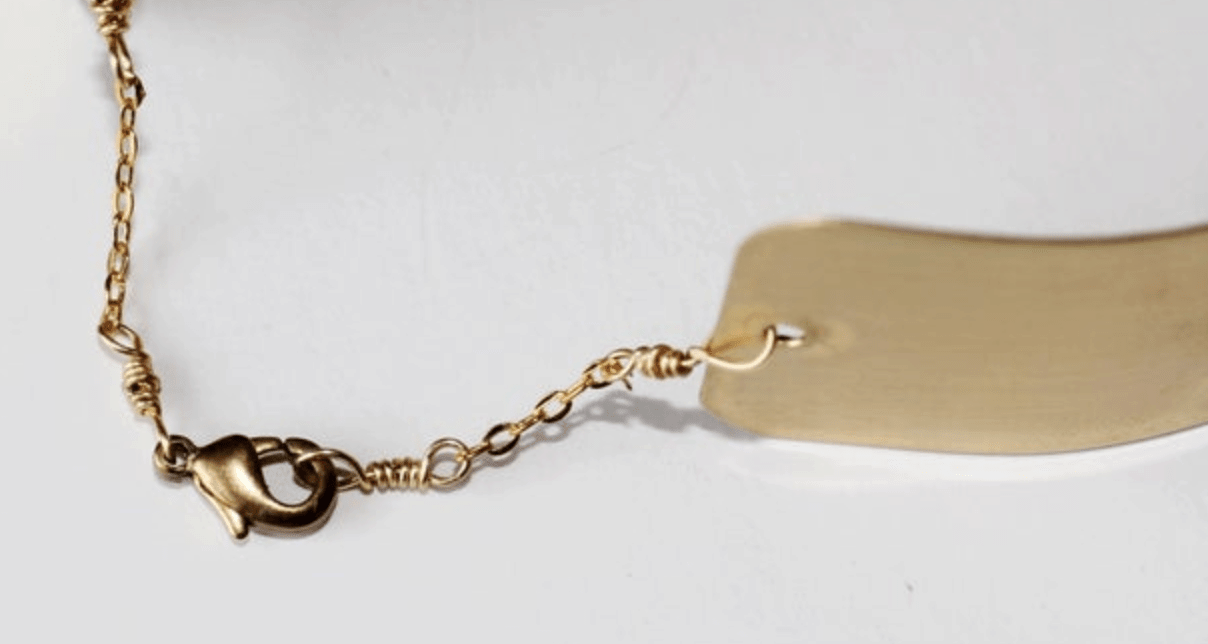 Available in two sizes, these $62 ankle cuffs feature gold plating over natural brass. Handmade, there's a classic, iconic look for a warm splash of color. The color pairs especially well with blue shoes. Buy Here.
Gold Solid Band Ankle Cuffs | Etsy
A super lightweight and very fashion-forward accessory for the daring girl (or guy!). Adding an unexpected twist to any ensemble, this cuff is something you won't find on a normal shopping trip!
Check Price
We earn a commission if you make a purchase, at no additional cost to you.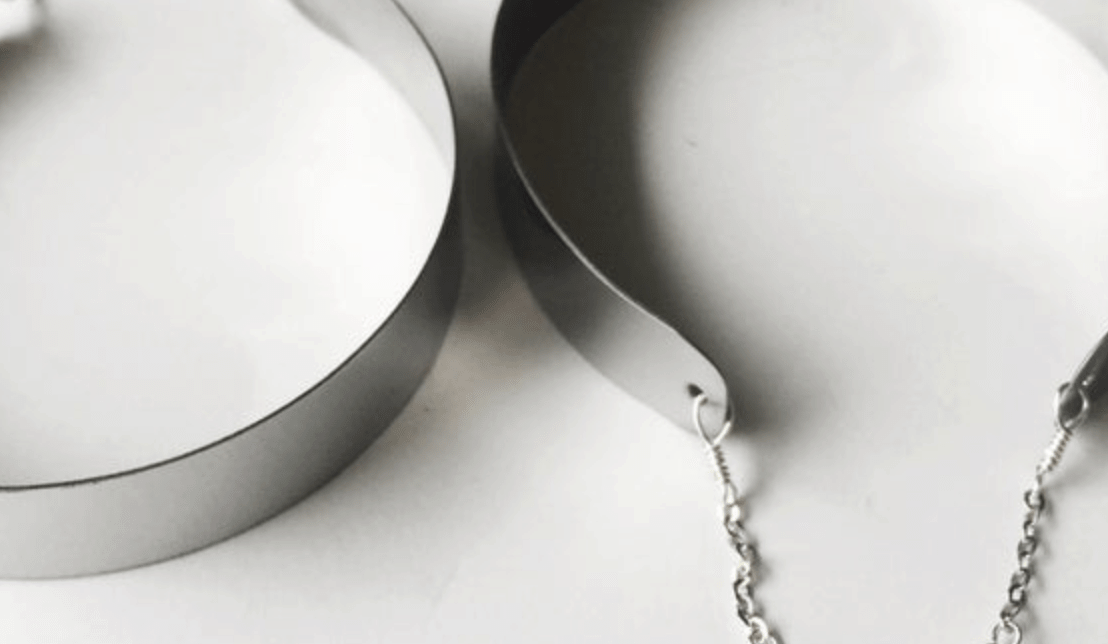 This is my favorite idea for cuff-style ankle bracelets. If you like silver and a more minimalist look, you'll also love the style of these handmade, $48 anklets. By opting for stainless steel, the design is not only sleek but more durable. You won't have to worry about tarnish, and stainless steel is usually considered hypoallergenic for most people. Buy Here.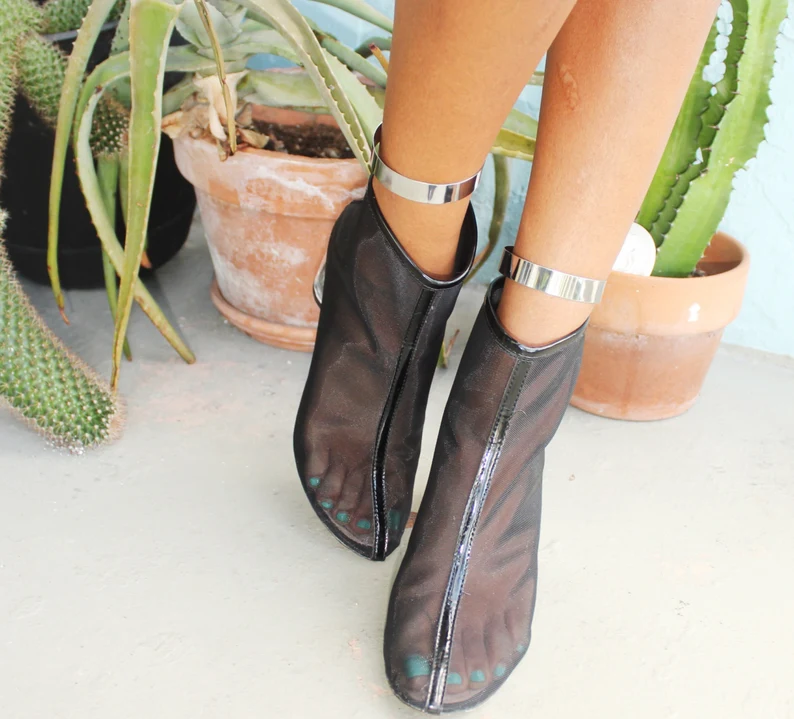 Thin Solid Silver-tone Ankle Cuffs | Etsy
The Thin Silver Ankle Cuffs are a unique piece to add to your jewelry box! Adding an unexpected twist to any ensemble, these ankle cuffs are something you won't find on a normal shopping trip!
Check Price
We earn a commission if you make a purchase, at no additional cost to you.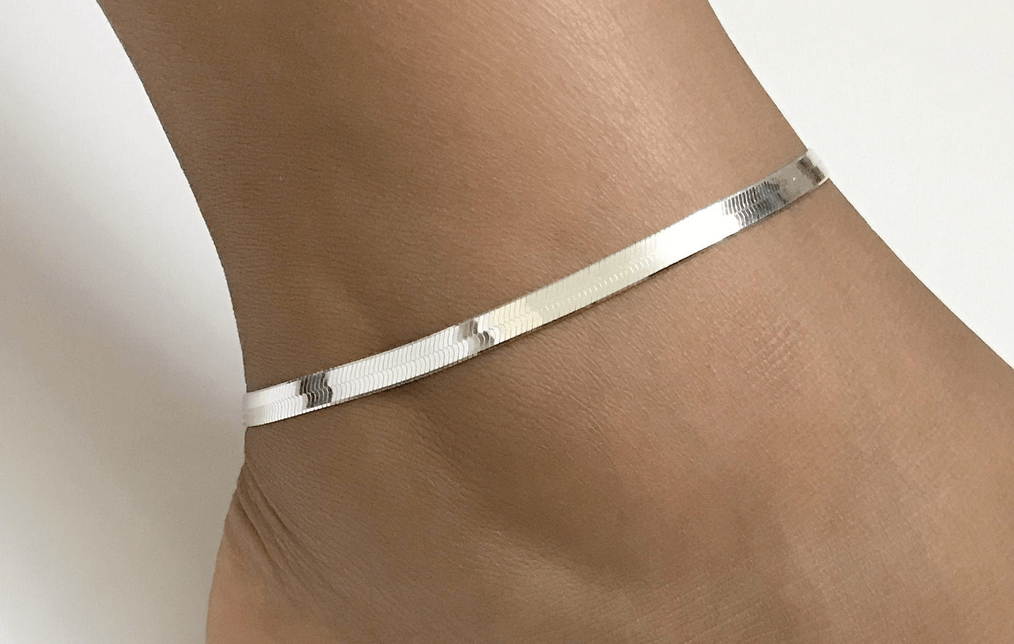 The most minimalist of my ideas for cuff anklets, this option offers beautiful shine. Crafted with sterling silver, the $32 ankle bracelet is an undeniably classic look. Subtle, it's also a great option if you aren't into the bold cuff style but want an accent for formal shoes. Buy Here.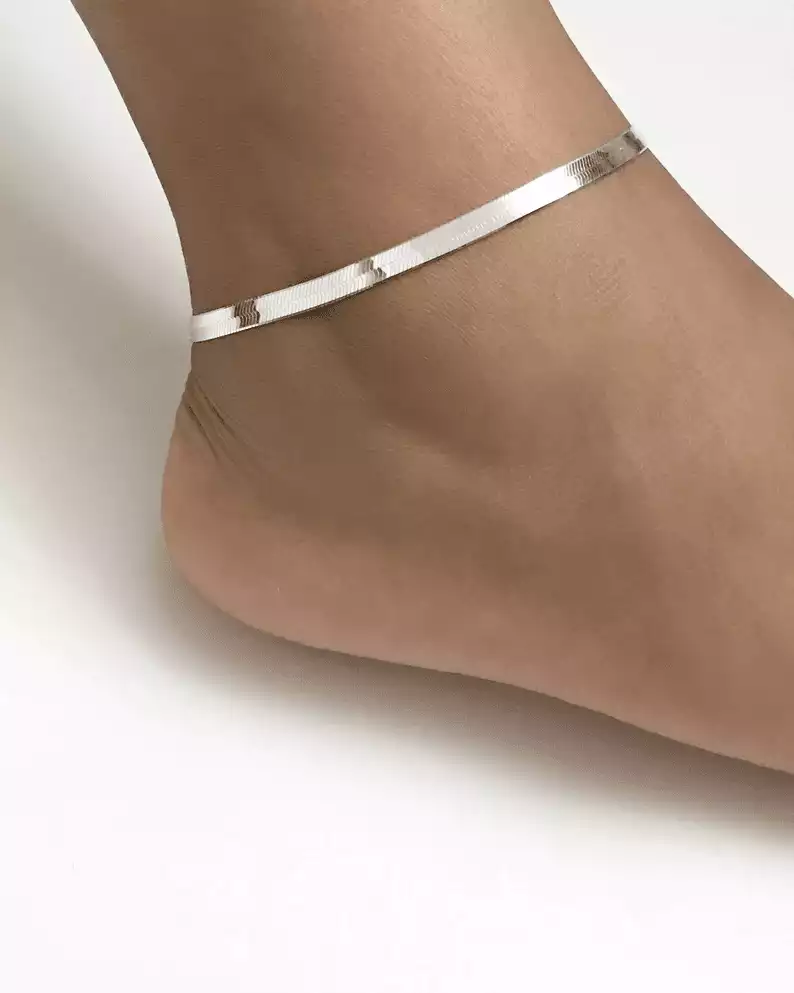 Diamond Ankle Bracelets
Looking for a formal and dazzling look? Diamond ankle bracelets are sure to add a statement. Just make sure you pay attention to quality. You don't want to spend money on diamonds, only to buy an ankle bracelet that won't last. Fine jewelers, especially those who specialize in diamonds, are your best option. Typically, diamond anklets are set on gold or sterling silver, on a fine chain. Since I recommend buying from fine jewelers, I will recommend three collections, as opposed to individual picks.

Priced from $99 to $799, this collection of diamond anklets is whimsical and modern. Motifs include hearts, infinity knots, and flowers. Though many options are crafted in sterling silver, you'll also have a few choices for 10K rose or yellow gold. Pendant anklets are elegant but also modern and free-spirited, making any of these also great for gift giving. Shop Here.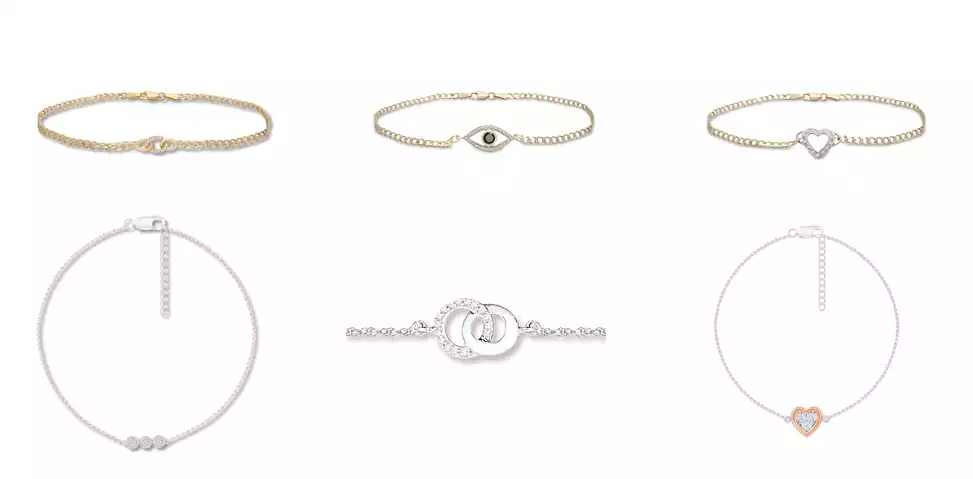 Diamond Ankle Bracelets | Jared
Enhance your look with a gold anklet from Jared. Find stylish ankle bracelets with gemstone accents, heart details and even engravable options for you or a loved one. This subtle yet shining accessory is perfect whether paired with shorts and a t-shirt or an elegant dress.
Check Prices
We earn a commission if you make a purchase, at no additional cost to you.


Priced from $85 to $549, this collection of diamond ankle bracelets is both playful and adventurous. You'll have your choice of sterling silver or 10K gold, with everything from heart pendants to pineapple and paw prints. But the collection also includes some trends, including celestial and butterfly themes. Buy Here.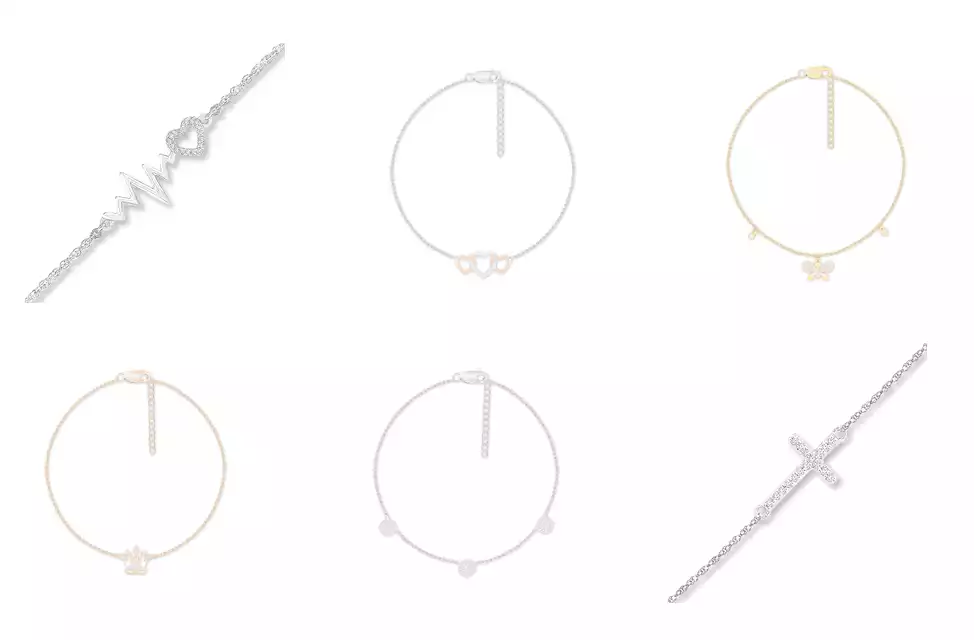 Diamond Ankle Bracelets | Kay Jewelers
Find the perfect diamond anklet for you at KAY. It might be just the accessory your jewelry collection is missing! Maybe you want personalized anklets for your friends or a simple gold anklet for everyday wear.
Check Prices
We earn a commission if you make a purchase, at no additional cost to you.


Priced from $69 to $669, Zales, in many ways, offers a collection of anklets that combines Kay's and Jared's styles. There are whimsical options– like a flip flop sandal or accent bumblebee. But this collection also includes sideways crosses, geometric shapes, leaf motifs, and elegant dangle designs. Available in sterling silver and 10K gold. Shop Here.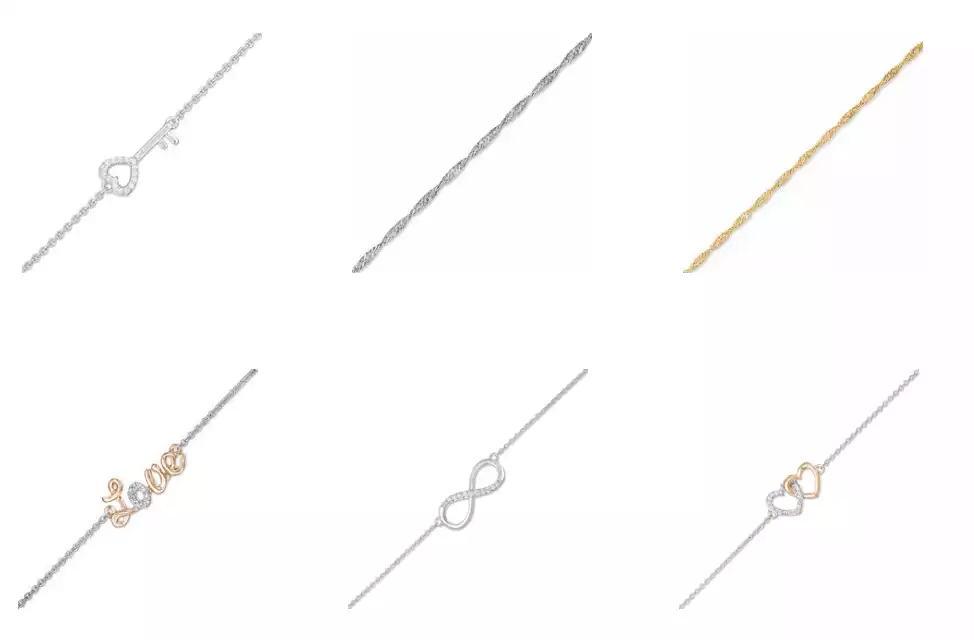 Gemstone Ankle Bracelets
If diamonds aren't your taste but you still want a sophisticated accent to your anklet, consider gemstones. Just as was the case with diamond ankle bracelets, I do recommend paying attention to quality. Genuine gemstones will offer a colorful splash to any outfit. Typically, gemstone ankle bracelets are also set on fine metal chains.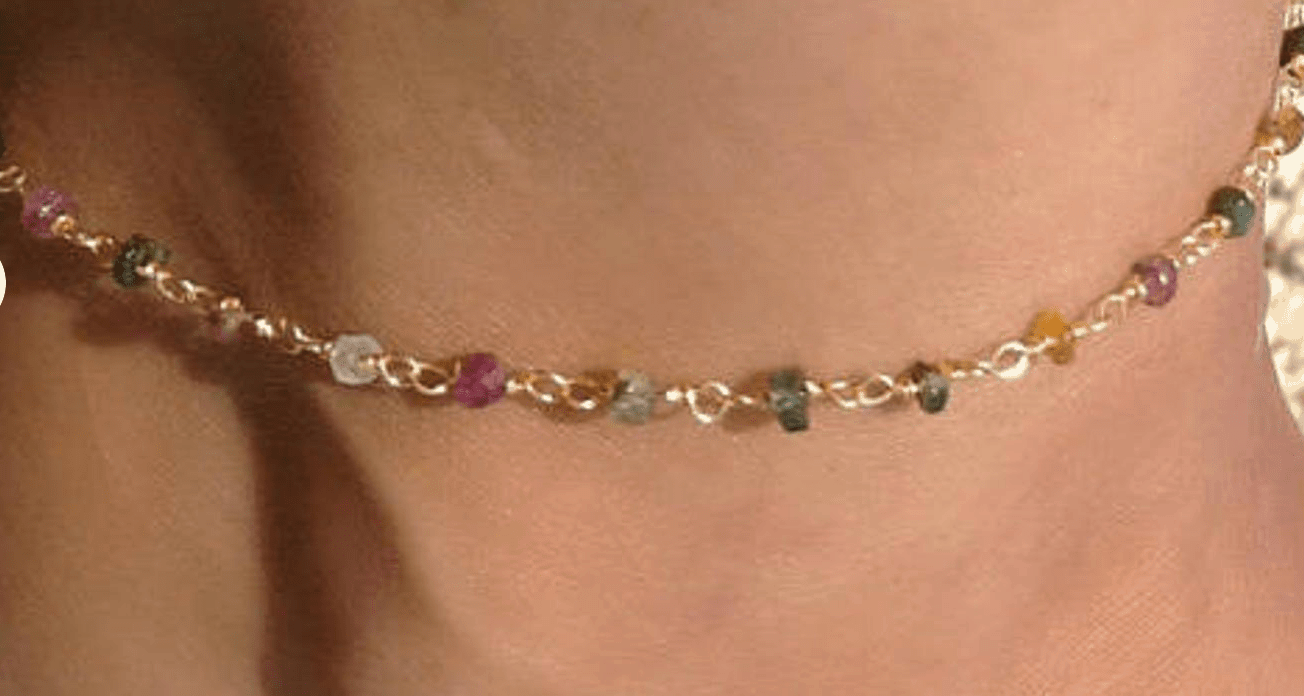 Available in 925 sterling silver or 14K gold-filled sterling silver, this anklet features tiny Tourmaline beads for a delicate look. Pink, green, and yellow tones accompany the fanciful chain. It also is well suited for boho looks. Priced at around $32.67; Buy Here.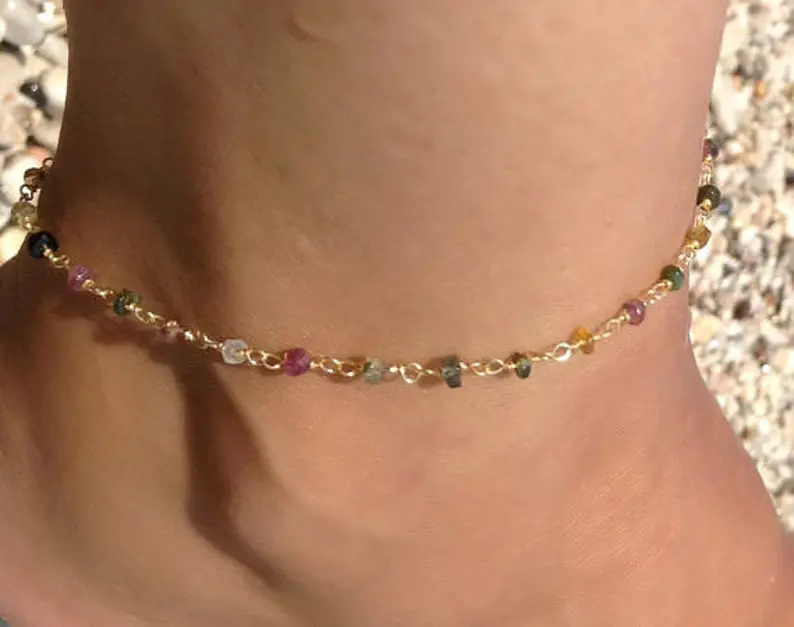 Tourmaline Rosary Anklet | Etsy
14k gold-filled, tourmaline rosary anklet. Elegant & dainty, catching gently everyone's attention. Appropriate either for everyday or formal looks.
Check Price
We earn a commission if you make a purchase, at no additional cost to you.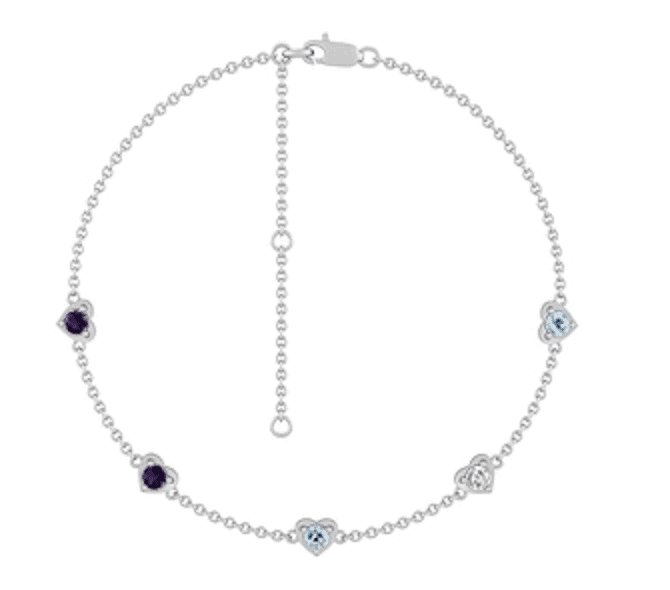 Can't find a gemstone anklet you like? Create your own with this option from Jared. Select 5 genuine birthstones– you can have all the same, or select a different stone for every slot. You'll have the option to preview the look and can also select between sterling silver or 10k rose, yellow and white gold. Prices are calculated for you, depending on your selections. For sterling silver, expect to spend a bit over $100. For gold, expect closer to $400 to $500. Shop Here.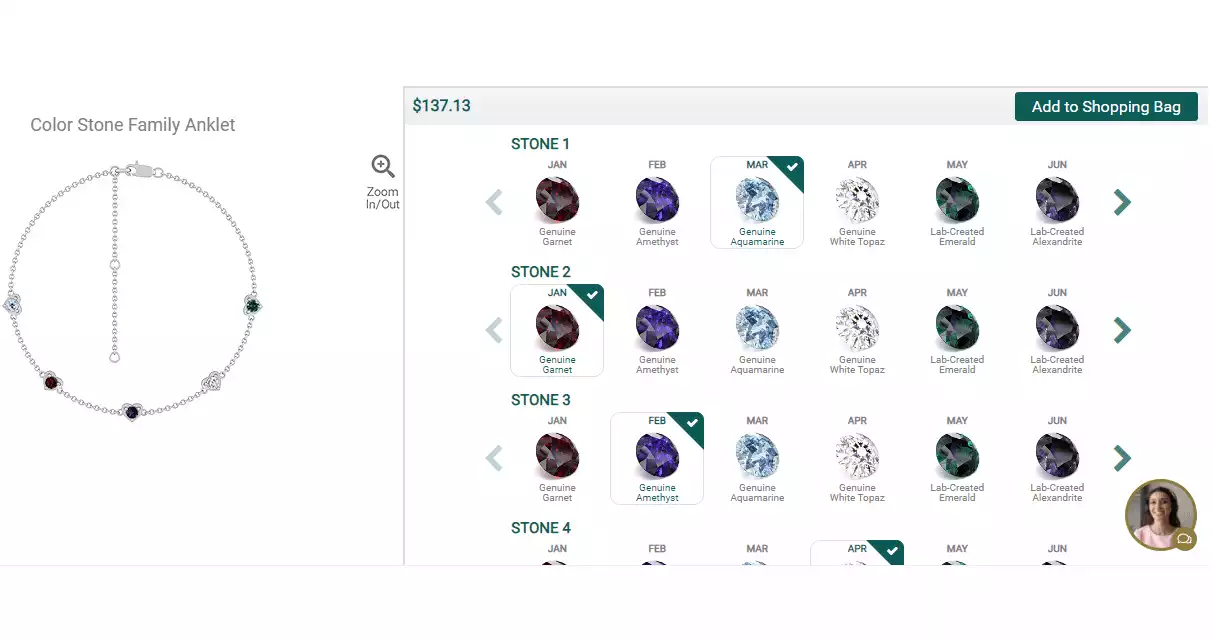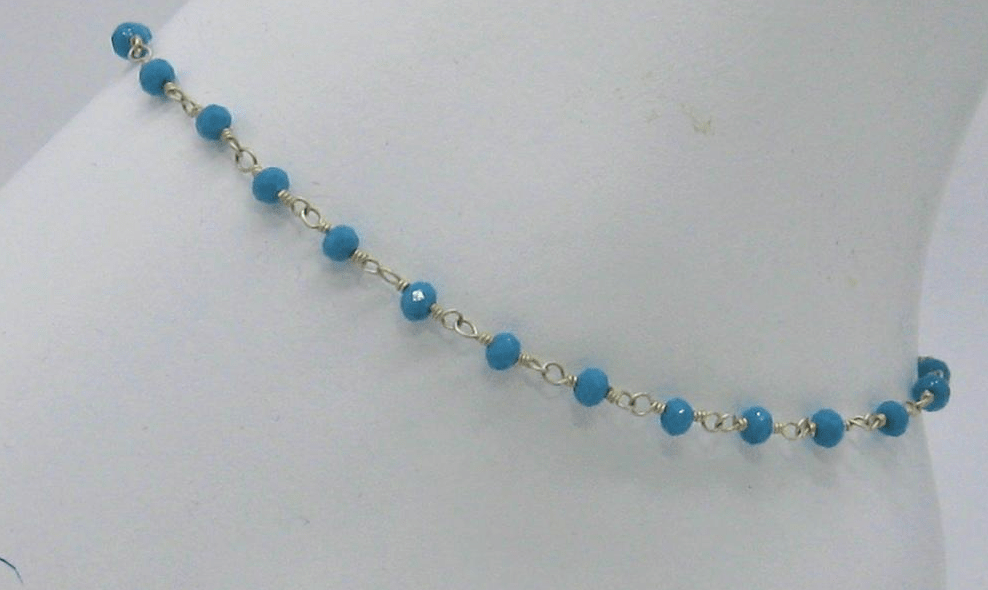 This look combines the style of beaded and gemstone anklets. The handmade ankle bracelet is a great idea for a boho or day to evening beach look. Priced at around $25.60, genuine turquoise beaded gemstones are set on a sterling silver chain. Buy Here.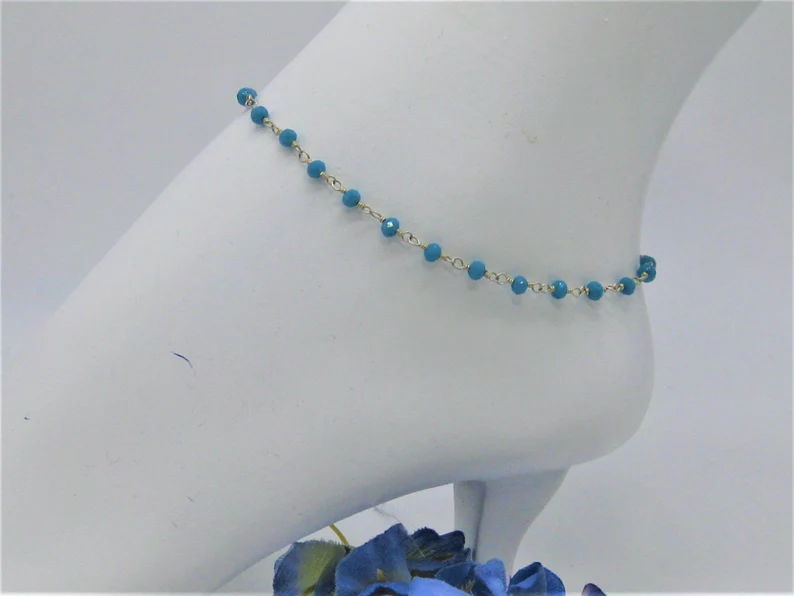 Genuine Turquoise Ankle Bracelet | Etsy
3 mm genuine turquoise stones are threaded on silver-filled wire with a lobster claw closure. The anklet listed fits an 8.5-inch ankle.
Check Price
We earn a commission if you make a purchase, at no additional cost to you.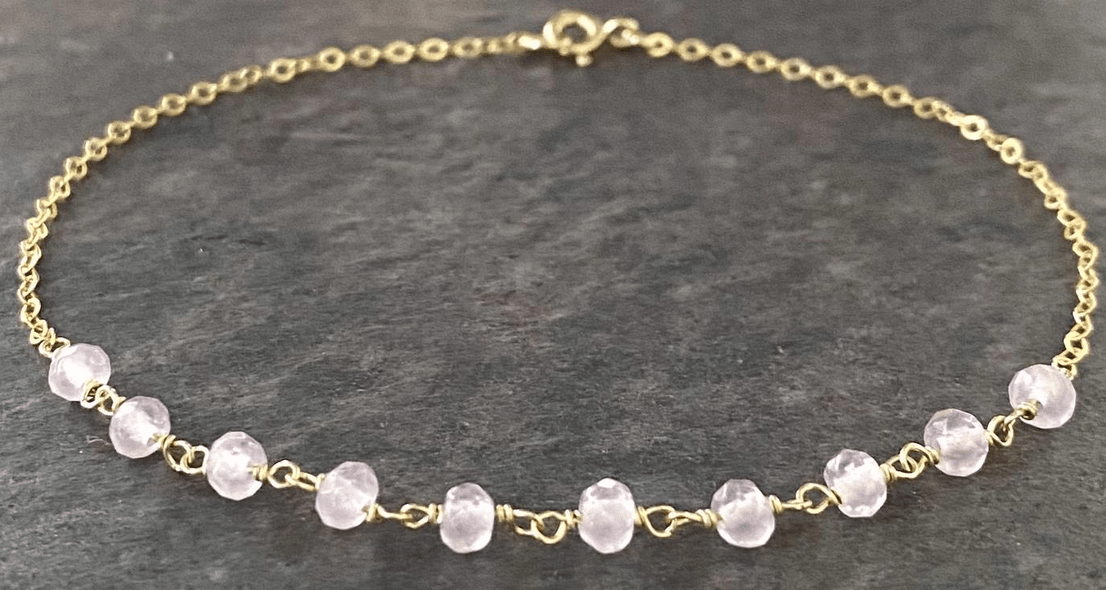 Quartz is known to be fairly durable. It's also used in Feng Shui, said to promote healing and positive love life. Priced at $40, this ankle bracelet is elegant, with polished quartz on a 14K gold-filled cable chain. Buy Here.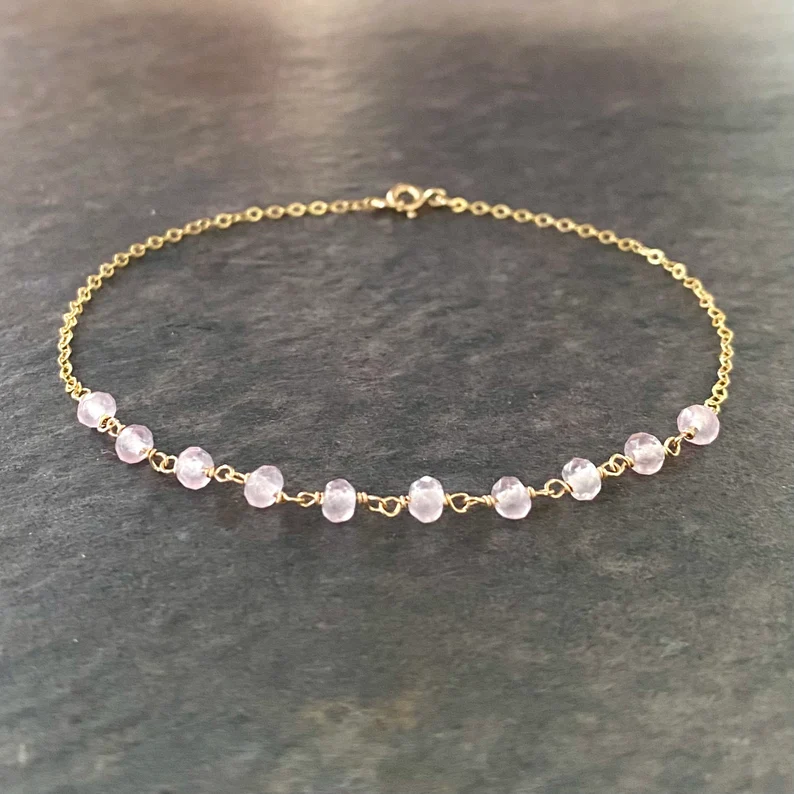 Rose Quartz Anklet | Etsy
Rose quartz anklet. Made from genuine rose quartz and 14k gold-filled wire and chain.
Check Price
We earn a commission if you make a purchase, at no additional cost to you.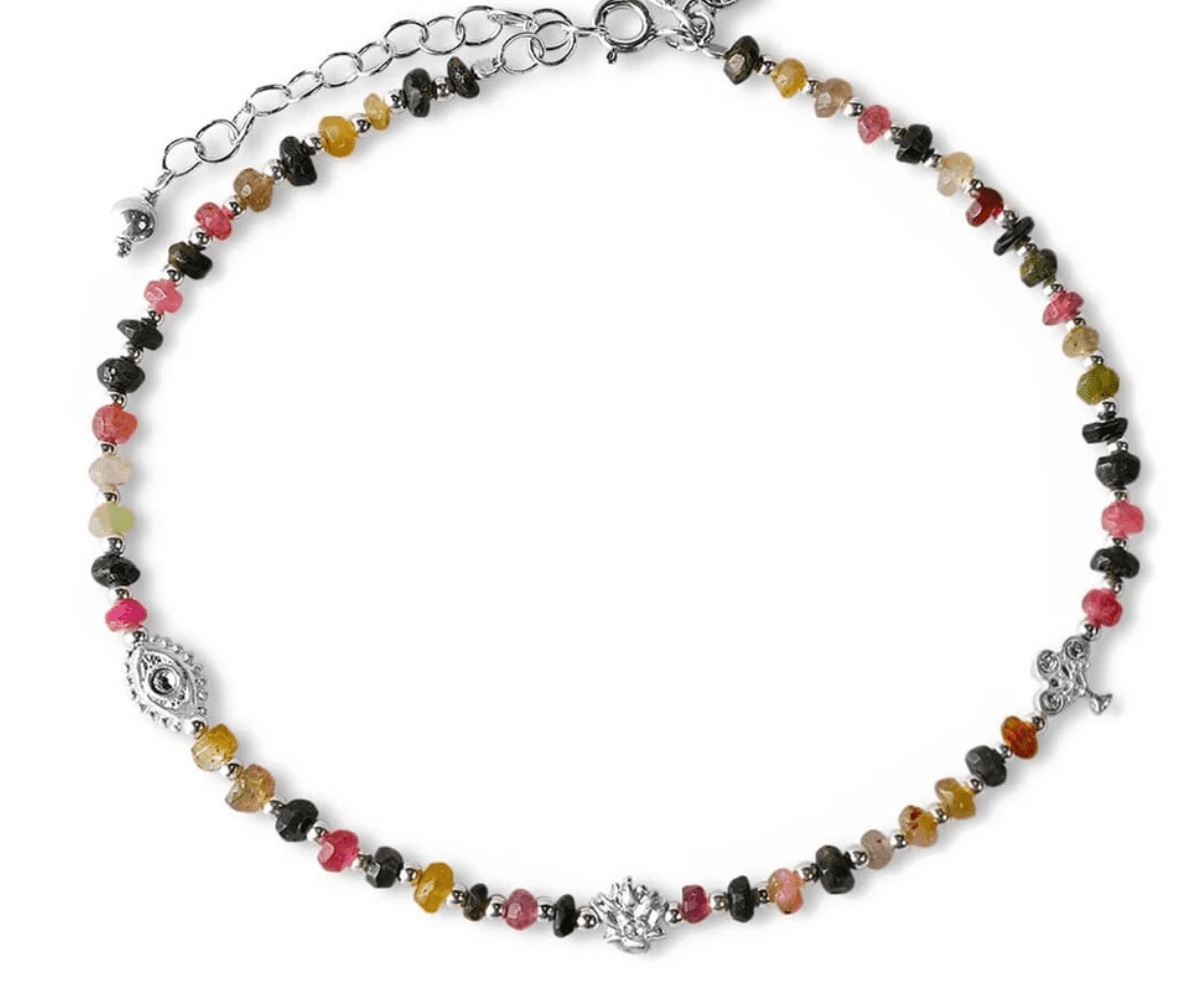 This Feng Shui anklet also includes the Evil Eye– providing a symbol heavy look with a playful design. Fairtrade, authentic gemstones are set on an adjustable sterling silver chain. The Evil Eye is meant to ward off ill will, and each color represents different positive and healing energies. Priced at around $69; Buy Here.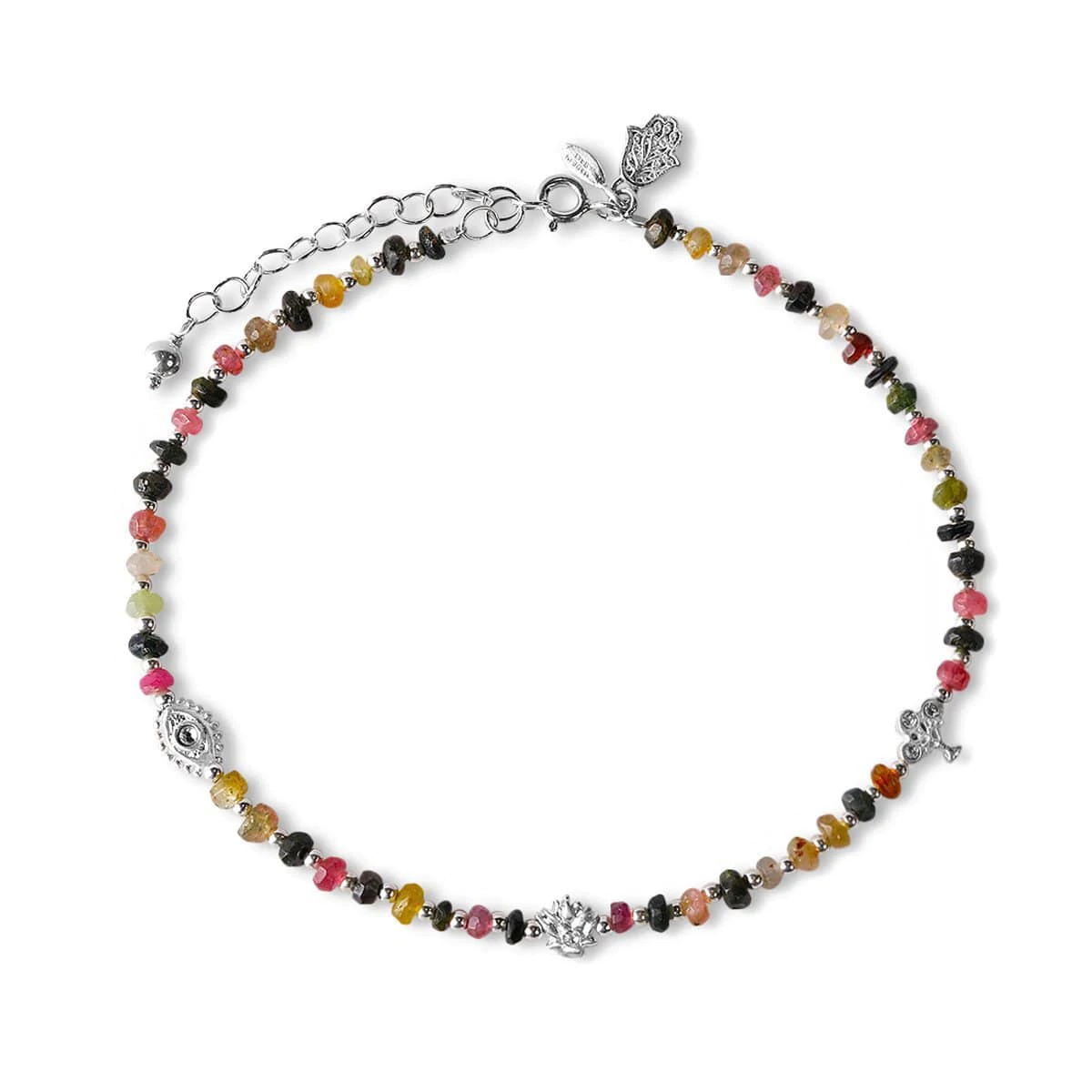 Tourmaline Stone Silver Anklet | Karma and Luck
Quintessential values related to well-being are captured in the Tourmaline stone, the key part of our one-of-a-kind "Supreme Trinity - Tourmaline Stone Silver Anklet".
Check Price
We earn a commission if you make a purchase, at no additional cost to you.

Pearl Ankle Bracelets
Pearl ankle bracelets provide a formal but understated look. They're also versatile enough you can wear these anklets with boho outfits, casual outfits, or even for dressing up a simple black dress. I've included options for cultured and freshwater pearls. Delicate chains and charm styles are the most common.
NYMPH Natural Freshwater Pearl Anklet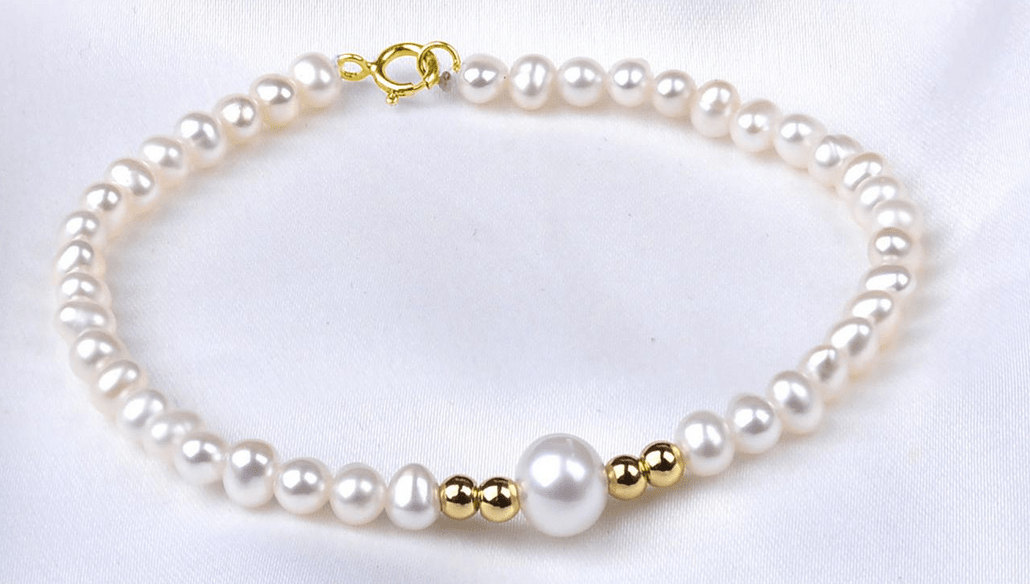 Priced at around $39.99, this natural freshwater pearl anklet is one of my favorite looks. The handmade item is set on recycled 18K gold. This is not only a high-quality ankle bracelet for a great price, but it also has a stunning, refined beauty.
Floating freshwater pearls add dainty touches to this anklet. Handmade and ideal for formal occasions, tiny natural pearls are set on a silver band for a classic look that's ethereal and provides understated elegance. Priced at around $24.03; Buy Here.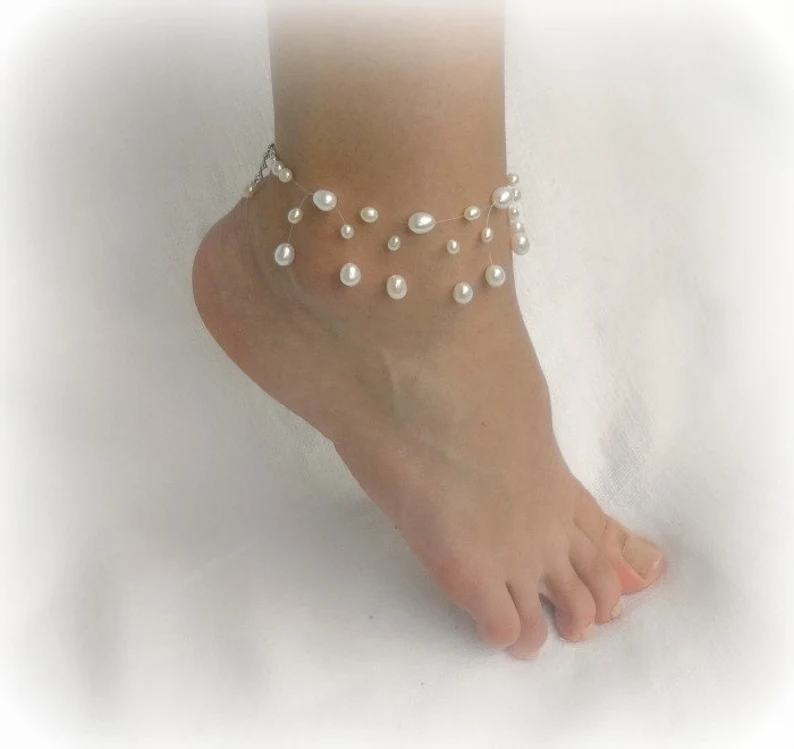 Wedding Anklet Floating Pearl | Etsy
This anklet would be fitting for your beach wedding, your romantic coastal get-away, your rustic country wedding or your shabby chic wedding.
Check Price
We earn a commission if you make a purchase, at no additional cost to you.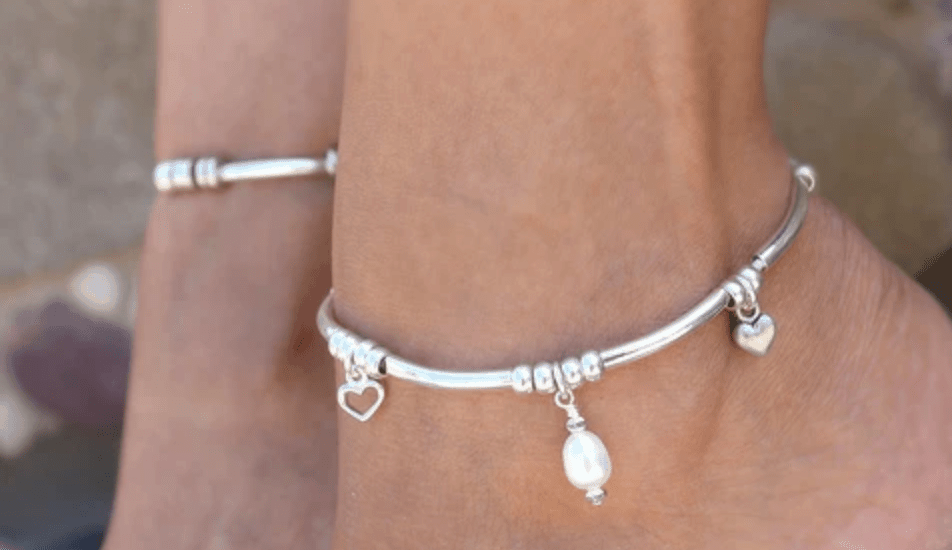 If you love the style of pearl ankle bracelets but want an option more customized to your tastes, look no further. A charm-style anklet features a freshwater pearl with metal accents on a leather strand. Choose from multiple colors and charm options- just make sure you don't wear this in the water. Prices start at $94; Buy Here.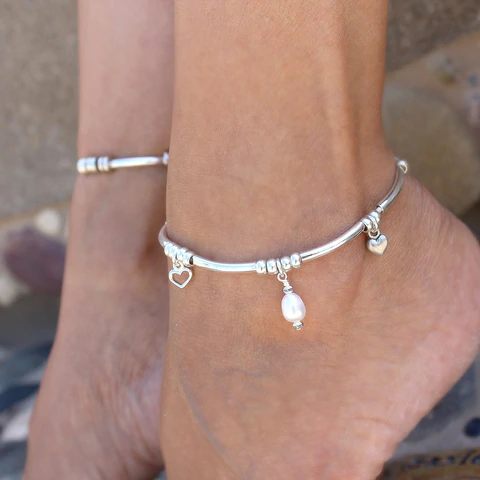 Freshwater Pearl Layer Anklet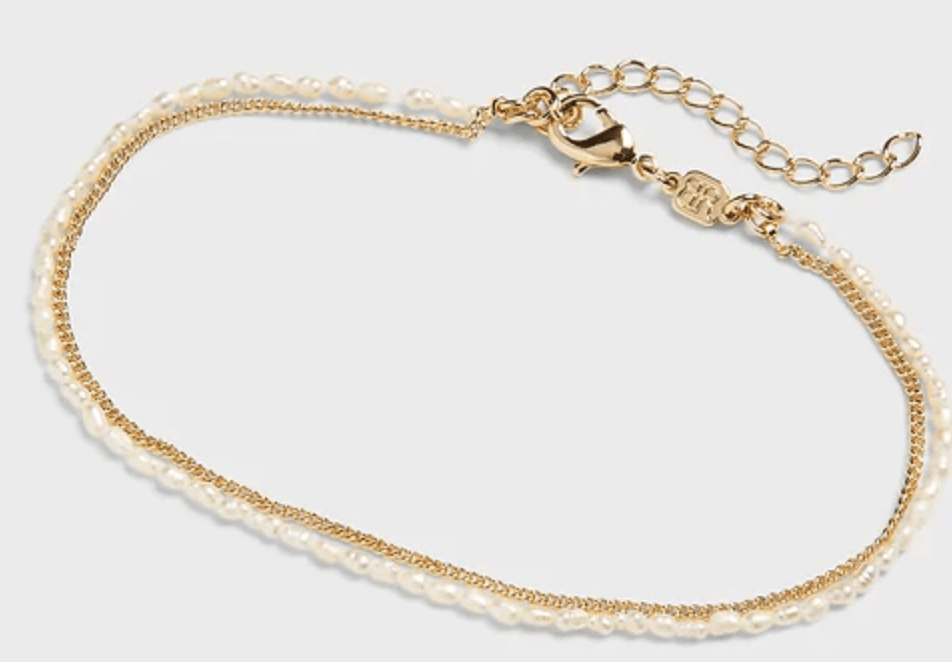 The around $30 Banana Republic anklet features a beautiful strand of freshwater pearls. A layered look provides a warm hue. While brass isn't as high quality as gold, this is an affordable option, with a beautiful look when worn with care.
Wrap Ankle Bracelets
Wrap anklets hug your ankle and are often dramatic and artistic. While in some ways embodying the boldness of cuff ankle bracelets, wrap ankle bracelets also have more flexibility and often lean artistic. You can find wrap ankle bracelets in a variety of materials, including leather/ faux leather, metal, and fabric.
Foliage Wrapped Anklet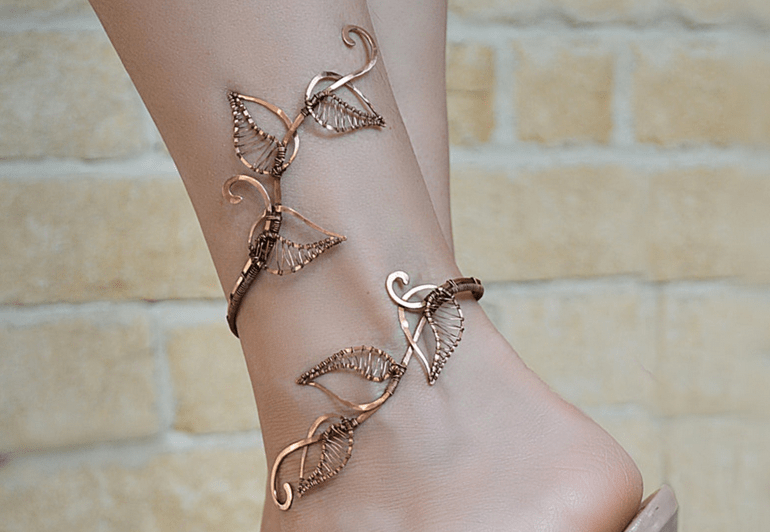 Choose from German silver, brass, or copper for this unique wrap ankle bracelet. An artistic leaf design feels lively, with a crawling style. The metallic shine adds a touch of formality to the unconventional look. Priced at $55 to $65.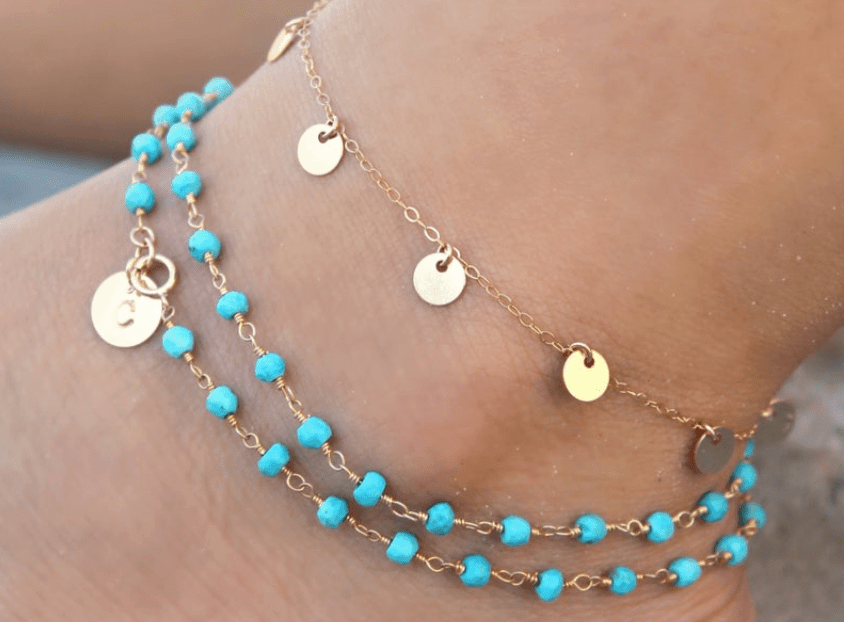 Who says you can't have several styles in one ankle bracelet? This personalized and handmade anklet is my favorite idea for this category. Priced at around $42.95, you'll be able to select your initial charm, set on a 14K gold-filled chain. The turquoise beaded gemstones provide a lively color that will look at home with any swim or boho-inspired outfit. Buy Here.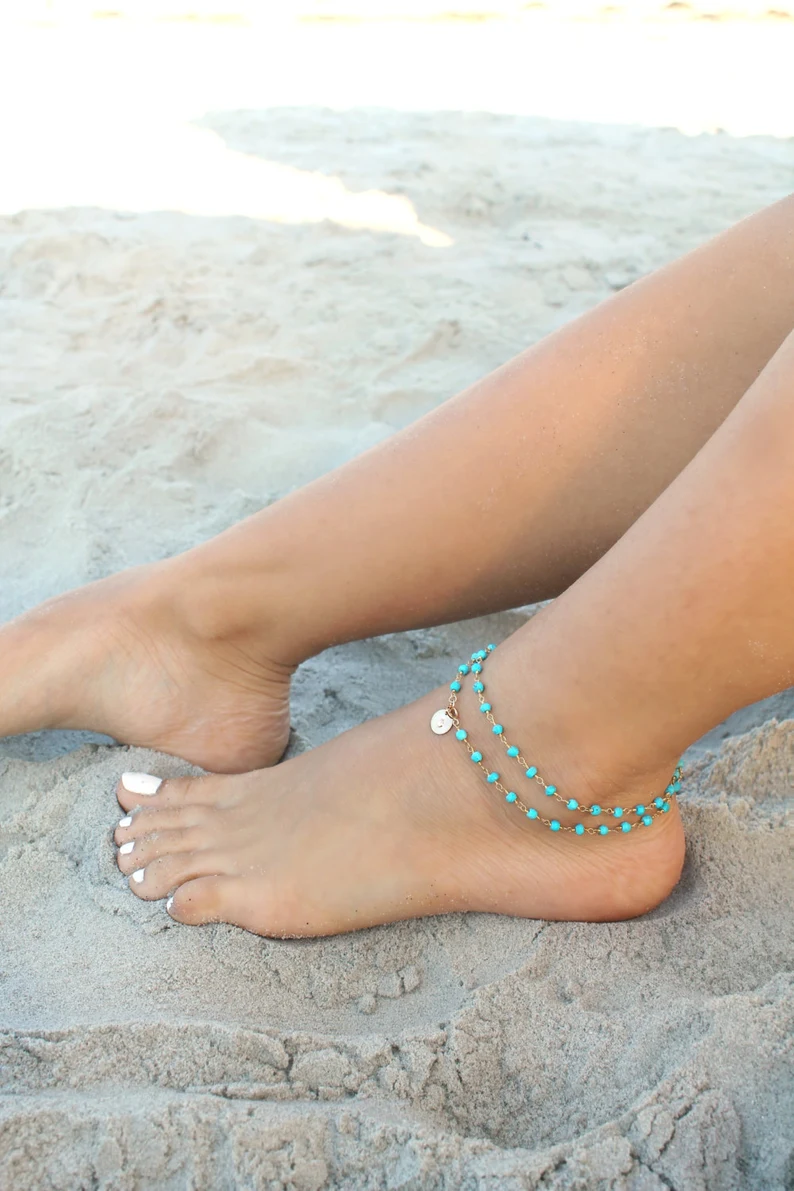 Personalized Turquoise Bead Wrap Anklet | Etsy
Personalized wrap anklet, made with genuine Turquoise bead chain and one custom stamped 14k gold filled initial disc. The anklet is made with one continuous chain that wraps twice around your ankle and drapes beautifully.
Check Price
We earn a commission if you make a purchase, at no additional cost to you.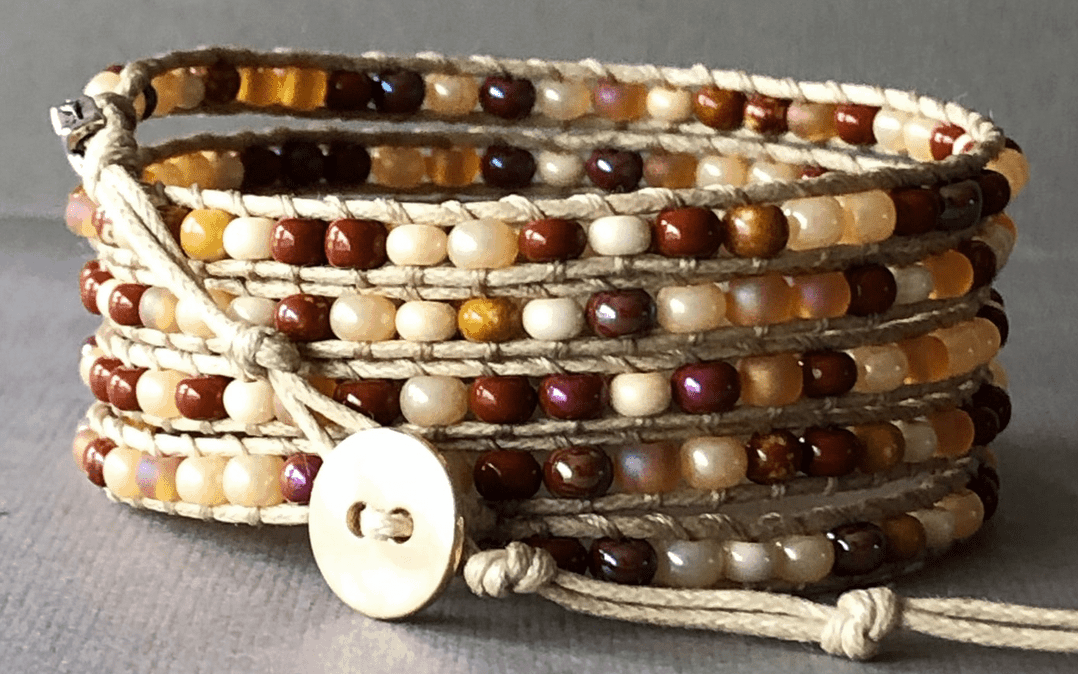 This statement wrap anklet is an excellent choice for more casual wear. Adjustable for a comfortable fit, Czech glass beads in neutral hues are set on a cotton cord and secured with an accent button. The earthy tones are also well suited for a boho style. Priced at around $18. Buy Here.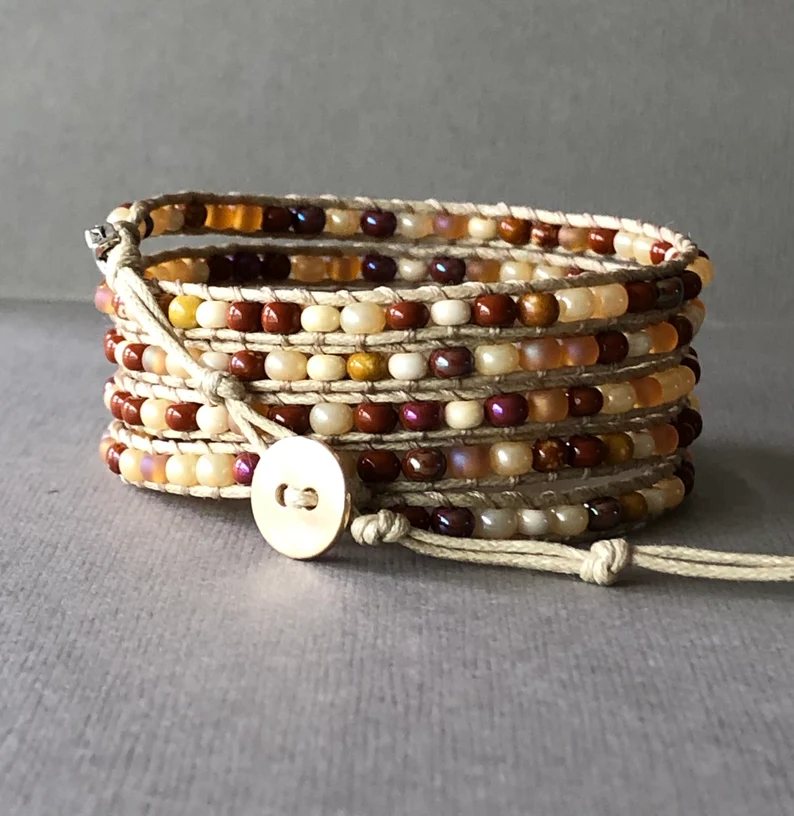 Czech Glass and Beaded Cotton Wrap Anklet | Etsy
Hand sewn with a signature star metal bead and heavy-duty beige thread on matching beige/sand waxed cotton cord using mixed iridescent and pearlescent cream and brown Czech glass beads.
Check Price
We earn a commission if you make a purchase, at no additional cost to you.

Frequently Asked Questions
Question: What are the best anklets?
Answer: The best anklets depend on your style and why you're buying them. For beach and casual looks, beaded anklets and even shell anklets are popular. For dressing up an outfit, gemstone anklets and cuff anklets provide classic and even elegant appeal.
Question: Are anklets popular in 2021?
Answer: Anklets made a big comeback in 2020, and the trend is continuing in 2021. While not for everyone, many are embracing ankle bracelets as a way to style boho and casual or beachy looks.
Question: Is it OK for guys to wear anklets?
Answer: There is nothing wrong with guys wearing ankle bracelets. Rope or braided looks are the most common for men to wear. Just know that there are undeniably fewer style options and places to buy for men. I recommend looking perhaps too independent sellers on Etsy.
Final Thoughts
As you can see, ankle bracelets are available in a wide range of styles and materials. One popular ankle bracelet type I didn't cover is shell ankle bracelets. Fun for a beach look, they are also fairly easy to make on your own. However, if you want a shell anklet bracelet, I recommend this Knotted Cowries Anklet, Puka Shell Anklet, or looking on Etsy.
| Product Image | | Primary Button |
| --- | --- | --- |
| | | |
| | | |
| | | |
| | | |
| | | |