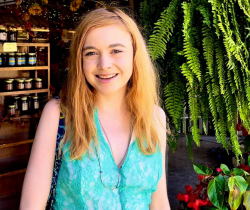 Latest posts by Erin Jamieson
(see all)
Diamond earrings will never go out of style, but sapphire earrings are just as timeless. And in 2022, these blue-hued gemstones remind one of the most elegant and sophisticated ideas for an accessory. 
Blue sapphires, in particular, continue to stun, with celebrities and public figures ranging from Kate Middleton to Dua Lippa sporting elegant earrings. But blue sapphire earrings are also increasingly sought after by everyday consumers for everything from cocktail parties to weddings.
A recent Vogue feature listed blue sapphires as a top bridal look to consider for your "something blue." If you have doubts about blue earrings for a wedding, you may want to see the earrings they featured. The EF Collection Huggie Sapphire Hoops features blue sapphires set with accent diamonds and crafted in polished 14K yellow gold for a bright elegant style. 
But sapphire earrings aren't limited to bridal styles. Whether you're shopping for a formal occasion or just want an elegant look that has a timeless appeal, you have more options to choose from than ever. 
This guide will help you find the best sapphire earrings worth your money. I'll tell you what I always consider when searching for sapphire earrings and give you some of my top ideas for 2022. 
What does a sapphire symbolize?
While many buy sapphire jewelry for the aesthetic, others may be interested in the symbolism of sapphires. Sapphires have long been known as a symbol of innocence but also truth, nobility, and faith.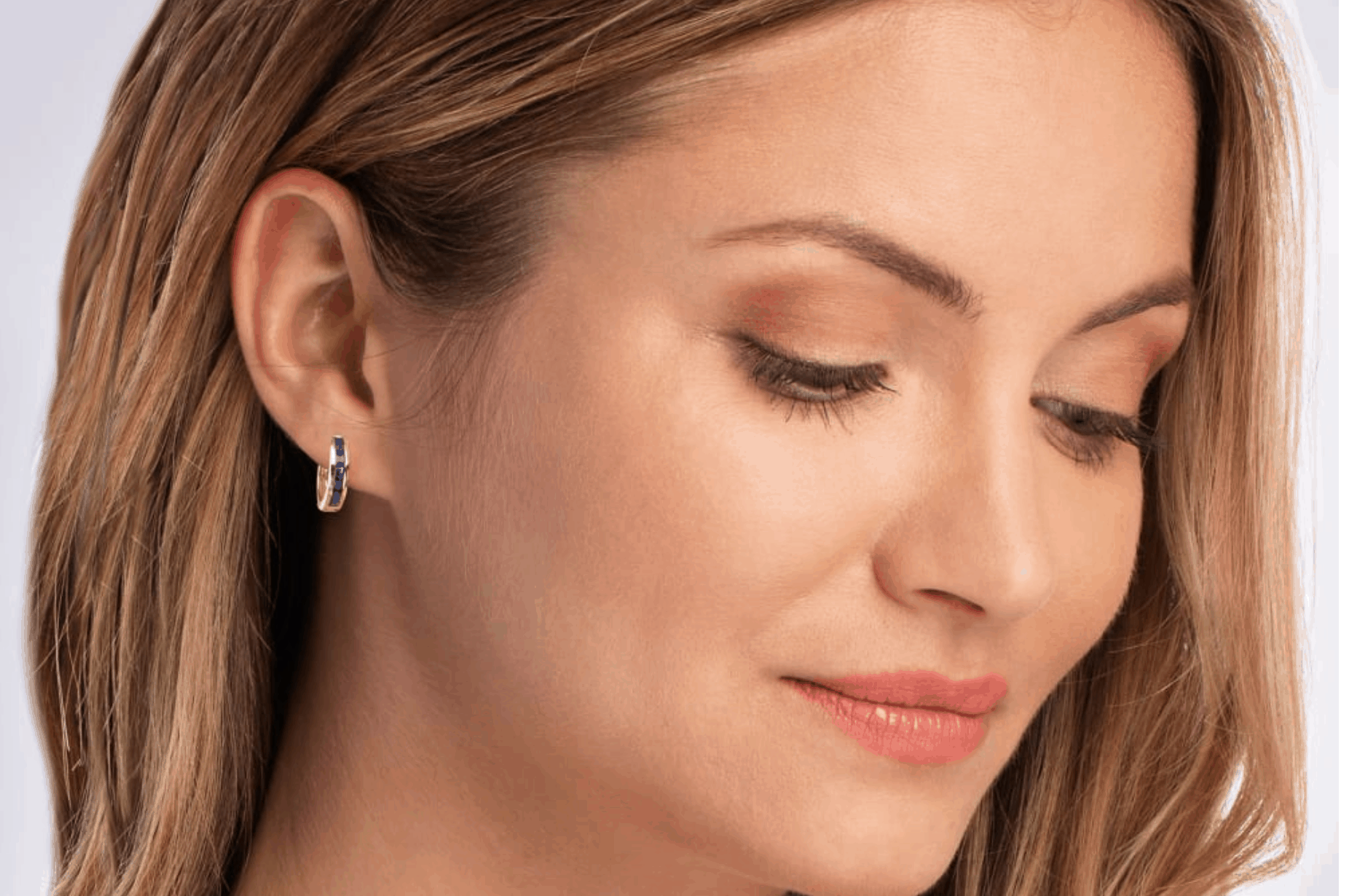 What is the spiritual meaning of sapphire?
Often associated with royalty, sapphires are believed by some to bring fortune and abundance. At the same time, sapphires have also been used as talismans to protect against negative thoughts. Some claim that blue sapphires provide spiritual clarity and insight. 
Are sapphire earrings right for me?
There's no denying that sapphire earrings are at once timeless, elegant, and sought-after accessories. But they may or may not be the best option for you, depending on what you value most. Here's what you need to know before you start shopping. 
How much do sapphire earrings cost?
As you can imagine, the price of sapphire earrings varies depending on sapphire quality (cut, clarity, color), carat size, precious metals used, and craftsmanship. For genuine sapphire earrings, expect to pay a few hundred dollars to around $2,000 on average. That's less expensive than most diamond earrings but pricier than some other gemstones.
Can sapphire earrings be worn every day?
When you're spending a few hundred to a few thousand dollars, you want to make sure your purchase will be durable. Not only can sapphire earrings or other accessories be worn every day, but they're considered one of the most durable gemstones. Sapphires have a Mohs hardness scale of 9 out of 10, meaning they're difficult to scratch or dent. 
In addition, sapphires are considered to be tough, not brittle stone. Without much cleavage, they are unlikely to break if dropped or even struck. Sapphires may be a little pricey, but they're going to provide a better overall value than many other gemstones. 
Can I shower with sapphire earrings?
Sapphires themselves are unlikely to become damaged if they get a little wet. A bigger concern is the type of metal for your earrings. Sterling silver, 10K to 18K gold, and platinum are all solid and acceptable options. However, sterling silver does not fare well if immersed in water, nor does anything with gold or rhodium plating. 
While I personally recommend removing earrings (aside from new piercings) for showering, you need to dry them carefully even if you have hold sapphire earrings. I also wouldn't recommend swimming with fine jewelry. 
How do I choose the best sapphire earrings?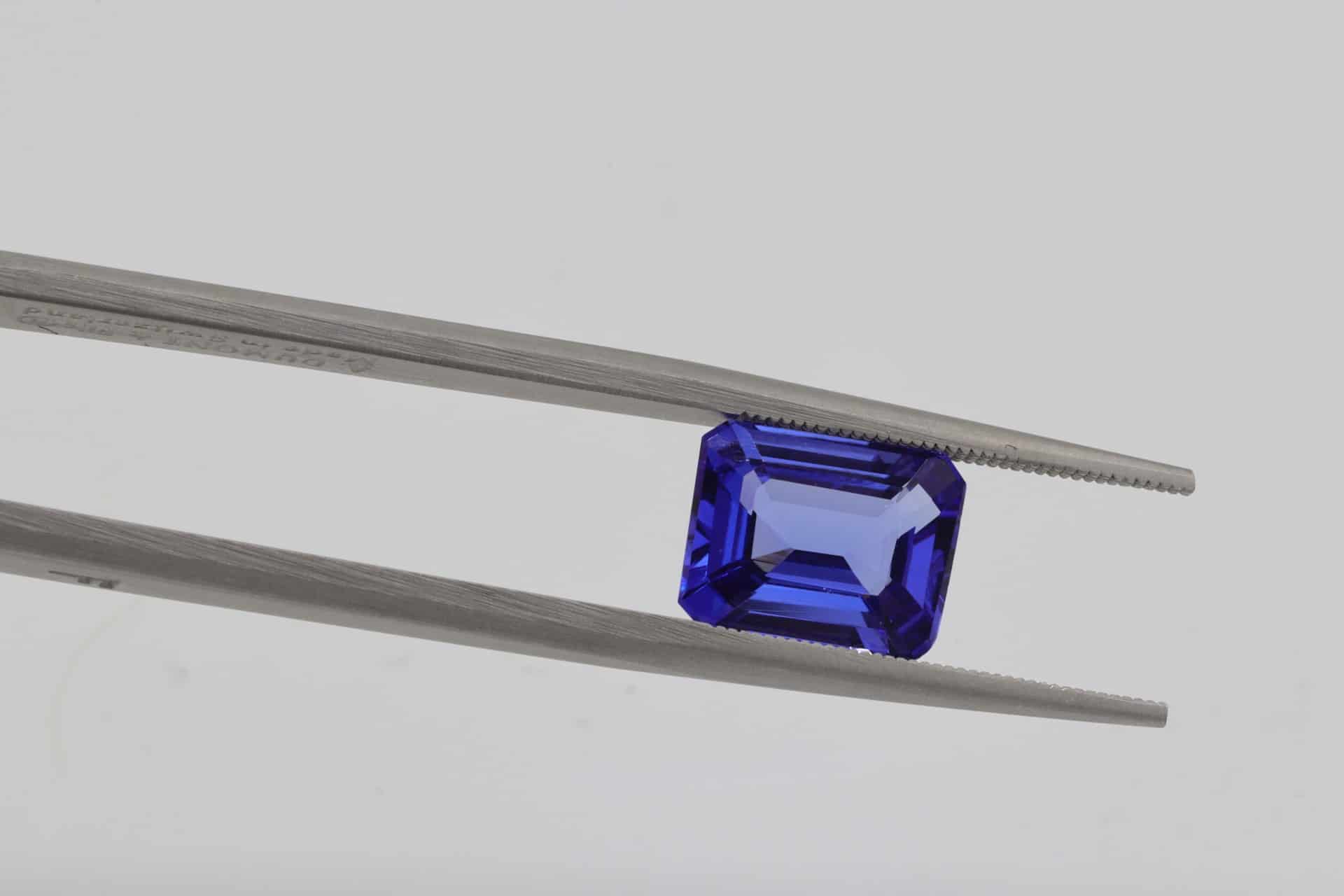 If you've decided that sapphire earrings are right for you, you also shouldn't just buy the first ones that catch your eyes. The following questions are criteria I consider when selecting my favorite earrings. 
What is the best color for sapphire earrings? 
If you've considered sapphire earrings, you likely were drawn to their blue hue. You may be surprised to learn that sapphires come in a wide range of colors. Most sapphires fall from medium reddish-purple to blue. There are fancy colored sapphires too, including orange, yellow, green, and black.
The vast majority of high-quality sapphire earrings will be a blue shade. Blue is not the rarest, but the most expensive and desired color for sapphire earrings. But it's not just a simple color, but rather the hue as well.
For the best blue sapphire earrings, look for velvety blue to violet undertones. Those with gray undertones are considered to be of poorer quality. If you're spending a lot of money, you should also consider asking about color grading. 
Typically, colored gemstones like sapphires are graded using an official scale– you should aim for AAA to A quality if you're concerned about value. AAA is the highest quality, while A is good and acceptable quality. 
Of course, that isn't to say you can't buy a color quality below that– just expect some grayish undertones for the price.
How can you tell the quality of a sapphire?
If you're buying a sapphire ring, this is especially important– but it's also a factor to consider if you plan on spending a little extra on your sapphire earrings. What you want to look for is information about the official AGS or GIA rating. This is not always readily available on listings, so you should inquire. The color rating and clarity are especially important to consider. In general, if inclusions (surface-level imperfections) are hard to see with the naked eye, chances are you have fine-quality sapphire earrings.
To avoid low-quality sapphire rings, only buy from reputable jewelers– usually, diamond sellers with a history of sales and great reputation are fairly safe bets. 
What is the best cut for sapphire earrings?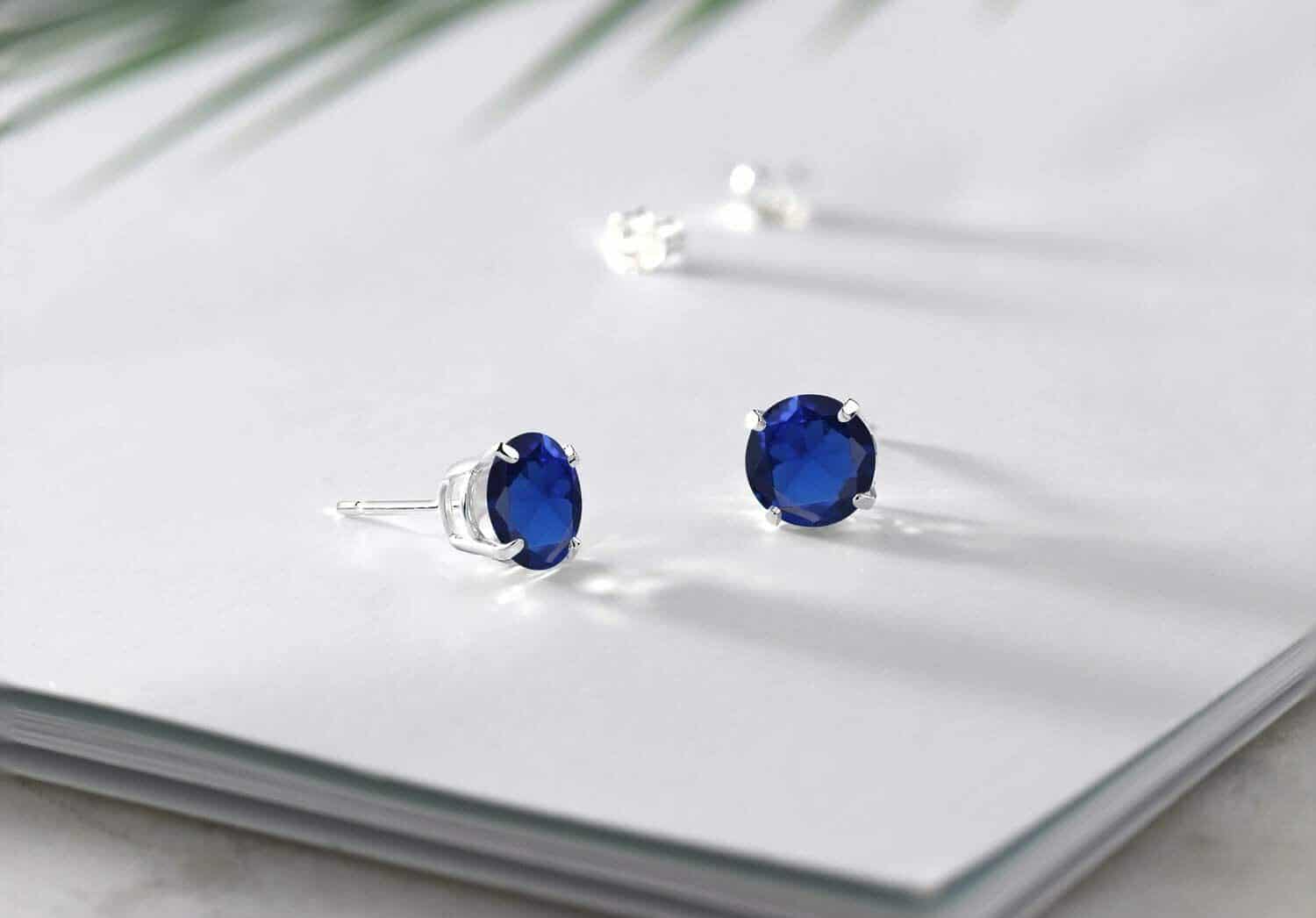 One excellent reason why sapphires remain so popular is that many cuts suit them. Due to their hexagonal structure, sapphires can be cut into many shapes that are durable and beautiful. Of these, oval, cushion, and Round cuts tend to be the most popular and optimize shine. At the same time, marquise and pear cuts are still beautiful and provide a more vintage appeal. 
Sapphire Earrings: My Ideas 
Now I'll show you my top ideas for a drop, hoop, and stud sapphire earrings in 2022. All of these earrings come from highly esteemed jewelers who have a history of customer service, craftsmanship, and an eye for detail. I've included a range of styles, from contemporary to classic to vintage-inspired, all while keeping the price below $2,500 for every pair of earrings. 
Sapphire Dangle/ Drop Earrings
Dangle and drop earrings are classic but more dramatic than stud earrings. You'll find that many sapphire dangle earrings lean classic or even vintage-inspired. Another trend is accent diamonds and white gold. Diamonds add that touch of sparkle, white gold brings a beautiful icy hue that complements blue sapphires. But regardless of what style you opt for, these dangle earrings add sophistication to any formal outfit. 
Round and Pear Sapphire Halo Drop Earrings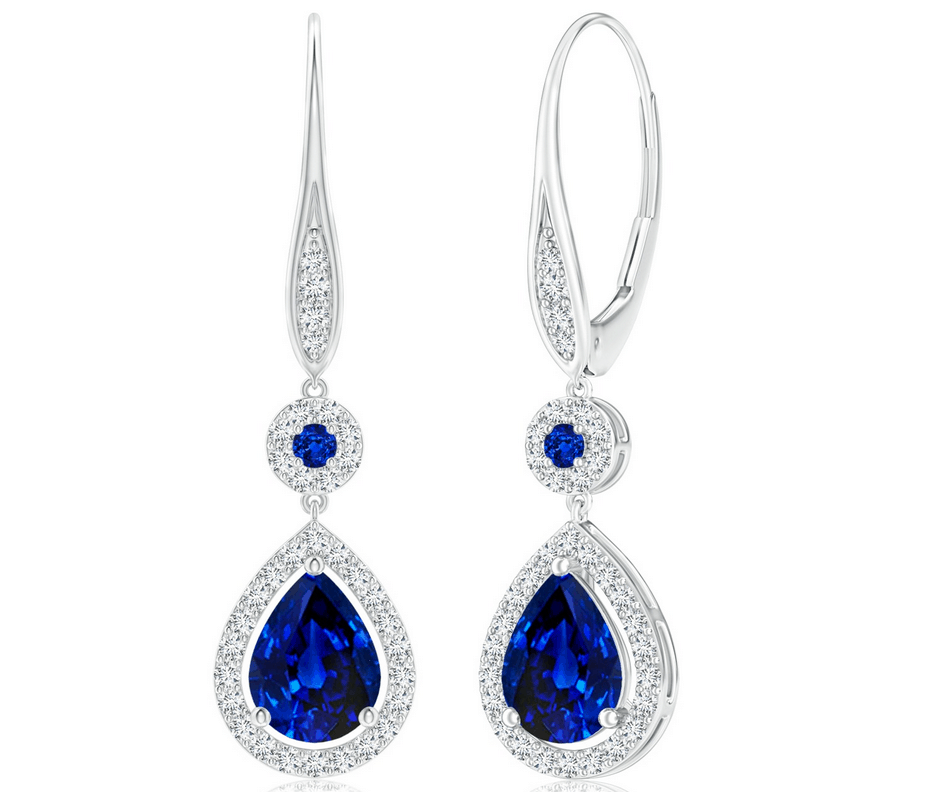 One of my favorite things about Angara is that you can customize your order– select from good to heirloom quality gemstones, carat size, and even your choice of metal type (in this case, white, rose, or yellow gold). These earrings feature two round sapphires and two larger pear-shaped sapphires, surrounded by halos of diamonds and diamonds on the lever backs. Elegant, alluring, and timeless, these earrings retail for $845 to $9, 323. Buy Here. 
Lab-Created Blue and White Sapphire Drop Earrings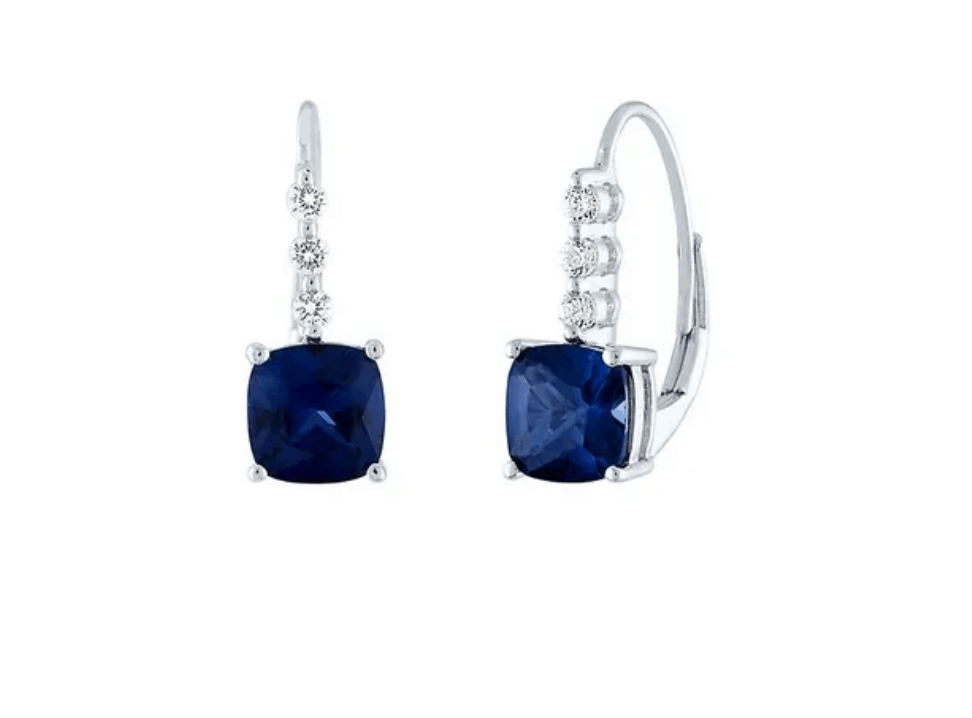 Spending several hundred dollars or even a thousand dollars isn't always doable. These sapphire earrings retail for just $99 and are sold by Helzberg Diamonds. Make no mistake: these are not the highest quality sapphires– they are a darker hue– but they're made with care, and still authentic. The cushion-cut provides a classic look and looks spectacular against sterling silver. Take these earrings in for regular professional cleaning to reduce tarnish and extend their life. Classic and simple, this budget-friendly option is a respectable choice if you don't have more money to spend. Buy Here. 
Yard Chain Diamond and Sapphire Drop Earrings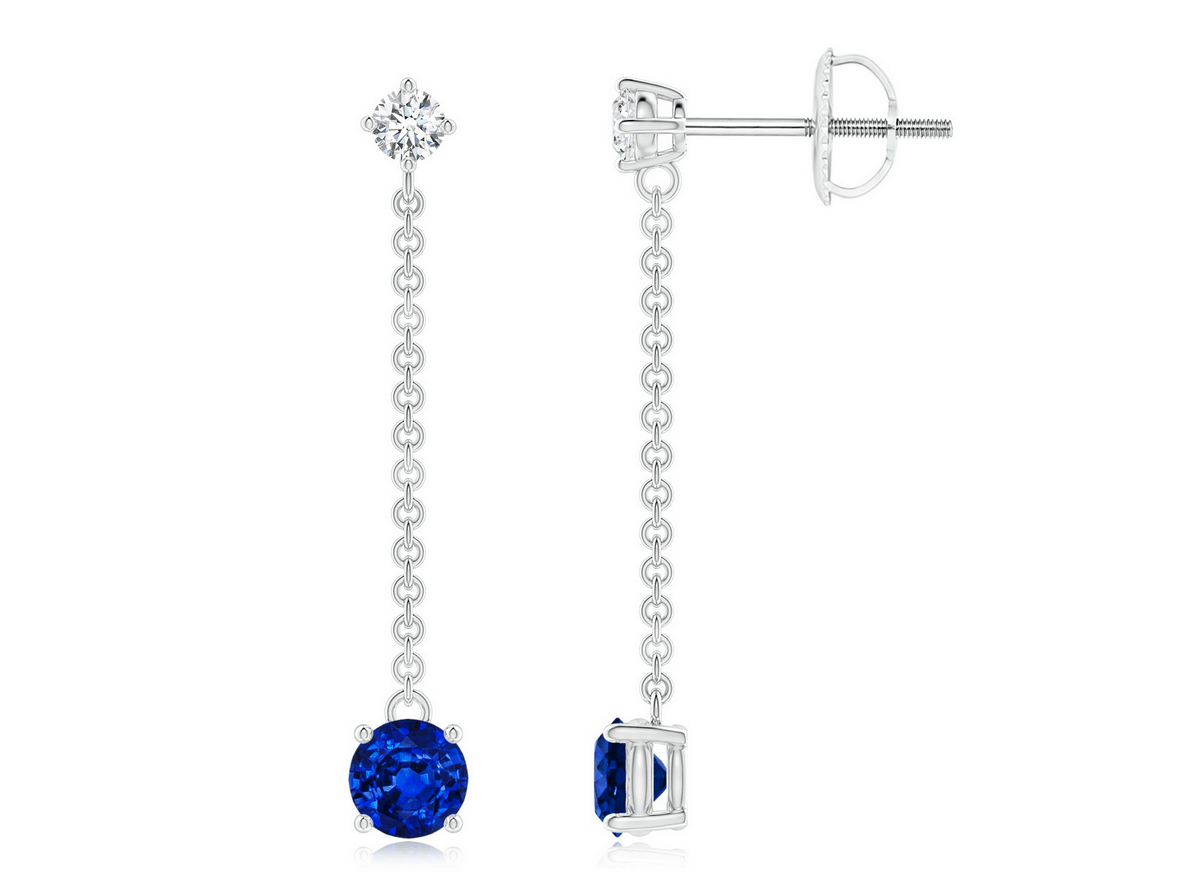 These delightful sapphire drop earrings retail for $476 to just over $1,000. Opt for yellow, white, or rose gold, or even platinum. The stunning chain drop style is modern and unexpected and carries two round sapphires with a prong setting. Two diamond studs add sparkle to the top of your earrings while keeping the focus on the beautiful sapphire gemstones. Buy Here. 
Sonatina Sapphire, White Topaz, and Diamond Drop Earrings
These gorgeous sapphire earrings are not 60 percent off, retailing for $420. A prong-set, oval cut lab-grown sapphire is surrounded by white topaz and a diamond accent. Set on sleek 14K white gold, this is a classic option, with an easy-to-wear lever back. Buy Here. 
Sapphire Hoop Earrings
From whimsical to modern, bold to subtle, sapphire hoop earrings are expressive. While blue sapphires are often associated with more formal occasions, a hoop earring style showcases the more carefree side of sapphires, with playful detailing that makes for expressive styles. You can even wear sapphire hoop earrings to dress up a casual outfit. 
Sapphire Huggie Hoop Earrings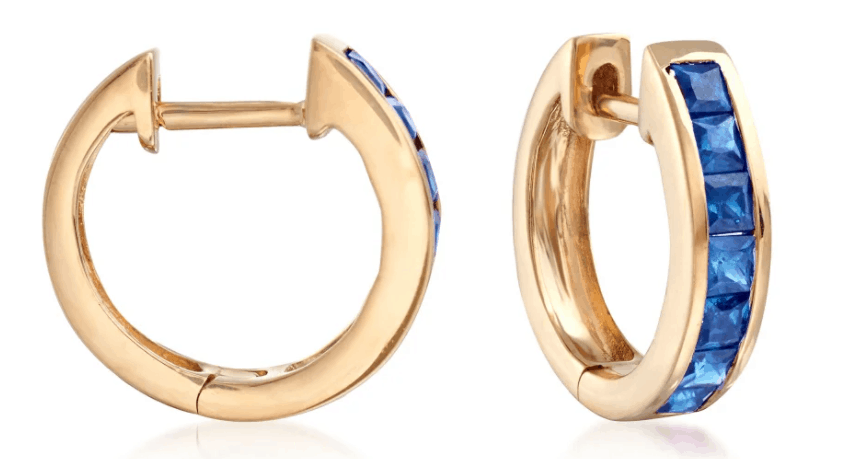 These $399 Ross Simmons hoop earrings are lively, playful, and versatile. Bright blue channel-set square sapphires are set on 14K yellow gold for a less common combination. The lighter hues bring a sense of inviting warmth. The hinged post and huggie hoop design make these earrings wearable and easy to pair with other accessories. Buy Here. 
Saks Fifth Avenue Blue Sapphire Hoop Earrings
Now on sale for a mere $200, these budget-friendly sapphire earrings feature a petite hoop style for a subtle touch. Tiny round light blue sapphire gemstones are set on polished 14K yellow gold for a touch of warmth. The modest style can be worn with other accessories to complete your look. While not my favorite pick– I'd inquire more about gemstone grading–these are a pleasant hue for such a low price. Many budget sapphire hoop earrings feature sapphires with gray undertones, but these sapphires provide a lovely light blue hue. Buy Here. 
Prong-Set Sapphire and Diamond Inside Out Hoop Earrings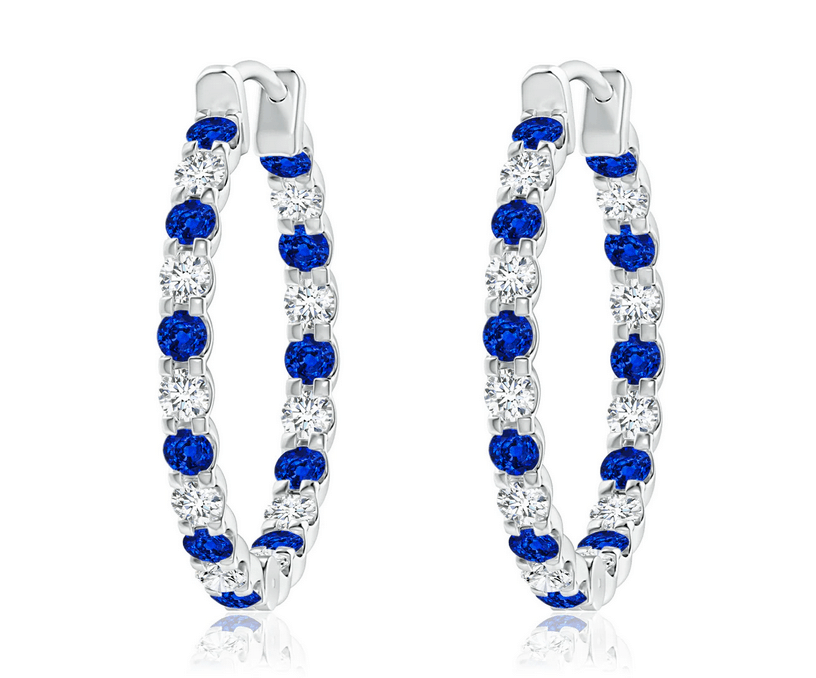 These sapphire hoop earrings feature a dazzling design for a formal look. 22 round blue natural sapphires with a prong setting accent polished metal hoops (14K white/yellow/ rose gold or platinum). The inside-out design is modern but still timeless, with 0.32 to 0.66 carats of sparkling round diamonds. Priced from $665 to $2,096. Buy Here. 
Pink Sapphire and Diamond J-Hoop Earrings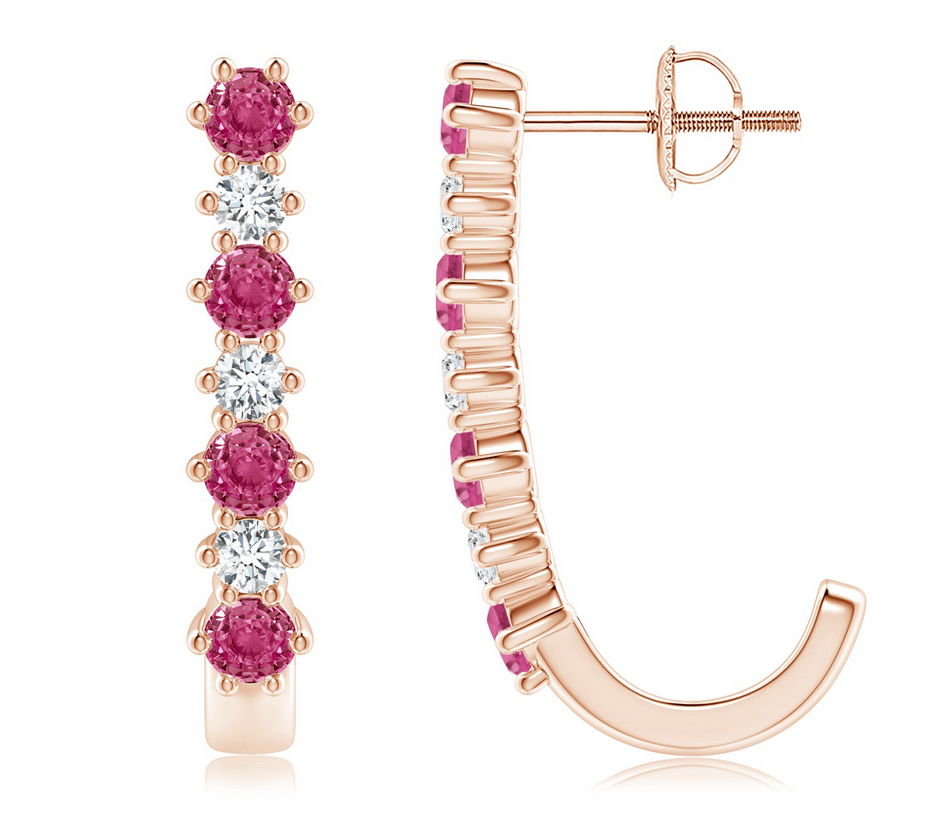 While blue sapphires may be the most prized, there's something to be said for the unexpected. These pink sapphire and diamond J-hoop earrings retail from $476 to $2,438. A romantic, alluring style features alternating rows of sparkling round diamonds and 8 pink round sapphires on a unique J-hoop band. Available in rose, white or yellow 14K gold as well as platinum; 
Sapphire Stud Earrings
Stud earrings are classic– and a great option if you love the look of sapphire gemstones. The most subtle earring style, stud earrings have the advantage of also being the most versatile. You can easily pair sapphire stud earrings with other earrings for a layered look, a bold statement necklace, a cocktail ring, or all of the above. 
Round Blue Sapphire Stud Earrings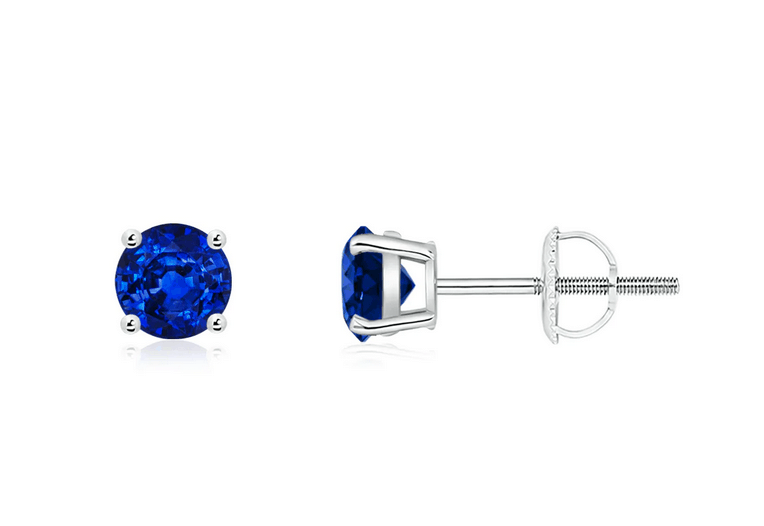 There's something to be said for beautiful simplicity. These sapphire stud earrings retail for $299 to $5,885, with a wide range of carat sizes, gemstone qualities, and metals (14K yellow/white/rose gold and platinum) to choose from. The basket-style prong setting showcases the beauty of the gemstones. Buy Here. 
Simple Sapphire Stud Earrings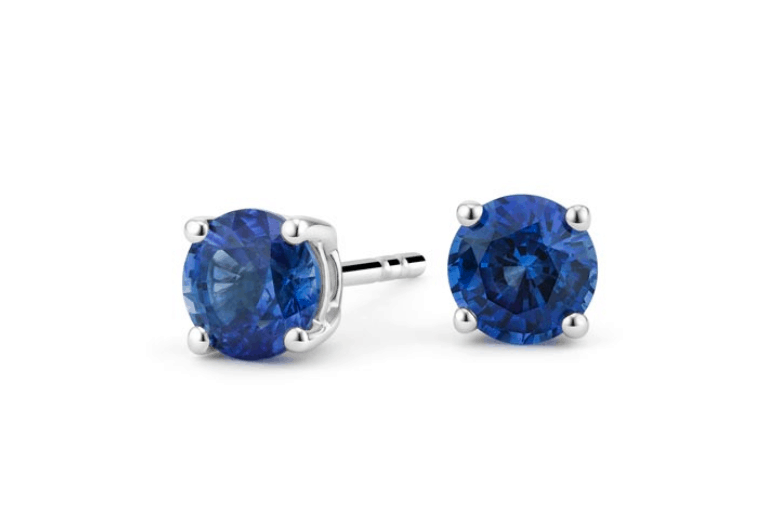 These simple sapphire stud Earrings are crafted by Brilliant Earth, a leader in ethical and sustainable sourcing in the gemstone industry. Priced at $1,390, round-cut sapphires are set in a prong setting on 18K white gold for seamless elegance. Buy Here. 
Traditional Blue Sapphire Studs 
These Shane & Co sapphire stud earrings are a beautiful option for $305. The tiny stud earrings feature round sapphires with a 14K yellow gold basket setting. Brilliant hues exude elegance, and the polished metal offers a touch of warmth. Safety backs ensure your earrings won't easily fall out. Buy Here. 
Six Petal Diamond and Sapphire Floral Stud Earrings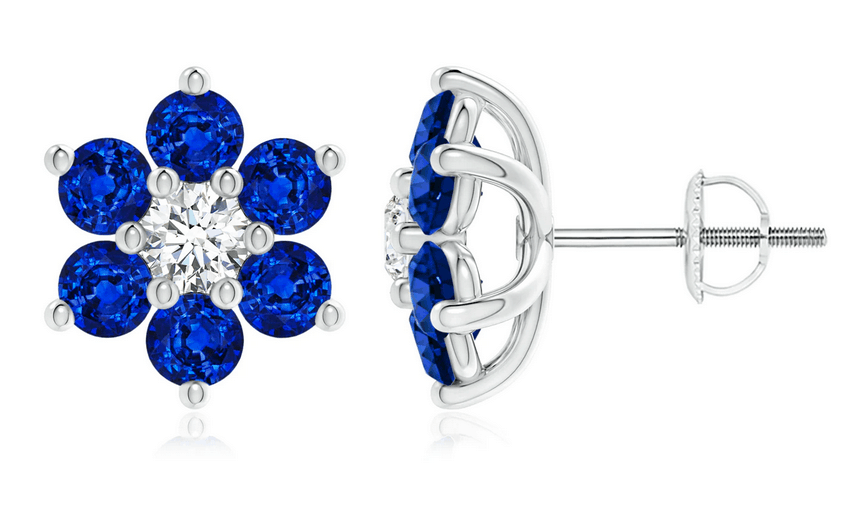 Floral earrings and necklaces are popular in 2022, but the good news is that it's not a trend likely to go out of style anytime soon. These elegant earrings feature six round sapphires set with accent diamonds to form enchanting petals. Select from 14K rose, yellow or white gold or platinum, and your choice of gemstone quality. Priced from $349 to $3,527. Buy Here. 
Frequently Asked Questions
Question: Why is my sapphire so dark?
Answer: Star sapphires appear black or nearly black and get their color from iron and titanium. These sapphires are typically sourced from West Africa, Thailand, and India. You can always check the color rating of sapphire with GIA or AGS. 
Question: How do you keep sapphires clean?
Answer: Most sapphires are durable enough to withstand steam cleaners– which many jewelers use for cleaning. However, any sapphires that have a large degree of inclusions, and black star sapphires should not be cleaned this way. To take care of your sapphire jewelry between professional cleanings, your best bet is to use warm water with a gentle soap solution and a soft cloth. Avoid any harsh chemicals or bleach. 
Question: Does hand sanitizer damage sapphires?
Answer: One factor of gemstone wear many don't consider is hand sanitizer. Hand sanitizer can damage soft gemstones, like opals. Sapphires and diamonds tend to not be greatly affected, but it's still better to avoid using hand sanitizer with a natural or lab-grown gemstone.
Final Thoughts & Buying Tips
Sapphire earrings are beautiful, durable, and timeless. Be choosy about clarity, as blue sapphires of great quality tend to be clearer than another colored precious gemstone, like rubies. Opt for sapphires that are 'eye-clean and have no obvious inclusion to the naked eye. 
 If the seller doesn't have any information about GIA or AGS rating, you can always inquire. Take good care of your sapphire earrings, and they should last for a long time. 
 I personally recommend valuing color and clarity first and opting for a small carat size, but it's up to you how to prioritize where you're saving your money. If you opt for a small carat size for your earrings, you can also accent with another accessory. Sometimes even just a touch of blue can make for a beautiful statement.