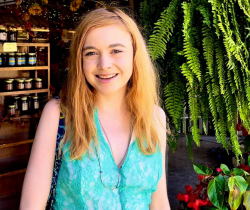 Latest posts by Erin Jamieson
(see all)
The Melee show may not be open to the public, but it's one of the best places to spot trends. And while diamond accessories were on display, it was emerald necklaces and other stunning gemstone ideas that may have stolen the 2022 show. 
The Melee Show is an event that features wholesale buyers and press representatives only. Still, the trade show is a great indicator of jewelry trends. While it's always inspiring to catch high fashion shows, an event like the Melee Show may be a better indicator of the fine jewelry market. 
After a virtual show in 2020, 2021 was held in person at the Bowery Hotel in New York. Gemstones with warm yellow gold were the highlights, from dangle drop earrings to necklaces. After a year spent in isolation, it seems many Americans are eager for expressive and colorful pieces– a step away from the more minimalist fashions we saw in 2019 and early 2020.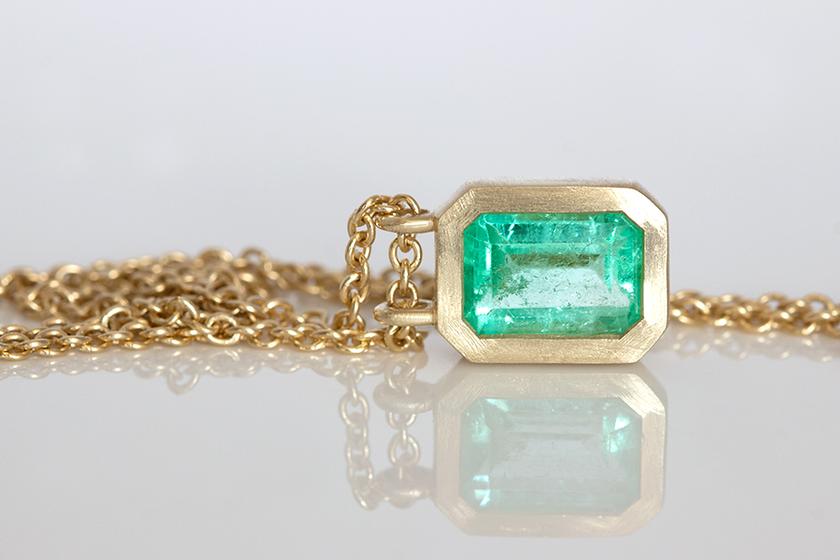 One of the most eye-catching pieces? Elizabeth's Street Columbian emerald necklace. The necklace offers old-world elegance, with a bezel setting and an antique 14K yellow gold chain. This was displayed alongside Petra Glass' geometric, emerald station necklace and Margaret Solow's more rustic amulet emerald necklaces. 
The good news: you don't have to be a VIP member to see and buy some amazing emerald necklaces. In this article, I'll tell you what you need to consider before you buy an emerald necklace, how to find the best one, and my ideas for some beautiful emerald necklaces in 2022. 
Is Emerald Jewelry Worth Buying?
Emeralds, at their best, are beautiful gemstones and offer a formal but unique look. In fact, emeralds are among the most sought-after gemstones in the world. And with that reputation comes pros and cons– both for the price tag and how well they wear when worn daily. 
Is Emerald Jewelry Expensive?
As one of the rarest gemstones in the world, emeralds are quite pricey– but the price range varies greatly depending on the quality. Lower quality emeralds can cost as little as a few hundred dollars per carat, while those of the most desirable cut, clarity, and color can fetch well over $10K per carat. The good news is that more and more companies are now selling lab-grown, high-quality emeralds that slash that cost. 
Do Emeralds Appreciate It?
Emeralds, at least high-quality ones, have a far higher resale value than most gemstones. That resale value is greatly determined by color, cut, clarity, and carat, as well as the condition of your jewelry. Of course, natural emeralds will have a higher resale value than lab-grown emeralds.
Can Emeralds Be Worn Every Day?
An emerald necklace could be worn every day, though typically they are relegated for special occasions. That said, emeralds also have some pros and cons when it comes to durability. 
Do Emeralds Scratch Easily?
The good news is that emeralds are resistant to most everyday scratches that come with wear. At a Mohs hardness rating of 7.5 to 8 out of 10, they're generally considered wearable, but of course, much softer than a diamond (rated at a 10). With proper care, emerald necklaces shouldn't accumulate many scratches simply from wear. 
Can an Emerald Break If Dropped?
While emeralds are resistant to scratches and fair well with light news, the downside is that they are brittle. Emeralds will break if dropped, so you need to wear them with care, and remove your emerald necklace for physical or contact activities. 
Does The Color of Emeralds Fade?
If you have a real emerald necklace, the hue should not fade or become discolored. Emeralds are considered to be fairly stable gemstones, meaning that they are not susceptible to temperature fluctuations or becoming damaged by environmental chemicals. Of course, you should still use caution and avoid wearing your emerald necklace around harsh chemicals. 
How Do I Select a Great Emerald Necklace?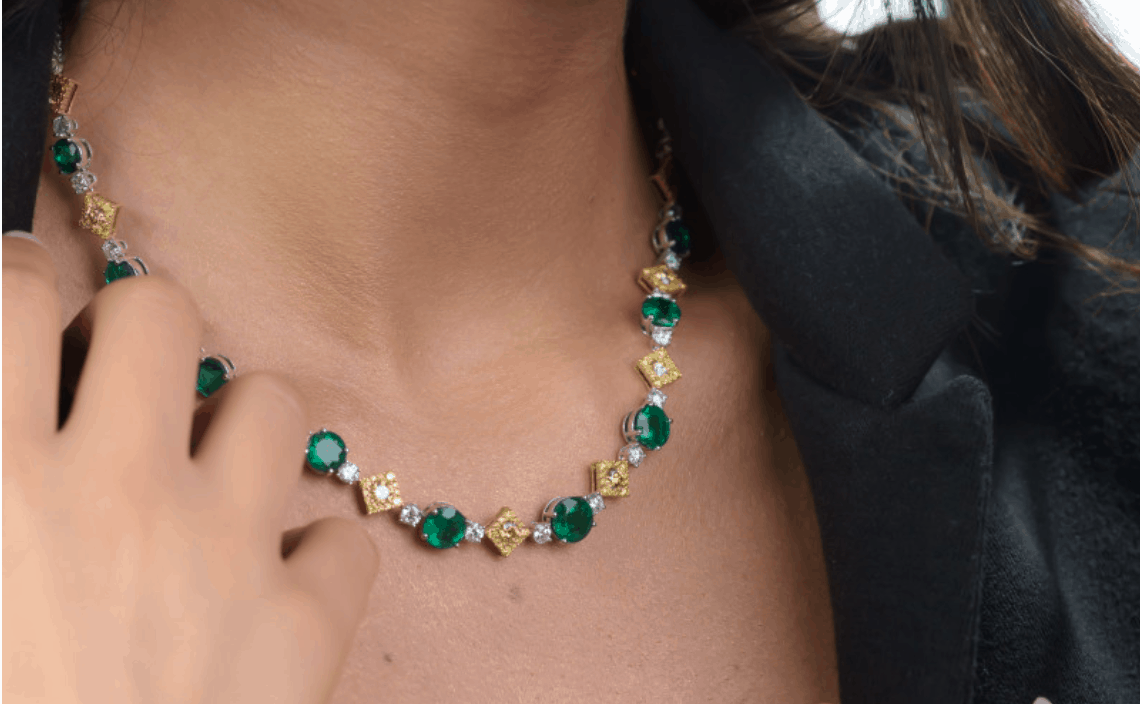 When selecting an emerald necklace, you'll need to consider the quality of both the gemstones and the chain metal. Keep in mind that you don't have to buy the most expensive necklace for it to be a great investment. Focus on buying from a reputable jewelry store that has experience in selling emeralds. I recommend spending a little more on color and clarity vs carat size, especially for a necklace.
 And if you want to save money and want fewer inclusions for your money, consider a lab-grown vs natural emerald setting. While it won't have as high of a resale value as a natural emerald necklace, it's a great option for the average person. 
What Color Emerald Is Best?
For an emerald necklace, you may find yourself not being quite as choosey as you'd be, were you buying an emerald engagement ring. That said, the color grade does play a big factor in resale value and the appearance of your necklace. Bluish-green to solid green is the general color spectrum you want to look for. The color should be vivid, but not too dark. Zambian emeralds provide a cooler tone, and Columbian emeralds a warmer tone. Both are considered desirable. 
Another way to tell is to read the listing to see if a GIA color grade has been assigned. The GIA (Gem Institute of America) grades both lab-grown and natural colored gemstones based on saturation and tone. You can learn more about GIA color grading here. Unlike reputable engagement rings, not all emerald necklaces will necessarily come with an official report from the AGS or the GIA, but you should always inquire if you can see or order a report if you have any concerns. 
Of course, color, which will factor in resale value, is still subjective. If you genuinely like a darker emerald hue, that's perfectly fine– just make sure the price offered reflects that. 
What Cut Of Emerald Is Best?
You may find yourself with fewer options for cut styles for necklaces, but generally the most desirable is a so-called emerald cut. In a more general sense, symmetrical cuts optimize both color and brilliance. Deep cuts tend to create the illusion of a darker emerald color, whereas shallow cuts detract from the stone's brilliance. 
What Metal Is Best For The Necklace Chain? 
There are many excellent options for metal types. If you're paying for an emerald necklace, I recommend shying away from silver– which can tarnish– and towards platinum or a 14K to 18K gold (rose, yellow or white). Platinum is the most durable of these options, but also quite pricey and with more limited options. 14K and 18K gold and commonly used for fine jewelry, suited to everyday use, and provide a beautiful luster to suit emerald gemstones. 
If you have allergies, stainless steel is an affordable option, typically hypoallergenic, and durable. The problem is that you'd be hard-pressed to find many stainless steel necklaces with emeralds. You may need to look on sites like Etsy, and/ or custom order. 
How Do You Tell If An Emerald Is Real?
I recommend buying only from well-known, professional jewelers in most cases. Some red flags of a fake emerald are a cheap price or no mention of GIA or AGS grading or sourcing. Keep in mind that a lab-grown emerald is real– it's just not a natural emerald. Look out for exceptionally bright hues that appear flawless at a low price, or words like "man-made," which could indicate that you're buying a stimulant. 
Emerald Necklaces: My Ideas
Search for emerald necklaces online, and you'll find more options than you can imagine. But for my picks, I've selected three respected jewelers who've sold emerald necklaces for quite some time. Even better, but offering lab-grown emeralds as well, many of these necklaces are more affordable than your average emerald necklace.
 I've also taken into consideration emerald quality per price and made sure to include contemporary and classic styles. For each category, I've sorted my favorite picks for budget-friendly to luxurious price points, so you can find the best necklace within your price range. 
Angara Emerald Necklaces
Angara holds an A+ on the Better Business Bureau and has been accredited since 2009. The company is well-loved for great online customer service, customization options, and a beautiful selection of colored gemstones, like emeralds. 
Angara's collection of emerald necklaces is playful, taking classic motifs and adding modern, whimsical touches. You'll find plays with geometry, heart motifs, and even celestial motifs. At the same time, accent diamonds add sparkle and magical touch for a finished, dazzling look. 
Emerald necklaces from Angara are priced from a mere $159 to $17,530. Most necklaces allow you to select the emerald quality, providing optimal choice and control so you can find the best emerald color and clarity within your budget. Shop the Entire Emerald Necklace Collection Here. 
Dangling Channel-Set Emerald Celtic Knot Pendant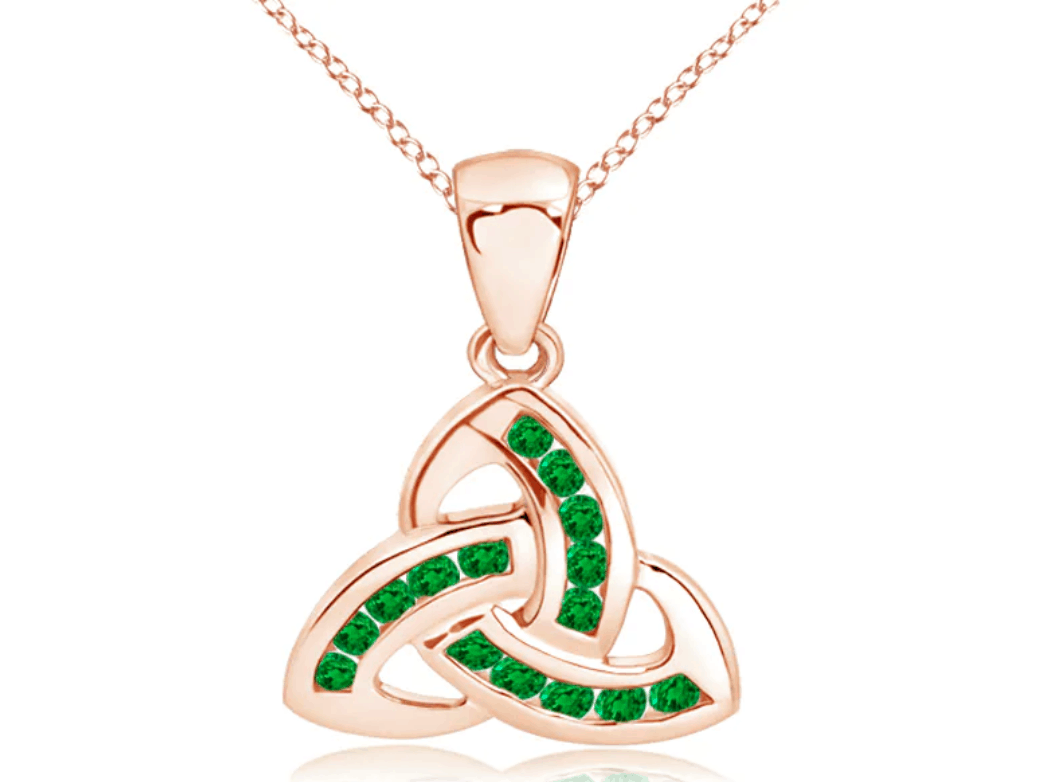 14 round emeralds are beautifully set on polished 14K gold (yellow, white, or rose) with a stylish take on the classic Celtic knot. The trinity knot symbolizes cycles of life and has been connected both to pagan gods and goddesses and the Christian Holy Trinity. The beautiful and meaningful emerald necklace pendant is priced from $539 to $710. Buy Here. 
Marquise and Round Emerald Cross Pendant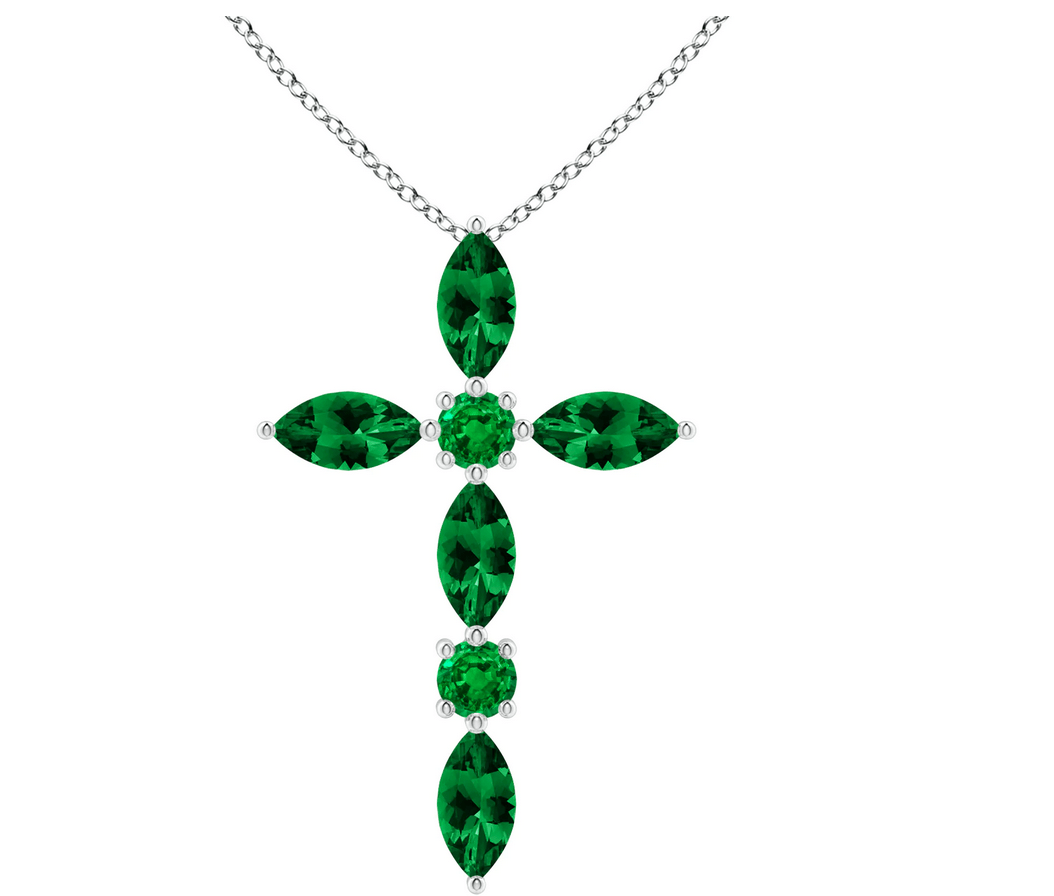 Cross necklaces don't have to be plain. This emerald necklace pairs 5 marquise emerald stones with 2 round emeralds. The prong setting is modern and striking, for a beautiful necklace you'll wear it again and again. Though 14K yellow gold is the most popular option, you can also opt for rose or white gold, as well as platinum. Priced at $566 to $2735. Buy Here. 
Emerald Flower Cluster Pendant with Diamond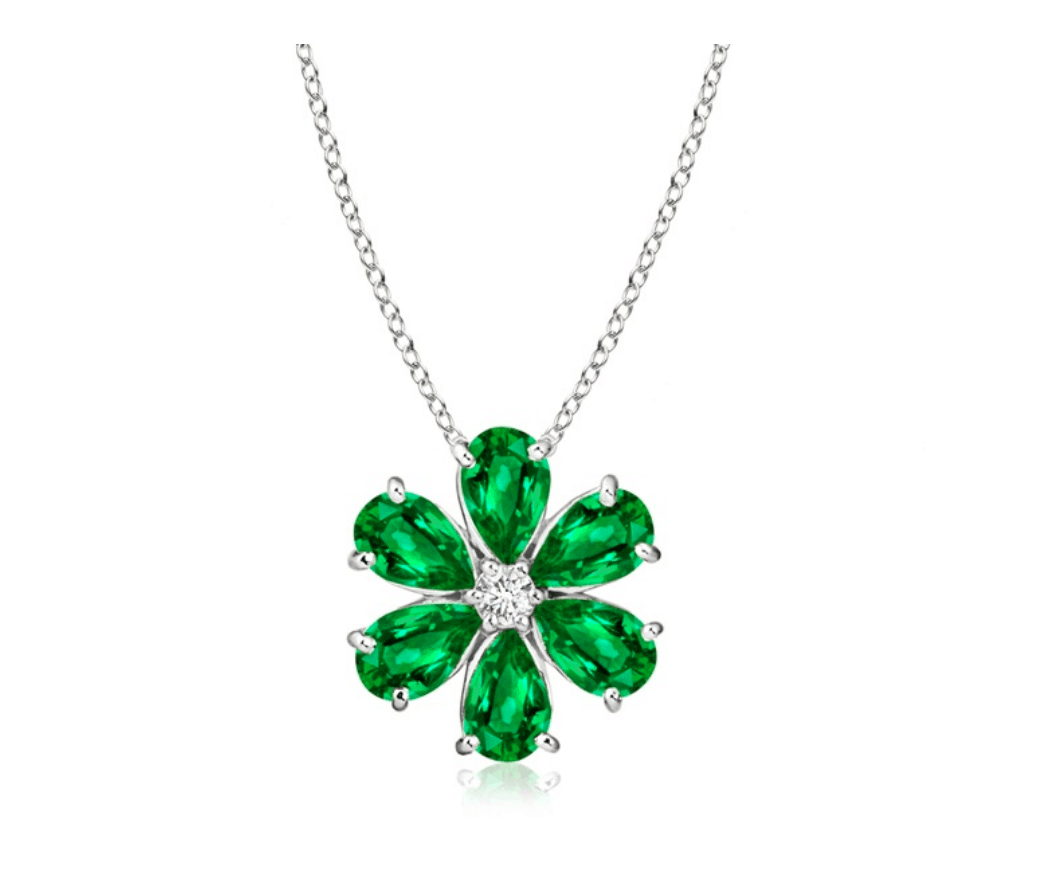 Floral themes are being seen in accessories of all kinds in 2022, and this whimsical design is perfectly suitable for an emerald necklace. Pear-shaped emeralds surround a high-quality, sparkling round-cut diamond. This pendant looks exceptional with a white gold setting but is also available in 14K rose and yellow gold, as well as platinum. Priced at $1079 to $5984. Buy Here. 
Natori x Angara Dragon Fire Emerald and Diamond Long Necklace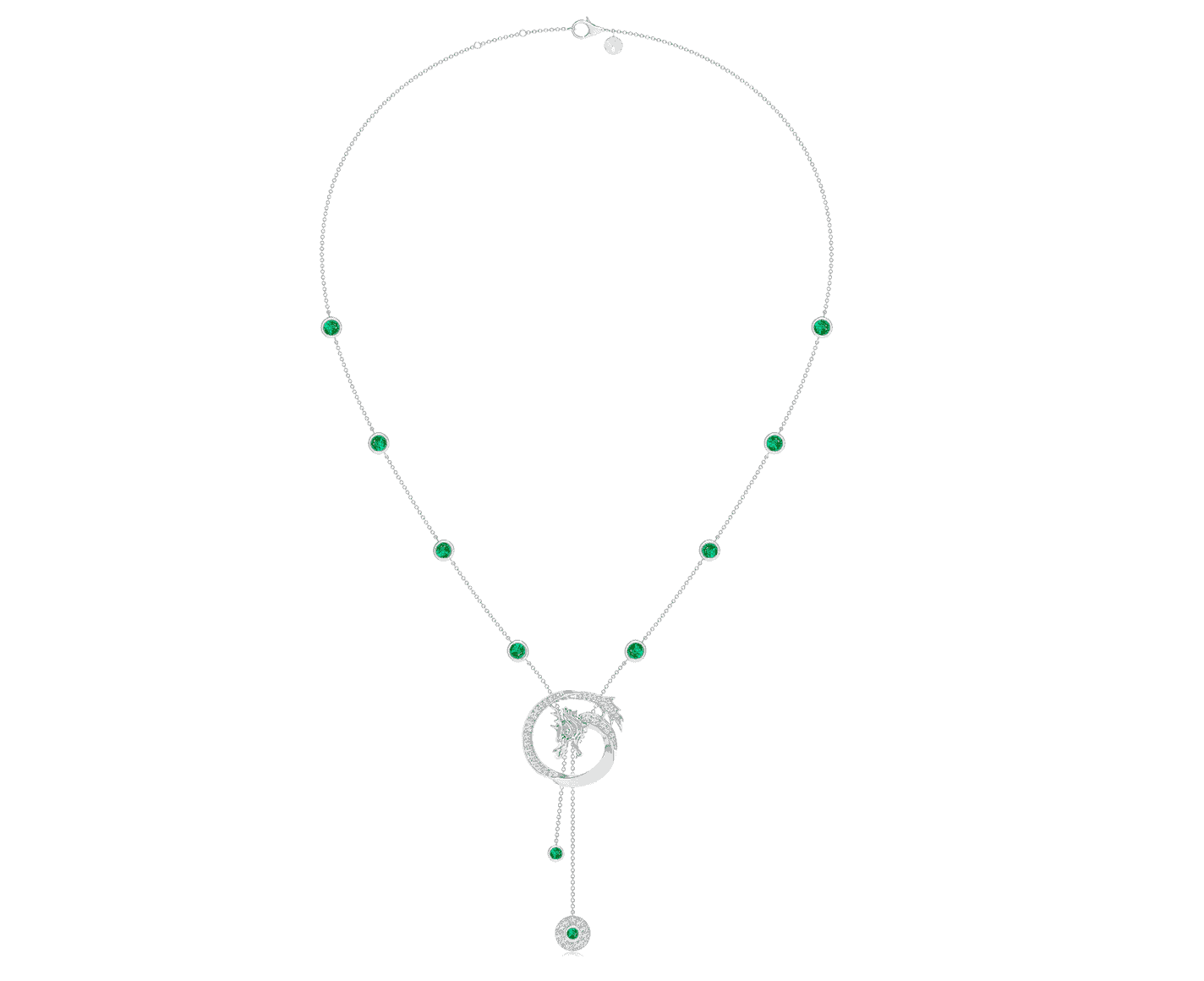 The Natori and Angara collection is known for its stylish symmetry, expressive, artistic, and unique designs. This stunning necklace is just one example. This 18 inch, adjustable emerald necklace combines contemporary and classic lines with emerald stations and a dragon motif. Available in silver, 14K rose/yellow/ white gold, and platinum; priced from $1926 to $3690. Buy Here. 
Leibish Emerald Necklaces
Leibish was actually one of the first waves of companies to sell genuine diamonds online. Today, it remains one of the most prominent suppliers of luxury jewelry brands, including Argyle tender (which crafts precious diamonds that can start at $80K per carat). The multinational retailer has been in business for over four decades and holds an unofficial A-plus rating from the Better Business Bureau. 
This dazzling collection offers some of the most luxurious emerald necklaces from a single jeweler, with opulent, classic designs with modern touches. This breathtaking, though small, the collection starts at $2,760, up through $206K, not including a necklace whose price is not listed. See All Leibish Emerald Necklaces Here. 
3 Stone Emerald and Diamond Pendant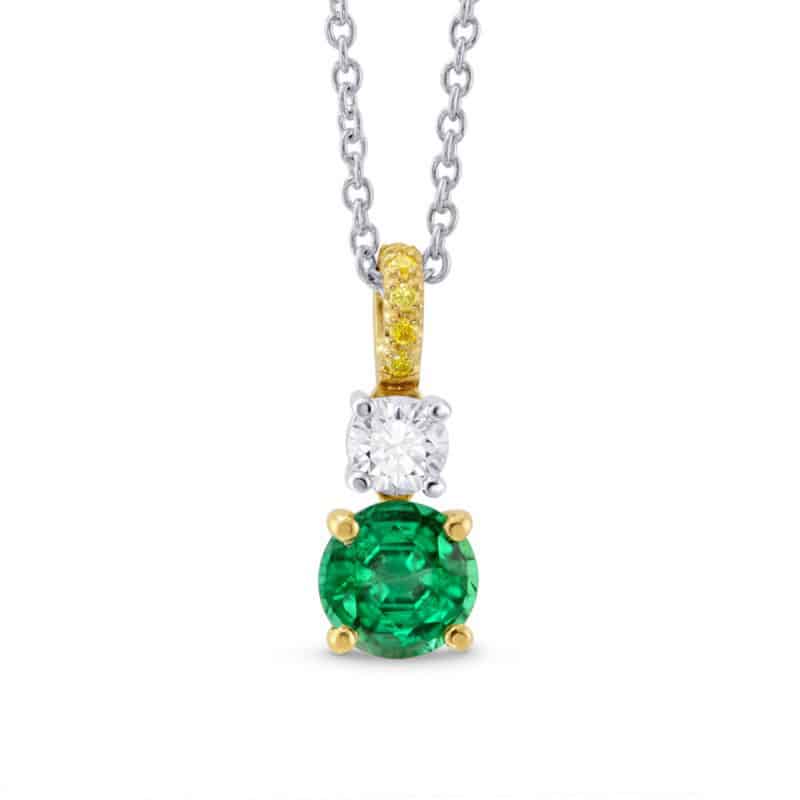 This contemporary but classic emerald pendant is a beautiful and more affordable option from Leibish, priced at $2760. One of my favorite options of any for an emerald necklace, three brilliant-cut emeralds are set on 18K white and yellow gold, complete with 5 fancy yellow (0.12 carat) diamonds. This stunning necklace is simple enough to pair with different styles and is of excellent quality for the price. Buy Here. 
Pear Shape Emerald Solitaire Pendant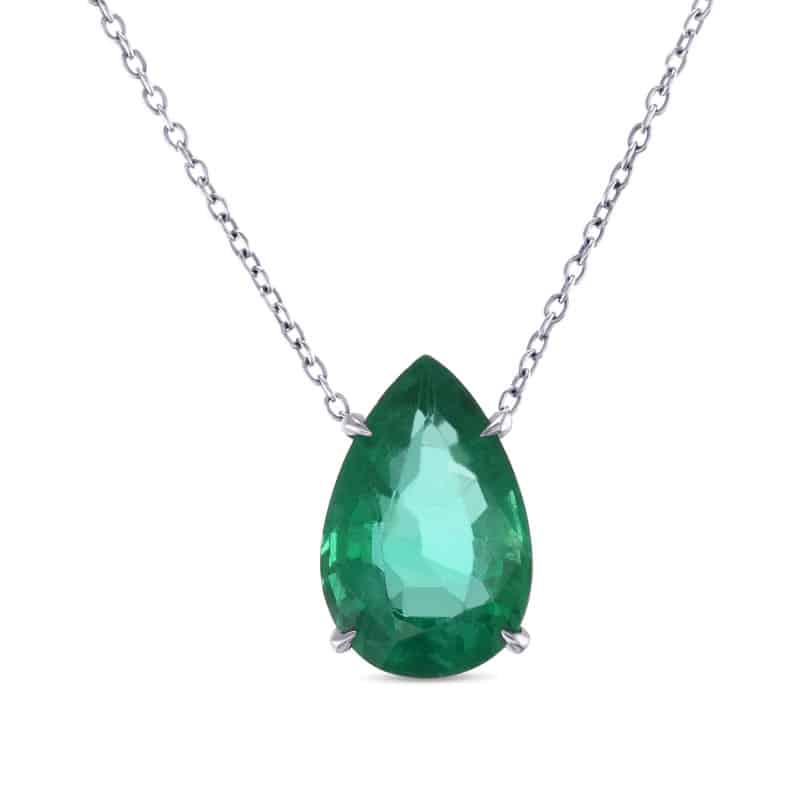 Looking for a modern, minimalist look? While less common for emerald necklaces, there's something to be said for a seemingly simple prong setting. A tear-shaped emerald inspires a classic look, crafted with 18K white gold. The 2.89-carat emerald shines for itself, no embellishments are needed. Priced at $7580. Buy Here. 
Extraordinary Zambian Emerald Necklace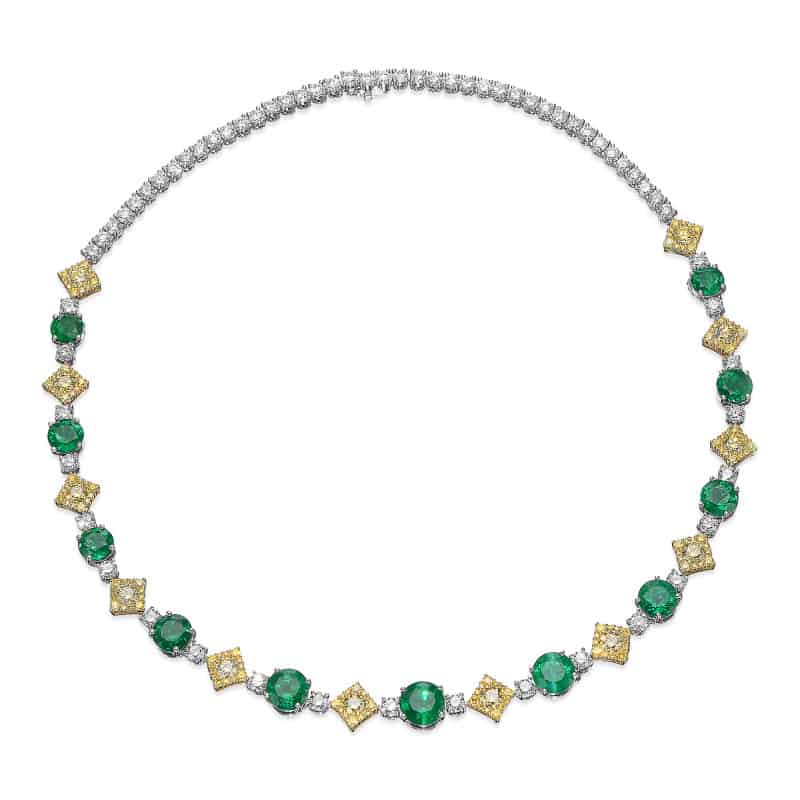 Priced at $120K on sale, this necklace certainly won't be in most people's price range, but it's a step into seeing how gorgeous a luxury emerald necklace can be. An astonishing 16.4 carats of brilliant emeralds are paired with GIA-certified fancy cut yellow diamonds with a pave design. The necklace is made with 18K yellow and white gold, continuing the enchanting, luxurious ones. Buy Here. 
James Allen Emerald Necklaces
James Allen may be known for its diamonds, but they offer a nice collection of gemstones. Prized for their options for the average person, James Allen balances quality with more affordable prices, often by offering largely lab-grown gemstones. James Allen has been accredited with an A-plus rating from the Better Business Bureau for over two decades.
As dazzling as luxury emerald necklaces can be, James Allen's collection of lab-grown emerald necklaces is affordable, classic, and still stylish. Setting prices start at $370 and go up to $1,470. The carat size is more modest, but there's something delightful about this small collection. These necklaces are also versatile, subtle, and still beautiful. Sticking true to overall value, these necklaces are a great option for the average person.  Shop All James Allen Emerald Necklaces Here. 
Emerald Birthstone Necklace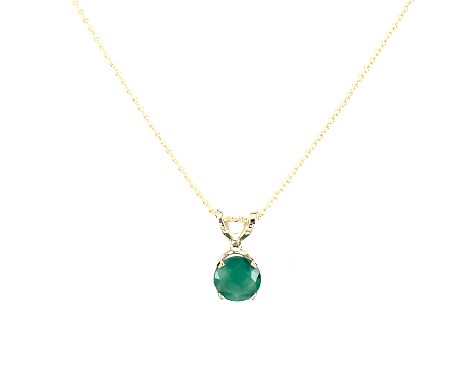 If you're looking for a simple emerald necklace or even one as a special gift, consider this birthstone necklace. A medium green, round emerald (0.45 carat) is set on a 14K yellow gold necklace for a classic look. It's a great option for an affordable, starting price emerald necklace, priced at just $330. Buy Here. 
Oval Emerald Necklace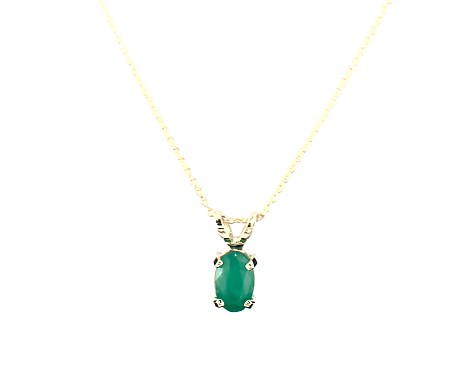 Another example of how James Allen does simple and modern well, this $370 emerald necklace is modern and versatile. If you don't have much money to spend, the 0.50-carat emerald is featured with a prong setting, crafted with 14K yellow gold. Buy Here. 
Double Halo Emerald and Diamond Necklace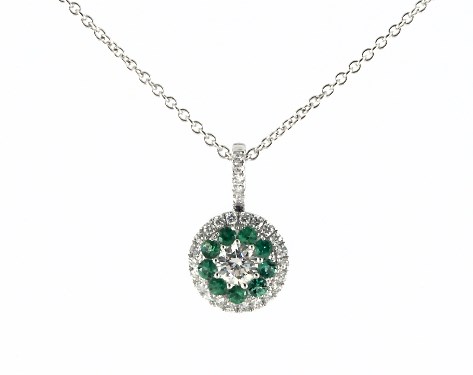 If you want just a touch of deeper green, this diamond halo necklace might be a more suitable choice for you. 27 round diamonds (0.12 carats) with dazzling clarity sparkle with a halo design. 0.14 carats of round cut deep green emeralds add an unexpected pop of color. Priced at $1470 and set with 14K white gold. Buy Here. 
Frequently Asked Questions
Question: Can emeralds be repaired?
Answer: Emeralds are brittle, and unfortunately, they don't repair easily. Cracks and chips can be treated somewhat by a professional, but any patchwork will be fairly obvious. One solution is to have the stone re-oiled, which will provide a smoother appearance. No matter what, though, I don't recommend trying to repair an emerald necklace on your own. 
Question: Which types of cleaning should never be done for Emerald?
Answer: You'll also need to be quite careful if you're trying to clean an emerald necklace. You should never use harsh chemicals, including bleach, for emeralds. Use gentle soap and warm water. Make sure you rinse and dry completely before wearing your necklace again. When in doubt, seek out professional cleaning.
Question: How do you recharge an emerald stone?
Answer: Some believe that emeralds have healing powers for emotional and physical heart issues. For those who practice this belief, emeralds are 'recharged' by having a steady stream of water run over them frequently (just make sure you dry them). Once a month, many also place emeralds near quartz in natural light to allow them to recharge. 
Final Thoughts
Emerald necklaces can be pricey, but you have to save money by opting for a lab-grown setting vs a natural stone. I also recommend saving money by opting for a modest carat size. If you're set on silver, that's your choice, but I still recommend a 14 to 18K gold or platinum as your metal choice for both the necklace chain and setting.