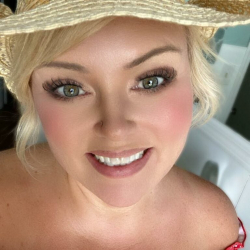 Latest posts by Kristen Swain
(see all)
Amazing Moonstone – the Necklace of Blue Light
You have discovered you love the blue-white glow of Moonstone, and now you are looking to purchase a necklace that will showcase the opulent stone. Discover the luminous properties of Moonstone and explore options for some inspiration for your purchase. 
What is a Moonstone?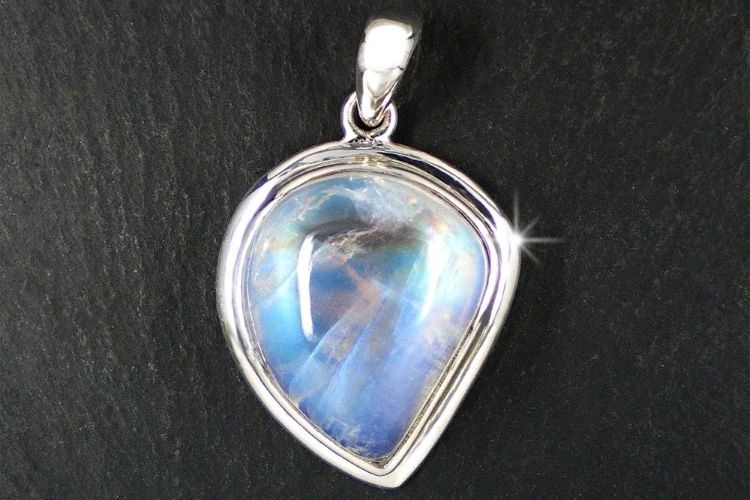 Moonstone is a semi-precious gemstone that is popular for its inner blue-white glow, resembling the light of the moon shining across the water.
The undulating effect of the Moonstone is caused by microscopic layers of albite and orthoclase, where light comes into the stone and then bounces out through various layers of mineral.
The light moves through the alternating layers of these minerals as it scatters; the light creates the illusion of a milky, blueish inner glow. This effect is called adularescence and can also be known as the Schiller Effect. 
Adularescence is the iridescence that shines from the inner surface to the gemstone, where light through layers of minerals. These microscopic layers create the characteristic glow of Moonstone and rarely form to create asterism. This gemstone with asterism is then called a Star Moonstone.  
Star Moonstone displays a four-pointed star or adularescence, this shows when viewing the gemstone in indirect light, and the star will move across the stone when tilting the gem.
Star Moonstone shows a four-pointed star at right angles, and the lines are straight. Star Moonstone is shaped into cabochons to display asterism. 
Cat's Eye Moonstone is another luminous gemstone that, although rare, displays light through the gemstone. A cat's eye will display chatoyancy, a beam of light that also moves when viewed from above indirect light. 
Moonstone is a type of orthoclase feldspar, a mineral family that makes up approximately sixty percent of the Earth's crust. Feldspar has also been found on meteorites, including moon rocks and samples from asteroids. 
Moonstone is June's birthstone. It is also the stone for the third and thirteenth wedding anniversaries. In addition, Moonstone is the official state gem of Florida, adopted by the state to signify the moon landings as the Space Shuttle took off from Kennedy Space Center there. 
| Product Image | | Primary Button |
| --- | --- | --- |
| | | |
| | | |
| | | |

Mining Moonstone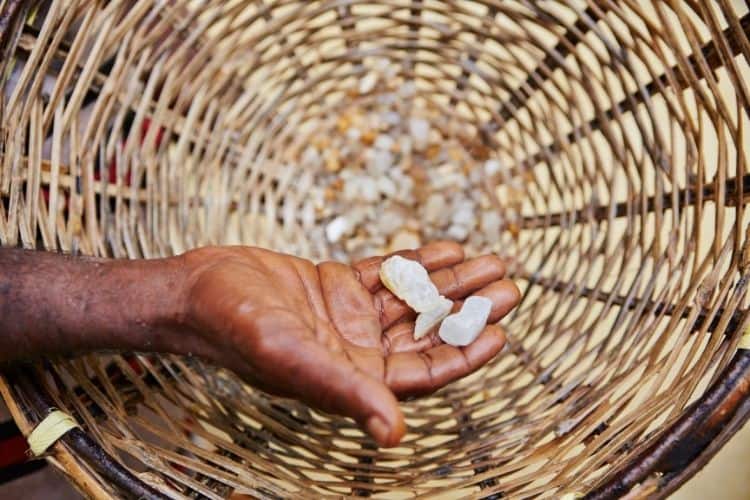 Moonstone is found in quite a few places; the best Blue Moonstone was found in Myanmar but has now been mined out. Moonstone can also be found in the US, Mexico, Poland, Australia, India, and several other countries. The best place now to get quality Moonstone is in Sri Lanka. 
Blue Moonstone is found in India, and other popular places for mining Moonstone usually have white Moonstone as well as various colors of Moonstone, including grey, brown, yellow, green, and pink. 
Moonstone in History
Throughout history, Moonstone has been important in culture. It has been popular since ancient times. This stone was called the Traveler's Stone, and in India, it is still considered a sacred stone. The stone is considered a 'dream stone' that brings the owner beautiful night visions. 
Mythologically, the stone is considered to have been formed from solid moonbeams. 
Modern-day Moonstone has been used in movies and television, most often in supernatural dramas, where the Moonstone accentuates or suppresses the abilities of supernatural creatures such as vampires or werewolves. 
Moonstone is between a 6 and 6.5 on the Jewelry hardness scale, which means that it is somewhat delicate and should be kept from hard knocks or bangs.
Most jewelry for Moonstone is earrings, necklaces, and pins instead of rings that could receive hard knocks from wear. Moonstone has a cleavage point, which means that in the formation of the stone, there are weak points that make the stone easier to break. 
Alternatives to Moonstone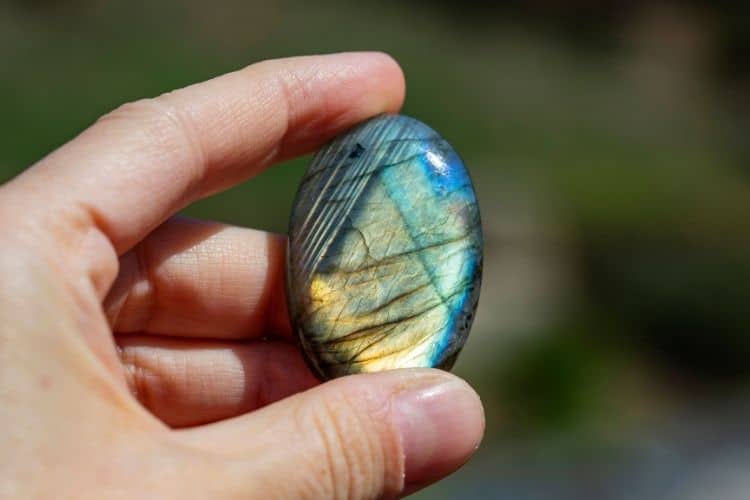 Labradorite – This gemstone is also formed from feldspar. The stone has a self-described phenomenon called Labradorescence, the play-of-color display that light outward in iridescent blue, red, green, and orange colors. Labradorite is almost always shaped into cabochons to display the spectacular coloration inside the stone. 
Opal – This wondrous gemstone displays play-of-color like no other stone. Flashes of color throughout the stone stand out against either a white or black background. Opal is best shaped into cabochons to show off the colorations inside the stone. 
Sunstone – This glittering peach-orange stone can have iridescent rainbow lines in a lattice formation or have the appearance of metallic glitter inside the stone. Sunstone has beautiful displays of color, but the adularescence is less noticeable in translucent gems.
Spectrolite –  This gemstone is named for a specific mine in Finland, where the gemstone resembles Labradorite with a deep hue of coloration. It is a much more rare gemstone, but it is still available, and the cost is relatively inexpensive. 
Rainbow Moonstone –  While typically called Rainbow Moonstone, this gemstone is actually White Labradorite; instead of the typically solid coloration of the Labradorite, the coloration inside the gem is a more varied coloration of play-of-color, including the full rainbow of colors. 
Benefits of Wearing Moonstone
Moonstone is thought to change with the Phases of the Moon; it is of the Solar Plexus Chakra and is considered to be a calming stone. It will help you find your inner balance and evokes the sense of becoming more attuned with nature and the balance of the Earth.
This stone represents feminine energy and embodies protective energy. Wear this stone if you desire fertility, love, and empathy. 
Moonstone Inspirations
Pendants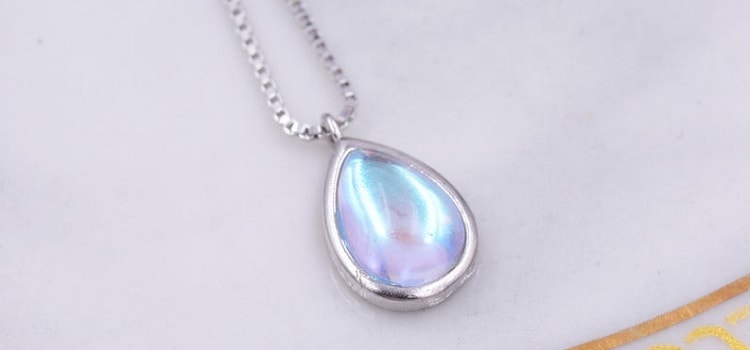 This eighteen-inch box chain will hang just in the center of your neckline. The sweetest little Moonstone drop pendant is the only decor on the chain and will glow enticingly from your chest. The Moonstone is framed with a sterling silver frame and bale, which allows the beauty of the Moonstone to stand out.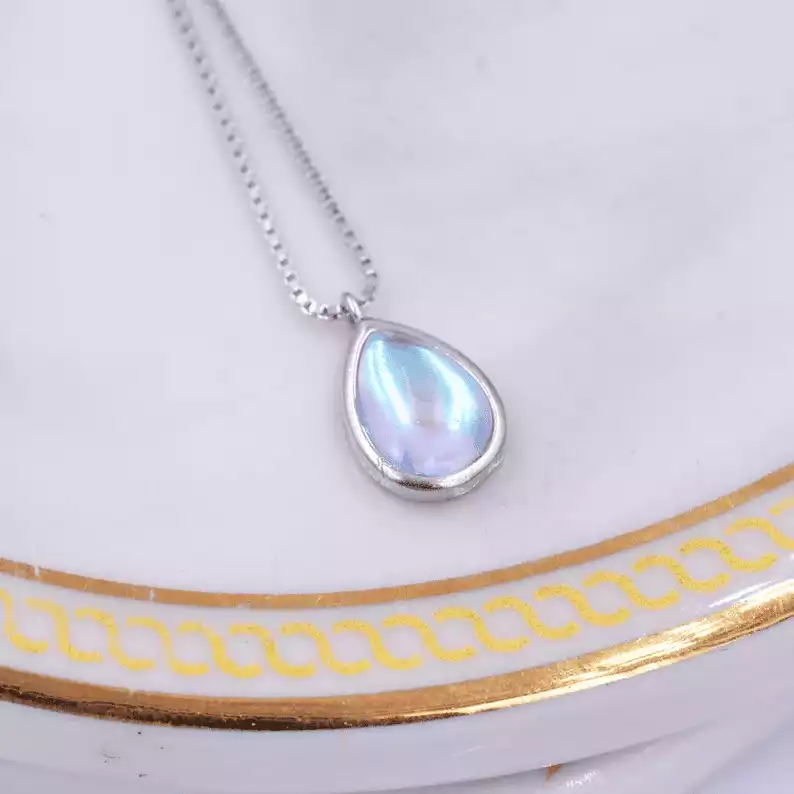 Celtic Knot Moonstone Necklace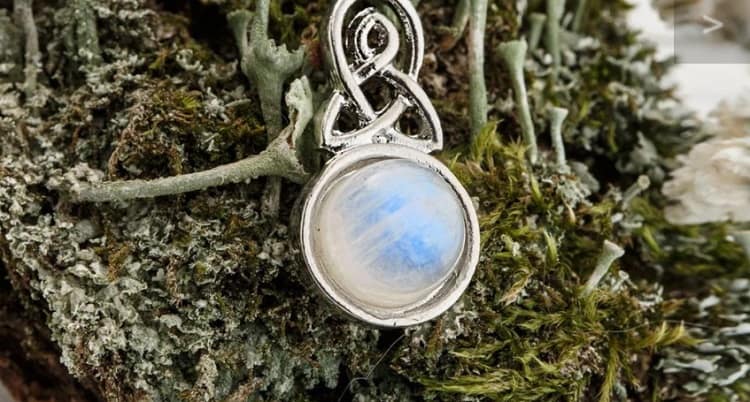 Celtic knots are representative of love and unity between two people. The round Moonstone is cradled at the bottom of the Celtic Knot. The one-and-a-half-inch pendant is large enough to get noticed without being heavy or bulky.
DARK BLOOM.

Rainbow Moonstone Choker – Silver

This choker necklace sits loosely against the throat instead of tight upon the throat—a perfect place to show off the delicate leafy floral design and small, dangling Moonstone. The Sterling Silver necklace softly glows against the skin and highlights the cool tones of the Moonstone.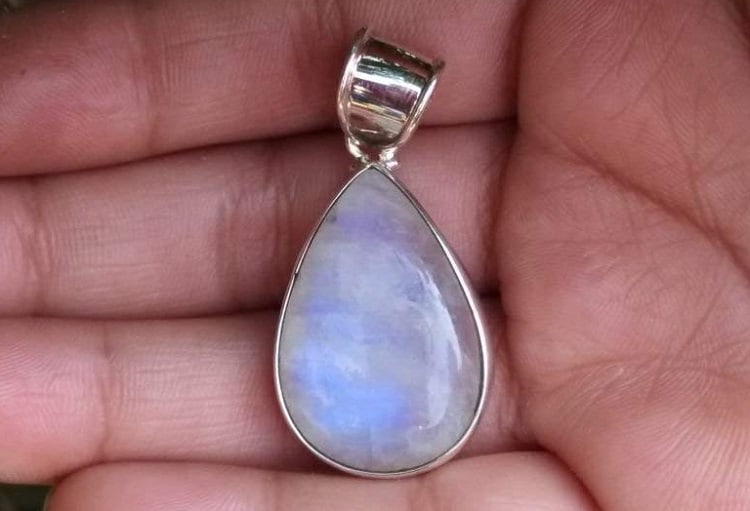 This larger Moonstone pendant is simple in style but perfect because of the larger sizing. This stone is set in Sterling Silver with a solid silver bale and should be easy to add to any chain. The pear-shaped pendant stands out well, being a larger size, as it will show off the inner beauty of Moonstone as it should.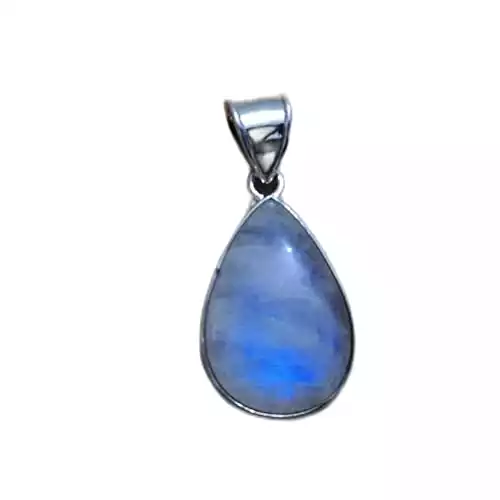 Rainbow Moonstone Pendant | Amazon
Handmade 925 Sterling Silver Moonstone Gemstone Pendant. Made of natural moonstone Gemstone pendant. Pure 925 sterling silver pendant and is Nickle-free.
Buy at Amazon
We earn a commission if you make a purchase, at no additional cost to you.
08/03/2023 04:50 am GMT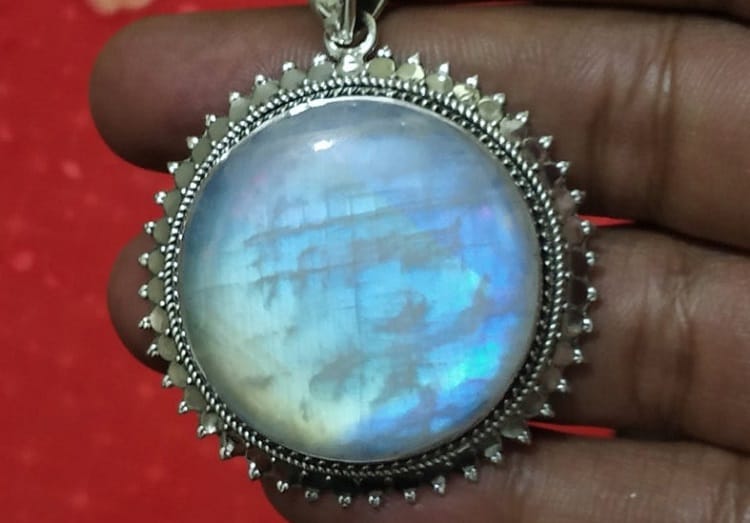 This bold round pendant is eye-catching. This pendant is truly a giant stone with a large pointed star-shaped bezel setting; the pendant is open in the back to allow light to pass through the pendant.
Made with Sterling Silver, the setting color really matches well with the blue light of the gemstone. The pendant swings freely from the large ball and will be easily added to any chain.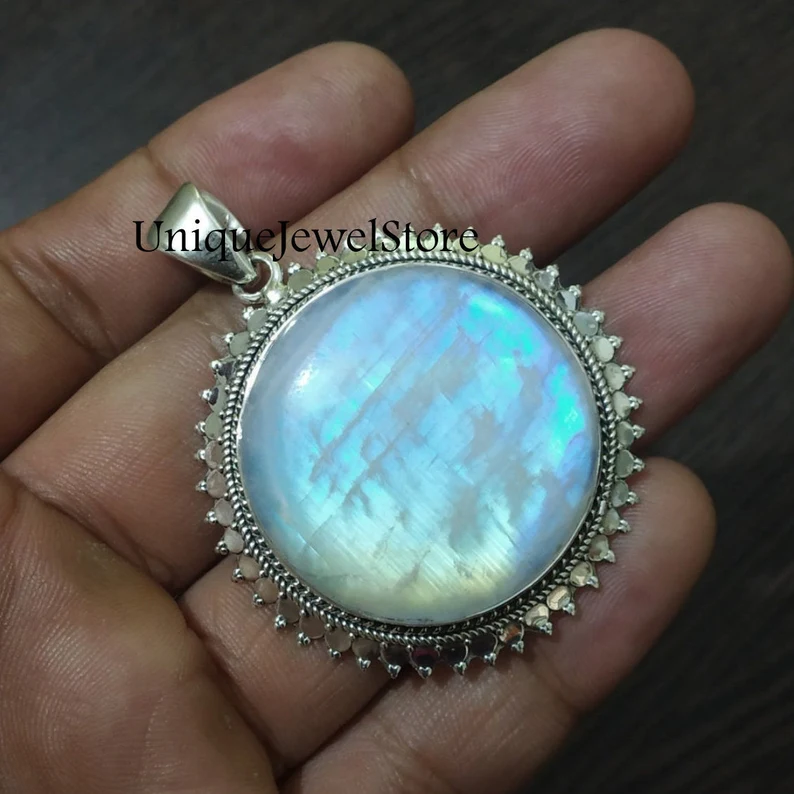 Unique Pieces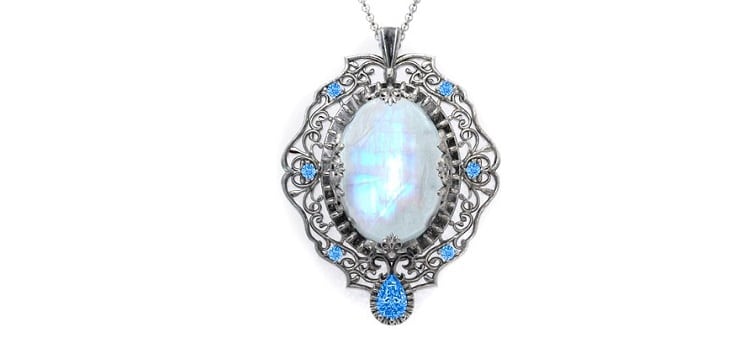 This ornate pendant is designed to look like the one from the TV show Murdoch Mysteries. The Victorian filigree holds a dime-sized Moonstone in the center and is surrounded by several smaller gemstones.
These stones are customizable to the color and gemstone of your choosing. This purchase is for a Sterling Silver pendant that will need a necklace chain to wear.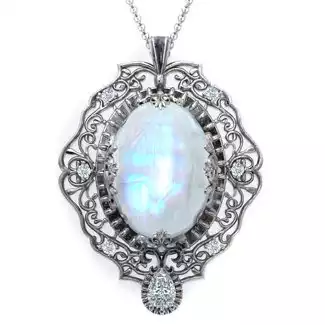 White Rainbow Moonstone Pendant | Jewlr
One of the most sought-after pieces for a certain group of female burglars in Toronto's Girl Problem (season 8, episode 14), it's not hard to see the appeal!
Check Price
We earn a commission if you make a purchase, at no additional cost to you.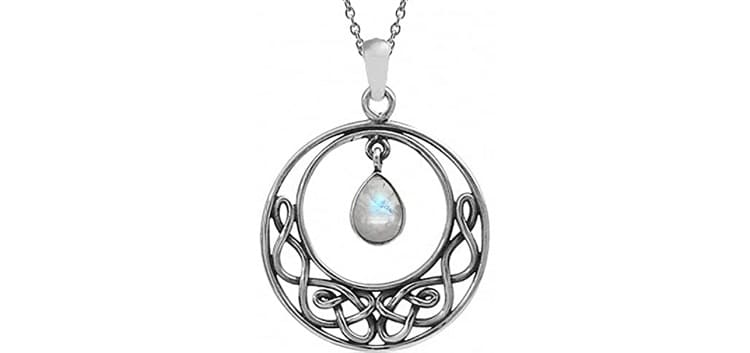 This larger, almost one-and-a-half-inch circle pendant is entwined with decorative Celtic knots. Created in Sterling Silver, the Moonstone dangles from the center point of the pendant.
The adularescence of the Moonstone shines out well in this pretty little gem. A stunning pendant for a small price, this pendant comes with a chain for a few extra dollars.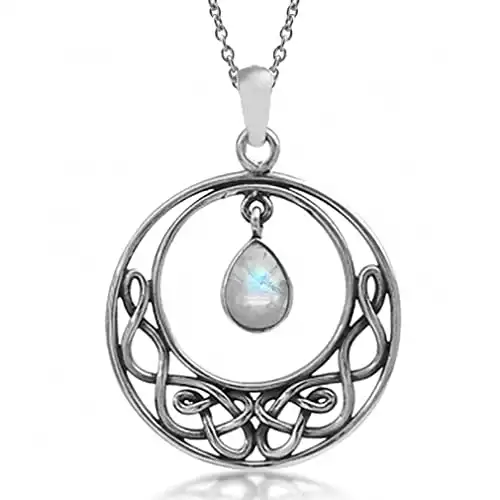 Silvershake Natural Moonstone Pendant | Amazon
Sterling silver and shimmering moonstone accentuate each other perfectly, quiet sophistication with mystic femininity; The "woman in the moon"
Buy at Amazon
We earn a commission if you make a purchase, at no additional cost to you.
08/03/2023 11:07 am GMT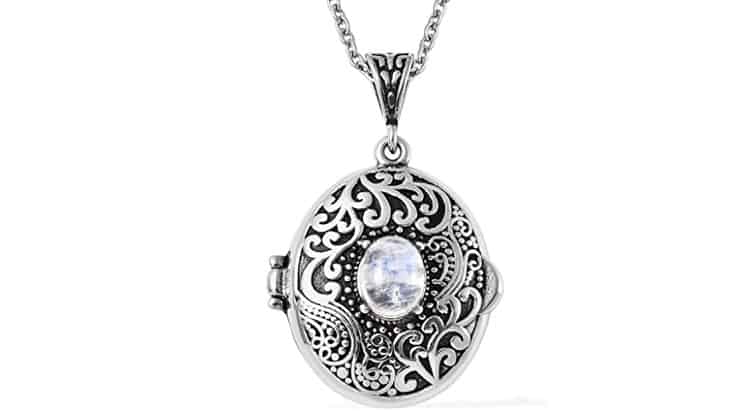 Pendant lockets aren't as popular anymore but they deserve to be. This pretty decorated locket is engraved with a black background to make the engraving stand out.
The oval cabochon moonstone is a twenty-carat stone. The bale of the locket is also engraved, and the pendant comes with a twenty-four-inch simple chain to wear.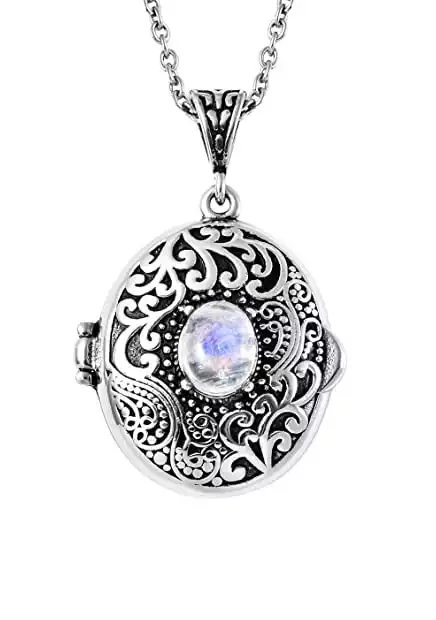 Rainbow Moonstone Picture Locket Necklace | Amazon
Displaying a modern take on vintage-style jewelry is this white moonstone locket pendant necklace. Steal the spotlight with this diligently designed charmer.
Buy at Amazon
We earn a commission if you make a purchase, at no additional cost to you.
08/03/2023 06:02 am GMT

Moonstone Necklace – Moon Desire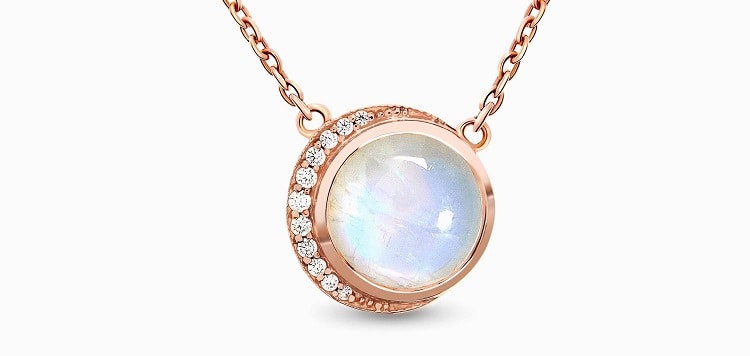 This necklace is unique in that it isn't uniform on both sides. One side features a round luminous moonstone, and the other side features White Topaz gems in the shape of a crescent moon.
The rose gold setting sets off the glowing blue Moonstone and the white topaz gems in a feminine style. It is a gorgeous example of a moonstone necklace that is timeless in style. 
Cat's Eye Gems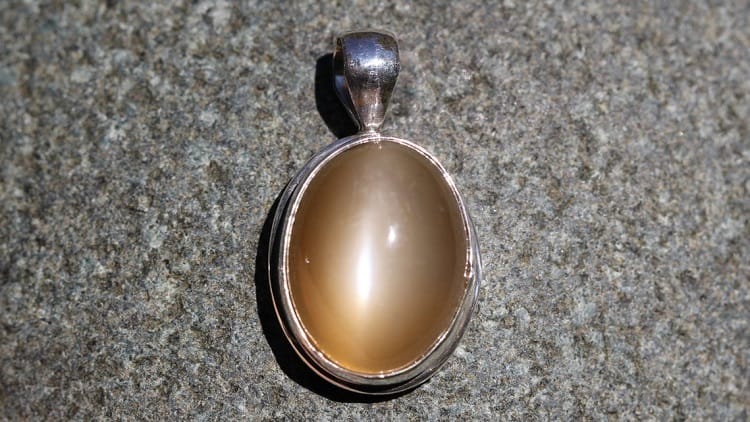 This Cat's Eye Moonstone is a beautiful example of the chatoyancy Moonstone. The fire in the stone is quite strong and shows well in the champagne-colored stone. This pendant is quite simple, set into a simple double bezel and plain bale, but the stone is all the decor this pendant really needs.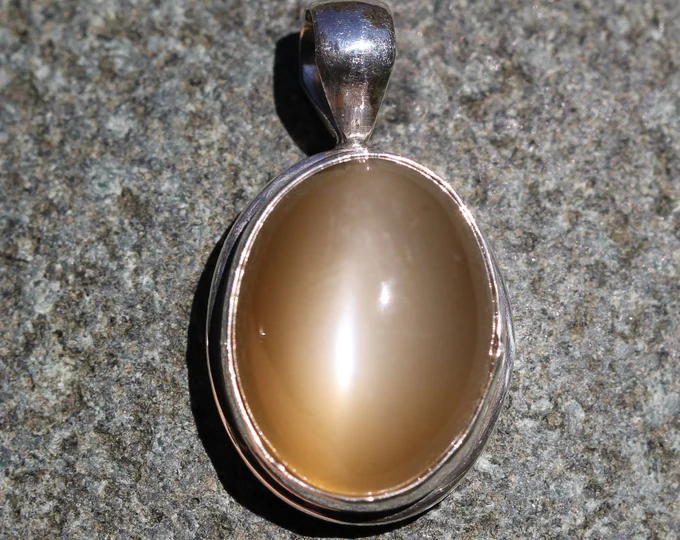 Cat's Eye Moonstone Pendant | Etsy
Light yellow cat's eye moonstone pendant, solid sterling silver, high-grade quality stone, orthoclase feldspar, Indian moonstone.
Check Price
We earn a commission if you make a purchase, at no additional cost to you.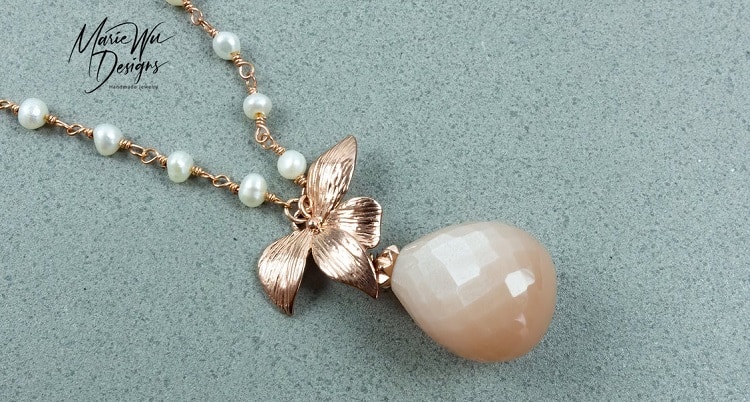 This exquisite Cat's Eye Moonstone peach droplet is beautifully mixed with rose gold and pearls for the most feminine of necklaces. Delicate pearls along the chain glow against the neckline. Moonstone is known to bring out femininity and the rose gold flower topping the moonstone droplet is the perfect touch.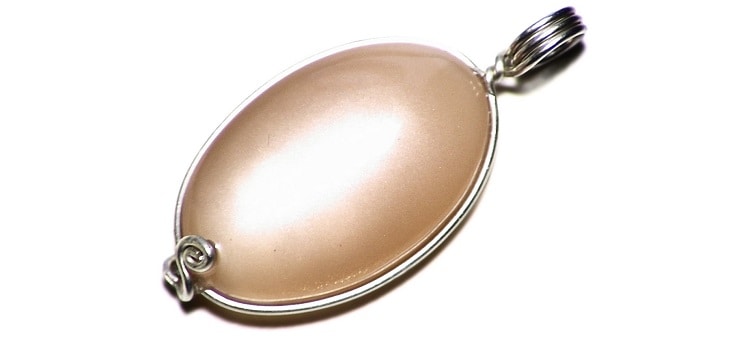 A peach-pink Moonstone with sparkling Hematite inside. This pendant features a single bezel with a swirl of silver at the bottom. Although it is on the simple side for a pendant, the stone is the star.
This Cat's Eye Moonstone cabochon glows with silvery-white light inside. This stone is a huge twenty-five carat and is such a gorgeous coloration; with the gold flecks inside, it's a must-have piece.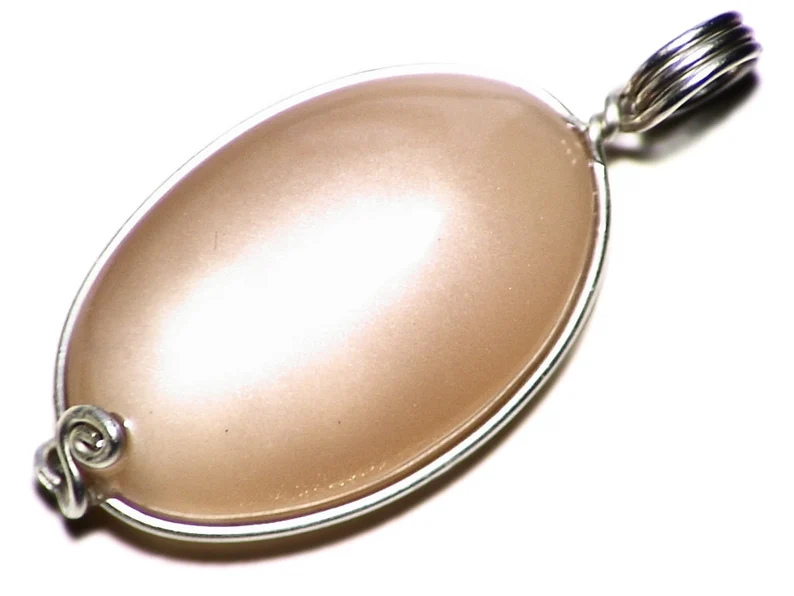 FAQs
Question: What causes Labradorescence?
Answer: Labradorescence is the inner light of the stone. The reflection of light that goes into the stone is reflected back out of the stone in different layers due to the materials inside the stone. Each material various colors of light. 
Question: What does Moonstone do Spiritually?
Answer: Moonstone empowers feminine energy, and it helps to encourage our intuition. It can tap into our psychic abilities and also draw forth creativity and calming energy.
Question: What is the Schiller Effect?
Answer: The Schiller effect of the mix is lustrous colors in the gemstone That Interacts with direct light. Schiller is German for twinkle or shining.
Question: How Can You Tell if a Moonstone is Real or Fake?
Answer: Natural Moonstone has a blue luster or white luster. But the easiest way to tell is to look at the stone at an angle of more than fifteen degrees; Moonstone cannot reflect the light back at a larger angle.
Any fake stone will shine regardless of the angle. Opalite is a man-made stone that is made to look like Opal and Moonstone, but it is not either. Be wary of jewelry advertised as such.
Question: From Moonstones Glow in the Dark?
Answer: Yes, Moonstones can absorb light and glow for about three hours in the dark. 
Conclusion
To sum up all my love and adoration of Moonstone in one word, YES! Moonstone is simply beautiful. What a gorgeous stone to have, one that simply moves with the light; it's like having an ever-changing light show in a gemstone.
Do pay attention to the stone; make sure you are purchasing a good quality stone. Purchasing a few pieces in a variety of settings might be the best way to fully enjoy these gorgeous stones.
Be careful not to be too rough on these gemstones, but perhaps a necklace and matching earring set would be the ideal introduction to this beautiful glowing gemstone.
| Product Image | | Primary Button |
| --- | --- | --- |
| | | |
| | | |
| | | |