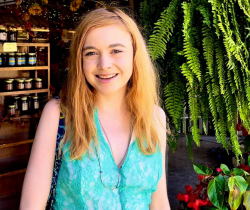 Latest posts by Erin Jamieson
(see all)
Necklaces are a great way to accent an outfit, but one of the biggest trends is meaningful necklaces. And that includes the classic infinity necklace style– as one of the top ideas for personal styling in 2022. 
While infinity necklaces have been worn for a long while, 2022 has been a great year for them. More and more Americans are looking for ways to spruce up their outfits, but also to express themselves and show off their personality. And that's true for celebrities and influencers as well.
Most recently, Hailey Beiber showcased just how versatile infinity necklaces can be. Touting you're classically dressed down streetwear style, Beiber was spotted pairing an infinity necklace with casual wear. Pairing a white boyfriend t-shirt with track shorts and new balance sneakers, the look was comfy but stylish.
But it was her accessories that took her casual look to the next level, with statement sunglasses, huggie earrings, and a Le 5 a 7 Hobo Bag. But the accessory that pulled it all together was a gorgeous diamond-studded infinity necklace.
But celebrity or not, or however you style it, an infinity necklace is one of the best ideas for a classic but personal look. This article will guide you through what infinity necklaces symbolize, and how to wear them. I'll also give you my recommendations for my 2022 selections. 

What does the infinity symbol mean?
While infinity necklaces are worn by many simply for their iconic designs, one of the best reasons to wear them is if they're meaningful to you. In fact, the infinity symbol has more meanings than you might imagine, from love to friendship to family.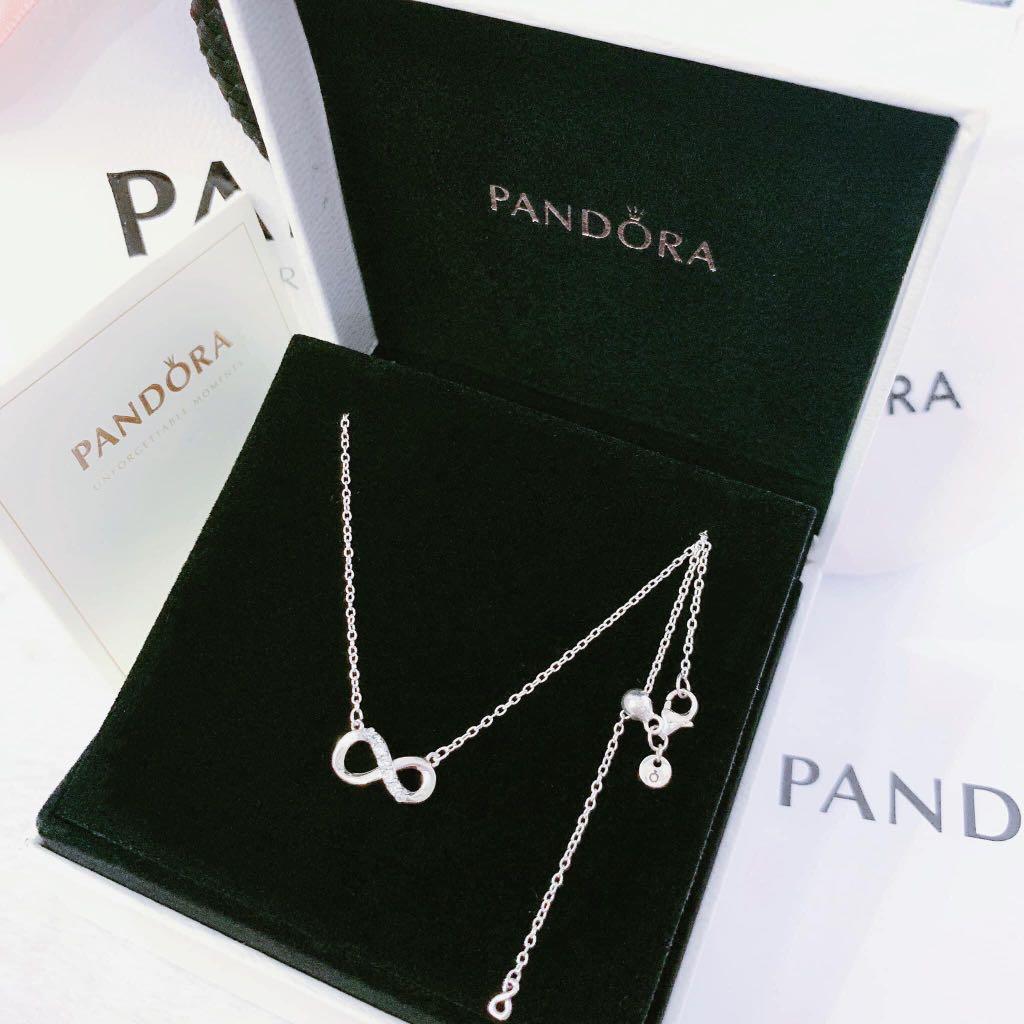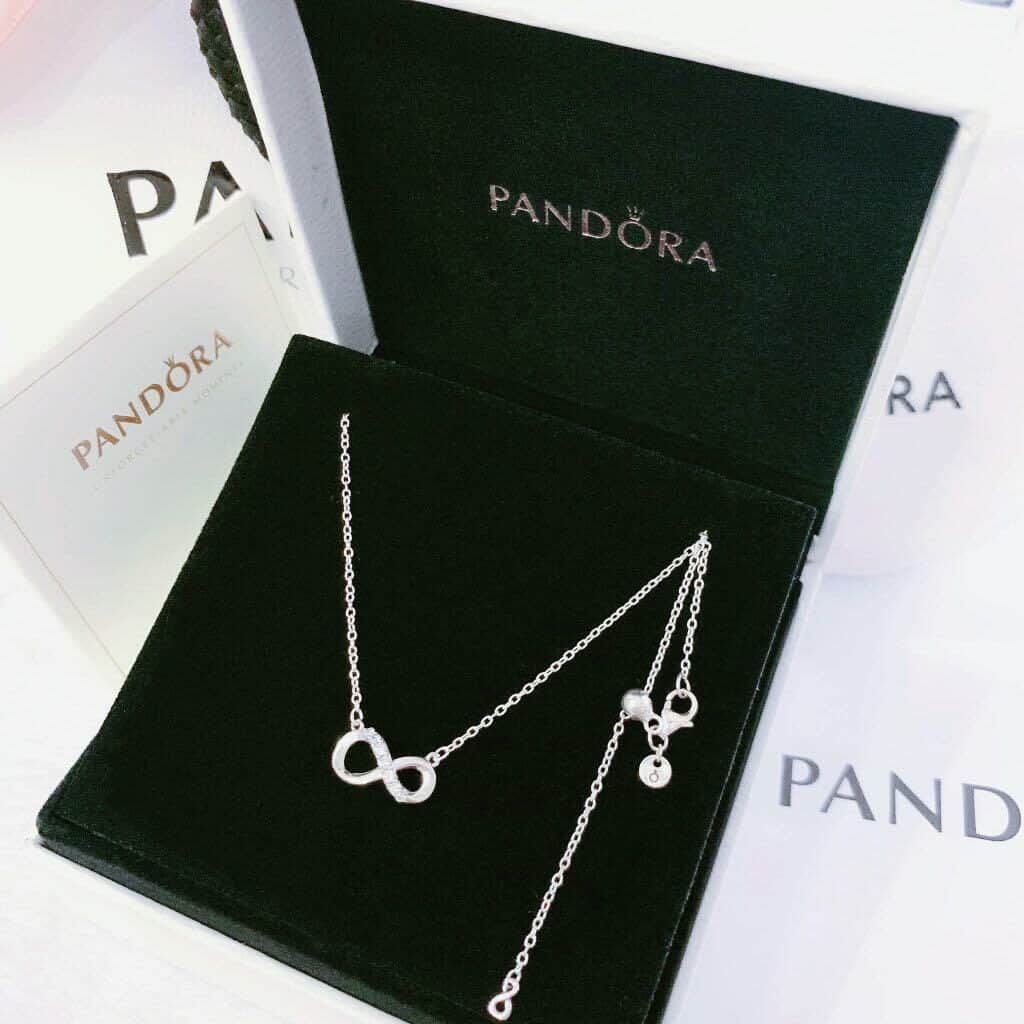 Does infinity mean forever?
First, a little background on the word infinity itself. Infinity is derived from Latin and means "endless." The idea of infinity is that it goes on forever. Infinity is commonly used in mathematics. Unlike forever, which actually has a limit, the idea of infinity is something that never ends. For this reason, it's become a symbol of friendship, family, and love.
What is the meaning of infinity love?
Love and romance are some of the most common associations with the infinity symbol. This is meant to mean endless love or love that endures all obstacles. Some may see it as a romantic declaration that is meant to outlast hardships, obstacles, and even endure beyond death. For a less intense interpretation, one could also see the sign of infinity as a sign that a relationship is durable, deep, and authentic.
What does infinity mean in friendship?
At the same time, infinity symbols and necklaces can also point to a deep friendship. An infinity necklace exchanged between friends symbolizes much of the same, only with a platonic connection. In friendship, the infinity symbol showcases friendship that goes beyond the surface level and endures anything in life. It may be a way to label best friends and point to a relationship that extends beyond the typical friendship. 
This can also extend to families. Infinity necklaces given to family members indicates a bond that goes beyond the family name. It's a bond that means your family unit is close, and always there for each other. It also indicates an endless connection, no matter where you are. 
What does infinity mean spiritually?
The third reason some opt for an infinity necklace is actually spiritual. The infinity symbol actually points to the limits of life on earth. It's supposed to remind one that life itself is finite, but our souls are infinite. It may point to an afterlife. For some, it also brings a sense of peace, a deep connection with a higher power, and the promise of everlasting life. 
What does infinity mean on a necklace?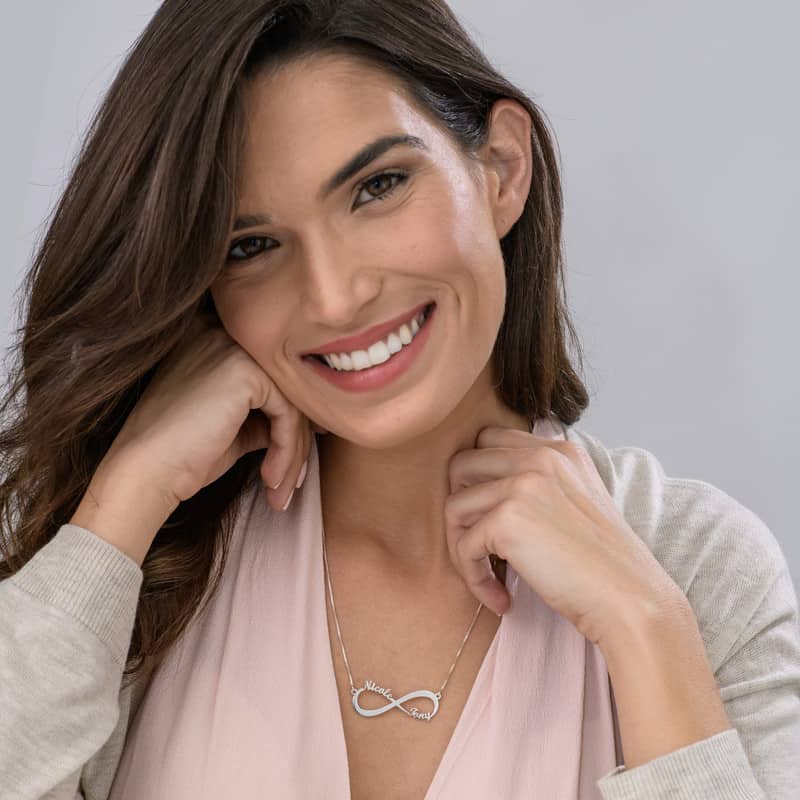 An infinity necklace is really no different. By opting for an infinity necklace, you could be expressing a deep connection to friends, a romantic partner, family, or spirituality. Because it's open to interpretation, you're making a personal statement that only you and maybe loved ones will know. And the great thing is, regardless of why you're wearing it, an infinity necklace has a beautiful timeless, but modern appeal. And with a healthy selection of different styles, you can easily pair infinity necklaces with casual and modern outfits alike. 
How do you wear an infinity necklace?
Infinity necklaces, even diamond-studded necklaces, tend to be understated. For this reason, there are many ways that you can style them. Consider layering them with a fine chain necklace. Though some pair it with another pendant, this tends to take the infinity symbol away from being a focal point. 
On the other hand, another necklace can add another dimension to the meaning of your infinity necklace. For instance, a cross necklace paired with an infinity necklace could be a display of eternal faith. By the same token, a heart necklace could show your infinity necklace is some form of everlasting love. A friendship necklace with an infinity necklace also points to another meaning. 
What earrings should I wear with an infinity necklace?
There are a few schools of thought in terms of what earrings are best to wear with an infinity necklace. First of all, consider the length of your necklace. Shorter necklaces look great with dangle and drop earrings. Longer necklaces may be better suited for stud earrings. 
When it comes to hoop earrings, some love the look of pairing circular earrings with the circular infinity symbol of your necklace. Others would prefer more of a contrast. I recommend sticking with the same metal hue. For instance, if you have a yellow gold infinity necklace, I recommend pairing it with yellow gold earrings. Mixing and matching metals can work, but the look can become too busy if you don't do it thoughtfully. 
Infinity Necklaces: My Ideas
Another thing I love about infinity necklaces in 2022 is the plethora of styles you'll be able to select from. You'll find mostly sideways, but also upright infinity pendants for necklaces. Diamonds and gemstones add classic to glamorous accents, while polished metal comes across as sleek and modern.
I've made selections for diamond, gemstone, and solid metal necklaces. For my picks, I mostly focused on metal types that are durable to suit the symbol of infinity necklaces. These include 10K through 18K solid gold, as well as stainless steel and a few other options. For diamond and gemstone necklaces, I only selected from reputable companies who thoughtfully source or lab create quality stones. 
Finally, I wanted to make sure there were options for a variety of styles and price points. Hopefully, these pics will provide you some ideas as to what style of infinity necklace is right for you or a loved one in 2022. 
It is important to note that many of my ideas are just the pendant– for these, you'll need to buy your own chain. You can opt for a simple cable chain, but it's also a great idea to ask when buying what the best option for that pendant is. 
Diamond Infinity Necklaces
You've likely heard the phrase "diamonds are forever." That phrase was touted by Frances Gerety, a copywriting consultant at a marketing agency in 1947. The intent was to convince Americans to invest in expensive jewelry, post the Great Depression. It pointed to the durability of diamonds, but now it's also blended with symbolic meaning. Diamonds represent strength, courage, but also everlasting love and commitment– hence why they're a meaningful option when paired with infinity necklaces.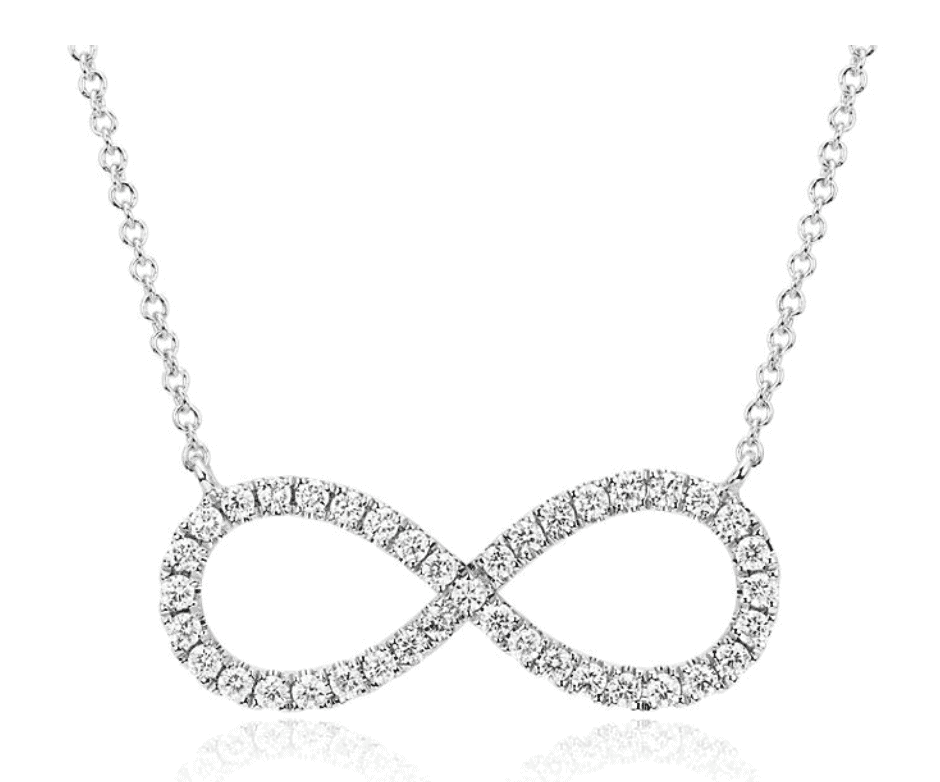 This is one of my favorite ideas for a diamond infinity necklace. The Angara delivers up to its usual quality, with a gorgeous diamond infinity necklace that allows you to customize your order. ⅓ carats of sparkling, round, pave-set diamonds accent the entire perimeter of the infinity symbol pendant. Available in three diamond qualities, on 14K yellow, gold, or white gold, as well as platinum. Buy Here.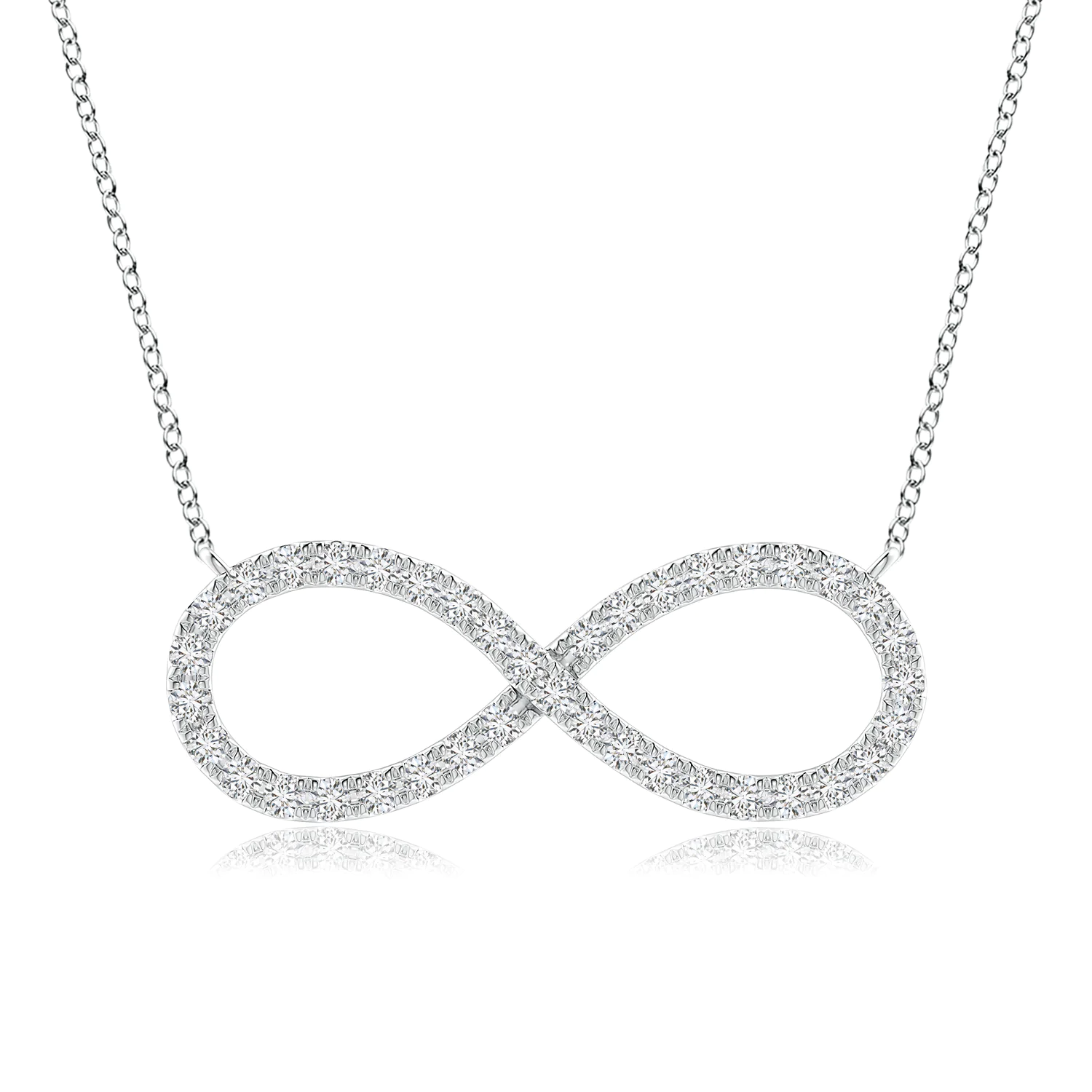 Diamond Infinity Pendant Necklace | Angara
Symbolizing everlasting love, this exquisite necklace features a beautiful infinity frame embellished with sparkling diamonds. This infinity necklace with diamonds is crafted in platinum and hangs from a cable chain.
Check Price
We earn a commission if you make a purchase, at no additional cost to you.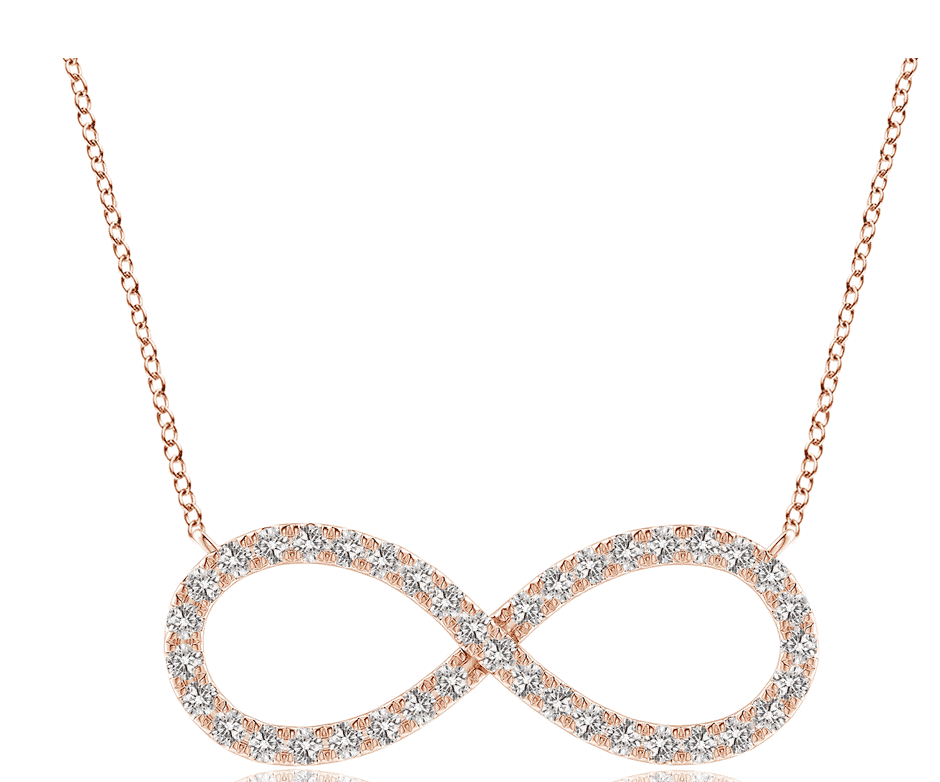 The Blue Nile is another respected name in the diamond industry, and they offer a beautiful 14K white gold infinity necklace with breathtaking .5 carats of accent diamonds. The pendant is set on a classic cable chain, with rhodium plating. The diamonds feature a pave setting and are selected for high-quality color and clarity. Buy Here.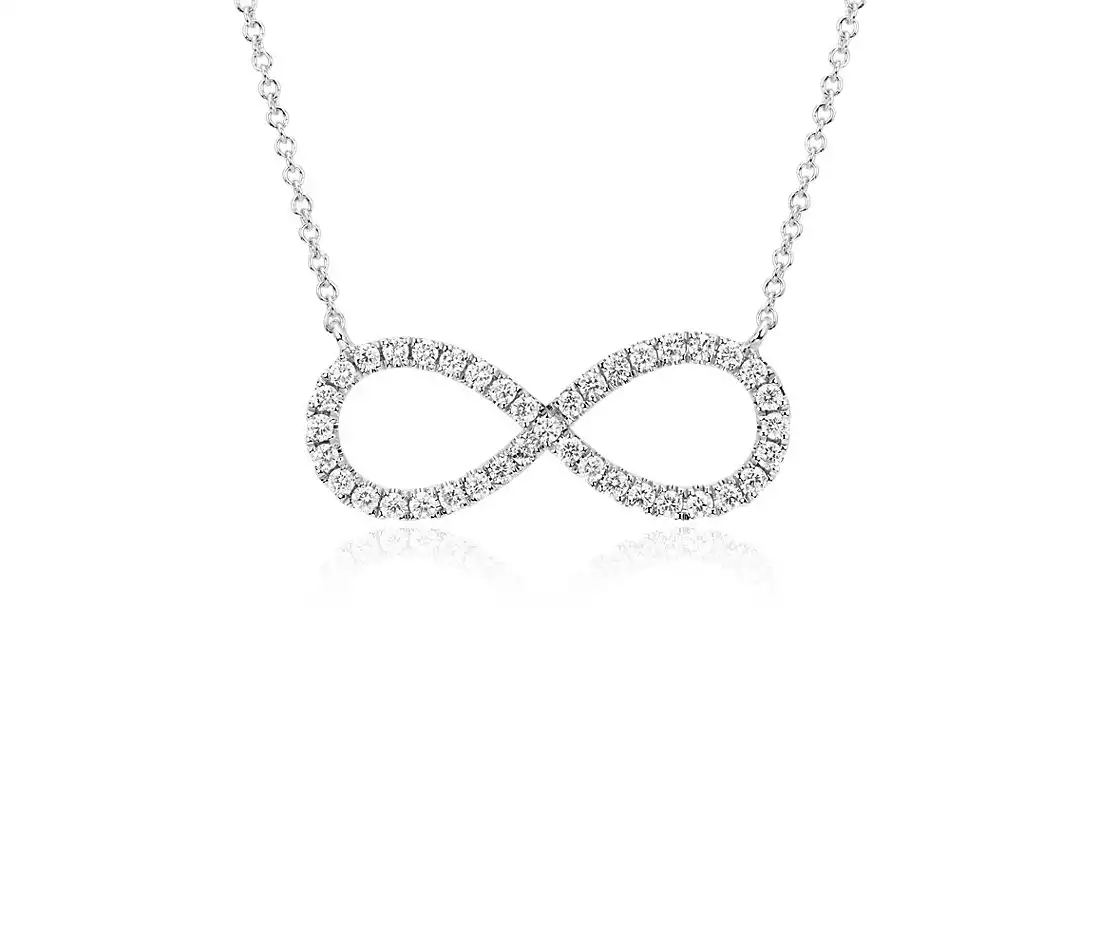 Diamond Infinity Necklace | Blue Nile
A diamond infinity symbol shines brightly at the center of this classic 14k white gold necklace, for a meaningful emblem to wear always.
Check Price
We earn a commission if you make a purchase, at no additional cost to you.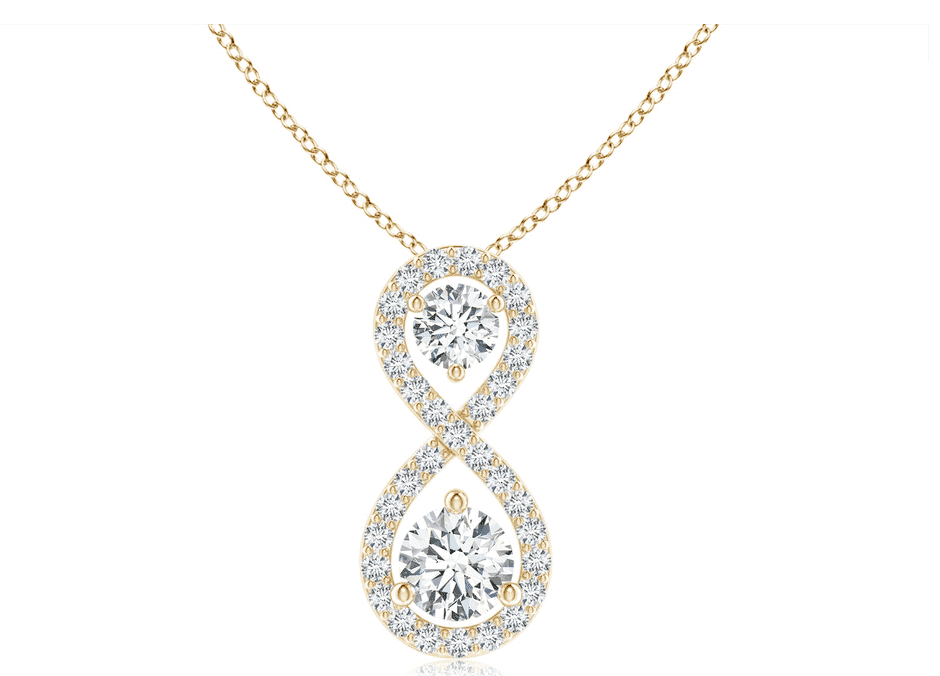 This clever Angara infinity diamond pendant takes the traditional look and turns it on its head– literally. A vertical infinity pendant doubles the impact, with two prong set diamonds, plus accent diamonds– for a total carat weight of .25. The round diamonds sparkle, with excellent quality, and are set on your choice of 14K white, yellow, or rose gold, as well as platinum. This look is a bit glamorous and suited for formal occasions. Buy Here.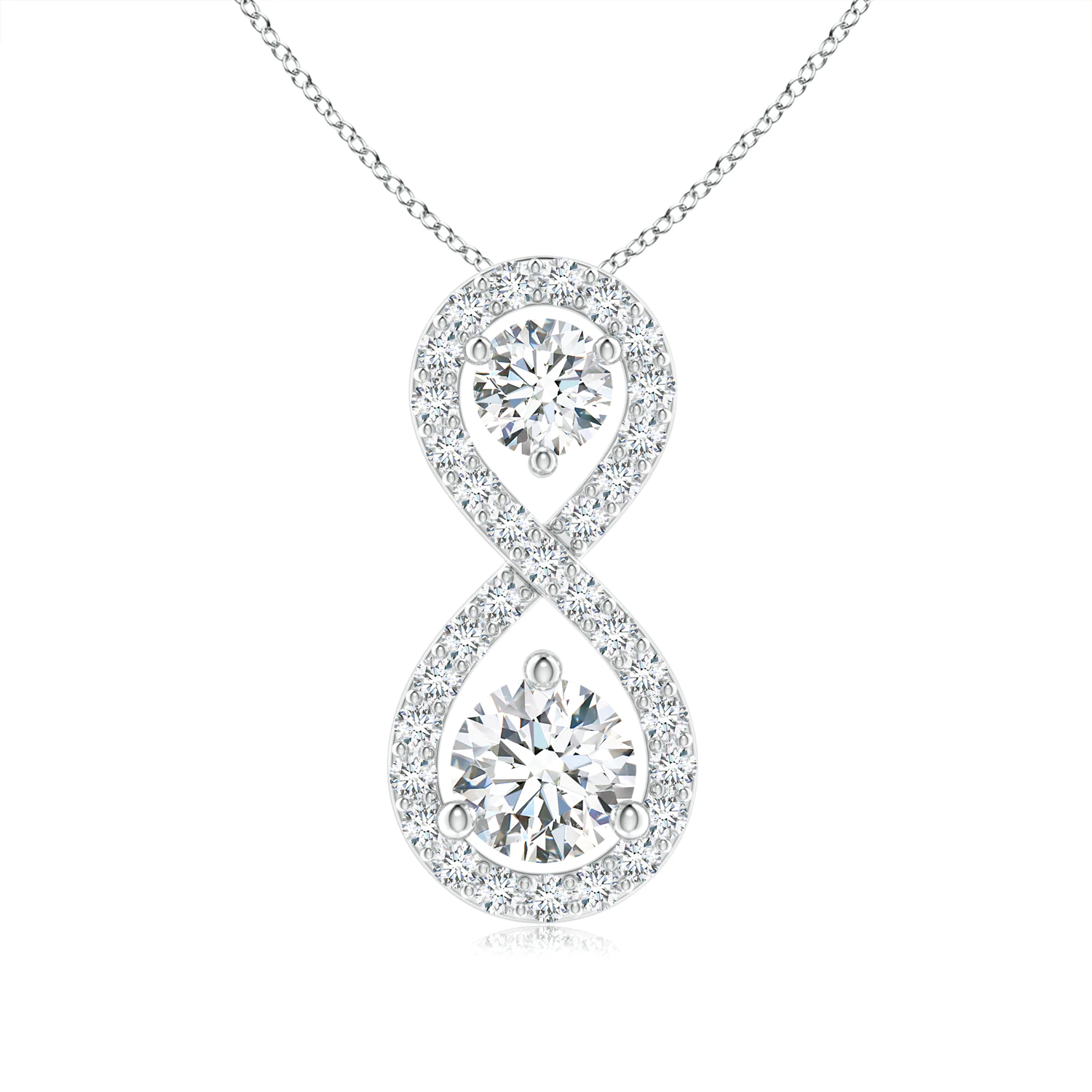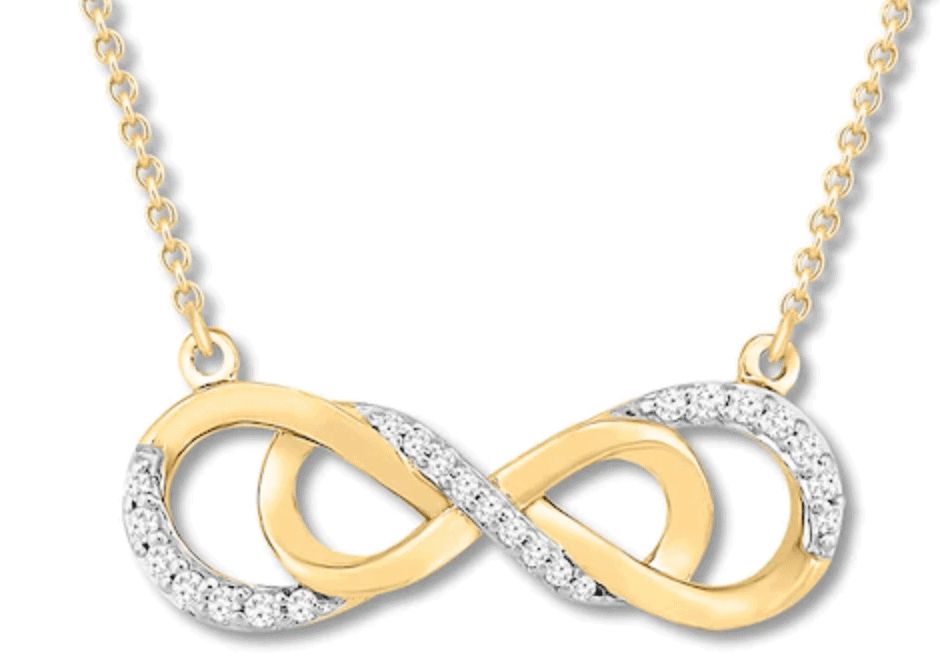 I actually like this diamond infinity necklace from Kay Jewelers for a few reasons. While it's true that 10K gold is the lowest in terms of the value of gold sold for jewelry, it's actually a harder material than high carat gold. While it doesn't have the same luster as a 14K necklace, it may be more durable if you plan to wear it daily. Another plus is that it costs just a fraction of the price, coming in at around $250, of most diamond necklaces. 1/10 carats of shimmering round diamonds accent for a modern, understated look. Buy Here.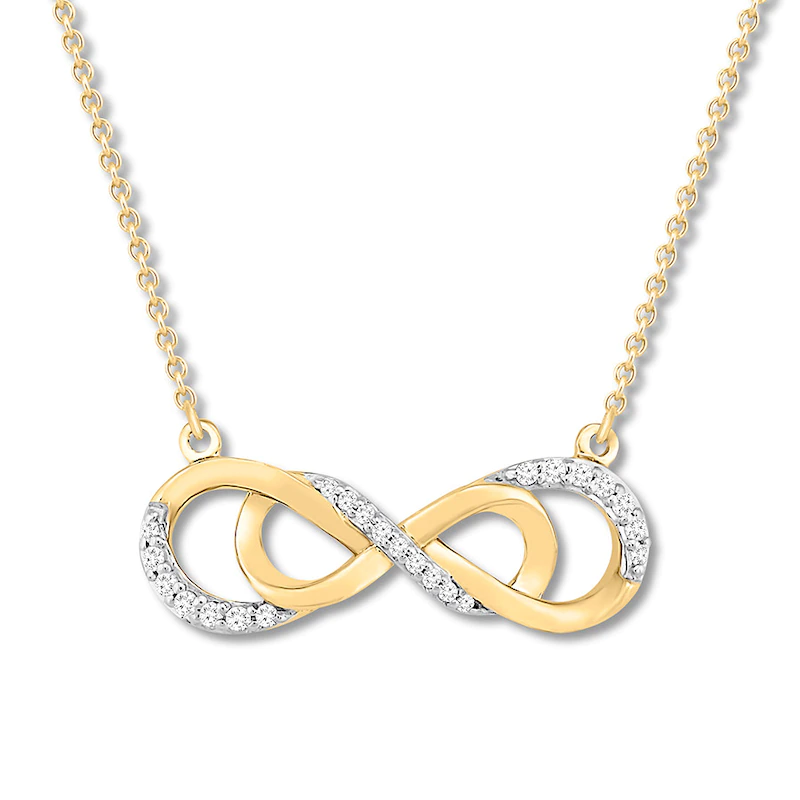 Diamond Infinity Necklace | Jared
Two infinity symbols entwine in this beautiful necklace. Shimmering round diamonds follow the curves of the outer symbol to complete the look.
Check Price
We earn a commission if you make a purchase, at no additional cost to you.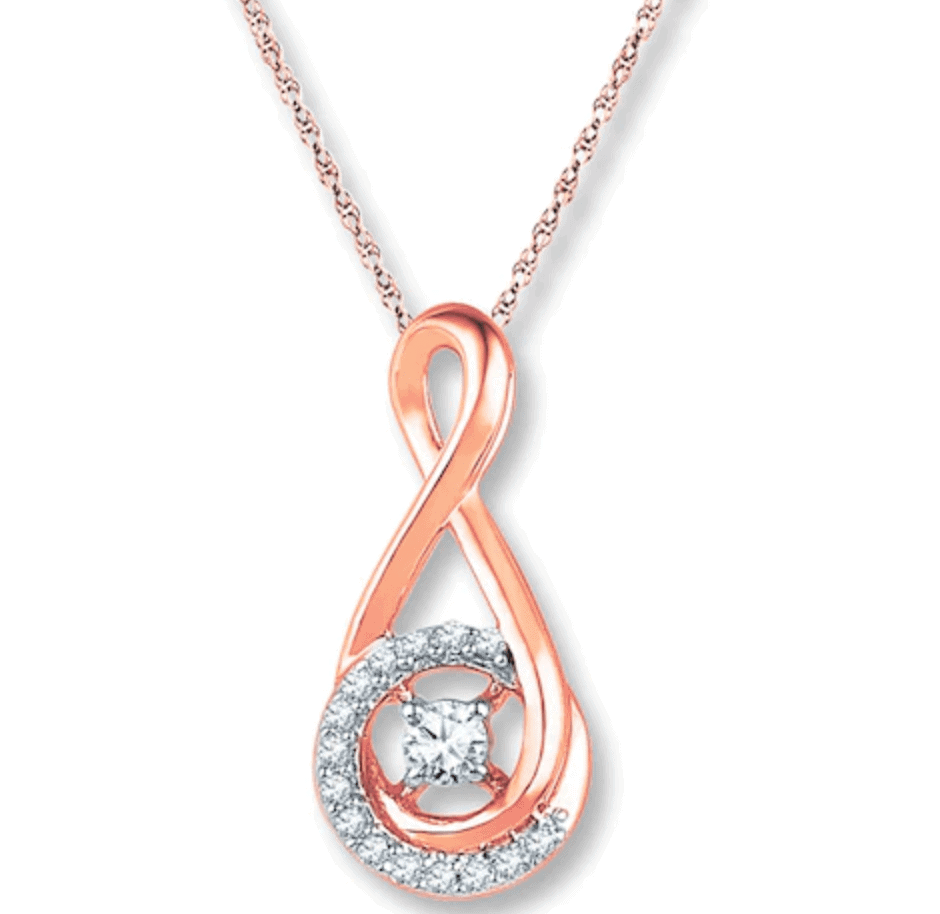 Another more casual, everyday option from Kay, this diamond necklace features a beautiful modern design. Diamonds accent a swirling design, with a central diamond, for a total carat weight of ⅛. The chain is set with a spring clasp. Buy Here.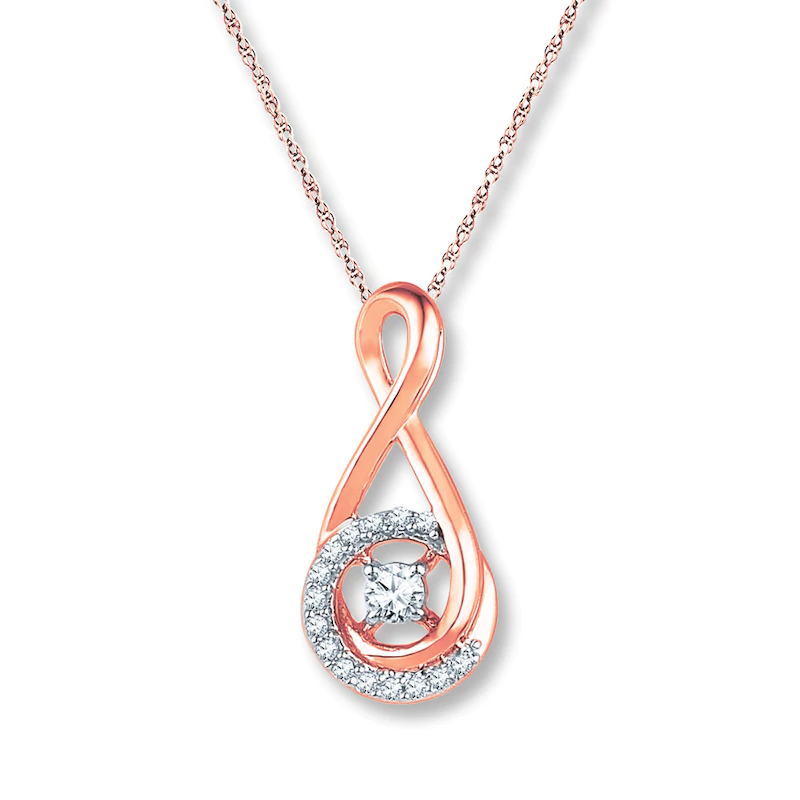 Gemstone Infinity Necklaces 
All gemstones have different meanings, and signature styles. Both natural and lab-grown gemstones make for fine jewelry options and add a gorgeous, unexpected accent to an infinity necklace. It's a way to play with your own style while sticking true to the iconic infinity symbol sign. Sometimes these necklaces also add accent diamonds for even more scintillation, but it depends on the necklace and what look you're going for.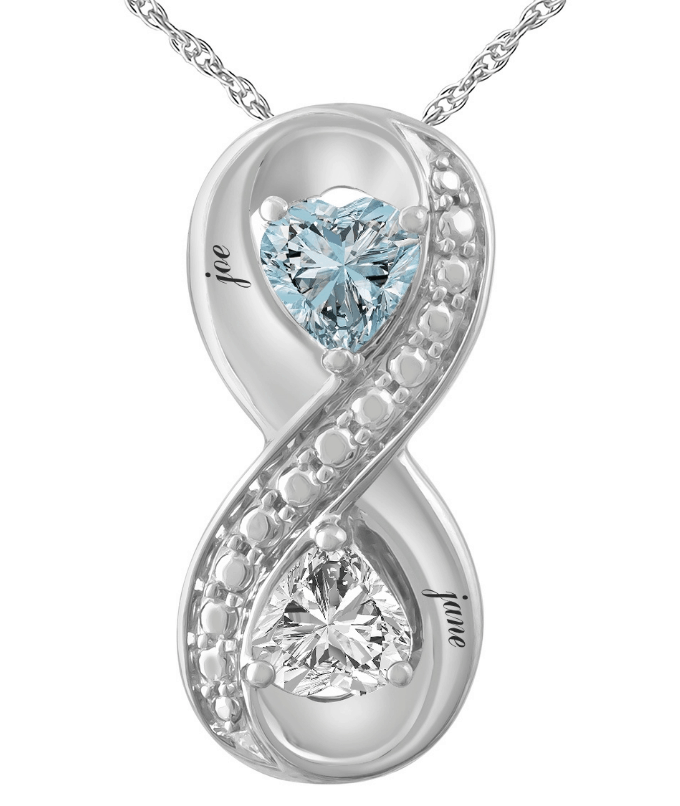 Want to make a really personalized infinity necklace? I love this option from Jared, a long-respected name in the jewelry industry. You can customize this gemstone infinity pendant by selecting two lab-created birthstones of your choice. You can also opt for everything from silver to 10Kor 14K gold  (white and yellow). Buy Here.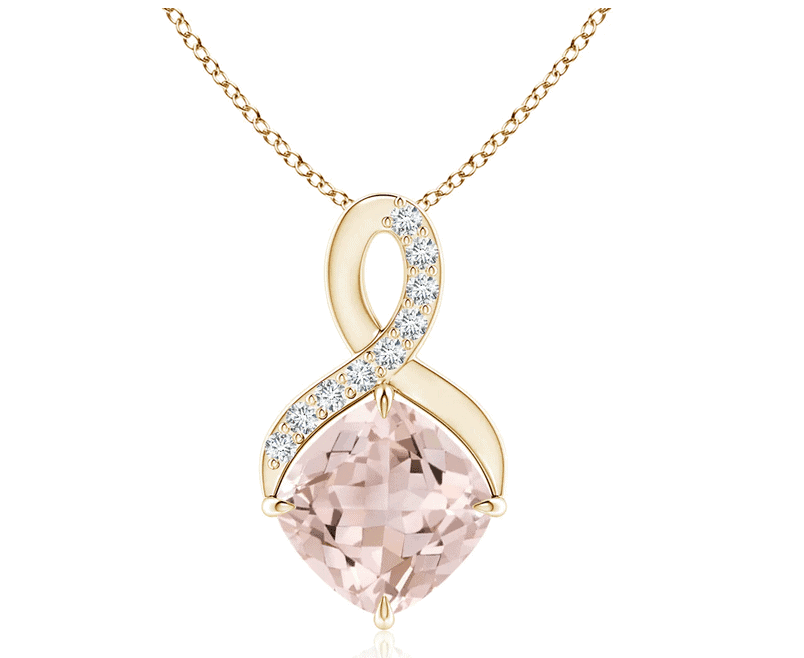 Add your own chain to this dazzling infinity pendant. Claw-set morganite of good to heirloom quality is set with 14K yellow, rose, or white gold. Diamonds accent a twisted ribbon for a beautiful finishing touch. Buy Here. 

Design Your Own Heart Gemstone Infinity Pendant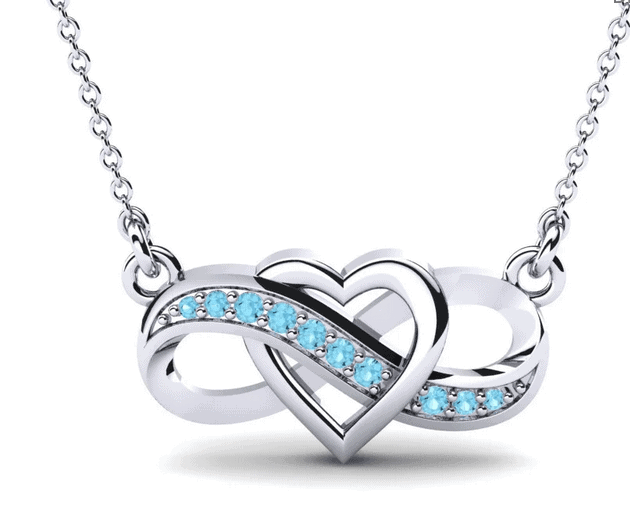 Pairing a heart with the infinity symbol, this creative idea allows you, once again, to select the gemstone and metal of your choice– making it also a great option for different budgets. Select from genuine, lab-grown gemstones (tanzanite, aquamarine, tourmaline, amethyst, fire opal) or simulated crystals. Metal options include sterling silver, 10K, 14K, 18K gold, and platinum– meaning you'll find something at most budgets. Buy Here.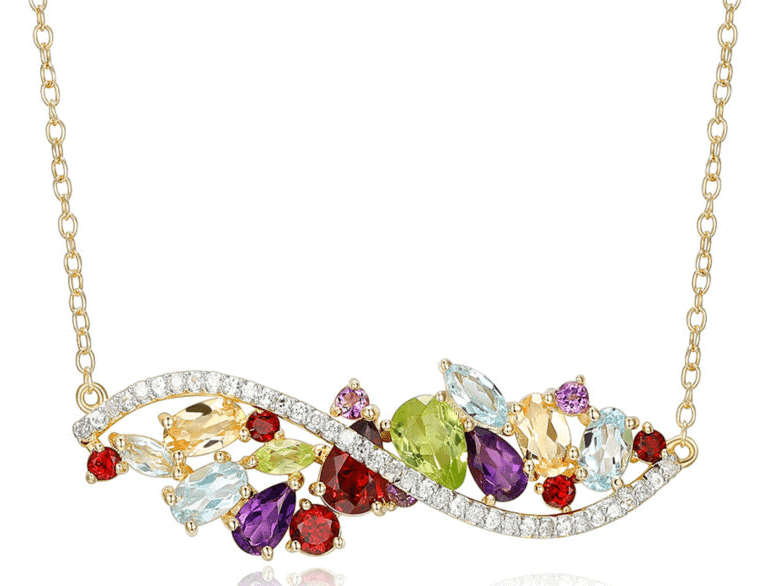 Love the idea of an infinity necklace, but want something that stands out more? This necklace is nothing short of dazzling, with genuine lab-grown gemstones (citrine, peridot, garnet, sapphire, amethyst, and topaz) alongside 20 round sparkling diamonds. Set on 18K yellow gold over silver, it's a more budget-friendly option, too– even if not quite as valuable or durable. Buy Here.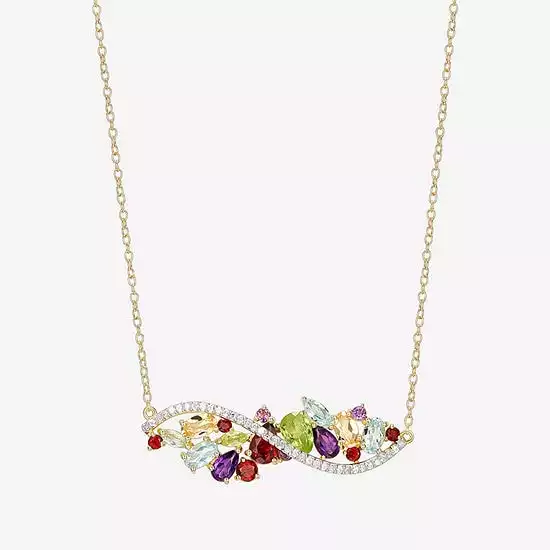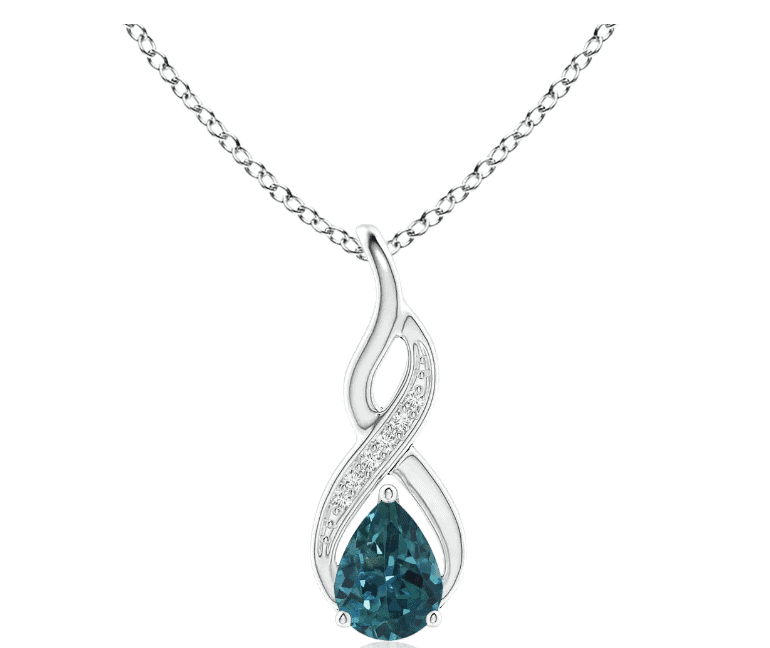 Add an elegant and alluring necklace to your wardrobe with this  (0.42 to 0.78 carat) teal sapphire pendant. A swirling infinity symbol is accented with pave-set diamonds. While you'll have your choice of platinum, as well as 14K yellow, rose, and white gold, cool tone metals look spectacular with the teal gemstone. Buy Here.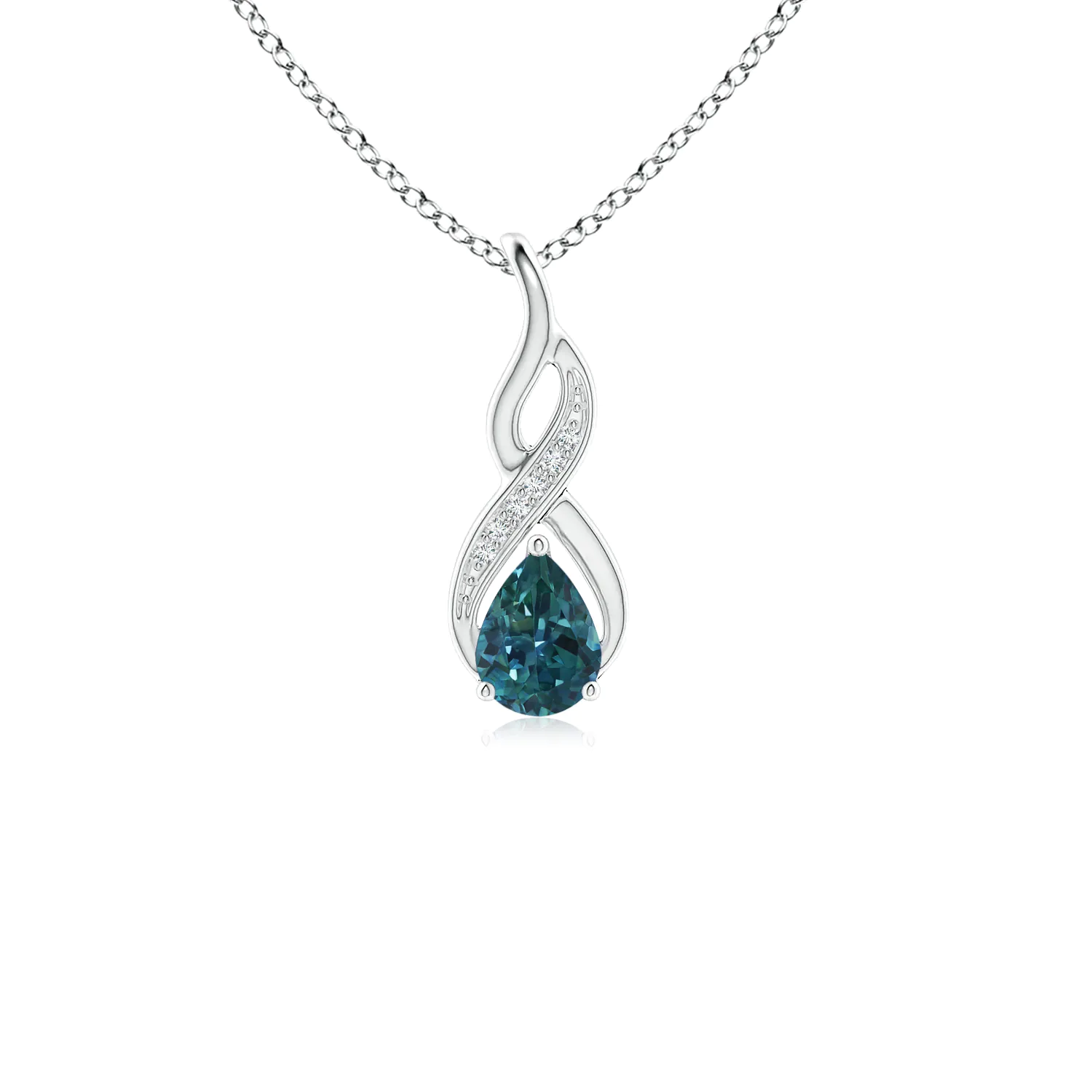 Teal Montana Sapphire Infinity Swirl Pendant | Angara
The pear-shaped Montana sapphire is prong-set at the bottom of the infinity bale. Shimmering pave-set diamond accents partly adorn the swirl bale. This splendid teal sapphire drop pendant is sculpted in 14k white gold.
Check Price
We earn a commission if you make a purchase, at no additional cost to you.

Solid Metal Infinity Necklaces
Some of my favorite infinity necklaces are actually the most simple. These solid metal infinity necklaces prove you don't need diamonds or gemstones to make a beautiful statement. Polished, high-quality metals add luster and shine. From classic to minimalist, these necklaces are at once modern and timeless. They're also the most versatile and will pair with anything, from casual t-shirts to a formal dress or pantsuit. Spend a little extra and invest in a metal that won't tarnish or fade, or save for something that's more budget-friendly.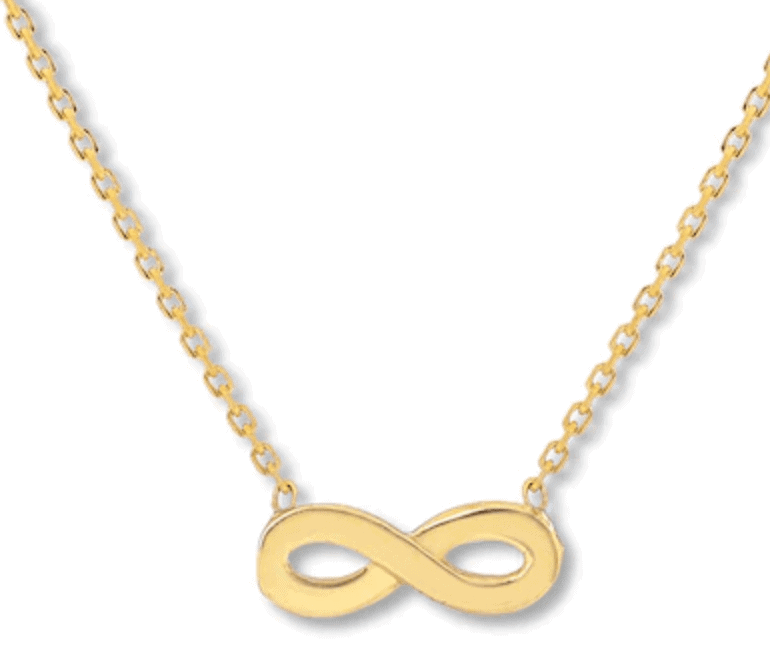 This petite 14K yellow gold infinity necklace is understated, modern, and wearable. The 14K yellow gold has a pleasant luster and is set on an adjustable cable chain. It's a style that won't go out of fashion anytime soon. Buy Here.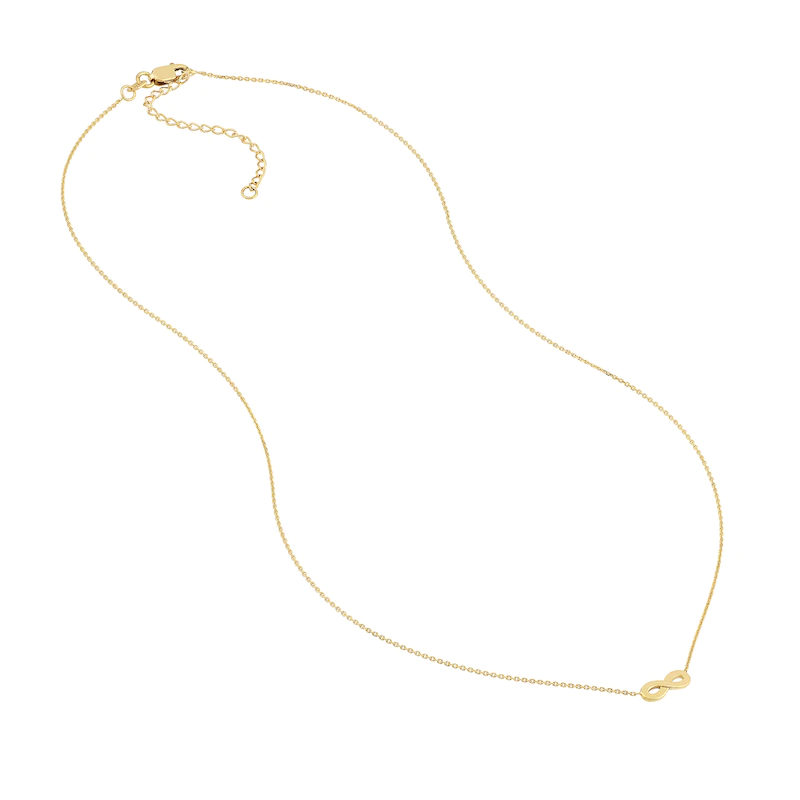 Infinity Necklace 14K Yellow Gold | Jared
An infinity symbol of 14K yellow gold forms the focal point of this lovely necklace for her. The pendant suspends between a cable chain that adjusts from 16- to 18 inches in length, and secures with a lobster clasp.
Check Price
We earn a commission if you make a purchase, at no additional cost to you.

Blue Nile Polished 14K Yellow Gold Infinity Necklace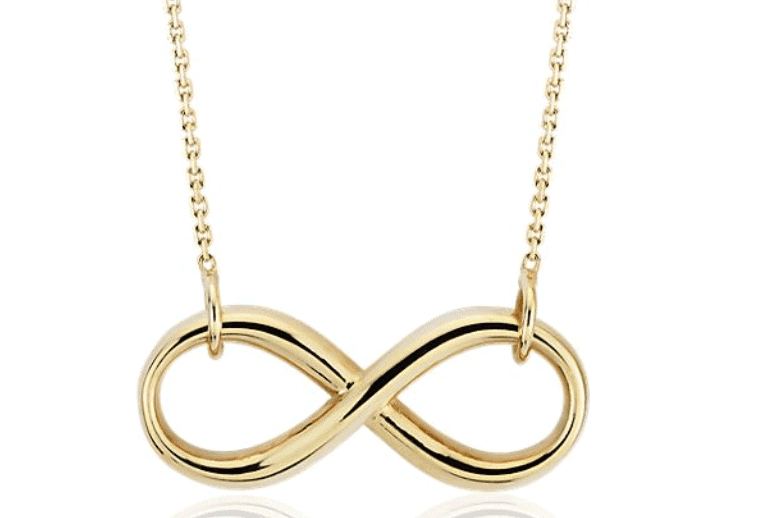 Still understated, this necklace from the Blue Nile has more of a polished luster vs the matte style of my previous selection. The necklace features a lobster clasp, an 18-inch cable chain, and a refined, modern design.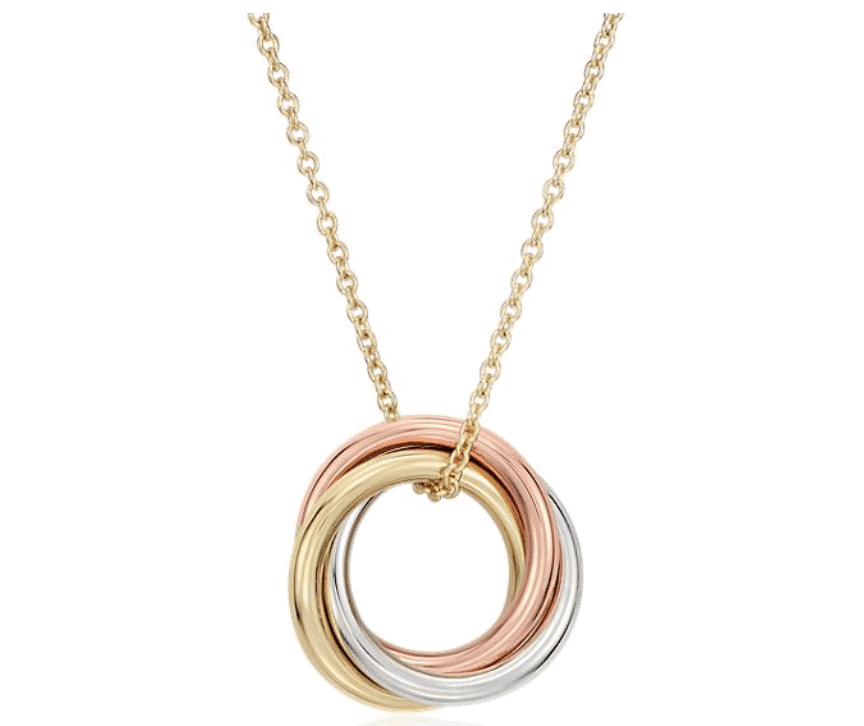 This beautiful pendant keeps the infinity symbol theme but presents with infinity rings instead. The meaning is similar but puts on display a circle theme more prominently. A circle represents the circle of life, but also one that is everlasting and continuous. Petite rings are delicately intertwined. Choose from 14K rose, white, yellow– or even blended– gold. Buy Here.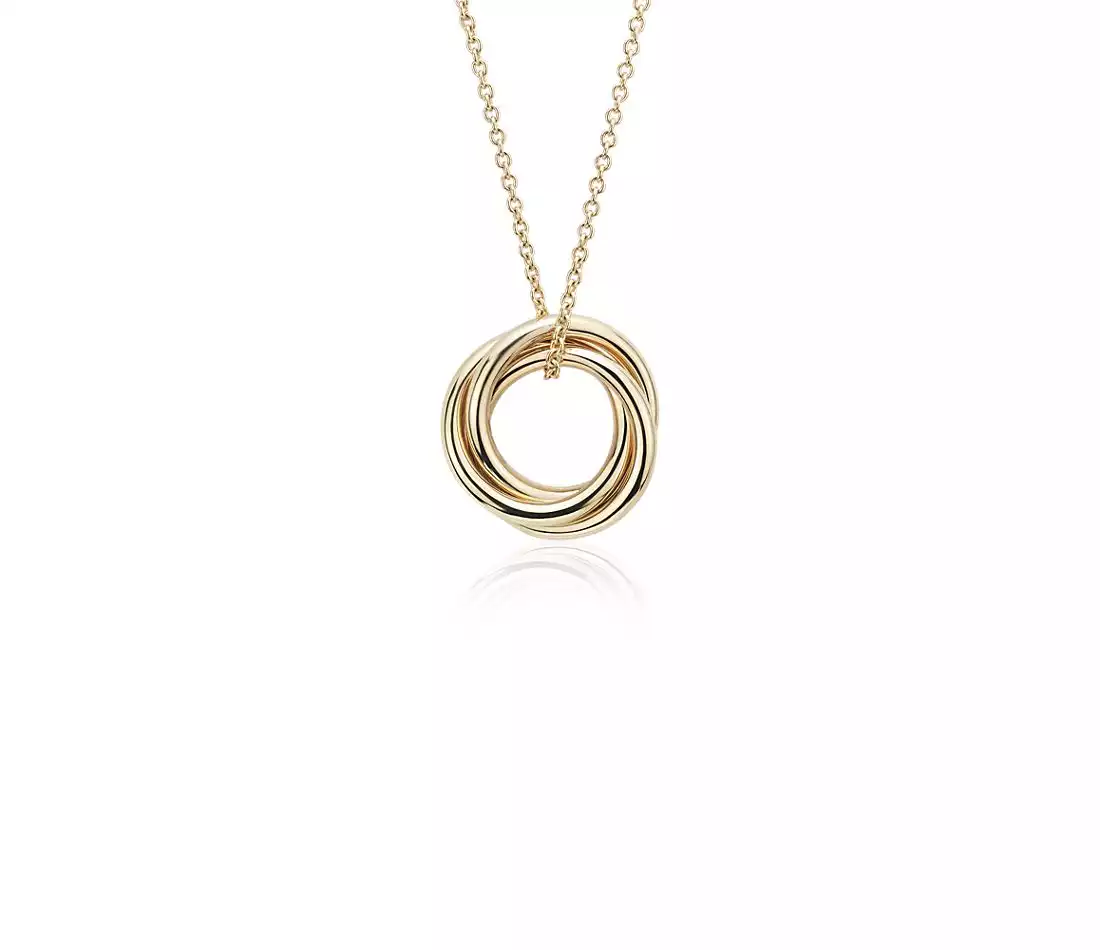 Petite Infinity Rings Pendant | Blue Nile
A delicate statement, this petite infinity rings pendant features three intertwined rings crafted of lightweight, polished tubing in 14k yellow gold for a look that's made to go wherever you go.
Check Price
We earn a commission if you make a purchase, at no additional cost to you.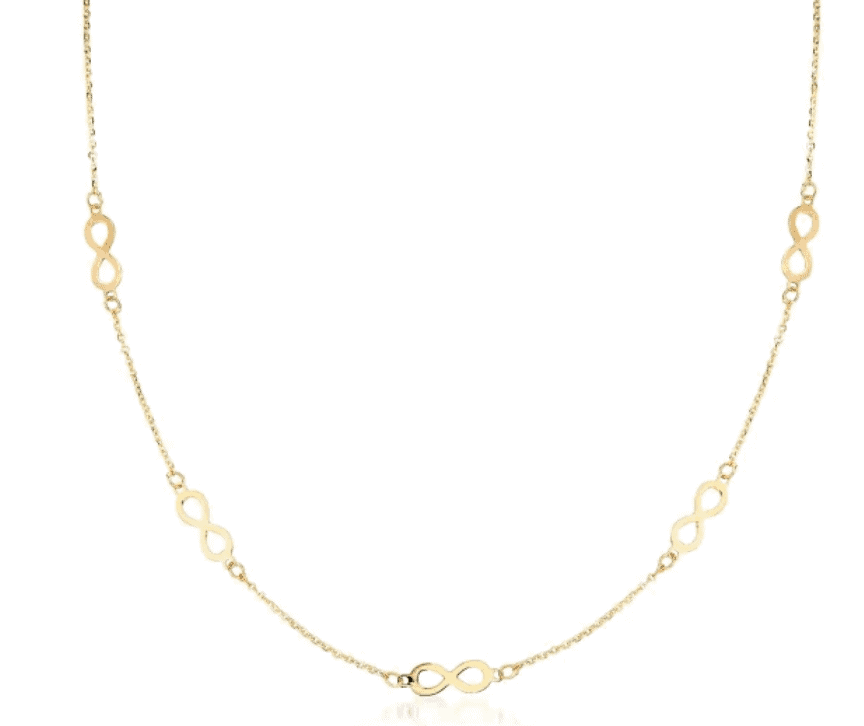 From Ross Simmons, another respected name in the jewelry industry comes this creative and beautiful infinity station necklace. Station necklaces feature pendants or stones placed at even intervals, for appeal around the entire perimeter of the necklace. A total of 5 infinity symbols accents this polished yellow gold necklace. Buy Here.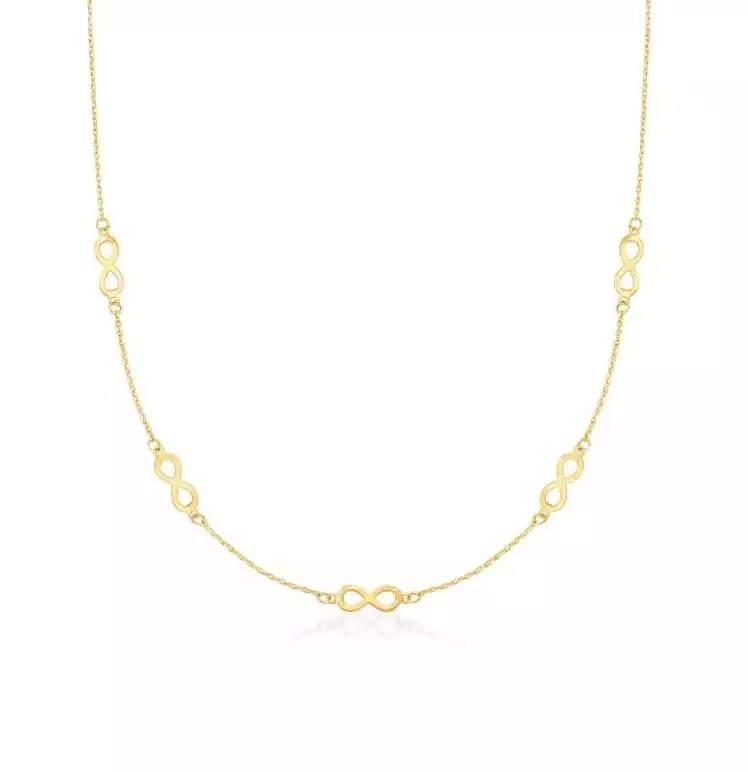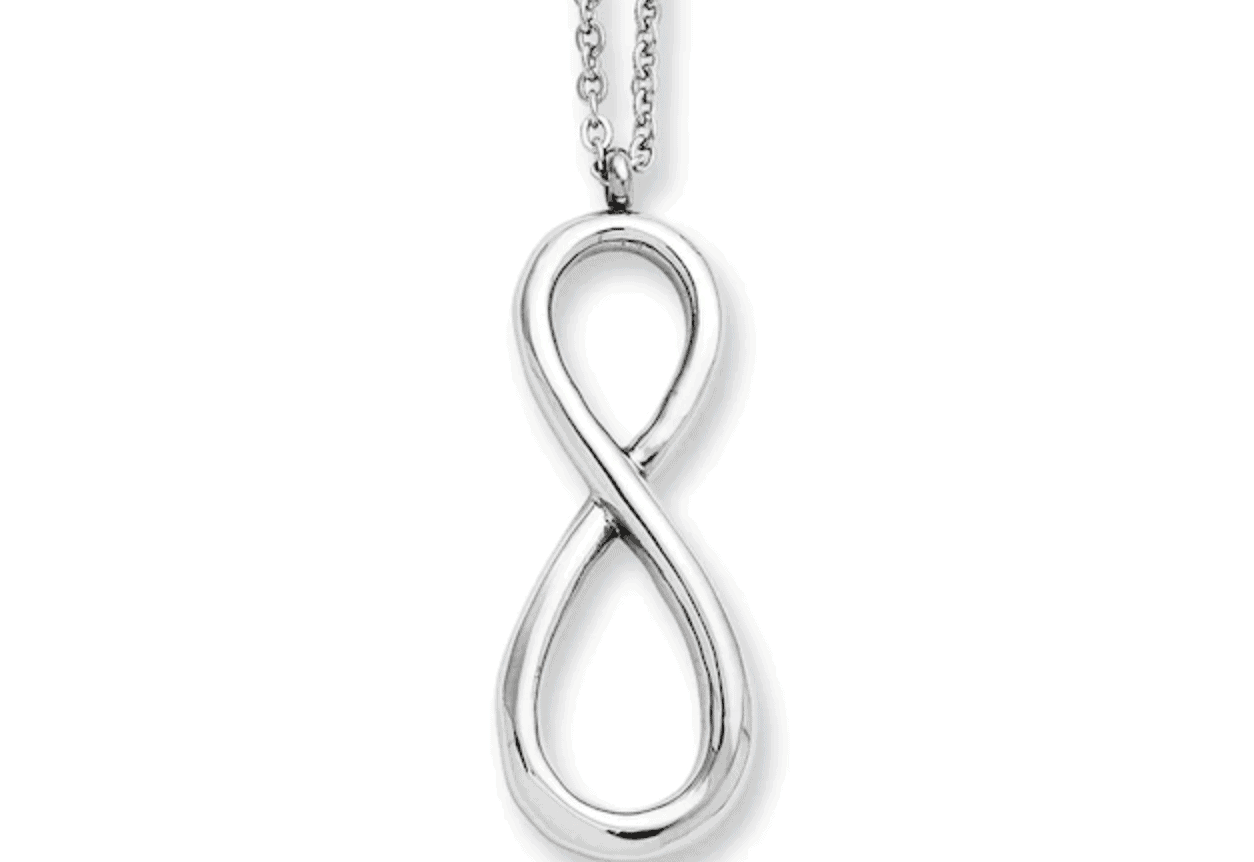 Looking for an affordable option, but one that will last? Stainless steel is an excellent choice. This pendant retails for just under $50 and is made up to usual Zales quality standards. The sleek stainless steel pendant features a high polished sign for a modern appeal. Buy Here.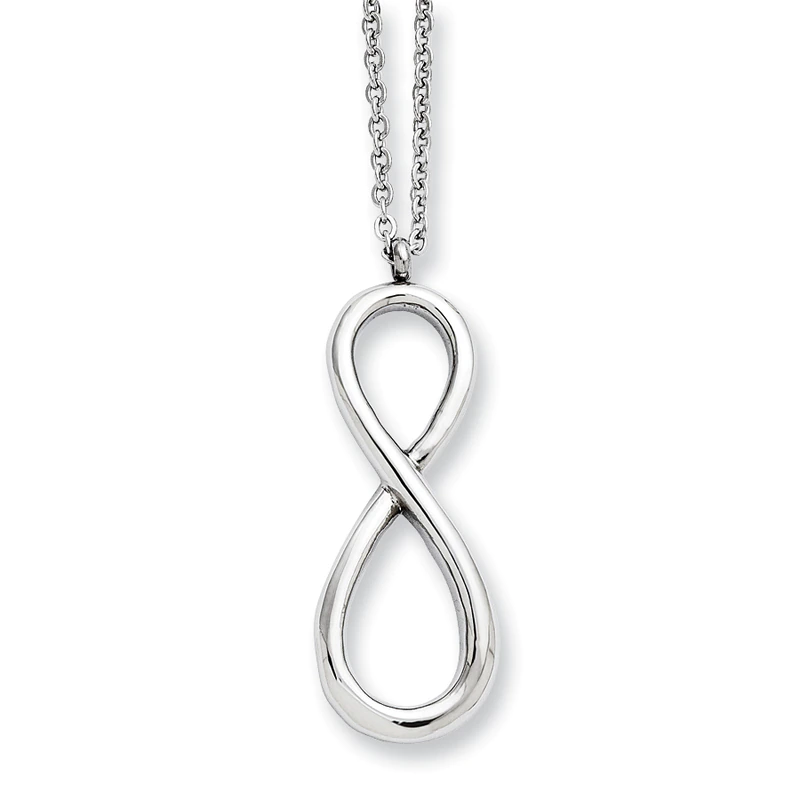 Infinity Pendant in Stainless Steel | Zales
An elegant look that goes great with jeans or a little black dress, this fashion pendant is sure to please. Crafted in sleek stainless steel, the mathematical symbol for infinity shines with a high-polish finish.
Check Price
We earn a commission if you make a purchase, at no additional cost to you.

Frequently Asked Questions
Question: What symbol means infinity?
Answer: Infinity is usually denoted by ∞. This symbol comes from a Greek word, Lemniscate, which translates as "ribbon." The twisted symbol has come to express infinity, both in fashion and mathematics. In fashion, you can sometimes see the symbol placed vertically. 
Question: What is an infinite love symbol?
Answer: A symbol of infinite love is the same symbol used for infinity. When meant to evoke infinite love, the idea is that the love– platonic or romantic–is everlasting. It may also point to an unbreakable bond and a love that endures challenges. 
Question: Why is the sideways 8 the symbol for infinity?
Answer: Some think of the infinity symbol as a sideways 8, but regardless of how you look at it, both the meaning and the origin of infinity remain the same. The symbol was first applied to mathematical practices in the 17th century but was said to be used by Romans to indicate a large number. The very first appearance may have been designed in the 8the century for the cross of Saint Boniface and missionaries for Christianity within the Frankish Empire during the 8th century. 
Final Thoughts & Last Buying Tips
Infinity necklaces are expressions of love, endurance, connection, and spirituality. It's easy to see why they remain a popular necklace choice to this day. If you're on a budget, I recommend going for a solid metal, understated infinity necklace, rather than buying a poor-quality diamond or gemstone necklace. Stainless steel is a great option for buying a durable necklace on a budget.
On the other hand, there's an undeniable appeal to diamond and gemstone necklaces, and these can add even more meaning to your infinity necklace.