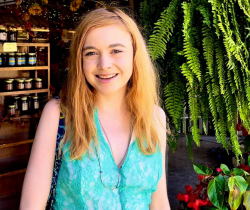 Latest posts by Erin Jamieson
(see all)
When it comes to jewelry trends, it's true they come and go– but one trend that has taken hold on Tik Tok and beyond. Instead of diamonds, now influencers are all about moldavite necklaces.
The Moldavite trend comes as one of the perhaps more surprising ideas for a new fashion statement in 2022. Or perhaps not so surprising: because this trend is about more than just looks, and likely the main reason that it's caught on.
In fact, this trend has been building for a while and is longer-lived than most Tik Tok trends–perhaps a sign that it's here to stay, and may spread to other platforms. Moldavite has been touted not only as a fashion trend but one that can improve one's life. On Tik Tok, it's being spread that Moldavite is a way to connect with yourself– and focus on a better life.
Moldavite necklaces are now being showcased as freedom of expression, but also freedom from harmful relationships. Removing toxicity from one's life is especially fitting now– as the pandemic has spread more awareness on social media platforms about prioritizing good relationships.
But is Moldavite right for you? And is this just a passing trend, or something that could really suit your style?
Consider this your guide to Moldavite necklaces. I'll tell you about why they're becoming popular, what to consider before you buy, and my top picks.

What is Moldavite?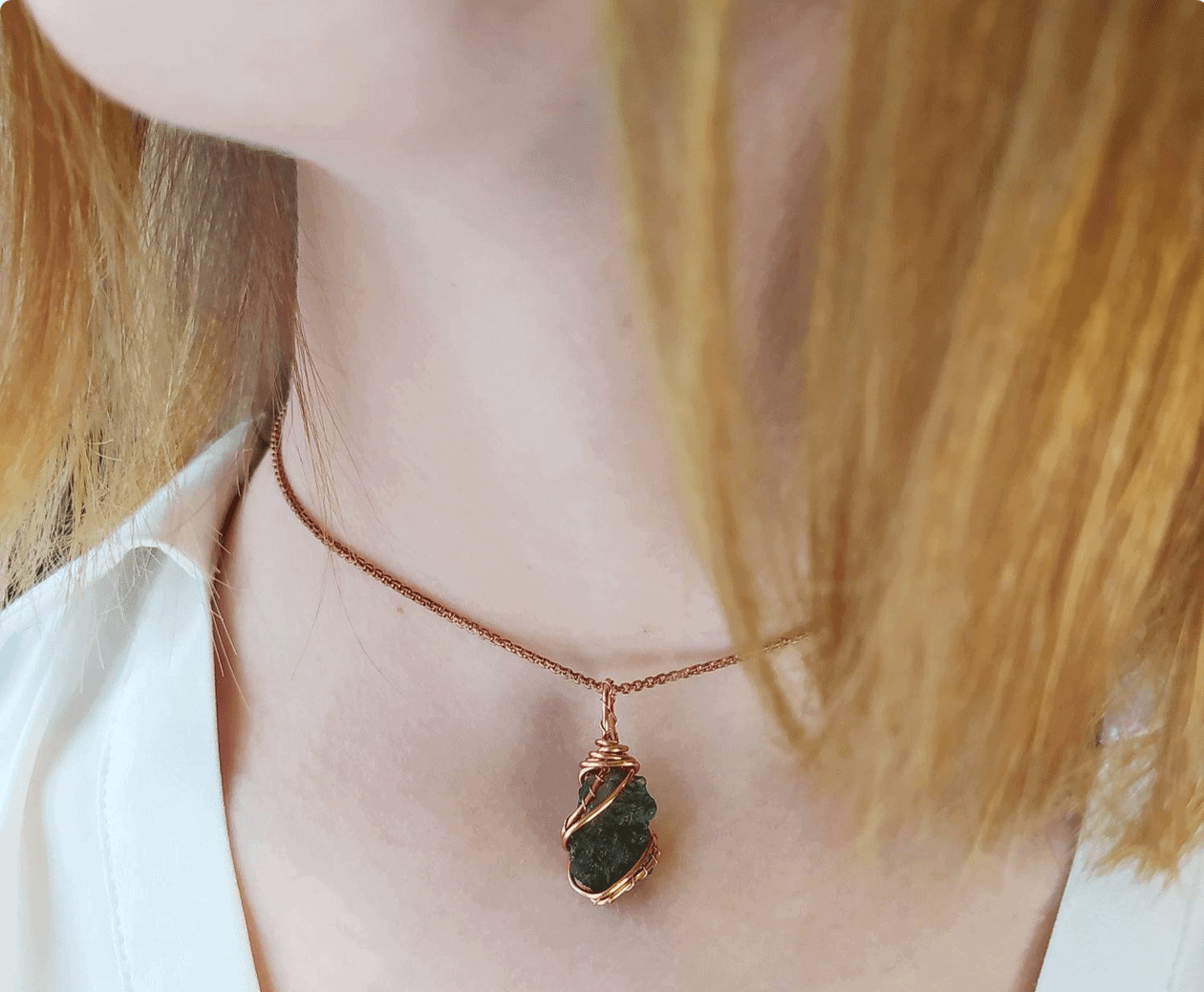 Moldavite is classified as a new age gemstone and is associated with metaphysical properties. It's also gained popularity as a collector's gemstone. A form of natural glass, most estimate that Moldavite was originally formed as a result of an asteroid impact. The first Moldavite may have been formed as many as 15 million years ago.
Moldavite can be found in various locations, but the bulk of it has actually been collected in the Czech Republic. Prized in its raw form, it can also be bought faceted, cabbed, and carved, as well as polished.
What is Moldavite good for?
Moldavite is a unique option for jewelry that stands out when it comes to hue and texture. But many prize Moldavite for its connection to spirituality. It's been used as a talisman for connection to self, transformative qualities, and growth.
For some, Moldavite is a way to connect more deeply with one's life and remove toxicity. In this way, Moldavite necklaces can be emblems of empowerment, maturity, and growth.
What happens when you wear Moldavite?
Moldavite is also associated with the body's energy. The idea is that wearing Moldavite optimizes your body's energy and connects you to the universe and a deeper sense of spirituality.
Of course, some wear Moldavite necklaces purely for a unique look. So even if you do not ascribe to the idea of Moldavite's powers, you can benefit from the signature style and different necklace options.
What color is Moldavite?
Moldavite, in its natural form, is always green. Moldavite ranges from olive green to acid green. Many green colors are intense, from deep forest green to a surprising blue-green. It is not uncommon, in its raw form, to see Moldavite in a degree of hues and variety of those hues.
Is Moldavite good for jewelry?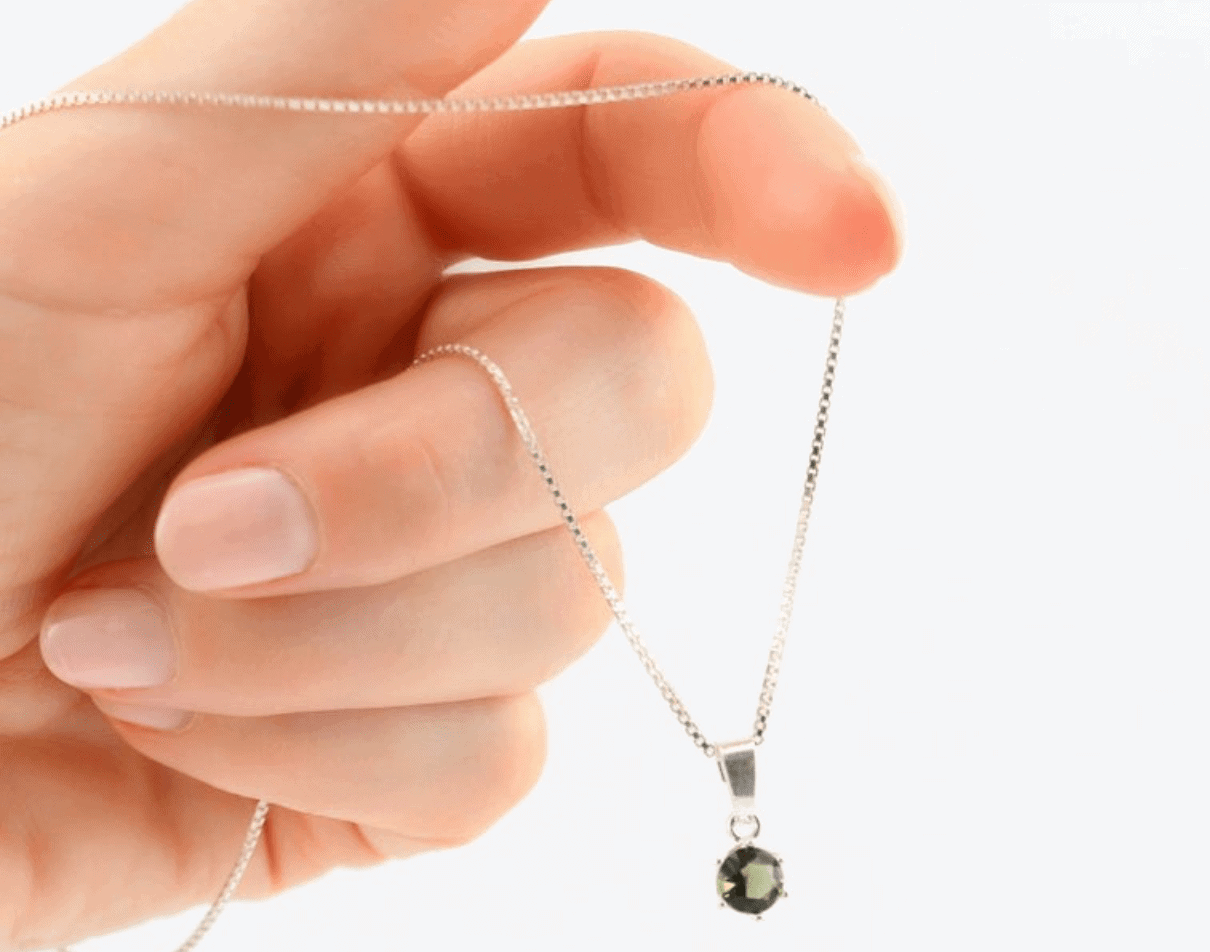 Moldavite certainly has some downsides despite its beautiful hue. However, with proper understanding and care, Moldavite can be a fun and casual option. Here's what you need to know about proper care and wearability.
Can you wear Moldavite every day?
Moldavite is not the best to wear every day, but rather for certain occasions and light wear. Moldavite is a relatively soft stone, with a Mohs hardness rating of 5 to 5.5. By comparison, many durable stones suited for everyday wear are closer to a 7.5 and above, preferably an 8.
Softer stones like Moldavite tend to scratch more easily, so a protective coating would be best for long-term wear. In addition, the structure of Moldavite makes it brittle, meaning that it can shatter easily. Because of this, it's important to treat it with care.
In addition, Moldavite is heat-sensitive, so you should avoid any extreme temperatures. In addition, it's best to avoid using harsh cleaning agents or chemicals.
While Moldavite necklaces are suitable for wearing occasionally, with proper care, you should be cautious and avoid wearing it every day if you want your necklace to last.
Should I sleep while wearing Moldavite?
Crystals are associated with positive energy and sometimes are associated with excitement. Since Moldavite is not the most durable stone, I also recommend not sleeping with it. Wear it during the day for an occasion, and treat it with care.
Is Moldavite expensive?
Moldavite beads, in their natural state, cost around $70 on average, Modalvite is considered more expensive than some options because it's relatively rare. Compared with quartz, which is quite common, and compared with common metals like titanium, Moldavite is more expensive.
Of course, compared to something especially rare and precious like black diamonds, Moldavite necklaces are more affordable. In fact, you can find Moldavite necklaces that are fairly affordable or even budget savvy prices– it just depends on the details of that necklace.
What are the advantages of Moldavite necklaces?
Moldavite necklaces may not be as durable, but they are unique. The green tones and different variations can provide a lovely and more boho alternative to other gemstones, like emeralds.
Yellow-green to deep Everest green provide a unique yellow-green luminescence, and they can range from transparent to opaque. It is not uncommon to see a variety of gradients within one gemstone.
How do I select a Moldavite necklace?
To select a Moldavite necklace, you'll want to be mindful of what you plan to use it for, as well as the role that both cut and inclusion play in your purchase. Always buy from a seller with some history of sales or ratings. While it's true you can buy Moldavite necklaces off of eBay, I don't recommend buying from eBay.
Inclusions
Inclusions refer to imperfections in natural stones. Moldavite most commonly has bubble inclusions. Bubbles will create a disruption in a smooth texture, but where the bubbles make a difference.
Bubbles on the pavilion side have little impact on value, but crown side bubbles devalue the gem and cause potential problems. Some inclusions are to be expected, but you don't want Moldavite to be filled with inclusions to the degree it degrades the stone's value or causes issues for the cut.
Cut
Cut, of course, is always important to consider, as poorly cut Moldavite will greatly reduce the luster, polish and overall value. You can buy it faceted, cabbed, and carved. Faceted will provide the best luster, and is ideal for elegance and formal occasions. It also reduces some inclusions and is considered desirable.
That said, there is a certain attraction to raw Moldavite. While less polished and more filled with inclusions, it's seen as a more unique and boho style for casual wear– the focus here is on texture, but you do sacrifice luster.
How can I tell if my Moldavite is real?
Another issue when buying Moldavite necklaces is making sure you understand if you're buying natural vs fake Moldavite. One tell tale sign is actually the lack of inclusions. If the Moldavite is faceted or raw and is clear and glass-like, chances are it is a fake. A few bubbles is actually a good sign of authenticity. You can also see how it's been labeled by the seller.
Where do I buy Moldavite necklaces?
You can buy Moldavite necklaces mostly online, and from a few sources. The bulk of Moldavite necklaces come from independent sellers on Etsy, as well as a company dedicated to Moldavite, and other sellers, such as third-party sites.
To guide you through and give you some ideas, I'll give you my picks for faceted, beaded, and raw necklaces.
Faceted Moldavite Pendant Necklaces
Faceted Moldavite is a beautiful option for pendant necklaces. This more formal and elegant option is better suited for special occasions. You'll still benefit from the unique style, but get the most luster you can out of this unique gemstone. Some inclusions are natural. Precious metals are often paired with faceted Moldavite.
Genuine Faceted Moldavite Necklace- ritual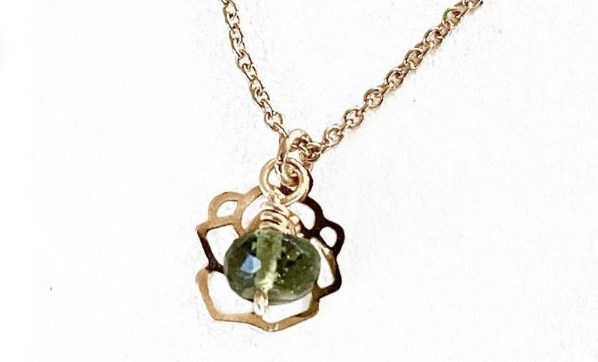 This handmade and bestselling faceted Moldavite necklace is elegant, with a 16-inch chain length that can be adjusted to 18 inches. Stainless steel with a gold finish provides a durable option, with a minimalist design that feels effortless. The faceting provides luster with a depth of hue, from a lighter green to deep olive. 
Genuine Czech Faceted Moldavite Necklace- Moldavite Family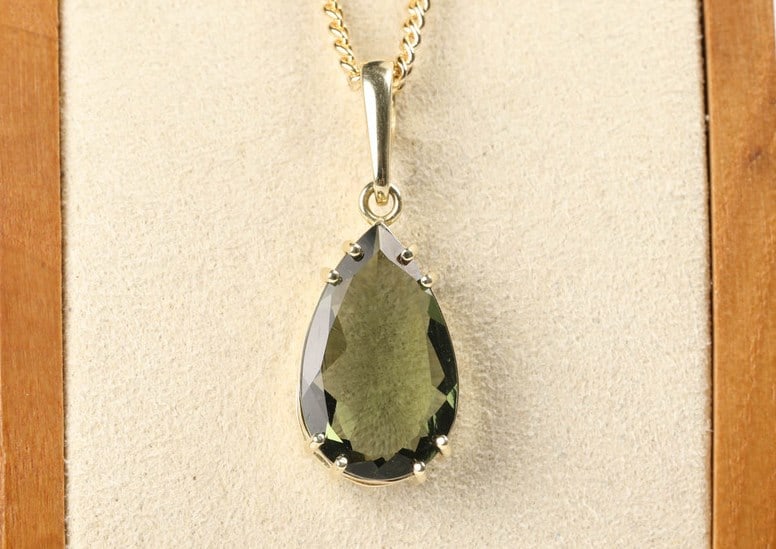 If you're looking for a truly beautiful option, consider this faceted Moldavite stone on a 14K gold pendant. The lush green of the Moldavite is perfectly complemented by the rich golden hue. A minimalist design would look at home with any fine gold chain.
Faceted Moldavite Pendant with Sterling Silver- Moldavite Jewelry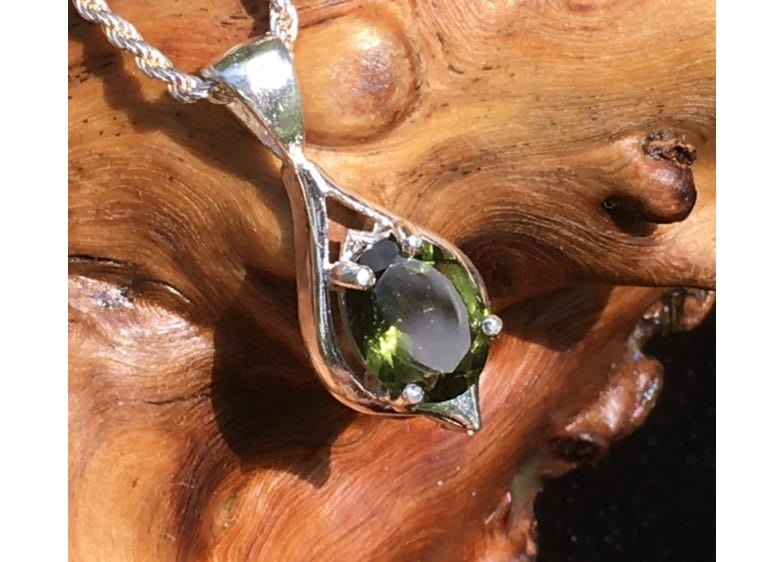 This Moldavite necklace is priced under $200 and complemented by 925 sterling silver. Set on a teardrop-shaped pendant, there's a sleek elegance that's timeless and luster from the handcrafted cut. This necklace also comes with a certificate of authenticity. Buy Here.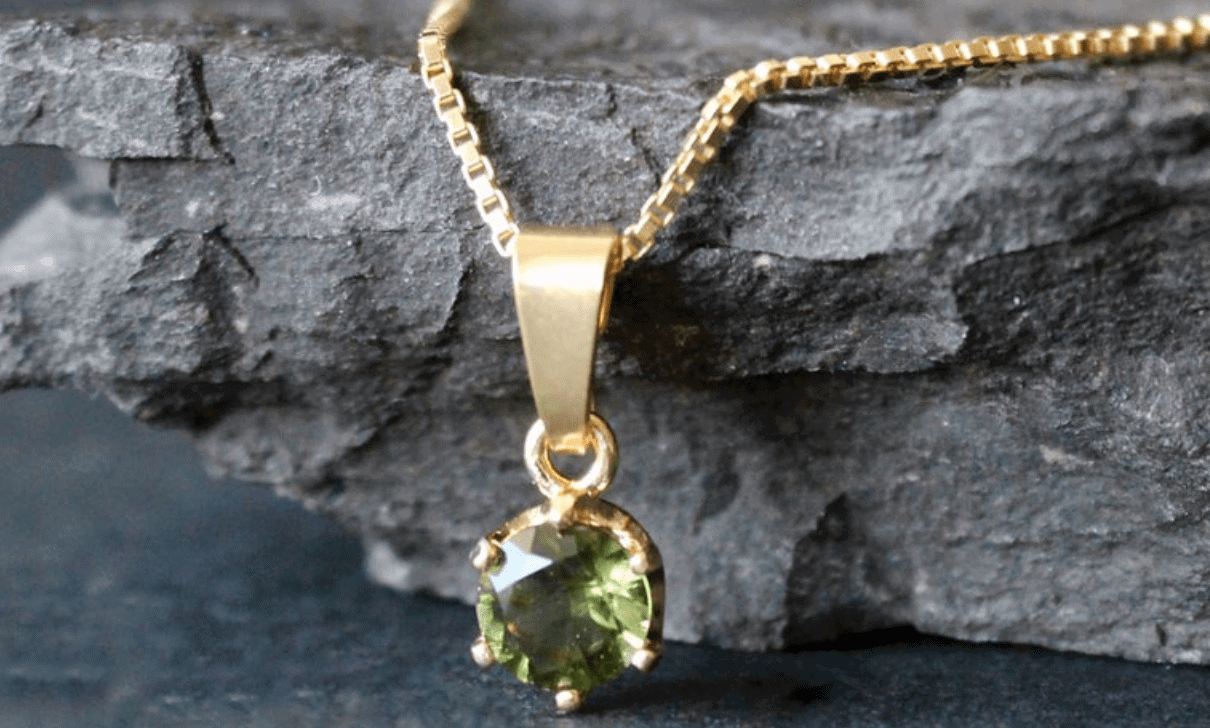 Handmade, with a modern and minimalist design, you'll have your choice of custom order to make your ideal Moldavite necklace. For a pendant, choose from sterling silver, 18K or 24K gold plating, rose gold plating, or platinum plating. You'll also have an option from a variety of chain lengths. Buy Here.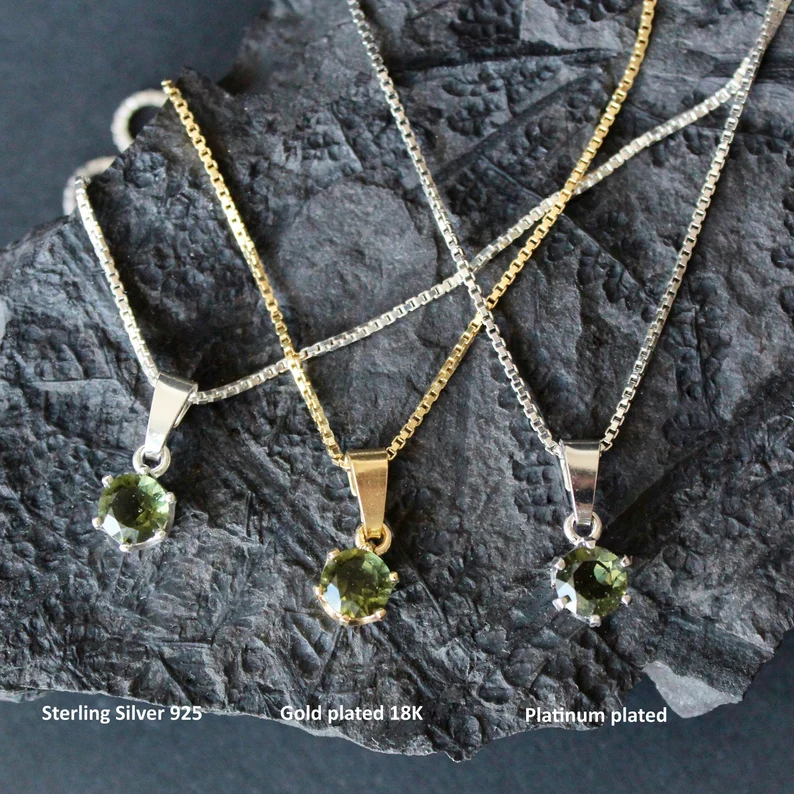 Real Moldavite Pendant | Etsy
Genuine moldavite pendant 6 mm rounds stone. 925 sterling silver real moldavite pendant. Gold plated is a sterling silver 925 coated with gold 18K.
Check Price
We earn a commission if you make a purchase, at no additional cost to you.

North Star Bright Blessings Moldavite Faceted Necklace- Satin Crystals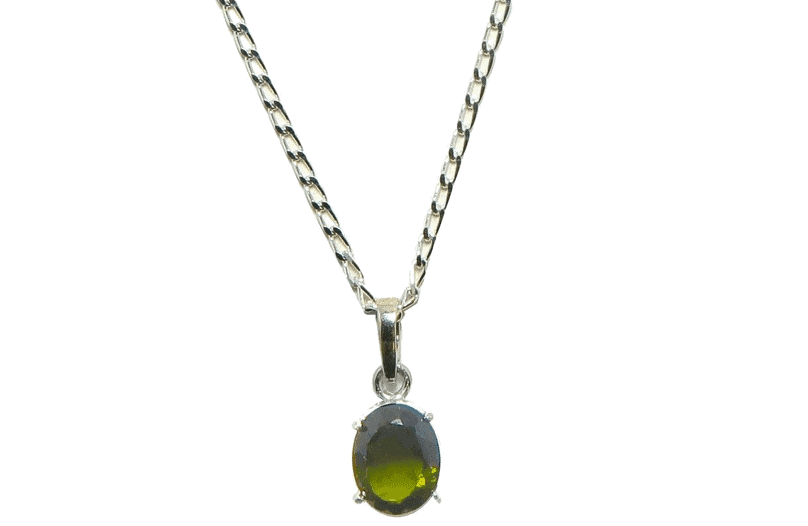 Priced at under $150, this faceted Moldavite necklace is modern and understated, allowing the gem to shine for itself. A deep green gemstone is shaped into an oval and set on a sterling silver chain. Buy Here.
Simple Sterling Silver Faceted Moldavite Pendant Necklace- Moldavite Family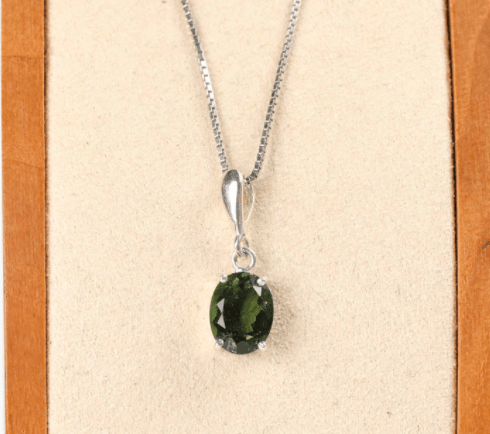 If you're looking for an option under $100, consider this faceted Moldavite necklace. A classic cut and oval shape is accompanied by a delicate sterling silver pendant. You must buy the chain separately. 
Square Pendant with Faceted Moldavite- Moldavite Family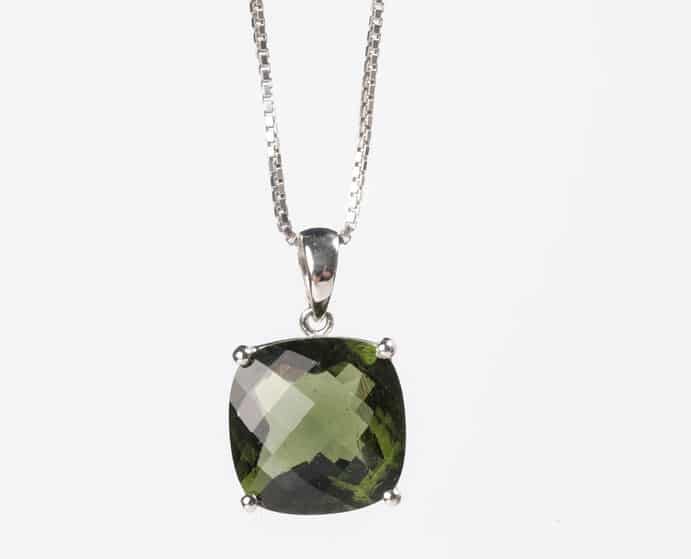 The square shape really showcases the unique hue of Moldavite. Deep forest green on the edges to medium green at the center, there's a minimalist but bold statement to this necklace.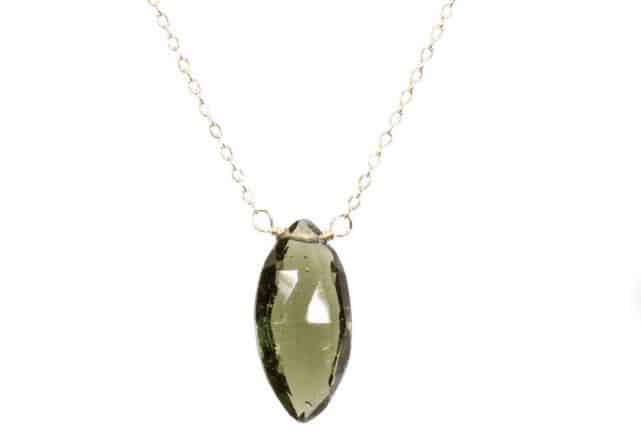 This pear-shaped Moldavite necklace has a natural beauty and elegance. While a polished feel still gives off luster, there's depth to the deeper to paler green tones. It comes on a 14k gold-filled chain. Buy Here.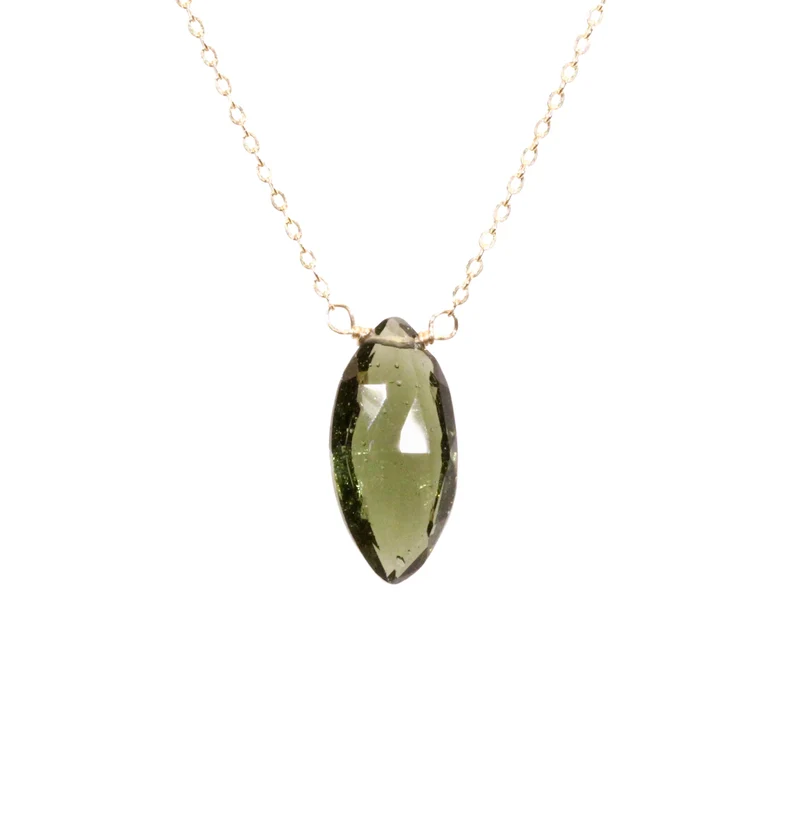 Pear Shaped Faceted Moldavite Necklace | Etsy
These genuine moldavite beauties are from the Czech Republic! A real, A-grade, faceted moldavite hangs from a high shine 14k gold filled or sterling silver chain in the length of your choice!
Check Price
We earn a commission if you make a purchase, at no additional cost to you.

Moldavite Bead Necklaces
Bead necklaces are perfect for Moldavite. In some ways, you may be less likely to damage Moldavite in this form, and the hue and culture surrounding Moldavite both make for a natural pairing for beaded necklaces. Pair with anything you like, from jeans to flowing skirts or dresses.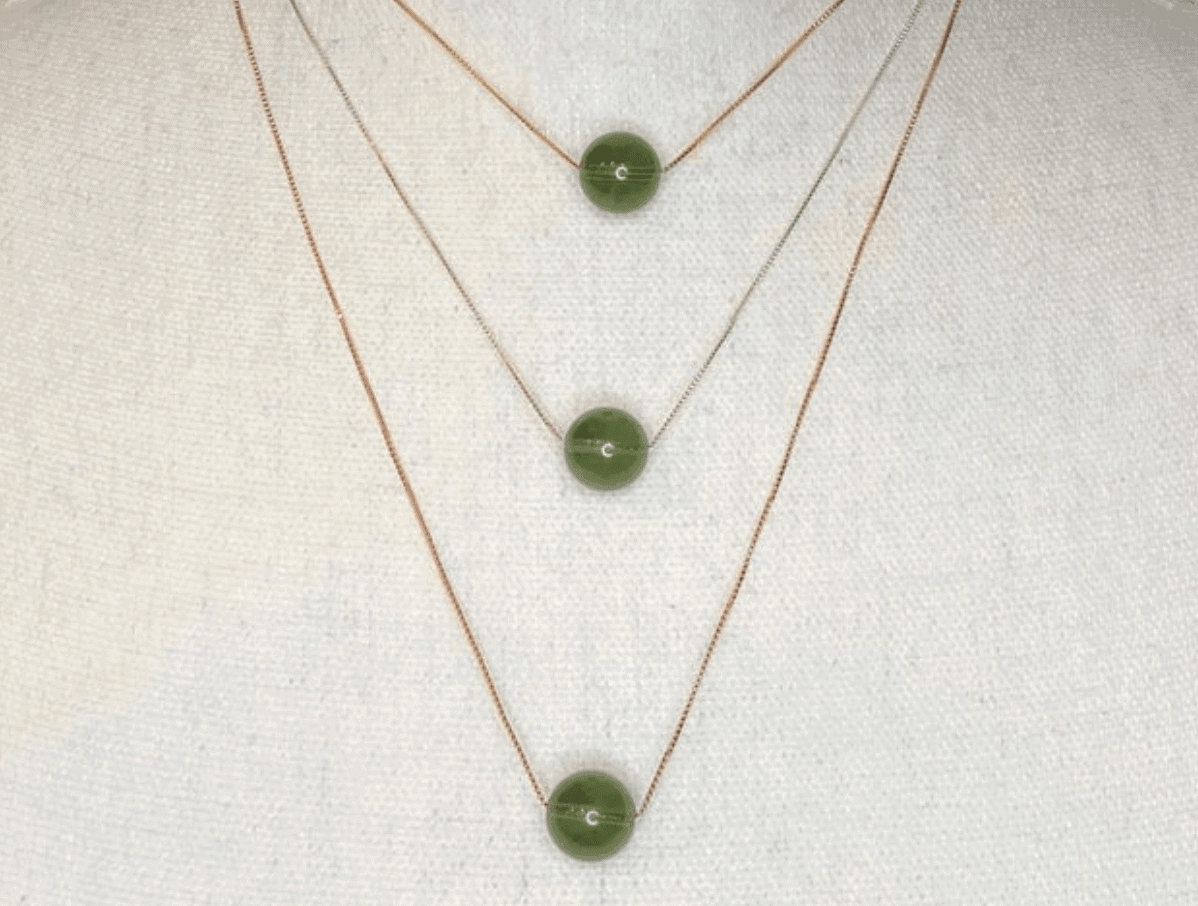 If you like the idea of a bead accent, but not a fully beaded necklace, this option may be a great idea for you. Straddling classic, casual and elegant, this crystal bead Moldavite necklace is handmade and available on a rose gold or silver slide chain. Buy Here.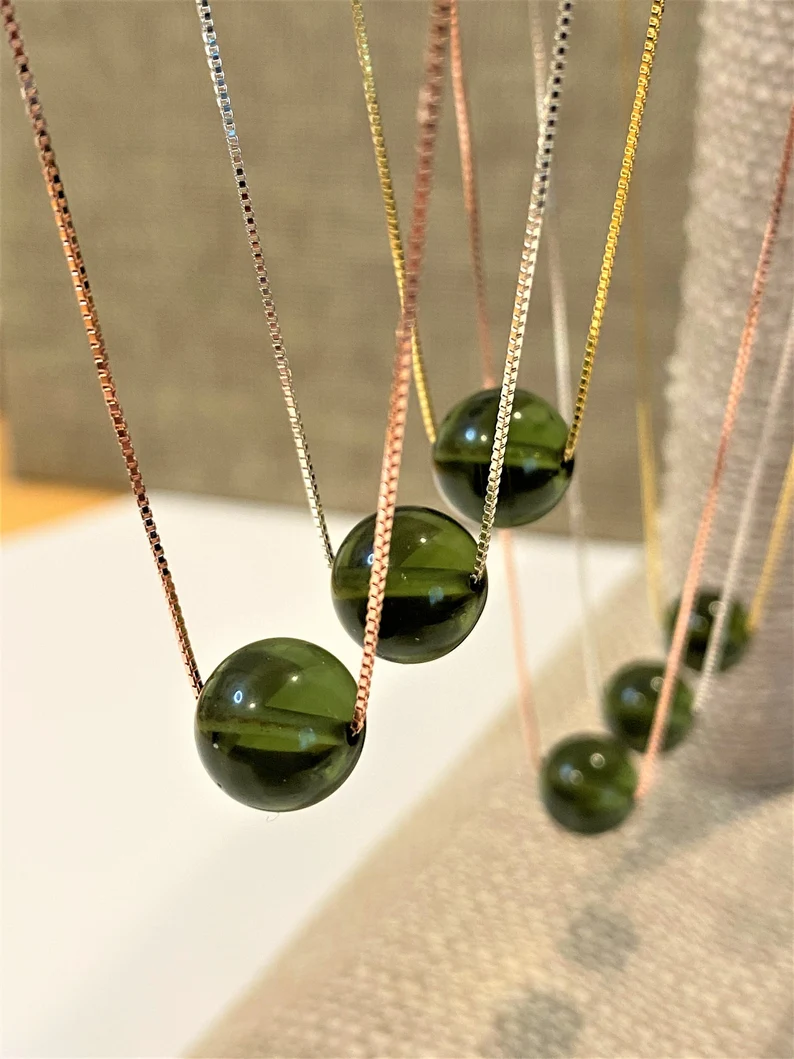 Real Moldavite Pendant Crystal Bead Necklace | Etsy
A genuine Moldavite bead necklace is thought to promote emotional and spiritual healing. Sterling Silver slide chain adjusts to allow this gorgeous stone to be worn over the throat or heart chakra. A perfect fit for every person!
Check Price
We earn a commission if you make a purchase, at no additional cost to you.

Olive Green Czech Beaded Gemstone Necklace- Best Beads Beyond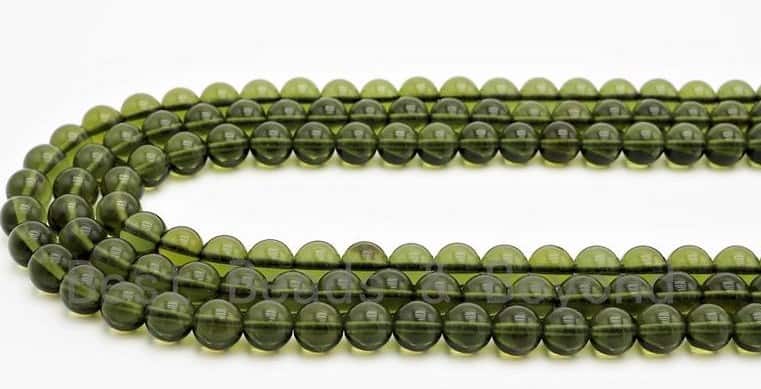 Glossy olive green beads make for a beautiful and lively idea. Available in 4 bead sizes, these strands feature round, smooth beads with a length of 15 to 16 inches. 
Moldavite Beaded Faceted Necklace- Satin Crystals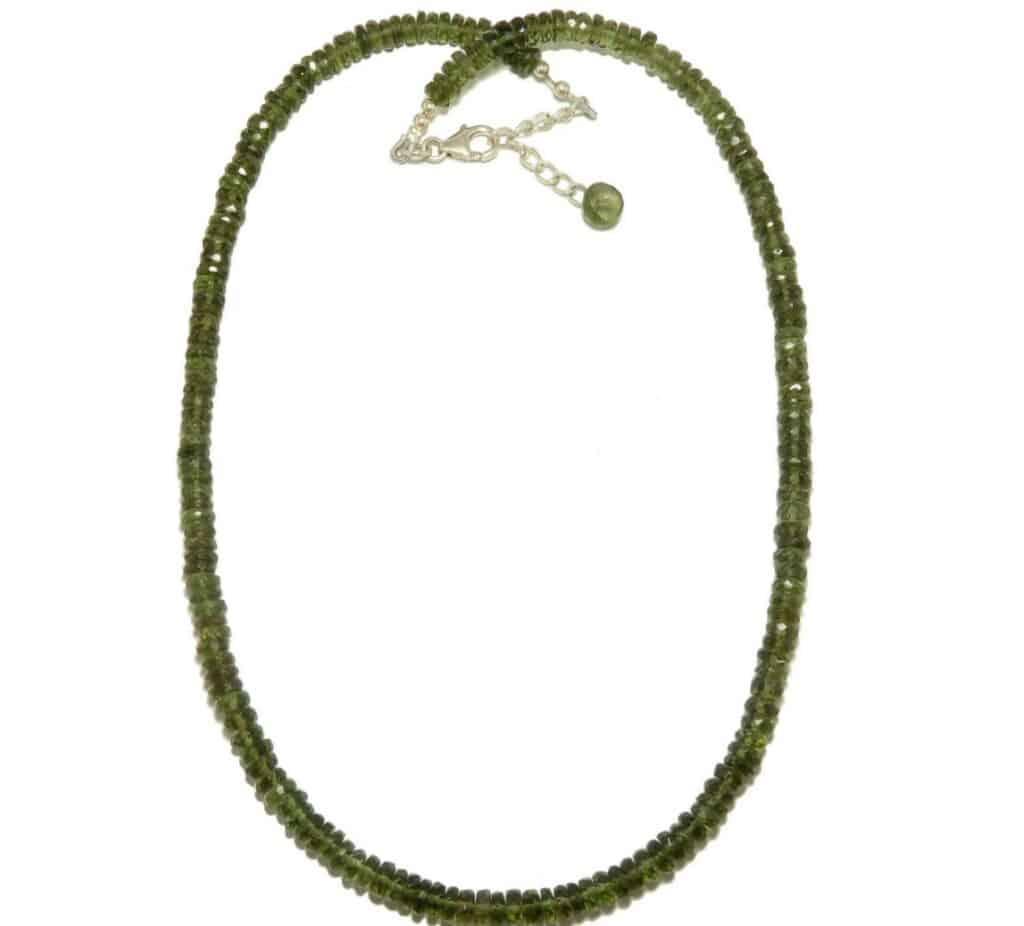 Love the luster of faceted Moldavite but want more of a beaded feel? This necklace pairs both for a truly special idea. Translucent, deep green beads are faceted to catch the light and plated with sterling silver and a lobster clasp. Buy Here.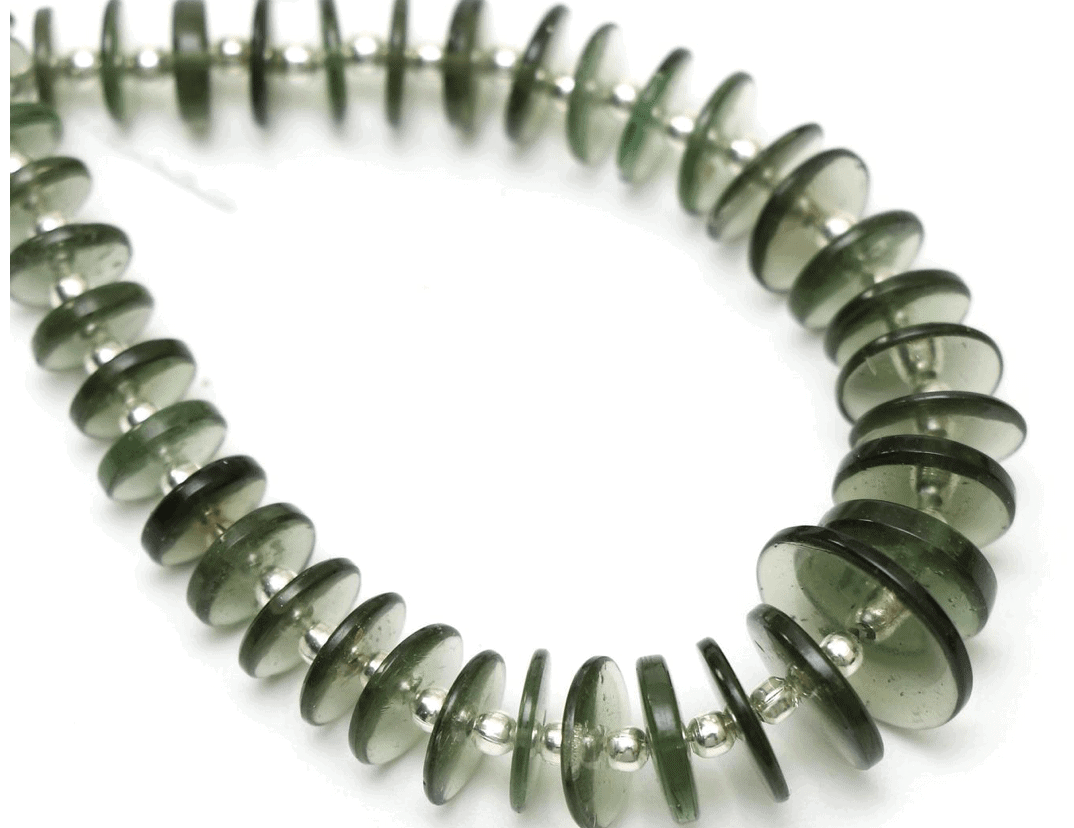 These smooth, tire-style Moldavite beads make this idea a standout. No special treatments have been applied to the natural Moldavite. The medium to deeper green tones and shape adds texture and structure to any outfit. Buy Here.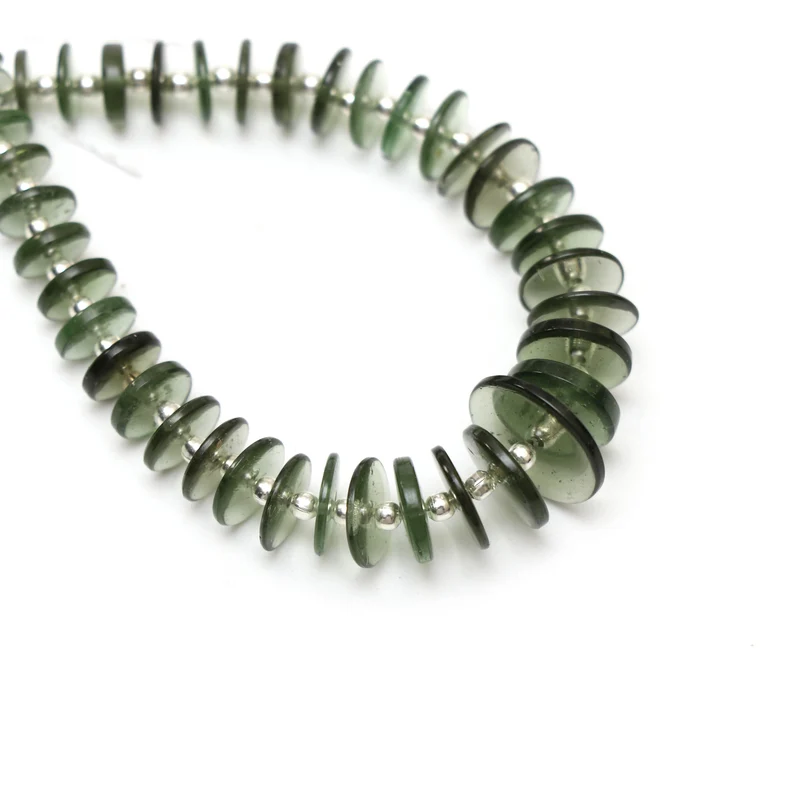 Raw Moldavite Necklaces
If you don't like the polished look of beaded necklaces or the elegant luster of faceted stones, you may want to consider a unique option: raw Moldavite necklaces. Raw Moldavite provides an alternative, boho, and earthy edges to an outfit. In many ways, this form stands out the most– and really ties to the Moldavite reputation as a healing crystal.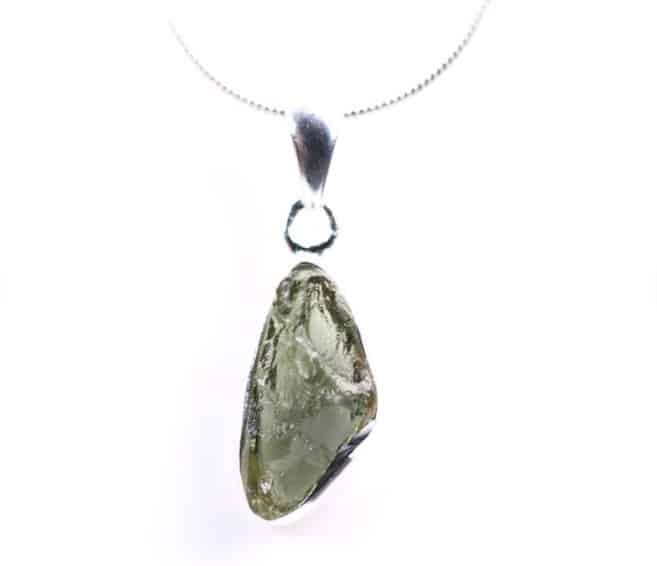 From a company that specializes in 925 sterling silver, this Moldavite pendant would pair well with a fine sterling silver chain. The raw look has just a bit of mid-century style to it– a compromise between fully polished and rugged. This is a deeper, light seaweed green with olive undertones. Buy Here.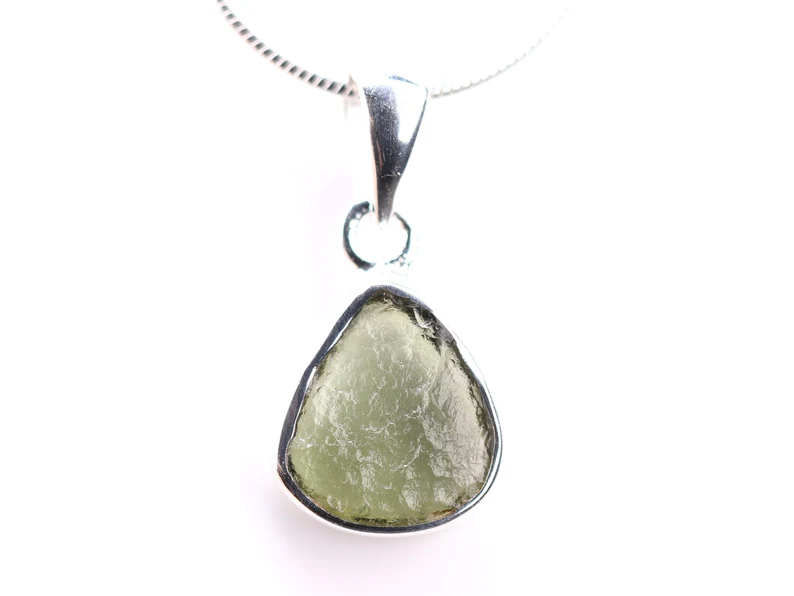 Unique Raw Sterling Silver Moldavite Necklace- Elizi Jewels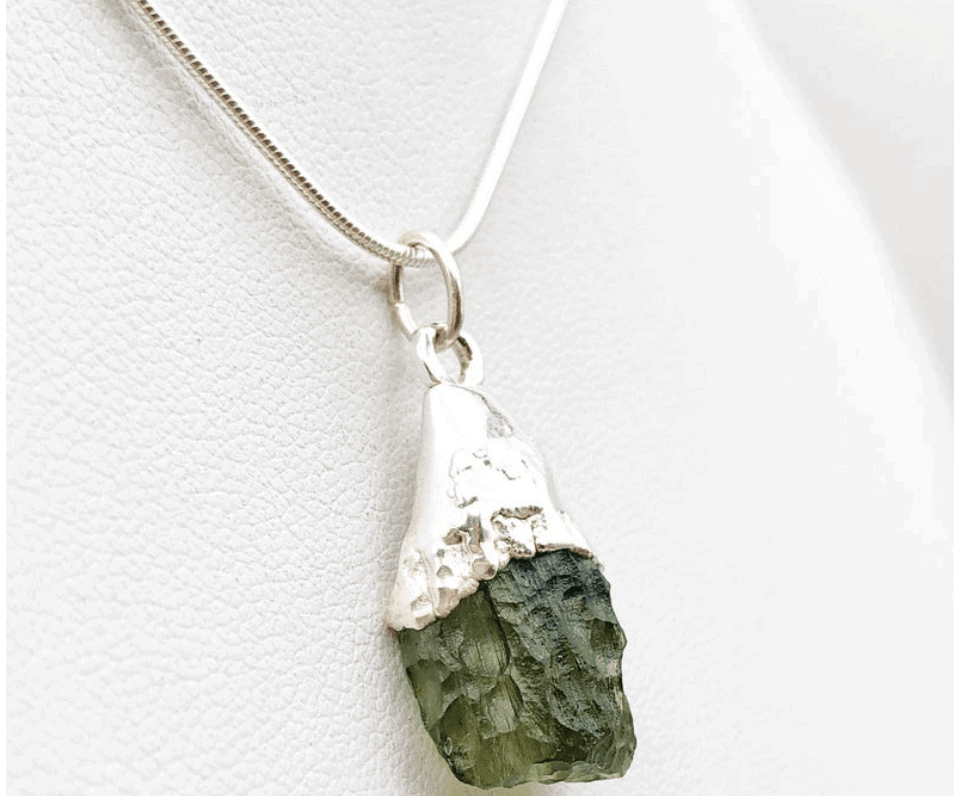 A post-modern look fully embraces the raw Moldavite stone. Handmade in East Sussex, there is something eclectic and truly unique about this option. The raw nugget is even sourced by the creator, then carefully crafted.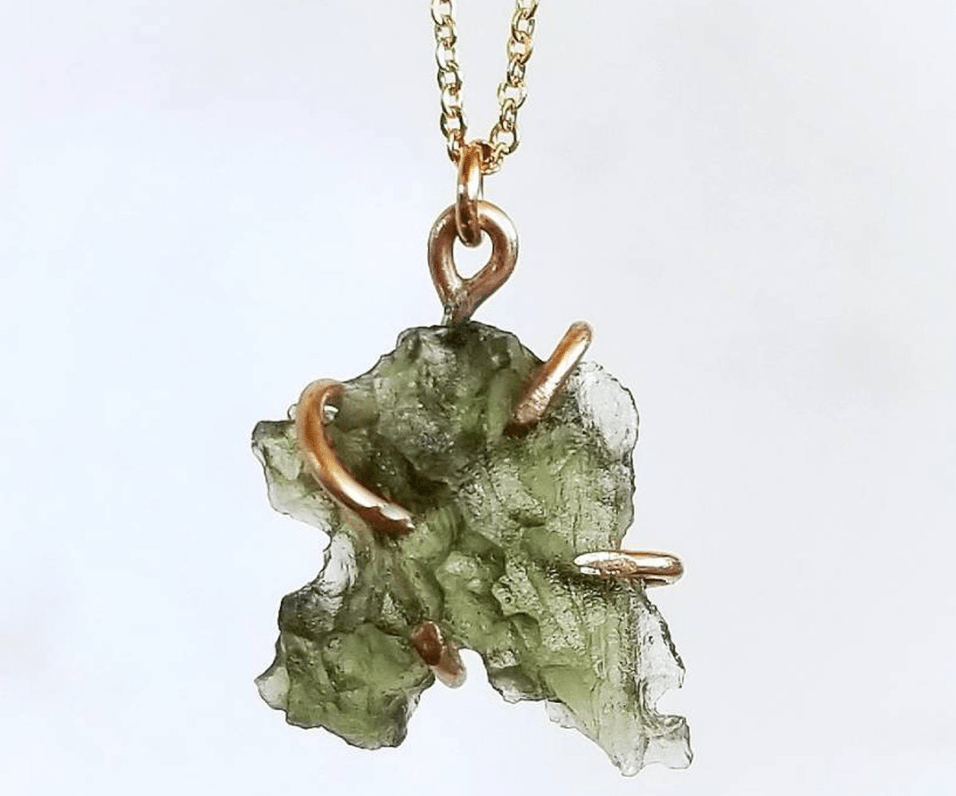 This raw Moldavite necklace features a unique shape with an artistic prong setting that feels different than about any other pendant necklace you've likely seen. The best selling item is handmade, with 14K gold filled sterling silver and a cable chain. Buy Here.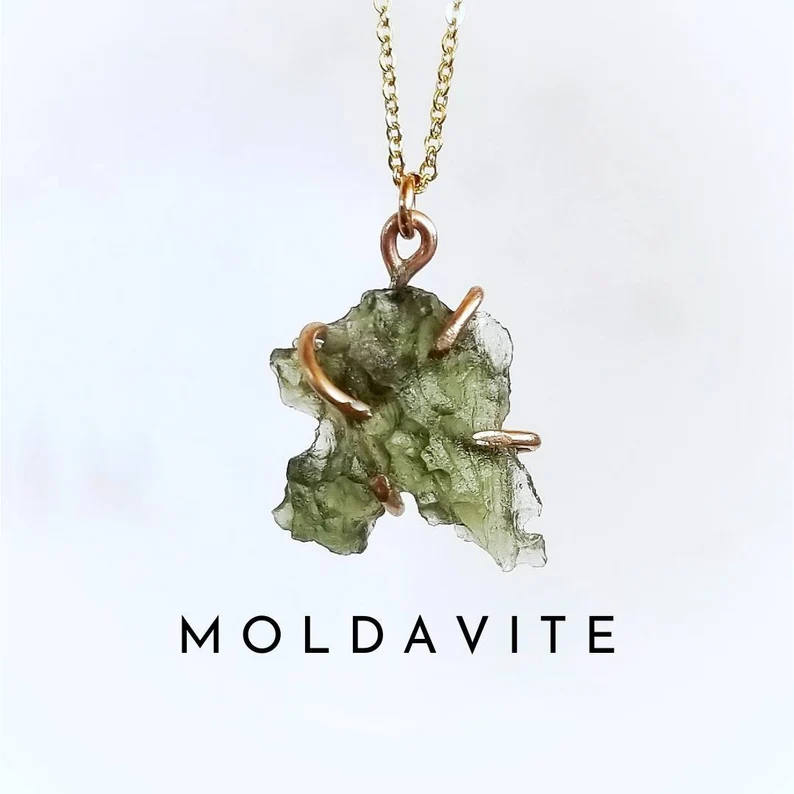 Raw Moldavite Necklace | Etsy
This ethereal olive green glass stone was formed from force & flame after colliding with the earth. It is claimed to even have extraterrestrial energies! Each unique piece is formed, filed, and set in a 14k gold filled or 925 sterling silver handcrafted prong.
Check Price
We earn a commission if you make a purchase, at no additional cost to you.

Raw Moldavite Pendant with Herkimer Diamonds- Moldavite Family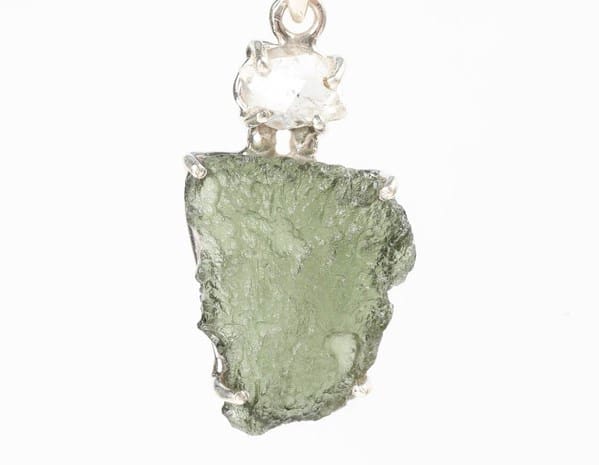 A raw Moldavite stone is accented with small diamonds for a unique twist on a Moldavite necklace. The pendant is made from sterling silver and would be suited with a delicate, high-quality chain.
Raw Moldavite Necklace in Pure Copper- Crystal Spells Studio
A pure copper chain and copper wiring wrap around a raw Moldavite stone. The look is modern, minimalist, and has a touch of elegance. The warm tone complements the deep green for a versatile stand-out look. 
Natural Raw Moldavite, Herkimer Diamond Campo Del Cielo- Yoga Crystals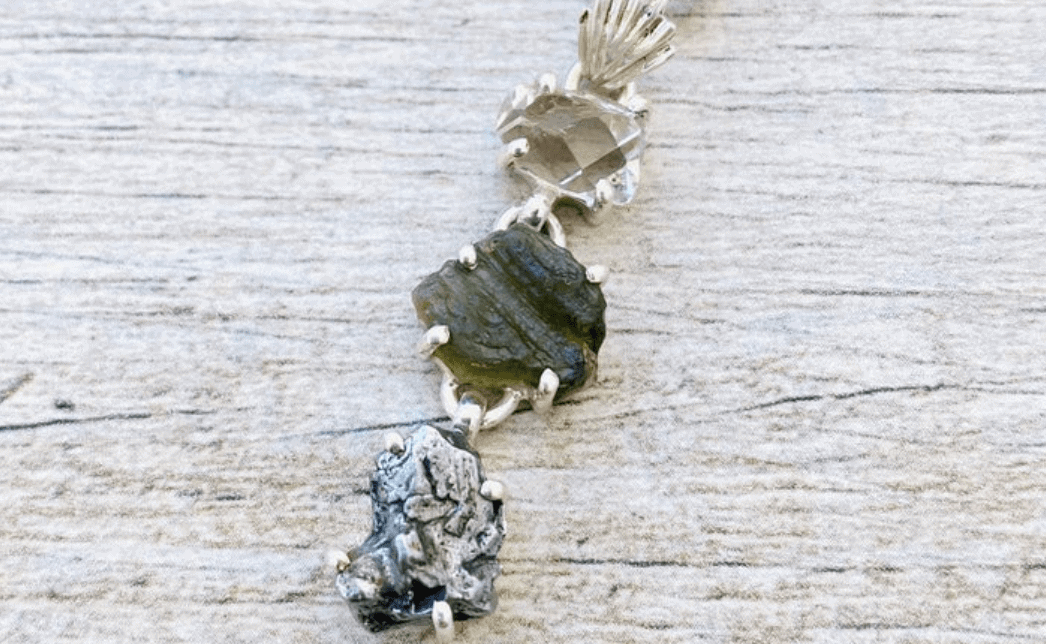 Perhaps the most eye-catching idea on this list, this unique necklace features a Moldavite and a diamond with an eclectic but also elegant style. It's complemented with a 925 sterling silver chain of 16 inches, 18 inches, 20 inches, 22 inches, or 24 inches. 
Frequently Asked Questions
Question: What happens when you wear Moldavite?
Answer: Some associate Moldavite with positive energy flow, and as a way to connect with oneself on a deeper and spiritual level. For others, Moldavite is a unique option for a green gemstone.
Question: Is my Moldavite real?
Answer: One issue some run into is distinguishing between fake and real Moldavite. There are a few factors to keep in mind. For one, if you're buying Moldavite and it was supposedly sourced outside the Czech Republic, that's not the best sign. For another, if you buy faceted Moldavite and it has no bubbles or inclusions at all, chances are it may be a stimulant.
Question: How many Moldavites are there in the world?
Answer: There are an estimated 275 tons of Moldavite in the world. It's considered fairly rare, which explains its higher price point.
Final Thoughts
From yellow-green to olive greens, Moldavite is truly a unique option for necklaces. Its association with healing but also its raw beauty make it quite possible that this small but perhaps growing trend is here to stay. You might get interested in other unique necklaces like evil eye necklace, shark tooth necklace and sunflower necklace.