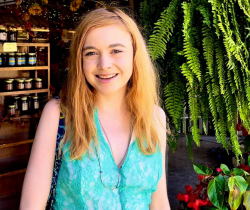 Latest posts by Erin Jamieson
(see all)
A classic, metallic shine, polished look, and affordable price tag are just a few reasons while silver necklaces remain a favorite accessory in 2022. And now there are more ideas and inspiration than ever, from glam diamond silver necklaces to personalized pendants. 
Personalized necklaces, lightweight materials, and modern but timeless designs are being seen more and more. And silver remains a popular option for consumers, but even amongst celebrities and social media influencers. 
Justin Bieber highlighted the popularity of silver necklaces for both men and women by wearing summer-camp-inspired accessories. English supermodel and singer Dua Lipa has been known to pair sterling silver necklaces with glamorous, statement pieces. 
In industry news, more brands are entering the market for modern sterling silver necklaces and accessories, too. That includes Accents by Infinity Jewelry, which emphasizes minimalist but personal looks. Offering a wide selection of sterling silver, it's clear that Accents by Infinity is just one of many companies that know about how eager people still are for the precious metal.
But are silver necklaces the best option for you? And how do you find a great silver necklace in 2022? I'll answer these questions, and give you some of my favorite ideas for silver necklaces that you can buy online. 
Is a silver necklace right for me? 
Silver necklaces offer a lightweight, cool look that is perfectly suited for modern and classic styles alike. That said, there are certainly pros and cons to silver necklaces. Before you buy, consider if the style matches what you're looking for. Even more importantly, read down to see what type of silver is the best option for a necklace.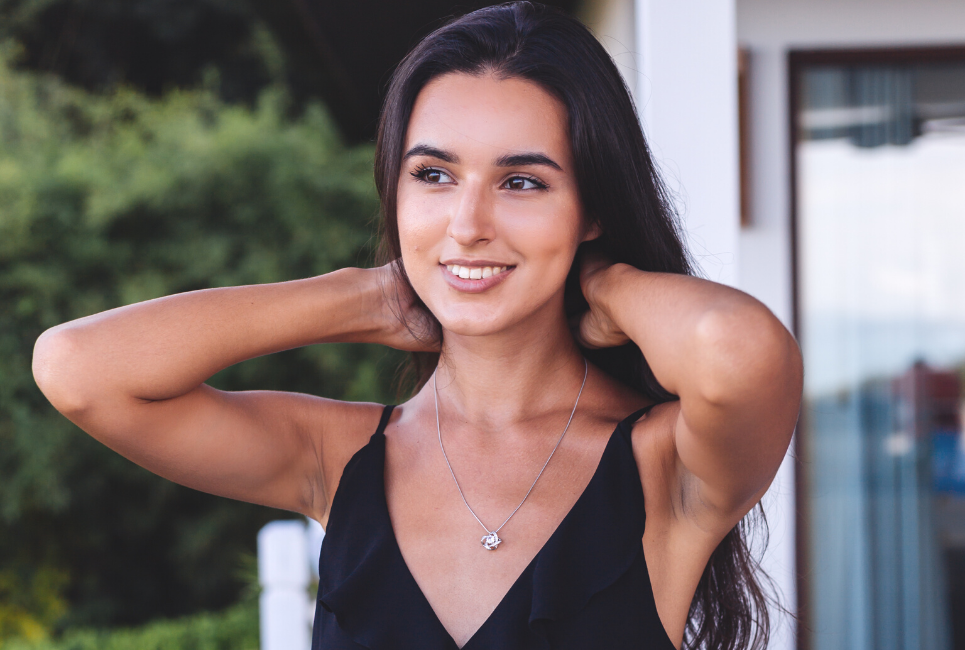 Are silver necklaces in style?
Silver necklaces are not only in style but remain popular and likely will so– especially as the demand for platinum necklaces has actually decreased. Silver necklaces tend to be versatile, aesthetically pleasing, and, depending on the style, can go from casual to formal. 
What does a silver necklace go with?
It's hard to go wrong with silver. Silver necklaces always look excellent against black and navy blue. Another way to think about how to style a silver necklace is to look at it as a complementary accent. For this reason, you can make a silver necklace pop against bold purples, reds, and even greens. 
White and yellows, as well as pastels, don't work quite as well. This is because the silver tends to blend in more. Of course, silver is classically used in bridal, but in everyday wear, a silver necklace will make more of a statement against dark or bold colors. The upside is that silver doesn't particularly clash with anything. 
Does my skin look better with gold or silver? 
Some also worry about matching their complexion with silver or gold hues. Cooler skin tones tend to look best with silver, and warmer skin tones with gold. This is actually along with the same reasoning as selecting a hair color. You can tell if you have a cool skin tone if your veins are mostly blue. If they're mostly green, you likely have a warmer skin tone. Some people have bluish-green veins and have what is considered a neutral skin tone.
However, even if you have a warm skin tone, there really is nothing wrong with wearing silver. You can even put a modern twist by mixing and matching gold and silver tones. When done correctly, it can be an interesting fashion statement. 
Which is better: silver white gold or platinum?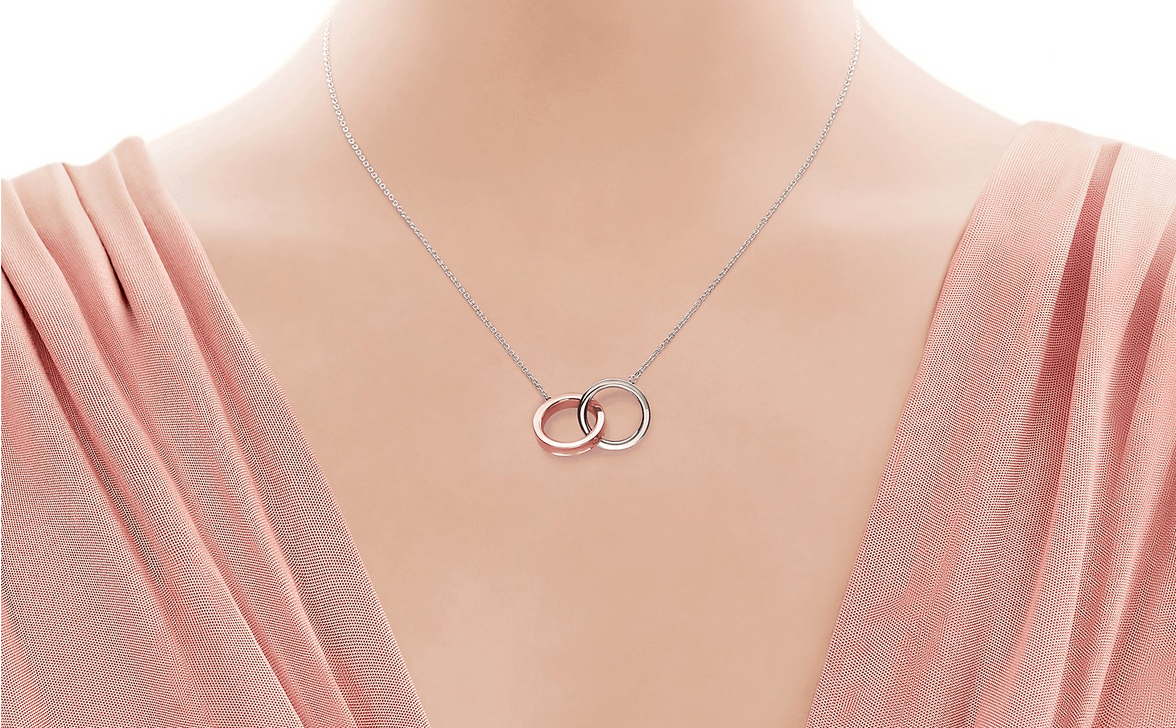 If you love the silver-tone, you actually do have two other obvious alternatives: white gold or platinum. When you first buy a necklace, all will have a similar cool hue, but there are some distinct pros and cons for each metal type. 
What are the pros and cons of silver?
Silver is the most affordable of the three options. It's also lightweight, classic, and you'll have a wide variety of styles, including more casual options to choose from. Even some luxury brands, including Tiffany & CO, offer silver necklaces and accessories. The initial luster is beautiful and high-quality silver can be a suitable option for everyday wear.
On the other hand, all silver necklaces can tarnish and scratch, so you have to clean them and maintain them more than some other metals. Low-quality silver can cause skin irritation. As a whole, even the finest quality silver necklaces will be less valuable than gold or platinum jewelry. 
What are the pros and cons of white gold?
White gold is a beautiful option, commonly used in fine jewelry. Unlike sterling silver, high-quality white gold does not tend to fas as much, nor should it tarnish. The higher carat white golds are softer (and more prone to scratches) but also more valuable. Typically, 14K to 18K is a solid option for everyday use or even fine jewelry options. Of course, white gold is far more expensive than silver necklaces. 
What are the pros and cons of platinum? 
Platinum is one of the rarest metals in the world– which in part explains why platinum necklaces are remarkably more expensive than both silver and gold necklaces. While platinum can scratch, the white-silver finish tends to hide everyday wear more. Unlike other metals, platinum is also nickel-free, meaning it's a solid option for anyone with a nickel allergy. Of course, you may not be able to afford platinum necklaces– nor truly need them. You'll also have less selection. 
Which silver is best for a necklace?
If you're sold on silver, then you must pay attention to what kind of silver you're buying/ Not all silver necklaces are equal, and there are several differences between pure silver, sterling silver, and plated silver necklaces. 
What is the highest quality silver?
999 silver is considered the highest value silver. 999 silver is almost pure (99.9 percent) though it is not used nearly as much as other forms of silver. In fact, your selection will be pretty limited for 999 silver necklaces.
While it is the most valuable silver, it isn't the best option for everyone. Like gold, the higher the purity, the softer the metal is– meaning that 999 silver is vulnerable to scratches. It's also quite pricey. However, it does not tarnish easily as other silver, and it's also much more allergy-friendly than sterling silver and plated silver.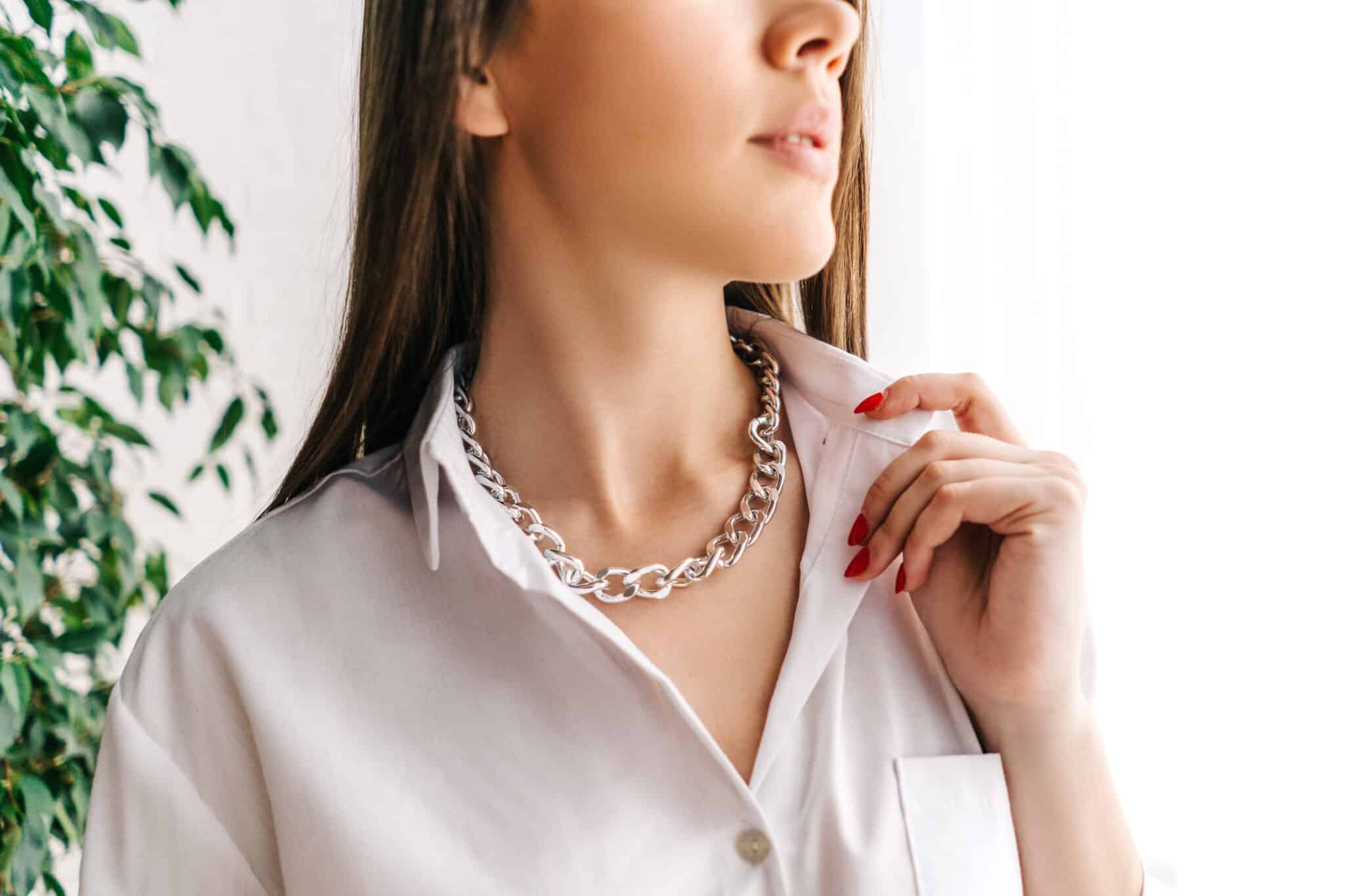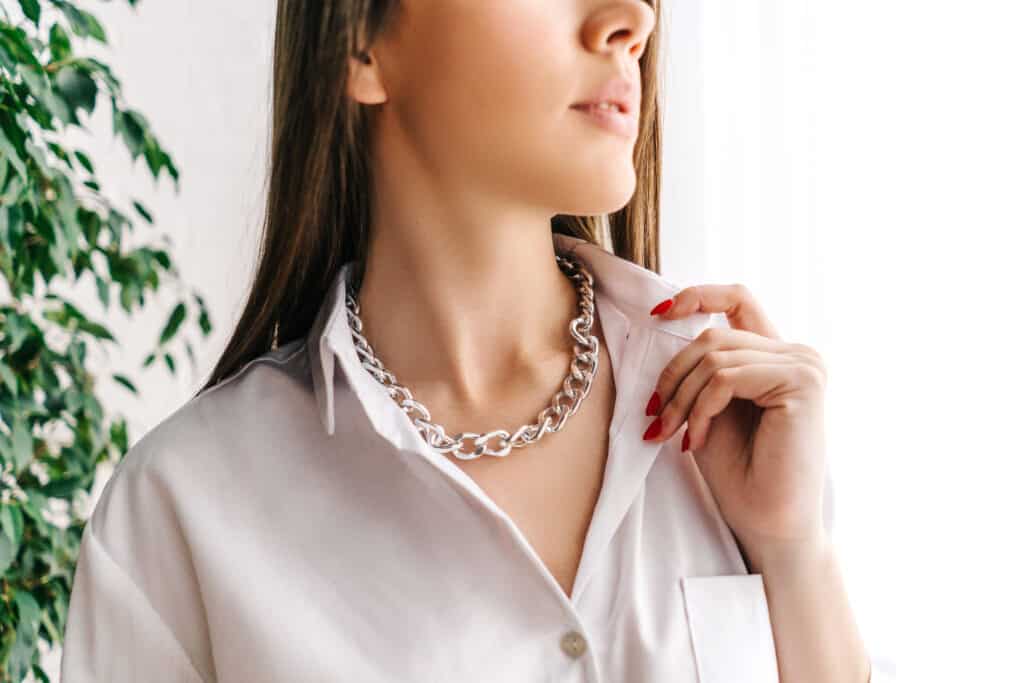 Is sterling silver better than 925?
925 is actually an indicator of sterling silver, indicating that that silver has a 92.5 percent purity of real silver. The issue with the general term sterling silver is that it may vary in terms of silver purity. There's nothing wrong with silver that's a bit lower in purity– it may scratch less easily– but it is less valuable, so it's just good to understand what you're purchasing. 
For the average person, genuine sterling silver will be the best middle-ground option for necklaces. You'll still have luster, but it's more affordable and a little less easy to scratch than 999 silver. 
Is plated silver worth anything?
The most affordable option for a silver necklace is one I can't readily recommend: plated silver. Plated silver does not hold its value, and it also is not durable. Plated silver necklaces usually have a cheap base metal, with a thin layer of pounded silver over the chain. While this has the same shine and luster initially, the problem is that plating can easily peel off. While there's nothing wrong with buying a plated silver necklace for a cheap option for a single occasion or two, you generally are not going to get as much of your money's worth out of this option. 
Silver Necklaces: My Ideas
Now I'll provide my top ideas for silver necklaces in 2022. Rather than showcasing individual picks as much, I decided to highlight my favorite collections and a few examples from each collection. All of these necklaces are offered at a fair price, have a thoughtful style, and are made with quality materials. I've focused on sterling silver necklaces, but will also include a few picks for 999 silver necklaces. 
Sterling Silver Necklaces
High-quality sterling silver necklaces are one of your best options if you love silver. While even 925 sterling silver necklaces can tarnish, the good news is, with proper care, you can still get a good deal of use out of a sterling silver necklace. You can also clean tarnish off silver so long as you don't let it settle for a long time. For my picks, I've selected two fine jewelers as well as one well-known luxury brand. All of these collections offer exquisite quality and beautiful, modern designs. 
Tiffany & Co Sterling Silver Necklaces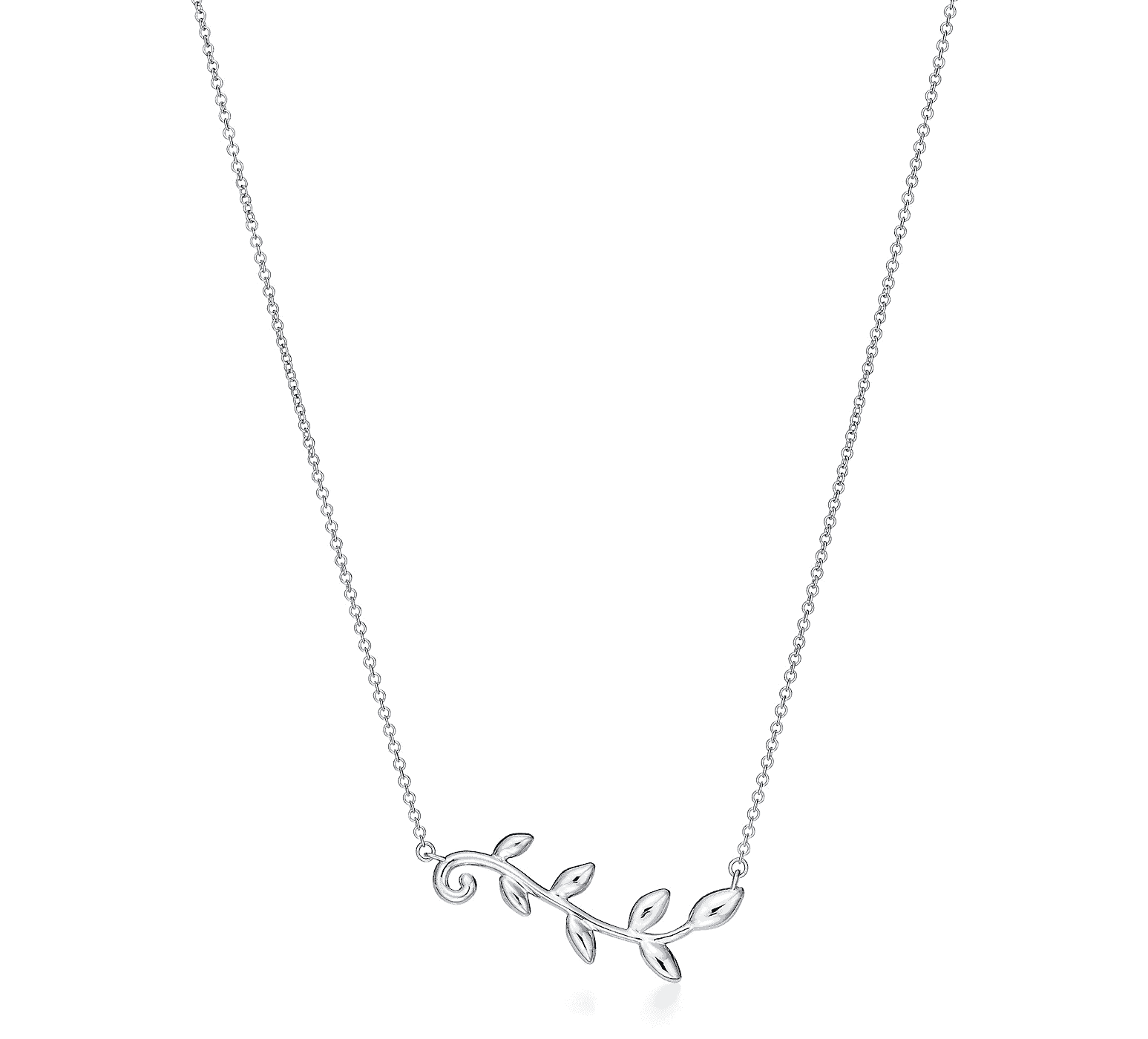 Tiffany & Co is one of the best-known luxury brands, and especially known for their sterling silver pieces. Their necklace collection ranges from $175 to $5,000– so it's far from cheap. But there's something undeniably timeless about their pieces. Their lower-priced necklaces lean minimalist and modern, while their higher-priced necklaces add old-world glamour. But no matter your budget, you can expect high polished shine and beautiful craftsmanship. Shop All Tiffany silver necklaces here. 
Tiffany & Co – Budget-Friendly Picks
Have less than $200 to spend? Some of my favorite Tiffany and Co sterling silver necklaces are below that price, and highly versatile– meaning you'll get a lot of use out of them. These include a double-heart tag pendant, a modern, asymmetrical open heart pendant necklace, and an understated olive leaf pendant necklace.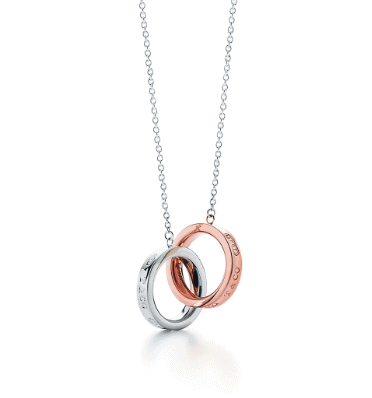 Have a bigger budget? The interlocking circle's pendant pairs polished sterling silver with a rosy metal hue for a balance of cool and warm tones and a geometric, modern look for $450. This classic pearl necklace is not their most expensive but exudes modern elegance with an old-glamour touch for under $700. Meanwhile, this pearl tassel necklace is whimsical, pairing the iconic olive leaf and pearl designs for $1,500.   
Brilliant Earth Sterling Silver Necklaces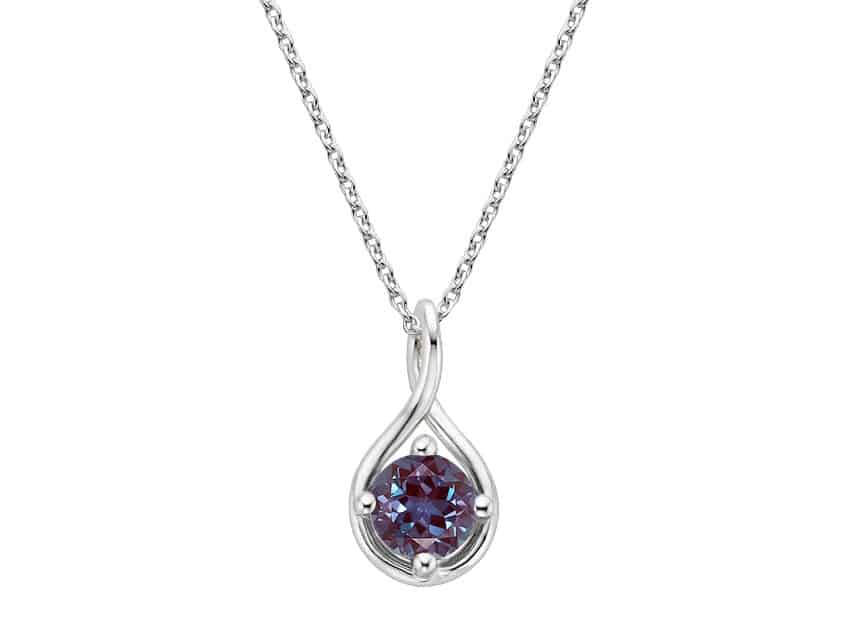 Brilliant Earth is known for its quality materials. All their materials, including gemstones and diamonds, and ethically and sustainably sourced. Their products are even used to support local community development, and you can also expect high-quality shine. They don't follow trends so much as offer beautiful classic and modern classic necklaces. If you do have a higher budget, I also recommend taking a look at their white gold and platinum options. Their collection is priced from $95 to $590. Shop all Brilliant Earth Sterling Silver Necklaces Here. 
Brilliant Earth –
Budget-Friendly Picks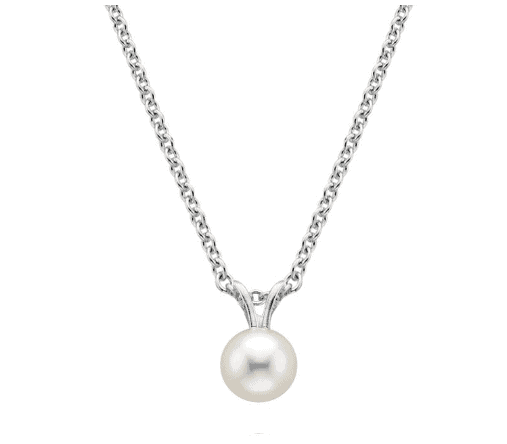 Many of their bestselling sterling silver necklaces are priced fairly. And you can find some great choices at or under $150. This silver blue topaz twist necklace pairs icy polished silver with a genuine gemstone. A cultured pearl necklace and strand diamond necklace add a touch of elegance, each for $150.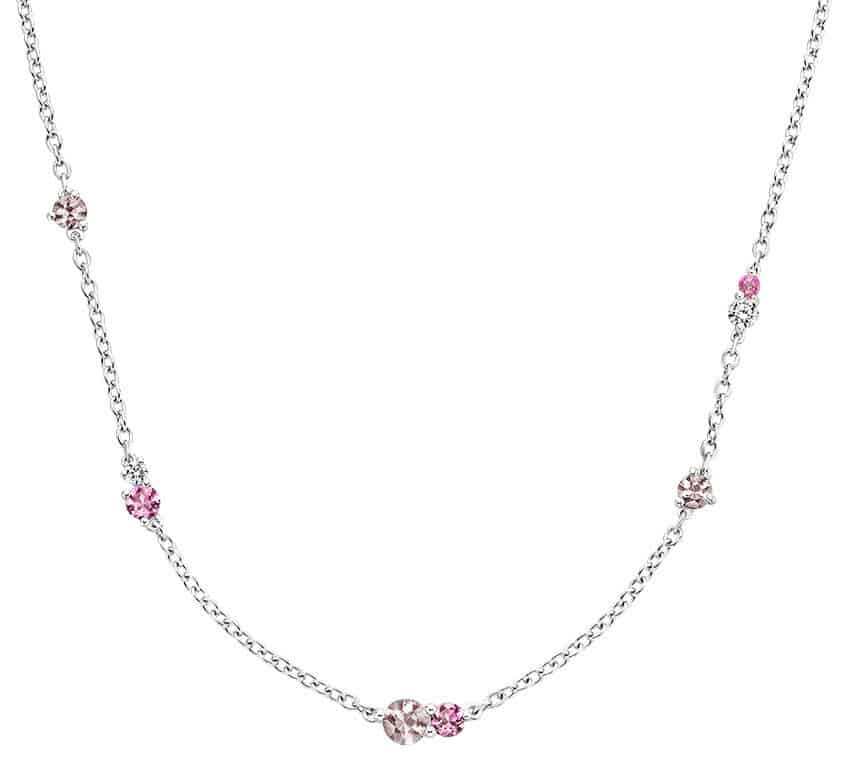 Station necklaces are beautiful options, and the silver bloom necklace (morganite or topaz, $425) showcases how skillfully Brilliant Earth pairs fine metals with fine gemstones.  Teardrop necklaces are available in alexandrite, pink tourmaline, aquamarine, and opal, as well as other beautiful lab-grown gemstones. Interested in current trends? Brilliant Earth does have some classics that are currently in style, including a diamond Evil Eye necklace and celestial themes, like this crescent moon and sapphire pendant necklace.  
Blue Nile Sterling Silver Necklace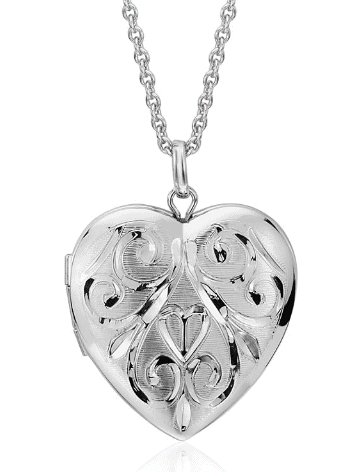 Blue Nile is another excellent jeweler, known for its ability to offer high quality, modern looks that tend to run a little more affordable than Brilliant Earth or Tiffany & Co. They also offer regular sales– meaning you can snatch a high-quality sterling silver necklace for under $50. You can also expect their collection of necklaces to change, offering new and exciting options every year and plenty of options that can easily pair with other accessories. Shop all Blue Nile Sterling Silver Necklaces Here. 
Blue Nile Budget-Friendly Picks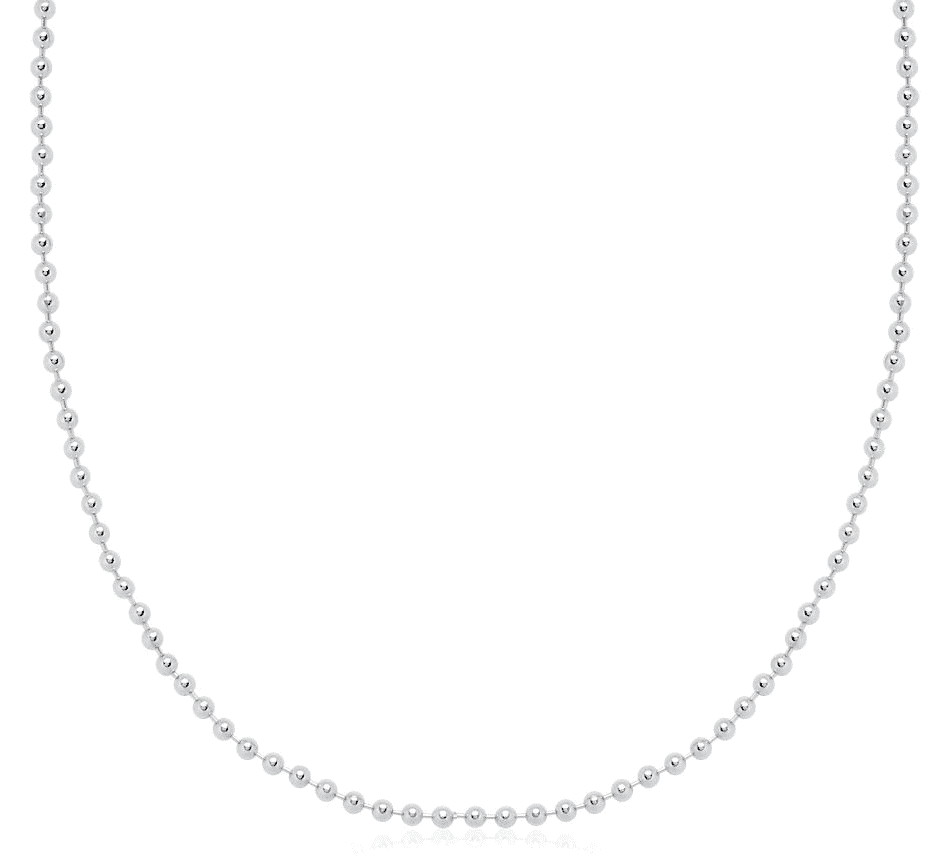 For under $70, Blue Nile has some excellent options for sterling silver necklaces. My favorites include a simple beaded sterling silver necklace, the new geometric floral pendant necklace, and a polished cross necklace with a clean, classic design. You also can't go wrong with their classic cable chain necklace.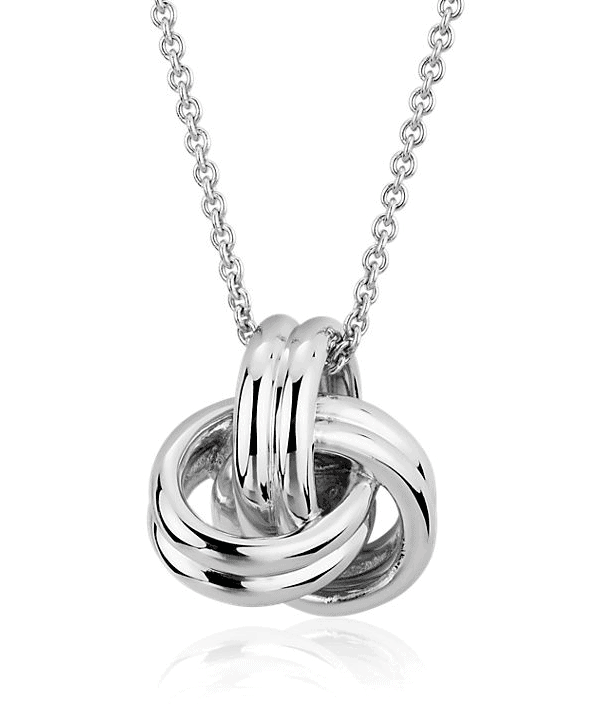 For just a little more, this hand-engraved heart necklace ($90) would make for a beautiful and memorable gift– it also happens to be a bestseller and a Blue Nile favorite. This knotted necklace symbolizes love and an unbreakable bond, with a beautiful polished finish for $150. And for just $85, a classic silver infinity necklace is hard to go wrong with.  
999 Silver Necklaces
999 silver necklaces are undeniably beautiful, with a brilliant luster. As close to as pure silver as you can buy, 999 silver necklaces are classic and true show stoppers. They are soft, and you'll need to store them carefully, in their own container, away from humidity and anything that may scratch them. Since 999 silver necklaces are not commonly sold like sterling silver necklaces are, you may need to think outside of the box for finding one. I recommend highly rated, independent artists on a site like Etsy, or asking at a fine jewelry store if there are any options. 
Handmade .999 Fine Silver Chain Necklace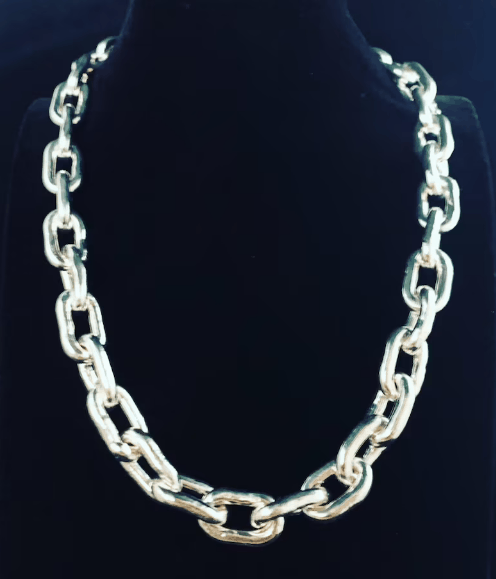 The handmade, .999 necklace features a polished finish and modern look. Link chain necklaces are only becoming more popular and have an almost white finish. The seller custom makes all necklaces within two weeks, though rush orders are possible. You'll also get lifetime complimentary cleanings and a 14 day return period. Buy Here. 
.999 Fine Silver Cuban Link Chain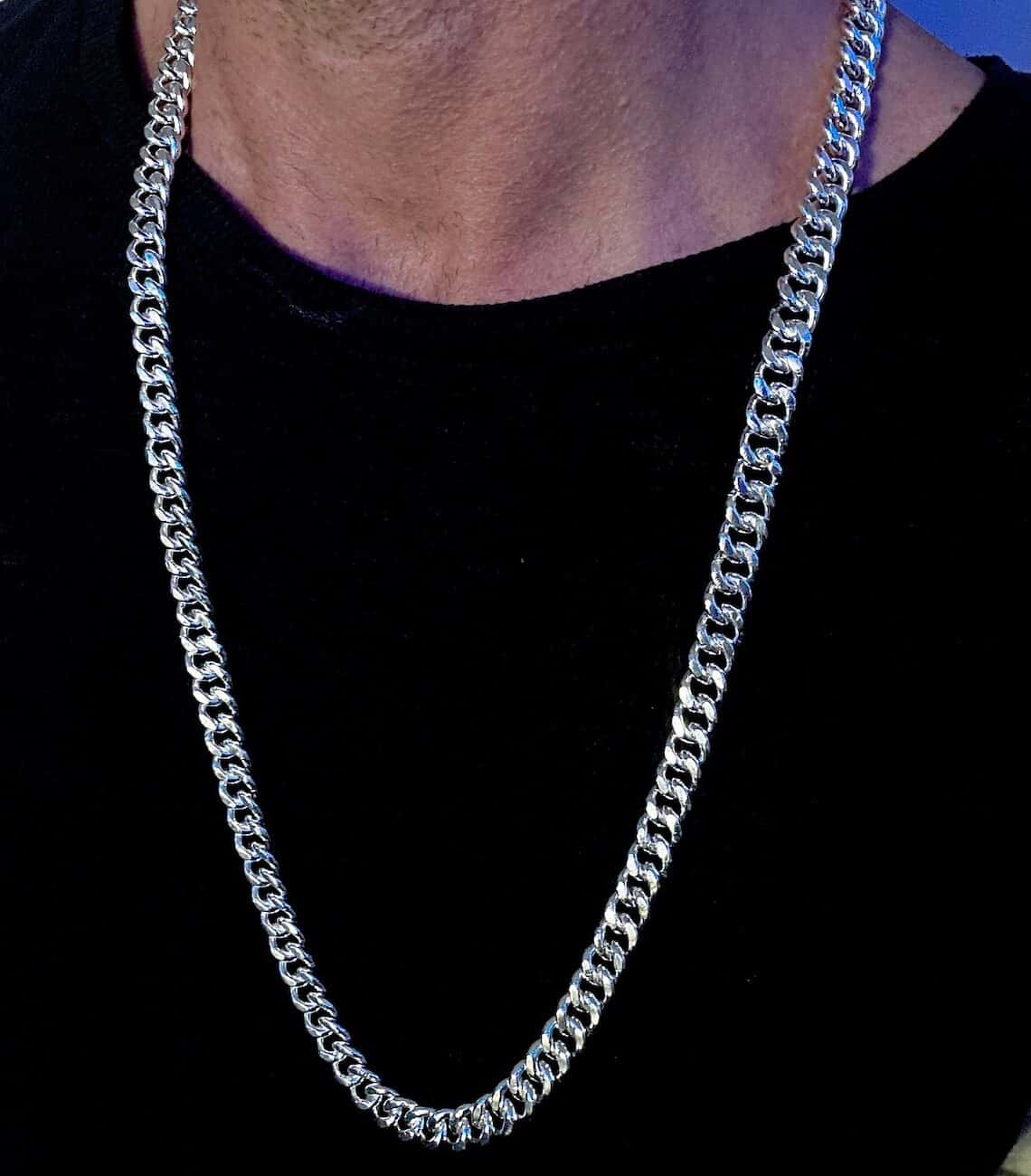 Cuban Link chains are often gold, but if you can't afford gold, this chain offers beautiful luster, is handmade, and allows you to select from a length of 18 to 30 inches. Secures with a T-clasp, you can also specify if you want a flat or smooth top. Complimentary free shipping and lifetime cleanings are included with your purchase. Buy Here. 
Byzantine .999 Collar Necklace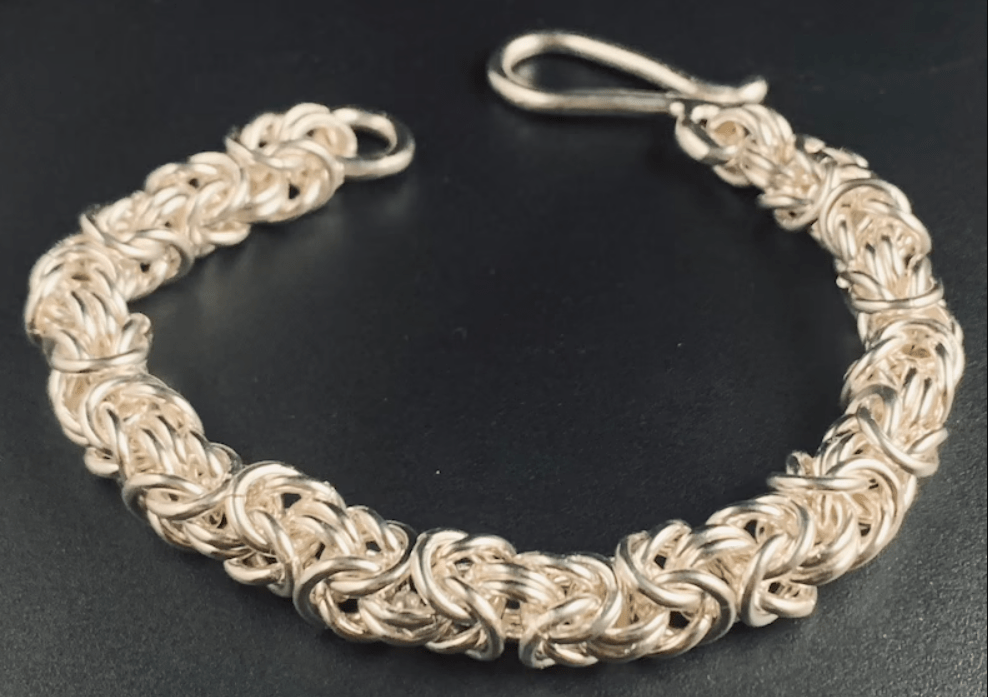 This beautiful necklace is crafted with a classic Byzantine style and high polish .999 silver. Secured with your choice of an S-clasp or hook clasp, it's a formal look that looks simply stunning with a dress or suit. You'll have a 14-day return/ exchange window and your necklace ships with a free box within 10 business days within the continental United States. Buy Here. 
Frequently Asked Questions
Question: Can I wear a silver necklace in the shower?
Answer: Many do wear silver necklaces in the shower or even swimming- but I recommend against it. While you might not initially notice any problems, over time moisture can cause the sterling silver to tarnish more dramatically and quickly. 
Question: How do you clean a silver necklace?
Answer: Use a gentle liquid soap and add a few drops to warm water. A toothbrush is handy for cleaning in nooks and crevices. Make sure you fully rinse and dry the silver necklace so no soap residue remains. If you are dealing with tarnish, it may be wise to seek professional cleaning. 
Question: This is my silver necklace turning black? 
Answer: Unfortunately, silver turning black is part of a natural process and a chemical reaction based upon the materials used in silver alloys. The good news is that you can clean it by taking it to a professional and or even using a baking soda and warm water solution. 
Final Thoughts
Sterling silver necklaces are classic and hard to go wrong with for everyday or even formal wear. While they are not as durable as platinum or white gold, they're affordable and pleasing and a great option for many on a budget. 
Take good care of your silver necklace and you'll get more use out of it. I recommend storing it in a moisture-proof container or Ziploc, away from anything that can scratch it. Some even store it with a small piece of chalk to reduce moisture. 
Still, looking? Check out the Ritani Sterling Silver Necklace Collection Here for charms and diamond-studded pendant necklaces.