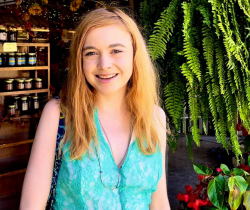 Latest posts by Erin Jamieson
(see all)
Different types of necklaces can make unique statements about any outfit. But if you're searching for a stand-out look that's steeped in history and symbolism, buying an Evil Eye necklace may be one of the best out-there ideas.
In fact, the symbol of the Evil Eye itself made headlines in June 2021 after an ancient amulet was found in Israel. The bronze amulet is thought to have been worn as a necklace during the Byzantine era–approximately 1,500 years ago.
Under control of the Eastern Roman Empire, amulets were not merely decorative but worn by Christians and Gnostics. The name of God was inscribed in Greek Letters and thought to ward off demons– and the Evil Eye.
Fast forward to today, where Evil Eyes are actually being worn as a necklace as a way to show off a unique style or even connected to one's culture. Boldly unique and at times stunning, the ideas around the Evil Eye for many have shifted.
But what does an Evil Eye necklace mean today, and how do you find a look that suits you?
Consider this your guide to this unique necklace style. I'll give you some background information, tell you about color varieties, and tell you where to buy my picks for Evil Eye necklaces at every price point.
| Product Image | | Primary Button |
| --- | --- | --- |
| | | |
| | | |
| | | |
| | | |

What does an Evil Eye necklace mean?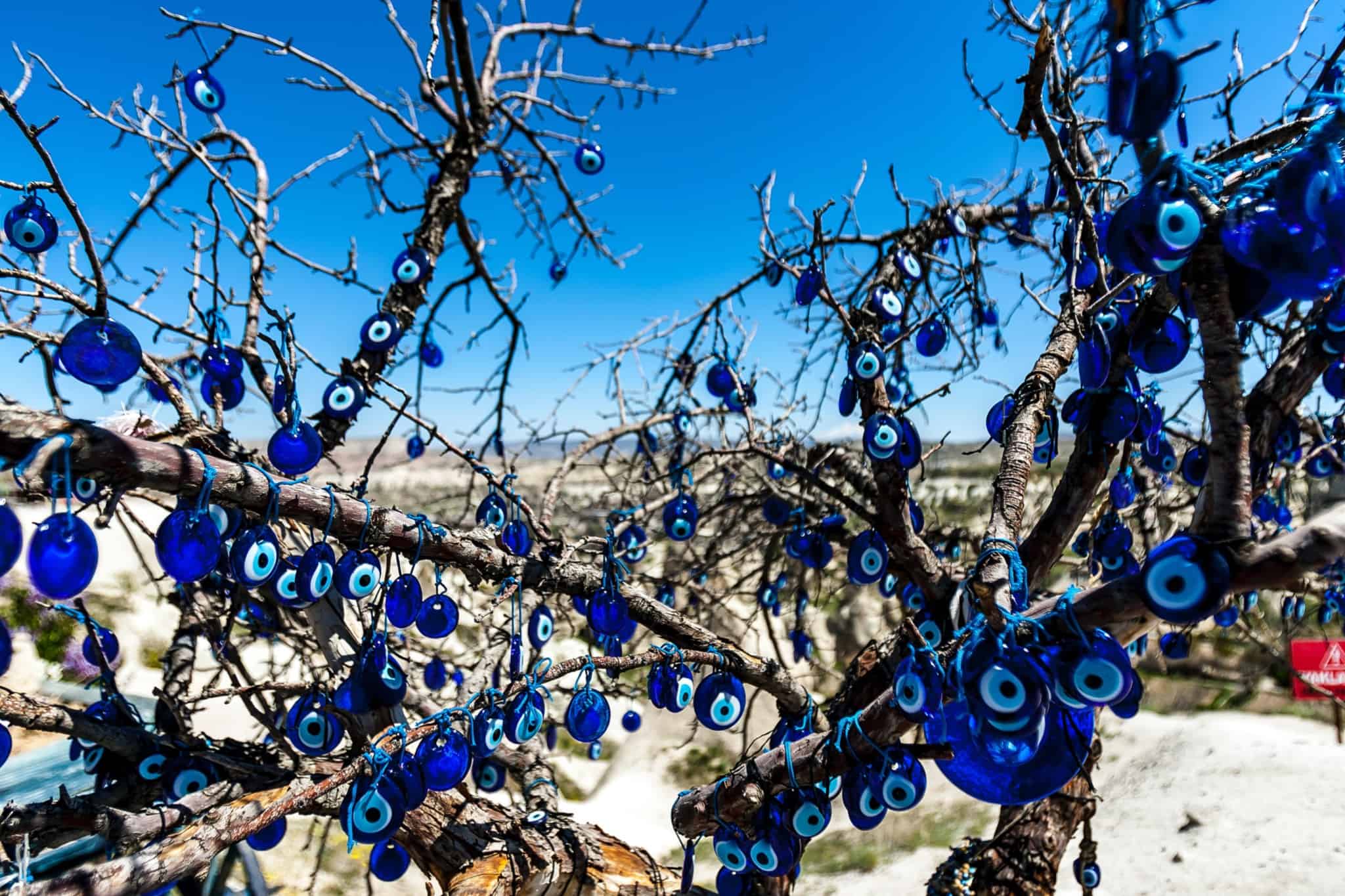 While wearing Evil Eye necklaces has been more popularized for a while, interest spiked when Meaghan Markle wore an Evil Eye necklace in 2020. Many wondered what it meant, with some questioning if it was a smart fashion move to wear an Evil Eye necklace amidst a global pandemic.
Even those who were not aware of the symbolic connection or haven't cared about this connection may have spread some common confusion. The truth is that there is a difference between what an Evil Eye means, and what an Evil Eye necklace means– though they are connected.
What does the evil eye mean spiritually?
The Evil Eye itself is called mati in Greek and is a commonly understood term along the Mediterranean and Western Asia, as well within the Middle East, India, Brazil, and to some extent, the United States.
Within each country, there is a varied use of the term or interpretation. While perceptions are shifting, by some accounts as much as 30 to 40 percent of the World's population at least somewhat considers the Evil Eye's symbolism to hold meaning.
The Evil Eye itself is thought to have been first mentioned before the destruction of Ugarit in 1250 BC (now Syria), though artifacts can be found from an even earlier time period. In Plutarch's writings, the Evil Eye was a source of dangerous but wondrous things.
The Evil Eye is an intense stare that is thought to direct misfortunate or ill will towards others. This can come in many forms and is seen as bad luck for those who are envied or disliked.
Is it bad to wear an evil eye necklace?
Of course, for many, the symbolism doesn't hold weight one way or another. But the meaning of an Evil Eye necklace is different from the Evil Eye itself. Wearing an Evil Eye necklace is thought to protect one from ill will.
While many may have misinterpreted Evil Eye necklaces as wishing harm on others, in fact, they are known as symbols of protection. This is because, in talisman terms, wearing the Evil Eye itself wards off evil coming to you.
For some, that has evolved to symbolize safety and security. For others, it is a way to connect with their culture or other cultures. I bought my first Evil Eye jewelry at a Greek Orthodox festival.
The idea is positive energy, protection, and good fortune for the wearer– as opposed to ill-fortune towards others.
How can I wear an Evil Eye necklace?

And, of course, you can wear an Evil Eye necklace regardless of your opinion of its symbolism. Evil Eye necklaces are still unique but have become mainstream within the United States. For the most part, they are seen as unique accessories.
Evil Eye necklaces range from casual and can be worn to spruce up an outfit of jeans and a t-shirt. They can also be used for a special occasion when paired with a classic dress. To that end, Evil Eye necklaces come both in casual and fine jewelry options.
The intense colors and unique design especially make for a unique look– and can make any outfit pop, but work especially well with solid color tops or dresses. This way, the design doesn't compete too much for attention with other patterns.
What do evil eye colors mean?
While Eye Eye necklaces and bracelets are known for the bold blue hue, you may be surprised to learn that Evil Eyes can come in different colors– just keep in mind that these are rare enough you may have to search for a while or custom order.
Sill, while blue remains the most common Evil Eye necklace pendant color, other options exist. Keep in mind that other colors are more commonly worn for bracelets.
Brown
Brown Evil Eyes symbolize a deeper connection to nature and protect from inclement weather. Brown also showcases a connection to organization and structure.
Dark Blue
The most iconic, classic, and widespread color is dark blue. Dark blue symbolizes relaxation, calm, and protection. It's also been said to be a way to promote more candid communication.
Dark Green
A dark green Evil Eye is said to bring happiness and balance, as well as freedom in one's life to pursue ambitions, goals, or contentment.
Light Blue
A more common alternative to dark blue, light blue Evil Eyes has a similar symbolic value. Meant to exude protection and peace, light blue also embodies seeing a deeper perspective and quiet solitude.
Orange
Orange instead is connected to commitment– whether that is oneself, another person, or duty. Likewise, oranges also symbolize happiness and creativity.
Pink
A pink Evil Eye is associated with calm and relaxation, but also long-lived friendships.
Purple
Meant to rebalance life and boost motivation, a purple Evil Eye is also thought to boost imagination.
Red
Red Evil Eyes are bold statements about confidence, but also protection specifically from anxiety or fear.
White
White Evil Eyes symbolize purity, focus, and new beginnings. This is a popular color, juxtaposed with blue, for bracelets but some casual necklaces too.
Yellow
Yellow Evil Eyes are said to provide protection from exhaustion, as well as sharpen concentration.
Best Evil Eye Necklaces under $1500
For my main list, I've selected some of the best fine jewelry and casual Evil Eye necklaces under $1500, under $1000, under $500, under $100, under $50, and under $20. Keep in mind that these necklaces are mostly blue Evil Eyes. However, I have provided some information about where to buy multicolored Evil Eye necklaces too.
Evil Eye Necklaces Under $1500
These fine jewelry Evil Eye necklaces work for special occasions, from cocktail attire to black tire affairs. Many feature accent diamonds and high-quality metal.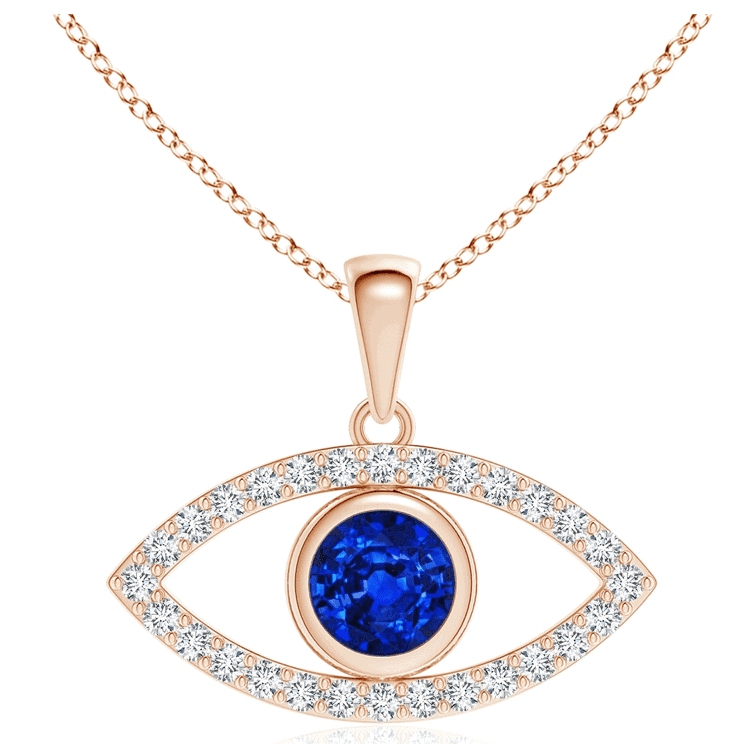 This stunning Evil Eye necklace is available in 14K rose, white, or yellow gold. The center sapphire can be bought in 0.92 carats. Elegant, graceful, with a delicate metal chain, accent diamonds make this necklace shine. Buy Here.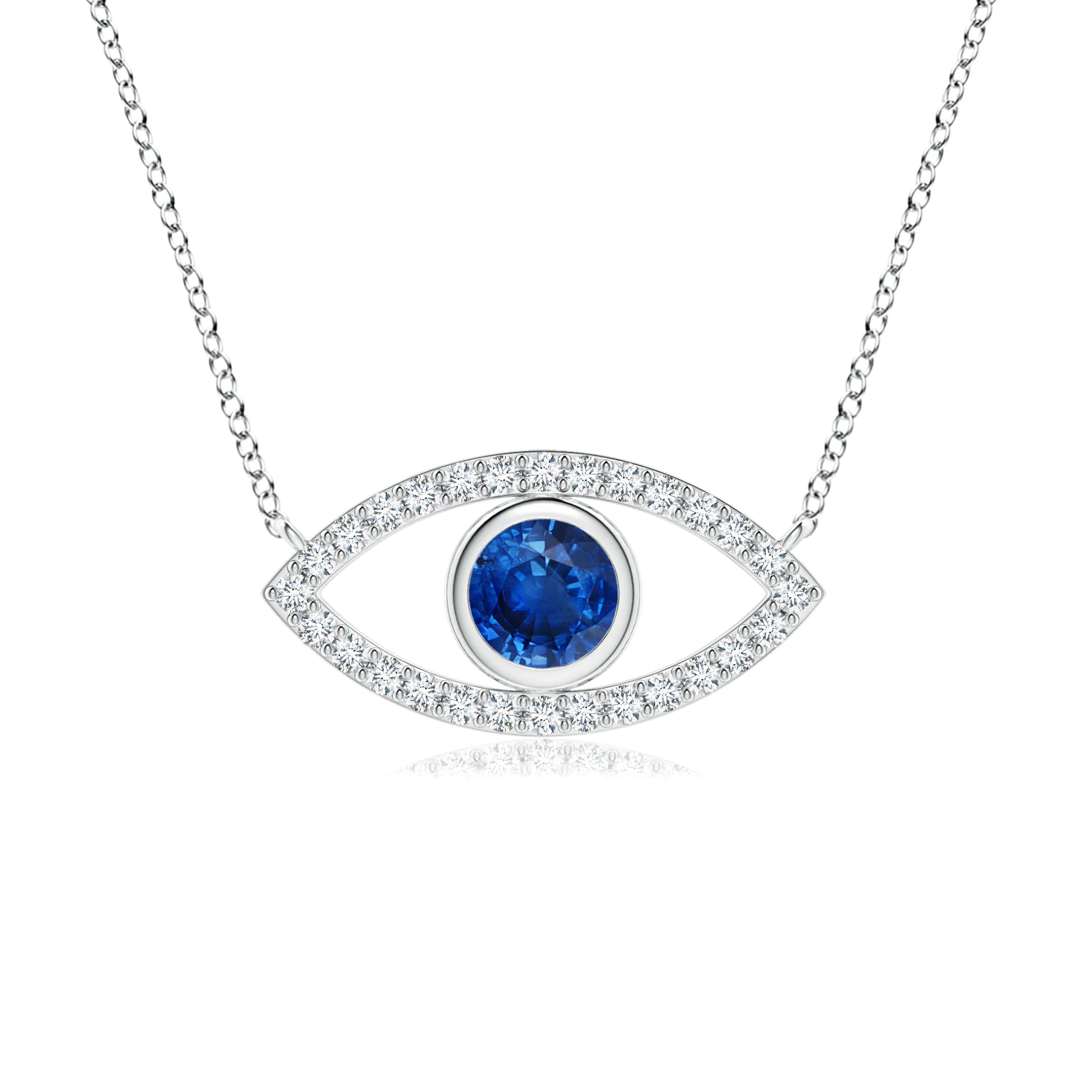 Blue Sapphire Evil Eye Pendant with Diamond Accents | Angara
Hanging gracefully from a shiny metal bale is a diamond-studded frame with a round sapphire bezel set at the center. The sparkling diamonds create a compelling contrast against the deep blue sapphire. Crafted in 18k white gold, this sapphire evil eye pendant is meant to protect the wearer from misfortunes and bad luck.
Check Price
We earn a commission if you make a purchase, at no additional cost to you.

Evil Eye Diamond Necklace-Noemie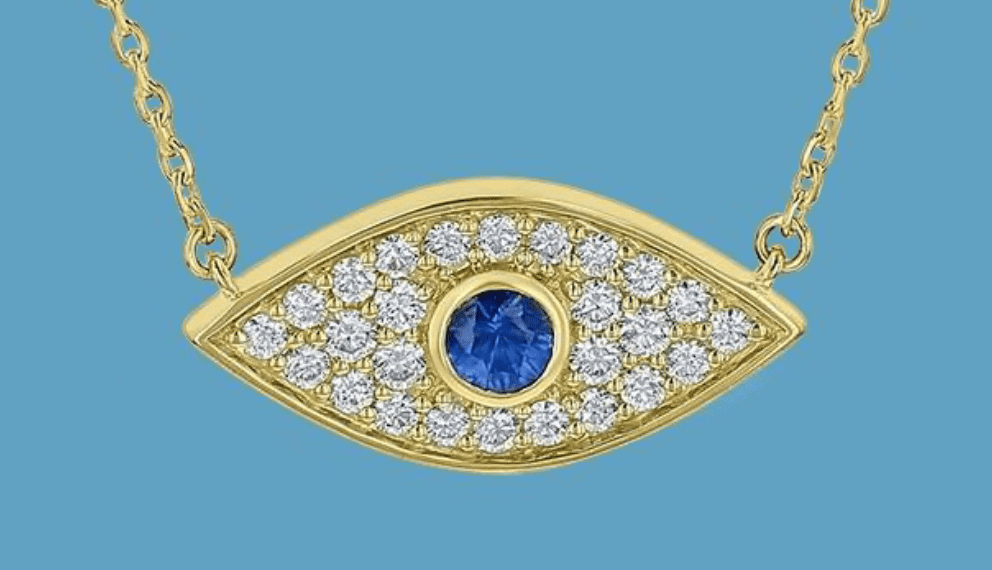 If you like the idea of an Evil Eye necklace but would prefer an emphasis on sparkle, consider this 18k yellow gold necklace. A ⅕ carat blue sapphire is surrounded white ⅓ carats of white diamonds and includes an official report by a gemologist. Glamorous and unique, this is an eye-catching option. Buy Here.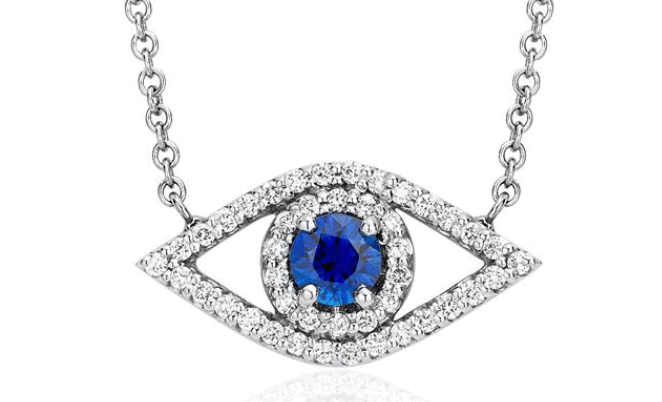 Diamonds galore– this Ritani Evil Eye necklace is a show stopper and meant to last for years to come. Set on 14K white gold, the 0.22 carat blue sapphire at the center is bold and beautiful, surrounded by diamond accents covering the entire pendant. Buy Here.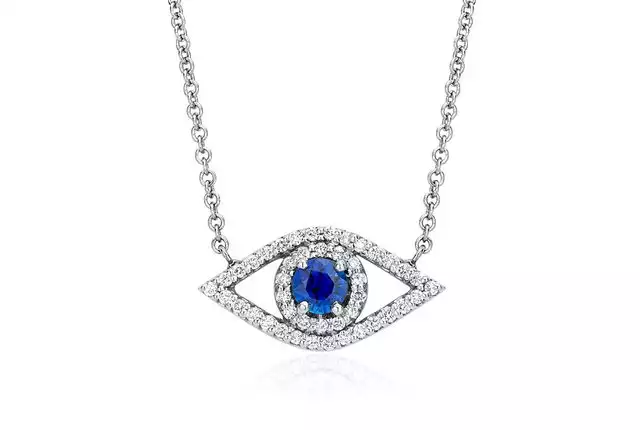 Evil Eye Diamond Pendant | Ritani
A bold, brilliant sapphire is the centerpiece of this radiant, diamond-adorned evil eye pendant necklace. Crafted in 14kt white gold, it's a contemporary piece that has a timeless style.
Check Price
We earn a commission if you make a purchase, at no additional cost to you.

Evil Eye Necklaces under $1000
These necklaces also fit the bill for formal occasions and are meant to last. You'll find you can still find a beautiful necklace, even with diamond accents, for under $1,000 rather easily.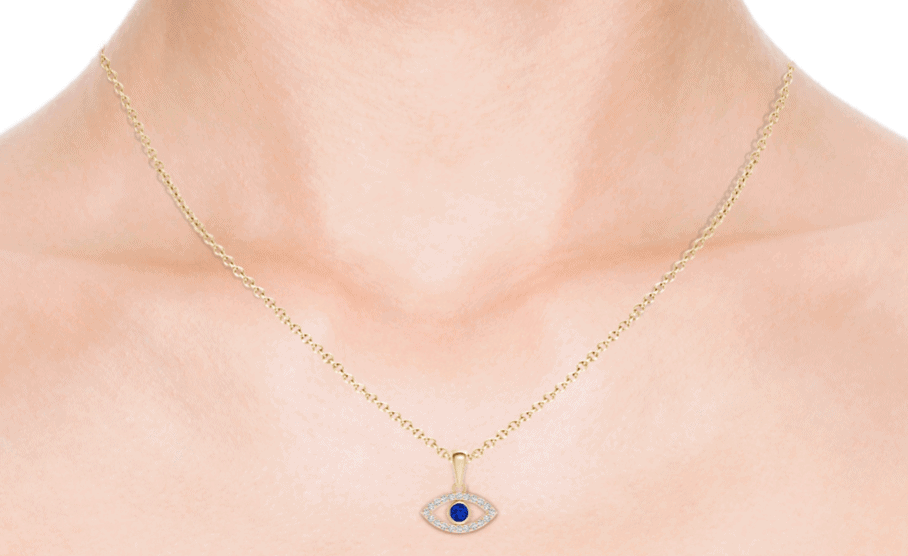 It is possible to have a glamorous Evil Eye necklace under $1000 but have it look far more expensive, as is the case with this necklace. 54 stunning sapphires (for a total of 0.18 carats) are surrounded by 78 white diamonds (0.24 carats) and accented with a 0.08-carat black diamond. The necklace is set on 14K yellow gold, with the option to purchase a matching ring on their site. Buy Here.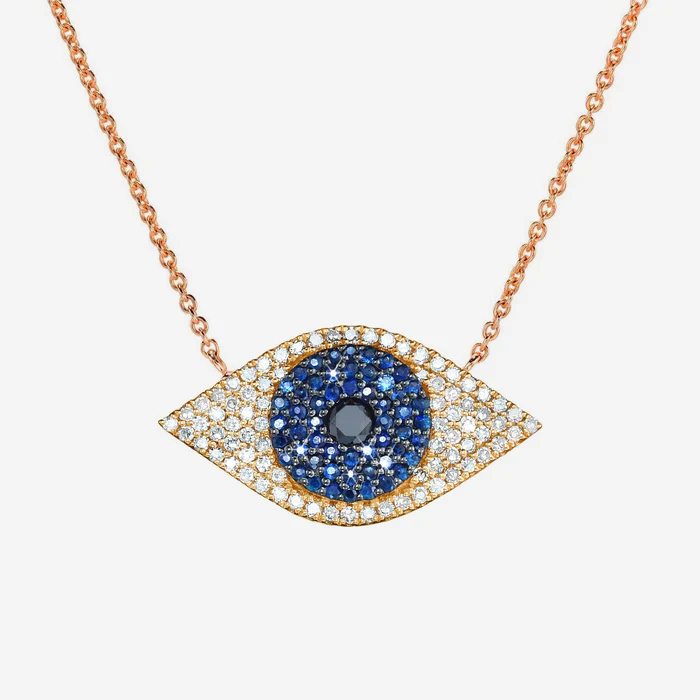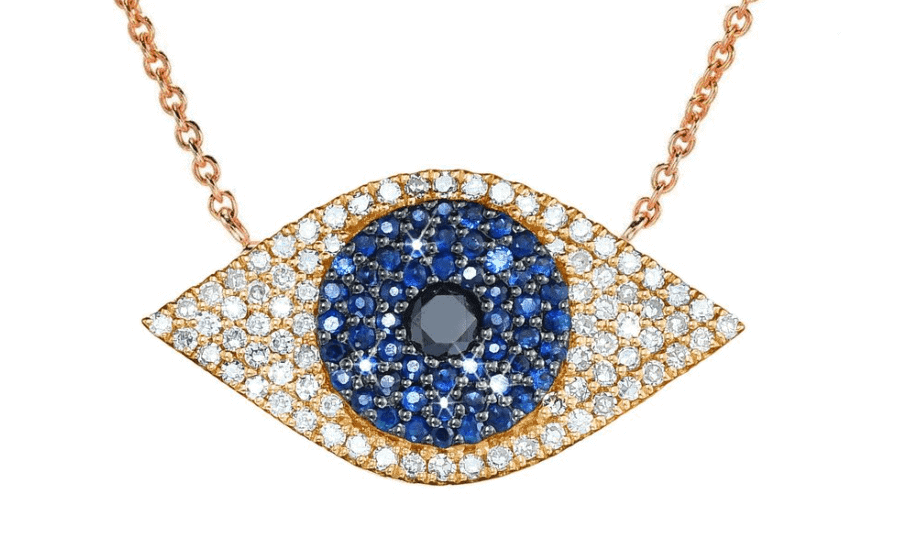 This more affordable Evil Eye necklace from the Angara retails for $570 or as little as just above $500 on sale, meaning it could nearly fit the next price point category. A classic and elegant design with a more modest 0.17-carat blue sapphire makes for an elegant look, alongside diamond accents, with your choice of 14K white, yellow, or white gold. Buy Here.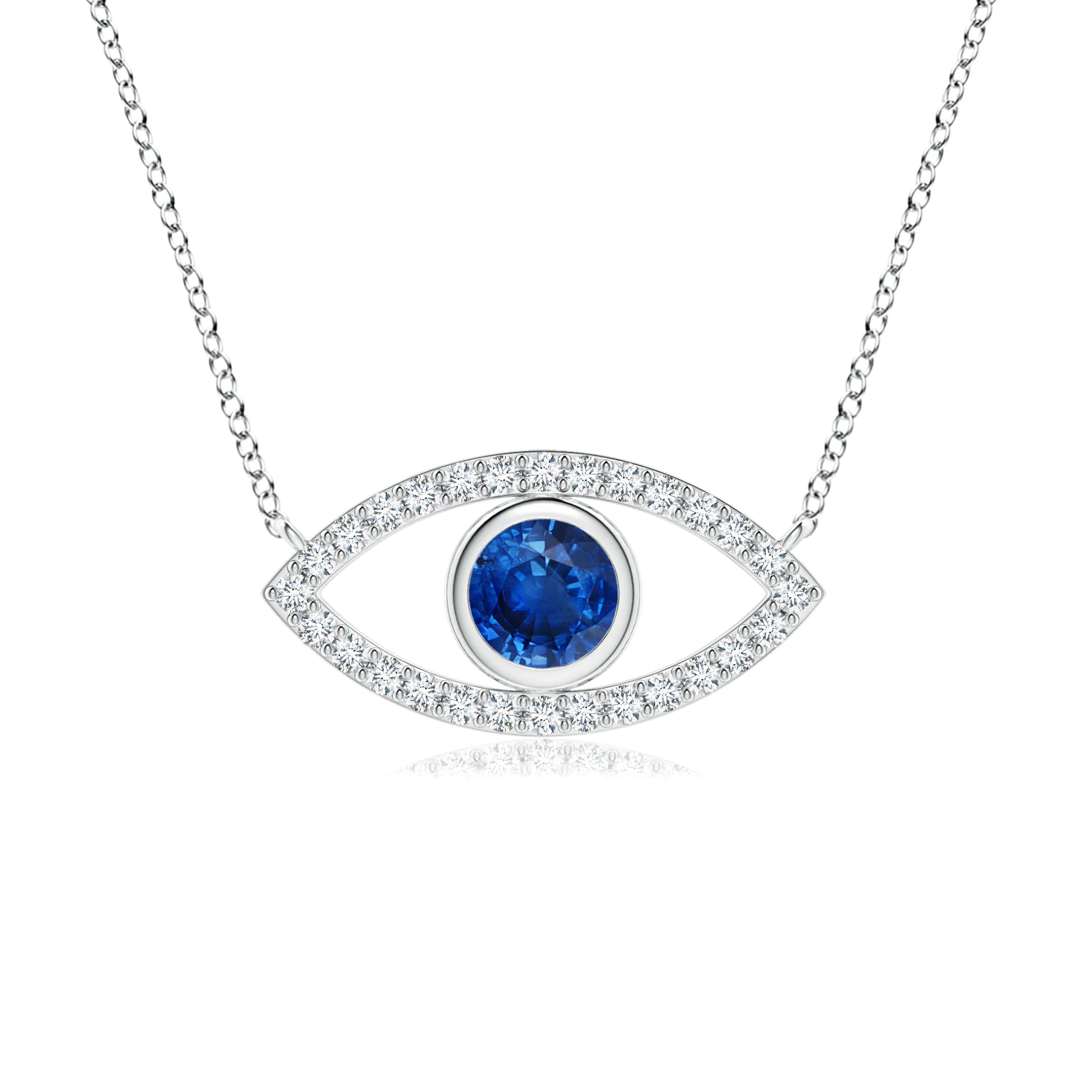 Blue Sapphire Evil Eye Pendant with Diamond Accents | Angara
Hanging gracefully from a shiny metal bale is a diamond-studded frame with a round sapphire bezel set at the center. The sparkling diamonds create a compelling contrast against the deep blue sapphire. Crafted in 18k white gold, this sapphire evil eye pendant is meant to protect the wearer from misfortunes and bad luck.
Check Price
We earn a commission if you make a purchase, at no additional cost to you.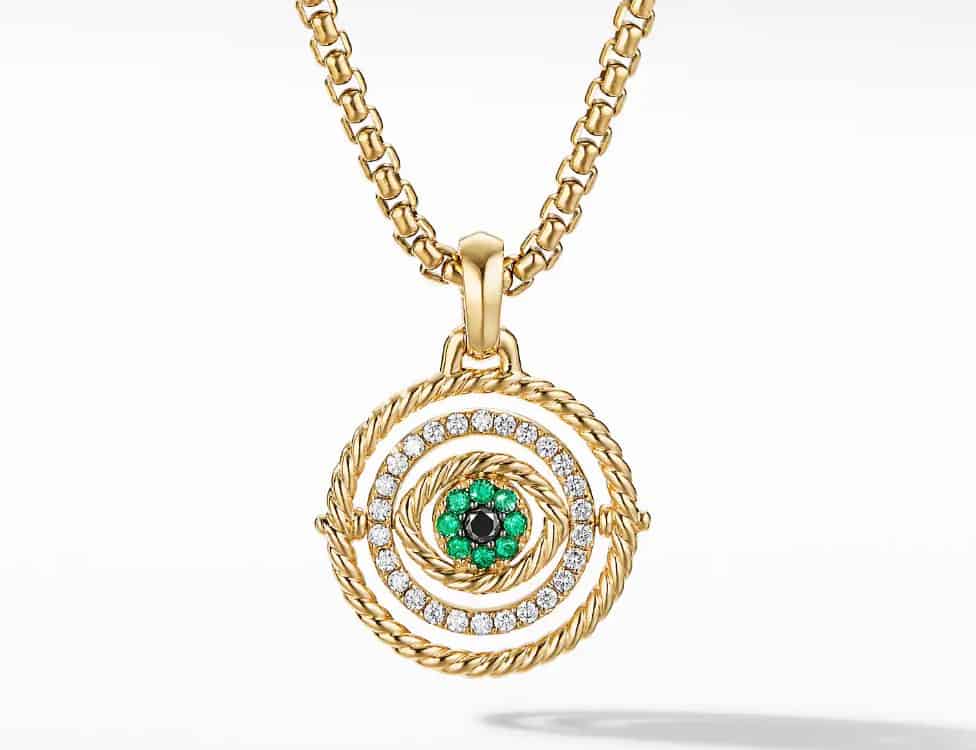 Looking for a green Evil Eye necklace suited for a formal occasion? This necklace from David Yurman, priced under $800, maybe one of your best options. An 18K yellow gold disc pendant features an emerald and diamond Evil Eye. It's a classic but unique, formal look. Buy Here.
Evil Eye Mobile Amulet | David Yurman
Charms and Amulets add a new layer of collectability–one that is about personalization, meaning and self-expression. The designs can be worn individually on a chain, in multiples, or added to a charm bracelet.
Check Price
We earn a commission if you make a purchase, at no additional cost to you.

Evil Eye Necklaces Under $500
Looking for a semi-formal or even formal occasion but don't have $1,000 to spend? These Evil Eye necklaces are still beautiful and all-around excellent buys.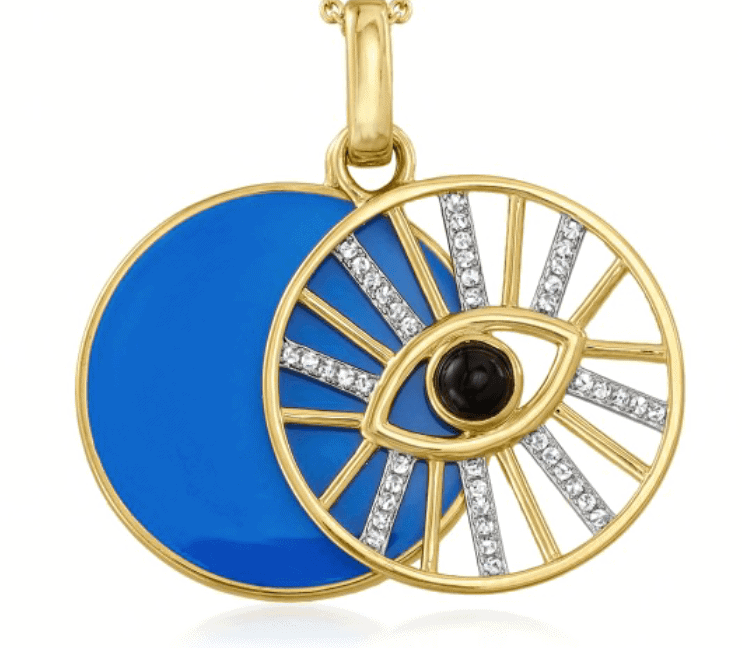 If you find Evil Eye necklaces unique, wait until you see this stunning modern design from Ross Simmons. Exclusive to Ross Simmons, the 18K yellow gold and sterling silver necklace features .13 carat accent diamonds and an unique black enamel center, with a blue backdrop for a new spin on an Evil Eye necklace. Buy Here.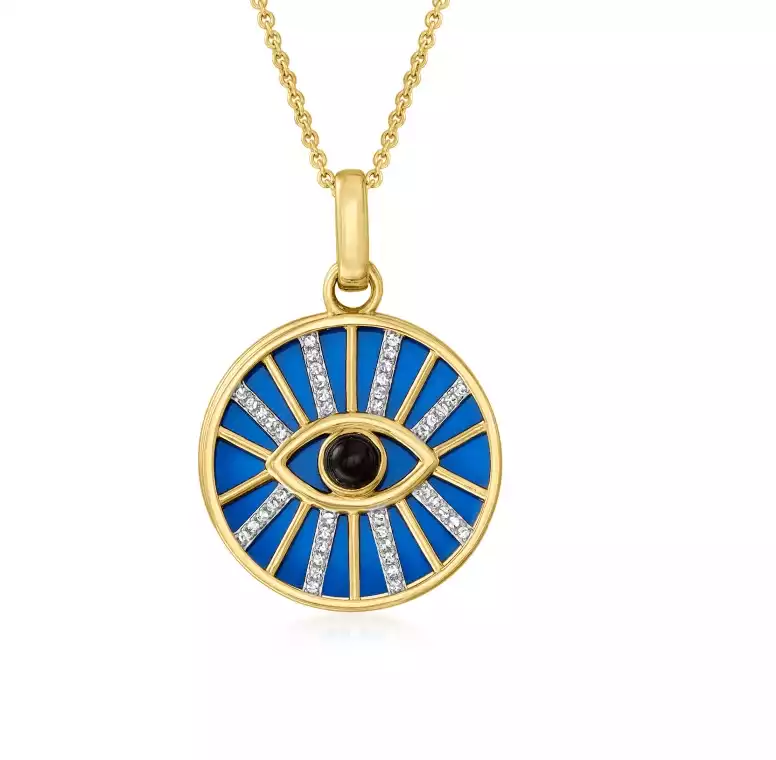 Diamond Evil Eye Pendant Necklace | Ross-Simons
Sparkling with .13 ct. t.w. diamond rounds and bold blue and black enamel in mesmerizing stripes that grab attention. Set in polished 18kt yellow gold over sterling silver on a cable chain that includes a 2" extender.
Check Price
We earn a commission if you make a purchase, at no additional cost to you.

Available in 14K white and yellow gold, this Evil Eye necklace features circular and marquise-shaped accent diamonds for understated elegance. In fact, diamonds replace the typical blue gemstones, making for a more versatile option that still looks like an Evil Eye but is not as bold as a statement. Buy Here.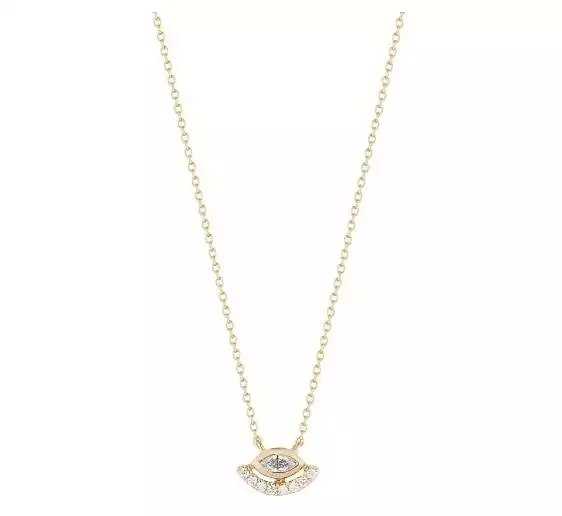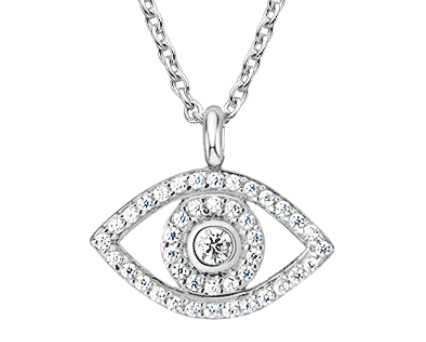 Another alternative to a blue gemstone Evil Eye necklace, this option from Brilliant Earth is classic, beautiful, and elegant. Priced at under $400, this beautiful all diamond necklace comes from a company that only offers ethically sourced and environmentally sound fine jewelry. It's available in sterling silver, in 14K yellow gold (for an additional $400). Buy Here.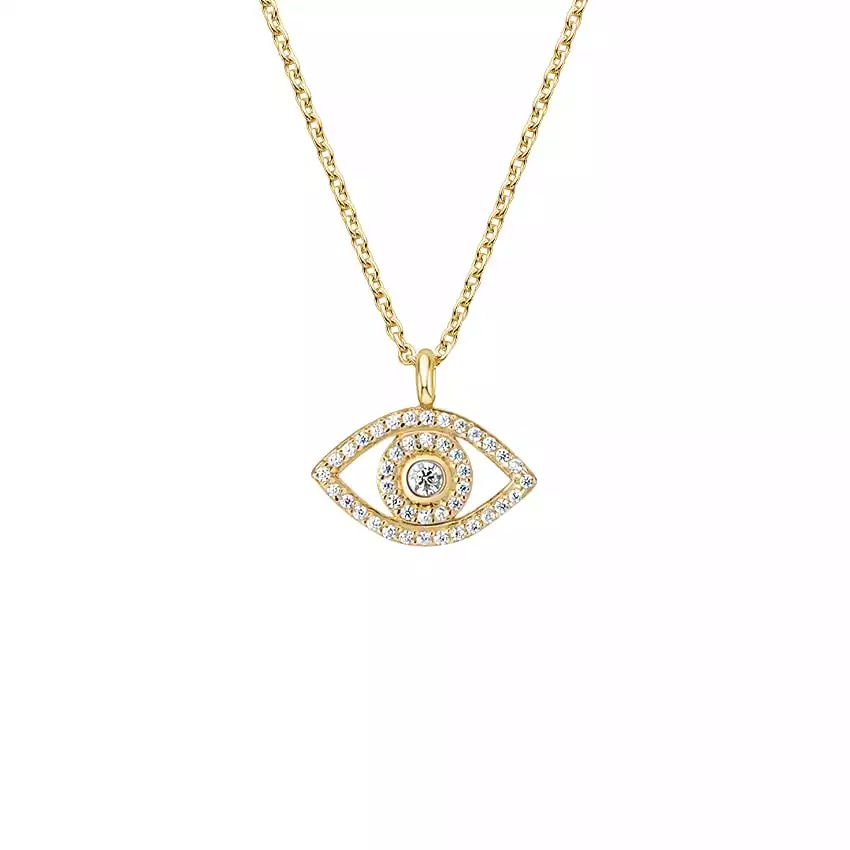 Evil Eye Necklaces Under $100
More semi-formal to casual wear, or even daily wear, you don't have to break the bank to find a unique and 'eye-catching' Evil Eye necklace. Here are some of my favorite ideas for under $100.
Evil Eye 3-Strand 22K Yellow Gold Necklace- Sequin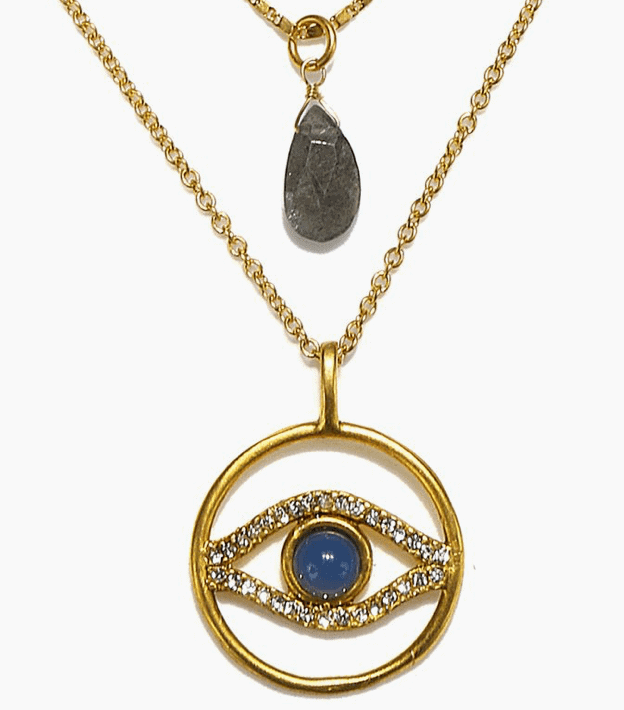 This modern, layered necklace is a great option for an Evil Eye necklace that stands out and is durable. 22k yellow gold with an antique finish is a perfect touch, alongside Swarovski® crystals. With a semi-formal feel, it's also versatile for day and evening looks.
Basirah Cubic Zirconia Evil Eye Charm Collar Necklace- Baublebar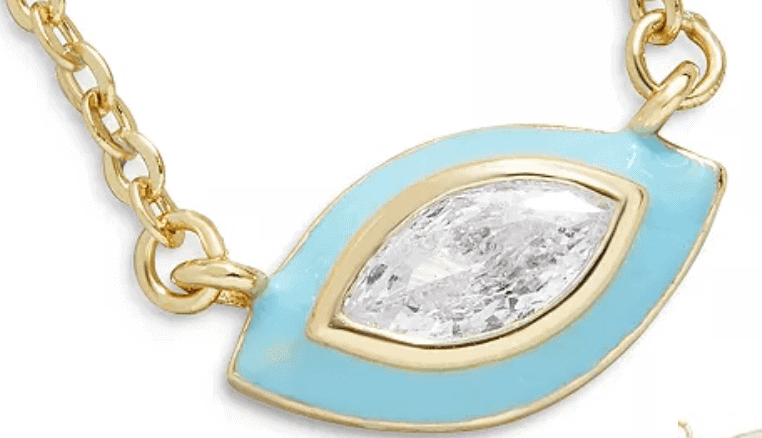 If diamonds aren't a must and you want scintillation, this under $100 Evil Eye charm collar necklace may be the option for you. 18K gold plated sterling silver makes for a sturdy and hypoallergenic metal chain. Cubic zirconia is surrounded by white or blue plating. 
Daydreamer Evil Eye Necklace- Local Eclectic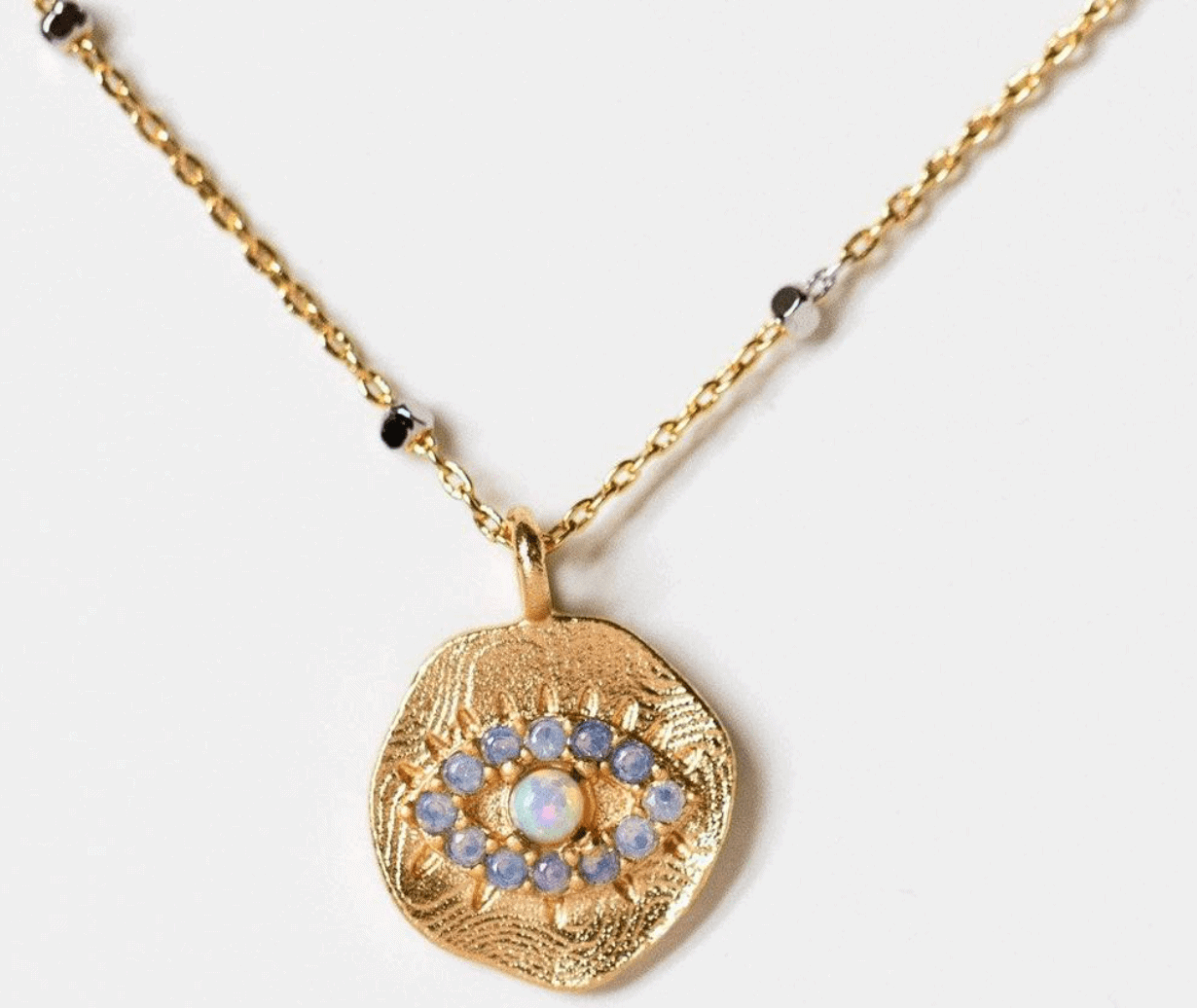 If you want to fully embrace the design of an Evil Eye necklace but in a unique way, this offbeat necklace may be for you. Priced at just under $60, I love this necklace for boho outfits or even everyday wear. Opals make more a beautiful, white center, set on a brass base and a 14K yellow gold plated chain with silver accents. Buy Here.
Evil Eye Necklaces Under $50
On a tighter budget? No problem. All of these Evil Eye necklaces are great ideas for everyday wear or even a birthday present and priced at $50 or under.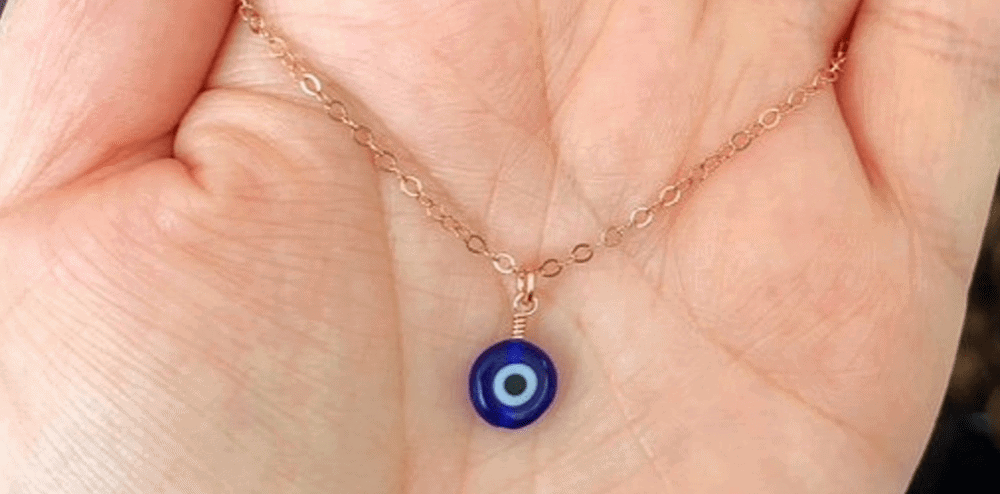 Handmade by a small Etsy business, this bestselling Evil Eye necklace features a blue glass bead pendant and is available with a silver or gold plated chain; sterling silver, and even 14K yellow gold. A delicate chain leans to a subtle accent to any outfit.Buy Here.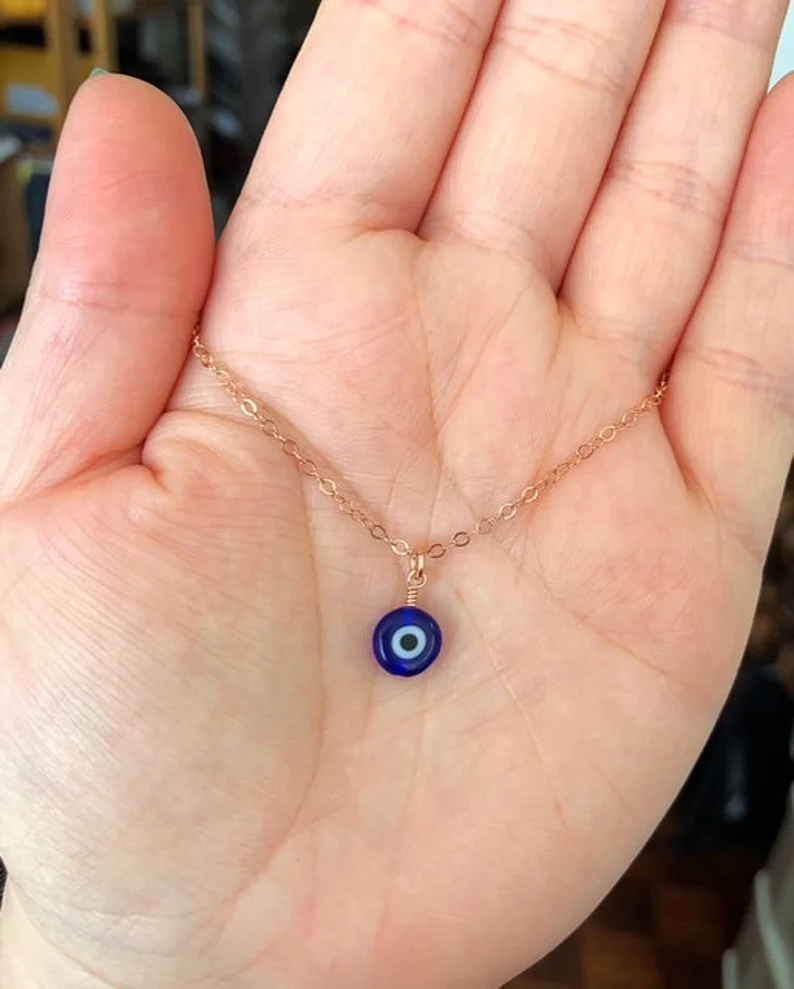 Blue Glass Evil Eye Necklace | Etsy
This Blue Evil Eye Drop Necklace is a wonderful addition to your everyday jewelry collection. Great for everyday wear and layering with your favorite pieces.
Check Price
We earn a commission if you make a purchase, at no additional cost to you.

This handmade Evil Eye necklace is 18K gold filled and comes with gift packaging. A beautiful classic Turkish glass pendant is beautifully crafted and suited for casual outfits. Priced at just $30, it's also a great idea for a birthday gift. Buy Here.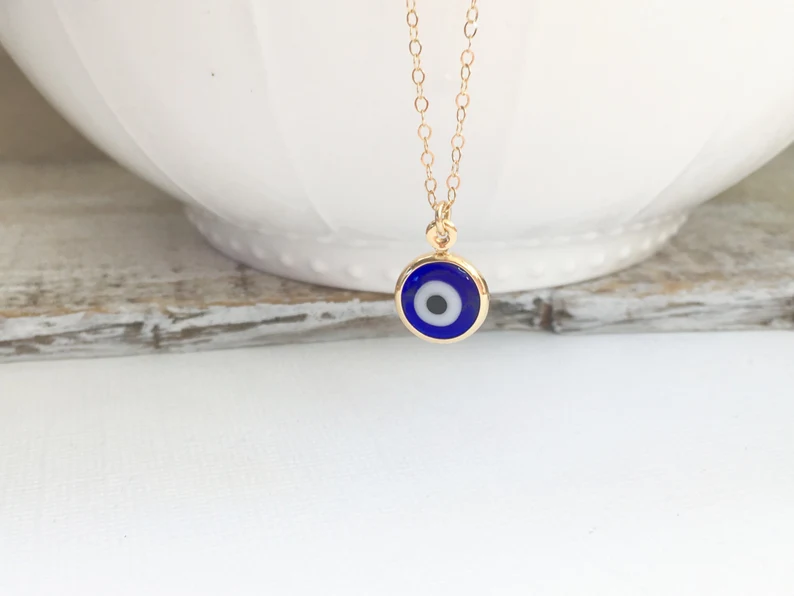 Blue Evil Eye Necklace | Etsy
These are the most beautiful Gold-Filled Turkish Glass Evil Eye Necklace. The charm on this necklace symbolizes good luck and safe keeping.
Check Price
We earn a commission if you make a purchase, at no additional cost to you.

Colorful Evil Eye Necklaces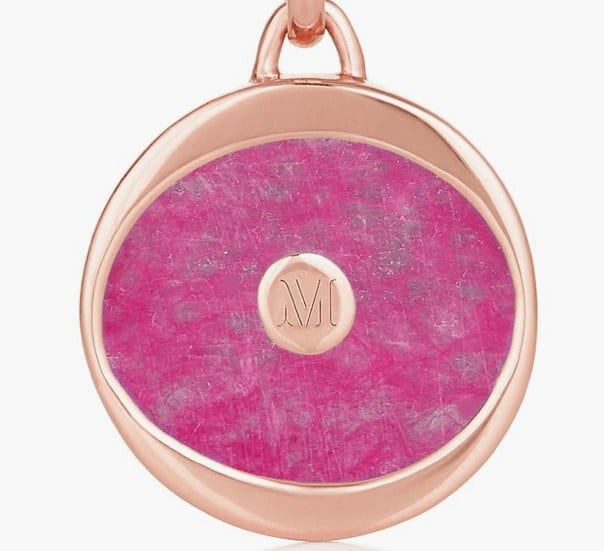 If cubic zirconia, diamonds, and blue or white Evil Eye necklaces aren't for you, there are a few options out there. I like this multicolored faux pearl necklace for under $50 and this bold hot pink, orange, and blue Anne Koplik Swarovski Evil Eye necklace for around $40.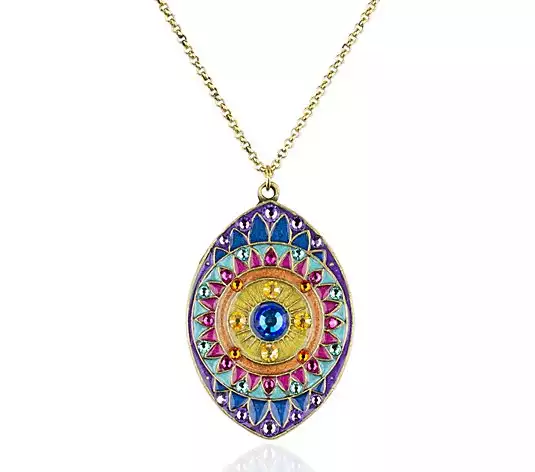 For a red Evil Eye necklace, consider the Skyfall Evil Eye and Hamsa Necklace. Monica Vinader offers an elegant pink quartz Evil Eye necklace.
Frequently Asked Questions
Question: Is it disrespectful to wear the evil eye?
Answer: An Evil Eye necklace is a necklace-type that is not meant to wish ill will towards others but rather symbolizes some form of protection or security for yourself. Some are worried about cultural appropriation, but generally speaking, it is widely accepted to wear, so long as you aren't wearing this necklace as a form of mockery.
Question: Can you buy yourself an evil eye?
Answer: While Evil Eye necklaces make for gifts as well, there is nothing wrong with buying and enjoying an Evil Eye necklace for yourself.
Question: What is the Blue Eye bead used for?
Answer: Blue is the most common color with the center of an Evil Eye necklace. Evil Eye beads are meant to ward off evil and provide a form of protection. The dark blue color is specifically associated with calm, protection, and relaxation.
Final Thoughts
Evil Eye necklaces certainly make a unique statement– but as you can clearly see, they aren't tied to one style. From multicolored to all diamonds and classic sapphires, you can find a necklace for any occasion at any budget.
| Product Image | | Primary Button |
| --- | --- | --- |
| | | |
| | | |
| | | |
| | | |