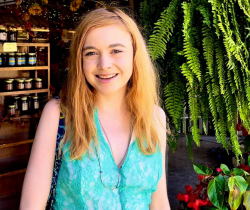 Latest posts by Erin Jamieson
(see all)
From fragrances to watches to bracelets, Chanel has made a big name for itself as a leading luxury designer. But now it's necklaces that are in the spotlight, as Chanel unexpectedly pushes into the tech world.
Granted, this is not the first time Chanel has tapped into other industries. But it is the first time Chanel has had a necklace that doubled as a case for Apple Airpods.
Priced at just over $2,600, the Chanel Apple Airpods case is made out of glass pearls, resin, metal, and lambskin. The iconic double "C" logo shines with rhinestones and polished gold. But when it was introduced at the Métiers d'art Workshop Series, there was a surprise in store.
Attached to the case is a strand of faux pearls, which doubles as a detachable necklace. Nearly as elegant as the case itself, this new product just shows how big of a fashion and lifestyle icon Chanel has become– and why it continues to impress.
Of course, you don't need a pair of Apple AirPods to find the best Chanel necklaces. Timeless, classic designs and stunning innovation are at the center of Chanel's necklace collection.
Consider this your guide to the best Chanel necklaces you can buy in 2022. I'll tell you what you need to know before you buy Chanel jewelry, the truth about Chanel necklaces, and my picks for the best fine and high jewelry necklaces.
Why is Chanel so expensive?
Chanel is no doubt expensive. You have to expect to pay at least a few thousand dollars for much of its jewelry. But Chanel isn't just expensive for the sake of it. There are many factors at play.
First and foremost, Chanel is a well-known brand with renowned and exclusive designs. Started in 1910 by Coco Chanel, the designer has earned widespread recognition through its jewelry, but also perfume, accessories, and more.
Luxurious and high-quality materials, handcrafted designs, and refined beauty all add to the cost of Chanel. Chanel also holds its value– a piece bought years ago typically continues to acquire more value with time.
Is Chanel Fine Jewelry worth it?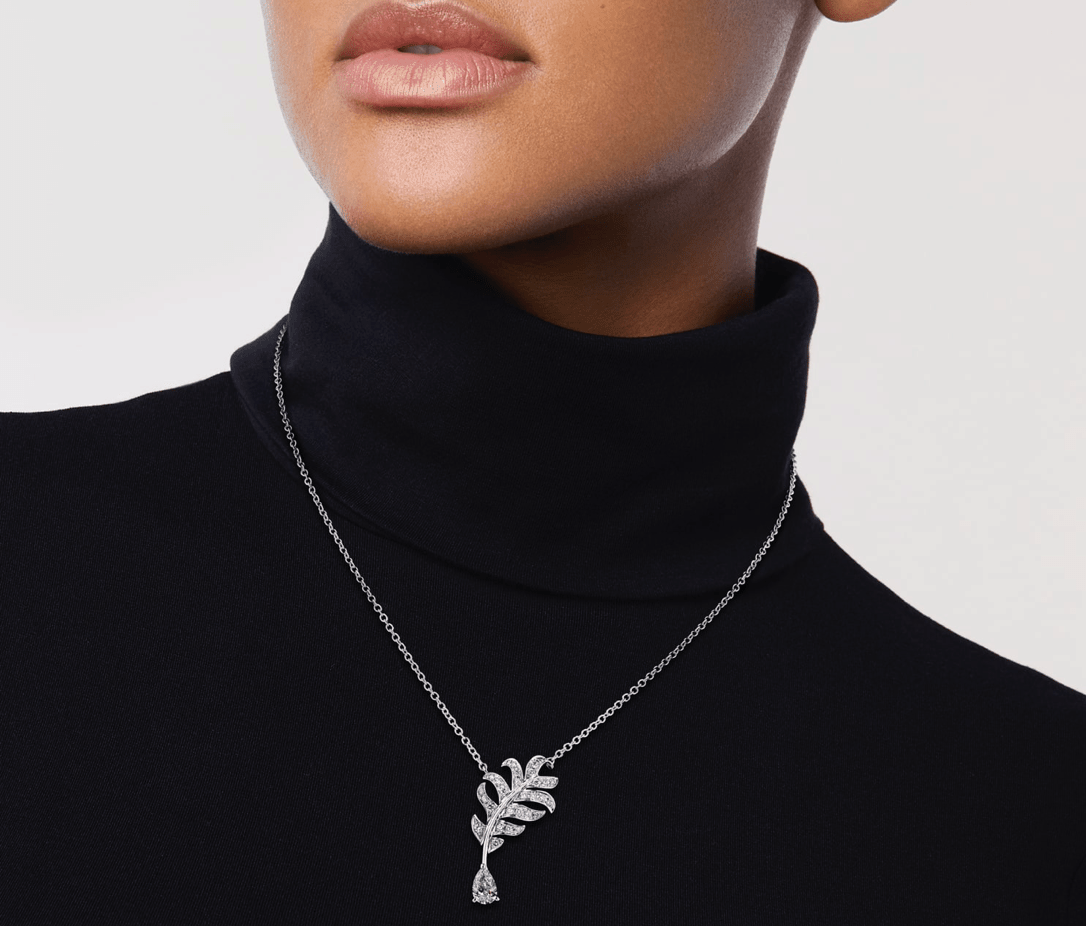 Chanel carries two lines of jewelry: fine jewelry and high fashion jewelry. Fine jewelry is more or less like collections like you'd encounter from competitors, like Gucci. The fine jewelry line features unique craftsmanship, beautiful solid gold, and precious gemstones, and holds over time.
The fine jewelry line can be pricey but you can also find some options that aren't too far from mainstream jewelers that specialize in diamonds, just as James Allen. If you don't have the budget, then simply look elsewhere. But all told, Chanel fine jewelry is a very wearable line with options that remain classic, increase in value, and are both beautiful and unique.
Can I order Chanel jewelry online?
You can order some Chanel jewelry online, all of which is from the Fine Jewelry collection. You cannot order custom, or High Jewelry online from Chanel.
What is Chanel High Jewelry?
However, not all Chanel products are sold under the fine jewelry line. Chanel also offers a High Jewelry collection. Unlike its fine jewelry options, you'll be hard-pressed to find exact price points on their website.
While there are some parts of fine jewelry that have handcrafting and unique design aspects to them, High Jewelry is entirely handcrafted. These are designs that are exclusive and entirely unique to Chanel.
They follow what is called the French savoir-faire process for High Jewelry, which leads to expert and distinctly crafted designs. They also are especially luxurious, often featuring the most expensive materials, and brilliant gemstones or diamonds.
How much does Chanel's high jewelry cost?
Of course, then there's the price point. There's a reason why Chanel high jewelry has video introductions and pages devoted to the vision of the exclusive collections. Though it depends on the collection, High Jewelry typically starts at around $40K and can cost a few million dollars.
As such, Chanel high jewelry, for most of it, is used more for ideas, inspiration, and art. You're most likely to see it worn by celebrities and important public figures.
Are Chanel necklaces worth it?
Chanel necklaces come with a higher price tag than some well-known luxury brands– so are they worth it? A lot of that depends on your personal budget, style, and needs. As a whole, necklaces, like other Chanel jewelry, hold their value, are durable, and beautifully made.
Are Chanel necklaces real gold?
All Chanel necklaces are made with high-quality 18K solid gold. For their diamonds, only high-quality cuts, color, and clarity are used to ensure brilliance and sparkle. All told, Chanel necklaces, even at their most affordable prices, are exquisitely made.
How can I tell if my Chanel necklace is real?
The best way to make sure you're buying a genuine Chanel necklace is to buy directly from a Chanel store, and a store that is authorized to sell Chanel (you can check via their website).
Outside of this, all fine necklaces are stamped with the carat of gold. You should also see a Chanel logo or signature, as well as a serial number.
What Fine Jewelry Chanel necklaces should I buy?
Now I'll give you my picks for the best Chanel necklaces you can buy in 2022. I'll focus on Fine Jewelry options, as these are the most practical and ones the majority will be interested in.
You'll find everything from solid yellow gold to white, pink, and even beige gold finishes. Other materials include high-quality diamonds, quartz, pearl, and Lapis lazuli. Coco Crush, Camellia, Ultra, Comete, Sous le Signe de Lion, Plume de Chanel, and all the iconic Chanel collections each have something unique to offer.
Prices range for all fine jewelry necklaces from $2,700 to $45,000.
Coco Crush Necklaces
Coco Crush necklaces may not be the most dazzling option from Chanel, but they are among the most versatile and affordable. This collection of simply elegant necklaces features a minimalist appeal, with 18K white, yellow and beige gold. Prices range from $2,800 to $5,300. I love these necklaces for their understated elegance. Shop the Collection Here.
Simple Coco Crush Necklace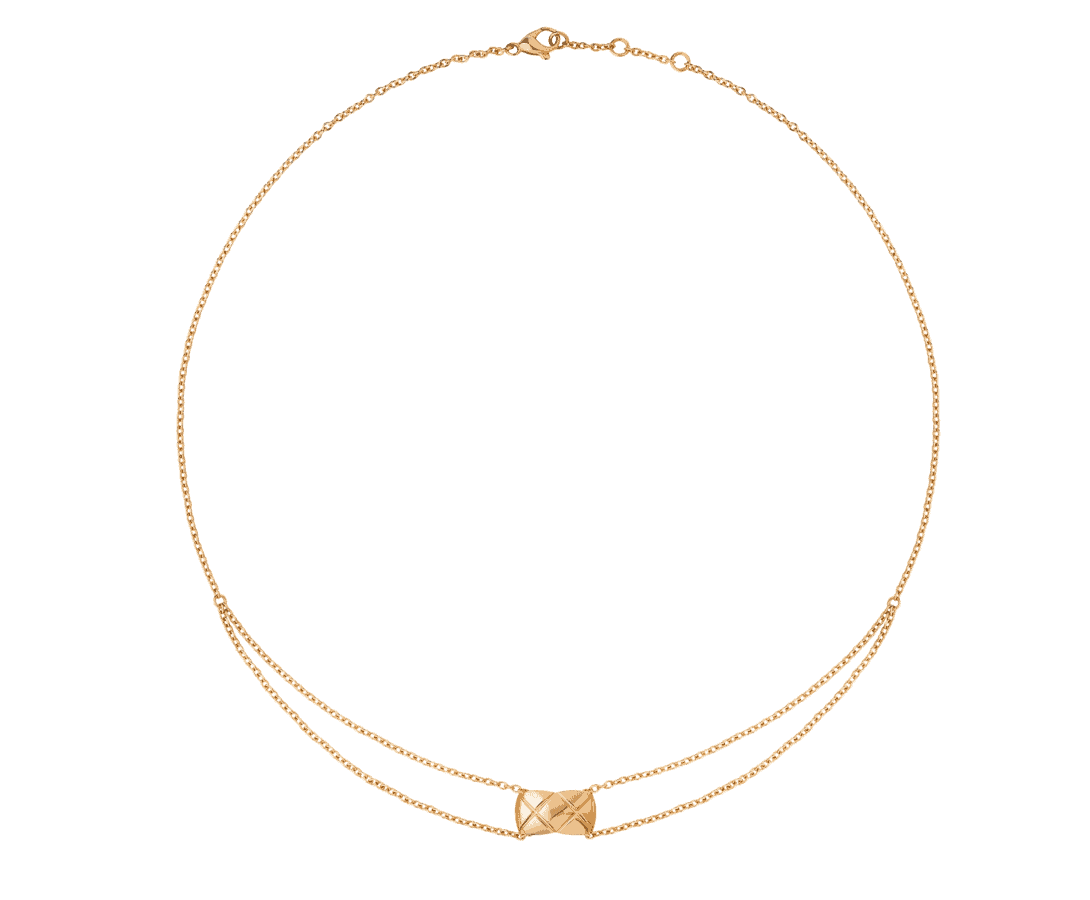 Retailing at $2,800, this is one of the most affordable fine Chanel necklaces you can buy and beautifully crafted. A quilted motif pendant is set on an adjustable 18K yellow gold chain. You can wear this necklace short or long, and it pairs especially well with black. Buy Here.
Coco Crush White Gold Diamond Necklace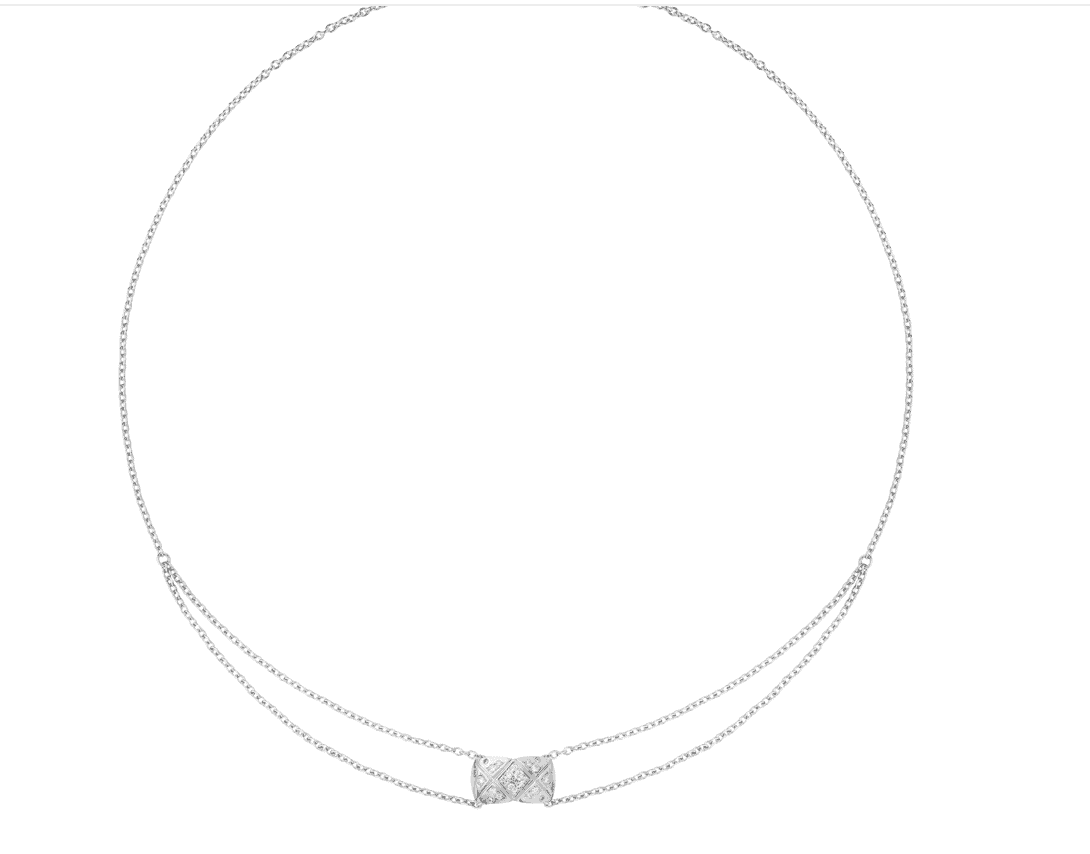 The other stand out from this small Chanel collection is this icy white gold necklace, complimented by a diamond accent. Priced at $5,300, this Chanel necklace features the same adjustable chain, this time in 18K white gold. The pendant is studded with diamonds for beautiful sparkle. Buy Here.
Camelia
Floral motifs, geometric curves, fine strands, and layering make this collection of necklaces a refined statement. There's a timeless, artistic feel to each necklace. 18K white, pink, and yellow gold are accompanied by diamonds and graceful craftsmanship. Fit for any formal event, these necklaces also come at a range of price points. Necklaces start at $2,700 and go up to $34,700. Shop the Collection Here.
Fil de Camelia Necklace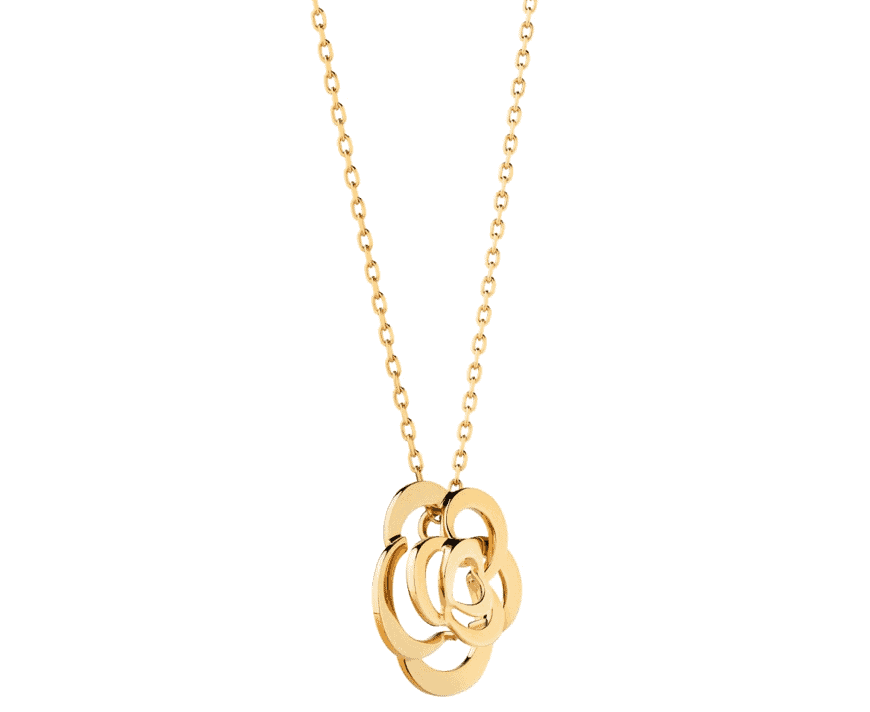 Priced at $3,050, this is one of the most affordable necklaces from this collection. Following the geometric design of many in this collection, overlapping oval rings give the impression of floral petals, set on an 18K yellow gold chain. Buy Here.
Bouton de Camélia Necklace
If you love the geometric petals of the Fil de Camelia necklace but want some sparkle, consider this $6,050 necklace. A solid metal pendant, inspired by florals, is crafted with 18K white gold and accented with diamonds. Buy Here.
Fil de Camelia Necklace with Diamonds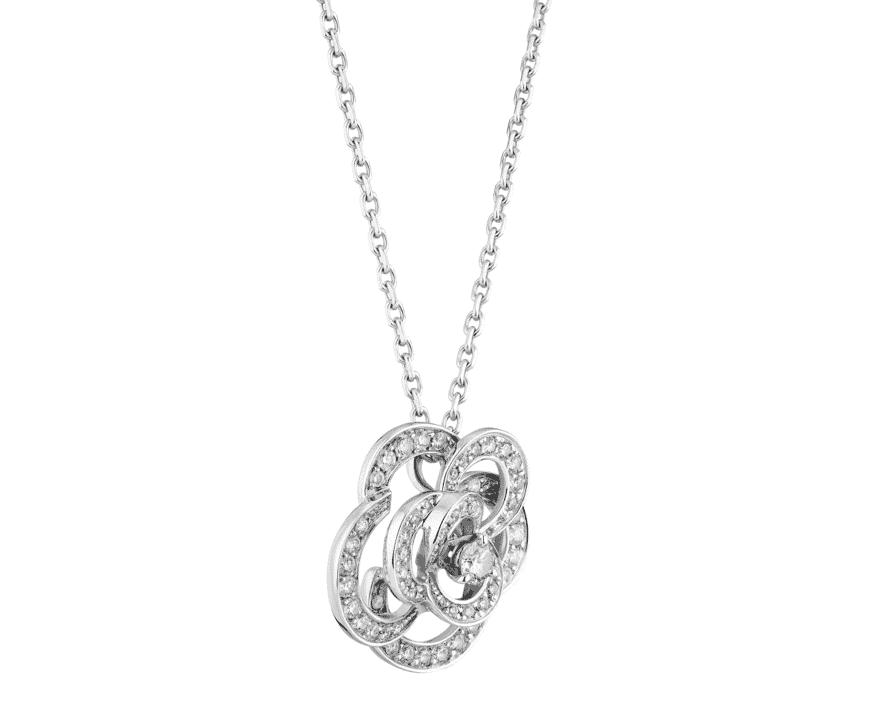 You also can upgrade to this Fil de Camelia necklace for $7,900. The geometric pattern and artistry of this necklace make for a refined, brilliant statement for under ten thousand dollars. Retaining the original design, diamond accents and18K white gold almost transform this into a completely new necklace. Buy Here.
Petals de Camelia Necklace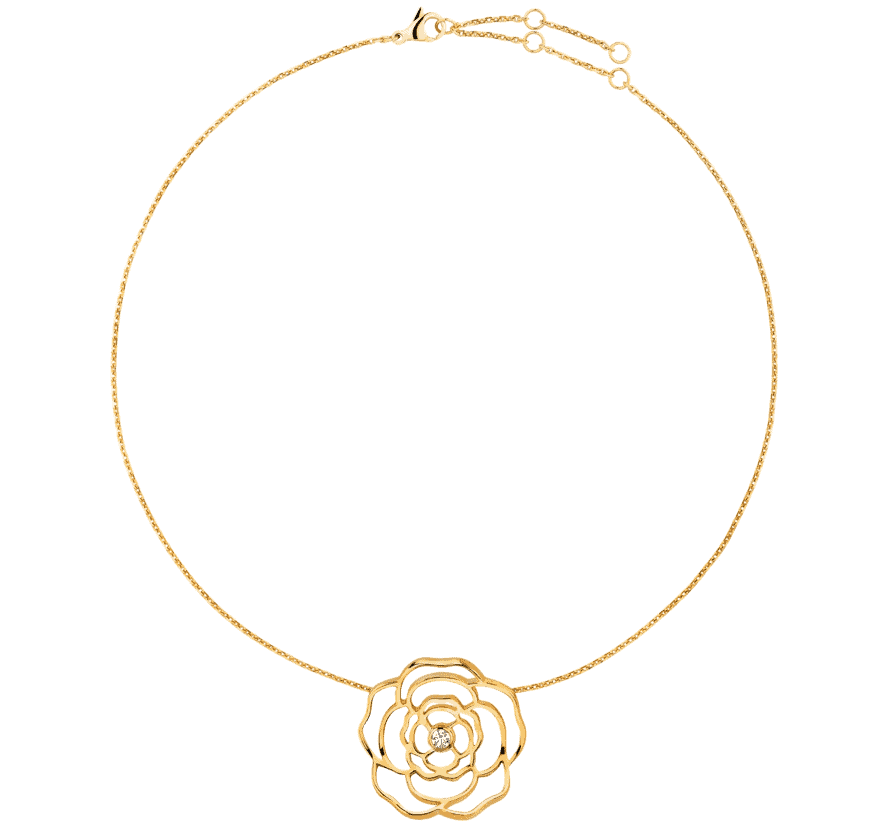 This 3D necklace shows the true skill of Chanel's fine craftsmanship. Priced at $9,350 (base price), an 18K yellow gold chain and pendant add warmth to the three-dimensional floral petals. A diamond in the center adds just a touch of sparkle without distracting from the sophisticated design. Buy Here.
Impressions de Camelia Long Necklace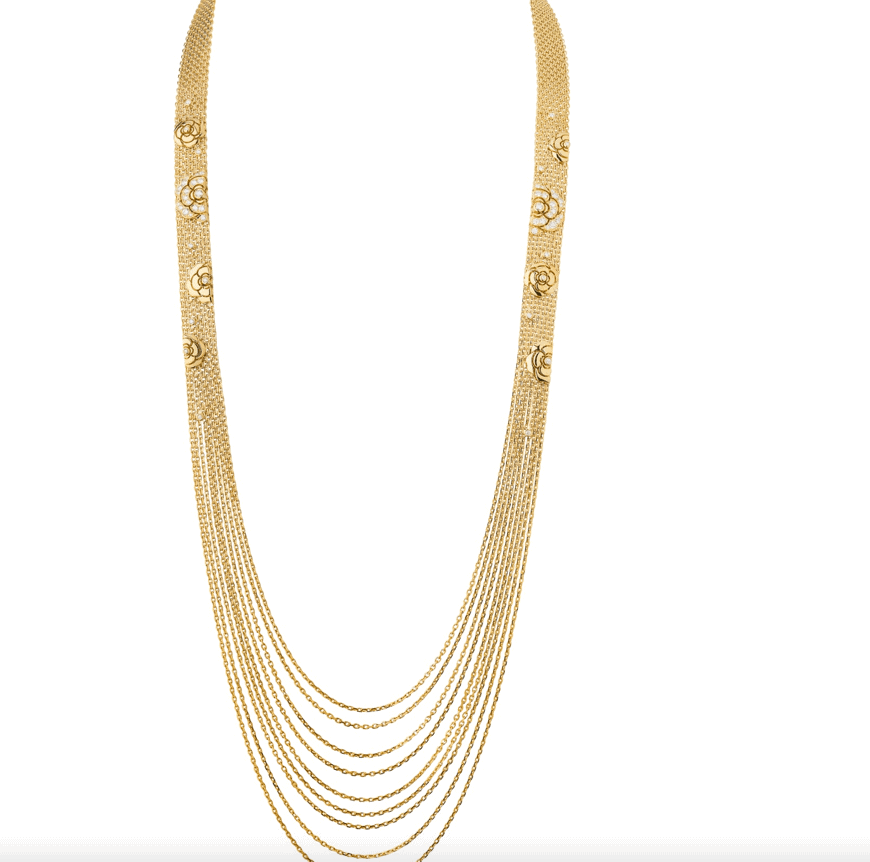 This $34,750 necklace certainly makes an impression. A dramatic array of multiple fine 18K yellow gold strands are accented with solid gold and diamond 3D floral petals. The look is nothing short of breathtaking. Buy Here.
Comete
This collection of necklaces carries a celestial theme, largely with star accents. Whimsical and dreamy, icy 18K white gold complements the theme. Expect fine chains and diamond accents that make you feel like you're looking into a bright night sky. Necklaces are priced from $3,650 to $41,150. Shop the Collection Here.
Geode Necklace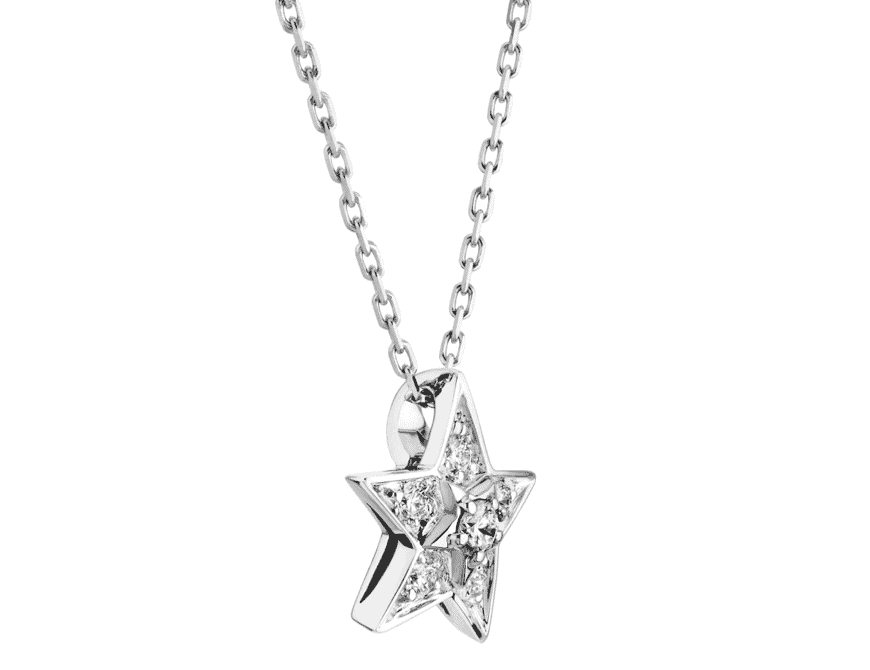 For $3,650, you can steal the whimsical theme of this collection. This 18K white gold necklace features a solid star-shaped pendant with accent diamonds. It's a small accent necklace that's made more versatile with an adjustable chain. Buy Here.
Filante Necklace
Priced at $5,400, this necklace has a unique design and nods back to Chanel's fascination with geometric patterns. Diamond studded rings interlock with a star pendant for a constellation of sparkling 18K white gold. Buy Here.
Etoile Filante Necklace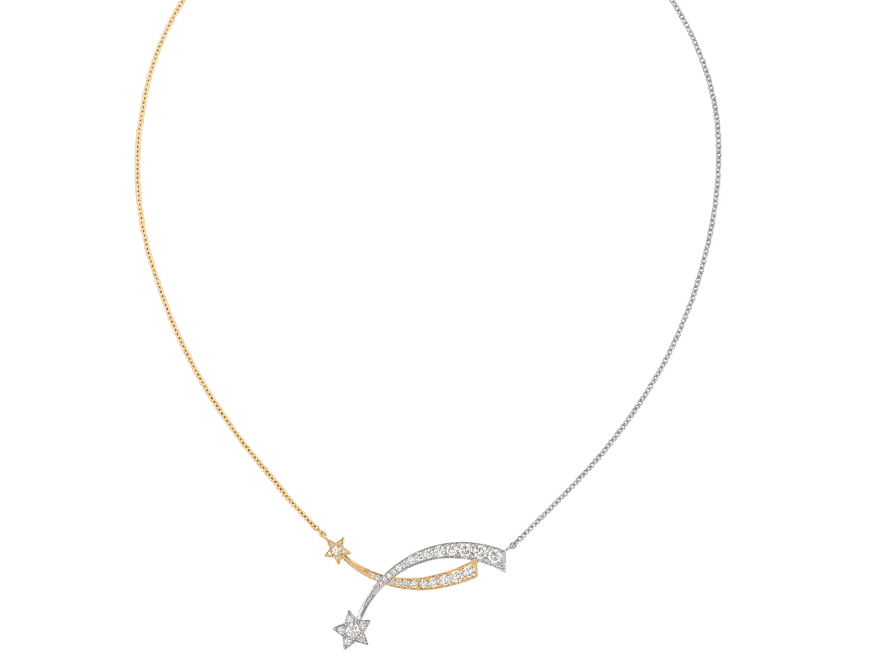 Starting at $9,800, this necklace is my favorite of the collection. While other necklaces in this collection are 18K white gold, the blend of yellow and white gold adds a dramatic touch. This dramatic touch also carries the diamond-studded shooting star pendants for a mystical style that looks great against black or navy blue. Buy Here.
Sous le Signe du Lion
This small collection of necklaces features the symbol of the lion. Majestic, the lion is actually the symbol of the city of Venice. But for Coco Chanel, it was also a symbol of loss and resilience: Venice is where her lover died in 1920. Strong, majestic, and unique– this collection. Diamonds and precious gemstones add the perfect accents. Necklaces start at $9.650 and go up to $19,500. Shop the Collection Here.
Quartz and Diamond Medallion Necklace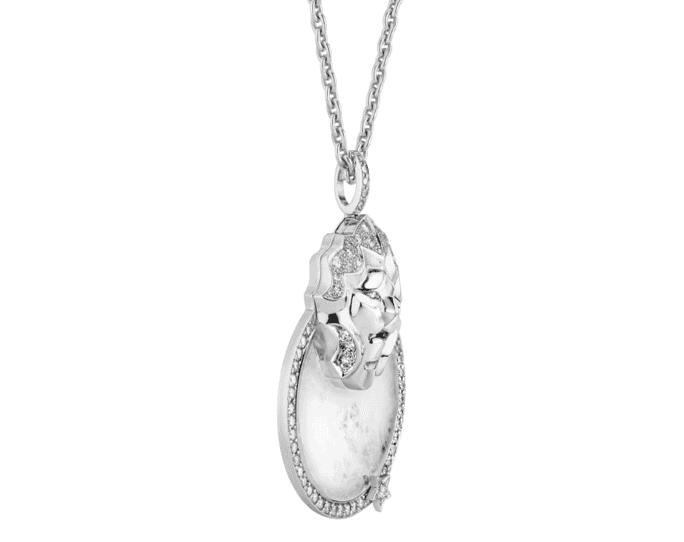 At $9.650, this is the most affordable necklace in the collection. A bit more understated but beautiful regardless, this 18K white gold necklace features a quartz and pendant chain. The lion symbol is expertly crafted. Buy Here.
Lapis Lazuli Lion Necklace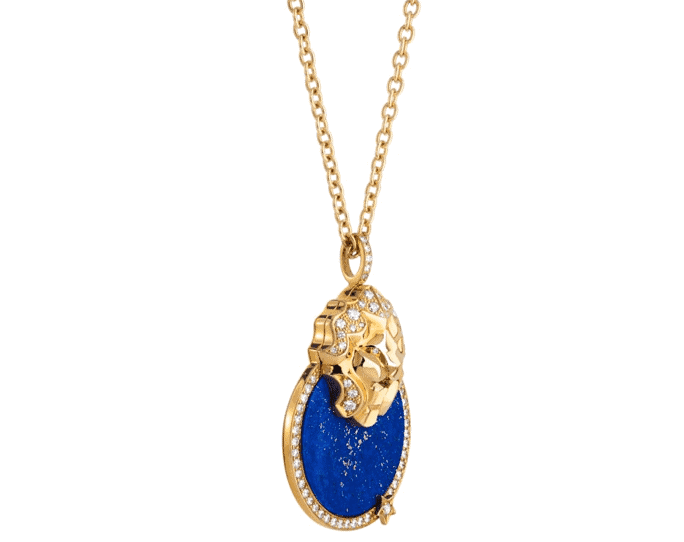 Priced at $9,950, this pendant necklace is my favorite of the collection. An 18K yellow gold lion pendant is accented with diamonds and a round cut blue Lapis Lazuli. The blue and gold together evoke a luxurious statement worthy of the motif. Buy Here.
Diamond Lion Necklace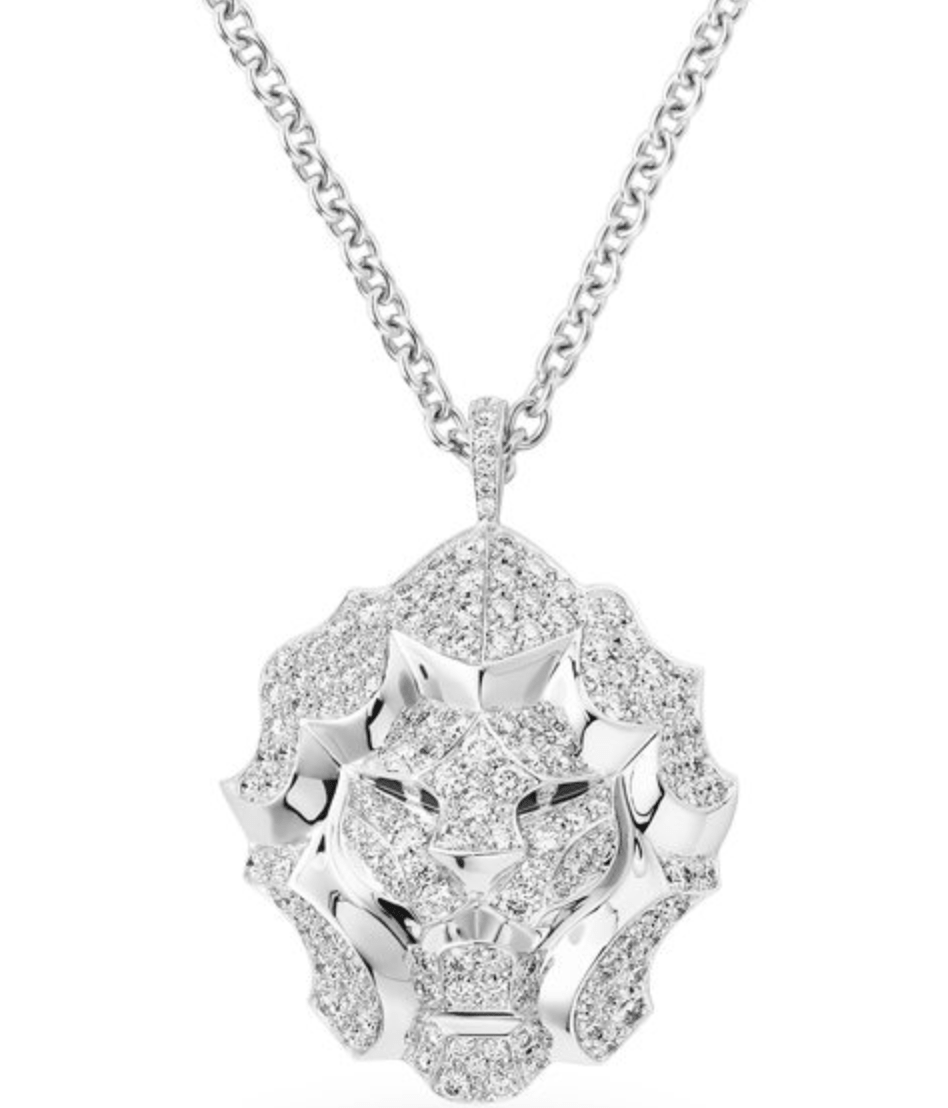 This $16,150 18K white gold necklace radiates with brilliance. An intricately crafted lion's head pendant is covered in accent diamonds. This necklace is for someone who wants to make a more dramatic entrance and boldly carry the lion motif. Buy Here.
Plume de Chanel
This collection features just two necklaces, but they're both among my picks for the best Chanel necklaces for 2022. This nature-oriented collection centers on feather motifs. Carried by Chanel's artistic eye for beautiful geometry, both necklaces feature 18K white gold and diamond-accented pendants. It's also iconic: the feather motif has been carried by Chanel since the early 1930s.
Cultured Pearl Plume Necklace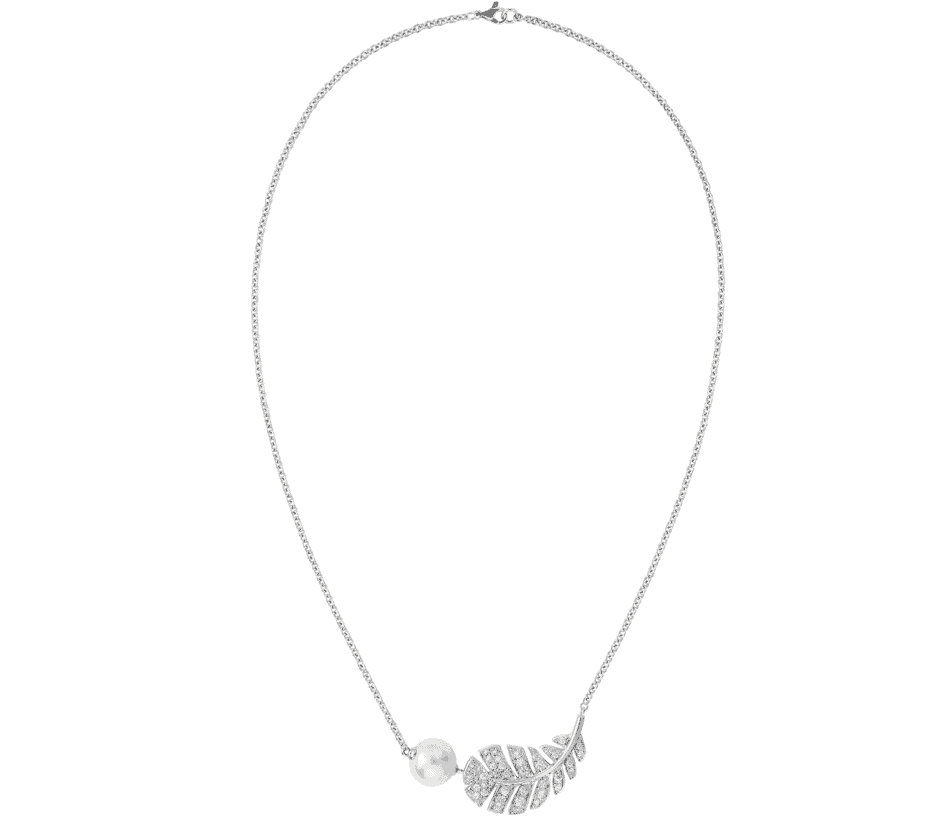 The more affordable option is priced at $6,700 and is distinct with its cultured pearl accent. A feather pendant is accented with sparkling diamonds and made all the more elegant with a single cultured pearl. A refined statement, the feather is tilted slightly, adding a modern touch to a classic necklace. Buy Here.
Diamond Plume Necklace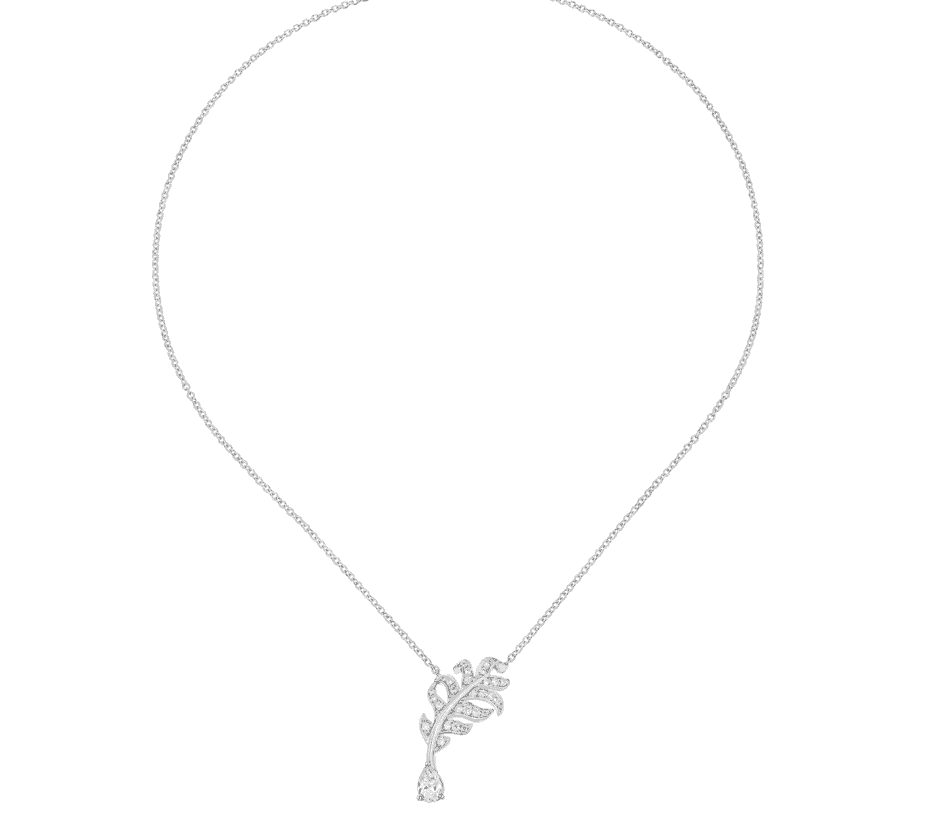 This $12,350 Chanel necklace features a luxurious, diamond-studded feather pendant on an 18K white gold chain. Plenty of sparkles add a more elegant touch to the iconic motif, making for a timeless style. Buy Here.
N5
This collection also consists of just two necklaces, but they both go on my picks for the best of Chanel in 2022. I recommend these necklaces for anyone interested in diamond-focused pendant styles. 18K white gold, modern artistic touches, and dangling strands carry this small collection.
Eternal N5 Necklace
An iconic "5" pendant is studded with diamonds. This $8,800 necklace showcases how clever design and geometry can showcase the brilliance of diamonds. The 18K white gold is the perfect way to carry a look that is highly versatile. Buy Here.
Eternal N5 Dangling Necklace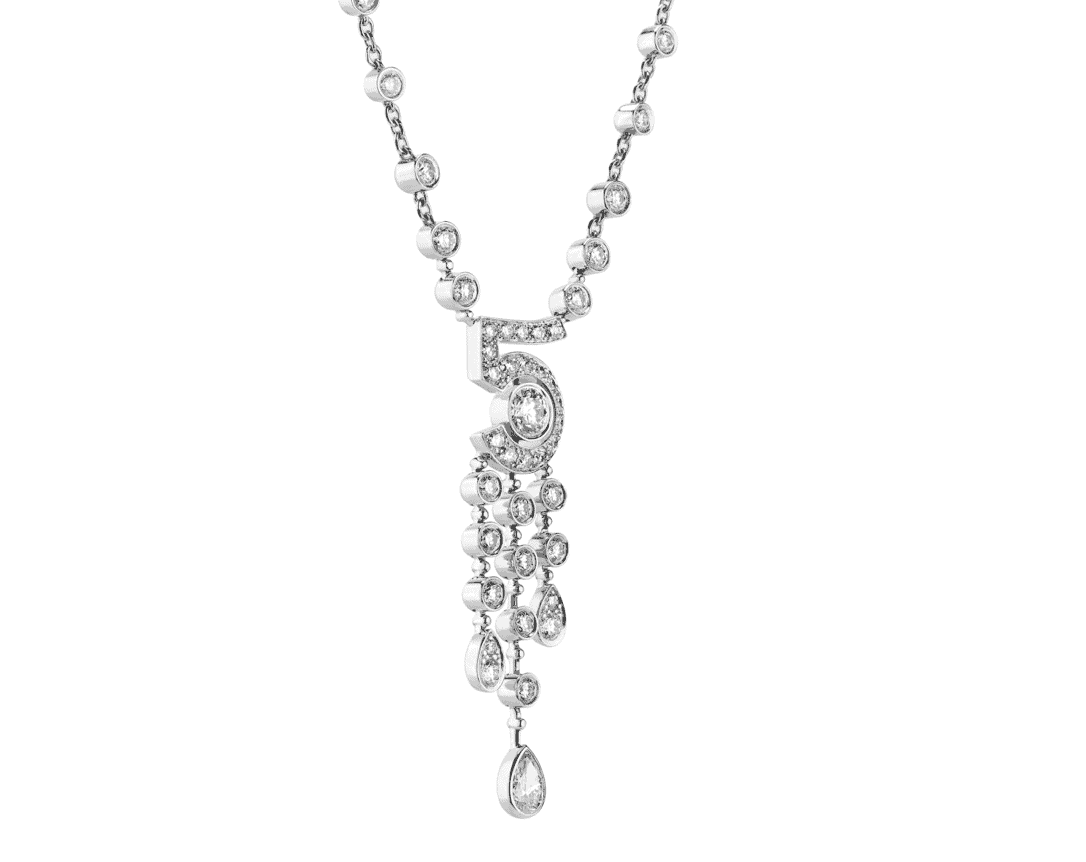 The price point makes this necklace a luxury option ($39,800) but it's worth looking at just to appreciate its artistry. The same style is elevated with dangle diamond strands, adding all-around brilliance to the 18K white gold chain. Buy Here.
A Note About High Jewelry
I am not recommending Chanel high jewelry necklaces for the average consumer, but the current collections truly showcase just why this designer remains iconic.
The 1932 Collection harkens back to Gabrielle Chanel's direction during the Great Depression era. Diamond studded necklaces, dramatic lengths, and daring geometry abound. Other current collections include the Lion and Camelia collections.
These collections are most typically worn by celebrities or important public figures. You'll also see such collections on the Runway.
Frequently Asked Questions
Question: Does Chanel sell cc necklaces?
Answer: Chanel carries a Coco Crush necklace collection. These necklaces feature solid 18K gold with diamond accents and can be worn with almost anything. A Coco Crush necklace can also be purchased for under $3,000. depending on the style.
Question: Why does Chanel never go on sale?
Answer: Expensive as Chanel is, it's also known that Chanel, like some of its competitors, does not hold sales. This joins other luxury brands such as Tiffany & Co and Louis Vuitton. There is not one specific reason why Chanel doesn't go on sale so much it's a common practice in the luxury jewelry industry.
Question: What brands does Chanel own?
Answer: Chanel is the owner of Eres, a swimwear and lingerie brand. It also has subsidiary companies located across the world.
Question: Where can you buy Chanel necklaces?
Answer: While a select few Chanel products are available online, most should be bought as an in-store purchase. Physical store locations include both department stores (such as Macy's) as well as Chanel storefront locations. Click Here to Locate a Chanel Boutique.
Final Thoughts
Chanel necklaces are known for their elegance, unique geometric designs, and artistic touch. Refined and carefully crafted, they truly are iconic.
While I've given my favorite picks, Chanel has 38 necklaces in its Fine Jewelry collection. You can Shop all Chanel Necklaces Here.