Latest posts by Erin Jamieson
(see all)
Luxury jewelry designers like Chanel and Cartier are known for their iconic designs and their brand name. But the best is yet to come in 2022, with David Yurman necklaces being featured as an intersection of fashion ideas and activism. 
Lewis Hamilton, the 36-year-old British racing driver, has many accomplishments to his name, including records for the most wins and podium finishes. But as he's become a lauded name in the sports world, he's also become a fashion icon. 
Sporting streetwear, bold patterns, suits, and neon hues, Hamilton recently attended the Balenciaga couture show at Paris Fashion Week.
And now he's partnered with Law Roach to use statement pieces like David Yurman necklaces to advocate for better representation for people of color.  Their most recent project has included trying to recruit more Black engineers in Britain. 
And while you don't have to be an influencer or activist, it just goes to show how relevant David Yurman necklaces are for men and women alike– and how a piece of fashion can be quite meaningful. 
Consider this your guide to David Yurman necklace ideas. I'll tell you what you need to know about what makes David Yurman special and provide my picks for the best David Yurman necklaces for men and women. 
What's so Special About David Yurman?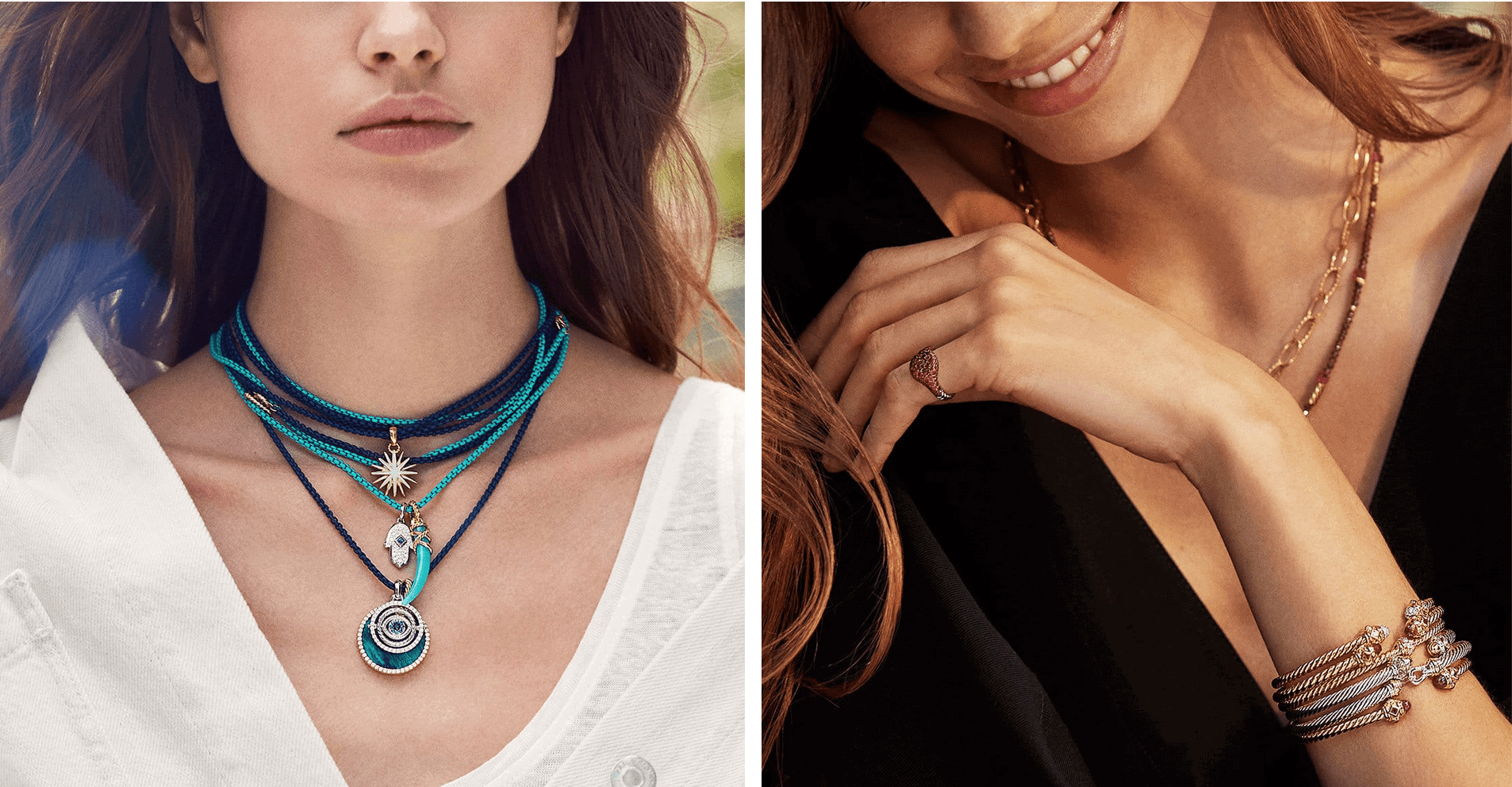 David Yurman is a luxury designer known for innovation. First founded in 1942 in New York City, where its headquarters remain, David Yurman started with a unique vision.
He was inspired by welding techniques he learned from Cuban sculptors Ernesto Gonzalez, years hitchhiking in California, and his apprenticeship with Jacques Lipchitz, a modernist sculptor. 
Teaming up with his wife and painter Sybil Kleinrock, Yurman took an artistic approach to his jewelry that would make waves in the industry. By 1997, Yurman became the first well-known jewelry designer to set diamonds with sterling silver. 
Over time, Yurman has become known for combining traditional and new methods, offering unique stone cuts and unexpected materials like black titanium, meteorite, and forged carbon. 
Perhaps what makes David Yurman stand out is just that: the ability to create timeless pieces while innovating with a modern, artistic approach. 
Who Wears David Yurman?
Many celebrities and influencers wear David Yurman. Some notable celebrities, aside from Renee Zellweger, Gwyneth Paltrow, Steven Spielberg, Ashley Judd, Mary J Blige, and others. 
What Diamonds Does David Yurman Use?
If you're considering a diamond necklace from David Yurman, the good news is that all diamonds from David Yurman are not only real but also certified conflict-free. They also do not sell any diamonds sourced from Zimbabwe, which has been an area of concern for ethical sourcing. 
They are also members of the Responsible Jewelry Council and select diamonds held to high GIA certification standards. Such considerations are also made from their gemstones. 
What are David Yurman's Necklaces Like?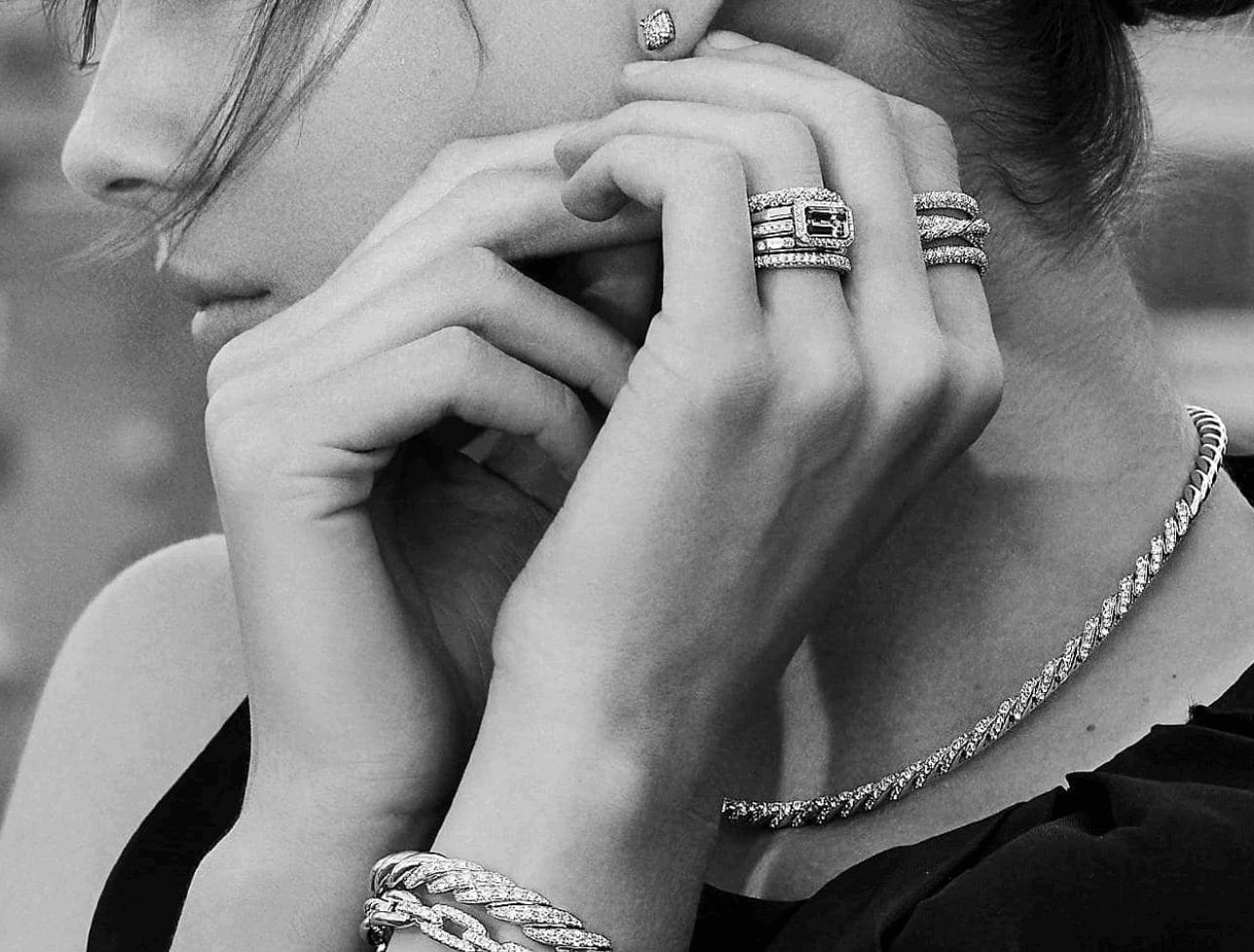 David Yurman's necklaces include both men's and women's collections. You can see much of the sculptural influences in both collections. Though David Yurman's necklaces are strikingly modern, they have an element of timelessness, with refined details and artistic lines and geometric shapes.
David Yurman necklaces manage to also come across as casual or formal, depending on what you're wearing. 
While you'll find classics like cross necklaces, David Yurman continues to appeal in that the designs are distinctly DY. There's also some twist or accent you might not expect. 
What Are David Yurman Necklaces Made Out Of?
David Yurman necklaces include a variety of metals. You'll find plenty of options for sterling silver, as well as 14k or 18k gold. From the men's collection, you'll also find necklaces and chains made out of stainless steel and platinum, although far less. Diamonds accent many necklaces, as well as gemstones. 
Do David Yurman Necklaces Tarnish?
David Yurman is upfront about their necklaces being tarnished. Sterling silver naturally tarnishes from everyday air exposure to salt, chlorine, and even rubber.
While you don't have to worry about gold, stainless steel, or titanium necklaces tarnishing, sterling silver necklaces, including those from David Yurman, will tarnish eventually.
I appreciate their transparency and advice. David Yurman recommends wiping off tarnish with a polishing cloth. You can also take your necklace to a storefront if you want to pay for professional cleaning. 
How Much do David Yurman Necklaces Cost?
David Yurman necklaces don't come cheap. If you're after gold necklaces, expect to pay a starting price of $750 for women or $1,400 for men. There are luxury options, too– with the most expensive listed necklace retailing for $95k. Sterling silver necklaces are more affordable, with a starting price of $295, through $4,900. 
The good news is that there are necklaces at about any price between those ranges and a decent amount of variety. 
Do David Yurman Necklaces Hold Value?
While it's true that David Yurman's necklaces are expensive, it's also true that they generally hold their value. David Yurman is known to have a great resale value for its best products.
Do keep in mind that how well your necklace holds value does depend on its condition. Sterling silver will hold value the least, not only because it can tarnish but also because it is less valuable to begin with. 
To ensure your necklace holds its value, you should wear it with care, removing it for swimming and avoiding harsh chemicals or extreme temperature changes. In fact, David Yurman provides information on its website for proper product care.
This involves using mild, soapy water and a soft cloth. You should always make sure to dry your necklaces completely and shouldn't use dip-style cleaning products or silver polish. 
David Yurman Necklaces: My Picks
Now I'll give you my picks for some of the best David Yurman necklaces in 2022. To select my picks, I have included ideas for every price point and what I consider to be the best overall value.
I've taken into consideration the materials used and the unique artistic construction, as well as how much use you're likely to get out of that necklace. 
I've included gold, sterling silver, stainless steel, and platinum necklaces and arranged my top five picks (with one exception) from least to most expensive in each category. 
Men's Gold Chain Necklaces
Box chains, curb chains, and link chains are among the most popular styles for men's necklaces, and that's what David Yurman focuses on. In fact, gold chains are also among the most versatile.
It's become quite popular to see gold chains paired with something as simple as a white t-shirt. This collection starts at $1425, through $28,000. Shop the Gold Collection Here.
1.7 mm Gold Box Chain Necklace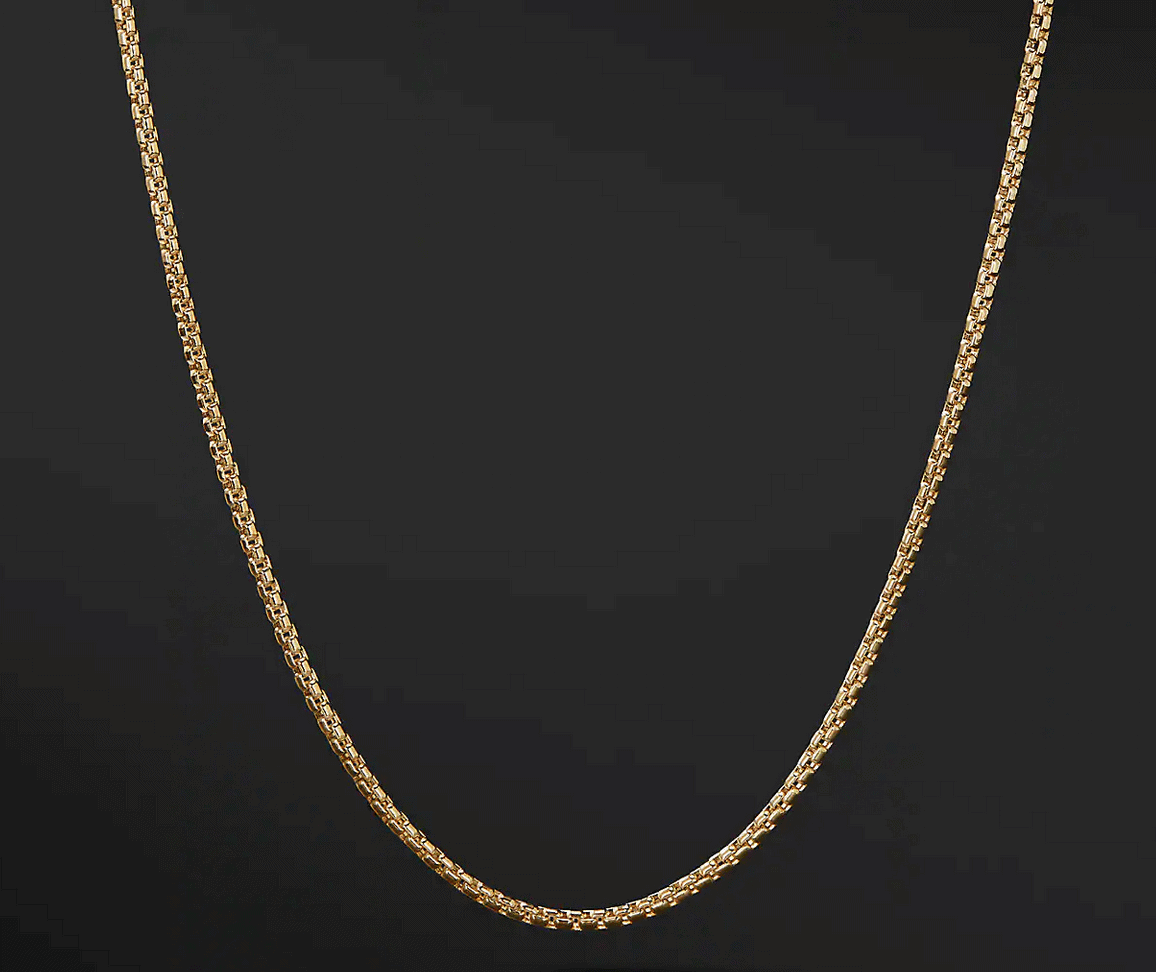 It's easy to see why this box chain necklace is a bestseller from David Yurman. With a starting price of $1425, this classic chain can be worn with just about anything.
Featuring a lobster clasp and 1.7mm chain, this necklace can easily be paired with other chains. In fact, you could save money by buying this shorter chain necklace and pairing it with a cheaper one.
You'll still get that iconic touch of David Yurman and dimension without a hefty price tag. Available in both rose and yellow gold: Buy Here. 
Charm Chain Necklace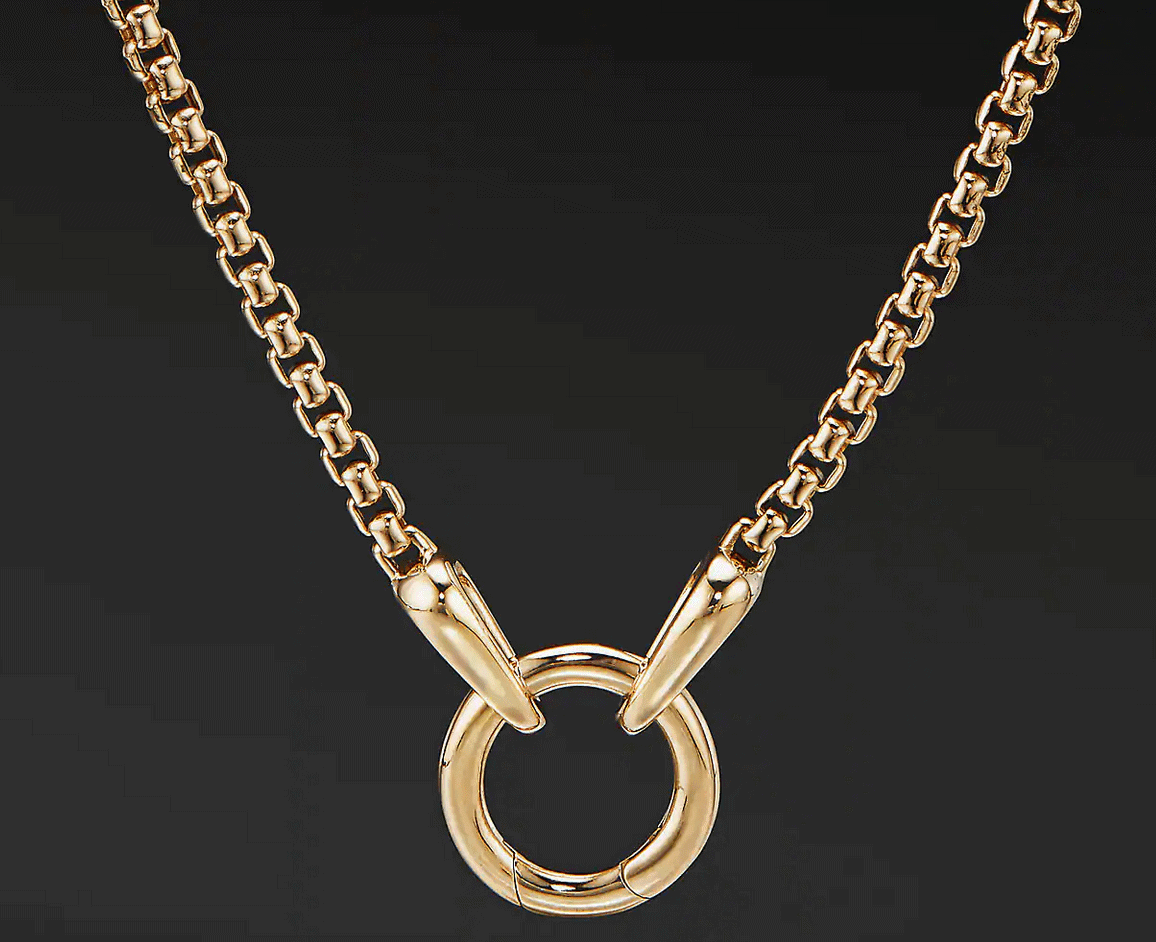 A rare find in the David Yurman men's gold collection, this charm necklace is modern and understated but still stands out.
Keep in mind that it's also available in stainless steel and sterling silver (which are priced at under $500). The look really does shine in 18K gold, though, with a polished circular pendant on a generous 20-inch chain. Priced at $3,650: Buy Here.
Open Station Box Chain Necklace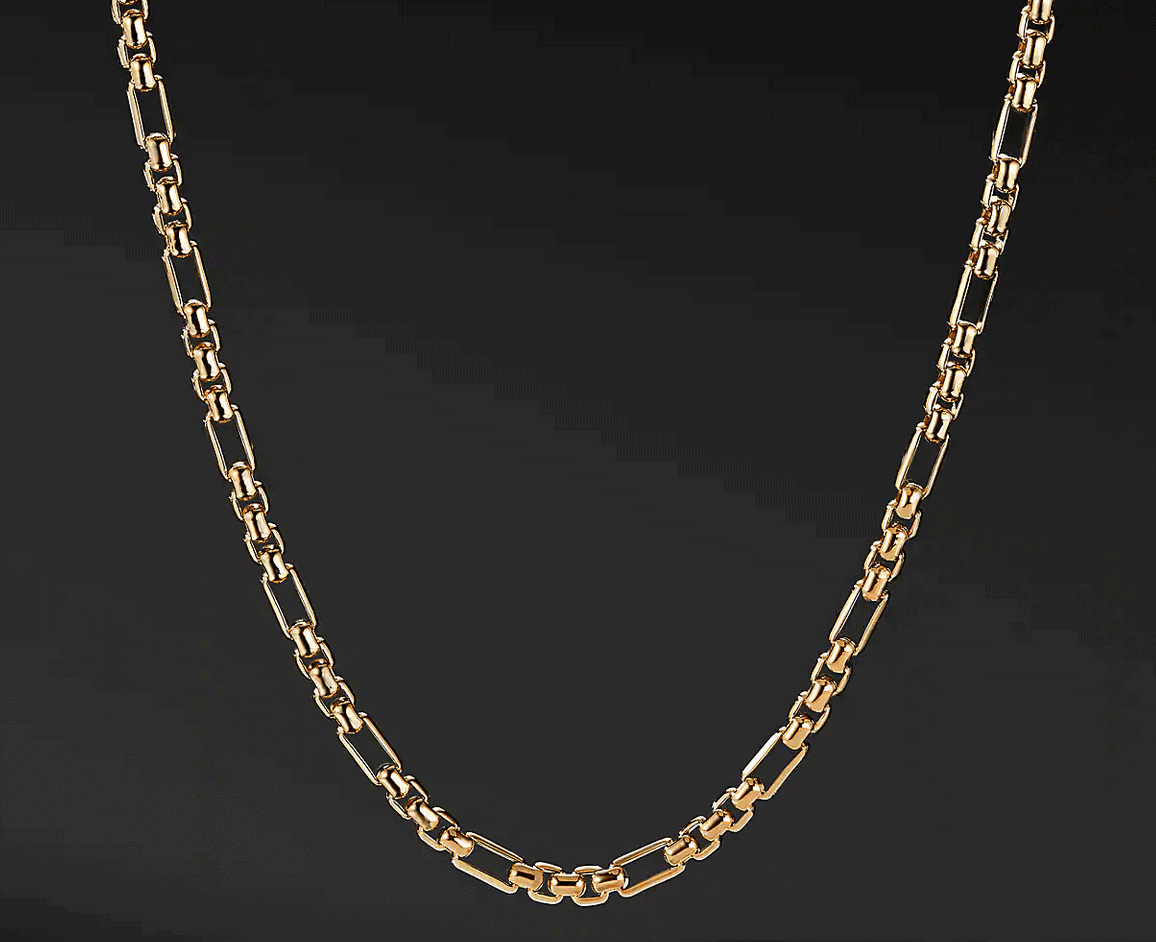 Also available in sterling silver, this 18K yellow gold open station chain necklace is a great buy. Priced at $6.400, it's a more formal take on the popular box chain style. This bestselling David Yurman necklace is 3mm and secured with a lobster clasp: Buy Here. 
Medium Fluted Chain Necklace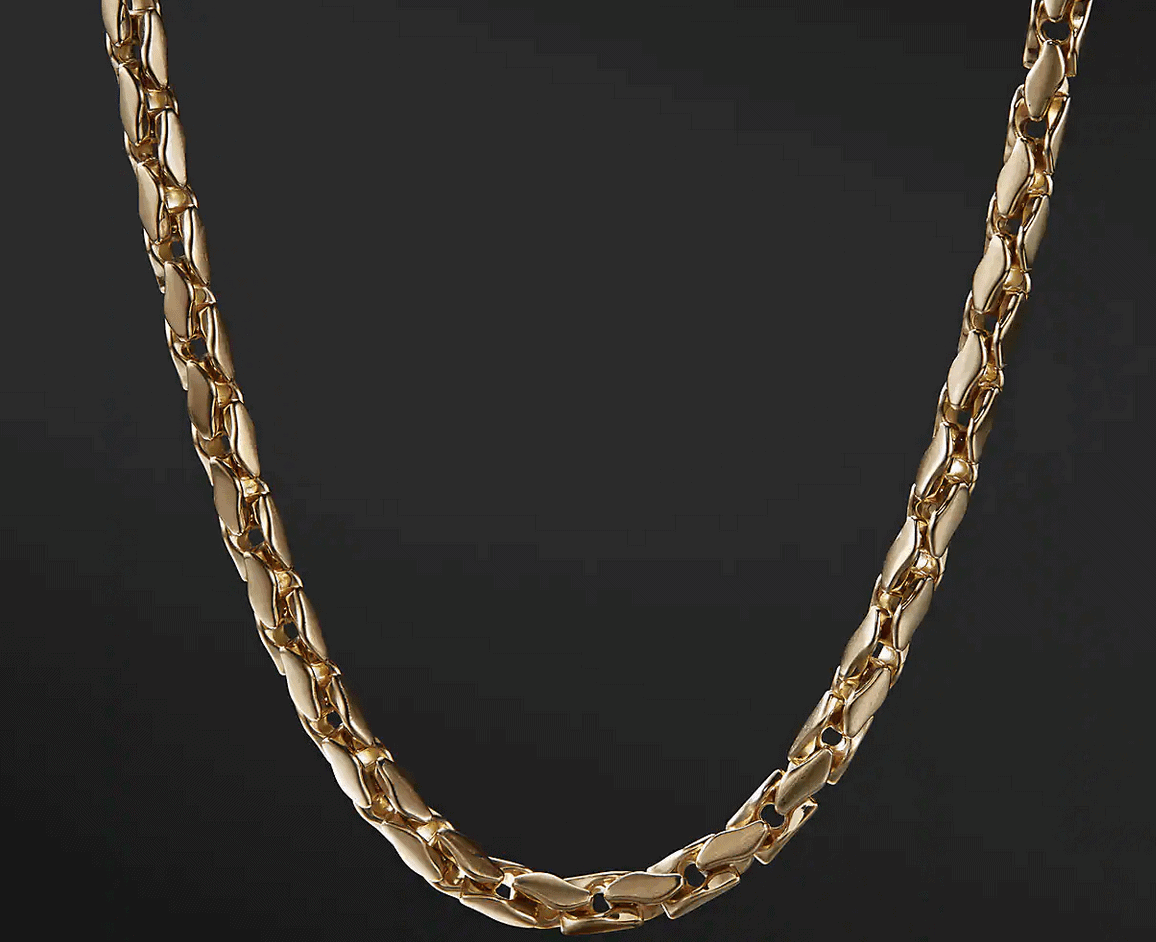 Also available in sterling silver, this 18K yellow gold chain is a blend of classic and modern artistic motifs. The fluted design is precisely crafted and offers polished shine. Stately but also perfect to pair with casual wear, this popular David Yurman chain retails for $6,900: Buy Here.
Chain Link Narrow Necklace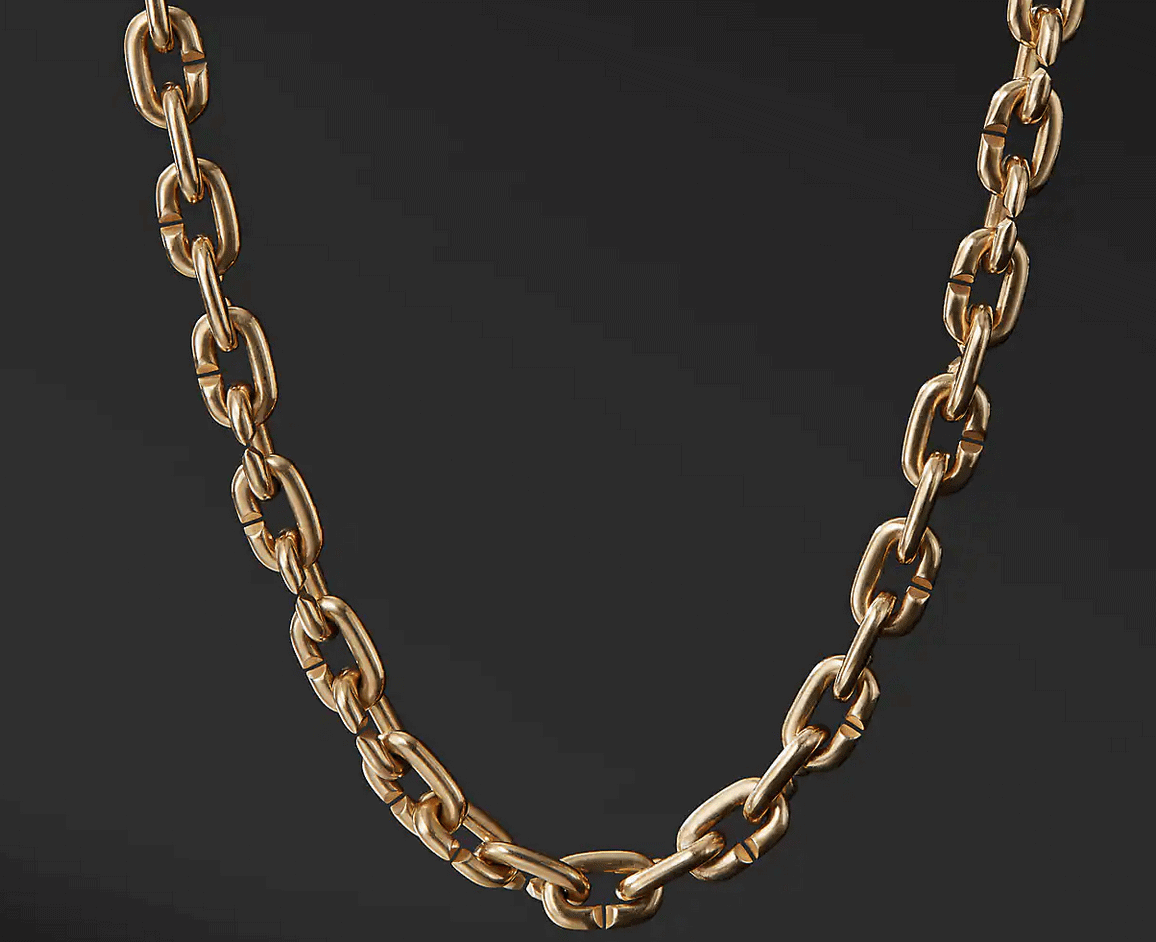 You can buy a more expensive and bold chain necklace from David Yurman. But this 18K yellow gold chain, priced at $13,800, is a good deal if you have the budget. While their top-dollar $28K chain necklace is no doubt eye-catching, this narrow link chain necklace still makes an impression and is easier to layer with other chains. (Also available in sterling silver): Buy Here. 
Men's Stainless Steel & Platinum Chain Necklaces
Stainless steel and platinum are fantastic options if you're concerned about durability. Stainless steel chains also are suited for those who typically have metal allergies or sensitive skin.
Both platinum and stainless steel are durable and harder than gold in any form. Plus, both metals are resistant to corrosion while providing a cool metallic hue. While David Yurman does also offer sterling silver, these options are a more durable option. 
Small Box Chain Necklace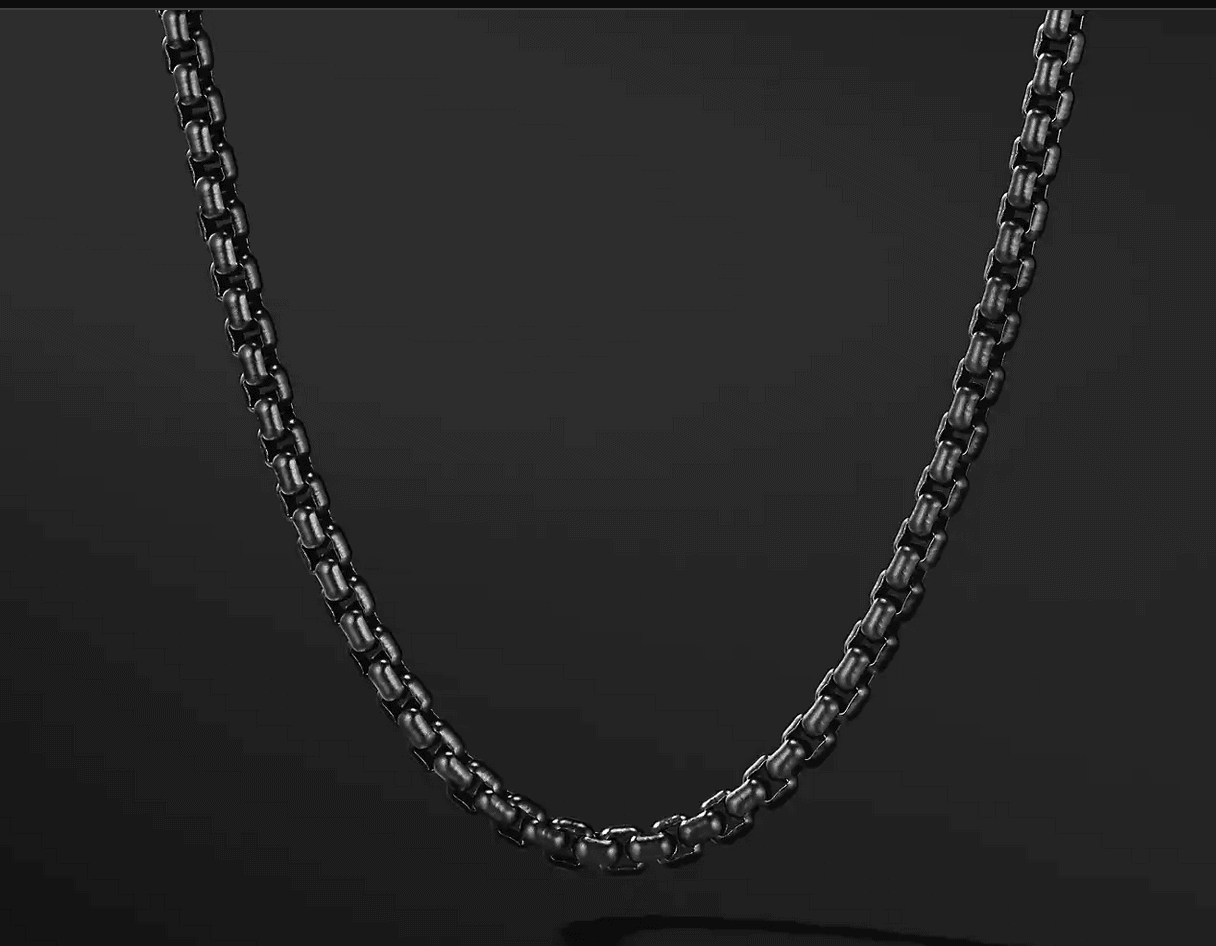 Available in 2.7 mm and 4mm, this classic look is simple and versatile. Choose from titanium or stainless steel for a durable and unique take on a chain necklace, with a more affordable starting price of $235 to $350. Buy 2.7 mm here or 4mm here. 
Stainless Steel Charm Necklace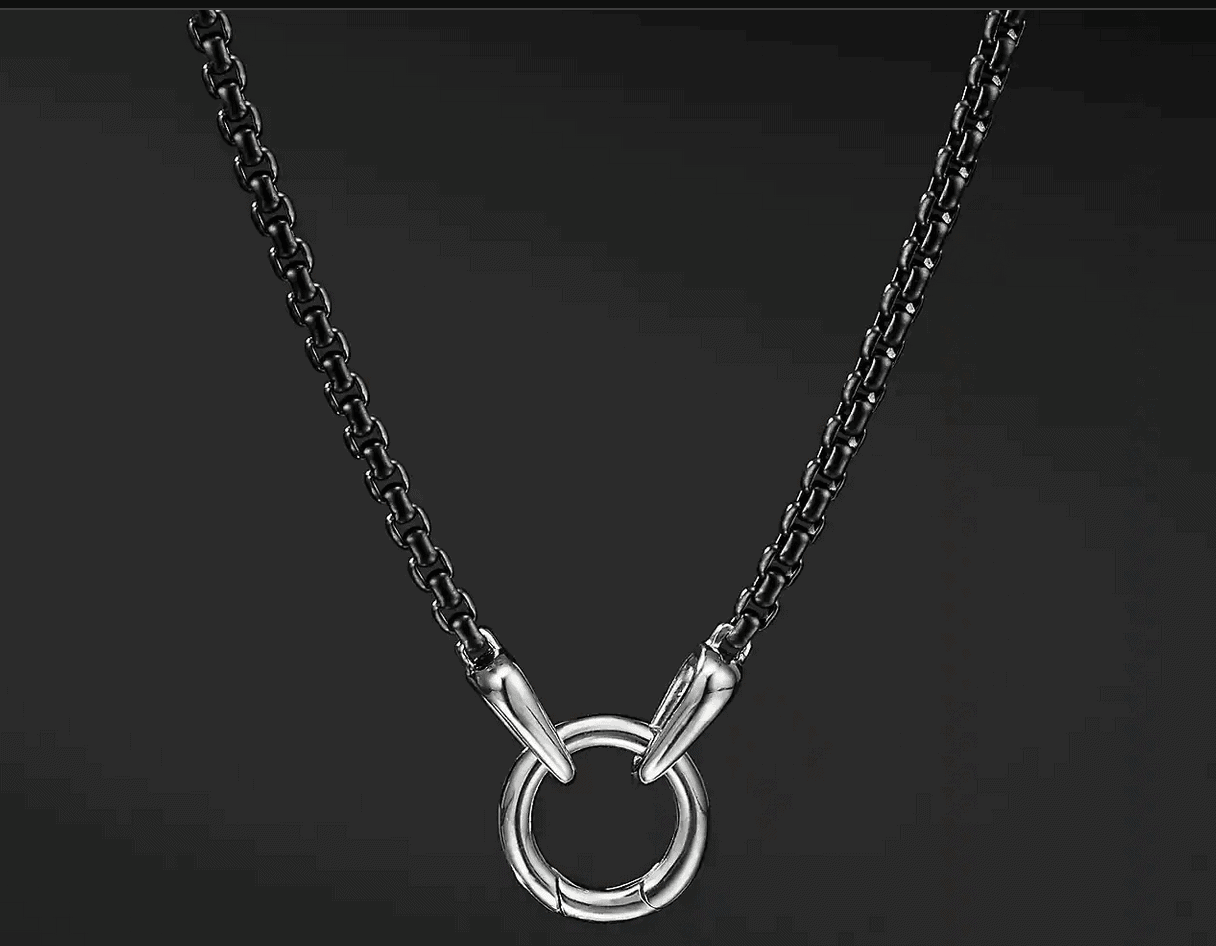 Yes, this is, in fact, the same design as my pick for the gold charm necklace. Still, it's worth mentioning. If you like the cool metallic hue, I actually think this is a better choice than the 18K gold chain, especially if you plan to wear it daily. While not as valuable, it'll be a bit more durable, and it costs just $420: Buy Here. 
Box Chain in Platinum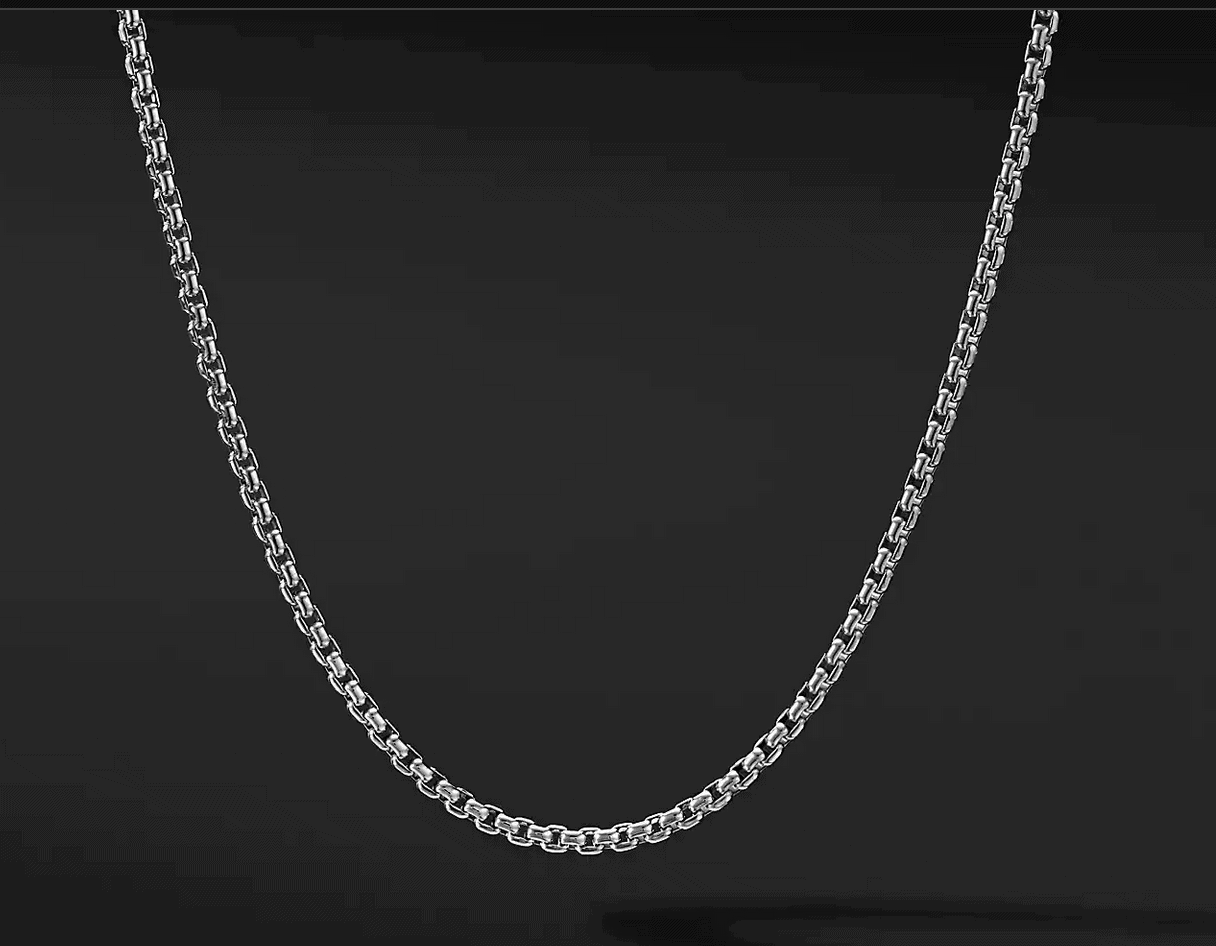 This 2.7 mm box chain features an iconic classic style with a modern appeal. Platinum is both valuable and quite durable and provides a cool, sleek finish for this box chain. Priced at $5,000: Buy Here. 
Women's Gold Necklaces
Sculptural charms and understated minimalist chains exude a modern and refreshing collection. 18k white rose and yellow gold is paired with modern elegance.
You'll find many necklaces with diamond accents or pendants, but the focus here is modern artistic designs instead of loud statement necklaces.
I also love that David Yurman's gold necklaces for women are almost as versatile as their men's– and can be worn with formal and casual outfits alike. Prices start at $750, though $95k, for David Yurman's largest collection of necklaces.
 Shop All Gold Women's Necklaces Here. 
Cable Collections Cross Necklace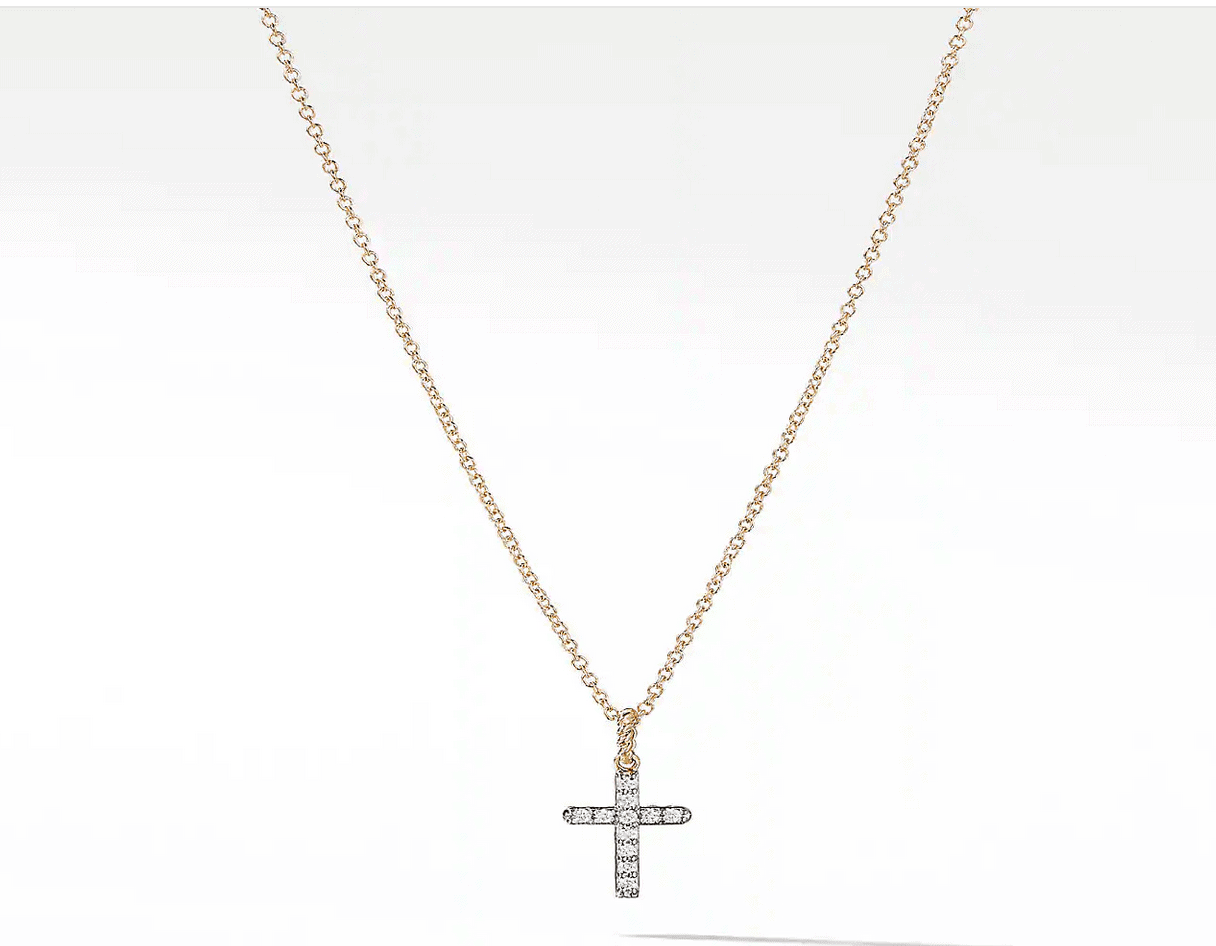 This bestselling David Yurman necklace is available in 18K white or yellow gold and features a diamond-studded cross pendant on a fine cable chain. With an adjustable clasp, this beautiful necklace can be worn to formal and everyday occasions. Priced at $875: Buy Here. 
Starburst Pendant Necklace with Diamonds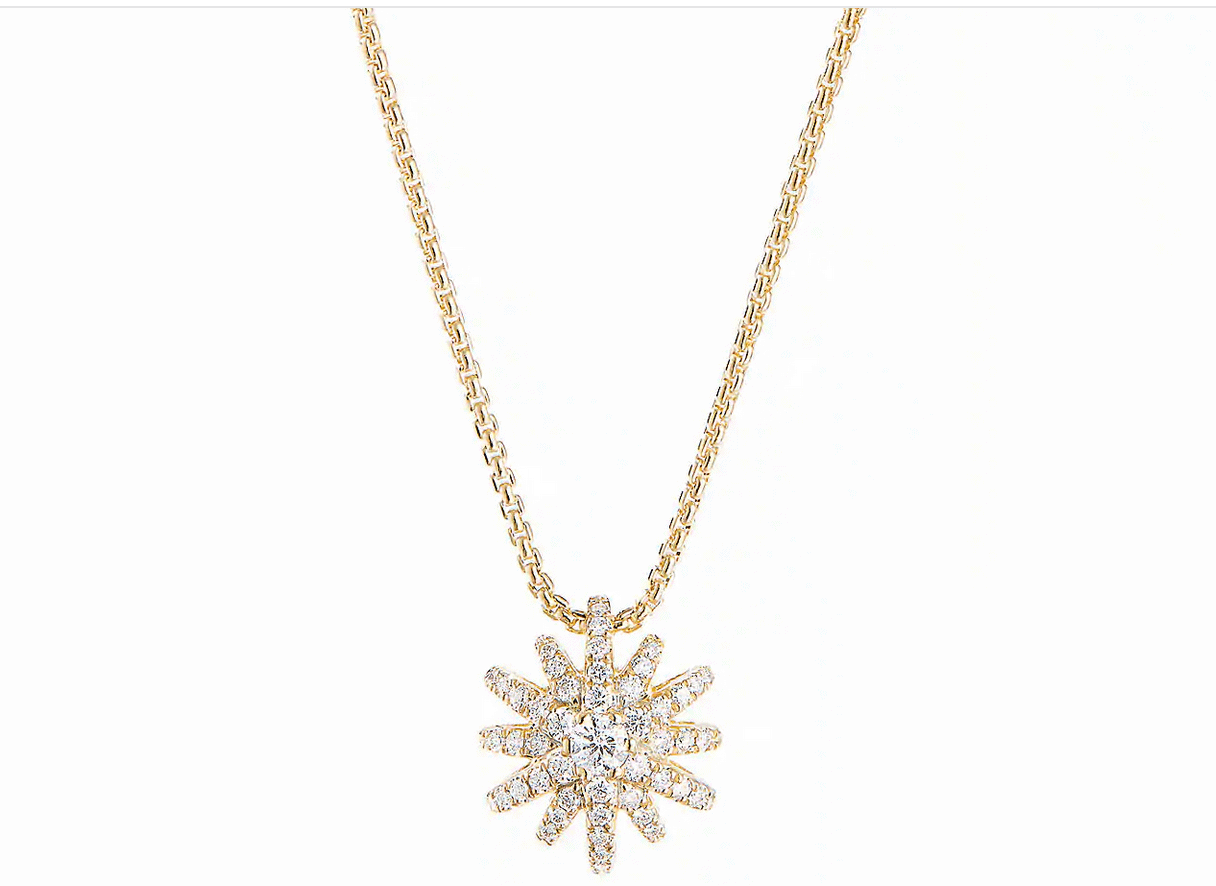 Celestial necklaces are trending, so it's no surprise that this pendant necklace is another bestseller for David Yurman. Trending or not, this stunning necklace features an artistically crafted starburst pendant studded with .20 carats of pave diamonds. Available in white or yellow gold and priced at $1,950: Buy Here. 
Madison Chain Thin Necklace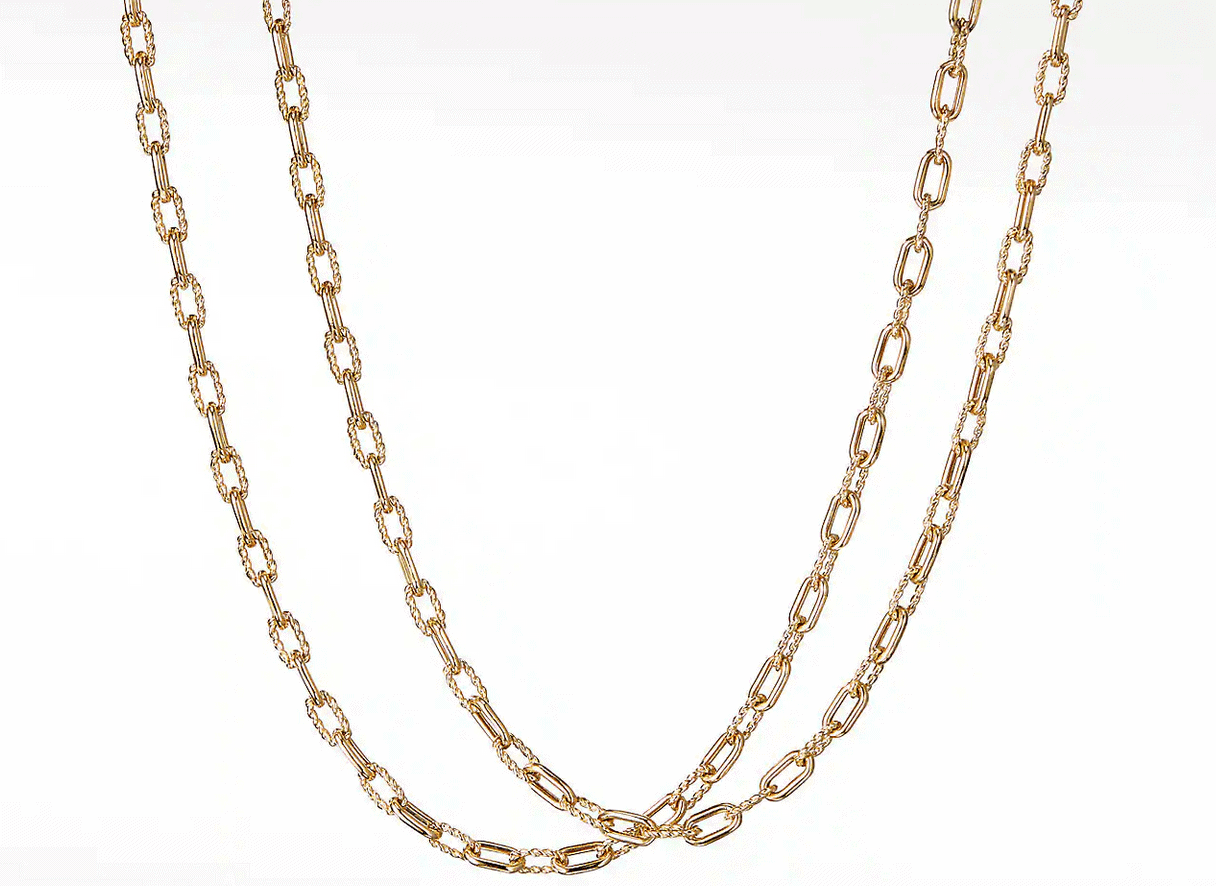 Chain necklaces are in style for women, too– and they offer a classic, versatile appeal. This is the most affordable link chain gold necklace David Yurman has for women, with a starting price of $1,950.
The thin strand offers a more delicate, elegant look and looks great paired with white tops or dresses: Buy Here. 
The Crossover Collection Bar Necklace with Diamonds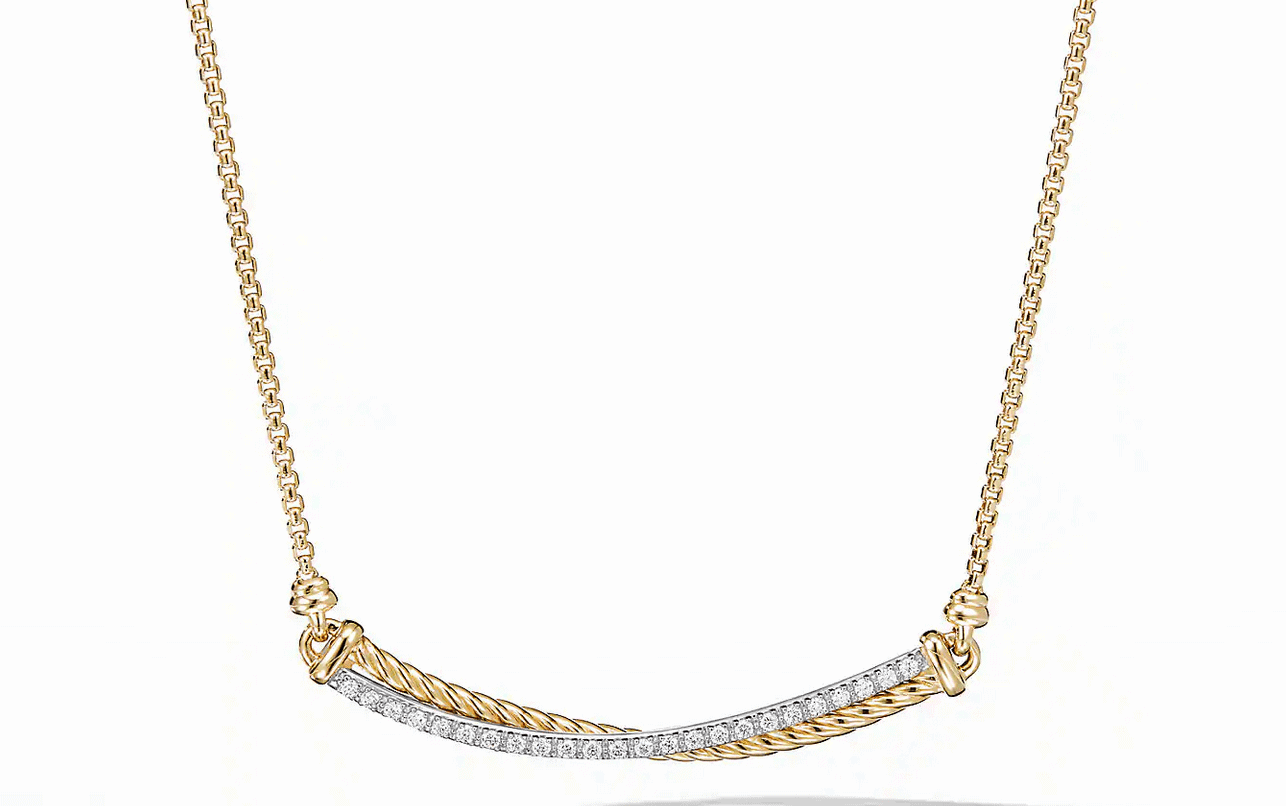 This dazzling bar necklace is a David Yurman bestseller for good reasons. While 0.20 carats of accent diamonds offer a touch of glamour, the necklace stays sleek, modern, and unique.
A great addition to the Crossover Collection, this necklace plays with forms and movement, with a "dynamic range of smooth and cabled" textures. Priced at $3,800: Buy Here. 
Helena Pearl Strand Necklace with Diamonds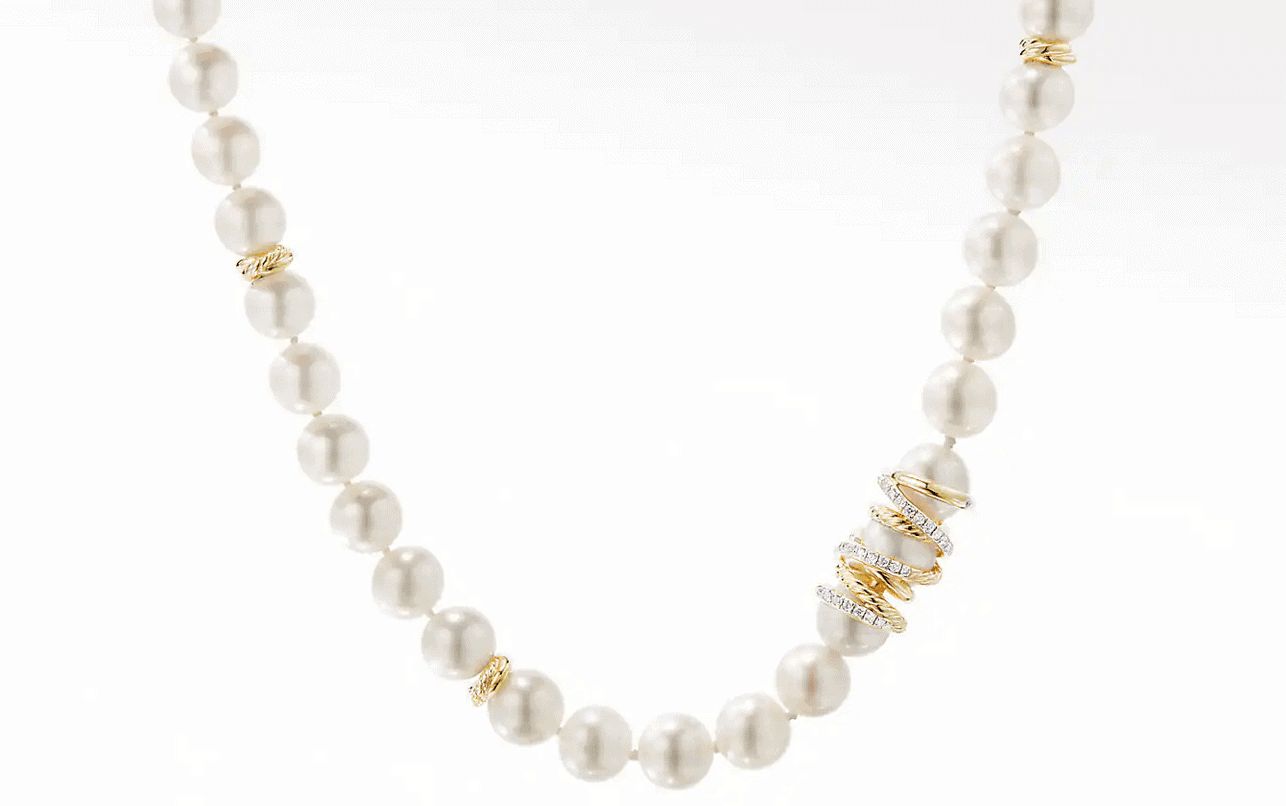 Pearl necklaces will likely never go out of style, and David Yurman proves that they can be both classic and modern at once. This striking necklace features cultured freshwater pearls set alongside .53 carats of sparkling diamonds.
From the Helena Collection, this necklace is a twist off of the original David Yurman cable bracelet and will be a classic for years to come. Retails for $4,900: Buy Here. 
Women's Sterling Silver Necklaces
If you're on a smaller budget and love the idea of a David Yurman necklace, sterling silver can be an option. You can purchase diamond sterling silver necklaces for as little as $350.
You'll need to be mindful about not wearing your necklaces in pools, for showering, and in extreme humidity, but the good news is that there are simple ways to remove a degree of surface-level tarnish, including professional cleaning and using a soft cloth. 
While sterling silver is not quite as durable or valuable, these necklaces are still made with high-quality materials and undeniably capture the same artistic, modern appeal David Yurman is known for.
This collection is priced at $295 through $4,900– showing just how much more affordable it is compared to the gold collection. Shop All Sterling Silver Necklaces Here. 
Chatelaine Pendant Necklace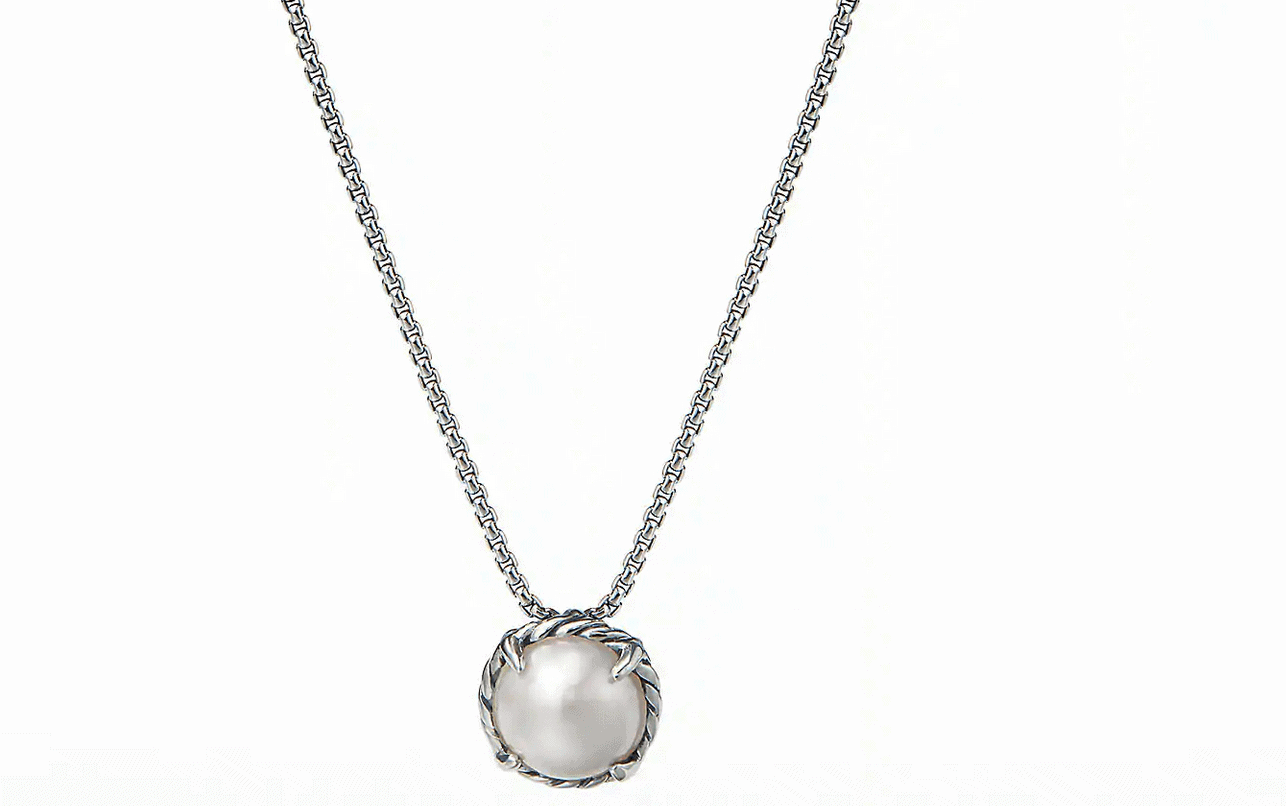 The Chatelain Collection is a special combination of David Yurman's designs and his wife Sybil Yurman's artistic vision. The influence of both culture and painting is evident in this classic, best-selling pendant necklace.
A freshwater cultured pearl is set with refinement and features a modern but timeless appeal. You also have your choice of other gemstones, including amethyst, onyx, topaz, citrine, and black orchid. Priced at $375: Buy Here. 
Petite Infinity Pendant Necklace with Diamonds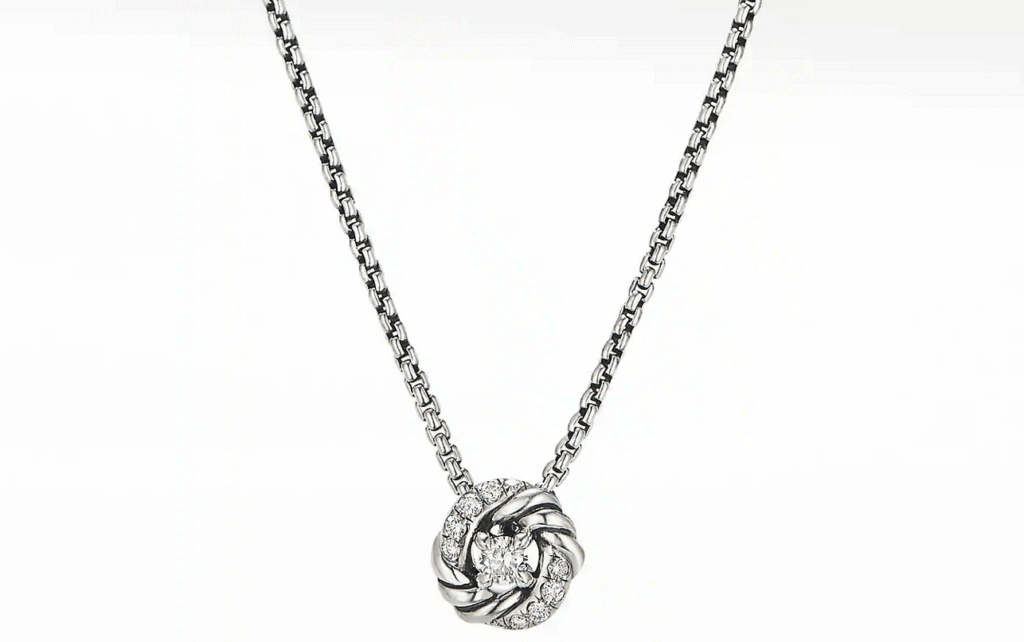 Also available in 18K yellow gold, this sterling silver pendant necklace brings a cool, sophisticated style. It's easy to see why this necklace is a bestseller for David Yurman, with a classic cable chain carrying a geometric pendant. 0.12 carats of accent diamonds add just a touch of sparkle. Priced at $475: Buy Here. 
Petite X Lariat Y Necklace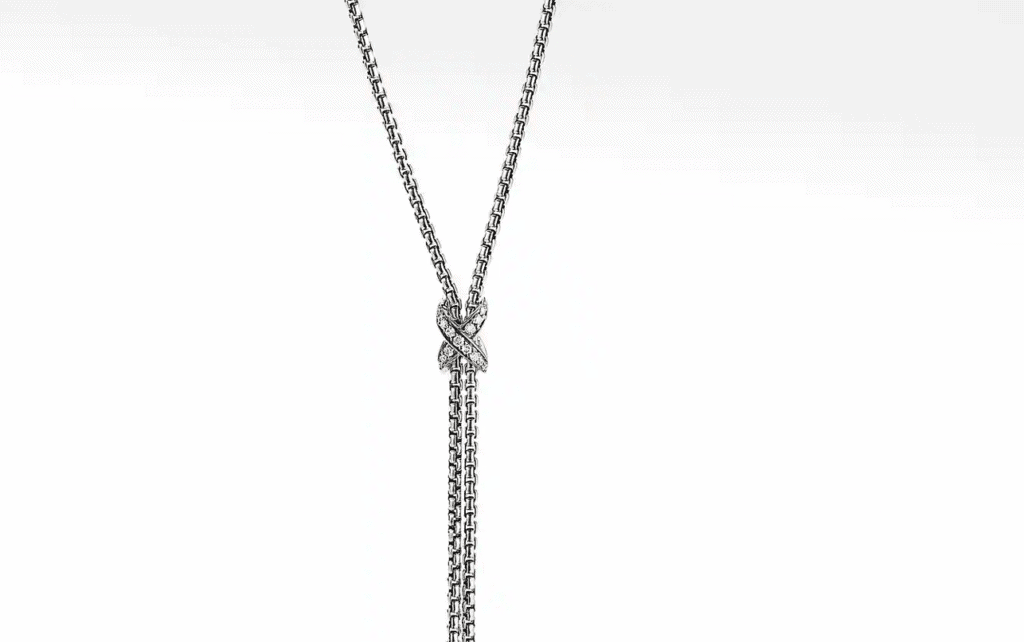 Modern, sleek, and versatile, this David Yurman necklace is accented with 0.06 carats of diamonds. In many ways, this necklace exhibits David Yurman's interest in geometry and sculpture– while staying true to a modern, artistic vision. Priced at $625: Buy Here. 
Lexington Chain Necklace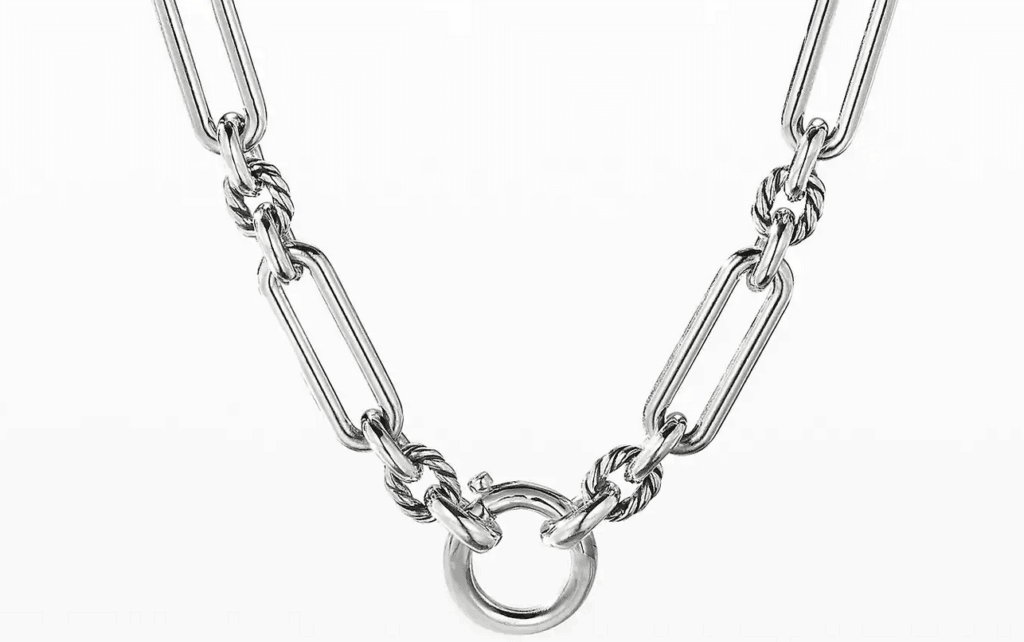 This sleek chain necklace is in style, polished and striking. The 7mm sterling silver chain would look excellent with something as simple as a white t-shirt but can also be dressed up when layered with a pendant or diamond necklace. Priced at $750: Buy Here. 
Starburst Station Chain Necklace with Diamonds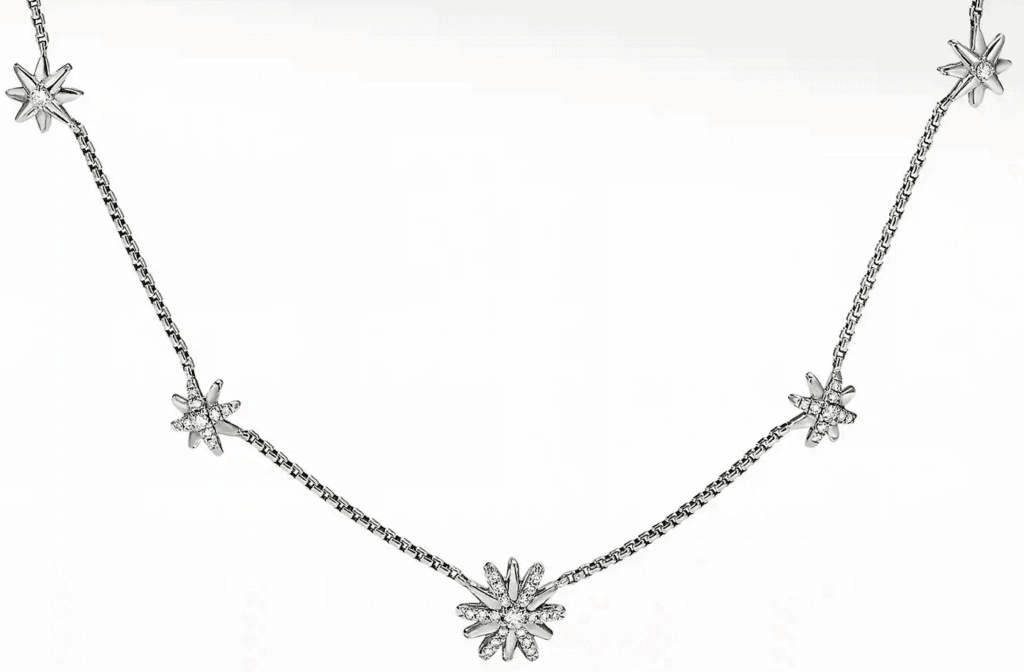 Station necklaces have become a modern staple, and this one doesn't disappoint. 0.24 carats of accent diamonds add sparkle to starburst pendants, all set on a polished 16-inch chain with a lobster clasp. Priced at $950: Buy Here. 
Frequently Asked Questions
Question: What Jewelry is Similar to David Yurman?
Answer: David Yurman is a luxury jewelry designer who offers dressy-casual and formal but versatile styles. Alternatives include Pandora and Tiffany and Company. If you're looking for diamond jewelry, often with more options and a more affordable price, Kay, James Allen, and Brilliant Earth, as well as Ritani, are all great options. 
Question: How Can You Tell if David Yurman is Real?
Answer: All David Yurman pieces will be stamped according to the metal used. You should see 925, STER, or STERLING for silver. For gold, look for 14K, 585, 18K, or 750. Many pieces of jewelry will also include a signature David Yurman stamp. The best option, of course, is to buy directly from David Yurman or an authorized retailer. 
Question: Are David Yurman Necklaces Still Popular?
Answer: David Yurman necklaces and bracelets are not only popular but remain one of the most trendy pieces for luxury jewelry. Even more important, David Yurman necklaces have a modern but timeless design– meaning they are unlikely to go out of fashion anytime soon. 
Final Thoughts & Buying Tips 
What I admire most about David Yurman necklaces is that they manage to push past the expected– but remain highly versatile. David Yurman's talent for artistic design shines, showing that you don't need lots of diamonds or gemstones to make an impression. 
I recommend setting a budget before shopping, then thinking about how often you'll wear your necklace. This can help you decide what metal is right for you. Of course, proper cleaning and care mean your necklace will last longer, regardless of your decision.