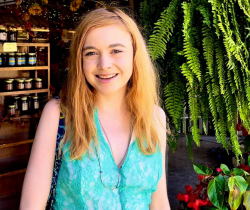 Latest posts by Erin Jamieson
(see all)
Jewelry trends always have a way of returning– and that's true for choker necklaces. In fact, choker necklaces have gone in and out of fashion from the 1920s until now. And it's looking like, in 2022, it may be one of the best ideas for casual outfits.
That's seen from more online stores selling choker necklaces, but also celebrities sporting the look. Halsey, the award-winning American songwriter, and singer were spotted in June showing off a growing baby bump– but also a choker necklace accessory.
Hosting an event in Los Angeles for her About Face beauty collection, Halsey paired an oversized button-down skirt, knee-length tie-dyed skirt, and cowboy boots for a breezy, summer look. She paired it with a multicolored choker necklace for an unexpected playful pop of color.
And, according to sources, that choker cost just $28. It just goes to show that you don't need a celebrity budget to follow the latest trends.
In fact, choker necklaces always seem to come back in style for just that: the versatility and budget-friendly options to add a playful note to any outfit. But choker necklaces go beyond Halsey's bright beaded look.
I'll guide you through how to select a choker necklace, and where to buy some of my favorite choker necklace styles.
What is a choker necklace?
A choker necklace is defined as a necklace that tightly hugs the neck. Choker necklaces, compared with other necklaces, are especially versatile in terms of the materials used. Fine metals (like gold and silver) are available, but so are velvet, leather, lace, ribbon, beaded, and even plastic choker necklaces.
Choker necklaces also range in width. While there are some fine styles, for a more understated and even dainty look. Thick choker necklaces make for a bolder statement.
How do you wear a choker necklace?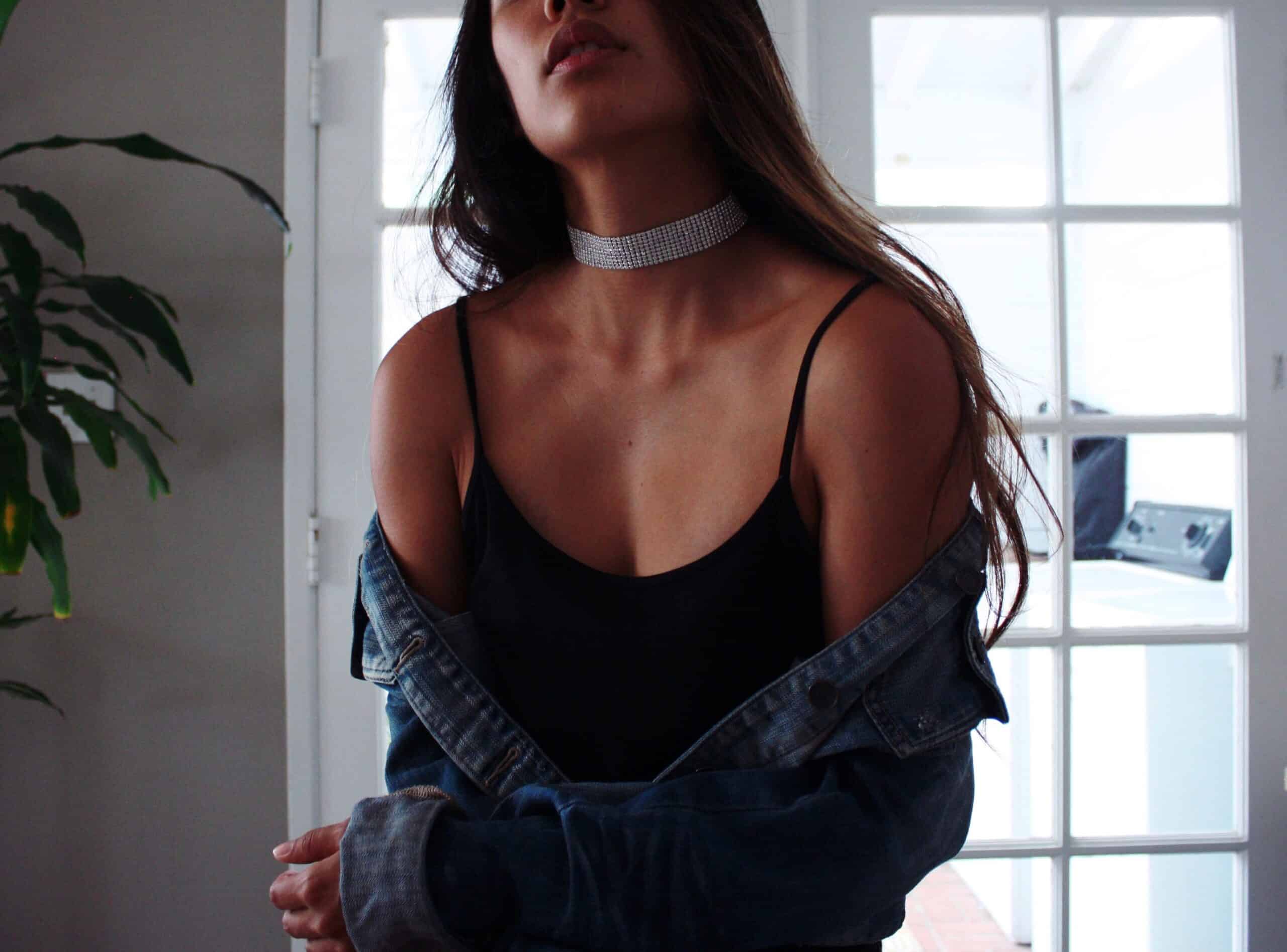 Choker necklaces can make for some dramatic or laid-back statements, but they are a little trickier to wear. You'll want to consider fit and the neckline you're wearing.
Where do you put chokers on your neck?
A choker necklace is the tightest fitting necklace you can get and is typically worn above the collarbone. The fit is snug but not too tight– chokers are meant to be secure and should not move with you. Some do opt to wear chokers higher on the neck., depending on personal comfort.
Does a choker choke you?
A choker necklace, despite the name, should in no way choke you. The fit should be snug and secure, but you also should be able to breathe comfortably. A good way of thinking about it is that a choker necklace should hug your neck. If it does feel tight, most choker necklaces can easily be adjusted.
What neckline goes with a choker necklace?
Keep in mind that the purpose of a choker necklace is to draw attention to the neck itself. If the choker necklace is creating a focal point for your neck, you'll want to consider what neckline to wear it with.
Avoid either too high or too low necklines. A high neckline especially should be generally avoided with choker necklaces, as it will compete with the necklace. Sweetheart necklines, strapless, off-shoulder, and scoop necklines are all great options. A V-neckline can also work with choker necklaces. If you have an especially deep neckline, consider a lower choker; if you have a higher neckline, you'll want to wear your choker necklace higher.
How can you style a choker necklace?
How you style a choker necklace is up to you– and it does depend on the material of the choker necklace. Fine metal choker necklaces lean towards formal outfits, while plastic, beads, and other materials lean casually. Ribbon and lace are versatile and can work for both semi-formal to casual looks.
Pearl necklaces look best with formal or boho looks. Leatherworks for both boho and eclectic or grunge look. Beaded choker necklaces are a great match for boho looks as well as casual attire, like jeans. Meanwhile, thin black chokers pair well with chunky sweaters or oversized tops. Thin classic chokers also provide a nice nod to a minimalist look.
You can even layer a choker with a longer necklace or a scarf.
Choker Styles and Where to Buy
Now that you know how to rock a choker necklace, you'll have to decide what kind of choker necklace suits you. Keep in mind that these are just some of the most common choker necklace styles, and some overlap. Experiment, and find what style suits you. Some even layer choker necklaces.
Bow Chokers
Bow chokers offer an elegant, feminine touch to choker necklaces that can help play up a more casual look but also pair with more formal looks. Bow chokers range from understated to dramatic. Many bow chokers are simply tied at the ends to form a bow and tend to be a thin band. They're also highly adjustable.
Bow Tie Boho Choker- The Boho Boutique
A gold finish makes for an almost elegant, but understated bow choker. Perfect for everything from a boho look to semi-dressy, this choker is versatile and highly adjustable. Buy Here.
Bow Knot Choker- Shein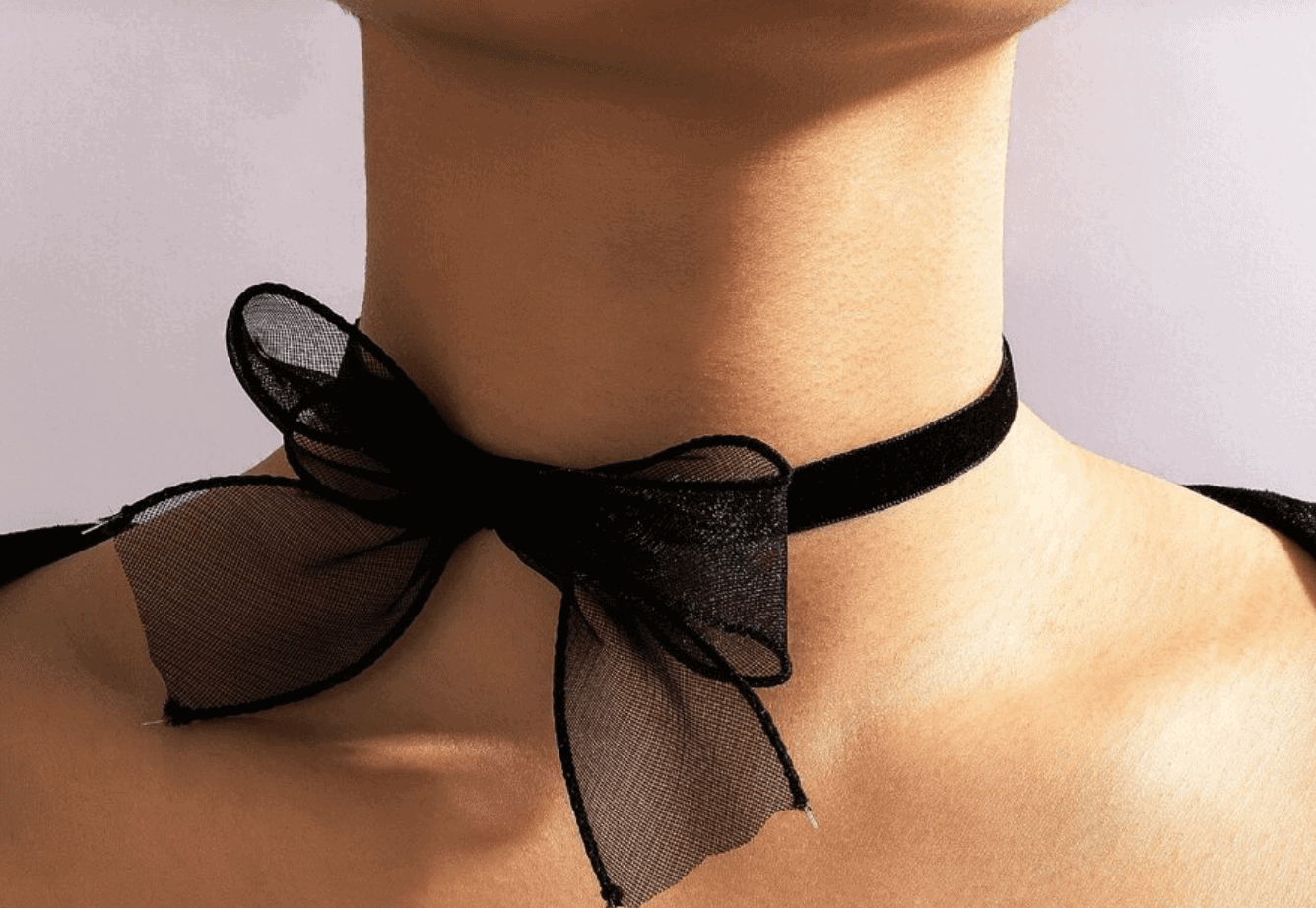 This more dramatic look from Shein features a lace choker with a bow tie, with a medium black band for a classic finish. Buy Here.
Bow Necklace Ivory Minimalist Choker- StephanieMartinCo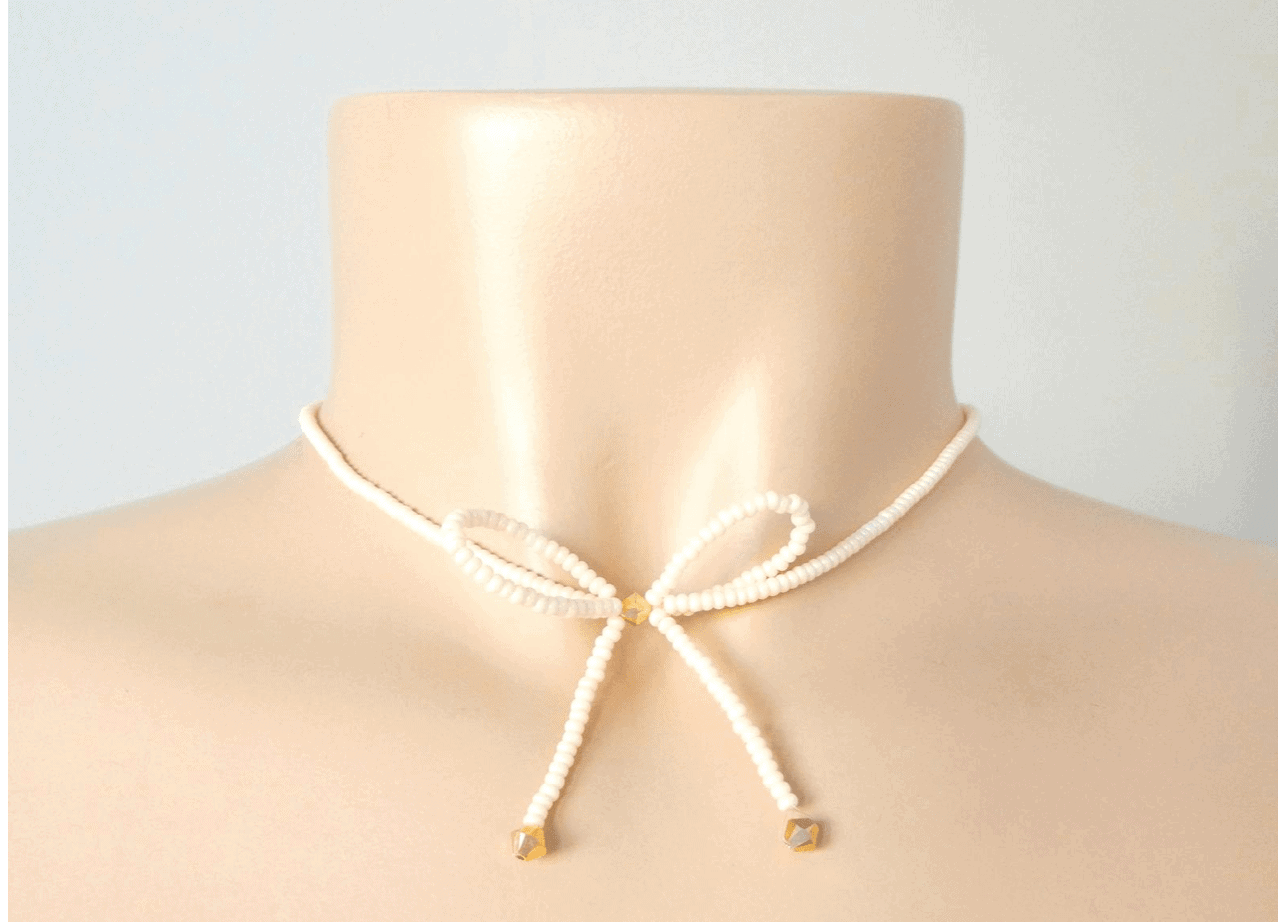 Listed on Etsy, this handmade bow tie choker is elegant enough for bridesmaids. You can custom order; the ivory glass details are finished with touches of gold finish. Buy Here.
Simple and Stylish Bow Choker- Nihao Jewelry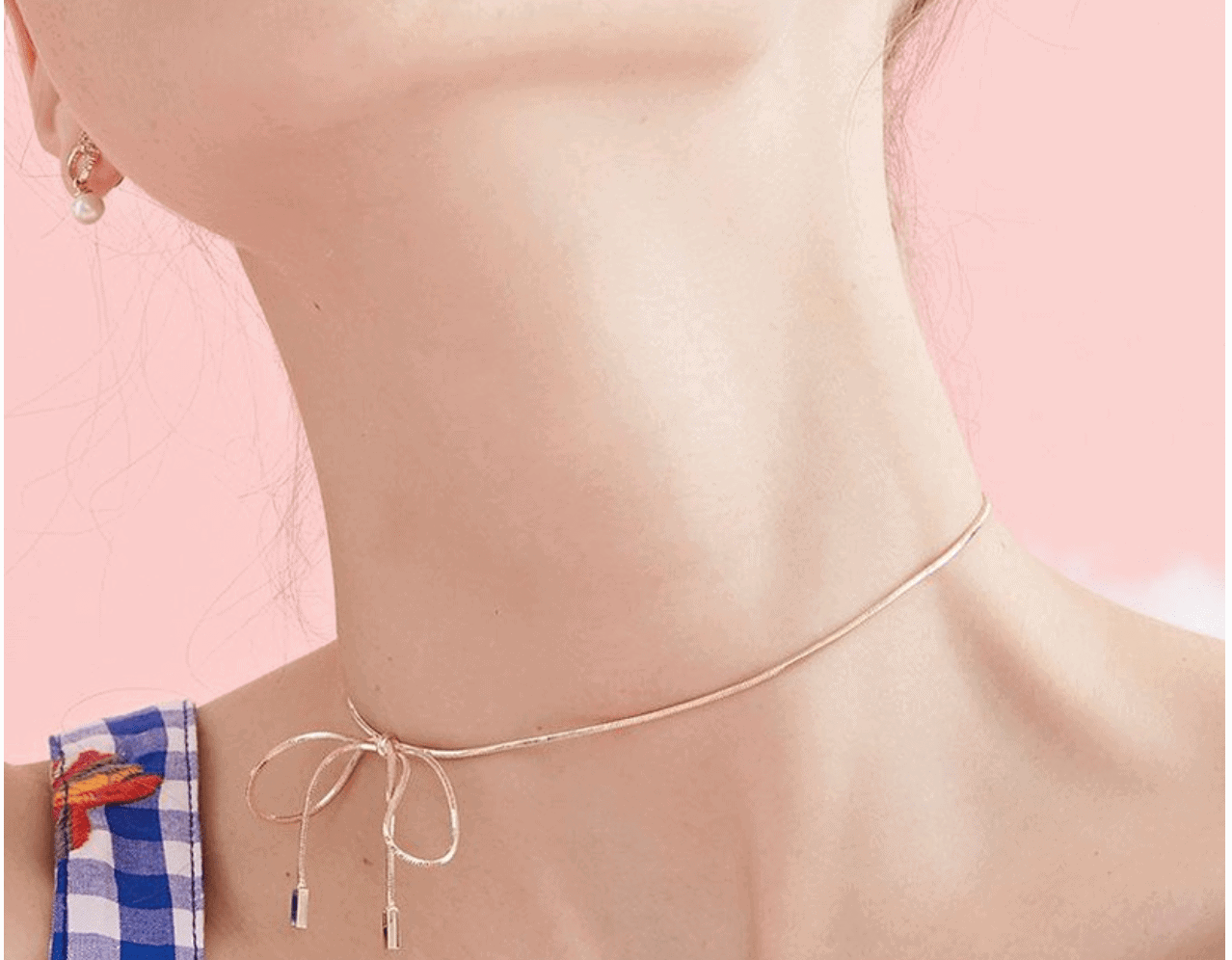 Want a simple, understated bow tie choker necklace for under $5? A light hold finish and adjustable fit make this an easy pick. Buy Here.
Charm (& Pendant) Chokers
Charm and pendant chokers are ways to really jazz up a choker necklace. Whether it's a single pendant or charms all around, these necklaces showcase personal style and may be seen as carriers of good fortune, health, and other symbols. These are best paired with boho and casual outfits.
Supernova Charm Choker Necklace- Local Eclectic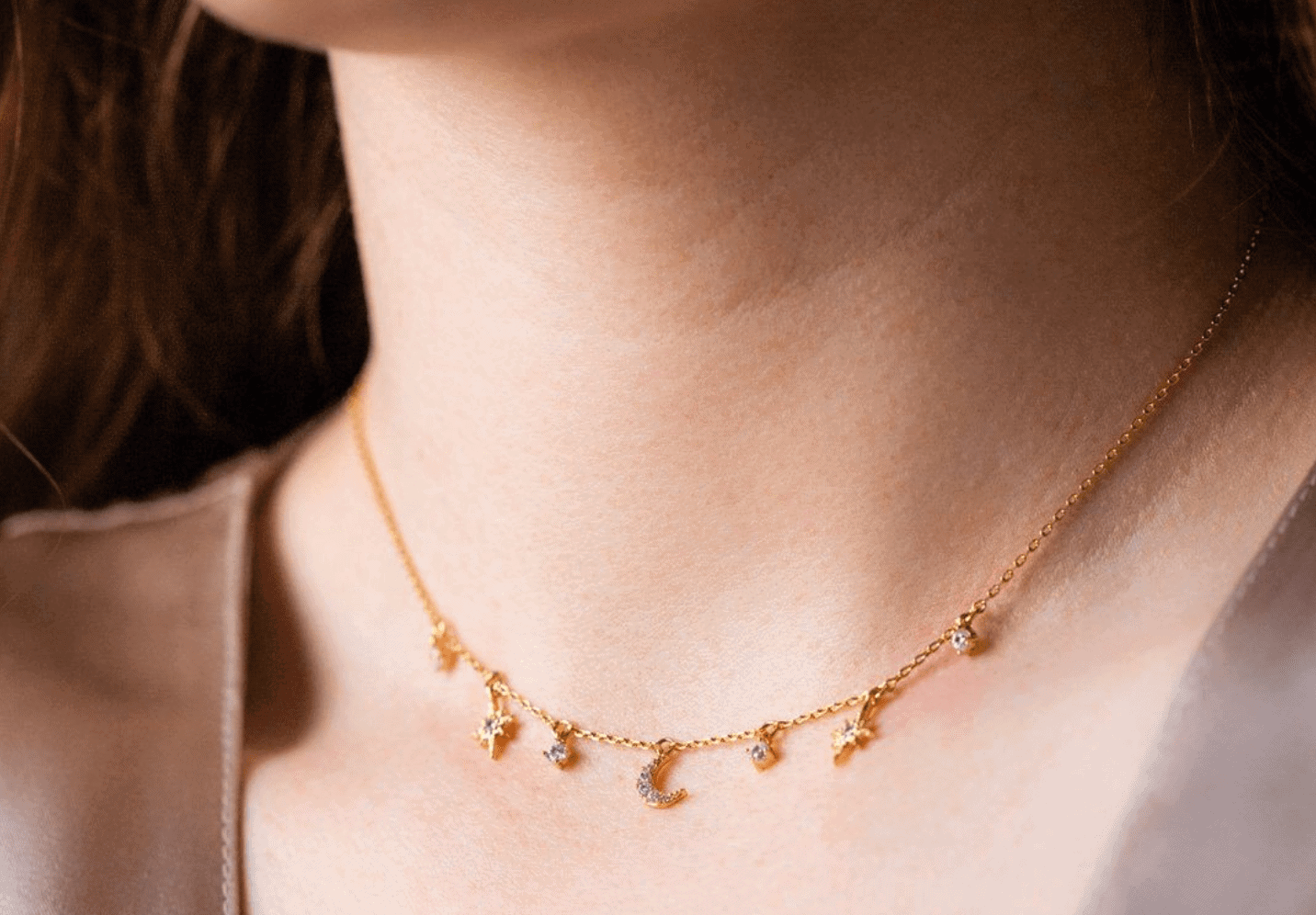 An 18K gold plated chain makes a striking statement, complete with celestial themed charms in cubic zirconia– a dazzling bit of sparkle to make this choker feel more magical. Buy Here.
Solstice Choker- JennyBird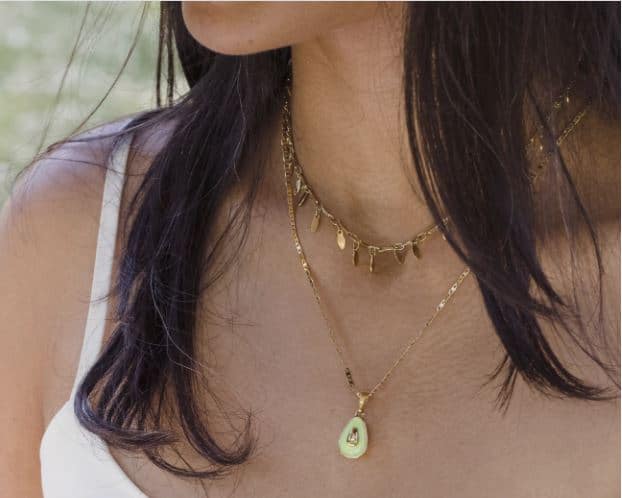 This choker necklace is a beautiful statement, featuring 14K gold-dipped brass, a high polish, and a lobster clasp. Buy Here.
Hammered Crescent Moon Choker- Ora Gift Shop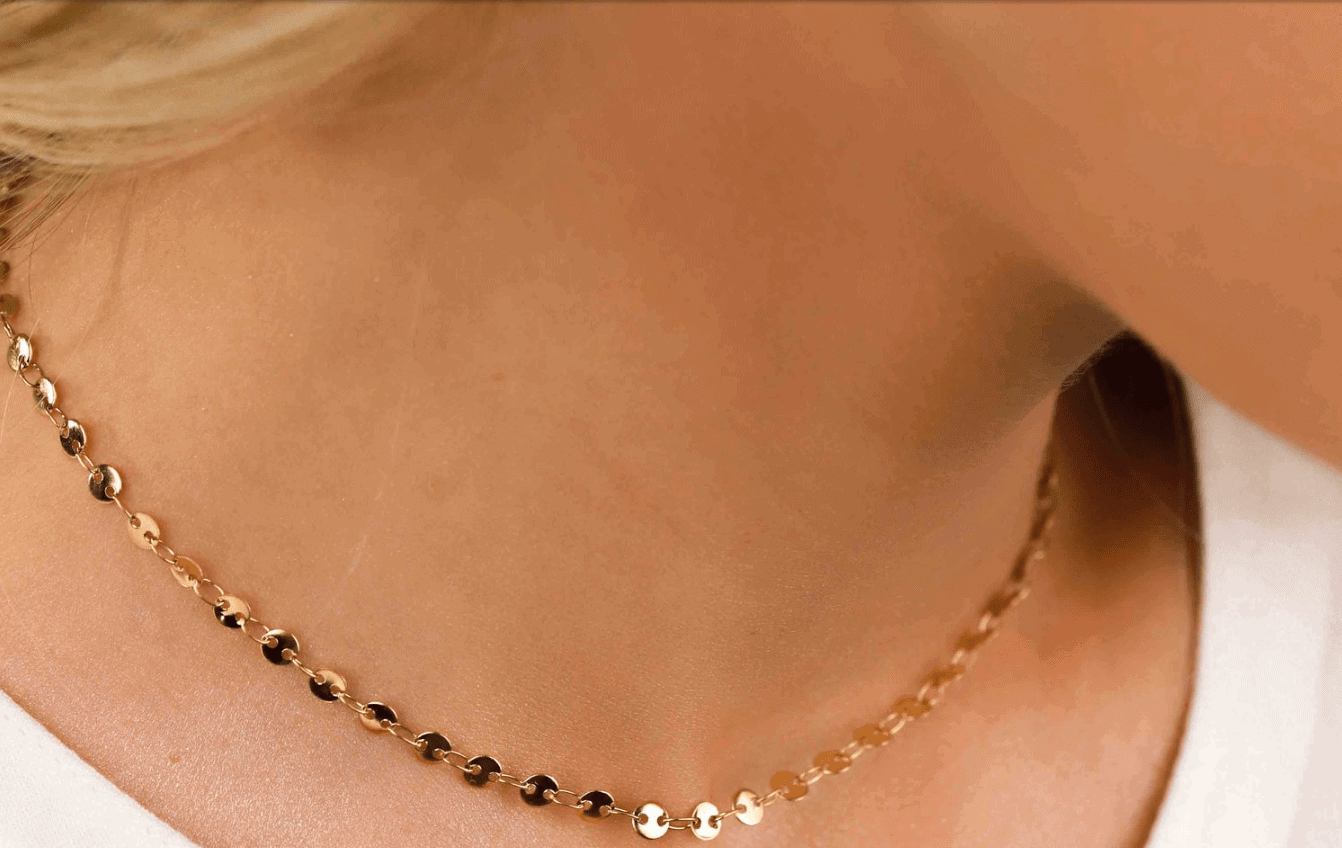 Solid 925 sterling silver with an 18K rose gold finish makes for a truly beautiful charm choker necklace. Metallic coins add polished, modern shine that works with any outfit and can even layer with other jewelry. Buy Here.
The Girasol Choker- Montserrat New York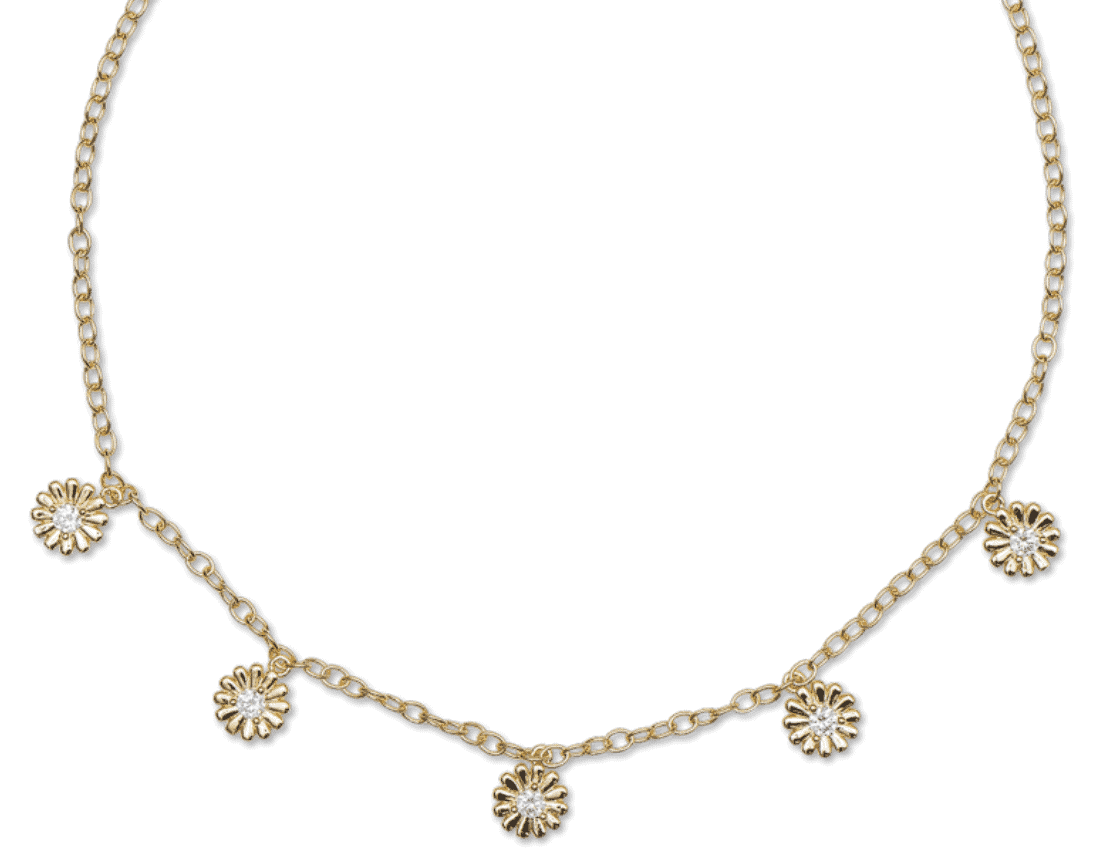 This beautiful choker necklace features a delicate gold chain with gold plated daisies– a very boho look that's still versatile enough for different outfits. Buy Here.
The Pixie Choker- Vanessa Mooney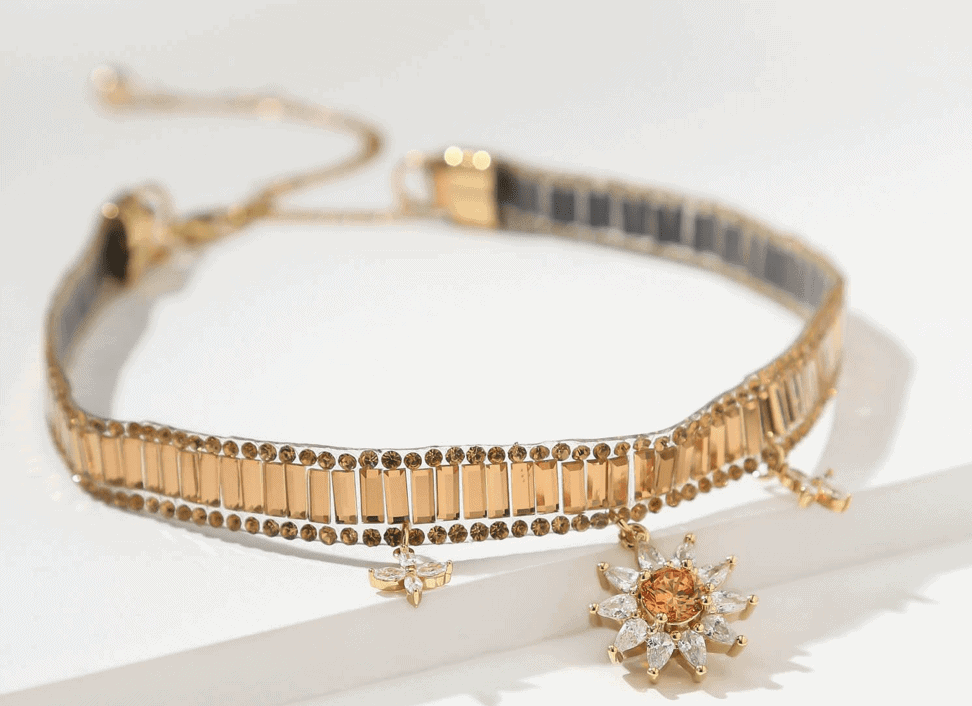 This eclectic boho pendant choker is a true standout. Copper color rhinestone makes for an enchanting collar, and the cubic zirconia flower pendant and smaller charms add the perfect touch. Buy Here.
Diamond Chokers
Choker necklaces are often seen as casual accessories, but it wasn't always that way, and it still isn't. In fact, in the 1920s especially, choker necklaces added touches of glamour. Today, diamond choker necklaces make for a refined and unexpected statement, with an elegant modern allure.
Carbon & Hyde Angel Diamond Chokers- J.R. Dunn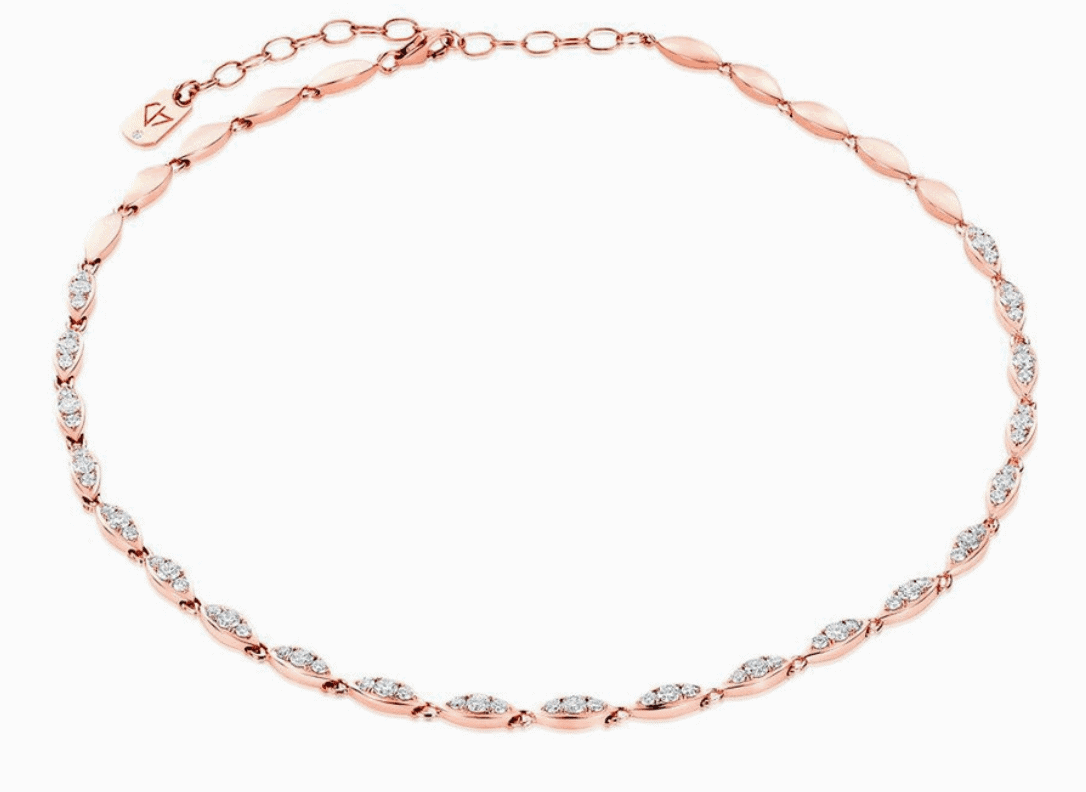 18K rose, yellow, and white gold makes for a beautiful, delicate chain with marquise-shaped diamonds around the entire perimeter. You can also adjust the chain the wear as a regular necklace. This is the most expensive choker on my list, but it may give you an idea of just how dazzling and formal a choker can be. Shop Rose Gold Here; other options are available here.
10K Yellow Gold Diamond Choker Necklace- Kay Jewelers

A more affordable option for under $300, this yellow gold necklace features a beautiful polished finish with triangular pendants featuring round-cut diamonds. The total carat weight is ¼ and this clasp safely secures the chain. Buy Here.
Wrapped in Love Diamond Collar Necklace- Macy's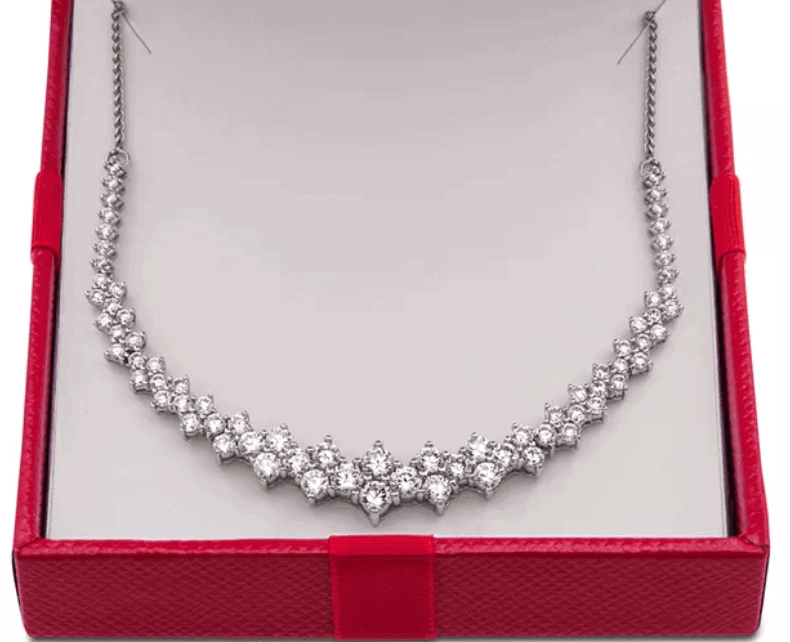 A choker collar necklace is in its finery with a 14K white gold finish. 1 ½ carat of round diamonds adds beautiful scintillation and utter elegance, fit for any semi-formal or formal occasion. Buy Here.
Diamond-Cut Dangle Bead Choker- Zales
For a diamond choker under $250, consider this beautiful option from Zales. The choker features a 14K yellow gold finish with eye-catching fancy cut diamond accents and polish for extra luster. Buy Here.
Lace Chokers
Lace chokers hit a great balance between formal and casual– and certainly have a vintage appeal to them. Making a statement, they can still be surprisingly versatile and tie modern, vintage, and semi-formal looks together.
White Lace Choker- Milan/ Lovoda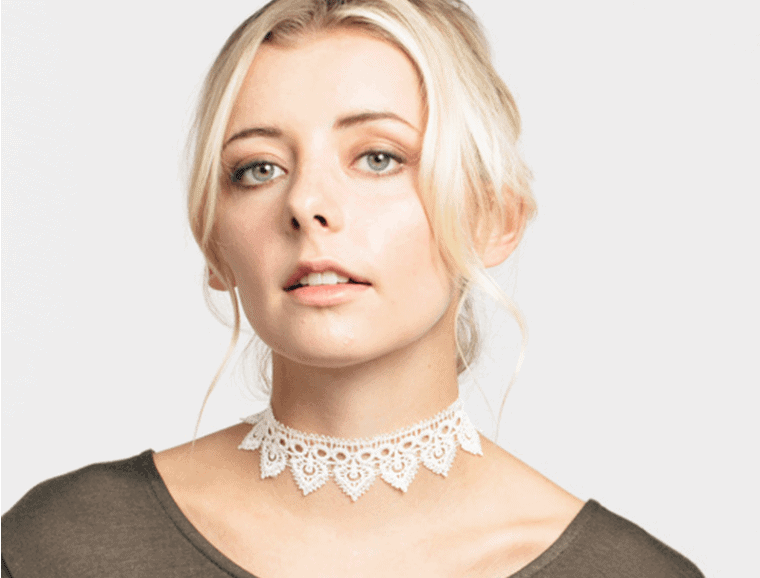 This dainty lace choker features classic soft, white lace and is adjustable. For under $5, you can add a subtle accent to your outfit. Buy Here.
Bridal Lace Choker- Boho Milla (Etsy)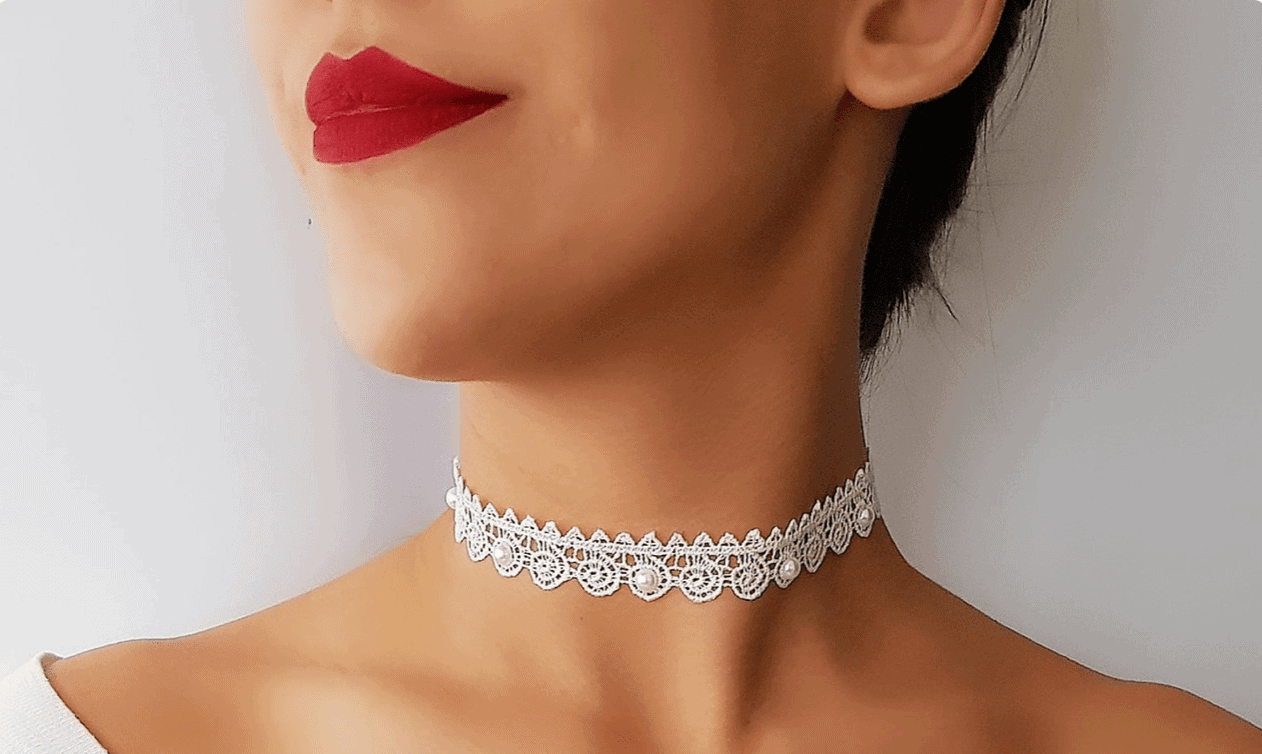 This bridal-inspired lace choker is handmade and would work as a bridesmaid gift as well. Available in three sizes, the white lace is accented with silver and faux pearls. Buy Here.
Mini Lace Black Choker- Sterling Forever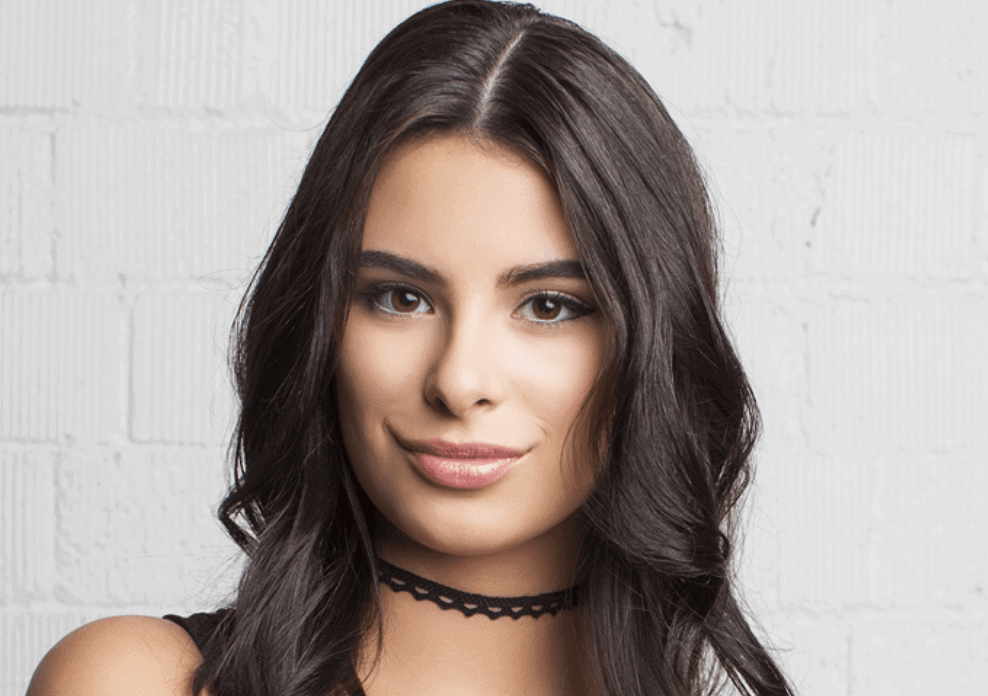 White lace isn't your only option. This darker hue provides a contemporary edge to a classic, with a gold-plated brass chain and clasp and an adjustable collar. Buy Here.
Lace Flower Choker- Romwe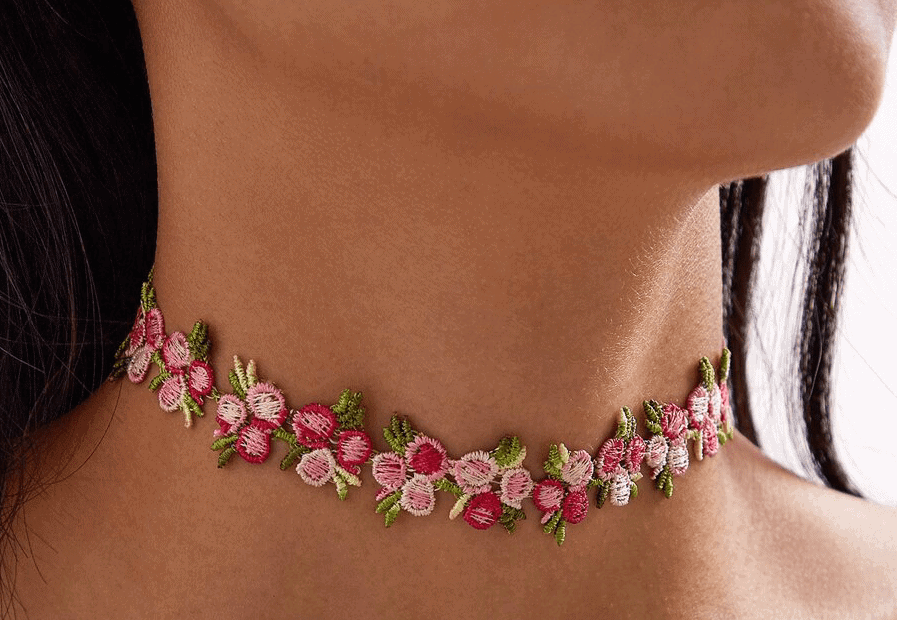 Perfect for spring or a boho look, this playful lace choker features pale to Fuschia pink floral buds with sprigs of green– an easy look for under $5. Buy Here.
Leather Chokers
Leather chokers are a different statement entirely. From solid, sleek black leather to worn leather looks and even leather paired with pendants, these chokers work with jeans and other casual attire. Many faux leather options are available; in fact, they tend to be the most popular.
Black Leather Choker- Patrizia Pepe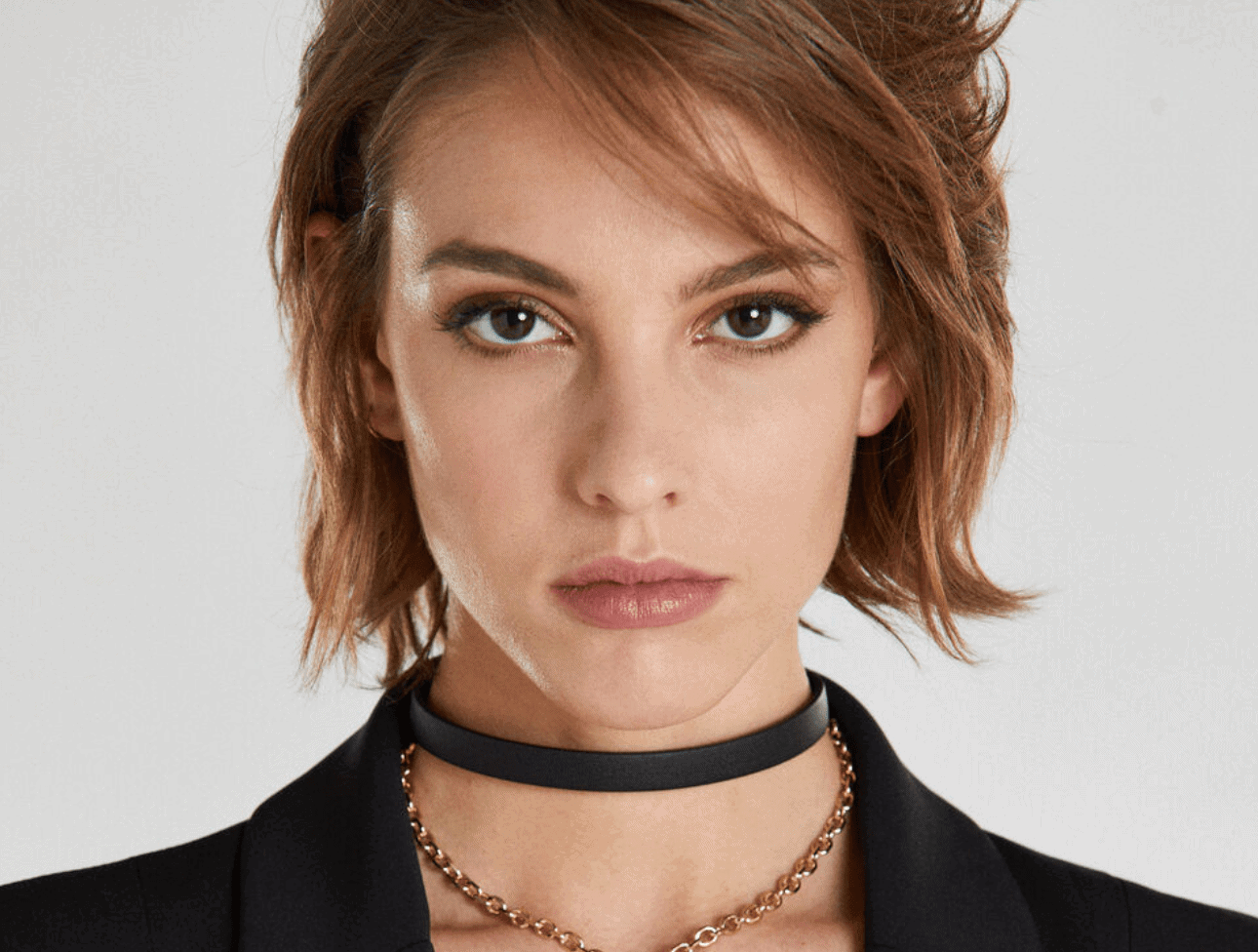 A black leather choker is about as modern classic as you can get. Yet, this choker dresses up the look by pairing smooth calfskin with a pendant embellished chain with a gold finish and a press stud clasp. Buy Here.
Choker with Chain and Leather Collar- WickeDeal (Etsy)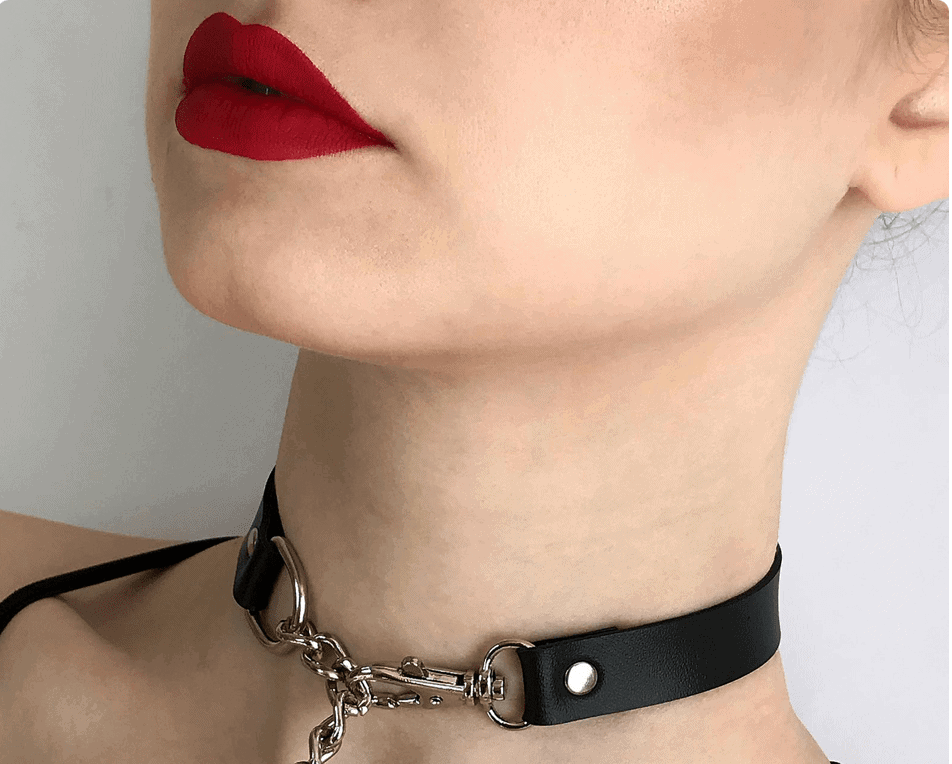 For a more gothic and alternative look, consider this handmade chain and leather choker. Faux leather pairs with a stainless steel chain for someone who wants to make a statement for any casual outfit. Buy Here.
Turquoise and Sapphire Rhodium Over Imitation Leather Choker- JTV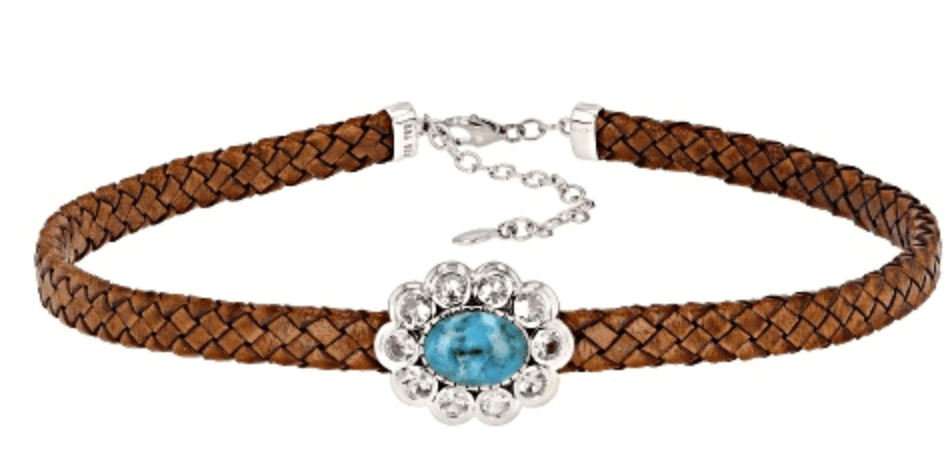 This imitation leather choker shows that leather can have a semi-formal twist to it. A turquoise lab-created sapphire stone is set on rhodium plating, with a braided faux leather collar.
Ziproo Leather Choker- The Boho Boutique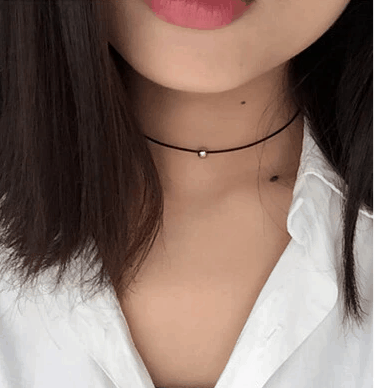 Looking for a simple faux leather choker for under $20? This boho-inspired choker features a fine strand of synthetic leather and a small metallic pendant for a finished but also effortless style. Buy Here.
Pearl Chokers
Pearl chokers are one of my favorite styles of choker necklaces. As a great idea for both vintage and more formal look, pearl chokers manage to be versatile and a great accent to many outfits. You can opt for either affordable synthetic pearls or more valuable freshwater pearls.
Pearl Choker- Adina's Jewels
A classic in elegance, this choker features freshwater pearls and can easily be layered for more dressy casual or formal styles. Buy Here.
Pearl Lace by Effy Cultured Freshwater Pearl Coil Choker- Macy's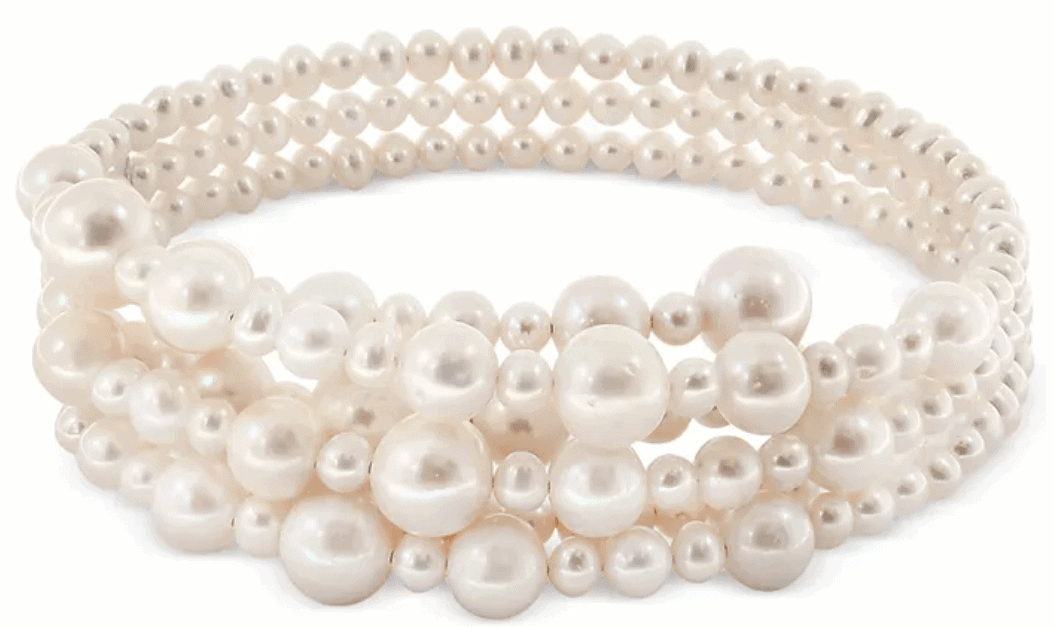 This gorgeous choker necklace features strands of freshwater pearls that have been carefully polished. Sterling silver makes for the perfect backbone of the necklace. The classic looks beautiful by itself– no other accessories needed. Buy Here.
Mateo Not Your Mother's Pearl Collar Necklace- Mateo (Shopbop)
For an investment piece that could become a staple in your wardrobe, consider this elegant pearl collar necklace. A strand of freshwater pearls is set on 14K polished gold. Buy Here.
Handmade Pearl Chokers- Etsy

For affordable faux pearl chokers, and some freshwater pearl chokers, consider shopping on Etsy. The collection offers a delightful range of gorgeous and elegant looks, with options to fit a variety of budgets. Shop Here.
Tattoo Chokers
Tattoo chokers actually were first referenced as early as the French Revolution, where red ribbons were seen as a sign of defiance and political statement for all those sent to be killed by guillotine. Now, tattoo chokers are worn especially tight to the neck and are flat, with a look meant to nod to a tattoo.
Multilayer Tattoo Choker- The Boho Boutique
This multilayer lace tattoo choker can be worn with most boho, alternative, and casual outfits. Available in black, white, and nude, it's an easy-going classic. Buy Here.
Neutral Tattoo Choker Necklace 5 Pack- Claire's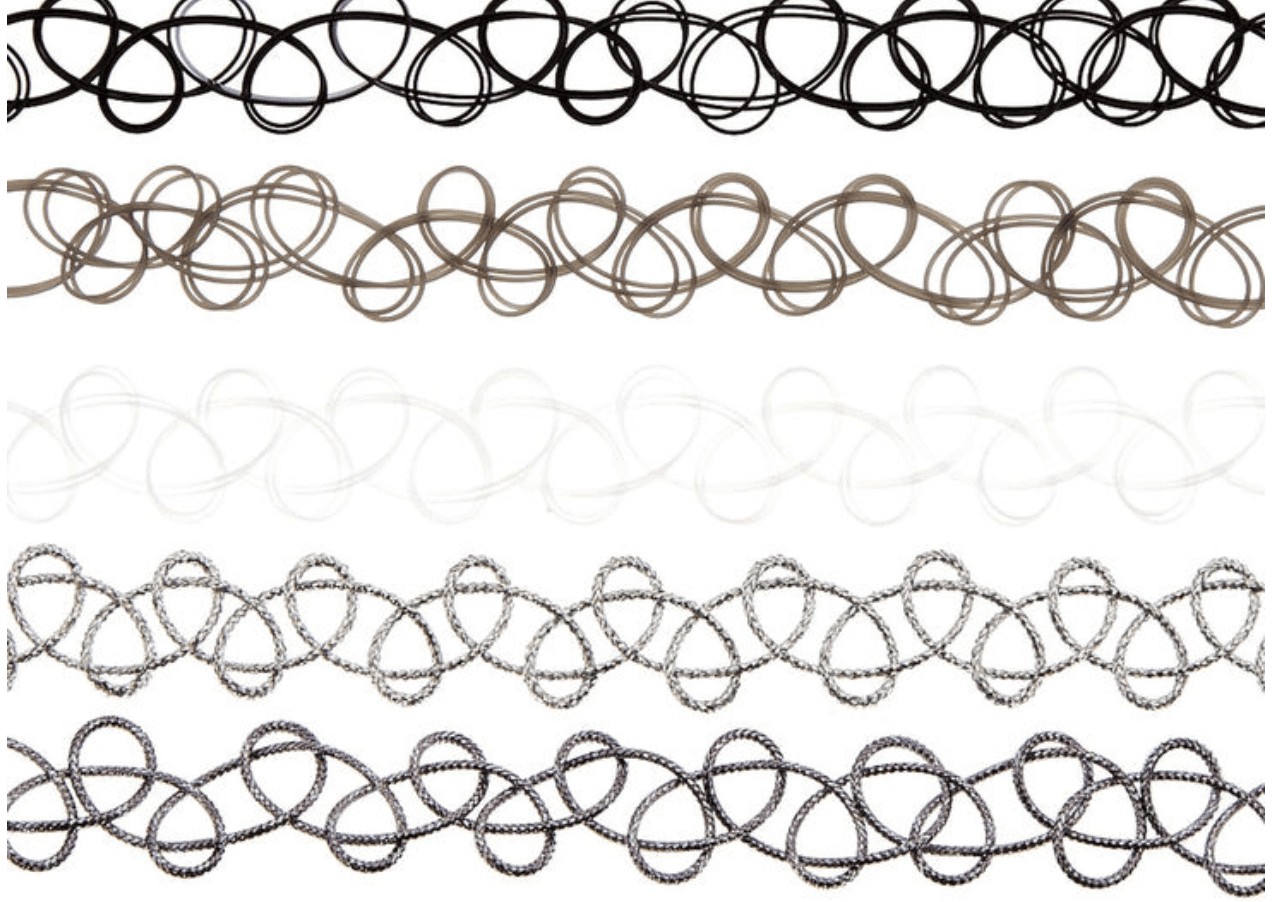 You'll get 5 tattoo choker necklaces that nod strongly to the '90s with a simple and fun pattern. White, black, and metallic hues make these staples. Buy Here.
Beaded Black Tattoo Choker- CastingLines (Etsy)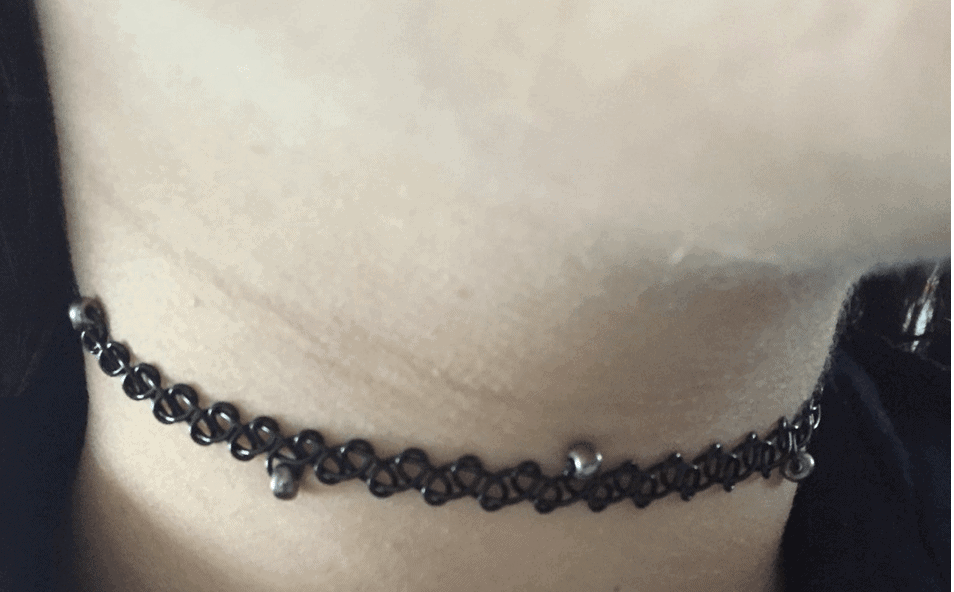 Sometimes you want a basic black choker necklace that blends in seamlessly, and this necklace from CastingLines does just that. A few black beads add an alternative edge. This independent shop has a variety of choker options. Buy Here.
90's Butterfly Tattoo Choker- TheFunkyWallflower (Etsy)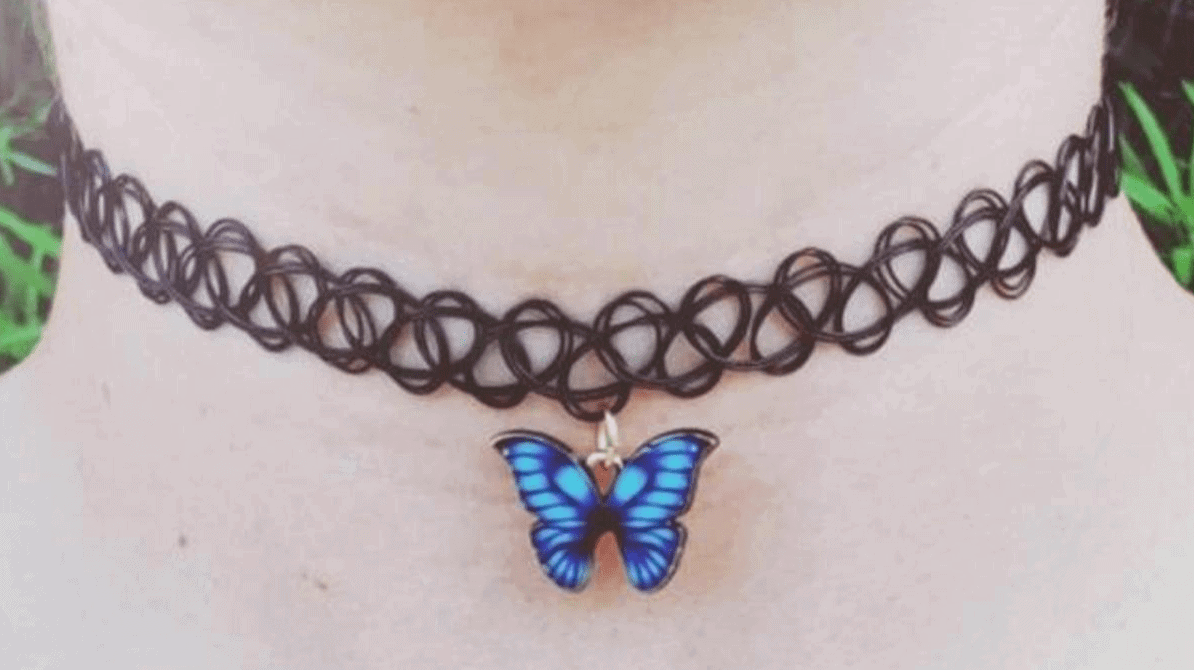 Bring the 90's back with this casual black tattoo choker necklace. The highlight is a butterfly pendant, which is available in multiple colors. Buy Here.
Henna Tattoo Chokers- Youthful Jewelers (Etsy)
A set of 1990's vintage tattoo chokers brings a spirited, brightly colored look. Inspired by Henna, these nontoxic elastic chokers are easy to wear and add pops of color. They're also great for layering. Buy Here.
Velvet Chokers
Velvet chokers are elegant and vintage. These chokers dress up a regular choker, without making as formal of a statement as a diamond or pearl choker. Deep blacks and greens, as well as blues, are common, though other hues can be found. For a more glamorous option, velvet is sometimes combined with pearls or diamonds– or even both.
Velvet Choker with Crystal- Joomi Lin (VeriShop)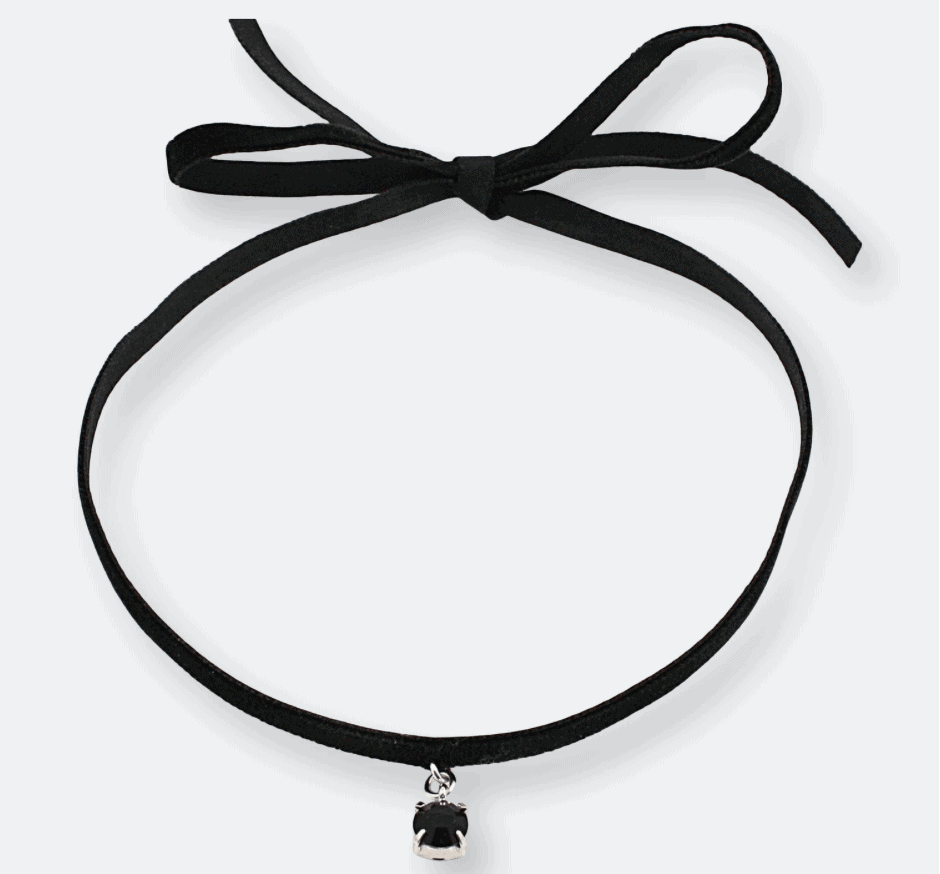 The velvet choker is in a bow tie style and provides a fuss-free accessory to most outfits. Swarovski crystal adds a touch of elegance. Buy Here.
Cultured Pearl and Black Velvet Choker Necklace with Diamond Accent- Ross Simmons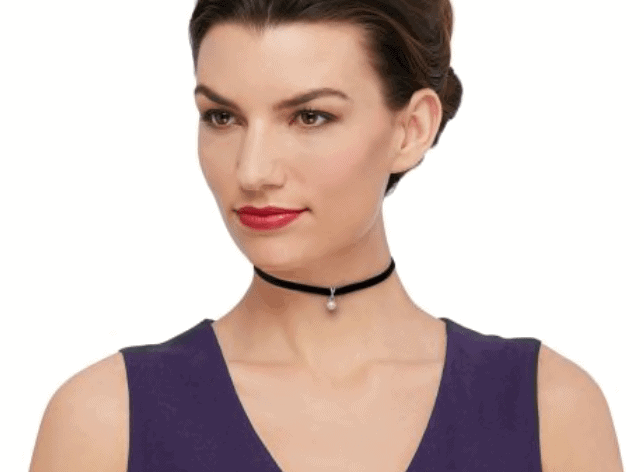 For a semi-formal occasion, this velvet choker is a classic. The thin velvet collar is accompanied by a cultured freshwater pearl, flanked with diamond accents. Buy Here.
Thick Velvet Choker- Amrita Singh

This classic velvet choker is hypoallergenic and features a lobster clasp closure. The thicker band makes a statement by itself, no embellishments needed. Buy Here.
Frequently Asked Questions
Question: What does a choker necklace represent?
Answer: What a choker represents changes from era to era, and from culture to culture. In fact, chokers are a type of necklace steeped with meaning– often for political purposes. Anne Boleyn was one of the first well-known figures to popularize choker necklaces– before her demise.
Chokers were used as a political protest during the French Revolution and were worn by aristocrats and royalty during the Victorian era. The '20s and '40s, in the United States, saw chokers as an expression of femininity. In France, pearls and other accents made choker necklaces once again a symbol of wealth. The '90s and on have seen chokers more connected to general pop culture and freedom of expression.
 
Question: Are chokers still in Style 2021?
Answer: Though styles constantly change, choker necklaces began to re-emerge in popularity once again, especially in 2020 and going into 2021. This is likely because there are now so many styles of chokers, from subtle to grunge to vintage and even elegant.
Question: Why are choker necklaces popular?
Answer: Choker necklaces are enduring in their popularity: while they go up and down in how popular they are, there are many reasons why the style continues to come back. Versatile and perfect for layering, they are also steeped with symbolism. And that symbolism depends on the wearer. For some, it expresses a connection with political movements, others, femininity. In the 2010s, it was also seen as an expression of identity amongst transgender women. Choker necklaces represent something unique to everyone.
Final Thoughts
Choker necklaces come in countless styles and are most affordable and versatile– though can also find the luxurious diamond and freshwater pearl accents. Available in gold, silver, plastic, beaded lace, leather, and more, choker necklaces have a certain freedom of expression. From boho to classic to an alternative to vintage, there's more variety than first meets the eye.