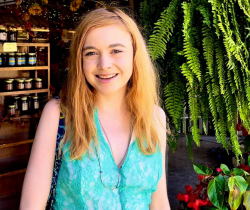 Latest posts by Erin Jamieson
(see all)
You've probably seen countless articles claiming that both Millennials and Gen Z are changing things– from increased online shopping to new trends. But now, those generations are said to be bringing retro ideas back into style, including puka shell necklaces.
Puka shell necklaces are one of those trends that have gone out of fashion for a time– but a new, younger generation tends to bring them back. They were last popular in the early 2000s, but now Gen Z is being given credit for bringing the Puka shell necklace trend back. 
While celebs like Gigi Hadid have sported the look, it's certainly not limited to influencers. Puka Shell necklaces are being sold at Madewell, Urban Outfitters, and more. Many are pointing to the VSCO Girl look. This style, popularized by Gen Z and social media, is carefree and relaxed, known for oversized tees, tennis shoes, and a look that's nearly identical to others on Instagram. Puka shells complement this perfectly, as a breezy, natural, fuss-free accessory. Check out the best 18 inch necklace ideas for everyday wear!
But you don't have to be in Gen Z or a millennial to rock a puka shell necklace. I'll tell you what you need to know about this playful trend, how to wear one, and my picks for puka shell necklaces in 2022. 
What is a Puka and Why Does it Have a Shell?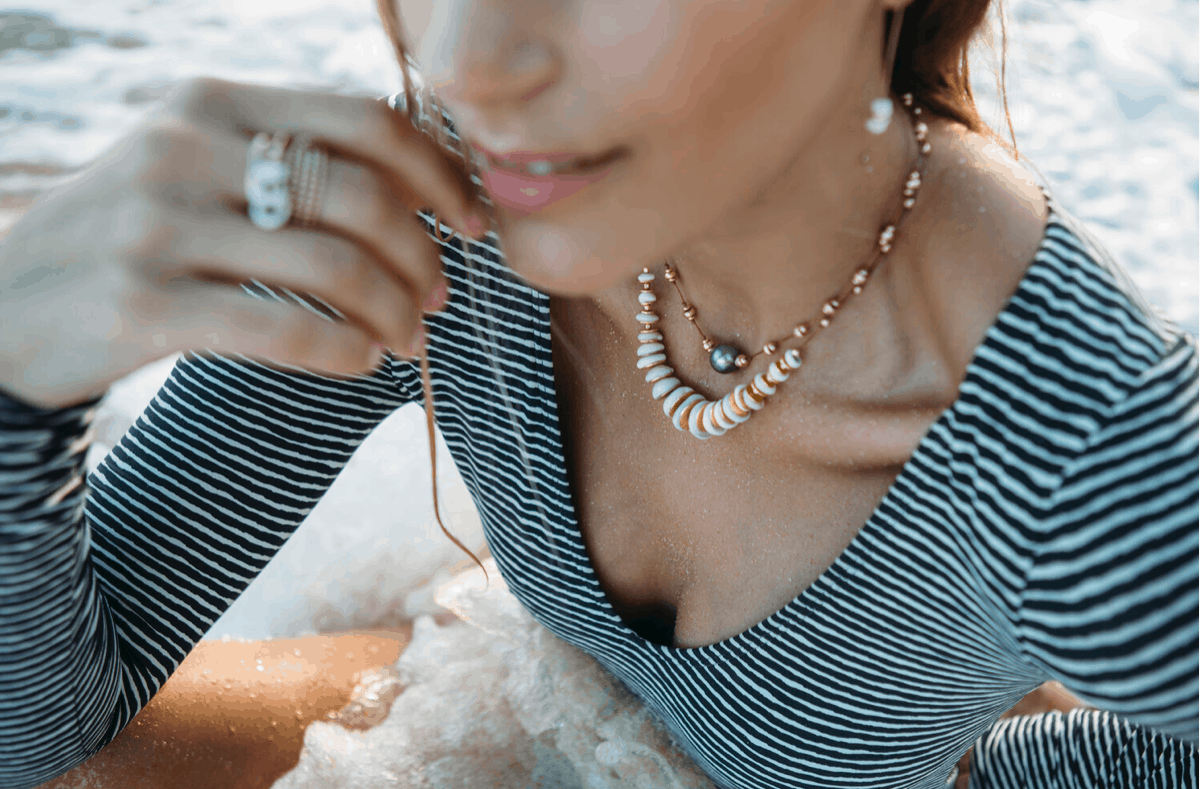 Puka shells come from Hawaii and can be found on beaches. These seashells belong to a living sea snail, a gastropod that lives in saltwater. Real puka shells are taken from part of the cone of the snail. These portions are broken off after a snail dies. Shells, of course, act as a form of protection while the sea snail is living. What's left behind is a shell with a natural hole in the center– perfect for stringing together necklaces and bracelets. 
Are Cowrie and Puka Shells the Same?
Puka shell necklace is a general term that encompasses different shells. Puka shells refer to the shell's shape and condition. Those cowrie shells can be puka shells. That's why not all puka shells look the same. 
What Do Puka Shells Symbolize?
Puka shells have long been seen as a symbol of good luck and protection. This likely stems from sailors using puka shells to grant them good fortune and passage for their journeys across the sea.
Are Seashells Bad Feng Shui?
Seashells are not considered bad Feng Shui, and it's no different for puka shell necklaces. Seashells are seen as collectibles that are said to provide good fortune for both travel and the sustainability of relationships. Plus, they pair perfectly with other Feng Shui jewelry. 
Who Made Puka Shells Famous?
It's hard to point to one person who made puka shells famous, likely because multiple generations have seen the trend come back. David Cassidy is credited for taking puka shells from Hawaii tradition to mainstream trend. Star of the Partridge Family, singer, and a 70's heartthrob, Cassidy wore puka shells regularly both on the musical sitcom and during concerts. The trend later resurged during the '90s, early 2000s, and again in 2019. 
Are Puka Shell Necklaces in Style 2022?
Today, it seems the puka shell necklace trend still has some staying power. Though the surge in popularity began in 2019, these necklaces are still in style in 2022. Touted by influencers on social media, everyday users, and celebrities, puka shell necklaces are here to stay– at least for a while. 
Is a Puka Shell Necklace Right For Me?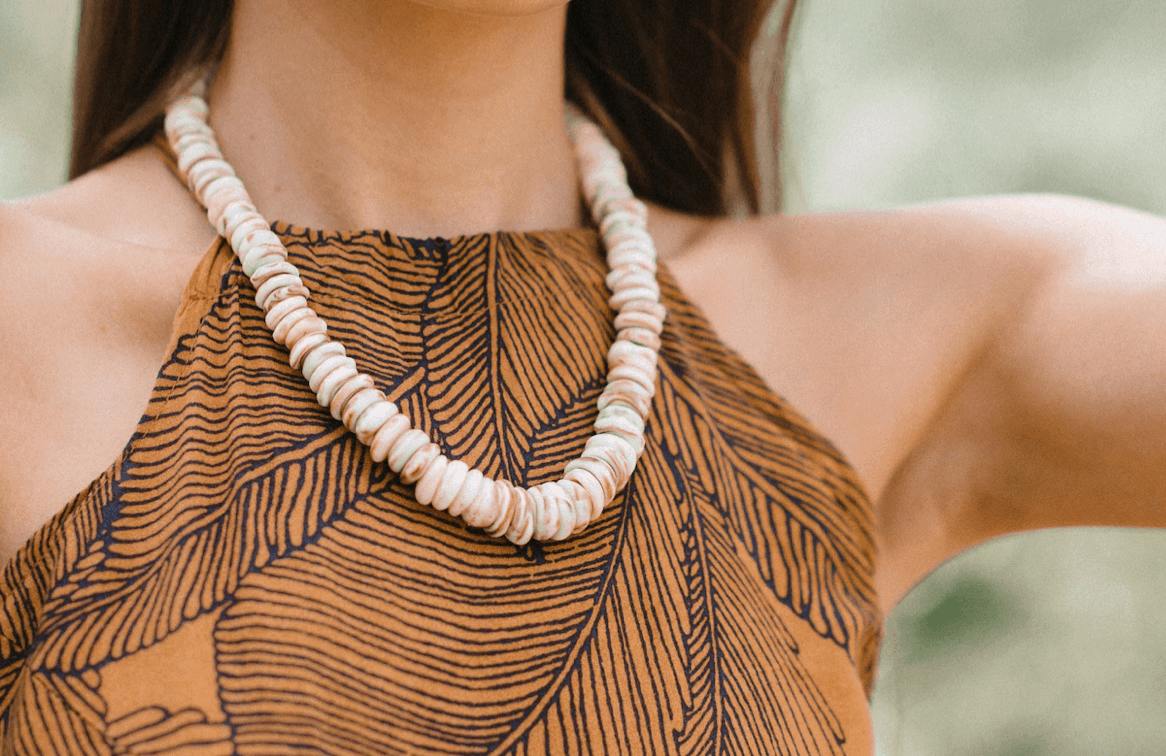 Puka shell necklaces are casual and dainty accessories that fit casual and boho styles. Wear them with flowing skirts, jeans, and even swimwear. But there are some things you need to know before buying one. 
Can Puka Shells Get Wet?
Puka shell necklaces can get wet, which makes sense– true puka shells come from the ocean. However, some puka shell necklaces are made with other materials that can tarnish in water (such as sterling silver or gold plating). In addition, some synthetic puka shell necklaces may not wear well in water. 
Can You Swim With a Puka Shell Necklace?
Puka shell necklaces pair naturally with swimwear, but I don't recommend swimming with them. Most of us are swimming in chlorinated pools, which could potentially cause harm. In addition, a puka shell necklace can make swimming difficult and even dangerous, due to its loose fit. 
Are Puka Shells Vegan?
There are synthetic puka shells, which can be vegan, depending on the materials used. But genuine puka shells, of course, are not vegan. They are derived from a sea snail. 
Can You Dye Puka Shells?
Technically, you can dye seashells and seashell accessories, including puka shells and puka shell necklaces. You could use something as simple as Easter Egg dye. However, I recommend this only for strong, new shells. Older shells that have been tarnished or eroded may not fare well with dye. 
Do Puka Shell Necklaces Break?
The highest quality puka shell necklaces should be able to be worn without too many concerns. But like all shells, necklaces can break. I don't recommend wearing them while doing heavy cleaning or physical activity. Store your necklace carefully when you're not wearing it. Here's our guide on the best Gucci necklace ideas that you might also love!
How Do you Wear a Puka Shell Necklace?
One thing that's great about puka shell necklaces? There are no rules as to how you wear them. Consider layering them with other necklaces, as an accessory when sitting by a pool or beach. Crop tops, demining, floral skirts, sundresses, and wedges or flat sandals all look fantastic. You can dress up puka shell necklaces by adding complementary earrings (I love pearl studs) or statement bracelets. 
How Do I Find a Puka Shell Necklace?
If you're looking to buy a puka shell necklace, the good news is that more stores are selling them now. The bad news is that some of these– many–are not genuine puka shell necklaces. And while there is nothing wrong with buying a synthetic puka shell necklace, it's not going to look or wear the same. Check out our guide on the best Infinity necklace ideas here.
How Much Does a Puka Shell Necklace Cost?
Puka shell necklaces can cost very little– under $10 or even $5– but as much as a few hundred dollars. If you're paying $10 or less, chances are you're buying a synthetic necklace that won't last well. 
How Can You Tell If a Puka Shell Necklace Is Real?
The first sign a puka shell necklace is fake is an exceptionally low price point. But another sign is how the shells look. Genuine puka shells have a slightly convex and concave angle, depending on which side you're looking at. You should also be able to see a spiral interior. If the puka shell necklace is entirely flat, these are not real puka shells. 
Puka Shell Necklaces: My Picks
Now I'll give you my favorite picks for genuine Puka shell necklaces. These come from Puka Perri, a retailer that specializes in puka shell fine jewelry, and independent, well-rated artists on Etsy. I'll also include links for department stores that sell synthetic puka shell necklaces if you're looking to spend less. 
Puka Perri 
Parks Perri is a jeweler dedicated to luxury, fine jewelry shells, and pearl necklaces. The company was founded in 2011 by Perri when she moved to Maui. There, she discovered a passion for puka shell jewelry. She was drawn to what she called the shells' "healing properties" and wanted to share the beauty and meaning with others. 
The collection pairs shells with diamonds and gold-filled jewelry for a refined take on puka necklaces. These aren't cheap, but they do something most puka shell necklace makers don't: combine elegant details with the classic puka shell allure. Plus, all puka shells are handpicked from Hawaii, and of the finest quality. Shop all Puka Perri Here. 
Neely Kai White Puka Necklace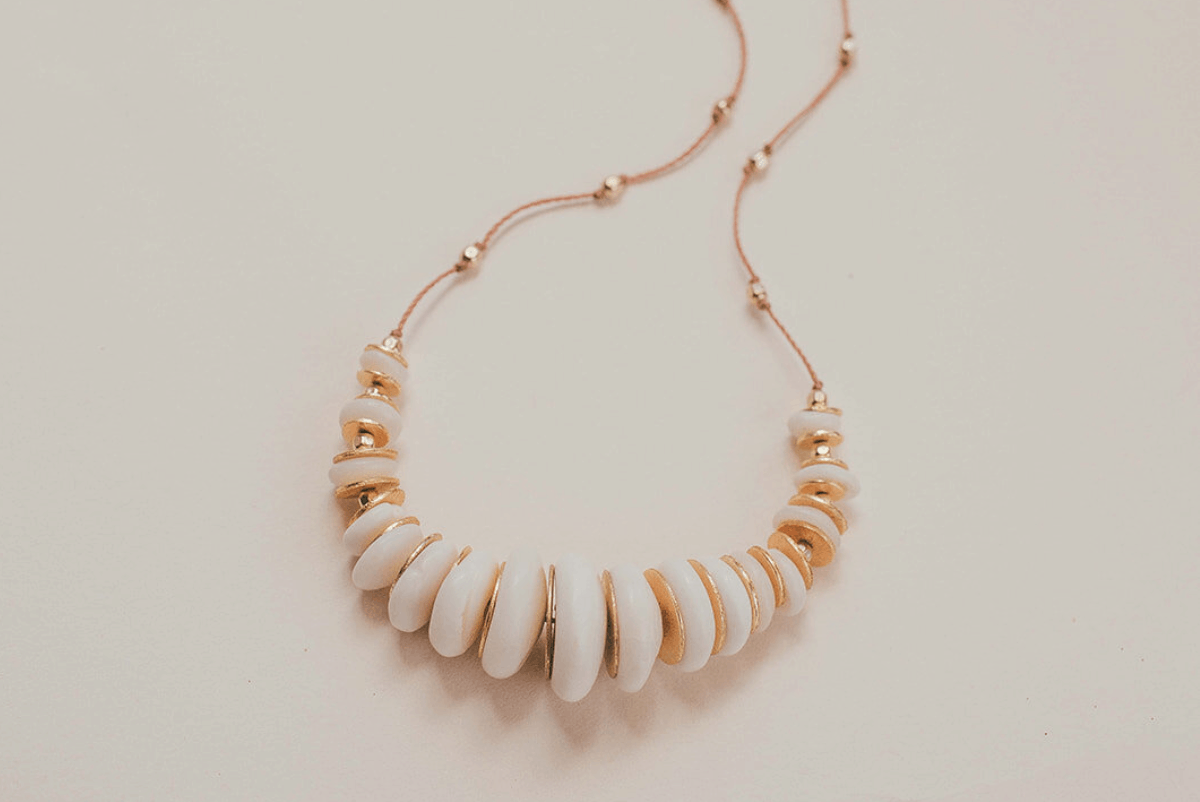 Considered the classic, original Puka Perri necklace, this is a stunning option in its refined simplicity. Snow white puka shells are paired with 18K gold-filled beads. The gold undertones and white hues make for a swimming combination that can be worn at the beach or even for evening wear. I also love that the tightly packed small and medium shells are durable. The mermaid clasp is easy to wear. Priced at around $500. Buy Here. 
Puka Mala Necklace
This stunning puka shell necklace is currently sold out, but keep an eye out for it to be restocked. The small puka shells are individually drilled and graduated, with beautiful Tahitian pearls and 14K gold beads. The balance of hues makes this necklace expressive and wearable. You can either wear it long or double it up for a layered look. This necklace is beautifully crafted, even though it is far from cheap. Priced at around $1,500. Buy Here. 
The Neely Ali'i White Puka Necklace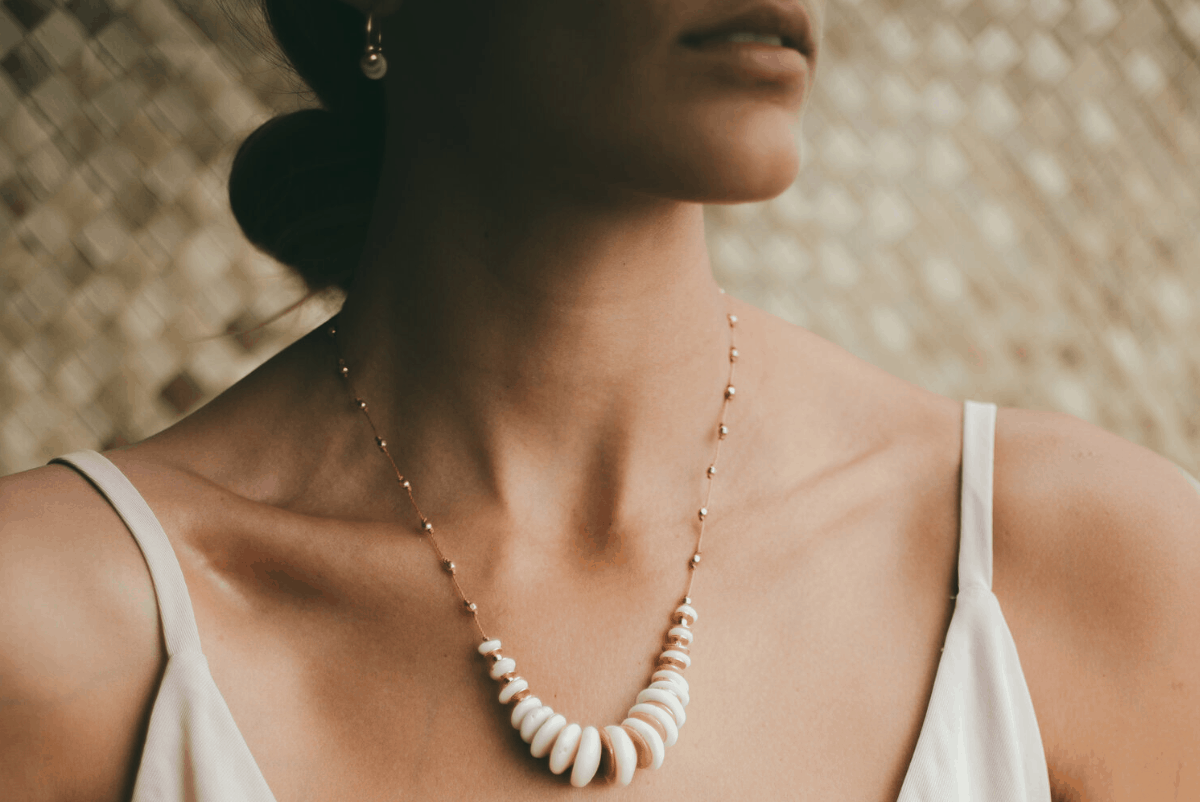 This beautiful puka shell necklace's name is inspired by royalty. The larger gauge pukas make for a bright white statement. The 18K gold brushed discs and 14K gold-filled beads are exquisite touches to a relatively versatile, statement necklace. Priced at around $625. Buy Here. 
Etsy Puka Shell Necklaces
Etsy is a wonderful– but also tricky– place to shop for puka shell necklaces. I love shopping with independent and small artists or jewelry makers. You'll find that there's a wide variety of puka shell necklaces, and many are at competitive prices. At the same time, some of these aren't the best quality and are made out of synthetic materials.
 I recommend only buying from sellers with a history of positive sales, and listings that confirm you're buying genuine puka shells. While far cheaper than my previous picks, higher quality puka shell necklaces average around $80 to $150 on Etsy. 
Authentic Hawaiian Puka Shell Necklaces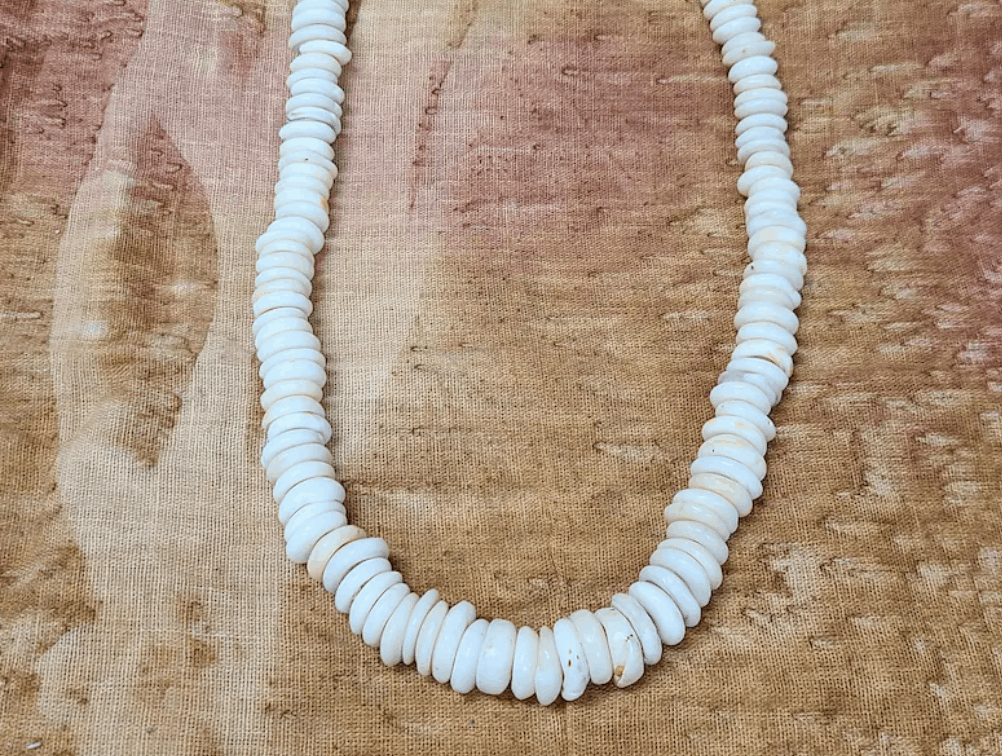 This beautiful necklace features puka shells hand-picked from Walane, Hawaii. A great option if you want a classic look, these shells are fitted on a translucent monofilament for a strong and seamless fit. A sterling silver clasp and graduated aesthetic finish the look. Priced at around $80.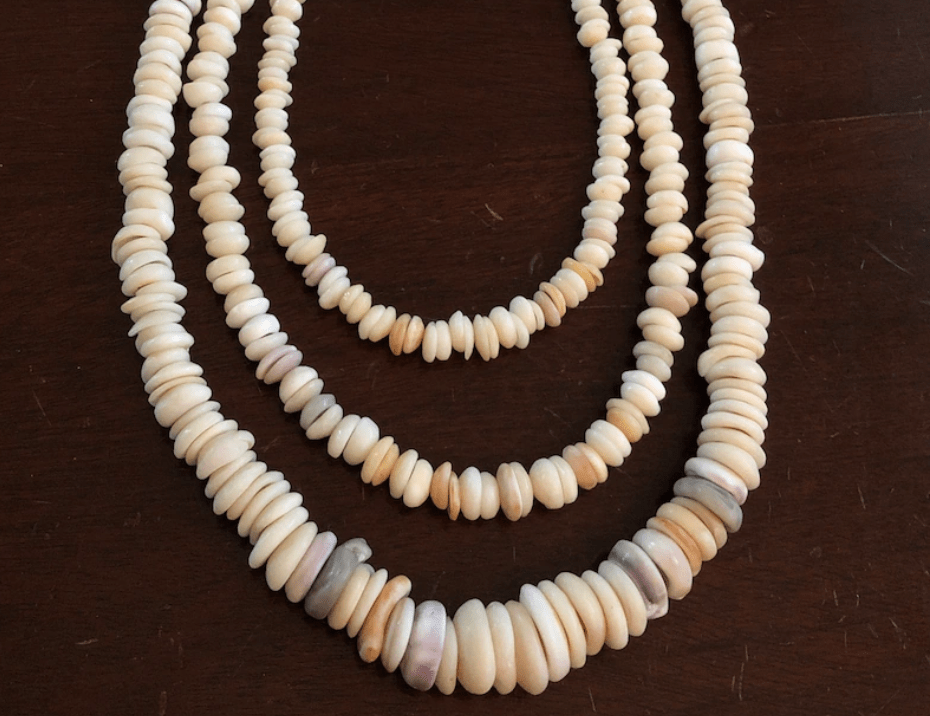 This handmade, beaded puka shell necklace is playful and stylish at once. The puka shells are all hand strung and consist of bright white and orange creamsicle hues, along with lavender. The fishing line and clasp make for a traditional but secure fit. The beautiful array of hues add a soft, boho vibe. Priced at around $110. Buy Here.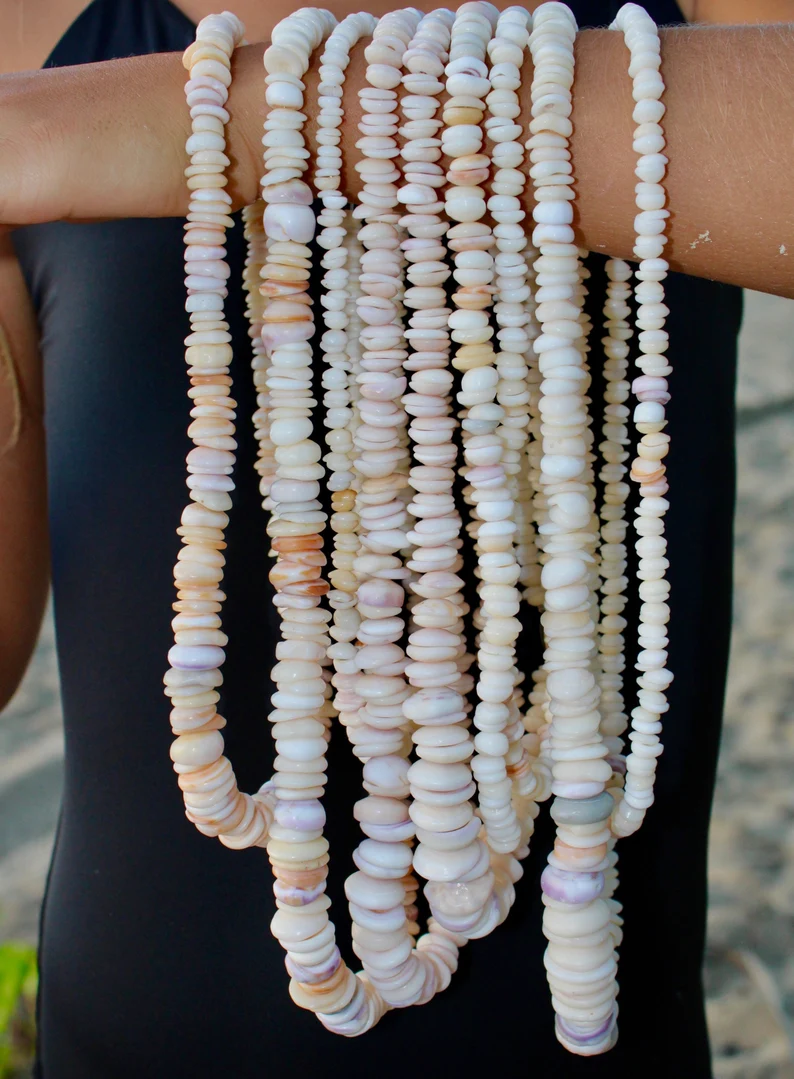 Authentic Puka Shell Necklace | Etsy
Beautiful creamy white shells accented with colorful Puka accents. These shell lei are strung on fishing line and the clasp is the traditional fishing line and puka clasp.
Check Price
We earn a commission if you make a purchase, at no additional cost to you.

Genuine Puka Shell Necklace from Maui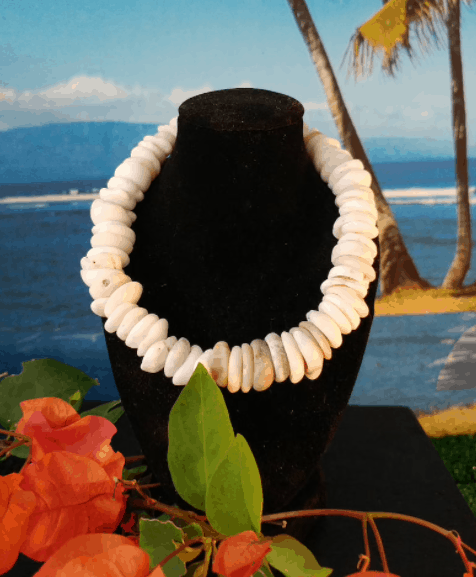 This puka shell necklace was a chunkier, bolder look. The natural hues of puka shells from Maui provide a carefree look. Each puka shell has been carefully hand-selected, as well as carefully sorted by size for a nuanced and cohesive look. Priced from $200 to $250.
Vintage Hawaiian Puka Shell Necklace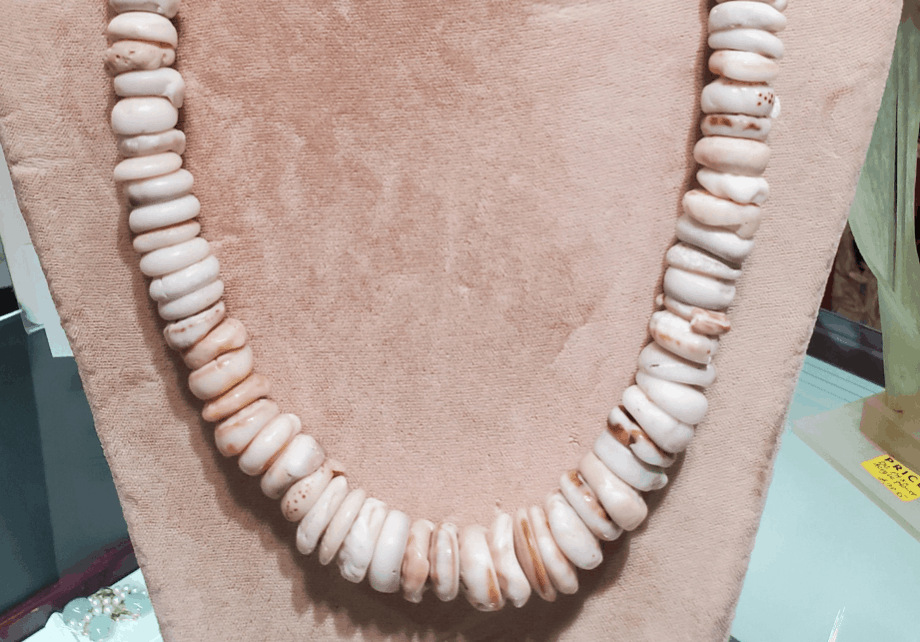 This vintage puka shell necklace is a rare find, set with durable stainless steel. Each genuine puka shell is a unique hue and shape, making for a natural, eclectic look. White, ivory, and peach hues make for a calming and expressive shell necklace. Priced at around $250.
Puka Shell Beaded Necklace, Surface Style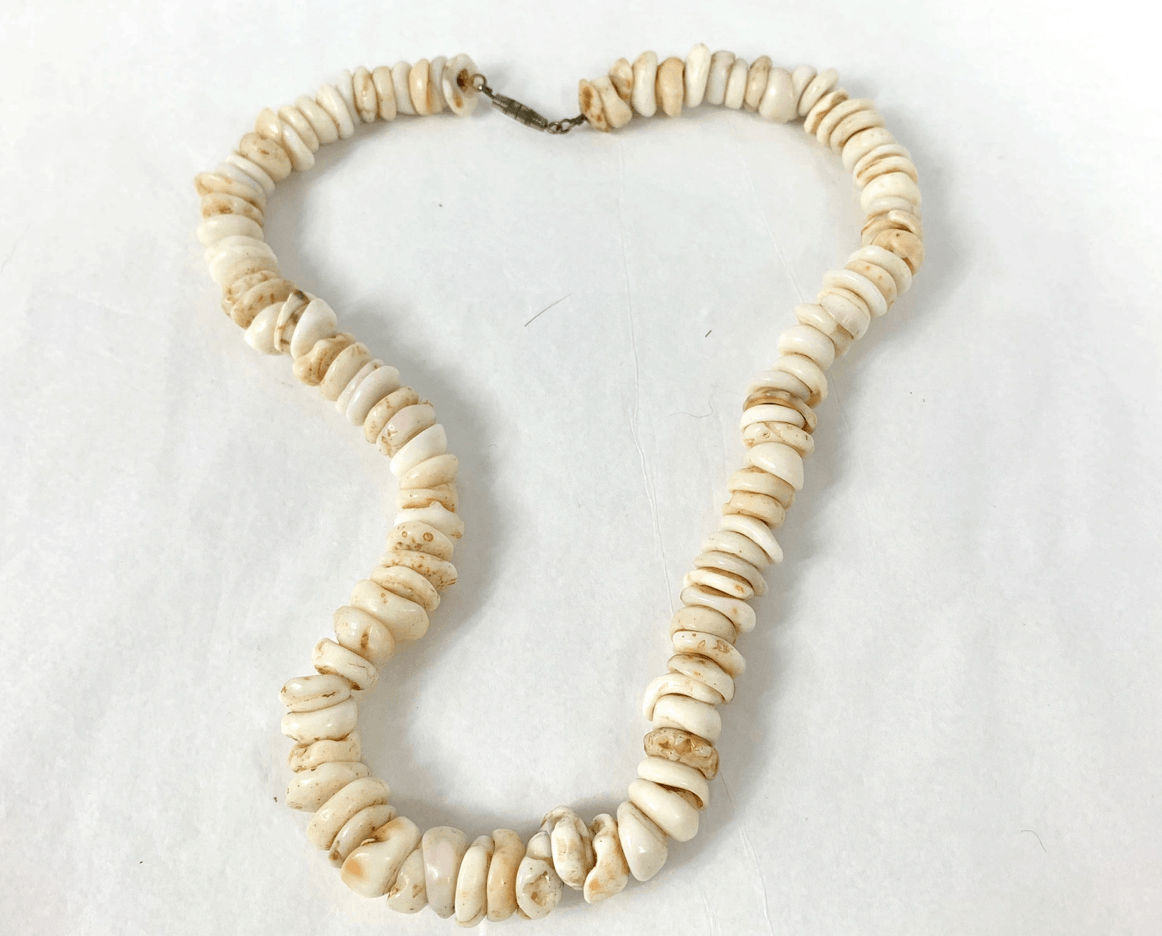 If you love the idea of a vintage puka shell necklace but have a smaller budget, consider this playful, surfer-style pick. Vintage from the 1970s, this necklace is also made out of steel so you don't have to worry about tarnish. The barrel and torpedo closure are easy to use. The boho and authentically hippie styles are pleasing, priced at around $65.  
This handmade puka shell necklace is great if you love a natural, classic style and have less than $70 to spend. These hand-sorted puka shells are left with a natural, unpolished look. Slight variations, including flecks of brown, add to an authentic, earthy appeal. The necklace is finished with a barrel clasp and accent beads. Plus, it's a 5-star shop that's received excellent reviews within the past year. Buy Here.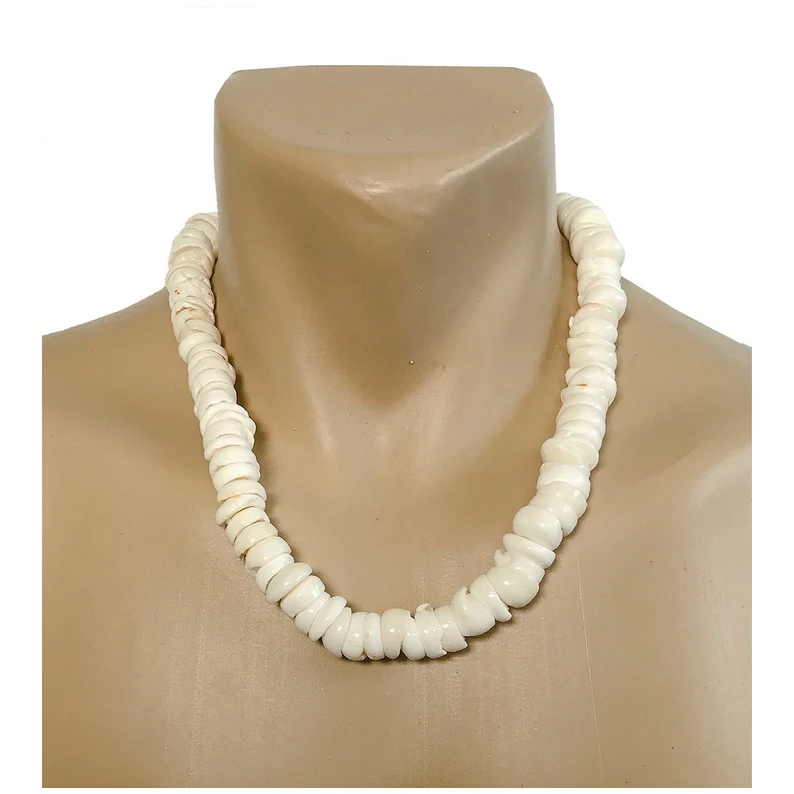 Natural Large Puka Shell Necklace | Etsy
All-natural, not polished Hawaiian puka shells were collected from the island of Kauai. Next to the barrel lock clasp is Hawaiian Koa Wood accent beads.
Check Price
We earn a commission if you make a purchase, at no additional cost to you.

Genuine Puka Shell Choker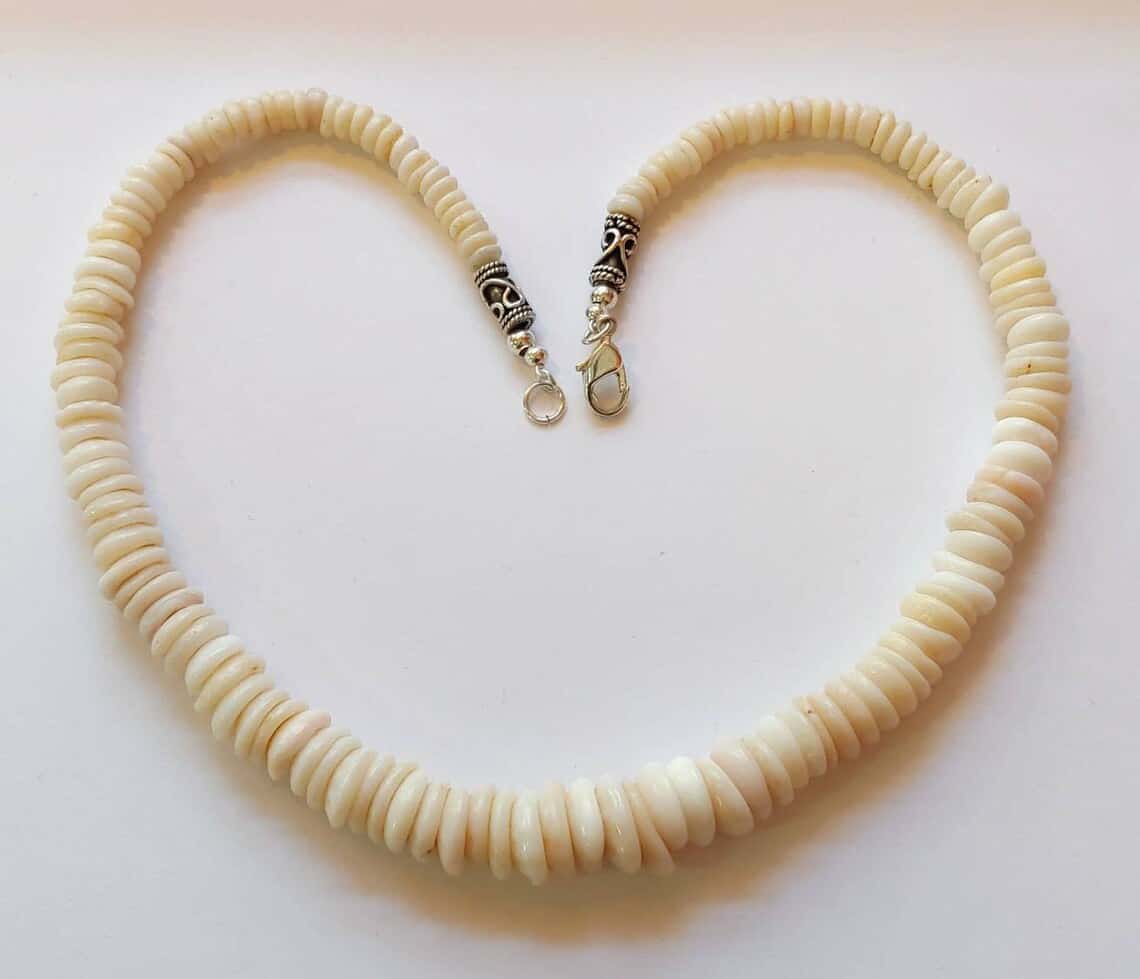 Just as puka shell necklaces have gone in and out of fashion, so have choker necklaces. And now choker necklaces are being seen more and more, from Instagram to everyday streetwear. Pairing two retro trends together, this is a playful handmade choker necklace with genuine puka shells. The necklace is strung on beaded water and offers cream, white, and off-white hues. Priced at around $40.75, it's also a bit more affordable. 
Frequently Asked Questions
Question: Are Puka Shells Bad Luck?
Answer: Puka shells aren't bad luck. They are often worn as tokens of good luck. Puka shells have been worn by sailors for good fortune on their sailing adventures. However, some believe that good fortune does not apply to those outside of Hawaii. 
Question: Are Puka Shells Only Found in Hawaii?
Answer: Genuine puka shells are native to Hawaii. There has been some controversy regarding wearing puka shell accessories outside of the state. Of course, puka shells are sold across the United States. If you're buying puka shells that don't have their origins in Hawaii, you may be buying a synthetic necklace. 
Question: What Does it Mean When a Guy Wears a Shell Necklace?
Answer: Men wear shell necklaces– in fact, it's popular amongst surfing culture. It doesn't mean anything special, other than good luck and connection with one's culture. Instead, simply think of shell necklaces as accessories that add personality, whether that's for casual wear or even for a sport. 
Question: How Do You Keep Shell Necklaces Shiny?
Answer: Puka necklaces, or any shell necklaces, can wear and lose luster over time. To keep them shiny, clean them with warm water and use mineral oil for extra shine. Some shells can be cleaned using harsher agents like bleach, but the issue with this is the necklace itself may become damaged. 
Final Thoughts
Puka shell necklaces are playful accessories for casual and swimwear outfits. To find the best quality, make sure you're buying a genuine puka necklace. Make sure that the shells aren't entirely flat. To make the most out of your necklace, don't swim in a pool with it. Soft cotton cloth can keep your necklace looking clean and at its best. 
Looking for cheaper alternatives? You can find synthetic puka shell necklaces on Etsy and also through stores like Madewell and Urban Outfitters. 
Longing for shell and shell-themed jewelry at a low cost? Pure Vida is a unique company that has a nice little collection of affordable shell jewelry. The brand, whose motto is 'live free,' supports artisans around the world and also gives money to charitable organizations. 
No matter what shell accessories you opt for, the sky's the limit when it comes to styling. Swimwear, dresses, and even jeans– you decide what matches your personality. And in 2022, that's more and more what style is all about. Here's our complete guide on the best types of necklaces that you can add to your collection.