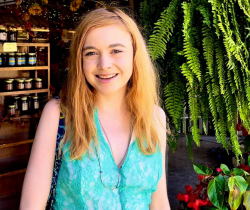 Latest posts by Erin Jamieson
(see all)
It's been labeled as one of the most popular necklace trends for 2022. The lariat necklace is at its best, with news picks and designs for classic to innovative inspiration.
Lariat necklaces, also known as "Y" necklaces, have accelerated in popularity– and some argue that's because the style is so versatile. But another reason is that lariat necklaces are keeping pace with current trends, as is the case with the winner of the 2022 JCK Jeweler's Choice Award. 
The annual award is unique from many in the jewelry industry. Rather than being decided by professionals, the award show allows consumers to vote on their favorite pieces. In a way, it's more helpful to look to shows like this to understand what's currently trending for everyday Americans. 
And this year it was an exquisite Ary d'Po lariat necklace that stole the show. The female-operated boutique wowed with their "sun, moon, and stars ' necklace. Glossy 18K yellow gold is plated over sterling silver and paired with a dramatic star drop pendant. Flashes of cubic zirconia add sparkle and ethereal detailing. 
But beyond the innovative design, there's likely another reason why Ary d'Po's bracelet won. By tying together three popular trends: lariat necklace, ethical jewelry, and celestial themes, they won voters over.
Is anything special about lariat necklaces themselves? And are they the right necklace-type for you? I'll discuss what a lariat necklace is, how to wear them, and my picks for some of the best lariat necklaces.
What is a Lariat Necklace?
A lariat necklace, also known as a "Y" necklace, is a longer necklace with a delicate look. A typical round necklace silhouette is accompanied by a thin strand that hangs down on its own, forming a Y shape. There can be different chain styles, and lariat necklaces can either be solid metal or accented with crystals, gems, or diamonds. 
The special feature is that the necklace can be knotted or wrapped multiple times, depending on the style. They're almost always adjustable by length as well– thus their reputation as a versatile necklace.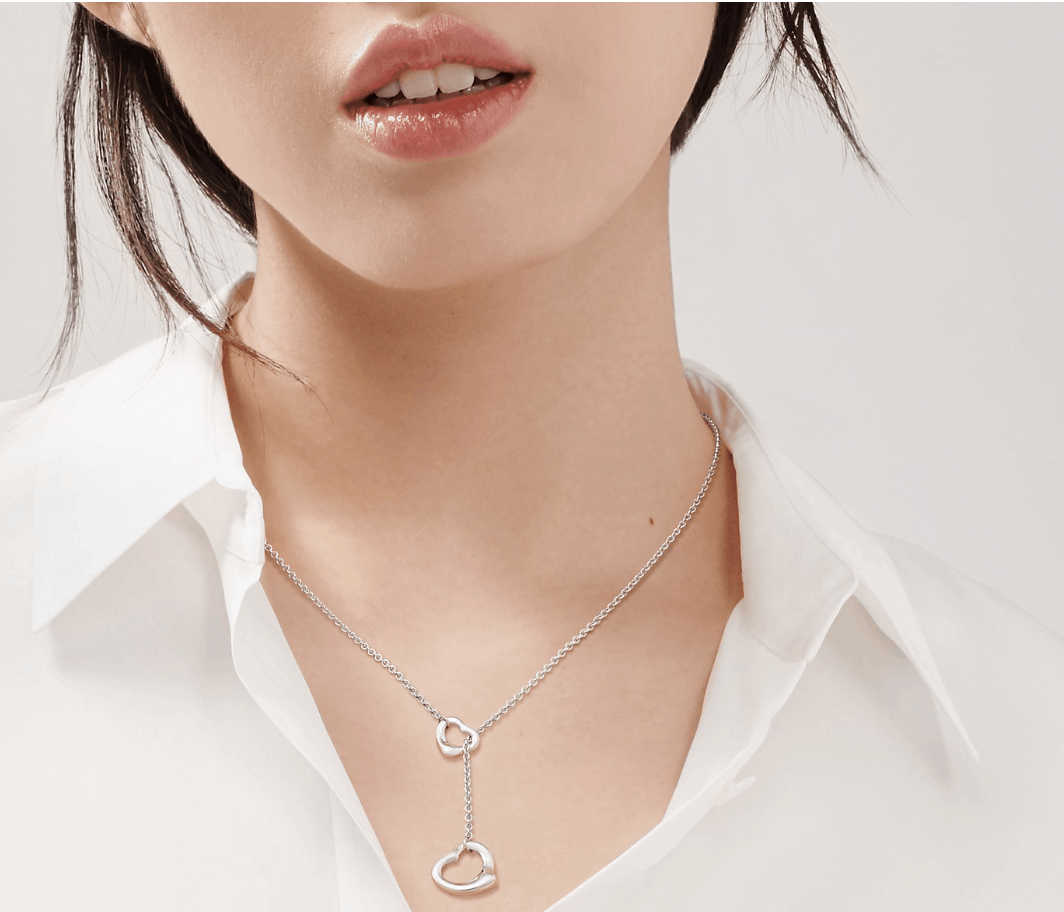 Are Lariat Necklaces in Style 2022?
Lariat necklaces gained prominence in the 1920s, often as beaded pearl necklaces. The fun style has remained a classic ever since, But it's recently– a century later– that they're enjoying popularity once more. The multipurpose necklace style is at once classic, practical, and fun. More and more designers have used the Y shape to play with current trends, from ethically sourced gemstones to celestial and meaningful motifs. 
How Do You Wear a Lariat Necklace?
Wearing a lariat necklace is personal. That is, you can wear a lariat necklace in a variety of ways, from the way you wear it around your neck to what you wear with your necklace. You can wear a lariat necklace long, or wrap it into a choker style necklace. Wrap it as a basic loop, or even wear it backward for a modern take. 
For an extensive how-to, click here for 20 ways to wear a lariat necklace. 
How Do you Keep a Lariat Necklace in Place?
The one downside to this versatile necklace is that it can be tricky to keep in place. Looping a strand over the front, no matter the style can help secure the necklace. Any style that includes a small knot also is helpful. 
What Do you Wear with a Lariat Necklace?
Lariat necklaces are a great accessory because you really can decide what you want to wear. If you opt for a choker style with your lariat necklace, consider layering it with other necklaces, such as a plain metal chain. Stud earrings look spectacular for all styles of lariat necklaces, as do classic and bangle bracelets.
As far as clothing, it's really up to you. Lariat necklaces, for the most part, seamlessly suit both casual and formal outfits. If you're wearing your lariat necklace long, consider pairing it with a deeper neckline. Sweethearts, V-necks, and deep scoops all look fantastic with the elegance of a single-knotted lariat necklace. 
How Do I Find the Best Lariat Necklace?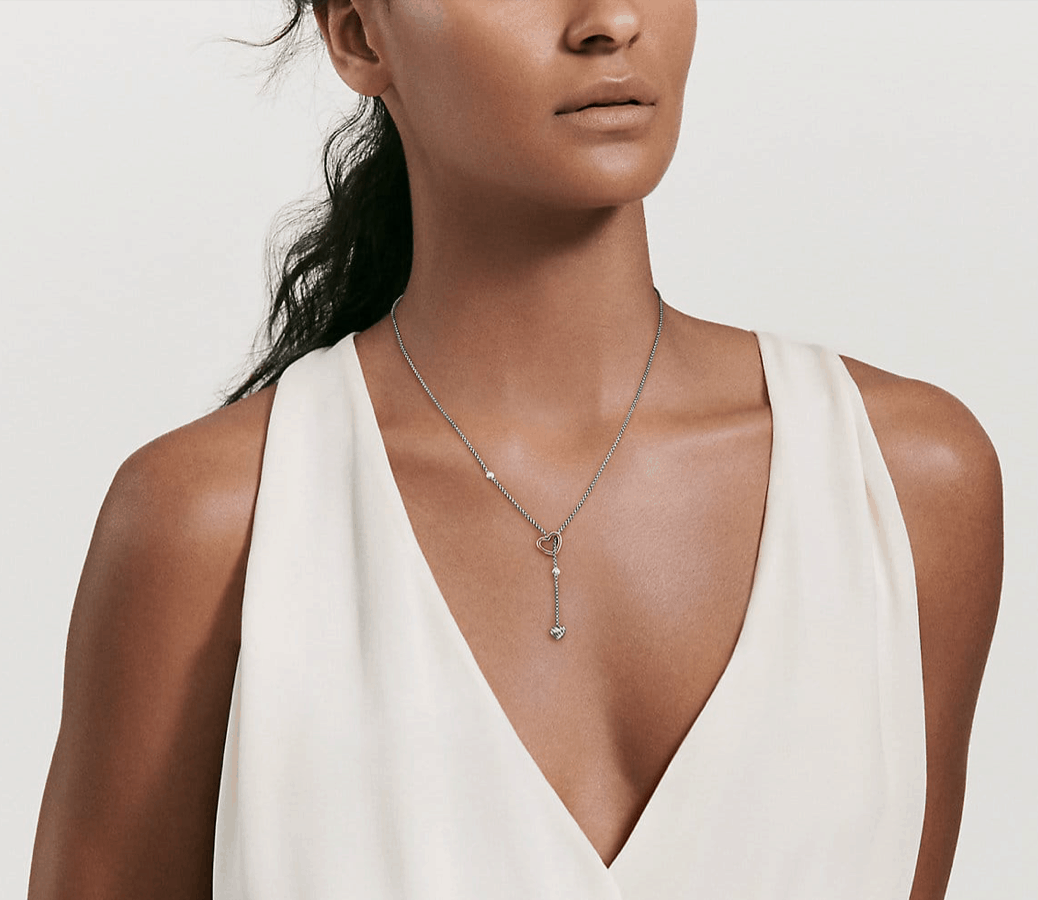 The best lariat necklaces are crafted with high-quality materials and provide either classic or unique designs. While style is up to your personal preference, here are some of my tips for how to pick the right size and style for you. 
How Do you Measure a Lariat Necklace?
The first thing you'll want to do– especially if you're shopping for a lariat necklace online– is to decide on your necklace length. To do that, first, you need to measure, or at least estimate. Use a tape measure around your neck. The tape needs to be parallel to the floor and flat against your neck as much as possible. You'll need to add 3 to 4 inches to your measurement for a typical chain length. This gives you a baseline for the length you'd normally look for in a necklace. 
How Long Should a Lariat Necklace be?
How long you buy or wear a lariat necklace depends on you. That said, the general rule of thumb is that longer lariat necklaces are more versatile. You'll be able to achieve more styles with the more length you have to play with. The downside is that, if you don't need or want to style many ways, it may be trickier to learn how to wear them.
Aiming for a lariat necklace that is at least 30 inches long. Longer necklaces, around 40 to 42 inches, are the most popular and common.
What Type of Metal is Best for Lariat Necklaces?
Lariat necklaces have become popular enough you can find them in about every metal type. That includes sterling silver, gold plating, and traditional gold, among other metals. For fairly durable necklaces, I recommend 14K or 18K gold. Gold plating I recommend against especially for a lariat necklace. Though more cost-friendly and still beautiful, plating wears with use. This is concerning for the lariat necklace, which you'll likely be manipulated quite a bit. 
Furthermore, I recommend buying lariat necklaces from fine or luxury jewelers. That is, buy a lariat necklace from a reputable seller, and it'll last a while. You may want to spend a little more on a lariat necklace because you'll likely wear it more heavily. 
Lariat Necklaces: My Picks
Now I'll give you my picks for my top lariat necklace collections. These collections are exquisite, with classic, vintage-inspired and modern lariat styles. From fine jewelers like Angara and Blue Nile, to luxury designers like David Yurman and Tiffany &Com all of these necklaces are resplendent with their craftsmanship and quality of materials. Here's some beautiful inspiration for some of the best lariat necklaces you can buy in 2022. 
Angara Lariat Necklaces
Angara is a respected diamond jewelry designer with an A+ rating from the Better Business Bureau. They specialize in beautiful lab-grown and natural diamonds and gemstones, paired with modern and inviting styles. I also love how the transparent Angara is with the quality of gemstones you're buying. If you're looking for a beautiful gemstone lariat necklace, you may very well enjoy this collection, priced from $349 to $1949. It's not the cheapest, but you get control over the exact quality gemstone you want, offering both more affordable and exquisite options. Shop All Angara Lariat Necklaces Here. 
Bezel-Set Round Gemstone Lariat Necklaces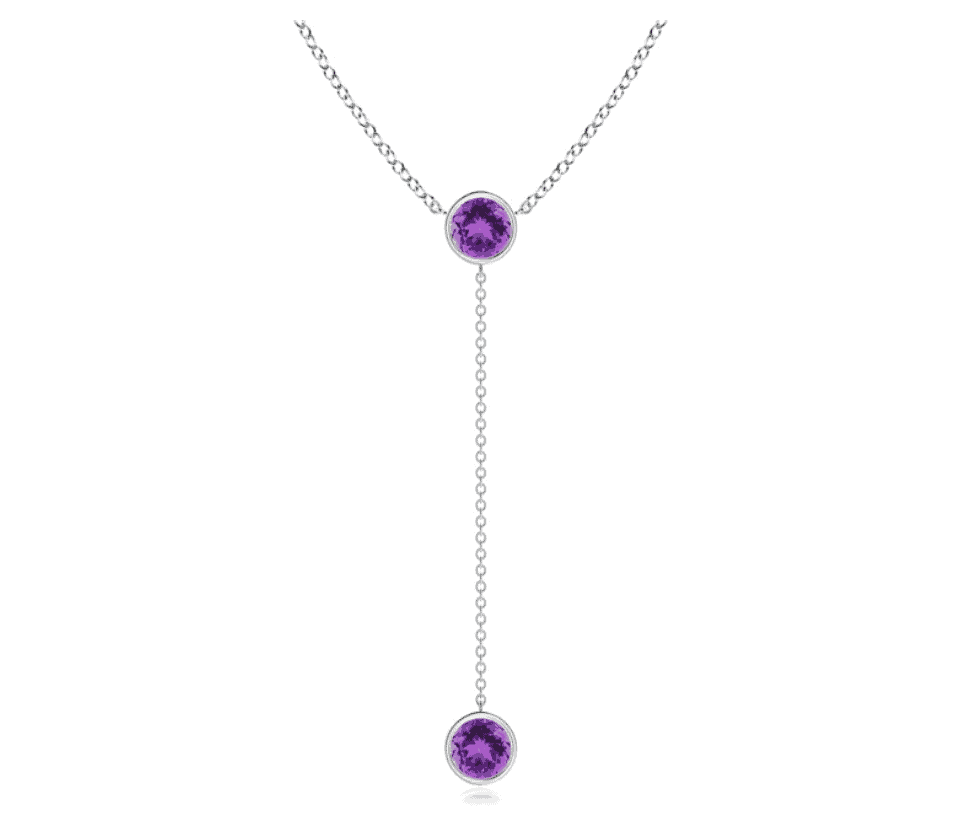 Select from peridot, amethyst, garnet, tanzanite, aquamarine, rose quartz, turquoise, garnet, or blue topaz. Priced from $309 to $2,069, these beautiful gemstone lariat necklaces are crafted in your choice of 14K white, yellow, or rose gold, as well as platinum. Two round bezel-set gemstones provide a refined but colorful style. Plus, you can select the gemstone quality of your choice. Buy at the links prior. 
Freshwater Pearl Lariat Necklace with Diamonds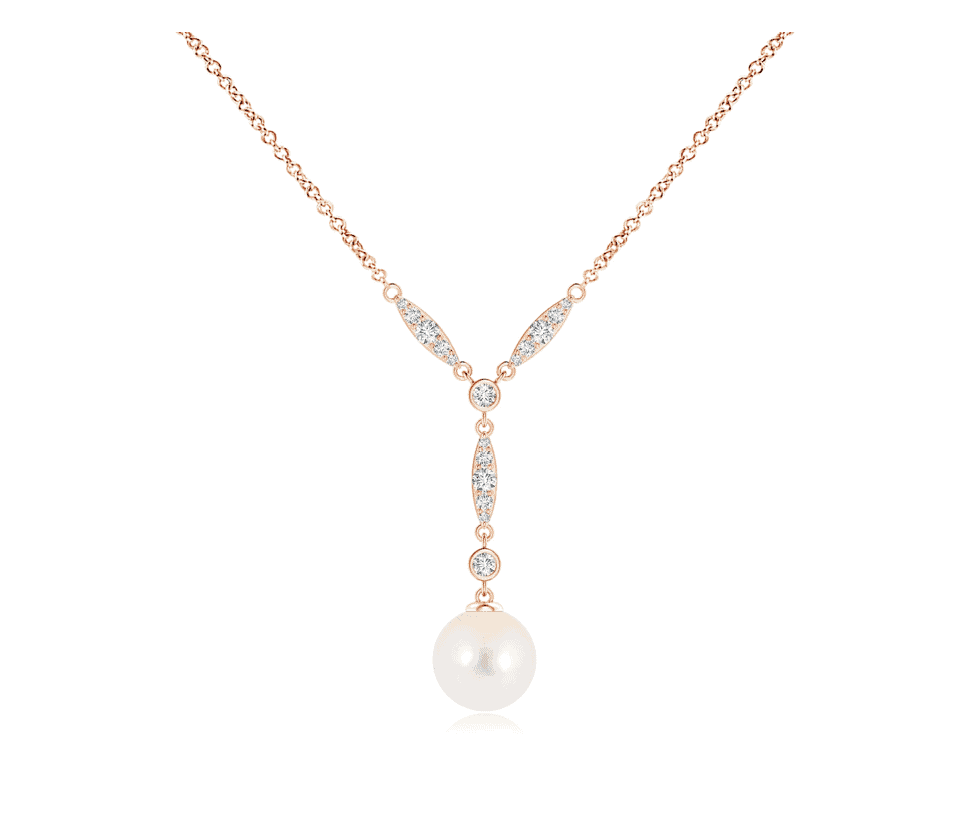 This exquisite pearl necklace elevates a typical lariat style. Priced from $503 to $1,205, this necklace is an instant classic. A freshwater pearl dangles from a chain accented with prong and bezel-set diamonds. Created with your choice of sterling silver or 14K gold (yellow, white, rose), this is an elegant look that will never go out of fashion. Buy Here. 
Diamond Starburst Lariat Necklace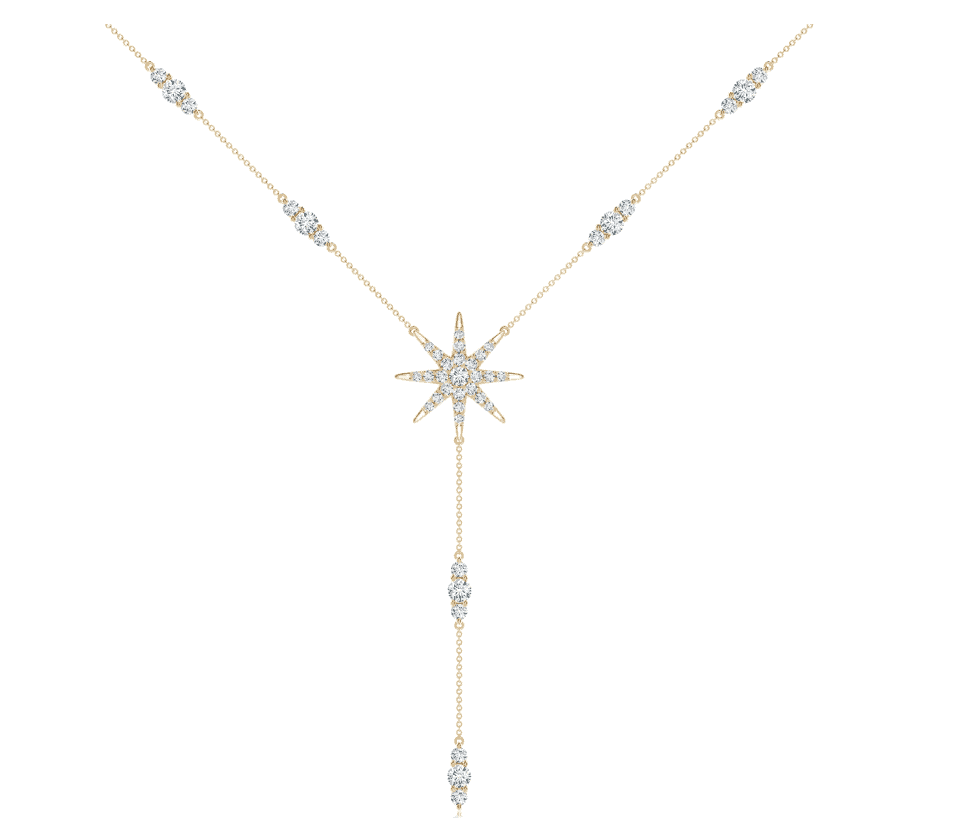 Looking for a lariat necklace that truly shines? This diamond lariat necklace provides a celestial allure. Crafted in your choice of 14K white, rose, or yellow gold, this necklace features 25 round diamonds. The eight-point star points to diamond stations along with the necklace for a magical touch. Select your diamond quality; priced from $1,808 to $2,978. Buy Here. 
Blue Nile Lariat Necklaces
Blue Nile is another excellent choice if you're searching for lariat necklaces online. Blue Nile has been accredited with the BBB since 1999 and also holds an A+ rating. The world's largest online fine jewelry retailer, Blue Nile is a little more affordable than some competitors while offering necklaces and gemstones of fine quality. The downside? They have only a few lariat necklaces– including a stately 14K gold necklace and a playful tassel style. 
Long Tassel Lariat Necklace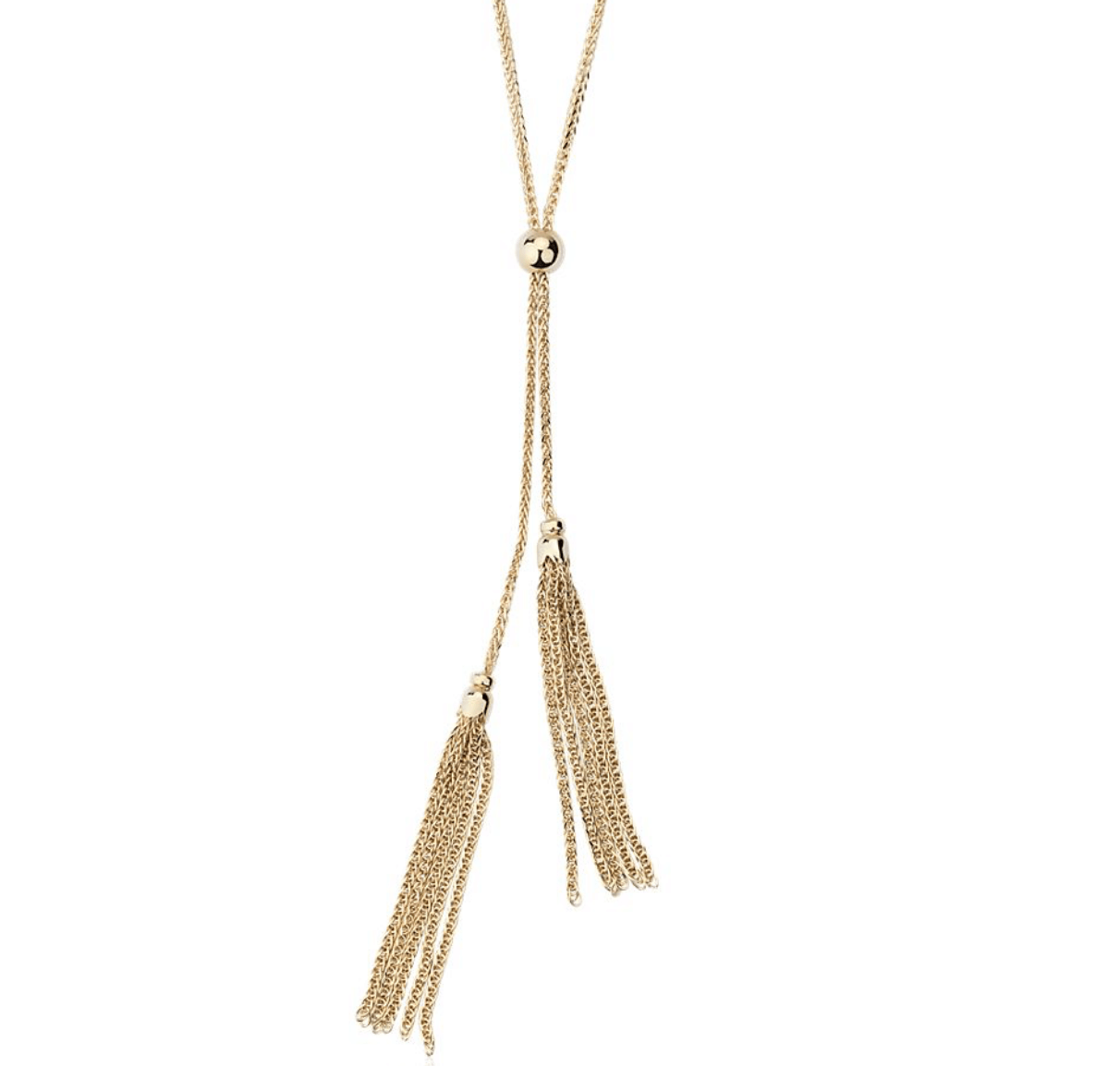 Tassels add an unexpected boho-chic twist to a lariat necklace. Beautiful 14K yellow gold adds warmth, while the adjustable tassels are playful and chic at the same time. Priced at $1,100. Buy Here. 
Diamond Kite Y Necklace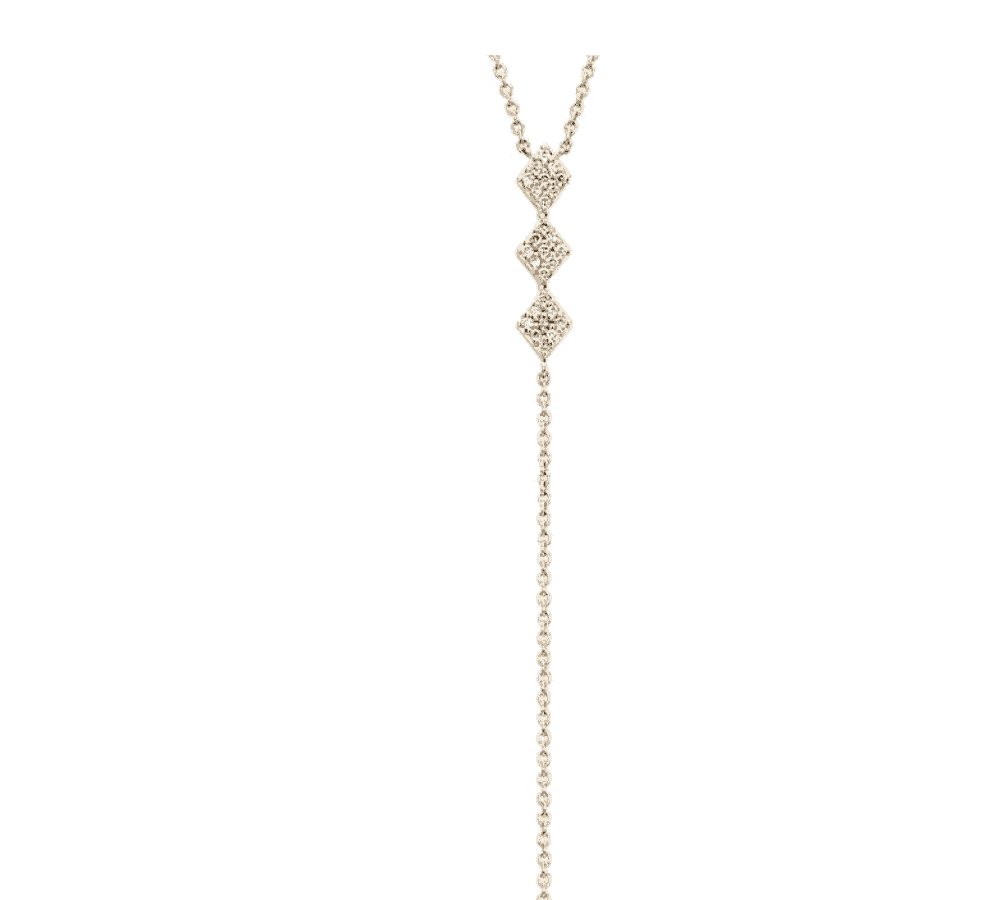 This diamond necklace offers a dazzling touch to any outfit. Petite accent diamonds adorn a yellow kite-shaped tier. The lariat drop is kept minimalist and refined to allow the diamond accents to shine. This necklace is also splendid when paired with other accessories. It is a rather short necklace for the Y style, adjustable for up to 20 inches long. Crafted in 14K yellow gold and priced at $400; Buy Here. 
David Yurman is a luxury designer known for innovative designs. As the first jeweler to pair diamonds with sterling silver, DY necklaces combine luxury and everyday wear. These causal luxury necklaces also showcase David Yurman's eye for current trends, cutting-edge styles, and bolder looks. You'll find heavier chain styles and playful geometric designs. This collection is priced from $525 to an eye-watering $58K, but there are certainly options below $4,000. If nothing else, this necklace can serve as inspiration for how interesting lariat necklaces can be. Shop All David Yurman Lariat Necklaces Here. 
Heart Y Necklace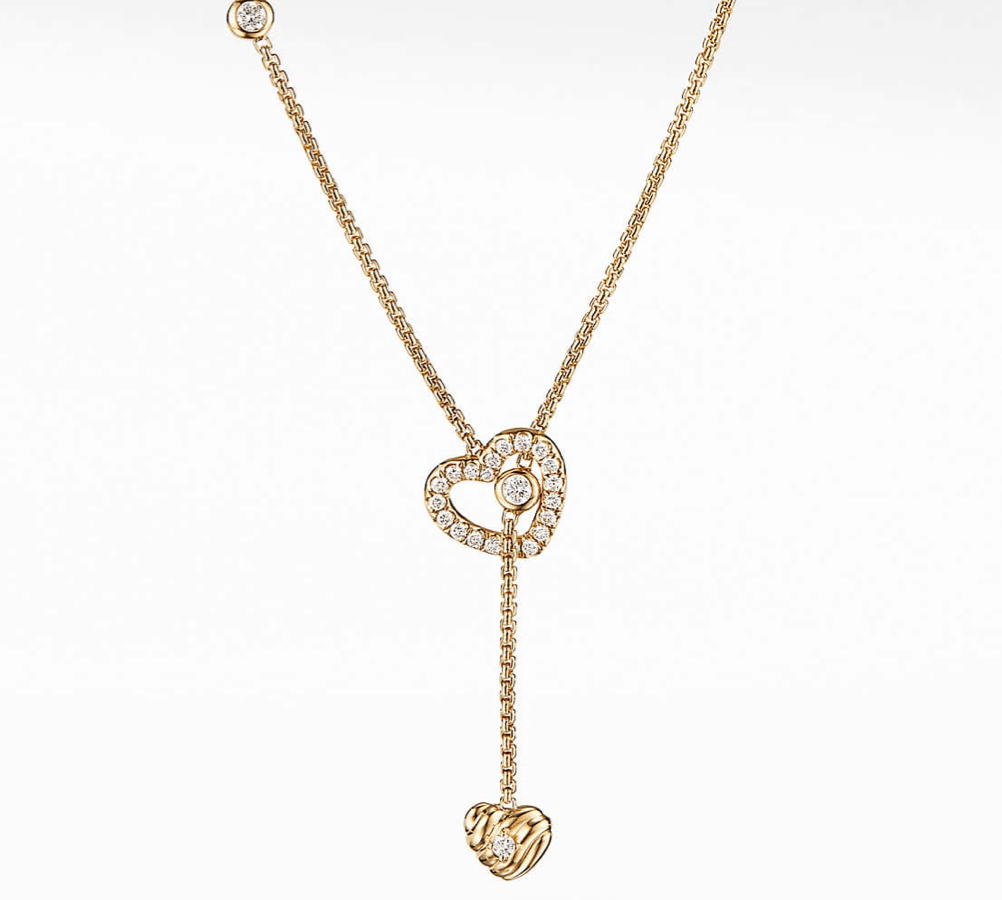 Heart motifs are back in fashion. This lariat necklace makes a meaningful impression, studded with 0.28 carats of pavé diamonds. The classic chain is crafted in your choice of 18K yellow gold or sterling silver. Fashionable, dressy, but also perfect for everyday wear, priced at $850 to $2,400. Buy Here. 
Helena Y Necklace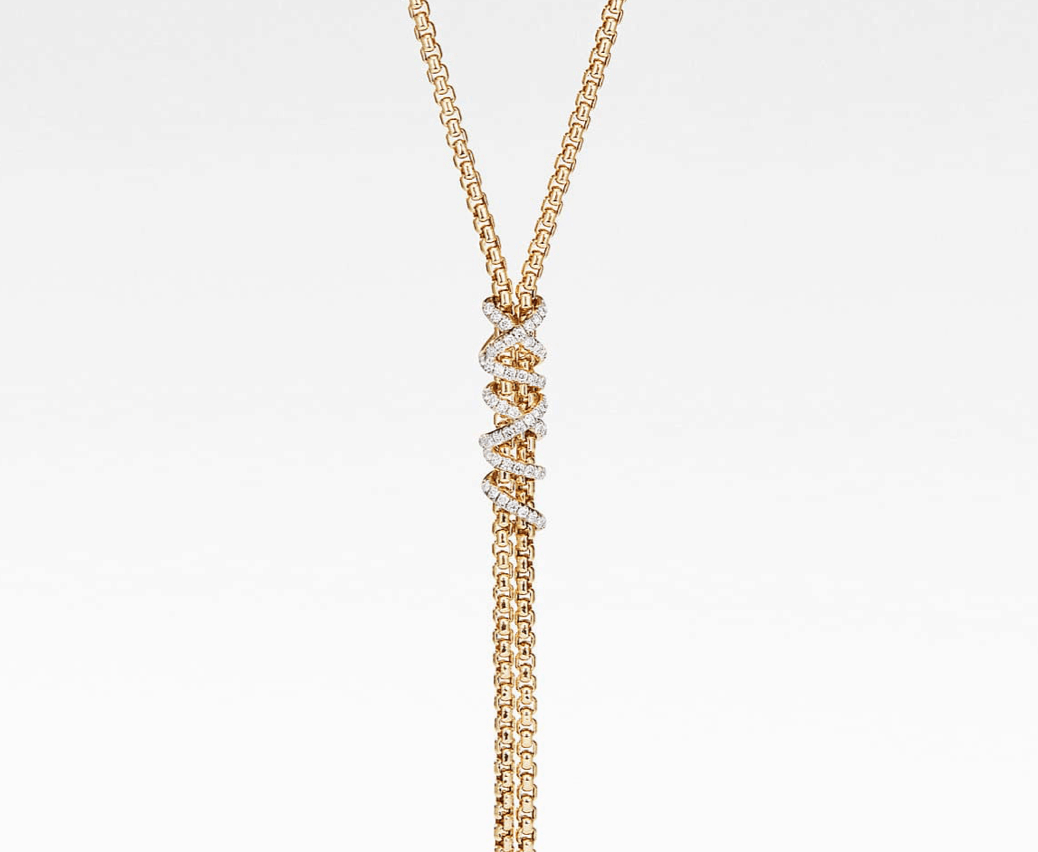 These gorgeous lariat necklaces showcase what David Yurman does so well. Modern, everyday luxury exudes from this unique cable chain necklace. 18K yellow gold threads are adorned with hand-set pavé diamonds for a glamorous look. Priced at $5,500. Buy Here.
Solari Y Necklace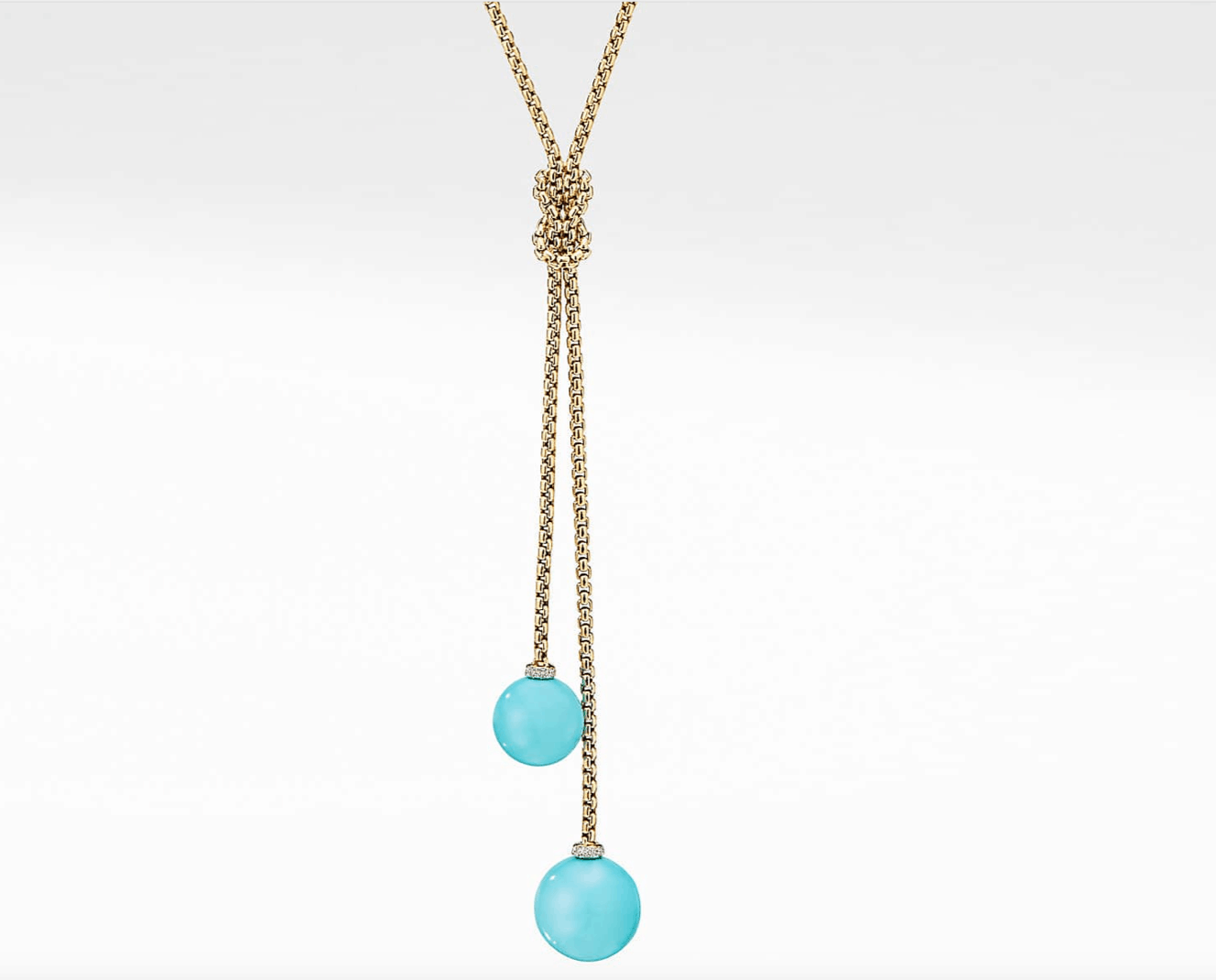 This playful lariat necklace features two dangling 18K yellow gold chains with turquoise gemstones (also available with gold beads). The look is elegant but playful and modern. The turquoise hue adds a beautiful splash of color, brought out by pavé diamonds. Priced from $2,800 to $3,900. Buy Here. 
Tiffany & Co Lariat Necklaces
Tiffany & Co has been known as a luxury jewelry designer prized for its craftsmanship. Beautiful precious metals are crafted with care. Their entire collection has an updated but timeless appeal that exudes elegance. That's also true for their lariat necklaces. The small collection includes just four necklaces, but each features the timeless elegance you'd expect, for beautiful versatility. Prices range from $475 to $1,800. Shop All Four Necklaces Here. 
Open Heart Pearl Lariat Necklace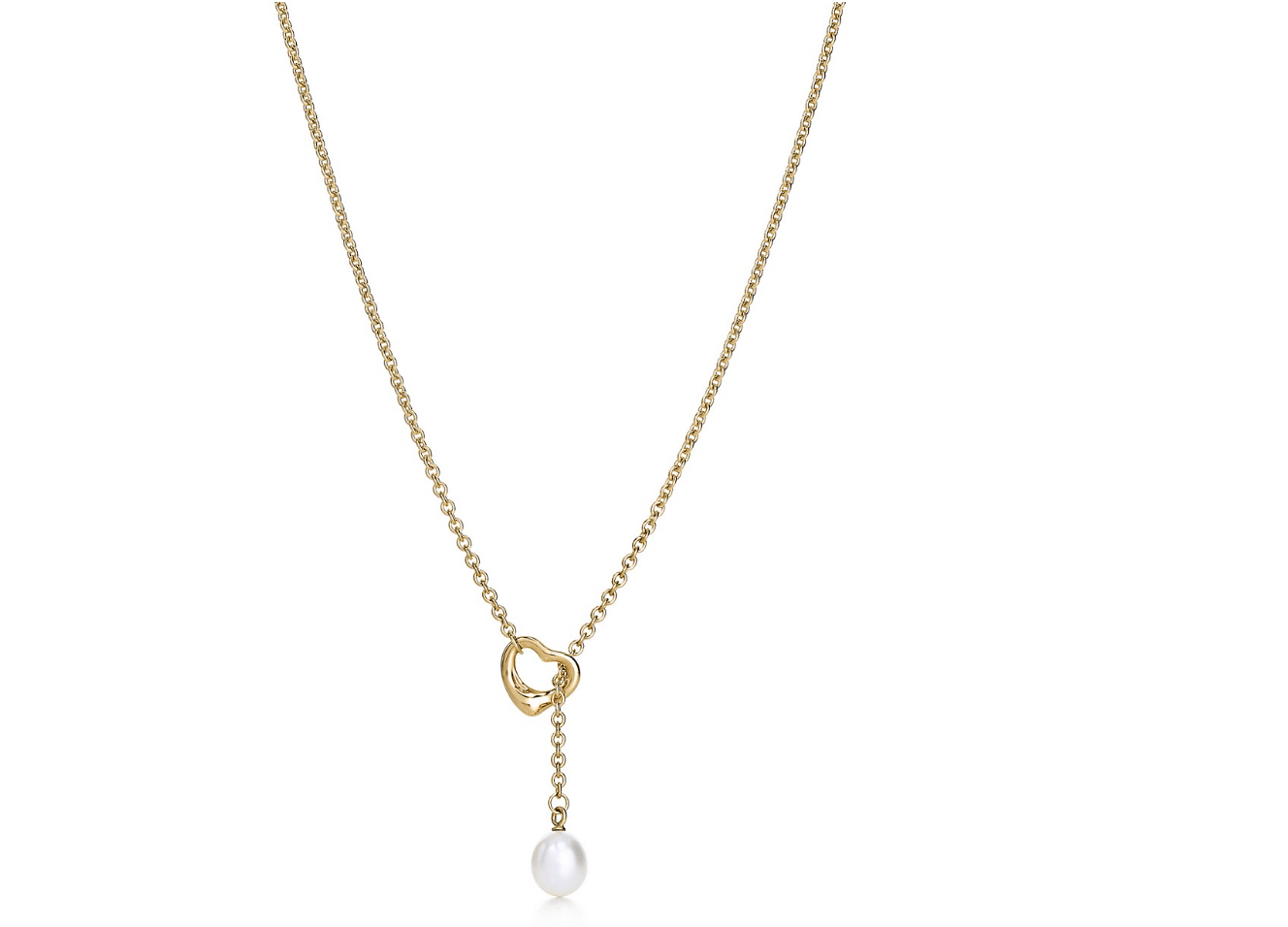 This timeless necklace pairs a freshwater cultured pearl with a sleek asymmetrical heart pendant. Touching upon classic styles with a modern twist, the 18K yellow gold chain finishes the delicate, beautiful style. Wear this necklace alone, or pair it with accent pearl bracelets or earrings for a beautiful finishing touch to your look. Priced at $1,800. Buy Here. 
Sterling Silver Open Heart Lariat Necklace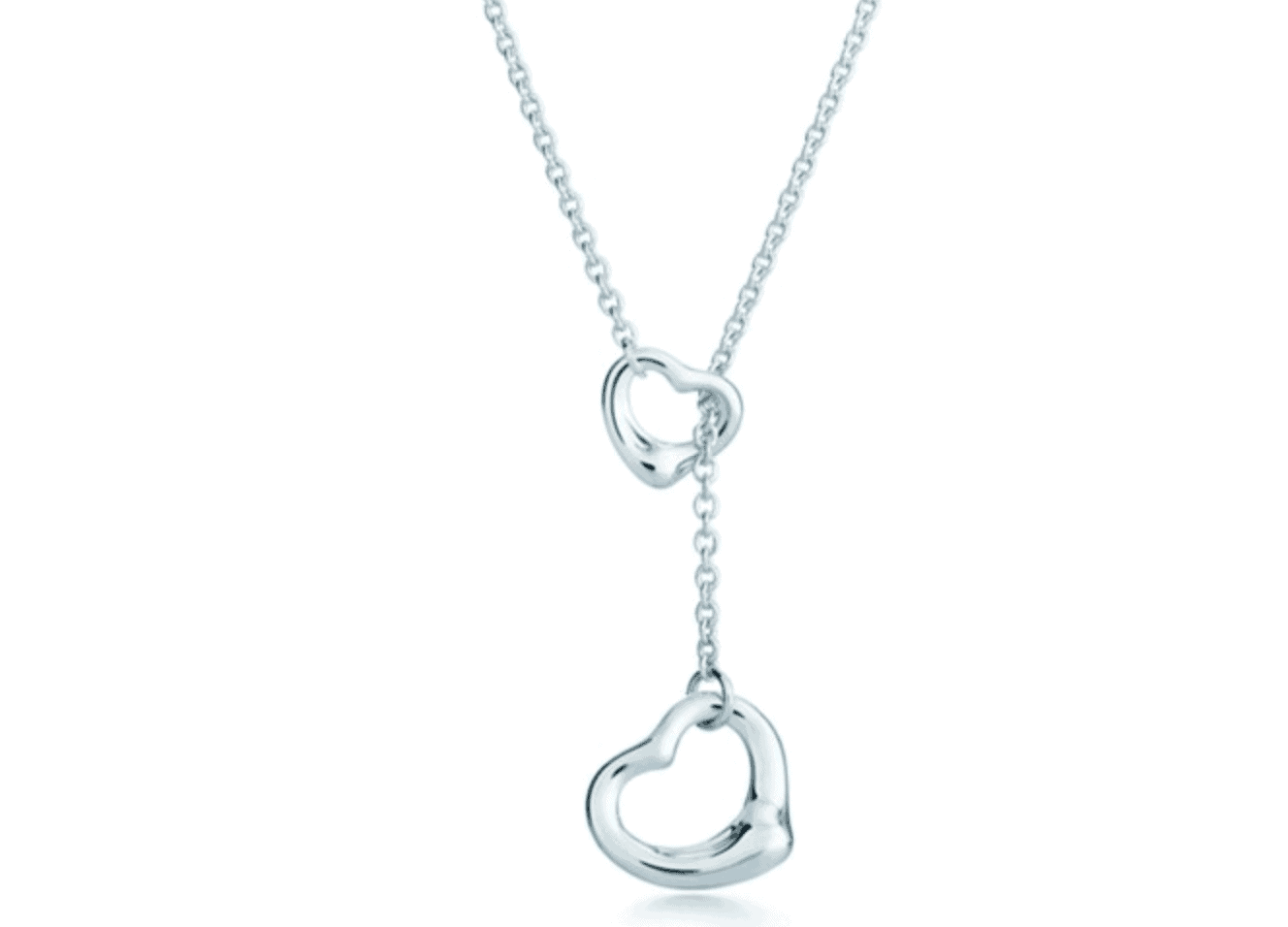 While I don't typically recommend sterling silver for everyday wear, it can last a while when properly maintained and regularly cleaned. It's also important to note that Tiffany & Co is well known for its high-quality sterling silver. This minimalist necklace could be worn with just about anything. Two open-heart pendants provide a timeless, beautiful look to this necklace- no precious gemstones needed. The look is polished, refined, and very typical of Tiffany & Co accessories. Priced at $525. Buy Here. 
Frequently Asked Questions
Question: What is the Most Popular Necklace?
Answer: In 2021, many old trends and classic ones are coming back for necklaces. Top trends include diamond necklaces, link necklaces, pearl necklaces, station necklaces, and lariat necklaces. Charm necklaces are also especially popular with meaningful touches and personalization. Ethically sourced diamonds and gemstones and recycled metals are becoming more popular amongst conscious consumers. 
Question: What's the Best Necklace Length?
Answer: The best necklace length depends on the style of the necklace, as well as your personal preferences and body. As such, there is no one best necklace type. 14 inches is ideal for a collar necklace, and 16 inches for a choker necklace. 18 to 24 inches is a versatile length you'll see for many styles. 
Question: What is the Strongest Chain Style?
Answer: The strongest chain style for a necklace is any style that doesn't have a specific bending point. Cable, curb, rope, and mariners chains don't have that weak bending point– which is where necklaces tend to break. 
Question: What is a Slider Necklace?
Answer: A slider necklace is a frequently mentioned style by those considering a lariat necklace. The slider necklace style is now one of the most popular ways to modernize a pearl necklace. Typically, a delicate strand of fine metal is fully adjustable, with a cultured pearl in the middle. These necklaces are most commonly crafted in sterling silver and also lower cost than many fine jewelry pearl necklaces. 
Final Thoughts & Alternatives
Lariat necklaces are just about as versatile of a necklace style as you can buy. From glamorous diamonds to solid metal necklaces, they also come in more varieties than you might expect. Since you'll be manipulating the necklace more than you would for other necklace types, I do think it's worthwhile buying a higher-quality necklace. That means shying away from gold plating and buying from a reputable jewelry store. 
Love the versatility of a lariat necklace but don't think the style is quite right for you? A charm necklace is a playful idea that really allows you to express your personality. You can even buy a charm necklace, or buy a simple, high-quality necklace chain and pair it with charms. 
Shop Bloomingdale's 14K Gold Charms Here or Neiman Marcus 14K Gold Charms Here.
For more inspiration, check out our complete guide on the best types of necklaces.