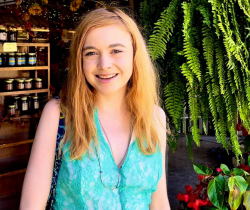 Latest posts by Erin Jamieson
(see all)
When you're looking for an accessory to tie an outfit together, it's hard to go wrong with a gold bracelet. And 2022 is full of beautiful ideas for this iconic look.
Gold bracelets never truly go out of style, and that's especially true for yellow and white gold– while rose gold offers a romantic, unique hue. But 2022 is a great wear for playing with beautiful styles, both classic and modern. 
Among the trends, you'll see? Cuban link chain bracelets, solid gold bangles, gold bracelets with freshwater pearls, and approachable charms. While that may seem like many trends at once, the truth is that there is a style principle that guides all of these styles: modern versatility. 
From 5 layer bracelet styles, to re-imagining jewelry pairing, the truth is that gold bracelets are more useful–and beautiful– than ever. 2022 is seeing an embrace of classic designs with modern, personalized touches. This return to classics is actually a nod towards more understated pieces, where the gold itself is the star, for sleek and refined looks.
But selecting a gold bracelet actually isn't as simple as it might seem. Consider this your guide to the best gold bracelet ideas in 2022. I'll tell you what type of gold to select, the pros and cons of different types of gold, and give you my personal picks for each kind. 
Which gold is best for jewelry?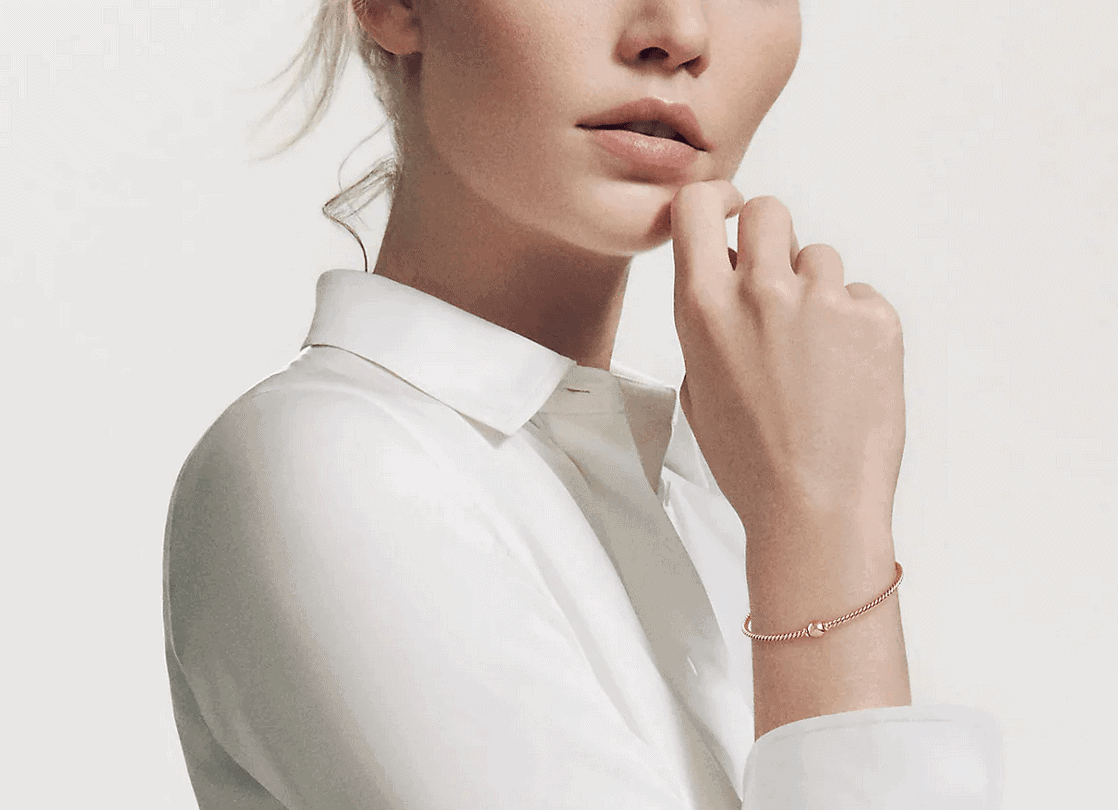 The problem? Many gold bracelets look beautiful, but they're not truly meant to last. An equally troubling problem: there is not one single type of gold that is absolutely the best for bracelets. It's better to think in terms of pros and cons. Here's what you need to know about gold-plated bracelets, gold vermeil bracelets, and 10K through 22K gold. 
To be clear, it is not 'wrong' or 'terrible' to buy any of these. All of these choices do, in fact, contain real gold. But there are notable differences when it comes to durability, polish, and wearability, as well as value. 
Is gold plated real gold?
One seemingly tempting option for gold bracelets is gold plating. In fact, this is a popular option, sold by countless retailers, especially those who specialize in more casual or semi-formal jewelry. Gold plating, rest assured, is real gold. It's also budget-friendly and offers a nice hue, commonly in yellow gold but also white and rose gold.
The problem is that it's not durable. Gold plating is real gold (10K to 22K, commonly 12K or 14K) that's been pounded into a fine layer. That fine layer is placed over a cheaper metal to provide the same gold finish but at a far lower cost. Gold plated bracelets may be most sterling silver, or maybe even a base metal (such as copper, which is a poor choice and can stain skin green if wet). 
Which is better: gold vermeil or gold-plated?
Another option for a lower-cost gold bracelet is gold vermeil. There's some debate as to whether gold-plated or gold vermeil is better, but, with proper care, I think gold vermeil is more worth it. Gold vermeil, like gold plating, is real gold– it's just not all gold.
Gold vermeil tends to be far more choosy in terms of the quality of gold used vs. gold plating. Though made in a similar way as gold plating, gold vermeil is also thicker and thus more durable. Finally, gold vermeil tends to have a slightly more sophisticated look and is still at a budget-friendly price. 
Is 10K or 14K better?
For the next step up, you may want to consider 10K or 14K gold. These options are what I consider likely your best value if you're planning to wear your gold bracelet regularly or daily. These are both commonly used for bracelets and necklaces that are meant to be worn more regularly and offer a fair cost to value ratio.
Though they do not exhibit the same luster as higher carat gold, both options are practical. 
10K Gold Bracelets
10K gold is 47.7 percent gold, with a ratio of 10 parts gold to 14 parts other metals. It's the least value that can still be considered fine jewelry but is also the hardest metal of the different carat options. Pure gold is a soft metal and prone to nicks, scratches, and everyday tear– thus, the less pure the gold, the more durable it tends to be. These bracelets are also going to be more expensive than gold-plated options but cheaper than 14K bracelets.
 It does tend to have a less warm, more dull appearance. If you have a nickel allergy, you also need to inquire– nickel is a common metal used to make 10K gold bracelets. 
14K Gold Bracelets
Although 12K gold does exist, the next most common choice is 14K gold. 14K gold is my personal favorite for bracelets you plan to wear for more than a single formal occasion. It has more luster and a richer hue than 10K gold while fetching a lower price than higher carat gold bracelets. It's slightly softer, but it's still considered durable and, in fact, is quite popular as a metal choice for engagement rings. 
Which is better: 22K or 18K gold?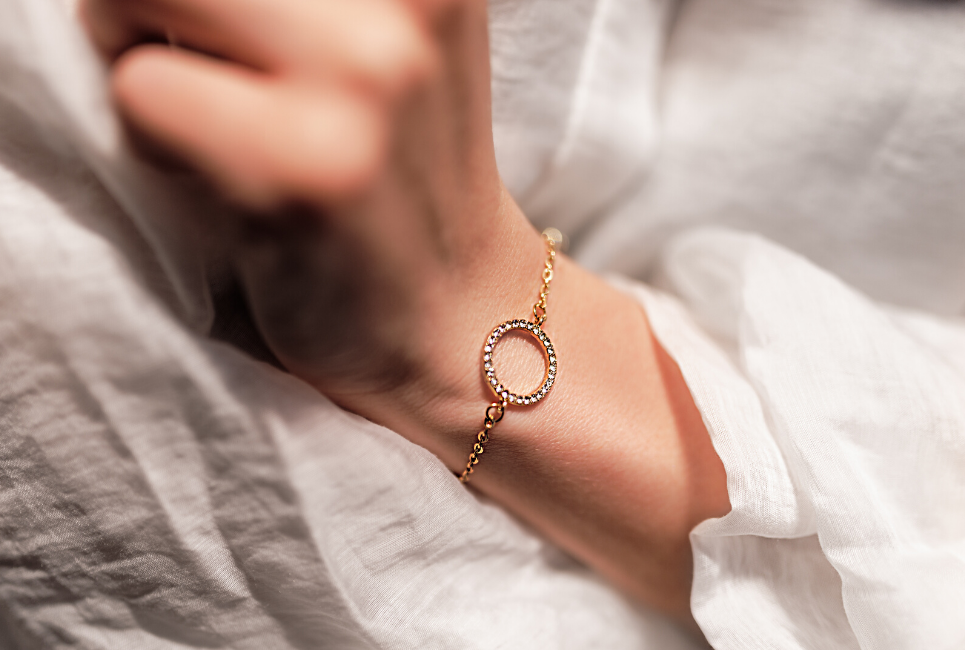 If you want a warm hue and beautiful luster, both 18K and 22K gold offer that. These are solid options for purer gold bracelets meant for special occasions. Of the two, I personally prefer 18K. 14K is my pick for everyday wear, and 18K for formal occasions.
22K gold bracelets are no doubt beautiful– they exude warmth and shine. But you're also paying a lot more, will have fewer options, and you'll need to be extra careful when wearing these bracelets, as they are quite prone to everyday scratches. To be clear, neither of these are poor choices by any means. You have to know yourself– how careful you are, and also how often you plan to wear your gold bracelet. 
How do you know if it's real gold?
There's a misconception that gold plating or gold vermeil is fake gold. As I stated, it's actually 'real gold' that has been pounded into a layer and applied to a lower-cost metal. Many tests if something is real gold based upon magnetism. Real gold isn't magnetic like many other metals are. The problem, of course, is that gold plating and gold vermeil bracelets will potentially still act like magnets, depending on the thickness of the plating.
Your best bet is to read the description carefully and only buy from a reputable seller. Fine jewelers are your best options for 10K through 22K gold bracelets. Be selective when looking for gold plated or gold vermeil bracelets– and check the company's history of sales. 
Gold Bracelets: My Picks & Criteria
Now I'll show you some of my favorite ideas for gold bracelets. I selected gold bracelets that follow some of the most popular or classic trends, from Cuban link bracelets to bangles, charms, and more. I focused on overall versatility and also value-based upon price. Finally, I selected sellers who have a history of positive sales and craftsmanship, whether they're designing casual or formal jewelry. 
You'll find a few ideas for 10K, 14K, 18K, and gold vermeil bracelets, which I consider the best value for most people. That way, whether you're shopping for a budget-friendly bracelet or just a beautiful formal bracelet, you'll have some inspiration for what might work best for you. 
10K Gold Bracelets
10K gold bracelets (41.7 percent gold) are a great option for casual gold bracelets. While these won't have the same beauty and luster of higher karats, they honestly are a better choice if you're on a budget vs. gold plating if you're most concerned about durability. Lean into versatile, casual, and classic styles for these gold bracelets that you can wear daily. 
Heart Drop 10K Yellow Gold Bracelet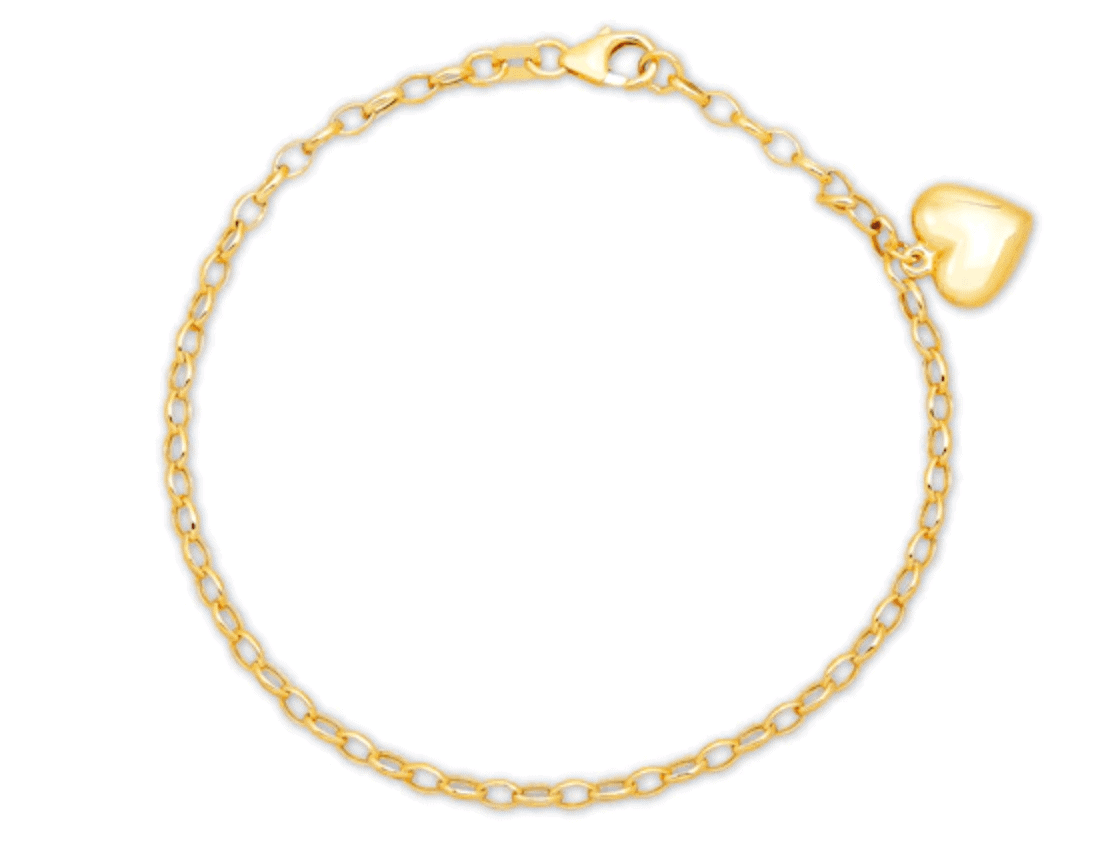 In 2022, charm heart necklaces and bracelets are popular. This 10K yellow bracelet features a simple heart pendant on a classic Rolo chain, complete with a lobster clasp. Wear this with jeans, a dress, and pretty much anything. Buy Here. 
10K Yellow Gold Monogram Bracelet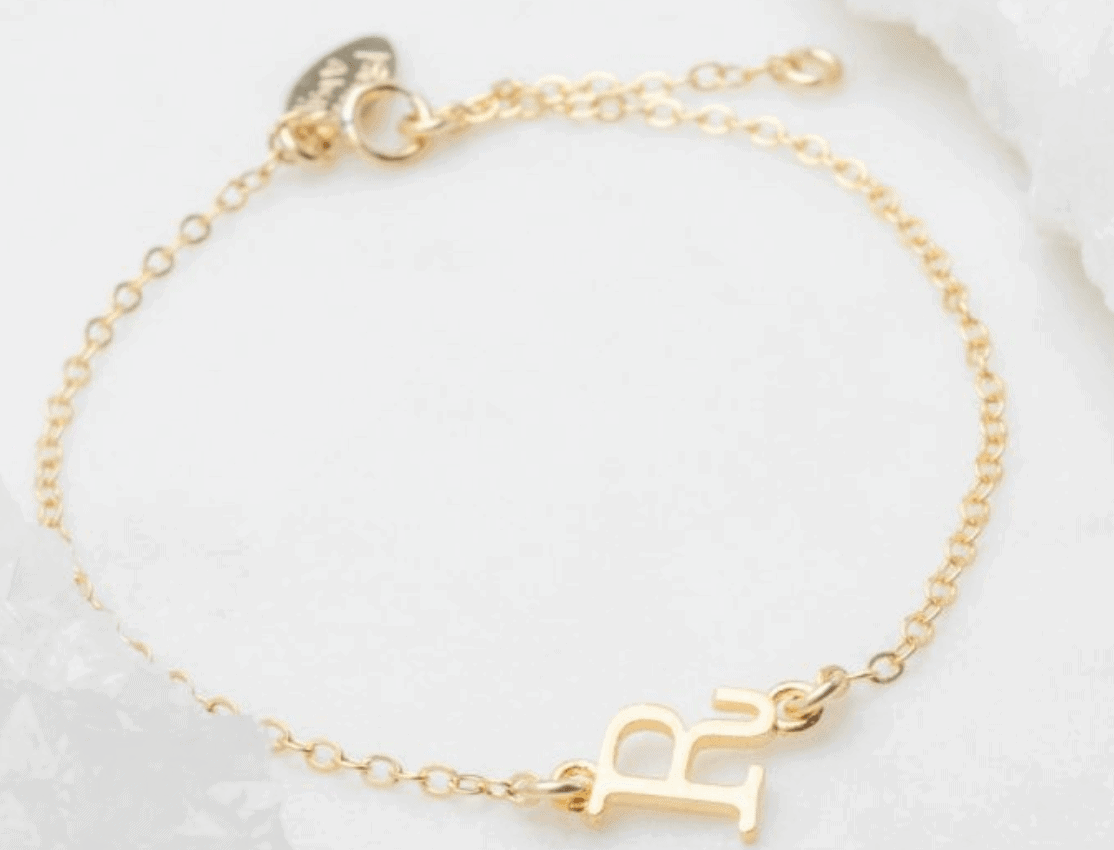 Monogram bracelets follow the theme of more personal and customized jewelry. This bracelet is also available in 14K yellow gold and is an instant classic. Order with the monogram letter charm of your choice, which offers a sideways, satin finish. Buy Here. 
10K Gold Ball Bypass Bracelet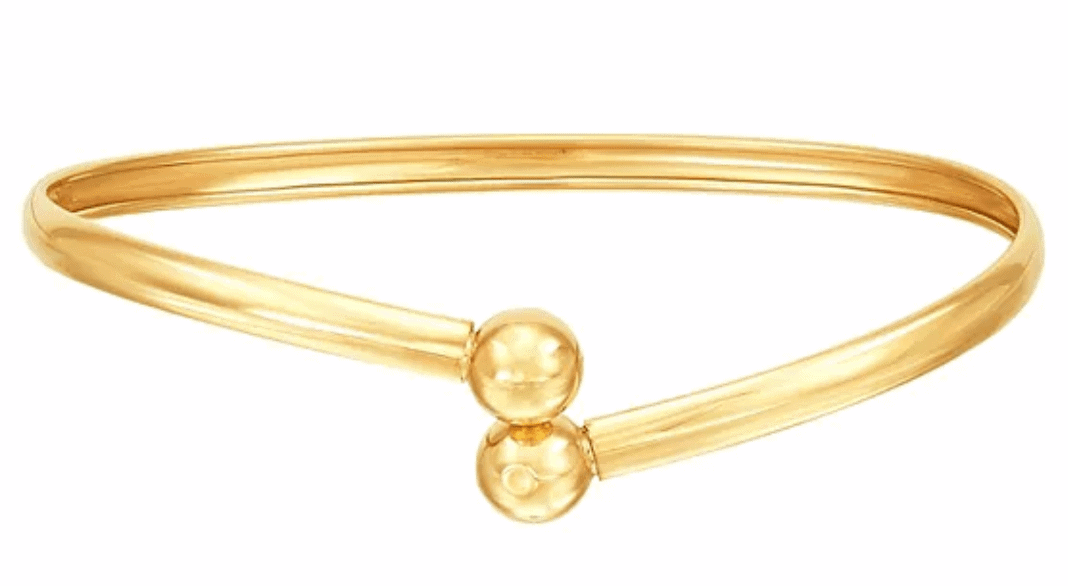 This pleasing 10K gold bracelet features a sleek, contemporary design that would look spectacular with a statement ring or necklace. I also love layering a bracelet like this with fine chains or even charm bracelets. Buy Here. 
East-West Cross Bolo 10K Gold Bracelet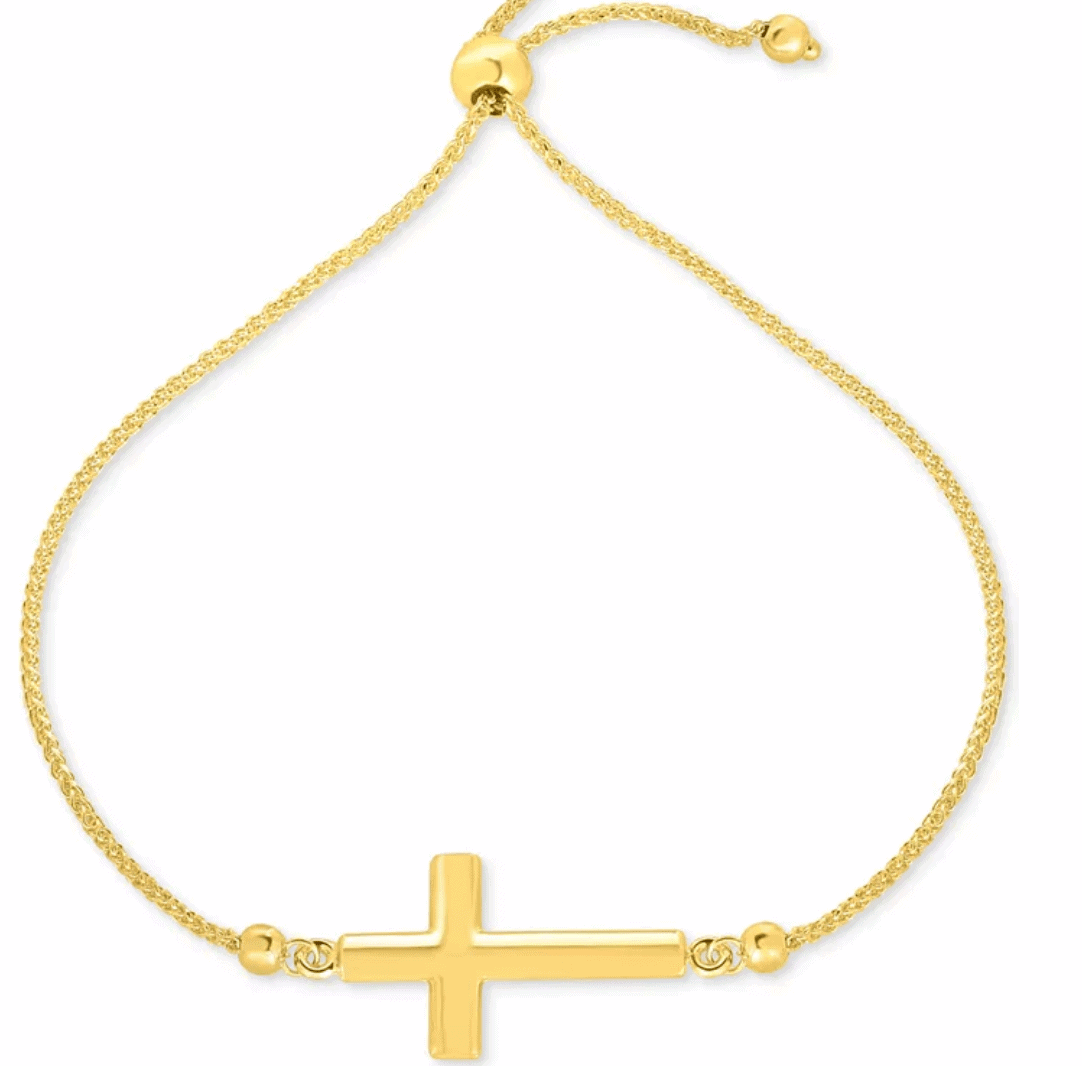 This polished bolo bracelet features a sideways cross, all crafted in 10K gold. A sideways cross is usually simply seen as a modern take on cross jewelry, while some associate it with Jesus Christ making the transition from Earth to Heaven and His resurrection. This bracelet can be worn daily, and Macy's also offers an optional protection plan (extra cost). Buy Here. 
10K Gold Freshwater Pearl Bracelet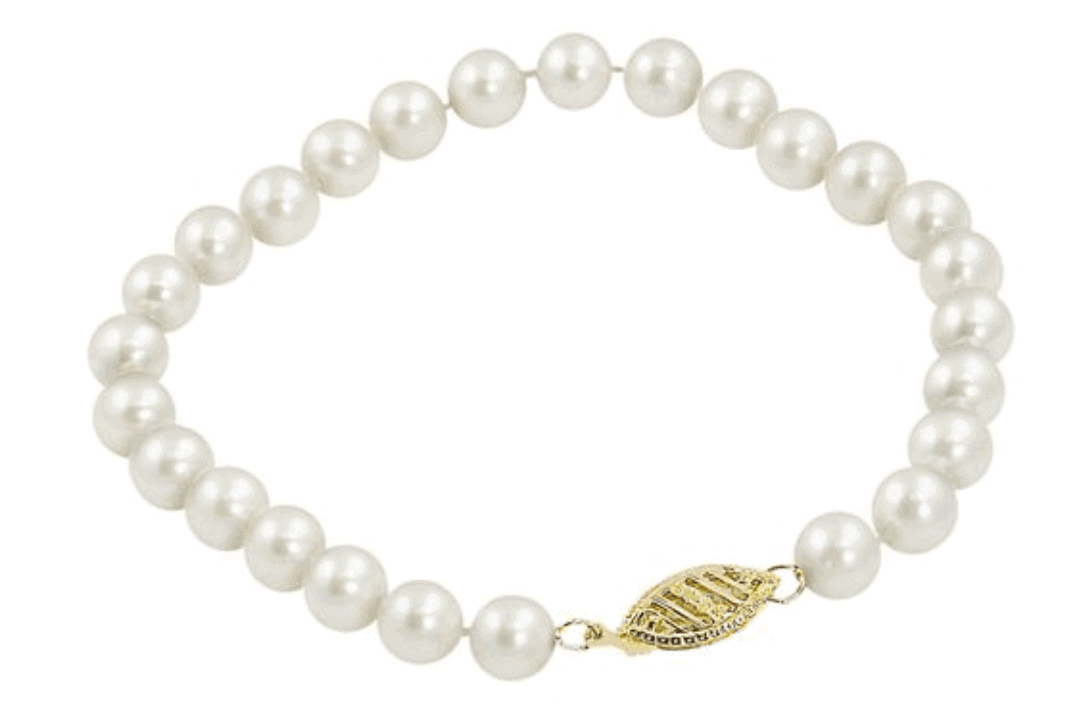 On sale for under $70, this beautiful freshwater pearl bracelet is a safe bet for almost anyone. White, cultured freshwater pearls are set on a 6-inch 10K gold bracelet with a filigree clasp. Pearls symbolize purity, innocence, fortune, and love. Buy Here.
14K Gold Bracelets
My personal favorite gold choice, 14K gold bracelets, is considered fine jewelry and has more warmth and dimension vs. 10K gold bracelets. While slightly softer, they are still suitable for daily use and fairly low maintenance. I recommend these bracelets if you have a higher budget but are in search of something you can wear from day to evening. 
14K Gold Spheres Bracelet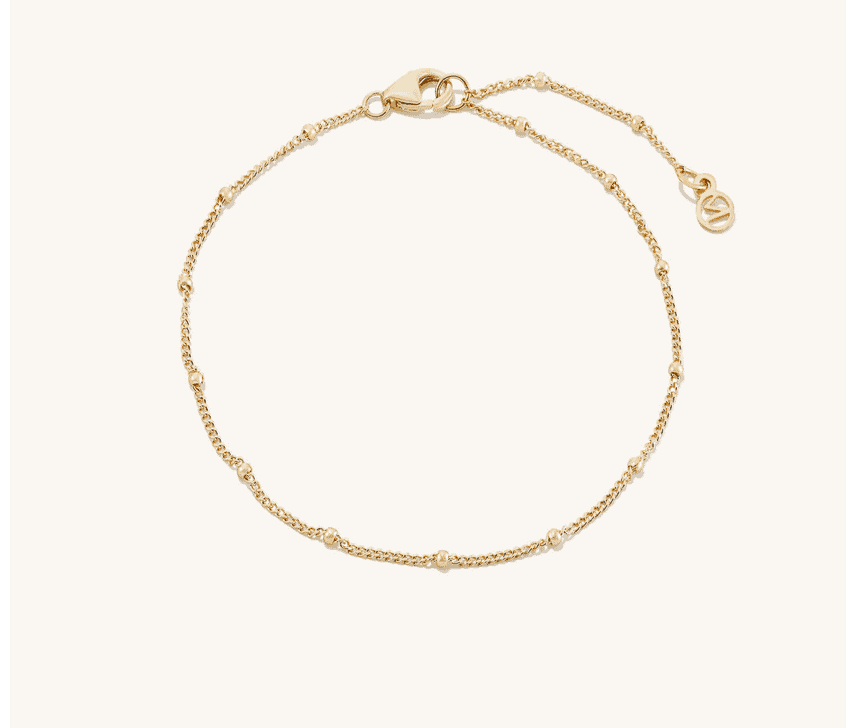 'The Spheres Bracelet, from Mejuri, comes in 6-7 inches of 7-8 inches, with a 60 day extended warranty and a 2-year limited warranty. The fine chain is delicate, beautiful, and made from environmentally-friendly recycled materials. Scroll down the same page to also check out some of their other gold bracelets, including a bolo bracelet, disco chain bracelet, and more.
Sak Fifth Avenue 14K Yellow Gold Station Bracelet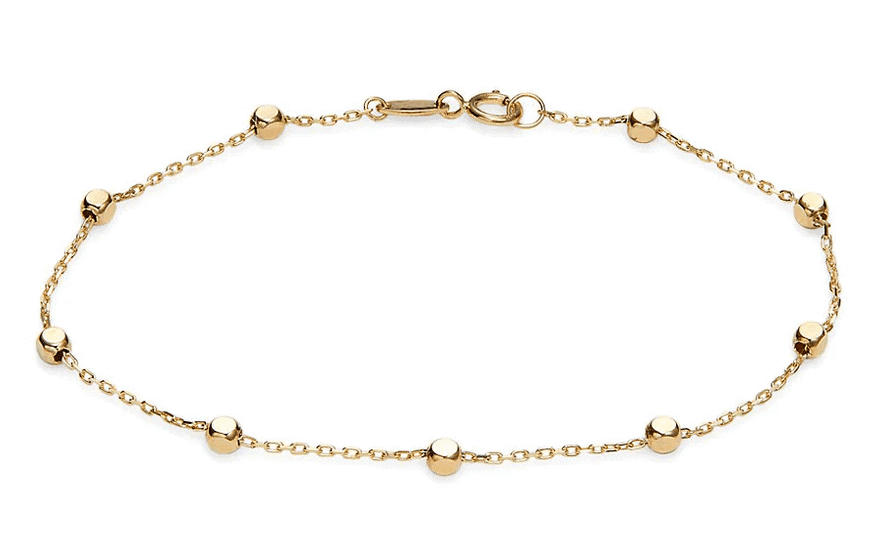 This playful but stylish 14K yellow gold bracelet pairs two popular styles: a station design coupled with celestial charms. Chic with a touch of elegance, the polished luster is the perfect look for the tiny crescent moon charms. Buy Here. 
Effy Collection 14K Gold Cultured Pearl Station Bracelet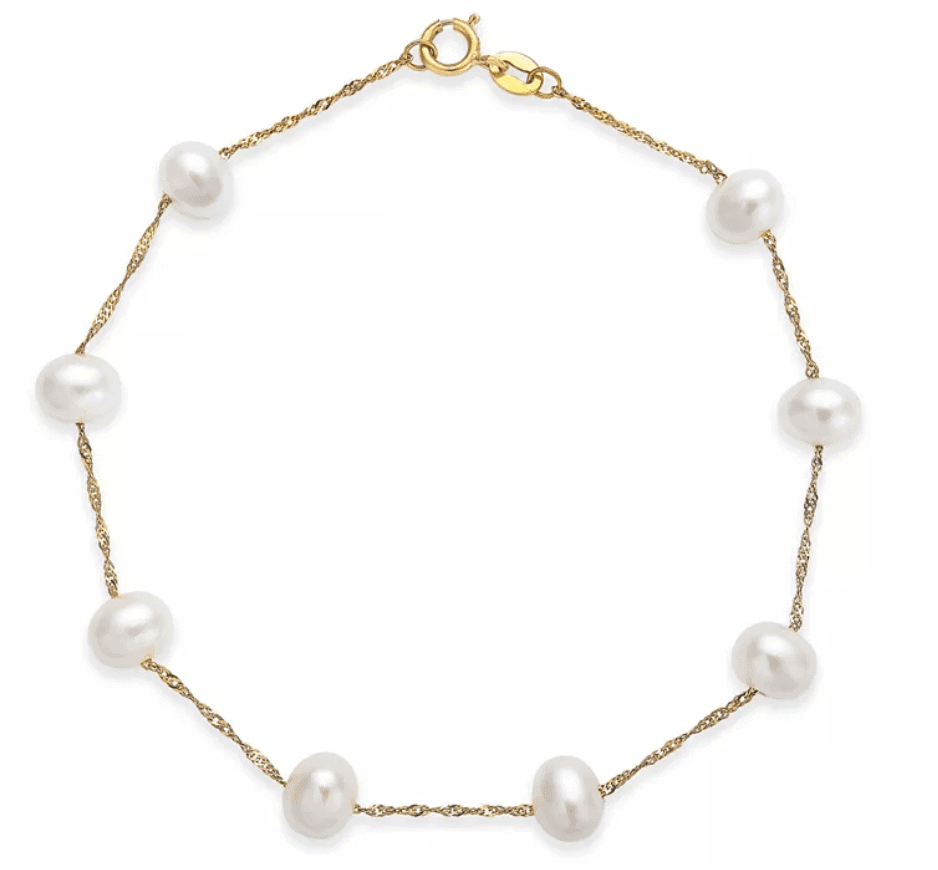 Available in 14K white, rose or yellow gold, this cultured pearl station bracelet is a modern take on a timeless style. Secured by a lobster clasp enclosure, this crowd-pleasing bracelet is a great option for work, casual, and formal occasions alike. Buy Here. 
14K Gold Birthstone Bracelet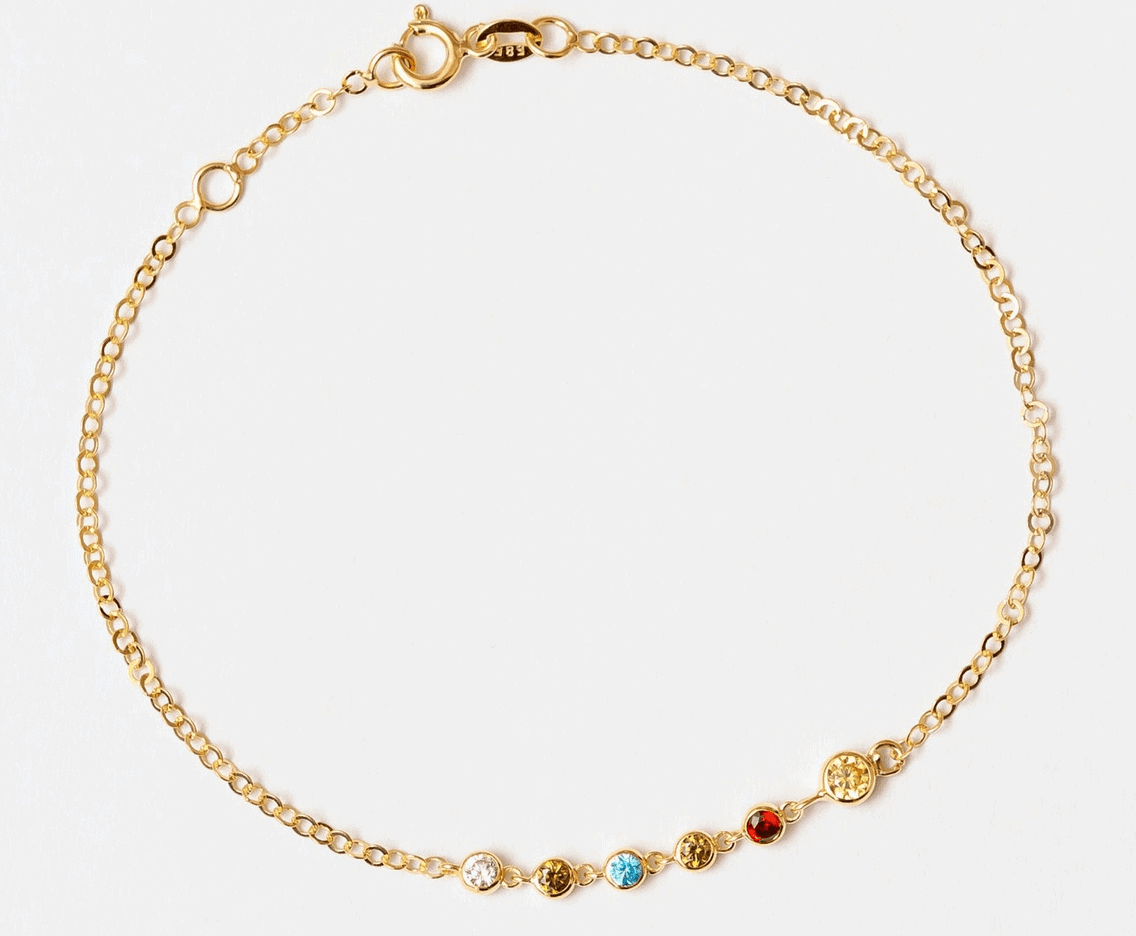 This handmade, dainty bracelet is a beautiful, creative style for 2022. Custom order 14K yellow gold or rose gold, and select from 3 to nine stones for a look that's all your own. These are cubic zirconia stones– so not as valuable, but still a great option. More affordable than a typical birthstone bracelet, CZ is actually fairly durable, with a Mohs hardness rating of 8.5 out of 10. I like the affordable price and customization options. Buy Here. 
14K Gold Evil Eye Bracelet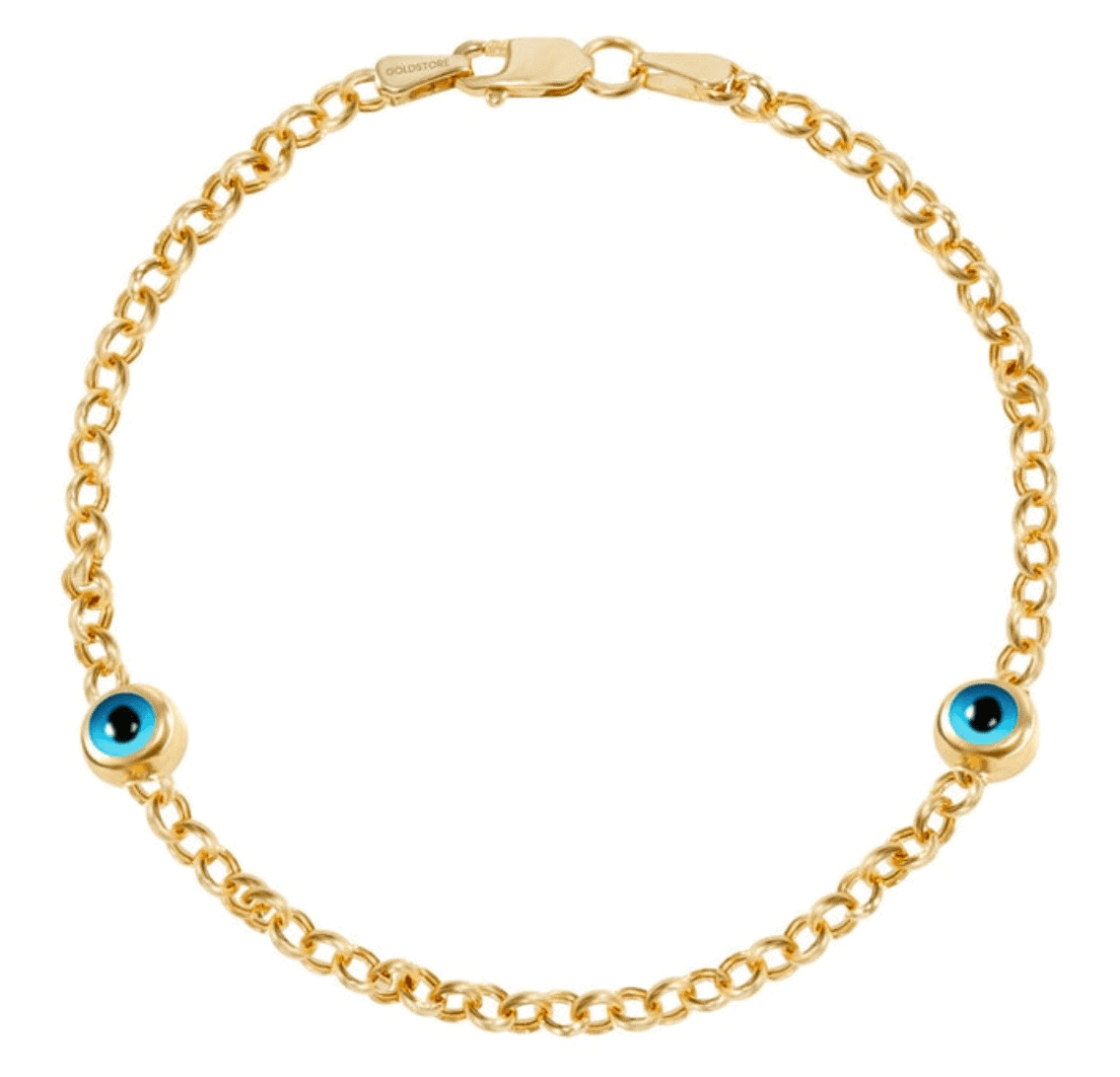 Evil Eye bracelets are now being seen more and more. A symbol of protection, a light blue Evil Eye in particular, is also meant to open your perspective and evoke peace. You'll have the option to customize how many Evil Eye charms you want on this bracelet. They also use recycled materials. Buy Here. 
14K Yellow Gold Bangle Bracelet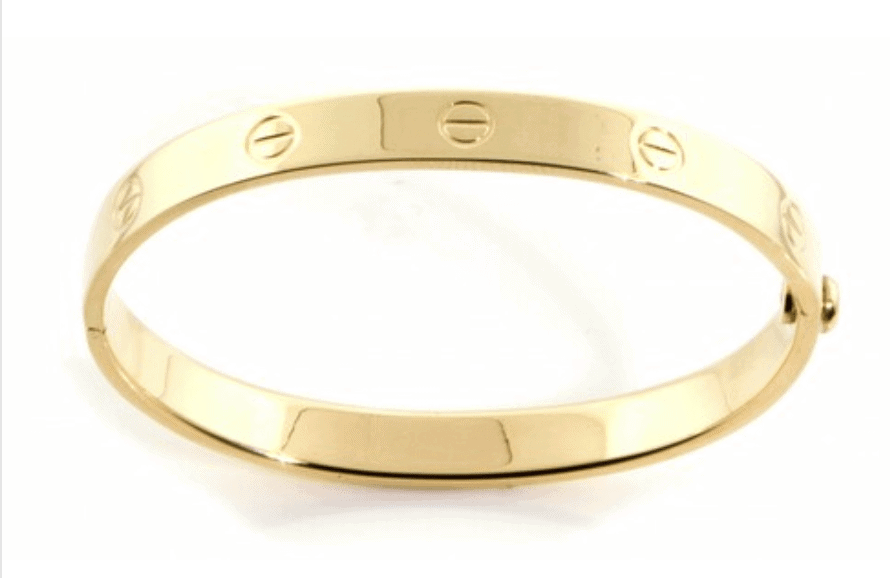 It doesn't get much more classic or versatile than a bangle bracelet. This sleek, stunning bangle bracelet offers custom engravings to order and is made from an old Viking tradition. You can also order in white or rose gold, per special request. Buy Here. 
18K Gold Bracelets
18K gold bracelets are another excellent choice. If you want high-quality gold with a beautiful shine, 18K gold bracelets may just be the best choice for you. Suitable for precious diamonds and gemstones but also solid bands, these bracelets are excellent for formal and semi-formal occasions, assuming you have the budget. 
Italian 18K Yellow Gold Bismark-Link Bracelet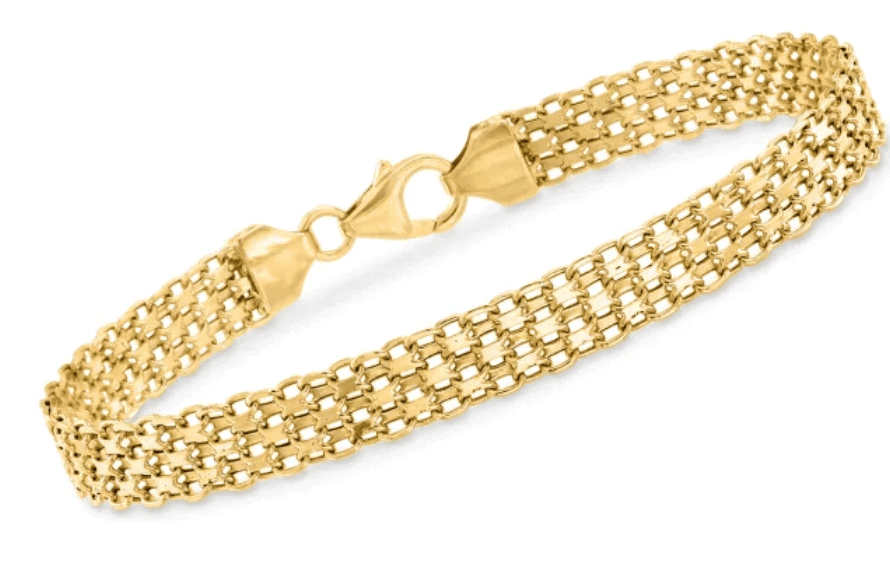 This 'super deal' from Ross Simmons is now 50 percent off. This classic bracelet will be a go-to for years to come, with a spectacular Bismark link pattern and beautiful, polished finish. Secured with a lobster clasp, it also comes with Ross Simmons' standard money-back guarantee. 
Tiffany T Wire Bracelet in 18K Gold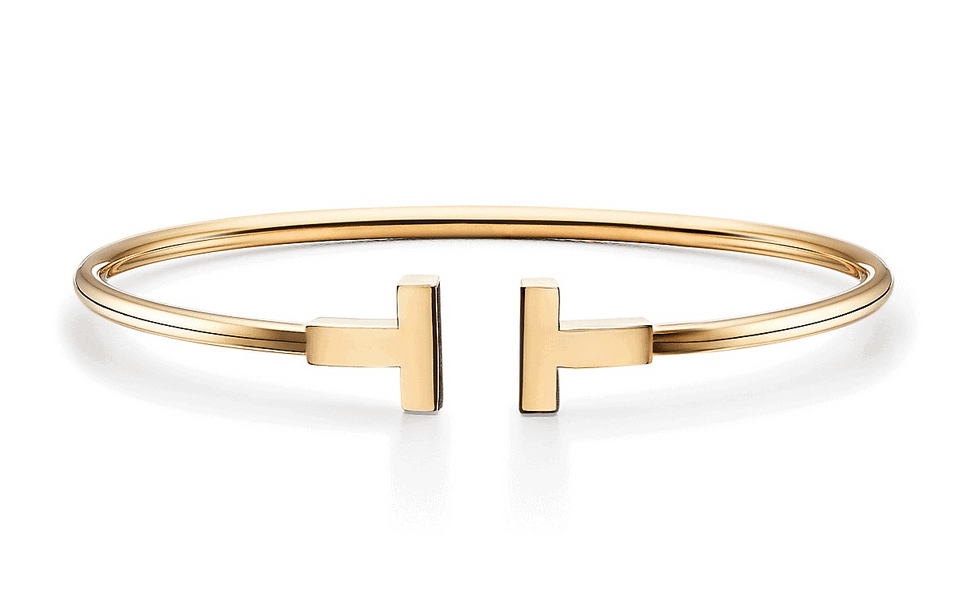 Tiffany and Co have long been an iconic option for necklaces, rings, bracelets, and more. While not cheap, there's something undeniably beautiful about Tiffany's designs, and you can see that here with this 18K wire bracelet. Featuring the signature Tiffany T symbol, this bracelet is striking in its modern sophistication. Buy Here. 
Blue Nile Byzantine 18K Gold Bracelet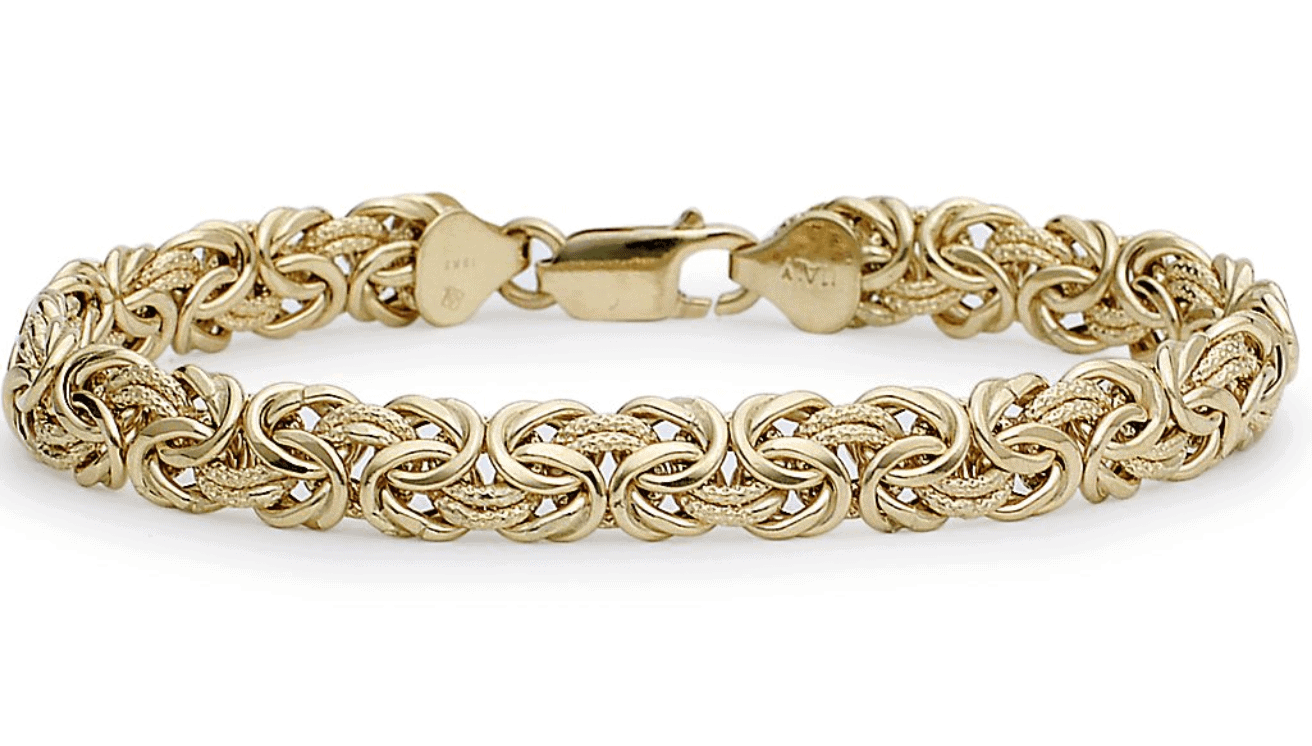 This stunning 18K gold bracelet just shows yet another reason why the Blue Nile is a respected jeweler. Rated highly by customers, this bracelet replicated a classic Byzantine style with alternating textures for a beautiful gold link look. While it appears impressive, it's surprisingly lightweight. Buy Here. 
Solari Center Station 18K Gold Bracelet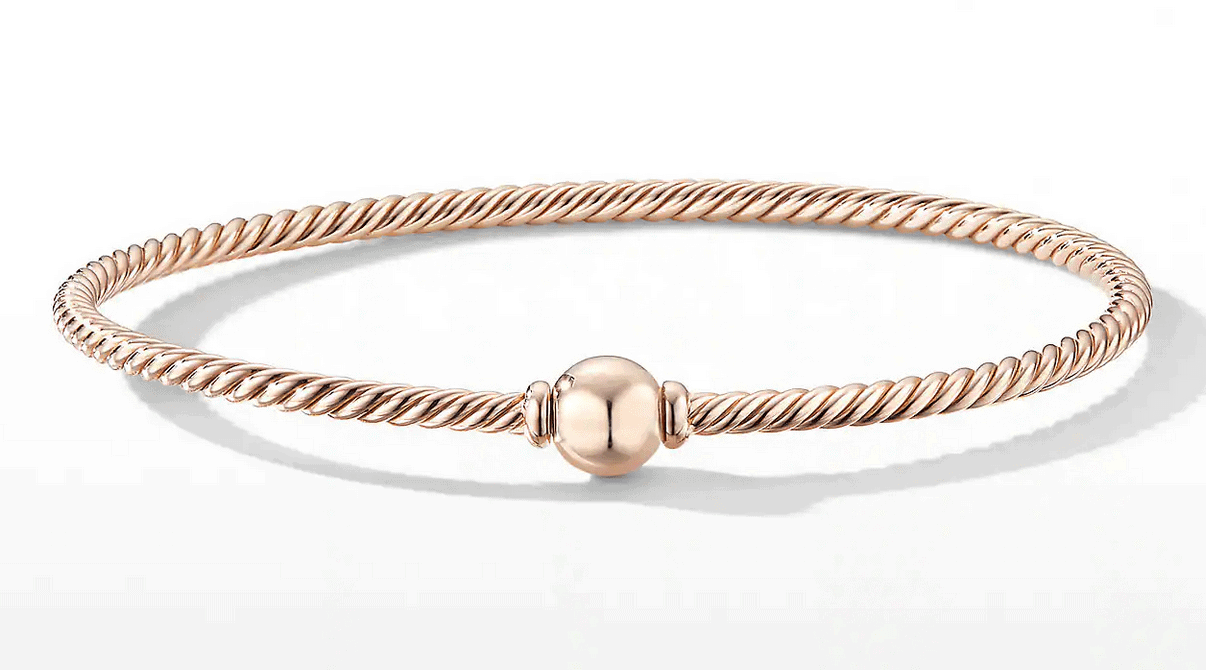 Renowned designer David Yurman delivers this luxurious station bracelet, available in 18K yellow or rose gold. Inspired by the sun, this bracelet is meant to exude orbital shapes, with the iconic artistic and geometric designs Yurman is known for. Buy Here. 
DY Madison 18K Gold Chain Bracelet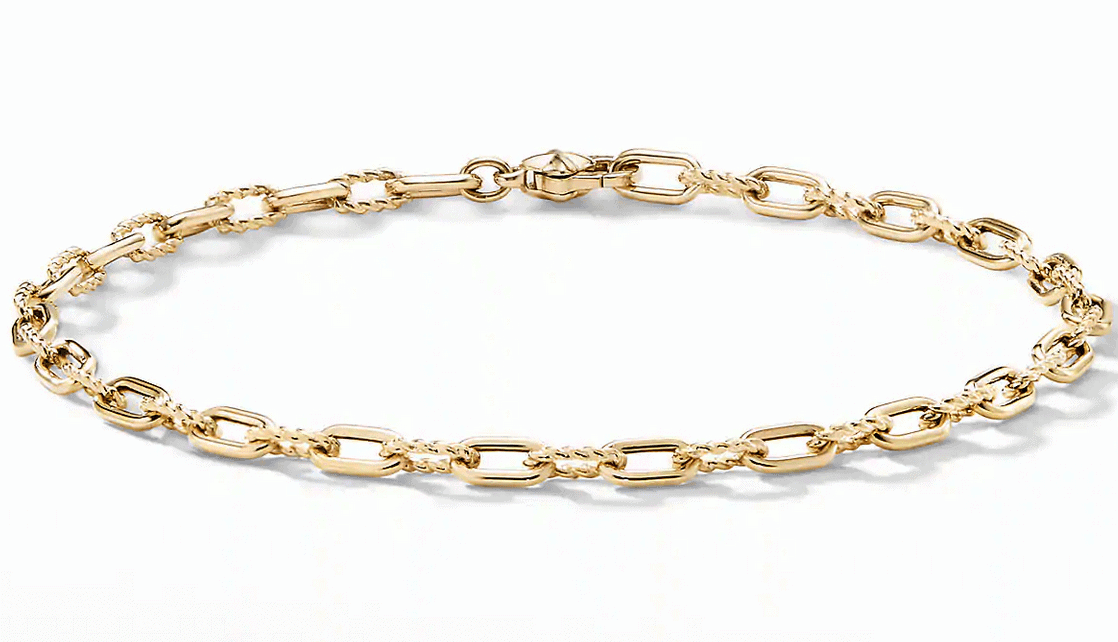 Also, from David Yurman, this 18K yellow gold bracelet offers a popular style. The link chains alternate with cable and smooth textures for a more dynamic but still classic look that you'll wear time and time again. Buy Here. 
Gold Vermeil Bracelets
While not my top pick, there are certainly reasons to consider adding a gold vermeil bracelet to your collection. You'll get a similar look (depending on your pick) of other gold bracelets for a fraction of the cost. By not stretching your budget, you may be able to save that money or use it for pairing with statement necklaces or earrings. These are bracelets you should be a bit more careful with and expect to last a few years with proper care. 
Celestial Chain Bracelet in Gold Vermeil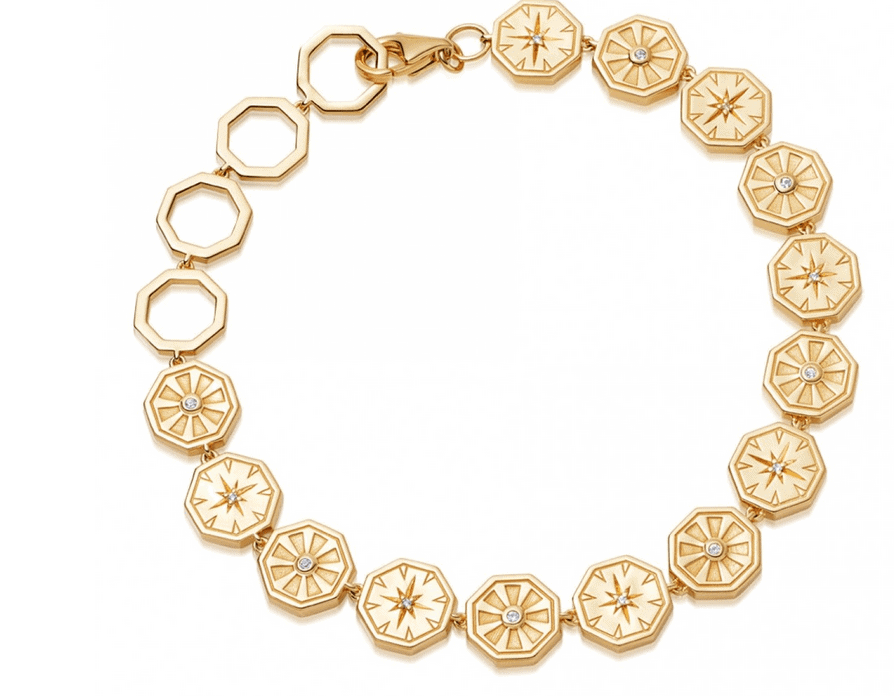 Make a statement with this charming celestial chain bracelet, complete with compass and sunrise symbols. The interlocking charms are playful, and the bracelet is easy to adjust to size. This 18K gold vermeil bracelet is set over sterling silver and is inspired by vintage metalwork for a unique style. Buy Here. 
Personalized Paperclip Chain Gold Vermeil Bracelet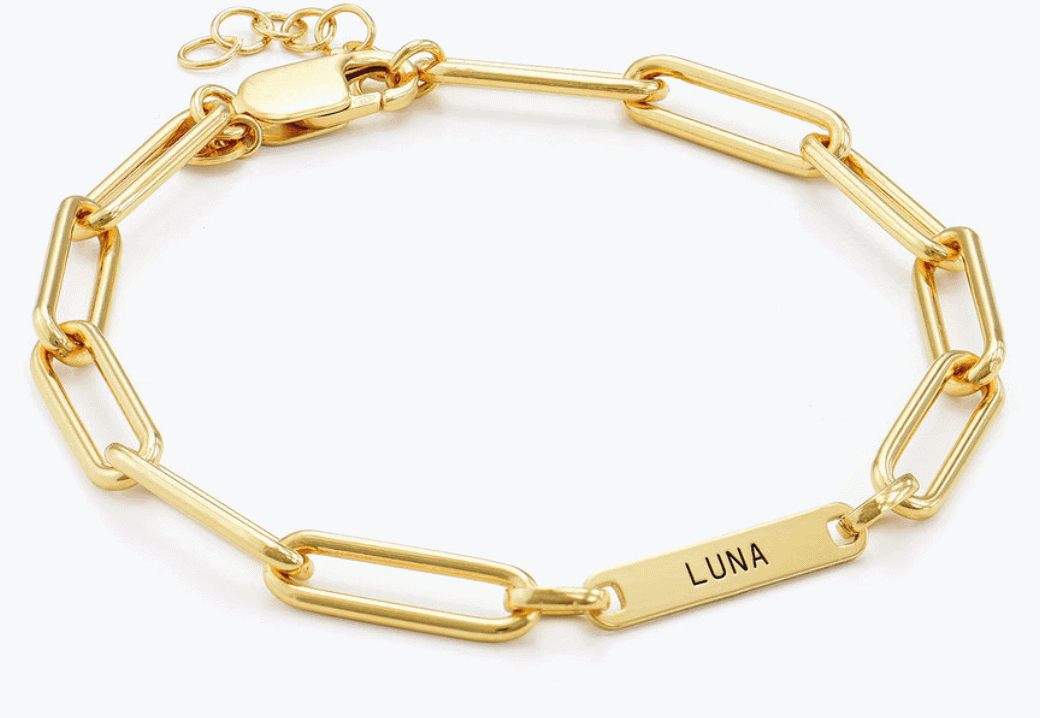 I love that you can add a name to personalize this gold vermeil bracelet. Following the popular paperclip chain style, this bracelet features 18K gold over sterling silver and is also available in plain sterling silver, or 18K rose or yellow gold plated styles. Buy Here.
Boston Dome Cuff Gold Vermeil Bracelet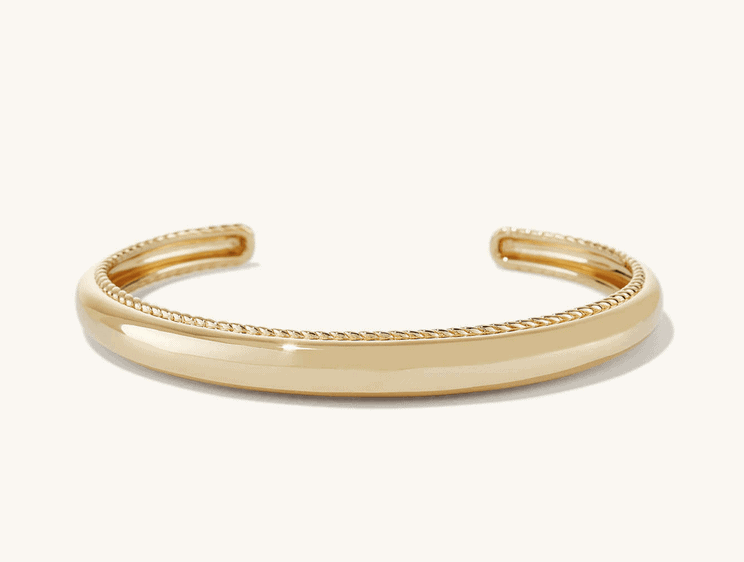 Take a work outfit to the next level with this gold vermeil bracelet. At home, paired with a suit jacket and even jeans, a thick layer of glossy 18K yellow gold is plated over sterling silver. The classic style features a smooth band with detailing along the perimeter. Buy Here. 
Doina Wide Chain Bracelet in 18K Gold Vermeil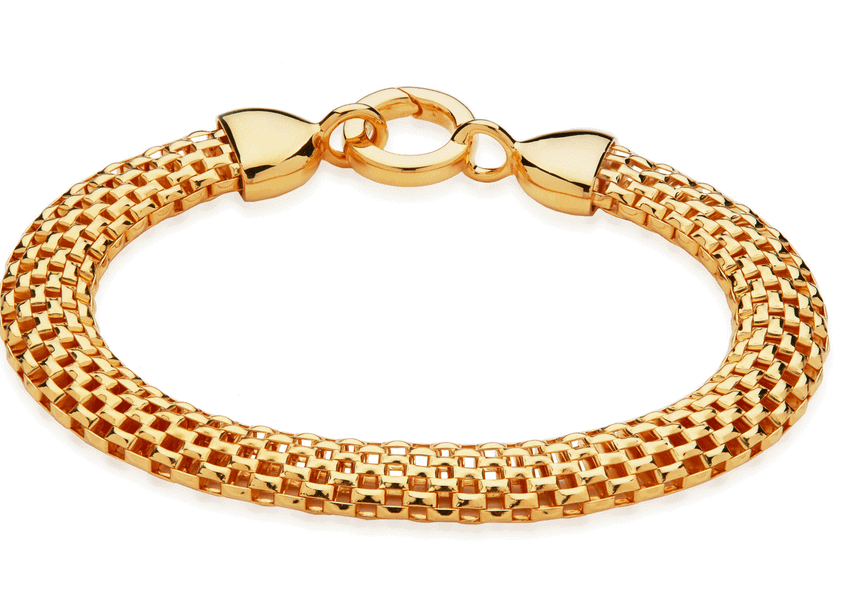 This beautiful bracelet is luxurious and sophisticated. Made with 18K gold vermeil over sterling silver, all metals are from recycled materials and sustainably sourced. Available in rose, white, and yellow gold, the textured chain is a beautiful touch to suits and dresses. It also comes with a 5-year guarantee. Buy Here. 
18K Gold Vermeil Om Chain Bracelet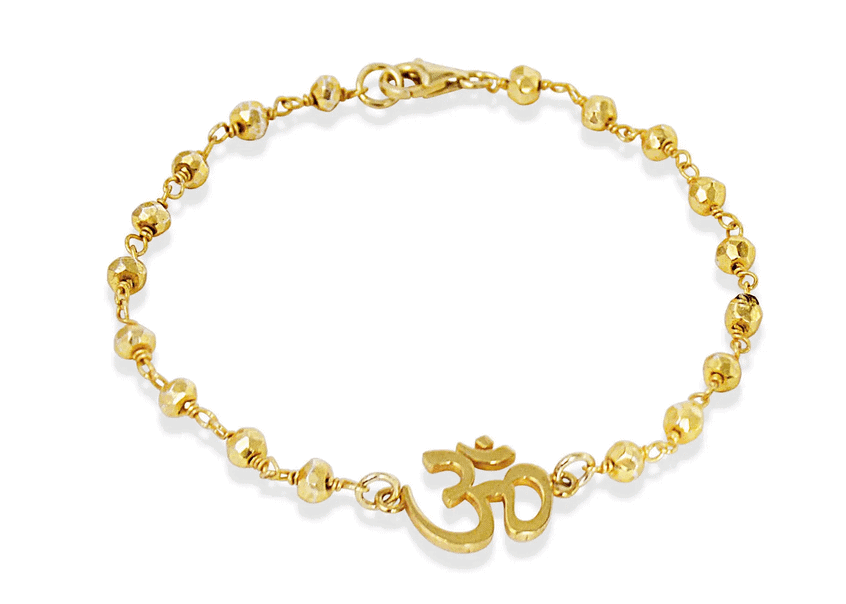 Now on sale for 50 percent off, this gold vermeil bracelet is meant to be worn with casual outfits. The easy-going, contemporary design features Om charms. Om charms symbolize freedom over one's life. Frequently associated with yoga, Om charms also exude calm and peace. Buy Here. 
Frequently Asked Questions
Question: What is bad for gold jewelry?
Answer: The good news is that gold in itself, despite being relatively soft, is durable. But harsh cleaning agents, especially bleach, will mar your bracelets. If you have a gold-plated bracelet, I recommend avoiding water altogether. Your best bet is to avoid going swimming or showering with your gold bracelet. 
Question: Is 14K gold real?
Answer: 14K gold is real gold– it's just not 'pure' gold. 24K gold is 100 percent gold, which means that it hasn't been combined with any other metals. It's the most valuable and has the most expressive luster, but it's also the softest. 14K gold is made from 58.3 percent gold mixed with other metals. It's commonly used in fine jewelry and is actually more durable than 24K gold. 
Question: How much is a 22K gold bracelet worth?
Answer: Based upon recent market value, a 22K gold bracelet fetches an average of just over $46 per gram. How much your pay for a 22K bracelet, of course, has a good degree of variability. Those factors include style, demand, brand, and more. 
Final Thoughts & Buying Tips
There are countless beautiful bracelet styles in 2022. I focused more on the quality of the gold and current styles vs. more glamorous options. 
If it's a classic gold diamond bracelet you're after, your best bet is to look at a retailer who specializes in diamonds. My favorite collections include Brilliant Earth Diamond Bracelets and Blue Nile Diamond Bracelets.  These also carry fine gemstone gold bracelets. 
Looking for luxury designer gold bracelets? They don't come cheap, but my absolute favorite comes from Cartier Bracelet Collections.
As to white gold vs. yellow gold vs. rose gold, you'll notice that yellow gold seems especially popular, and that's true. Rose gold is the rarest of these options but adds an artistic and romantic hue. White gold is an excellent alternative to silver and provides cool undertones. White, yellow, and rose gold are all real gold and great options, depending on your style preferences.