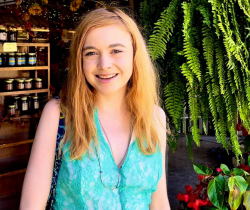 Latest posts by Erin Jamieson
(see all)
Trends come and go, but there's nothing more timeless than pearls. And in 2022, inspiration comes just as an iconic pearl bracelet is up for auction.
In August, Dix Noonan Webb, a London auction house, announced that Princess Margaret's iconic Cartier pearl bracelet would be up for sale in September. Famously worn by Princess Margaret for her 19th birthday, the bracelet could sell for anywhere from $55K to $90K or even more,
Of course, the value lies in who wore it– but also the timeless style. The pearl bracelet, crafted by Cartier, features a double strand of cultured pearls and a diamond clasp, all set in platinum. The "M" engraving for Margaret's name makes it especially special. 
The Art Deco influence is evident with the diamond-embellished clasp. An ornate design carries signature elegance and a style that would be iconic, no matter who wore it. The circa 1925 pearl bracelet is sure to only heighten the appeal of pearl bracelets.
Of course, you don't need a royalty budget to buy a great pearl bracelet. In this guide, I'll tell you how to select the best pearl bracelet for you and my personal picks to inspire you. 
What is so special about pearls?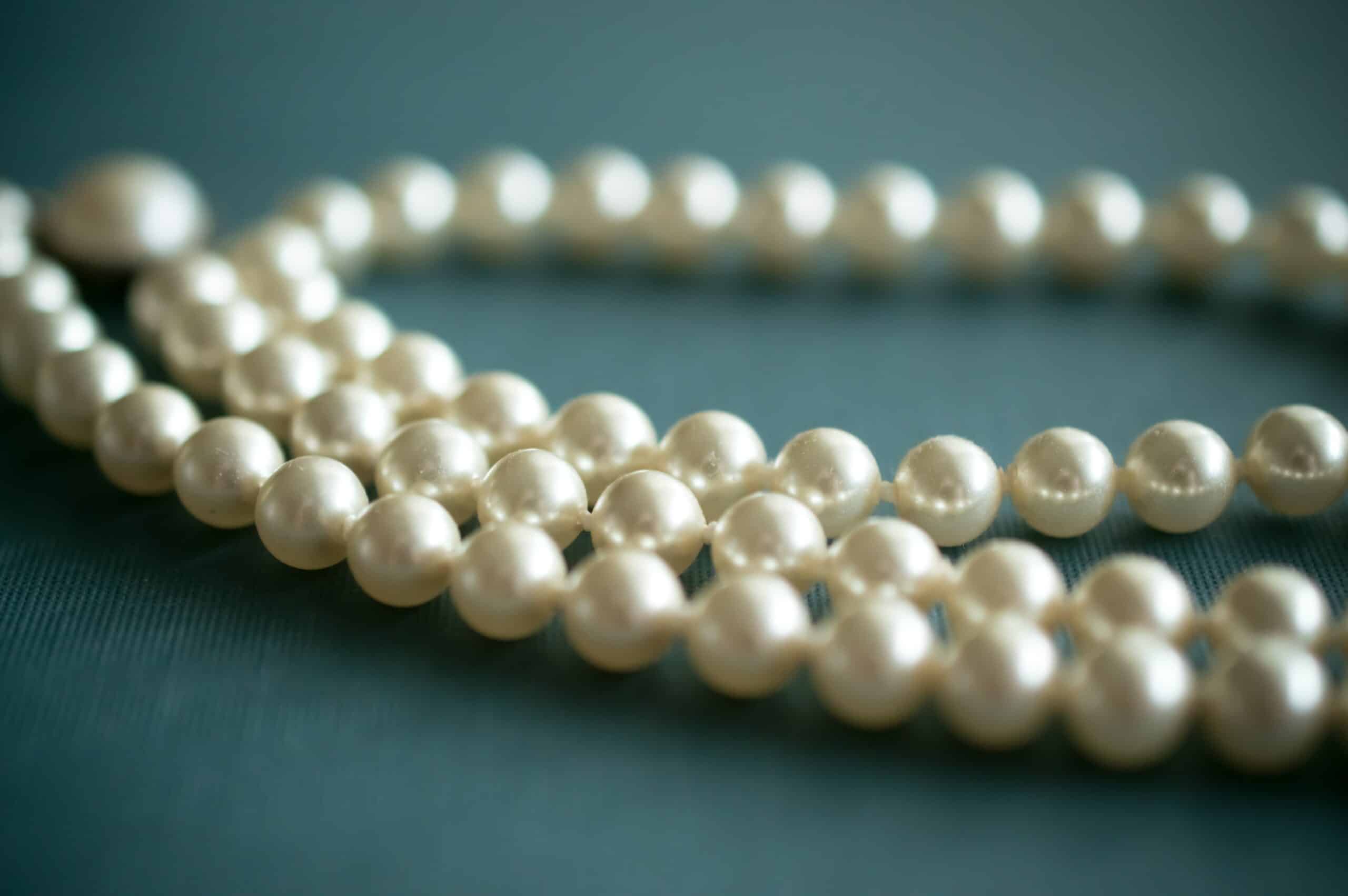 Pearls are known for their timeless elegance, but they're also unique. While we label pearls as gemstones, natural pearls are the only gemstones that come from something alive. They've also been prized for their natural shine– no polish required. And unlike other gemstones, you don't need to worry about the cut or shape. 
Of course, there's also the history of pearls. Nicknamed the "Queen of Gems," pearl bracelets and necklaces date back likely to the 5th century, where they, and even pearl-embroidered hems, were worn by the wealthy under the Roman Empire. The Egyptians (including Cleopatra), societies along the Persian Gulf, and eventually Europe and the Americans continued to spread the popularity of pearls– and they've never really gone out of style. 
What do pearls symbolize?
Pearls symbolize purity, loyalty, trust and are often associated with beauty and fortune. Some believe that pearl bracelets and necklaces or even earrings bring forth peace and success in relationships.
What does a pearl bracelet cost?
A pearl bracelet can cost as little as $100 and well over thousands of dollars. The cost depends on the pearl quality, type of pearl, and other materials used. The good news is that options are abundant, from especially precious, rare, or valuable pearls to more affordable options.
Why are some pearl bracelets so cheap?
There are a few reasons why some pearl bracelets are so cheap. Some may be synthetic rather than real pearls. Another reason is size: smaller pearls will naturally be less expensive than larger pearls of the same quality. Often, cheaper pearls are what we call early harvest pearls. Early harvest pearls have not developed for as long and are found in shallower regions. These are easier to harvest and do not match the surface-level quality and polish of deep-sea pearls. 
Do pearl bracelets hold their value?
As a rule of thumb, pearl bracelets, earrings, and necklaces hold their value. The timeless gemstone is highly regarded, and more so in the finest quality pearls. In fact, it is not uncommon to still see some wealthier families passing down their pearls as family heirlooms. 
How can you tell if a pearl bracelet is real?
While you can select the quality of pearls that suit your budget, one thing I hate seeing is someone buying a fake pearl bracelet, thinking it is real. Luckily, there are several warning signs you can look out for. 
What do fake pearls look like?
The problem is that many of the ways you can tell fake vs. real pearls are easier if you have them in your hands. Imitation pearls tend to have a completely smooth texture, but natural and cultured pearls have a naturally textured surface– they will feel just slightly 'gritty to the touch. Real pearls also tend to be heavier, while fake pearls have a hollowed feel to them. Another sign is that real pearls feel a little cool to the touch at first. 
Do fake pearls turn yellow?
Fake pearls can also be yellow over time– real pearls do not. Of course, this isn't as helpful until after you've owned your pearl bracelet for a while. Your best bet is to make sure you're only buying from a reputable seller, and be cautious if the price is excessively low. If it's a pearl bracelet priced under $50, chances are that it's a fake. 
How can you tell if a pearl bracelet is of good quality?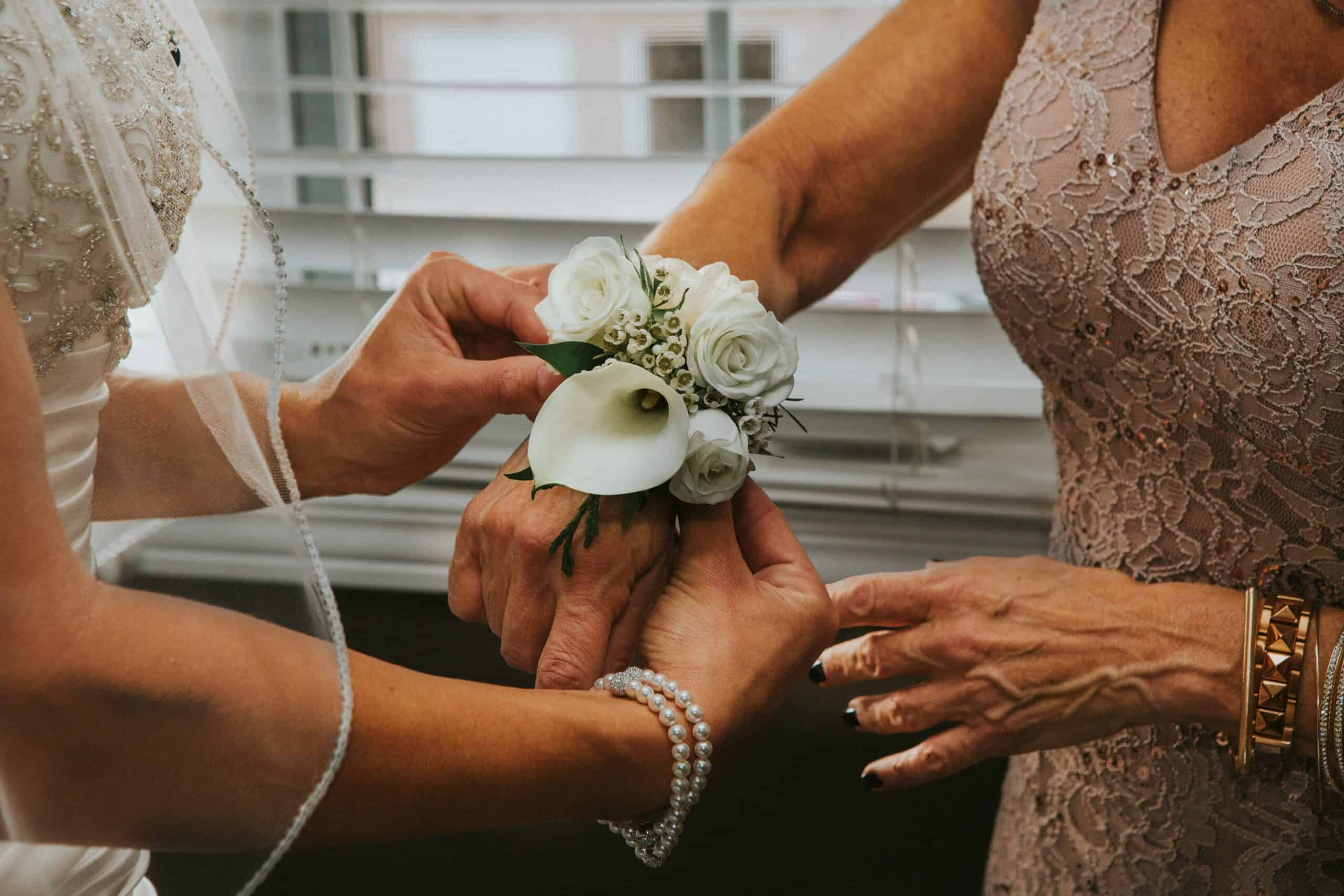 If you want to go a step further to not only making sure you're buying real pearls, then consider pearl quality. Obviously, not everyone can afford the highest quality pearl bracelet, but there are a few factors that I look for, regardless of budget. 
Which is better: freshwater pearls or cultured pearls?
In fact, many freshwater pearls are cultivated. The vast majority of pearls sold today are cultured. Natural pearls are allowed to develop without any intervention, while cultured pearls are purposely implanted by farmers. Both are real pearls, but natural/ uncultured pearls are a little more valuable simply because they are rarer. That said, cultured pearls can still be worth quite a lot and usually have a slightly more uniform vs. organic look. 
Are saltwater pearls better than freshwater pearls?
The more important decision is actually between freshwater vs. saltwater pearls. While both can be suitable options for a bracelet, I recommend freshwater pearls vs. saltwater pearls. Not only will you find a larger selection, but they're also preferable if you plan to wear your bracelet often. The nacre, the inner mother-of-pearl layer, is thicker and more durable in freshwater pearls. 
The exception, however, is Japanese Akoya pearls. Many of these pearls have a very thick nacre, and these are quite durable. For these pearls, I find them as excellent of an option as most freshwater pearls. 
What is the highest grade of pearls?
While you won't have to worry about cut and shape in the same way you would other gemstones, what you do need to pay attention to is pearl grading. This is crucial if you want the best pearl bracelet. The grading is based on a letter system– with the best options being AAA, AA, and A. 
The grading system considers luster, surface clarity (which includes blemishes and other flaws), shape, color, thickness, and size.
What is the rarest color for a pearl?
The rarest color for a pearl is a natural light blue hue– which has become more popular in time. Pearls also are naturally shades of gold, off-white, white, pink, purple, black, green, and brown. The most valuable, however, are shades of white and off-white. You'll also be able to find more options in different shades of white. 
Another feature of color is an overtone. Usually, when you think about pearl color, you're likely thinking of the 'main color' or the body of the pearls. The overtone is a subtle, soft tint you'll notice on the surface and when you're close to the pearls. Rose, white, and ivory are the most popular, especially if you're pairing with white or ivory body pearls. 
Are bigger pearls better?
While bigger pearls may fetch a higher value than smaller pearls, they are not necessarily better. Many prefer the look and daintiness of smaller pearls. I would value the overall grade, color, and clarity vs. the size of pearls you select. 
Pearl Bracelets: My Ideas 
Here are my picks for timeless pearl bracelets. My ideas include only the best quality pearls– from AAAA to A grading– and from esteemed jewelers. In addition to pearl quality, I made sure to include some more affordable pearl bracelets and in versatile styles, so you'll be able to wear them again and again. 
A note of caution: pearls must be worn with care. You must keep them away from harsh chemicals, cosmetics and remove them before swimming or bathing. True pearls can easily be scratched, and I recommend getting them professionally cleaned at least once a year. 
AAA Pearl Bracelets
This is the second-highest grade of pearls you can buy. AAA pearl bracelets are flawless for 80 to 85 percent of the surface, with minor imperfections and only up to one to two more substantially imperfections. These bracelets are more expensive but near-optimal quality for clarity, color, and luster. While a higher grade is available, you'll find far more options for AAA pearl bracelets, and the average viewer won't likely notice a huge difference. 
AAA White Freshwater Pearl Bracelet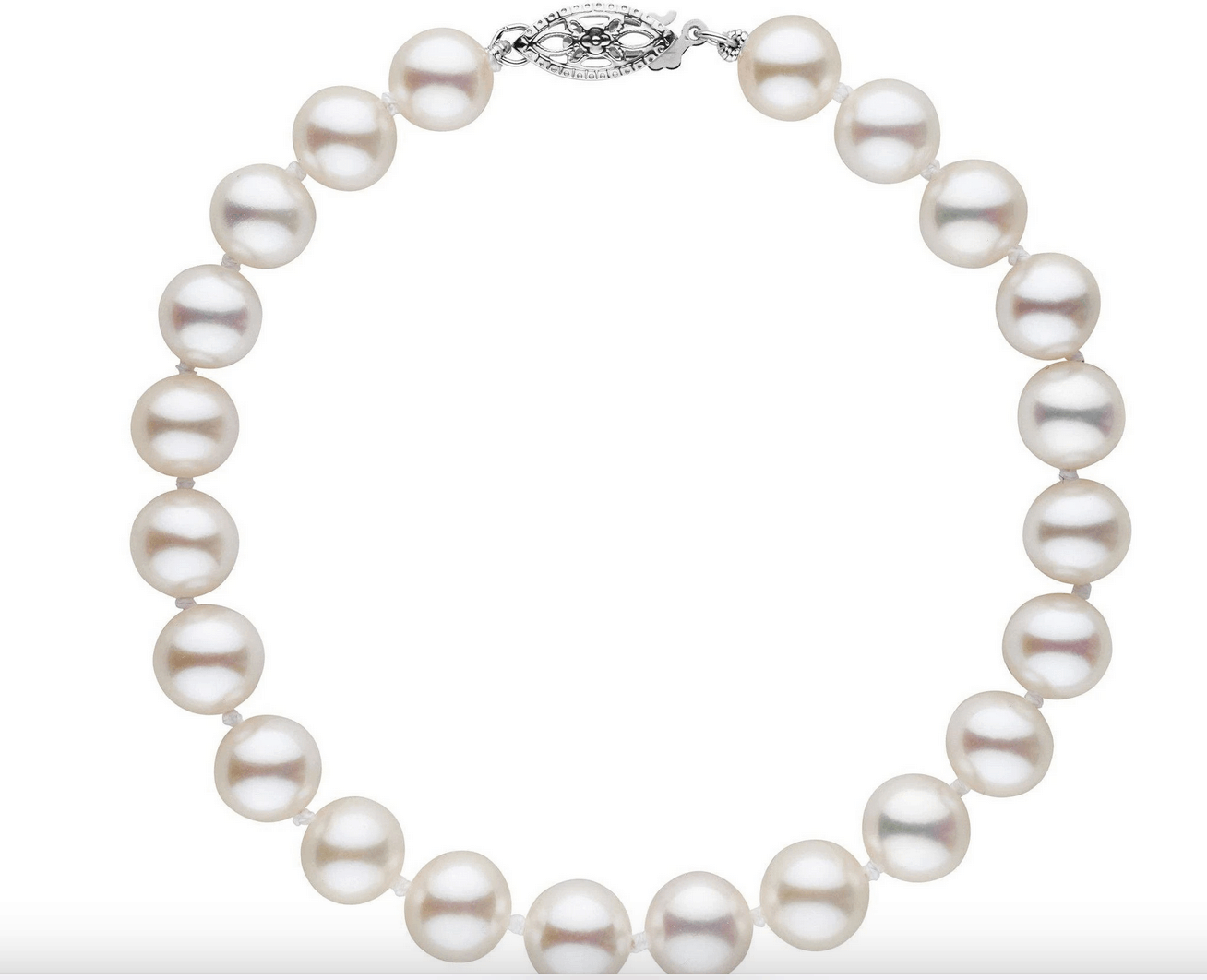 This AAA pearl bracelet features round, white freshwater pearls on 14K white gold or 14K yellow gold. A smooth, bright luster is accompanied by a clasp with classic detailing. Each pearl is hand strung on silk, making for a beautiful accessory that will stand the test of time. Buy Here.
AAA Pink Freshwater Pearl Bracelet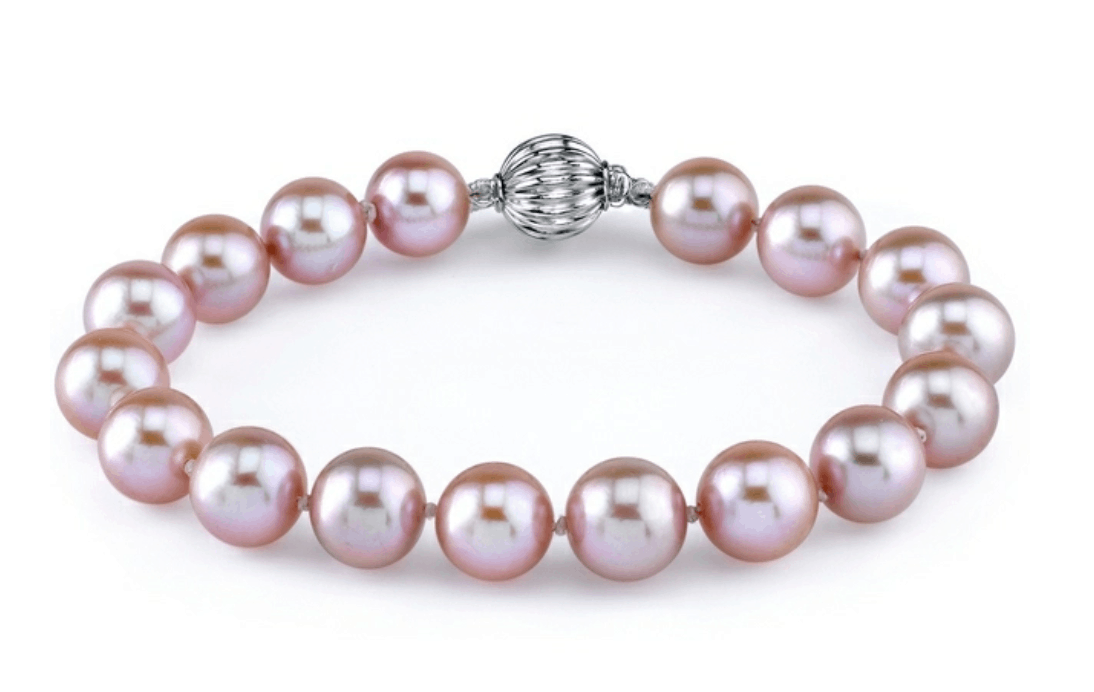 Now on sale for 70 percent off, this beautiful AAA pearl bracelet features a light pink hue that adds a romantic touch to any outfit. Choose from a modern magnetic clasp or finesse sterling silver clasp. The brilliant pink hue is brought to life with a gorgeous shine. Buy Here. 
AAA Akoya White Pearl Bracelet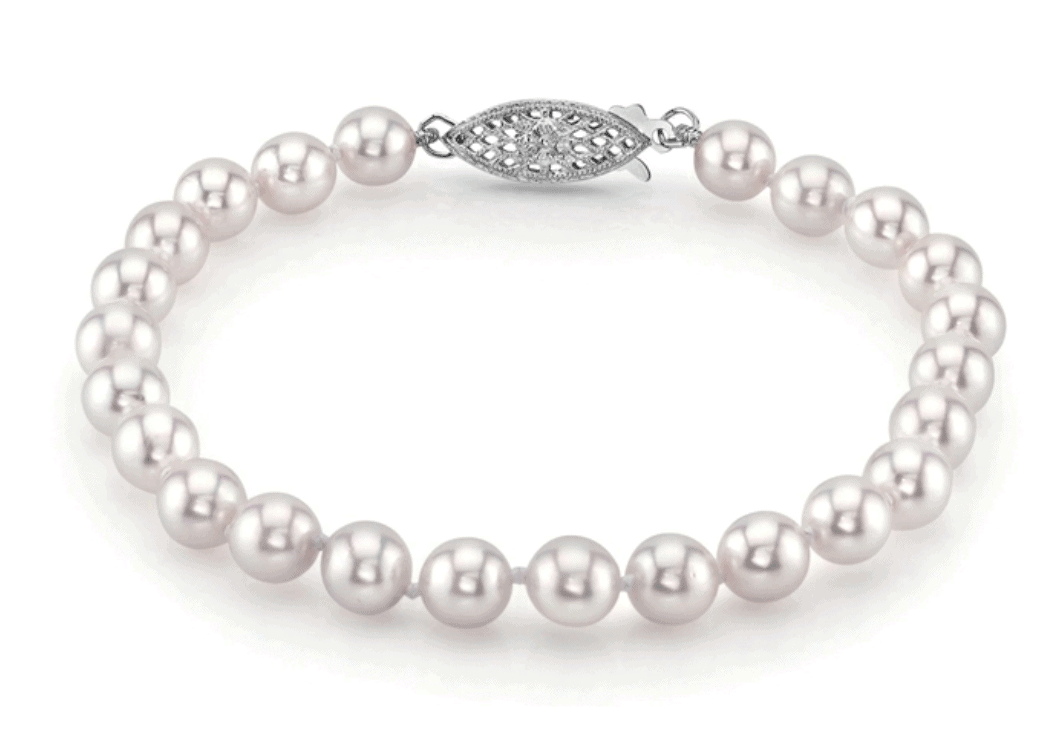 Beautiful round Japanese pearls are strung on silk thread with a double knotted style for additional security. These pearls come from the Pinctada fucata oyster and feature a dazzling, unique beauty. You can customize your order to a lower quality pearl if you want, and also choose between ivory, white, or rose pearl overtone. Clasps are available in sterling silver, 14k white gold, and 14K yellow gold. Buy Here. 
AAA Fishhook Pearl Bracelet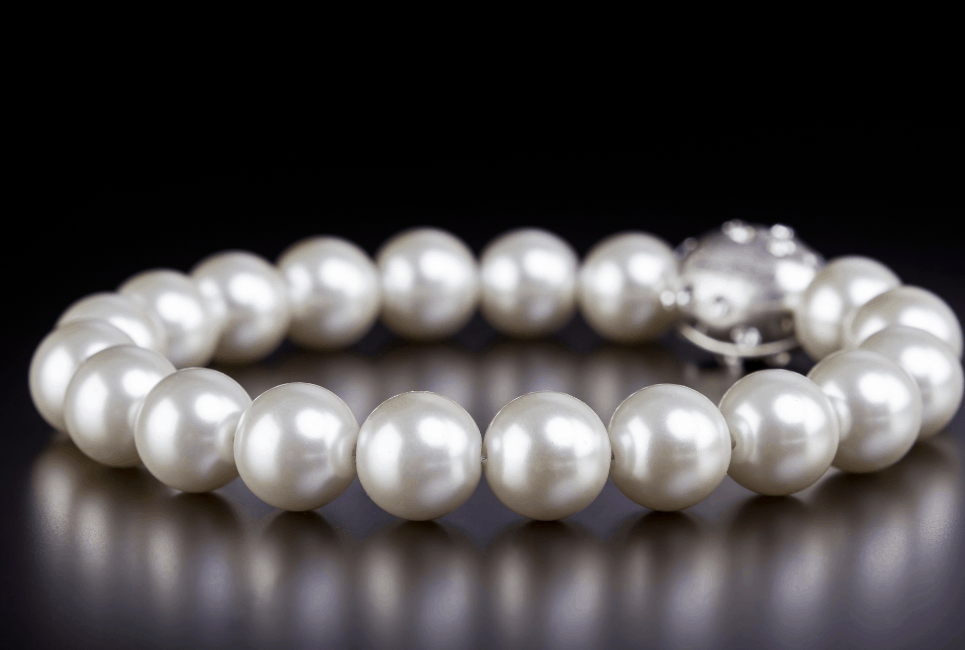 AAA Japanese pearls with a subtle rose overtone present with a clean surface and a beautiful luster. A very thick nacre makes for a more durable pearl bracelet if you tend to be harder on your accessories or plan to wear it heavily. Select from an 18K white or yellow gold fish hook clasp. Buy Here. 
AAA Freshwater Pearl Bracelet with Custom Clasps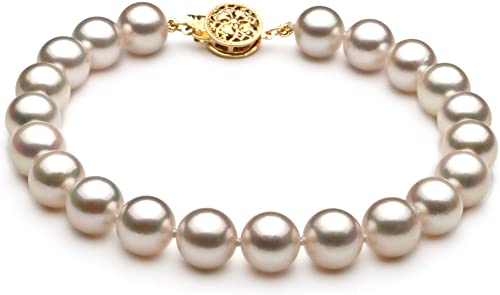 This beautiful AAA freshwater pearl bracelet is available 7 to 9 inches in length and offers the brilliant luster you'd expect. Select from unique clasp styles, including ornate styles, modern, minimalist, classic, and more. Clasps come in sterling silver, 14K white or yellow gold, and gold-filled. Buy Here. 
AA Pearl Bracelets
These pearl bracelets still are of great quality and can be purchased at a more budget-friendly price. They feature a medium-high luster and are commonly still valued for formal jewelry, with around a 70 percent flawless surface. These pearl bracelets are a great option if you want quality but also want to save a little money. 
AA Freshwater Black Pearl Bracelet
White and off-white will always be classic and beautiful options, but this black pearl bracelet is stunning in its own right. Choose from multiple unique clasps (sterling silver, 14K white or yellow gold, gold-filled) and a length of 7 to 9 inches. The AA pearls still feature a beautiful surface luster, and the black makes for a striking statement. Buy Here. 
AA Freshwater Cultured Pearl Bracelet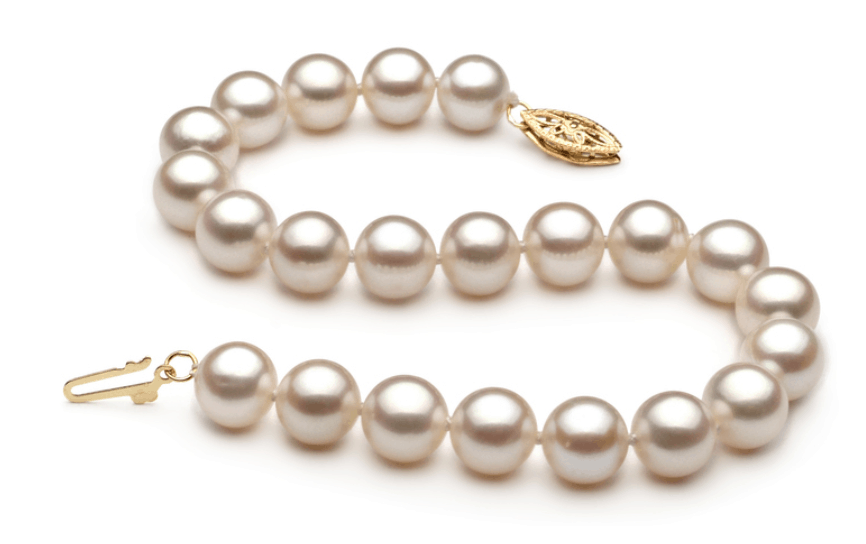 This AA freshwater pearl necklace is an instant classic. The slightly off-round shape is actually a unique touch, while the freshwater pearl quality is timelessly elegant. Select from gold-filled, sterling silver, and 14K gold clasps. Buy Here. 
AA Japanese Akoya Cultured Pearl Bracelet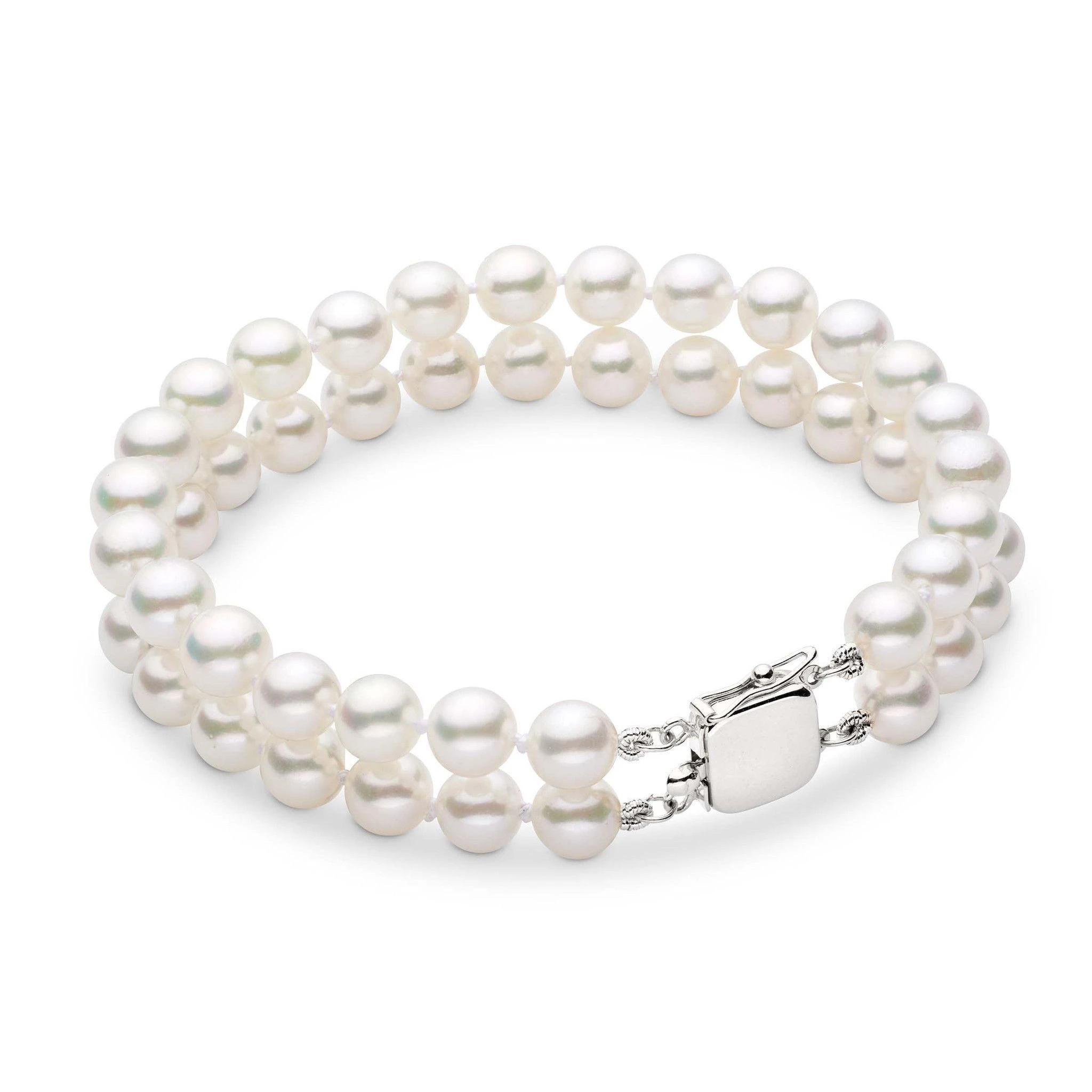 Japanese pearls are knotted on fine silk strands and secured with a gold-filled, sterling silver, or 14K gold clasp. The eye-catching pearls have a gold tint for a classic, elegant but unexpected statement. Round, uniform pearls make for an eye-catching but timeless look. Buy Here. 
Double Strand AA Freshwater Pearl Bracelet in Lola White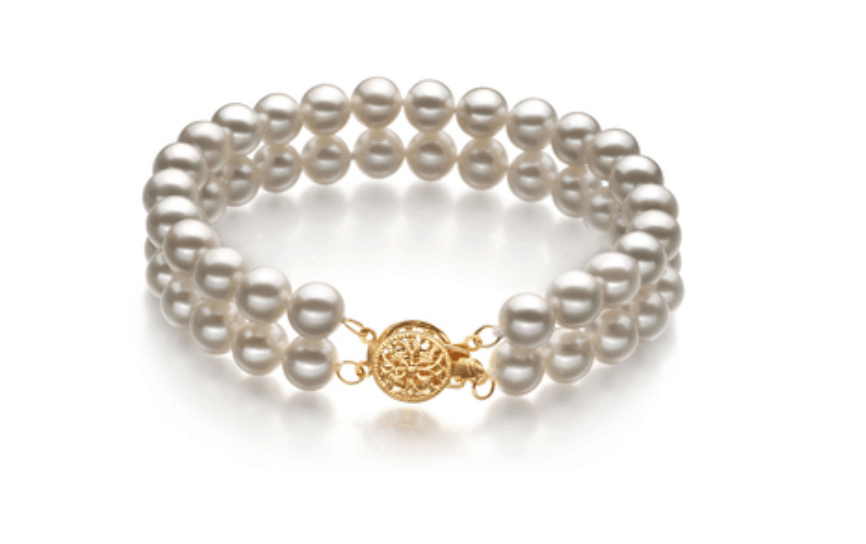 This stunning AA pearl bracelet takes the classic pearl bracelet to the next level. Bright white freshwater pearls are strung on silk and stacked for a formal and elegant allure. A soft luster exudes sophistication, and I especially like how the gold clasp brings some warmth to the pears. (You can also opt for 14K white gold or sterling silver). Buy Here. 
Love Knot Clasp AA Double Strand Pearl Bracelet
Japanese Akoya pearls with a classic white body and soft rose overtone evoke effortless beauty on this AA pearl bracelet. The very thick nacre makes for a durable bracelet complemented by a gorgeous luster. The 18K yellow gold love knot adds symbolism– making this perfect also as a gift to a loved one. Buy Here. 
Frequently Asked Questions
Question: Why are pearls so expensive?
Answer: Pearls vary quite a bit in price, especially when you consider grading and size. Natural pearls will be quite expensive because they are rarer. Pearls are also delicate and can be tricky to harvest. You'll find that most pearl jewelry is actually cultured pearls, which means they were purposefully farmed for the consumer market. These pearls are still of excellent quality but not as expensive or rare. 
Question: Do pearls lose their luster if not worn?
Answer: Wearing pearl necklaces or bracelets alone doesn't affect the luster, but time can. Over time, pearls that are not professionally cleaned and polished can lose their luster. It's best to wear them carefully and take them in every once in a while. 
Question: When should you not wear pearls?
Answer: There's a superstition that pearls on a wedding day represent tears and are thus bad luck. But in truth, many people wear pearls for others' weddings and even their own. Pearls go with just about anything, especially white or off-white pearls, so you really can't go wrong. 
Question: Why are pearls not vegan?
Answer: Pearls are unique in that, while they are considered gemstone, they're actually harvested from living animals. Vegans usually opt for synthetic pearls if they like the look. 
Final Thoughts
Pearl bracelets offer a timeless, elegant appeal to casual and formal outfits alike. White and off-white pearls will always be considered the classic and desired option, but there's nothing wrong with exploring some hues, too. Of course, you can find an abundance of pearl bracelets outside of this list, but I stuck with higher quality pearl bracelets, so you get the best quality for your money. 
A grade of pearl bracelets is indeed sold. The problem is they have a dull luster and many imperfections– to the point that it does become noticeable, even for the average consumer. Unless you're buying for casual purposes alone, I recommend spending the extra and going up to a AA quality pearl bracelet. You really will notice the difference, and with cultured pearls, you're still not spending as much money as you would for natural pearls.