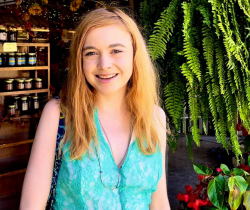 Latest posts by Erin Jamieson
(see all)
For some, a necklace is a fashion accessory. But for others following the blood vial necklace trend, it's an inspiration for showing something deeply personal.
Wearing blood around your neck may seem like a strange idea to some, but it's actually become more common in recent years. In fact, many see blood vial necklaces as a great idea to show how much someone means to them. 
Several celebrities, including Angelina Jolie, have worn blood vial necklaces in the past. But 2022 has added to that list. Most recently, American rapper Machine Gun Kelly sported a blood vial necklace on Valentine's Day as a tribute to Megan Fox, his girlfriend. 
The Instagram post showed a vial filled with blood that was revealed to be Megan Fox's. In the post, he called it a 'blood valentine' and Fox posted a poem to accompany it. The bloody valentine caption likely also referenced the rapper's so-titled single, which debuted in May 2020.
Of course, you don't need to be a celebrity to wear a blood vial necklace. This guide will explain different kinds of vial necklaces, how to use a blood vial necklace, and what to consider before buying. I'll round it up by giving you some of my favorite ideas for blood vial necklaces you can buy online. 
At a Glance: Best Vial Necklaces
What is a vial necklace?
A vial necklace is not unlike a pendant necklace. A simple chain carries a small vial that can be used either for decorative or practical purposes. Vials can be made out of glass, but also other materials, including stainless steel, silver, or gold. Vials can be bottles and shaped traditionally or in artistic ways. Generally speaking, a vial is a cylindrical container that is meant to hold something, most commonly some form of a liquid. 
Vial necklaces usually carry something of great importance to the wearer. A vial necklace means you are showing your attachment to someone or something, and displaying it. Symbolically, it can mean you are carrying something around with you, no matter where you are. 
How do you make a necklace into a vial?
You have three options if vial necklaces interest you: you can buy a full vial necklace, buy a vial pendant to add to a necklace chain or make your own vial necklace. Vial necklaces tend to be quite affordable, but, unless you're shopping online, they can of course be tricky to find.
If you're crafty, you could potentially even make your own necklace. You'll need a glass vial, glue, a spacer, a charm, a jump ring, and a connector. It's a rather specific process, and most make their own for more decorative vials vs blood vials. If you're curious, there's a DIY tutorial for making your own vial necklace here. Most of the material can be bought at a craft store and you can sub materials to your own liking. 
What do you put in a vial necklace?
Obviously, blood necklaces are one option, but vial necklaces aren't limited to blood. Some simply love the look and add decorative materials, such as glitter or confetti. Dried flower petals, feathers, and even pieces of parchment are other popular ideas. 
Vials have also been known to carry important things: a lock of hair, seashells or other things from a trip that's meaningful to you, and even ashes of a deceased loved one. 
What does a blood vial necklace mean?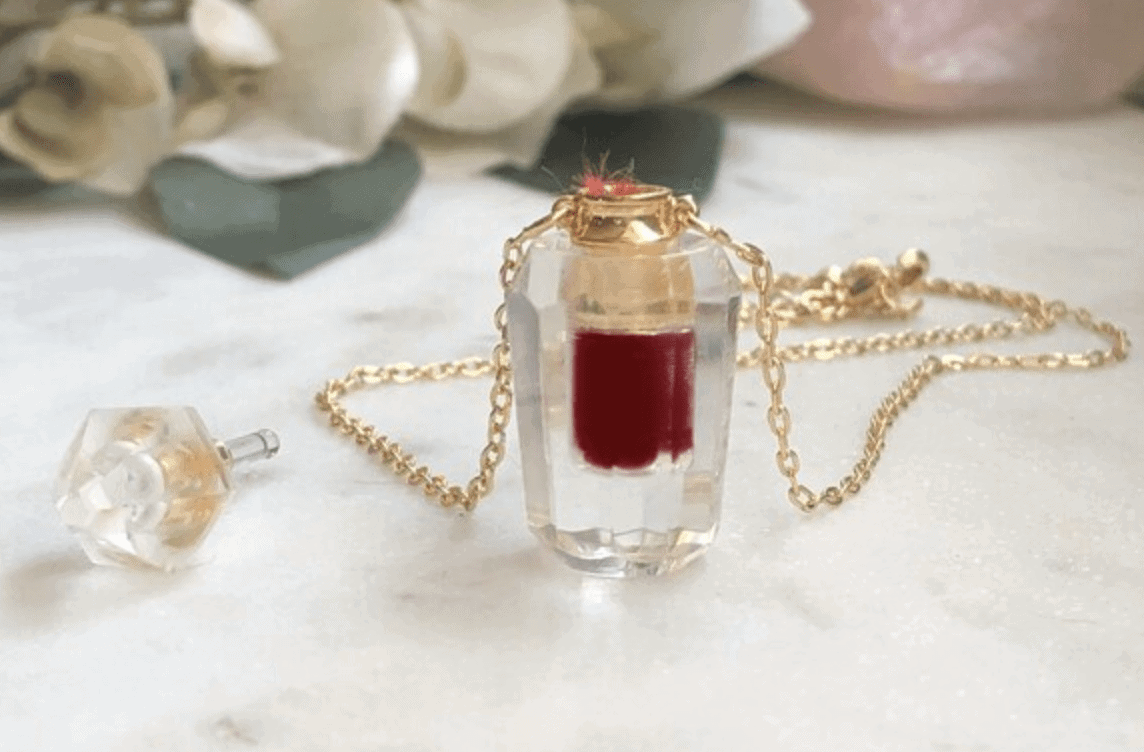 A blood vial necklace has a special meaning. For most, it's a deeply personal decision to wear a blood necklace and has little to do with trends. By carrying one's blood, you're said to be showcasing the closest bond possible. While blood vial necklaces often have romantic implications, they can also represent deep respect and even a connection to one's heritage or ancestry. 
By supplying blood for a blood vial, then, that person is said to be offering trust, vulnerability, and sacrifice. 
Can you put blood in a vial necklace?
Of course, you can place blood in a vial necklace— but there are some things you need to consider to make sure it's done effectively and safely. Keep in mind that ashes are also another alternative to blood vials. But blood especially requires careful thought should you place it in a vial to wear as a necklace. 
Will blood rot in a vial?
If you simply place blood in a vial, it's not going to have the best results. The problem is that blood will rot in a vial or any container. Within a matter of days, blood that is not cooled properly will rot just as raw meat would. Even blood banks that store blood for medical purposes know blood has a shelf life: some studies suggest the shelf life is around six weeks when cooled properly. 
How do you store a blood vial necklace?
There's a myth that mixing alcohol will allow blood to stay in a blood vial necklace for longer. In fact, this is not the most effective method. The best option is to buy a medical-grade anticoagulant to prevent blood from clotting. 
You still need to understand that blood will not last forever in a blood vial necklace, though refrigeration (in a safe place, away from food) can also extend the life, so to speak, of the blood. 
What else should I know about buying a blood vial necklace?
Your best bet to buying and enjoying a blood vial necklace is to buy the other materials you'll need first. This includes medical grading anticoagulants, as well as sanitary medical syringes to extract blood. These can be purchased as kits as well. I cannot stress enough how important it is to do this safely and in sanitary conditions. Make sure everything is well sanitized before, and make sure you use new, unused materials. Never buy used kits or necklaces.
Blood Vial Necklaces: My Picks
Since there are limited options for blood vial necklaces, my picks are all from reputable sellers, with a wide variety of styles. Under my picks, I've included steel–which is my top material pick for durability. But as some use blood vial necklaces only for a one-time occasion or a few times, I've also included some well constructed but lower-cost metals, including sterling silver and metal alloys. 
I've also included a few picks for kits. Kits are a great way to go if you've never had a blood vial necklace before, and many offer detailed instructions as to the steps you need to take to ensure your blood vial necklace is as safe and durable as possible. 
Blood Vial Necklaces
This section includes blood vial necklaces and vials to add to a chain necklace. These are all suitable for carrying blood, ashes, or other precious materials. I've selected some options from handmade artisans on Etsy, as well as jewelers. While styles tend to be more whimsical and casual, I did also include a 14k gold vial– a rare option. How much you spend should also depend on how much you plan to wear your blood vial necklace. That is, if you're buying one for a one-time event, you can lower your standards in terms of durability. Still, it's important to make sure everything is done in a sanitary manner, and that includes having a vial that has a tight seal. 
Potion Glass Necklace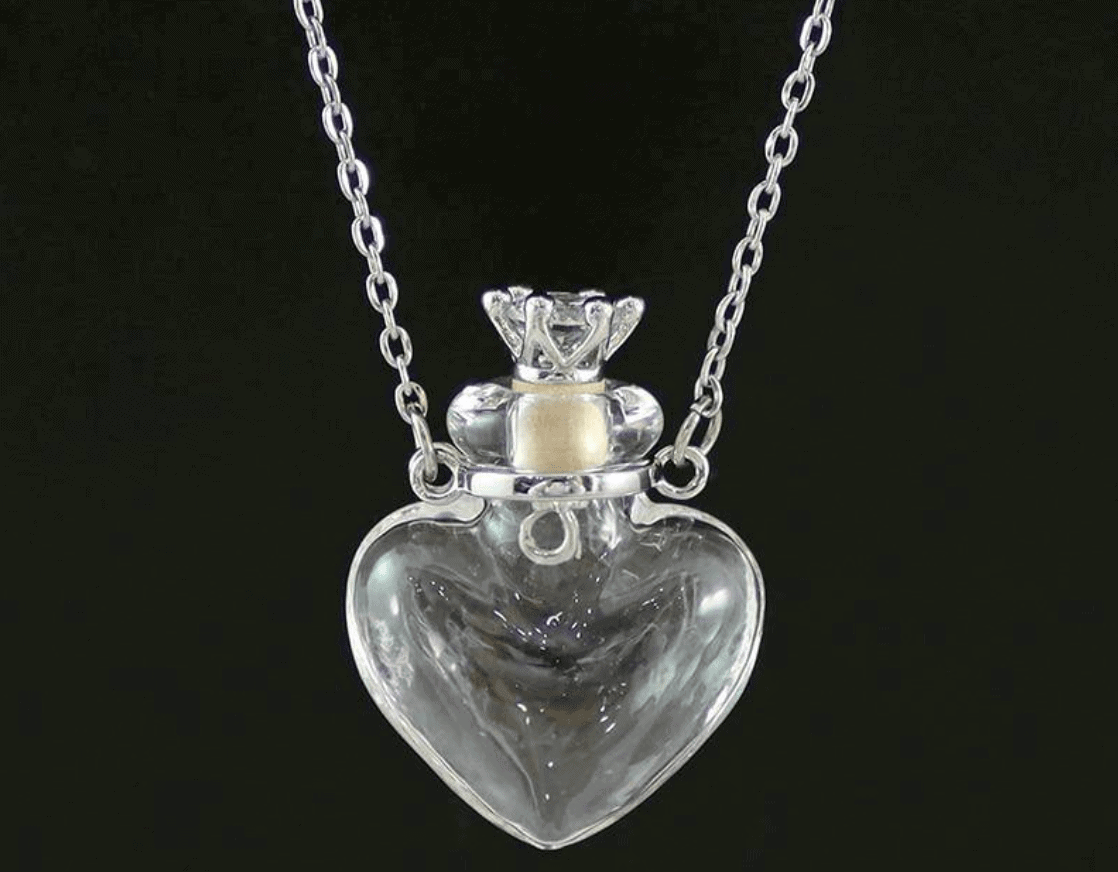 This whimsical blood vial necklace can be reused (when fully sanitized) to be filled with charms, flowers, or even perfume. Not only is the glass design beautifully crafted, but the stainless steel chain is a practical and durable option. Buy Here. 
Sterling Silver Chromate Cylinder Pendant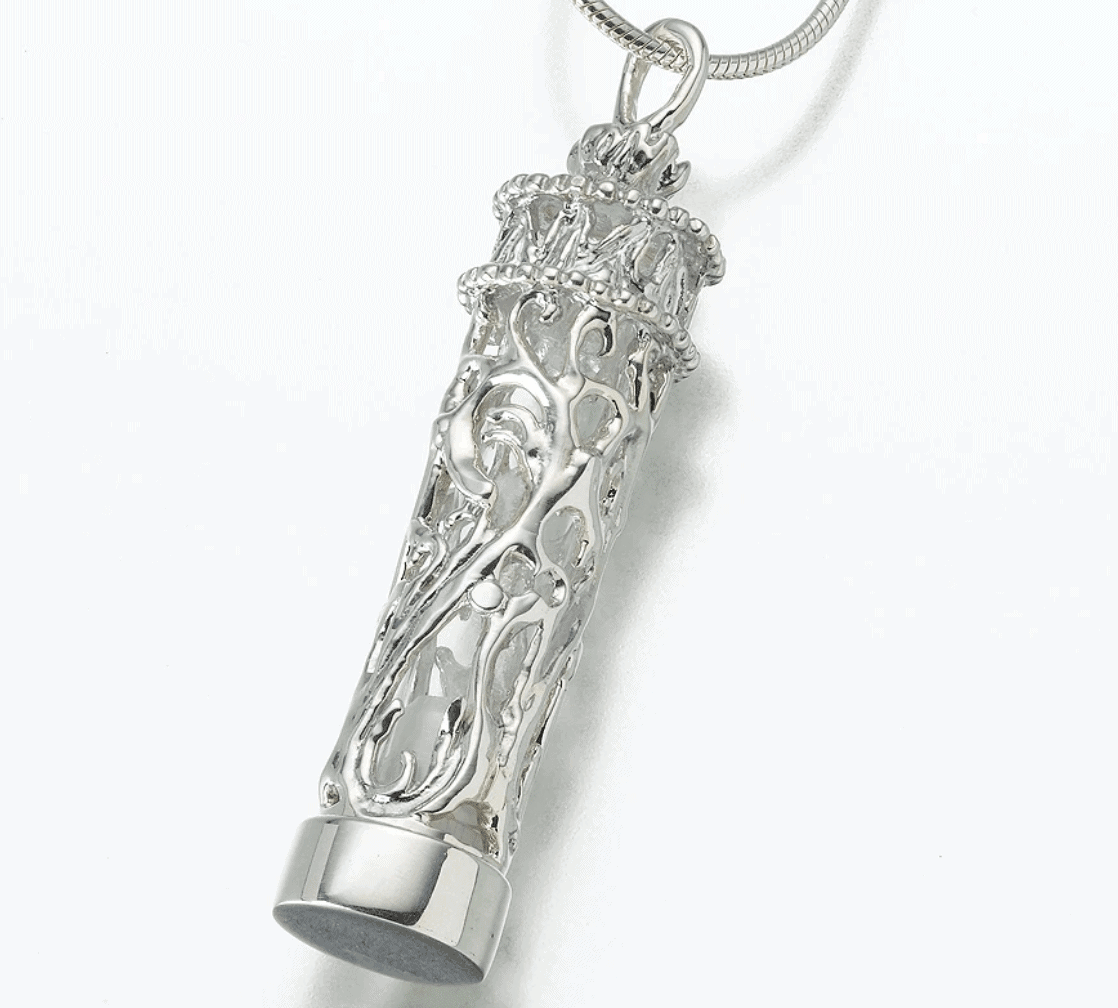 This pendant is an exquisite option for a blood vial necklace, though it's a bit more expensive. Polished sterling silver features an intricate design with an enchanting, ethereal look. The threaded cap ensures a firm seal, meaning you can also use this pendant for ashes. This is also an alternative to a see-through glass vial. Just make sure to make sure and clean it, as silver can tarnish slowly over time. Buy Here.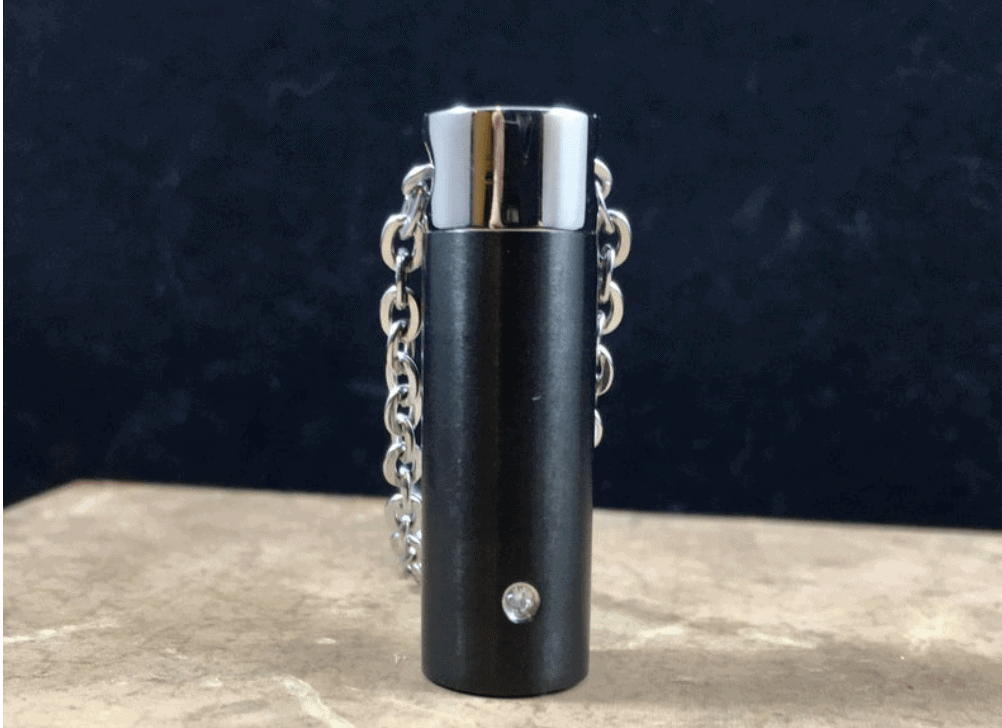 Stainless steel is an excellent option for a blood vial necklace. It's resistant to everyday scratches, heat, and humidity, and is even a great option for those with allergies or sensitive skin. The sleek, polished look is modern, and the choice of a black vs. glass vial makes the necklace more discrete. Buy Here.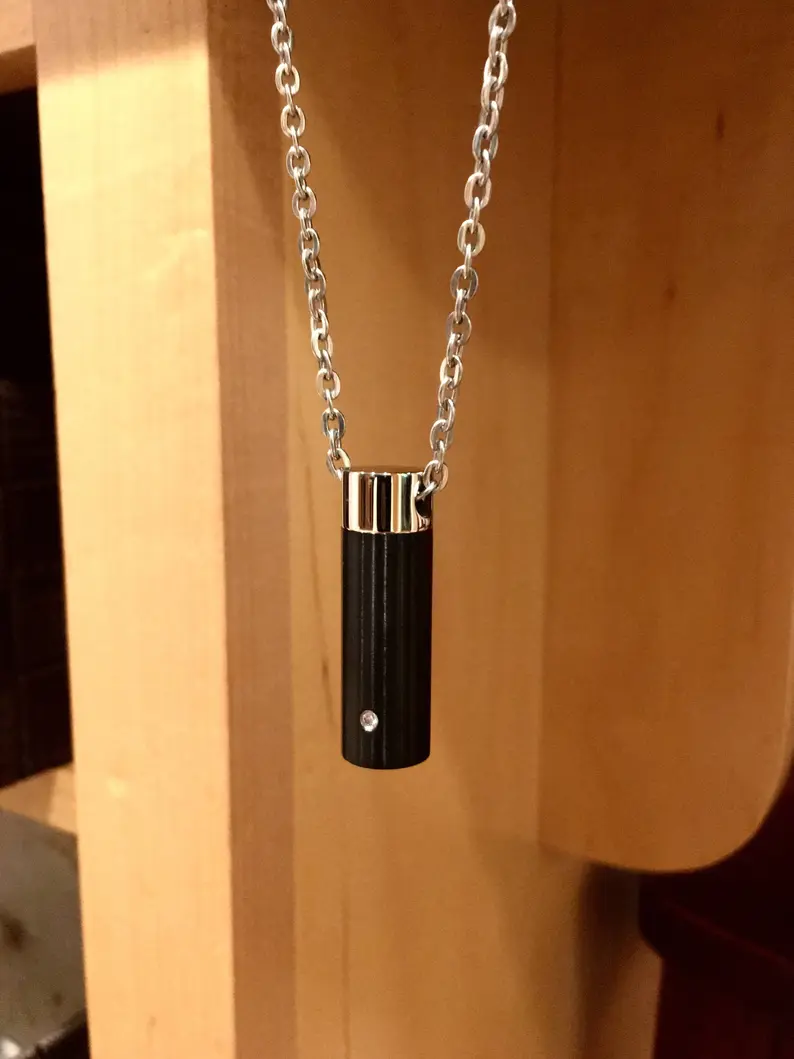 Black Stainless Steel Vial Cremation Pendant | Etsy
This listing is for a black and silver stainless steel cylinder cremation pendant on an optional 19 inch stainless steel link chain or black or brown leather cord with a 2 inch chain extender.
Check Price
We earn a commission if you make a purchase, at no additional cost to you.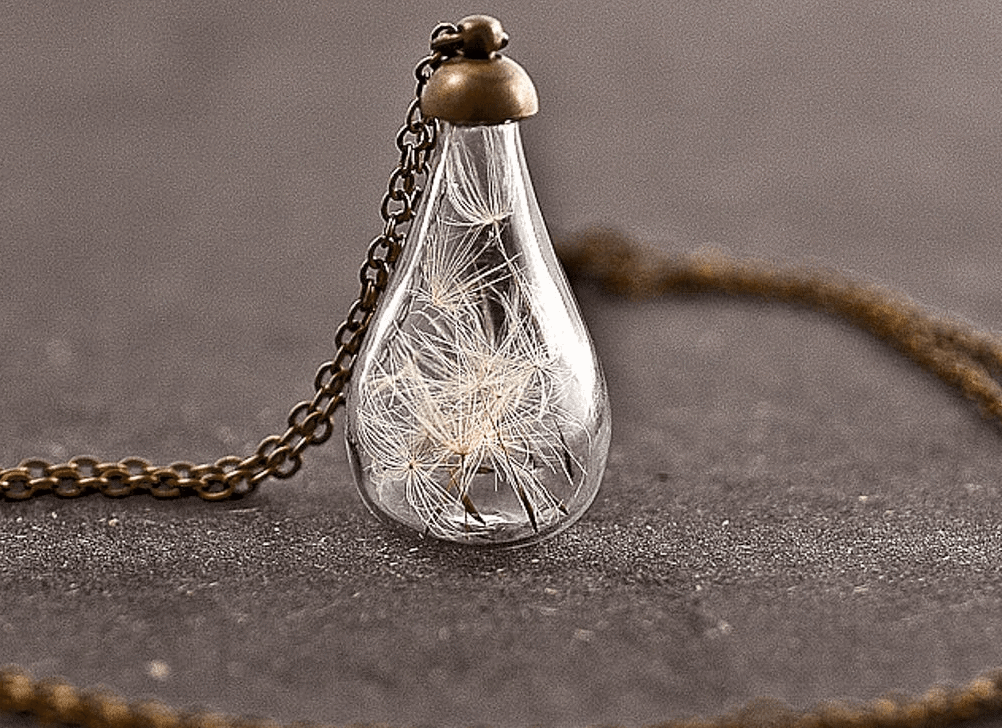 With over 190,000 sales under their belt on Etsy, VillaSorgenfrei even won a distinction of an Etsy choice for this vial necklace. Beautiful hand-blown glass offers a unique and refined look. It is set on a brass chain, which is not as durable and may not be suited for everyone but is also quite affordable. The necklace is also made to order. Buy Here.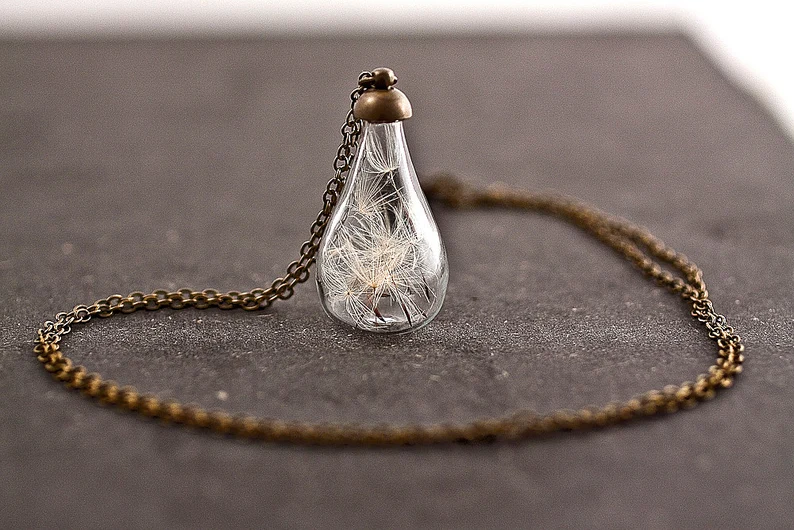 Hand Blown Glass Teardrop Necklace | Etsy
This delicate handblown glass drop filled is with real dried dandelion seeds, it comes with a bronze bead cap and a short delicate bronze necklace.
Check Price
We earn a commission if you make a purchase, at no additional cost to you.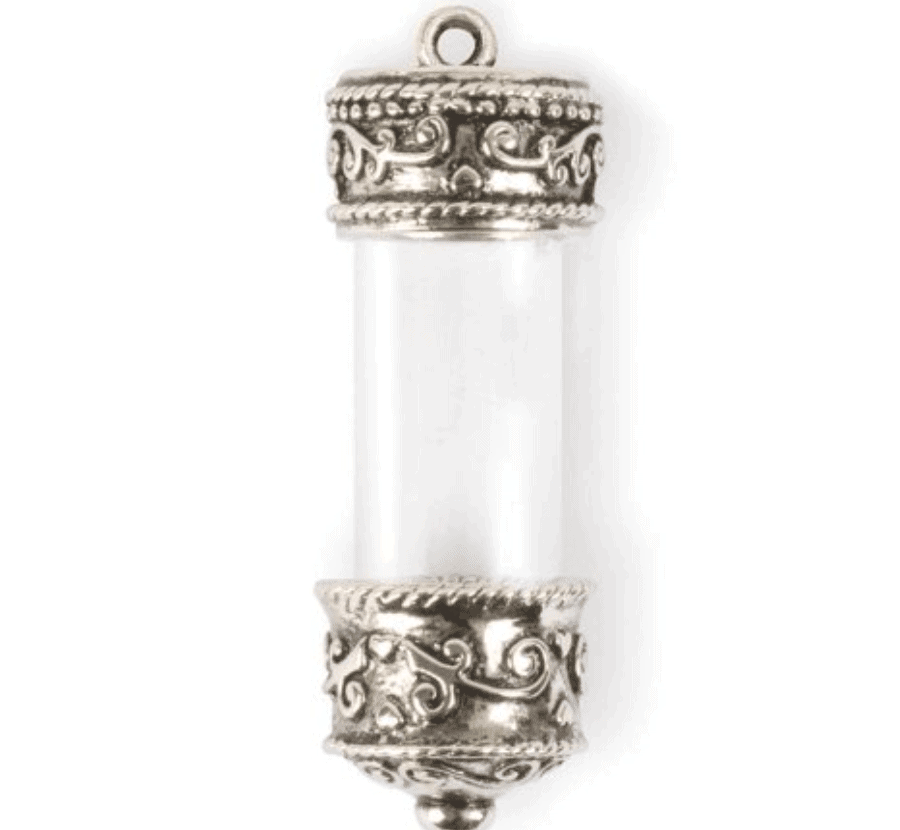 Add this pendant to a chain for a steampunk-inspired blood vial necklace. The simple glass cylinder can be used to store about anything you want, and the silver coloring adds an antique style at a low cost if you want something for a few times to use. Buy Here.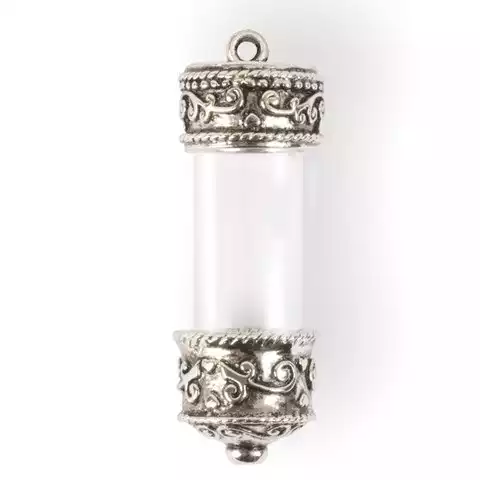 Steampunk Glass Pendant | Walmart
Give handmade necklaces a touch of the past with a Steampunk-inspired glass vial pendant. This large pendant features a glass container topped with an antique silver-colored lid and matching bottom.
Check Price
We earn a commission if you make a purchase, at no additional cost to you.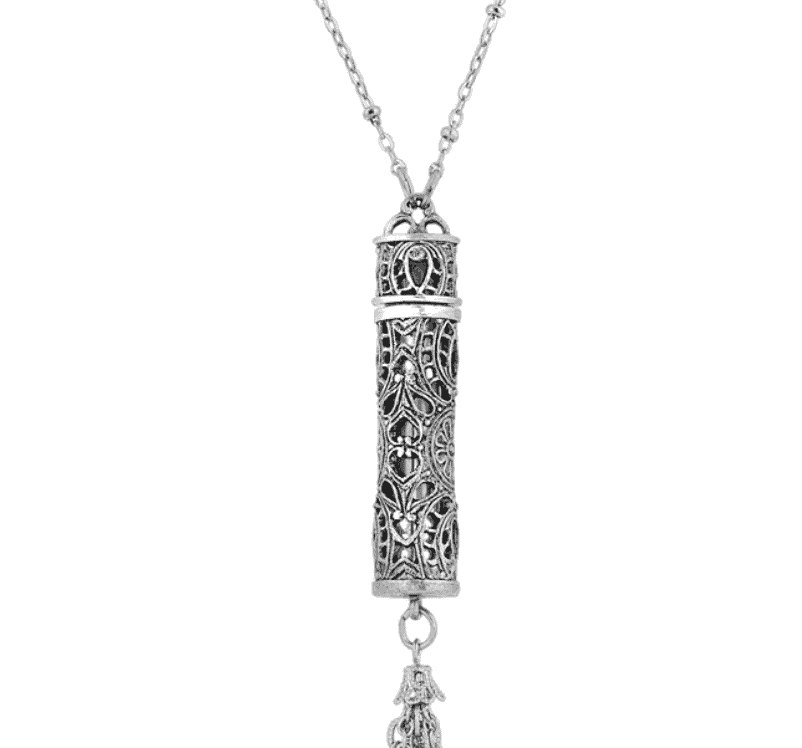 Want a blood vial necklace that doesn't look like a typical blood vial necklace? This necklace from Macy's features a silver-tone brass alloy (keep away from water and humidity) with intricate filigree patterns. The tassel adds a whimsical accent. You can use this necklace to store blood, but also perfume. Buy Here.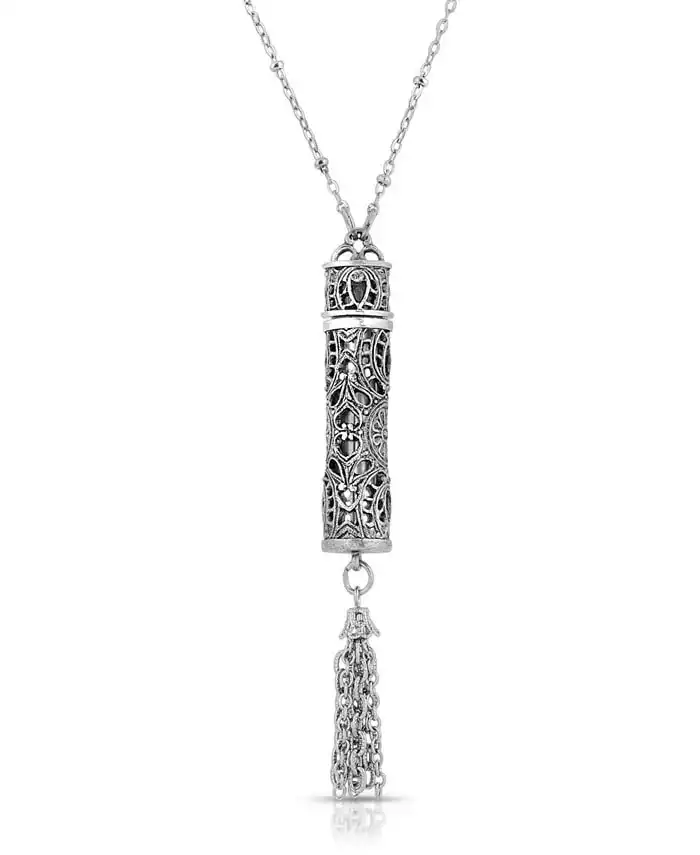 Pewter Filigree Vial with Tassel Necklace | Macys
This silver-tone pewter filigree covered 3.69 ml glass vial necklace is just in style a 3.69 ml vial pendant with a tassel is stamped with a thick filigree pattern. Fill it with perfume, color sand and it will make a wonderful and meaningful gift.
Check Price
We earn a commission if you make a purchase, at no additional cost to you.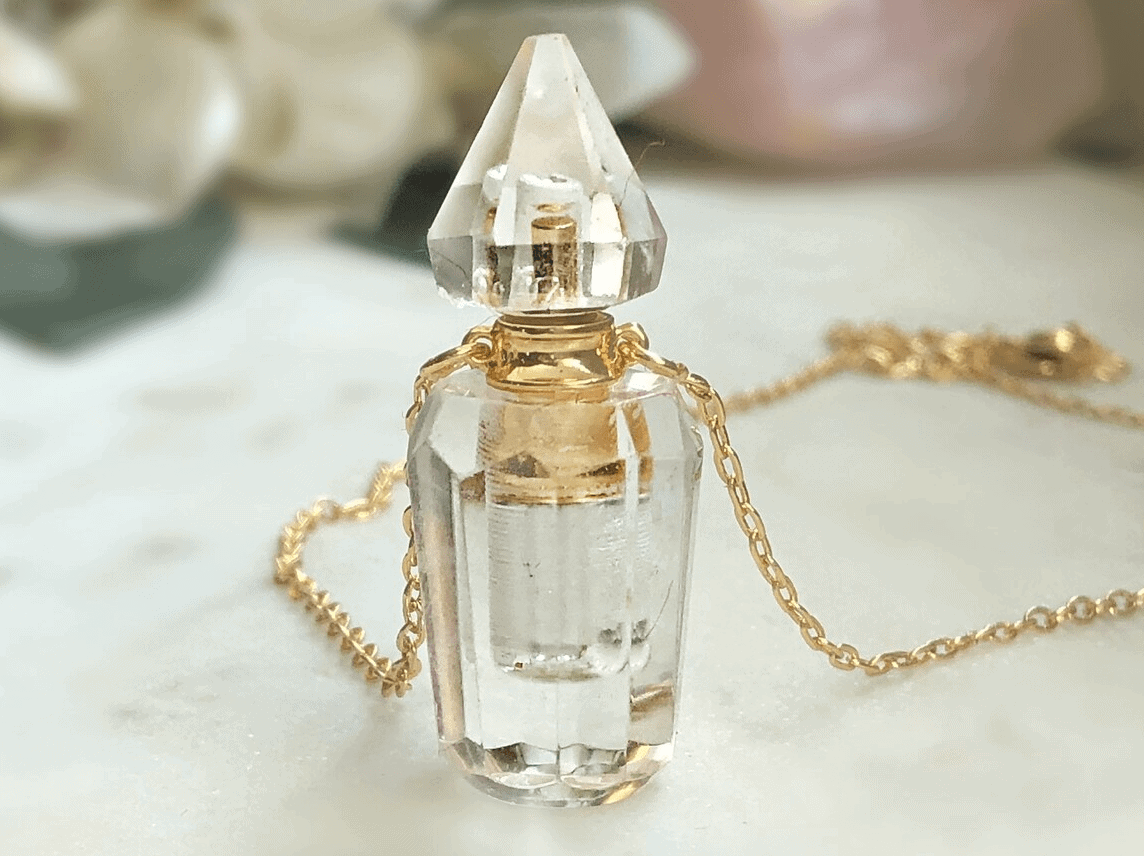 This handmade blood vial necklace may just be my favorite option. Made to order, clear quartz is paired with a stainless steel chain (available with gold plating). Quartz is thought by some to have metaphysical properties to promote healing and support those undergoing grief or stress. On top of that, you can even buy a blood vial kit from them, too. Buy Here.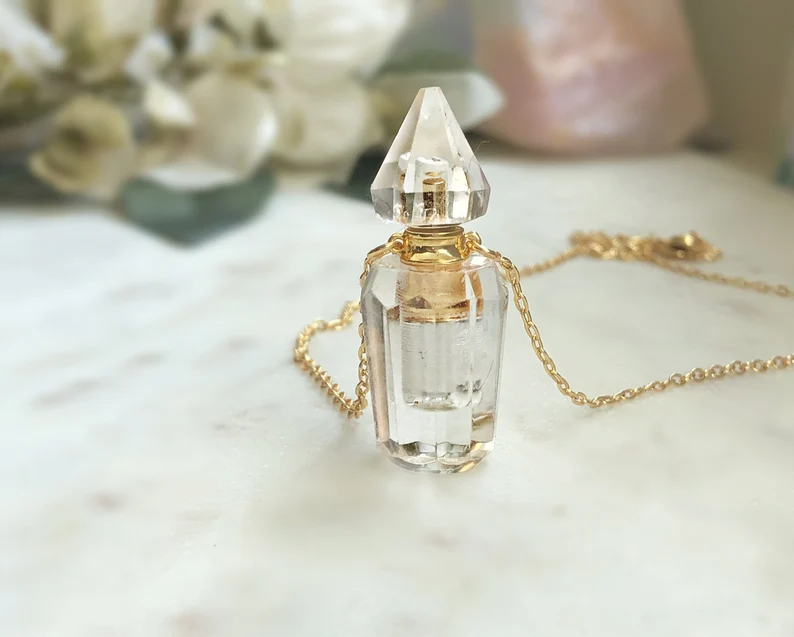 Crystal Clear Quartz Bottle Necklace | Etsy
Gorgeous Crystal Clear Faceted Bottle Shaped Heat Quartz gemstone vial is not only a statement piece but also a chance to wear your favorite scent around your neck all day!
Check Price
We earn a commission if you make a purchase, at no additional cost to you.
Blood Vial Necklace Kits
Kits are an excellent way to get started with blood vial necklaces. The reason I love kits is that you'll have everything you need to safely and effectively store blood in your new necklace. You can always buy a kit first and then buy a separate vial necklace. Opting for a kit is something I highly recommend, but of course, it's up to you and what makes sense for your situation. 
Blood Vial Pendant Kit with Anticoagulant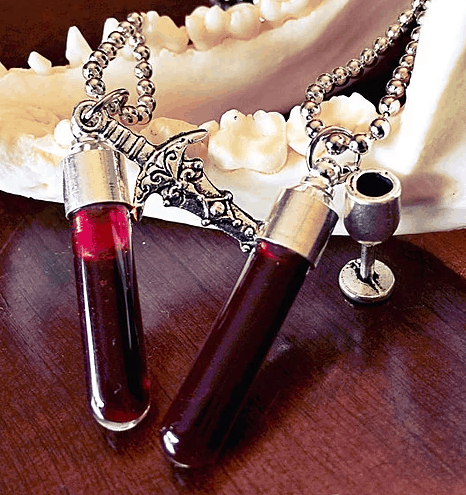 An even better pick, in my opinion, is this blood vial kit from Artem Mortis. For $40, you get all the supplies you need, including anti-clotting to keep your blood preserved for longer. You'll also receive two sets of medical supplies, two glass vials, and chains, along with super glue. The included vials have a steampunk-meets-gothic appeal. Buy Here.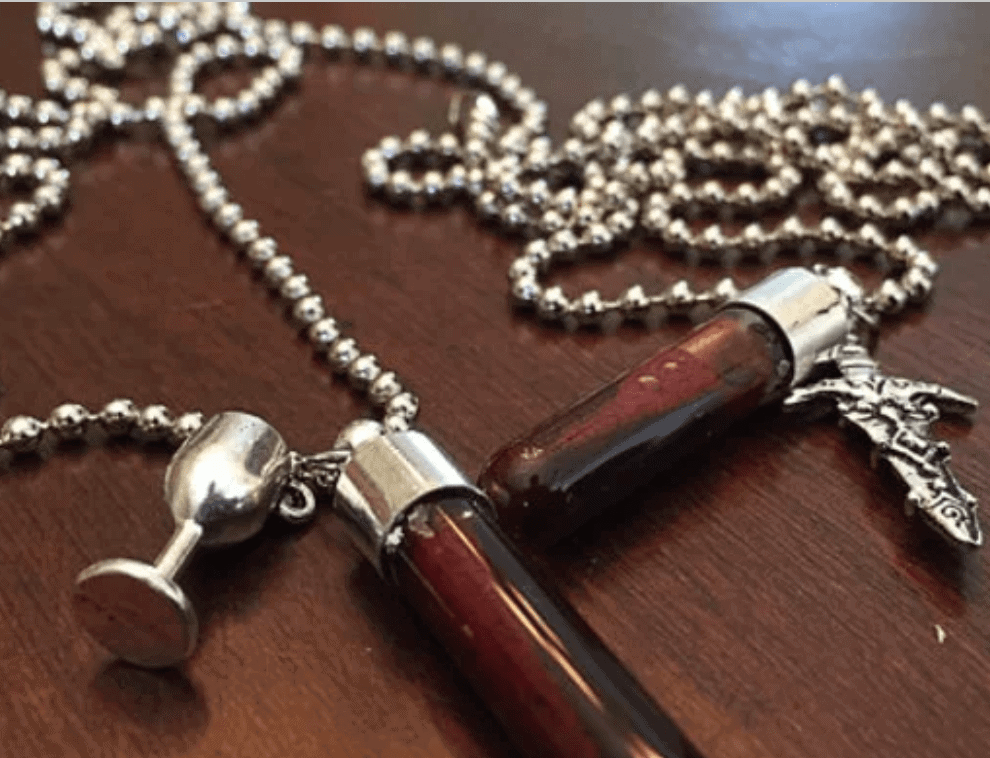 This kit is from a bestseller on Etsy and retails for $90. Handmade glass vials are set with sterling silver. You'll receive two pendants and necklace chains, two full sets of supplies, including glue, and also anticoagulant. I also love the detailed instructions it ships with so you make sure you do everything correctly. Buy Here.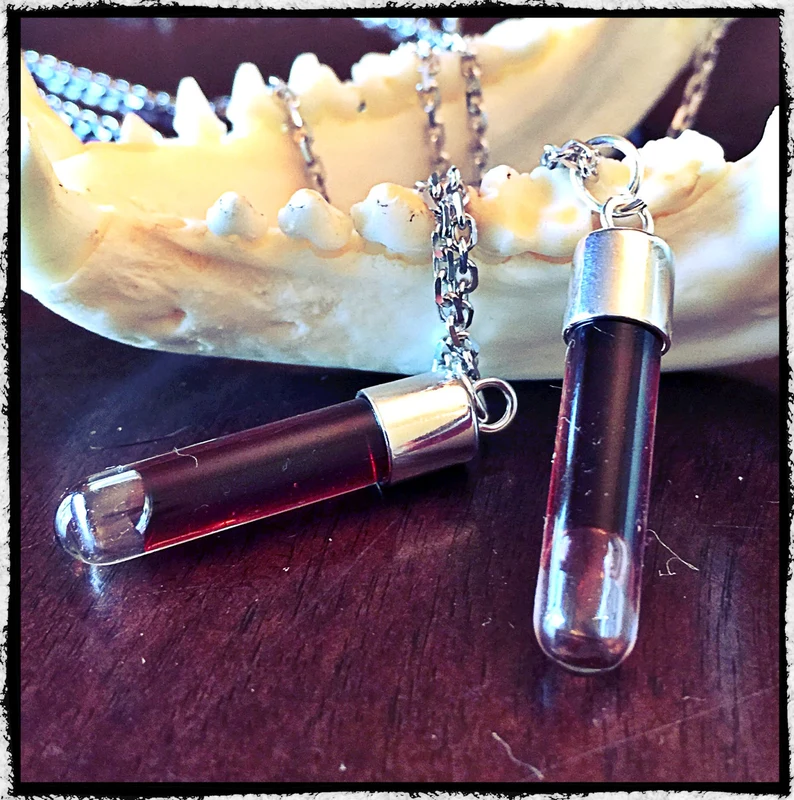 Sterling Silver Blood Vial Kit with Anticoagulant | Etsy
This sale is for one complete kit for you to craft two blood vial pendant necklaces. Along with your own blood, you may use the blood of a lover, a friend, a partner, or perhaps anyone with whom you desire to bond.
Check Price
We earn a commission if you make a purchase, at no additional cost to you.
Frequently Asked Questions
Question: Who wore each other's blood?
Answer: The most noteworthy celebrities that have worn each other's blood are likely Angelina Jolie and Billy Bob Thorton. The at-the-time couple wore each other's blood in the early 2000s during their ephemeral marriage. Most recently, rapper Machine Gun Kelly wore girlfriend Meagan Fox's blood around his neck. 
Question: Why do couples wear blood vials?
Answer: Blood vials can be worn for a variety of reasons, but the most common reason is a romantic connection. Wearing a partner's blood is said to symbolize ultimate trust and loyalty. Some also wear it to show a strong bond and connection. Wearing blood may be done near a romantic event, such as Valentine's Day.
Question: How is blood preserved?
Answer: Blood will never last forever. For blood vials, typically an anticoagulant is used, and blood vials are stored in a refrigeration unit when not being worn. For medical professionals, blood can be stored in refrigeration units. Meanwhile, plasma and cryo can be frozen and stored for up to one year. 
Question: Are big necklaces out of style?
Answer: While minimalist looks are still seen for a variety of necklaces, an interesting trend in 2021 is that bigger necklaces have made a comeback. You'll find chunky styles for necklaces and even earrings used to evoke a boho feel. This trend started to emerge especially in 2020 and continues into 2021. 
Question: Are layered necklaces in Style 2021?
Answer: Layered necklaces are very much in style in 2021. Also, a trend that spiked in 2020, layered necklaces are a great way to further customize your look and add dimension. A popular trend is to layer a pendant or even a vial necklace with a solid chain. Some also opt to pair a designer necklace with a more affordable necklace– saving money but still making a signature statement. 
Final Thoughts & Buying Tips
Blood vial necklaces offer a symbol of ultimate connection, and, for some, sacrifice. They're one of the most personal types of jewelry you can buy and wear. At the same time, you should never simply buy a blood necklace on a whim. You should also make sure your partner is comfortable with you wearing their blood, and absolutely must ensure you have all the medical grade equipment you need to prepare your necklace safely.
If you buy a more expensive option, you can reuse your blood vial necklace to store perfume, locks of hair, or something as simple as confetti or glitter. Just always make sure you fully sanitize your vial before using it again.