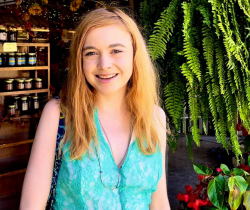 Latest posts by Erin Jamieson
(see all)
From diamonds to precious gemstones, ring inspiration comes with a hefty price tag. Perhaps that's why both men and women are opting for highly affordable alternative ideas– like hematite rings.
In fact, Hematite rings were listed as a must have for men for Spring 2021 in the India Times. Listed alongside bracelet types, linen or cotton scarves, and cufflinks, it was a surprising suggestion. It's especially surprising for those who may not understand just how affordable hematite rings can be.
And that's part of the point. Rings are becoming more popular as ways to express oneself, no longer limited to elegant engagement rings, and increasingly more popular amongst all genders.
Even if you're looking for an engagement ring, though, perhaps a push towards more affordable and less conventional explains the rise of Hematite. A 2020 study by The Knot found that 11 percent of couples are spending less than $1,000– and that is likely an underestimate.
But what is hematite, and is it really suited for wedding and engagement rings, or casual wear? Consider this your guide to the pros and cons– and where to buy–a hematite ring.
What is Hematite?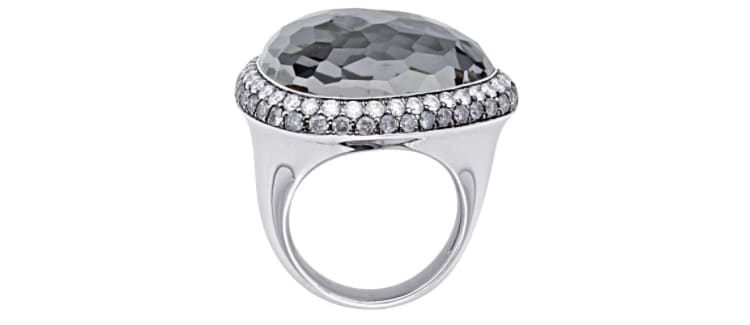 Hematite is a form of an iron oxide and is more known to you than you might think: deposits are found in both soil and rocks. It happens to share the same crystal structure as rubies and sapphires, both of which are a form of corundum.
Hematite is derived from the Greek word, haima, which means blood. This name makes sense as, when cut into, hematite has a red core.
Dating back as far as 2500 BC, Hematite had been used for countless purposes, from constricting mirrors and cylinders to polish and pigmentation. Hematite has even been discovered in Ancient cave paintings, Egyptians tombs, are for war paint by indigenous nations.
Today, it is also used for both casual and formal jewelry, including rings, earrings, and necklaces.
How Common is Hematite?
Hematite is by far the most common mineral used for jewelry. Though once mined around the world, however, Hematite is now largely produced in just a handful of countries, including: Australia, Brazil, Canada, China, India, Russia, South Africa, Ukraine, and the United States.
The irony is that, widespread as Hematite itself is, Hematite rings are tricky to find. Hematite is often still associated with industry purposes, and rings can be found– but it takes some searching.
As a whole, Hematite itself is especially common– it's simply that Hematite rings are not nearly as common, perhaps due to lack of customer awareness, and the many other alternative setting options.
What Color is Hematite?
Hematite, on surface value, is not an eye-catching color. Ranging from black to steel gray, or even brown, it's an understated, natural hue. But what can make it stand out is its reddish to reddish brown streaks and undertones. Those become most apparent when sliced into and cut a certain way.
What is a Hematite Ring Used For?
Hematite rings are a bit different from some gemstone rings when you consider why people wear them. Generally, why people wear Hematite rings falls into two categories: those who wear it for a fashionable purpose or practical (engagement and casual rings) and those who wear them for feng shui.
Feng Shui jewelry is said to bring balance in one's life. The idea is to balance out different emotions and energy for stability. Those who believe in these concepts believe that Hematite has a calming effect.
It's also been said to promote healing, energy, strength, and a balanced mind. In fact, it appears that the Ancient Egyptians especially believed in these principles.
Is Hematite a Good Option for Rings?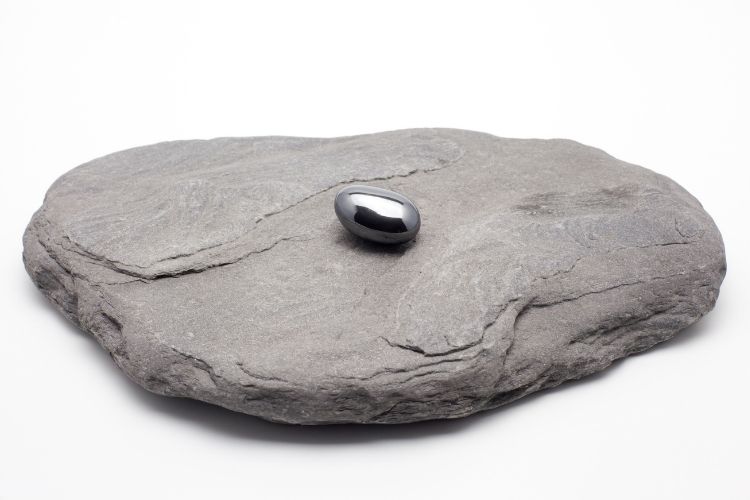 Hematite is an interesting and unique option for rings— and it certainly has its pros and cons, depending on what you expect from it. Here are some things I recommend you keep in mind before buying a Hematite ring for any purpose.
Do Hematite Rings Really Break?
The structure of Hematite rings is rather brittle, meaning that they can in fact break if dropped. When they break, they can fracture some or shatter, depending on how and where they are dropped.
In addition, they can be prone to surface level scratches. At a Mohs Hardness rating of around 5.5 to 6 out of 10, it's considered a rather soft mineral. This means that scraping up against something can cause surface scratches.
While deemed acceptable for wear, Hematite, in short, may not be the best option for everyday wear for those who are especially active or not especially cautious.
Can You Shower With a Hematite Ring?
Another thing to consider is that Hematite actually has magnetic qualities– a reason why some tie it to benefits connected to Fen Shui. Due to this, I don't recommend wearing a Hematite ring in the shower.
I also recommend removing Hematite for other water related activities. The most worrisome is swimming, as chlorine can damage Hematite.
Is Hematite Good for Jewelry?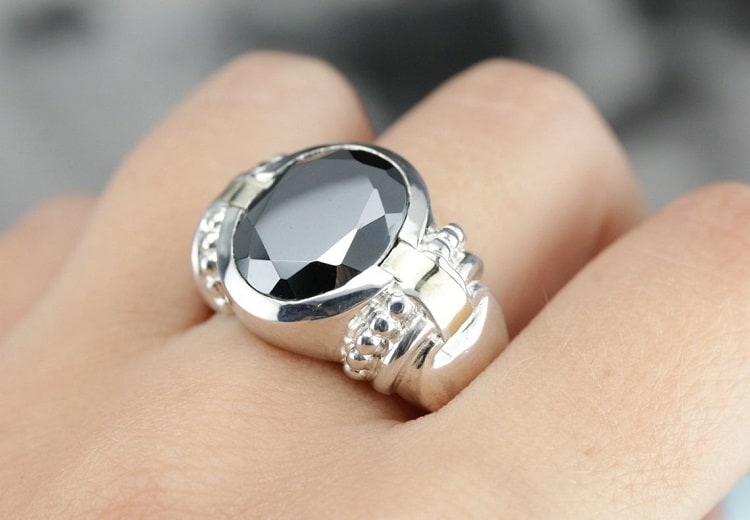 Hematite rings do have pros, however. There's a reason why, despite the lower level of durability, Hematite rings have become more popularized. It simply depends on your lifestyle and whether these pros outweigh the cons.
Hematite Rings are Affordable
Above all, Hematite rings are quite affordable. If you opt for a solid Hematite band, in fact, you can buy it for well under $50, often as low as $10 or even less. It's pretty hard to beat the cost of Hematite rings for something that can be worn for both casual and formal occasions.
That leaves you room for other jewelry accessories, or, in the case of engagement rings, planning a wedding or honeymoon.
Hematite Rings Are Unique
While by no means can you call Hematite unique as in rare, rings are still a less conventional option and a great way to show off a unique style. They're also popular options for men. With a range of black to silver tones, they tend to be understated and versatile, making them easy picks for going from one event to another.
Hematite Rings Are Thought to Have Healing Benefits
Tying back to their magnetic qualities, some believe that Hematite can be used for stress relief, regulating blood flow, and overall relaxation. Others have claimed to use Hematite rings to calm nervous energy and even bolster creativity and innovation. Even aside from this, one could argue that Hematite stands as a symbol for a balanced life.
How do I Choose a Hematite Ring?
Hematite rings aren't as tricky to choose, in some ways, as more expensive and valuable types of rings. Hematite rings should not be expensive, unless you're buying a ring with a diamond or other fine gemstone accents.
How Will You Use It?
First, select what you'll use it for. I most recommend two purposes: casual and cocktail rings. These are rings you won't wear everyday necessarily, which better suits the fragility of this ring type.
That said, there are some circumstances where you might wear a Hematite engagement ring or wedding ring. It can be a stand in if you don't have a budget for a more expensive ring. You could use a Hematite ring to wear when you travel, or other instances where you don't want to wear your regular ring.
Of course, you may also like the look of this type of ring– and feel that the need to likely replace it in a bit is still worth it, since you're saving so much money in the first place. There is no right or wrong answer here– merely personal preferences and being realistic with your expectations.
Color and Cut
You'll also need to select color, and, aside from solid wedding or fashion bands, the cut of the stone. For color, it's a matter of personal preference: opt for anything from black to silver hues. The most common cut for Hematite is a cabochon, which provides optimal luster. Meanwhile, faceting techniques provide brilliance and depth.
Synthetic vs Treated vs Imitation
Another decision is just what type of Hematite ring you plan on buying. Hematine is a nearly identical synthetic– but it has a very potent magnetic quality, while Hematite magnetism is relatively weak.
If you want real Hematite, read the description carefully and ask the retailer for verification.
Where can I buy Hematite rings?
From casual to boho to classic, Hematite rings are affordable and easy going accessories. Your best bet is to shop online. I've provided options for engagement rings, solid bands/ men's, and both fashion and cocktail rings– proving there really is a Hematite ring for nearly every occasion.
Hematite Engagement Rings
Hematite Engagement rings make for an alternative or even boho statement. Wear them with care, and avoid wearing them in the shower or during intense activity to get the most longevity out of your ring.
Best Hematite Engagement Ring Collection: Neiman Marcus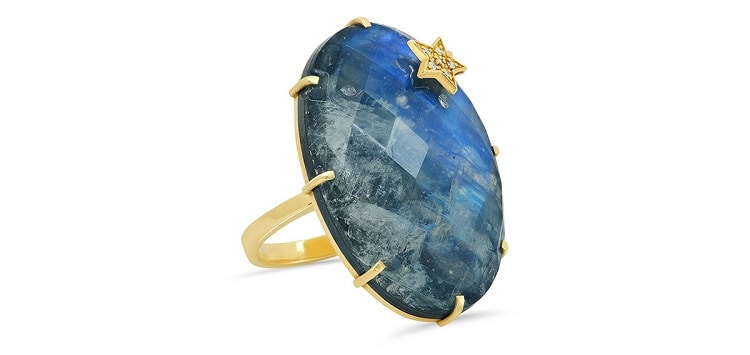 Neiman Marcus is about your best bet if you're searching for a collection of beautiful engagement rings. A boho meets vintage feel exudes from this collection, with both signature black and treated color Hematite. Diamonds pair with Hematite for a more luxurious and formal feel suited for an engagement ring.
Prices range from an Enchanted Forest Dome Ring for $450 to $3,700 for a blue-green Rainbow Moonstone and Hematite Oval Ring.
I like that other gemstones, as well as precious 14K and 18K gold are used to improve durability and elegance. Do note that you may need to have things resized, as rings are sold by size. Shop the Collection Here.
Best Individual Hematite Engagement Rings
Unfortunately, if nothing suits your taste for a Hematite ring from that collection, your best alternative is to search for individual rings through reputable retailers. You'll find that many reputable jewelers do sell not a collection, but a Hematite ring here or there. Here are some of my favorite options.
Doves Ring Hematite/Quartz Doublet 14K Rose Gold- Jared's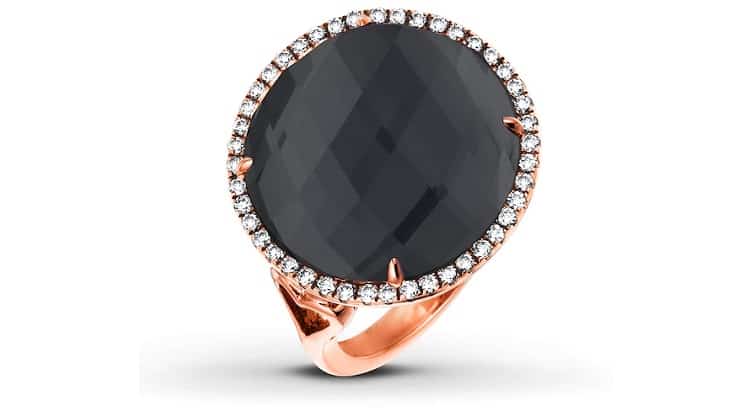 This gorgeous ring, now on clearance, comes from the Doves by Doron Paloma Collection. Round Hematite is covered with white quartz for added durability and beauty. Round diamonds add sparkle around the ring's center stone. It's available on a 14K rose gold band, beautifully crafted. Buy Here.
Hematite And Diamond Ring- Bianca Jewelers

This stunning ring is for someone who has a sizable budget– but the main reason I wanted to point it out was for design inspiration. From the Bianca Couture Collection, there's an easy elegance to the sleek 18K white gold band. The stone is a sizable 3.84 carats and surrounded by a halo of 2.08 carats of brilliant diamonds. Buy Here.
David Yurman Sterling Silver Hematite Diamond Moonlight Ring- Bella Tutto

This pre-owned ring is in excellent condition and provides vintage appeal, from the polished sterling silver band to the patterned diamond perimeter. With proper care, it's a classic and unique engagement ring for under $500. Buy Here.
Solid Hematite Bands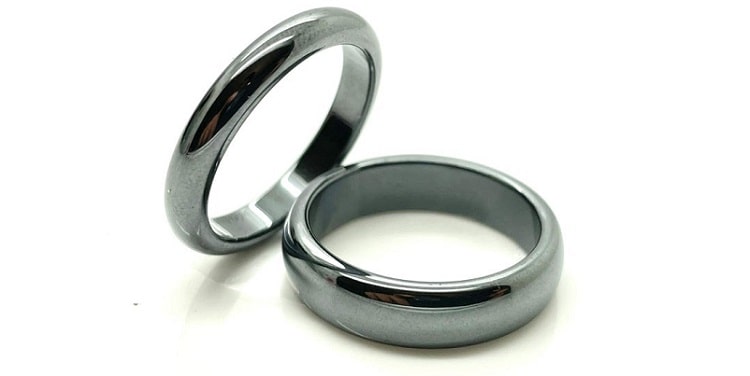 If you're looking for a wedding band replacement, a men's ring, or just a casual ring you can wear with about anything, solid bands may be the way to go. They're also about as affordable as you can get, depending on treated vs synthetic options.
Your best bet is to shop from independent artists. Online, Etsy is a great source of solid Hematite bands. Read the description of each listing to understand if you're buying treated or synthetic. Shop Etsy Hematite Rings Here.
Fashion and Cocktail Hematite Rings
Fashion, statement or cocktail– no matter your preferred term, there are some unique and alluring options for Hematite rings. These are suited for semi-formal occasions. Like black diamond cocktail rings, they make a splash with their unique look and dark color– but without the hefty price point.
Here are some individual Hematite rings for semi formal occasions that caught my eye.
Sterling Silver Hematite Cocktail Ring- Wolf & Badger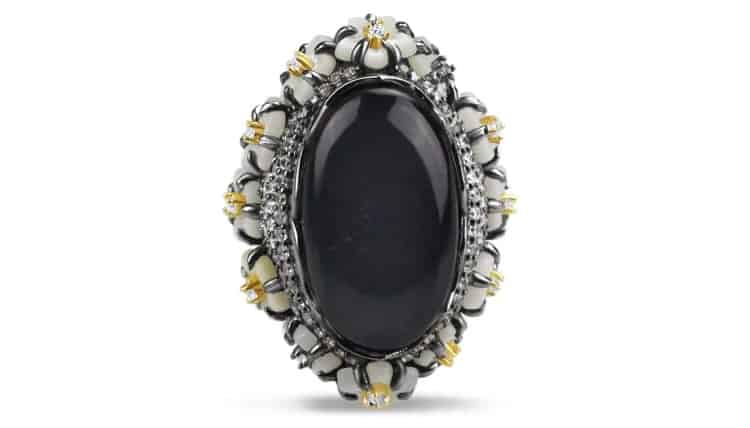 Taking inspiration from La Belle Epoque, this ring by designer Bellus Domina is eye-catching. Set on a 925 sterling silver band, it pairs Hematite with fused quartz and cubic zirconia for unique and unexpected scintillation. Buy Here.
Men's Vintage Hematite Cocktail Rings- Market Square Jewelers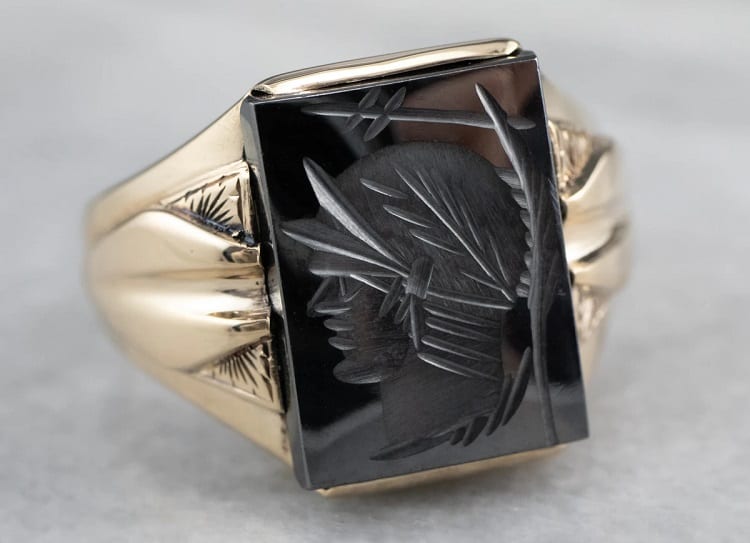 This collection features antique and vintage Hematite, including cocktail rings for men. Priced at a little over $500 to around $1,300, bold black Hematite pairs with ridged and well crafted gold bands for a look that would make Gatsby proud. Shop Here.
Enchanted Forest Ring with Hematite and Diamonds – Michael Arm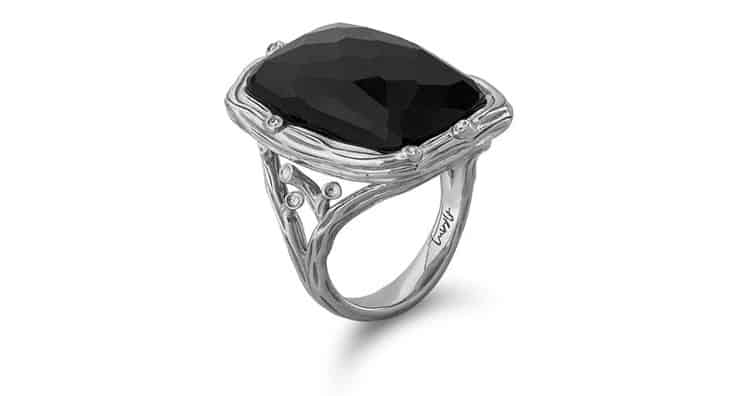 Said to take inspiration from the natural world, this cocktail ring has Hematite pairs with nature inspired looks. A ridged sterling silver band evokes branches, while the tiny white diamond accents evoke small buds. Buy Here.
Faceted Hematite Statement Ring- MS Jewelers (Etsy)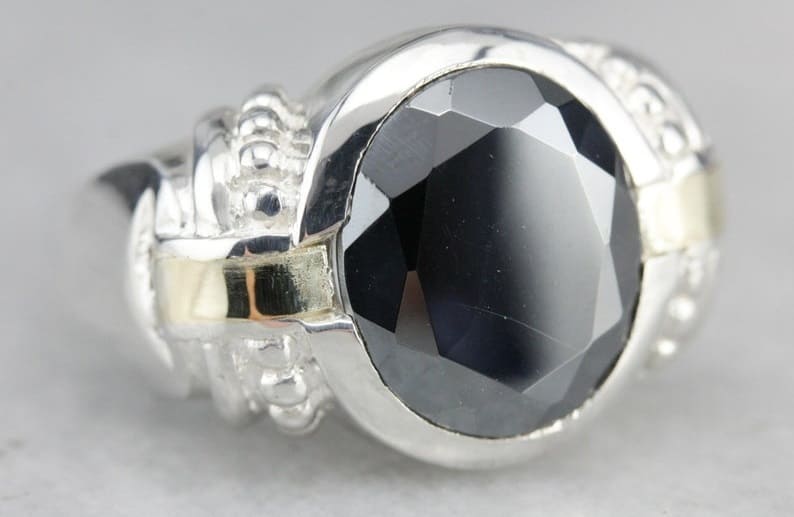 If you're looking for a Hematite cocktail ring for under $200 that offers the most luster, consider this option. By using faceted Hematite with a cabochon cut, you'll get the luster you wouldn't with other Hematite rings. The band is a mix of sterling silver and gold. Buy Here.
Frequently Asked Questions
Question: Can you sleep with Hematite?
Answer: Hematite is perfectly safe to sleep with. In fact, some believe that Hematte can promote relaxation and deeper sleep.
Question: What finger do you wear a Hematite ring on?
Answer: Hematite rings can be bought as wedding or engagement rings, and would be worn as usual. However, those who wear for casual purposes mostly commonly opt for the left hand. Depending on personal preference, Hematite rings are worn either on middle or index fingers.
Question: Does Hematite turn skin green?
Answer: If jewelry turns your skin green, chances are that you're having a reaction to copper. Real Hematite does not contain copper, and this should not turn your skin green.
Question: How can I tell if my Hematite is real?
Answer: There are a few ways to distinguish between real and synthetic Hematite. One way is to ask and verify through the seller; you could even seek a report through the American Gem Society or Gem Institute of America. You can also tell by examining it yourself.
Lines and grooves, as well as some inclusions or imperfections, and even streaks of red are all good indicators that you have real Hematite in your hands.
Final Thoughts
Hematite rings can be fun and affordable options for semi-formal, boho, and vintage looks. While not as durable as some other options, Hematite is a way to step outside of tradition and make a unique statement.