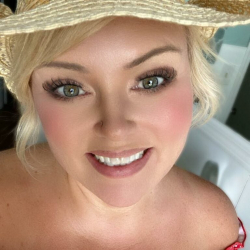 Latest posts by Kristen Swain
(see all)
If black, ebony, charcoal, ink, soot, and coal speak to your sense of style, then Onyx is the gemstone for you. Learn a little about the stone and its properties and find some inspiration for your next onyx ring.
All about Black Onyx
Onyx is formed from the mineral Chalcedony, which is banded in Quartz and Moganite in parallel lines to form Onyx. Chalcedony also makes up Agates, but they are swirled with bands of the minerals. 
It is very rare to find true Onyx, as many of the gemstones available are not true Onyx but are chemically enhanced agate. Agate is more plentiful and is typically chemically treated to form the desirable black Onyx color. Sardonyx is a red-toned onyx that is also popular. 
Black Onyx is the most popular type of Onyx, but there are Onyx gemstones that are available in white, black, blue, green, gray, yellow, and red. These gemstones often form the base of cameos and are known for their bandings of color, typically one color for the background, and the relief is the lighter color to stand out.
When Onyx is chemically treated, it is done through boiling in a sugar solution and then treating with hydrochloric acid. Jewelers can enhance the top layers of the stone to get a more desirable black color.
 These color enhancement techniques have been around since the first century. 
Nitric Acid is also used to lighten or change colors in the agate to get rid of undesired coloration. The most widely used artificial Onyx material is a banded Calcite which makes up the majority of carved Onyx items now. 
Historically 
Onyx has a long history of being used for carvings and jewelry. Cabochons and beads are popular uses for Onyx, as well as carving into Cameos. 
As far back as the Second Dynasty in Egypt, bowls and small pottery items were carved out of Onyx. Worldwide, It was also popularly used as a base for sculptures and figurines. 
And due to its black coloration, Onyx was often found in Mourning Jewelry created in the Victorian Era. The Onyx stone is generally considered a stone of bad luck.
In China, Onyx was mined by slaves and servants. The stone was considered bad luck to own due to fears of misfortune and bad dreams. Although it was considered unfortunate in China, the merchants there were able to trade it to Westerners who were unaware of the negative attitude towards the stone. 
When choosing a Black Onyx, look for a shiny luster, striping within the stone of bands of white, and no surface imperfections. 
Onyx Spiritualism 
Once known for its black color in mourning jewelry, many have shied away from owning Blak Onyx. Spiritually, it is known for helping to get rid of grief. It helps to stimulate positive decision-making and enhances self-confidence.
Onyx is known for giving its wearer strength and promoting energy. It encourages happiness. Onyx holds memories and helps to clear away bad Karma. 
Alternative Gems to Onyx
Jet- 

Jet is derived from wood that, under extreme pressure, became a hardened mineraloid. However, it is a very soft stone and scratches easily. Jet isn't being used in jewelry making for new jewelry but is available in vintage jewelry. Jet can be polished to a high shine.
Obsidian and Apache Tears-

Obsidian is a volcanic glass mineraloid. Apache Tears are Obsidian stones that are less than one inch in diameter. Obsidian fractures into extremely sharp-edged pieces when broken and has been used throughout time to make cutting tools. Obsidian is most often fashioned into beads and cabochons. It can also be polished into such a high shine that it has been used as a mirror. 
Black Tourmaline- 

This readily available crystal is found on every continent in the world. Its hardness makes it a great alternative to Onyx and for jewelry. Tourmaline in black coloration is not popular in fine jewelry but is extremely popular as a healing stone or crystal.
Black Sapphire-

Sapphire is one of the hardest stones compared to diamonds. It can be shaped and polished as well as cut into gemstones. Black Sapphire is considered a low-quality stone, so it is inexpensive. Looking within a Black Sapphire, you can sometimes see the color like a deep blue or gray.
Ring Inspiration: Top Picks
There are a wide variety of Black Onyx Rings available on the market. You can choose very inexpensive to high-priced rings depending on your budget. 
Statement rings
Angara- Black Onyx Triple Split Shank Ring with Alternating Halo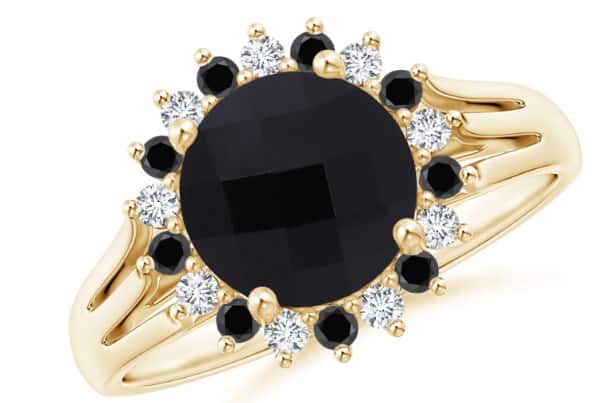 The Black and white classic design is the thought behind this design. Alternating Black Diamonds and White Diamonds sparkle in the halo around the center of Black Onyx. This gem-cut Onyx stone will shimmer and glisten in the light. The split shank is reminiscent of three rings with the ease of wearing a single ring. 
Gemologica- Simple Oval Cut Black Onyx Diamond Sterling Silver Ring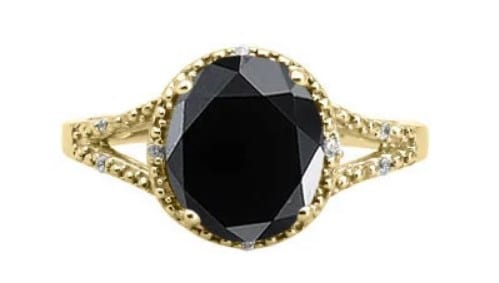 This large oval Onyx is gemstone cut to shimmer in the light. The split shank on either side of the solitaire is adorned with diamonds to sparkle. This is a more simplistic ring, full of subtle elegance. 
Gem Stone King 925 Sterling Silver Black Onyx Women's Engagement Ring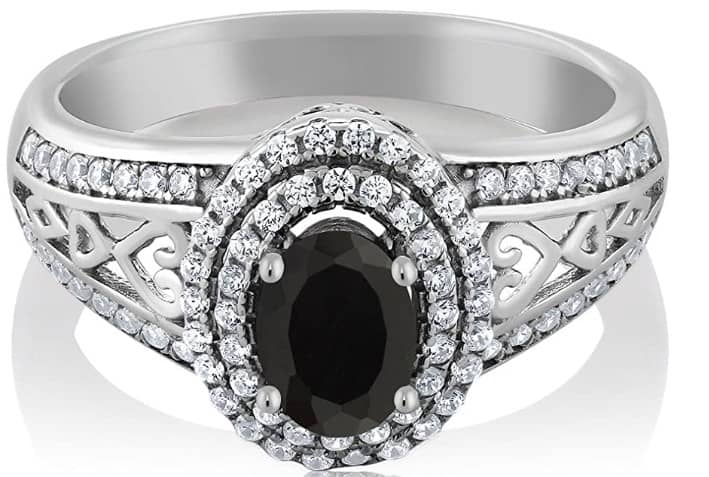 This ring is more than a simple single-stone engagement ring. The wideband features two rows of Cubic Zirconia and cut-out shapes. The solitaire oval Black Onyx is surrounded by a double oval halo of Cubic Zirconia. Customers complimented the ring as not being too tall and that it was a sturdy and well-built ring. 
Cameos 
Palm Beach Jewelry- Black Sterling Silver Cameo Oval Shaped Natural Black Onyx and Round Cubic Zirconia Ring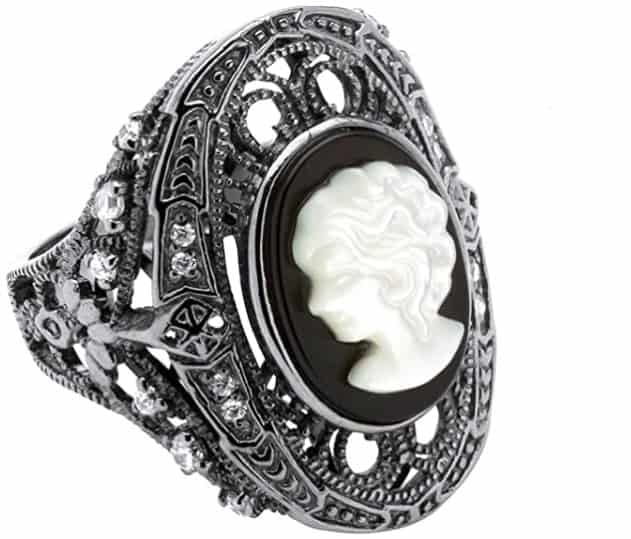 The amount of detail in this ring is astounding. This ring features a beautiful Cameo with Black Onyx and Mother of Pearl. The shank of the ring is adorned with six cubic zirconia on each side. The ring is made with Black Ruthenium-plated silver and has many intricate details all over it. An additional four cubic zirconia embellish the front of the ring. Customers loved this ring and exclaimed that it is a beautiful quality ring. 
Kramnik- Cameo Ring – Sterling Silver – Genuine Black Onyx and MOP Cameo – Natural Mother of Pearl – Marcasite ring – Vintage Victorian Jewelry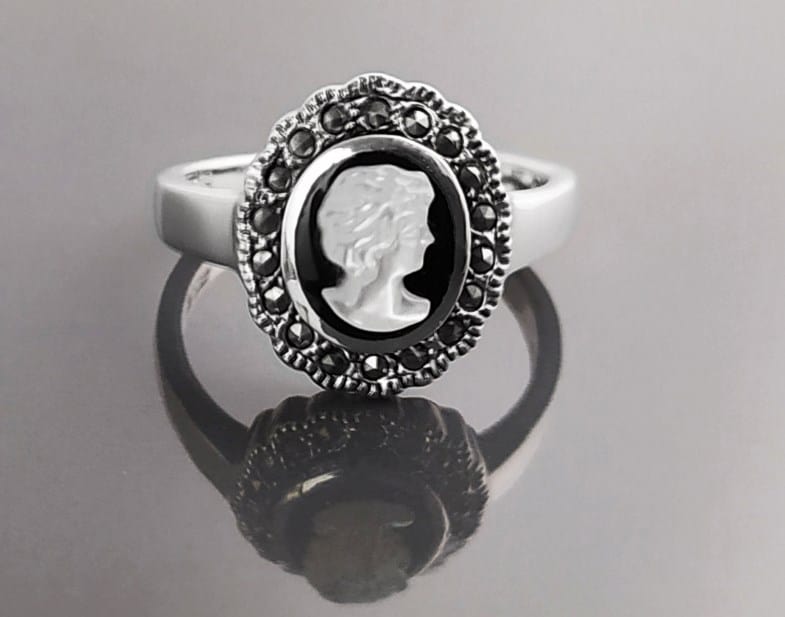 This detailed Cameo with Black Onyx and Mother of Pearl showcases the standard Cameo side portrait. The Marcasite stones that surround the Onyx Cameo will shimmer and shine in the vintage-looking head of the ring. The band is wider than a lot of more delicate rings and will fit well on any finger. 
Palm Beach Jewelry Oval-Shaped Genuine Shell Cameo Genuine Onyx 10k Yellow Gold Classic Cameo Ring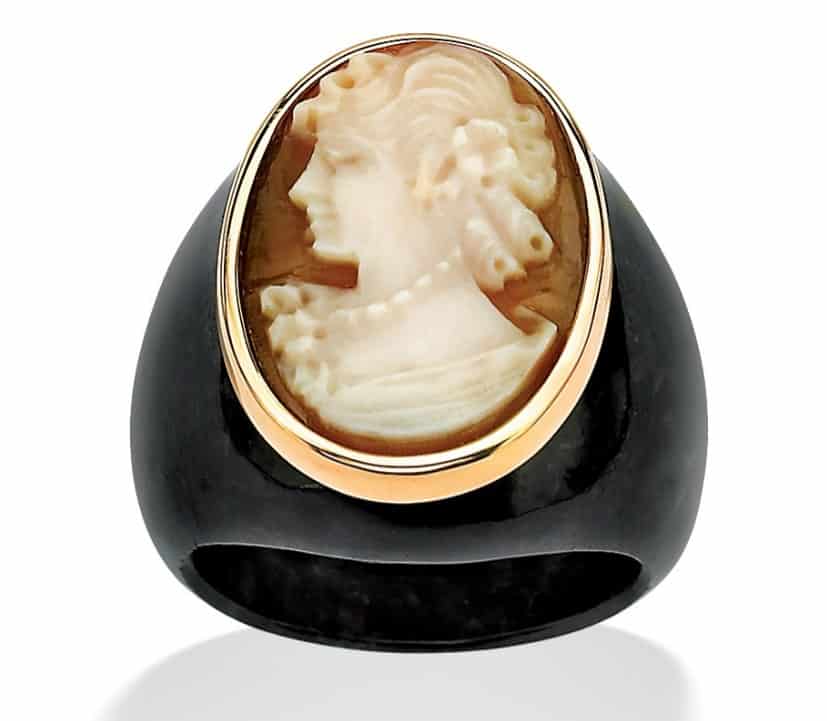 This ring is made from a polished and shaped piece o Black Onyx. The incredible Cameo is cut from and has a hand-carved Brown Shell. Highlights of Yellow Gold shine in a halo around the Cameo. This is truly a statement piece and will be the center point of your jewelry when you wear it. 
Stackable rings
Glamira- Ring Patricia Gold Black Onyx Eternity Ring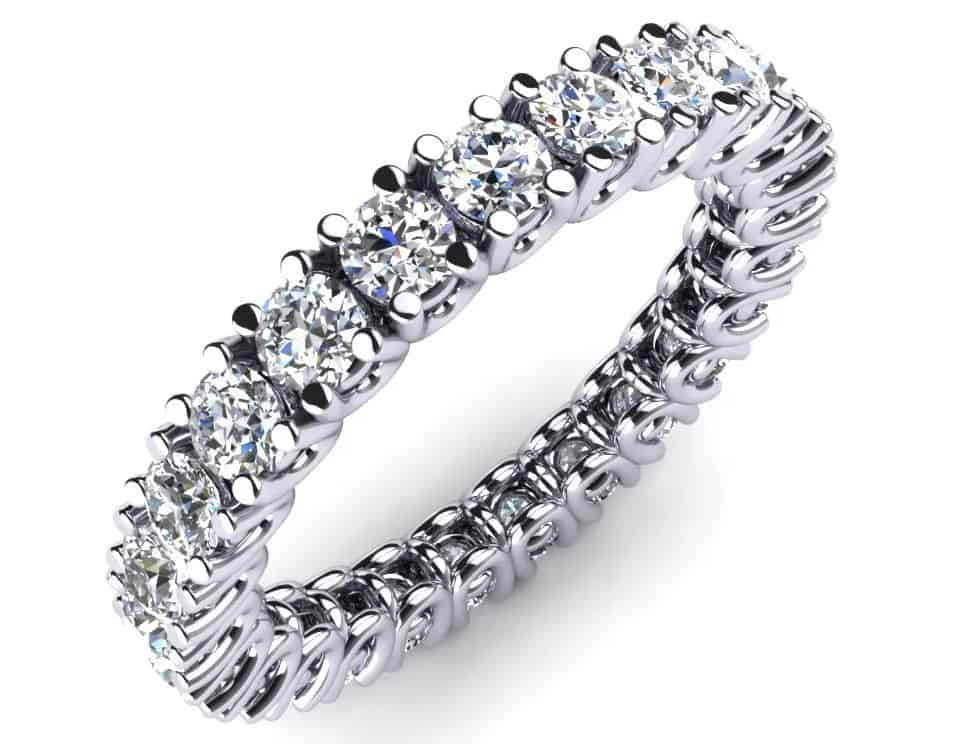 Stunning deep Black Onyx after Black Onyx encircle your finger when you wear this Black Onyx Eternity Band. The shining White Gold setting offsets the darkest night color of the gems. Twenty-five Black Onyx decorate this ring, perfect for stacking or as a wedding band. 
Black Onyx Ring – Clear Quartz Ring – Tiny Ring – Stack Ring – Bezel Set – Crystals Ring – Half Eternity Ring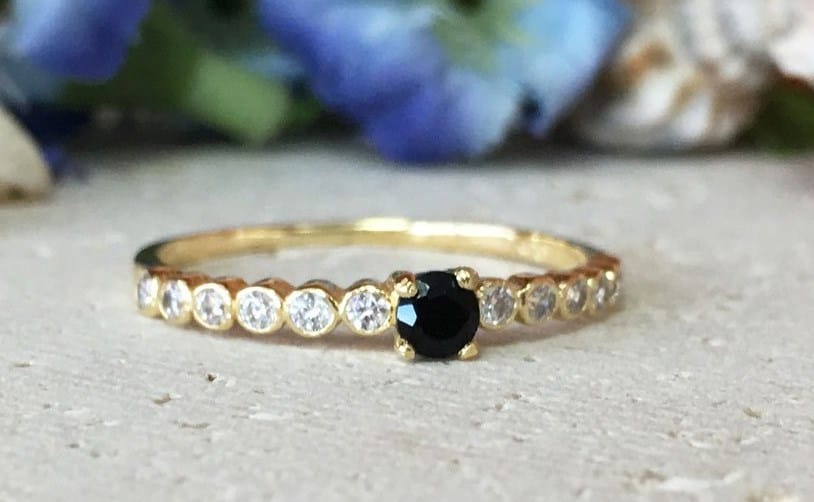 Tiny, delicate, and so sweet. This enchanting little ring features a small Black Onyx in the center of twelve diminutive clear Quartz gems. The ring comes in a customizable setting choice of filled gold or sterling silver. This ring is delicate enough to wear as a single or to stack quite a few rings for a unique look. 
925 Silver Jewels- Black onyx half eternity ring wedding ring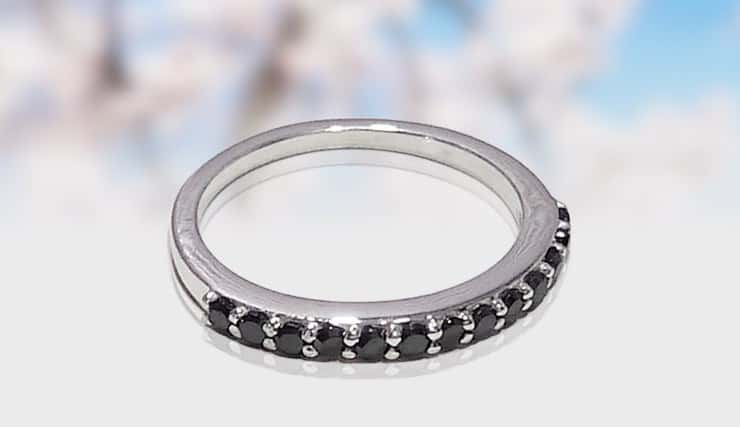 This half eternity ring could pair well with a Black Onyx center stone engagement ring. Choose to create a truly unique wedding set. This ring would also make a terrific stackable ring and can also be worn as a simple single ring. The Black Onyx stones adorn the top of the band and will shine with their own deep black glow.
Everyday Rings
Glamira Ring Efrata White Gold / Black Onyx & Swarovski Crystal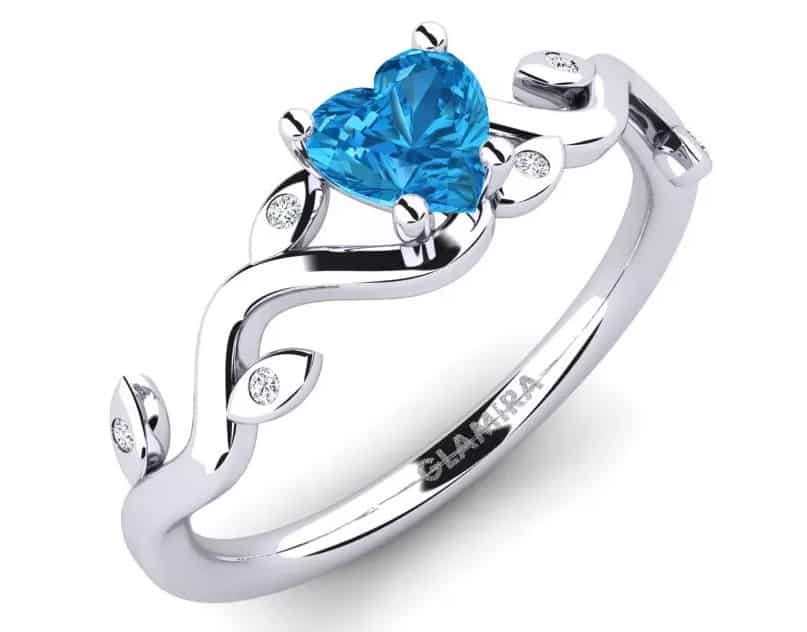 The sweetheart solitaire ring: this ring is absolutely going to win your heart. The center stone is a heart-shaped Black Onyx, and the shank of the ring is adorned with a trio of delicate leaves. Each leaf features an embedded single Swarovski Crystal.  
Wedding and Engagement rings
Glamira- White & Rose Gold / Black Onyx & Swarovski Crystal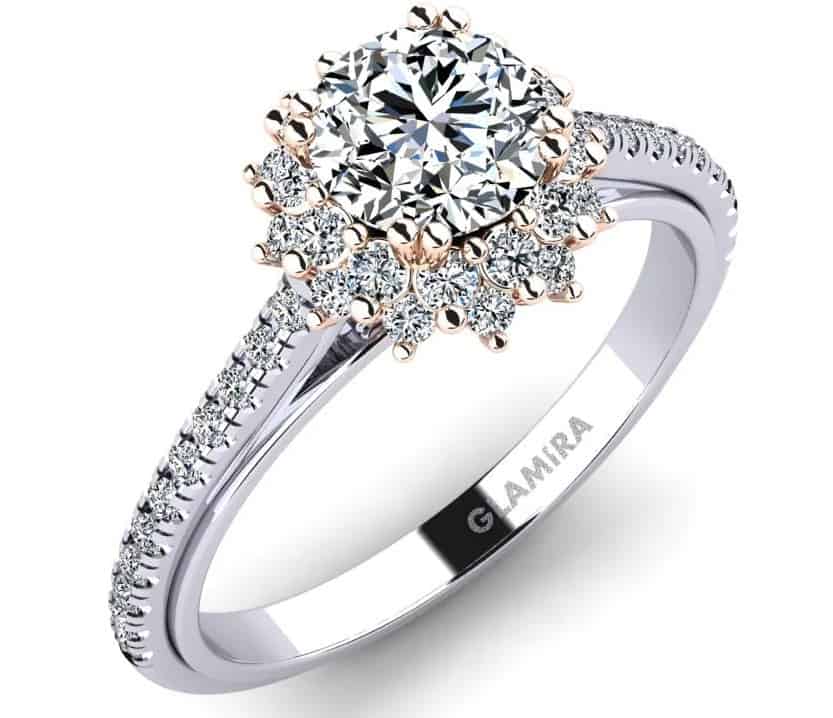 This flower-styled ring features the darkest black Onyx with a double-stacked halo of crystals. It is customizable with other gemstones to create your own fashion look. The white-gold setting sits the round Onyx stone higher than the surrounding crystals. The prongs for the gems are in rose gold, which adds a pretty touch. The additional gems that line the shoulders of the band add even more sparkle to the beautiful ring.
Zales- 1 C.T. T.W. Enhanced Black and White Diamond Split Shank Engagement Ring in Sterling Silver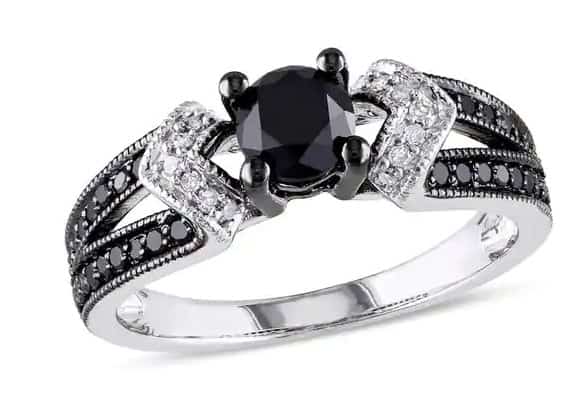 Two chevrons of White Diamonds fold back from the Black Onyx solitaire. The shoulders of the band are adorned with pave' Black Diamonds. Milgrain detailing allows the Sterling Silver to sparkle in the light. This is the engagement ring to stun her. The classic black and white colors are simple and elegant in a ring that is not simple at all.
Angara- Classic Black Onyx and Diamond Three Stone Engagement Ring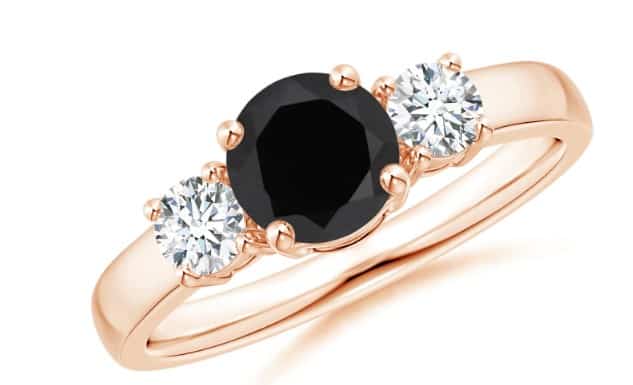 This simple-styled Onyx engagement ring is adorned with two diamonds on either side of the center stone. Made with Rose Gold, the ring is stunning, and the top of the pink gold stands out. Although the Onyx is deep black, the two diamonds make the ring sparkle, and you will love the uniqueness of an Onyx engagement ring.
FAQS
Question: Is Onyx an expensive stone?
Answer: Black Onyx is the most valuable color of Onyx, while there are other colors available. The stone is usually valued along with the gemstone setting. Onyx is valued anywhere from $1 to $500 a carat.
Question: What colors can Onyx be?
Answer: Onyx can come in a range of colors; blue, red, green, brown, and gold are common colors, and each variation is also veined uniquely as well. Lighter colors of Onyx can be more translucent.
Question: Can Onyx get wet?
Answer: You should only ever wipe Onyx with a barely damp soft cloth and then allow it to thoroughly dry before being put away. Onyx is porous and can absorb liquids. Never soak an Onyx in any liquid. 
Question: What does Onyx symbolize?
Answer: The alternating bands of black and white in Onyx symbolize a harmonious union of love; it is known as a protector of relationships. Therefore it makes a good engagement ring solitaire.
Question: Can you wear Onyx every day?
Answer: Onyx is fine to wear every day. It is easy to clean, and the stone is most durable. Beware not to damage it with rough handling, and your stone will stay in great shape. Since Onyx is black, it pairs well with any other color that you would like to wear.
Conclusion
While Black Onyx is a beautiful, deeply colored stone, treated Onyx is far more beautiful and deep-toned than natural Onyx. While this gem is pretty, my recommendation would be to keep the purchase as a costume piece of jewelry and not go for an expensive Black Onyx ring. Black Onyx simply isn't going to increase much in value in the future, and there are better quality stones available for investment pieces. Buy your Black Onyx, but wear it only occasionally and take care not to damage it or handle it roughly.