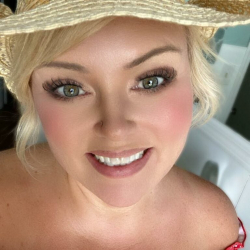 Latest posts by Kristen Swain
(see all)
You want the perfect Pearl ring but aren't sure where to start the journey to learn about this popular gem. Let's discover Pearl together and be inspired to find the Pearl ring that belongs in your jewelry collection. 
All About Pearls
There are two kinds of Pearls- natural and cultured. What that means is Natural Pearls form when an irritant forms inside an oyster's soft tissue and its natural defense is to form layers around the irritant. These secretions are called Nacre, and this is what creates the Pearl.
Cultured Pearls are made in much the same way. Instead of a natural irritant, pearl farmers place a shell seed inside of the small Oyster. The Pearl then grows naturally inside the Oyster while being protected from storms, animals, and pollution. 
Natural Pearls have become almost extinct in the wild, and it is thought that there aren't many left to be found in the ocean. Cultured Pearls are just as beautiful but are more affordable and eco-friendly than obtaining natural Pearls. Pearl divers risk their lives to try to find the gems and can destroy hundreds of thousands of oysters in their search for Natural Pearls.
Pearl is also the June birthstone. Pearls symbolize wisdom that has been gained through life lessons. They attract good luck and offer protection in mysticism. They are also said to symbolize the wearer's purity.
Colors of Pearls
The most desired color of Pearl is white. However, Off-white, cream, and silver are very popular as well. Black, yellow, pink are the most popular non-white toned colors. Because of their luster, Pearls often have a secondary overtone color, making the color of the white more cool-toned or warm-toned depending on that color. 
Some of the colors of a pearl are determined by the outer part of the Oyster's shell or the lip of the mollusk. This is why the Black-Lipped Tahitian Pearl Oyster producers light to dark grey Tahitian Pearls.
 Sea of Cortez and Tahitian Pearls are the only naturally occurring Black Pearls. Other Black Pearls have been dyed. Tahitian Black Pearls have a deep color of grey to black, but they have overtones with coloration, much like oil-slick products. 
Both Natural and Cultured Pearls come in a multitude of colors, from golds and pure white to all colors of the rainbow. South Sea Pearls are the largest variety of Peal and are a variation of golds and white. Freshwater Pearls from China are kaleidoscopic colorations and come in a variety of sizes and shapes.  
Dyeing Pearls is a common-place practice. Your jeweler should notify you of any artificial treatment on your Pearl. Treatments can begin from tumbling the Pearl with beeswax and epoxy substances to fill in and spot treats various chips or pits to heat treatments and dying to match colors. The treatments are done for color matching Pearls to create a piece of jewelry like a necklace or a matching jewelry set. 
Variety of Pearls
There are five types of cultured Pearls-
Akoya
Produced mainly in Japan, these are most famous for being the highly sought-after round white Pearls. While there are dyed Black Akoya pearls, these color to a midnight blue-black coloration. The best Akoya Pearls are known as "Flower Pearls." 
Tahitian
Grown in French Polynesia, Tahitian Pearls are one of the largest Cultured Pearls. These Pearls, grown in the black-lipped Oyster, come in a variety of greys from light dove grey to deep charcoal grey and are known to have overtones in various colors of greens, blues, and purples. These Pearls must have a minimum nacre thickness of .8 mm before being exported. 
Freshwater
These Freshwater Pearls are the least expensive Pearls on the market, as they are the fastest forming Pearls. They are farmed in China in freshwater lakes, both natural and man-made. Most Freshwater pearls are naturally colored in pastel colors, but black dyed Freshwater Pearls have iridescent blue-green and purple hues and are referred to as Peacock. Freshwater Pearls are the most durable Pearl and are almost 100% nacre. 
South Sea Pearls
Only wild oysters are bred to maintain the diversity of the oyster population, being released back into the wild after breeding. These Pearls are farmed along the coast of Australia and the Philippine Islands. The oysters used are Silver and Gold-Lipped Oysters, creating white and gold varieties of Pearl. They also have the thickest Nacre of all saltwater Pearls.
Sea of Cortez
These Pearls are grown only on one farm in Mexico; this farm only produces about 4,000 Pearls a year. Growing in Rainbow-Lipped Oysters, the colors are the most intensely colored of all naturally occurring colored Pearl. The most special thing about these Pearls is that they fluoresce under UV lighting. 
Pearls in History
There are several famous Pearls in History. The most famous is The La Peregrina Pearl (The Wanderer) was discovered in the 1500s and was owned by the King of Spain. The King gifted it to his wife and since then has been owned by queens of both France and Austria, the Bonapartes, a British Marquis, and Elizabeth Taylor. 
The Pearl of Allah is the largest Pearl ever found, weighing in at 14 pounds. The second-largest is the Arco Valley Pearl, which was once owned by Marco Polo, gifted to him by Khubilai Khan.
Pearl Rings Inspiration
There are thousands of styles of Pearl rings to choose from online and in retail stores. Let's take a look at several of the Pearls mentioned above and narrow our choices.
Engagement Pearl Rings
This incredible golden South Seas Pearl is extraordinarily beautiful. The soft glow of the golden Pearl shines out from the white gold setting. A trio of diamonds at each side adds bright sparkle as well. The setting cradles the round Pearl and allows it to sit up on your hand to stand out.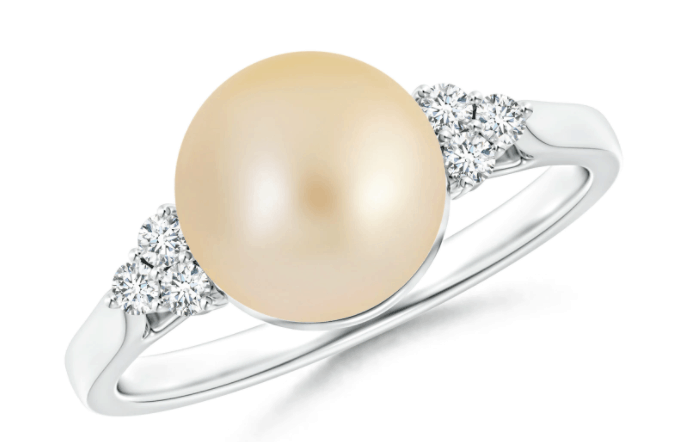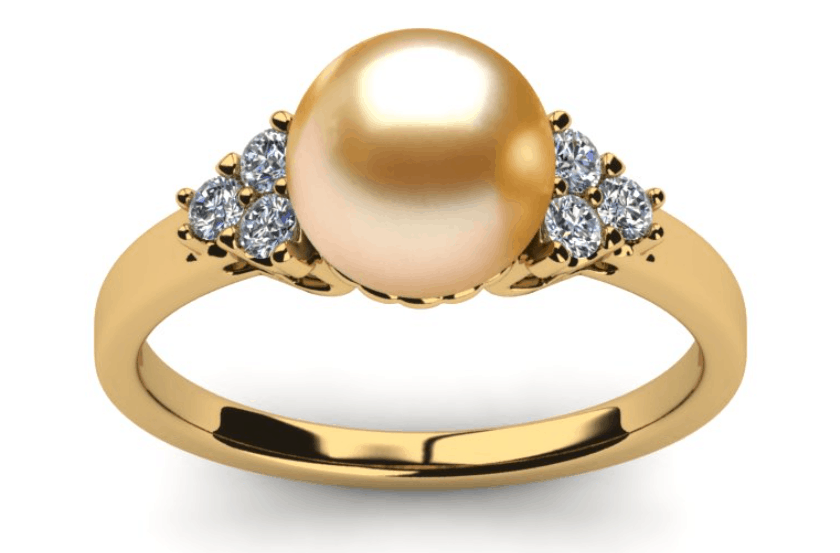 This deep gold South Seas Pearl is set onto a simple yellow gold band. This engagement ring is meant to match with a diamond wedding ring and showcases the amazingly beautiful South Sea Pearl. The Pearl is accented on either side with a trio of diamonds, but you could choose the side stone color as well.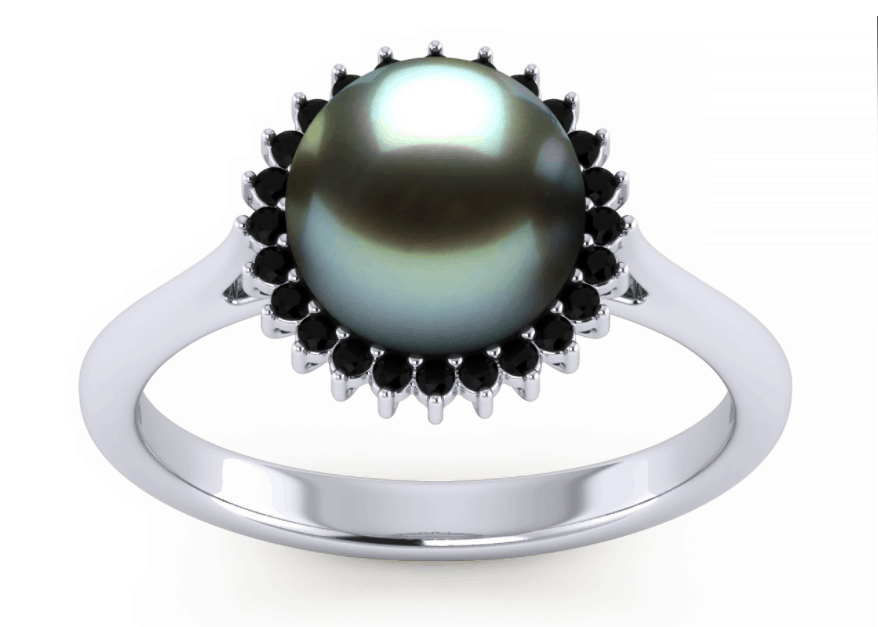 This ring stuck out because of the beautiful Tahitian Black Pearland with a gorgeous Peacock tone. Haloed by black diamonds, this ring stands out just for the unusual mix of stone and Pearl colors. What an unusual and stunning engagement ring this is!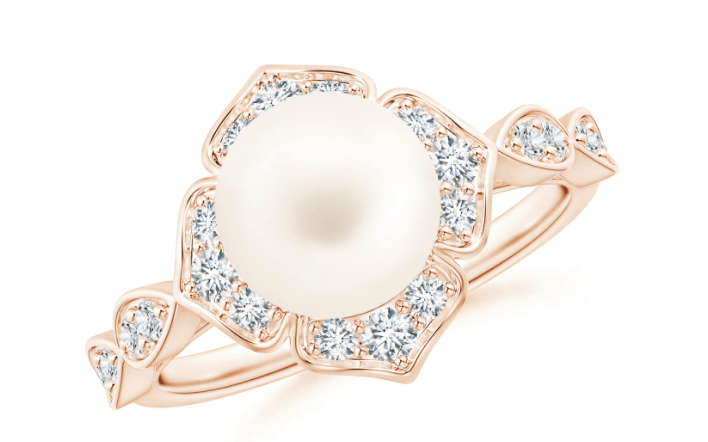 Inspired by a certain celebrity's Pearl engagement ring, I had to include a similar ring. The floral halo is gorgeous on this ring, as well as the diamonds on the shoulders of the band. The Freshwater Pearl rests daintily on top of the four diamond-adorned petals. This is such a delicate and pretty ring. 
Stackable Pearl Rings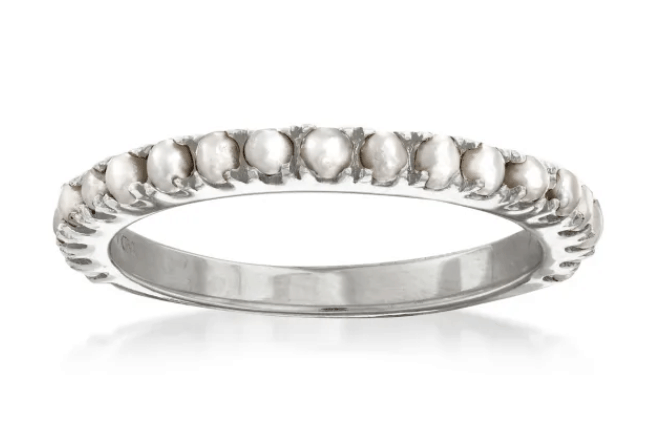 Do you love the look of infinity-style rings? I do, and this Pearl infinity ring stands out. Whether you chose to wear it as a stackable ring or even as a wedding band, this ring is beautiful enough to wear alone. Each Pearl is cradled in the silver setting, and each little freshwater Pearl glows from within.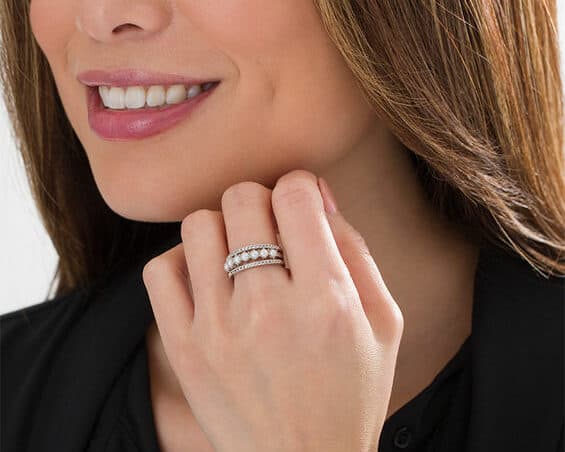 This beautiful Pearl and White Topaz ring looks like three separate rings but is joined together underneath. Seven Freshwater White Pearls adorn the center ring and glow softly. The two outer rings sparkle with White Topaz for a little glitz. This is a thicker style band that could function well as a wedding band.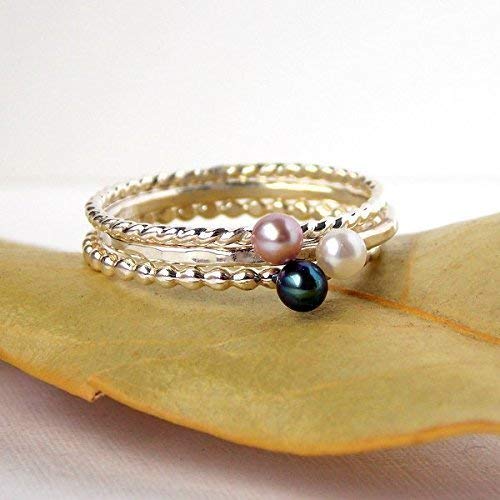 Pink, White, or Black tiny Freshwater Pearls adorn your choice of ring. These .925 Sterling Rings are so cute and tiny; you can add one or more to your finger and not look bulky or overdone. These are such sweet little Pearl rings. 
Statement Pearl Rings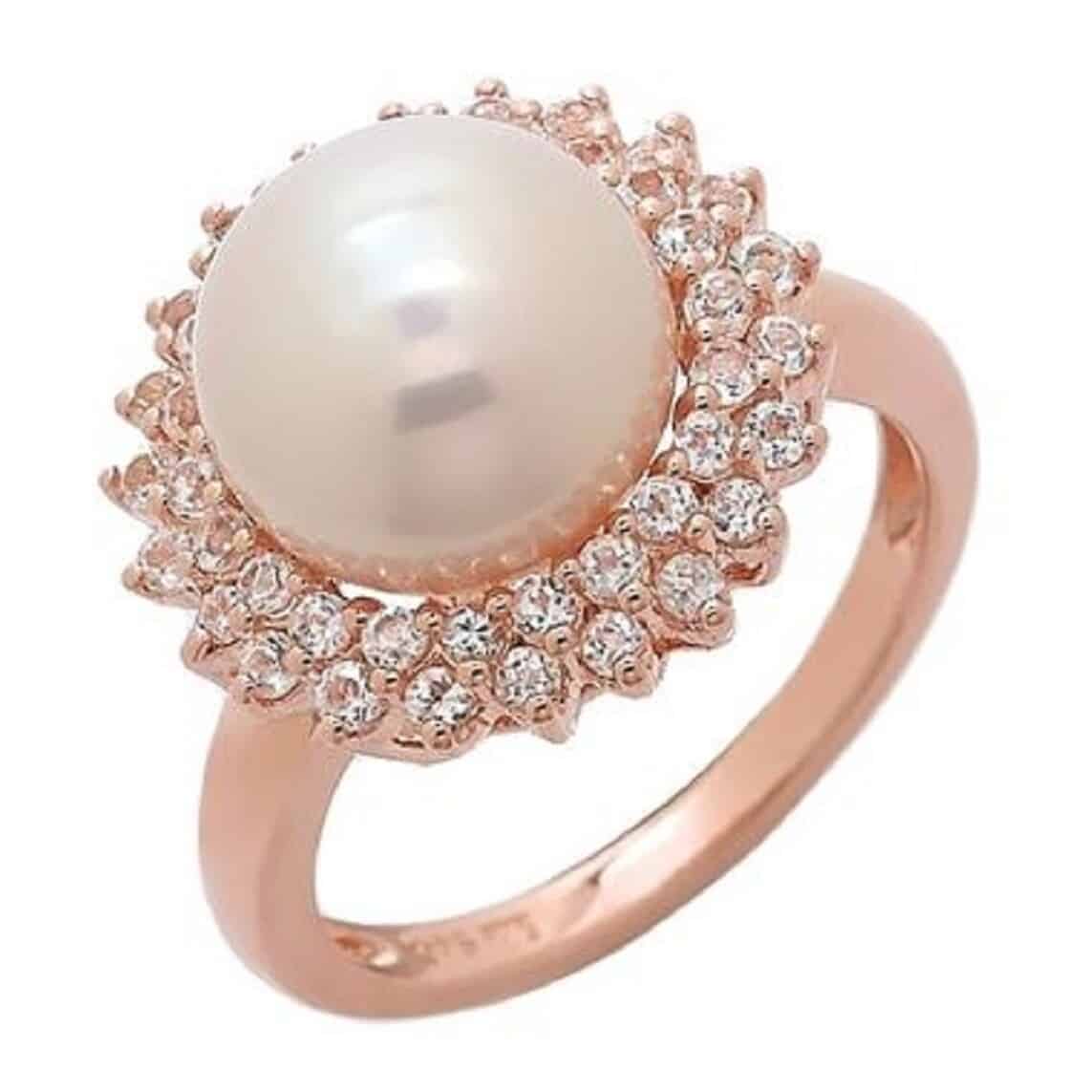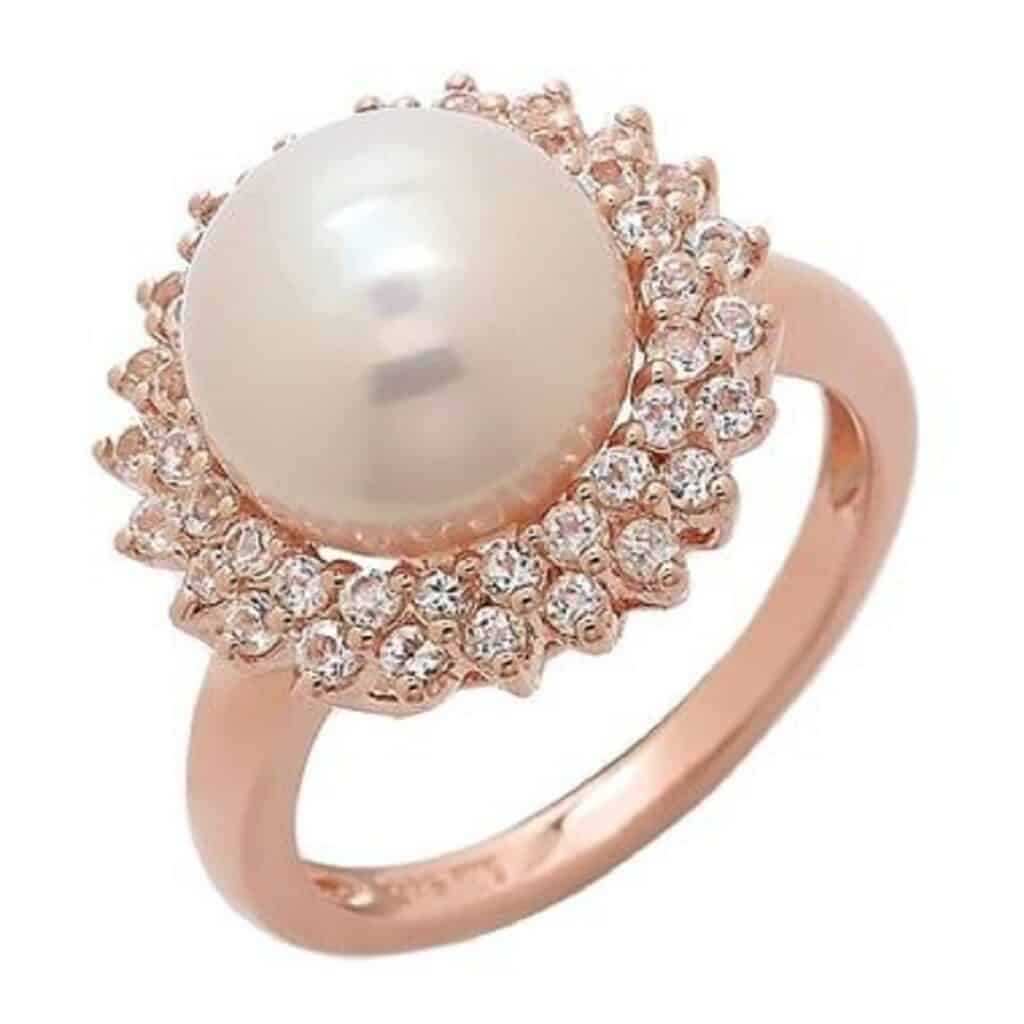 This rose gold single large solitaire Freshwater Pearl ring is so beautiful! The double halo of White Topaz really sets off the pink overtone of the Pearl. It's a perfect single large Pearl that is truly a statement piece. The rose gold setting really accentuates the beautiful Pearl as well.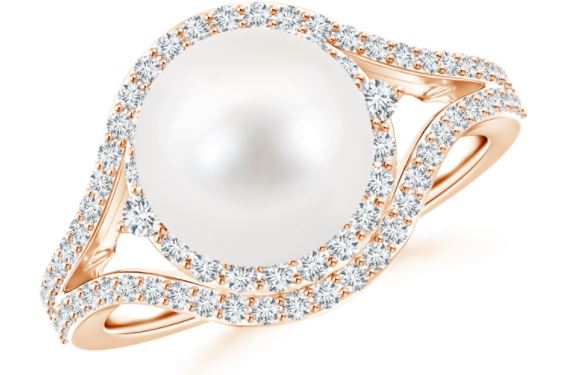 The soft rose gold coloring on this ring almost looks like yellow gold. However, the split halo around the Pearl adds a lot of sparkle and interest to the ring. The Pearl with diamond halo almost floats in the center of the ring. The diamonds along the split shank also will glitter well, accentuating the Freshwater Pearl glowing at the center of the ring.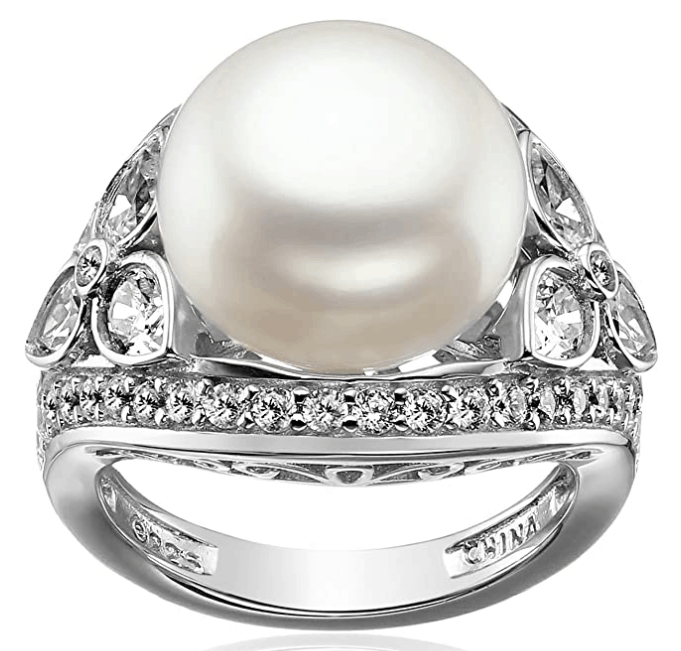 The sheer beauty of the artful floral design filled with Zirconia sparkles so prettily. The lustrous white Pearl perched on the top of the ring is large enough to balance the ring out. This piece stands out as it is Platinum-plated as well as decorated with the extra brilliant Zirconias. The band is also decorated on the side, with filigree, which allows light to reach the white stones and add more glitter effect.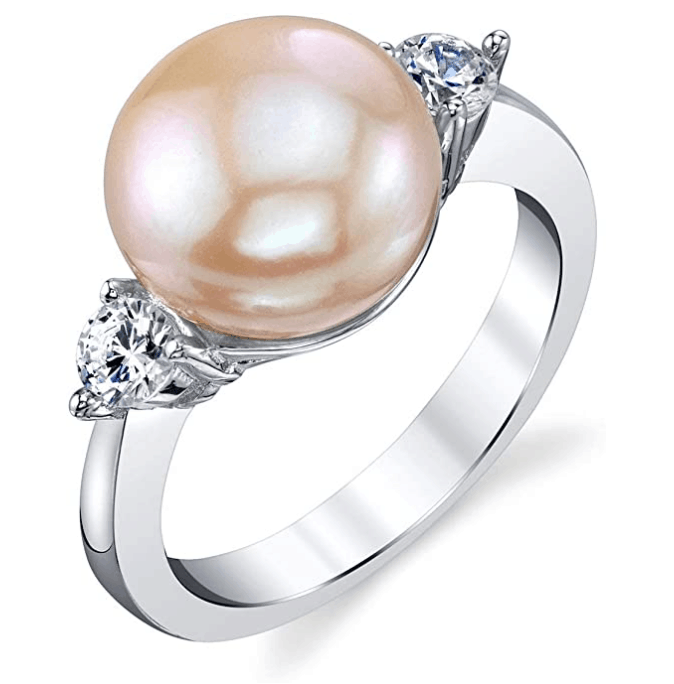 This single large Pink Pearl stands out on the Sterling band. The two cubic Zirconia on either side add a touch of sparkle, and the silver setting allows the Pink Pearl to stand out. This is a great ring choice to try out a fun statement piece, and the Pink Pearl is softly pretty for a great choice for a colored Pearl.
Alternatives to Pearls
You are in love with Pearl, but perhaps it's too delicate for your daily activities, or you want to purchase a gem like Pearl but consider it too plain. Maybe you are looking for a more vegan-friendly alternative, so here is a list of gemstones that you can substitute for Pearl.
Moonstone
This gemstone resembles a cross between an Opal and a Pearl. It has shimmery colorations on a surface that shines from inside. Moonstone comes in various colors, but colorless is the most valuable. This gem is most often polished and shaped into cabochons but is available as a cut gem as well.
Mother of Pearl
Directly related to Pearls, Mother-Of-Pearl is the Nacre that forms Pearls. However, it is still considered a gemstone. The Nacre forms as a thin layer on the surface of the shell, and jewelry pieces made of it are usually a larger size.  
Alexandrite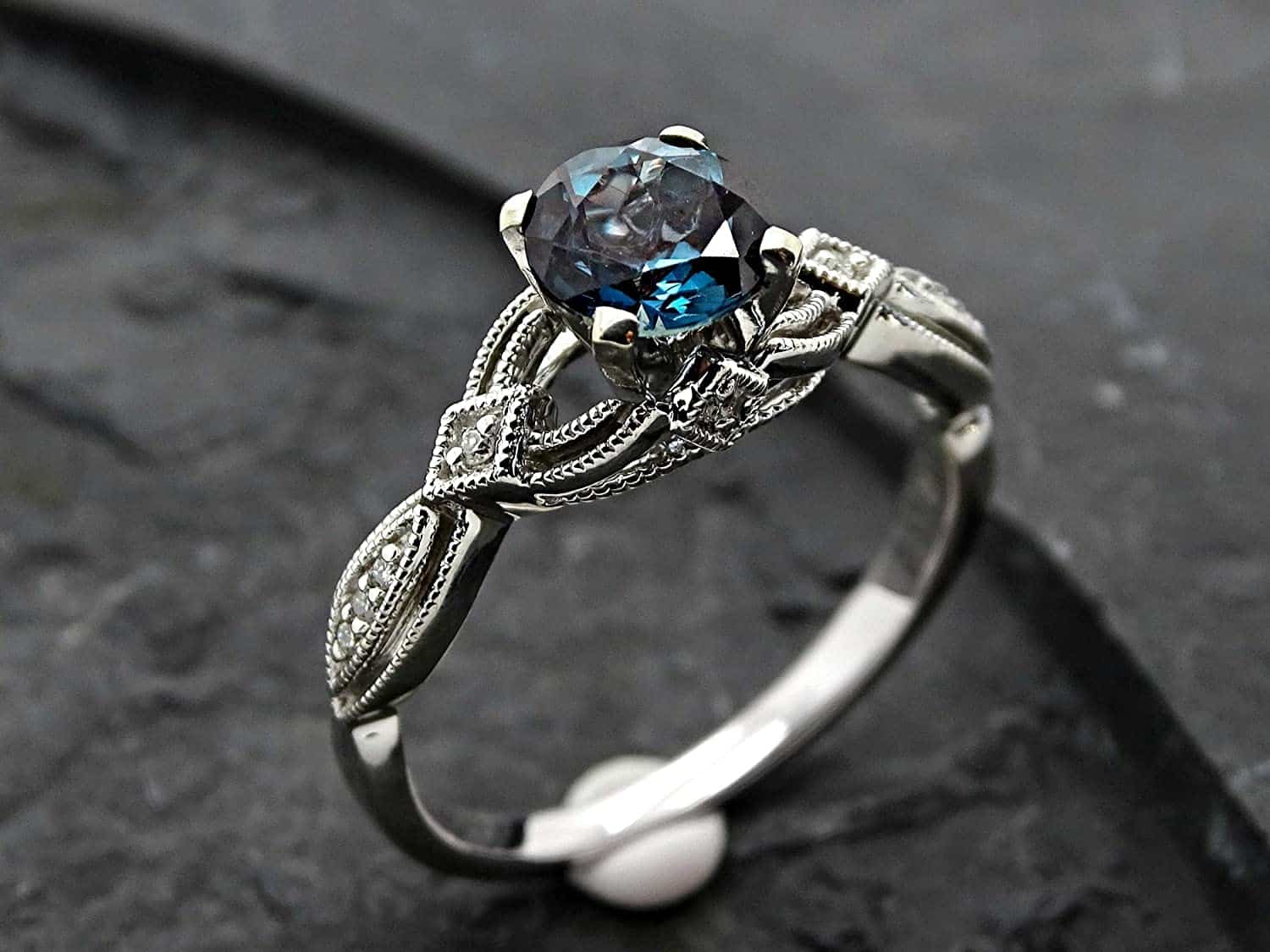 This translucent gem changes color depending on the light source. Firelight often makes the gem purple-red toned, but in sunlight, it is teal-toned. This gem is a June Birthstone alternative.  
FAQ
Question: How do I value a Pearl?
Answer: Pearls are valued according to several factors. 
Type- Pearls from the South Sea are the most valuable.
Shape- Perfect roundness is the most popular and is the most expensive. 
Sizing- The larger the Pearl, the more value it holds.
Coloring- Dependant on the need, Pearls come in a large variety of natural colors. 
Surface Quality- The smoother and more perfect the surface of the Pearl, the higher the cost.
Luster- Pearls must have that Pearlescent luster inside, and the deeper the luster, the more value the Pearl has.
Question: How do I clean my pearls?
Answer: There are some dos and don't with keeping your Pearls at their best. 
Do clean with a soft cloth after every time you wear them.
Don't wipe them with a wet cloth very often. 
Do let them dry thoroughly after wiping.
Do lay them down to store them.
Don't hand them as they will stretch out.
Do put them on last and take them off first.
Don't spray perfume or apply makeup with them on, as the oils may damage them.
Do wear them often.
Please don't keep them in too dry an environment as they need moisture to stay supple.
Question: What is the rarest color of Pearl?
Answer: The rarest naturally occurring color of Pearl is blue. They can have deep dark blue overtones to very light aqua color overtones. They are also highly valued and priced accordingly.
Question: What is the rarest Pearl?
Answer: The rarest Pearl comes from a sea snail and not a mollusk. It is produced by the Melo Melo, a gastropod, around Thailand. These orange-yellow Pearls shine with luster from within and have flame-like patterns.
Question: Do pearls lose their luster?
Answer: Pearls can lose their luster if they get too dried out; your skin oils can help keep their sheen. If they begin looking a little dull, wear them for a few hours to help improve the shine.
Question: What is so special about pearls?
Answer: Pearls are classified as gemstones. However, they are the only gemstone that is produced by a living creature. Also, Pearls do not require polishing, cutting, or any other gemstone improvements before use except for mild cleaning.
Question: How do you wear pearls fashionably now?
Answer: In current fashion, sporting a large statement piece has become quite popular. Mixing sizes and colors of Pearls is also a fashion trend. One of the most popular ways to wear Pearls today is combining various necklaces and including a Pearl Stand among them.
Conclusion
Pearls are a gorgeous gemstone that often brings elegance and grace to every wearer. The perfect pearl ring is out there, whether you want to combine your purchasing power and invest in a whole set or a simple ring. My favorite Pearl ring is a deep gray, single Pearl with a diamond accent, the elegance and simplicity match with every look. Just be careful not to be too rough, or soak your Pearl. And, of course, be sparing with your use of hand sanitizer.