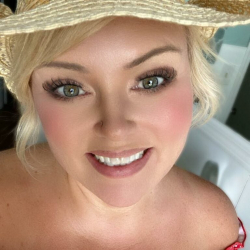 Latest posts by Kristen Swain
(see all)
The Opal is an exquisite gem full of fiery rainbow colors, and to wear it in a ring on your hand is to harness that fire. So let's explore some ring options to help inspire you to find your perfect opal ring.
What is Opal?
Seasonal rains in Australia's outback drenched the ground and soaked deep into the ground, dissolving silica and carrying it farther underground. When the water evaporated, it left behind the silica in fissures of underground sedimentary rock, forming Opal. Australia is responsible for about 80% of the worldwide opal mines. 
The colors in Opal are from the light bending through gaps between the silica spheres and then splitting into different colors of the rainbow. This iridescence or play-of-color is what makes Opal a semi-precious stone. 
While Opals do come in a variety of colors, the best is considered black because of the brightness that the iridescence flashes out of the black background. Opals most commonly are white, grey, or green, but black is the rarest and most expensive. 
Opal is most often cut into a cabochon shape to display the inner brilliance of the stone. Opal is a softer stone, and cabochons show minute scratches much less than a cut stone would. Most often, opaque gems will be shaped into cabochons rather than cut.
The most valuable Opal is precious Opal. The gem displays a play-of-color or iridescence throughout the stone, whereas the non-precious or common Opal does not. 
History of Opal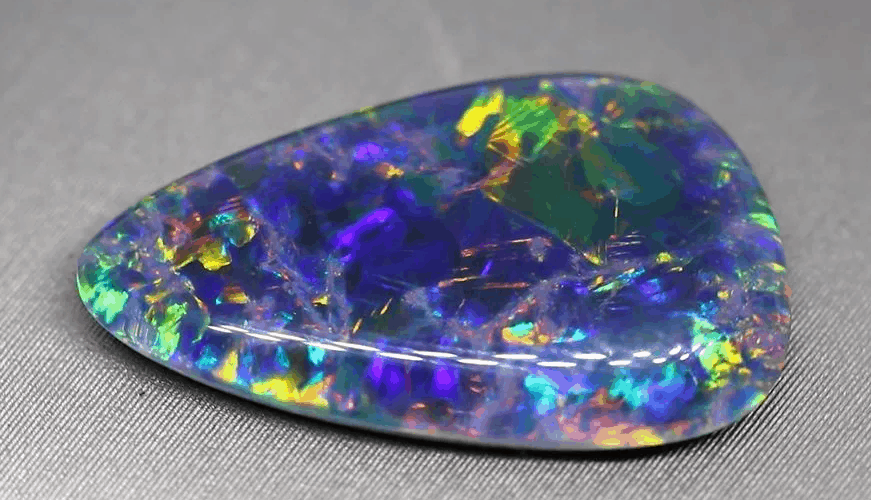 Throughout history, Opals were considered the luckiest and most powerful gem because they show all colors. Therefore, Opal is loved by those who believe in the spiritual properties of gems for their healing powers and are very desired in Asian Culture for the belief that they are lucky for business.
Opals are only second to the emerald as the stone of Kings. Opals were set in the crown jewels of France, and Napoleon gave Josaphine a red opal named 'The Burning of Troy". Queen Victoria brought them back into fashion by wearing them throughout her reign, including in a ring her aunt, Princess Mary, gave to her. 
Earlier, Marc Antony was known for his adoration of the stone and banished a Senator for refusing to sell an almond-shaped stone that Antony wanted to give to his lover, Cleopatra.
Early Romans gave the stone its name "opalus," which means precious stone. Romans enjoyed wearing gems and thought that the Opal was more precious than pearls and diamonds because it held all colors of the rainbow. However, it fell out of fashion after being associated as a bringer of the Black Plague.
Why is Opal considered unlucky to wear?
The Opal has long been portrayed to be unlucky for the wearer. Throughout history, it was considered a lucky stone. Ancient Greeks believed it guarded them against disease. It was also known as the 'eye stone' and believed that it was vital for good vision. 
Some other mystical beliefs associated with the stone are that it is considered lucky and as a symbol of hope. Blondes wore the stone to protect their hair from the color fading out, and the Greeks thought opals could give you clairvoyance. In the middle ages, Opal was considered to be associated with the evil eye, as the play-on-colors closely resembled the eyes of animals considered to be evil. 
However, Spanish King Alfonso XII married Princess Mercedes and was given an opal ring from his jilted lover, Comtess de Castiglione, who wore the ring and perished just two months later. The ring was gifted to his sister, sister-in-law, and grandmother, all who died shortly thereafter. Stricken with grief, he put the ring on his own finger and experienced the same resulting demise. At the time, Cholera was raging through Spain, and an estimated fifty percent of the population died from the disease, the more likely culprit of their deaths other than the opal ring. 
Sir Walter Scott's novel, Anne of Geierstein, featured a heroine with a beautiful opal hair comb that was portrayed as being as full of life as the wearer. When the Opal is splashed with holy water, and the light goes out of the stone, the wearer turns to ash. As the thought that holy water exorcizes evil, it was thought that the stone was cursed.
 Even in this modern-day in Harry Potter, the Opal cursed necklace was infamous for killing nineteen muggles. The necklace was purchased by Malfoy, which ended up harming Katie Bell in the series.
Modern-day beliefs are that unless the Opal is your birthstone, it is unlucky to wear. Opal can be worn as an alternative birthstone for those born at 6 PM on their birthday. October birthstones can also include Tourmaline. 
A delicate stone, the Opal can be damaged or broken by abuse or everyday wear, and it is notoriously fragile when attempting to shape the raw stone. Opal can also crack or spiderweb if the environment it is stored in is too dry, as it has high water content and should be stored out of sunlight. 
Opal Color-of-Play patterns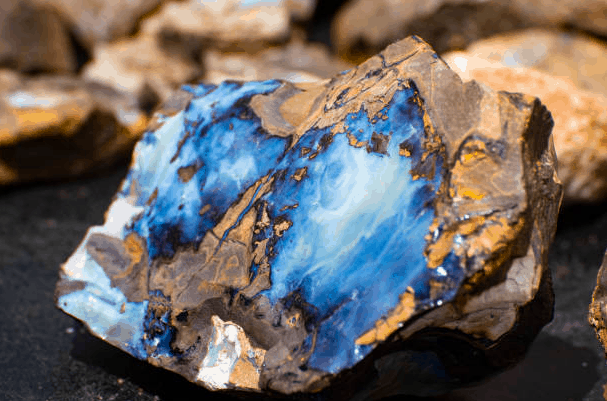 You may have thought that Opal just came in one style of luminosity, but in jewelry terms, there are four ways to describe the patterns that the rainbow colors display.
Peacock- a color pattern in mostly greens and blues

Pinpoint or pinfire- small patches of color that are close together

Mosaic or Harlequin- close patches of color that are angular and broad, this is the most rare and valuable pattern 

Flame- reddish bands of color that shoot or streak across the stone.
Opal Rings I Recommend
There are a variety of prices of Opal rings, from very inexpensive and affordable lab-created opals to $10,000 a carat black opals. 
Statement Pieces
Statement Pieces are usually a ring with a center stone that doesn't layer well or stack. But statement pieces are just that; they make a statement. From a large bold gem to a unique setting, your style is uniquely you.
CiNily 18K Gold Plated Opal Ring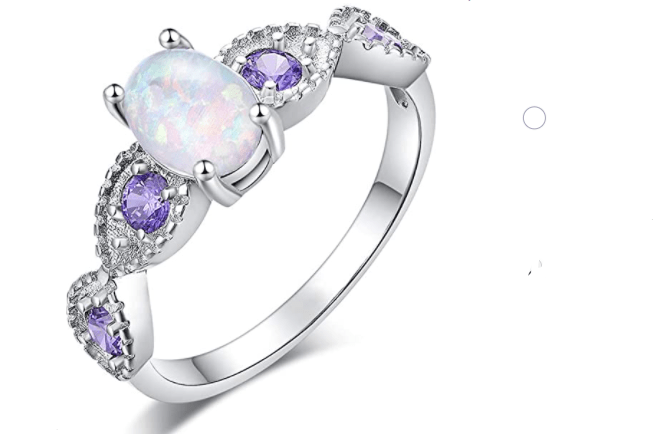 I fell right in love with the floral design of the center of the ring, with cubic zirconia accents, the accents look like flower petals, and the ring sparkles and shines. Meant for special occasion wear, this ring is coated in 14K Rose Gold, and the gem is lab-created. Customers raved over the compliments they received on the ring.
Rogers and Hollands Vintage Oval Opal Ring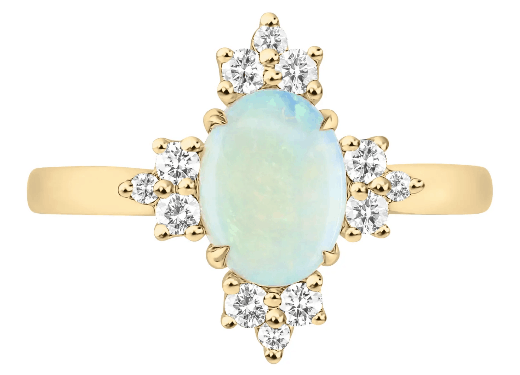 This gorgeous ring is beautifully vintage looking and looks like nothing you could buy brand new. I love the cross shape created with diamond clusters. Vintage gold and the oval cut will complement the most delicate of fingers.
Angara Princess Diana Inspired Opal Ring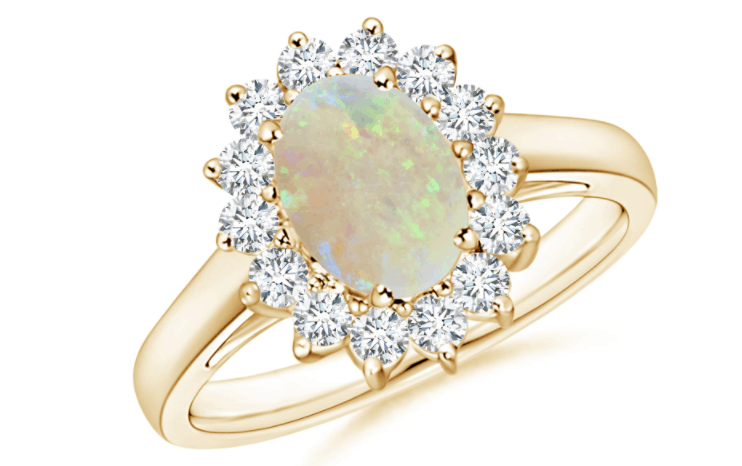 Anything Princess Diana wore was considered the epitome of elegance and grace. This beautiful ring was inspired by her gorgeous engagement ring with a halo of diamonds around an oval center opal. This is a truly stunning engagement ring.
Angara Round Opal Halo Regal Ring with Diamond Accents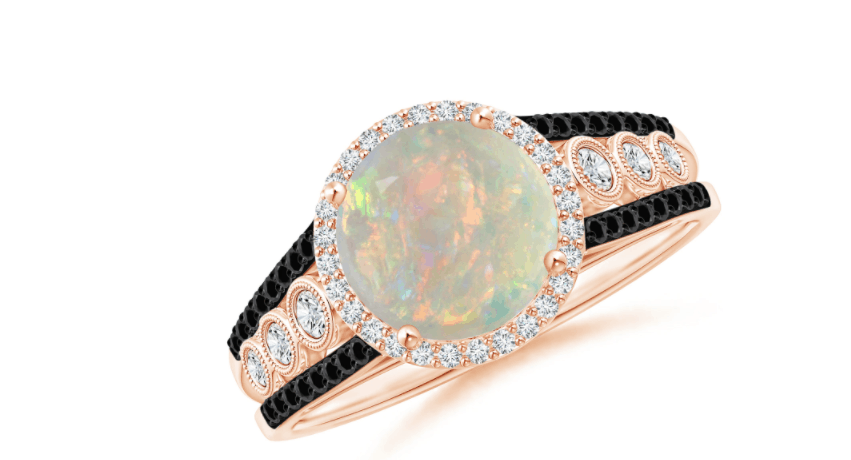 This statement ring speaks loudly! The beautiful center opal round stone is haloed by sparkling diamonds. There are borders of enhanced black diamonds along each side of the ring, and milgrain detailing on the bezel setting really creates more sparkle in the rose gold ring setting.
Stackable Rings
Layer your rings to add your own personal flair to your sets. From one to several, you create your own look. Mix and match metal colors or gemstones to create the style that you want. 
Patrick Adair Designs Jewelry- Black Meteorite Opal Amethyst Ring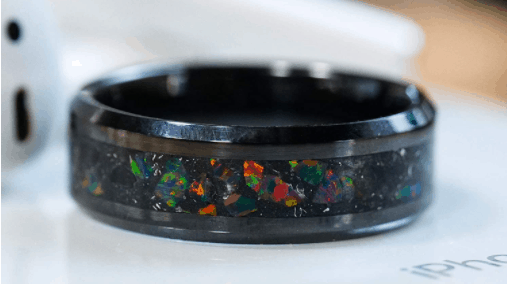 Available in two thicknesses, you can buy a set for his-and-her matching wedding rings. This ultra-cool black opal inset ring is stunning in a simple design. 
Rogers and Hollands Opal Princess Crown Tiara Ring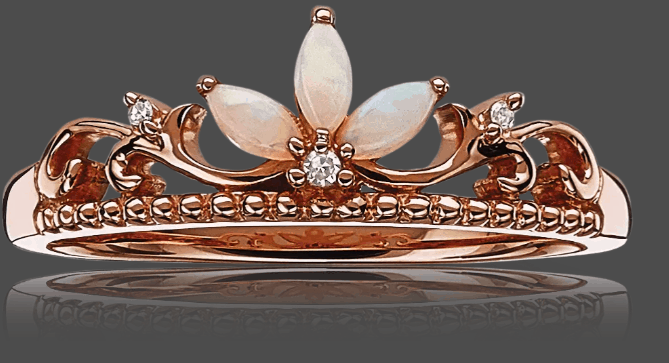 This rose gold ring features marquise-cut opals and a single flat side as well as diamond accents. Perfect for layering with another stackable ring, be inspired to create a look with several stackable rings.
Lets Buy Silver 
925 Sterling Silver Real Genuine Pink Tourmaline and Opal Womens Band Ring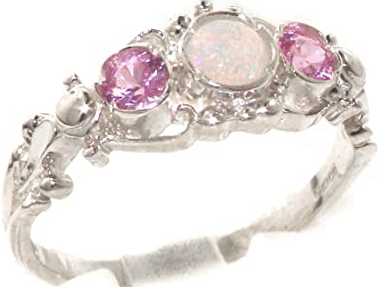 Customers adore the Victorian look of this Opal and Tourmaline stone band. Stack this ring with another ring or wear as a wedding band; customize your unique look. The pink of the Tourmaline will bring out the pinks of the opal stone.
Wedding Sets and Anniversary Rings 
Wedding sets can be as traditional or as different as your personal choice. Mix and match or go with modern designs; the choice is up to you. Anniversary rings are traditionally a band, chose a sparse amount of stones or eternity, depending on the hand you chose to wear the ring.
Blue Apple Co. 3-Stone Wedding Bridal Set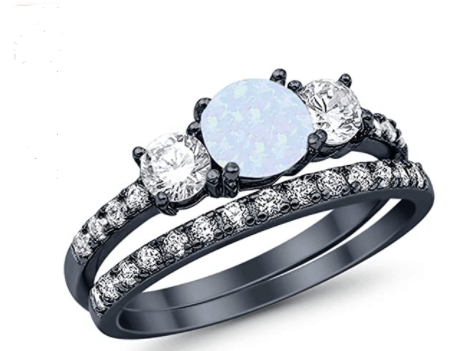 This dark silver wedding set is totally unique. From the black band to the opal center stone, the matching wedding ring is also set with cubic zirconia. Customers loved the set and exclaimed how beautiful and natural-looking the Opal is.
Sac Silver Store- Choose Your Color Opal- Sterling Silver Wedding Ring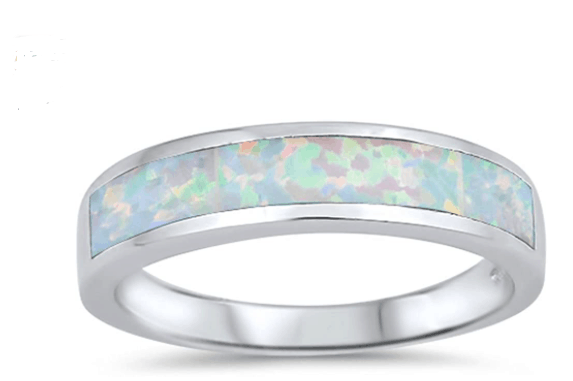 Customers adored this simple wedding band with opal inlay. It will coordinate nicely with a flat-sided engagement ring. It has the beautiful detail of the inlay in Opal, which makes it more meaningful to the wearer.
Gem Stone King- 2-Tone Sterling Silver Simulated Opal Wedding Band Insert Engagement Ring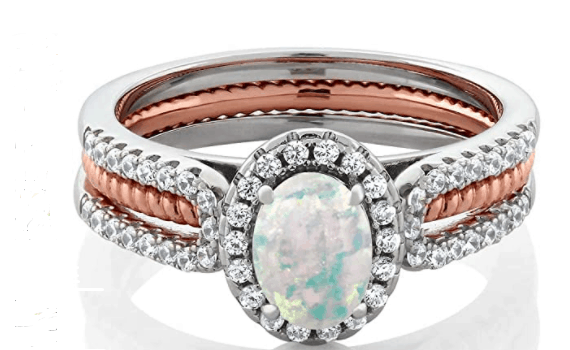 This gorgeous set is stunning, with its rose gold wedding ring and the beautiful opal center stone. What a conversation piece this set is! The halo of white zirconia really sets off the lab-created center opal stone. The rose gold band is also enhanced with roping detail for more sparkle.
Other Alternatives to Consider
So you like opal, but maybe it's not the stone you have absolutely fallen in love with. Maybe a white background isn't your thing, or you want something more unique and interesting than an Opal. Here are three other stones that are similar to opal that you may want to consider.
Moonstone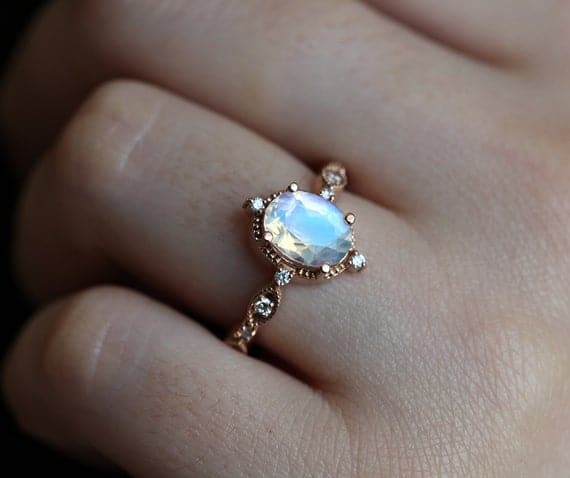 Similar to a cross between an Opal and a Pearl, Moonstone has a pearlescent shimmer and is often a cabochon shape. Opalescent on the outside of the stone, the Moonstone has an internal shimmer of a blue hue. This internal blue looks very similar to opal without the mix of colors especially the green or orange flashes that opal usually has.
Labradorite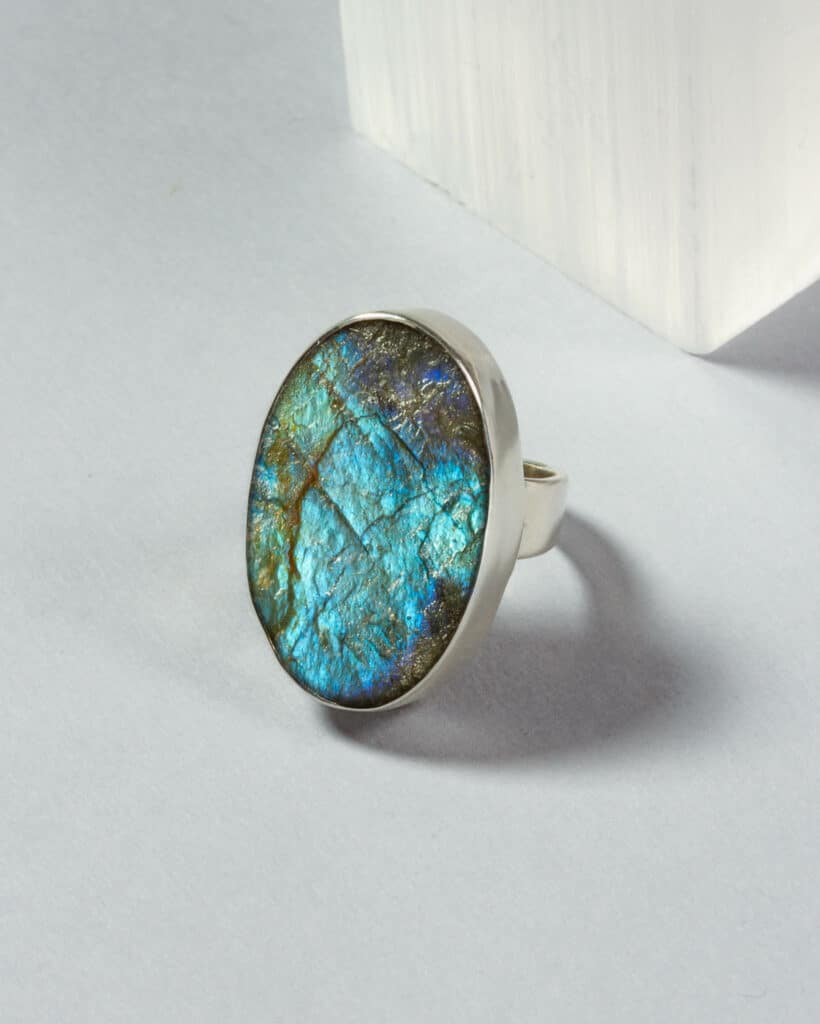 With a dark background and layers that reflect in peacock blue, antique gold, light green, and orange-red. While not quite as reflective as Opal, the variety of colors in this gemstone is almost a full rainbows worth. 
Iris Agate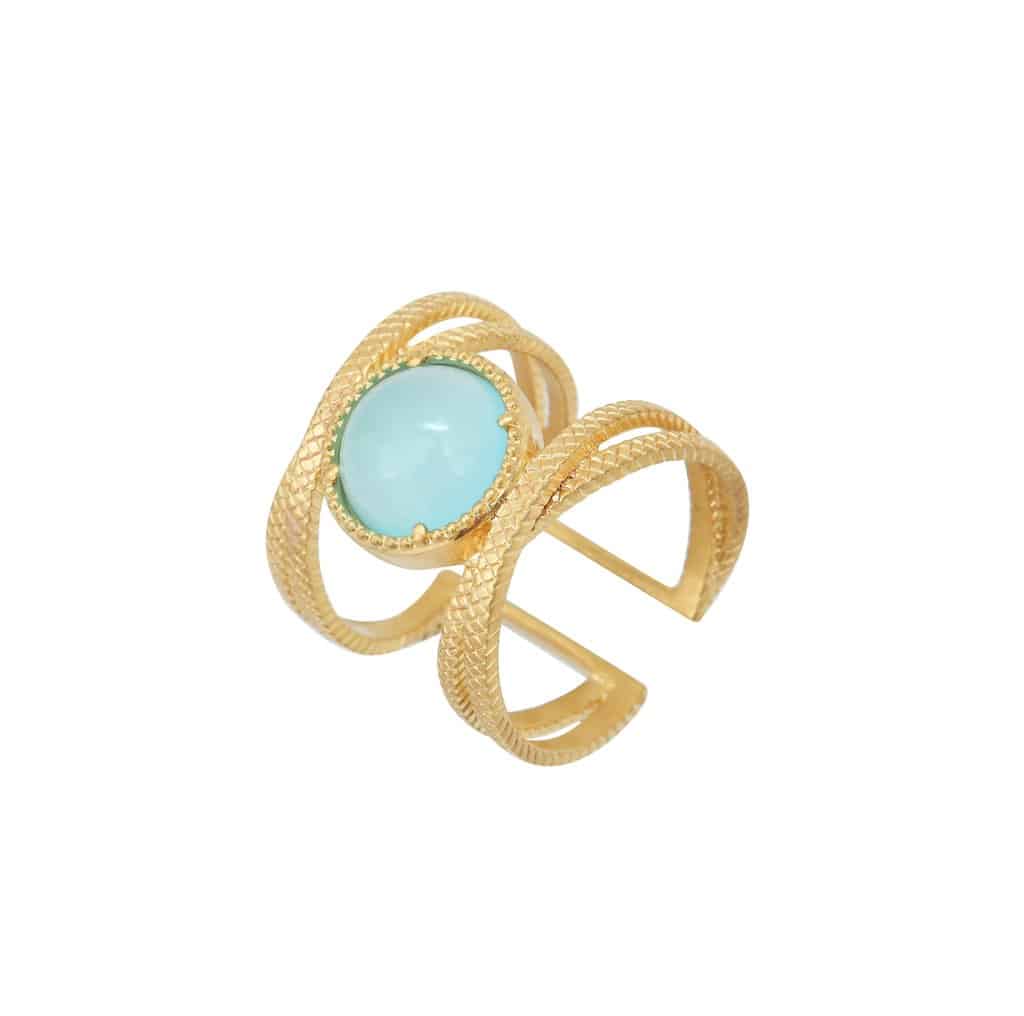 This translucent gemstone is finely banded with color, and when cut so that the light shines through it, reflects all the colors of the rainbow. While it doesn't have the flashes of light that opal does, its translucent white background and color bands are very similar.
FAQs
Question: Do Opals glow in the dark?
Answer: One very valuable Opal does. The "Virgin Rainbow" opal is so incredibly fluorescent that the darker the room, the more the color comes out of the gem.
Question: Is Opal worth more than diamond?
Answer: Gemstone rarity plays a factor in the value associated with opals and diamonds. They are both common, but the rarity and quality will directly impact the value of the gem. A better quality of Opal would be more valuable than a lesser quality diamond. However, in comparison to the same quality, a diamond will be more valuable.
Question: Are Opal rings expensive?
Answer: Opals rings can vary in price, and you always have a less expensive option of choosing a lab-created stone. 
Question: What is a Black Opal?
Answer: Black opals are opals with a dark background, either black, grey, or deep blue. The background color is caused by impurities in the silica spheres. Play-of-color stands out more on the darker background, where the color flashes brighter. Black opals are the rarest Opal and can be valued at up to $10,000 a carat.
Question: Do Opals glow in the dark?
Answer: One very valuable Opal does. The "Virgin Rainbow" opal is so incredibly fluorescent that the darker the room, the more the color comes out of the gem.
Question: Is Opal worth more than diamond?
Answer: Gemstone rarity plays a factor in the value associated with opals and diamonds. They are both common, but the rarity and quality will directly impact the value of the gem. A better quality of Opal would be more valuable than a lesser quality diamond. However, in comparison to the same quality, a diamond will be more valuable.
Are Opal Rings For You?
The variety of Opal rings you decide on will be your personal interests and budget. Lab-created opals tend to show play-of-color in a white background and are readily available. If you are looking for a unique opal, perhaps in different background colors or different color-of-play patterns, there are many available in natural stone. You can choose to buy a ready-made ring or to have a custom ring designed with your own specifications. The most beautiful opal ring will be the one you own.