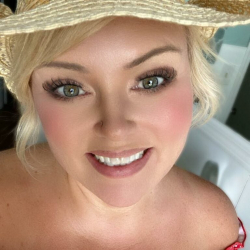 Latest posts by Kristen Swain
(see all)
Are you interested in a Topaz ring but aren't familiar with the stone and all its exceptional qualities? Let's learn about Topaz, its many color forms and get inspiration for your next Topaz Ring purchase. 
All About Topaz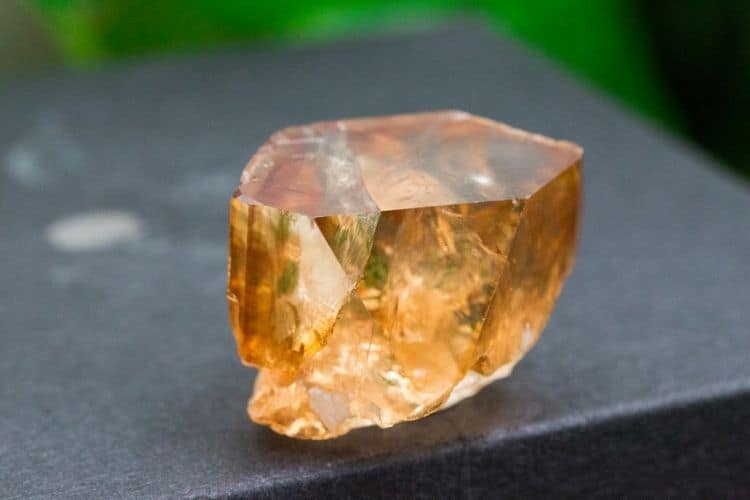 Topaz is the general term for a mineral comprised of a silicate stone made of aluminum and fluorine. Genuine Topaz is a colorless stone, but impurities in the stone lend colors to the gemstone. The common colors of Topaz are a rainbow of single colors, from reds to blues and even brown and grey. 
White or clear Topaz is a good substitution for diamonds and is now a popular alternative to the white diamond engagement ring. White Topaz is thought to be more brilliant or sparkling than White Quartz, perhaps making it a better alternative to a diamond than Quartz.
Topaz is most commonly known in the color blue. However, this color often isn't natural. The blue Topaz stones that we see are almost all treated to achieve this coloration. This is achieved with both radiation and heat treatment. These treatments, which can be as simple as heating the stone upwards of several hundred degrees, are permanent.
Heating less desired colored stones often produces a stone with better color. Heating can also repair damage to the structure of the stone. The radiation and heat treatments are reflective of the same treatment the stones would go through naturally in the earth and are then permanent to the stone. This treatment often makes a light blue stone have a very deep blue tone. 
Most colored Topaz is known by the common color name- Blue Topaz, Pink Topaz, and so on. There are a few singular colors that have special names, such as a deep red-orange color that is known as Imperial Topaz. The name Sherry or Precious Topaz stones are in the color range of yellow browns and is so named to help distinguish Topaz from the more common Citrine and quartz gemstones.
Topaz has two coloration causations that distinguish the color of the stone. When the element Chromium is introduced into the structure of the stone, the stone tends to turn reddish, pinkish, and violet colors. When impurities are added in during the initial formation of the stone in the deepest chemical structure, the Topaz turns brown, yellow, and blue colors. 
Topaz can display two colors which are called Bicolor Topaz. Most often, this occurs in Imperial Topaz, with a coloration of pink to orange with a gradual shift in the color. Imperial Topaz is quite rare, and the stones are very valuable.
Topaz is one of the most brilliant, inexpensive gemstones available. Topaz is often found in large crystals and holds the position for two of the largest gemstones ever found.
The "El-Dorado Topaz" holds the position for the third-largest gemstone ever found and the largest faceted gemstone. Other large famous Topaz gemstones are the Brazilian "Princess Topaz" and the American "Golden Topaz." These gemstones are enormous in size and look more like bookends than a gemstone associated with wearable jewelry.  
Mystic Topaz is the name of a real Topaz that has been coated with a layer of titanium to create a rainbow effect. The gemstone is coated underneath to show the coloration through the stone. This creates a dark gemstone that shows colors of green, purple, violet, fuchsia, and aqua. It is also commonly called Rainbow Topaz. There are also varieties of Mystic Topaz that have a light background and reflect rainbow coloration. 
Alternatives to Topaz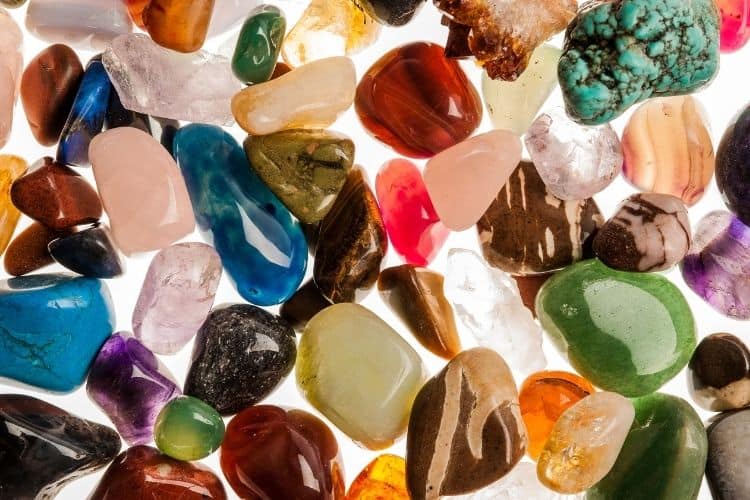 Alexandrite
This color-shifting stone highlights red-purple and green coloration, depending on the light situation that it is displayed in. Alexandrite is also known for its chatoyancy and displays a cat's eye when cut into a cabochon. This stone can be found to have both color changing and a cat's eye making it quite a special stone. 
Citrine
Natural Citrine is a rare gemstone, and most Citrine is actually heat-treated Amethyst. This yellow-orange gemstone is named from the French word for citrus due to its lemon-orange color. This beautiful stone is like wearing sunshine on your finger.
This light blue-green gemstone is similar in appearance to the Blue Topaz; however, it is priced higher as it is rarer of a gemstone. Interestingly Topaz is a heavier stone and will be a smaller gemstone than that of an Aquamarine, meaning that the carat weight of an Aquamarine would be larger in size than the same carat weight of a Topaz.
Sapphire
This precious gemstone is similar in coloration to Topaz. Sapphire comes in a variety of colors, and red sapphire is more commonly known as Ruby. This gemstone is more durable than Topaz as it is high up on the MOH scale, but its value is far more expensive than Topaz. 
Kyanite
This blue-hued gemstone is similar to Blue Topaz, although it is a deeply rich, brilliant blue to the softer pastel colors of Blue Topaz. Kyanite comes in opacity from opaque to translucent stones, and the stone is extremely inexpensive. In comparison to pricing, jewelry made with it will be much more affordable than sapphire jewelry but similar to Blue Topaz.
Best Topaz Ring Ideas – My Top Picks
Blue Topaz Ring Ideas
Macy's Sunset by EFFY® Marquise-Cut Citrine (8-1/2 ct. t.w.) and Diamond (1/8 ct. t.w.) Wrap Ring in 14k Gold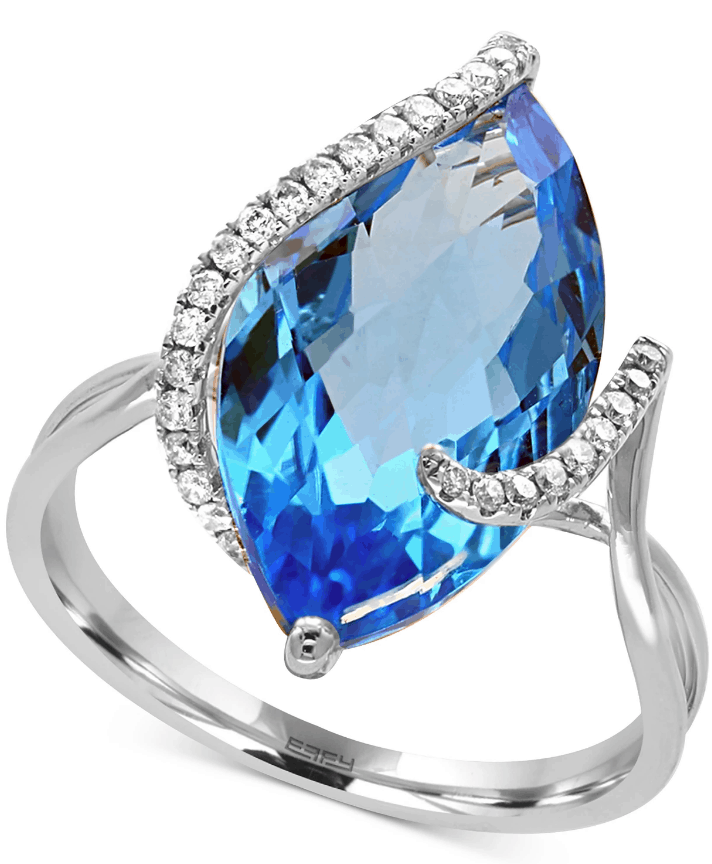 At just over seven carats, this big and bold marquise-cut Blue Topaz ring is an interesting find. Two swirls of diamonds wrap the sides of the Topaz in a leaf and vine inspirational look. The marquise cut Blue Topaz has many facets to allow light to glitter and shine through the stone. The stone is securely held in with both prongs and the top of the diamond swirl. Though this ring is pricier, the included diamonds and white gold setting are worth the increased cost of the ring. 
TreeZoy Natural Topaz Ring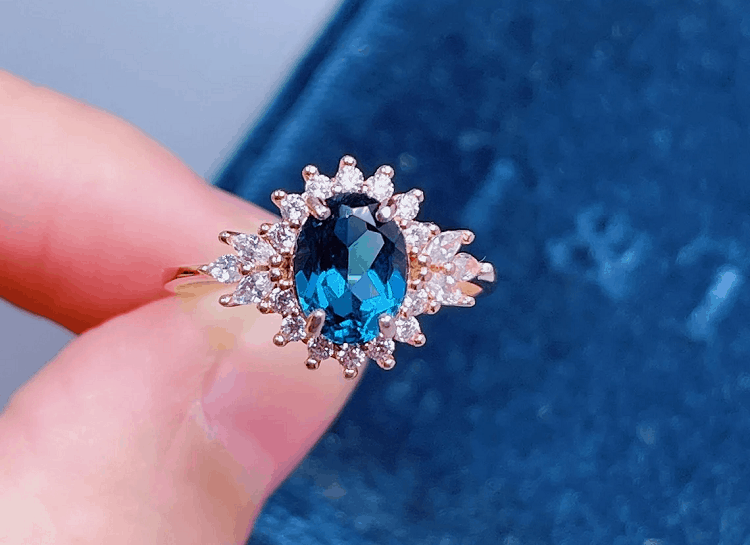 This ring actually reminds me of a lot of blue sapphire rings. Nestled in a halo of cubic zirconia and a small cluster at each shoulder of the ring, this deep blue Topaz is about one and a quarter carats in size. This is a very inexpensive ring for the deep coloration of the Blue Topaz. It's a dainty ring and well worth the affordable price. Perfect for a teenager or a lady with delicate fingers. 
Ross-Simons- 14.00 Carat Blue Topaz Ring in Sterling Silver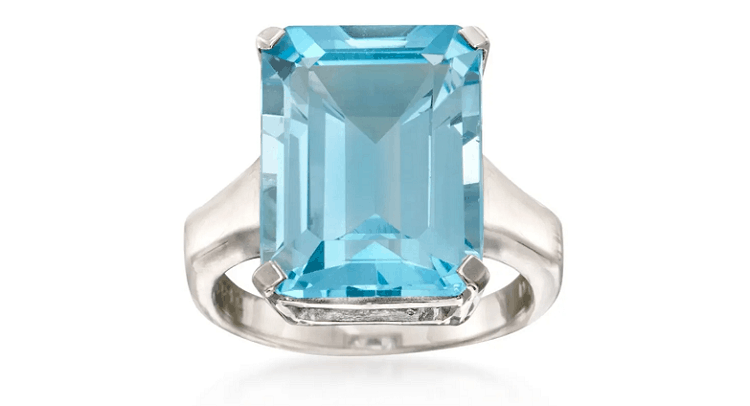 Just the sheer size of this Blue Topaz inspired me to include it here. A whopping fourteen carats of Blue beauty. It is a rare find to be able to purchase a gemstone quite so large as this for such a reasonable price. This emerald-cut Blue Topaz is seated in a sterling silver setting that is simple but sturdy. The ring allows the large gem to shine out on its own.
Silvershake Petite Genuine London Blue and Swiss Blue Topaz White Gold Plated 925 Sterling Silver Ring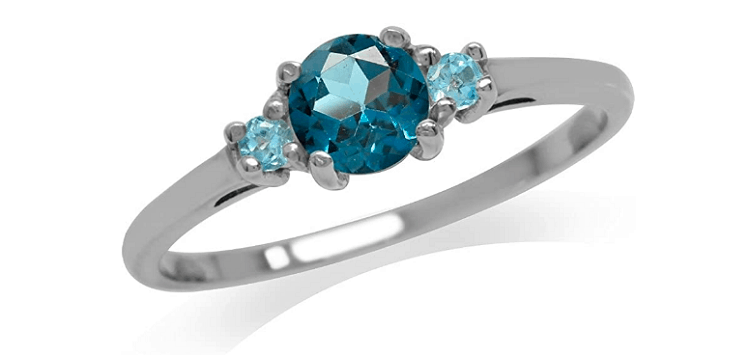 This is the ring that makes me feel that Blue Topaz is incredibly affordable. A twenty-dollar ring that has real gemstones and is set in white gold plated sterling silver. The gemstones are two different shades of Blue Topaz, which lends to it being more interesting than a band with the same three stones of one color, or even a colored center stone and white accent stones. Perfectly dainty, this ring could be stacked or worn alone. 
White Topaz Ring Ideas
4.50 ct. t.w. White Topaz Three-Stone Ring in Sterling Silver. Size 8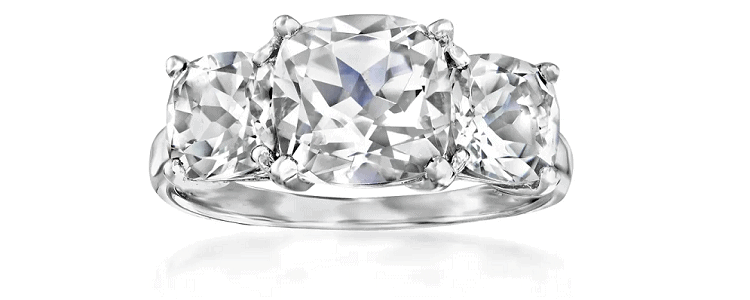 This ring perfectly shows why Topaz is the Diamond substitute. It looks like three large diamonds being showcased in the ring, a huge four and a half carats of gemstones. These three round cut stones, with the center stone being the largest, look like a big, bold diamond ring, with a price tag of less than a hundred dollars. With the stones being such large sizes, the ring setting itself is a plain sterling silver that allows the stones to be the highlight of the ring. 
Luo Jewelry- White Topaz Wedding Ring, Round Cut, Sterling Silver Halo Engagement Ring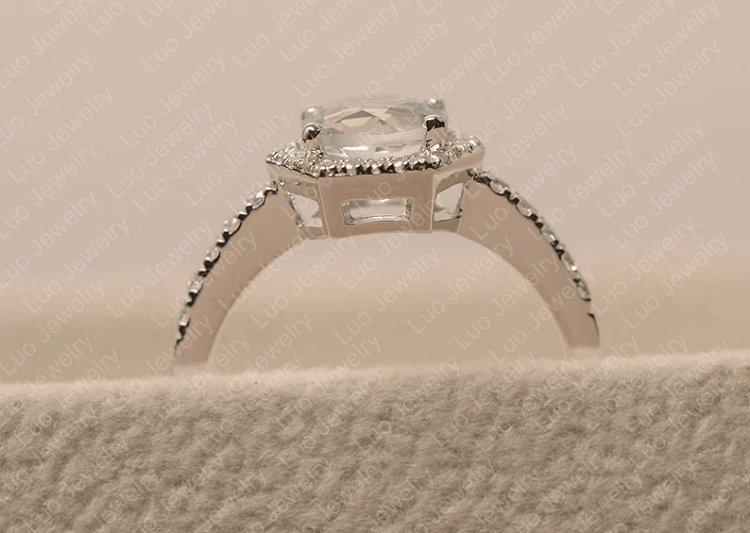 I love the visual illusion of this ring. The halo is shaped in a hexagon shape around the brilliant or round cut center stone. The Topaz in this ring is almost a soft translucence instead of a bright clear shining stone that would mimic a diamond. While diamond-like, it is also clearly not a diamond and has a velvety soft shimmer instead. The antique look of this ring makes it stand out and doesn't compare to the bright shine of most new rings. 
Natural White Topaz Ring Princess Cut Wedding Ring Gemstone Sterling Silver Ring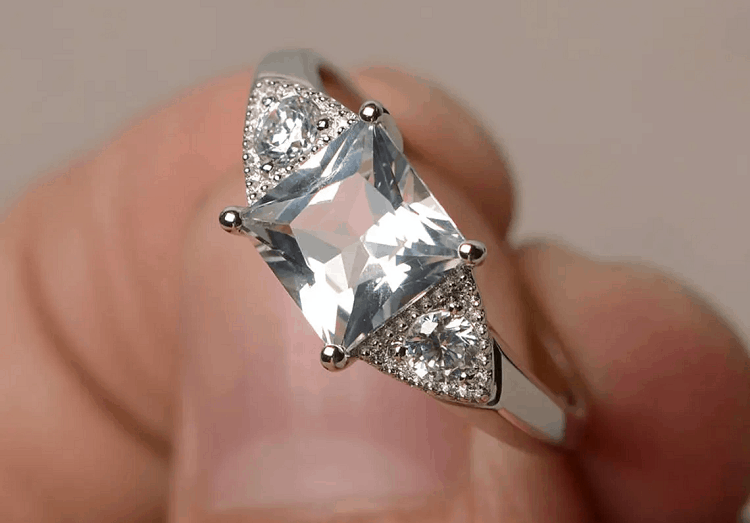 White Topaz is the way to go if you like the look of antique jewelry. With soft glowing sparkle, it is more velvety than the sharp sparkle of diamonds. This cushion cut almost one and a half carat-sized center stone with two round stones would make a perfect engagement ring.
The two leaf-like accents on the ring shoulders hold the side stones and give the illusion of triangular-shaped stones. This art deco style is great for the buyer looking for a more unique less modern-looking ring. 
Colored Topaz Ring Ideas
Gem Stone King Pink Mystic Topaz 925 Sterling Silver Women's Engagement Ring (1.32 Cttw, Available 5,6,7,8,9)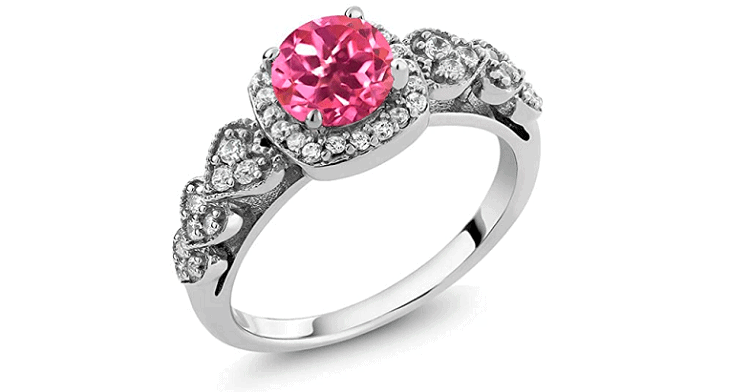 Everyone loves Pink! Maybe not everyone, but it's a gorgeous color and so feminine. This bright, bold pink is as eyecatching as a ring can get. The bold pink coloration is unusual in gemstones, and that makes this ring stand out.
With the center stone inside of a rounded square halo, the shoulders of the ring feature descending hearts and multiple round white zirconias. Millwork and black detailing allow the clear and pink gems to stand out from the sterling silver setting. 
Cushion-Cut Yellow Topaz 925 Sterling Silver Halo Engagement Rings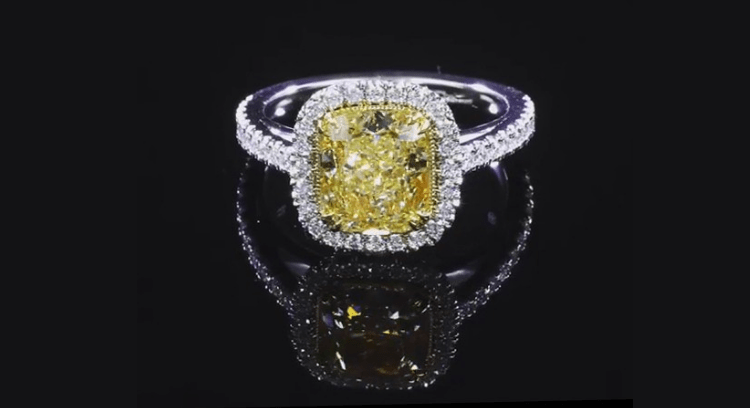 This lemon yellow cushion cut Yellow Topaz is a beautiful stone. This Yellow Topaz is a large, almost two carats sized beauty. The cushion-cut features many facets to shine and reflect light so that it will sparkle with a lot of brilliance. The ring has a halo of round-cut White Sapphires that also line the shoulders of the band, lending extra sparkle to the ring. The sunshine color of the Yellow Topaz is exquisite. 
Radiant Cut Topaz 925 Sterling Silver Halo Three Stones Engagement Ring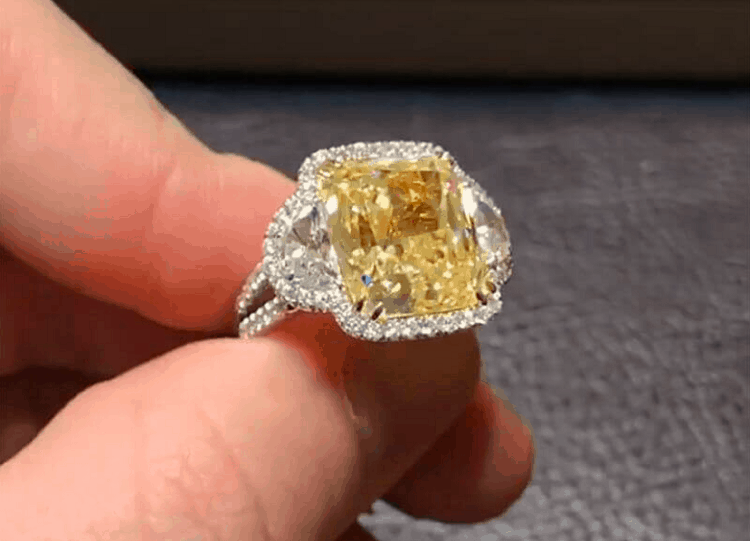 A unique rectangle cut Yellow Topaz, and this shape is commonly known as Radiant. The halo uniquely works its way around the center Yellow Topaz and then up and over the two White Sapphire side stones. The Topaz is a huge, almost seven and a half carats weight stone. Both side stones add up to a carat and a half combined weight as well. This is a large, glittery, and pretty ring for just over a hundred dollars, and it might even pass for a yellow diamond. 
9.62 TCW Emerald-Cut Genuine Smoky Topaz And CZ Accent Halo Cocktail Ring Gold-Plated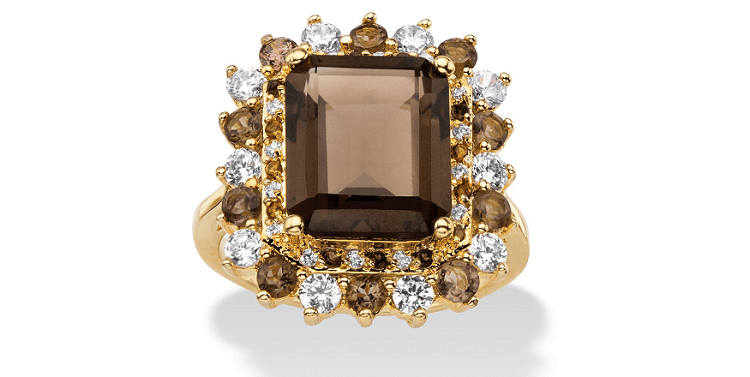 This square emerald-cut Brown Topaz or Smokey Topaz cocktail ring has the richness of chocolate in its coloration. The double halo of smaller and large round cut stones draw your eye into the center stone.
With the alternating Smokey Topaz and White Cubic Zirconia, the eye is pulled around the ring. The huge eight-carat size of the Topaz is really eye-catching as well, and the fourteen-carat gold setting brings warm color tones into the ring as well. The low price tag is such a good deal, and you can buy the Mystic Topaz and the London Blue Topaz alternatives as well.
Mystic or Rainbow Topaz Ring Ideas
Bob Mackie 3-Carat Mystic Topaz Ring With Simulated Diamonds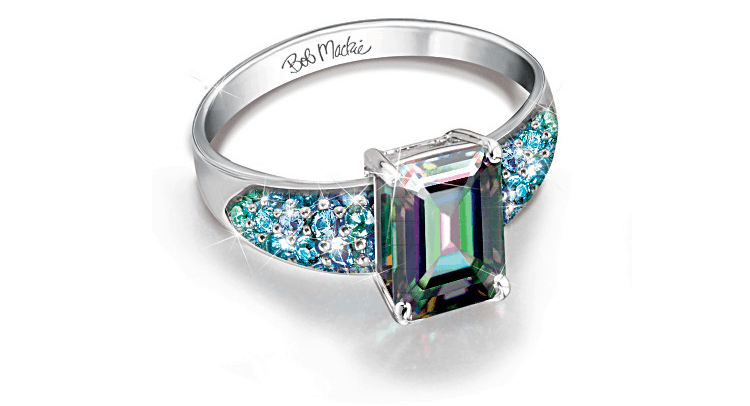 Including this ring was a must. The beautiful emerald-cut three-carat Mystic Topaz is stunning, and the coordinating simulated diamond side stones give an ombre effect sliding from blues to greens. With the mix of colors from the purple-toned Mystic Topaz to the surprising blue and green side stones, this colorful ring is a great choice for someone who has a bold sense of style. 
XiaoCuiJewelry Mystic Topaz Ring Round Cut Rainbow Topaz Sterling Silver Engagement Ring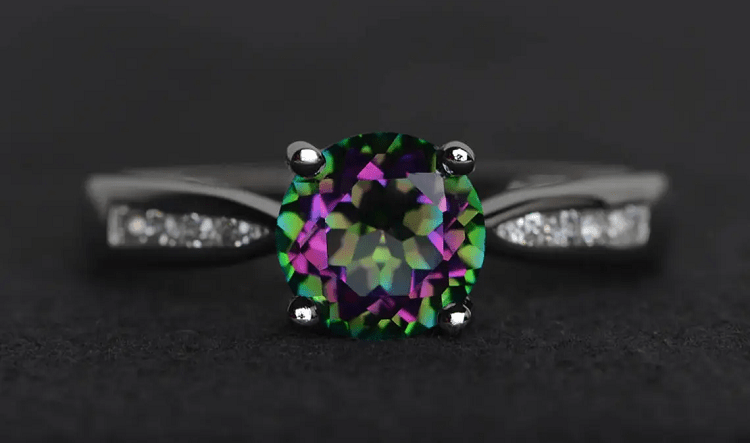 The black rhodium-plated sterling silver setting on this ring stood out in the selection of Mystic Topaz rings. With a simple setting highlighted with a trio of round-cut cubic zirconias, the shoulders of the band have just a little touch of sparkle.
The showstopping one and a half carat Mystic Topaz and its rainbow coloration is the star of the show with this ring. This Topaz shows mostly a green outer ring with a purple/fuchsia coloration towards the center point, while it will flash lighter colors as well. 
Luo Jewelry- Mystic Topaz Ring, Triangle Cut, Rainbow Topaz, Gemstone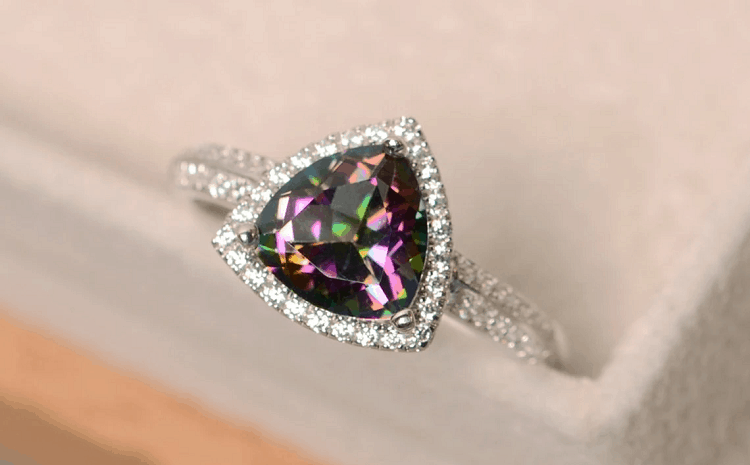 I chose this ring because of the unusual Trillion-cut gemstone. This triangular shape is not the usual gemstone shape. It is surrounded by a halo of cubic zirconia and the shoulders of the band feature a double row of additional cubic zirconia that is arched outward from the center. The setting is in sterling silver to match with the white side stones and allow the Rainbow Topaz coloration to stand out. 
FAQs
Question: Why Does Topaz Lose Its Color?
Answer: The stone should be protected from any damaging chemicals or rapid temperature changes. It is important to not leave a Topaz in direct sunlight for long periods of time, and care should be taken to avoid extreme heat when wearing the gemstone, as these environments will cause the stone to have a loss of color.
Question: Can Topaz Crack?
Answer: Topaz is an eight on the MOH scale of gemstone hardness, which means that it is quite durable. It does, however, have what is called perfect basal cleavage. There can be weaker planes in the gemstone that would crack if the stone is struck hard and in the correct direction. However, this rarely happens, and your stone is quite durable in comparison to other gemstones. 
Question: How Much is Topaz Worth Per Carat?
Answer: Blue Topaz, which is almost always heat treated to enhance its coloration, is by far the least inexpensive Topaz at about $8 a carat. Imperial Topaz is some of the most expensive Topaz and can be valued at about $1000 a carat.
Question: Is Mystic Topaz Expensive?
Answer: Mystic Topaz starts off at around $10 up to $500 a carat, depending on the quality of the White Topaz that is used to create the Mystic Topaz. Depending on the cut, clarity, and color of the White Topaz, the stone is then priced accordingly.  
Question: Are Bi Colour Sapphires Rare?
Answer: Bicolor Sapphires do occur in nature, but the conditions for them to occur are so rare that the gemstones that do have this occurrence are incredibly rare. These conditions are not achievable in a lab currently, so only natural bicolor sapphires exist. Some mining locations of sapphires have the perfect conditions that happen more often than other places, but the conditions can not be created in the environments. 
Conclusion
Topaz is a beautiful gemstone with plenty of sparkle and fire, and it comes in a wide variety of colors. Pick a pastel or deep-hued Topaz, or mix and match colors. Buy one ring, or buy several, as pricing is quite inexpensive for these beautiful sparkling gemstones. I myself have a Pink Topaz ring, and two Mystic Topaz rings and absolutely love them.
You can choose inexpensive rings that are set in sterling silver and are accented with Topaz or Cubic Zirconia, or you can choose a precious metal setting with diamond accents. There are a wide variety of rings out there to fit your personal style. 
 There is sure to be a ring or jewelry out there that matches not only your taste, your color choice but also your budget!
Further Read: