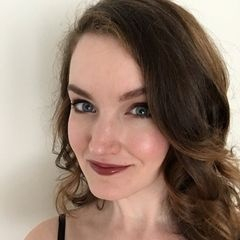 Latest posts by Crystal Schwanke
(see all)
Ruby rings are a gorgeous addition to any outfit and jewelry collection. You don't have to be a July baby to enjoy the red sparkly stone. Here, we'll look at the pros and cons of ruby rings, features they may have, and how to tell if they're real.
The fun part, though, is looking at all the ruby ring ideas and inspiration. You can buy the stunning rings listed here or just use them to decide what you do and don't like before you continue your search or begin to design your own with a jeweler.
Pros of Ruby Rings
There's a lot to love about ruby rings. Here are some of the top reasons they can be an excellent addition to your (or your significant other's) jewelry collection:
The gorgeous, shimmering red stone can add a spark of color and interest to an otherwise simple outfit.
Rubies look stunning in any type of setting.
Rubies are durable choices, almost as hard as diamonds.
They symbolize love, passion, and desire, so a ruby ring could be the perfect gift to give your special someone when you want to make a statement.
For the reason stated above, they also make a good non-diamond engagement ring choice.
Cons of Ruby Rings
Unless you just don't prefer rubies, there aren't too many cons to ruby rings. However, there are a few things to think about:
According to a tip from Dover Jewelry, you're unlikely to find a real, round ruby that's much over 1/2 carat. If that's what you have in mind,  your search may be harder than you expected it to be. Of course, that doesn't mean that all larger round stones are fake. Use your judgment and consider the reputation of where you're shopping.
You can't wear them 24/7 (skip it while swimming, showering, cleaning with products, etc.).
Even if the style is fairly minimal, a bright, sparkling red stone will stand out, and that may not be what you're going for.
The Best Ruby Ring Ideas and Inspiration
So, you know you want a ruby ring. Ideas and inspiration for which ones would be nice, though, right? Here are some of my favorites:
Diamondère Astuty
You don't see 14K black gold everywhere, so that's what makes this ruby ring a standout option.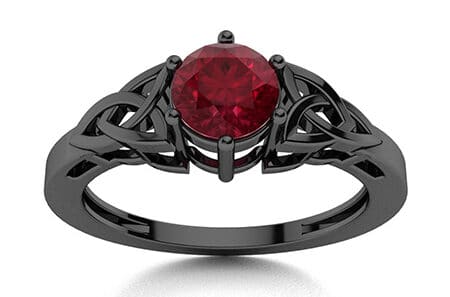 Pros
You can choose your metal (black gold, platinum, yellow gold, white gold, or sterling silver)
Engraving is possible
You can choose the quality and size of the ruby (up to 1.6 Cts)
Cons
Unless it's just not your style, none
Diamondère Bailey
Here's another winner from Diamondère. This ruby ring is simply a collection of seven carefully laid emerald-cut rubies.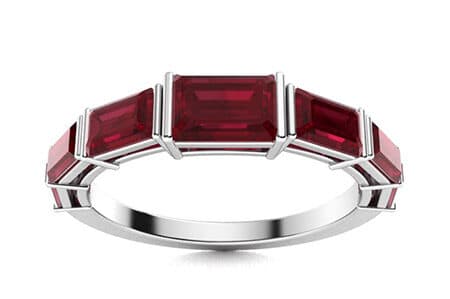 Pros
You can choose your metal
Engraving is free
Wide range of ring sizes
You can select the quality of your rubies
Cons
Price isn't as flexible with this ring as other customizable options because the rubies will always be the same size. You can't choose the size of rubies or total carats for the ring (it's 2.15 carats).
Jared Lab-Created Ruby Ring
This lab-created ruby ring is a more affordable option by quite a bit. It's a lab-created heart-shaped ruby (not to be confused with "fake") set in a mix of sterling silver and 14K gold and accompanied by small round diamonds.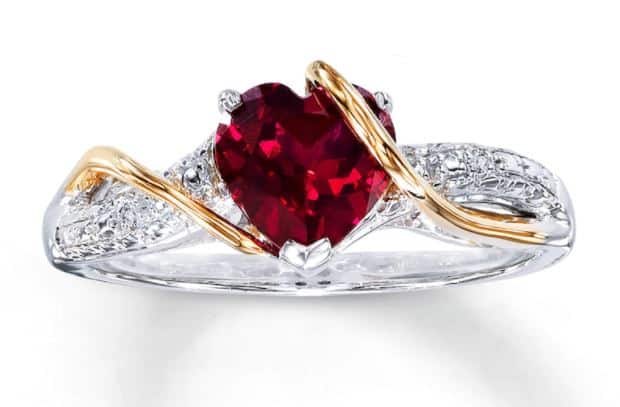 Pros
Affordable
Mix of metals make it fit in with any jewelry collection
Interesting design
Cons
Some people may prefer white gold or platinum over silver, but there's no way to customize it from the site
Not an especially wide range of ring sizes
Le Vian Passion Ruby, Vanilla Diamonds® &. Chocolate Diamonds® Statement Ring in 14K Rose Gold
This Le Vian option makes for beautiful ruby ring inspiration because of its unusual mix of diamonds set in rose gold. There are three rubies "woven" into a rose gold setting, nestled between two types of diamonds. The total weight of rubies is 1-1/4 carat. There's a 1/5 carat total weight of each type of diamond.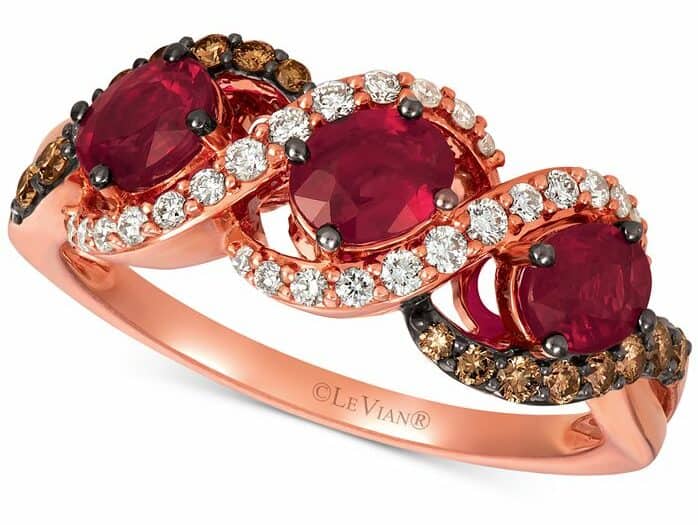 Pros
Lots of interesting details you don't see everywhere else
If you catch it on sale, you'll be able to pay just a small fraction of the retail price because Macy's runs amazing sales, even on jewelry
Cons
Not many sizes are offered
Expensive at retail price
EFFY® Certified Ruby & Diamond Ring in 14K Rose Gold
If it's a pear shape you're after, you might love this option from EFFY, surrounded by a double halo of diamonds. The ruby is 7/8 carat and the diamonds are 1/3 carat total weight. It's set in rose gold.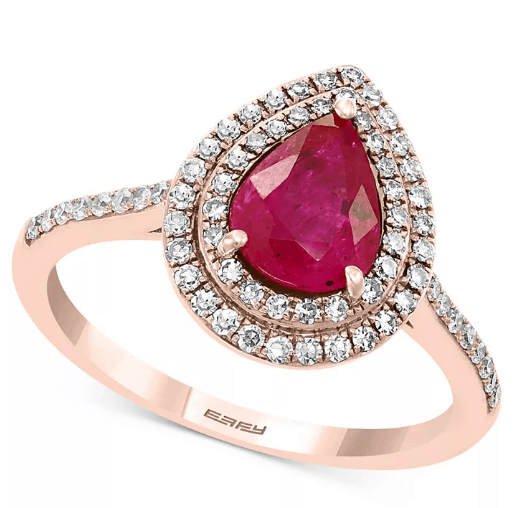 Pros
A blend of classic and more unusual design elements
For those who love their rings to sparkle, this one will do it
Cons
Expensive
Custom sizing not available
EFFY® Ruby & Diamond Accent Two-Row Ring in 14K Rose Gold
This option from EFFY® looks like two rings at first glance, but it's just one, shimmering with ruby baguettes and diamonds. It's also set in rose gold.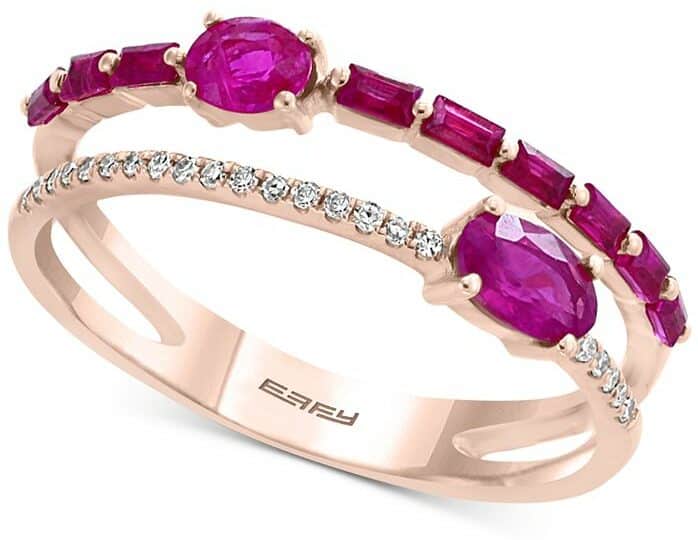 Pros
Not the usual ruby-as-a-center-stone style
Rose gold is less expected than white gold or yellow gold
Looks like two rings in one
Cons
Not available in many sizes (however, custom sizing may be available for this one)
James Allen 14K Yellow Gold 1.8mm Petite Single Ruby Birthstone Ring
Sometimes, you just want something simple and dainty that you can dress up or down. That's what you get with this ruby birthstone ring from James Allen. It's a single round ruby set in a yellow gold band.
Pros
Affordable
Perfect for someone who loves minimalist styles
Stackable with other rings for a unique look
Cons
May be underwhelming for some tastes
Angara Vintage Inspired Ruby & Diamond Halo Ring with Filigree
If you love vintage glam styles, this ring from Angara is worth a look. It's a cushion-cut ruby surrounded by a halo of diamonds, and diamonds extend down either side of the band, as well (there are 54 diamonds, total). The metal is mostly white gold, but filigree detail along the shank can be rose, yellow, or white gold.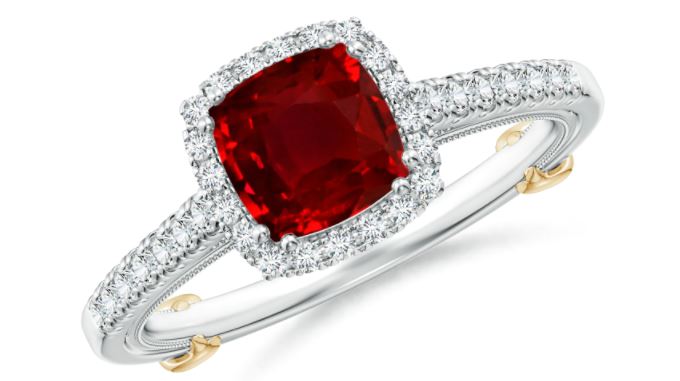 Pros
You can choose between Good, Better, Best, and Heirloom rubies
You can choose between rose, white, and yellow gold accents
The contrast between the white gold and ruby is stunning
Available in a wide range of sizes
Cons
Can be quite expensive, depending on gemstone quality
Segal Jewelry Leaves All Around Ruby Ring
This is a stunning, fun design that you will probably be complimented on quite a bit. It's not your average ruby ring. There's a ruby center stone, but it's surrounded by green "leaves" along with the band, so it looks like a rose.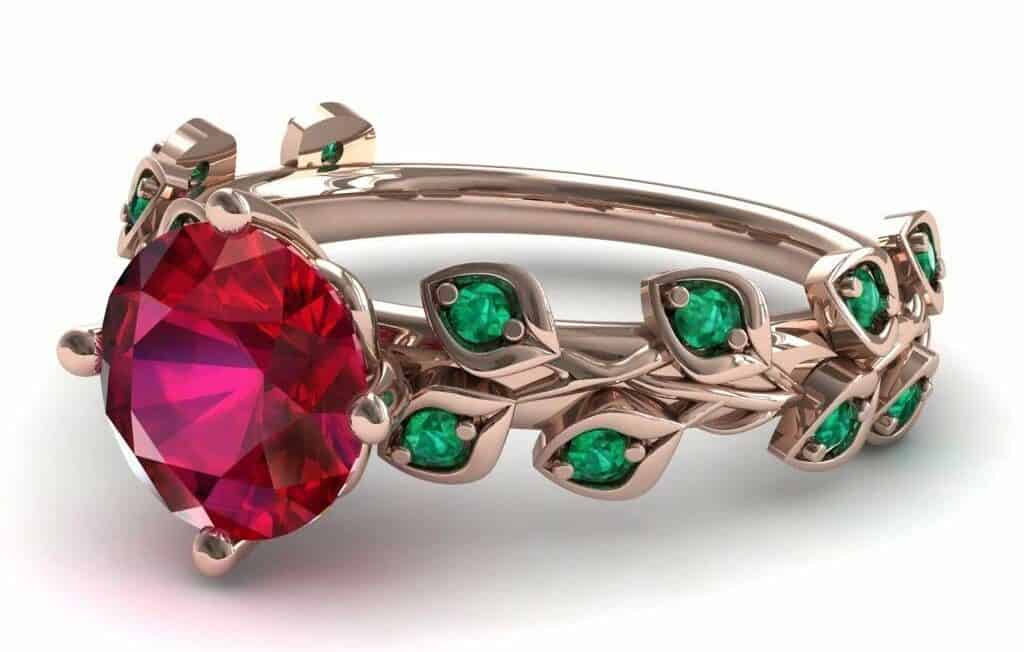 Pros
Attention-grabbing
You can choose between 14K and 18K rose gold, as well as lab-created or natural ruby
Wide range of sizes available
Cons
Expensive at its regular price (though you may be able to snag it on sale)
Tips for Choosing a Ruby Ring
The best tip for choosing a ruby ring is to go for the one that catches your eye and fits your budget. If you like it, can afford it and can be sure you're getting what you're paying for (not a fake), there's no reason not to go for that one.
That said, there are a few things to think about before you start to shop, or you might dive right in and come back out with a case of buyer's remorse.
The Shape
Round, oval, and cushion are the most popular ruby shapes in rings, but you can find them in other shapes like heart, emerald, pear, marquise, princess, baguette, etc. Choose the one you like the most.
If you want a large ruby, you'll have better luck finding it in an oval or princess shape than a perfectly round stone.
The Cut
One thing that can influence just how much your ruby sparkles in the light is the cut (just like diamonds).
If you're on a budget and love vintage-inspired jewelry, you'll want to look into the cabochon cut, which is smooth and shiny, but not particularly sparkly, even amongst other cuts of rubies.
The brilliant and mixed cuts reflect the most light.
If you want a truly mesmerizing stone that you feel you could just get lost in, a well-done step cut is the one for you. It gives the stone depth that the other cuts don't tend to play up.
The Gold
Rubies look good in any type of setting. You can choose yellow gold, white gold, rose gold, or even black gold. You'll want to judge how the stone's undertones look with a specific type of gold and assess whether the gold—or combinations of golds—will complement your other jewelry and wardrobe.
The Color
Rubies will always be red, but there's still a range to choose from. You can get an orangish-red ruby (lovely in yellow gold against warm undertones), true red (gorgeous in any gold tone, so it should complement any wardrobe), or purplish-red (stunning in white gold against cool undertones).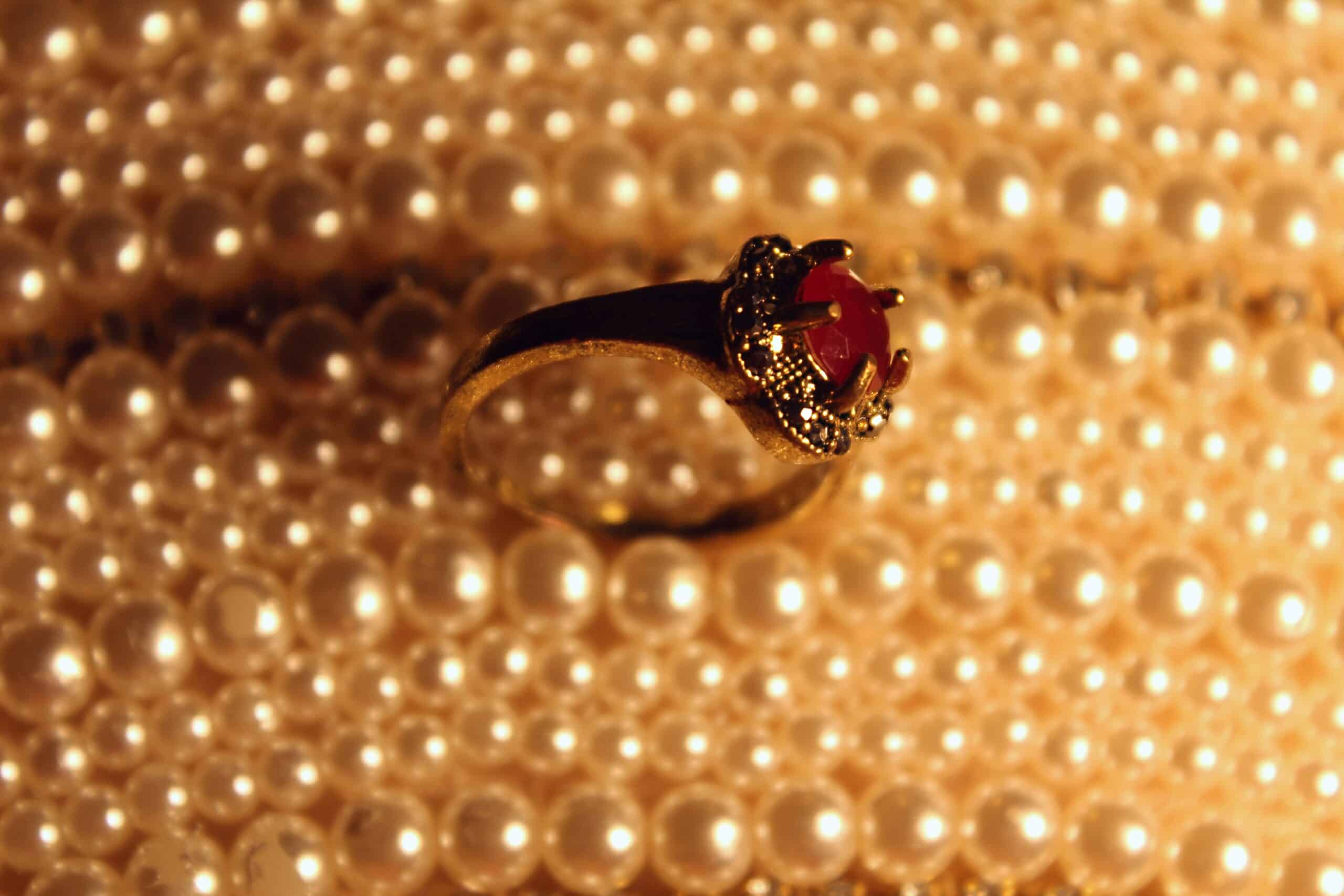 The Sparkle
There will be some shine to the stone, but don't expect it to shimmer in the light like a diamond. The color, not the sparkle/brilliance, is what really makes a ruby stand out.
The Inclusions
Just like diamonds, rubies can have inclusions (imperfections) that affect how they look and how much they're worth. These add character to the stones, too.
Very high-quality (and expensive) rubies won't have visible inclusions. If you want a perfect-looking stone without spending as much, however, lab-created rubies are an option.
Main Differences Between Lab-Created and Natural Rubies
There's no shame in buying a lab-created ruby over a natural one. They're both beautiful, sparkly, and red.  Some people will like one over the other, while others may not put much thought into it at all, as long as they like the stone. It's a personal preference.
Lab-created rubies probably won't have imperfections, whereas natural rubies will.
Lab-created rubies don't have as many things factored into their price, whereas the quality of natural rubies can vary and affect the price quite a bit.
Keep in mind that a lab-created stone has the same general makeup as a natural ruby; it's not the same as someone selling you a fake ruby that's really glass or another type of stone that isn't worth as much as a ruby.
FAQs About Ruby Rings
Still, have questions about ruby rings? Ideas and inspiration for wearing them or gifting them may come from a better understanding of what they mean, how to shop, and what to look for. Maybe these FAQs can help:
Question: What Does a Ruby Ring Symbolize?
Question: What Goes with a Ruby Ring?
Answer: Any shade of gold (rose gold is especially striking against vibrant red rubies). Diamonds are beautiful with rubies. If you're looking for the right outfit to pair a ruby ring with, something with red will bring attention to the stone on your finger. You could also wear it with a monochromatic outfit. It really depends on the overall style of the ring (understated, bold, etc.).
Question: What Is the True Color of a Ruby?
Answer: Rubies range from pure red to purplish-red.
Question: Is Ruby Good for an Engagement Ring?
Answer: Absolutely. You can make the ruby the center stone or accent with them. Rubies last for a long time and hold up well to everyday wear.
Question: Who Should Not Wear a Ruby?
Answer: Anyone can wear a ruby ring. From a zodiac standpoint, Brahma Gems says that rubies aren't for the Taurus, Virgo, Capricorn, Aquarius, Libra, or Pisces ascendants.
Question: Are Ruby Rings Expensive?
Answer: Yes, though how expensive will depend on color, size, inclusions, impurities, and so on. Choosing a ruby is similar to choosing a diamond that way. Rubies are typically less expensive than diamonds, though.
Question: Can a Ruby Be Pink in Color?
Answer: They can have pink undertones, but they'll still be red.
Question: Are Ruby Rings More Expensive Than Diamonds?
Answer: Generally, no. All other things equal, you'll pay more for diamonds than rubies. In some situations, with a very high-quality ruby, it could be close, though. So the short answer is, it depends.
Question: Is Ruby Rarer Than Diamond?
Answer: Yes, rubies are rarer than diamonds.
Question: Can You Wear Ruby Every Day?
Answer: Yes, it's fine to wear rubies every day. All-day, every day, maybe a stretch, though, so take your ruby rings off when you're doing dishes, taking a shower, swimming, and anything else you'd normally take your rings off for. The stones are very hard (just below diamonds), but they're not completely indestructible, and your setting may also be sensitive to 24/7 wear.
Question: How Can I Tell If My Ruby Ring Is Real?
Answer: Can you scratch it with your fingernail, a knife, or sandpaper? Does it mark porcelain or glass (with red, not just a scratch) if you run it across the surface? Was the price a lot lower than you'd expect to pay for a rare stone? Does it look flawless? Is it dull? The more you answered "yes," the more likely it is that your ruby is fake.
Conclusion: Using Ruby Ring Ideas and Inspiration for Your Next Jewelry Purchase
There are so many styles of ruby rings to look at for ideas and inspiration, and something out there for anyone who wants to add a dazzling red stone to their collection.
There are pros and cons to lab-created and natural stones, and you can find almost any shape you prefer.
Rubies make gorgeous center stones, but they're also gorgeous as accents or spread across the width of a band.
Take these ideas and use them as your inspiration in your search for the perfect ruby ring for you or your loved one. Or take the process a bit further, combine all the things you love about a variety of ruby rings, and have one custom-made.