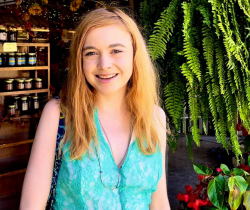 Latest posts by Erin Jamieson
(see all)
As one of the oldest luxury Italian fashion brands, Gucci continues to impress with exclusive designs and new collections. And now, all eyes are on a second high jewelry collection, which includes some exquisite style ideas and earrings.
Garden of Delights is a jewelry collection of over 130 pieces, featuring bold colors, unique designs, and playful sophistication. As the name suggests, this collection takes inspiration from nature, especially constellations, sky, and landscapes.
Diamonds mimic the graceful movement of waterfalls. Signature pieces evoke the wind. Colored gemstones nod to different times of day, and how the sky transforms hour to hour. Romantic elegance can be seen in classic designs, while there are also animal motifs.
Yet as stunning as this new collection is, the truth is that Gucci offers earrings outside of it, including comparatively affordable fine and fashion jewelry options.
Consider this your guide to the best Gucci earring ideas for 2022. I'll tell you how to pick a pair of earrings for you, and I'll give you my picks.
What's unique about Gucci?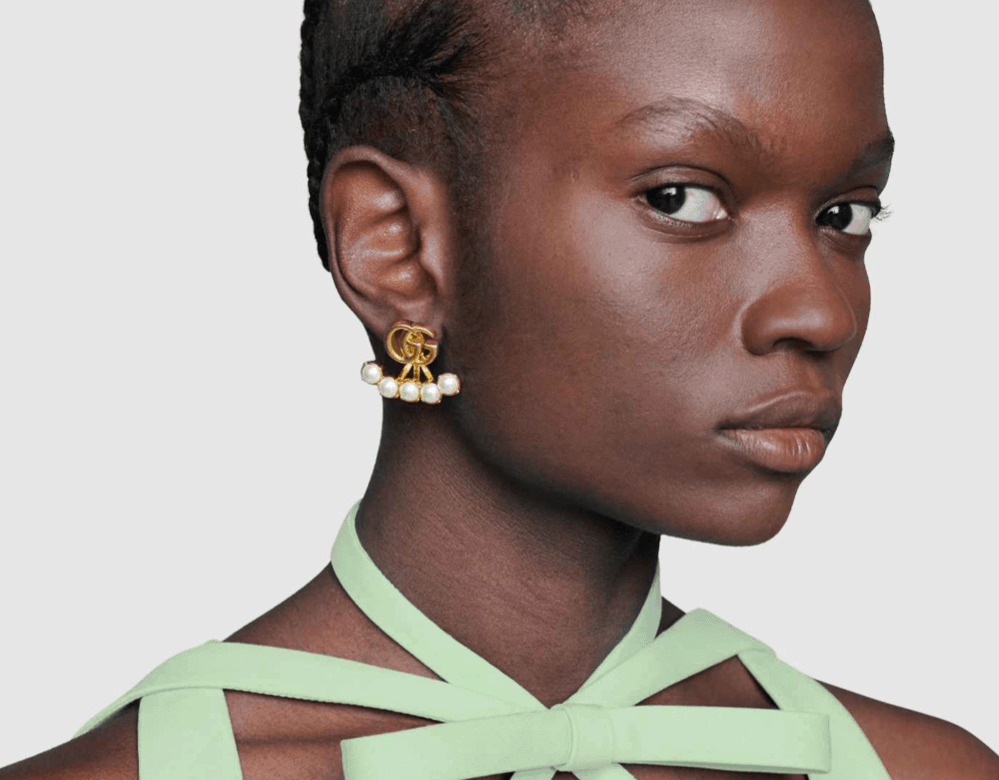 Since it was founded in 1921 in Florence as a luggage manufacturer, something that stood out about Gucci was its eye for design and quality materials. Bold, opulent, and unique designs have lent themselves to an artistic reputation. Gucci is quite popular amongst singers, musicians, and other entertainers.
The company's heritage, unique design, and clever marketing techniques all point to why Gucci is expensive and unique. Gucci has designed for the aristocracy and even worked with fashion houses in London.
Global brand recognition, a status symbol, and attention to detail are behind the new and classic bold Gucci designs.
Is Gucci jewelry good quality?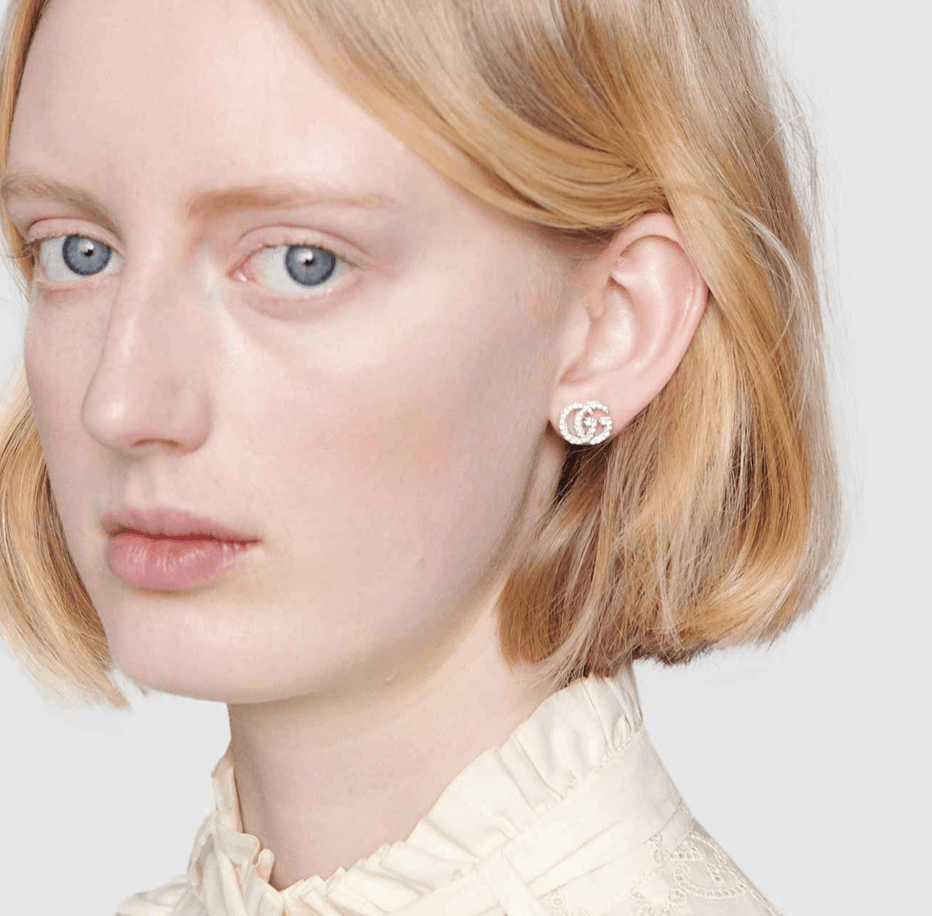 Gucci jewelry using real quality, precious materials. These include sterling silver, platinum, and solid gold. However, there's some distinction between Gucci costume vs fine and high jewelry earrings.
Gucci has also committed to using conflict-free, high-quality diamonds. And in 2017, Gucci announced that it would no longer use animal fur, but switch to "cruelty-free vegan alternatives.
All told, while their materials do vary based upon product, Gucci thoughtfully constructs its goods with quality materials. There is room for improvement, but you can expect a good quality piece of jewelry.
How do I pick the best Gucci earrings?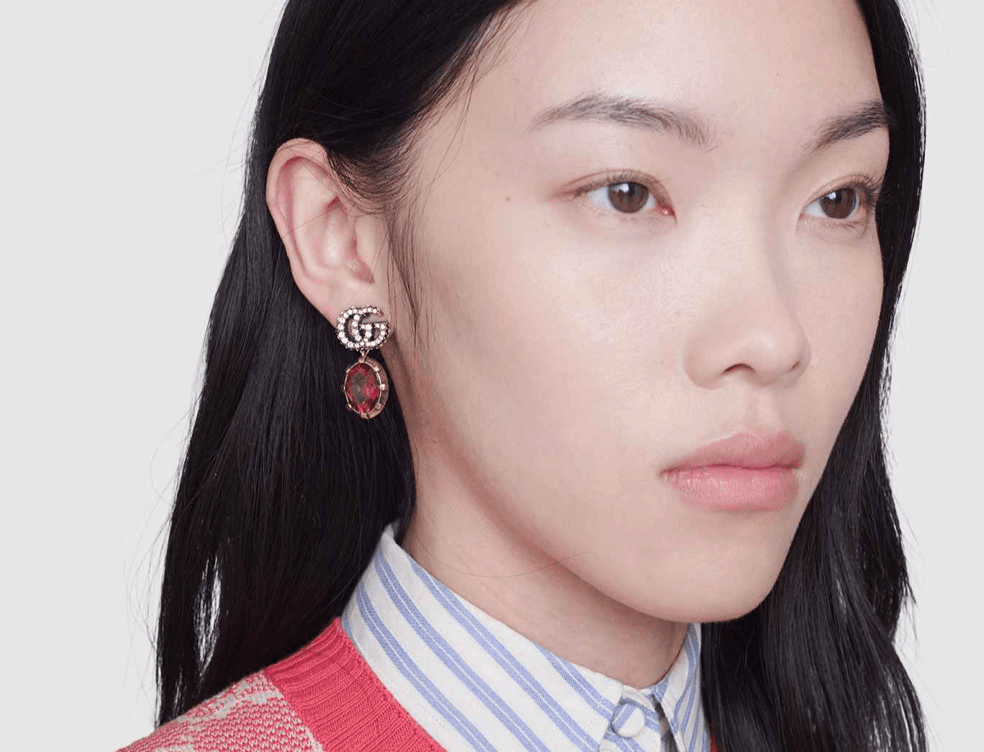 Picking the best Gucci earrings means determining your budget, style preferences, and what you'll be wearing these earrings for. There's a wide range of earrings, so narrowing down your options can help before you start shopping.
Here's what you need to know about Gucci earrings.
Are Gucci earrings real gold?
Gucci earrings are both solid gold and gold plated. All Gucci gold is real, but not all of it is valuable, solid gold. Gold plating is real gold, but a fine layer. This provides sterling silver earrings, for instance, a gold finish without the cost of solid gold. This practice is common for fashion jewelry. For Gucci fine and high jewelry earrings, however, you can expect solid gold.
Can you wear Gucci earrings in the shower?
Gucci earrings are durable when well cared for you, but I strongly recommend removing them before showering, bathing, or anything related. Sterling silver is never a good idea to get wet, as it can corrode. While mistakenly leaving them in if they're solid gold will not ruin them, it's still a good idea to keep them dry and moisture-free.
Do note that some Gucci earrings, especially sterling silver, can tarnish. You can reduce this by taking your earrings off and placing them in a secure, moisture-free environment. Taking in your earrings for professional cleaning once a year is also an excellent idea.
What Gucci earrings are in style now?
Any classic Gucci earring is hard to go wrong with. Simple studs with the Gucci logo are always in style. The earrings that are trending right now are starting to push away from minimalist or conventional looks.
Opting for more daring styles, there's an emergence of bold and even retro earring trends. Consider tube hoop earrings to modern takes on pearl earrings, statement earrings, and even mismatched earrings, 2022 is seeing more self-expression. Also popular are chain link earrings, double hoop earrings, celestial themes, and earrings with unique geometry.
Should I buy fashion, fine, or high-end Gucci earrings?
Of course, you'll also need to decide what type of Gucci earrings to buy. Gucci offers two main options to buy from fashion and fine jewelry. Those also have high-end collections that are hard to get your hands on, and often showcased on runways.
Fashion earrings typically feature more affordable metal types, including silver. While Gucci does offer some gold-plated earrings, keep in mind that these are a bit less valuable or durable. That said, fashion earrings tend to be more bold, fun, and trendy.
Fine Gucci earrings stand the test of time a little better– but of course, you'll have to pay a good deal more. These are suited for formal occasions and still have some bold designs, but leaning more towards classic styles.
All told, all Gucci earrings are well designed. It depends on your budget, why you're buying Gucci earrings, and how you'd wear them.
Gucci Earrings: My Picks
Now I'll tell you my picks for the best Gucci earrings you can buy in 2022. I'm dividing my picks by fashion earrings and fine earrings. I've made sure to include an array of styles– from bold to simple–as well as earrings for different occasions.
I've also sorted each of my picks from cheapest to most expensive, so you can find a pair of earrings that suit your budget.
Fashion Gucci Earrings
Black with gold accents, jewel tones, and motifs make for an eye-catching collection of fashion earrings. Taking inspiration from Art Deco and Gothic art movements, this collection of Gucci earrings favors bold and oversized looks, many in line with boho or alternative styles. Playfulness also adds life to the collection, from strawberry earrings to earrings with a nautical thing.
Yet you'll find Gucci fashion earrings at the same time in current trends, including mismatched earrings, bold colors, and more. Gucci fashion earrings are priced from $295 to $1750. Shop the Entire Collection Here.
Drop Anchor with Heart Earrings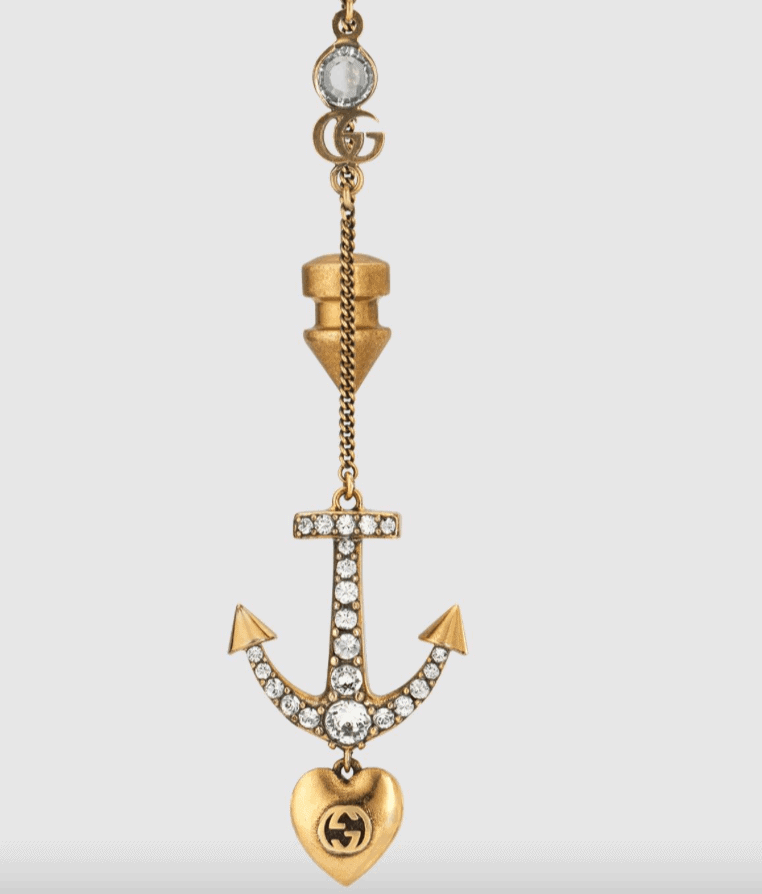 Priced at $295, these charming Gucci earrings are brimming with nautical ideas. Drop earrings with a gold finish carry an embellished heart and interlocking G symbol. The anchor pendant and glass pearl and crystal details provide a playful look. These earrings pair well with casual outfits and dresses. Buy Here.
Mismatched Floral Pearl Earrings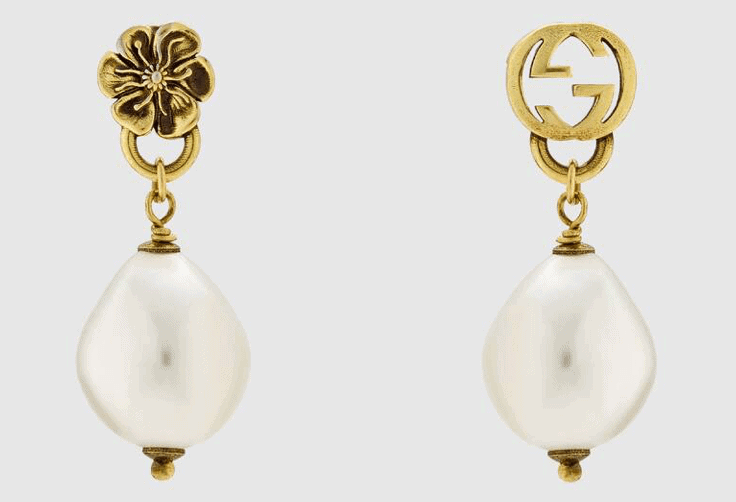 These mismatched earrings are right on-trend while adding a Gucci twist. Inspired by the natural world, glass, translucent pearls are paired with floral details. The interlocking G and gold finish distinguished these from other earrings on the market. Priced at $360; Buy Here.
Double G Earrings with Colored Crystals
These dazzling and spirited earrings cost $360 and are available in black, rose, or clear crystals. A faceted crystal is framed by an aged gold finish. The crystal-studded GG adds an iconic touch. These earrings are both fun and formal enough to wear with a suit or dress coat. Buy Black, Rose, or Clear Earrings.
Bee Earrings with Crystals

These $370 Gucci earrings are nothing short of fun and charming. The Gucci bee motif was first seen in the 70s, and it's now become a beloved motif once more. Bees take on a 'lifelike' appearance, with an aged gold finish, crystal wings, and cream resin pearl. The interlocking G detail adds the perfect finishing touch. Buy Here.
Cross and Flower Earrings with Crystals
If you want bold, oversized earrings that proudly declare themselves as Gucci, consider this pair of $415 earrings. A cross is a motif we've seen over and over from Gucci, but it's been revived freshly through the Ouverture collection. Colorful crystals, floral details, and interlocking G letters are just a few details. The palladium finish provides shine. Buy Here.
Floral Inspired Pearl Double G Earrings

My first of two picks for the glass pearl Double G earrings, which are feminine and a little boho. Inspired by florals, glass pearls are arranged in the shape of petals and set on a gold finish. Priced at $450; Buy Here.
Strawberry Earrings with Crystals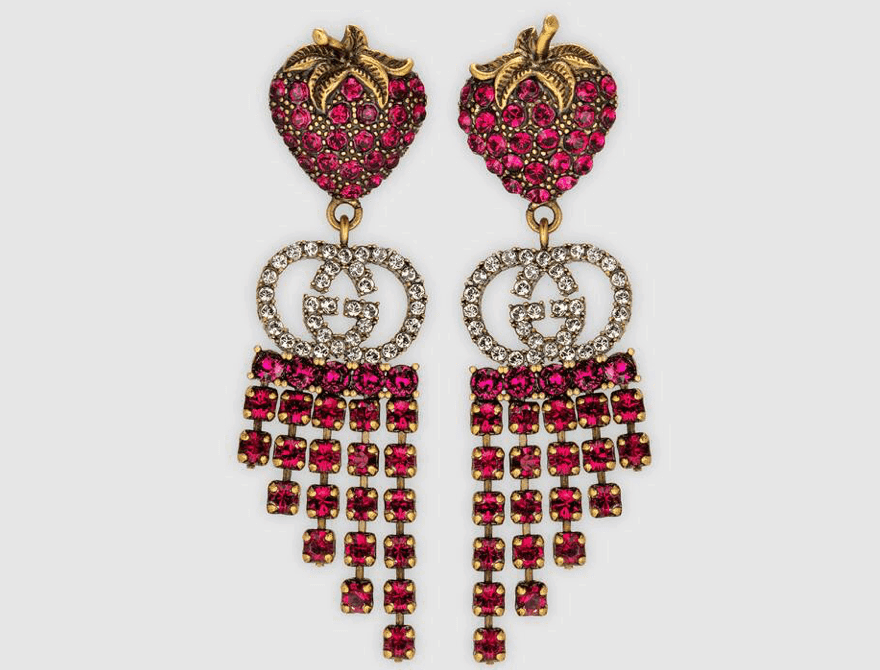 These $470 earrings are one of the most unique looks from the Gucci fashion collection. Sparkling red crystals shaped like strawberries are set on metal with an aged gold finish. The dazzling tiered strands and crystal-studded interlocking double G add a playful boldness to these earrings. Buy Here.
Vintage Inspired Pearl Double G Earrings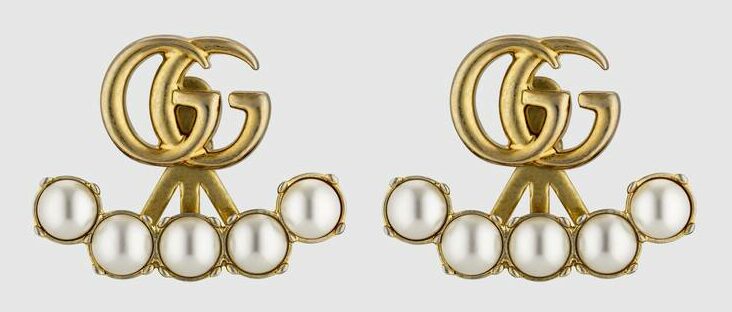 This pair of $500 earrings combine vintage and modern forward looks. They're also quite versatile, not only due to style but also their ability to extend to a longer length. The classic Double G logo is set with an aged gold. The glass pearls provide a dreamy, sophisticated look. Buy Here.
Lion Head Earrings with Double G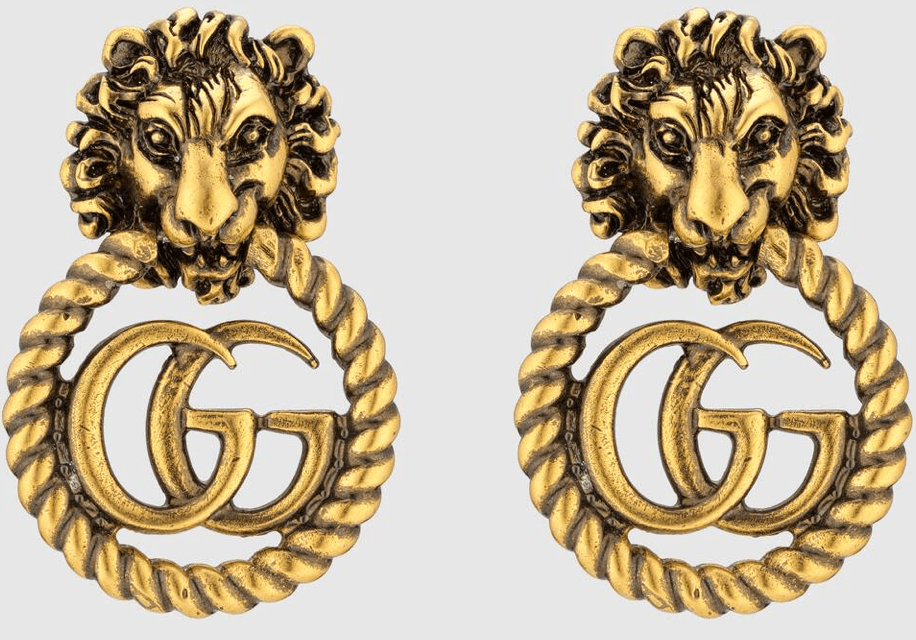 The lion is perhaps the most iconic Gucci motif. As 'King of the Jungle,' the lion represents confidence, boldness, and bravery. The gold finish on this iconic symbol is the perfect complement, alongside a Double G pendant. Priced at $650; Buy Here.
Floral Motif Drop Earrings with Resin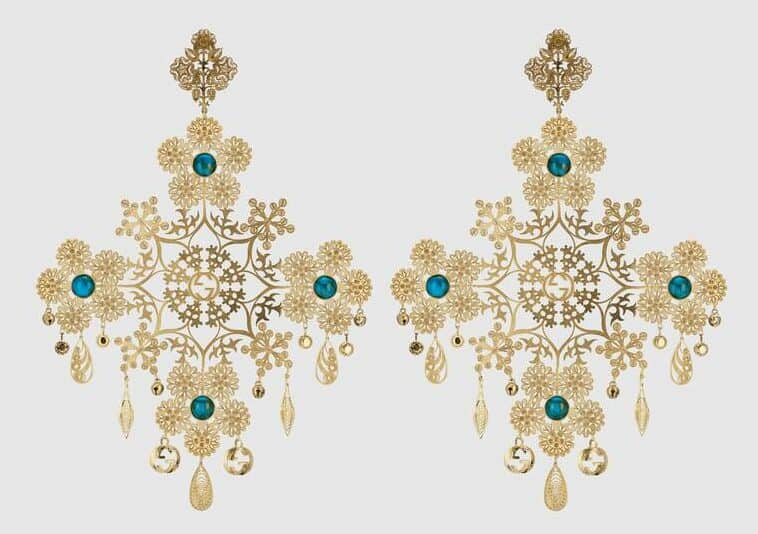 Priced at $1750, these are the earrings for my top fashion picks. If you thought some other Gucci earrings were a bit oversized, think again. These boho earrings are unabashedly bold, big, and filled with intricate details. Engraved brass with a gold finish accompanies floral motifs, blue resin, and star-shaped pieces. Buy Here.
Fine Gucci Earrings
Solid rose, yellow and white gold earrings are paired with diamonds and pearls for an expressive fine jewelry collection of earrings. Two-thirds of this collection is a bit more classic and subtle. There's a focus on the Gucci logo and wearable stud earrings.
But you'll also find expressive touches of Gucci's boldness. That can be seen in oversized butterfly earrings, boho hoops, and a touch of celestial themes.
Gucci's fine earring collection straddles current trends and classic looks in a nuanced way. Earrings are priced from $620 to $6800- making this amongst the most affordable luxury designer collections, compared with competitors. You can find most earrings under $2500. Shop the Entire Collection Here.
Interlocking G Gold Earrings

At $620, not only are these earrings about as affordable Gucci as you can get for 18K solid gold, but they're also among the most useful. There's something to be said for understated stud earrings, and you'll find yourself wearing the interlocking G design often. Buy Here.
GG Tissue Stud Earrings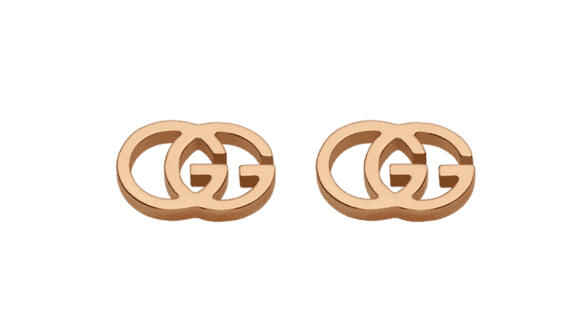 Also priced at $620, these Gucci stud earrings have a more matte look to the 18K yellow gold. A scalloped design feels a bit more unique and modern, making it another great choice if you're looking for a staple. Buy Here.
Icon Asymmetric Earrings

These icy 18K white gold earrings feature a bold asymmetric design– while keeping with classic themes. A triangle and white diamond accompany the GG symbol. Clever angles, an artistic approach, and excellent execution make for unique but petite earrings. Priced at $970;
Link to Lobe Chain Earrings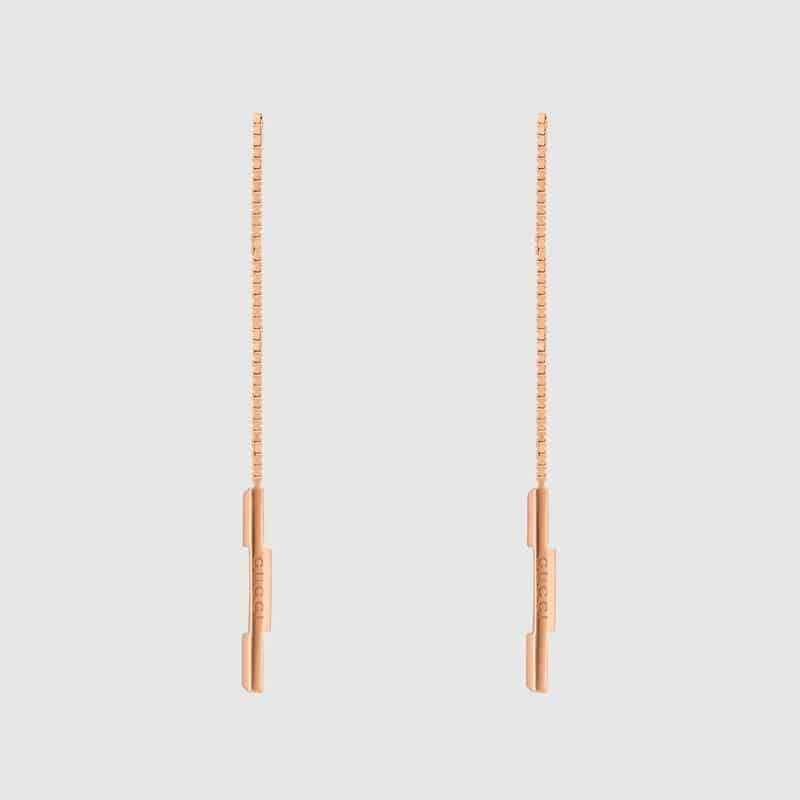 These $1250 Gucci earrings are notable in a few ways. For one, they're one of the few Gucci earrings available in 18K rose gold. For another, they lean into minimalism– unusual for Gucci. And finally, this sleek and refined look comes from the relatively new Link to Love collection. This collection was designed to express all forms of love. Buy Here.
Gucci Flora Earrings with Diamonds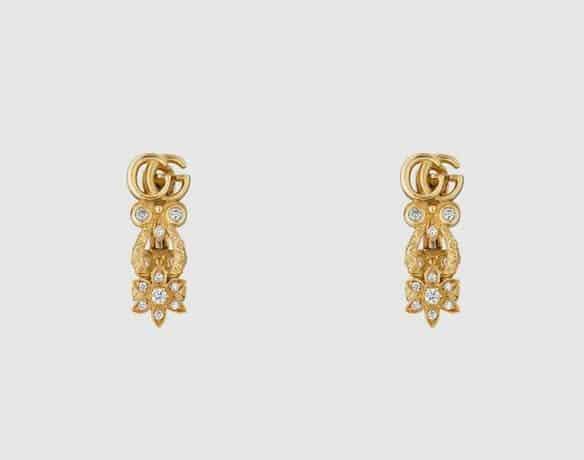 Priced at $2500, these diamond earrings pair the iconic flower and Double G motifs. A classic for years to come, 18K yellow gold is beautifully paired with diamond accents and thoughtfully crafted floral petals. It's a beautiful look, and quite wearable with a variety of formal outfits. Buy Here.
Le Marché des Merveille Earrings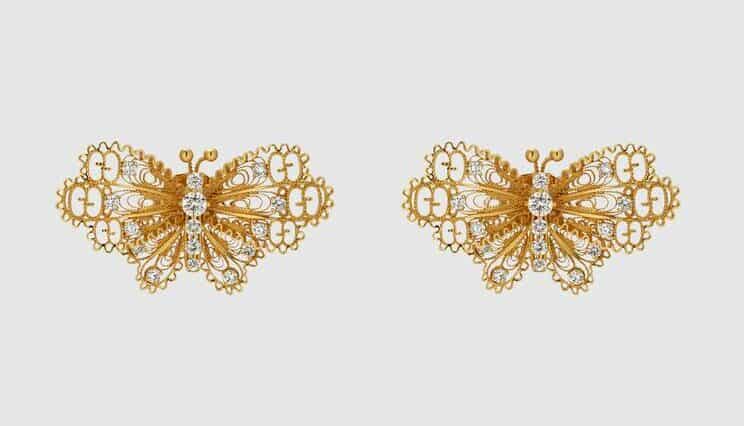 They may not be the most versatile, but this pair of earrings is one of my favorites from Gucci. You can see the bold but intricate eye for design Gucci is known for with these butterfly-shaped, 18K yellow gold earrings. Accent diamonds add sparkle across the motif, with an alluring elegance. Priced at $2950. Buy Here.
GG Running Hoop Earrings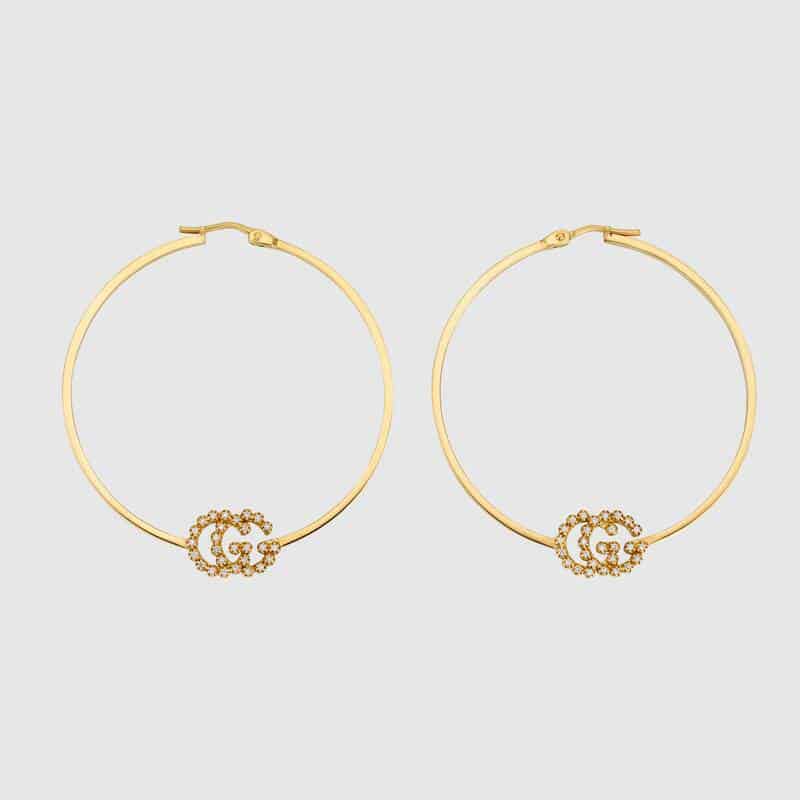 These $3000 earrings feature an oversized hoop with diamond-studded Double G motifs. The fine, polished 18K yellow gold hoops pair well with the textured and sparkling logo. It's a modern boho look with a touch of Gucci glamour. In fact, these earrings make enough of a statement that you don't need other accessories. Buy Here.
Lion Head Stud Earrings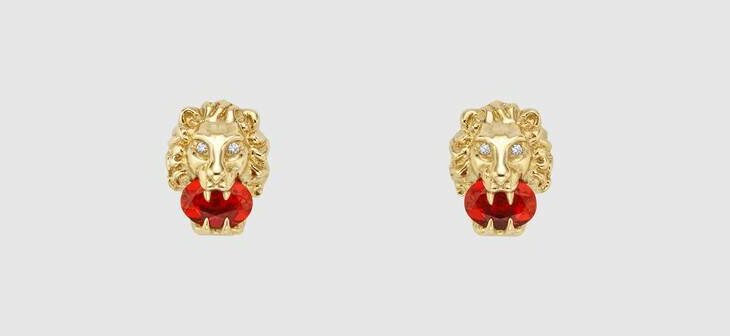 These $3250 earrings are striking and uniquely Gucci. A fire-red opal stone is set on 18K yellow gold, alongside accent diamonds. Refined, sparkling, and bold, this pair of earrings are suited for the brave at heart. Buy Here.
Flora Diamond Earrings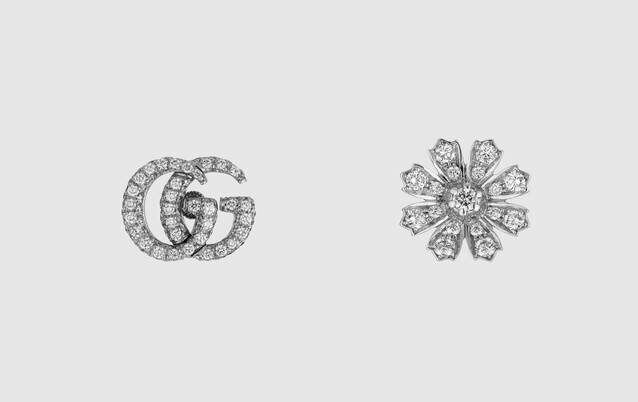 If you're looking for a striking but classic pair of diamond Gucci earrings, look no further. A mix of floral and Double G motifs, 18K white or yellow gold is heavily embellished with white diamonds for beautiful sparkle. Priced at $6800; Buy Here.
Frequently Asked Questions
Question: How do I check my Gucci serial number?
Answer: You'll have the easiest time finding a serial number on a Gucci bag. Gucci bag serial numbers are placed inside near the zipped pocket, directly across from the front closure. However, when in doubt about authenticity, your best bet is to buy directly from Gucci.
Question: Does all Gucci jewelry say Made in Italy?
Answer: One of the best indicators of real vs fake Gucci earrings is the Made in Italy indicator. All earrings should also have a trademark, and "Gucci". Made in Italy is typically in lower case letters. All Gucci jewelry is indeed made in Italy, so anything that claims to be Gucci but indicates it was made elsewhere is a fake.
Question: Why is Gucci so expensive?
Answer: In some ways, Gucci is not as expensive as you might assume, at least for its jewelry. While Gucci is certainly pricey, it also offers arguably more options that are relatively affordable than some competitors. But it's generally expensive for the same reasons that luxury jewelry is expensive. Gucci uses higher quality materials (mostly for its fine collection), has exclusive designs, wise marketing, and, of course, a respected name.
Question: Does Gucci have a payment plan?
Answer: Gucci offers payment plans for nearly all of its accessories. Typically, you can select from 3, 6, or 12-month payment plans, based upon the product. If you're financing through Affirm, that comes with zero interest. However, you need to first find out if you're eligible for the zero financing option.
Final Thoughts
Gucci earrings are often bold, expression, but undeniably iconic. From the Double G to flowers, crosses, and lions, motifs accent nearly every fashion or fine jewelry earring. While the fashion collection is playful and expressive, the fine jewelry collection sparkles with white diamonds and shines with quality 18K gold.
The best news? You can easily find a pair of Gucci earrings under $2000– something that cannot be said for some of its competitors.