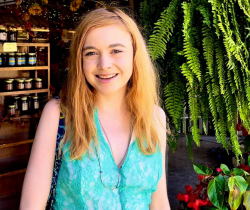 Latest posts by Erin Jamieson
(see all)
Gold earrings have always been a classic go-to. From iconic yellow gold hoops to romantic rose gold studs, it's no surprise that they're still trending in 2022. There are shaping out to be one of the best years for gold earring ideas and trends, both new and classic.
Trending in 2022 is a mix of classic and modern, bold twists. And not all of the gold earrings being worn by celebrities and royalty are that expensive. Kate Middleton recently wore gold earrings that cost under $25.
The yellow gold huggie hoop earrings are designed by Oriela London and feature a chain style. Sleek, polished metal provides a modern and versatile look. For earrings as affordable as these, they're also sophisticated– and certainly surprising to see worn by the Duchess, who's known to don luxury designers.
Of course, many celebrities have been spotted wearing gold earrings, but 2022 has shown that, if anything, gold earrings are more popular than ever. From celestial earrings to classic hoops like Kate Middletons, it's an exciting time to shop for gold earrings.
But instead of focusing on the cheapest or the most expensive earrings, this guide will show you what I consider some of the best gold earrings for their overall value. I'll tell you what gold earrings are trending in 2022, how to pick gold earrings, and where to buy my favorite ideas.
| Product Image | | Primary Button |
| --- | --- | --- |
| | | |
| | | |
| | | |
| | | |
| | | |
| | | |

How do you pick gold earrings?
Regardless of trends, there are always several factors to consider when choosing gold earrings. When buying gold earrings of any kind, you'll need to determine the price point, metal type, and maker.
What is the price of gold earrings?
Gold earrings vary quite a bit in terms of price. From my picks, you'll find earrings priced from around $100 up to $2,500. You can find earrings under $100 and certainly well over $2,500, especially buying diamond gold earrings or earrings for a luxury designer.
Keep in mind that finding the cheapest price is not always the best option. Very cheap gold earrings may not be real gold or maybe gold-plated earrings instead. But the bottom line is that you can likely find gold earrings within your budget.
Which gold is best for earrings?
There's a difference between gold-plated and solid gold earrings, and both come with pros and cons.
Gold Plated Earrings
Gold plating or gold finish earrings are real gold, but not solid gold. Gold plating consists of a thin layer of real gold, usually placed over cheaper metal, such as sterling silver or stainless steel. While not a terrible option if you're on a budget, know that gold plating is both less valuable and less durable.
10K, 12K, 14K, 18K o4 24K Gold Earrings
Solid gold consists of 10K to 24K gold. Gold in its true form is a soft metal, so it still needs to be handled with care. I'd recommend aiming for 14K or 18K gold. 24K is 100 percent pure gold and the most valuable. The problem is that it's also easy to scratch and bend.
14K and 18K are less pure (25 to 45 percent alloys) but are going to be better in terms of everyday durability. 10K gold has less luster and is not usually used for fine jewelry.
Rose, White, and Yellow Gold
When we're discussing gold earring trends, the most popular trend to be yellow gold. But gold also includes rose and white gold. White gold consists of copper, zinc, nickel, or palladium alloys with gold. Rose gold usually contains some copper.
Durability-wise, there isn't a strong advantage for white vs yellow vs rose gold. A lot of it comes to personal taste. Of the three, yellow gold tends to be the most popular, and white gold tends to be a little more expensive. Rose gold is a bit more unique and you may have fewer options.
Most of my picks in this article will be yellow or white gold, in line with current trends. But don't be afraid to try rose gold!
What are good earring brands?
The next factor you need to consider is where you're buying gold earrings. If you're just buying a casual pair of earrings, you don't need to overthink your purchase. But if you want a pair of earrings that will last and be made with good quality, you do need to be more selective.
Don't worry about big brand names, so much as the company's quality and reputation. I always like to check the Better Business Bureau for bigger purchases. Make sure it's a secure site and they have a solid return policy if you're shopping online. Focus on quality, rather than prestige.
What type of earrings is in trend?
Gold earring trends in 2022 are interesting. They blend classic, even throwback styles, with modern additions. The biggest trend has been self-expression. Even classics, like pearl earrings, are a bit bolder than their stand-by predecessors. Celestial accents, colorful gemstones, and statement hoops are just a few of the trends. You'll also find playful touches, from mismatched earrings to nature-inspired looks.
As far as types of earrings, hoop earrings are certainly making a comeback, including huggie hoops and earrings for cartilage piercings. Drop earrings are making bold fashion statements, while expressive stud earrings keep things alluring and classic.
Gold earring trends in 2022, as a whole, show just how much difference an accessory can make for a complete outfit.
Gold Earrings: My Picks
Now I'll give you my picks for the best ideas for trendy gold earrings in 2022. I've included the most popular and stand-out trends for the year, as well as where to buy. From whimsical star-studded earrings to mismatched earrings and more, here are my suggestions.
Celestial Gold Earrings
Celestial earrings evoke stars, moons, and galaxies. Ethereal, unique, and pointing to the future, three earrings and charming. Crescent moon earrings symbolize both the cycle of life and female empowerment. Stars represent dreams, goals, and divine guidance. Both moons and stars are associated with many forms of spirituality and faith, and solid gold is the perfect metal to complement this trending look.
If you're longing for a diamond accent for your celestial rings but don't have a big budget, these gold-plated Ross Simmon earrings make a dramatic and playful addition to any outfit. .33 carats of high-quality diamonds add scintillation to the moon and star pendant. The interplay of sterling silver and 18K gold plating gives off an ethereal impression. Priced at around $249; Buy Here.

Diamond Celestial Stud Set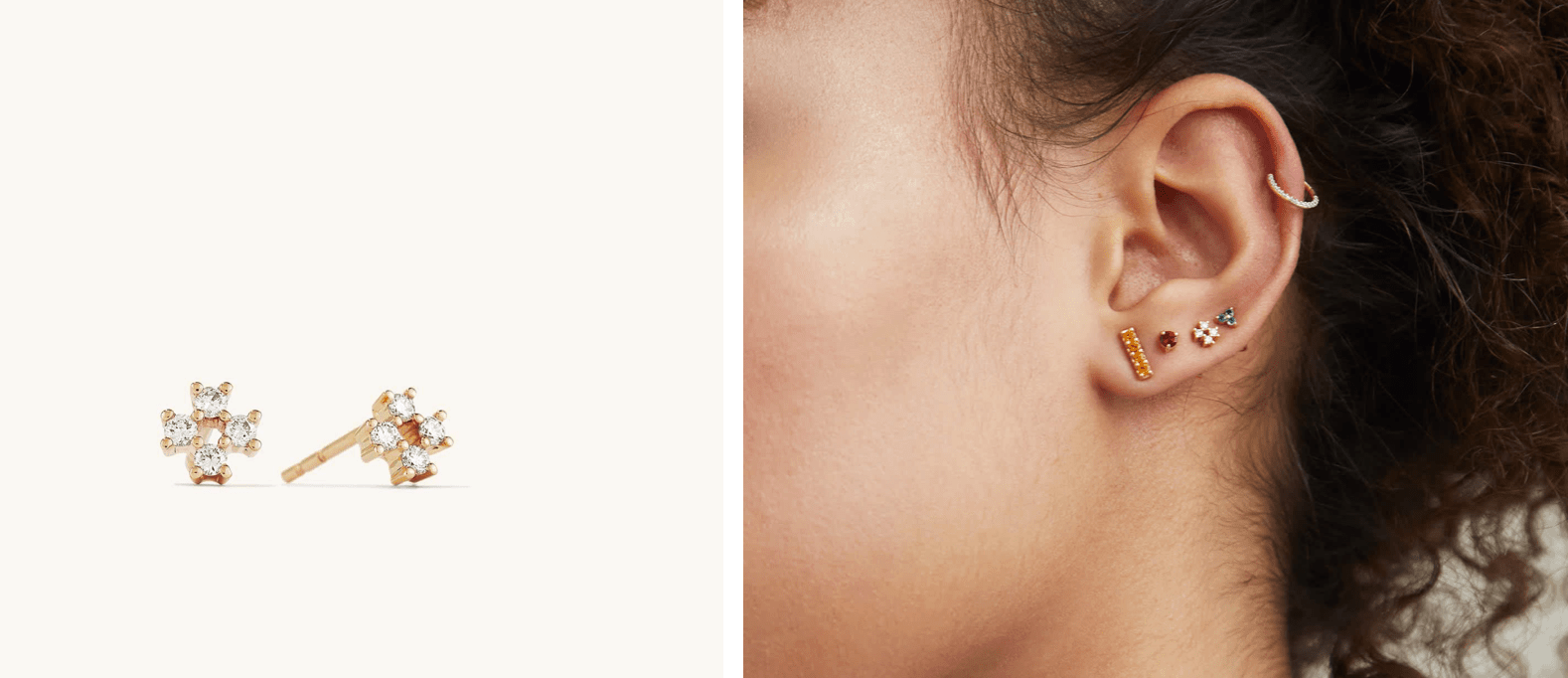 This around $300 diamond stud set has the same whimsy of a sparkling night sky. Ideal for anyone with multiple piercings, these 14K gold pieces can be worn alone, or mixed and matched as it pleases you. Pave diamonds add faint touches of brilliance.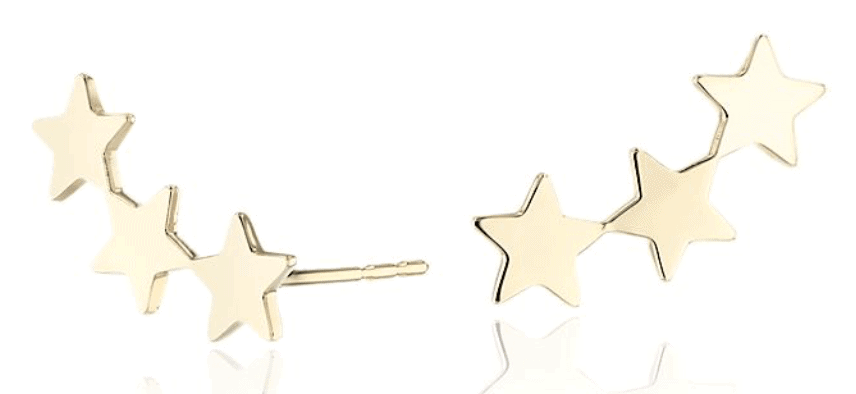 These polished 14K yellow gold earrings from Blue Nile feature a graduated star motif. Priced at around $150, the quality of the metal means you don't need accents for these to shine. Pair with everything from jeans to a black dress. Buy Here.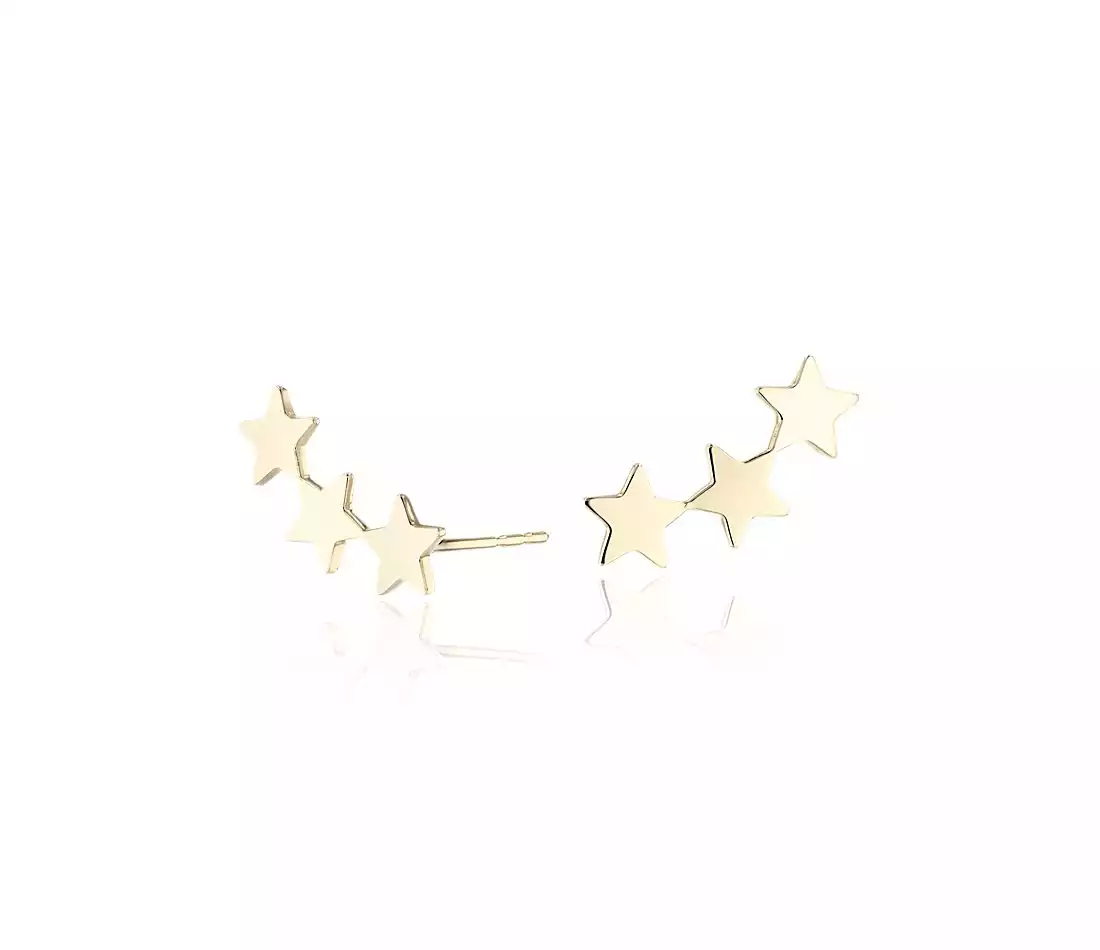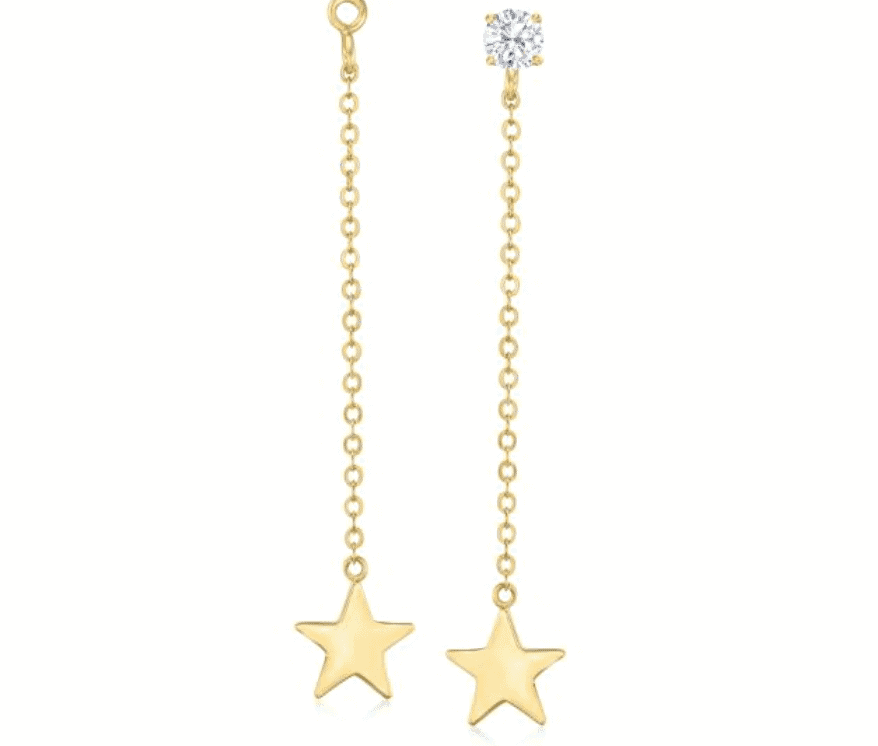 This unique idea from Ross Simmons allows you to get more use out of any studs you already own. The dangling drop chains are crafted in 14K yellow gold and feature star details. I especially recommend pairing diamond or CZ studs if you have them for a bit of sparkle. Priced at around $99. Buy Here.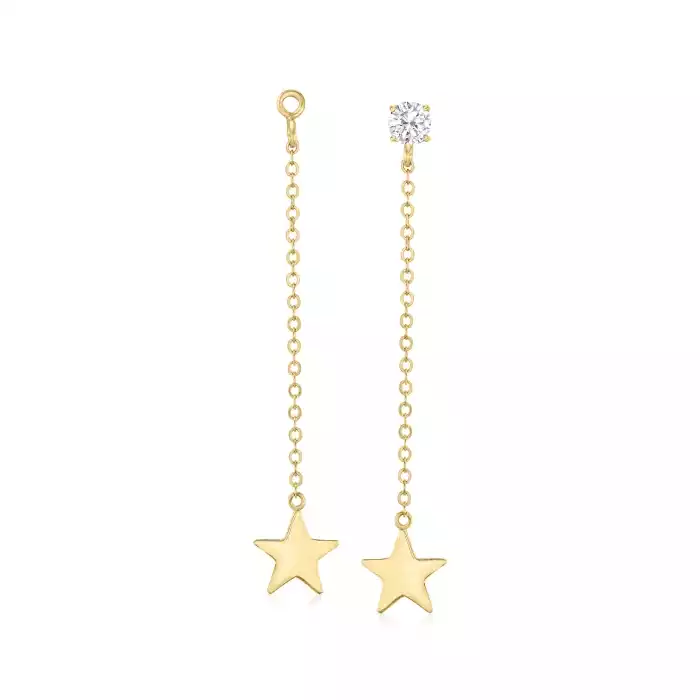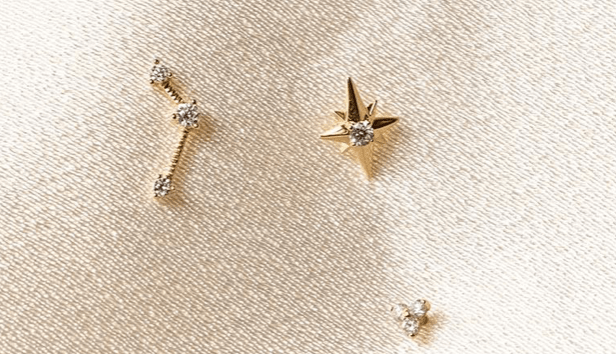 A trio of high-quality accent diamonds mimics a constellation in the night sky. Arranged on a recycled 14K white or yellow gold bar, this is a more abstract, modern take on the celestial theme. Priced at around $365. Buy Here.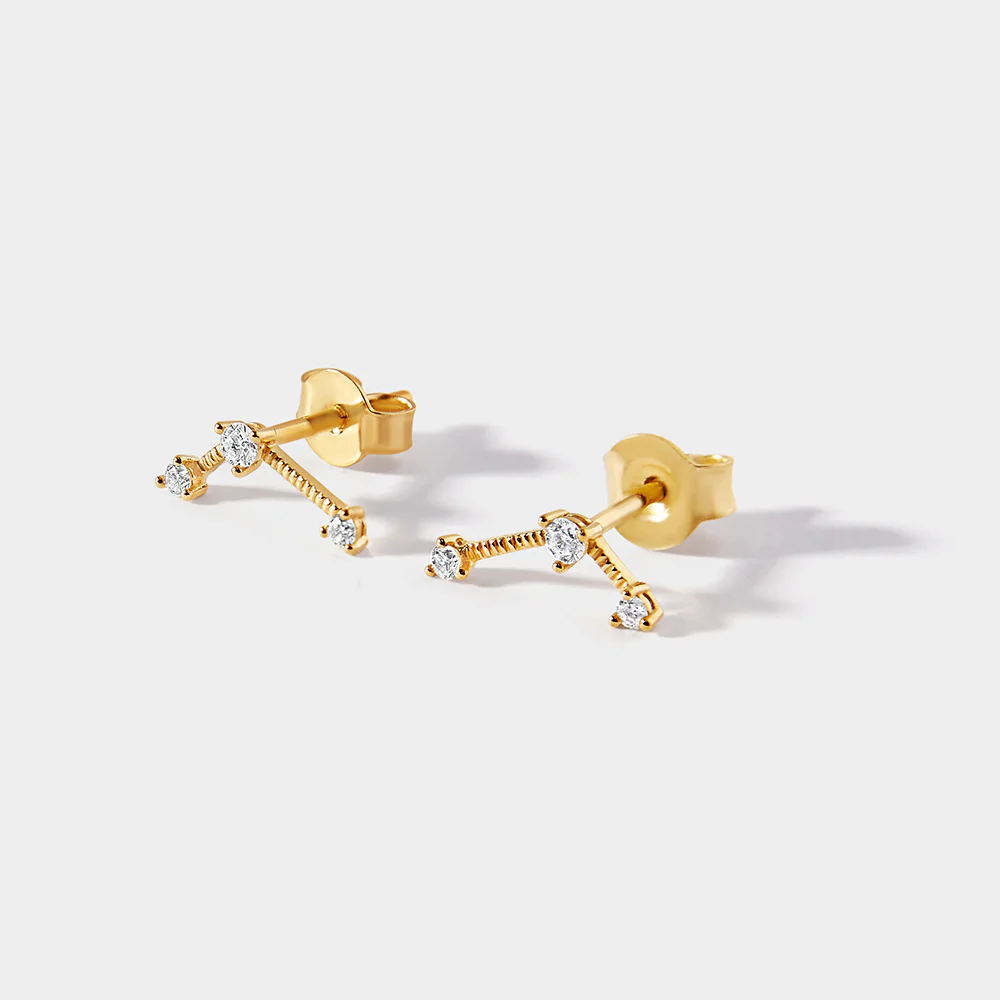 Colorful Gemstone Gold Earrings
Just as some are looking to make a statement with celestial gold earrings, others are adding bold splashes of color with gemstones. From classic gemstones like sapphires to more unexpected hues, this trend leans formal and even a bit glamorous, but with modern touches for self-expression. While it's true that some are rocking the look with gemstone simulants, all of my picks include genuine quality gemstones. A gemstone with quality color, clarity, and cut also adds luster and a more intense hue.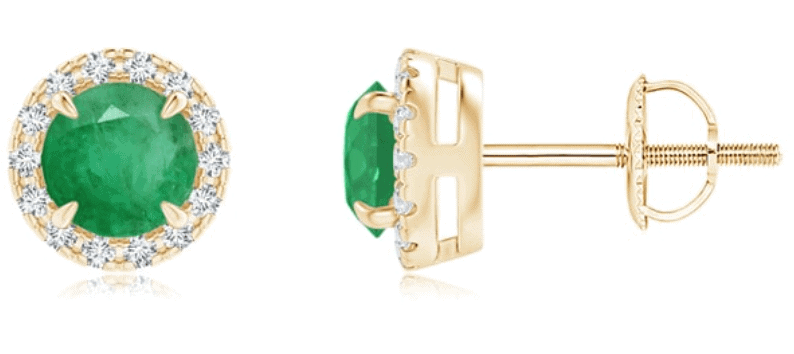 Choose from 14K rose, yellow, or white gold for these stunning earrings. Emeralds of fine quality are surrounded by diamond accents. Yellow gold especially provides a stunning backdrop for the rich green hue. Available in 0.59 to 1.16 carats; priced from $647 to $3,248, depending on the metal finish, carat, and gemstone quality. Buy Here.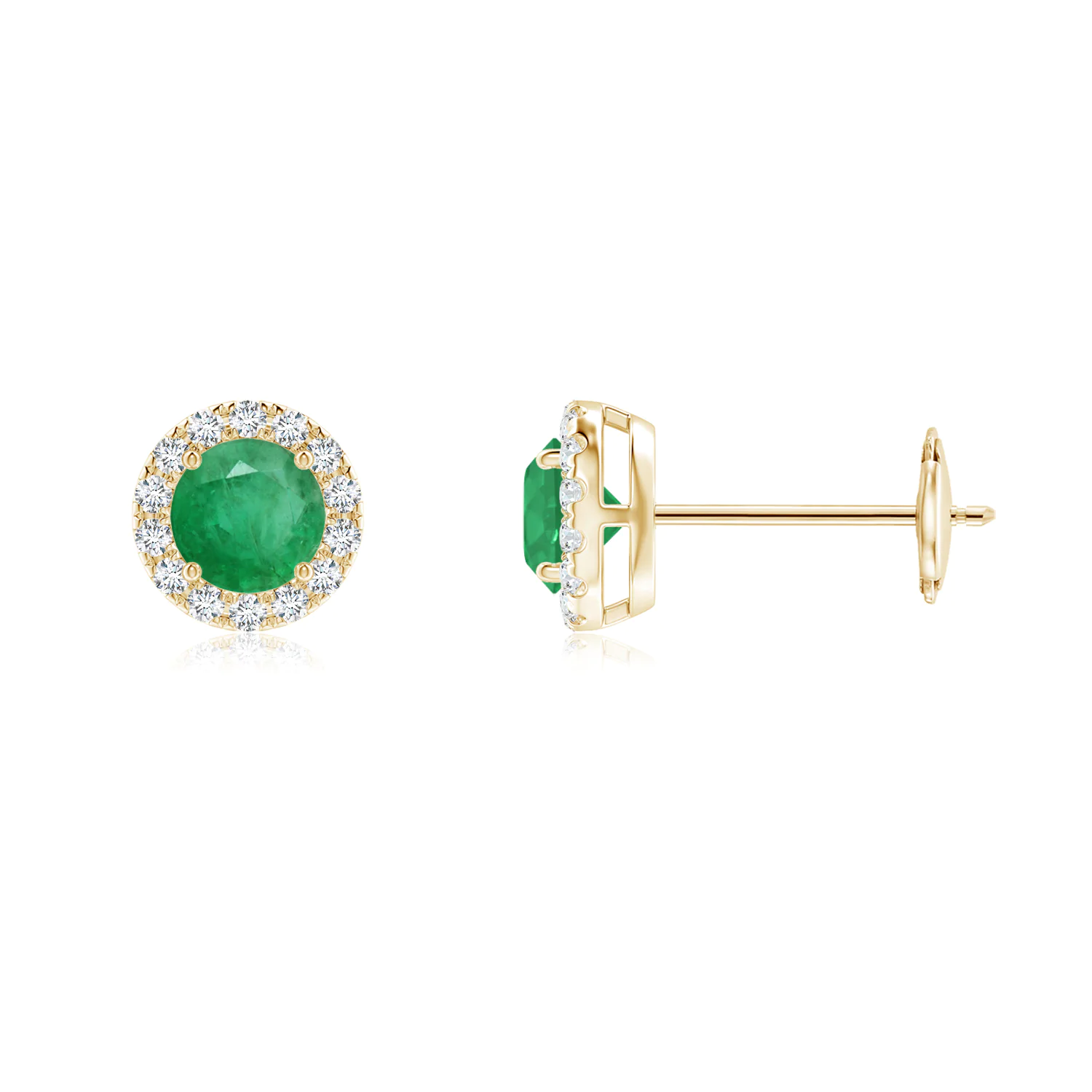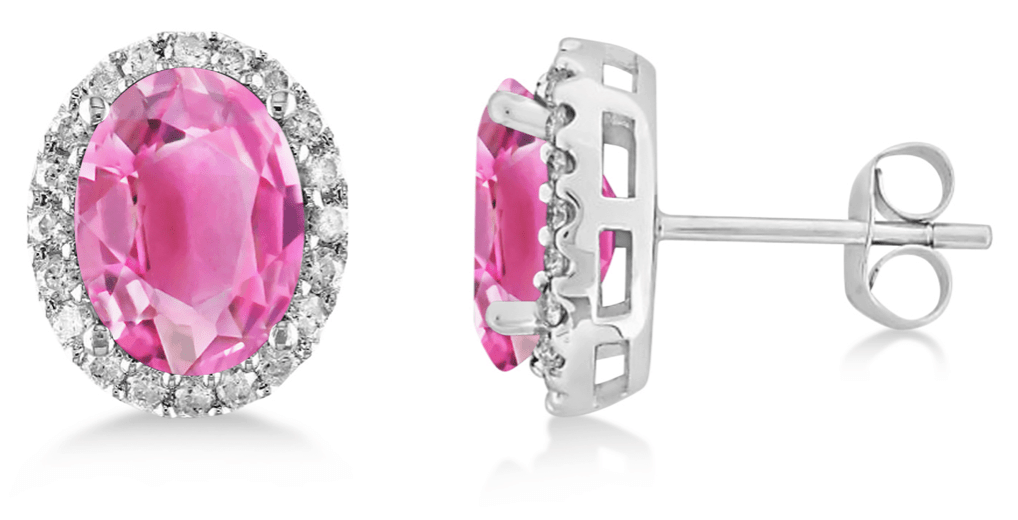 40 round pave set diamonds accent a center gemstone on 14K white, yellow, or rose gold. This glamorous pair of earrings offers a modern-vintage appeal, with timeless opulence. Choose from genuine rubies, emeralds, opal, tanzanite, amethyst, aquamarine, pink sapphires, onyx, citrine, and alexandrite. Some gemstones are lab-grown. Priced at $1,140 to around $1,500. Buy Here.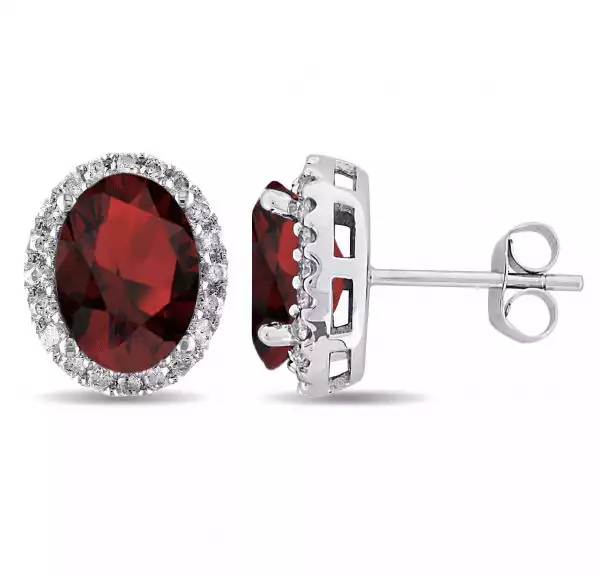 Oval Garnet & Halo Diamond Stud Earrings | Allurez
Look regal with these garnet and halo diamond stud earrings in a style favored by royalty. Set in 14k white gold, these earrings feature an oval shaped garnet, framed by a halo of diamonds. Secured with push back closures, these stud earrings have a total weight of approximately 4.60 carats.
Check Price
We earn a commission if you make a purchase, at no additional cost to you.

Cluster Drop Earrings in 18K Gold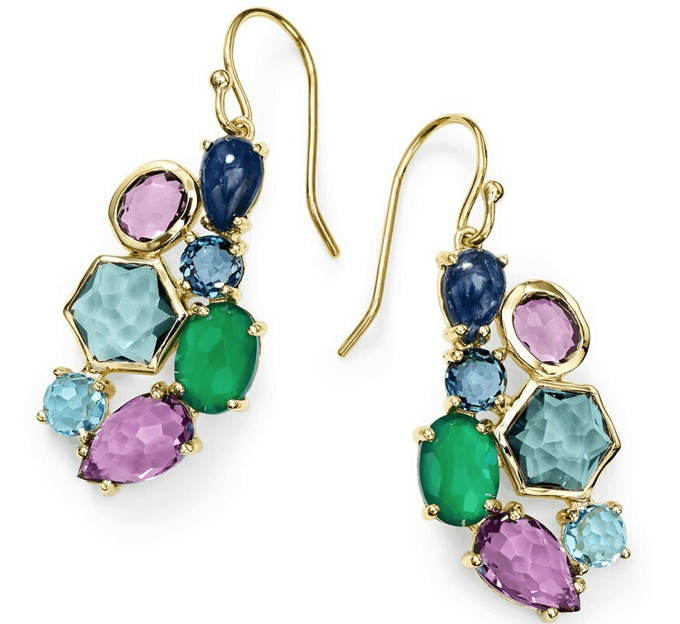 Can't decide between a gemstone? This pair of earrings means you don't have to. Fully embracing the colored gemstone trend, Tanzanite Cabochon, Swiss Blue Topaz, Amethyst, Rock Crystal, Green Gold Citrine, and London Blue Topaz create an array of colors. Innovative and artistic, these gems are set on polished 18K gold. Priced at around $2,259. Buy Here.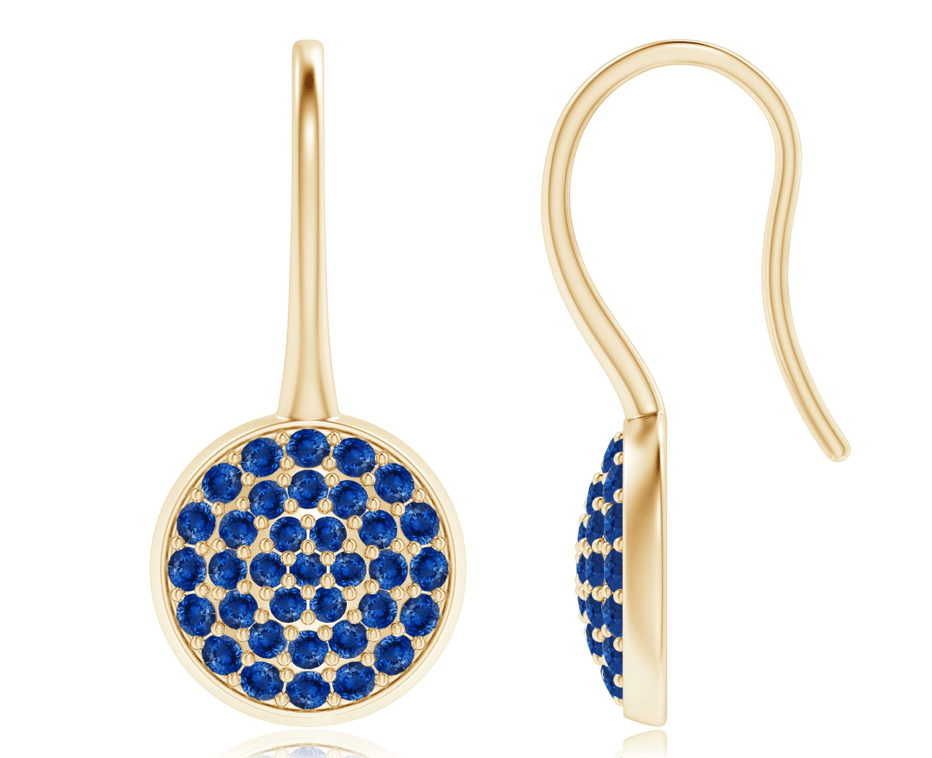 Set on 14K yellow, white, or rose gold, these playful gemstone earrings are also sophisticated. Round sapphire clusters on discs add a clever accent to just about any outfit. Priced at around $719. Buy Here.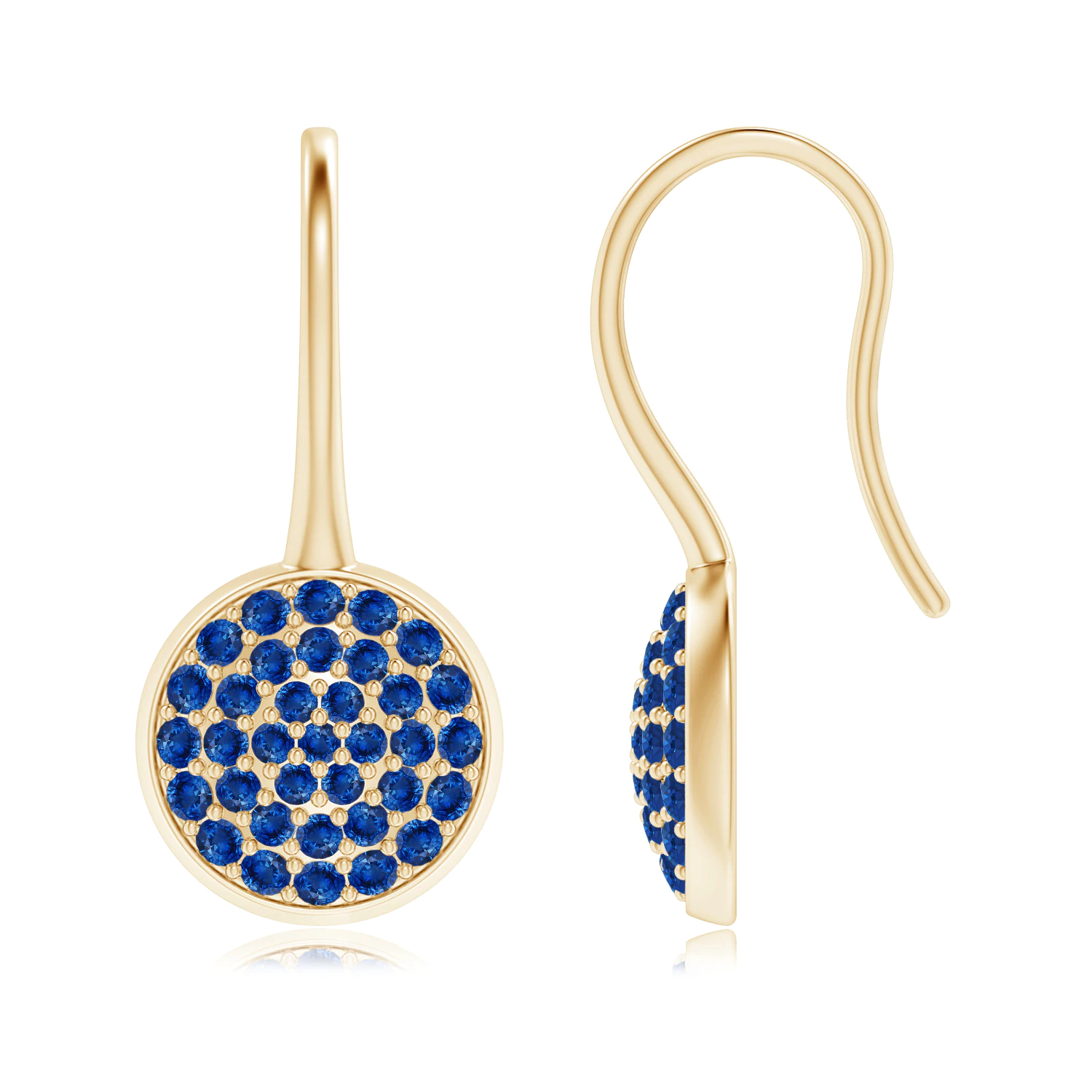 Opal and Diamond Heavenly Stud Earrings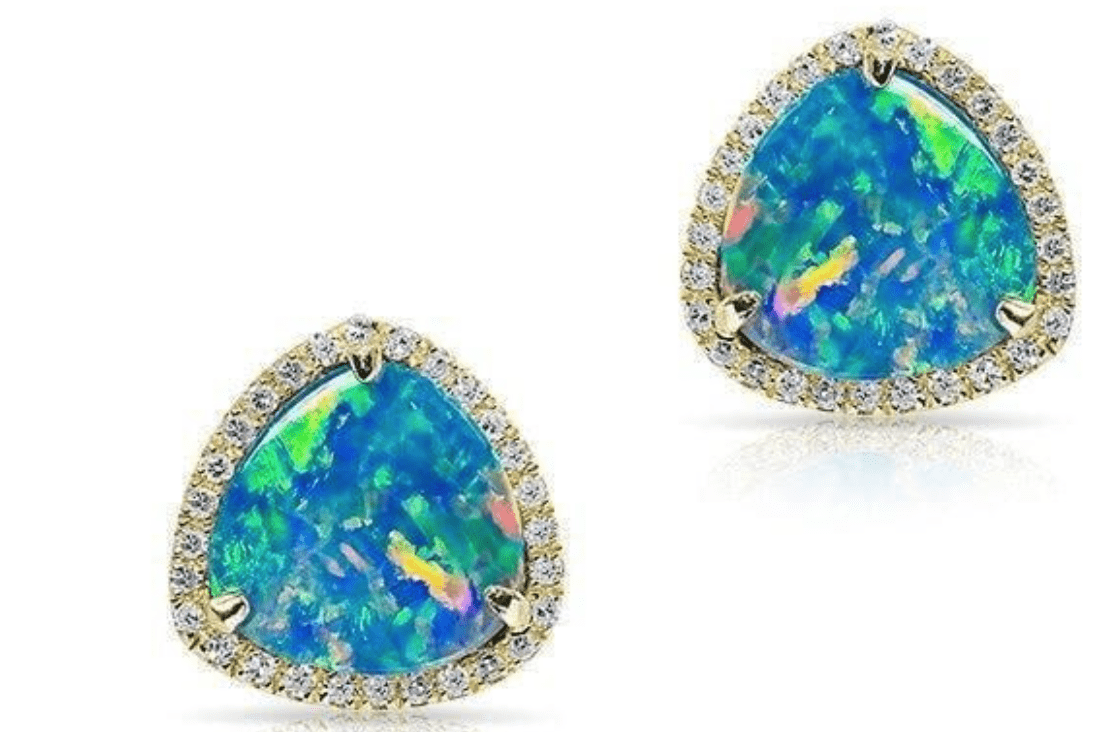 In theme with the increased attention to the environment, these unique colored gemstones earrings shine on 14K yellow, white, or rose gold. Gold and green fleck and opal gemstone. 56 accent diamonds, with a carat weight of .12, add just a touch of modern sparkle. Priced at around $945. Buy Here.
Nature Themed Gold Earrings
Maybe it's the increased awareness and interest in the environment. Maybe it's that, after lockdowns and uncertainty in the world, it takes longer to feel a connection with the natural world. Whatever the reason, nature motifs are finding their way in gold earring designs in 2022. Classic to bold florals, leaves, and even olive branches are trending. From elegant to playful, natured themed gold earrings are one of the most lively trends for 2022.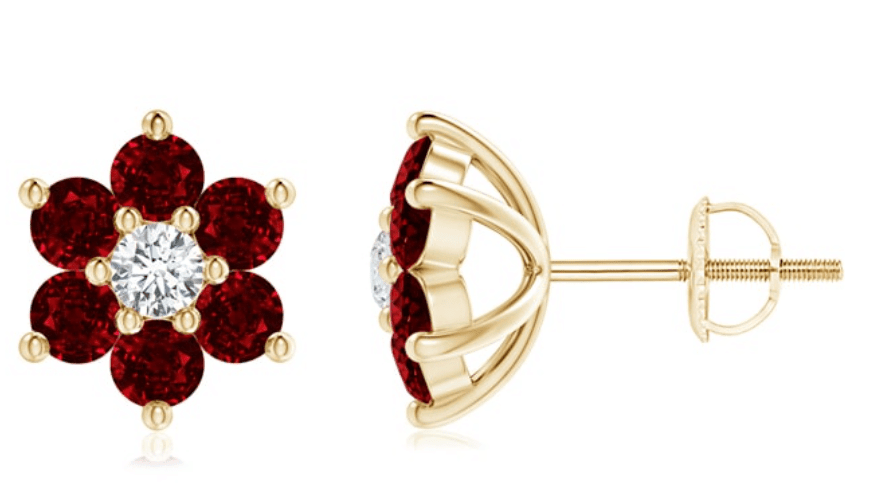 Exquisite and one of my favorite gold earrings on my list, these Angara stud earrings are sure to impress. Genuine rubies form the six petals, with a sparkling round diamond center. Set on sleek 14K rose, yellow or white gold, you'll also have your pick of gemstone quality. Priced at $429 to $584. Buy Here.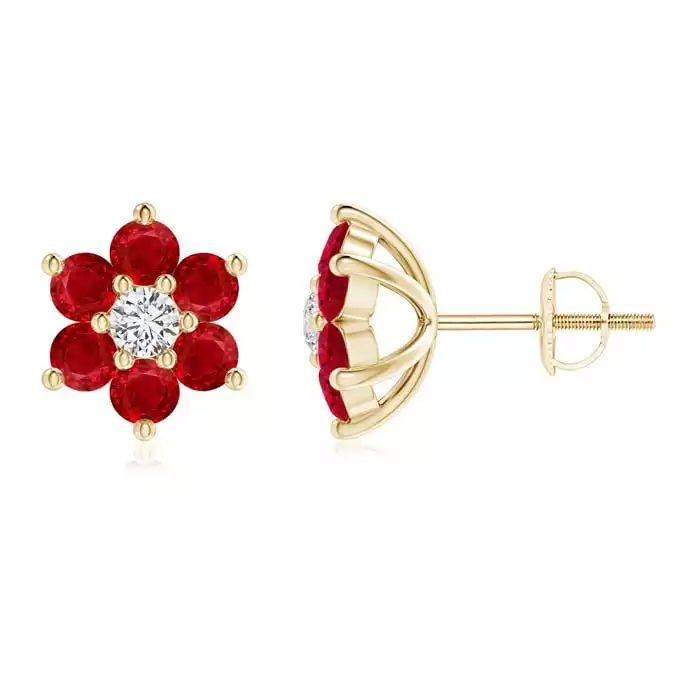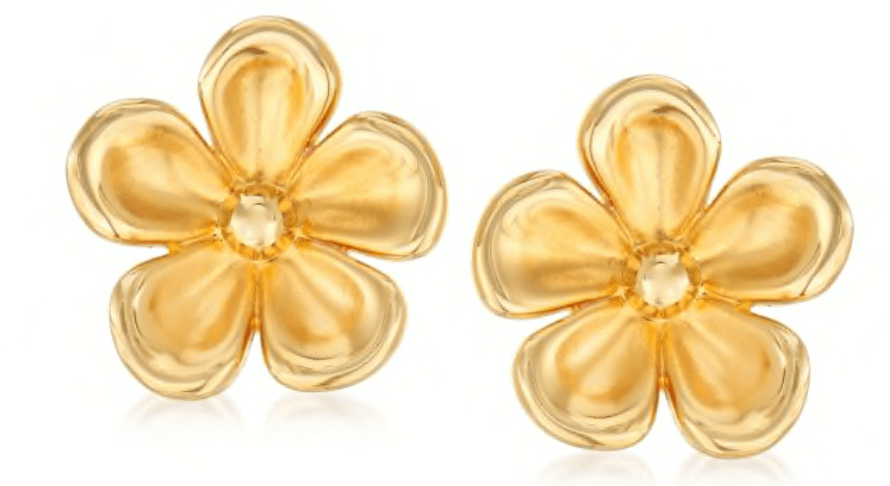 On sale for around $289, these 14K solid yellow gold earrings are a beautiful take on a floral theme. Satin details and a polished look make these both modern and sophisticated. You can wear this pair of earrings with formal and casual outfits alike. Buy Here.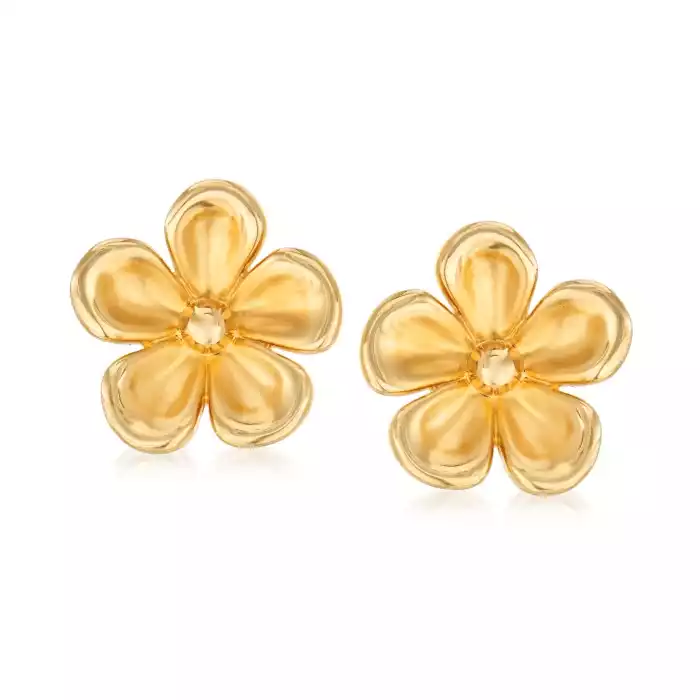 This is another formal pair of earrings that'll last you a long time. Available in 14K rose or yellow old, polished metal provides a brilliant complement to marquise-shaped emeralds. The olive branch motif is both a theme of nature and a symbol of peace. Priced from $854 to $3,410. Buy Here.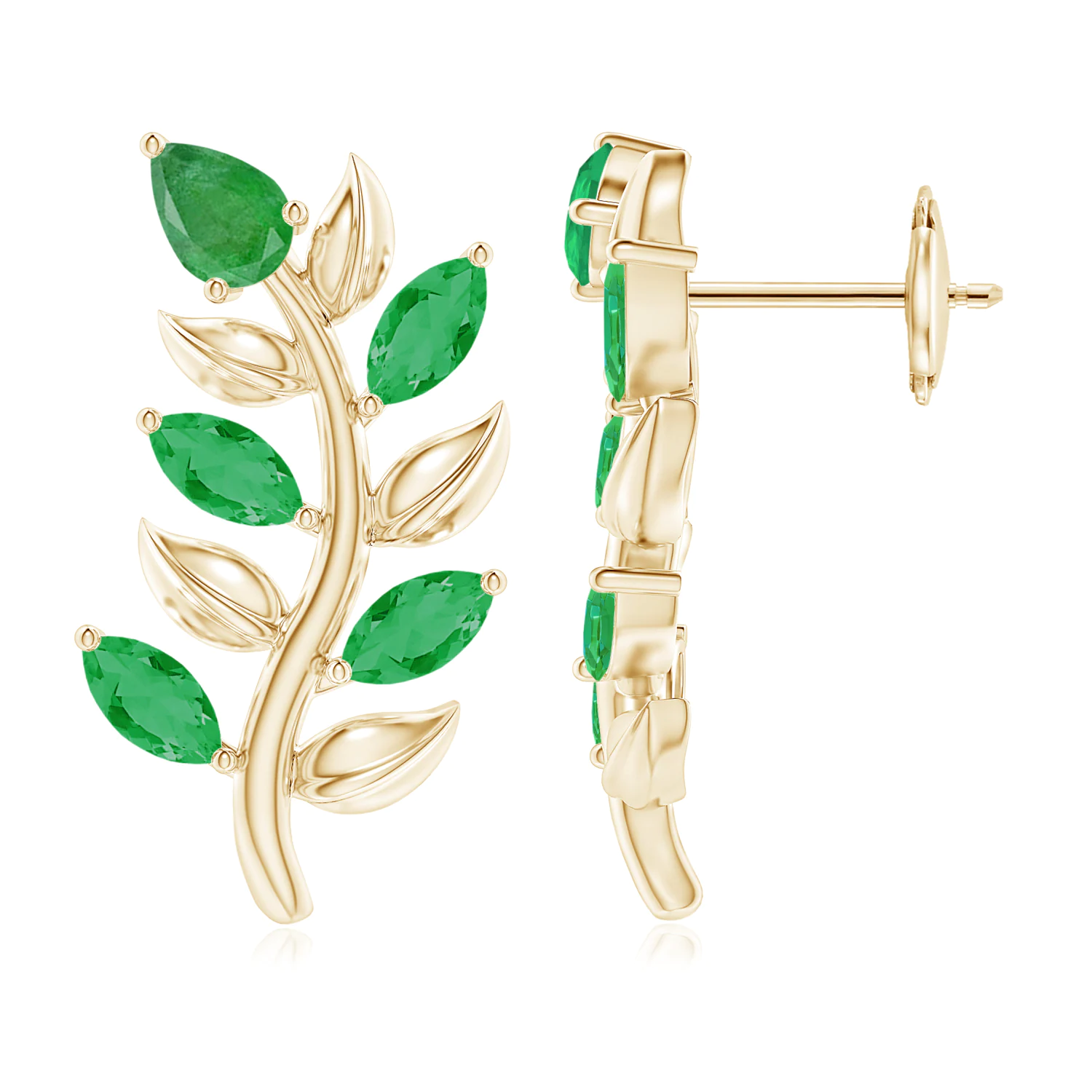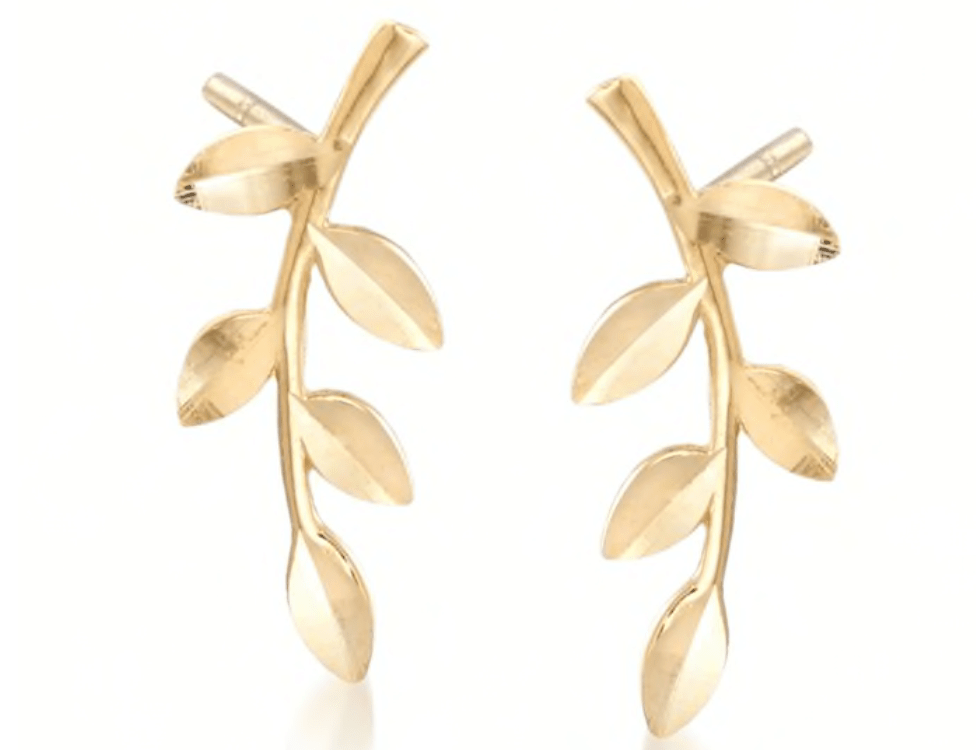 On sale for just over $110, these 18K gold branch earrings may be among your best options for overall value. The high-quality shine to the solid gold carries the beautifully crafted branch shape. These earrings are at once modern and artistic. Buy Here.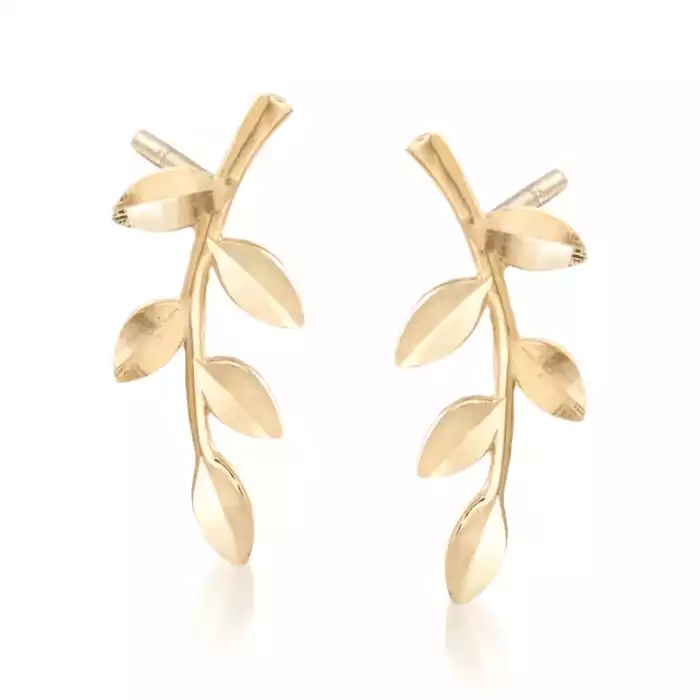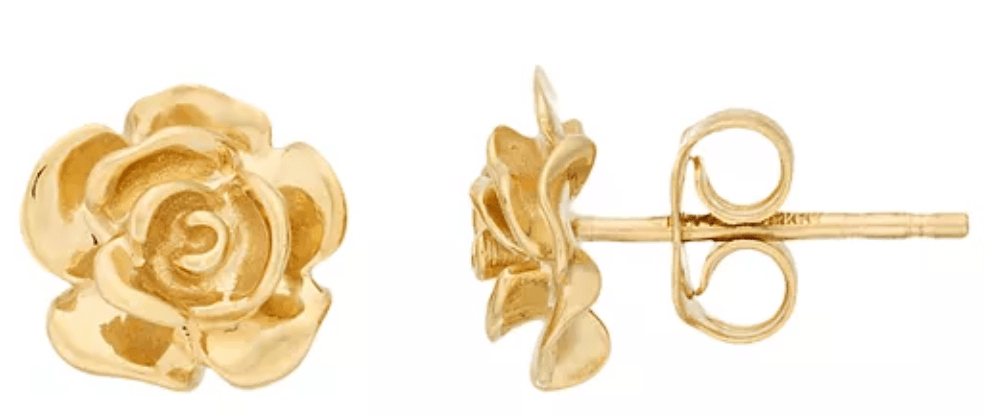 Little is more iconic as a romantic symbol than a rose. These rosebud stud earrings are made with a diamond-cut finish and 14K gold. It's an understated note that will suit almost any formal outfit. Retails for around $725; Buy Here.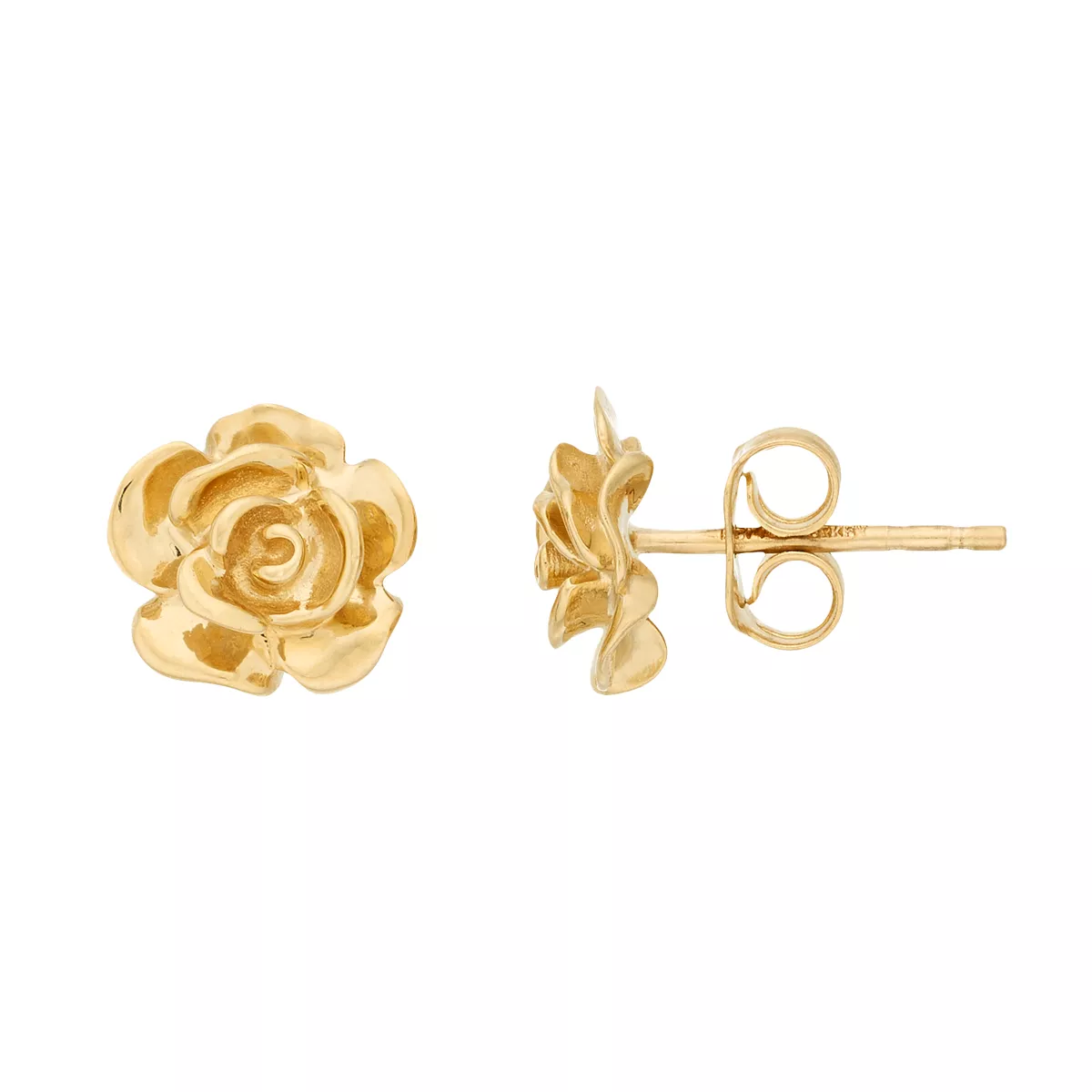 Minimalist Hoop Gold Earrings
One outlier in 2022 gold earring trends? Minimalist hoop earrings. From oversized to dainty, from huggie hoops to classic, hoop earrings are making a comeback in a big way. Sleek metal, thin bands, and subtle touches make these earrings versatile and fuss-free to wear. While this style may come across as the opposite of many of these trends, hoop earrings this year carry a bold statement of their own. Many even have a retro feel.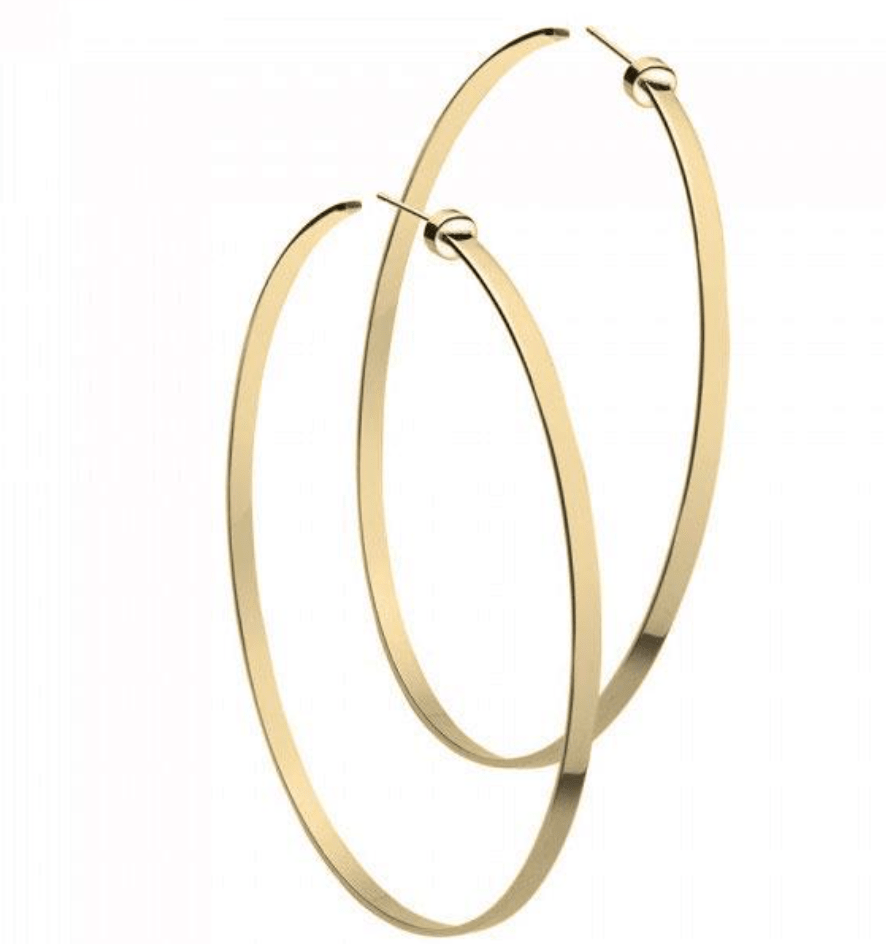 Inspired by Jennifer Lopez, these 14k yellow, white, or rose gold hoop earrings provide an iconic look. Oversized hoops can be paired with tracksuits or jeans, elevating everyday looks. Priced at around $210. Buy Here.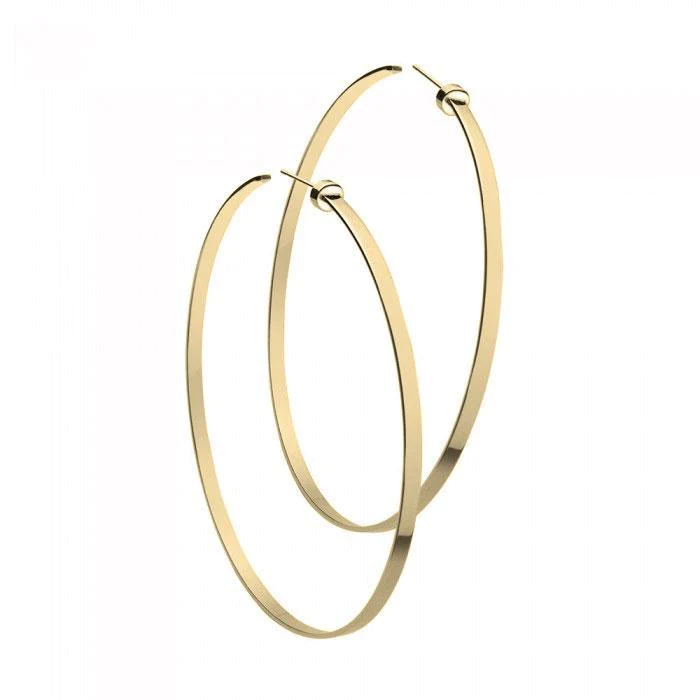 Jennifer 3" Hoops | Jennifer Zeuner
These classic oversized hoops draw obvious inspiration from the original hoop earring icon, Jennifer Lopez.
Check Price
We earn a commission if you make a purchase, at no additional cost to you.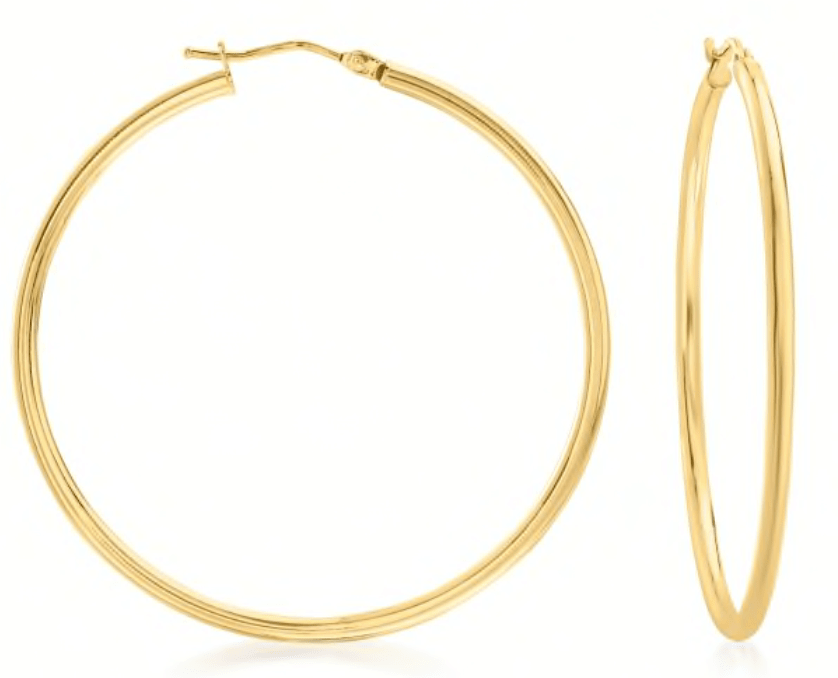 18K Italian yellow gold provides sophistication to these classic hoop earrings. Plenty of shine and a minimalist but beautiful design make these earrings useful for rocking an oversized but elegant look. On sale for around $267; Buy Here.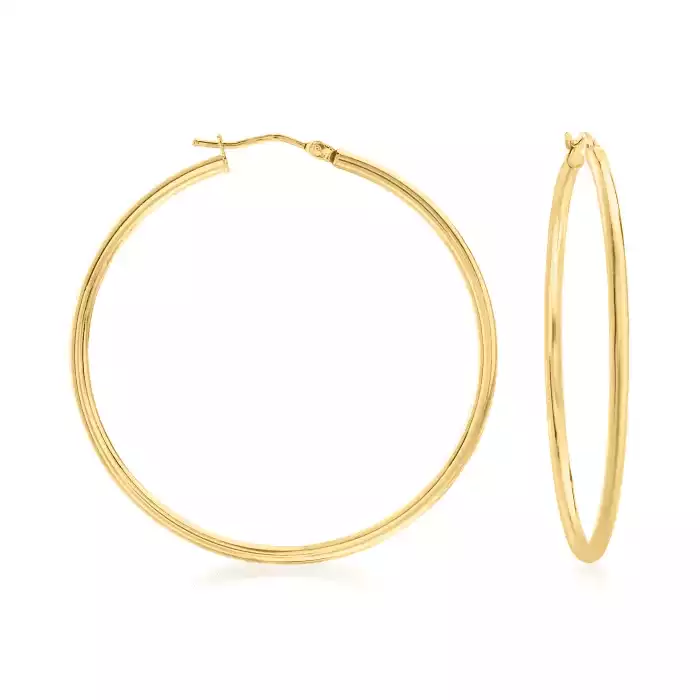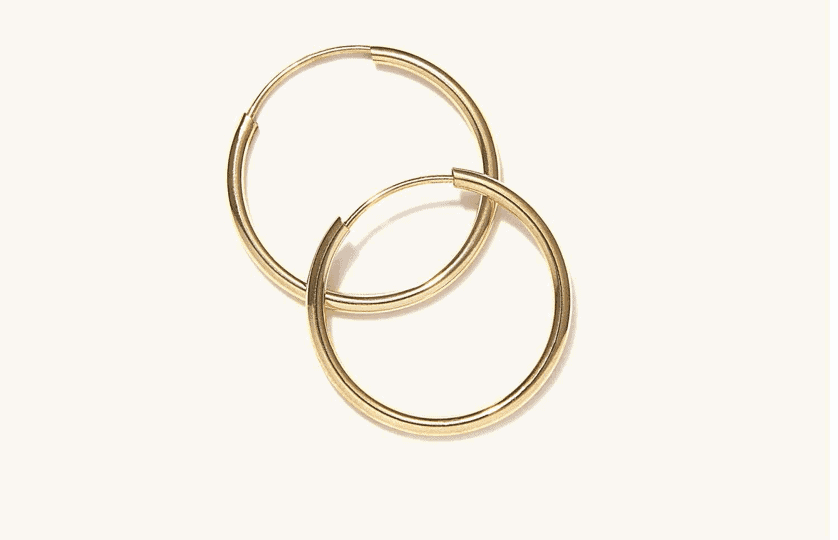 Have you wanted to rock the gold hoop earring look but hate how heavy hoops can be? These 14K gold hoop earrings are exceptionally light and made to be comfortable. The hollowed-out style allows them to carry a beautiful but more comfortable style. Priced at around $70. Buy Here.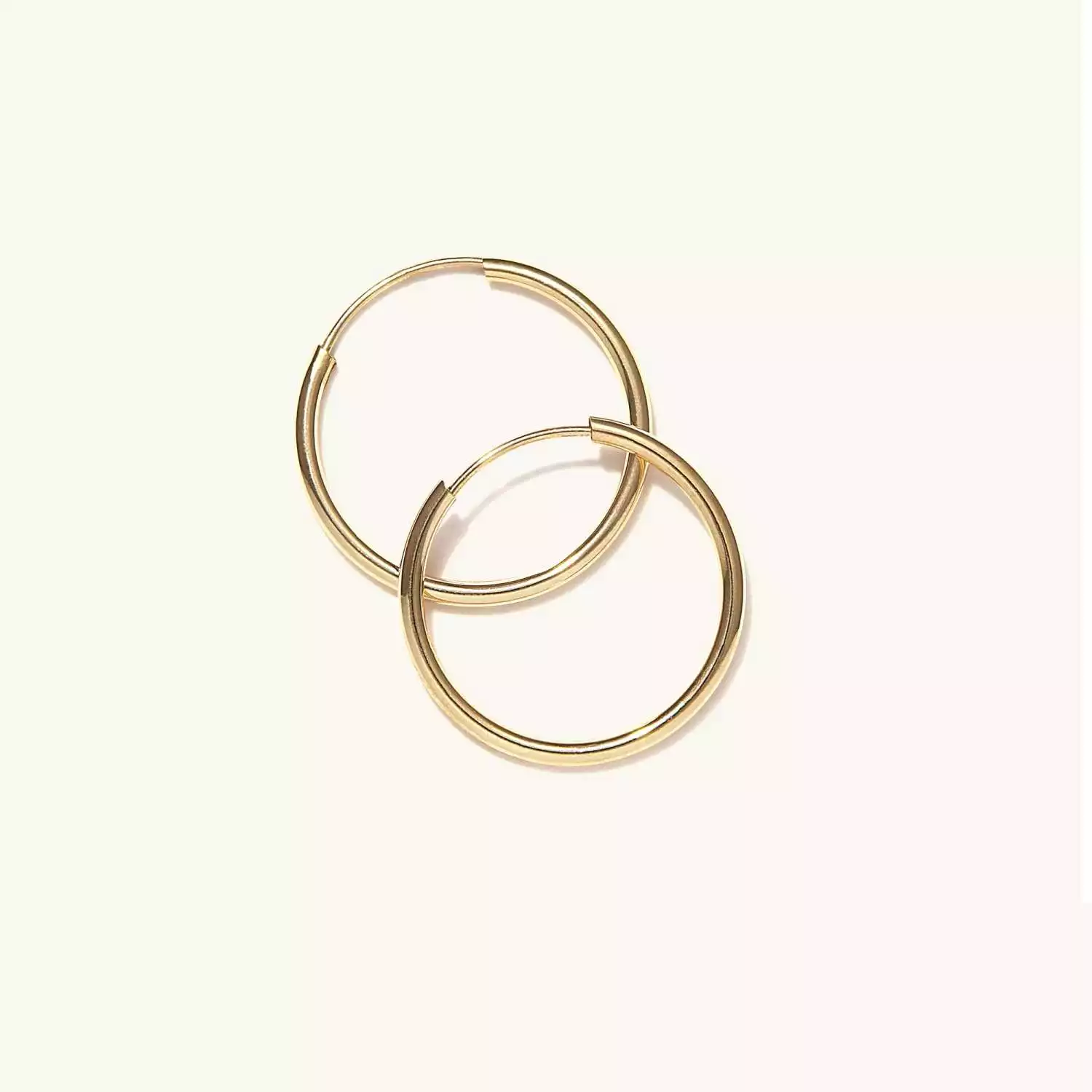 Between Hoop | Mejuri
As basic as your white tee (seriously)! Handcrafted in hollowed 14k solid gold, these are our lightest hoops ever.
Check Price
We earn a commission if you make a purchase, at no additional cost to you.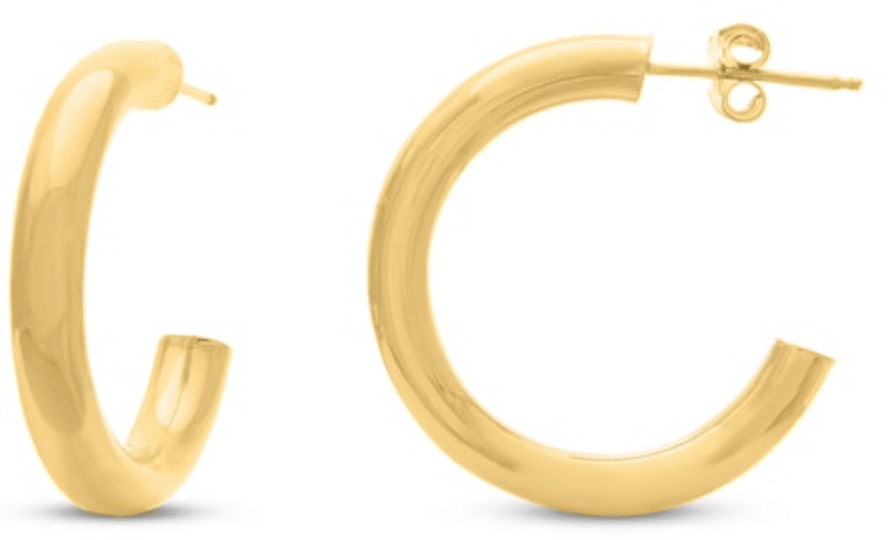 These 14K gold hoop earrings feature a modern open-back style and a polished finish. Simple enough to wear with anything, this pair of earrings could just become your go-to for day to evening. Select from white, yellow, or rose gold. Priced at around $450; Buy Here.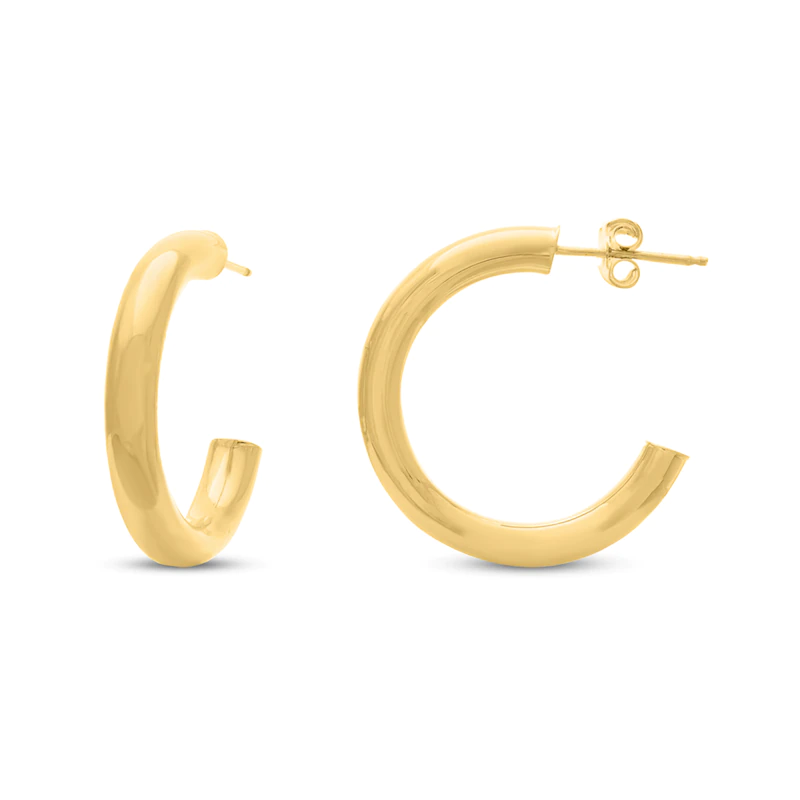 Open Hoop Earrings | Jared
Perfect for any style or look, these timeless women's open hoop earrings are crafted in lustrous 14K yellow gold and secure in place with friction backs.
Check Price
We earn a commission if you make a purchase, at no additional cost to you.

Tiffany and Company Hoop Earrings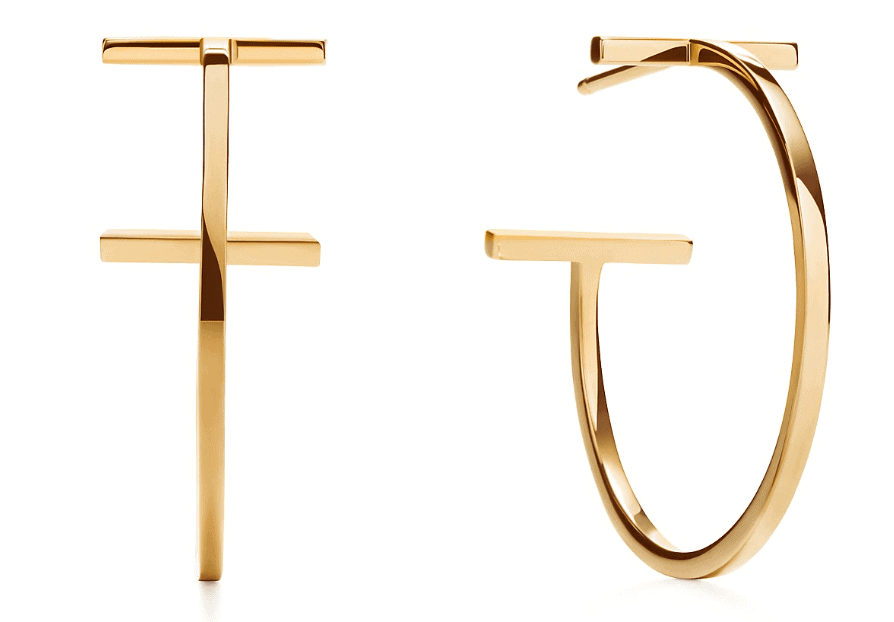 This pair of luxury gold hoop earrings certainly isn't within everyone's budget, but as luxury designers like Tiffany are trending in 2022, I thought I'd include them. A modern take on the Tiffany logo, the 18K yellow gold was an elegant, polished shine. Priced at $1,500; Buy Here.
Mismatched Gold Earrings
The mismatched gold earring trend shows how playful and innovative accessories are getting in 2022. A similar theme and same finish keep the look complementary, but there's a unique earring style for the left and right ear. Mismatched earrings are a way to pull off an unconventional look without trying– and show that you don't always have to follow fashion rules to be stylish.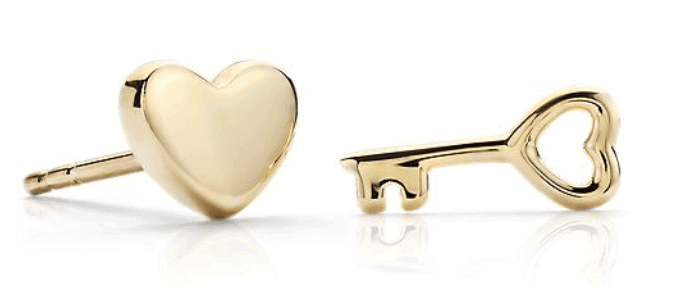 These playful mismatched earrings would make for a fun gift. A heart and key design are crafted in 14K yellow gold, with push backing. The overall look is also minimalist, adding just a small accent to an outfit. Priced at around $150; Buy Here.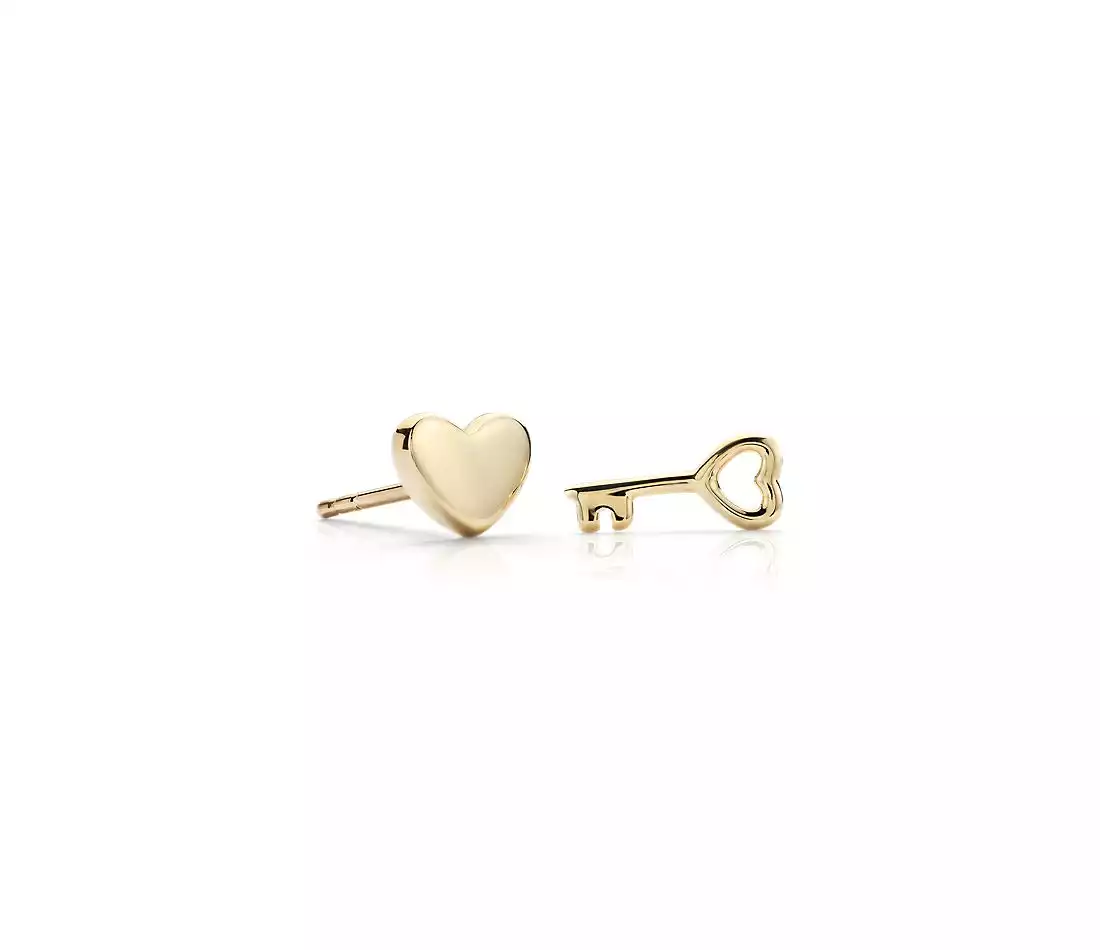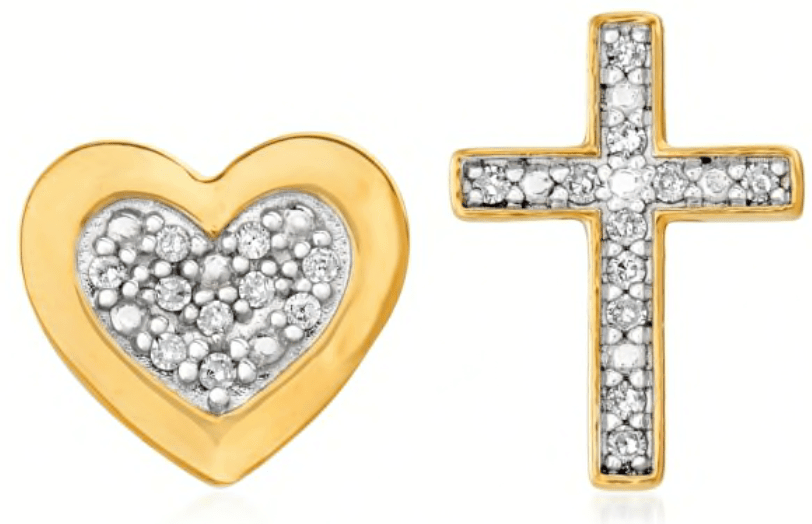 Mismatched earrings are often thought of as casual, but they don't have to be. Thirty-one round cut accent diamonds add sparkle to 14K yellow gold, with iconic cross and heart motifs. Priced at around $169. Buy Here.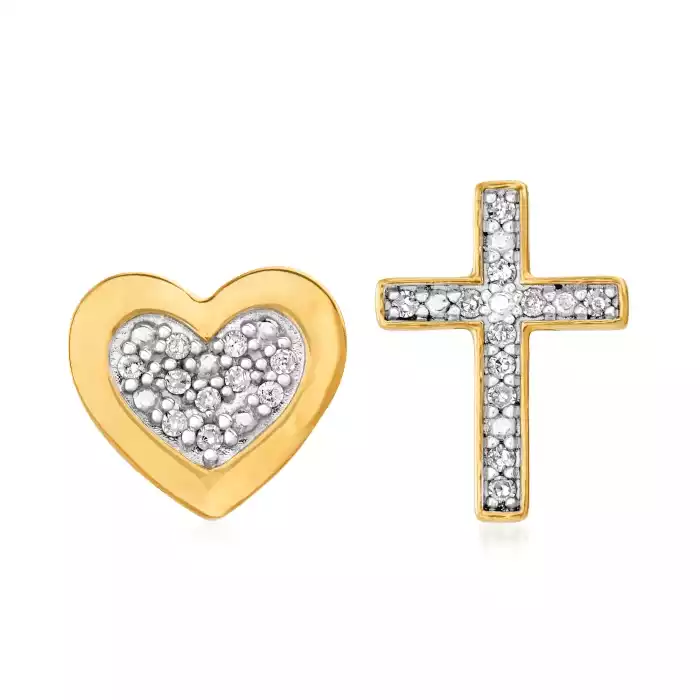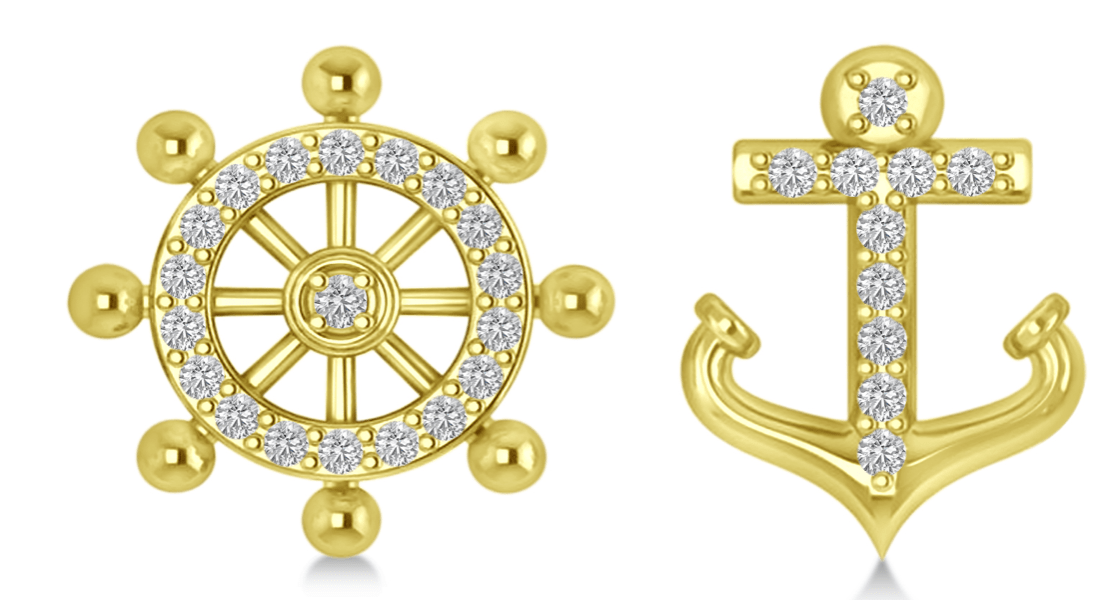 These 14K yellow gold mismatched earrings carry a fun nautical theme. An anchor and a ship wheel are both accented with high-quality diamonds for beautiful scintillation. Also available in rose and white gold, priced at around $563. Buy Here.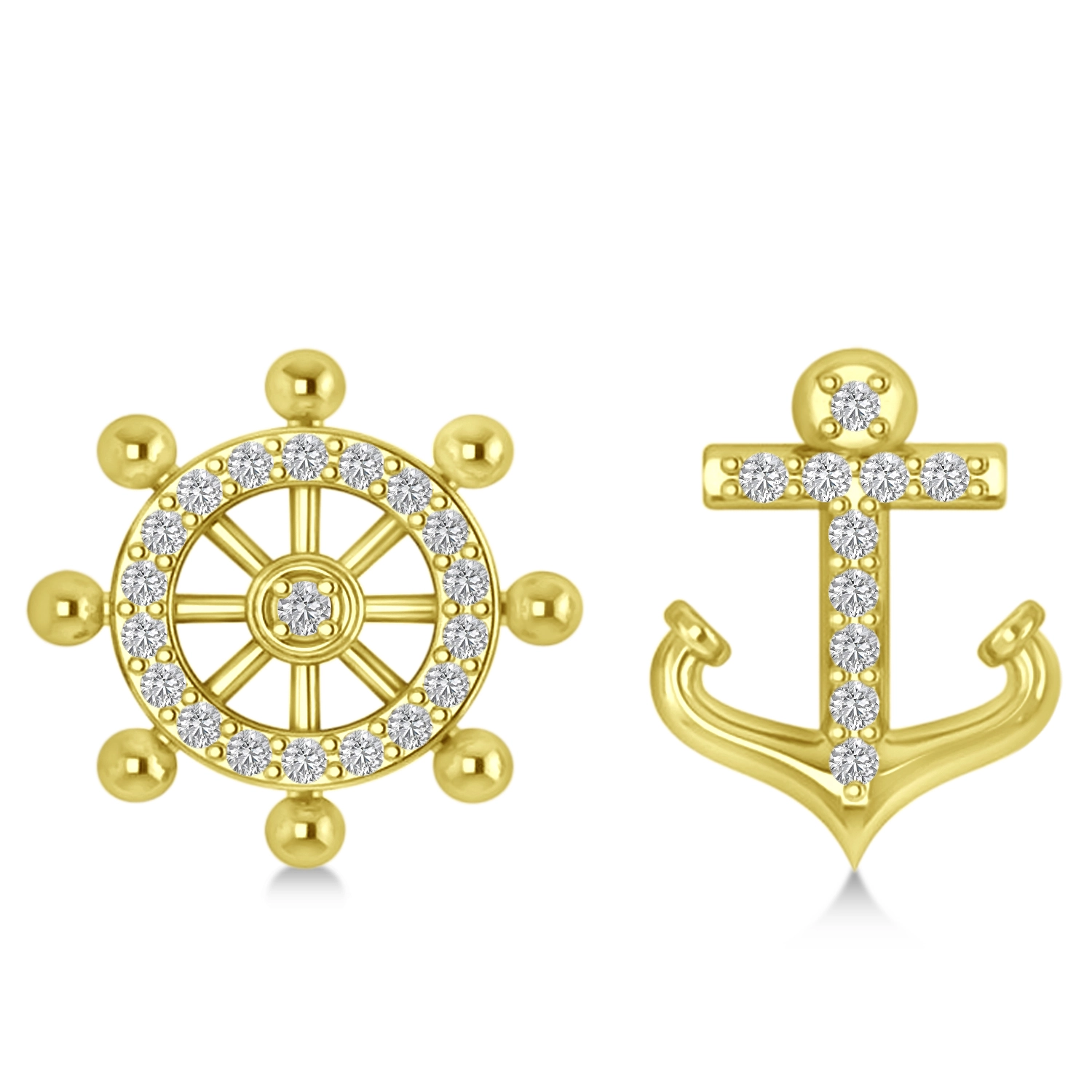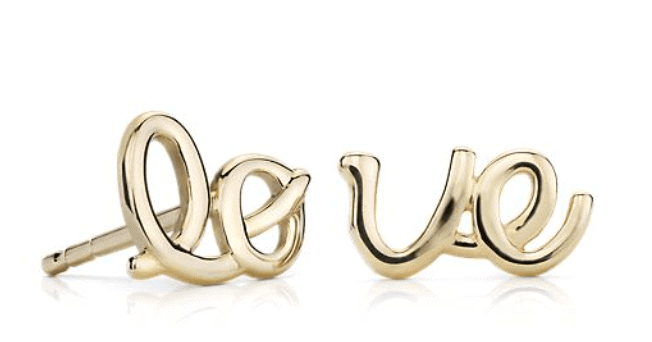 It may be too on-the-nose for some, but this playful pair of mismatched earrings may be a way to rethink what you usually wear. "Love" is crafted in stylish 14K yellow gold. Priced at around $150. Buy Here.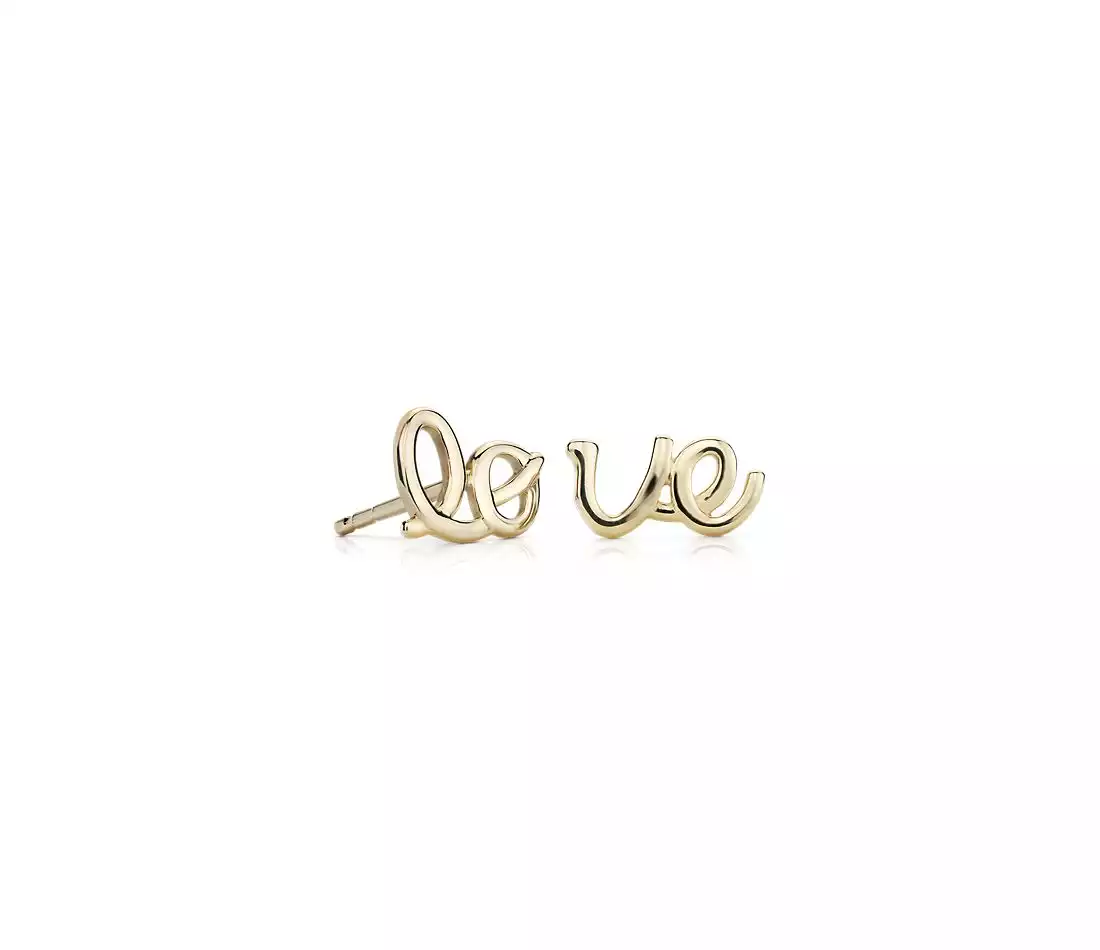 Mismatched Gold Disc and Diamond Mobile Earrings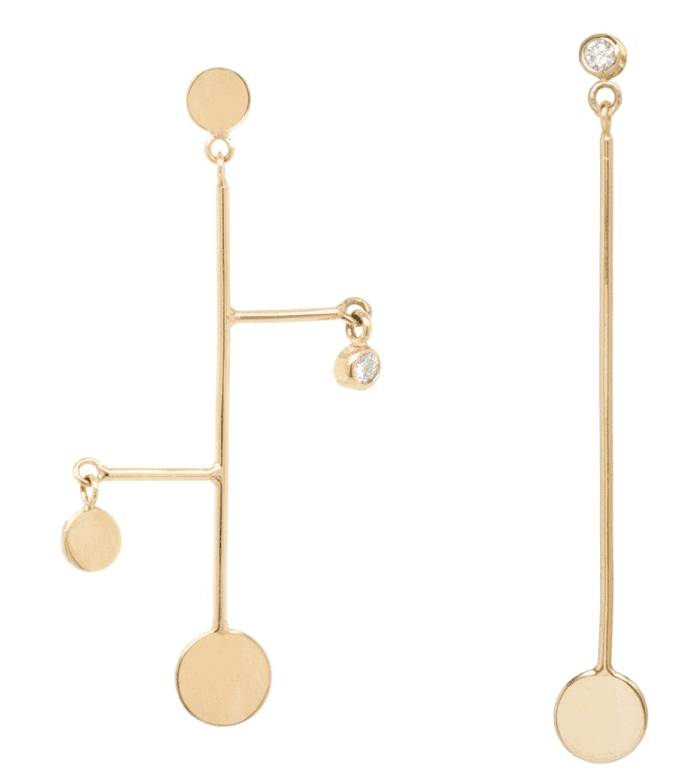 Minimalist, geometric, and a little funky, these Zoe Chicco earrings are worth taking a look at. Crafted with 14K yellow gold, artistic touches accompany a sleek polished finish. Dress these up or down depending on your other accessories. Priced at around $680; Buy Here.
Pearl Gold Earrings
Pearl earrings, frankly, are a classic that never truly goes out of style. But now pearl earrings are making a larger splash. Bringing a classic look with modern touches, pearl earrings are exquisite and intricate, with a luxurious feel. Pearl earrings are no longer resigned to formal occasions alone, but also be paired with clothing as casual as jeans.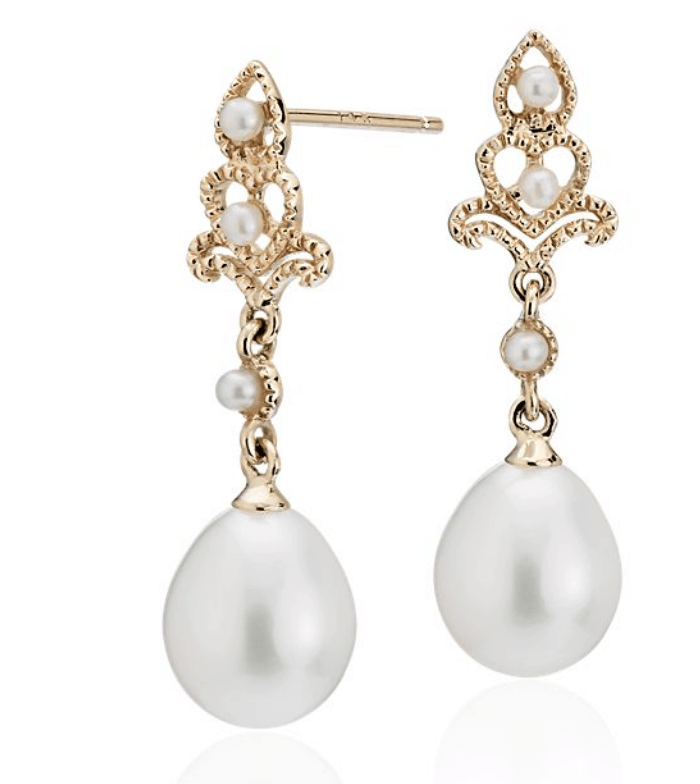 One of my favorite gold earrings on this list, these bring a refined, modern vintage style. Filigree and milgrain detailing on the 14K yellow gold add a beautiful touch to real freshwater pearls. Priced at around $325; Buy Here.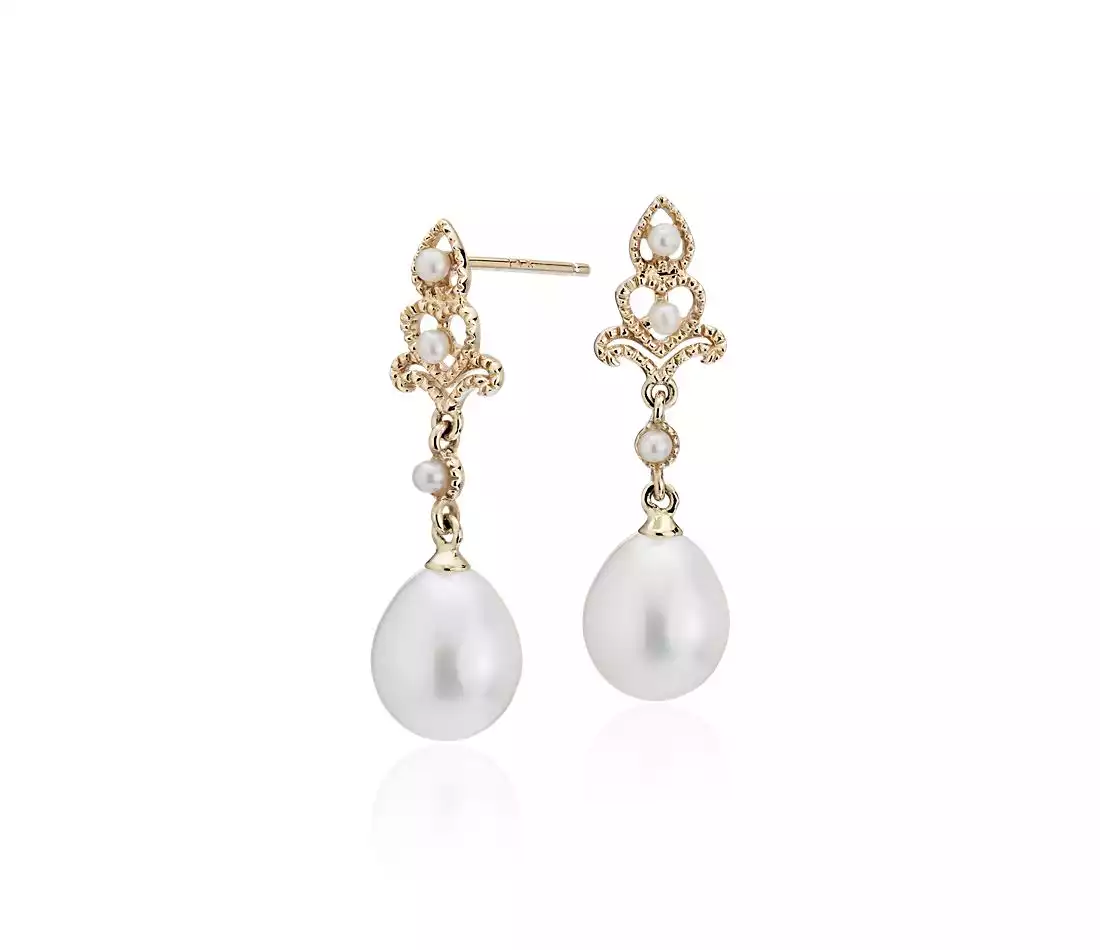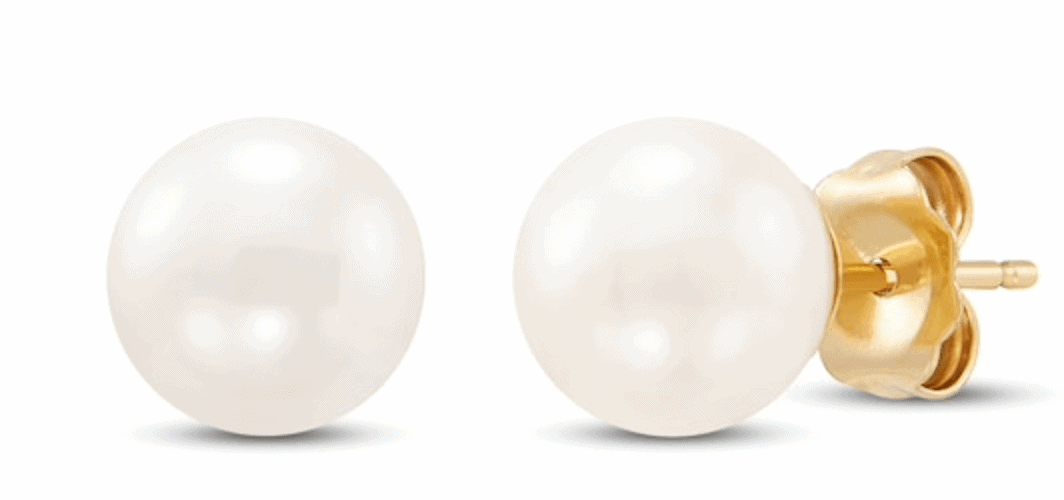 Beautiful, classic, and never out of style. These cultured pearl earrings feature beautiful luster and 14K yellow gold backs. Priced at around $199. Buy Here.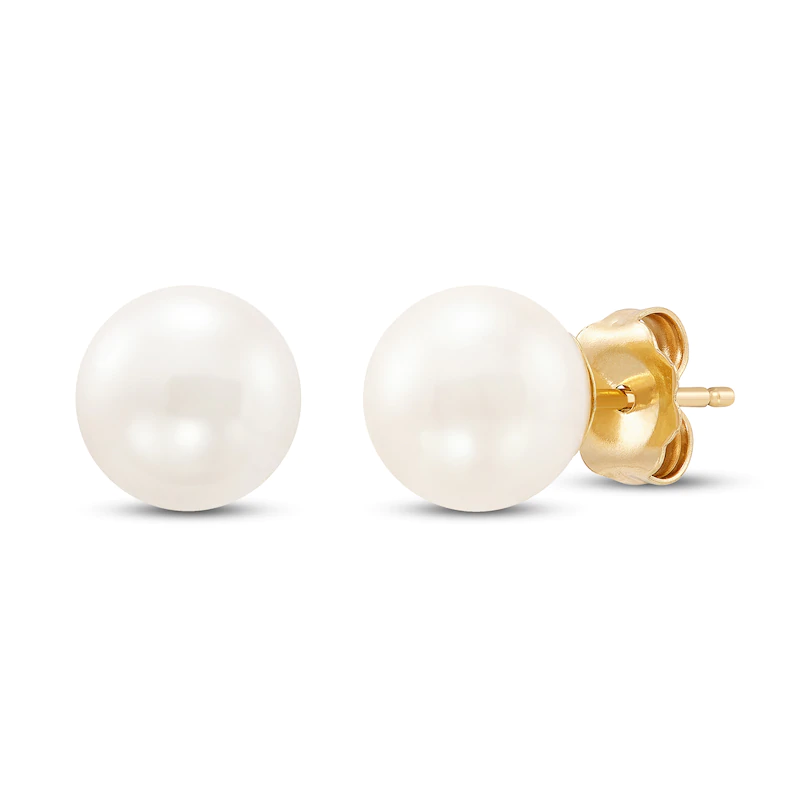 Cultured Pearl Stud Earrings | Jared
Each of these luxurious women's stud earrings features a lustrous freshwater cultured pearl. Crafted in 14K yellow gold, the earrings are secured in place with friction backs and the pearls measure 8-8.5mm each.
Check Price
We earn a commission if you make a purchase, at no additional cost to you.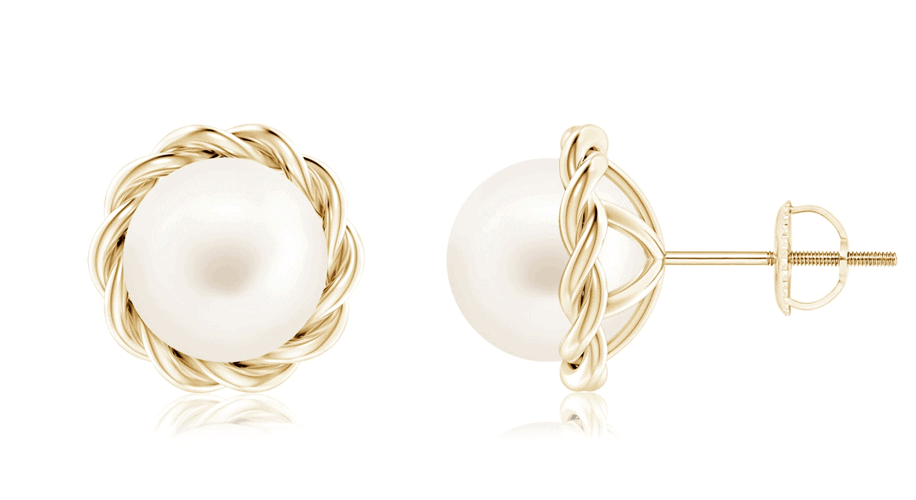 If you love the look of classic pearl earring studs but want an updated look, consider these beautiful earrings. Freshwater pearls are set in twisted 14k rose, white or yellow gold. Priced at $329 to $629. Buy Here.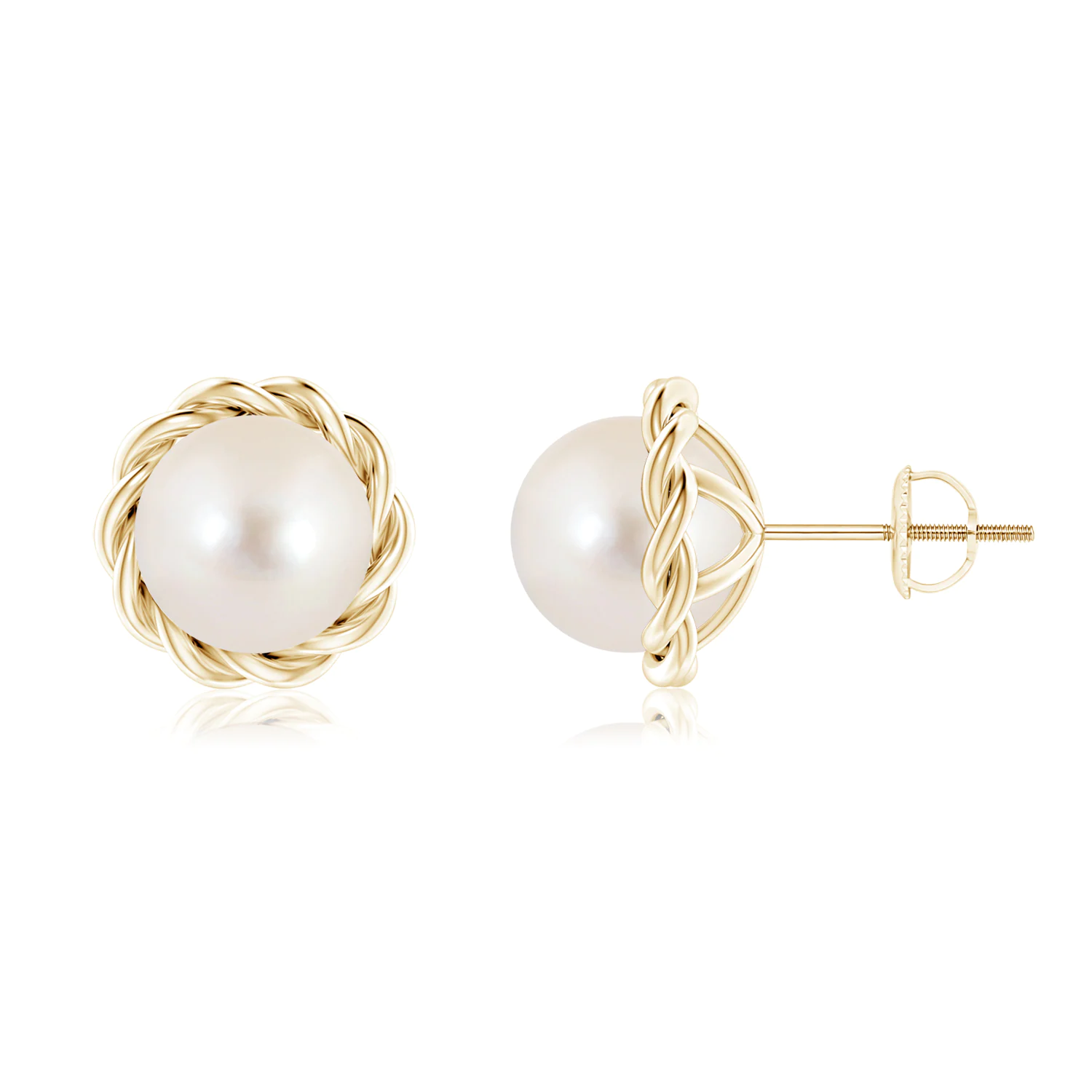 A 14K yellow gold French Wire backing provides a modern, minimalist look to freshwater cultured pearls. The look is versatile enough to wear from day to evening and could become a classic accessory for you. Priced at around $185; Buy Here.

Ruby and Pearl Drop Earrings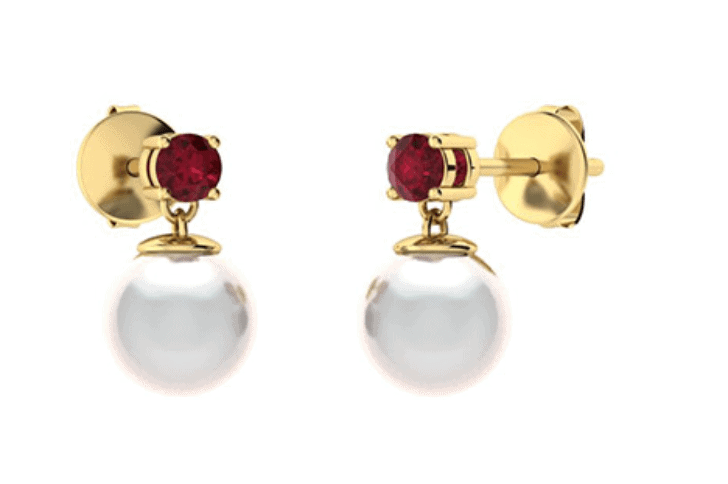 These opulent earrings are suited for formal occasions and provide a luxurious look. 2 round rubies (0.51 carats) provide a surprising touch to pearls. The 18K yellow gold adds a beautiful luster. Priced at around $1,119; Buy Here.
Frequently Asked Questions
Question: Are 14K gold earrings real?
Answer: 14K is real gold– it refers to the purity of gold. It's a mix of just over 58 percent of gold and a little less than 42 percent of alloys (copper, zinc, silver, and nickel are common). 14K is usually the starting point for fine jewelry but is cheaper than 18K and 24K gold. While less valuable, and with less luster, 14K gold is a little harder than 24K gold.
Question: Is Rose gold real gold?
Answer: Rose gold is indeed real gold– it's just made out of a specific combination of gold and alloy. For this reason, you won't be sure about 24K rose gold (100 percent gold) but most commonly `14K and 18K rose. 18K rose gold is usually 75 percent gold with 25 percent copper alloy.
Question: Is Rose gold worth more than gold?
Answer: Rose gold is not worth more or less than yellow gold. The exception would be that it's inherently less valuable than any 24K golds.
Final Thoughts
From minimalist to whimsical, there are some exciting hold earring trends to follow right now. And while it's true that yellow gold remains the most popular look for the bulk of these trends, don't be afraid to play with white or rose gold for a different look.