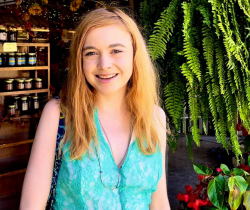 Latest posts by Erin Jamieson
(see all)
There are few accessories more classic than gold stud earrings. And in 2022, gold earrings are trending for an unconventional reason– and there are more ideas than ever. 
Whether you love the warmth of yellow gold, the icy polish of white gold, or the romantic touch of rose gold, there are many reasons to love gold stud earrings. But consumers in 2020 and into 2022 had a new reason to love the accessory. 
Amy Elliot, a contributing editor for JKC magazine, explained that many Americans' styles had changed– due to mask-wearing. While masks are not mandated anymore everywhere, it made Elliot and others take a second look at the earrings they were wearing.
While gold hoop earrings are being seen as a way to express individuality and freedom, others are opting for a subtle, classic look. Not only do some find stud earrings easier to wear and more practical more mask-wearing, but there may be another reason, too.
Many are longing for "normal," and a classic pair of earrings feels centering. The best gold stud earrings offer a sophisticated look without being overly bold or different to coordinate. 
But it's not quite so simple. Not all gold stud earrings are alike, and before you shop, you need to make sure you're buying something that fits your style and budget. This guide will help you do just that– as well as provide you some ideas with my favorite picks. 
What do stud earrings mean?
Stud earrings are the most understated earring style you can buy. They fit securely in the earlobe, without any dangling or large hoops. The simple design is the most versatile and usually fits fairly comfortably. Compared to other earrings, stud earrings often are the most suited for wearing for long periods of time. Stud earrings are also used for new piercings.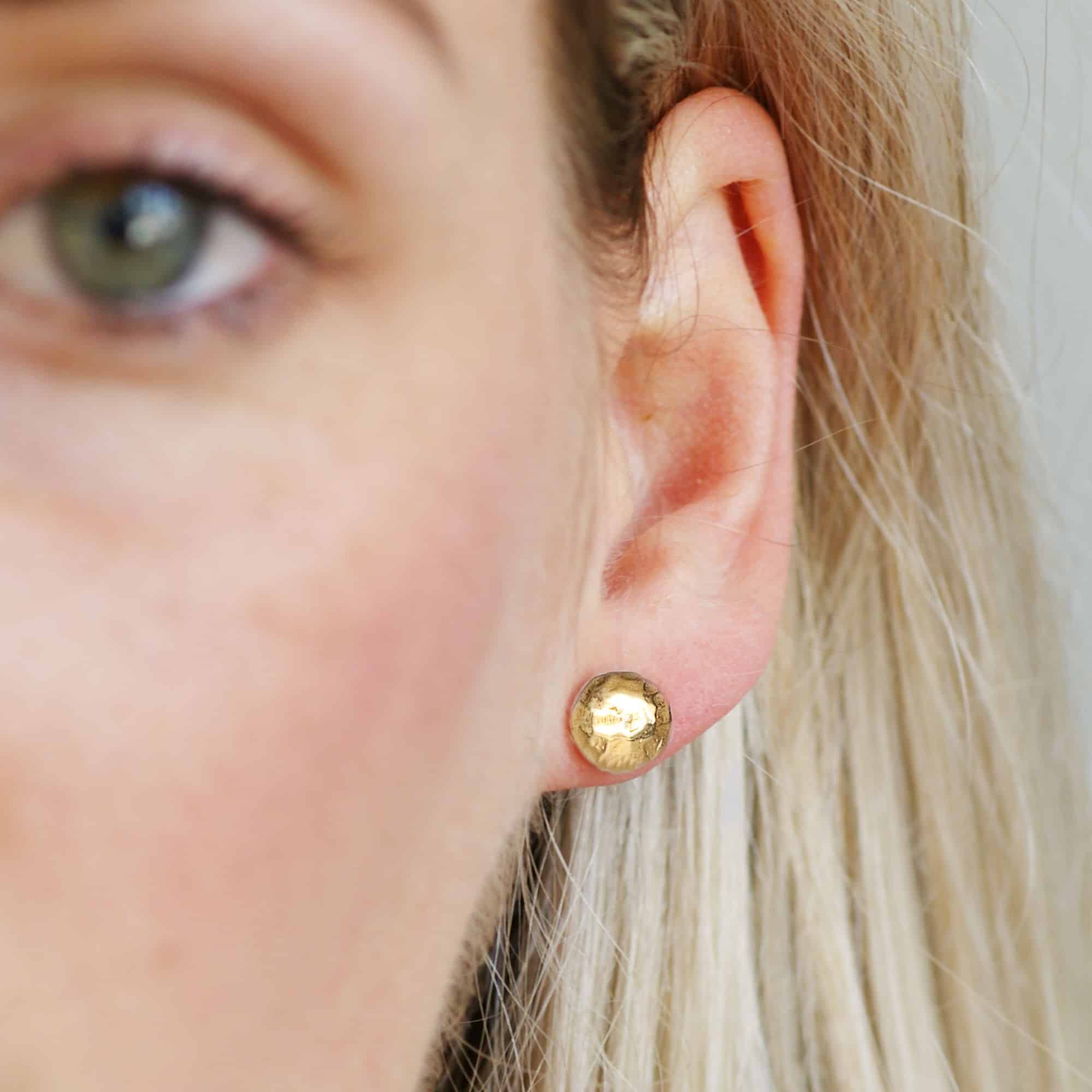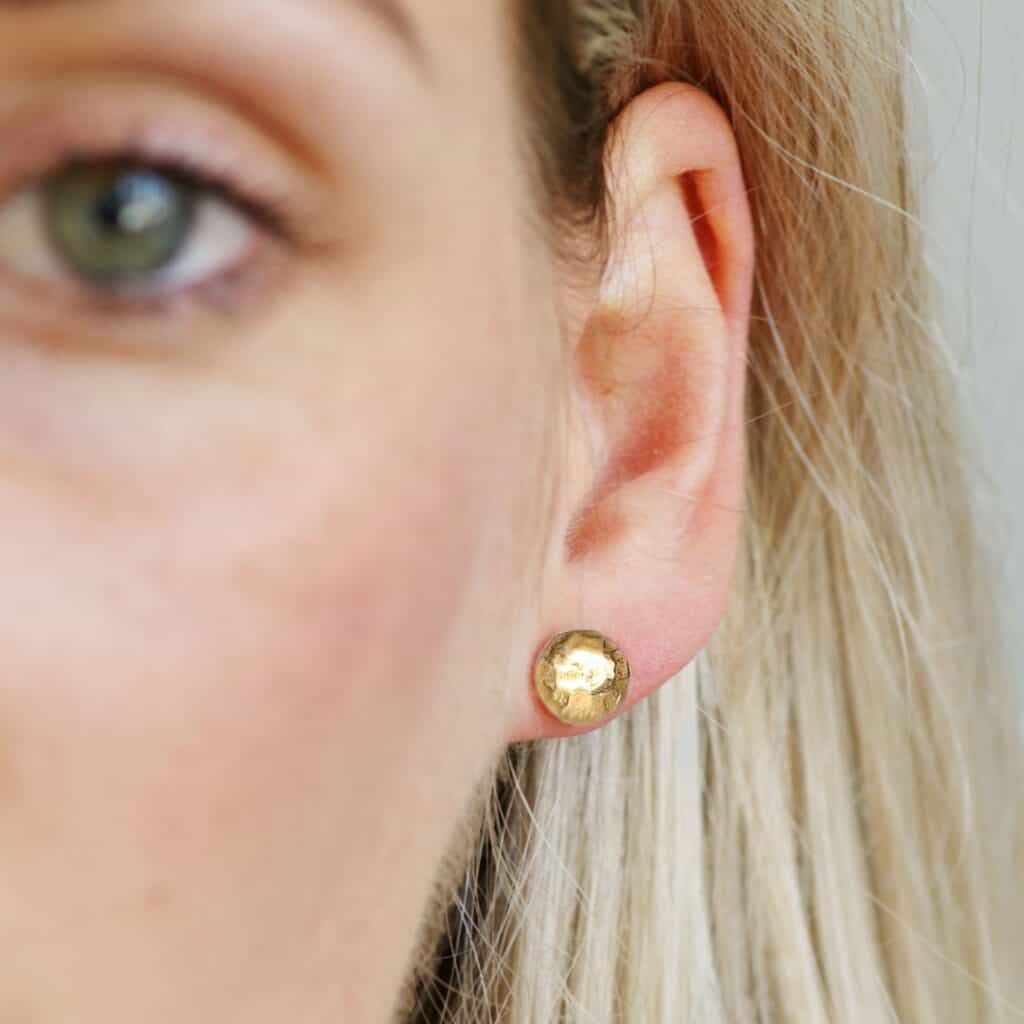 What is the difference between post and stud earrings?
Post earring is another name for a stud earring. Post earrings are made with a piece of metal, stone, or groups of stones, adhered to a post. This straight post simply fits into the earlobe. Other earring types, such as hoops, typically also have metal wiring to secure a snug fit. 
Are gold stud earrings boring?
Stud earrings may seem boring to some who prefer flashier or bold styles. Stud earrings indeed tend to be more understated, but they're certainly not boring. For one, there are many different styles of gold stud earrings. You can opt for a classic yellow gold stud earring, but there are also white and rose gold options. You can spruce up your look with a fine gemstone or diamonds.
Partially because gold stud earrings tend to be understated, you have more options for styling with outfits and accessories. Even the most simple styles can be made more interesting by pairing with other piercings and statement necklaces, bracelets, and rings.
Are gold stud earrings popular?
Not only are gold stud earrings popular, but they're unlikely to go out of style. Gold stud earrings offer a timeless appeal, no matter the style or type. These classic earrings can be paired with casual and formal outfits alike. This year, celebrities and influencers have worn the look, and many everyday Americans are as well. 
Which gold is best for earrings?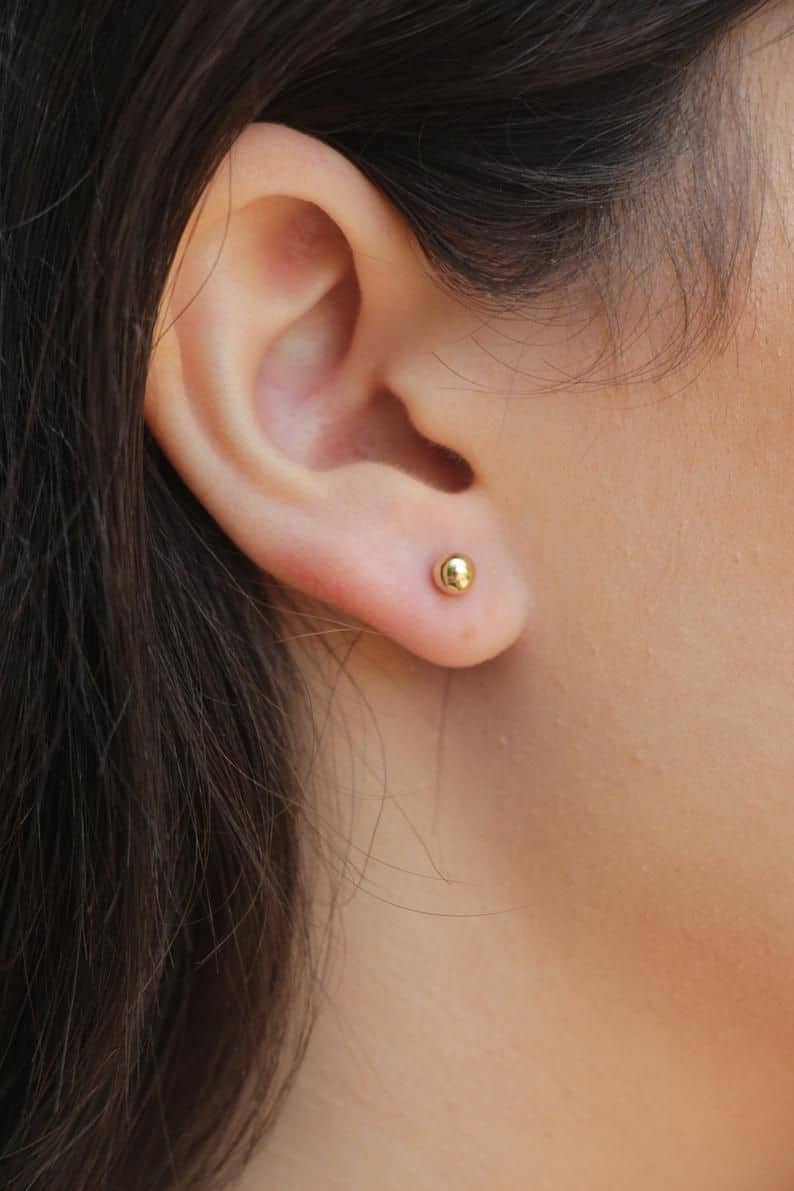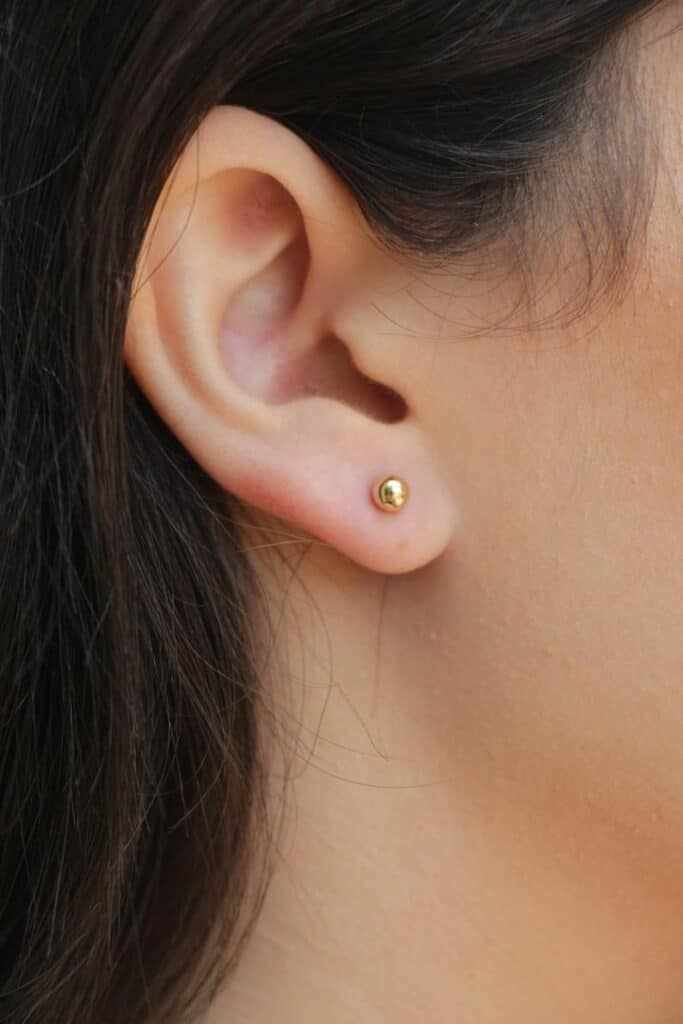 The most important decision you'll make is the type of gold you're buying. The term gold actually doesn't tell you that much. You need to take a look at the quality of gold being used. The truth is there is no one best type of gold for earrings. Much of your decision is going to depend upon your budget and how you'll be wearing your earrings. 
Is 10K gold any good?
10K gold is the lowest acceptable gold purity and the most affordable– aside from gold plating and gold vermeil. 10K gold is 41.7 percent gold and the rest alloy. It's thus not as valuable, and it has a lower luster. 10K gold may appear slightly dull. Since pure gold (22K) is actually a very soft metal, the good news is that 10K gold is actually more durable than higher karats, and harder to scratch. If you wear your earrings heavily and don't have as much to spend, it's not a bad choice–just expect your earrings may appear duller. 
What's better:14K or 18K gold?
More commonly used in fine jewelry, 14K and 18K gold are my favorite options. Both provide higher polish and luster than 10K gold but are not as soft as 22K gold. As far as which is better? That depends on what you value most. 18K( around 75 percent gold) is more valuable and has a higher surface level luster. 14K gold is a bit harder (58.3 percent gold). Both 18K and 14K are generally seen as excellent options. 
Which is better: 18K or 22K gold?
22K gold is pure gold, and the most valuable option for earrings and other fine jewelry is. It was a brilliant luster and exceptional beauty. The downside is that it's a soft metal, and even everyday use can result in plentiful surface-level scratches. If you only plan to wear your stud earrings occasionally, with great care, and have the budget, 22K can be appealing. For the average consumer, however, 14K or 18K is more practical. 
Are gold plated earrings real gold?
A more affordable option is gold-plated earrings. These can be tempting because they actually look like typical gold earrings on the surface. Gold plating is real gold, but there's a catch. Gold (quality varies) is pounded into a thin layer and wrapped around a cheaper, base metal. The idea is that you get the same look without the price. But the downside is that gold plating doesn't last well. Often, gold plated earrings begin to peel or tarnish a fort 3-5 years. You also can't get them wet and have to be cautious when wearing them. For this reason, I don't usually recommend regular gold-plated earrings. 
Do gold vermeil earrings last?
Gold vermeil earrings are an affordable option that many don't know about. Gold vermeil earrings are made in a similar way as gold plated earrings. The catch is that they are much higher quality. Gold plating tends to feature a fine layer of gold, and vermeil has a layer that can be up to five times thicker– and thus, far more substantial. With proper care, these earrings can outlast plated earrings for many years. 
They're still not as valuable as other earrings, and they won't last as long as some options. I wouldn't recommend swimming or showering with them. But they're more affordable and last fairly well for the price point. 
Gold Stud Earrings: My Picks
Now I'll give you my top picks for gold stud earrings. I wanted to keep in mind different styles and budget points, which reflect my ideas. You'll find options for gold vermeil and 10K earrings if you have a tighter budget, but also 14K and 18K gold earrings that are plain, diamond-studded, or accented with precious gemstones. All of my picks come from reputable jewelers and offer a good value for the price. For gemstone and diamond stud earrings, I made sure they are genuine, good to excellent quality stones (either lab-grown or natural). 
Gold Vermeil & 10K Gold Stud Earrings
On a budget? Gold vermeil and 10K gold stud earrings may be a suitable option for you. You can wear these gold stud earrings every day, but I do recommend avoiding showering or swimming with gold vermeil. These stud earrings suit casual to semi-dressy looks and are easy go-to's for a classic look for less. 
Gold Vermeil Lotus Stud Earrings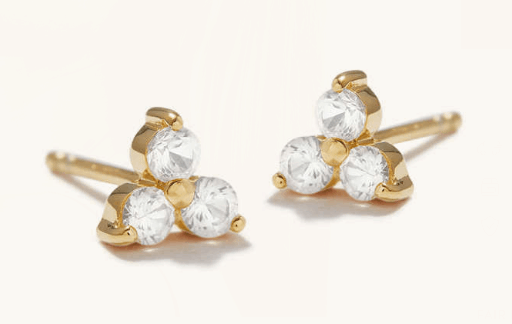 These beautiful stud earrings come from Mejuri, an ethically and sustainably sourced jewelry brand. A thin layer of glossy 18K yellow gold is plated over sterling silver for an elegant allure. A cluster of three dazzling white sapphires are at once stunning but also classic enough to go with casual and formal outfits alike. Priced at $80. Buy Here. 
Gold Vermeil Nura Reef Open Stud Earrings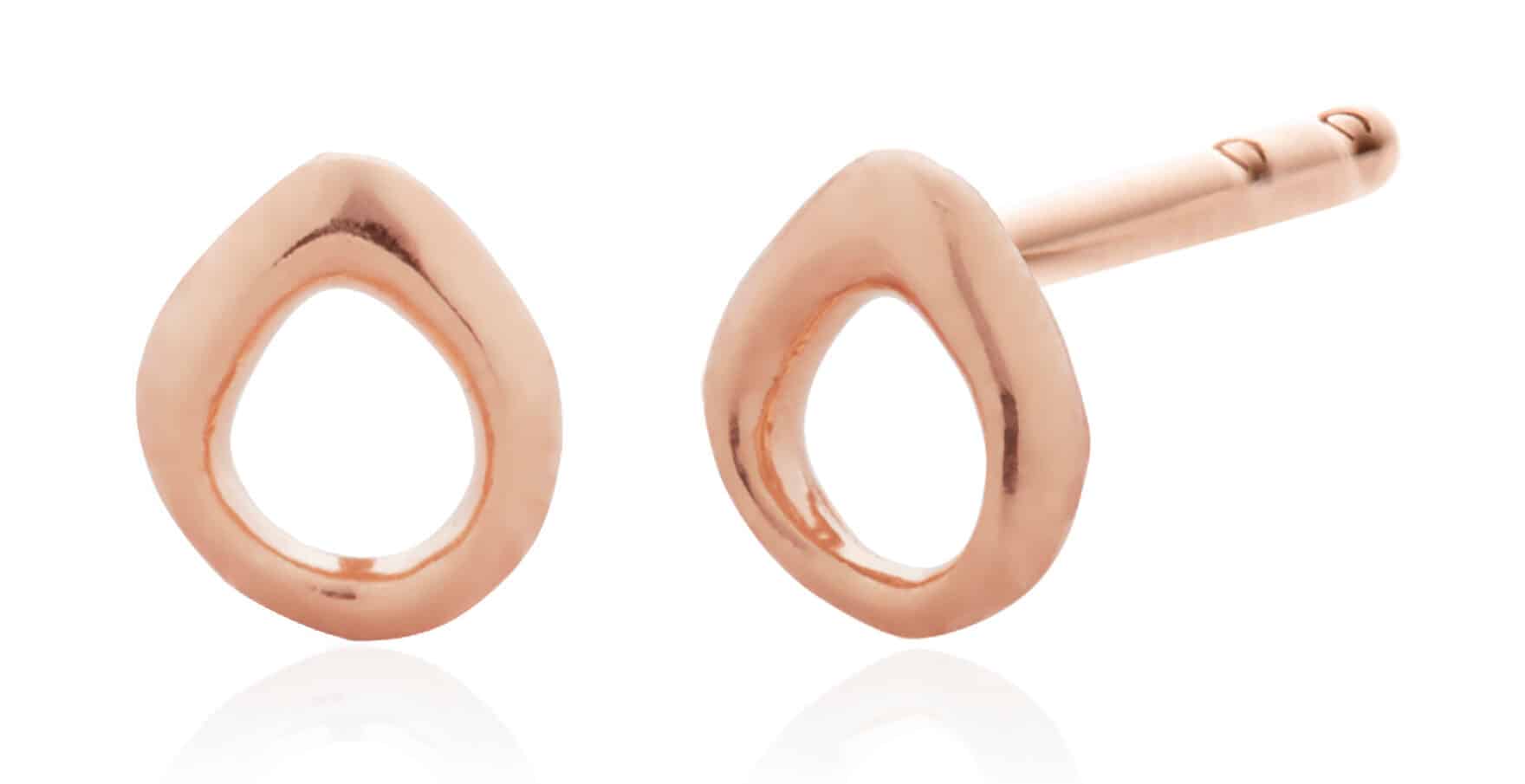 Made out of recycled materials, these open stud earrings feature 18K gold vermeil, available in a yellow or rose finish. The open stud design features modern geometry for a contemporary look that can be paired with statement jewelry or worn alone. Priced at $70. Buy Here. 
Gold Vermeil Aliyah Stud Earrings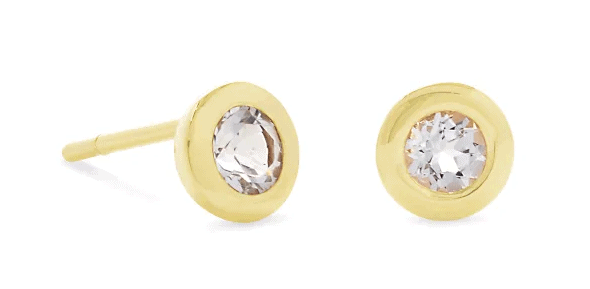 These Kendra Scott stud earrings are made with a thick layer of 18K yellow gold vermeil, accompanied by round-cut white topaz gemstones. You'll get a beautiful but affordable alternative to classic, sparkling 18K gold stud earrings. These earrings also pair well with other Kendra Scott accessories. Priced at $58; Buy Here. 
Everlasting 10K Tri-Tone Gold Earrings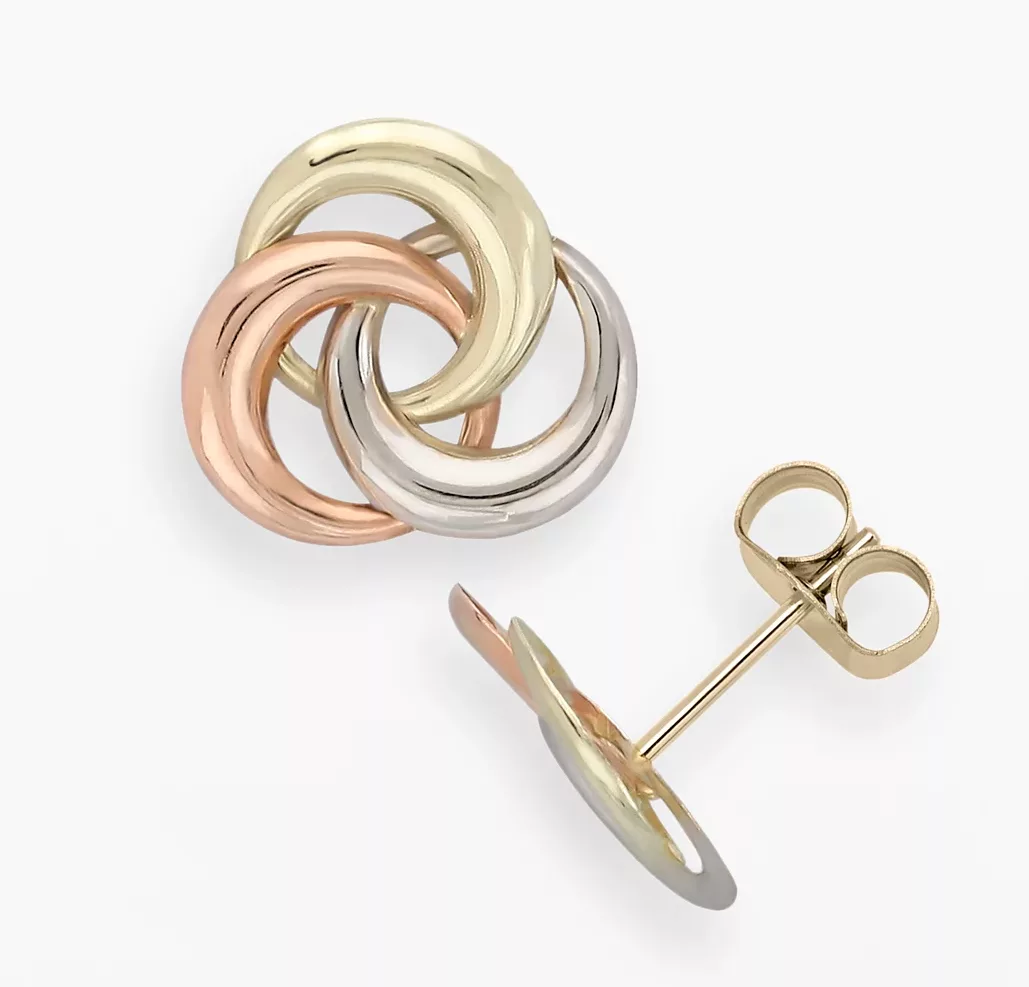 These stylish earrings intertwine 10K yellow, rose, and white gold for a tri-tone effect. The interlocking circles embody eternity and infinity, and endless love or bond. The three colors add dimension to 10K gold, while also allowing you to pair outfits in many ways. Priced at $150; Buy Here. 
Polished Round Stud Gold Earrings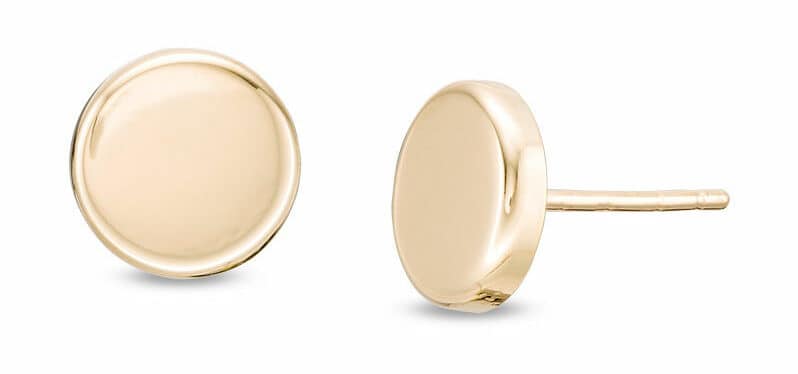 These polished stud earrings are crafted in 10K yellow gold and come from the diamond industry giant, Zales. Priced at $98 (with the option for free lifetime care, including missing backs and repairs for another $35), these modern earrings feature a clean polish and a streamlined design. Buy Here. 
Diamond Gold Stud Earrings
If you love the timeless elegance of diamonds, you should be selective when you select earrings. I recommend only buying diamond stud earrings from experts in the industry if you have the budget. Fine jewelers that are known for engagement rings almost always sell exquisite gold earrings as well. Wear these diamond stud earrings with confidence, knowing that they're made out of natural or lab-grown, sparkling diamonds, set on 14K or 18K gold. 
If you're spending much on your diamond earrings, check out the diamond quality as well. You'll want to request GIS or AGS official ratings on clarity, cut, color and carat. I recommend focusing on color and clarity to ensure the best sparkle. 
Angara Diamond Gold Stud Earrings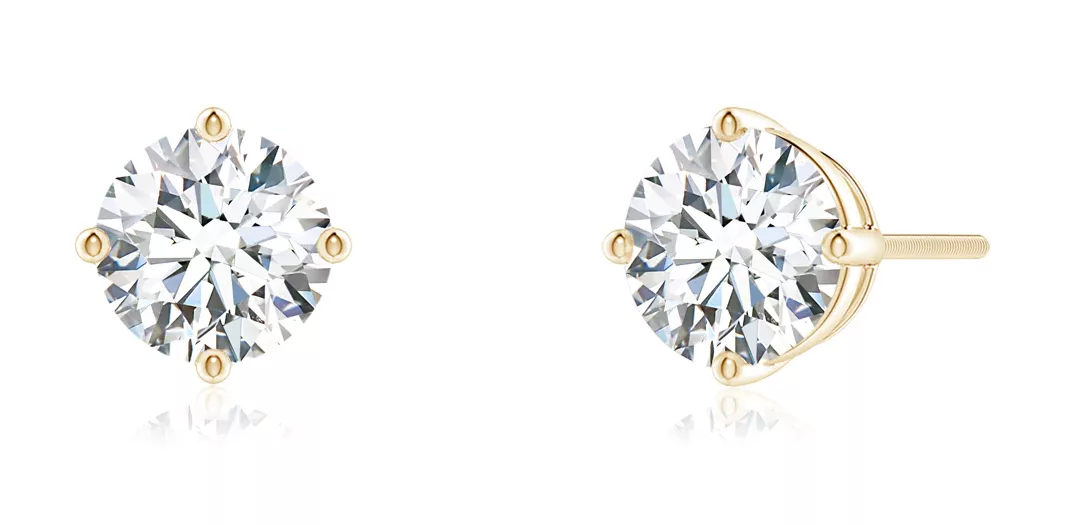 Angara holds an A+ through the Better Business Bureau and has been well known for its selection of quality diamonds and gemstones. 
Their gold stud diamond earring collection includes four-prong stud earrings, three-prong Martini stud earrings, princess-stud earrings, six-prong stud earrings, cushion cut earrings, as well as oval, bezel-set, and emerald cuts. All of their stud earrings feature a classic, seamless look, with just the right touch of sparkle. Prices range from $209 to $6,500. Shop Here. 
Brilliant Earth Diamond Gold Stud Earrings

If you have a slightly higher budget, consider one of my favorite jewelers: Brilliant Earth. Brilliant Earth provides lab-grown and ethically sourced diamonds of excellent quality. Modern, timeless, and classic at once, this collection stuns with round, oval, and three-prong martini stud earrings. Each earring allows you to select the carat size of your choice and all are of excellent quality as rated by the GIA. Prices start at $350, through $15,000. Shop Here. 
Blue Nile Diamond Gold Stud Earrings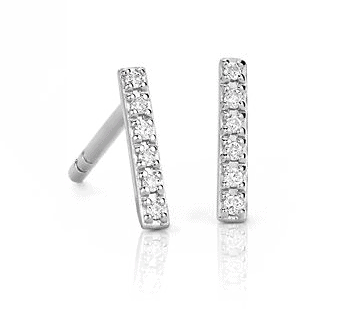 One of the most impressive diamond gold stud earrings collections is from Blue Nile. Blue Niles offers a large selection of earrings, priced from $220 through over $30K. You'll find diamond studs in about every shape and cut you can imagine, including unique picks like mini diamond bar stud earrings. These diamond earrings are a great option if you want a specific carat size and shape and like a modern look. Shop Here. 
Gemstone & Pearl Gold Stud Earrings 
Gemstones add a pop of color and elegant or even playful details. As is the case with diamond stud earrings, I recommend buying gemstone earrings from fine jewelers or experts in the diamond and gemstone industry. Both lab-grown and natural gemstones are excellent options for an elegant look. If you're buying from a fine jewelry store you'll usually be buying 14K or 18K gold earrings. As with diamonds, focus on cut, clarity, and color. 
Blue Nile Gemstone Gold Stud Earrings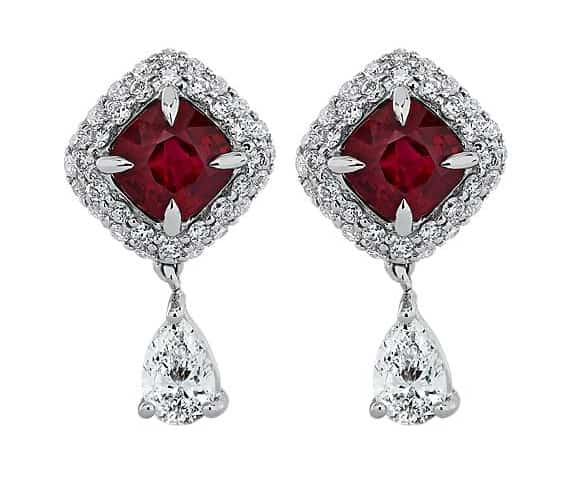 From Akoya cultured pearl earrings to colorful options like topaz, citrine, amethyst, emeralds, garnet, morganite, opals, peridot, and more, Blue Nile offers an equally impressive variety of gold gemstone stud earrings. Something I love about this collection is how much focus is on the gemstones, without any elaborate accents needed. These earrings feature a clean, modern, and beautiful aesthetic. Prices start at $100 to $10K for ruby cushion cut earrings. There's something at about just every price point. Shop Here. 
Brilliant Earth Gemstone Gold Stud Earrings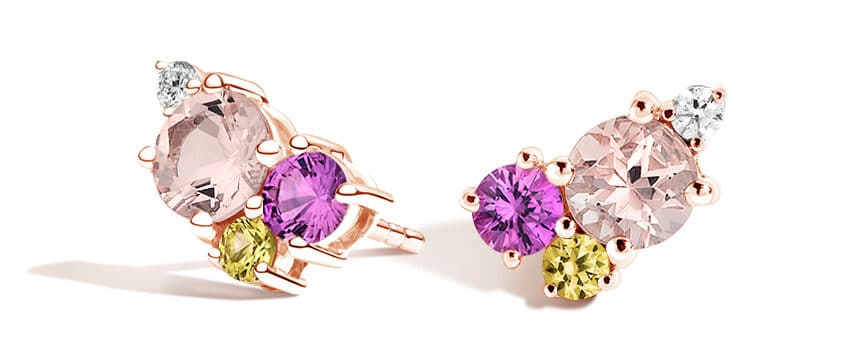 Brilliant Earth offers a collection of artistic gemstone gold stud earrings. While adhering to classic lines, a play with bright hues and geometry makes for a stunning collection. From the romantic Rose Bouquet Earrings to the fiery Citrine Stud Earrings, these styles are at once classic and a little daring. You'll find classic, modern, and even vintage-inspired looks. Priced from $225 to $2,490. Shop Here. 
Jared Gemstone Gold Stud Earrings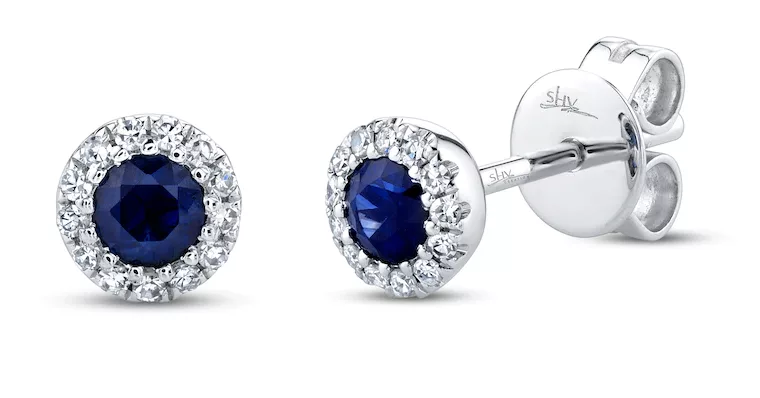 Jared, best known for their collection of diamond rings, offers 10K gold stud earrings, but I'm recommending their modest collection of just over 40 14K gold stud earrings. A highlight is their collection of cultured pearl earrings, with a classic style that will go with anything you wear. I especially like these Akoya Cultured Pearl Earrings. If you love glitz, you'll find plenty with diamond-studded sapphires, emeralds, blue topaz, citrine, and others. Earrings are priced from $99 to $3,500. Shop Here. 
Plain Gold Stud Earrings
Plain doesn't have to be boring. These gold earrings don't have any gemstones or diamonds, but they do offer sleek, modern, and classic looks. Geometry, multiple hues, and subtle designs make for about as versatile of earrings as you can get. 14K and 18K gold will provide a beautiful polished look. 
Tiffany & Co Gold Stud Earrings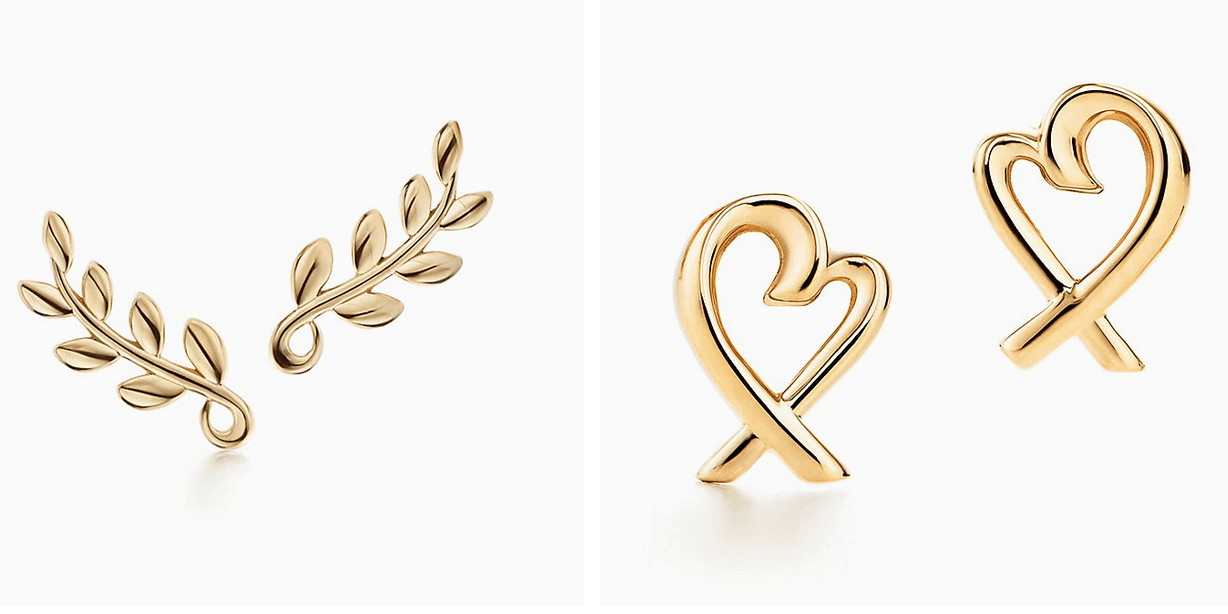 Tiffany & Co is a luxury brand known for its clean, modern design and high-quality materials. These refined gold stud earrings manage to make even whimsical designs elegant. All crafted in 18K gold with a warm polish, you'll find classics with a modern twist, like these Olive Leaf Heart Earrings along with the cross, star, and letter earrings. Priced from $275 to $1,450. Shop Here. 
Nordstrom Gold Stud Earrings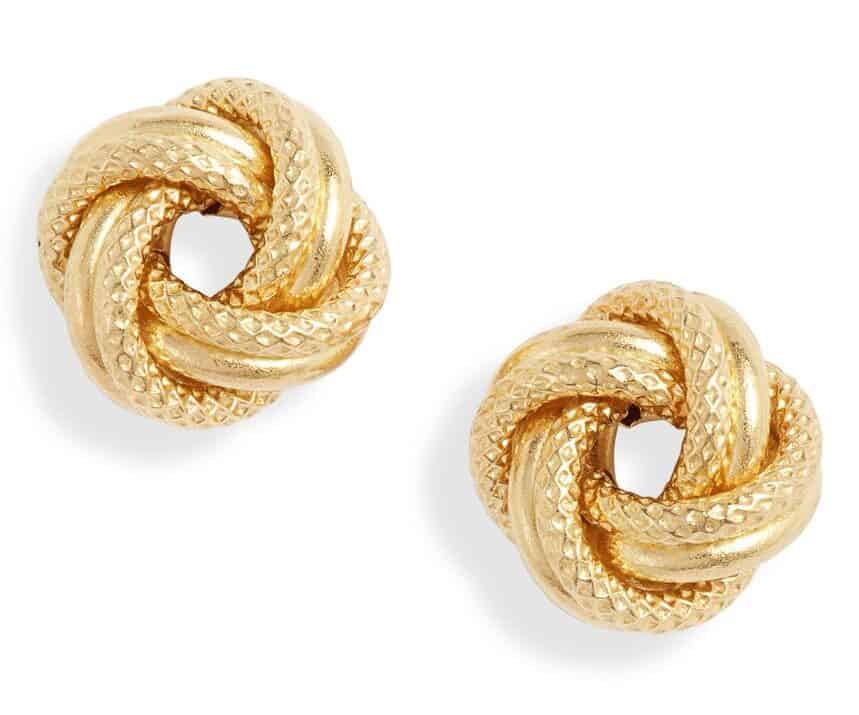 Playful and contemporary, Nordstrom carries 14K and 18K gold earrings priced from under $50 to $9,500. You'll find asymmetrical designs, sleek angles, and several well-known designers. Versatile options like the Bony Levy Gold Bar Stud Earrings and Gold Knot Earrings have just the right touch of polish and gloss to suit even work outfits. Sophisticated, modern, and at many prices, this is a good go-to for solid gold stud earrings.  They do also carry a few gemstone earrings, but they shine most with their solid gold looks. Shop Here. 
Bloomingdale's Gold Stud Earrings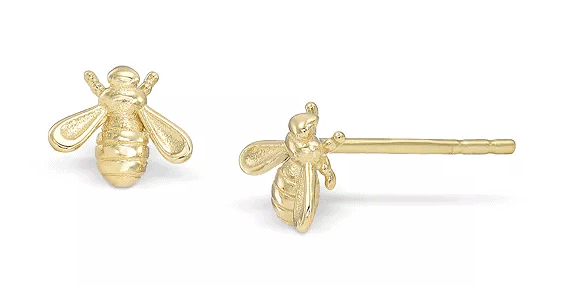 If you like Nordstrom's selection of gold stud earrings, consider looking at Bloomingdale's fine jewelry options. These stud earrings are crafted with 14K gold and feature nature-themed designs like these Gold Bee Stud Earrings, alongside leaves, love knots, stars, and even small clovers. These earrings have a beautiful polish and branch out beyond the expected theme. Priced from $95 through around $1,500 for solid earrings. They also sell gemstones and diamonds. Shop Here. 
Frequently Asked Questions
Question: What is the simplest type of earring?
Answer: Stud earrings are considered the simplest type of earrings and are versatile. They are often paired with multiple earrings and other statement pieces. Simple doesn't mean boring, and there's a reason why so many continue to love stud earrings. 
Question: What is the back of a stud earring called?
Answer: Stud earrings usually are connected with a straight post. This ensures an easy and snug fit and is useful for new piercings as well. 
Question: Why is butterfly earring backs bad?
Answer: Butterfly backs, also known as clutch or friction backs, consist of discs with upturned tabs that are spring-like, with notches that secure the earring. They aren't bad per se, but they can lose tension over time and wear more quickly than other back types. 
Final Thoughts
Gold stud earrings are a classic for a reason. Versatile, pleasing, and always in style, there are countless ways you can wear them. Select the gold for your budget, and keep in mind proper care. Even high-quality gold earrings should be cleaned occasionally and stored carefully.