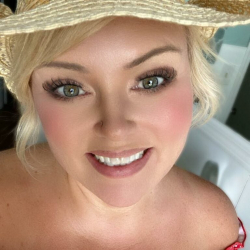 Latest posts by Kristen Swain
(see all)
Let's learn all the wonderful characteristics and properties of Amethysts and search the internet to find beautiful examples of the stone. Then we can find inspiration online to help you make a purchase of one or more beautiful Amethyst rings.
All About Amethyst
Amethyst is a quartz gemstone with a coloration that is mostly purple. The purple tones are from almost white lavender to deep purple. The secondary coloration of the stone ranges from red to blue in undertones. The best quality stones can be found in Sri Lanka, Siberia, and Brazil. The most valuable Amethyst is called Deep Siberian and is a dark purple coloration with some red and blue undertones. 
The deep purple coloration was once the most sought after, but clever marketing has increased the value of lighter shades. The highly sought-after 'Rose De France" coloration is a light lilac color. This shade comes exclusively from Brazil and was first known as Brazilian Amethyst. 
Amethyst was considered in earlier times to keep the wearer from drunkenness; many vessels and cups were made with the stone in order to pass these properties on to the drinker. In Greek mythology, Amethyst was formed when the God of Wine, Dionysus, was insulted by a mortal. Vowing to kill the next mortal to come along, he set his ire to a young woman who was going to worship Artemis. Artemis protected the young woman from the irate God of Wine and turned the girl into white quartz. In regret for his temper, Dionysus poured wine over the quartz and turned it purple.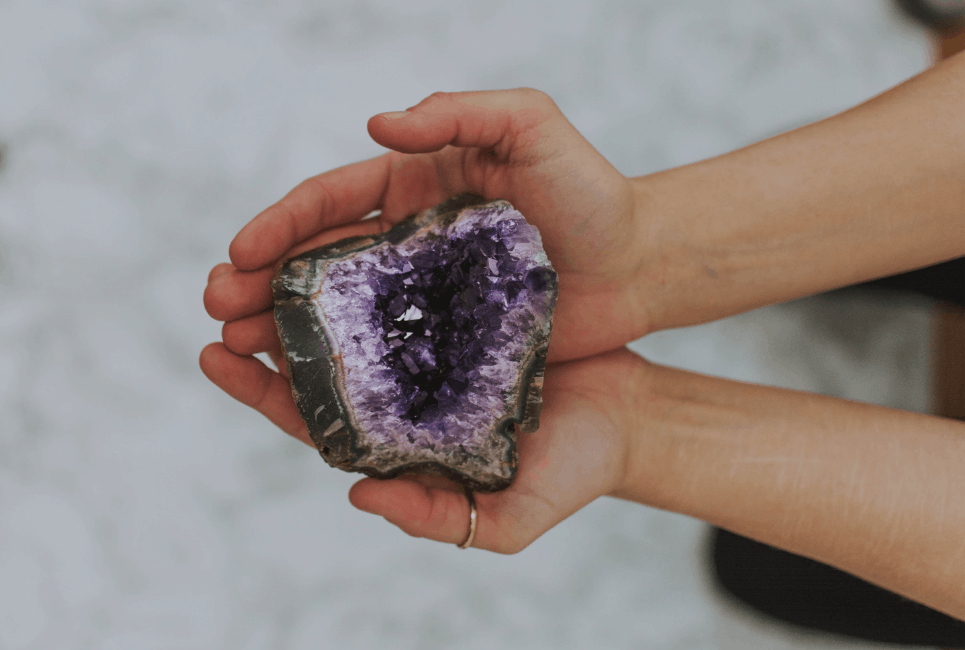 Amethyst was once considered more precious than diamonds and was worn by royalty. However, in the eighteenth century, large deposits of Amethyst had been discovered, and the value of the stone dropped. 
Amethyst is formed inside geodes, and the darkest coloration of the stone is at the terminal points of the stone. While the stone can have the color deepened with irradiation, it can fade naturally in the sunlight if exposed for too long. 
Even though Amethyst is a quartz gemstone, it can still be lab-created for certain applications. Although synthetic Amethyst was created for industrial use, it did eventually make its way into jewelry. Lab-created stones have their pros and cons.
Pros of Lab Created Gemstones
Lab-created gemstones are more eco-friendly and have much smaller carbon footprints than naturally mined gemstones.
Lab-created gare always less flawed than naturally mined stones, with fewer inclusions and internal cracks or flaws.
Lab-created stones have better coloration than naturally mined stones; this can be because of the process of formation or in altering the stones with radiation or heat.
Lab-created gemstones prices are generally much lower than naturally mined stones and can be considered a better price for purchasing.
Cons of Lab Created Gemstones
Lab-created stones are significantly less valuable than naturally mined gemstones.
Lab-created stone can have a different look and feel than natural stone and will not be as powerful spiritually, if at all, as a natural stone.
Alternatives to Amethyst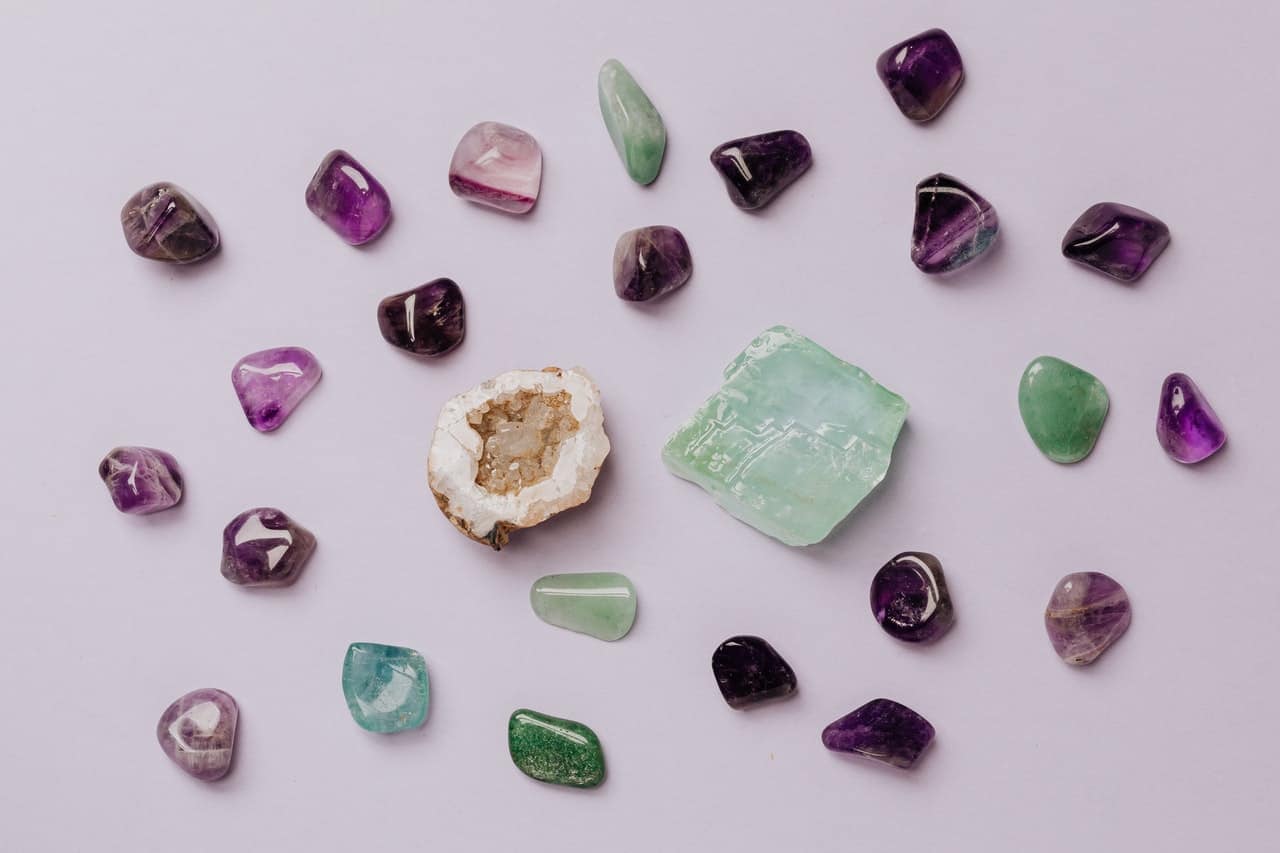 There are other quartz gemstones and lavender-colored stones, but Amethyst is one of the less expensive stones available, and the variety of coloration makes Amethyst jewelry widely available.
Lolite

– Iolite is the same hardness on the MOH scale as Amethyst and comes in colors of grey, clear and blueish purple. Iolite can show different colors when viewed from different angles, making it a color-changing gemstone; however, this gemstone is more rare than Amethyst.

Purple Diamond-

 These pricey alternatives are rare to find; their coloration is in the lavender to pale lilac color range. These orchid-colored gemstones are in the high price range between fifteen to thirty thousand dollars for a half-carat. 

Purple Sapphire-

This sapphire variety is also known as Plum Sapphire or Violet Sapphire. Sapphire is one of the hardest gemstones, and purple varieties of sapphire are valued highly.
Purple Jasper– This marble-looking stone swirls with a white and purple coloration. Although it is not translucent, it has a beautiful deep purple tone and can have shades of magenta, lilac, lavender, and grape. Best shown off in beads or cabochons, this gemstone with swirls that emulate marble is a great purple gem.
Purple Tourmaline– Tourmaline comes in every color in the rainbow, including clear and black. It is an abundant gemstone that often comes in bi-color coloration. Purple Tourmaline is one of the rarer colors of the gemstone but is still quite easy to find and purchase at less expensive prices.
Rose De France Amethyst
Sterling Silver Amethyst & Rose de France Amethyst Ring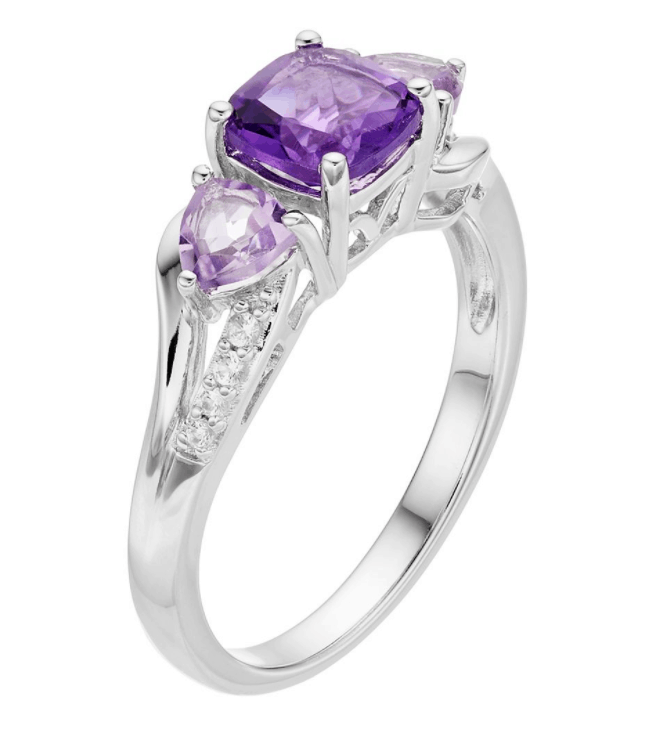 The center stone of this ring is a beautiful rich-toned purple Amethyst, and it is enhanced with two Rose De France side stones as well as four white sapphire accent stones on each side. The lovely purple Amethyst is enhanced with the lilac shaded Rose De France side stones. It's not a usual jewelry item to use two similarly colored stones as main stones. The sterling silver setting is a perfect base for showing off the colors of the stone without distracting from the unique colors. The pricing is also incredibly low for such a fine showing of beautiful stones. 
Rose De France Amethyst, Multi-Gemstone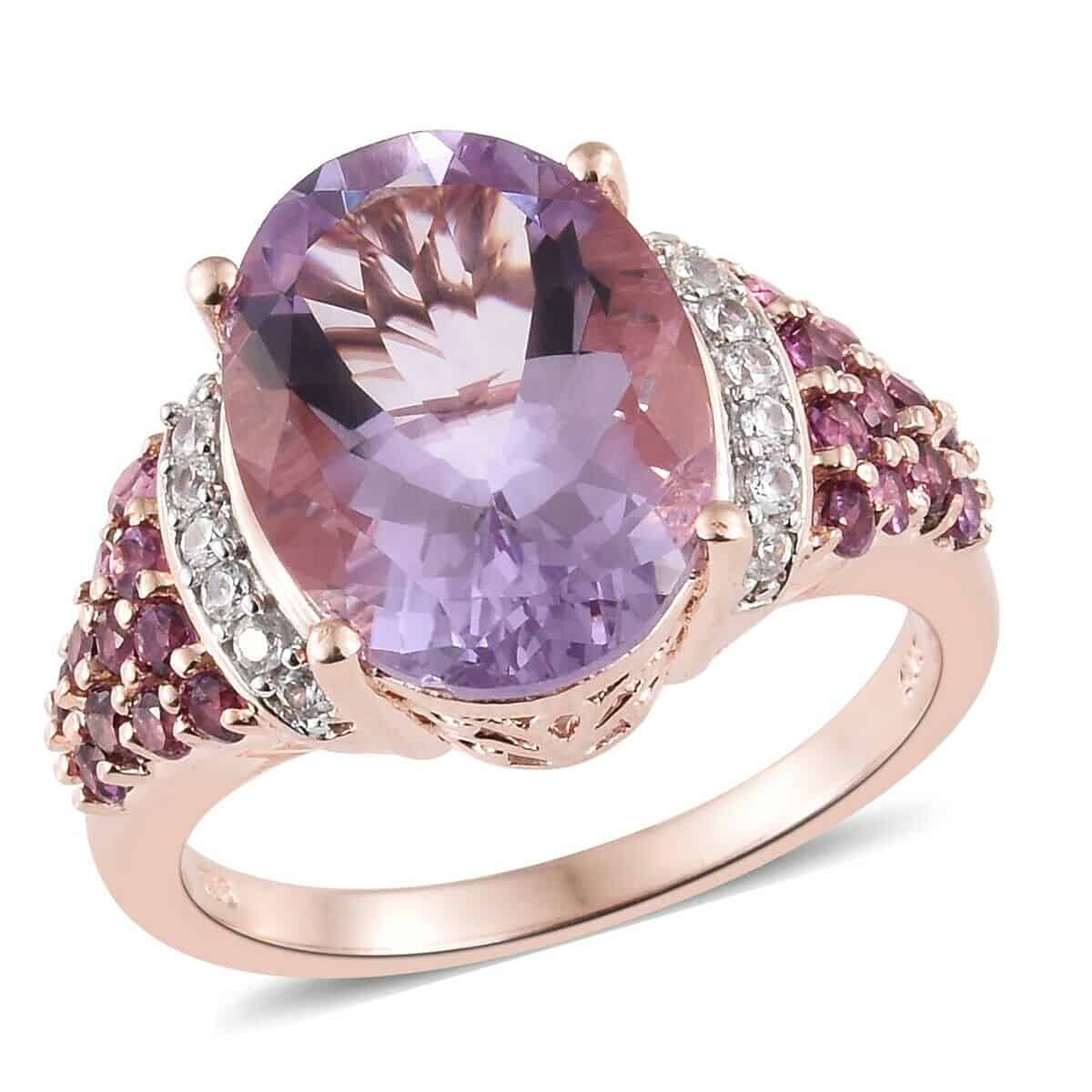 This ring has large, almost nine and a half-carat Amethyst is joined by pink and clear gemstones. The rose gold setting matches well with the pink and purple stones. The Oval Amethyst is the beautiful lilac color that Rose De France is known for, and the pink gemstones really bring out the pink undertones in the Amethyst. A band of clear gemstones separates the Amethyst from the pink accent stones, which helps frame the large Amethyst. This is a lovely ring, one that looks as though it would be beautiful with a simple black cocktail dress and strand of pearls. 
Jewels Gallery Ar- Rose De France Amethyst Halo Ring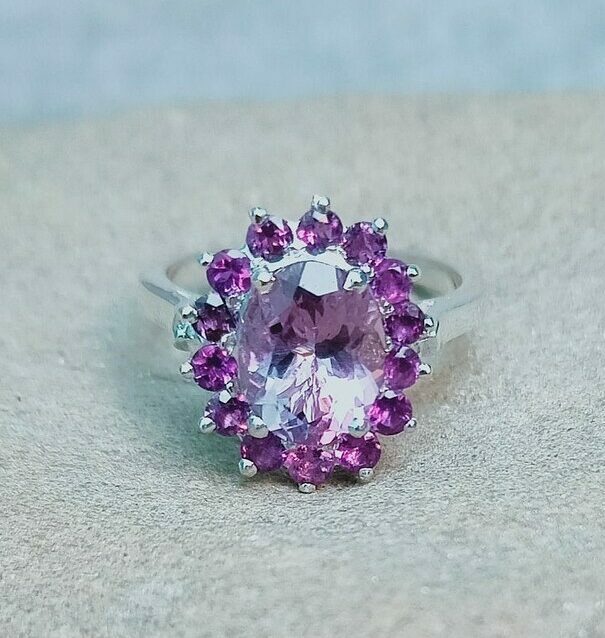 This lovely Rose De France center stone ring is the perfect lilac coloration. The large center stone is about two and a half carats of beautiful pink-purple Amethyst. The halo around this oval stone is made out of fourteen purple brilliant-cut stones. Your choice of setting colors makes it easy to personalize this ring toward your metal preferences. The low price tag for such a statement piece is also amazing. You can choose a large stone and not pay hundreds of dollars for a truly gorgeous ring. 
REEDS 
Amethyst, Rose de France Amethyst, Created White Sapphire Ring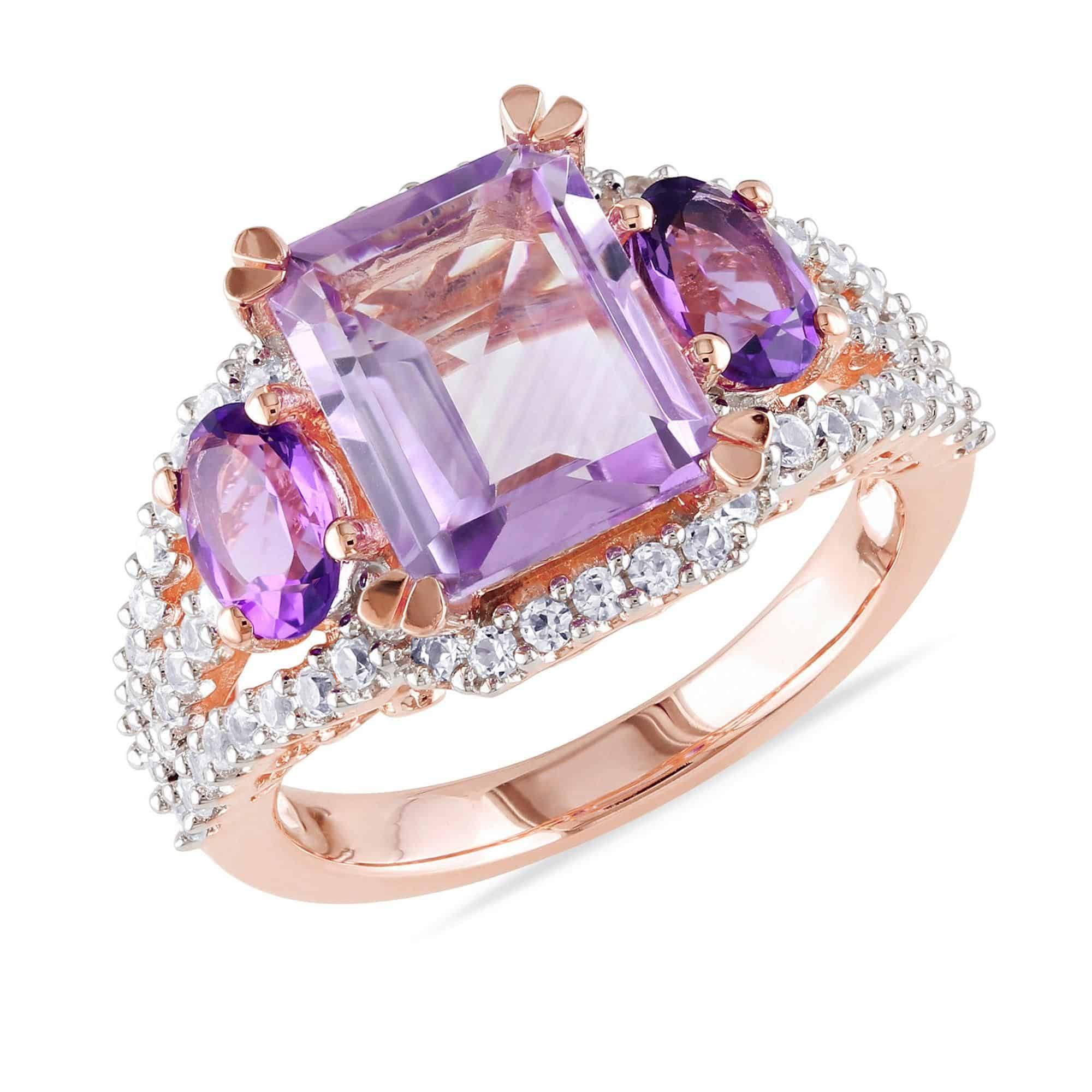 This large emerald cut two and a half-carat Rose De France Amethyst is a bold stone in the center of the ring. The smaller Amethyst side stones are almost ¾ carat each. The ring is then accented with a whopping sixty-two white sapphire accent stones to give this ring tons of sparkle. The rose gold makes this ring unusual and fun. One added detail is filigree cuts in the base of the ring to allow light to come in from the side, which will create sparkle from the underside of the large Rose De France Amethyst. 
Helzberg Diamonds Rose de France Amethyst & White Sapphire Ring in 10k Rose Gold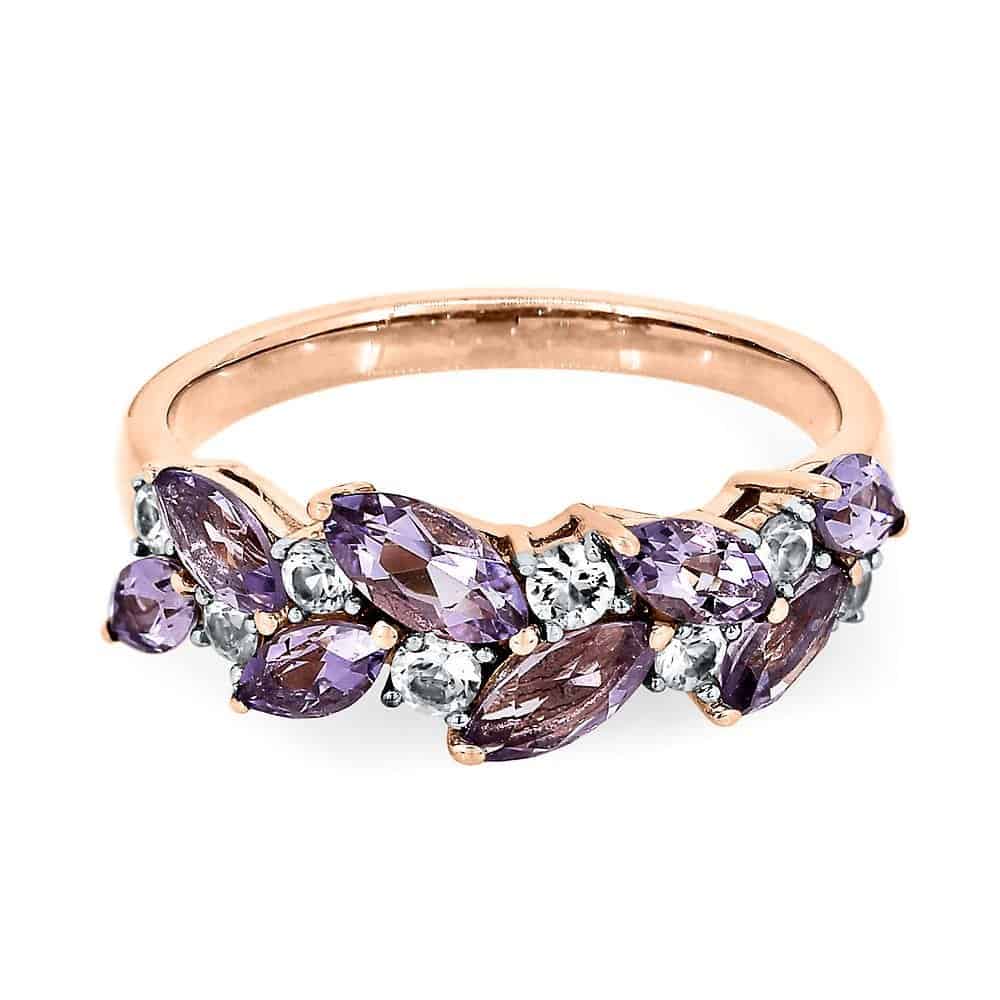 I love the Grecian crown, or laurel wreath, look of this ring. There are two larger marquise-cut Rose De France Amethysts with larger white Sapphires that descend into smaller marquise-cut Rose De France Amethysts and White Sapphires. Eight Amethysts and eight White sapphires are set at angles to pair beautifully with the ten carat rose gold setting. This lovely ring could easily be paired with a large solitaire ring or an anniversary ring. 
Lab-created Amethyst
Sterling Silver Checkerboard Cut Lab Created Amethyst Gemstone Ring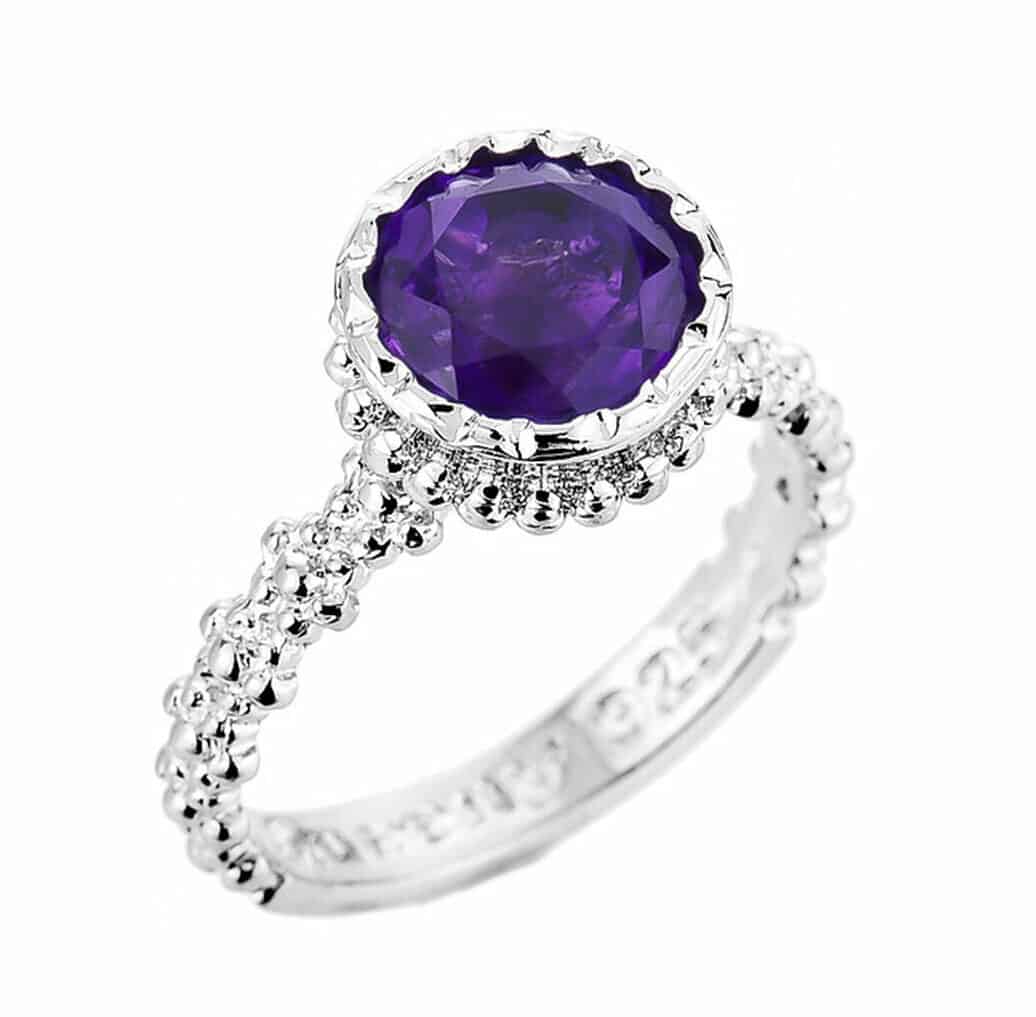 The bezel setting on this ring is ruffled around the stone. Although the lab-created Amethyst, with its beautiful rich grape purple coloration, is the only stone in the ring, there is plenty of additional sparkle from the sterling silver setting. Beading details along the shoulders and on the ring halo add some intricacy and shine. The Amethyst is a large two and three-quarters carat and will look gorgeous perched on your finger. 
Infinity Love Knot Lab-Created Amethyst Ring – Purple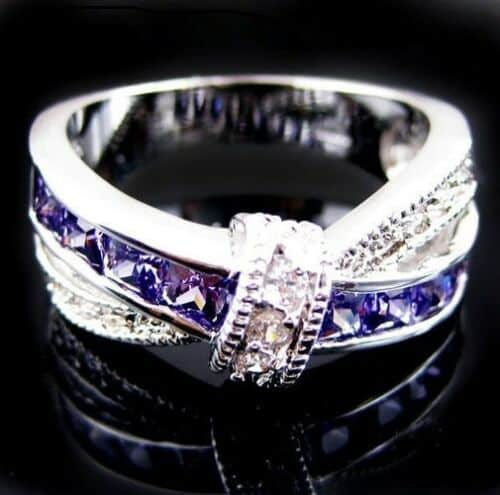 This unusual-looking ring is two ribbons tied together with a knot in the center. One ribbon features eight lab-created Amethysts, and the other ribbon features eight White sapphires, with an additional three sapphires in the center knot. Although there are two ribbons, the total width of the ring is not too large and would make a lovely middle finger ring. This would also make a darling promise ring or preengagement ring. 
Lavish by TJM Sterling Silver Lab-Created Amethyst & Marcasite Ring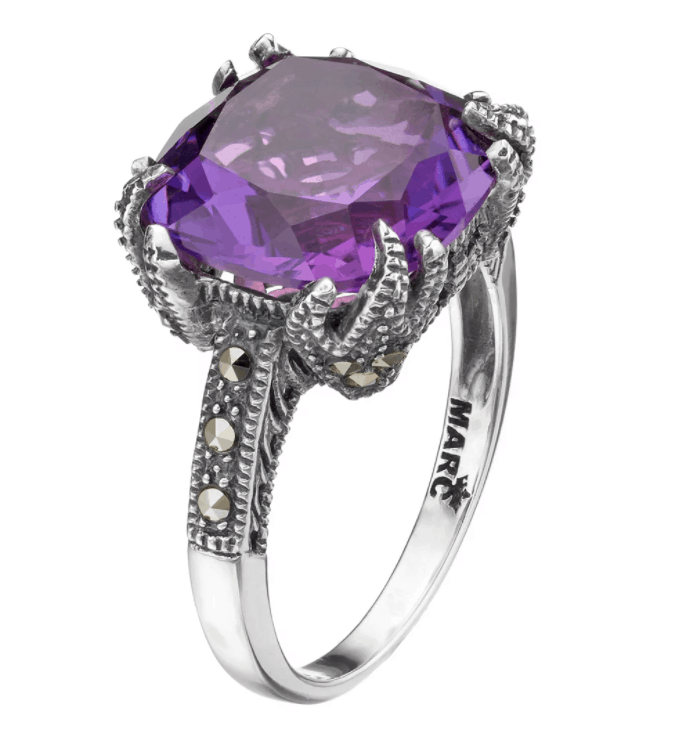 This five and three-quarters carat lab-created Amethyst is set in a milgrain enhanced setting. The prongs that hold the cushion-cut Amethyst are three dragon claw-looking prongs. The details of this ring are awesome. Each claw prong is set with three accent marcasite gems. The shimmer of marcasite also shows from the ring shoulders, where the sterling silver setting has been antiqued to show the details of the milgrain work. This is a really fun ring that could be themed and worn for certain occasions. 
Purple Amethyst Rhodium Over Sterling Silver Ring 5.99ctw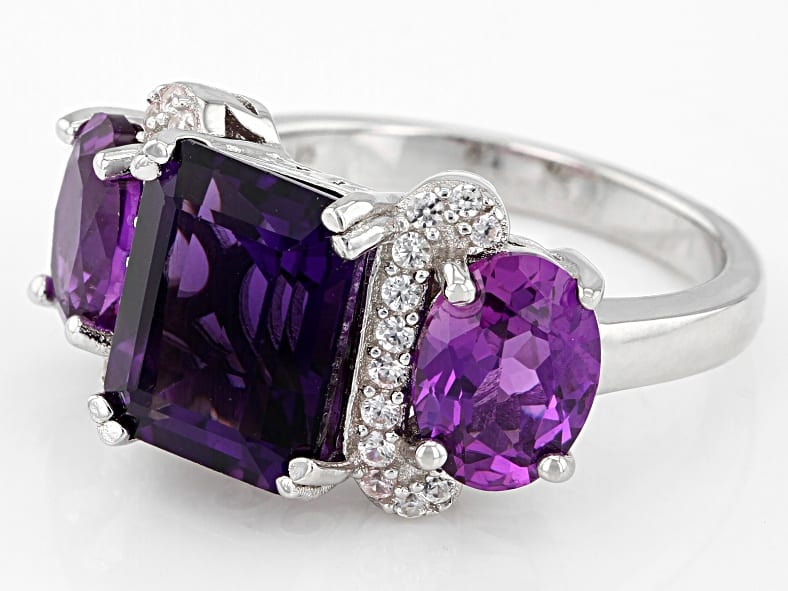 The center Amethyst of this ring is such a deep purple it is almost black. Almost three carats total weight of Amethyst are on this ring, as well as just over three carats of Purple Sapphire and White Zircon. The center stone is an emerald cut, while the two side stones are ovals. Two large C shapes accent the side stones and are accented with the white Zircon. The Rhodium-plated Sterling silver setting allows the sparkle of the accents and large deep purple stones to shine. This large cocktail ring really showcases the deep purple that Amethyst is known for. 
Amethyst
Reiki Healing 925 Silver Amethyst Vintage Ring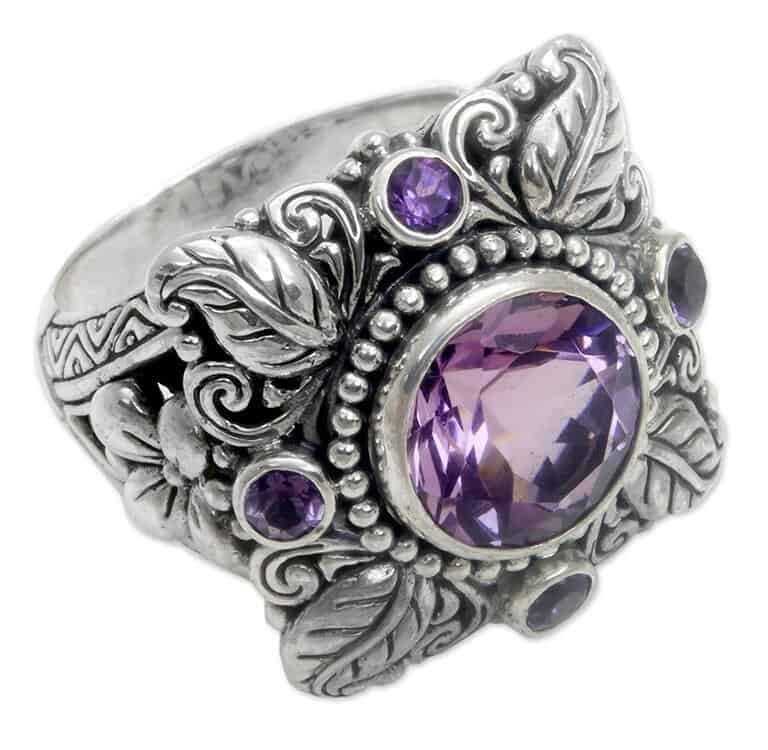 This large, beautifully engraved ring is the perfect mix of sterling silver and Amethyst. The floral and leaf designs stand out along with the large brilliant-cut Amethyst and beading on the ring. Four accent Amethysts at the top, bottom, and sides also stand out against the ornate ring. This is a large striking piece that shows off a mix of silver and Amethyst. 
Vintage Ring in Black With Gothic Style Amethyst Inlaid and Rose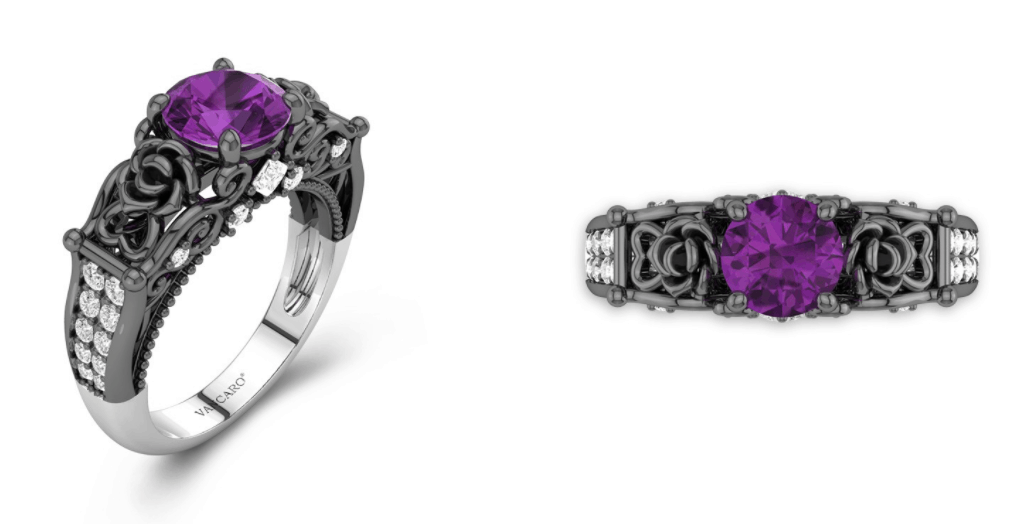 Gothic charm is what makes this ring unique. Black details highlight the deep purple lab-created Amethyst. The one and a quarter carat Amethyst is set into the prongs on the black half of the ring. The details include two intricate flowers and heart detailing, as well as five cubic zirconia set into the front of the ring, one in cushion cut, the other four in brilliant-cut rounds. This is repeated on the other side. The shoulders of the ring also include an additional ten cubic zirconia round accent gems. The ring is half black and half sterling silver and the black part is reminiscent of ironwork. This is a really stunning ring.
Amethyst & Jade Ring Three Stone Ring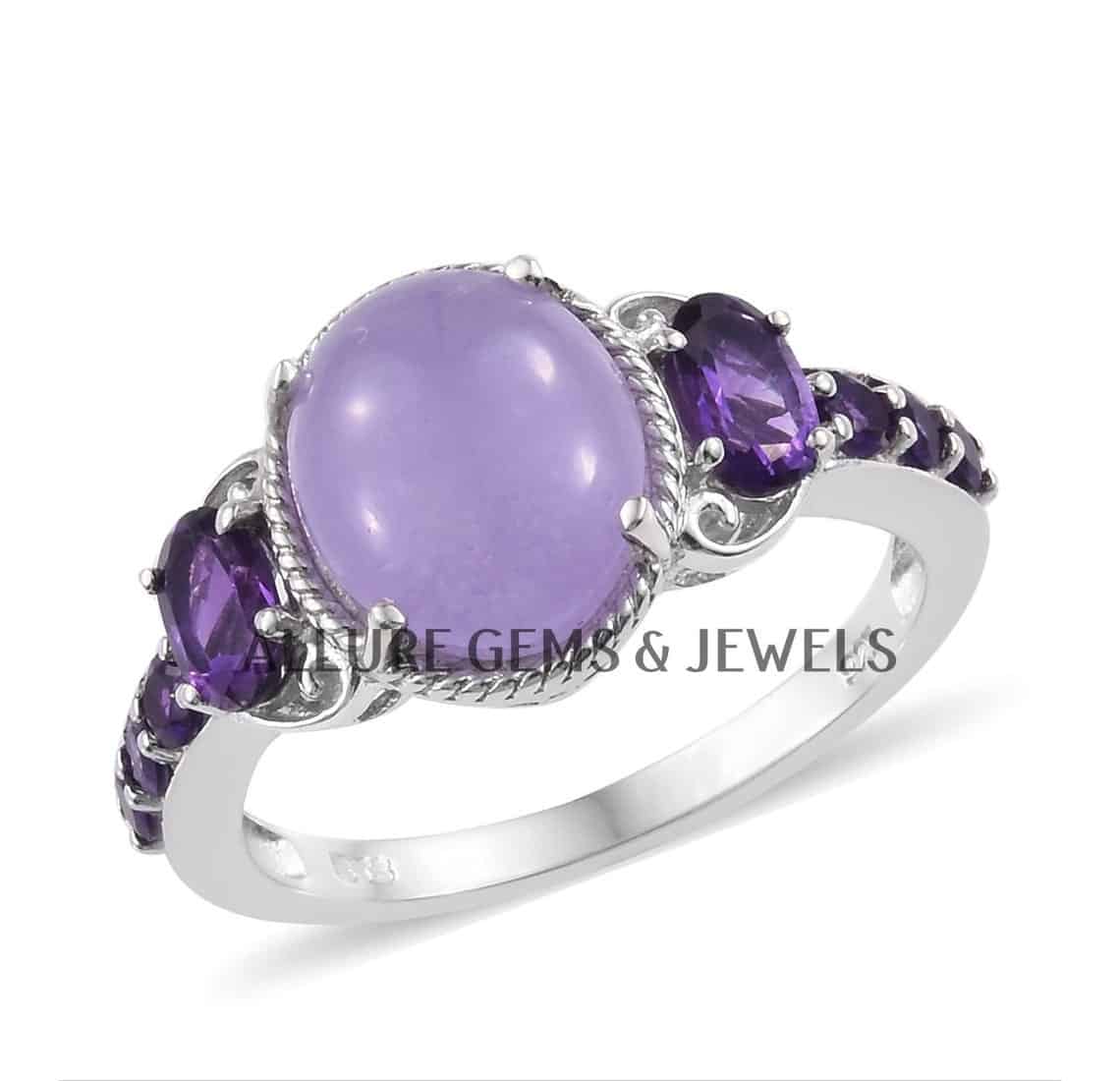 A five-carat Amethyst and Jade ring, the Jade in this ring is unique and what a cool pairing. The large Jade cabochon coordinates prettily with the matching Amethysts. Two side stones are accented with several more accent stones that trail down the shoulders of the ring. The Jade is accented with a milgrain rope around the prong setting, and the ring works well in the Sterling Silver white coloration of the metal. Some fine scrollwork allows for light to come through the bottom of the setting to glow through the gemstones bottoms. 
14ct Amethyst Cluster Ring Ombre Style Crafted in Solid Sterling Silver, Women's, Size: 4, Metal Type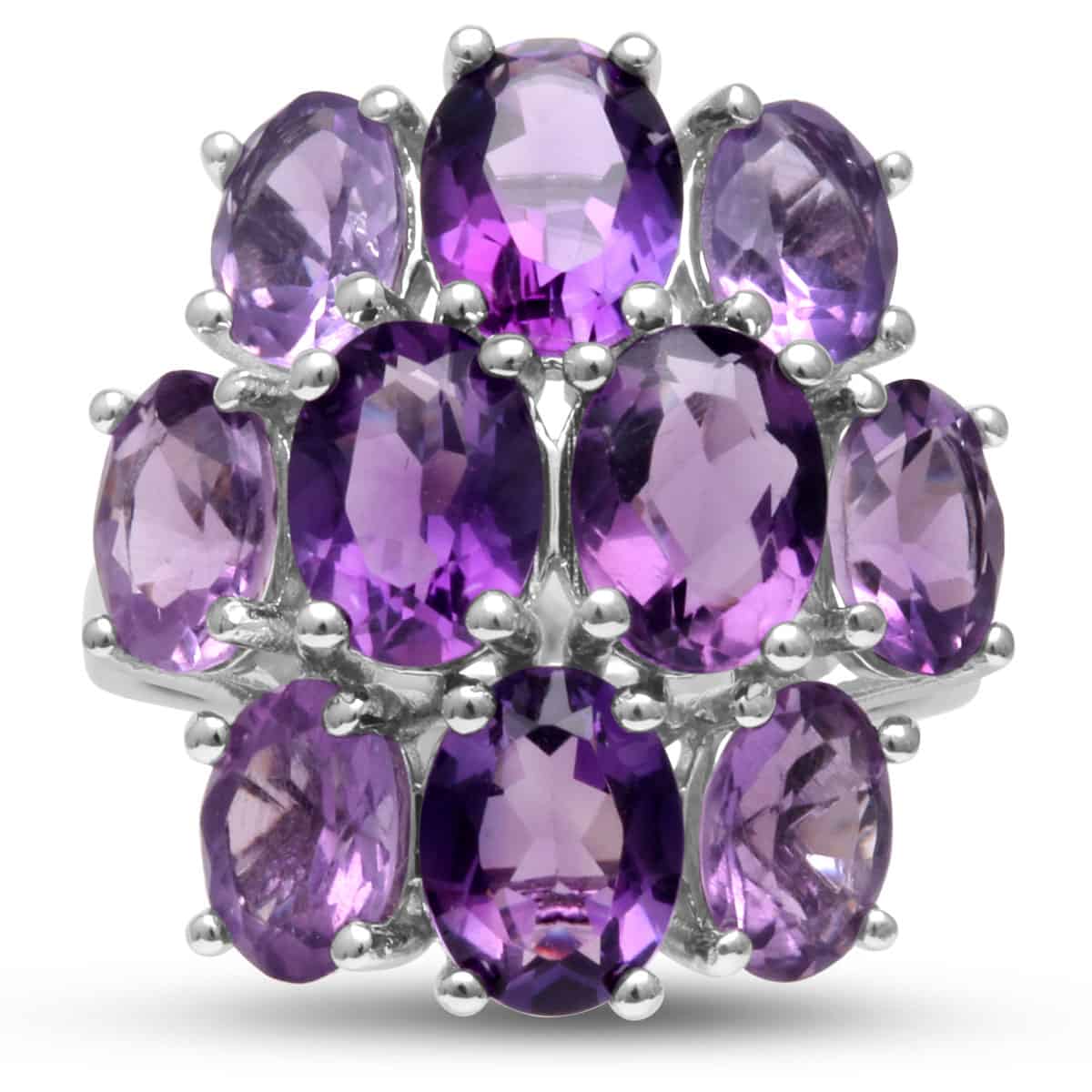 Grapes is what I thought of when I saw this cluster Amethyst ring. Ten similarly sized oval Amethysts are centred together on this ring. The setting is very simple; mainly, it is just a plain ring to hold the impressive grouping of gemstones together. It is raised a bit so that light will come in through the bottom to help the Amethysts sparkle. Four Amethysts are grouped in the center and are the darker stones of the ring. The lighter stones form an outside ring around the smaller dark cluster and give an ombre effect. This lovely ring is a beautiful cocktail-style ring that will dress up your evening. 
Bewitched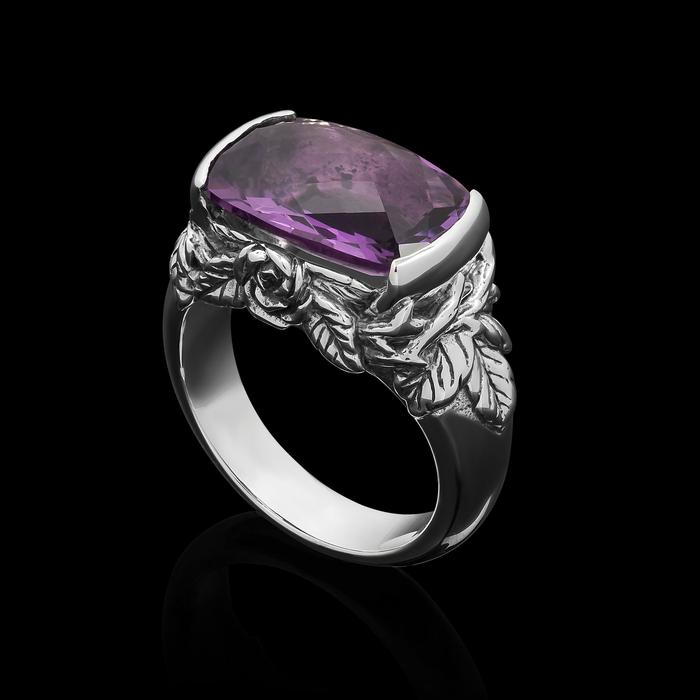 This rectangular cushion cut Amethyst rises above a bed of engraved sterling silver roses. The fine detailing of the flowers is only surpassed by the stunning facets of the Amethyst. The unique shape of the gemstone stands out from many of the beautiful Amethyst rings available. The height of the ring is unusual as well, standing up from the hand higher than most rings do. The ring looks good on the model's pointer finger but could also be worn on other fingers. 
FAQs
Question: Is Lolite Rare?
Answer: Iolite in its best coloration is rare. This gemstone is pleochromatic and shows different colors when viewed at different angles. This gemstone may have been used as the first polarizing lens, a lens that helps reduce glare and deepens the contrast of a bright day to view a scene better. 
Question: Is a Purple Sapphire Rare?
Answer: Purple sapphires are somewhat rare; the most valuable colors are lilac, magenta, and pale purple. Taking into consideration the four C's of gemstones- clarity, cut, color, and carat weight, these sapphires can cost about one thousand to two thousand dollars a carat. 
Question: What Does a Purple Sapphire Mean?
Answer: Purple Sapphire means prosperity. It brings abundance and wealth into your life and helps to focus you on the beautiful things in life that surround you. It supports wisdom and attention to help you along your way. 
Question: Where Can I Find an Amethyst Crystal in Nature?
Answer: Amethysts form inside large geodes inside volcanic rock. There are several locations that produce Amethyst, including Russia, Africa, the middle east, Canada, United States, and South America. The best Amethyst comes from Brazil.
Question: Is Dark or Light Amethyst Better?
Answer: An Amethyst should be deep in color. However, it should not be so dark that light doesn't pass through it. The optimum color would be a reddish-purple color with consistent coloration throughout. Light purple Amethyst is now in more demand, and the best color is considered the Rose De France, slightly pinkish-purple color. 
Bottomline
Amethyst is the gem of purple gems. No other purple stone matches it; you can easily see why it once was the stone of royalty and why the color purple is associated with royalty. Now considered a semi-precious stone, Amethyst was once more valuable than diamonds. Amethyst is incredibly affordable now, and you can also stretch your dollar by purchasing lab-created Amethyst. Buy your favorite rings, as Amethyst is said to help with many health issues, including reducing your stress level; what better reason to have to invest in some beautiful Amethyst rings. So don't stress out and purchase a few Amethyst rings for yourself!
Further Read: