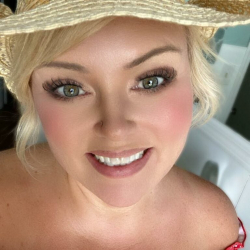 Latest posts by Kristen Swain
(see all)
The stunning pink gemstone with an ethereal quality, Rose Quartz is translucent yet transparent, opaque, and cat's eyes, pink or blush, and it's going to be hard to pick just one new ring. Explore this blushing gemstone and see all the variety you can choose from to find your perfect ring. 
What is Rose Quartz?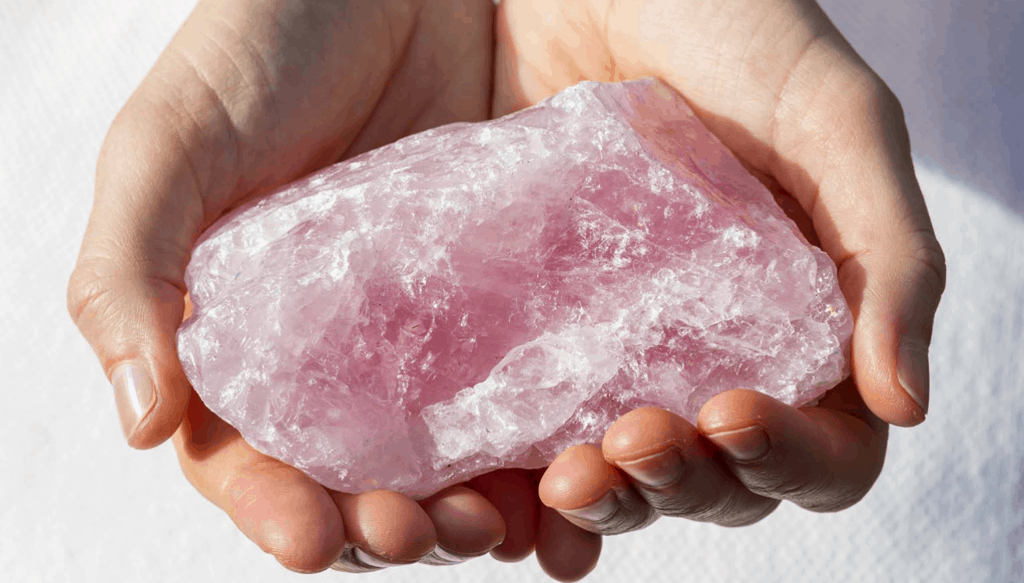 Rose Quartz is a variety of Quartz that comes in the coloration of pale pink to rose-red. The gem can be transparent to opaque. Some opaque varieties can display asterism, which is pointed lines resembling a star that moves in the light. 
The best quality gem is transparent and will usually be cut into a faceted gem. Opaque Rose Quartz can be faceted but will typically be shaped into cabochons. Rose Quartz with Asterism will be shaped into cabochons or spheres as those are the best shape to display the rays of light inside the stone. 
Quartz is the second-most abundant mineral on Earth, second only to feldspar. Quality gemstone varieties of Rose Quartz mostly come from Brazil. The best quality Star Rose Quartz stones are from Madagascar. Other places that mine Rose Quartz are Mozambique, Germany, India, and South Africa. 
In most stones, the coloration is brighter in large stones. The pale pink coloration is so pale that smaller stones will display pink in a lighter tone. 
Rose Quartz is a seven on the MOH scale of gemstone hardness. That means it is a fairly tough stone, good for everyday wear, although all gemstones should be protected from hard knocks when possible. 
Rose Quartz is the celebratory gemstone of the fifth wedding anniversary. It is also the alternative birthstone of January. 
| Product Image | | Primary Button |
| --- | --- | --- |
| | | |
| | | |
| | | |
| | | |

History of Rose Quartz
Early history shows that Rose Quartz beads have been found as long ago as 7000 BC. In the way that Jade has been revered and carved through history in Asia and South America, Quartz has been used similarly in Europe and the Middle East. Vases, jewelry, and other prized items were produced until the early 19th century. 
Throughout cultures, Rose Quartz was used as an anti-aging stone. Egyptians used the stone as facial massage pieces to help combat wrinkles and rejuvenate skin. Tibetian and Chinese cultures also used the stone, as it was thought to help heal the heart from lost love. 
The Heart Stone
Rose Quartz is one of the most used gemstones in metaphysics. It has an abundance of healing qualities, including being the heart stone. 
Rose Quartz is thought to open the heart to love, including romantic love and love in friendship and family. It helps the wearer to receive love from others and the universe. 
Rose Quartz is a purifier and helps to promote the deep healing of emotions. It encourages self-love, worth, and esteem. 
Systemically, Rose Quartz helps the circulatory system and heart. It also helps to promote fertility and give protection to mother and child during pregnancy. 
Alternatives to Rose Quartz
Morganite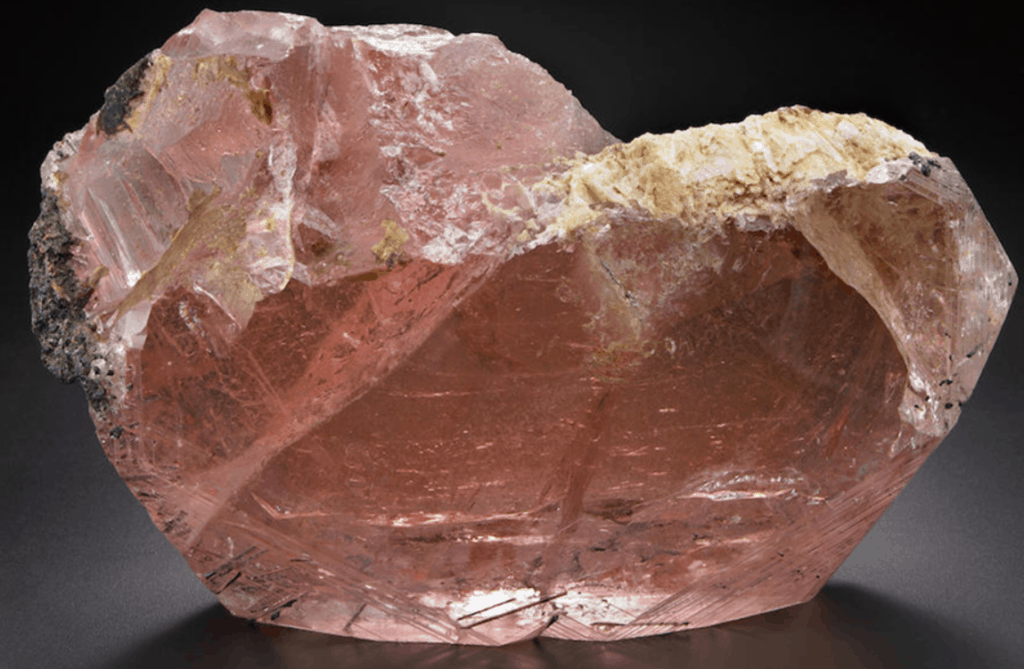 Morganite is a pink blush stone that is similar to Rose Quartz but is always transparent. It is in the same mineral family as Emerald is. The hardness of Morganite exceeds Rose Quartz. Morganite is typically a more peach tone than Rose Quartz.
Pink Quartz
Also in the Quartz family, Pink Quartz is the same hardness as Rose Quartz on the MOH scale. Pink Quartz is different than Rose Quartz in that it is much more rare than Rose Quartz. Pink Quartz can lose its coloration in the sun and is a much more delicate stone and an unusual choice for jewelry.
Pink Tourmaline
This gemstone is well known for its variety of pink tones. From soft baby pink to deep magenta, you can choose a stone from a variety of pinks. Pink Tourmaline is a clear, usually inclusion-free stone that is a popular variety in gemstone making. In fact, Pink Tourmaline often comes in several tones in a single gem, giving your stone an ombre look. 
Pink Sapphire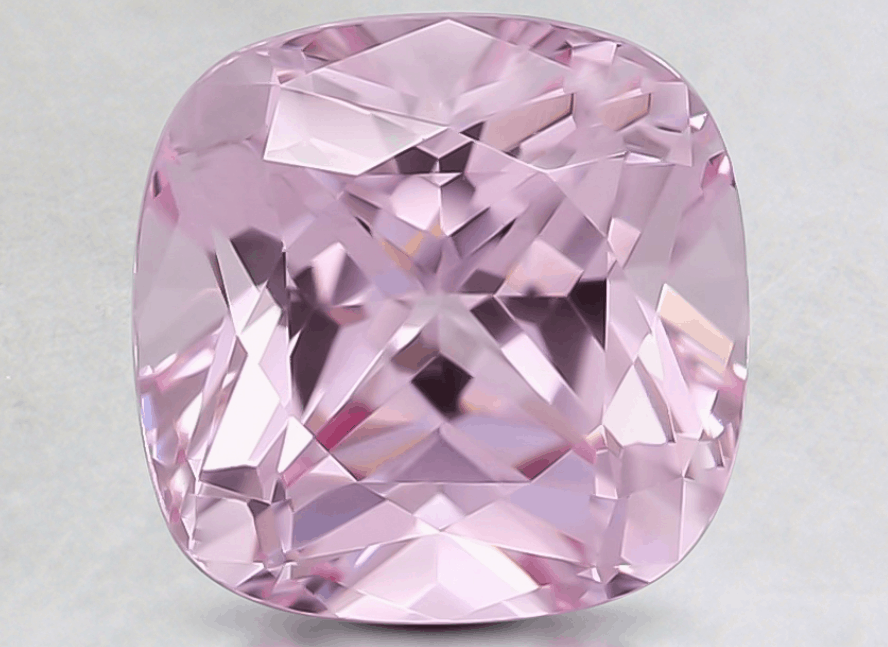 Pink Sapphire is classified as a Ruby in general terms, as all red corundum is ruby. However, because it is lighter in coloration than the red ruby, jewelers may sell Pink Sapphire as such. The price of the stone will depend on the classification of the gemologist who graded the stone. 
Kunzite
This purple-pink transparent gemstone can be found in large carat sizes as an affordable but less abundant alternative to Rose Quartz. The coloration of this gemstone is more toward the purple side, and there are lovely examples of lavender stones. This gemstone is also available in opaque varieties, just like Rose Quartz. 
Rose Quartz Ring Inspiration
Translucent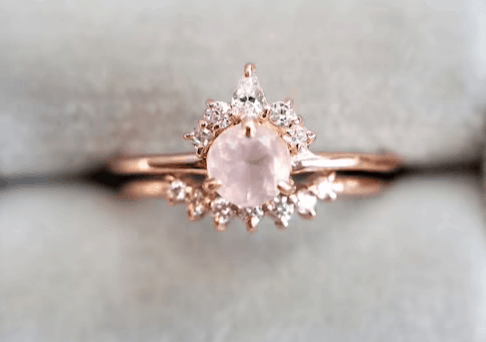 This darling little Rose Quartz and Rose gold ring can be customized to your choice. You can choose setting metal and diamonds or cubic zirconia. The small crown of gems above the round .3 carat Rose Quartz accents the ring beautifully and will give a touch of sparkle to this simple but sweet ring. Rose Gold looks extra perfect with Rose Quartz, and this little pink ring will make the sweetest engagement ring. 
Rose Quartz & Diamond Crown Cluster Ring | Etsy
One round cut faceted rose quartz is expertly prong-set in the center of this shiny ring. Pretty in pink! Perfect for those who love a delicate style with cotton candy pink warm tones.
Check Price
We earn a commission if you make a purchase, at no additional cost to you.

Opaque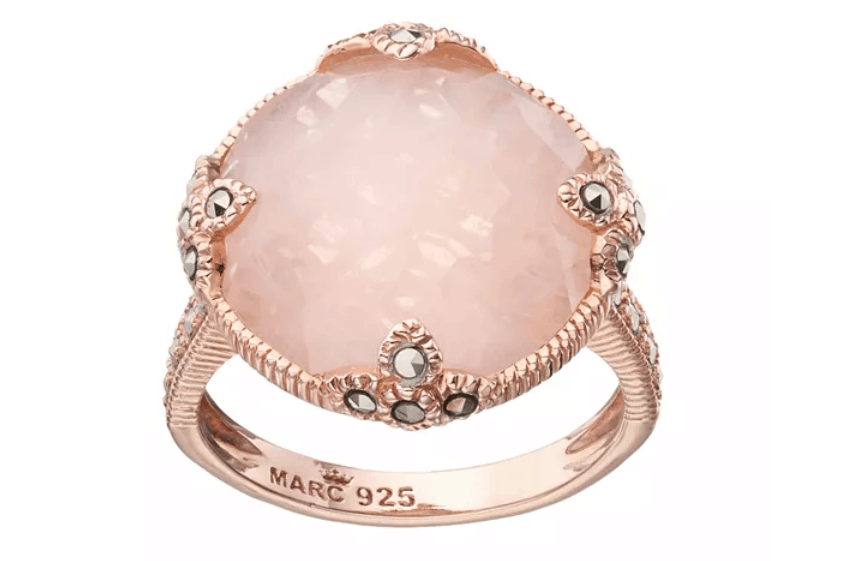 This round cabochon ring features a large Rose Quartz that is opaque. The large 7.3 carat Rose Quartz is a beautiful statement stone. Nestled in a Rose Gold bezel with marcasite accents, this bezel features millwork to accent the sparkle of the polished rose gold. The bezel has four leaf work prongs to hold the Rose Quartz stone in the setting, and each leaf holds three glimmering Marcasite stones. While the opaque Rose Gold won't sparkle, as it is not a rounded cabochon but a faceted stone, but will glimmer and glint in the light.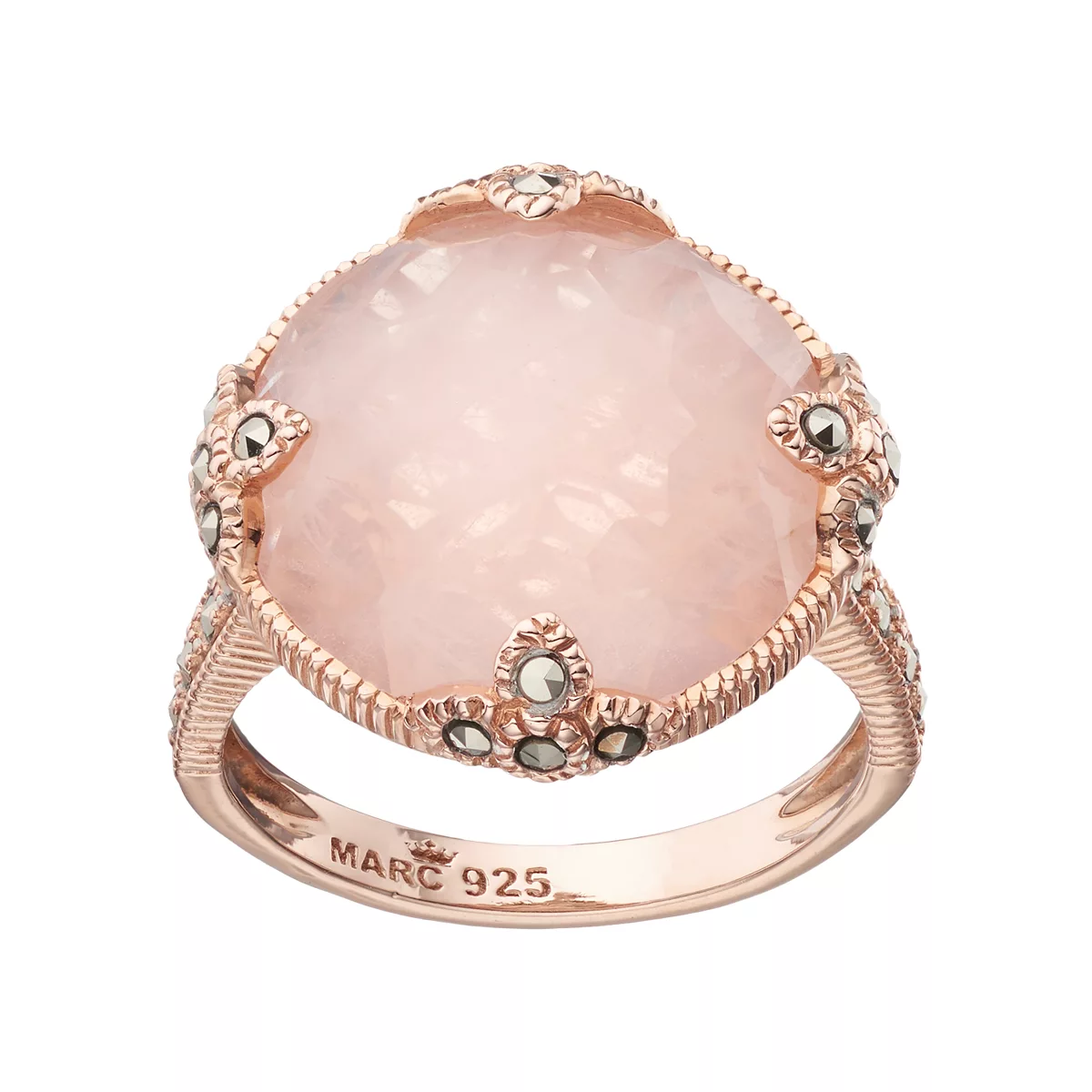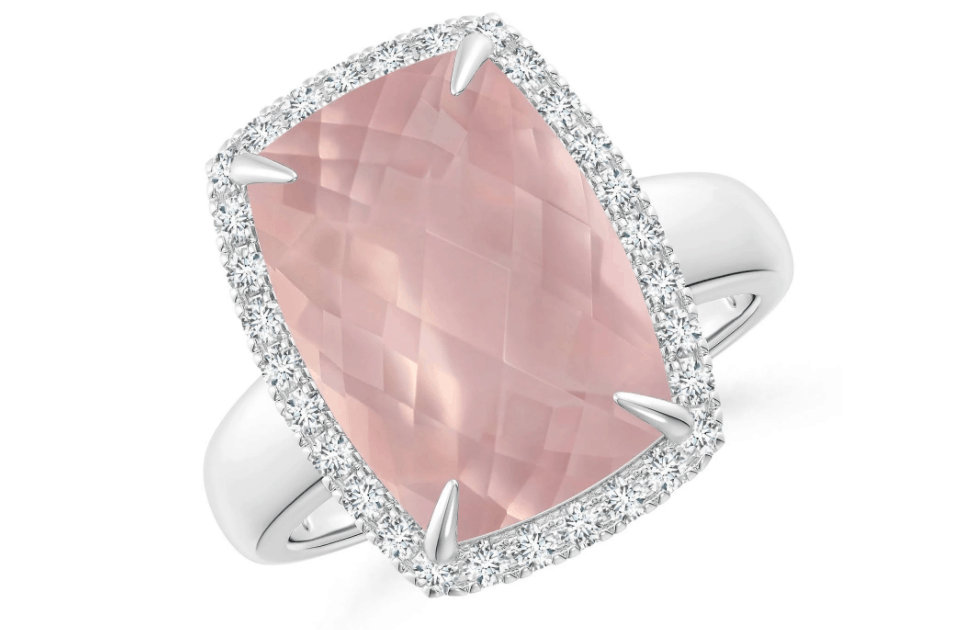 Making a big impact, this huge cushion-cut Rose Quartz is over a whopping six-carat total gem weight. With thirty small diamond accents in a rectangular halo around the Rose Quartz stone, this checkerboard faceted stone is an eye-catching statement piece. Set in eighteen-carat Rose Gold, the prong setting securely holds the gemstone, while a pave stone setting holds the diamonds in the halo. A thicker band secures the stone on your hand to be a more sturdy ring.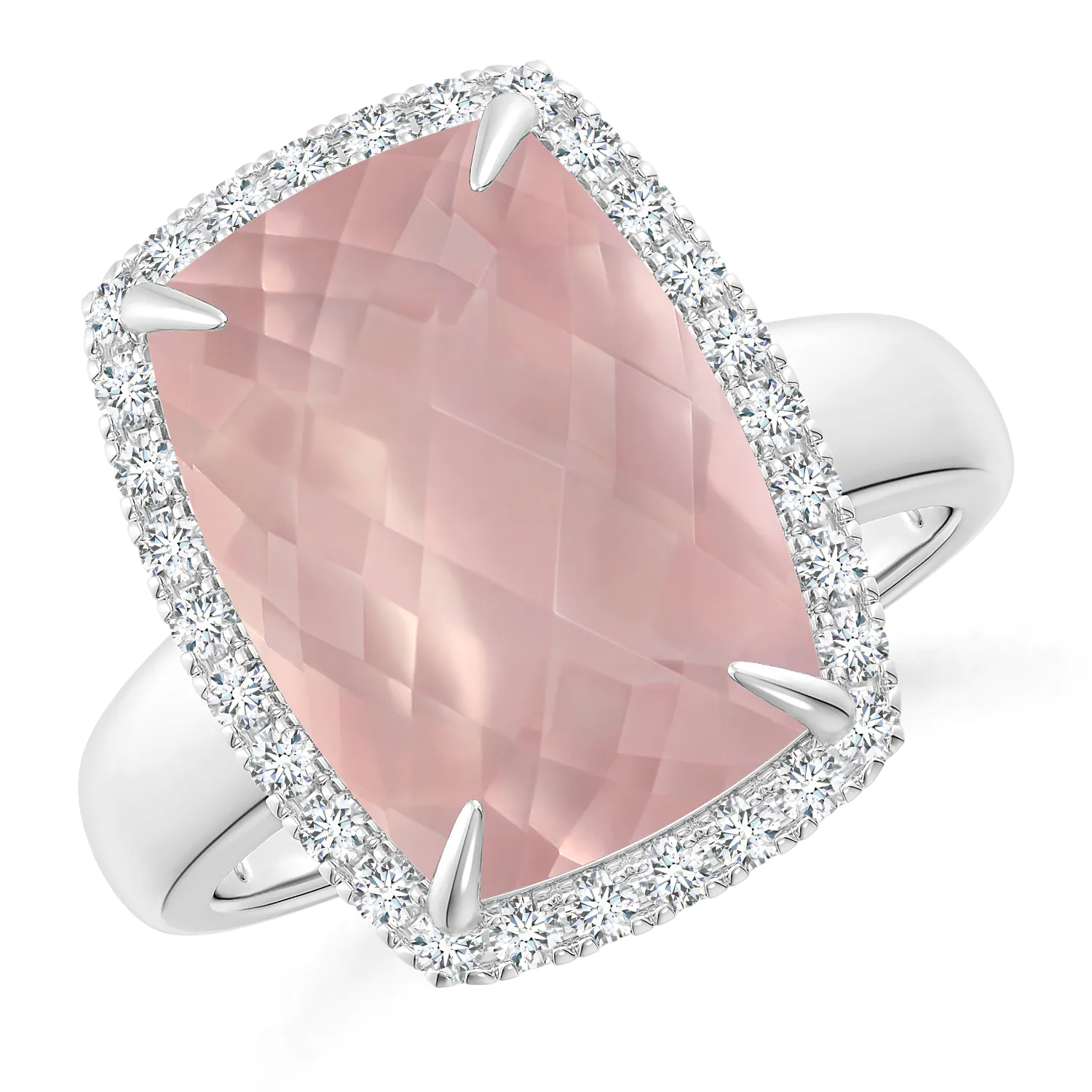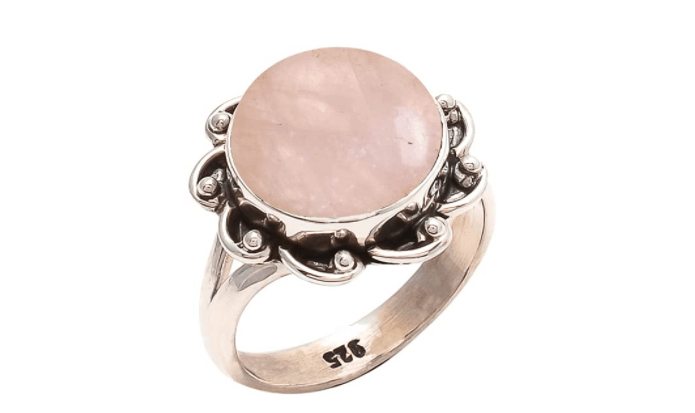 This ring is reminiscent of swirling octopus tentacles. The large cabochon-shaped Rose Quartz rests in the lip of the bezel setting. The petals that extend outward from the bezel are engraved with curly swirls that end in a loop. Each petal is black painted to show off the swirl around the bezel. This ring is priced under thirty dollars and is a thrifty find!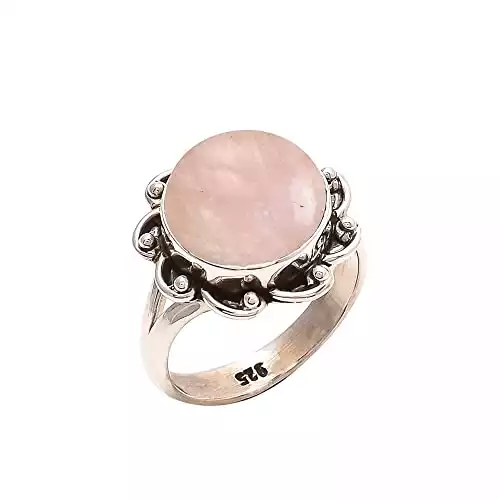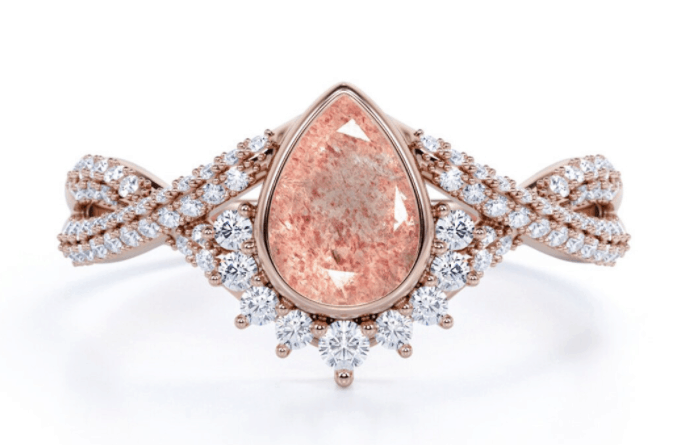 A double row of simulated diamonds surrounds this full one-carat pear-shaped Rose Quartz stone in a cross-over split shoulder band. There are five small simulated diamonds as a crown around the rounded part of the pear gemstone. Nine stones of graduated size partially encircle this lovely pink-red stone. The inclusions in this Pink Quartz are why the gemologist has called this stone called Strawberry Quartz.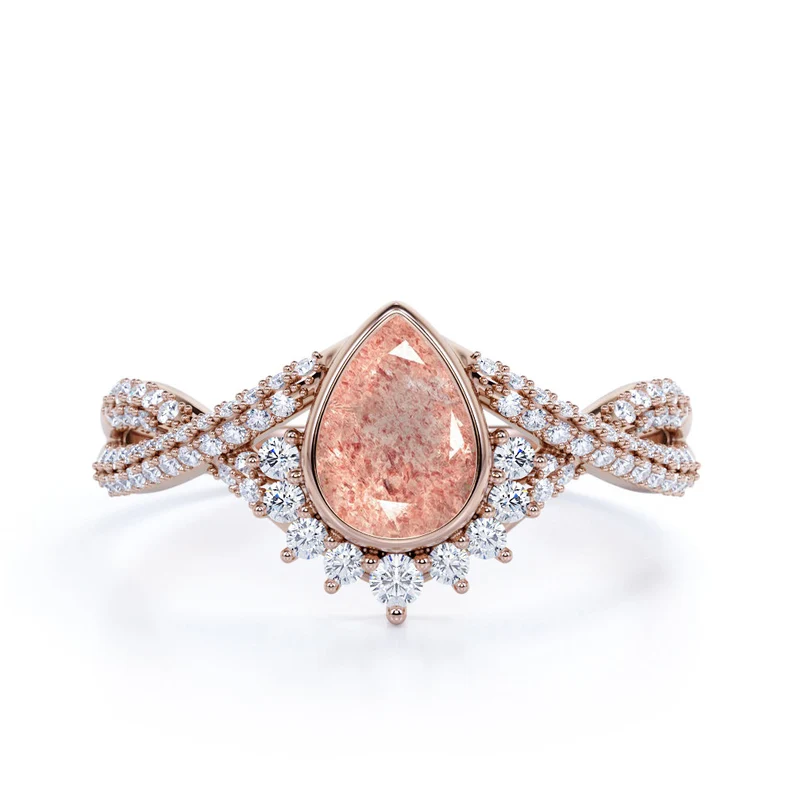 Antique Pear Cut Pink Quartz Ring | Etsy
Introducing you to our most vibrant Strawberry Quartz promise rings. Fresh, fun, and never before seen, we are determined to start the new year with our brightest and most vibrant gemstone.
Check Price
We earn a commission if you make a purchase, at no additional cost to you.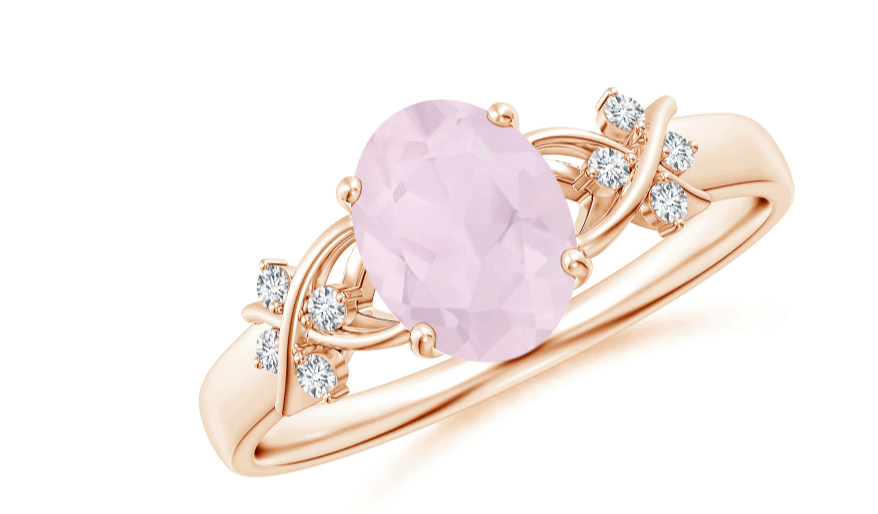 This stunning criss-cross decorated ring features an oval one-carat Rose Quartz and eight tiny diamonds on the shoulders of this ring. Pick and choose your gemstone quality and setting metal color. The small diamonds add a touch of sparkle, while the Rose Quartz that has been cut with facets will glimmer and glow.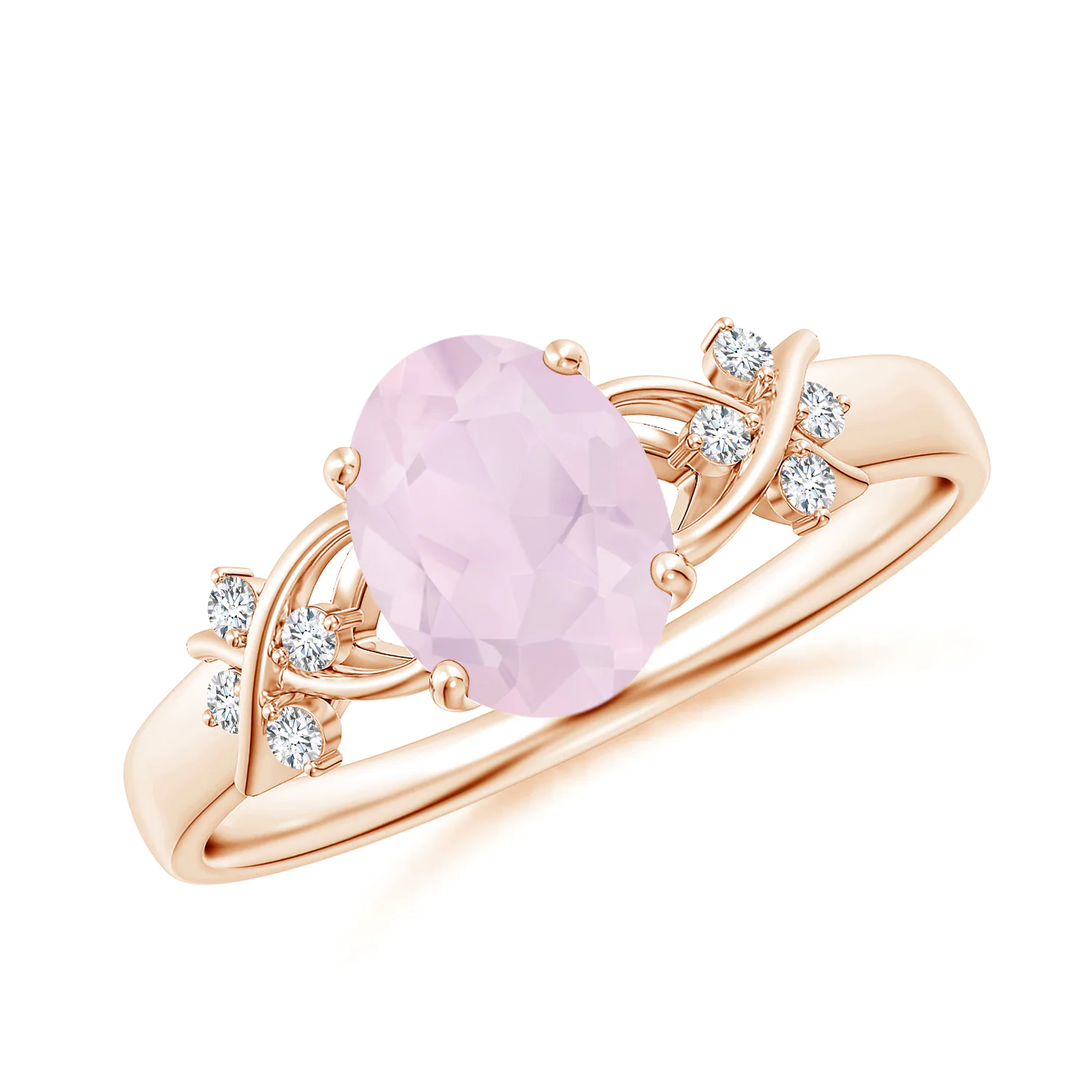 Cabochon
Glamira Ring Elrica- 585 White Gold/Rose Quartz & Swarovski Crystal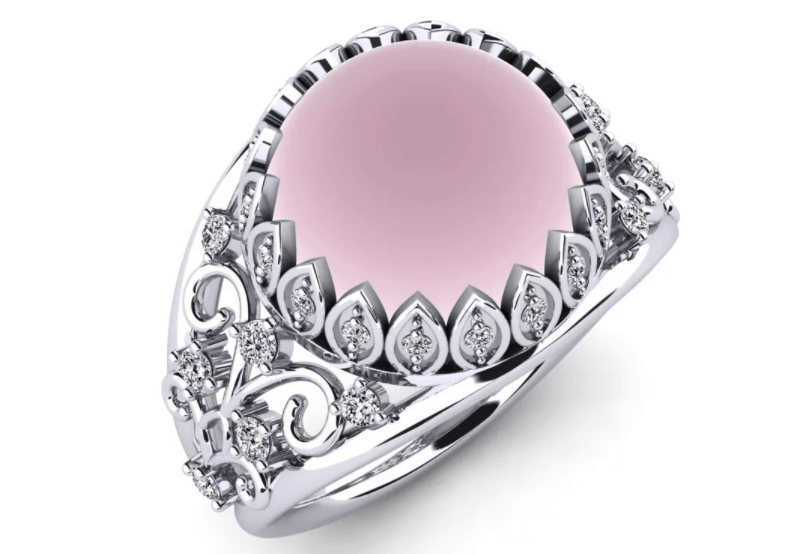 Styled like a class ring, this fourteen-carat cabochon-shaped Rose Quartz ring is set into the bezel surrounded by eighteen petal-shaped prongs. Each prong features a Swarovski Crystal. There are six larger stones adorning the sides of the cutwork of the band. The band features shaped swirls that bloom upward on the ring. The ring is a stunning statement piece that will get compliments daily.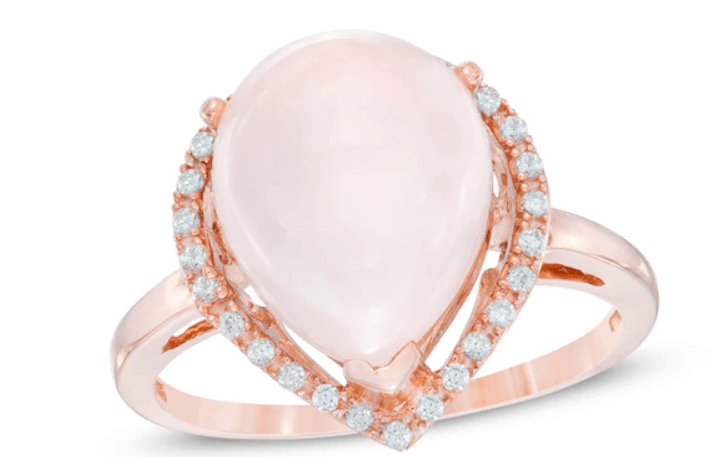 The lovely pale pink of this pear-shaped Rose Quartz cabochon stuns in this beautiful ring. The center stone is highlighted by a halo frame adorned with lab-created white sapphires. The ring setting has cutwork detailing to allow light to shine through from underneath the stone. This beautiful ring is a perfect statement piece with the larger-sized pear-shaped center stone.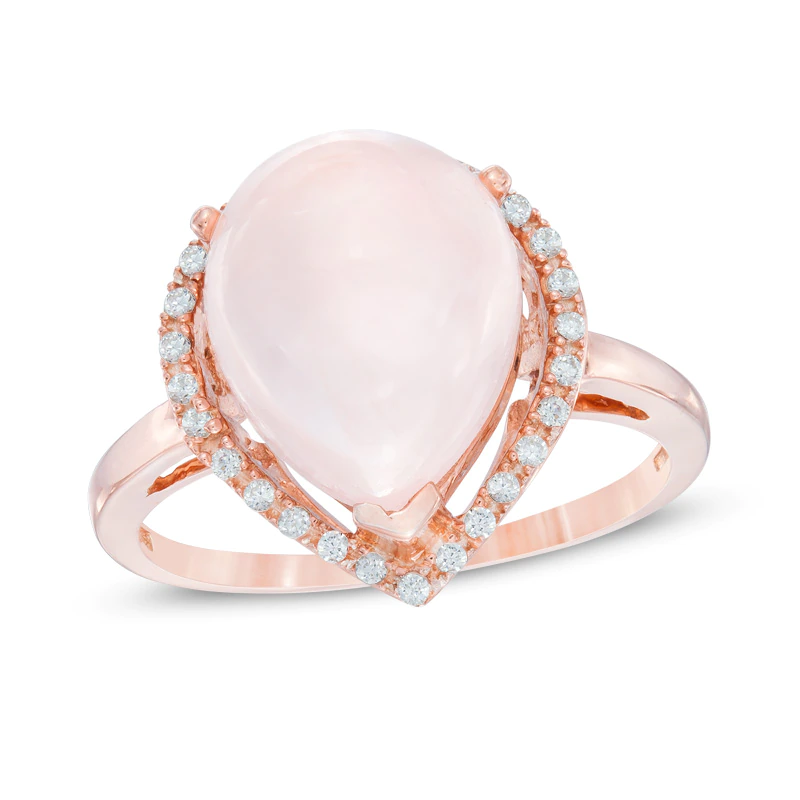 Glamira Ring Chimera 585 Rose Gold/Rose Quartz & White Sapphire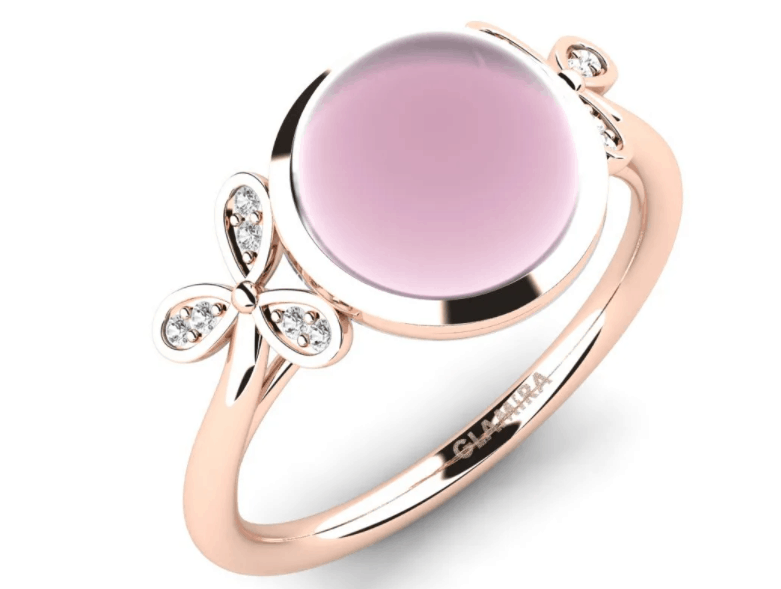 This nine-millimeter four-carat cabochon-shaped Rose Quartz glows from inside. The round cabochon is placed into a bezel setting and is accented with a clover shape at both sides of the ring. The shoulders of the band hold these two clover shapes; each petal is accented with two small white sapphires. Choose your accent stones, your center stone, and your metal color for a totally unique look. 
Carved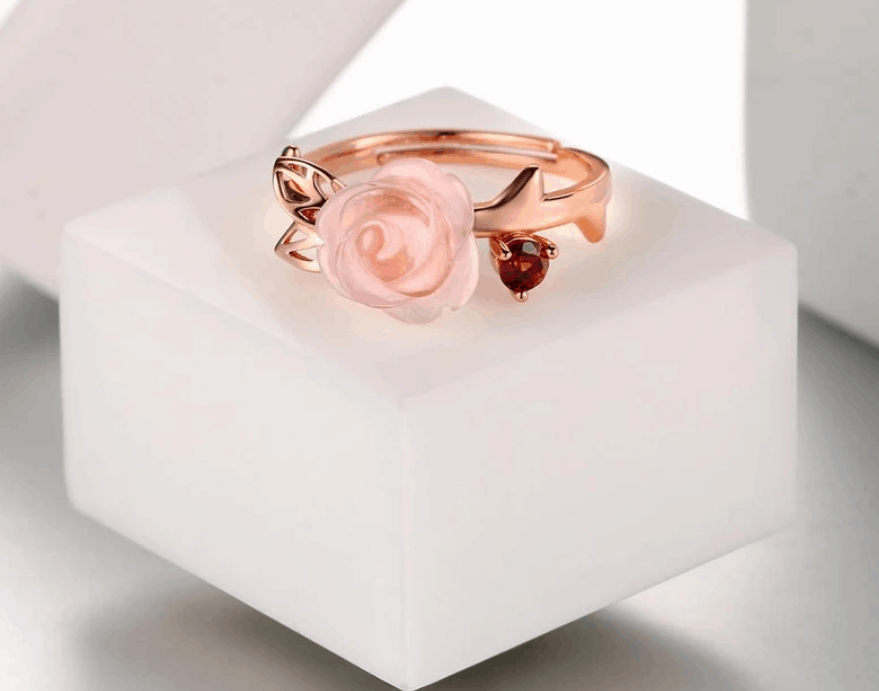 It's not often you find a gemstone that is carved. Rarely may you find cameos and jade carvings, but those continue to be cabochons with etchings. This ring is a truly carved work of art. The Rose Quartz gemstone is carved into a three-dimensional rose. The setting is shaped into a thorny-looking vine, and the ring is accented with a small garnet stone, as well as two small cutwork leaves. The five-carat Rose Quartz is placed on a flat bezel. Any lady will feel like a princess being given this ring, a true Sleeping Beauty.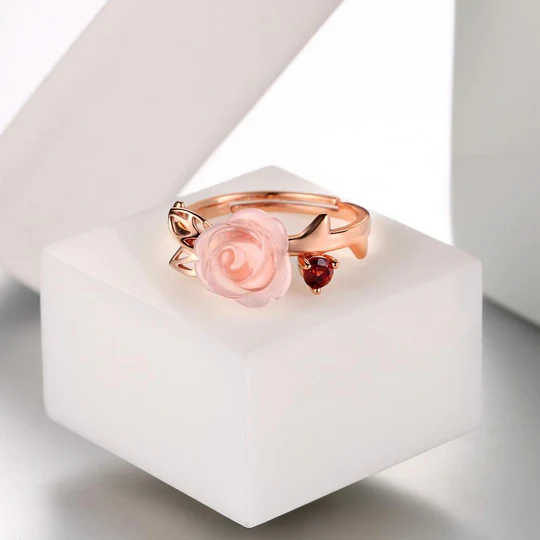 Beautiful Rose Quartz Rose Ring | Project Yourself
This beautiful Rose Quartz Rose Ring will bring you the comfort and inner peace you need. It has a beautiful natural Rose Quartz, carved in the shape of a beautiful pink flower, with a Garnet stone on it.
Check Price
We earn a commission if you make a purchase, at no additional cost to you.

Raw
Rose Gold Rose Quartz Ring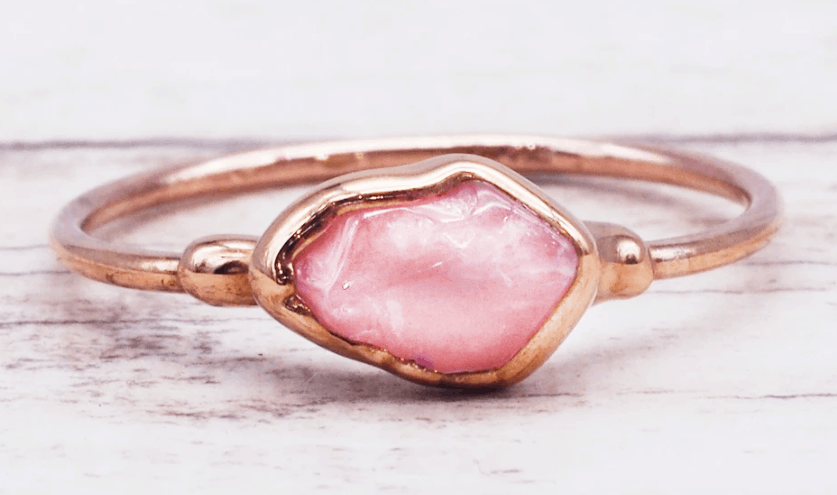 This polished stone has been left in its uncut form. The bezel has been shaped around the ring to hold it in place. In keeping the ring simple, there are two decorative but functional forms on either side of the center stone to attach the gemstone to the thin band. A perfect layering piece, you could buy several and stack them on your finger. 
Rose Quartz and White Topaz Raw Crystal Ring- Ritzy Rose Quartz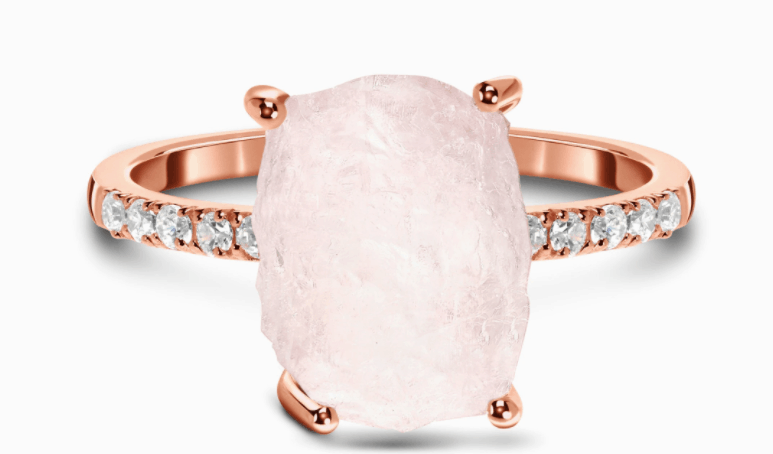 The mix of polished and natural elements comes together in this stunning ring—an uncut raw stone in a polished setting with White Topaz accent stones. The rose gold band features ten small pave diamonds set into the shoulders of the band. Four large prongs hold the naturally beautiful raw Rose Quartz gemstone in place. This is a lovely natural-looking ring for a bohemian twist.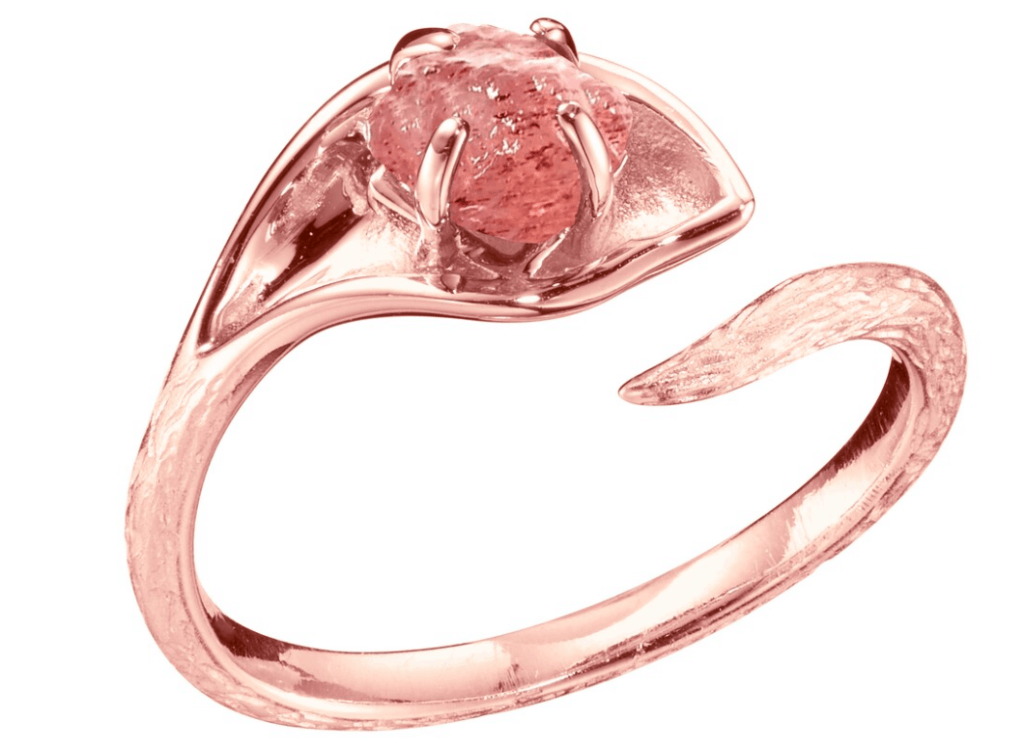 Lily shaped, this ring holds a raw Strawberry Rose Quartz in the center of the flower. Wrapping around in a vine, the unclosed ring band leaves the impression of a vine that has managed to grow on your finger. The one and a quarter carat Rose Quartz is held in place with a prong setting. This lovely ring could be an extra special and unique engagement ring.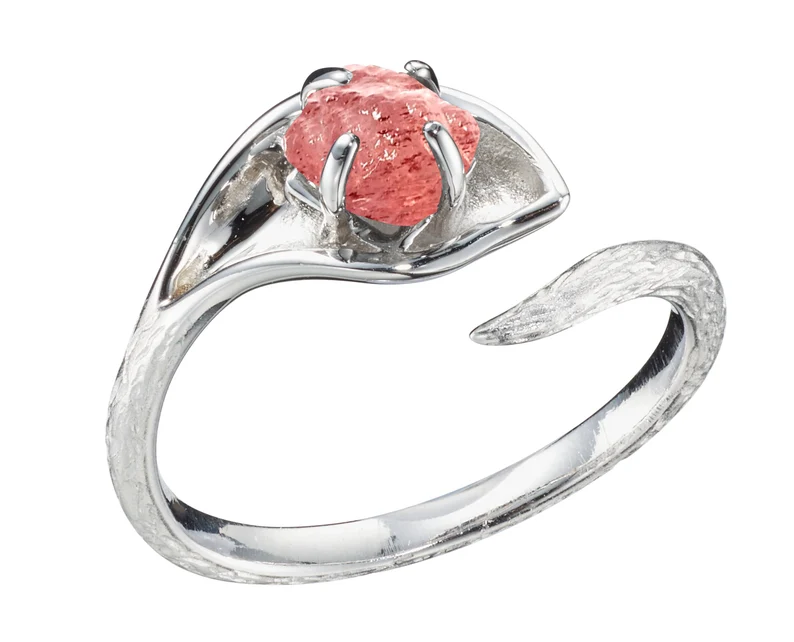 Raw Rose Quartz Engagement Ring | Etsy
Lily ring, inspired by Calla lily which can survive the winter and regrow as a cut flower, the symbol of purity and rebirth.
Check Price
We earn a commission if you make a purchase, at no additional cost to you.

FAQs
Question: How can you tell if rose quartz is real?
Answer: Rose Quartz can be faked with pink dyed glass. Look at the inner part of the stone and see if there are bubbles; this indicates that your Rose Quartz is glass and is, therefore, fake. 
Question: Which Gemstone Face Roller is Best?
Answer: There are several gemstone facial rollers available. Rose Quartz, Black Obsidian, Green Jade, and White Jade. Rose Quartz is the best overall to soothe, calm and purify the skin. It has been used since Egyptian times to reduce wrinkles and detoxify. Use the roller with your favorite moisturizer and feel refreshed after use. 
Question: What finger should I wear a rose quartz ring? 
Answer: The best finger is the middle finger to wear the stone on; it helps with balance and grounding. 
Question: What is the rarest color of Quartz?
Answer: Blue Quartz is the rarest form of Quartz. However, Amethyst is the most valuable Quartz. Quartz is colored by the inclusions present in the mineral, and the Blue coloration is affected by trace elements inside of the Quartz. 
Question: What is snow quartz?
Answer: Snow Quartz is white Quartz, commonly called milky Quartz. It is a bright white solid to translucent stone, often occurring in one stone. Quartz is the second most common naturally occurring mineral on Earth. 
Conclusion
Rose Quartz is a lovely, pink-toned gemstone. It is relatively inexpensive. You can choose a variety of looks from just this one stone. Opaque Rose Quartz seems to be easily found at a low price. The soft pink coloration of the stone will be beautiful against any skin color, and it's an ultra-feminine stone. I recommend looking for a few inexpensive pieces, perhaps find a small, simple ring, but there are many choices available, from raw stones to shaped and polished; you may have trouble just choosing one! 
| Product Image | | Primary Button |
| --- | --- | --- |
| | | |
| | | |
| | | |
| | | |

Further Read: