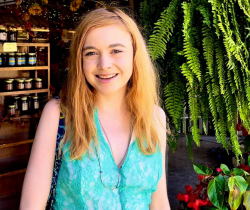 Latest posts by Erin Jamieson
(see all)
Some jewelry is meant to make a symbolic statement, like Evil Eye necklaces. And other jewelry has a strong tie to luxury and popular culture, like Cuban link bracelets. As a favorite of celebrities, Cuban link bracelets are on-trend for anyone who's looking for an accessory that blends luxury with casual styles.
From a supposed Ben Affleck and Jennifer Lopez reunion to Khloe Khardasian snapping a selfie for her birthday bash, Cuban link chains have risen in popularity, both for men and women. For some, it's been touted, not unlike black diamond rings, as a unique statement that also showcases luxury.
But unlike diamond bracelets, even the most valuable Cuban link bracelets go with casual outfits and are sometimes worn as an everyday statement piece. That may even be true of the $2.5 million Cuban link chain gifted to American rapper Gucci Mane by his wife Keyshia Ka'Oir.
The Cuban link chain, crafted in New York City by Pristine Jewelers, features astonishing carats of diamonds. Weighing in at 22 pounds, it's purportedly the largest Cuban link chain ever made.
The good news? While there are many luxury options out there, you don't have to be a celebrity– or have a celebrity-sized budget– to find a Cuban link bracelet.
Consider this your guide to how and where to buy a Cuban link bracelet. I'll even tell you what you can wear with a Cuban link bracelet, as well as my picks for the best Cuban link bracelets that you can buy online.
| Product Image | | Primary Button |
| --- | --- | --- |
| | | |
| | | |
| | | |

What is a Cuban Link Bracelet?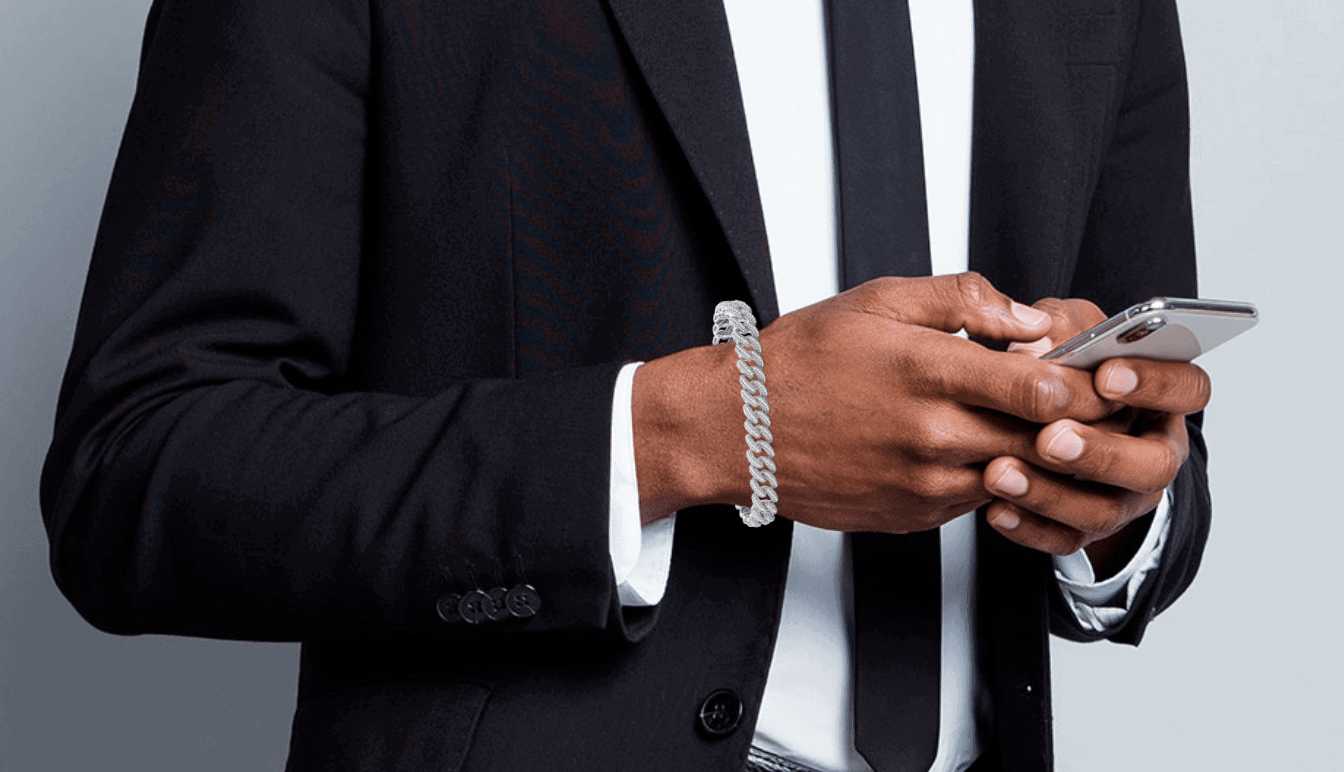 A Cuban link bracelet is distinguished, of course, by the Cuban chain style. Oval links interlock in a rope-like pattern, as a twist on a standard cable design. Cuban link bracelets are structured in a similar fashion but come in a variety of styles, including solid gold, diamonds, and even ones, less commonly, with pendants or other gemstone accents.
Why are Cuban Link Bracelets popular?
Cuban link bracelets are considered among the most popular gold chains and are quickly becoming one of the most popular bracelets. Cuban link bracelets first appeared in Miami, amongst Cuban- American populations, during the 1970s.
While it's unclear how the style spread exactly, what is clear is that it's become heavily associated with hip-hop culture. Cuban link bracelets remain perhaps most popular amongst hip hop and rap artists, but, while luxury options still exist, the trajectory has changed.
From a smaller cluster of communities in Florida to hip hop artists, Cuban link bracelets are now worn widely within the United States by men and women alike.
They Come in a Variety of Prices
It's true that Cuban link bracelets come with luxury options, but they aren't all too expensive. Solid gold Cuban link bracelets can be bought for well under $1,000 and there are many options that cost well under $500. On the other hand, of course, blinged-out Cuban link bracelets, studded with diamonds, provide a dramatic accent to your outfit.
They're Durable
Cuban link bracelets are generally durable. Hard, quality metals like high-quality solid gold or platinum make them last longer than metals more prone to corrosion and scratches. The chain structure also inherently makes them less likely to break than delicate chain bracelets.
They're Versatile
Cuban link chains can be worn with a suit or pants suit, especially styles with diamonds or especially precious gold. At the same time, Cuban link bracelets look at home with casual attire– even t-shirts and jeans. You can dress Cuban link bracelets up by adding cocktail rings, dramatic earrings, or some other type of formal or semi-formal accessory.
At the same time, dress a Cuban link chain down by keeping your outfit casual. A crisp blouse or even t-shirt draws attention to the details and hue of your Cuban link bracelet. Adding to that versatility is the fact that Cuban link chains are good for pendants. The chain is durable, sturdy, and well equipped for adding the pendant of your choice.
How do I choose the best Cuban link bracelet?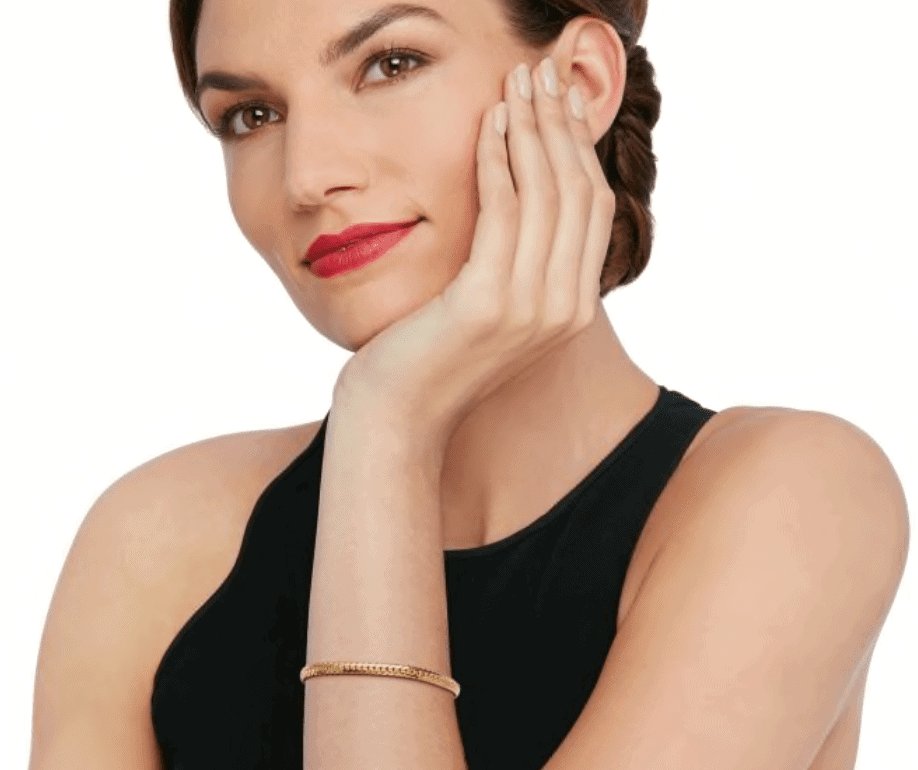 The best Cuban link bracelet is going to vary from person to person. You'll want to take into consideration value vs budget, metal type; styles, and where you're buying from.
Are Cuban links expensive?
Nearly all Cuban link bracelets come in solid gold, which is already a more expensive option than something like sterling silver — but also more durable. Styles that add diamonds just add to that cost. The larger the carat size of the diamonds, and the greater quality of carat, cut, and color, the more you'll pay. The ceiling for how expensive they can get exceeds two million dollars.
The good news is that there are more budget-friendly options. To save money, opt for a solid metal chain. If you do want some bling, gemstone alternatives to diamonds will save you money. You can also buy a smaller carat diamond accent or even a Cuban link bracelet that has just a few diamond accents.
I recommend both comparison shopping and starting by establishing a budget– what is the maximum you want to spend? By doing so, you can also narrow down your options.
Is Cuban gold real gold?
When people say Cuban gold, they are typically referring to gold used for Cuban link chains. While it's true that solid gold is a mainstay of Cuban link bracelets, you should never assume. Instead, take a look at the description of the listing.
10K solid gold should be a minimum. At 10K, that means the chain itself has just under 50 percent solid gold. I recommend aiming for 12 or 14K or more if you're planning to wear it regularly if you're concerned about buying something valuable. That said, sometimes you're on a budget, and 10K is just going to make more sense. Balance out the pros and cons to make your decision– just make sure you understand what you're purchasing.
What type of chain sparkles the most?
Cable chains, and variations of them, sparkle the most– meaning that Cuban link bracelets are suited for achieving that quintessential sparkle and brilliance. To make the most out of it, consider diamonds or gemstones with a high degree of brilliance. You don't need them all over though– a few accents can help catch the light.
Round cut, brilliant diamonds, and gemstones have the most sparkle. However, if you're looking to save a little money and still want your diamond or gemstone Cuban link bracelet to sparkle, consider princess, radiant, cushion, pear, and marquise cuts.
Cuban Link Bracelets: My Top Picks
Now that you know how to select a Cuban link bracelet, here are my picks. I've categorized different Cuban link bracelets based upon style, from solid gold to diamond and alternative gemstone Cuban link bracelets. I've also included a luxury collection but made sure to try to include a decent variety of price points.
Gold Cuban Link Bracelets
Solid gold Cuban link bracelets are a classic option- and arguably the most versatile. These work especially well in casual outfits. While they are not cheap, you can save money by buying a Cuban link bracelet with a lot of bling.
Simple Cuban Bracelet- Jaxxon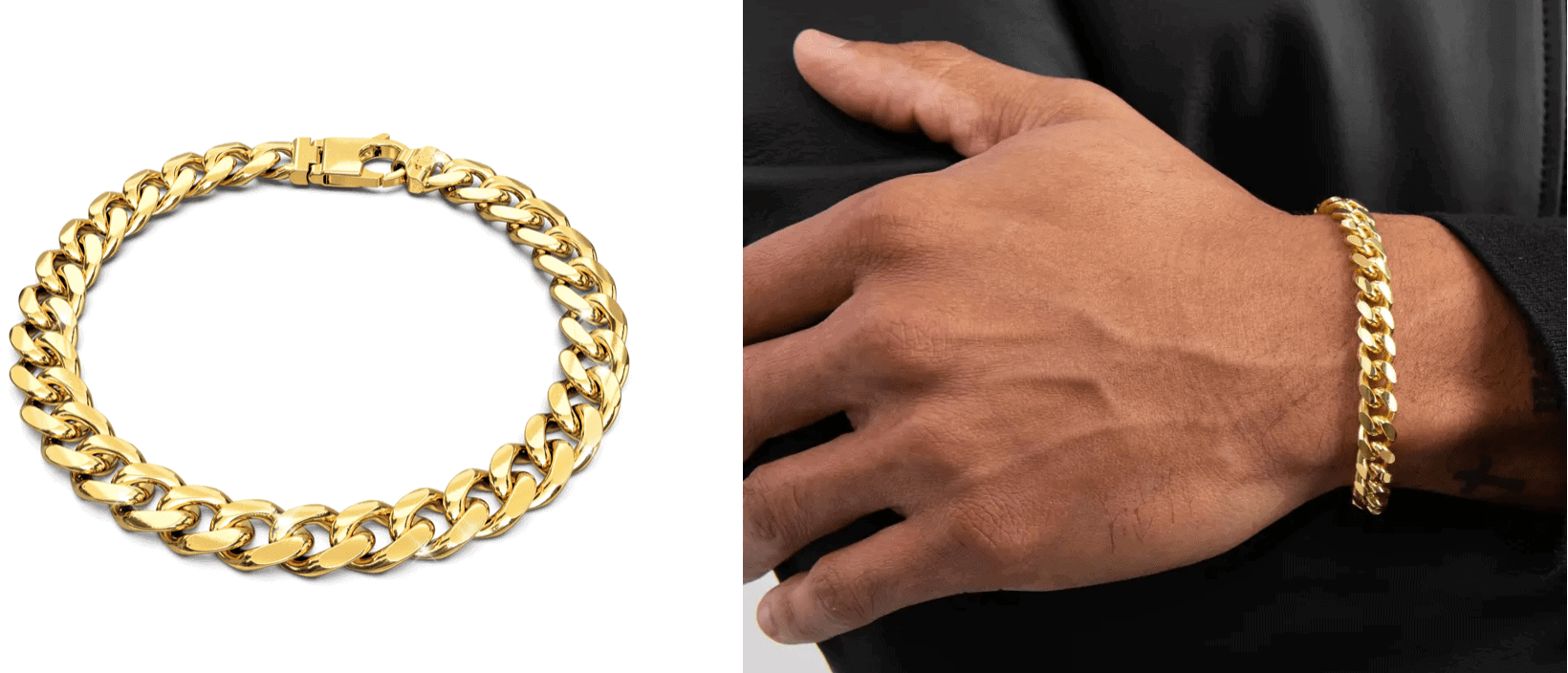 Made in Italy, this affordable Cuban link bracelet costs just around $150 and comes in 14K gold and a sterling silver finish. It has classic shine and is a nicely made option for versatility and everyday wear. Select from 8mm or 10mm width. Buy Here.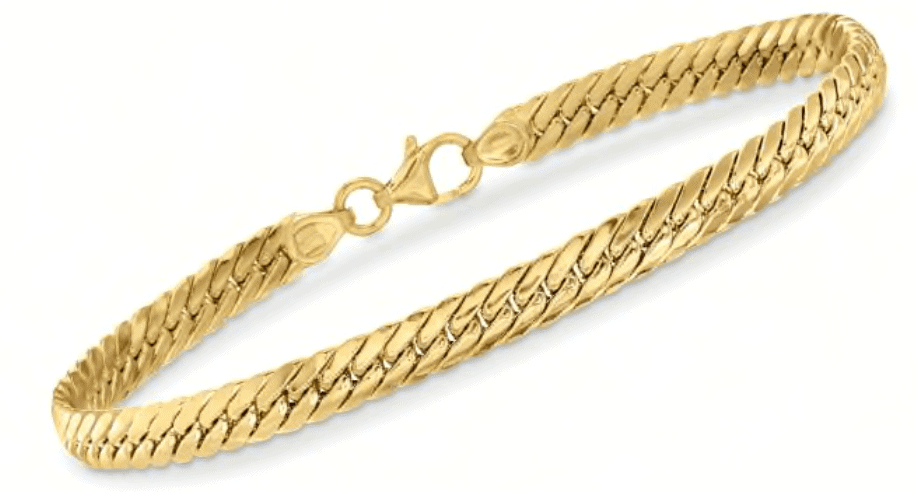 This beautiful and durable solid gold Cuban link bracelet retails for around $499. Stunning 18K polished yellow goal is crafted for optimal shine and can easily pair for day and evening looks. It's secured with a lobster clasp. Buy Here.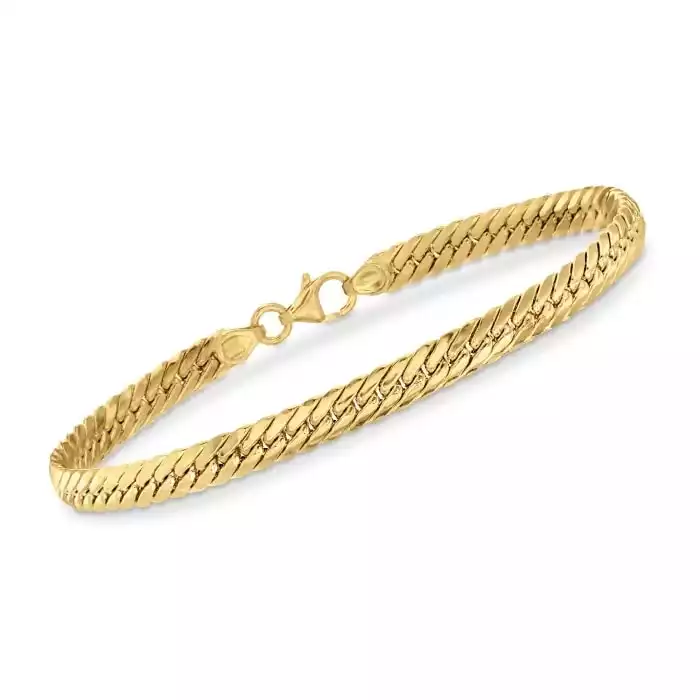 Italian 18kt Yellow Gold Cuban-Link Bracelet | Ross-Simons
Withstanding ever-changing trends, this 18kt yellow gold Cuban-link bracelet from Italy never goes out of style. Crafted with an impressive shine, this exquisite piece is perfect from weekday to the weekend!
Check Price
We earn a commission if you make a purchase, at no additional cost to you.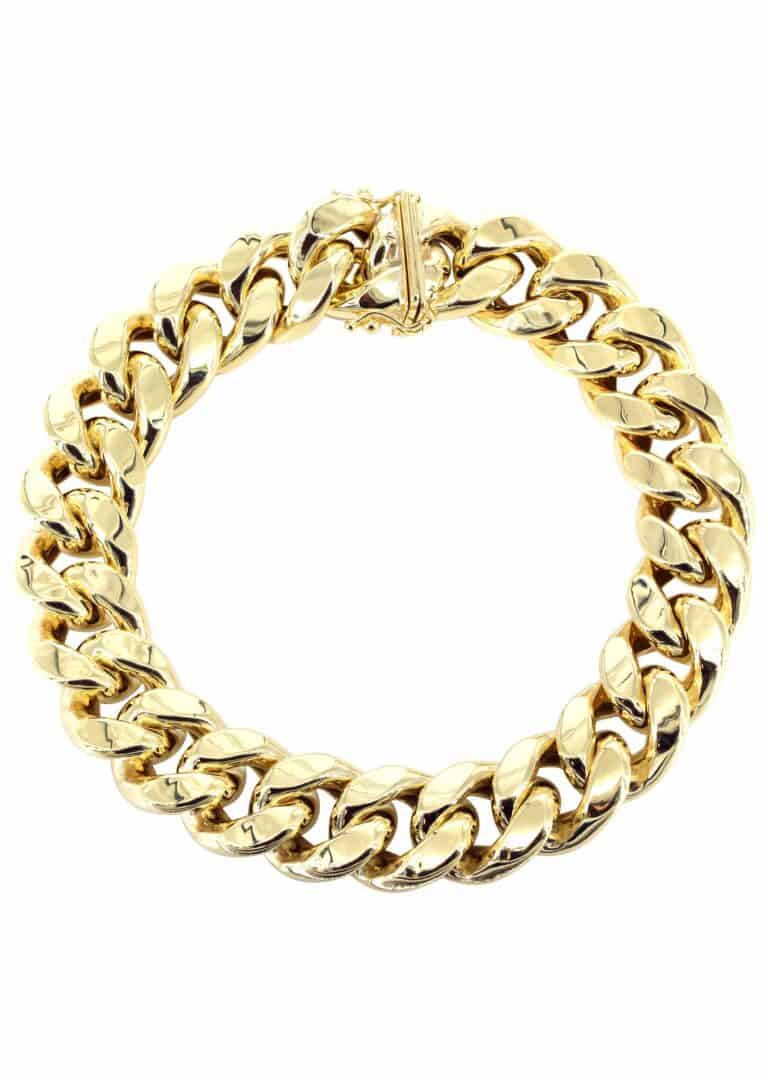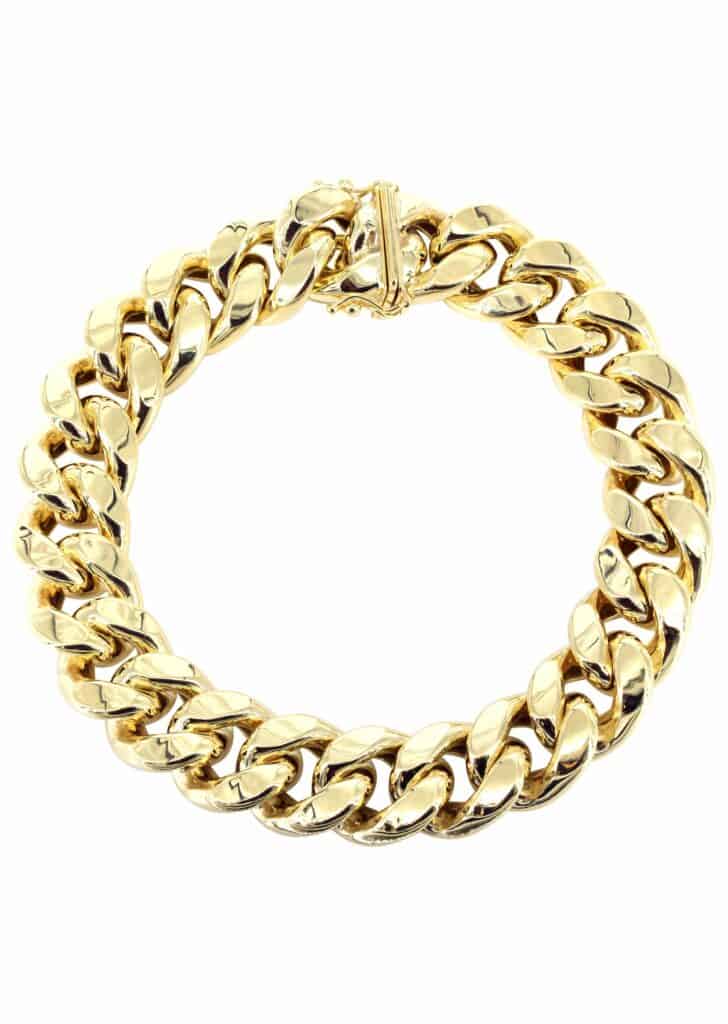 While many Cuban link bracelets are unisex, this option has a feminine twist on the classic. Polish and a unique hollow pattern design complement the 10K yellow gold. It's at once elegant and still casual enough to be versatile. It retails for around $544. Buy Here.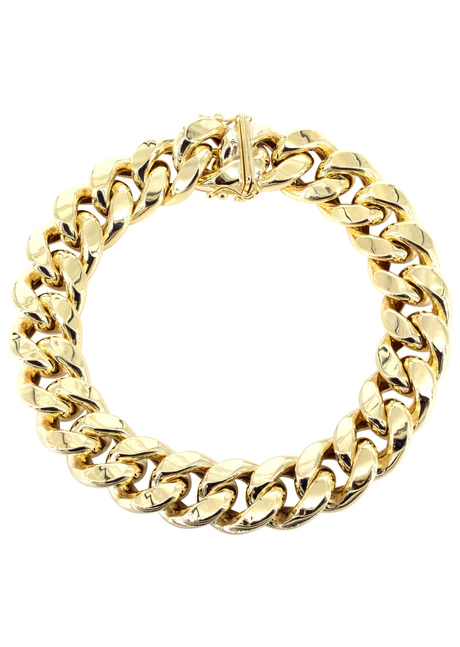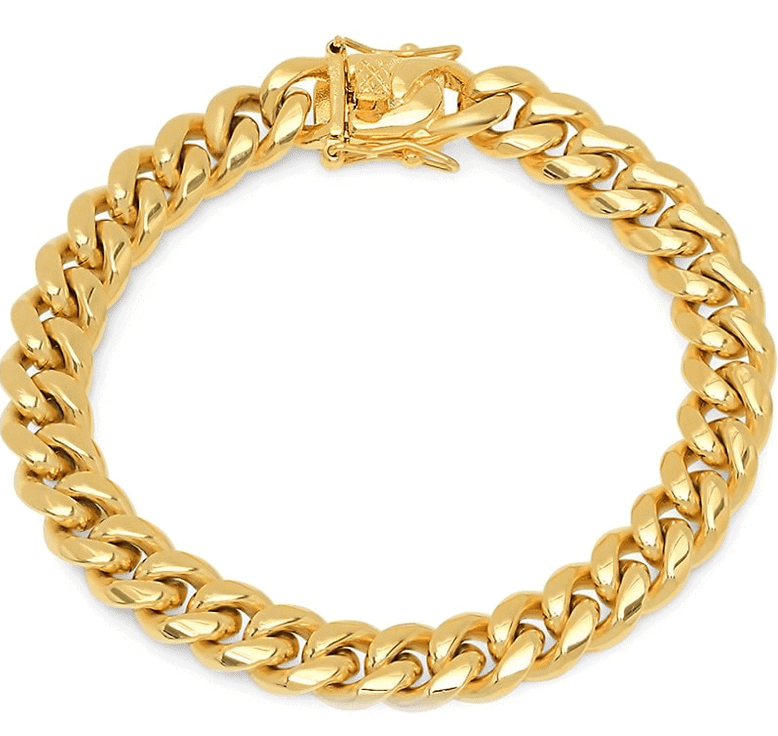 This Cuban link bracelet is non-traditional in the sense that it has a base metal of stainless steel, but with the luster of the 18K gold plating, it's not very noticeable. Stainless steel saves you a lot of money– and is a durable metal. This retails for just around $53 on sale, or about $107 regular price. Buy Here.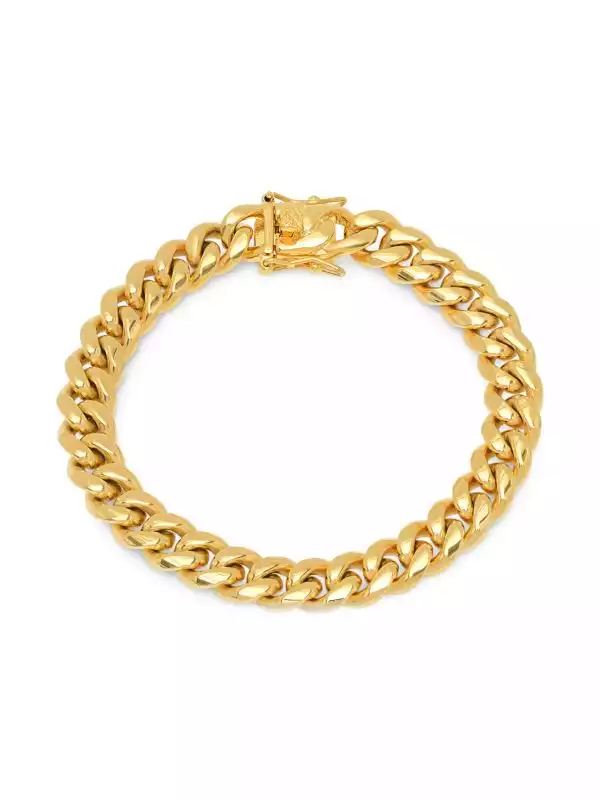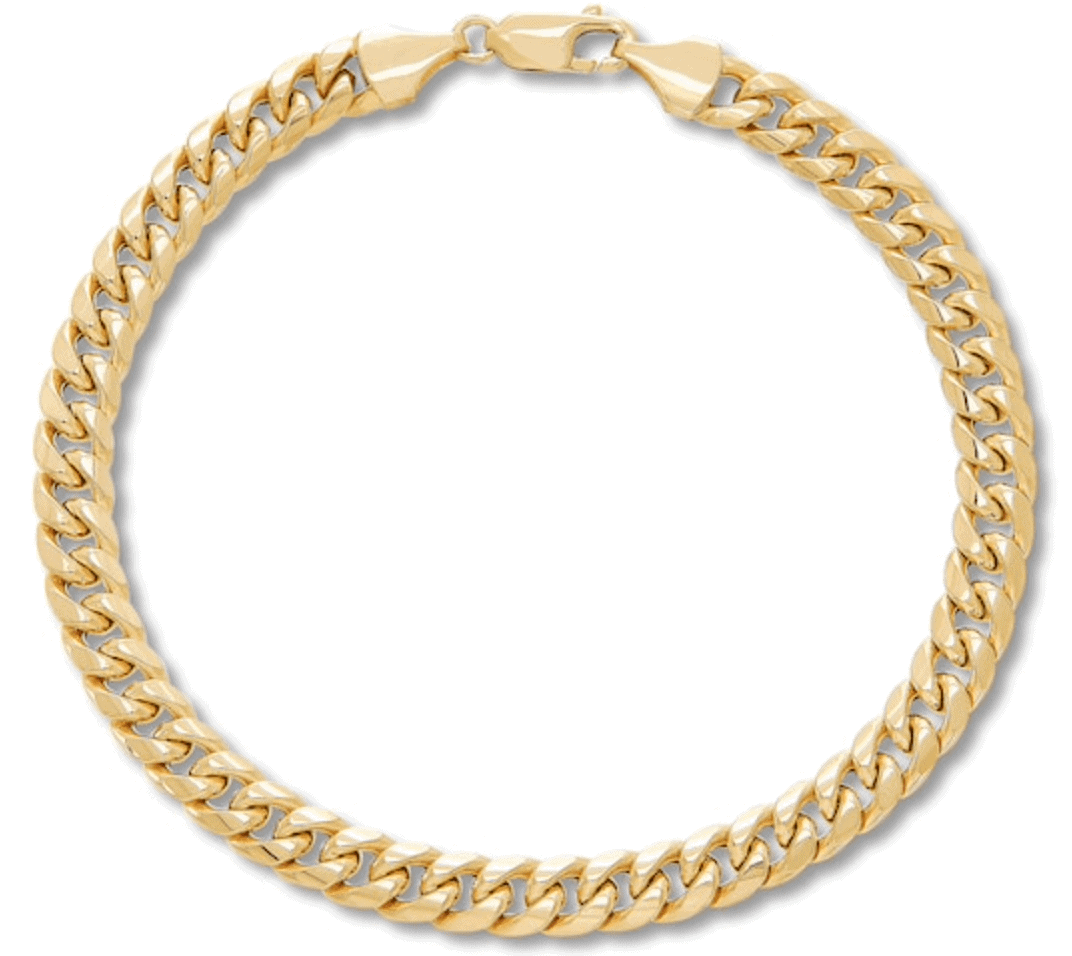 A twist on the Cuban link bracelet design, this slightly more formal look for men features a 6mm thick, 8.5-inch long bracelet with interlocking 10K yellow gold from a respected jeweler. This bracelet retails for around $849. Buy Here.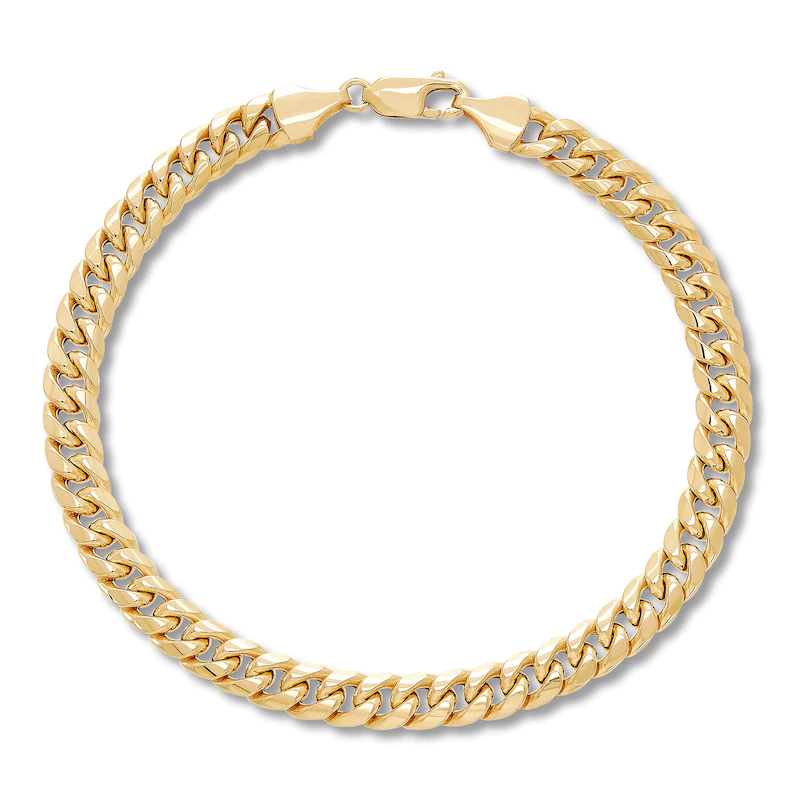 Chunky Cuban Bracelet- Rare Romance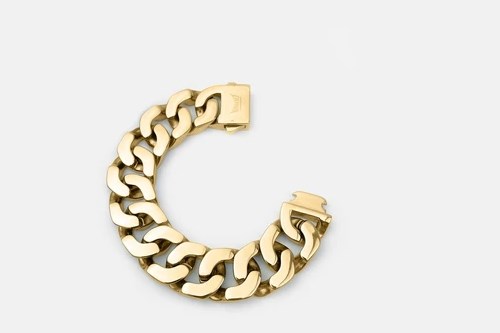 If you want to make a statement without spending a lot, a chunkier take maybe your best bet. This unisex Cuban link bracelet is versatile and stylish. Another plus is that it's hypoallergenic, as well as water and heat resistant– due to the stainless steel metal. It comes in a regular but also gold or gold with a pink finish. This retails for just around $120. Buy Here.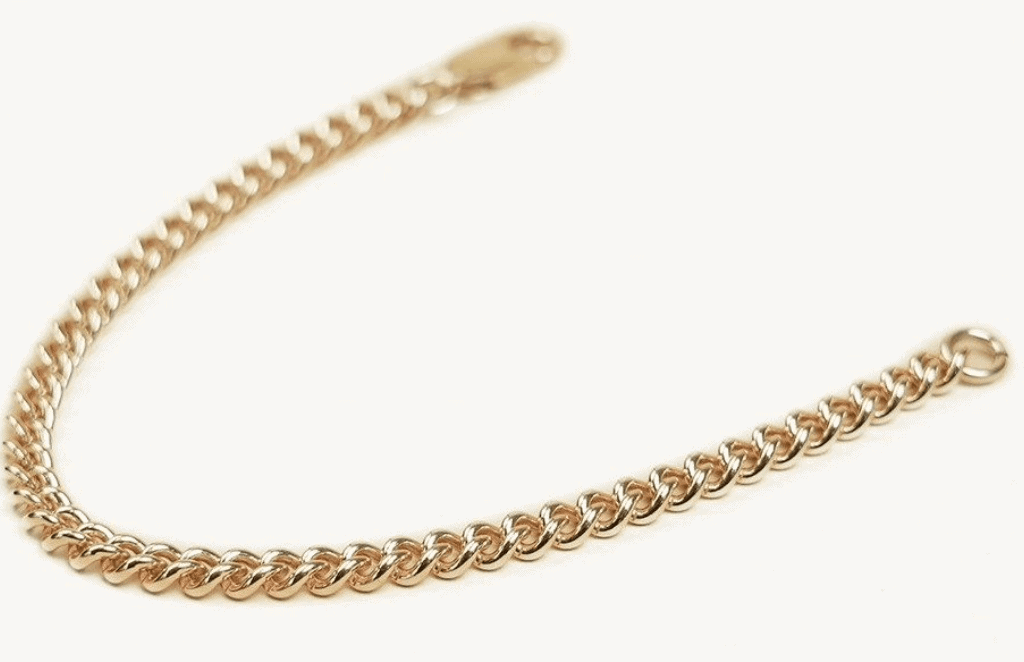 This may be my favorite solid gold Cuban link bracelet on this list– offering a great value in terms of beauty and price. Retailing for around $180, this slimmer Cuban link bracelet can easily be layered and paired with other accessories. It's made in California and features 14K gold-filled metal. Buy Here.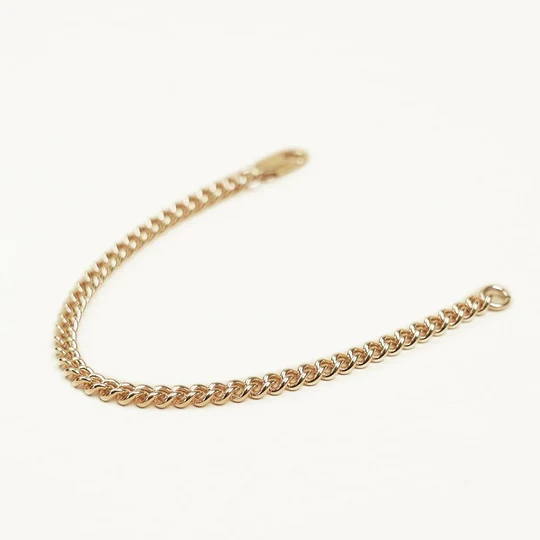 Cuban Link Chain Bracelet | David Von
14k gold-filled Cuban Link Chain bracelet. Edgy yet effortless, this fashion-forward piece is essential for your wrist stack.
Check Price
We earn a commission if you make a purchase, at no additional cost to you.

Gemstone/ Cubic Zirconia Cuban Link Bracelets
Seen as an alternative to diamond Cuban link bracelets, gemstone bracelets offer texture and some sparkle for a fraction of the price. Cubic Zirconia is sometimes. Far less valuable than diamonds and less hard (8 to 8.5 vs 10 on the Mohs scale), it's still an option that offers sparkle and is fairly durable. It is sometimes colored for different hues, and you can find a few options for other gemstones.
Rainbow Sapphire Pave Cuban Link Bracelet- Isakov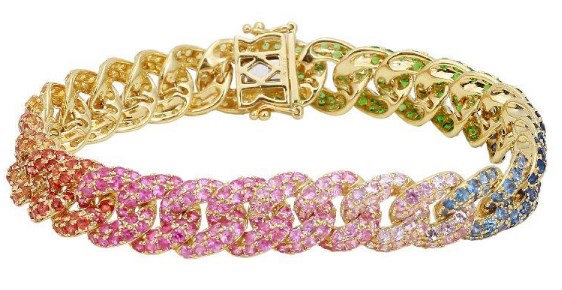 This whimsical sapphire Cuban link bracelet features sapphire and tsavorite gemstones with a round shape for brilliance. Blue, pink, red, yellow, and green hues sparkle on 14K yellow gold with a total carat length of just over 12. This bracelet retails for just over $4,000. Buy Here.
12mm 18K Gold Finish Blue Iced Cuban Link Bracelet- Helloice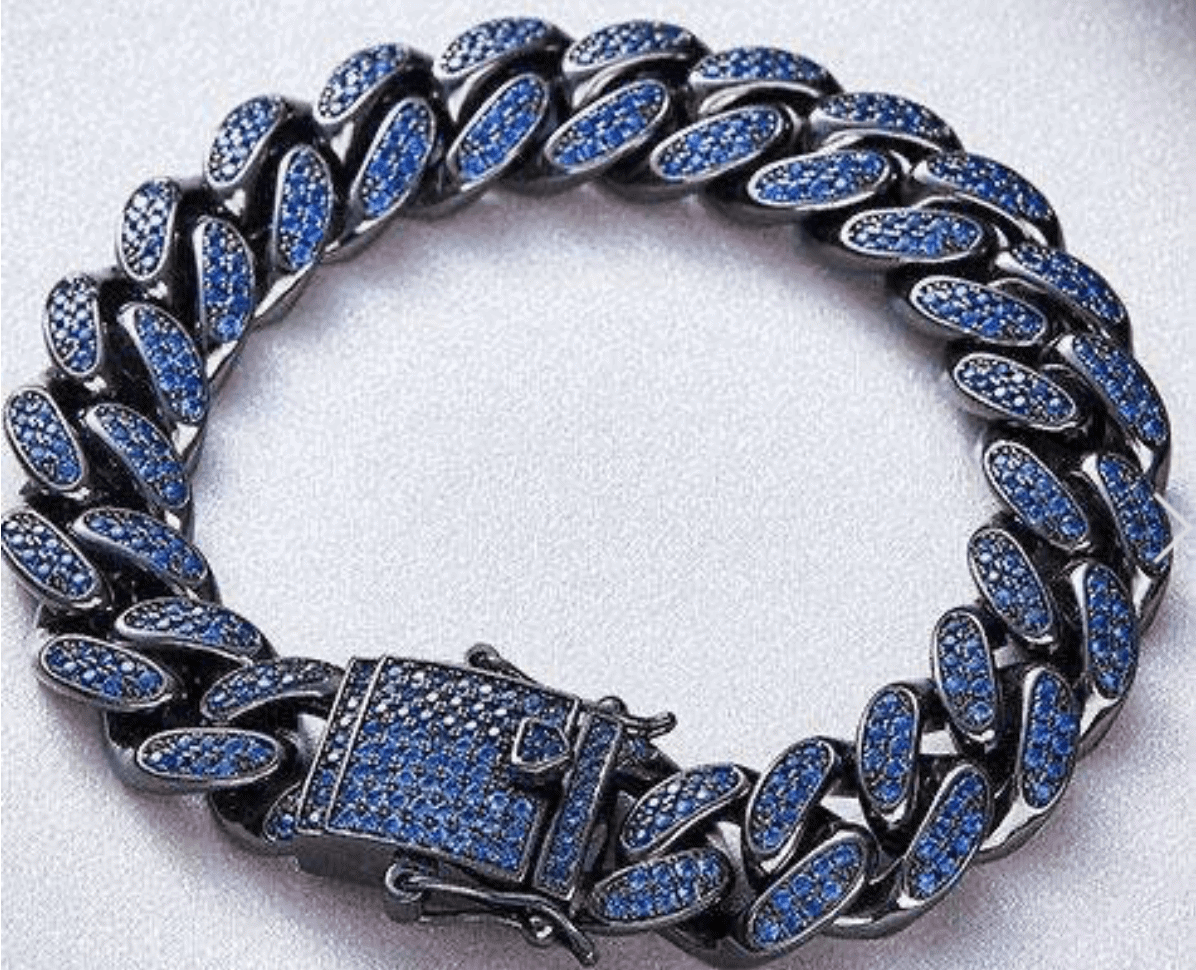 Cubic Zirconia is given an icy blue tone for this unique and eye-catching Cuban link bracelet. The stones are handset, and this piece is exclusive to Heloise. The 18K gold finish offers a polished shine. This bracelet retails for around $199. Buy Here.
ICED OUT Luxury Cuban Link Chain Paved Rhinestone Bracelet Bling Rapper Chain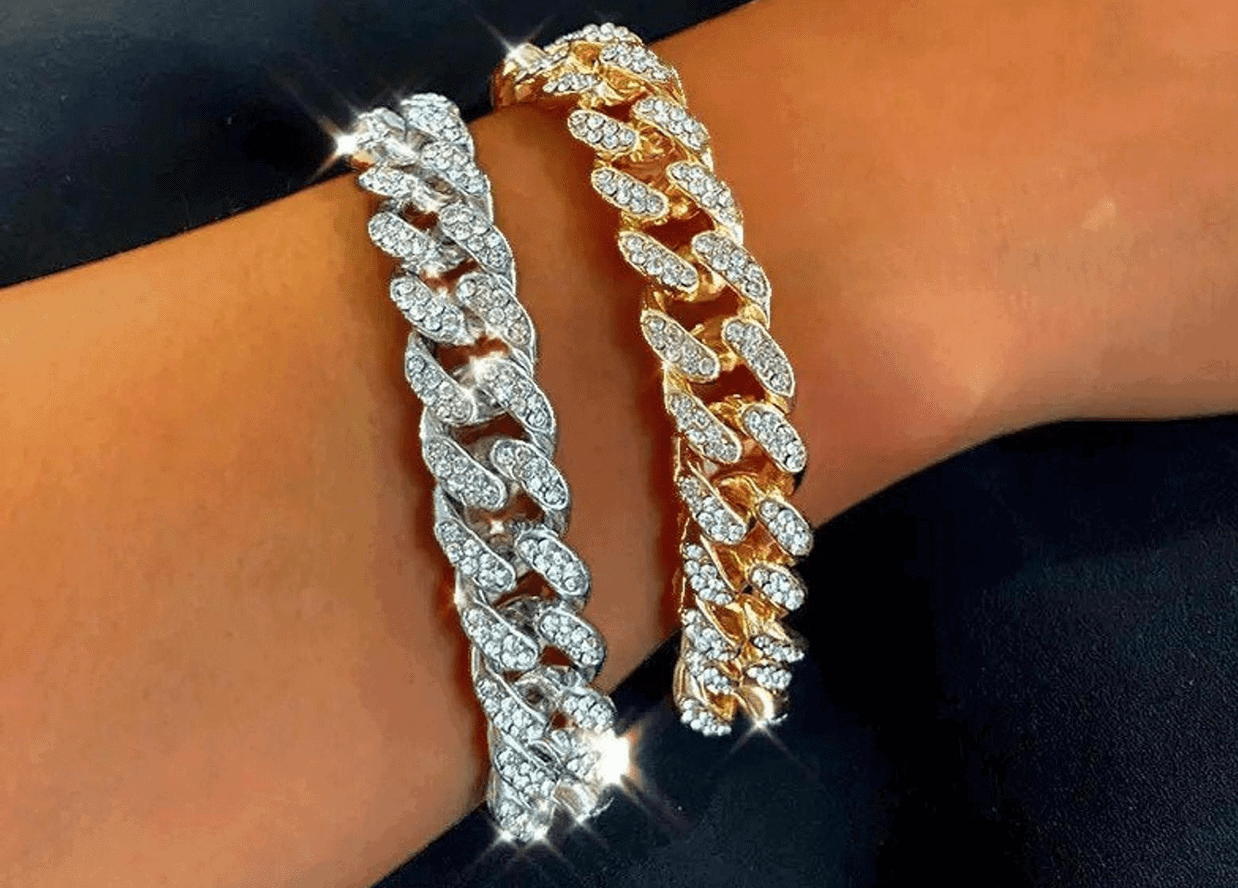 This handmade Cuban link chain is a bestseller on Etsy, and highly affordable– priced at under $50. While it may not be the most valuable or durable option, the bracelet offers sparkle for a fraction of the price, and the stainless steel metal won't corrode or easily break. Choose from a white, gold, or rose gold finish to complement the icy tones of the Cubic Zirconia stones.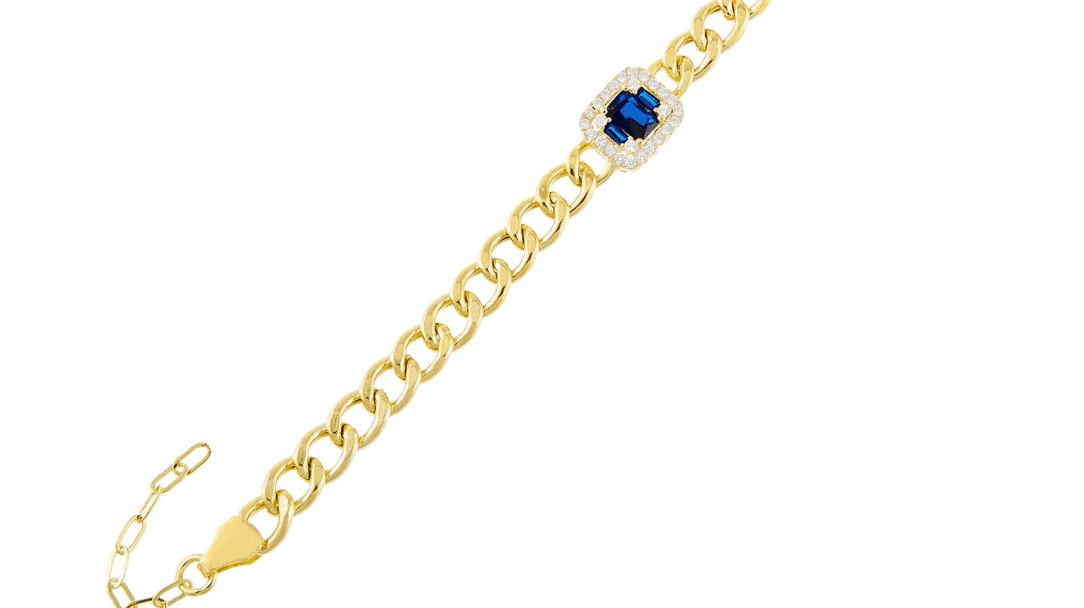 Retailing for just around $88, this Cuban link bracelet offers a slimmer band with the same classic style. Choose from magenta, emerald green, or sapphire blue CZ gems. This is solid gold-plated sterling silver, so you'll need to wear it with care. Buy Here.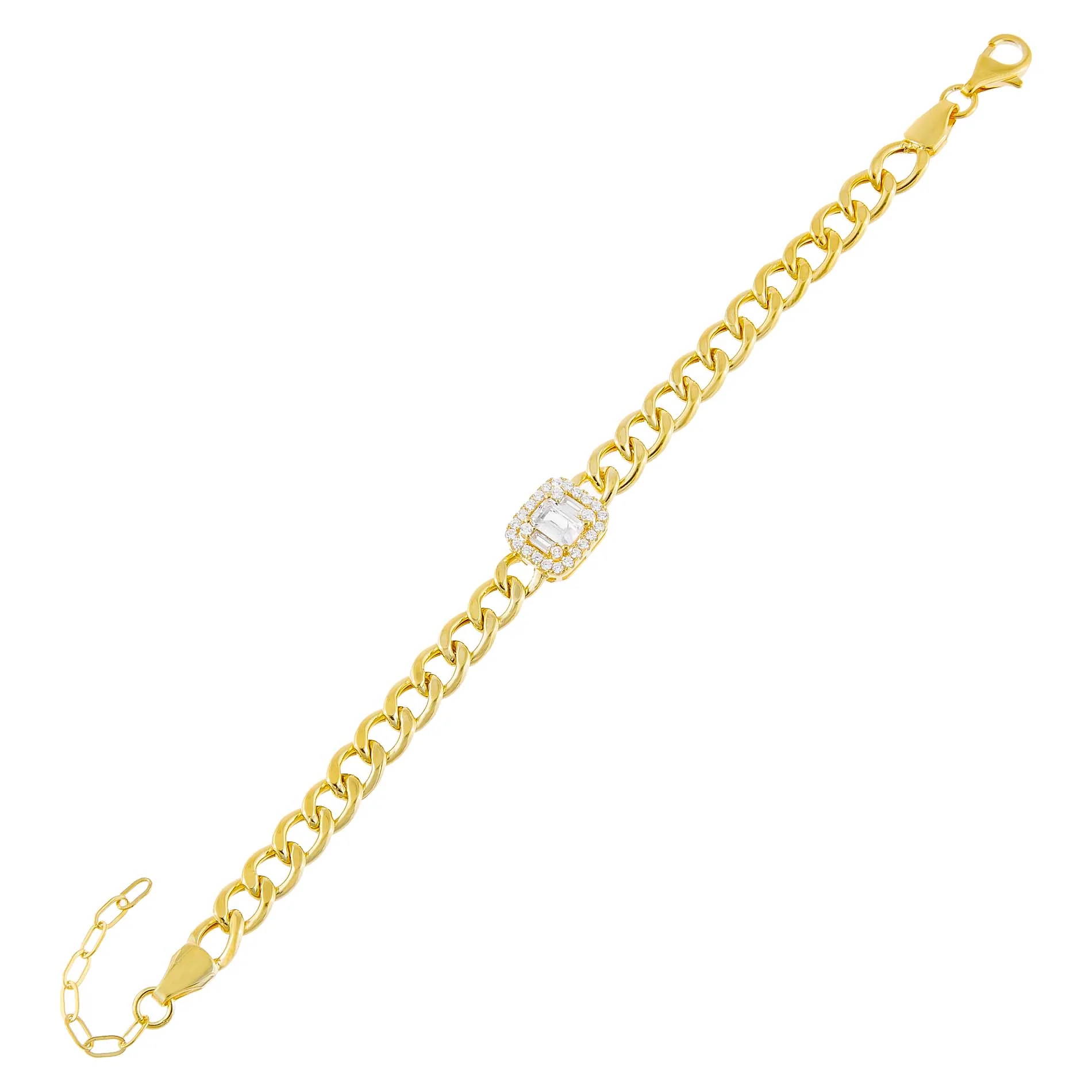 Cubic Zirconia Colored Cuban Link Bracelet | Adinas Jewels
Flaunt a colorful style that catches the eye instantly with Adina's CZ Emerald Colored Cuban Link Bracelet, featuring dazzling magenta, emerald green, or sapphire blue CZ stones set into a chic Cuban chain design.
Check Price
We earn a commission if you make a purchase, at no additional cost to you.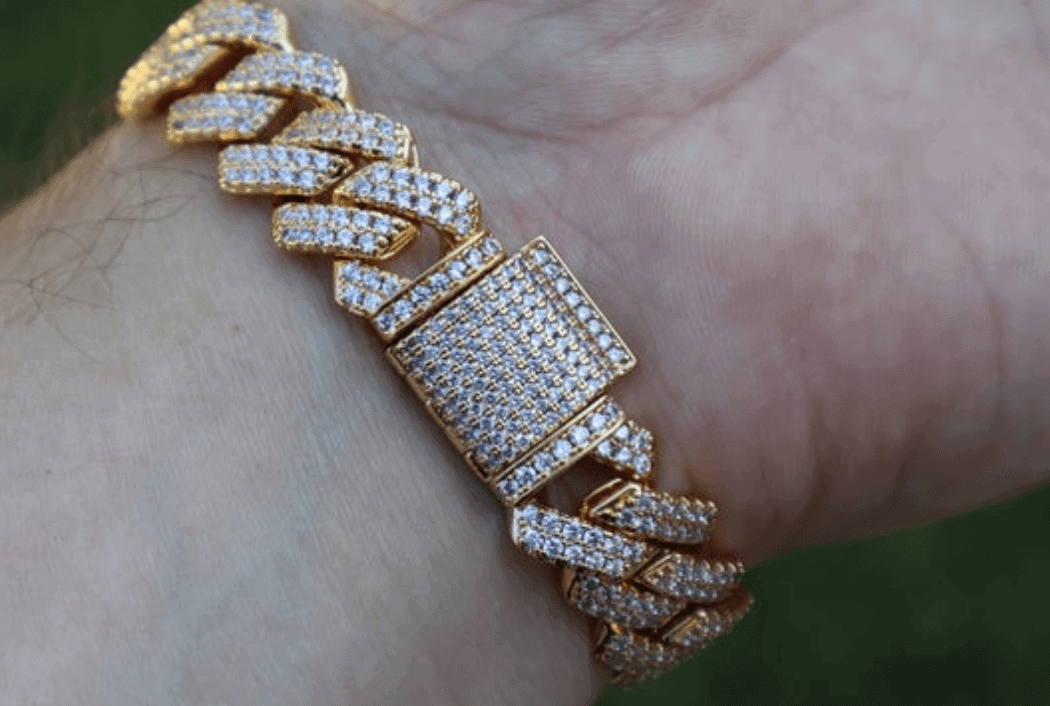 This heavy-weight, sturdy Cuban link bracelet retails at a starting price of just around $45. It does have a brass base metal, so it'll need to be handled with care, and you should avoid getting it wet. Lab-created Cubic Zirconia covers your choice of 14K white or yellow gold high-quality PVD plating. Buy Here.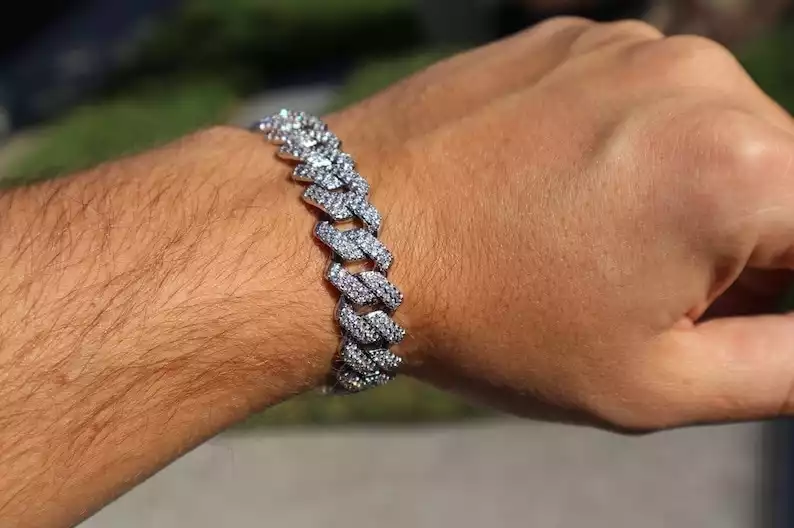 Diamond Cuban Link Bracelets
Diamond Cuban link bracelets are, of course, both the most valuable and eye-catching. From day to night, the best diamond bracelets dazzle and nod to the classic style that made Cuban link bracelets popular. Keep an eye on what cut of a diamond is being used, and make sure you are buying either lab-grown or natural diamonds vs simulants.
Alternating Diamond Cuban Link Bracelet- Verlas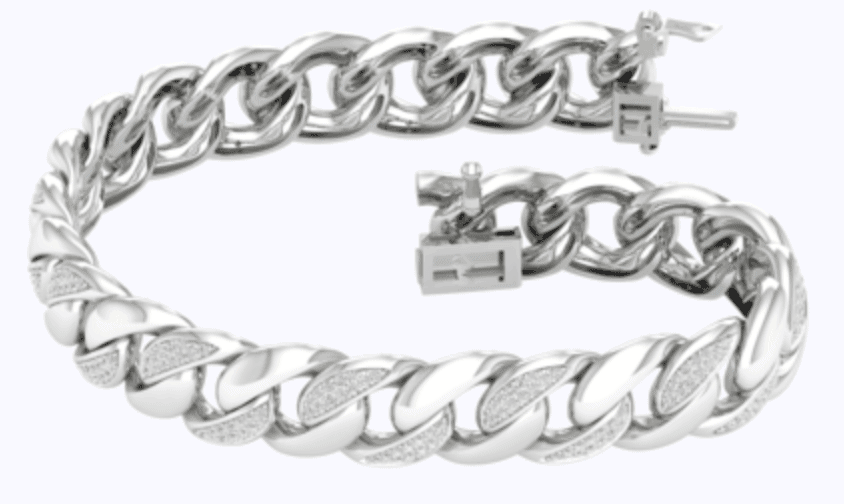 One carat of high-quality diamonds with round cut for beautiful brilliance alternates on 14K white gold. The polished and sparkle look is refined and dressed up without being overbearing. This diamond Cuban link bracelet retails for around $3,845. Buy Here.

This online exclusive is a true classic, with 1 ⅓ carat of round cut diamonds alternating over polished sterling silver. Since it's sterling silver, you'll need to be more careful with wear, but you'll also save money: this bracelet is priced at around $1,799. Buy Here.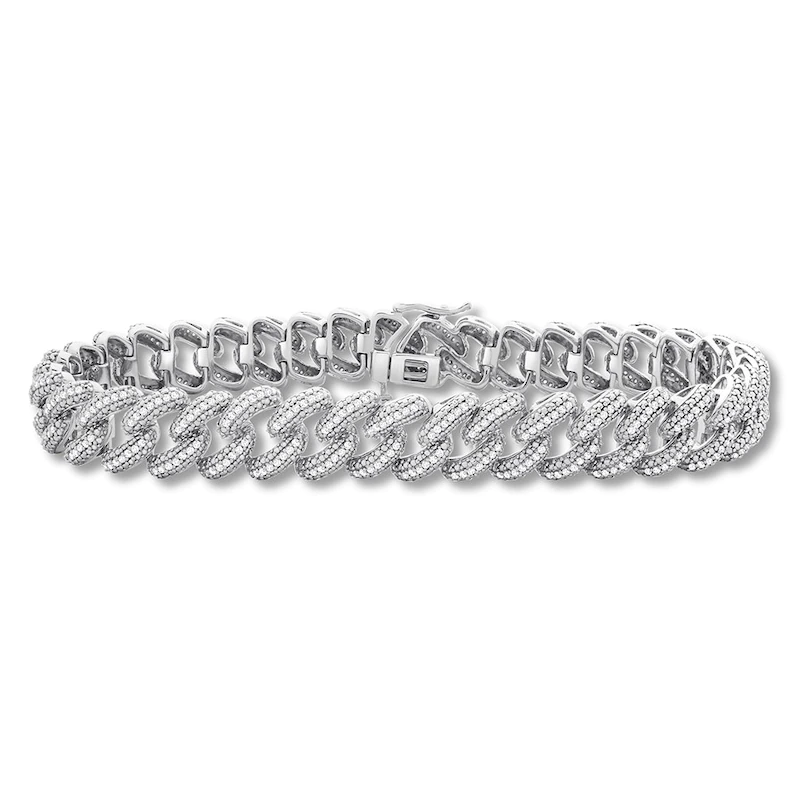 Men's Diamond Bracelet | Jared
Curves of shining round diamonds set in sterling silver overlap the center and define the edges of this stylish bracelet for him.
Check Price
We earn a commission if you make a purchase, at no additional cost to you.

Foldover Clasp Diamond Cuban Link Bracelet- If and Co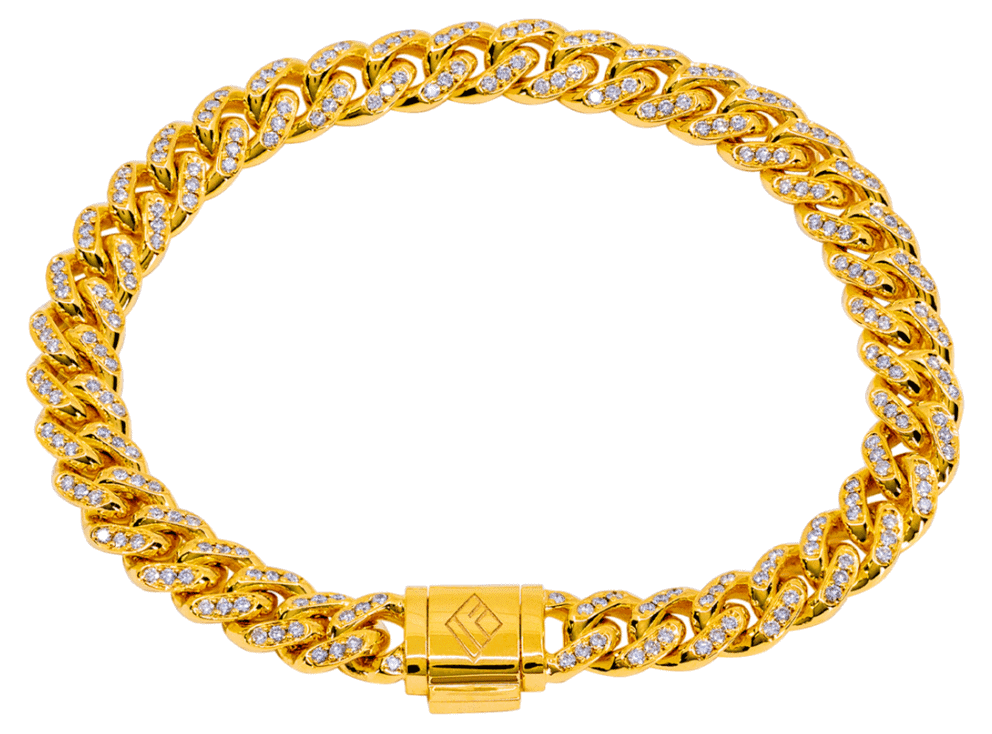 This handsome diamond Cuban link bracelet is available in 14K rose, white or yellow gold. You can select from two diamond qualities, as well as five lengths. Two carats of iced, sparkling diamonds cover the chain. Priced at $4,000 to $5,600; Buy Here.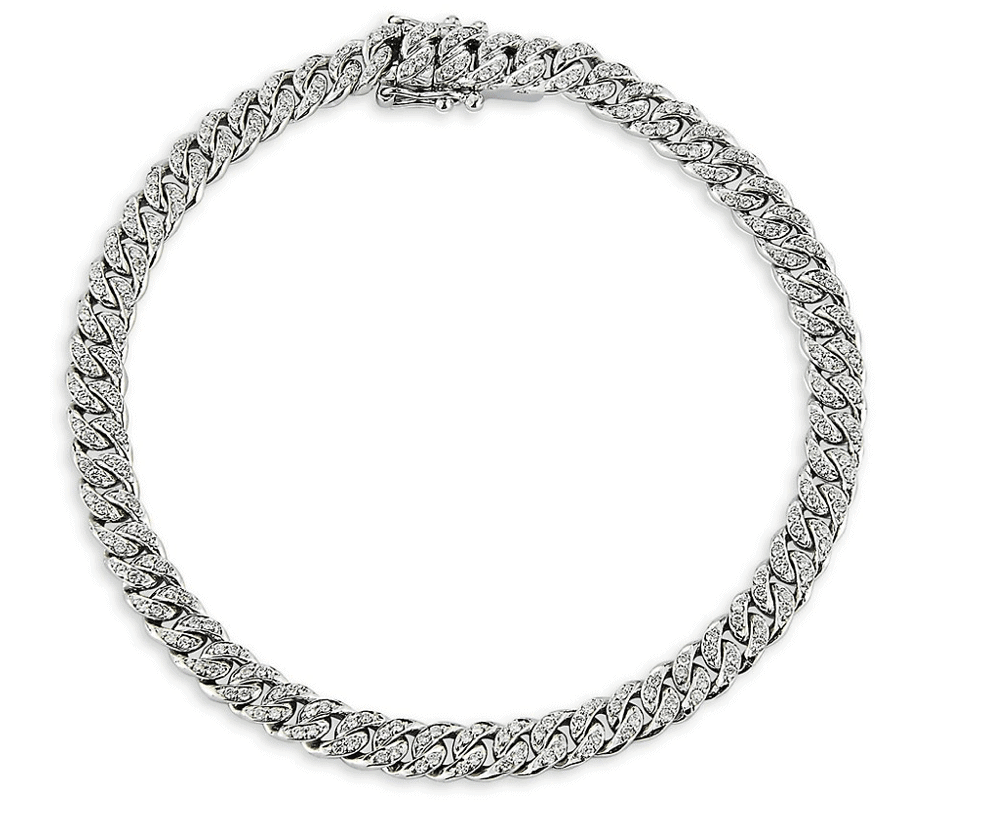 This dazzling Cuban link bracelet is now fifty percent off and retails for around $3,555 on sale. Pave diamonds with a total carat weight of 0.84 and an S12 clarity offer beautiful scintillation. It's secured with a push-lock clasp and set on 14K white gold. Buy Here.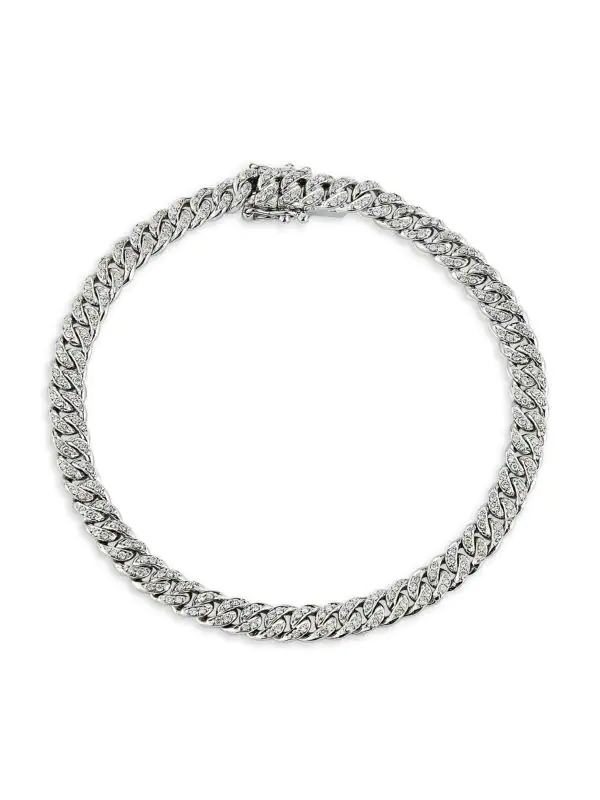 Luxe Layers Diamond Cuban Link Bracelet- Daniels Jewelers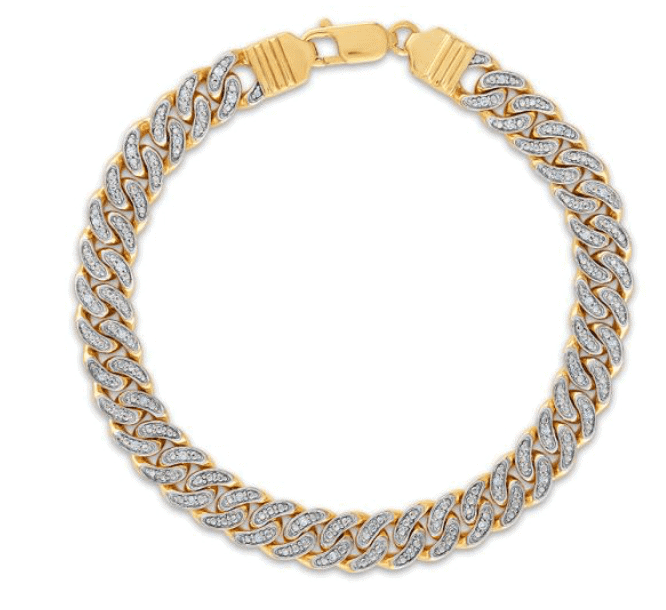 ⅓ carat of nearly colorless natural round cut diamonds cover 925 sterling silver. The gold plating details make a luxurious statement and a dramatic contrast between the diamonds. It's currently on sale for around $599. Buy Here.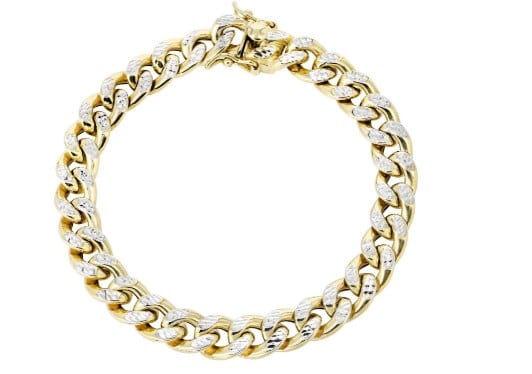 This unique men's Cuban link bracelet features frosted pave diamonds, set against 10K yellow gold. Designed with classic styles in mind, the 8 inch or 9-inch bracelet is a standout in terms of unique design. Buy Here. You can also buy a woman's Cuban link bracelet here.

Diamond Cuban Link Bracelet- Ferko's

Select from 14K white, yellow, and rose gold and from 6 to 8 inches. The diamonds are of S1 clarity G color, with a carat weight of two carats to 2.6 carats. Featuring a micro-pave setting, this retails for around $3,125. Buy Here.
Frequently Asked Questions
Question: Do Cuban links hold value?
Answer: Cuban links– whether that's bracelets or necklaces– do, in fact, hold value. For the past nearly decade, the value of Cuban links has risen to nearly 350 percent for some. While none of this is guaranteed, the bottom line is that a valuable Cuban link today is likely to be valuable years down the road.
Question: What is the strongest type of chain?
Answer: Certain chains are more or less likely to break. Curb, mariner, and cable chains– including related chain types like Cuban links– are the least likely to break. Interlocking chains are stronger than other chains because they don't have a weak spot where they easily bend.
Question: How much is Jay Z Cuban link chain worth?
Answer: Jay-Z's gold Cuban link chain necklace is said to be worth $200,000 and weighs 11 pounds.
Final Thoughts
Cuban link bracelets are becoming more popular– and more valuable– than ever. You don't have to be into hip hop to style a bracelet with an outfit. Consider accessorizing with a statement ring or shoes.
| Product Image | | Primary Button |
| --- | --- | --- |
| | | |
| | | |
| | | |