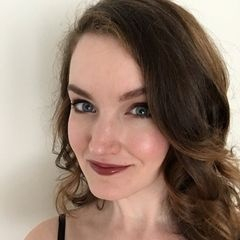 Latest posts by Crystal Schwanke
(see all)
I scoured the internet for the best rose gold bracelet ideas and picks so you wouldn't have to. I was looking for versatile, high-quality choices at reasonable prices. I tried to include a range of styles and price points so there's something for everyone interested in wearing rose gold on their wrist.
Here, I'll show you some of the prettiest rose gold bracelet ideas and picks you can incorporate into your own collection to set off your wardrobe. Also, we'll take a look at what rose gold even is and how to tell rose gold is real or not. Plated rose gold is lovely and perfect for pieces you don't intend to wear for years, but it's good to know what you're buying so you don't overpay.
11 Best Rose Gold Bracelet Ideas and Picks
Here are some of the best rose gold bracelet ideas and picks I found. Get creative with stacking and combining them with your other bracelets, or wear them alone.
Ross-Simons 18kt Rose Gold Over Sterling Byzantine Bolo Bracelet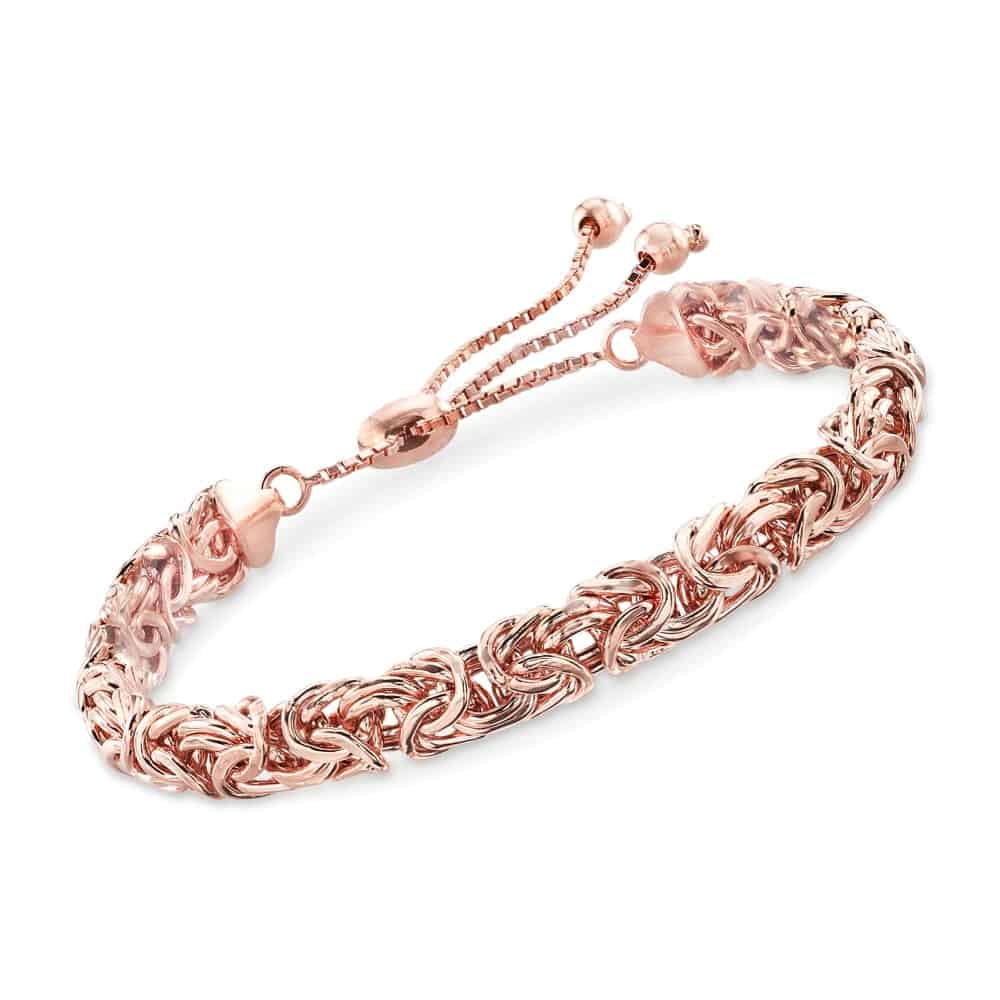 This Ross-Simons bracelet would be great for wearing alone as a subtle statement piece or stacking with thin bangles. It's not completely rose gold, as the name states, but its interesting style and gorgeous shine could make it worth the price.
Pros
Inexpensive on sales, as it is as of this writing
Interesting style without being over-the-top
Designed in a way that will fit most wrist sizes
Lightweight
Cons
When it's not on sale, it's on the expensive side for rose gold plating over sterling silver
Some people may not like that it's adjustable
LC Lauren Conrad Rose Gold Vine & Flower Bracelet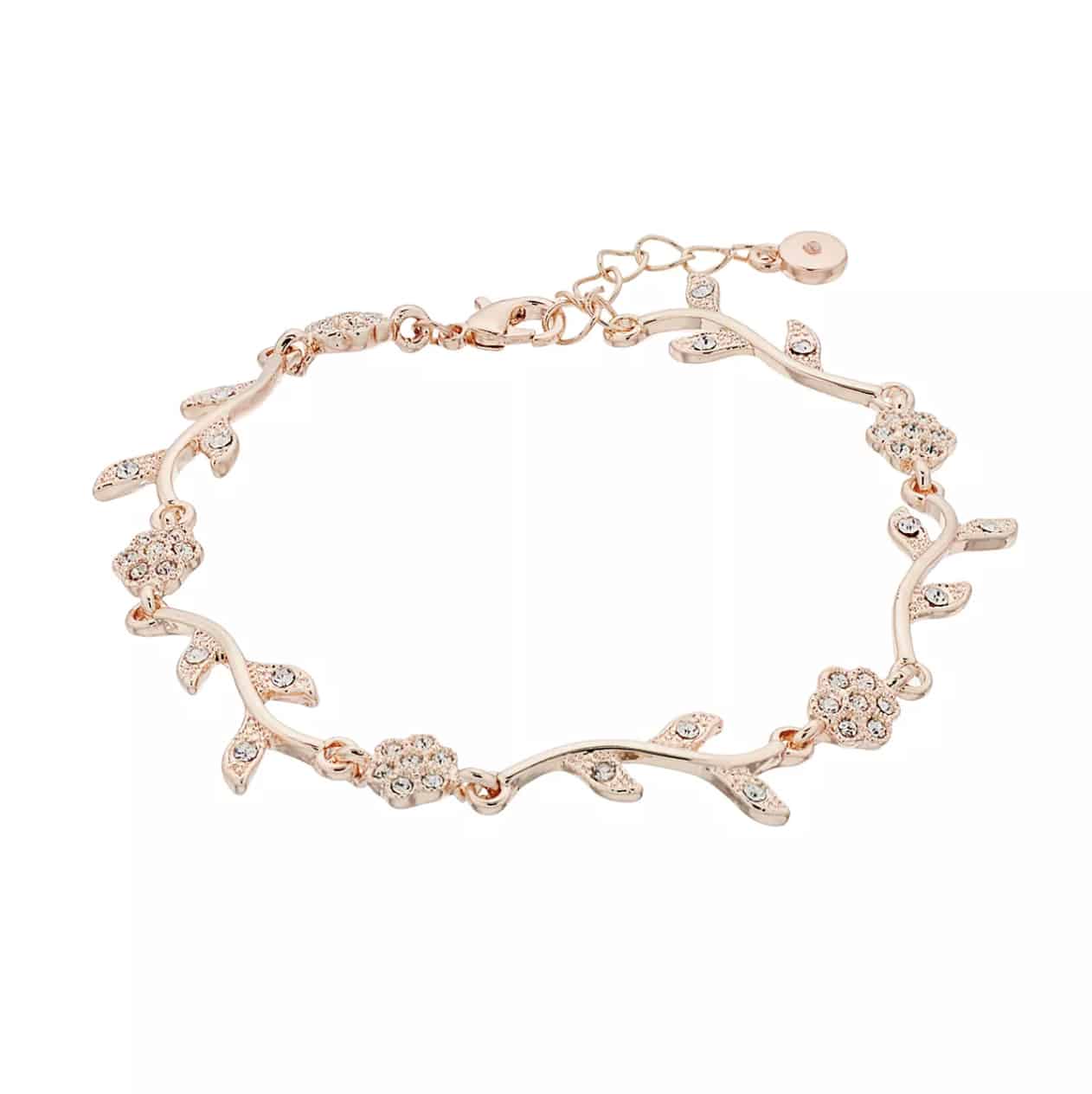 This design from Lauren Conrad is a little different from what you'd normally see in a rose gold bracelet. It's small and dainty, with a floral design.
Pros
It's unusual, even among rose gold designs
It's inexpensive (plating is rose gold tone)
Not adjustable (may be a con for some)
Great for a fleeting trendy jewelry item
Cons
May not last all that long since it's rose gold tone plating, not real rose gold
Floral design won't be as versatile as simpler styles
Le Vian Opal and Diamond Bolo Bracelet 14K Strawberry Gold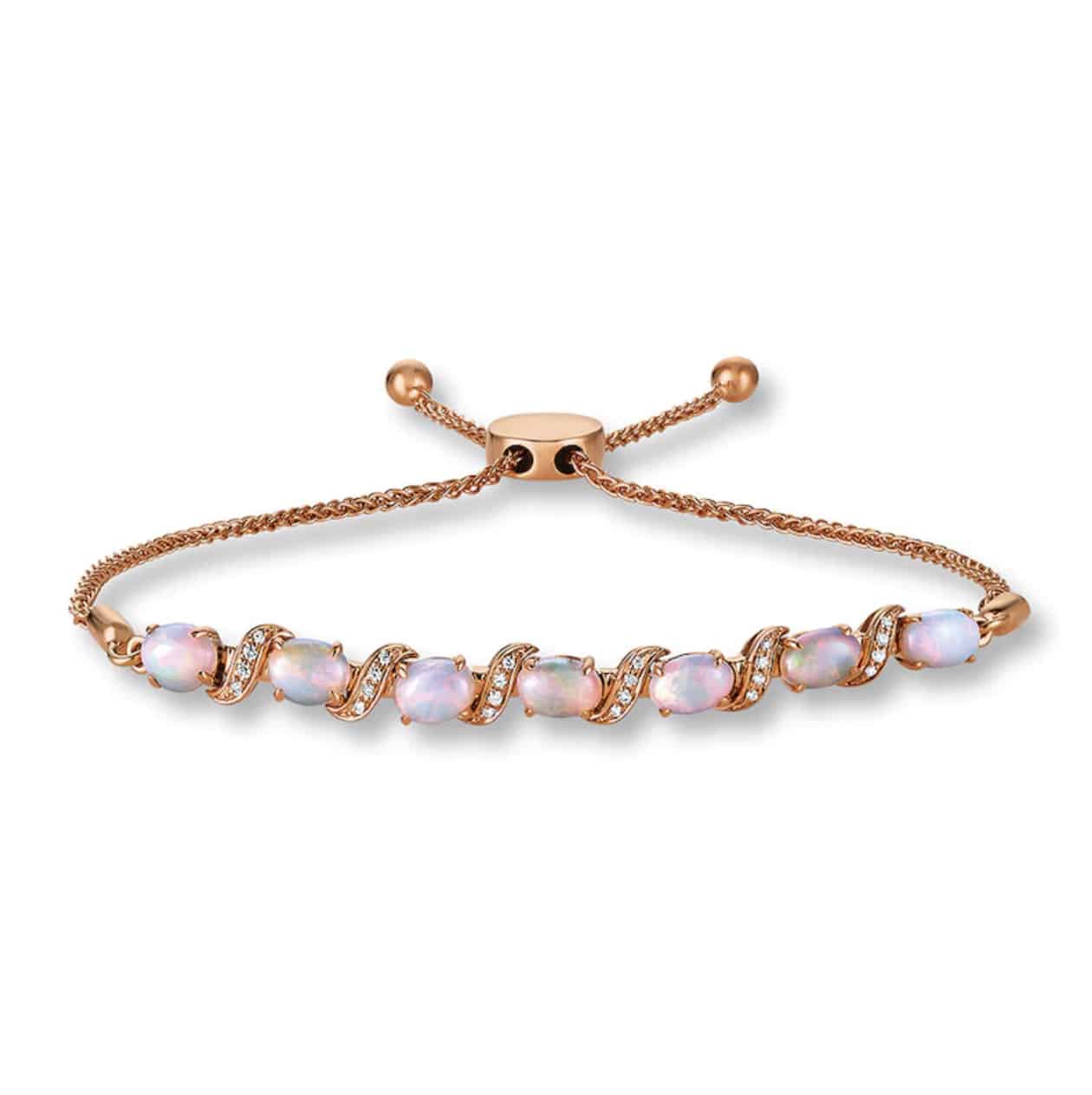 This Le Vian bracelet is a stunning piece for those who really love rose gold and don't mind splurging. The diamond weight is 1/15 carat
Pros
The rose gold makes the opals absolutely glow
Adjusts to nine inches (may not be a pro for those who'd prefer their bracelets not to be adjustable)
Comes with a limited lifetime warranty and trade-in warranty
Cons
Expensive, even on sale
Adjustability could be a problem for some
Simply Vera Vera Wang Rhinestone Chain Bangle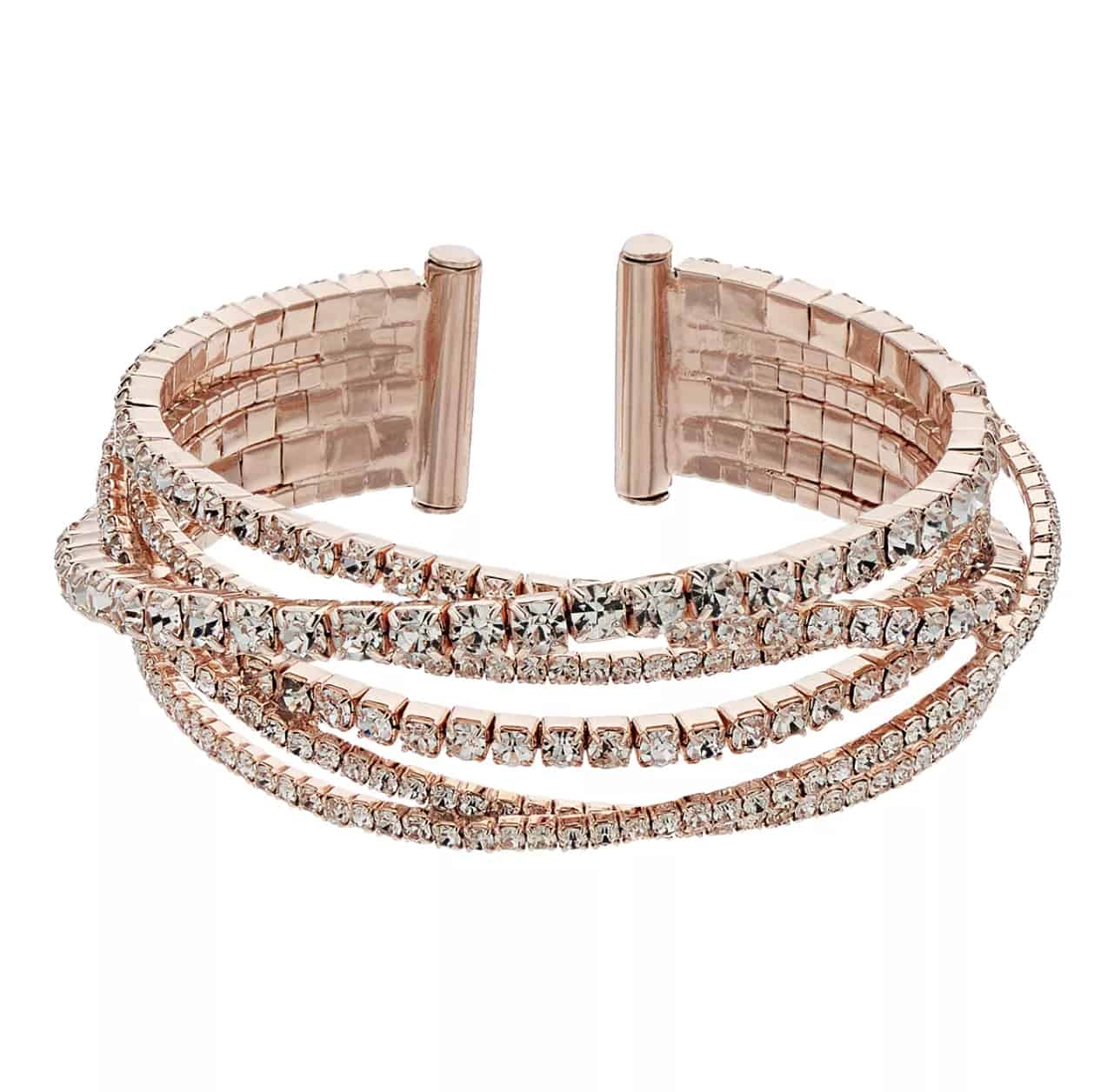 This Simply Vera bracelet is a bestseller at Kohl's, and it's easy to see why. It's inexpensive, but doesn't look it, and it's like a stack of bracelets in one piece.
Pros
Inexpensive (especially if you're lucky enough to catch it on sale!)
Like getting multiple bracelets in one
Crystals add to the sparkle and statement-making abilities
Rose gold tone, not real rose gold
Cons
Unlikely to last as long as a real rose gold bracelet
If you like to wear several jewelry pieces, adding this into the mix could be overwhelming
Shane Co. Vintage Morganite and Diamond Bracelet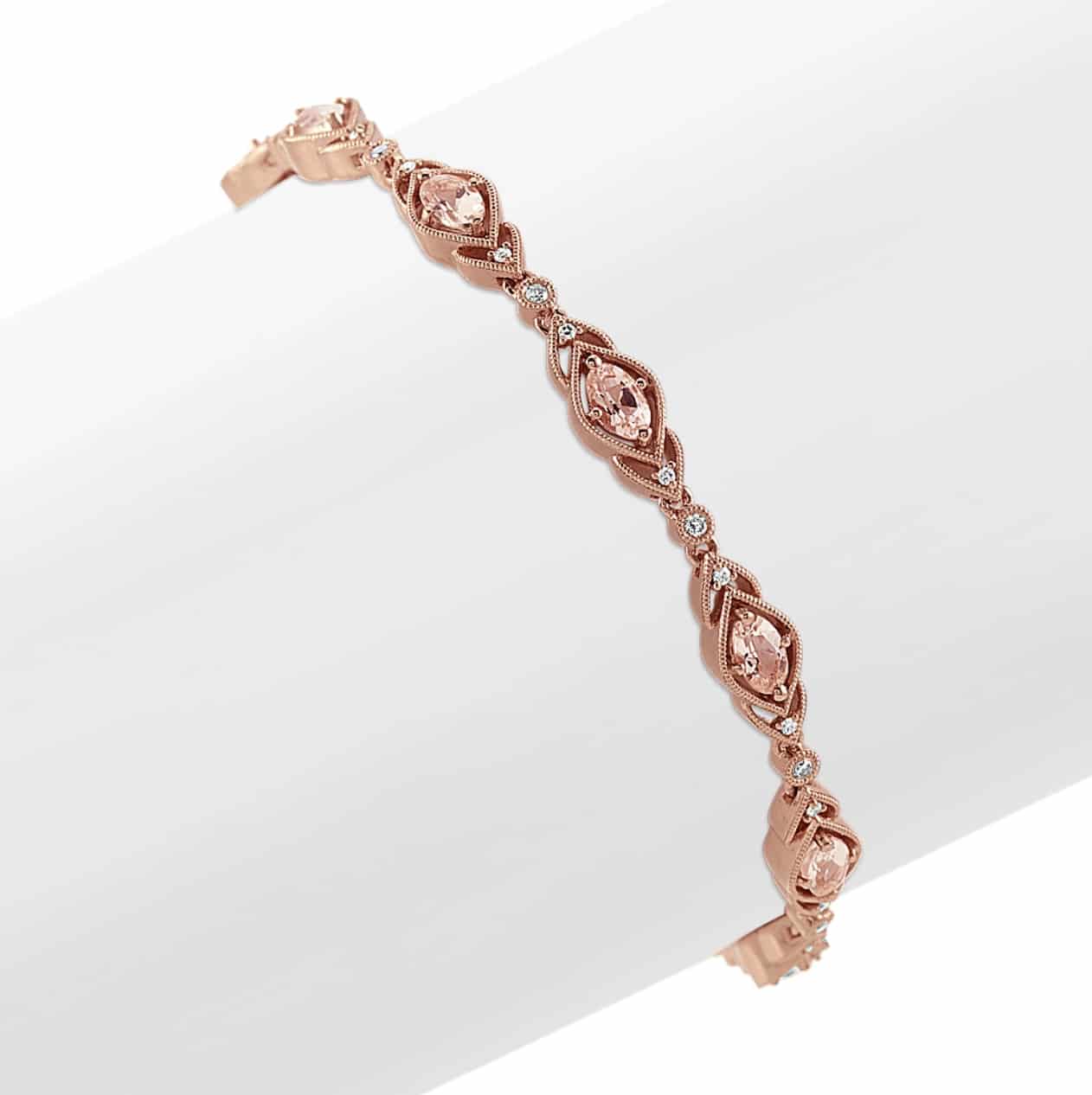 This morganite bracelet is a stunning option, thanks to its throwback vintage style and morganite stones that almost match the metal. Everything blends to create a design that is sparkly and beautiful, but not loud. It'll demand attention, but quietly. Check out our guide on the best Morganite bracelets here.
Pros
Combination of morganite, diamonds, and rose gold create a striking, almost monochromatic look
Not adjustable (may not be a pro for all)
14 karat rose gold
Cons
Shane Co. Kentucky Blue Sapphire and Diamond Bracelet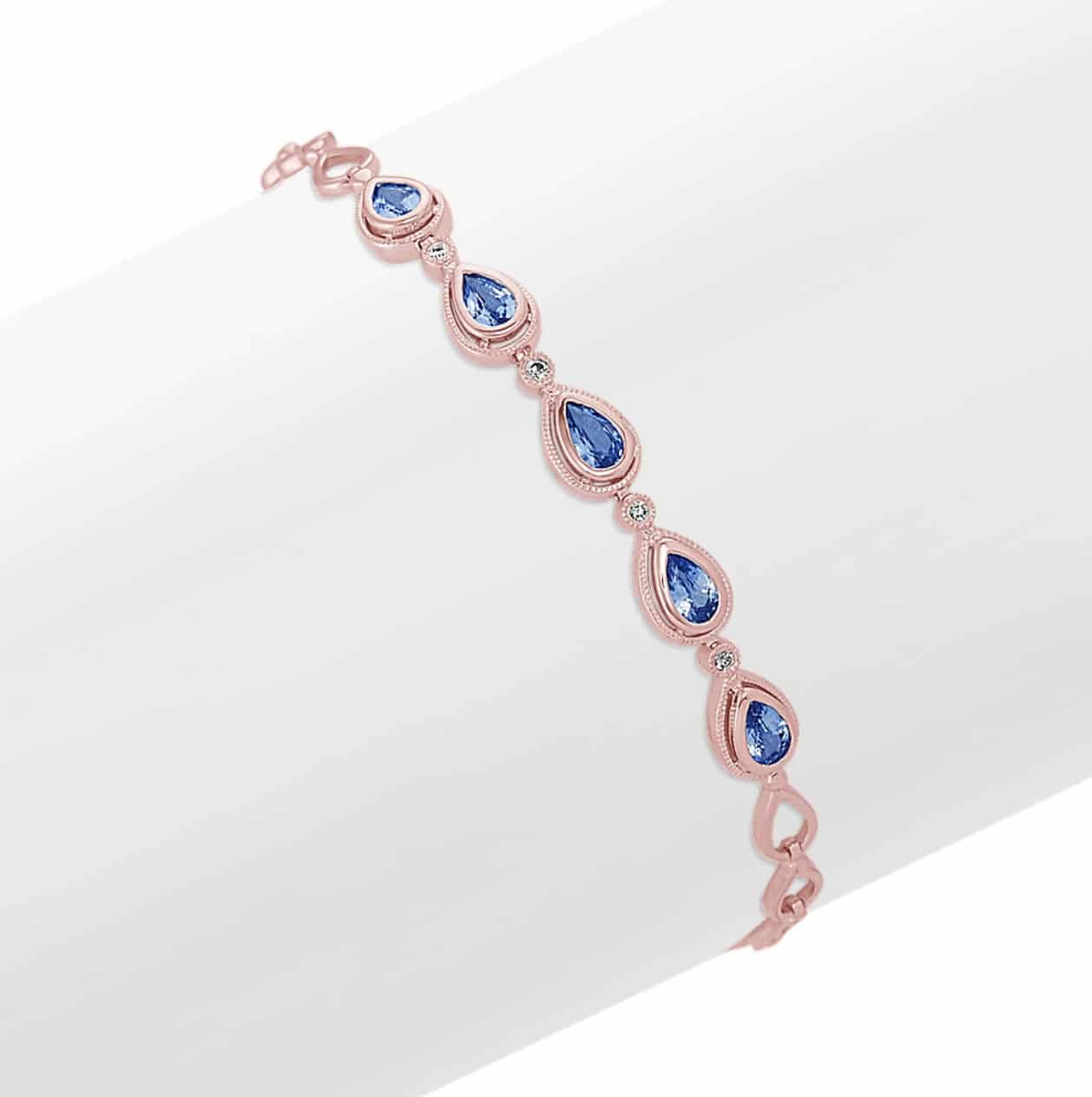 This is another gorgeous option from Shane Co. This time, there are blue sapphires instead of morganite, and a modern vibe instead of a vintage one.
Pros
Incorporates more color into the rose gold bracelet than most other options, so if you love blue or have sapphire as your birthstone, it could be the one for you
14 karat rose gold
Not adjustable
Stones are guaranteed under warranty for life
Cons
Expensive
Won't match everything the way a plain rose gold bracelet–or one with diamonds and/or morganite–would
Shane Co. 14K Rose Gold Bangle Bracelet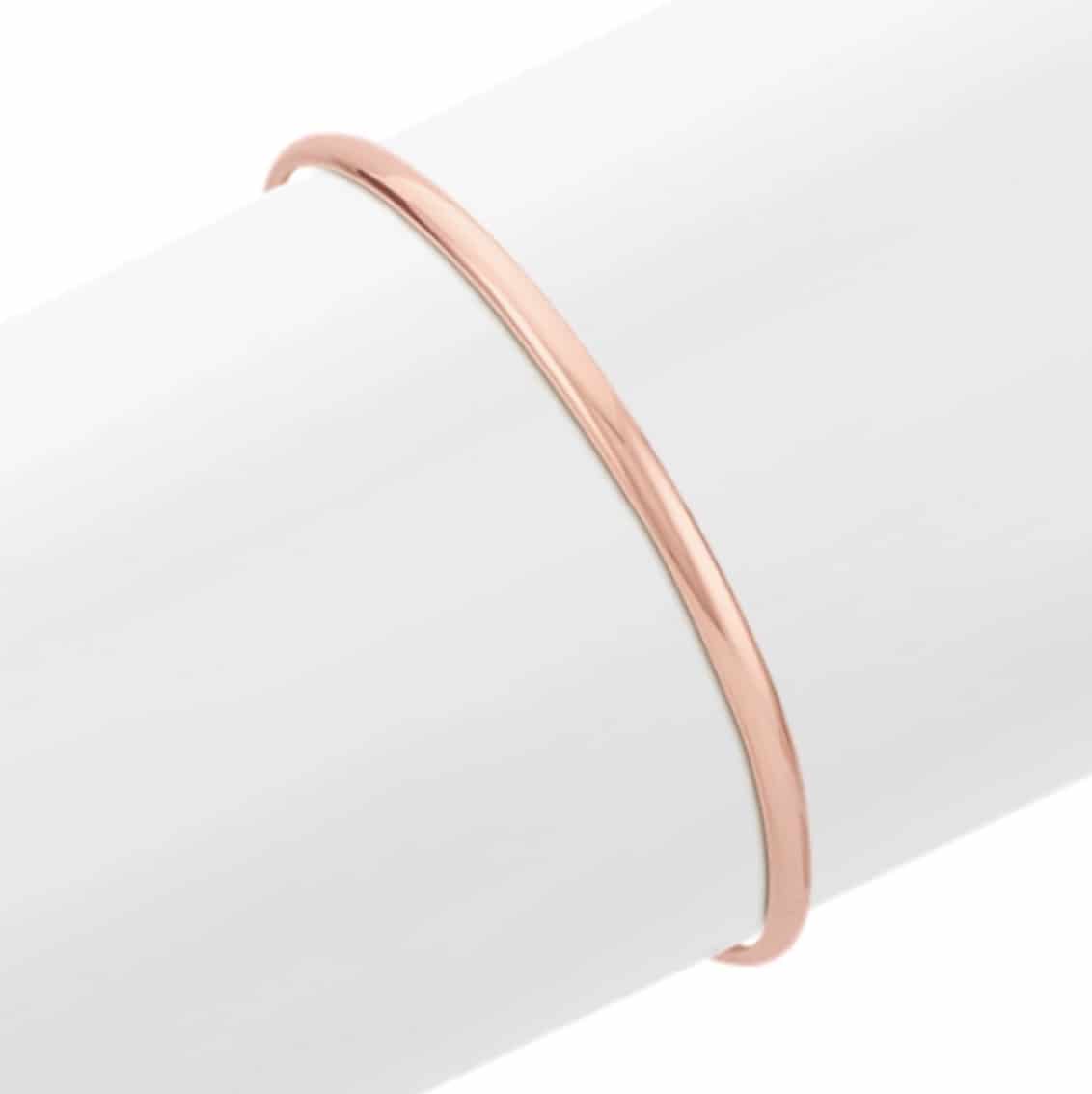 This 7-inch bangle may be the simplest rose gold bracelet you'll ever see, and yet it still manages to stand out because of its soft sheen.
Pros
Simple style can be worn with anything
Can be stacked with other bracelets
Not as expensive as other options with stones
Hinge clasp makes it easy to put on and take off
Cons
Still not exactly inexpensive (though it is real rose gold, so it's to be expected)
May feel like not enough on its own
Nordstrom Mini Siren Fine Chain Bracelet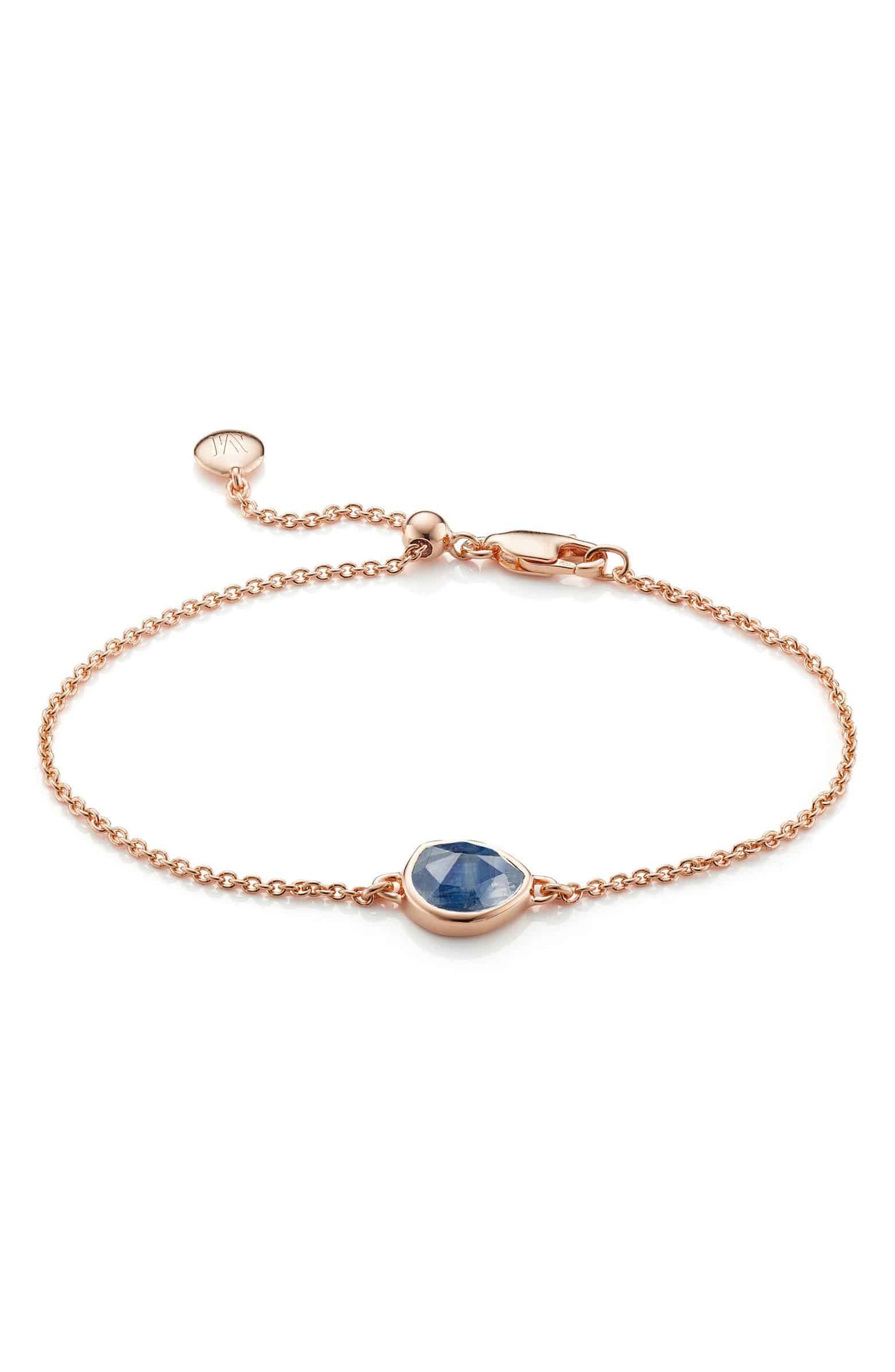 This chain bracelet is delicate, but anything but boring, thanks to a single blue stone (kyanite).
Pros
Not as expensive as some other options
Delicate and easy to wear with other bracelets
Kyanite is a beautiful soft blue color that will help tie the bracelet in with cooler-toned wardrobe items
Cons
Sterling silver with 18 karat rose gold on top
Ruby & White Sapphire Bracelet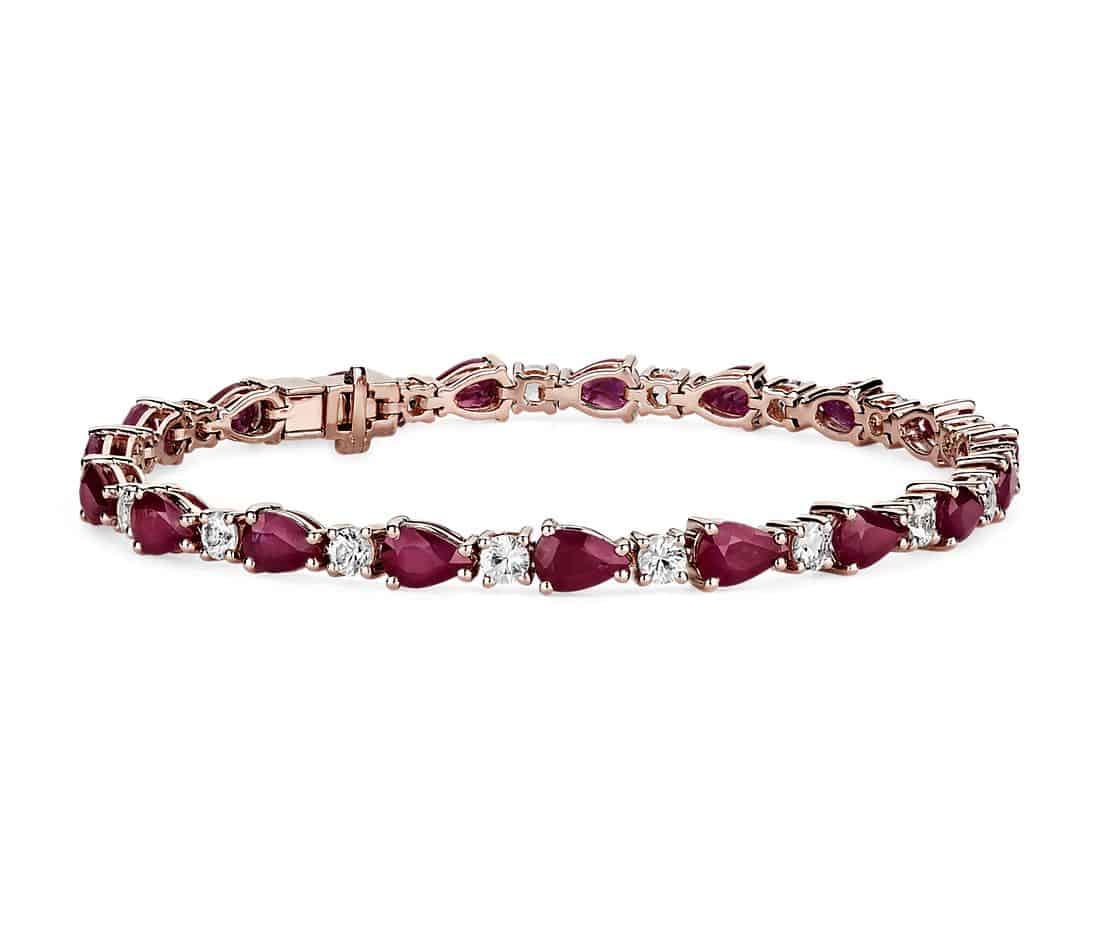 This rose gold bracelet from Blue Nile incorporates the beauty of red and white stones against a rose gold background. It also comes in emerald, tanzanite, and blue sapphire options, but be aware that they're set in yellow gold and white gold.
Pros
Colorful stones sparkle against a soft rose gold setting, so it's more than just a plain metal band
Attention-grabbing but not a "statement piece" so it will pair well with lots of different jewelry and wardrobe items
14 karat rose gold
Box catch closure
Cons
Expensive
Not all stones are available in rose gold
Nordstrom Four Row Cuff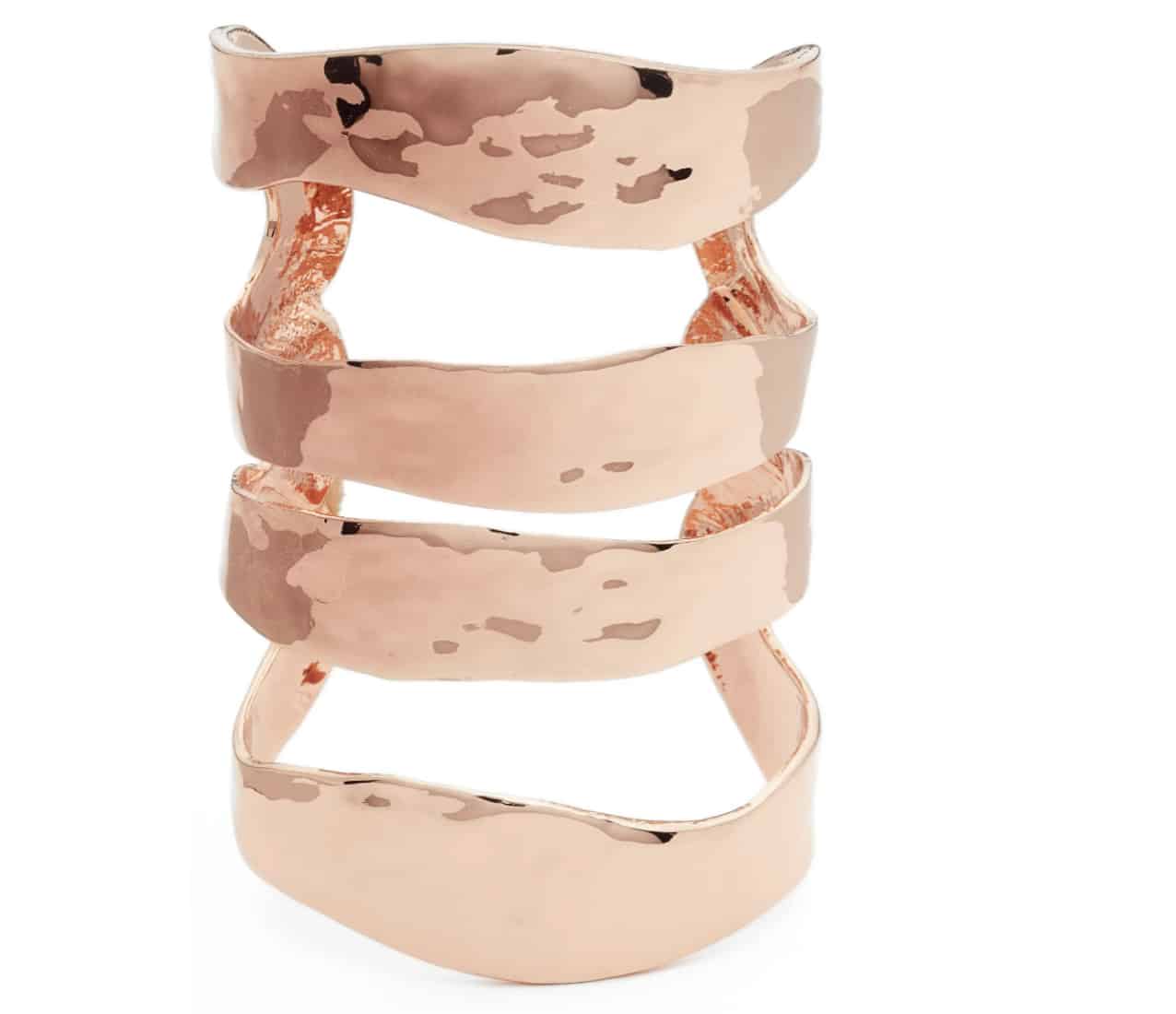 So if it's a statement piece you're looking for, look no further than this four row cuff. This one will have all eyes on it when you wear it out.
Pros
Attention-grabbing statement piece
Relatively inexpensive
Surprisingly comfortable to wear
Cons
Made of pewter with plating
Not the most versatile style, and will need to stand alone instead of being layered with other bracelets
Paperclip Bracelet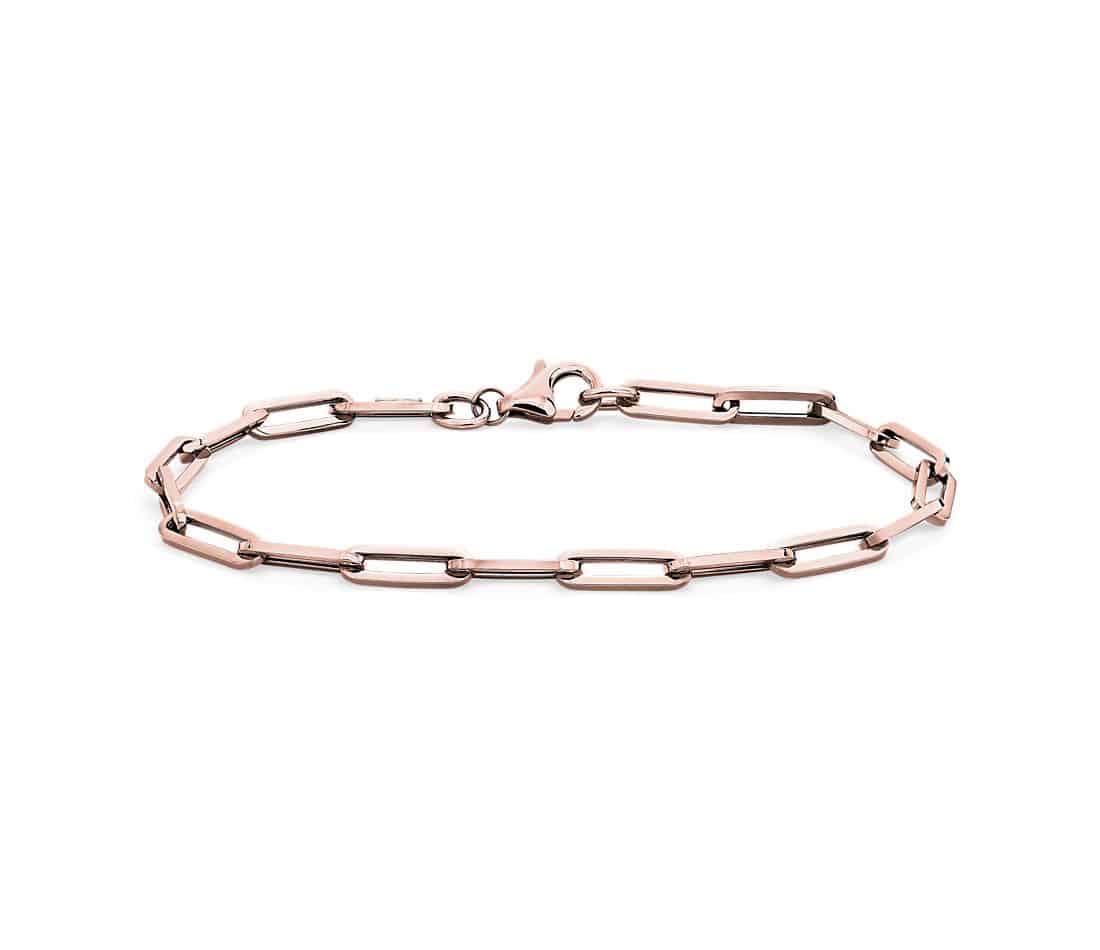 This paperclip bracelet from Blue Nile is one part trendy, one part classic. It's unusual but understated, so it's easy to wear with just about anything. There aren't any stones to coordinate with clothing colors; it's just a simple rose gold style. It's also slightly longer than the typical unadjustable bracelet, at 7.5 inches.
Pros
Simple, but still interesting to look at
Less expensive than some other styles
14 karat Italian rose gold
Slim style plays well with other bracelets
Cons
Still not exactly inexpensive, even though it's more affordable than some other options
Because of its slim style, it could easily get lost in a stack of other bracelets
Tips for Wearing Rose Gold
If you love the look of rose gold but you're not sure how to incorporate it into your wardrobe and jewelry collection, here are some of my best tips:
Rose gold seems to magically go with whatever you throw at it, but for the most cohesive, flattering effect, wear it with cool tones, like blues, soft greys, and pinks. It also looks gorgeous with off-white and blush tones. You can see rose gold mixed with gray, white, and black beads (which will translate to clothing colors, too) here:

Don't be afraid to mix it in with other metals.
Don't overthink your skin tone. It'll flatter anyone, while silver usually looks best on cool tones and yellow gold looks best on warm tones.
Mix and match rose gold with stones in colors that complement it, like turquoise, emerald, ruby, opal, or even blue topaz, diamonds, or morganite.
Keep the pieces relatively understated so it's not overwhelming to the eye, but that doesn't mean boring. Check out this design from hiflyerjewels:

The simplicity also means you can stack them up for a look that's all yours.
What Is Rose Gold?
Rose gold is a combination of gold and copper (an alloy). Bernari Jewelers breaks it down further, stating it's usually 75 percent pure gold and 25 percent copper (which creates 18K rose gold). When silver is mixed in, you get "pink gold," which is lighter and has a more delicate pink tone. Not all lighter rose gold jewelry has silver mixed in, though.
How Can You Tell if Rose Gold Is Real?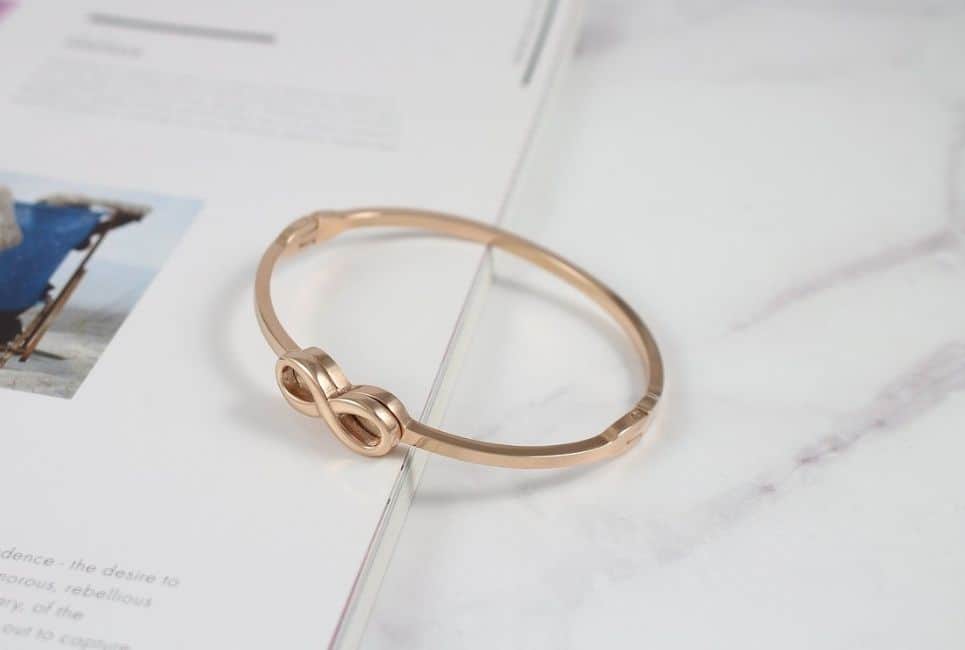 A lot of rose gold out there is plated, not the gold-and-copper alloy all the way through. How do you know the difference?
In some cases, price is a good indicator before you dive any deeper. If it's extremely inexpensive, it's probably plating.
It'll be marked by karat weight if it's real, but usually no more than 14K or 18K
If it's marked with a high karat weight, it should be lighter in color, and vice-versa
Advantages of Rose Gold Bracelets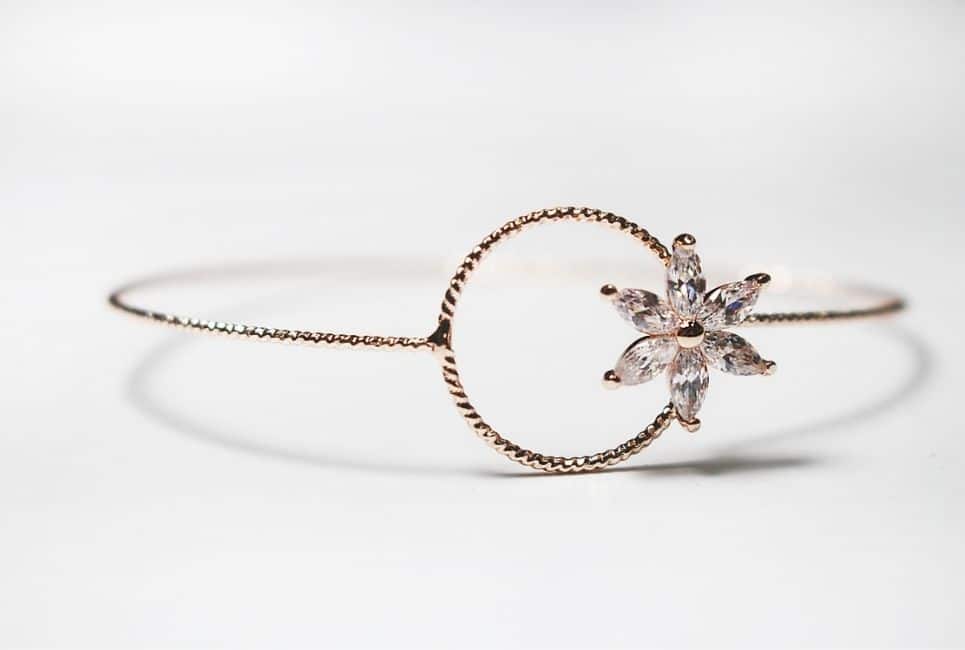 The obvious advantages are all about aesthetics and trendiness, but what else do rose gold bracelets have going for them?
They're durable, as far as metals go
They're beautiful and more unexpected than gold or silver
They're less likely to tarnish than gold (that doesn't mean you should keep them on in the shower, though)
They may be less expensive than other metal options
Disadvantages of Rose Gold Bracelets
Rose gold bracelets, though they can complement almost any style or skin tone, are not necessarily for everyone. Here are some of the disadvantages:
Not hypoallergenic
If you like the way rose gold bracelets look but are more likely to wear classic pieces than trendy ones, you may find yourself second-guessing your decision to buy and wear rose gold, especially in more expensive pieces you intend to keep for years
As with other jewelry, you'll need to make sure you know what you're getting–rose gold all the way through, or a rose gold plating (vermeil) on top of another metal. Check the description carefully and look for markings that indicate karat weight.
A bracelet with a high copper content could oxidize
FAQs
Still wondering how to wear a rose gold bracelet once you get one? No problem. Here are some of the most frequently asked questions about finding the best rose gold bracelet ideas and picks.
Question: Can you wear gold jewelry with rose gold?
Answer: Absolutely. Pairing these two up looks lovely. The gold will play up the warmer tones in rose gold and make everything blend well together.
Question: Is rose gold tacky?
Answer: No, it's a gorgeous, nearly universally flattering alternative to gold and silver. Any metal can be tacky when it's overdone, so keep that in mind when you're choosing your rose gold jewelry. If you're worried about looking tacky, choose a delicate, understated piece or a single statement piece you intend to wear alone so it can be the focal point of your outfit.
Question: What colors look good with rose gold?
Answer: Turquoise, teal, sea green, gray, charcoal, blush pink, off-white, beige, navy blue, rose, and emerald green. Rose gold does a good job of working with cool and warm tones.
Question: What does rose gold symbolize?
Answer: It's a romantic, more feminine take on gold. It's softer, trendier, and manages to be elegant and a little unexpected at the same time.
Question: Does grey or dark grey go with rose gold?
Answer: You can wear any shade of grey with rose gold.
Question: Why is rose gold so popular?
Answer: In a sea of silver and gold that's been around forever, rose gold is something relatively new and different, and it's flattering on most skin tones. It's a new way to show off certain stones, too, since the pinkish-gold shade plays up their colors in a way that silver and yellow gold don't, plus it provides different color combinations to experiment with.
Question: Is rose gold going out of style?
Answer: Not yet! Rose gold might just be here to stay. It's not as popular as the classic silver, white gold, yellow gold, and platinum, but it's still trending.
Conclusion: Wearing a Rose Gold Bracelet
Whether you wear cool tones or warm ones, you can probably wear a rose gold bracelet. There's not much this trendy metal won't look good against. If you're sure you love rose gold enough to keep it long after the trend has died down (if it does) or you're fine with retiring a trendy piece and waiting for it to come back around again later (as it's done before), I recommend spending the money on a real rose gold bracelet with an understated style. That way, deciding to retire it will be up to you, not when the copper tarnishes or the plating fades away.
If, however, you like to follow trends and don't see yourself continuing to wear rose gold jewelry if the trend ends, you could save your money and purchase one of the less expensive, plated options. My personal favorites are the Blue Nile Paperclip Bracelet, the Shane Co. Vintage Morganite and Diamond Bracelet, and the Le Vian Opal and Diamond Bolo Bracelet.
Find the one that echoes your personal style and enjoy wearing it with everything in your closet, since rose gold is so easy to work with.
Further Read: