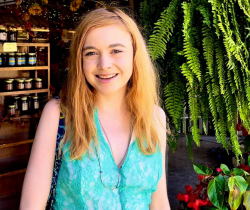 Latest posts by Erin Jamieson
(see all)
If you're looking for an elegant necklace, maybe your first thoughts go towards sterling silver or yellow or white gold. But 2022 is as great of a year as ever to mix things up with rose gold necklaces. 
Every year, I love seeing the different trends that go in and out of fashion. But 2022 has been hard to peg down, with an influx of big, bold, beautiful, and classic fashion styles and accessories. But one consistent trend: being more daring and expressive. And that's where rose gold necklaces come in.
Just as 2022 is a year of innovation, it's also returned classic looks. Rose gold necklaces have been available for a long time, but this romantic hue lets you stand out. In fact, rose gold jewelry was mentioned amongst the 4 ways to elevate your jewelry game by Elle Magazine. 
Rose gold necklaces have a classic but more unique and artistic feel. Unexpectedly elegant, they may just be the perfect accessory for updating your style. Check out our complete guide on the best types of necklaces.
But what exactly are rose gold necklaces, and is the style right for you? In this article, I'll tell you the truth about rose gold, how to find the best necklaces, and my picks to get you started. 
What is rose gold?
Rose gold is simply a gold alloy– as is the case with white gold and all but 22K (pure) yellow gold. A pink, rosy hue is the distinguishing feature of rose gold. Rose gold is an alloy of gold and copper, and the percentage of that alloy depends on the type of rose gold.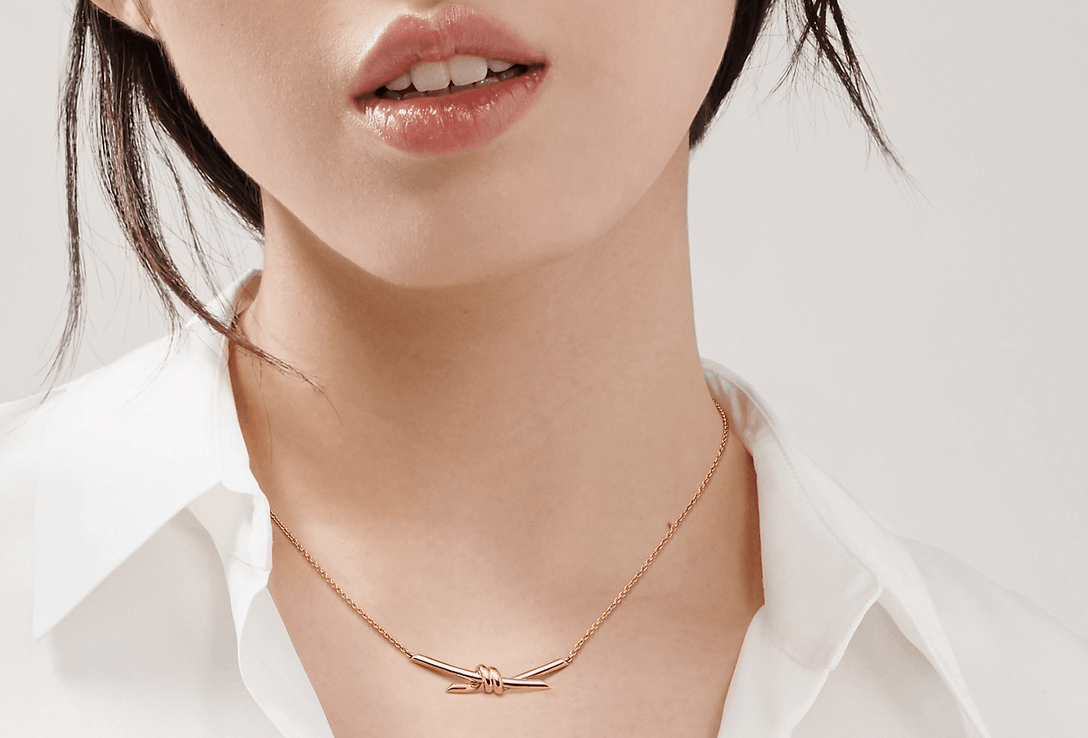 Is rose gold real gold?
Rose gold is indeed real gold– but it varies quite a bit in quality. It's also important to note that something called "rose gold-tone" or "rose gold hue" may not be real gold. 
Why is rose gold popular?
Rose gold is not as popular as yellow gold or white gold. It's a little less versatile, and some may not feel it has a classic of a look. However, it remains a beautiful option, and there are more rose gold accessories than ever in 2022. A reason why it's rising in popularity is that 2020 and now 2022 have seen a spike in interest for more colorful jewelry– from metals to precious stones. It's also a way to show off your personality. And the rosy hue is a romantic, flattering touch. 
Why is rose gold more expensive?
In fact, it's a myth that rose gold is more expensive than yellow gold or white gold. Since rose gold is a gold alloy, no matter the quality, it'll be less expensive than pure gold. And all gold is typically less expensive than metal like platinum. The perception may simply be because rose gold accessories are a bit rarer. While you can find many elegant, beautiful styles, some fine jewelers sell little to no rose gold accessories. 
What color does rose gold look good with?
Rose gold complements more tones than you might expect. Light gray, white, and neutrals are safe bets. But black, deep pink, or rose and dark or dusky blues are also excellent picks. Some even pair teal. I recommend going for duskier or deeper hues (minus white) to make the rose gold pop most. 
Who can wear rose gold?
You can wear rose gold anywhere. There is a theory based on skin tone as to who looks best with yellow vs white vs rose gold. Some stylists recommend those with pink or olive undertones wearing rose gold. In truth, rose gold is more complementary to warm and cool skin tones- which arguably makes it more flattering on more people vs white or yellow gold.
How do I pick the best rose gold necklace?
Not all rose gold necklaces are created equal. That's why it's important to have guidelines when you're selecting a necklace. Here's what you need to know about your options, to decide which is right for you.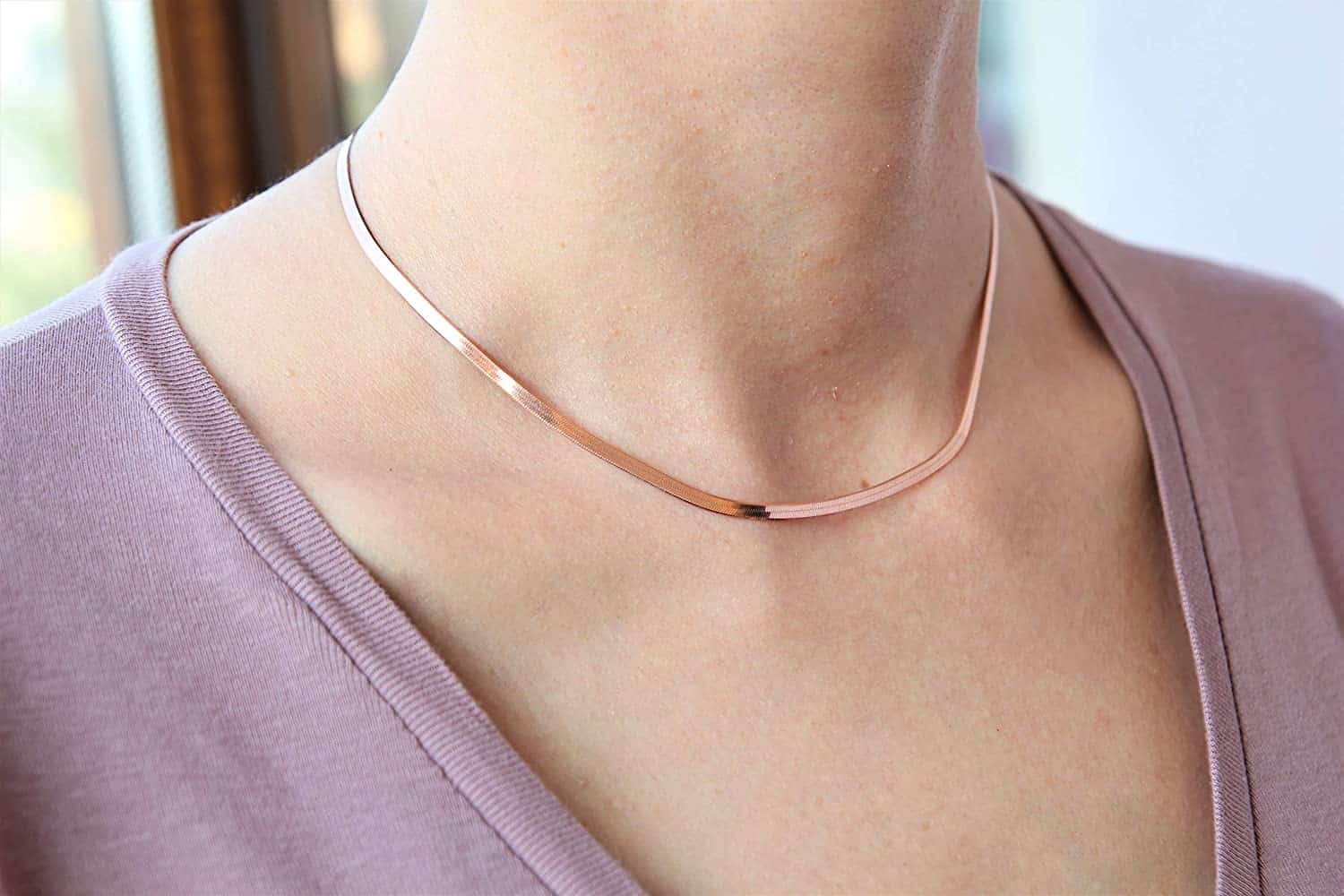 Are rose gold plated necklaces real?
Rose gold plating is real gold– but it's not the same as typical gold. The first thing you'll notice is the price. A rose gold plated necklace will be cheaper. But that comes at a cost, as plating will wear, tarnish and typically only last a few years. Rose gold plated necklaces are made by pounding a thin piece of rose gold and applying it to a cheaper metal. 
The exception is rose gold vermeil. The layer is much thicker, and a rose gold vermeil necklace, while still not as valuable, can last several years beyond typical rose gold plated necklaces. 
Is a 10K rose gold necklace good quality?
Your next option is a 10K rose gold necklace. This will cost you more than rose gold plating, but less than other options. The great thing about a 10K rose gold necklace is that it's a harder metal than other gold, and thus, less prone to scratches. At the same time, 10K rose gold has a dull look and is not typically used for fine jewelry necklaces. 
How long does 14k rose gold last?
My personal favorite options for elegant rose gold necklaces are either 14K or 18K rose gold. Both have a higher concentration of gold than 10K rose gold– lending to a more beautiful and elegant look. They are a bit softer and easier to scratch, yet both are suited for normal wear if treated well. 18K gold, of course, being the purer form of gold, is more expensive than 14K gold– and a little softer. 
Where do I buy a rose gold necklace?
If you want a truly elegant and durable rose gold necklace, I recommend shopping for fine and luxury jewelers. You should only buy from someone who has a secure website and transparent descriptions as to the quality of gold used. 
Rose Gold Necklaces: My Picks
Here are my picks for some of my favorite rose gold necklaces. All of these necklaces are made out of quality materials– both for the rose gold itself and any precious stones. I've only selected necklaces from reputable jewelers or designers and focused on modern and classic elegant styles. 
I also encourage you to look into all these jewelers have to offer beyond my top picks. Those jewelers and designers include Brilliant Earth, Angara, James Allen, Chanel, Blue Nile, Gucci, and Tiffany & Co. 
Diamond & Gemstone Rose Gold Necklaces
Whether it's dazzling diamonds or beautiful colored gemstones, these necklaces are occasion-worthy. Color, resplendent sparkle, and beautiful craftsmanship are just a few noteworthy features. All of these gorgeous necklaces feature precious gemstones, both lab-grown and natural. Rose gold adds warmth and beauty to these gemstones. My favorite options are clear diamonds, pink gemstones like morganite, and gemstones in the blue color scheme. 
Round Diamond Solitaire V-Bale Pendant Rose Gold Necklace
A round brilliant diamond is splendid in a prong setting. This classic 14K rose gold necklace features a timeless elegance. The simple setting allows the diamond to sparkle, no adornments are needed. The diamond is available in ¼ carat to 1 ⅓ carat, and in the quality of your choice. I recommend opting for the highest quality diamond available and going for a more modest carat size. Priced from $485 to $11,348 for rose gold. Buy Here. 
Classic Round Blue Sapphire Pendant Rose Gold Necklace
One of my favorite options for a truly elegant rose gold necklace? This stunning blue sapphire pendant necklace. Wow with a brilliant round blue sapphire, available in good to heirloom quality and up to 2.20 carats. A classic four-prong setting holds the sapphire. The enchanting blue is perfectly complemented by 14K rose gold. Again, I recommend favoring a higher color rating over a larger carat size. Priced from $309 to $11,051. Buy Here. 
Asymmetrical Open Circle Diamond Rose Gold Necklace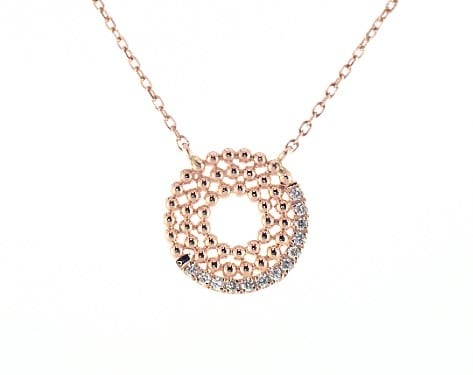 An innovative take on a diamond necklace, this gorgeous pick is priced at $920. James Allen necklaces include free jewelry maintenance at storefronts near you, as well as other perks, like free shipping, a limited lifetime warranty, and a 100 percent guarantee. This design features 13 round, nearly colorless accent diamonds on an asymmetrical pendant, crafted with 18K rose gold. Buy Here. 
Extrait de Camellia Pink Gold Necklace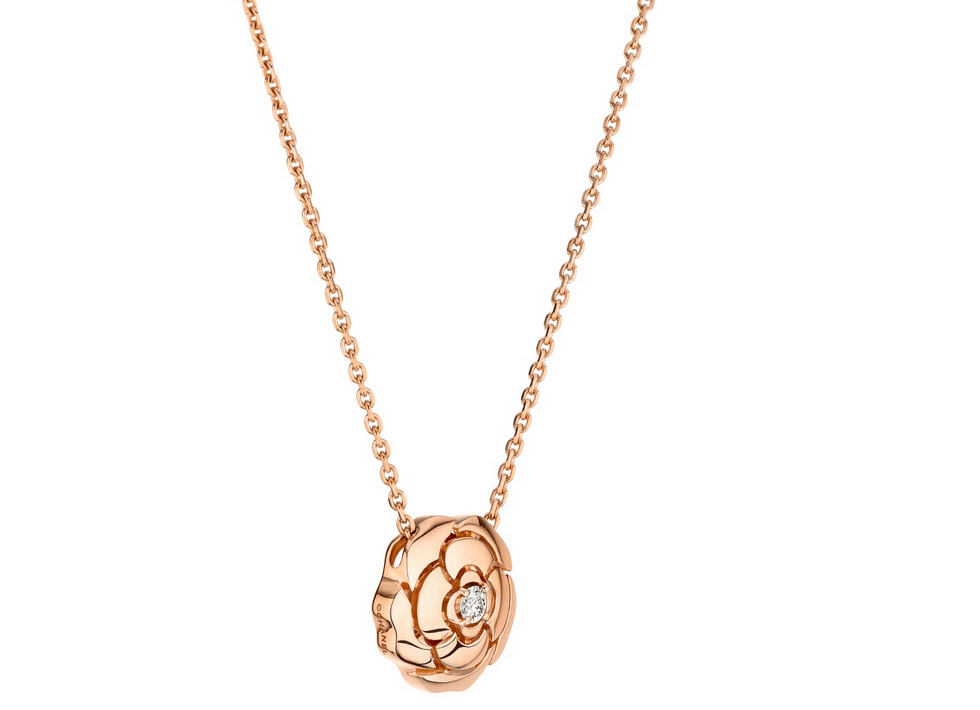 Chanel is one of my favorite– if not my favorite– luxury designers. With an eye for simple elegance and beautiful craftsmanship, this necklace showcases what the designer is known for. Technically it's 18K pink gold (which was a slightly higher concentration of silver) but this is a stunning necklace nonetheless. The slightly cooler hue is beautifully crafted into an intricate petal pendant. A round-cut diamond adds splendid sparkle to the center. Priced at $2,850. Buy Here. 
Three-Stone Drop Diamond Rose Gold Pendant Necklace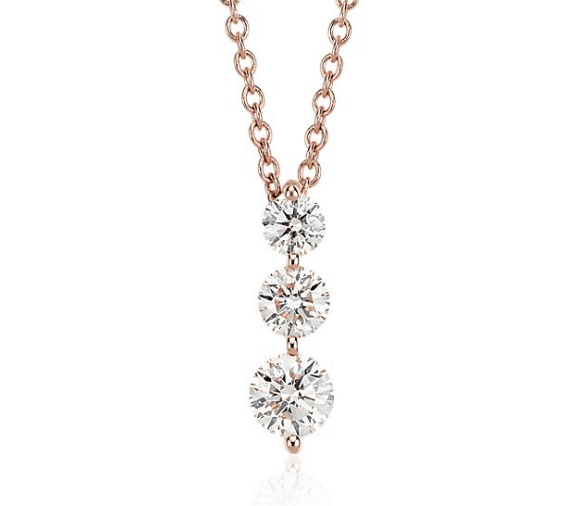 This stunning 18K rose gold necklace features an alluring, tiered diamond design. The three-diamond style is meant to represent your past, present, and future– with a brilliant, hopeful sparkle. Three nearly colorless diamonds are graduated and set in prongs for sparkle from multiple angles. Priced at $4,160; Buy Here. 
Arabella Diamond and Morganite Rose Gold Pendant Necklace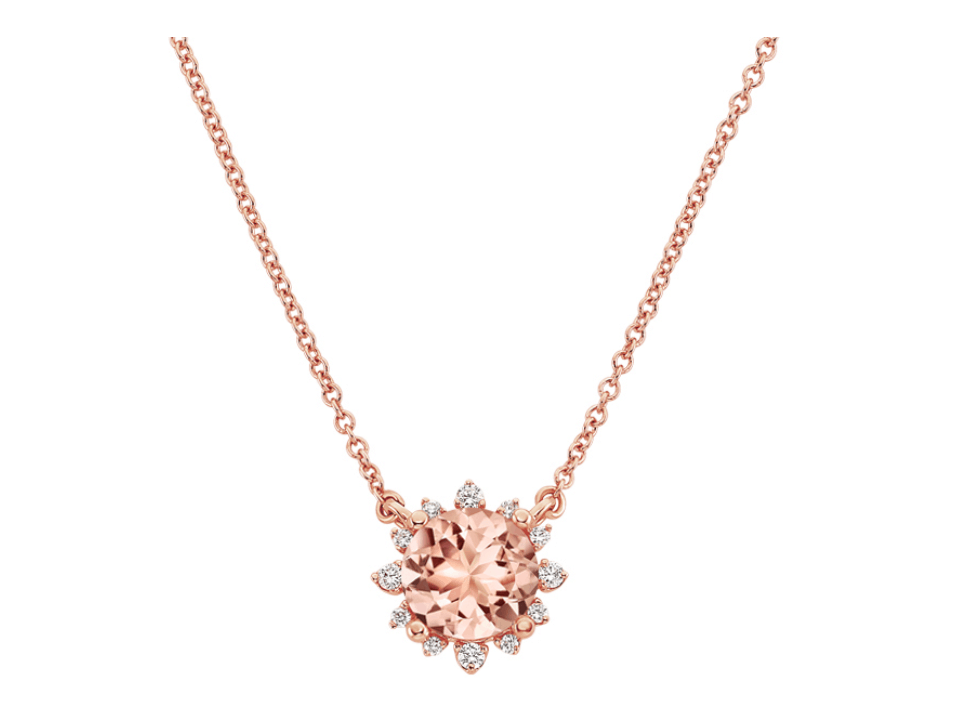 This stunning pendant pairs with a cable chain and fully embraces romantic pink hues. 14K rose gold accompanies around, light pink morganite gemstone that's eye-clean. The pink hue of the gemstone truly comes to life with nearly colorless round diamonds. This exquisite necklace is made with ethically sourced gemstones and recycled precious metals, with 5 percent of profits going towards nonprofit organizations. Priced at $850; Buy Here. 
Dangling Channel-Set Emerald Rose Gold Necklace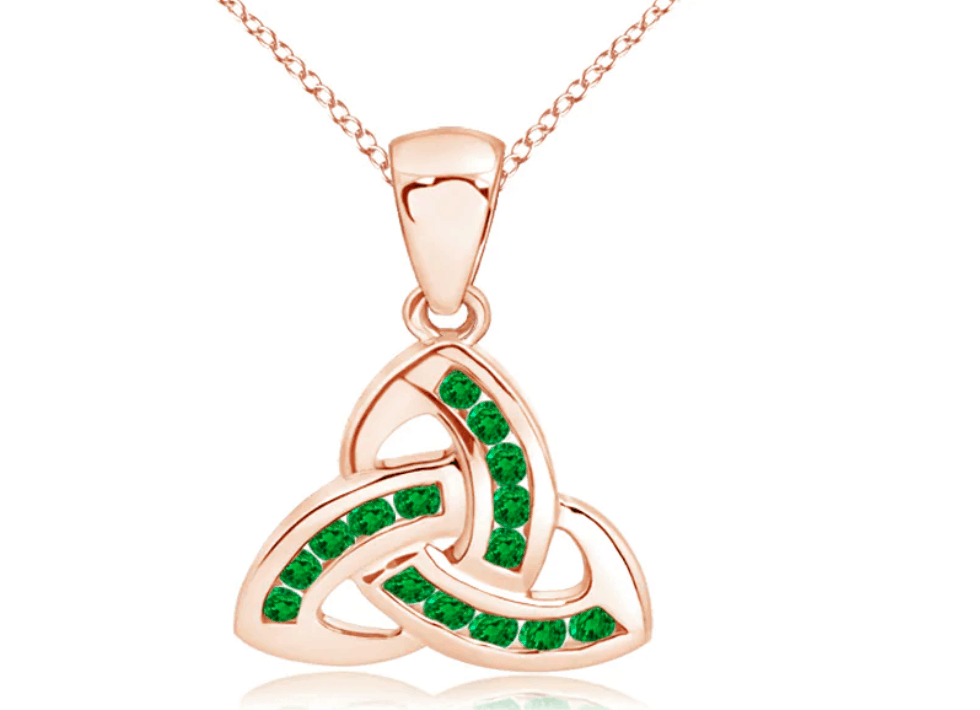 The traditional Celtic knot is nothing short of elegant with this 14K rose gold necklace. The Celtic knot, which symbolizes limitless love, comes to life with enchanting emeralds. 15 round emeralds accent polished rose gold for an alluring design. Select from good to heirloom quality emeralds. Priced from $539 to $710; Buy Here. 
Freshwater Cultured Pearl and White Topaz Rose Gold Pendant Necklace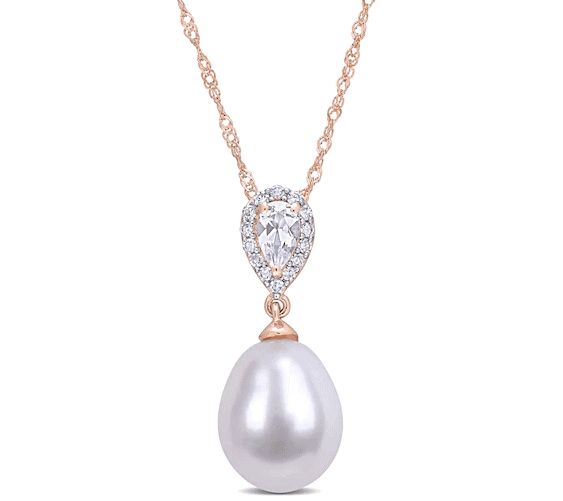 Pearl necklaces never go out of style. And sometimes, with pearl necklaces, understated elegance is the best style. This gorgeous pearl necklace blends vintage accents with modern minimalism. A freshwater pearl is accented with tiny white topaz gemstones and set in a 14K rose gold frame. The cable chain keeps the look classic. Priced at $325; Buy Here. 
Plain Rose Gold Necklaces and Pendants
Solid rose gold necklaces and pendants make for an understated, but still elegant statement. These necklaces feature everyday elegance and can be worn from day to evening looks. Engraved pendants, fine chains, and modern details make these necklaces standouts. For the most subtle designs, you may find that you get the most use out of them– and make one of them your go-to necklace. 
Tiffany Knot Rose Gold Pendant Necklace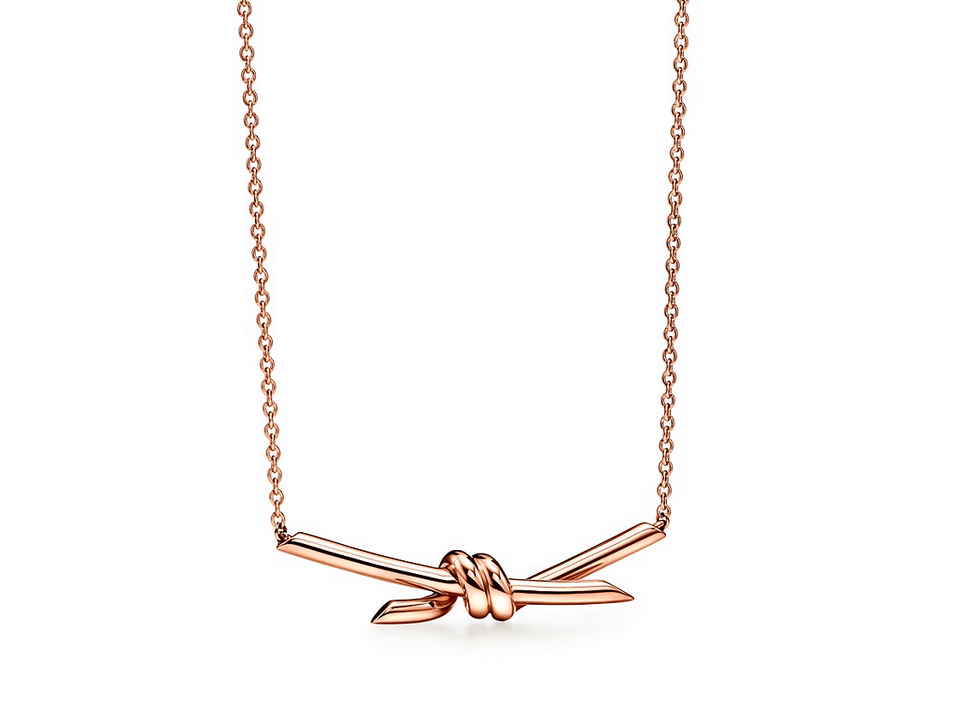 This new style shows how Tiffany & Co continues to innovate- while retaining signature elegance. This 18K rose gold necklace features a Tiffany Knot meant to symbolize a powerful bond between loved ones. The pendant is splendid with a  hand-polished shine. Sophisticated, versatile, and elegant– priced at $1,800. Buy Here. 
Infinity Rings Rose Gold Pendant Necklace
Three hollow, intertwining rings shine for a meaningful necklace. Made with 14K rose gold, the rings are lightweight for comfortable wear and feature a polished appearance. The infinity symbol, in its many forms, has only become more popular– and can represent strength and eternal bonds. The rings are set on a classic cable chain for a classic and sophisticated style. Priced at $700; Buy Here. 
Rose Gold Paperclip Necklace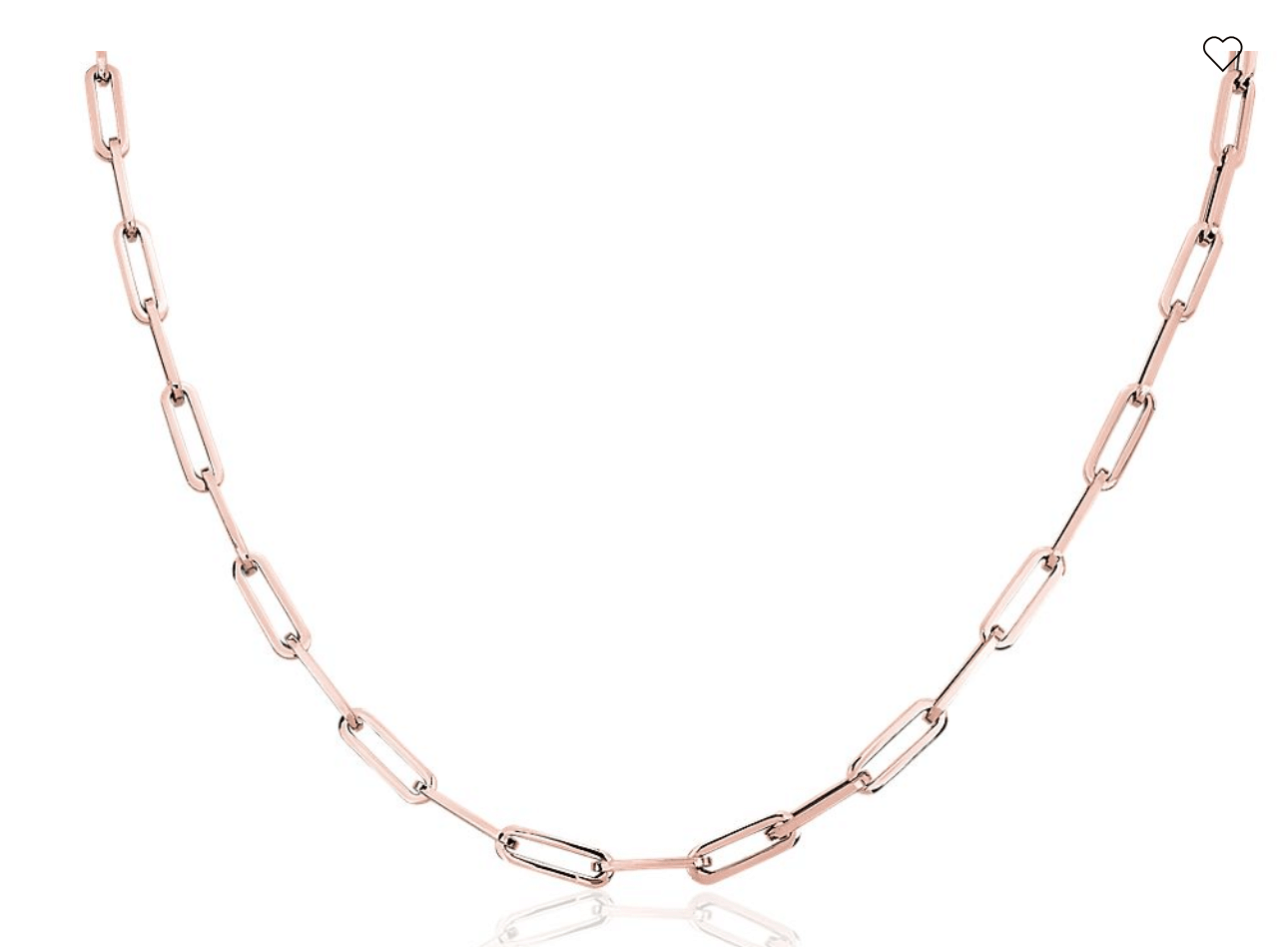 Who says elegant has to be formal? This 18" 14K rose gold necklace features a minimalist paperclip style for ultimate versatility. The Italian rose gold has an expressive pink hue, and the style can be worn alone or paired with statement earrings. Priced at $880; Buy Here. 
Rose Gold Engravable Necklace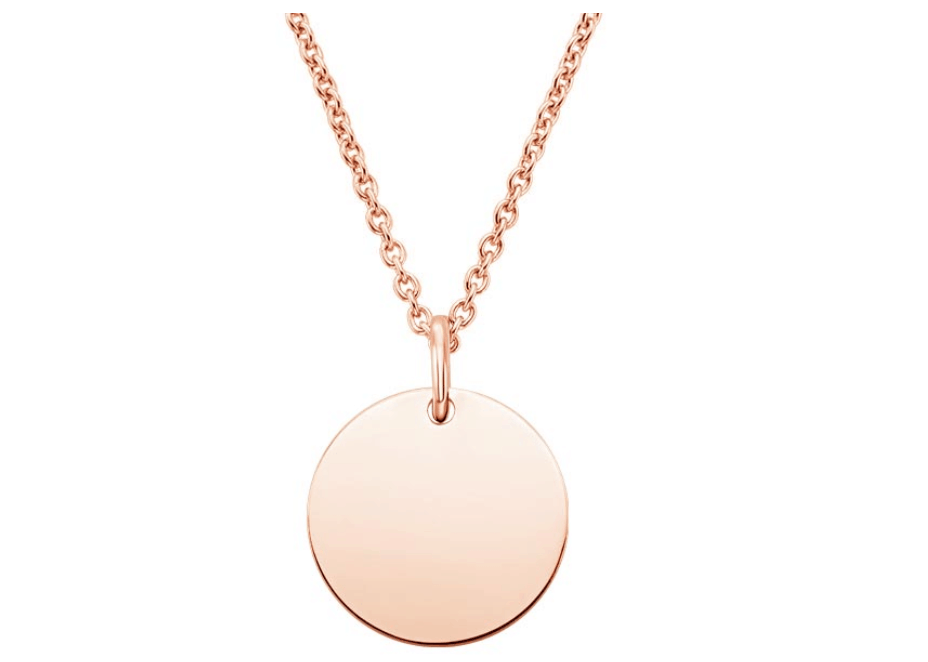 This personal but elegant necklace is made by Brilliant Earth, a leader in sustainable and ethically sourced jewelry. A classic cable chain is crafted in 14K rose gold and paired with a beautiful pendant. Order a custom engraving for a meaningful gift. Priced at $490; Buy Here.
Kendra Scott Thin Chain Rose Gold Necklace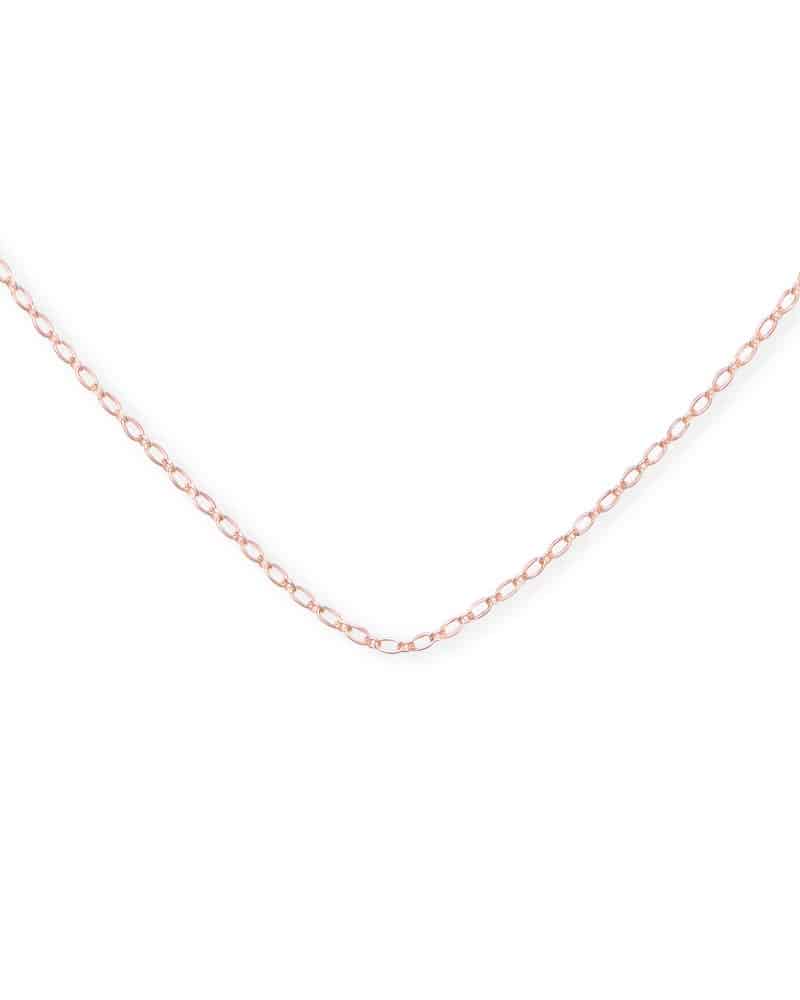 Kendra Scott is an excellent option for affordable designer jewelry. 18K rose gold vermeil is far more durable than typical rose gold plating and may be an option if you don't want to spend on 14Kor 18K rose gold (just make sure you don't get your necklace wet). This thin chain style is versatile, elegant, and timeless. Priced at $98; Buy Here. 
Monica Vinader Beaded Rose Gold Necklace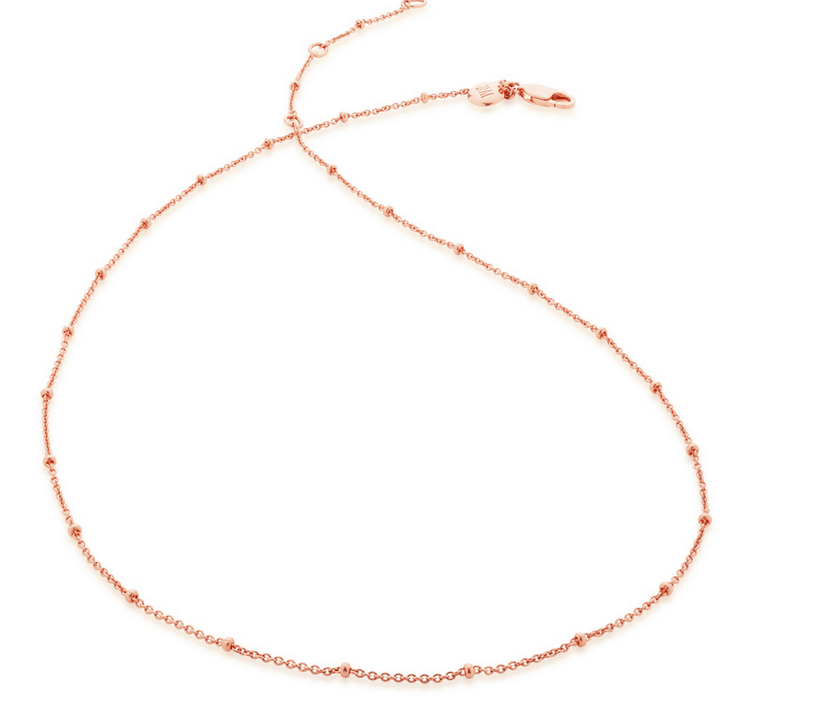 Another option for rose gold vermeil is this $84 necklace. A delicate look is accomplished with a fine chain with tiny beads. The 18K rose gold vermeil is placed over 100 percent sterling silver. As a bonus, this necklace, like other Monica Vinader necklaces, is made from recycled materials. It's also handmade and comes with a 5-year warranty. Buy Here.
Frequently Asked Questions
Question: Can I wear a rose gold necklace in the shower?
Answer: 10K to 22K gold can technically be worn in the shower, but I don't recommend it. If you have precious gemstones they can lose luster over time, and it's generally just not ideal to get precious metals wet. In other words: don't worry if it happens once, but don't make a habit of it. If you have a rose gold plated necklace, however, you really should avoid wearing it in the shower, as it will quickly tarnish.
Question: Can rose gold turn yellow?
Answer: Lower-quality rose gold can fade to yellow. This occurs when the copper in the alloy discolors– but again, this typically happens for lower quality rose gold. Most rose gold, when properly maintained, will retain the beautiful, rose-colored finish.
Question: Can an engagement ring be rose gold?
Answer: There's no reason you can't have a rose gold engagement ring. You may have fewer options to choose from, but rose gold makes for a unique and beautiful ring. Just make sure that you're buying from a reputable jeweler. 
Final Thoughts
Rose gold is a unique hue that casts a romantic aura on any necklace. Opt for the type of rose gold that makes sense for both your lifestyle and budget. Keep in mind that rose gold typically shouldn't cost more than yellow or white gold or the same quality. 
If you like the look of rose gold but want to spend under $100, opt for a simple style. Monica Vinader is an excellent choice if you feel comfortable with rose gold vermeil. Kendra Scott is an alternative, although some necklaces are made out of regular gold plating, so you'll have to shop carefully. And of course, there are independent creators on Etsy for additional rose gold necklaces.
No matter what necklace you buy, shop with your price and style in mind. Rose gold is a gorgeous look for almost anyone. The possibilities and designs are nearly endless.  Check out more necklaces inspiration at our guides on the Best Rose Quartz necklace ideas and  Ruby Necklace Ideas.
Further Read: