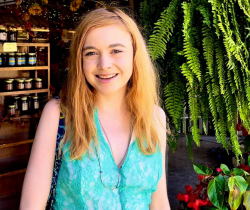 Latest posts by Erin Jamieson
(see all)
It's hard to go wrong with a classic necklace– whether that's a dazzling diamond tennis necklace or a simple lariat style. But sometimes it's important to branch out and wear something a little different and expressive. By doing so, you come across amazing ideas, like beautiful sunflower necklaces. 
Taking a chance to be expressive is especially meaningful to entrepreneurs like Cait Burling. In 2020, she was in a comfortable position, working in content marketing. That was according to plan, following up on her major in Mass Communications from Southern Illinois University. But the pandemic had other plans.
After the company started downsizing, Burling leaped faith and followed a passion she'd had at the back of her mind for a while. The passion translated into Clay by Cait, her own collection of unique clay jewelry pieces. One of the most iconic pieces of the collection? Bursts of cheer exude from her sunflower designs. 
Starting by selling online, the 27-year old now sells her iconic pieces not only in her hometown of St. Louis but now in an impressive 40 stores across the United States and Canada. 10 percent of proceeds go towards non-profit organizations. 
True to the floral and boho themes, Burling's store inspires us all to follow our dreams and spread cheer. Her boho and sunflower jewelry isn't just jewelry– but an amazing way to impact lives. 
Of course, sunflower jewelry comes in all materials and price points. I'll tell you why sunflowers are an amazing motif and how to select the best sunflower necklaces to brighten your life, or a loved one's. 

What is the symbolism of a sunflower?
A few years ago, I read a novel that centered around the rich symbolism of flowers. Ever since I haven't quite looked at flowers the same way. Sunflowers have always been a favorite of mine– but their symbolism makes them that much more beautiful. For me, they're a sign of autumn and a connection to nature– as well as many fond memories. For you, they might symbolize something else. But here's a look at some universal themes associated with sunflowers. 
Does a sunflower mean to love?
Sunflowers symbolize a love that's unconditional, and love that lasts no matter the circumstances. While many flowers are associated with love, sunflowers can be associated with both romantic and platonic love. More importantly, sunflowers stand for a deep connection that doesn't fade with time or hardship.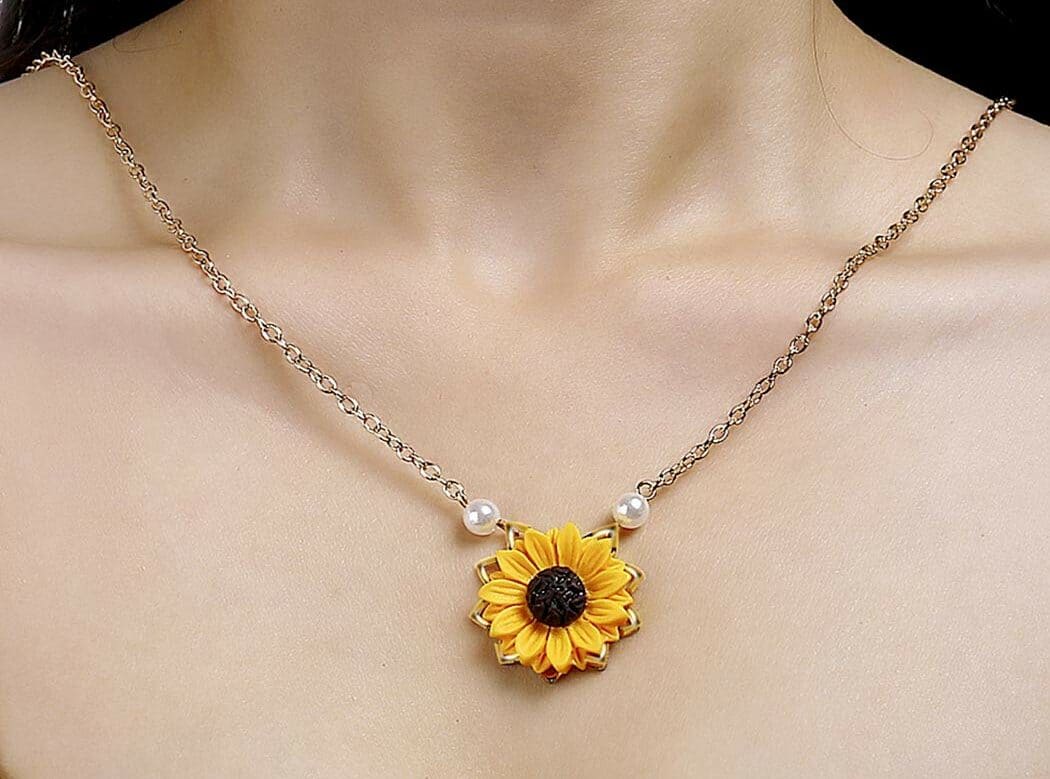 What does a sunflower mean spiritually?
Sunflowers are symbols of faith in several cultures. The faith is unwavering, strong, and also linked to yearning for enlightenment. This is likely due to the name and yellow and orange hues. The sunflower, of course, is connected to language about the sun. As such, sunflowers are seen as a source of light and a bridge to a higher power. 
What are other special meanings of sunflower?
Sunflowers are revered around the world. Depending on the culture, sunflowers can mean anything from strength and perseverance to loyalty. Sunflowers are a powerful symbol in Chinese culture, where they are used as a symbol of fortune and are often gifted for life milestones. The Ancient Greeks strongly associated sunflowers with Apollo, the God of the Sun. 
As such, wearing a sunflower necklace carries great symbolism– from good luck to strength, commitment, and connection with a higher power. 
How do I find the best sunflower necklaces?
Sunflower necklaces aren't that common– which means you'll have to do some searching. For the best variety of sunflower necklaces, you can start with fine jewelers but branch off to small stores and sellers on Etsy. Make sure the store has a history of positive reviews and information about the materials used to make sunflower necklaces. 
If you're concerned about durability and comfort, though, there are a few more steps that I recommend taking. 
What is the most comfortable necklace chain?
Most modern necklaces are relatively comfortable to wear, aside from skin sensitivity if you have a copper allergy. Chains with rounded curves, including beaded chains, sit comfortably against your skin. Popular necklace chains include trace, curb, snake, and box chains. These are fairly comfortable and also work well with sunflower pendants.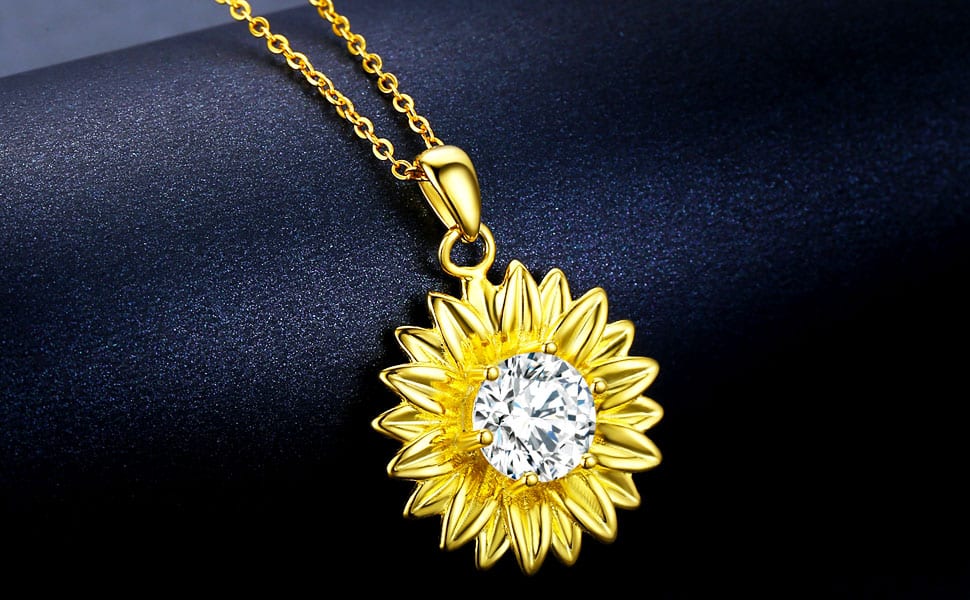 What is the best metal for a sunflower necklace used for everyday wear?
Looking for a sunflower necklace that you'll wear regularly? Then you may want to spend extra. Durability is largely dependent on the metal used. While sterling silver is suitable for everyday wear, it can tarnish and corrode and will do sooner when exposed to water or moisture. Some beaded necklaces, if made well, can last. But the most preferable is 10K to 18K gold, palladium, platinum, or stainless steel.
The higher the purity of gold, the softer it'll be– but most find the most amazing necklace in 14K to 18K gold, because 10K gold can appear quite dull. Stainless or surgical steel, if you can find it, is excellent for both durability and a budget-friendly price point. 
What is the most flattering sunflower necklace length?
The most flattering necklace length depends on your clothes and height. For women, aim for 14 inches to 42 inches. A 14-inch necklace fits snugly around the neck and is usually worn with v-necks and scoop necklaces, as well as layered with other necklaces. A 16-inch necklace is a choker, and an 18-inch necklace is known as a collar necklace. Both are highly versatile and can be worn on anyone, with anything. 
20 to 24-inch necklaces are my favorite for casual, everyday wear. These necklaces can also be worn for professional outfits. Meanwhile, longer necklaces are usually worn as statement necklaces and for evening looks. A necklace that exceeds 42 inches, on most, will be flattering when doubled up. This is a popular necklace length for lariat necklaces. 
Sunflower Necklaces: My Picks
For my sunflower necklace picks, I've focused on beautifully crafted designs. By narrowing my search based upon the reputation of the seller and precious metals or durable beads, these necklaces can be worn nearly every day. These sunflower necklaces range from boho-chic to a little glamorous, and all are sure to add a bright, inviting accent to your outfit.
Gemstone/ Diamond  Sunflower Necklaces
When I think of sunflowers, I think about the vibrant golden hues. These fine gemstone and diamond sunflower necklaces take that brilliance to a new level. From sparkling clear diamonds to enchanting hues, these necklaces make for a unique statement at an event. I also love combining the symbolism of sunflowers with amazing gemstones. Diamonds, for instance, symbolize unbreakable love, as well as endurance. All of these necklaces are beautifully crafted and feature genuine lab-grown or natural gemstones. 
Sunflower Diamond Pendant and Earrings Set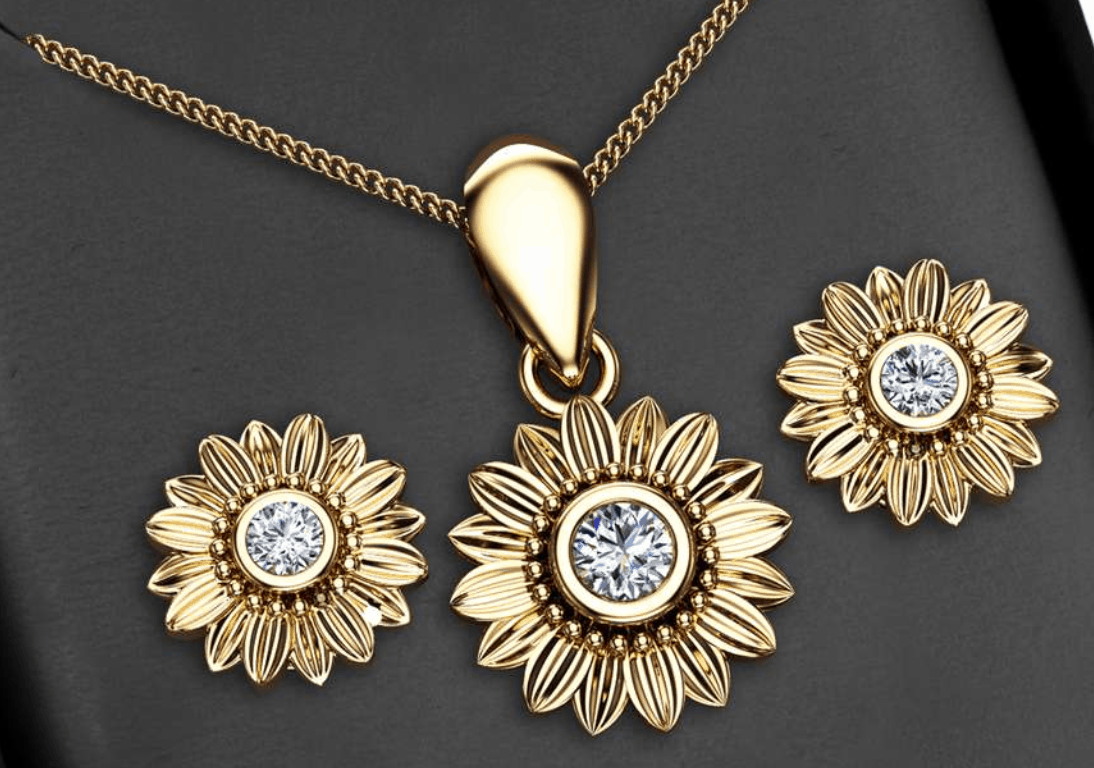 I'm starting with the most expensive idea on this list– but it's useful for inspiration if nothing else. This exquisite, modern sunflower necklace and earring set are priced at around $3,238. Meant as an anniversary gift, this set includes matching earrings and a pendant necklace, all crafted in 14K yellow gold. 0.25 carats of round diamonds add sparkle to the classic design. Buy Here.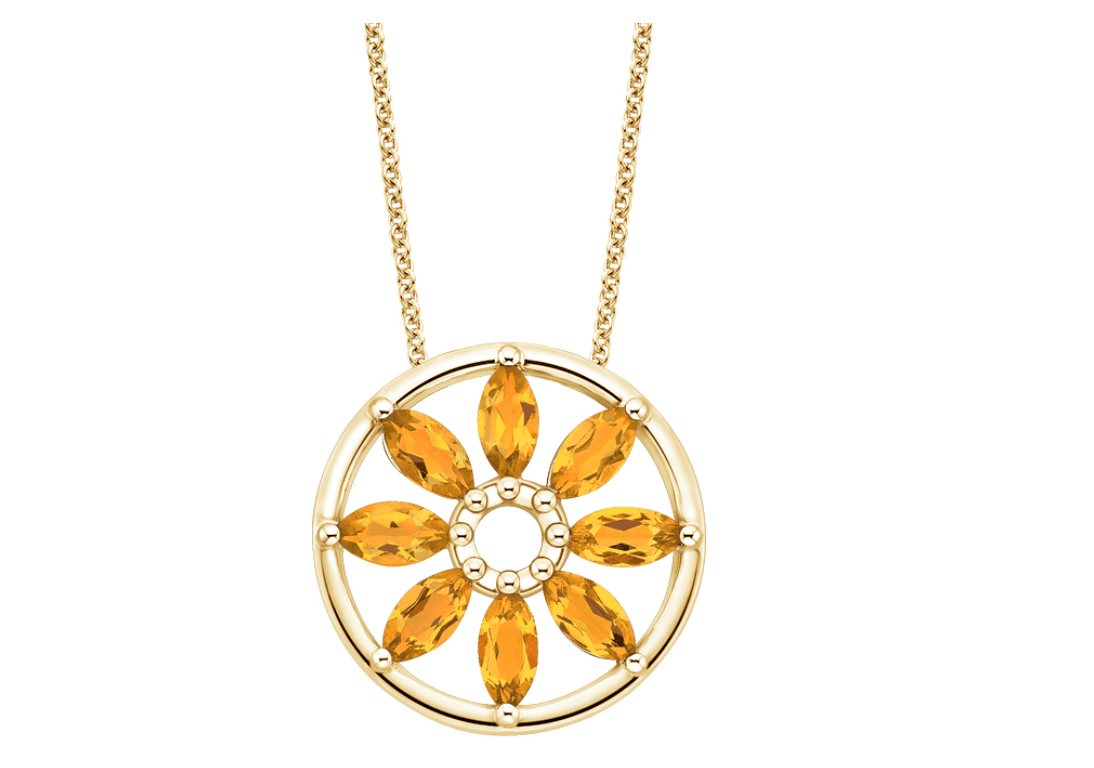 Citrine is an orange gemstone that symbolizes positivity and energy. It's sometimes used in Feng Shui. This brilliant orange hue accompanies a modern, minimalist take on a sunflower necklace. This ethically sourced, the sustainable necklace is crafted in 14K yellow gold (also available in sterling silver) and features an adjustable 16 to 18-inch chain. 8 marquise citrine stones are eye-clean for beautiful clarity and offer a brilliant range of yellow to medium orange hues. This elegant sunflower necklace is priced at $890. Buy Here.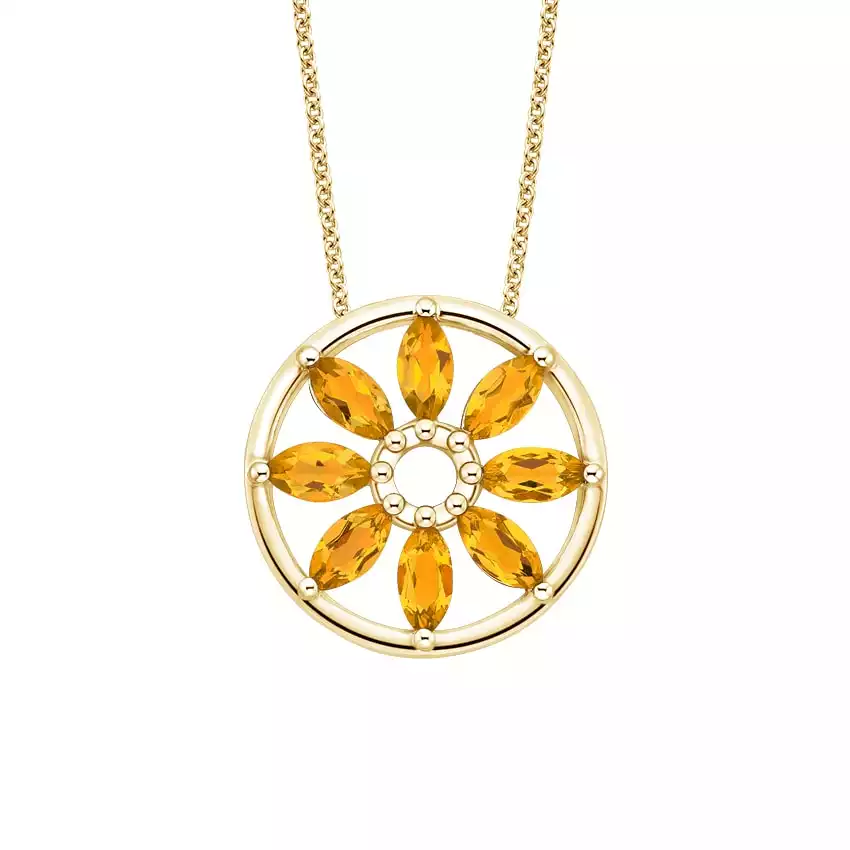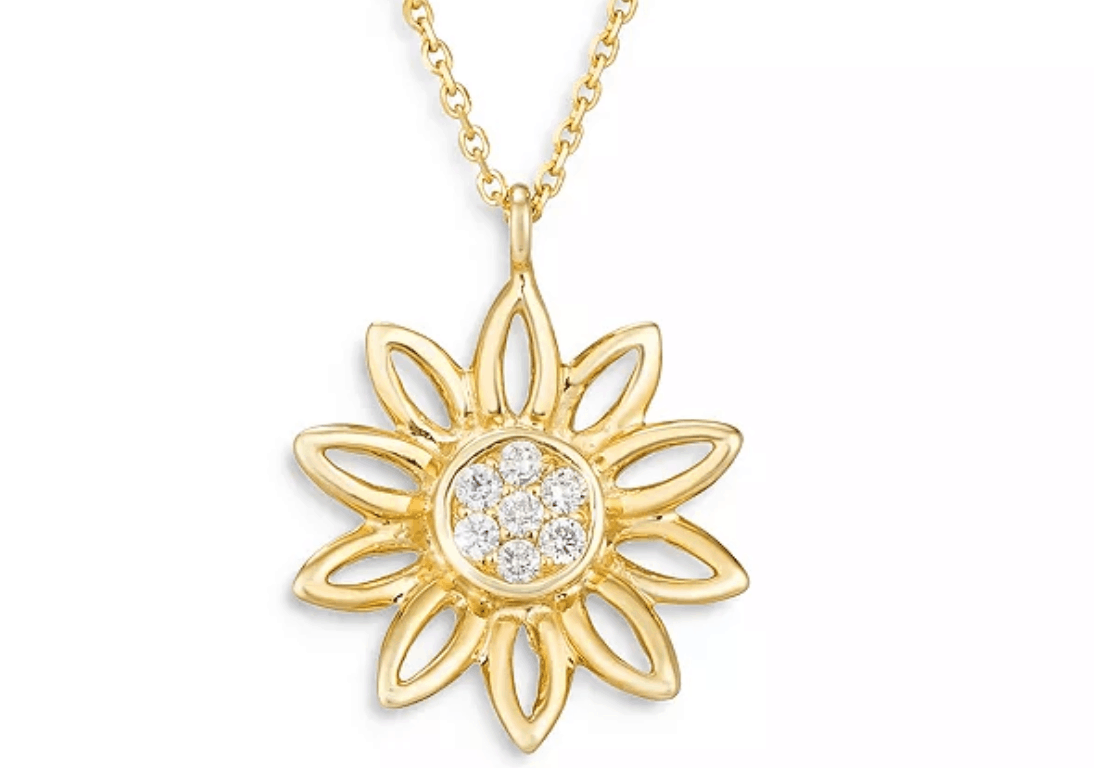 While I don't usually shop at Bloomingdale's in search of diamond necklaces, you're a little more limited for options when you're shopping for a sunflower design. The good news is that this necklace uses an acceptable diamond grade. The 0.10 carats of diamonds do have a very faint yellowish tint– but this complements the 14K yellow gold and is a way to honor the sunflower theme, without sacrificing too much on diamond quality. This necklace is exclusive to Bloomingdale's and offers a modern approach to a diamond necklace, with a spirited design. Priced at around $825; Buy Here.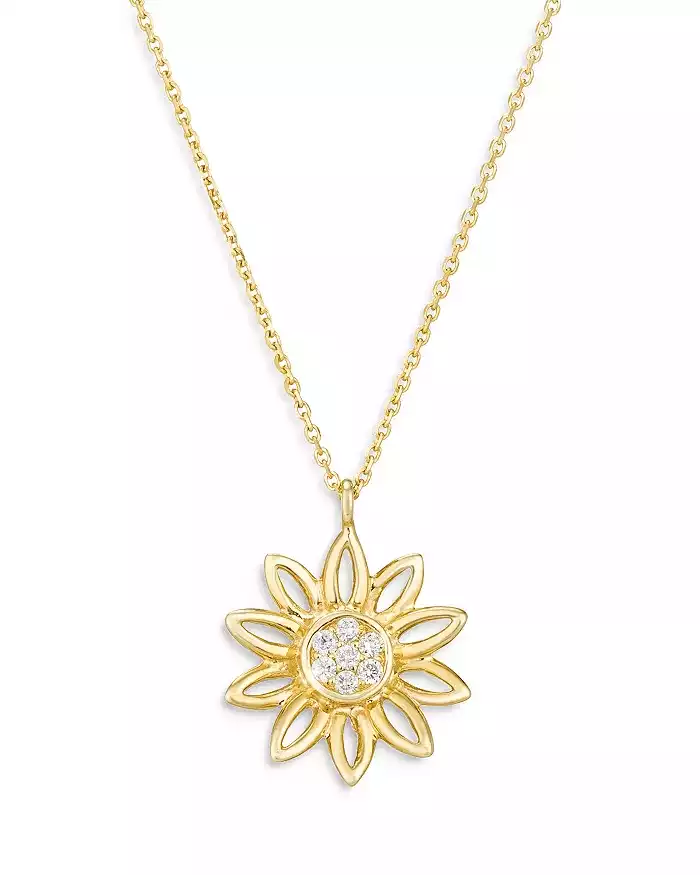 Diamond Sunflower Pendant Necklace | Bloomingdales
A pretty sunflower pendant with open petals and a center of diamonds. Almost all gemstones and blue and black diamonds have been treated to enhance their beauty and require special care.
Check Price
We earn a commission if you make a purchase, at no additional cost to you.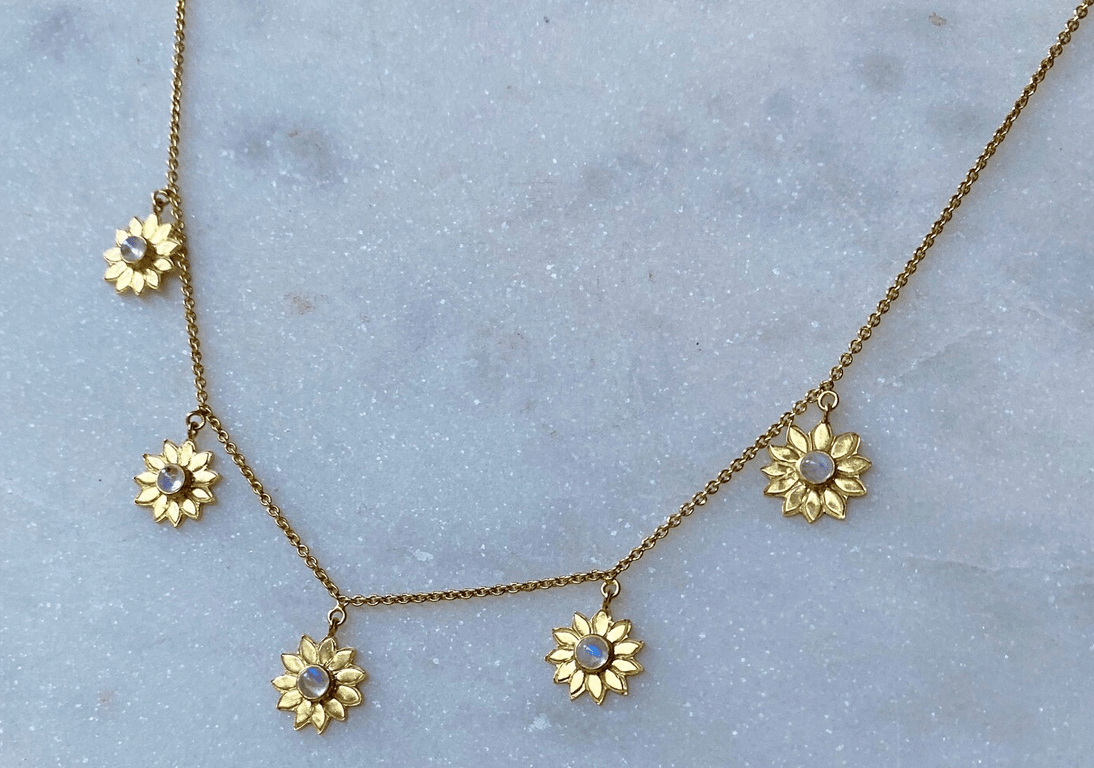 This more affordable sunflower necklace is priced at around $123. The handmade choker necklace is made out of 14K gold vermeil. While this is a type of gold plating, it differs in that the metal is thicker, and vermeil, when kept out of the water, can last for years longer than typical gold plating. The boho design features a delicate chain, with quaint sunflower charms. Moonstone gems at the center add a double meaning. Moonstones are said to 'harvest the power of the moon.' Thus, this necklace combines both moon and sun themes subtly. Buy Here.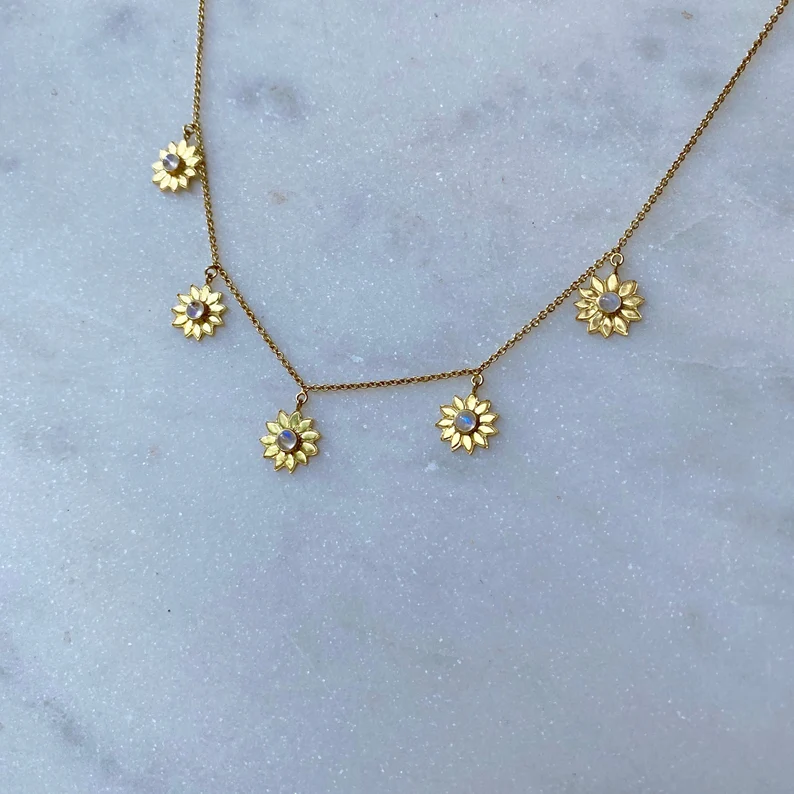 Gold Sunflower Necklace | Etsy
Radiate sunshine with this delicate and dreamy necklace. On a fine silver 35cm chain fall 5 beautiful sunflowers with moonstone centers.
Check Price
We earn a commission if you make a purchase, at no additional cost to you.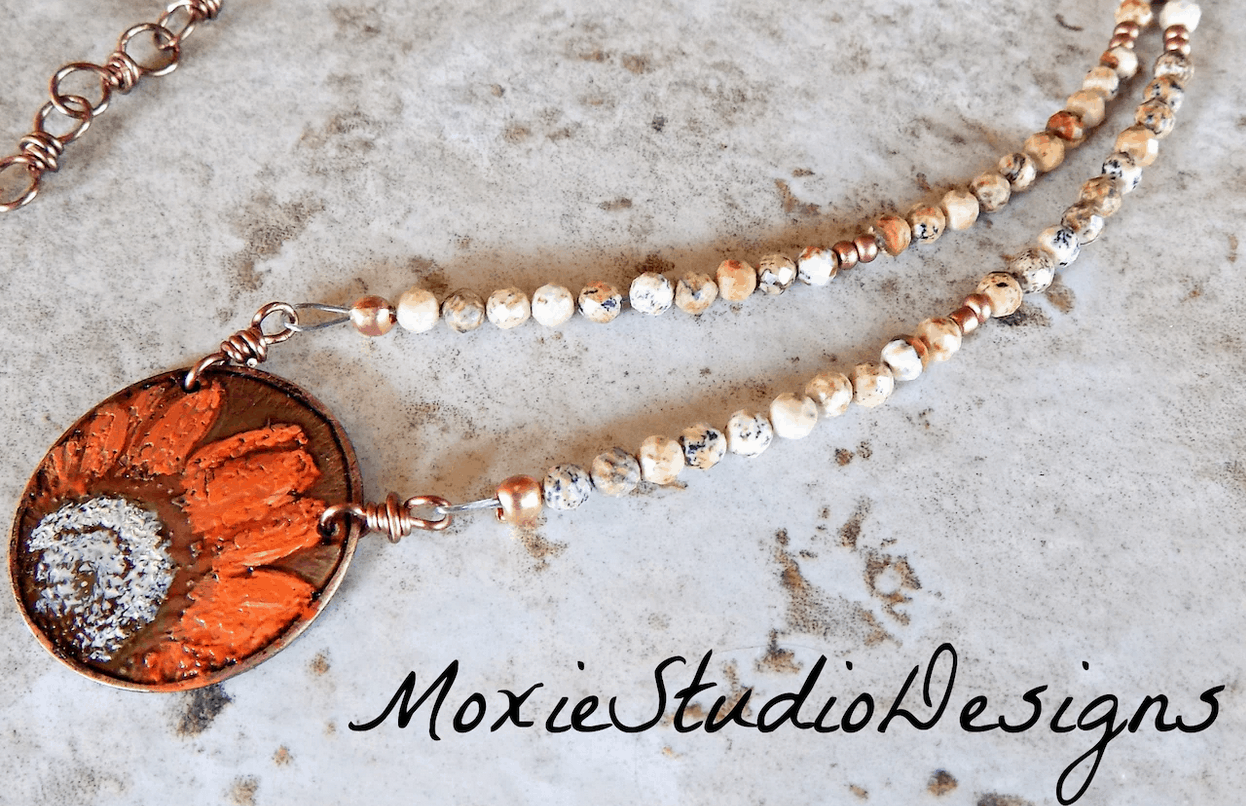 If you're looking for a sunflower necklace under $50 that's of respectable quality, here it is. Priced at just around $43.50, this handmade, beaded necklace is boho, playful, and makes a great gift. With over 5,000 sales under their belt and an average rating of 4.9 out of 5 stars, this independent Etsy seller offers a simple, earth-tones sunflower necklace. The sunflower design is crafted on jasper, which is thought of as a nurturing stone. It's used by some to alleviate stress. While jasper is not as hard as some stones (7 hardness rating) it isn't easily scratched by everyday wear. Buy Here.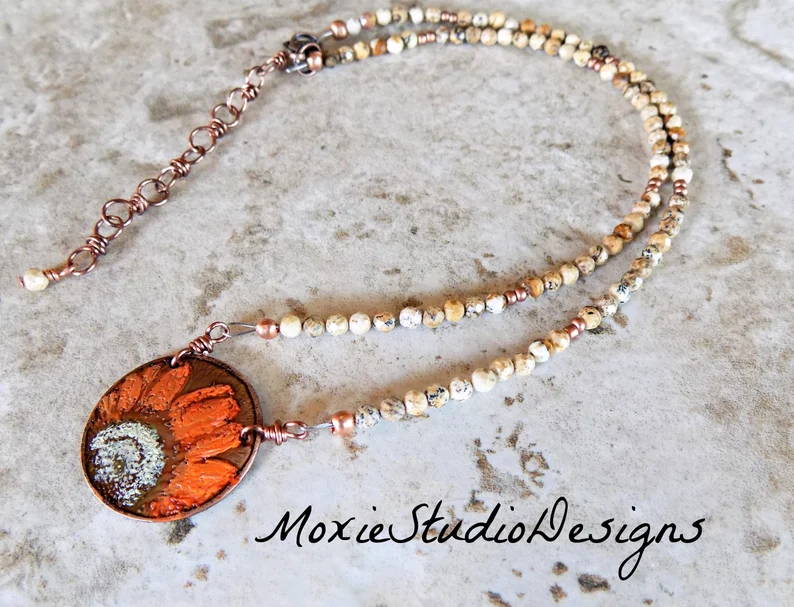 Plain Gold Sunflower Necklaces
Don't underestimate a solid (14K to 18K) gold necklace. These gorgeous sunflower necklaces will brighten your day, with detailed craftsmanship. Durable enough to be worn every day, these modern and classic necklaces exude warmth and can be worn with casual outfits. A little more versatile than a gemstone sunflower necklace, a plain necklace can easily be layered with other necklaces or paired with a fine chain bracelet. I did also include a few necklaces with cubic zirconia. CZ is not considered a fine gemstone, but it is durable and adds a little sparkle (rainbow-hued) to gold necklaces.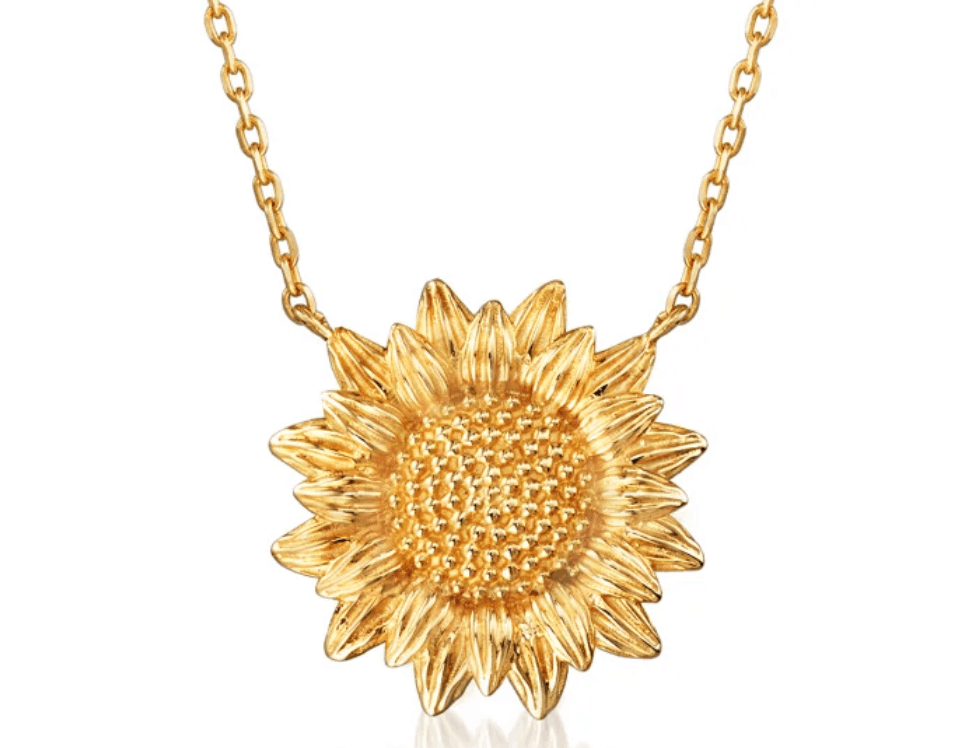 Ross Simmons is a respected jewelry designer in the diamond and gemstone industry. They usually offer contemporary designs, with a classic touch– and often, at a reduced price. This sunflower necklace is currently on sale for around $319 and is about as classic as you get. Crafted in 14K yellow gold, the pendant pairs textures with a polished finish, set on a cable chain.  Buy Here.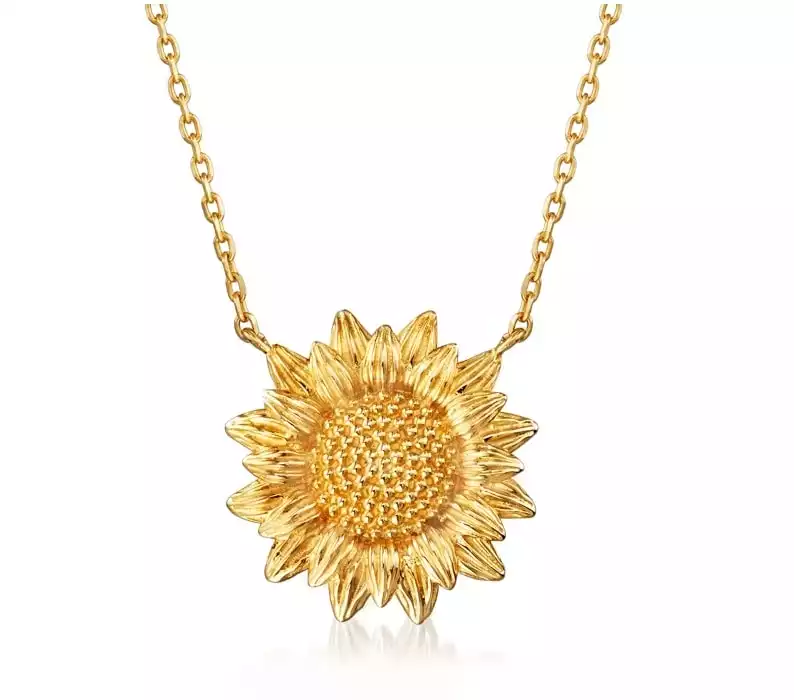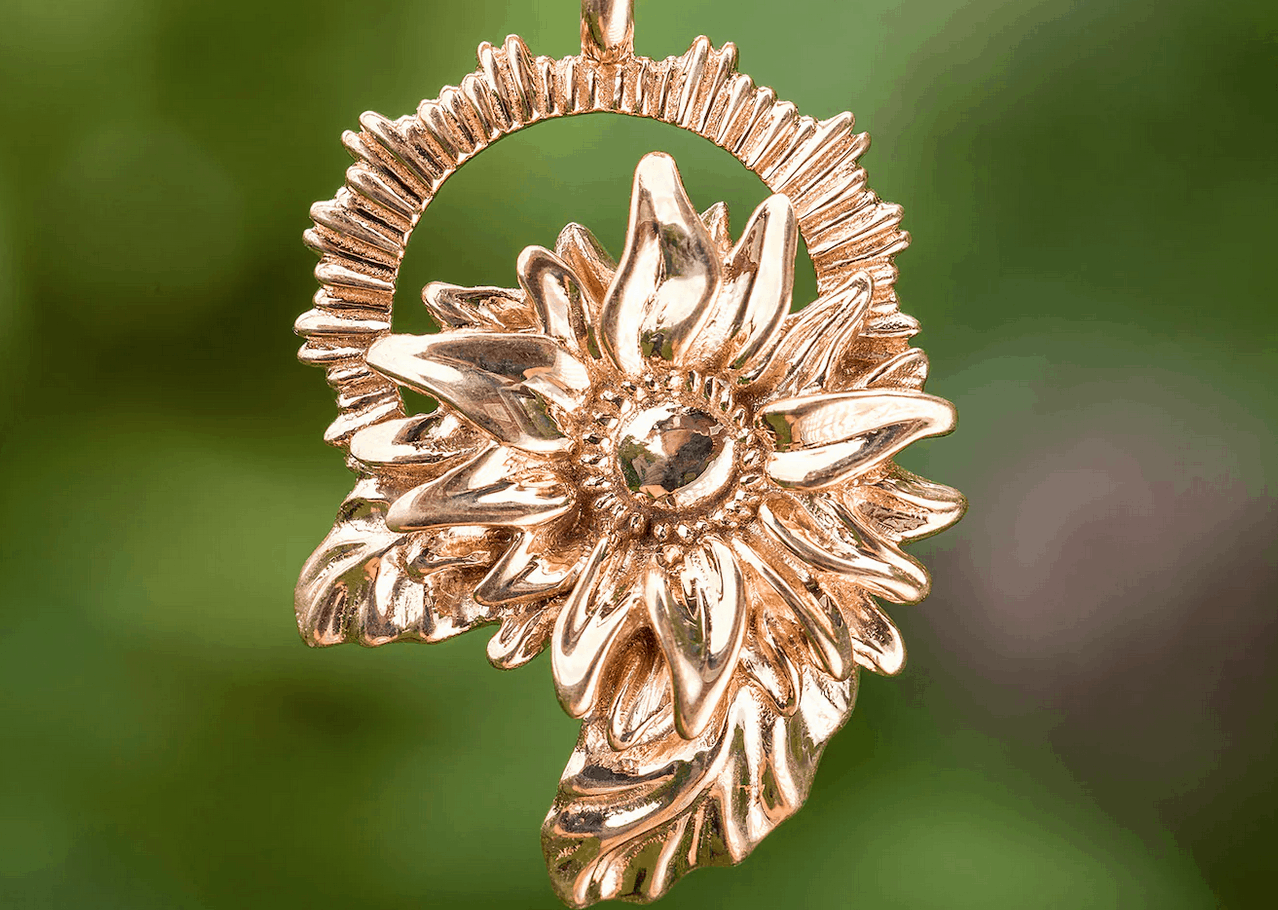 This pendant can be paired with a typical box or cable chain. This amazing and unique pendant is crafted in your choice of metal. Choose from 14K gold or (yellow, white, rose),  18K yellow gold, platinum, or polished brass, bronze, or silver. Made with 3D technology, the design includes stunning details and textures, and an artistic quality that's hard to find. Made to order and priced from $64.99 to $1,572. Buy Here.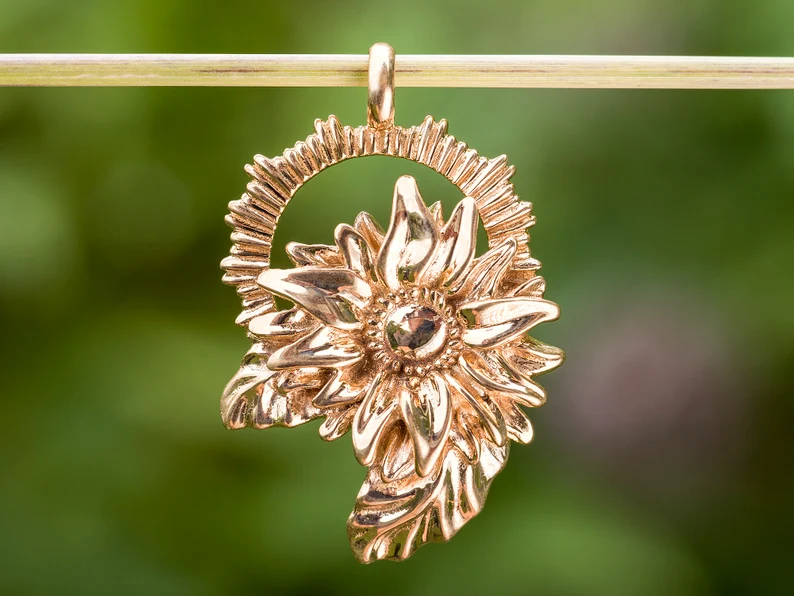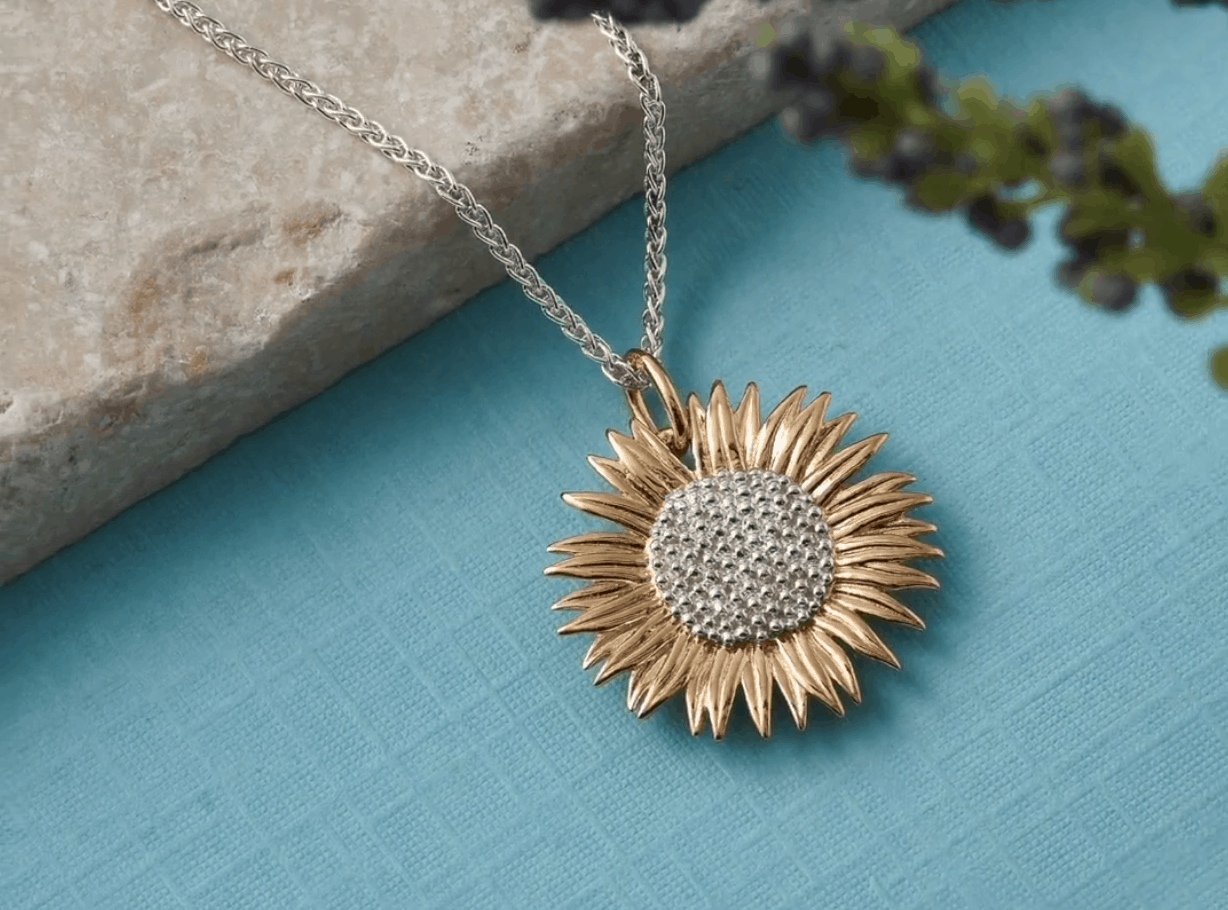 This sunflower necklace is beautiful, dainty, and makes for an amazing gift. Gold vermeil is plated over silver for a more affordable price. The delicate chain is dainty and perfect for carrying the detailed sunflower pendant. This handmade necklace is made to order and priced at around $244. Buy Here.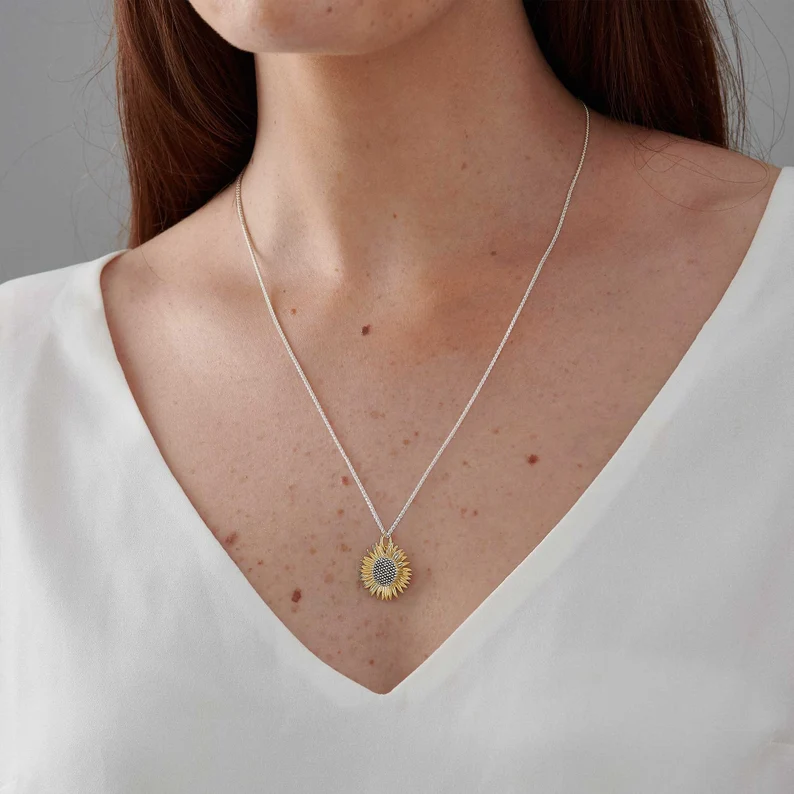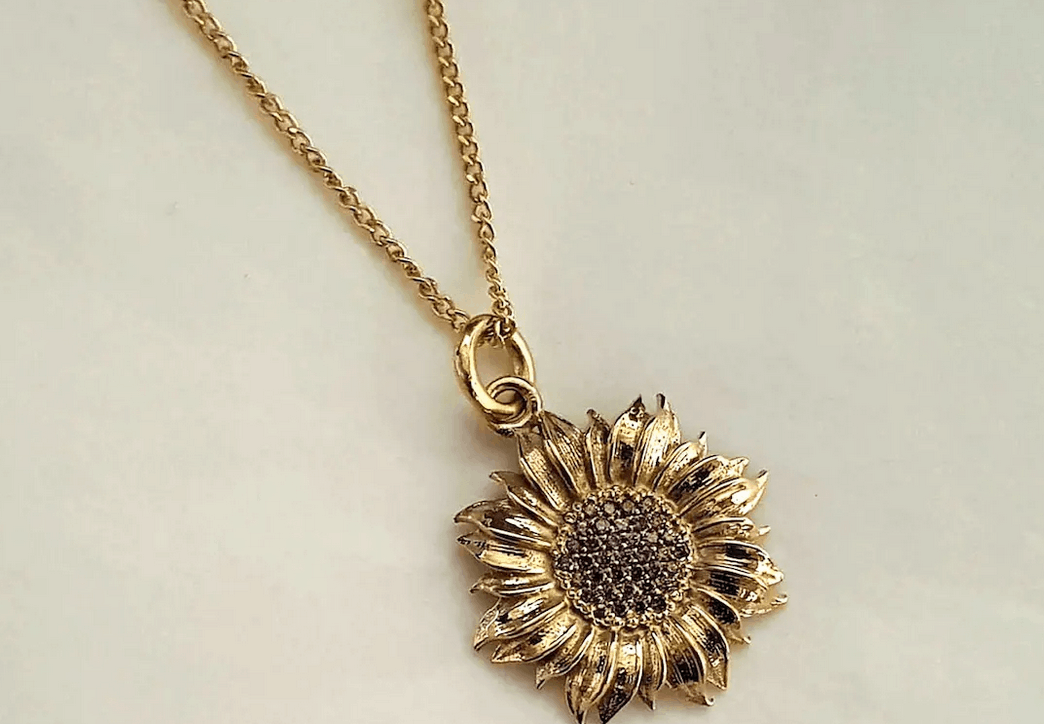 This larger-sized pendant has a vintage appeal. The handmade sunflower pendant is crafted in your choice of 14K or 18K yellow gold. Subtle details capture the essence of a sunflower that never dies. Technically, this is not a plain gold necklace– tiny cubic zirconia stones add just a touch of sparkle. You have the option to buy the pendant alone, or as a necklace. Priced from $336 to $979: Buy Here.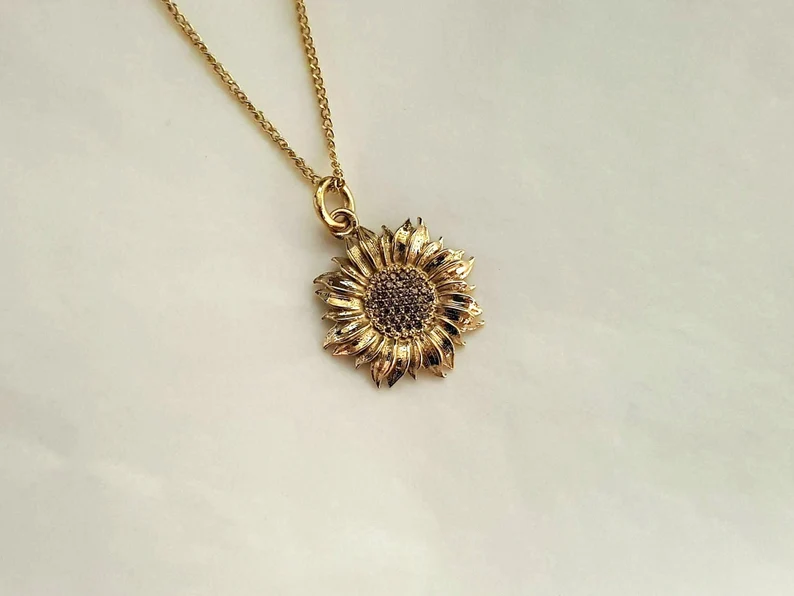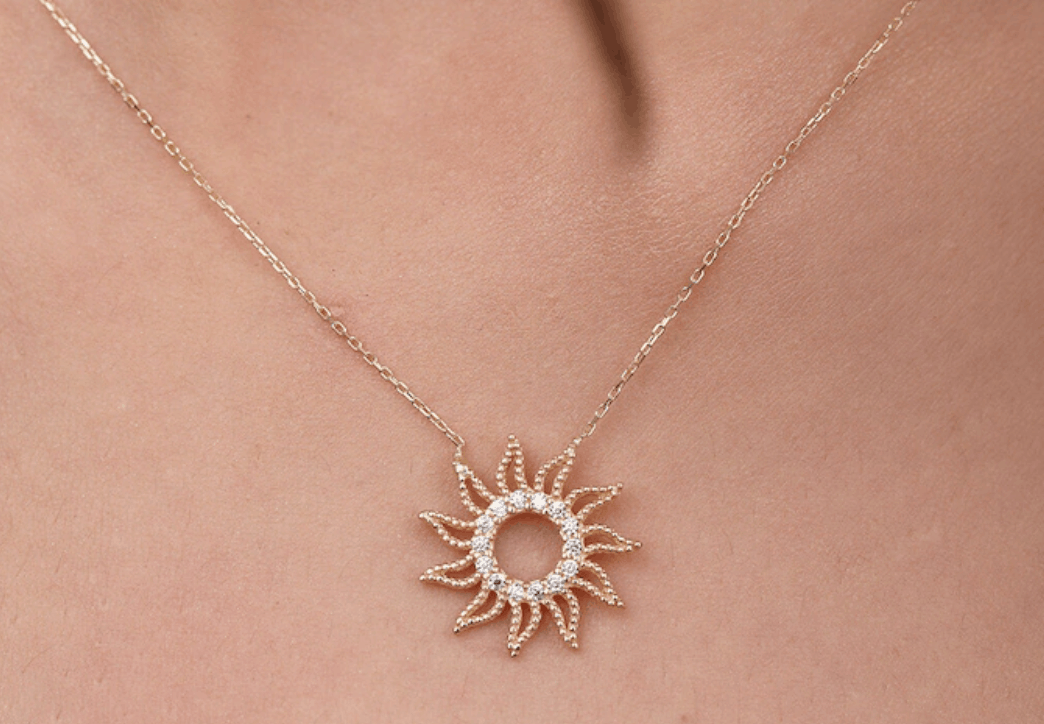 This sunflower necklace features a minimalist style with sparkle from cubic zirconia. Is it sun, or a sunflower? This necklace combines the two for an alluring, beautiful design that can be worn daily and even with formal occasions. Crafted in 14K yellow, rose, or white gold, the inner circle is accented with cubic zirconia stones. Priced from $230 to $234; Buy Here.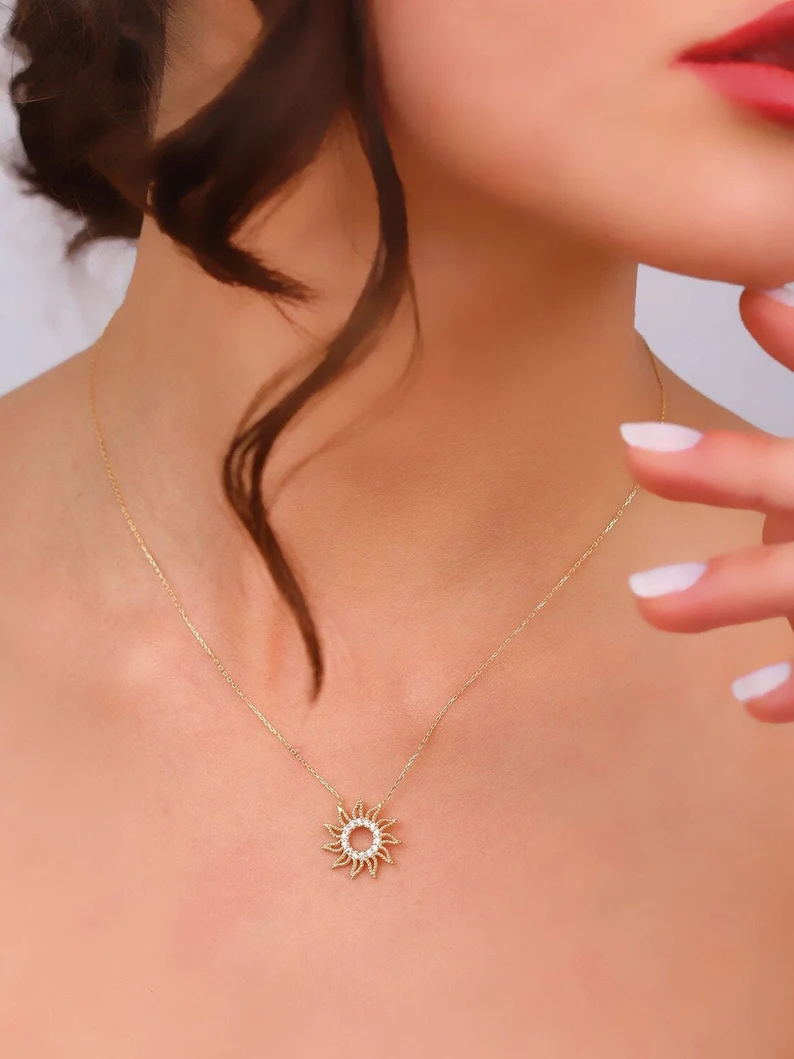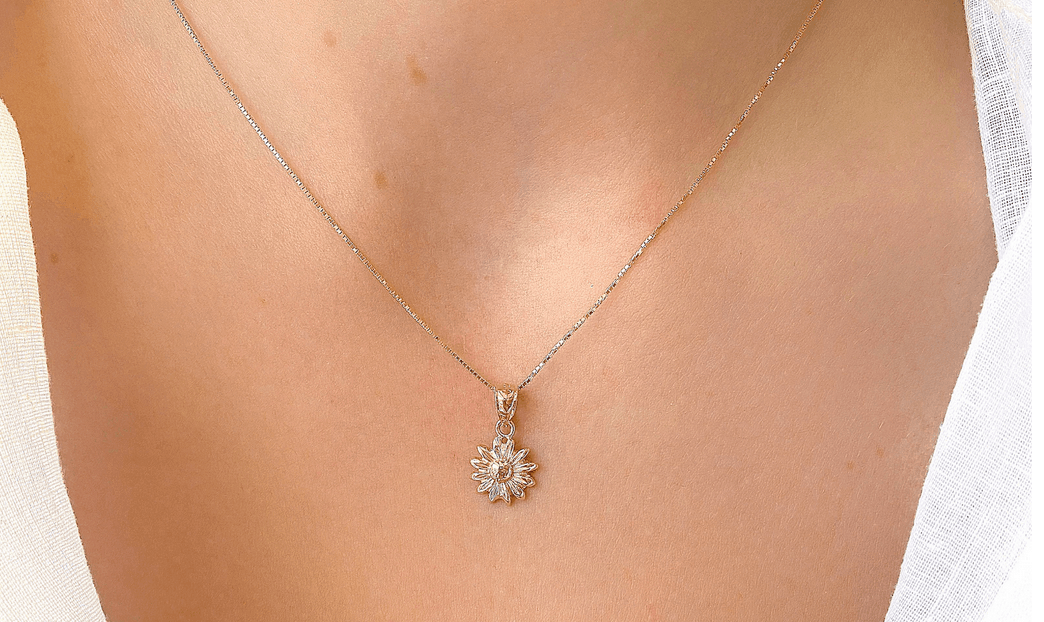 I love this sunflower pendant for several reasons. For one, it's more affordable than some– priced at around $110. For another, it's handmade and a dainty style that's versatile for about anything you wear. Crafted in 14K yellow gold, the small charm is an ideal style if you like the idea of a sunflower necklace but aren't looking for a loud statement. That said, the price does only include the pendant. You can pay an extra $120 for a chain, or you could buy a lower-priced chain (such as gold vermeil). Buy Here.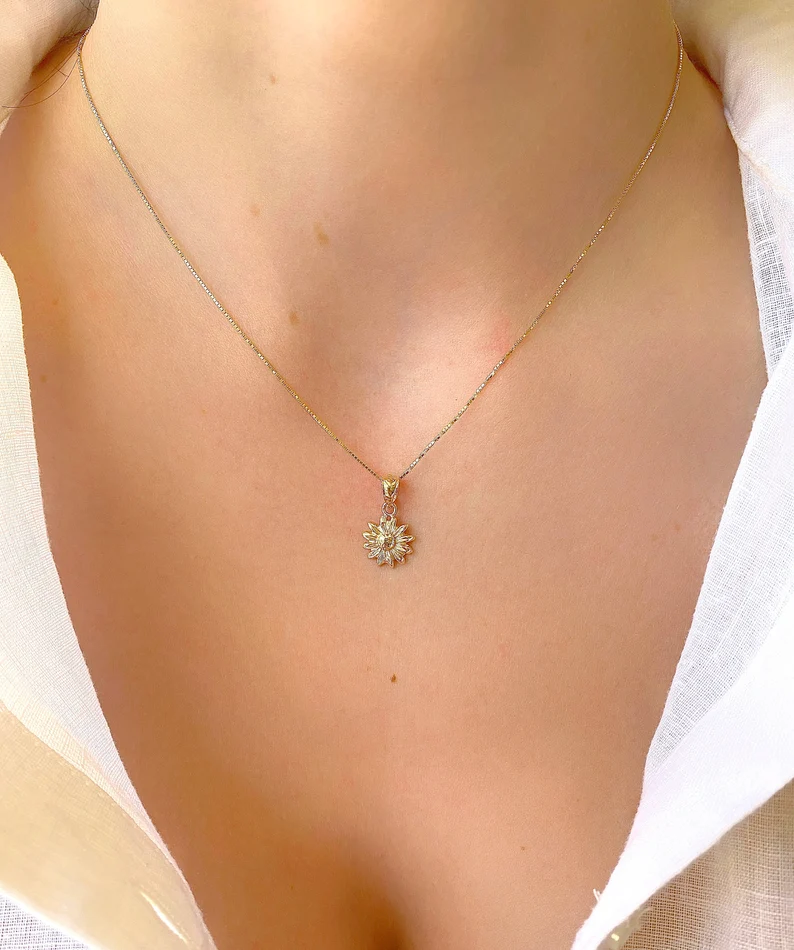 Frequently Asked Questions
Question: Who can wear a Sunflower lanyard?
Answer: Sunflower lanyards are not the same as your typical sunflower necklace. A sunflower lanyard has become a symbol for someone who belongs in the disabilities community. While not strictly defined, disabilities included are anxiety, chronic pain, dementia, hearing loss, epilepsy, ADHD, Crohn's, learning disabilities, diabetes, and others. The lanyard is usually worn by those who have a disability that impacts their life but isn't immediately obvious. 
Question: How do I get a sunflower lanyard?
Answer: Your best option to get a sunflower lanyard in the United States is to shop online. I've also seen them at craft shows. Amazon, Etsy, and Walmart all carry sunflower lanyards online. They're usually priced under $10 per lanyard, or you get to buy a set of sunflower lanyards. 
Question: What does a flower necklace symbolize?
Answer: The exact symbolism depends on the flower in question. All flowers carry unique symbolic meanings. But flower-themed necklaces are often associated with love, commitment, and strength. Sometimes, they are associated with good luck, connection with nature, or even connection with a higher power. 
Question: What does a rose necklace symbolize?
Answer: A rose necklace is most often seen as a symbol of romantic love. However, rose necklaces can also symbolize sacrifice and even death– or honoring the memory of a loved one. As such, a rose necklace is a powerful symbol, one which does vary from culture to culture. If colored, the hue also changes the meaning, as is the case with rose flowers. Yellow usually is associated with friendship or a platonic bond. 
Final Thoughts
I've recommended what I feel are some of the most amazing, durable sunflower necklaces. Of course, my search criteria were fairly strict. 
If you like some of my ideas, or want more, at a different price point, you can find playful fabric, glass, and silver necklaces through the Etsy Sunflower Necklace Collection–Shop Here. And of course, I recommend comparison shopping. You may even find sunflower necklaces at in-person art or craft shows. The beauty of sunflower necklaces is that there are amazing designs– from minimalist to bolder–and you can find a necklace that suits you. 

Further Read: