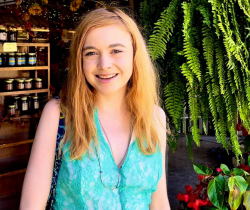 Latest posts by Erin Jamieson
(see all)
From unique Moldavite necklaces to passionate red Garnet necklaces, there's no shortage of ways to style your look. But one of the most classic ideas– and now one of the biggest trends for 2022– is tennis necklaces.
A diamond tennis chain has long been associated with luxury events, but now how to wear a diamond tennis necklace is changing. While they naturally pair beautifully with formal wear, the new trend is to wear tennis necklaces with t-shirts and just about anything else you like.
Crisp white t-shirts, plain tops, and jeans are changing how tennis chain necklaces are being worn– challenging the seemingly strict distinction between formal and casual outfits. Crystal tennis necklaces are also trending, as a popular option that slashes the cost of a glitzy tennis necklace look.
But popular as they are becoming, is this trend for you? And how exactly do you select the best tennis chain for your own lifestyle?
Consider this your guide to tennis necklace ideas. I'll explain what you need to know about tennis necklaces, how to choose a tennis necklace, and my picks for the best tennis necklaces you can buy online.
| Product Image | | Primary Button |
| --- | --- | --- |
| | | |
| | | |
| | | |

What is a Tennis Necklace?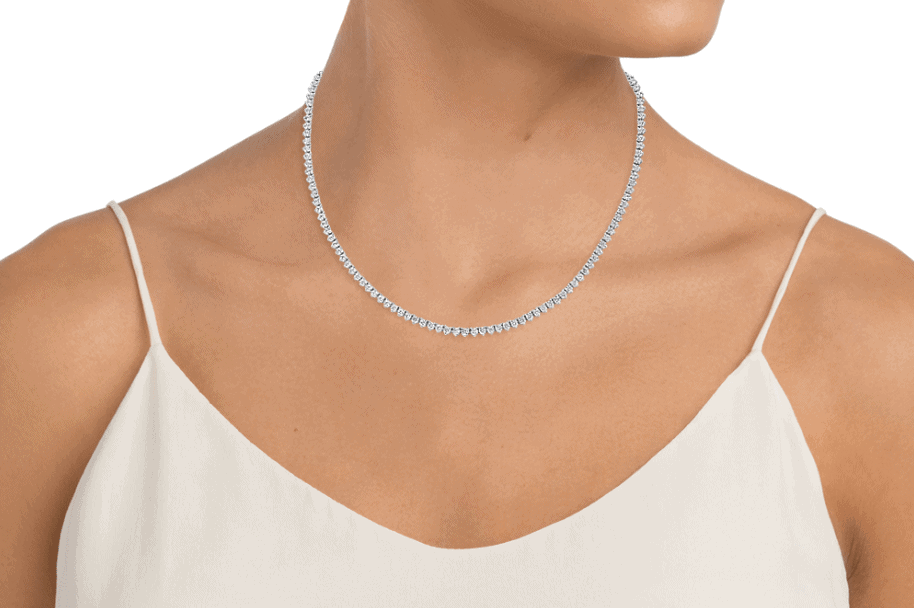 A tennis necklace is a seemingly timeless and classic type of necklace that was once seen as exclusive to formal events and is enjoying more mainstream popularity. A tennis necklace consists of a strand of continuous gemstones from the front to the back. The idea is that it's a necklace focused on glamour and glitz.
Formerly, tennis necklaces tended to mean only diamond chain necklaces, though this is no longer the case. Diamonds are still common, but almost as common now are cubic zirconia crystals, which still have the appeal of scintillation and a clear look that complements most outfits. Gemstones can vary in shape and size, but with tennis chain necklaces, they are almost always uniform along the neckline. The most common lengths are between 16 and 18 inches, though a few can be converted into choker necklaces.
Why is it called a tennis necklace?
You may wonder why it's even called a tennis necklace. While you won't catch many tennis players donning a diamond-studded necklace, the name does in fact come from tennis. During the 1987 US Open, tennic player Chris Evert was wearing a diamond bracelet during a heated match. She refused to complete the match until she located her bracelet.
While she did find it, it was broken. Evert explained that the bracelet was important to her, and something she wore when playing, calling it her tennis bracelet. From there, the name spread, and in fact, other tennis players started wearing diamond tennis bracelets. Eventually, tennis necklaces were made not so much for tennis players, but to match the trend and hype around tennis bracelets.
Is a tennis necklace right for me?
A tennis necklace is no doubt a beautiful option. Scintillation, a timeless and classic look, and elegance exude from this necklace type. A tennis necklace adds that touch of undeniably glamour but even looks great for taking a casual look from day to evening.
That said, there are certain things about tennis necklaces that you should know before deciding whether this necklace type is right for you.
How much is a real tennis necklace?
First, it's important to clarify what you mean by real. A real tennis necklace is up to your own definition. There is undeniable beauty and worth to a diamond tennis necklace, but that doesn't mean you should discount cubic zirconia or other gemstone options if you are on a budget. The most important thing is that you're buying from a reputable seller, who makes it clear what they are selling.
A diamond tennis necklace costs anywhere from around $1,500 to hundreds of thousands of dollars. The price depends on the diamond clarity, cut, color, and overall carat. It is most common to see diamond tennis necklaces for a few to several thousand dollars.
Cubic zirconia or other gemstone tennis necklace, on the other hand, has a starting point of $150 to $200, through several thousand dollars. Cubic zirconia is among the most affordable and common alternatives to a diamond tennis necklace.
Can you wear a tennis necklace every day?
Technically, you can wear a tennis necklace every day. If it's a diamond tennis necklace, and if it's crafted properly and set on a durable precious metal, it should hold up with daily wear. Do keep in mind that fine jewelry is quite valuable, though, and for everyday wear, it may actually be better to go for a less precious option. It's a matter of personal preference.
How do I Choose a Tennis Necklace?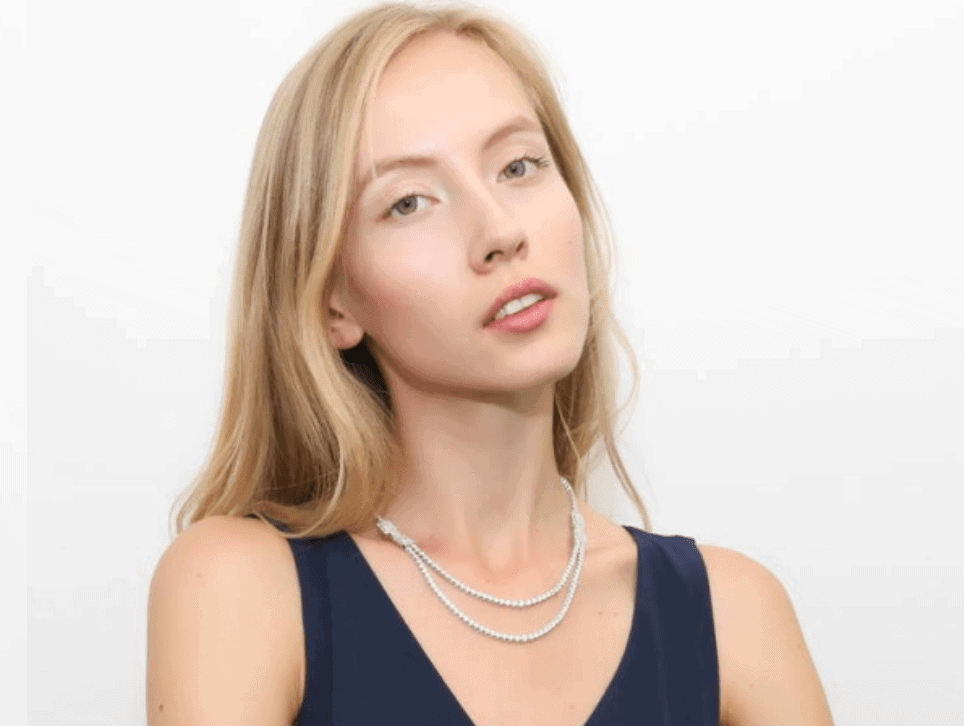 Choosing a tennis necklace means understanding what you're buying– and being purposeful in your selection. While there is no one right way to decide on a tennis necklace, here are some factors you should consider.
Diamond Necklaces vs Gemstone Necklaces
The first decision you'll be faced with is what kind of tennis necklace you should buy. With any choice you make, pay attention to clarity and color. This directly impacts the degree of brilliance you'll see for diamonds in particular. Any diamond tennis necklace should have information about the diamonds themselves.
Diamond Tennis Necklaces
Diamond necklaces are obviously the most valuable. They tend to be the most durable as well, and, of course, the most expensive. There's true beauty in a diamond tennis necklace, whether that means natural diamonds or lab grown diamonds. Lab grown diamonds are most common, as they are uniform, whereas natural diamonds have inclusions.
Cubic Zirconia and Other Gemstone Tennis Necklaces
Cubic Zirconia and other gemstones are no doubt more affordable than diamonds, and, of course, not as valuable. Cubic Zirconia has a great degree of brilliance, but the scintillation is multicolored vs the clear brilliance of the best diamonds. CZ has a Mohs hardness of 8 to 8.5 and is more prone to scratches, but still considered fairly durable.
As a rule of thumb, for something you plan to wear more regularly, aim for a gemstone with a hardness rating of no lower than 7 or 7.5, preferably 8 and above. And also make sure that you aren't buying CZ trying to be passed off as diamonds.
Metal Type
The metal type also plays a role in the durability and beauty of your tennis necklace. For durable metal, I recommend classic options, like solid gold (preferably not lower than 12K, with 14K and up being ideal); hypoallergenic options like surgical stainless steel; or palladium.
Sterling silver can be a beautiful option, but you'll have to be more careful. Sterling silver can corrode over time or when exposed to harsh conditions.
Company and Price
Finally, you'll need to consider both who is selling the tennis necklace and for what price. Opt only for a secure site, a company that has some history of sales, and listings that provide adequate information about your purchase.
Tennis Necklaces: My Picks
From cubic zirconia to precious diamonds and even some colorful gemstones, here are my picks for tennis necklaces. I've included a range of price points, so whether you have under $1,000 to spend or much above that, you can find jewelry to match your occasion and needs.
Cubic Zirconia Tennis Necklace
Cubic zirconia is a beautiful but far more affordable option than diamond tennis necklaces. Much less valuable, it still offers a touch of glamour to any outfit– and arguably it may be more suited to pair with jeans and simple outfits. It isn't quite as durable and can become cloudy over time– all things you'll need to consider. Still, it can be a suitable option depending on what you're looking for in a tennis necklace.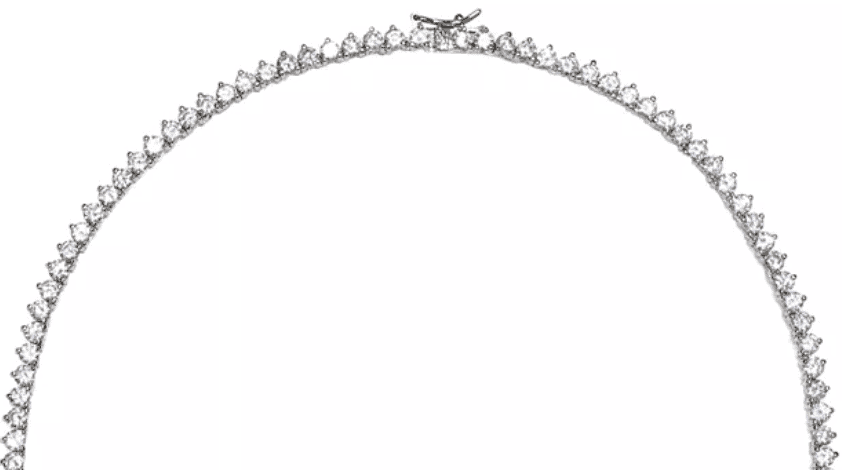 Priced at under $450, or just over $300 with a special offer, this CZ necklace featured a 16-inch sterling silver chain and a box lock closure. It's a simple statement with just a touch of brilliance and would pair well with a pair of jeans. Buy Here.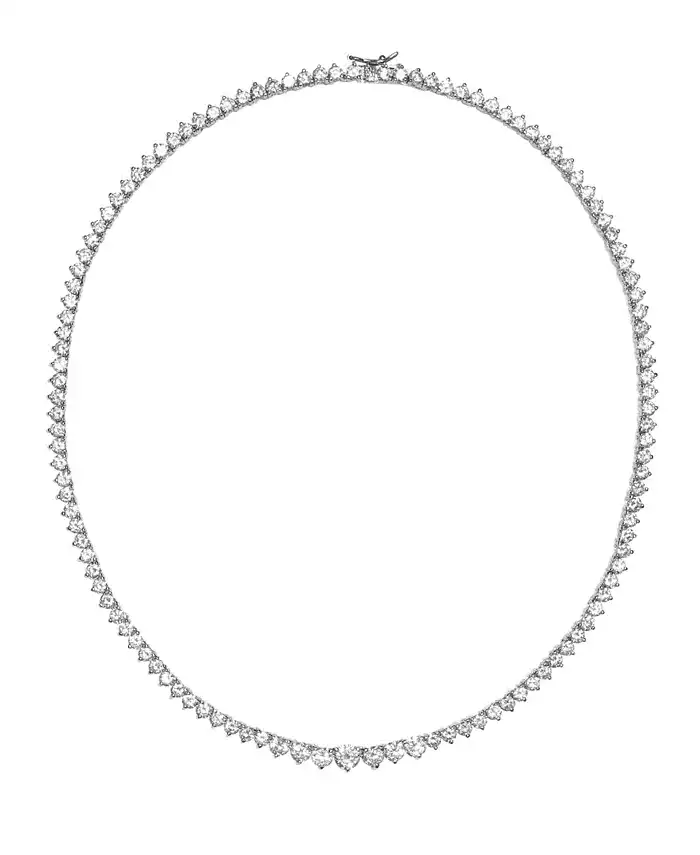 Halo CZ Tennis Necklace in Sterling Silver- Rogers & Holland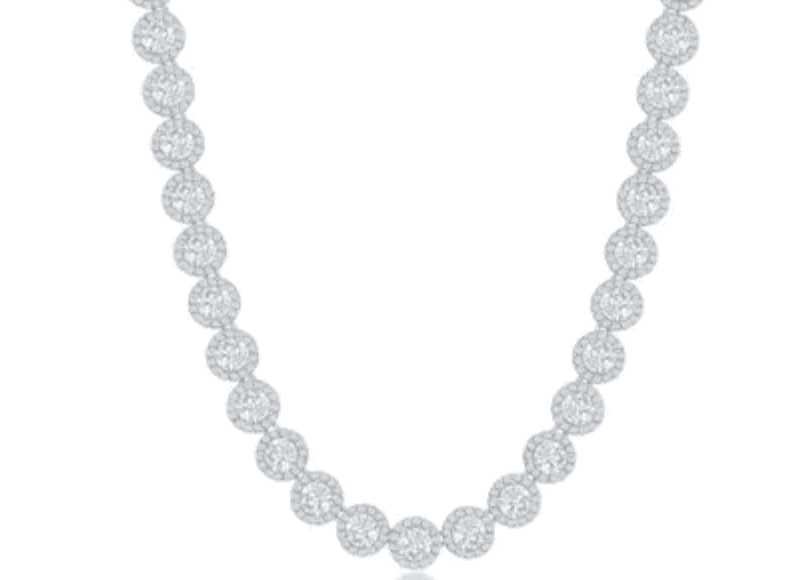 Priced at $350, this beautiful CZ tennis necklace features a halo cut set on polished sterling silver. There's something especially elegant and eye-catching about this tennis necklace, from the polish to the unique cut style. Buy Here.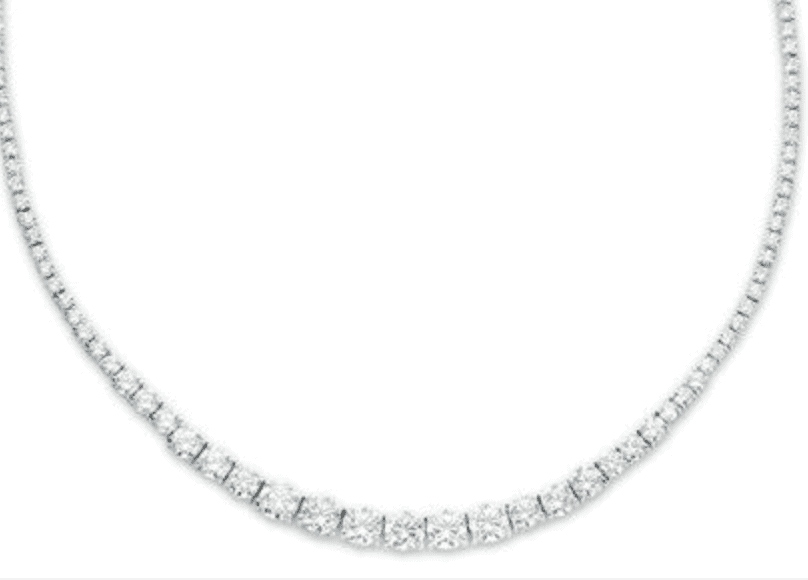 This versatile CZ tennis necklace works when you're looking for something to elevate a casual outfit or for a more formal occasion. Priced at just $230, it's also one of the most affordable options. Graduating CZ covers an 18-inch sterling silver chain, secured by a groove clasp. Buy Here.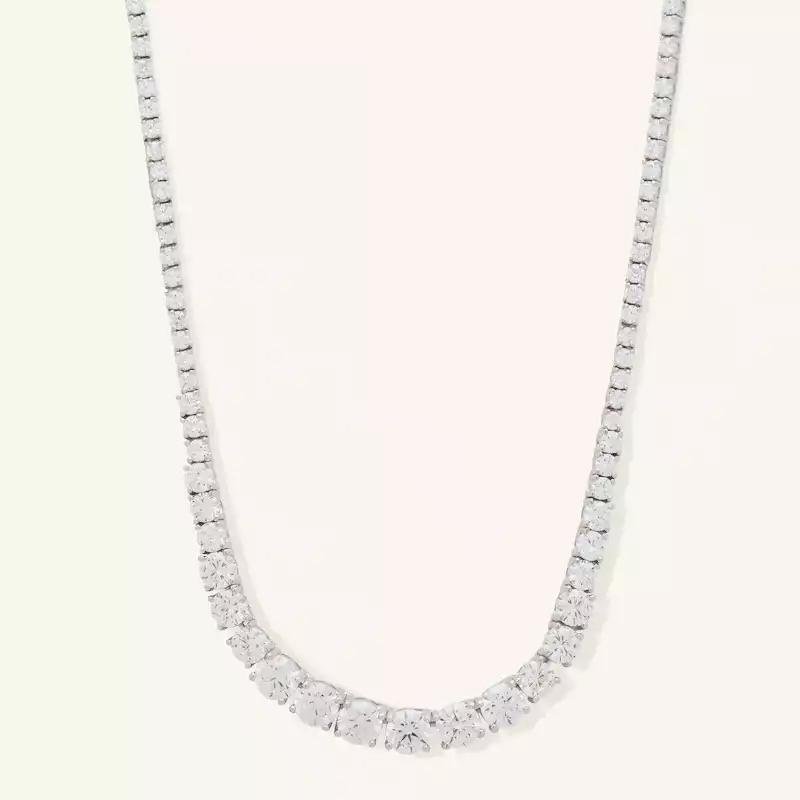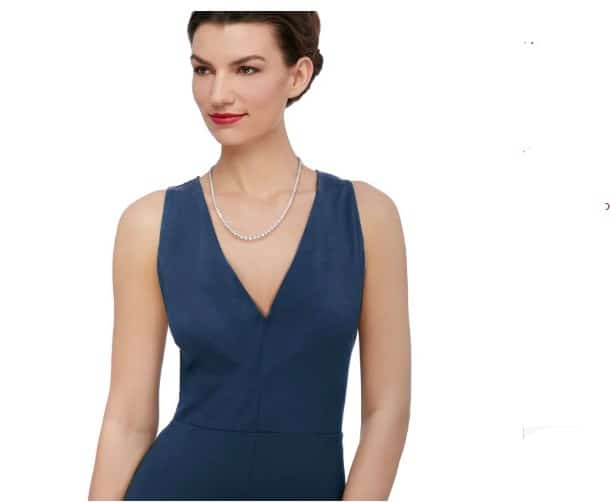 This is perhaps my favorite pick for a CZ tennis necklace. Priced at just under $220, this beautiful necklace offers special brilliance. 22 carats of round brilliant cut stones make this a stand-out. Buy Here.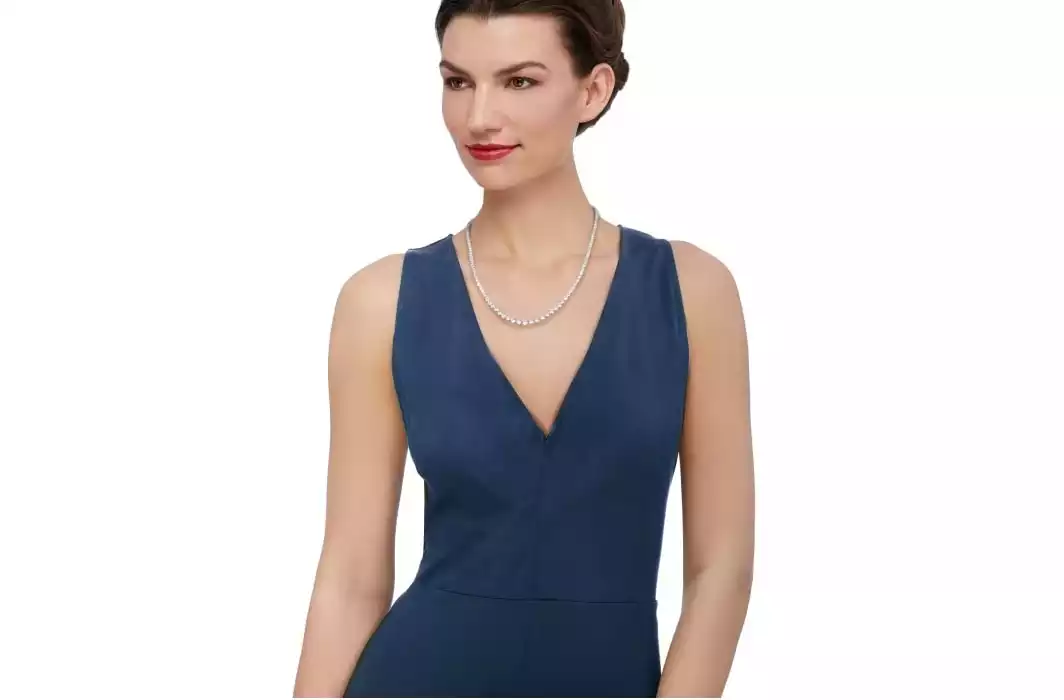 Graduated CZ Tennis Necklace | Ross-Simons
Light up the night with this glittering trail. Set to shine in sterling silver, this tennis necklace showcases a grand 22.00 ct. t.w. of graduated, round brilliant-cut CZs. Box clasp, CZ tennis necklace.
Check Price
We earn a commission if you make a purchase, at no additional cost to you.

Simple Tennis Necklace- Adinas Jewels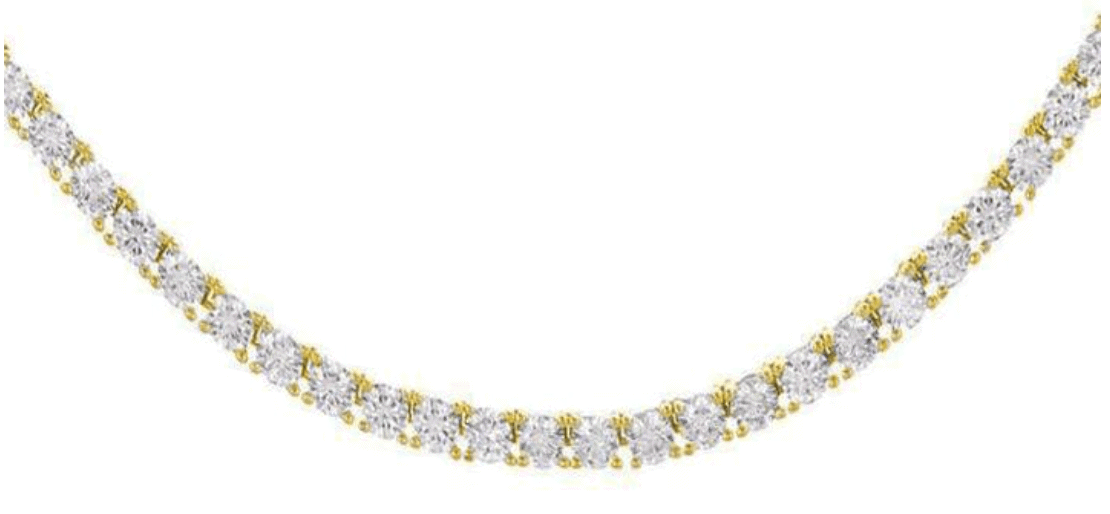 Looking for a crisp, elegant necklace for a plain blouse? This CZ tennis necklace is a great option. Available in both sterling silver and gold-plated sterling silver, the look is at once polished, modern, and refined. Buy Here.
Sterling Silver Art Deco CZ Necklace- Berricle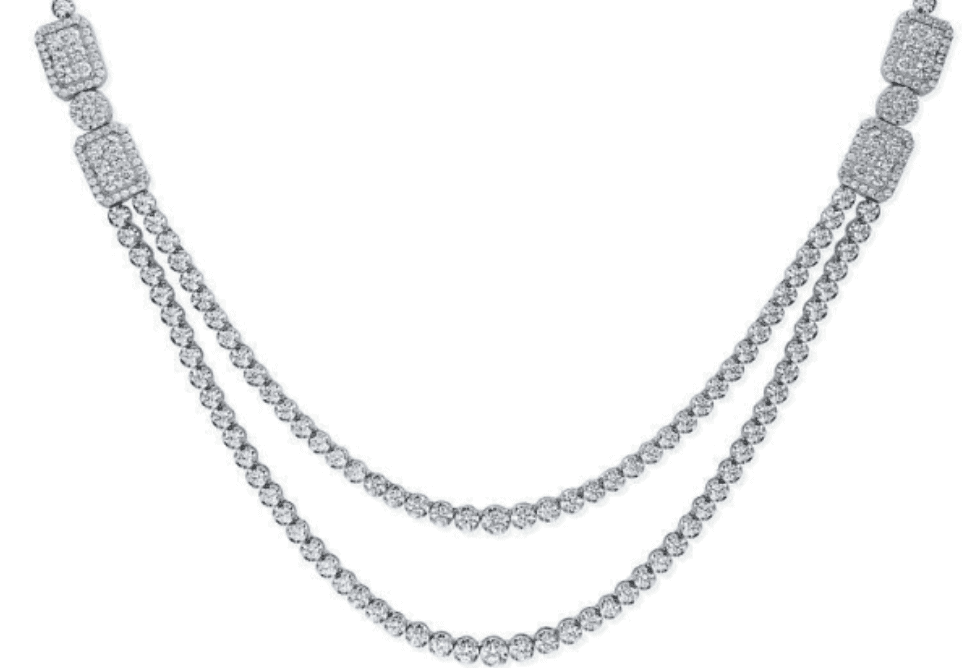 Rhodium-plated 925 sterling silver is nickel-free, making this a hypoallergenic necklace. A total carat weight of 9.46 carats of pave set CZ stones is featured on the 17-inch necklace. It also features a security clasp. Buy Here.
Swarovski Tennis Deluxe Mixed V Necklace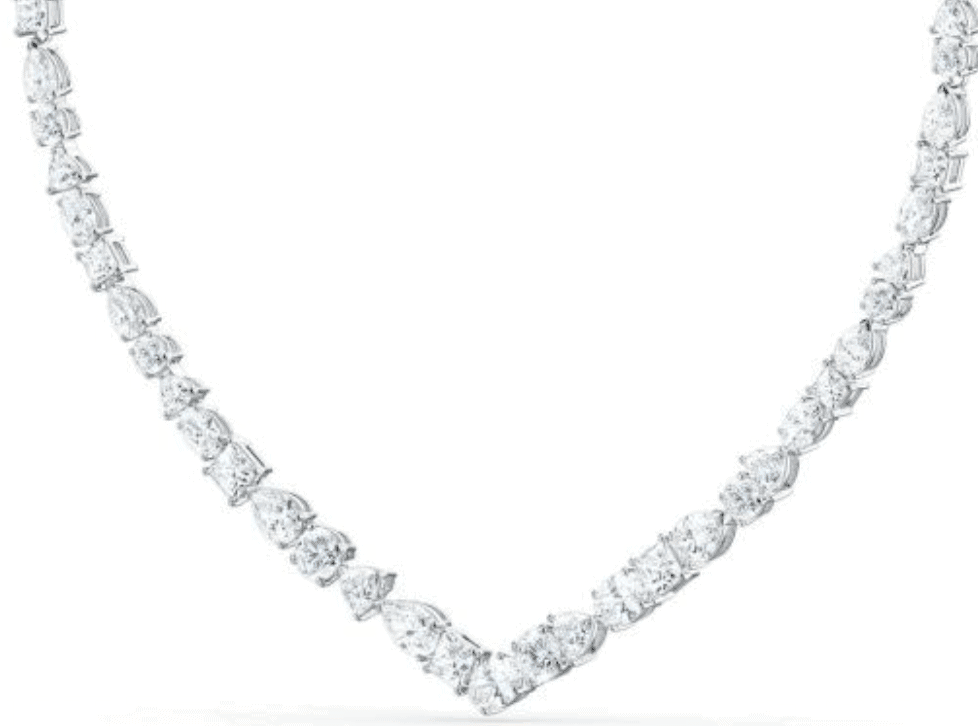 Perhaps the most glamorous option under this category, this tennis necklace is resplendent with Swarovski crystals. Each crystal is carefully faceted for more brilliance, while multiple shapes add texture and dimension. Buy Here.
Diamond Tennis Necklaces
Diamond tennis necklaces are a classic. It's how the trend started, and what tennis necklaces are best known for. Brilliant white scintillation, durability, and glamour that are unmatched are all reasons why diamond tennis necklaces remain the most popular. Just be prepared to spend a healthy amount.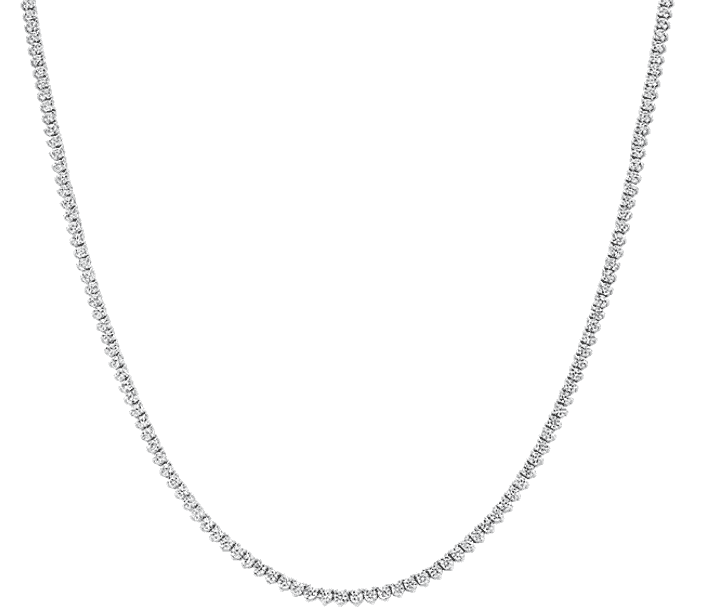 Brilliant Earth is an outstanding company if you're in search of anything diamond-related, from engagement rings to even unique options like black diamonds. The company is committed not only to conflict-free diamonds but also to sustainability. This exquisite diamond tennis necklace features round cut diamonds and beautiful brilliance. Buy Here.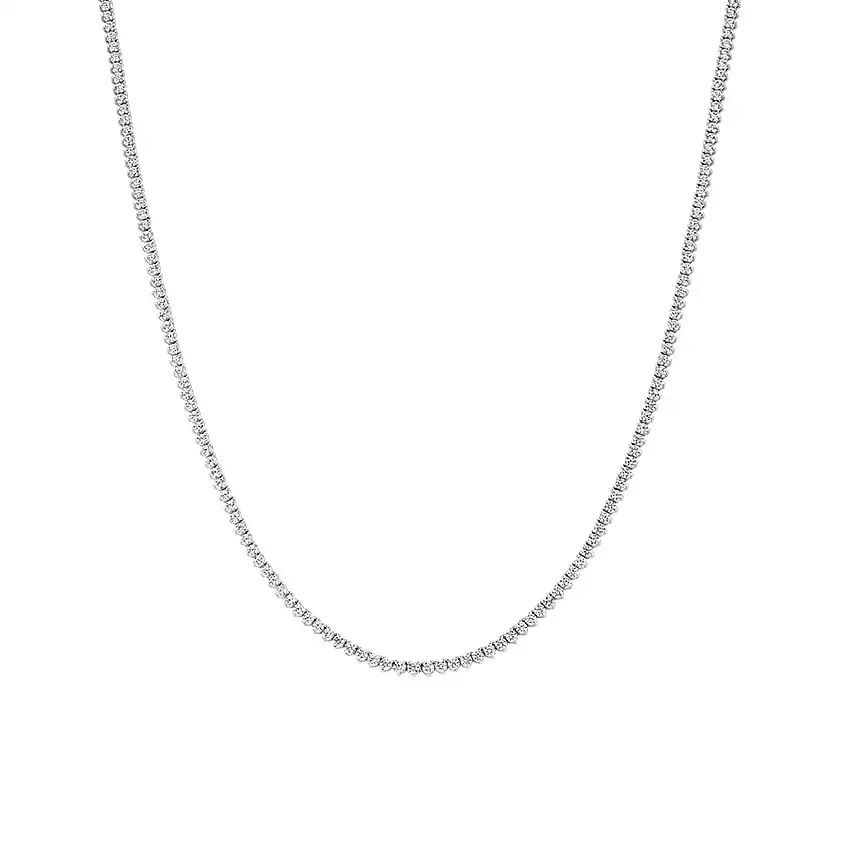 Diamond Tennis Necklace | Brilliant Earth
Timeless and resplendent, this show-stopping tennis necklace features dazzling round diamonds that produce an aura of shimmering, eye-catching light.
Check Price
We earn a commission if you make a purchase, at no additional cost to you.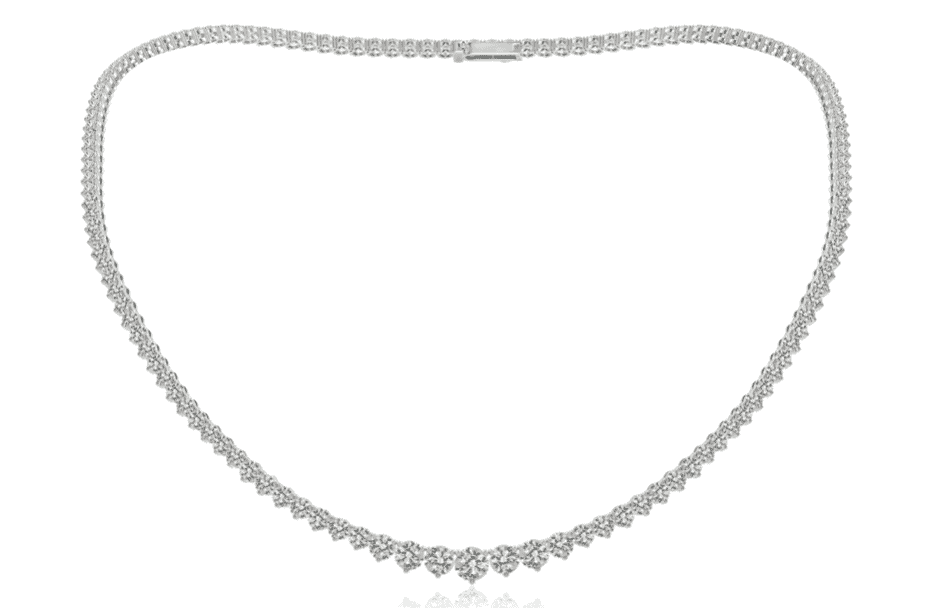 This unique diamond tennis necklace is from another excellent company, Angara. This tennis necklace features a unique prong setting and a graduated structure. You can select the diamond quality of your choice and between 14K rose, yellow, or white gold. Buy here.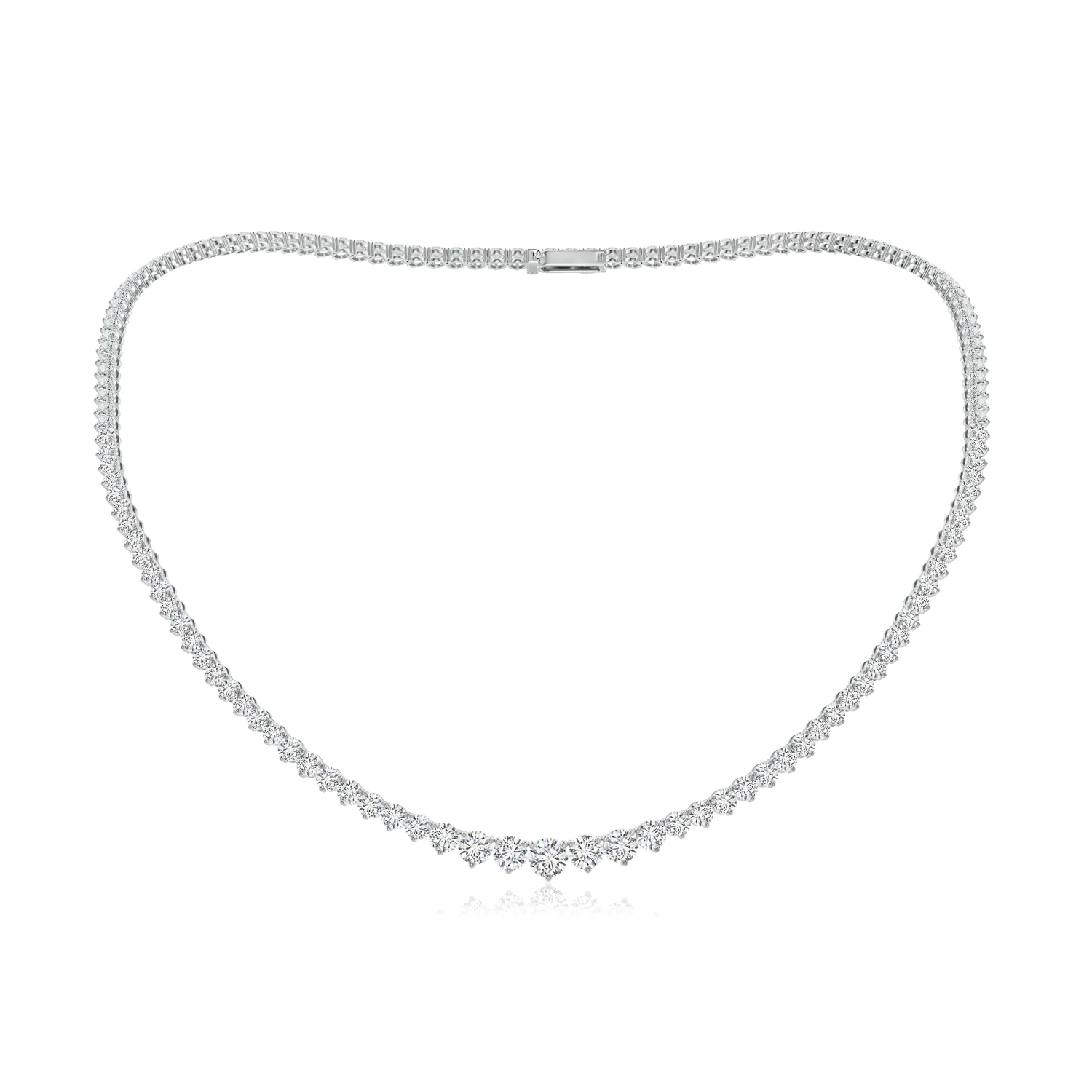 Prong-Set Graduated Diamond Tennis Necklace | Angara
This stunning tennis necklace in 14k white gold is a timeless piece of jewelry. It features graduated round diamonds in classic prong settings that exude remarkable brilliance.
Check Price
We earn a commission if you make a purchase, at no additional cost to you.


If you love the look of a tennis necklace but are into a choker necklace trend, this option may be great for you. The shorter length is suited for higher necklines and gives a throwback feel. Available in 14K rose, white and yellow gold, it's currently 30 percent off. Buy Here.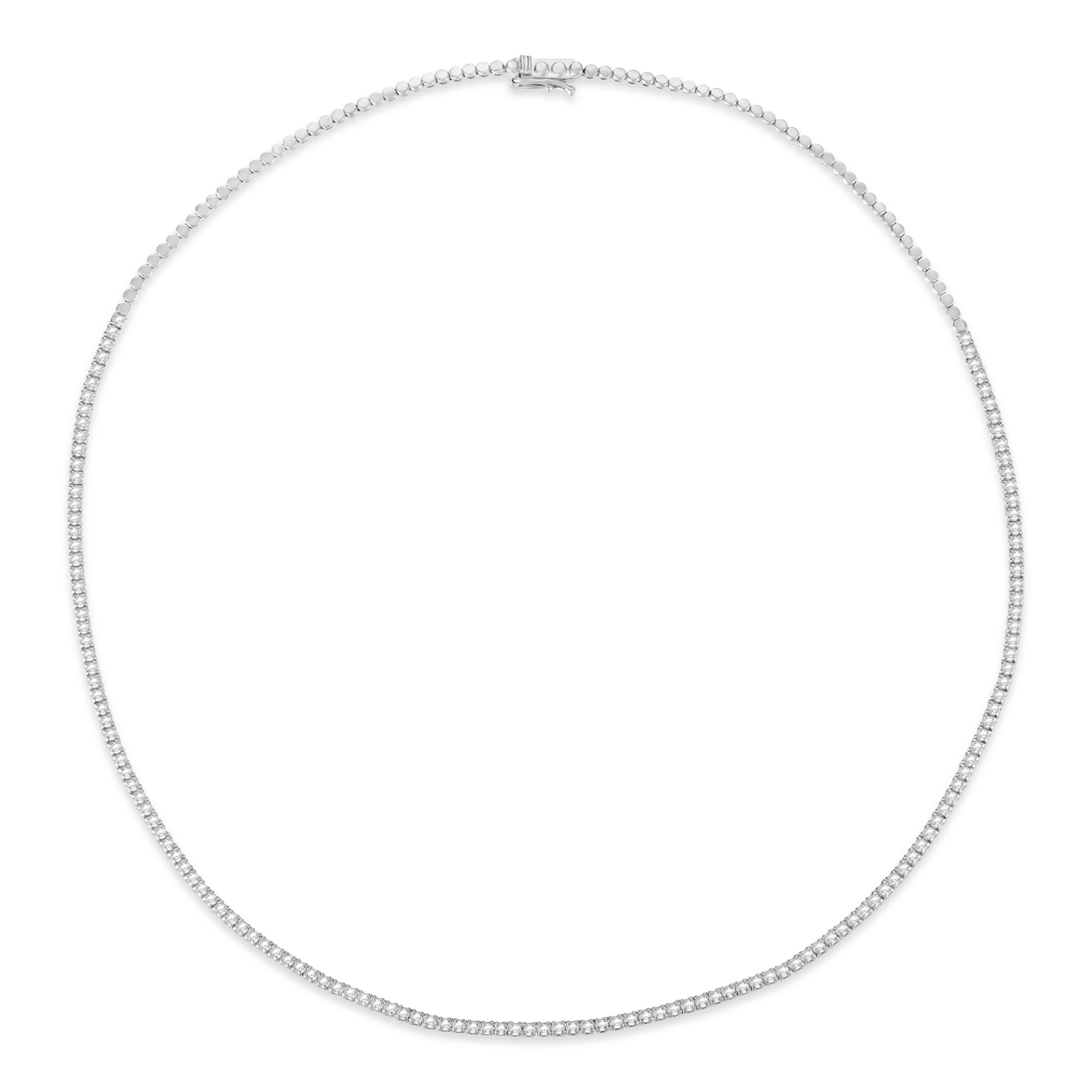 Diamond Tennis Choker | Allurez
A gorgeous gift for the woman in your life, our diamond tennis choker necklace catches the light with 140 sparkling white diamonds pave' set in 14k white gold.
Check Price
We earn a commission if you make a purchase, at no additional cost to you.

Chloe- Graduated Diamond Tennis Necklace- Gem Jewelers Co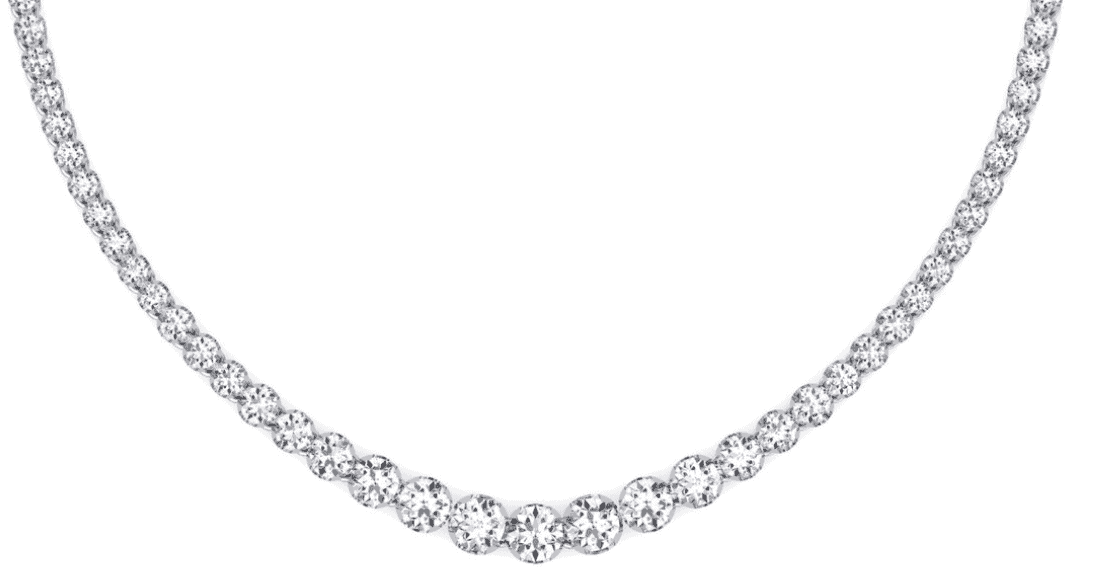 This gorgeous diamond tennis necklace is sure to make a statement. But even if you don't have a budget to fit, maybe it'll give you some inspiration. The graduated neckline is available in a diamond carat weight from three carats to 10 carats and with a 14K or 18K white, yellow or rose gold finish. Buy Here.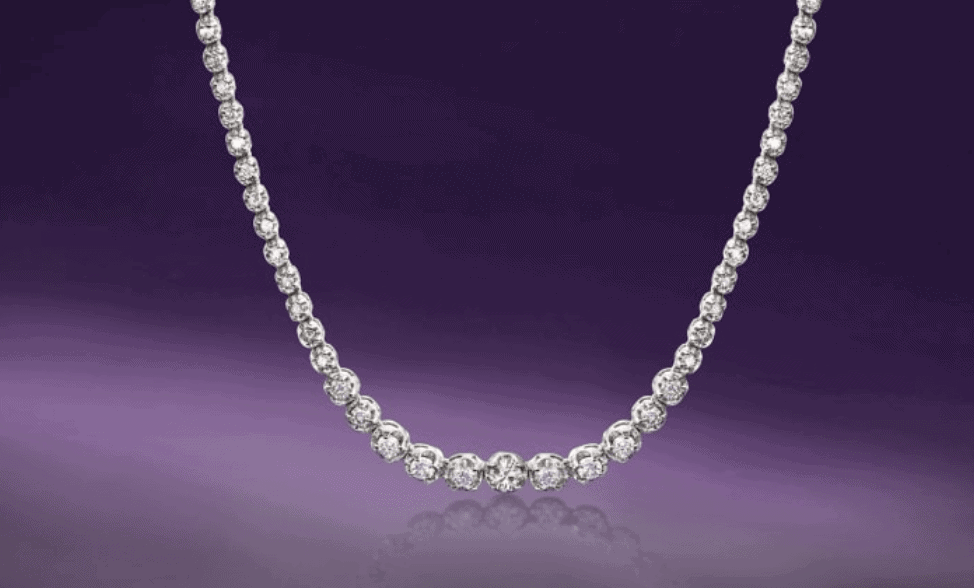 A beautiful diamond necklace under $4,000, this 20-inch necklace is available in 14K white gold and features an elegant aura. Other features include a push-button clasp and single latch safety. Buy Here.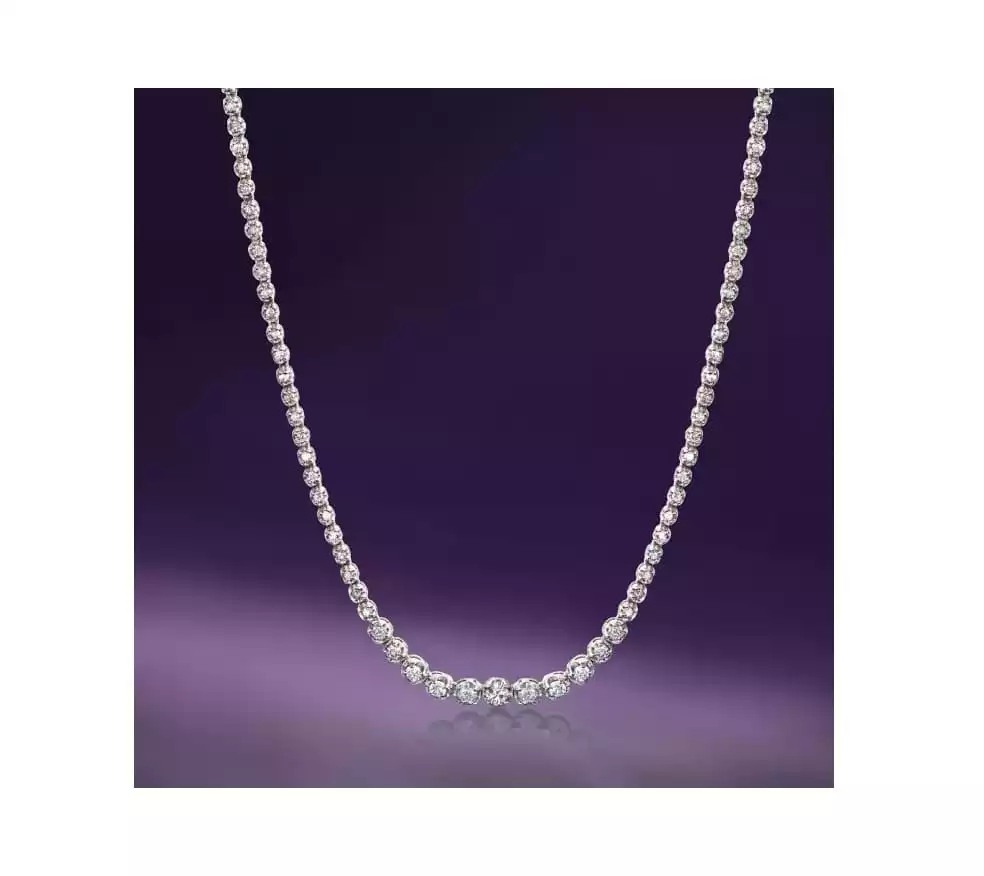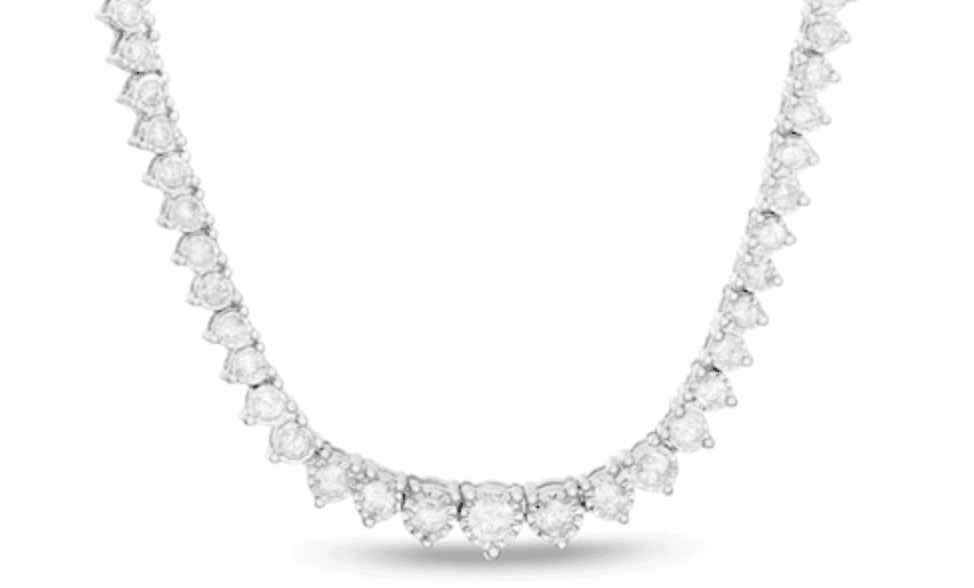 The 10K white gold may not be quite as precious or durable as some other options, it is a beautiful necklace just over $3,700 from a well-respected jeweler. The graduated design is meant to enhance sparkle and has a polished shine. Buy Here.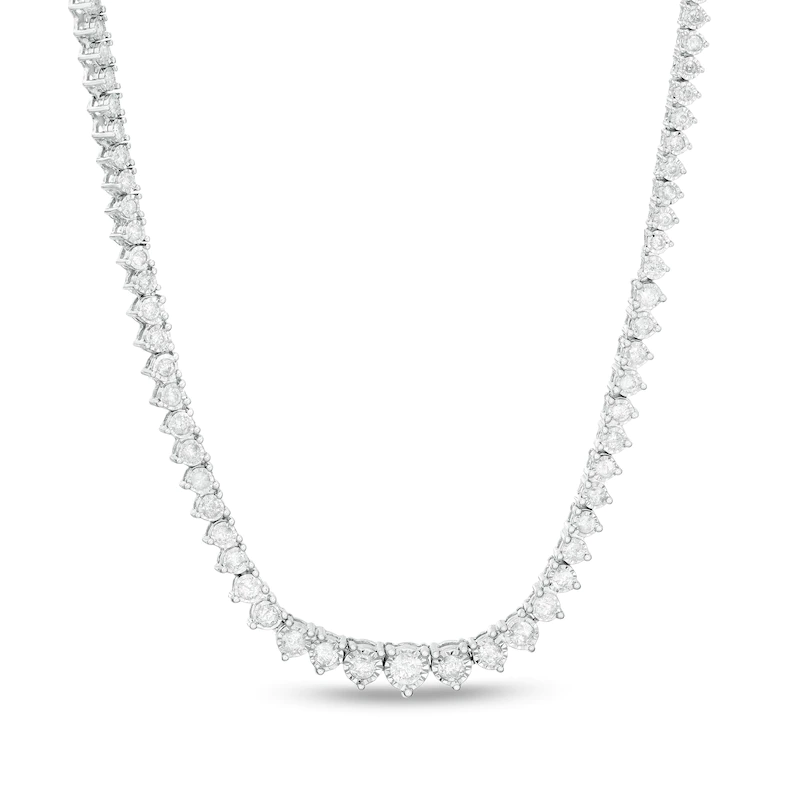 3 Carat Diamond Graduated Tennis Necklace | Zales Outlet
Steal the spotlight with this breathtaking diamond tennis necklace. Fashioned in cool 10K white gold, this glamorous design showcases graduated-size diamonds - each artfully set to enhance size and sparkle - the largest the 1/5 ct. center stone.
Check Price
We earn a commission if you make a purchase, at no additional cost to you.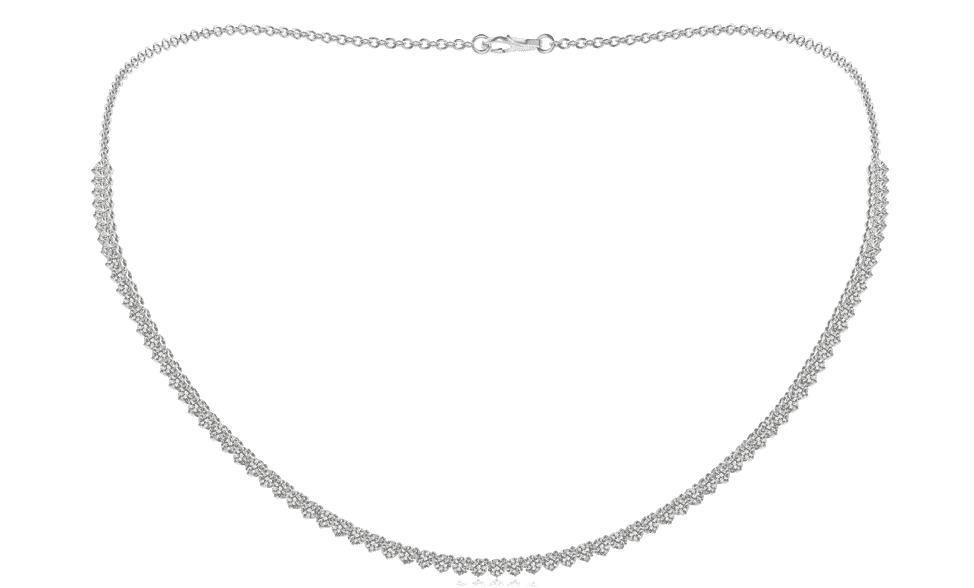 This half tennis necklace features sparkling round diamonds. The three pong setting and alternating pattern offer unique brilliance and it is set on polished 14K white gold for a timeless look of 18 inches. Buy Here.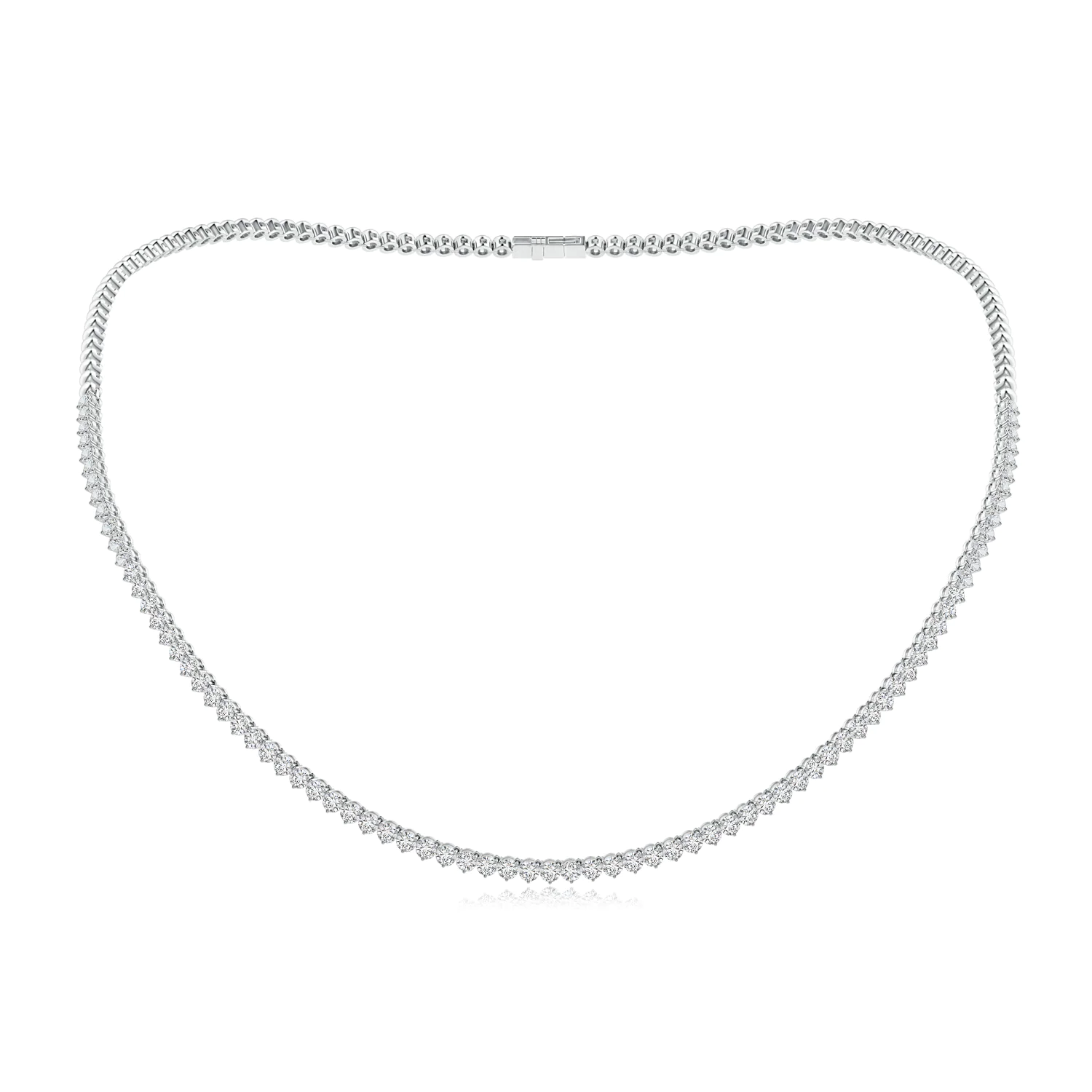 Gemstone Tennis Necklaces
Beautiful hues and unique styles make gemstone tennis necklaces an unexpectedly beautiful option. Sapphires, tanzanite, and topaz are a few of the more common options. While these don't offer the classic scintillation of diamonds, they do offer a unique beauty of their own. Since they are less common, you'll have to shop around– and may even want to consider buying from a reputable smaller seller.
Pink Sapphire Tennis Necklace- Lovely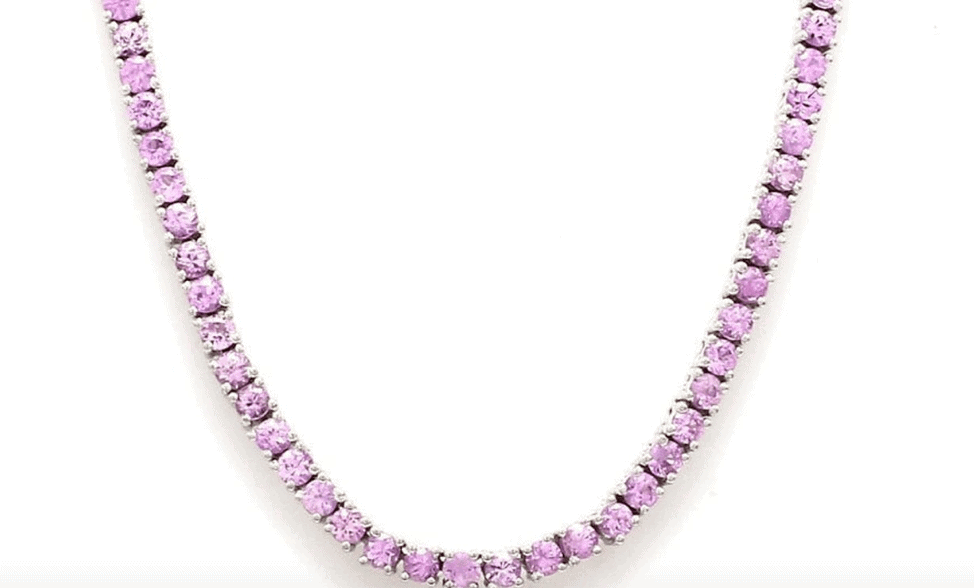 This beautiful tennis necklace features premium-grade sapphire. You have the option of white rhodium silver, or 14K gold plated sterling silver, as well as a necklace length of 14 to 22 inches. It's an unexpected take on a tennis necklace that would pair well with Spring and Summer outfits.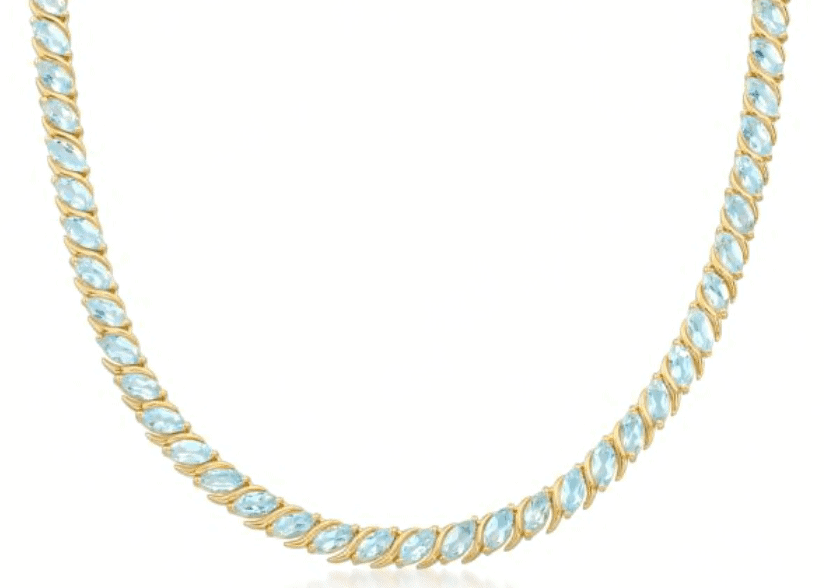 19.11 carats of sky blue topaz dazzles on a 20 inch necklace. 18 carat gold over sterling silver provides a dramatic and rich hue to add a special look to this tennis necklace. The necklace comes with free shipping and is priced under $350. Buy Here.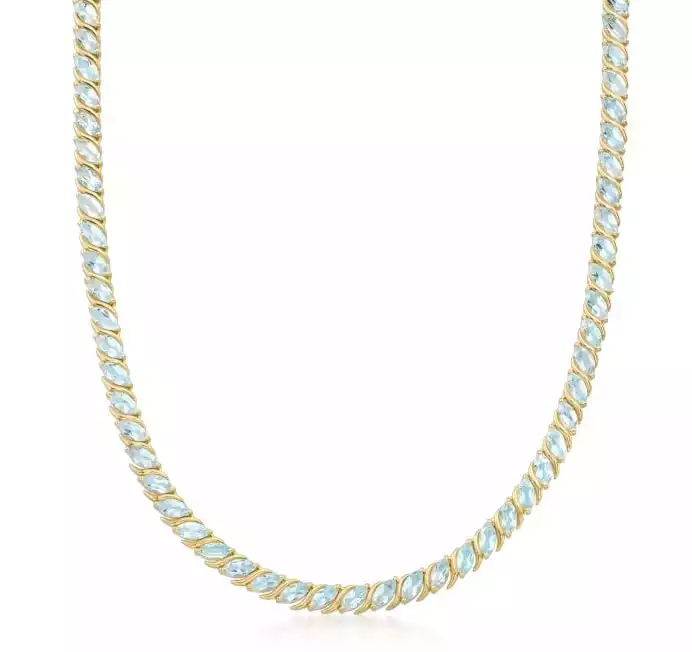 Sky Blue Topaz Tennis Necklace | Ross-Simons
Here, 19.11 ct. t.w. marquise sky blue topaz beam their heavenly gemstone shade between curves of polished 18kt yellow gold over sterling silver.
Check Price
We earn a commission if you make a purchase, at no additional cost to you.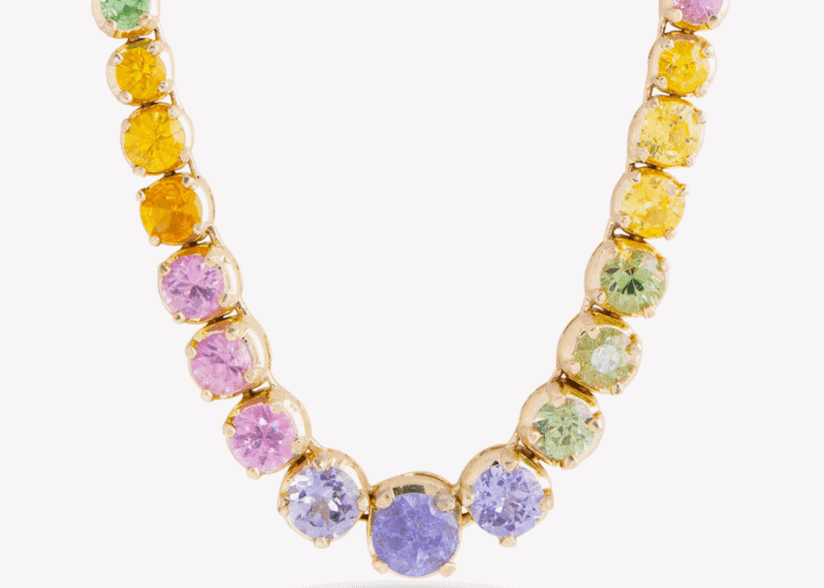 If you love the beauty of tennis necklaces, but long for color, this tennis necklace may just be the pick for you. Five carats of multicolor gemstones delight from lavender to sunshine yellow to lime green on 10K solid gold. Buy Here.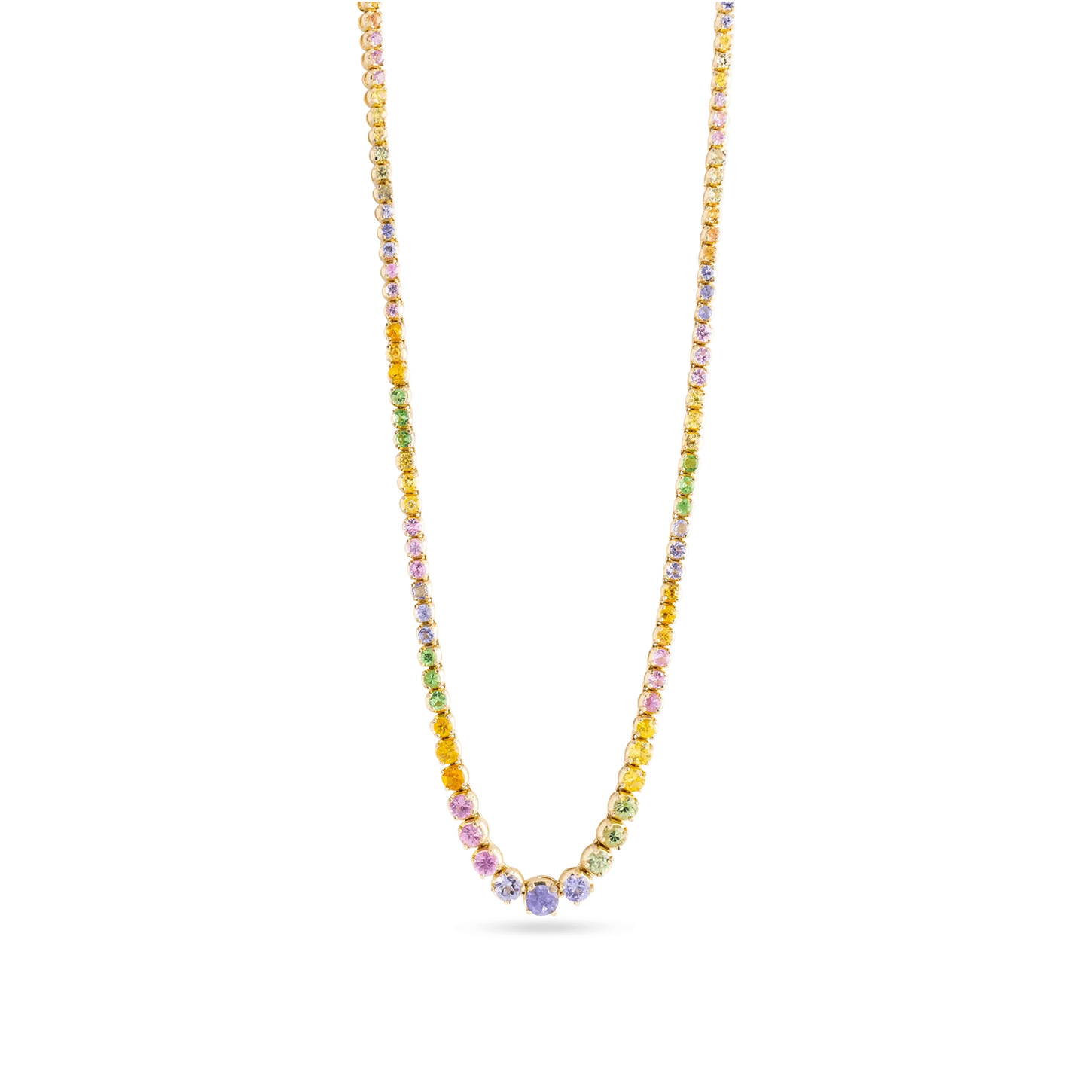 Turquoise and Diamond Tennis Necklace- Zavok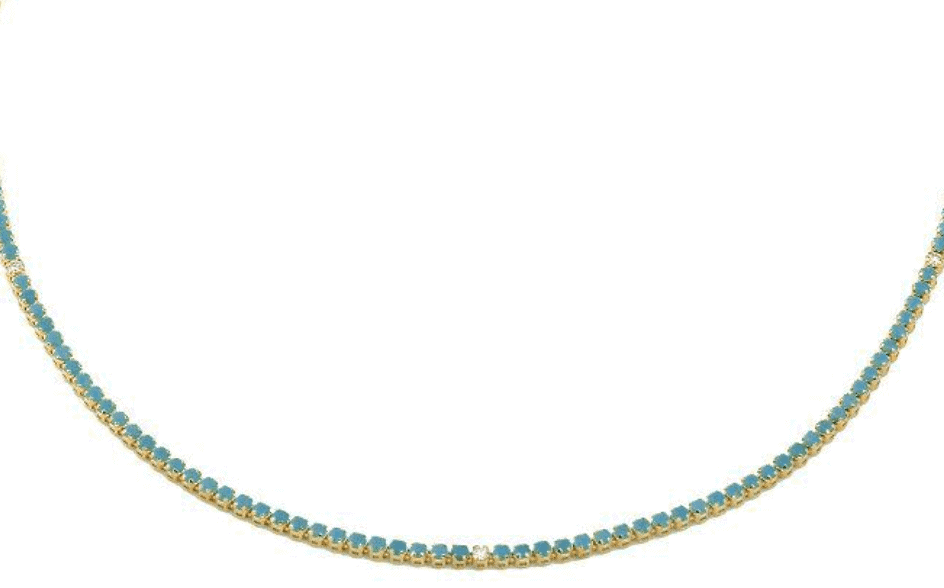 Like the idea of a gemstone tennis necklace but love the glamour of a diamond necklace? You don't have to decide with this unique tennis chain, which features turquoise gemstones and diamonds. 14K gold makes for a durable chain. Buy Here.
Natural Paraiba Topaz Tennis Necklace- Jewel love Boutique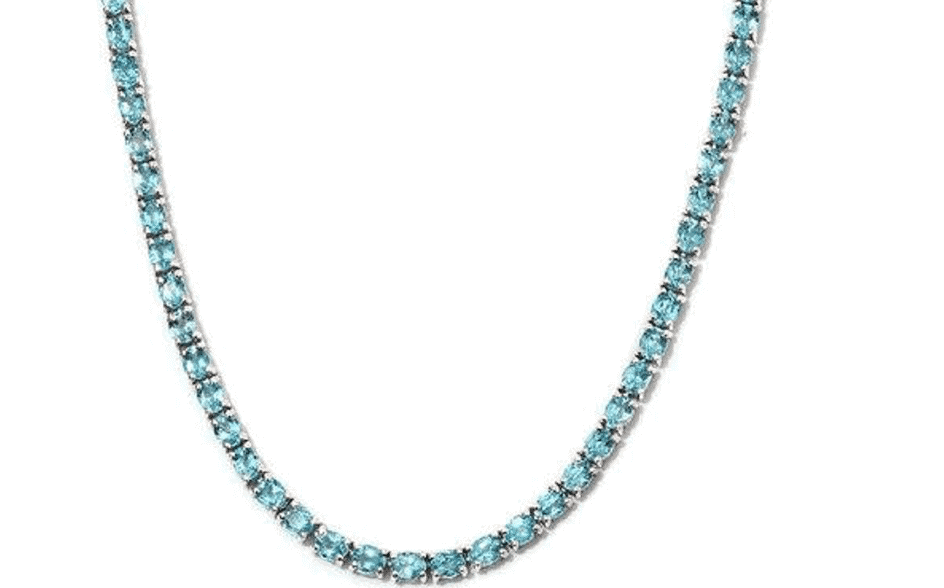 This princess-styled tennis necklace earns its name with its exquisite hue and polished topaz stones. Dazzling with a sky blue color on 925 sterling silver, the gemstones are oval-shaped and offer a unique beauty of their own.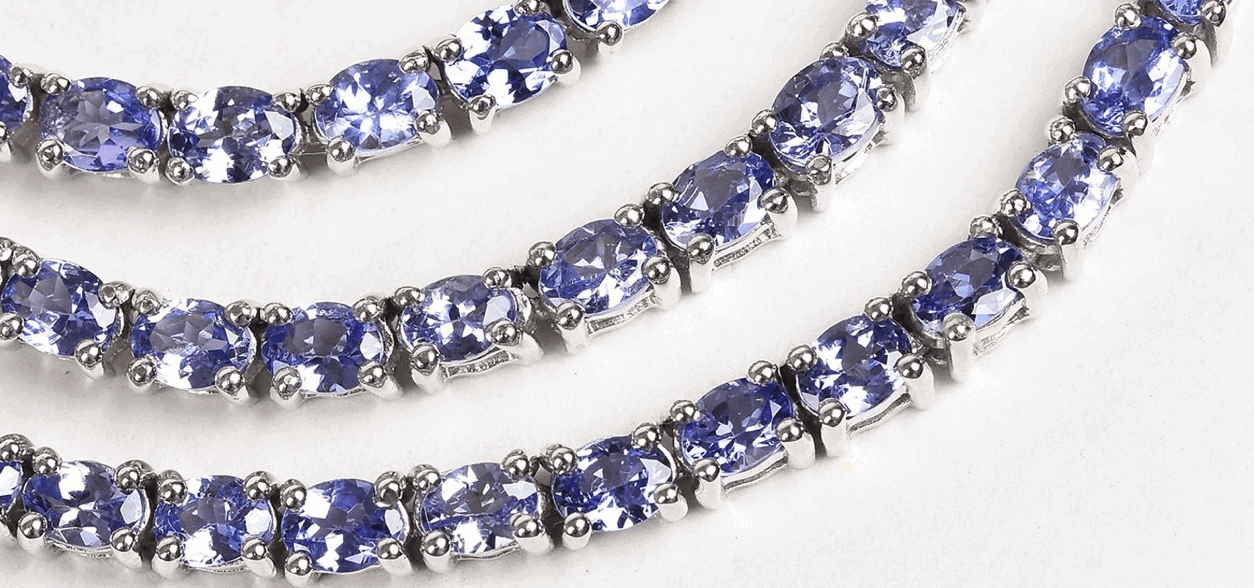 Available in a necklace length of 16 inches to 22 inches, this purple hue is sure to make a statement. Natural tanzanite gemstones feature an art deco style. The chain is available in a platinum overlay, or rose or yellow gold plating. It can also be made to order and is priced at around $200. Buy Here.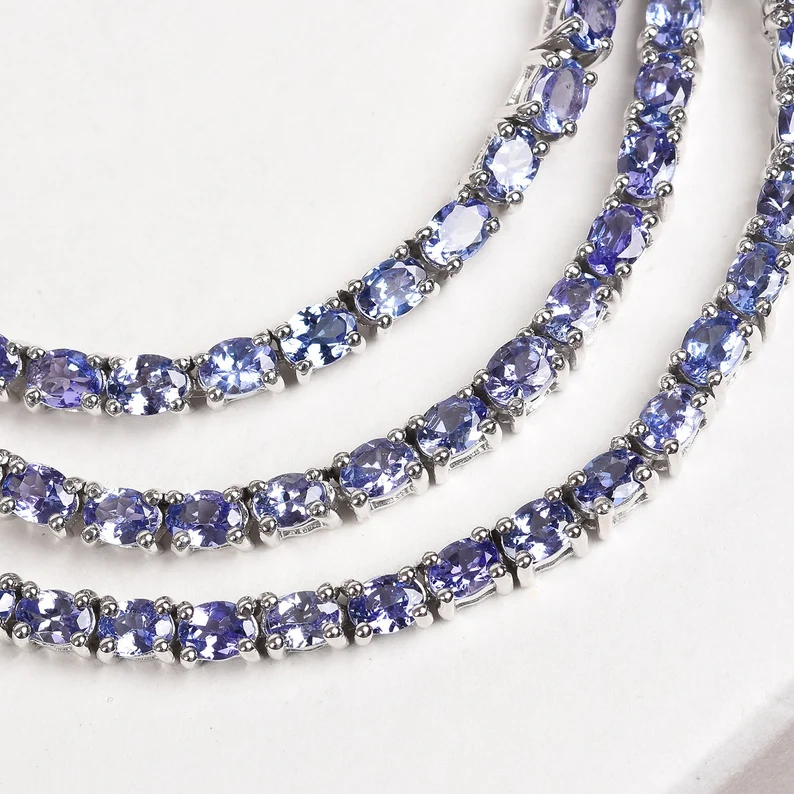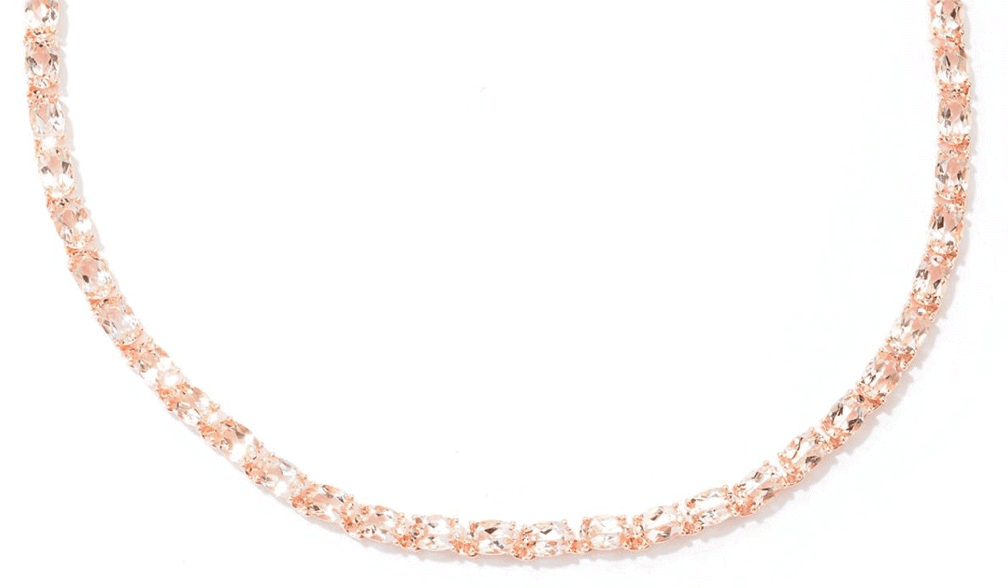 Priced at under $500, this exquisite morganite tennis necklace comes in silver, yellow gold, or rose gold finish of 925 sterling silver. Available in 16 inches, 18 inches, or 20 inches, the item is handmade. Buy Here.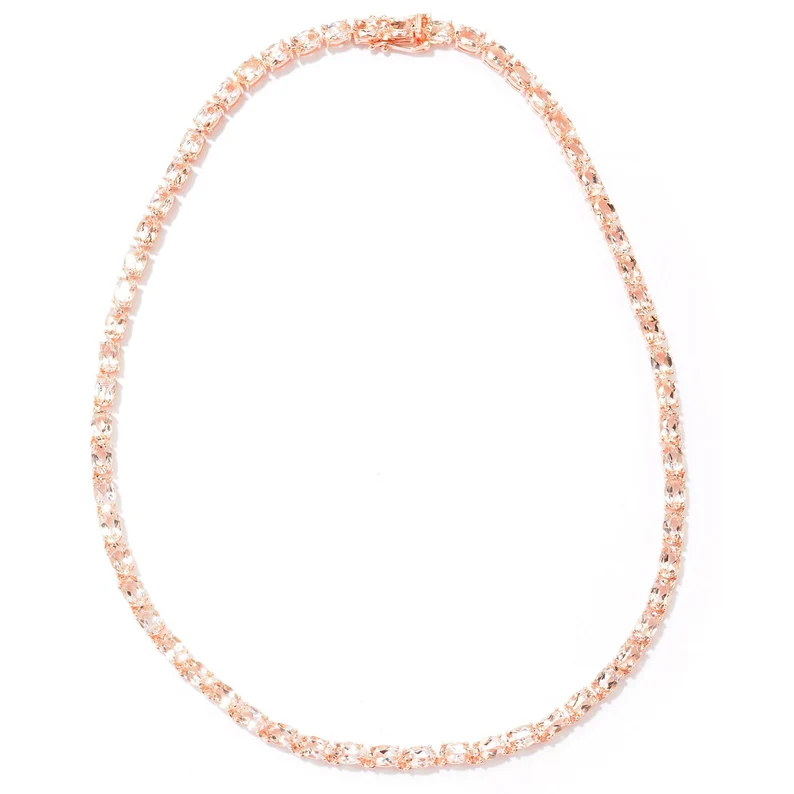 Emerald Tennis Necklace- Lovely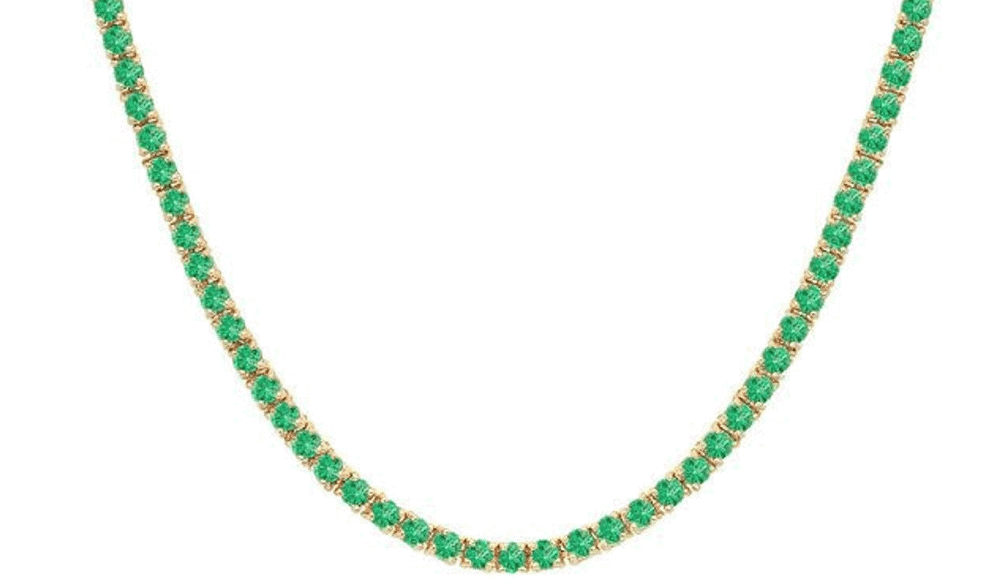 This luxury handmade tennis necklace features captivating emeralds. A sterling silver necklace ranges from 16 inches to 22 inches and comes with white rhodium or 14K yellow or white gold plating finish. 
Frequently Asked Questions
Question: Can you sleep in a tennis bracelet or necklace?
 Answer: While you can sleep in a tennis bracelet, I highly recommend not doing so– and especially advise against sleeping in necklaces. Tennis bracelets at their highest quality are durable, but you'll get better wear out of your jewelry by removing it and storing it in a safe place.
Question: Why are tennis chains so expensive?
Answer: Tennis chains for necklaces and bracelets are not in themselves expensive. It's more than diamond tennis necklaces and bracelets are expensive due to the diamond carat weight. While a diamond pendant necklace features a central necklace, tennis necklaces feature diamonds around the neckline.
Question: How do you wear a diamond tennis necklace?
Answer: Tennis necklaces are versatile, and that's also true for diamond tennis necklaces. A diamond tennis necklace may be worn alone, or layered– for a unique look consider a fancy collar or choker necklace. Pair with accent bracelets or diamond earrings.
Final Thoughts
Tennis necklaces are undeniable classics and add beauty to any outfit– even if that's jeans and a t-shirt. This trend is here to stay, but always pick an option that's right for you and your budget.
| Product Image | | Primary Button |
| --- | --- | --- |
| | | |
| | | |
| | | |