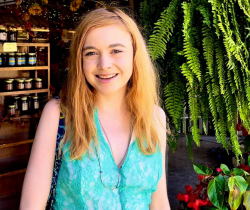 Latest posts by Erin Jamieson
(see all)
What do Jennifer Lopez, Miranda Kerr, Ariana Grande, Anne Hathaway, and Jennifer Lawrence have in common? They've all inspired fantastic platinum ring ideas. And in 2022, platinum rings remain highly prized.
Whether you're looking at the Bachelorette or some of the most iconic platinum engagement rings, it seems the metal is being used everywhere. Popular for engagement rings, wedding bands, and fancy cocktail rings, the sleek metal has been around for a while– and often used as an alternative to white gold or silver.
The problem? It doesn't come cheap.
In fact, there may be a reason why it's so popular amongst influencers–in part because it's expensive, known for its durability and versatility. But that doesn't mean you have to be a celebrity to wear the look.
In this guide, I'll tell you about the pros and cons of platinum for engagement, weddings, and cocktail rings. I'll also boost your inspiration with some of my favorite styles and ideas for 2022. 
Is it good to wear a platinum ring?

When anyone is shopping for a ring they typically want to know if their purchase is worthwhile. But one great way to start the discussion is whether or not the style of platinum rings is right for you. After all, there are other fine jewelry choices, such as 14Kor 18K gold. The truth is that it is neither good nor bad to wear a platinum ring– it depends on what you value most. 
Who can wear a platinum ring?
Anyone can wear a platinum ring. Platinum rings have a cool, sleek look. At their best, they are polished and sophisticated. Most often, platinum rings are paired with diamonds to complement a seamless style. Clear sparkle looks excellent with the sleek, cool metal and is a natural pairing. Gemstones with deep or cooler undertones can also look excellent. 
While it's said that cooler toned metals look best on people with cool to neutral skin tones (and yellow or rose gold warmer skin tones) I personally think this is an overstated idea. In fact, platinum looks exquisite no matter what your skin type is. 
Are our platinum rings out of style?
Platinum rings aren't out of style, and they're unlikely to go out of style. Platinum rings have timeless sophistication that can be used for modern and classic styles. The high quality of most platinum rings, the cool, polished stone, and the durability all ensure that platinum rings continue to remain in style. 
What are the pros and cons of platinum rings?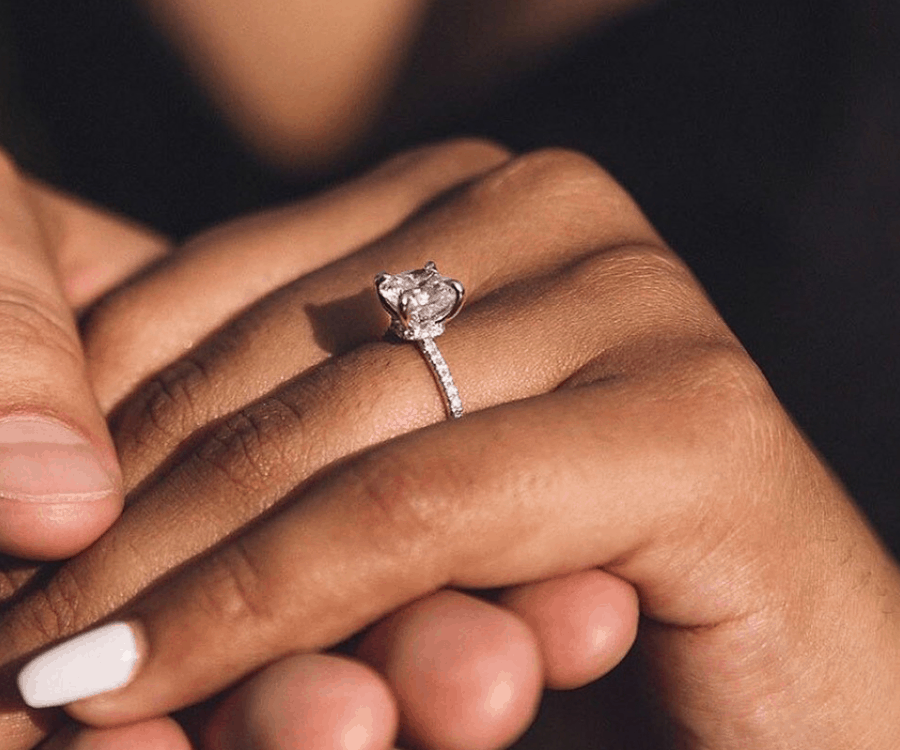 It may sound as though I am 100 percent endorsing platinum rings, but I'm afraid that it isn't so simple. Platinum rings, without a doubt, are a beautiful option for precious rings, but they aren't always the best choice. Here's what you need to know about why you should– or shouldn't– buy a platinum ring. 
How much does a real platinum ring cost?
Perhaps the biggest downside to platinum rings is the cost. Platinum is one of the most expensive precious metal alloys. In fact, for high-quality platinum, you can expect to pay more than white gold. That isn't to say they are outrageously expensive, and there are ways you can save money– by trimming down on diamond carat size, for instance. It's hard to pinpoint how much it'll cost– so much is dependent on the jeweler and, of course, any precious gemstones.
But you can expect to pay around $100 to a few hundred dollars more, starting point, vs a 14K or 18K white gold ring. 
Can platinum rust?
Platinum will not rust or tarnish. Nicknamed the noble metal, platinum is especially resistant to corrosion and also thus resists oxidation. 
Can you shower with a platinum ring?
Technically, you can wear platinum rings in the shower, during rain, or during other water activities. That said, while no immediate damage will occur, like all metals, too much water over time can reduce the shine and polish. I do recommend removing any fine metal rings before swimming in a pool, due to the chlorinated water. 
Can you wear a platinum ring all the time?
As I have already mentioned, there are some limits as to when you can wear a platinum ring, but they are no different than basic recommendations I'd make for any fine jewelry. Avoiding harsh chemicals and long bouts of water exposure ensures that your platinum ring stays looking new for as long as possible. 
The good news is that platinum is resistant to temperature fluctuations, humidity, and other environmental factors. That means, so long as you practice common sense, your ring can last a lifetime. 
Are our platinum rings scratch-resistant?

Platinum rings are quite durable and still do not scratch easily– but they can scratch. Platinum, in its purest form, is actually a softer metal than 14K white gold. However, there's an upside. Even if you do get scratches on your platinum ring, it doesn't look jarring the way it might on another metal.
 What happens is that the ring will develop a patina finish. Instead of sleek, there will be an antique, more matte style. To complete this look, bring your ring in for professional cleaning and burnishing. It's still considered an attractive look. Here's our complete guide on the best 10-carat diamond ring ideas. 
Do platinum rings lose their shine?
In fact, it is actually natural for platinum rings to lose their shine– which may be a con for some. But the shine naturally transitions to a matte, antique finish after a while– and that isn't considered a negative within the jewelry industry. It's simply a different look. 
How do I find the best platinum ring?
Decide that a platinum ring is the best option for you? If so, I want to make sure you're selecting the best ring possible. Not all platinum rings are equal, which is why I recommend buying from a reputable jeweler who's had experience with high-quality platinum. That, of course, begs the question: what exactly is the best quality platinum? Check out the best Pandora rings for women here. 
What is the best quality platinum?
Platinum rings are rarely made with 100 pure platinum. Just as you generally see less than 22K gold rings on the market, the reason is that platinum is a naturally soft metal. Your best bet is PL950/Cobalt. This is considered the optimal platinum alloy for both beauty and durability– and the most commonly used for wedding and engagement rings.
How can I tell if my ring is real platinum?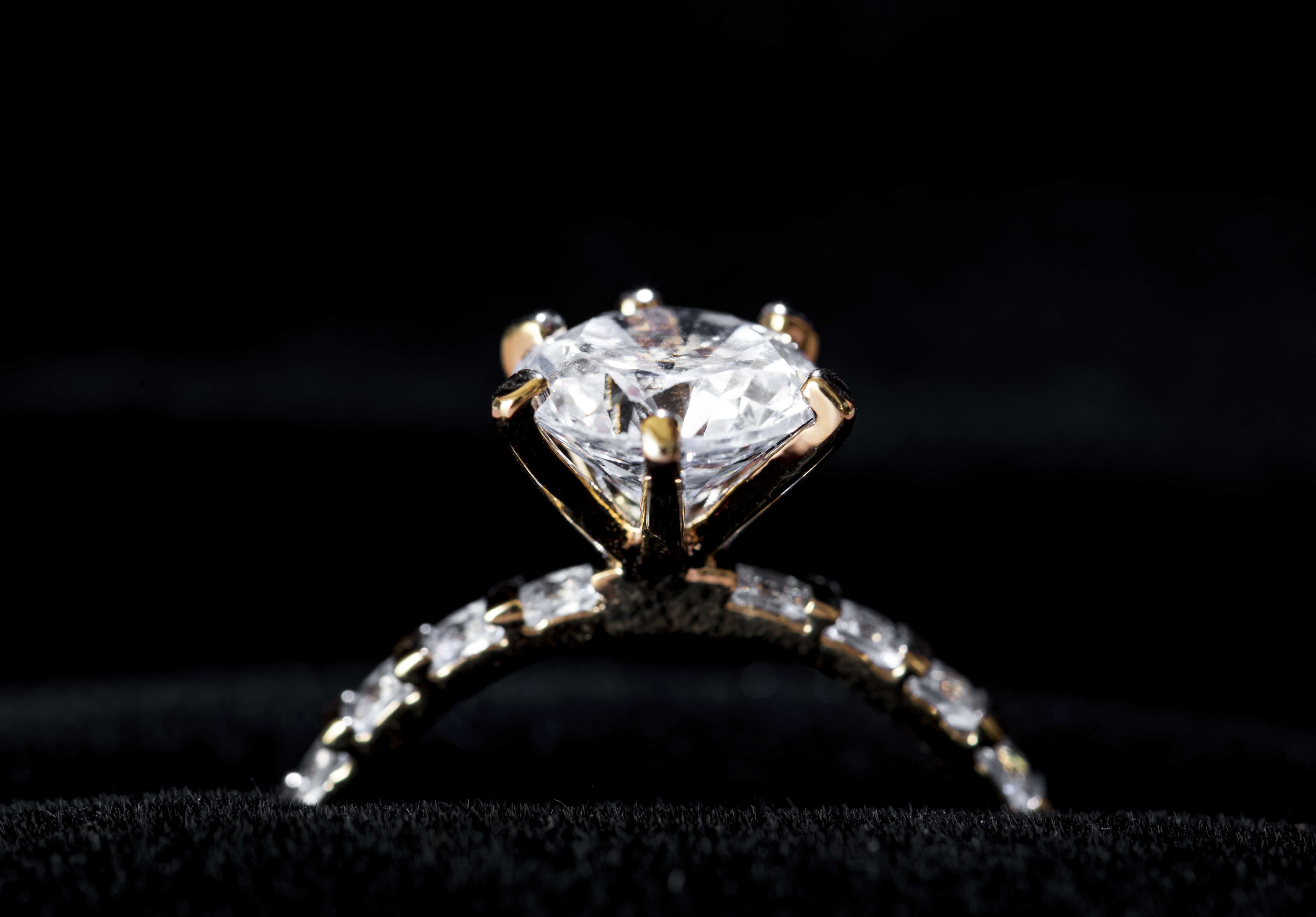 Your best bet for avoiding fake platinum rings is to buy directly from verified sellers on secure sites, or a jeweler's in physical stores. Aside from that, inspect, or ask to see, the internal shank. The shank should be labeled with a "PT" symbol or "900 PLAT" or "950 PLAT." The marking should be evenly printed. 
An obvious red flag is if you see something like "14K" which indicates that you're actually buying a white gold ring. 
Platinum Rings: My Picks
Now I'll give you my top picks for platinum rings. My selections are from fine jewelers that are greatly respected in the industry, and who are known for both their excellent product quality and customer service. From dazzling cocktail rings to classic engagement rings and wedding bands, here are my top picks. 
Platinum Cocktail Rings
Cocktail rings are meant to make a statement on a formal occasion. Typically, cocktail rings feature a glam look, with vintage or classic appeal. They are often oversized and make for a striking accessory. My favorite collection of platinum cocktail rings is from the Angara. Angara holds an A+ on the Better Business Bureau and offers beautiful precious gems with classic and modern styles. Their platinum cocktail collection features colored gemstones and diamond clusters, each stunning in its own right. Prices start at $315. The collection is extensive. Shop All Platinum Angara Cocktail Rings Here. 
Angara Cushion Amethyst Cocktail Ring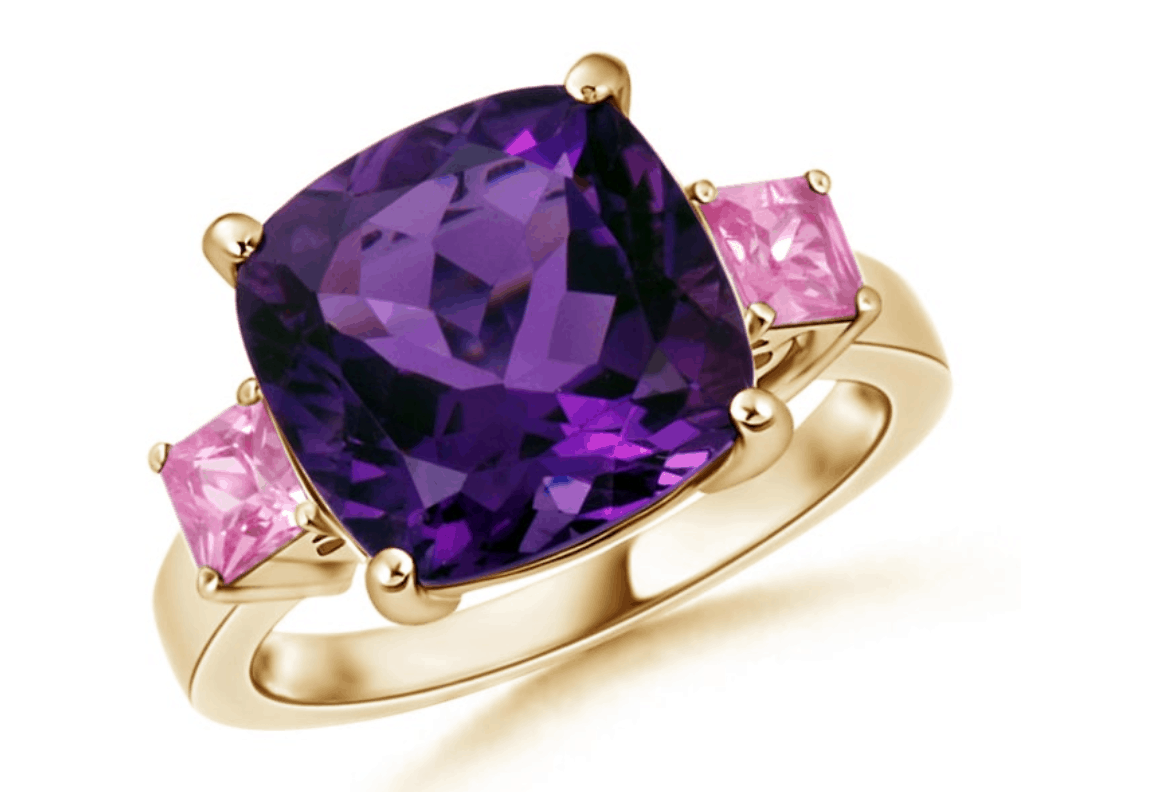 This stunning amethyst ring is also available in 14K white or yellow gold. A platinum band is paired with square pink sapphires and a cushion-cut amethyst. The play of purple and pink hues makes a striking accent to the platinum finish. The three-stone stone is classic with a touch of vintage. Priced at $2,636. Buy Here. 
Angara Oval Blue Sapphire Cocktail Ring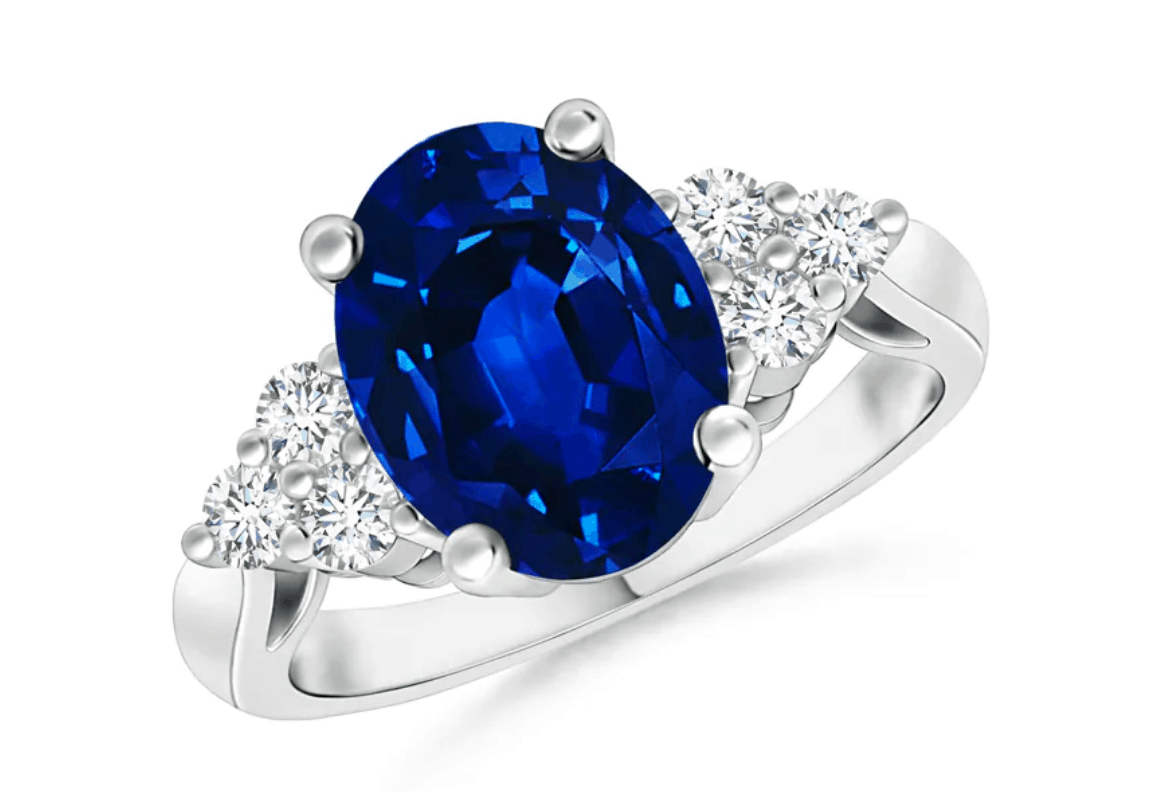 Blue sapphires are gorgeous, durable, and a perfect centerpiece for a beautiful cocktail ring. This platinum cocktail ring (also available in 14K yellow or white gold) stuns with its elegance. A prong-set blue sapphire is accented with a trio of diamonds along the side flanks. Opt for a good to heirloom quality sapphire, and from 1.70 carats to 3.56 carats. Priced from $1,538 to $16,883. Buy Here. 
Angara Composite Diamond Swirl Cocktail Ring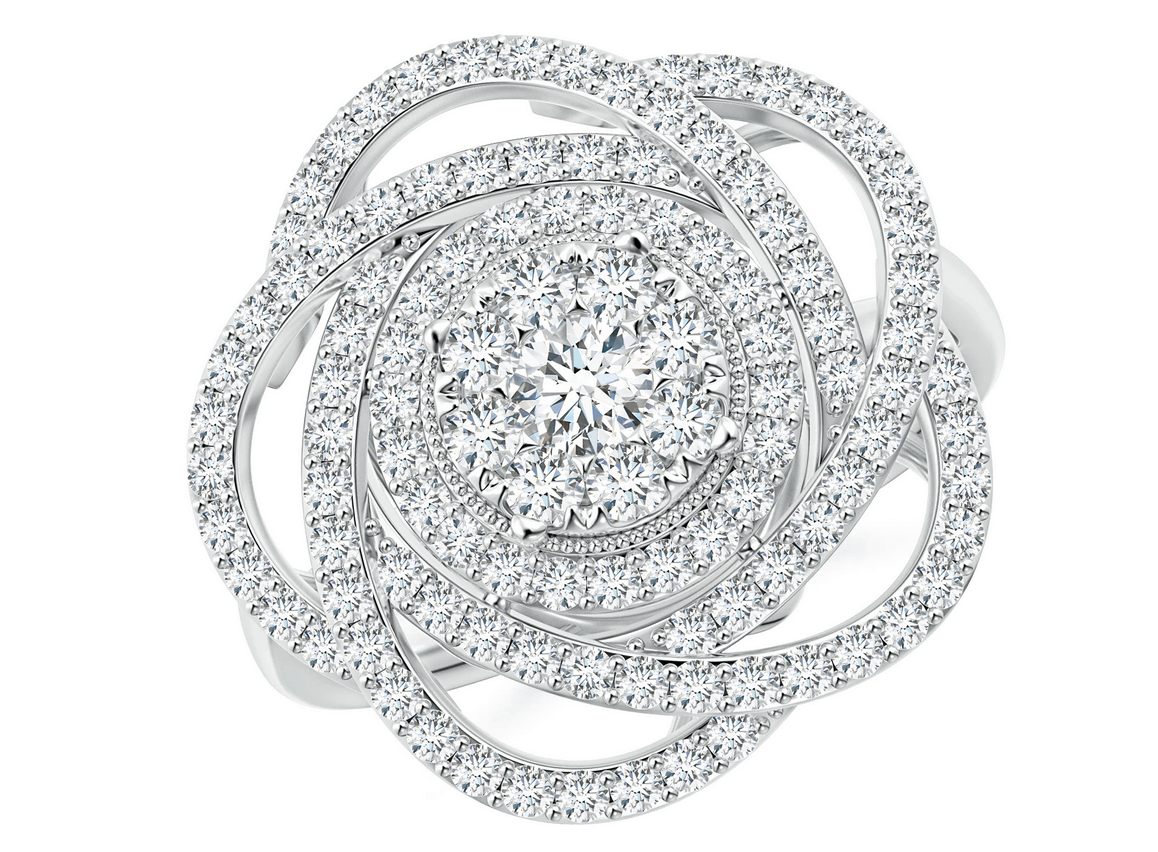 A dazzling array of diamonds adds a wow factor to this cocktail ring. Round cut diamonds add brilliance and scintillation in an array of crisscrossing, glittering ribbons. The round-cut center diamonds exude glamour. Choose your diamond quality and up to 1.5 carats. Priced from $3,716 to $5,165. Buy Here. 
Angara Oval Garnet Ring with Floral Diamond Halo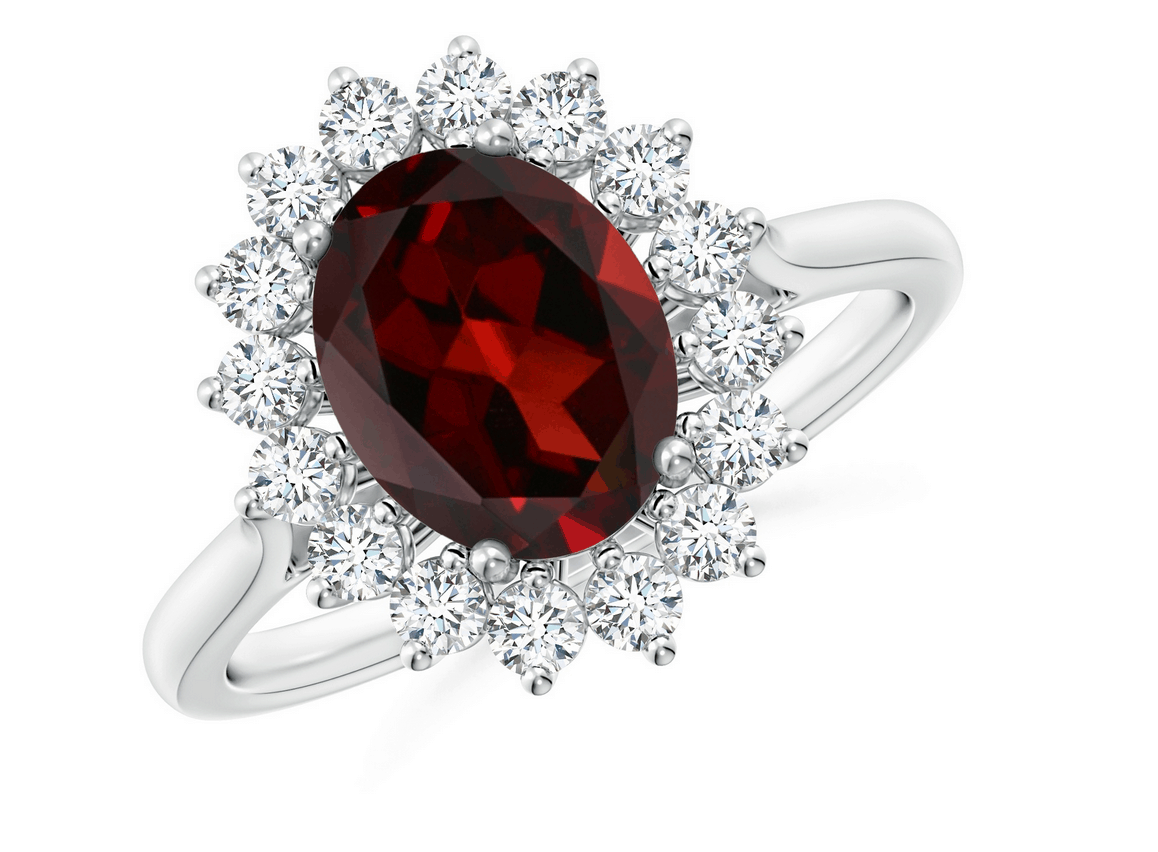 An oval-cut garnet is surrounded by a halo of round diamonds. This glamorous ring exudes vintage glamour and is an instant classic. The floral design gives the appearance of glittering petals and pairs spectacularly with platinum. Available in good to heirloom quality and from 1.85 carats to 3.65 carats. Priced from $1,376 to $3,068. Buy Here.
Platinum Engagement Rings
Platinum is an exquisite choice for engagement rings if you have the budget. Platinum suits diamonds in particular, but also makes an excellent complement to cooler tone gemstones. While you can shop for platinum engagement rings from many fine jewelers, my top picks come from Brilliant Earth and Blue Nile. 
Both have favorable reviews from customers and carry high-quality, ethically sourced diamonds and gemstones. Their platinum ring collections are modern and beautiful. Both offer options to build your own rings from elegant ring settings.  Shop All Brilliant Earth Platinum Engagement Rings Here or  Blue Nile Platinum Engagement Rings Here. 
Brilliant Earth Demi Diamond Engagement Ring Setting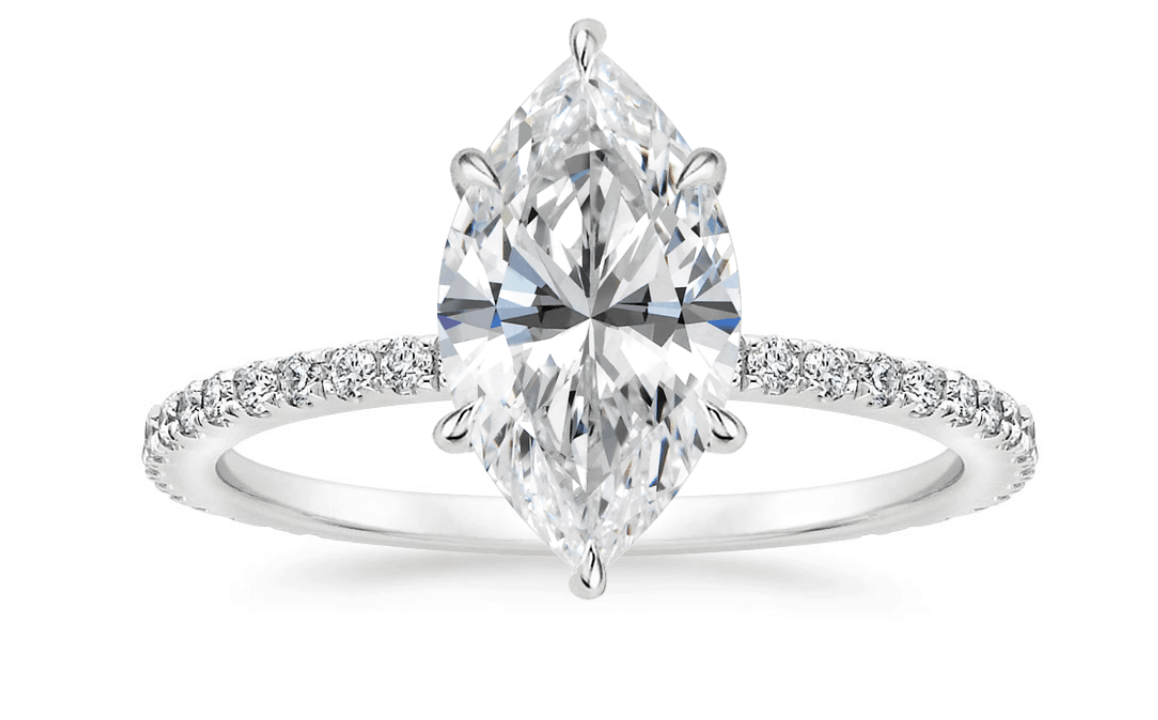 This Brilliant Earth ring setting is highly rated by customers, and it's easy to see why. An exquisite halo of diamonds wraps around a center stone (select the diamond shape and quality of your choice). The elegant sparkle complements the petite platinum band. Priced from $1,990. Buy Here. 
Brilliant Earth Versailles Diamond Ring Setting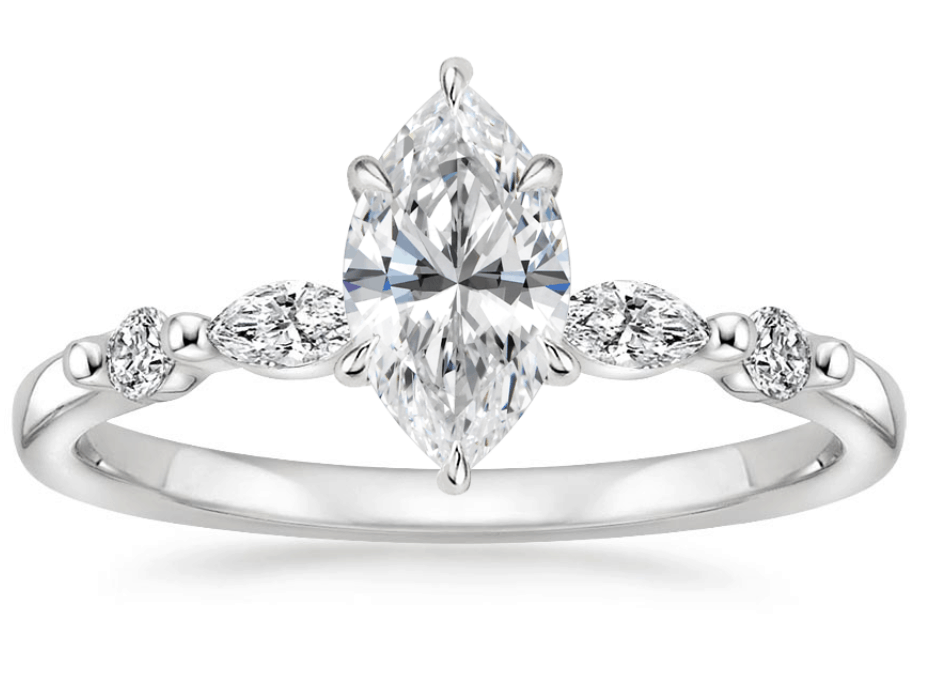 The name says it all. This beautiful diamond engagement ring exemplifies refined elegance. Round and marquise diamonds alternate along with the platinum band. This ring setting would look spectacular with a marquise center diamond. Priced from $1,750. Buy Here. 
Brilliant Earth Petite Twisted Vine Diamond Ring Setting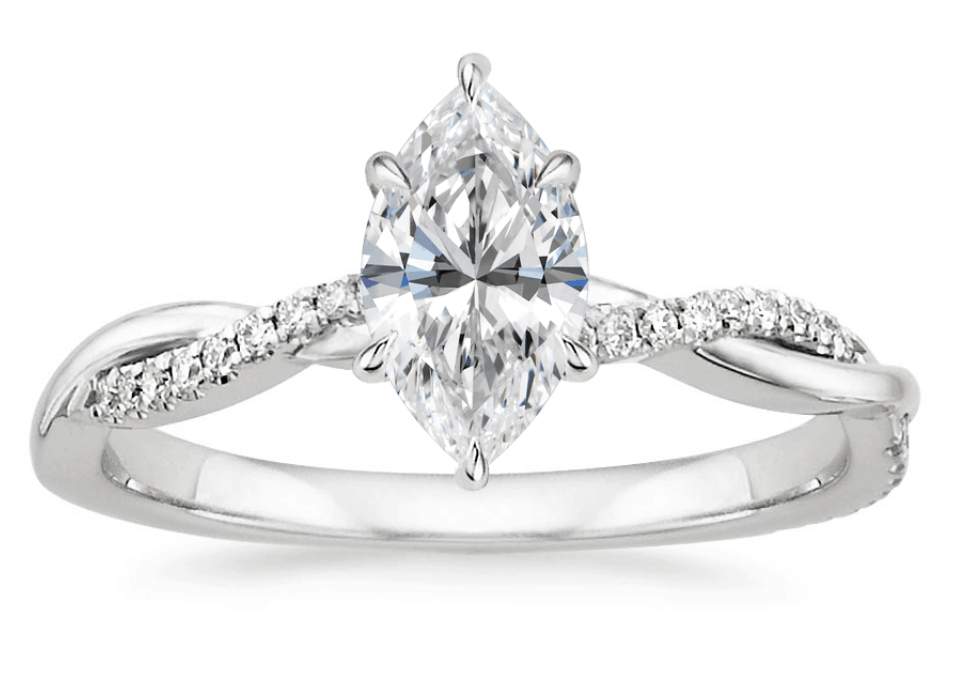 This Brilliant Earth ring setting is an instant classic. For someone looking for an engagement ring with sparkle but a timeless appeal, this platinum ring does just that. A strand of pavé diamonds provides a sparkling ribbon over the platinum band. Priced from $1650. Buy Here. 
Blue Nile's Zac Posen Cathedral Solitaire Ring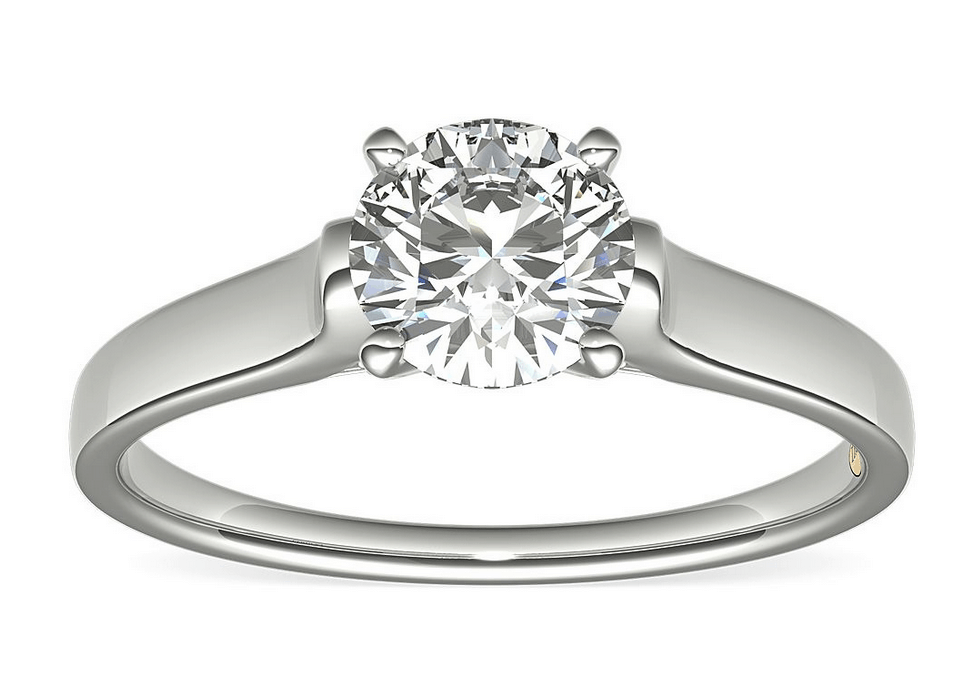 This classic engagement ring setting offers a touch of sparkle. Zac Posen is known for his ability to combine couture and unique designs, accompanied by signature silhouettes. The platinum band is accompanied by a pavé-set diamond bridge for a refined touch. Priced from $1,390.
Blue Nile Studio Heiress Halo Engagement Ring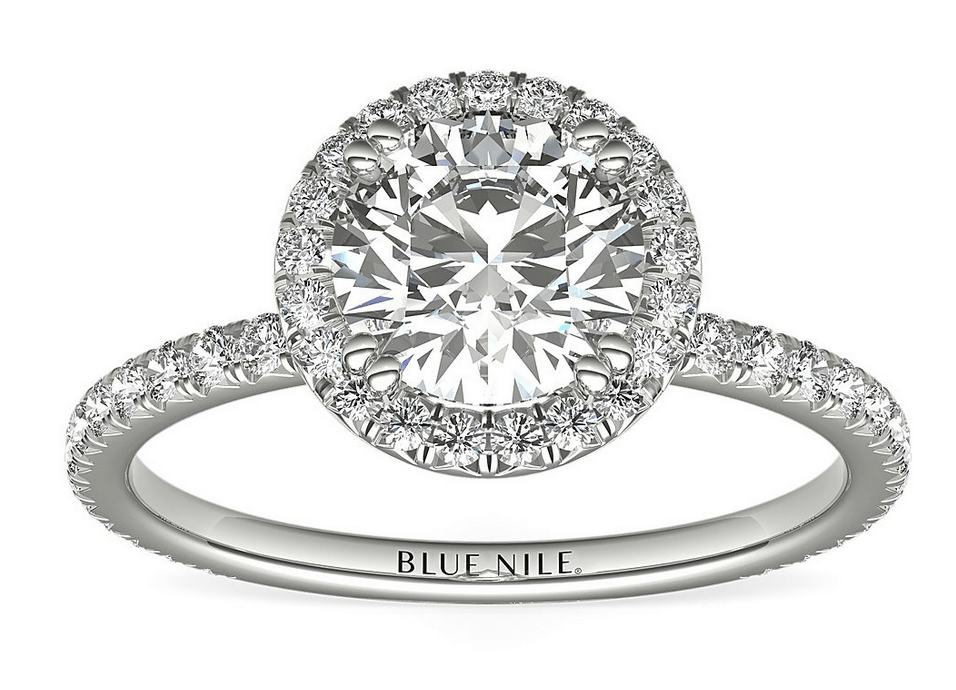 If you're looking for a sparkling diamond engagement ring, this classic from Blue Nile is sure to please. The halo style is meant to add sparkle around the center diamond. The French style, a pavé-set diamond halo is simply exquisite on a platinum band. Priced from $2,990. Buy Here. 
Platinum Wedding Rings
Platinum is well suited for solid wedding bands. A bit pricier than gold, the look provides a contemporary polish, and, later, a beautiful antique finish. If that sounds like the metal for you, then I recommend shopping again from Brilliant Earth or Blue Nile. These wedding rings are reasonably priced and offer a decent variety. Both companies sell wedding sets and men's collections too. Shop Brilliant Earth Women's Platinum Wedding Rings Here or Shop Blue Nile Women's Platinum Wedding Rings Here. 
Brilliant Earth Versailles Diamond Wedding Ring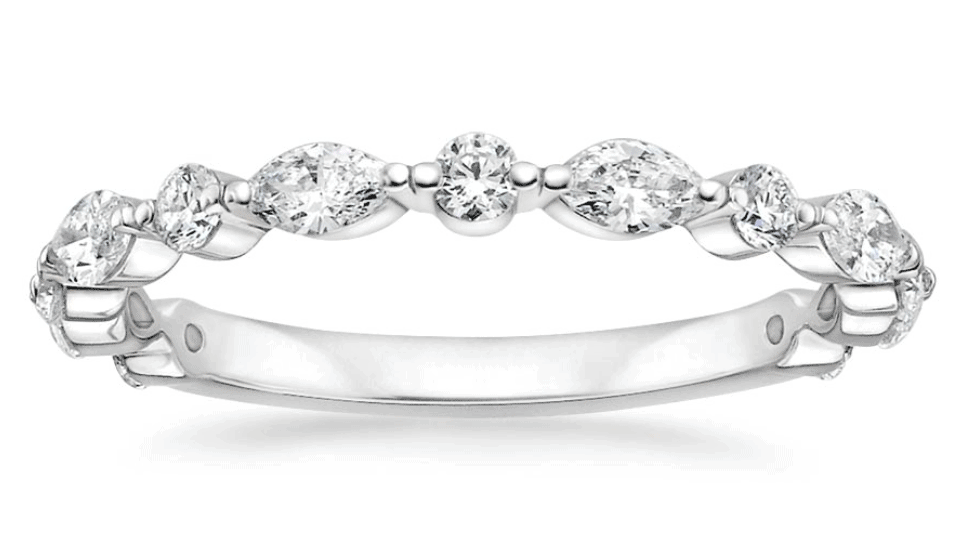 Rated 5 stars by customers, this beautiful platinum wedding ring is simply elegant. By pairing round and marquise diamonds there's an elegance to this ring that feels unique. Distinct, elegant, I love this wedding ring for its sense of timelessness. Choose from ⅕ to 12 carats of diamonds. Priced from $1,690 to $2,350 for platinum. Buy Here. 
Brilliant Earth Flair Diamond Wedding Ring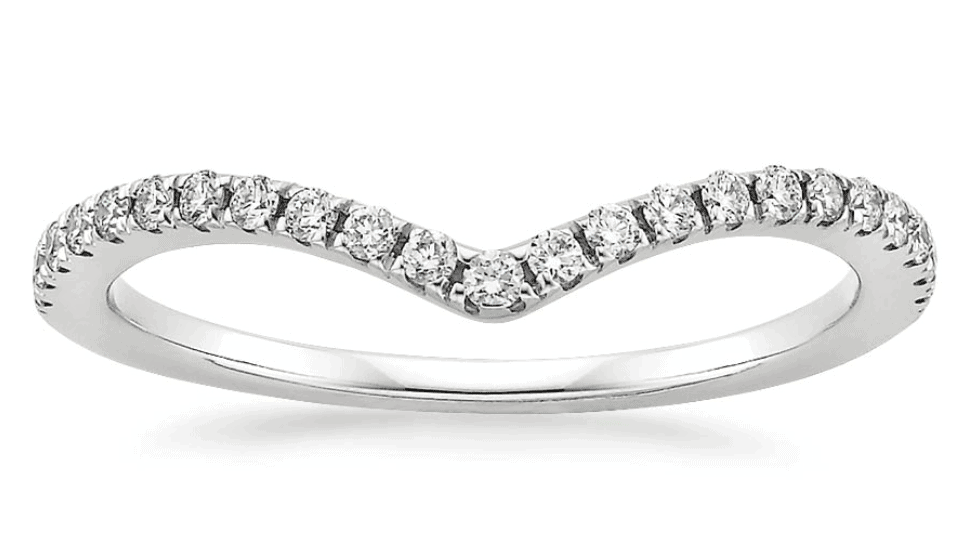 Add modern flair with this unique Brilliant Earth platinum ring. The wedding band is accented with scalloped pavé diamonds. The band is softly curved into a chevron shape. This beautiful play on geometry shines with ⅙ carats of sparkling diamonds. Priced at $1,390. Buy Here.
Brilliant Earth Petite Comfort Fit Wedding Ring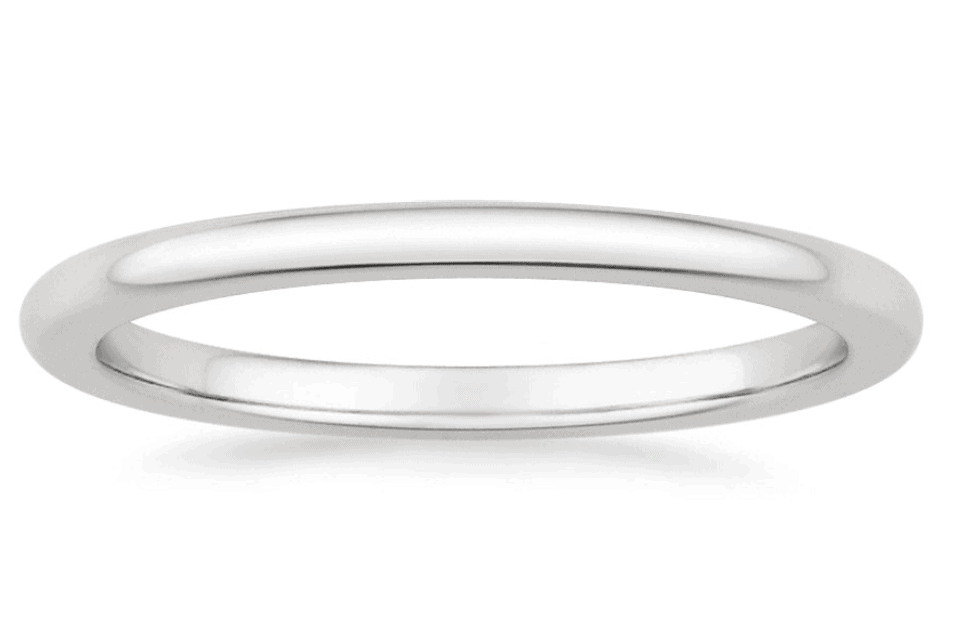 Maybe it's just me, but I think that there's something to be said about the simple, timeless elegance of a solid metal wedding ring. This platinum ring doesn't need any diamond accents– it's a versatile, high-quality ring. But there's more: the ring features an internal curve for a more comfortable fit. Priced from $470 to $790 for platinum; Buy Here. 
Blue Nile Petite Twist Diamond Eternity Wedding Ring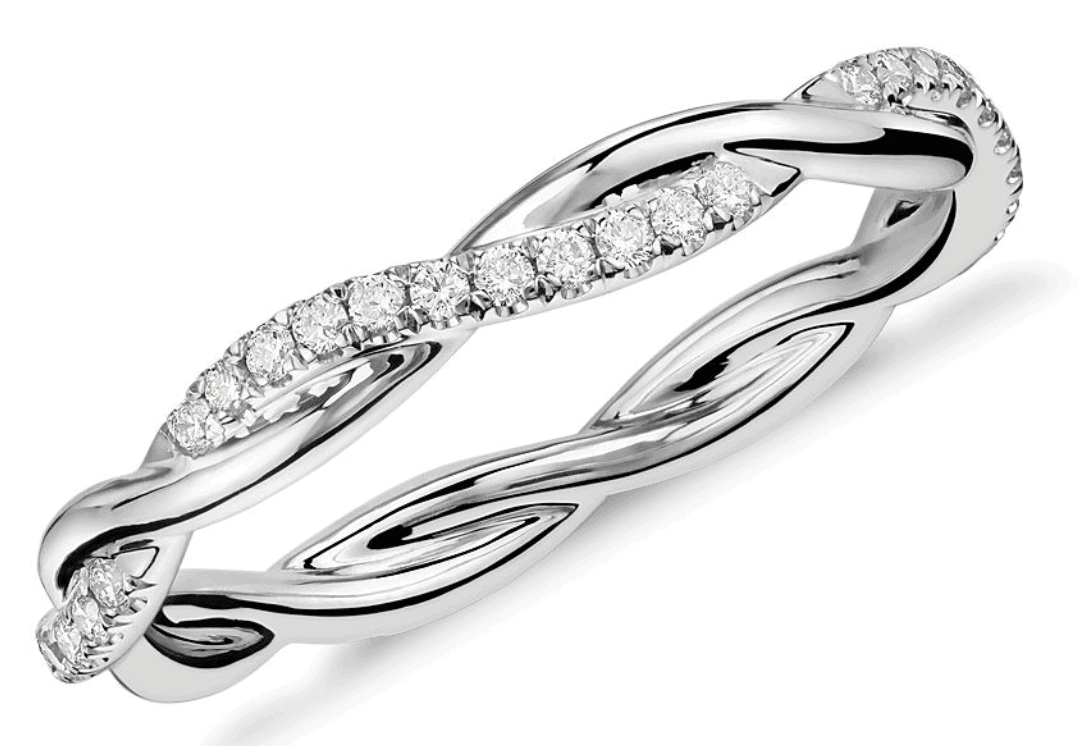 This platinum ring from Blue Nile is a lively take on a traditional wedding band. A solid metal ribbon intertwined with one studded with micropavé set diamonds. The look is delicate and stunning. The intricate detailing adds a wow factor with just ⅕ carats of diamonds. Priced at $1,240. Buy Here. 
Blue Nile Luna Seven Stone Diamond Wedding Ring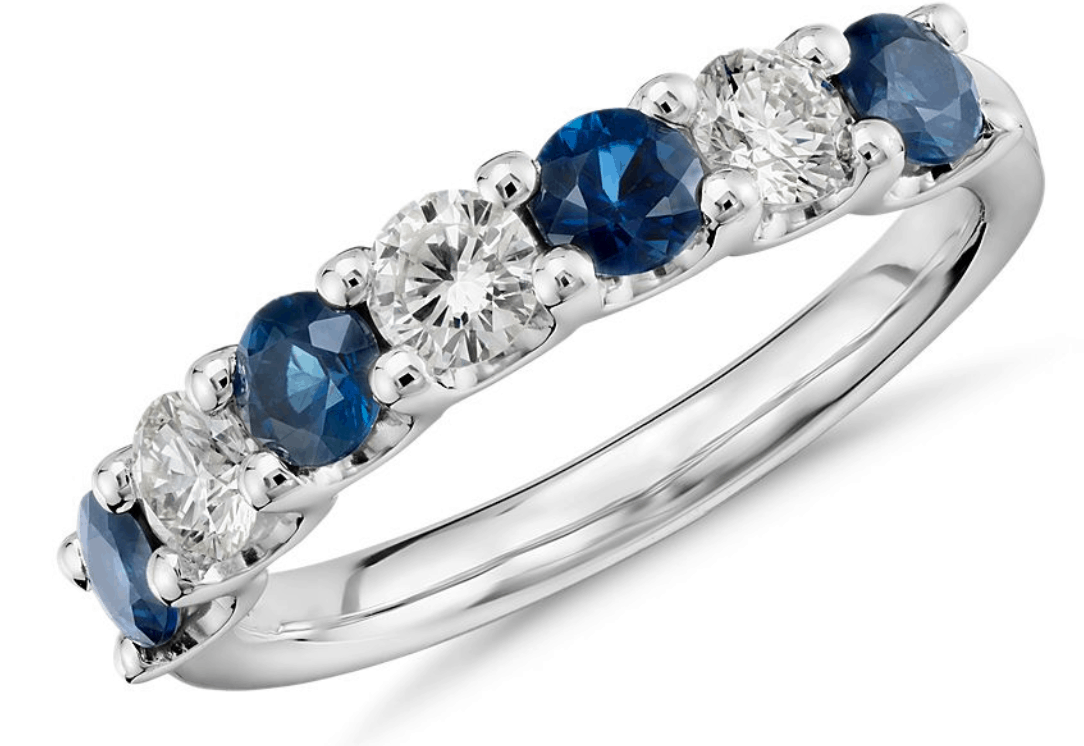 Opt for an all diamond or diamond and sapphire style with this exquisite platinum wedding ring. Meant to embody the good fortune associated with the number 7, this ring features seven gemstones with a round cut and beautiful brilliance. This 5-star, awe-inspiring ring is priced from $2,712 to $4,792. Buy Here. 
Blue Nile Matte Classic Wedding Ring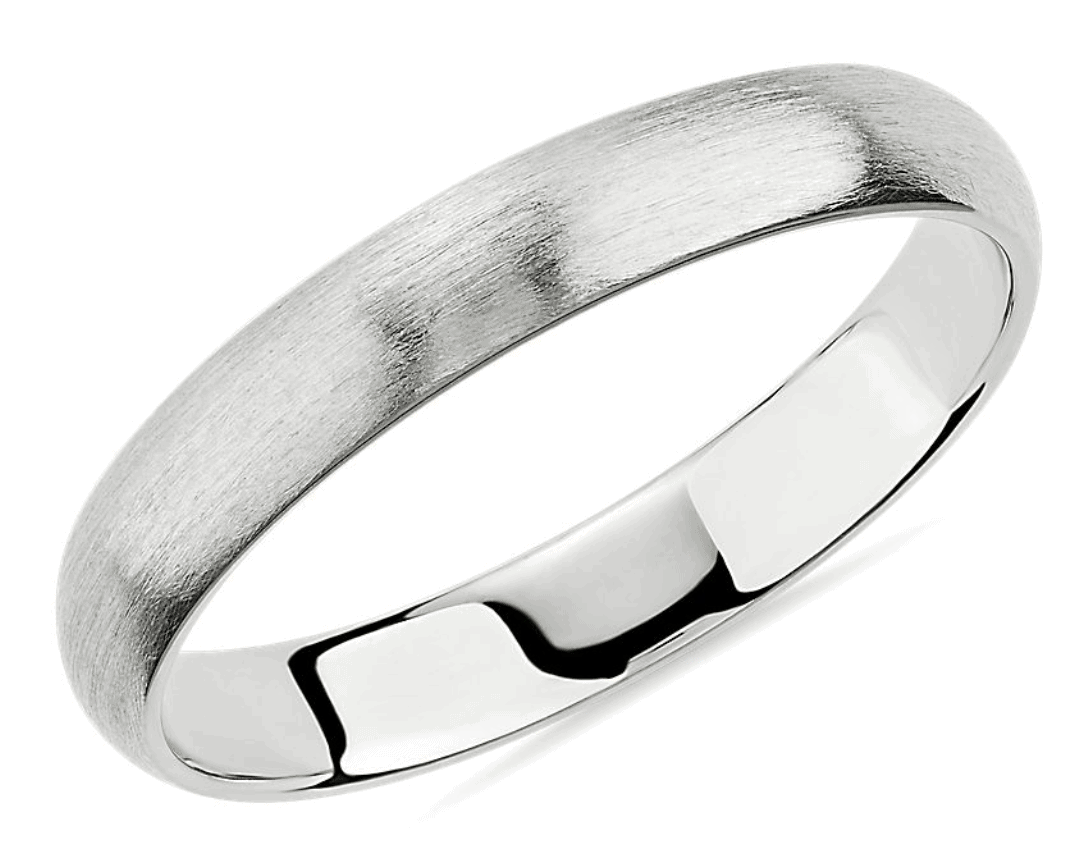 Blue Nile's version of a classic wedding ring features a matte finish. The matte finish is actually a smart choice for platinum– making any wear or tear natural and gradual. A low-profile ring features a simple modern brush. This ring is also designed for a lightweight, comfortable fit. Priced from $550 to $1,150. Buy Here. 
Frequently Asked Questions
Question: Is platinum more expensive than gold?
Answer: Platinum is one of the most expensive metals you can buy for fine jewelry. In general, you can expect to pay more. This is in part due to platinum being more rare than gold and more valuable for jewelry. 
Question: Which is better, platinum or titanium?
Answer: Titanium is not commonly used for many necklaces or rings. As such, you'll have a far more limited selection than you would if you opted for platinum. However, it's also true that titanium is a harder metal, and far less prone to surface scratches than titanium. 
Question: What can harm platinum?
Answer: Chlorine can harm platinum– which is why I don't recommend swimming with a platinum ring or other accessory. While one time may be okay, too much exposure can erode and discolor platinum. I'd also recommend caution when using any harsh cleaning agents. 
Final Thoughts
Platinum rings are beautiful and most durable. They indeed do scratch, but the beauty of platinum rings is that they are unlikely to look damaged. Though expensive, platinum is an excellent choice for many people who are looking for engagement rings, wedding bands, or even cocktail rings. 
Want a durable alternative? A more affordable and hypoallergenic option is surgical steel (also stainless steel). It's a little tricky, as you may need to custom order. You can find a selection of stainless steel rings from Zales for men. Read more about the best types of rings in our complete guide here.