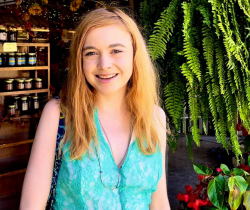 Latest posts by Erin Jamieson
(see all)
Since the early 20th century, under the direction of the founder's son, Charles Lewis Tiffany, Tiffany and Co have been praised for their artistic vision and exquisite rings for women. But as the luxury designer exceeds global sales of $4.4 billion, it's carving the way for even more inspiration and ideas– this time with not only silver and gold but also black rings. 
In May 2021, Tiffany & CO launched a collection of men's engagement rings, responding to growing demand in the market. It marks the first time in Tiffany & Co's 184+ year history that they're selling rings for men, and the collection doesn't disappoint.
The collection stays true to Tiffany & Co's design principles: modern luxury, with a sense of timelessness. The collection is meant to "pave[e] the way for new traditions" according to the company. At the same time, the rings "honor [Tiffany and Co's] long-standing legacy in love and inclusivity." 
But it isn't just marketing– you can see the same Tiffany & Co quality reflected in the design. The rings draw inspiration from classic signets and dazzle with just a touch of sparkle or detailing. Available in both titanium and platinum, black rings are among them, pushing a trend that's been bubbling for men's wedding bands for some time.
From plan bands to engagement rings and everything in between, Tiffany & Co is far from the one only designer who's selling black rings. But how to select the best black ring is a little more challenging.
I'll tell you what you need to know about the best and most popular black ring types. I'll discuss the pros and cons of black titanium, black tungsten, and black zirconium,– as well as a luxury option. Finally, I'll round up my guide with some of my favorite black ring ideas. 
Are Black Rings Attractive?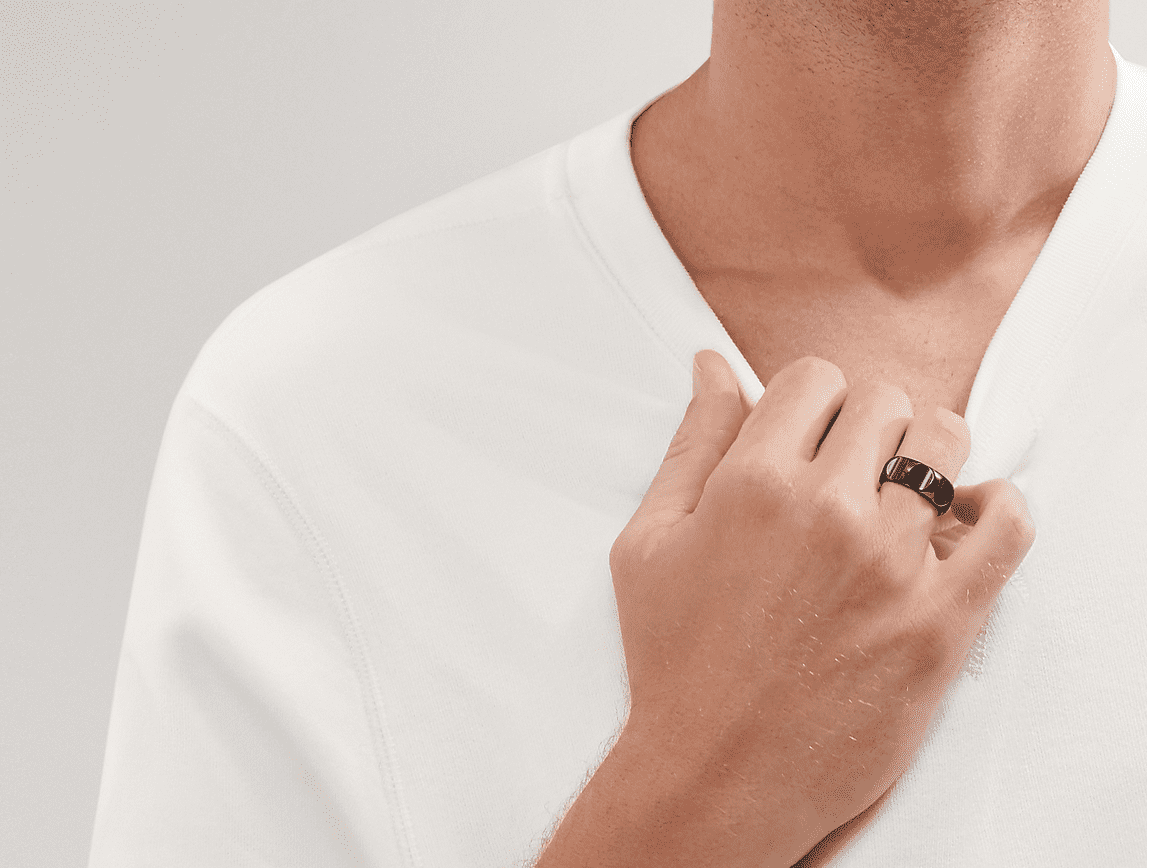 Black rings have pros and cons– and all of that depends on the material you're selecting. But black rings have become more popular in recent years as a way to stand out and embrace a modern style. They're mostly seen as fashionable, sleek, and stylish. Some have been passed down generations. 
What Does a Black Wedding Band Mean?
Black wedding bands also are rich with symbolic meaning. Black is associated with strength, courage, power, and self-confidence. It may signal a strong commitment to values, as well as love. Thus, a black wedding band or engagement ring is seen as a strong bond to one's partner. 
In history, black rings have been associated with both purity rings and promise rings, especially in Celtic cultures. While my focus is on black ring bands, black diamonds are also a powerful statement and have been used for the expression of equality and love for all. 
Do Black Rings Fade?
The biggest downside to black rings is that many fades. For some, it's a mere year of regular use. For others, it's 5 years. A ring that's been color-treated through the entire ring will last longer than a ring that has just a color-treated coating. However, there is a category of black rings– crushed diamonds- that won't fade. 
What Metal is Black for Jewelry?
Several metal types can present as black. These include black titanium, black zirconium, black tungsten, as well as black ceramic rings, and black stainless steel. Black stainless steel rings are known for their low level of durability and black ceramic rings are harder to find. A newer, luxury option is crushed diamond rings. 
What is Black Titanium?
Black titanium is made by coating titanium with another metal, usually black rhodium. It shares most of the titanium's qualities. A transition metal known for its use not only in jewelry but also in everything from medical devices to construction, it's versatile and common. The naturally occurring ore can be found in rocks, soil, and even bodies of water.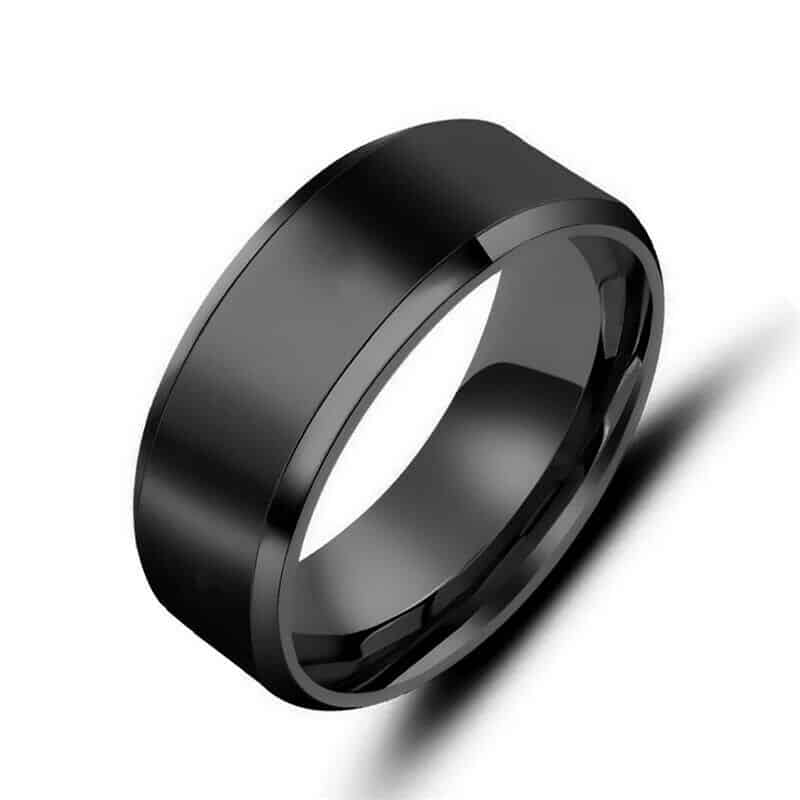 Does Black Titanium Scratch Easily?
Titanium itself can be scratched, but easily buffed. It's fashionable to buy a titanium ring and wear it with a textured appearance. Scratches look natural, not jarring, and become a part of the ring. It's a little trickier with black titanium. The black rhodium application was scratched and chip away over time. It has a Mohs hardness rating of 6, which is about the middle ground between hardest and softest. 
Is Black Titanium Strong?
Now, some of the positives: black titanium is a strong metal, making it hard to chip and break. It has a low density, making it comfortable to wear. It's also resistant to temperature and water, including saltwater. You won't have to worry about corrosion. In addition, it has a higher luster than some competing metals. 
What are the Disadvantages of Titanium?
As I noted, some black titanium rings can fade over time. A ring that's been color-treated throughout the entire ring will last longer. It also requires specialty tools to be cut off in an emergency. Black titanium is relatively affordable, but it may need to be replaced eventually.
What is Black Tungsten?
Black tungsten is produced remarkably. Particles of titanium zirconium are applied at high speed on the surface of tungsten. Tungsten is a relatively rare metal sourced from other compounds and elements. With its array of naturally occurring alloys, tungsten is used for light bulbs, X-ray tubes, and countless other practical and industrial applications. 
Does Black Tungsten Fade?
Black tungsten rings can slowly fade over time. Tungsten carbides are becoming more popular as they are more fade-resistant. Tungsten carbide in particular is also more resistant to high heat and pressure. Black tungsten doesn't corrode but it's the coating that can fade. 
Can You Shower With a Tungsten Ring?
You don't have to worry about water or other elements causing actual corrosion. Black tungsten resists corrosion and damage. 
What are the Main Advantages of a Black Tungsten Ring?
It's heavyweight and generally strong, as well as resistant to serious corrosion. Many like the style of black tungsten rings as well as the versatility. They have a mid-range price and can be found in comfortable and modern styles. 
What are the Disadvantages of Tungsten?
Titanium is a 7 on the Mohs hardness scale, making it acceptable for daily wear, but also able to collect scratches. Like many black rings, black tungsten can fade over time.  
What is Black Zirconium?
Black zirconium is nickel-free and a unique option for a black ring. Zirconium is a naturally occurring element that is normally grayish-wight and most commonly used in nuclear reactors. A ceramic-like oxide is applied at high heat to achieve the signature black exterior.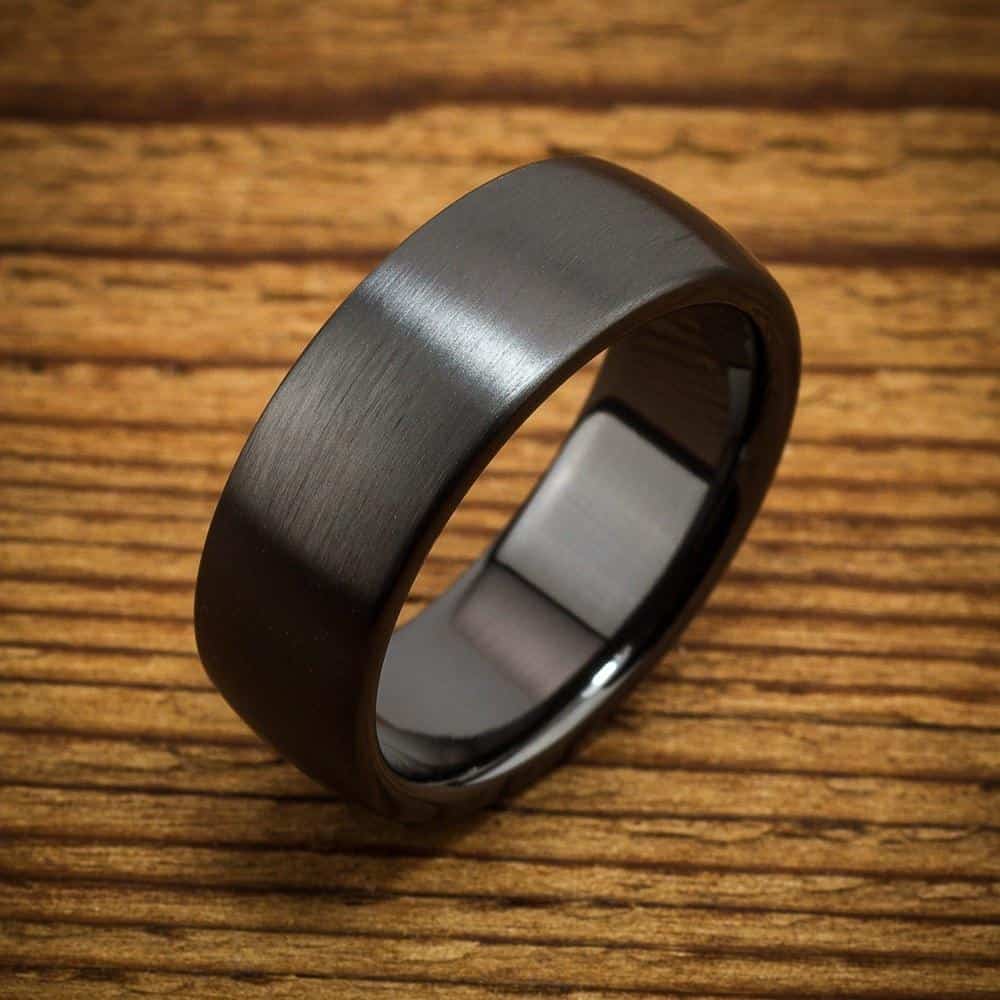 Does Black Zirconium Fade?
This is where black zirconium shines: unlike many other black rings, it is unlikely to fade. The black color is not susceptible to tarnish or corrosion and should stay as new as when you purchased it. 
Is Black Zirconium Strong?
Black zirconium is moderate in its strength– the 6 rating on the Mohs hardness scale makes it a little softer and easier to strengthen, but it's not a brittle metal, meaning that it's hard to crack or break. It's also lightweight and comfortable.
What are the Disadvantages of Black Zirconium? 
Black zirconium is pricey compared to some other metal types. While it is nickel-free, black zirconium can irritate. The materials used for rings are said to have low levels of toxicity, but this is a big con for some. 
What is an Elysium Ring?
My final pick is Elysium rings. If you haven't heard of them, that's understandable. These luxury rings are a unique twist on black rings. Made from genuine crushed diamonds, not only are they alluring, but also a durable, fade-resistant option.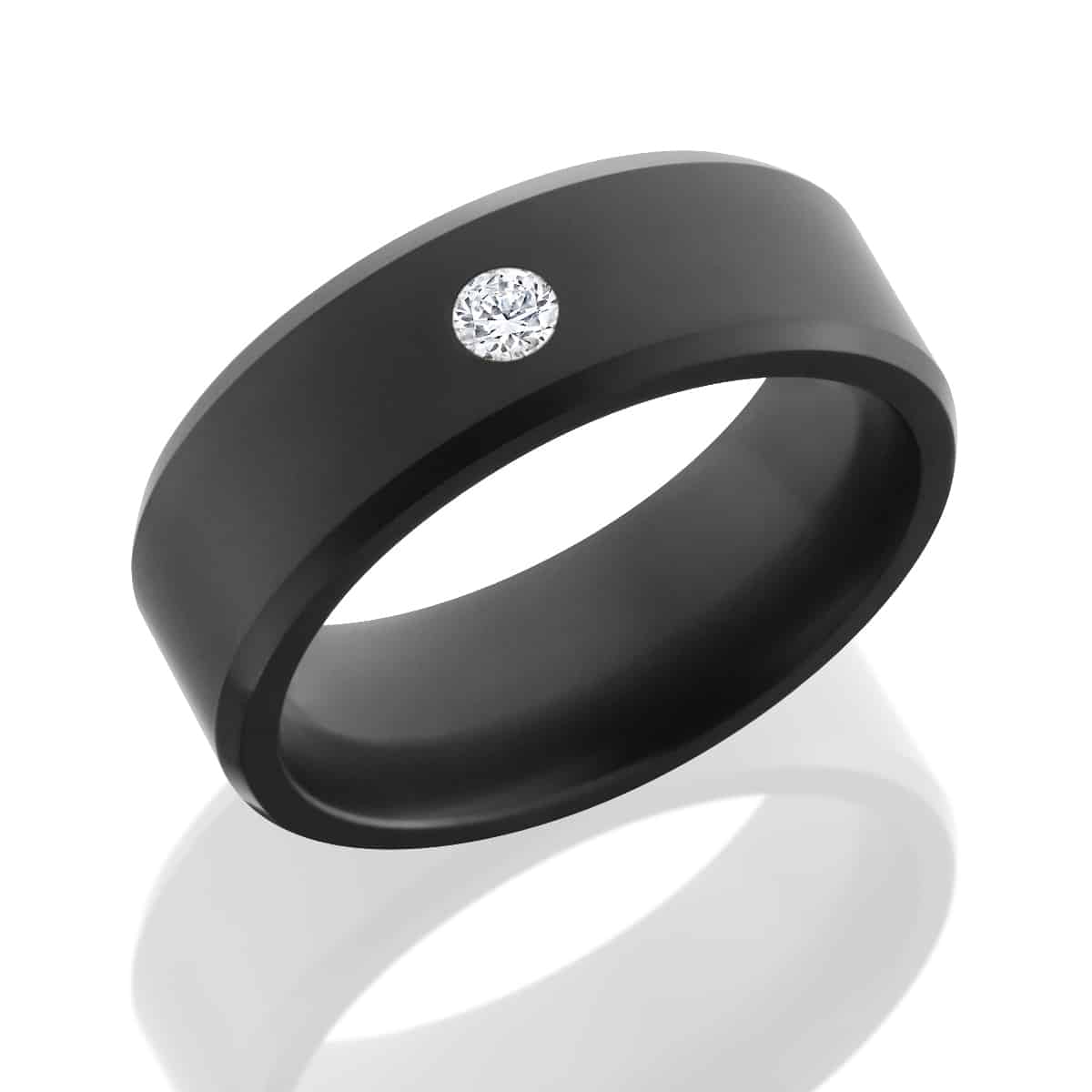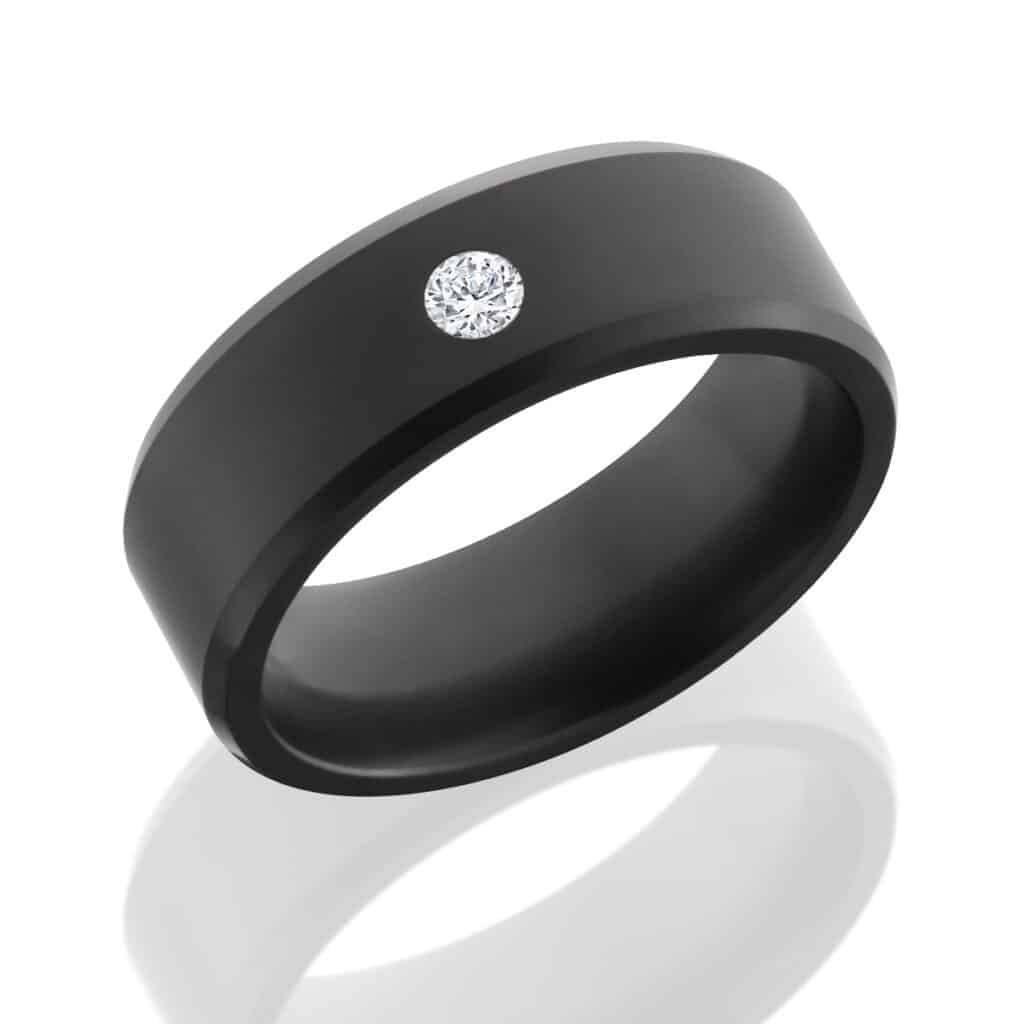 What are the Advantages and Disadvantages of Elysium Rings?
Elysium rings, as the name suggests, are tied to one brand. That means you're limited to their selection, for the most part. It comes as no surprise that these rings are the more expensive option. They also can't be resized.
However, the advantages are significant. While hard, durable, and entirely scratch-resistant, these rings can be cut off in case of emergencies. They are made with materials that could potentially last a lifetime. 
Which Material is Best for My Black Ring?
To sum up, my pros and cons, see the table below. As you can see, no one choice for black rings is perfect– it just depends on what you value most.
Ring Type
Main Pros
Main Cons

Black Titanium

Widely available and affordable

Corrosion-resistant

Comfortable fit 

Can chip and fade with regular wear

Black Tungsten

Heavyweight and strong

Modern Styles

Mid-range prices

Black Zirconium

Nickel-free

Resistant to corrosion

Lightweight and Comfortable

Won't fade 

Materials in high doses may cause sensitivity or health concerns

Expensive

Crushed Diamond/ Elysium 

Scratch-resistant

No fading

Luxurious 

Easy care 

Expensive

Limited selection
My Picks: Black Rings
Now I'll give you some of my favorite ideas for where to buy black rings. Whether you're looking for black titanium, tungsten, or zirconium rings, you need to be selective about who you're buying from. Fake or poor-quality rings are not only potentially a waste of money, but also disappointing. All of my picks draw inspiration from companies with a history of excellence, from the quality of materials to modern craftsmanship. I've also included picks for unique crushed diamond rings. 
Black Titanium Rings
Comfortable and modern, black titanium rings are widely offered. I recommend buying from one of two companies: the Titanium Rings Studio or Tiffany and Co. Since Tiffany just started offering black titanium rings, there are only a few options, but you can be assured they're made with high-quality materials. Meanwhile, the Titanium Rings Studio has a solid reputation for its rings and customer service. 
Titanium Rings Studio Collection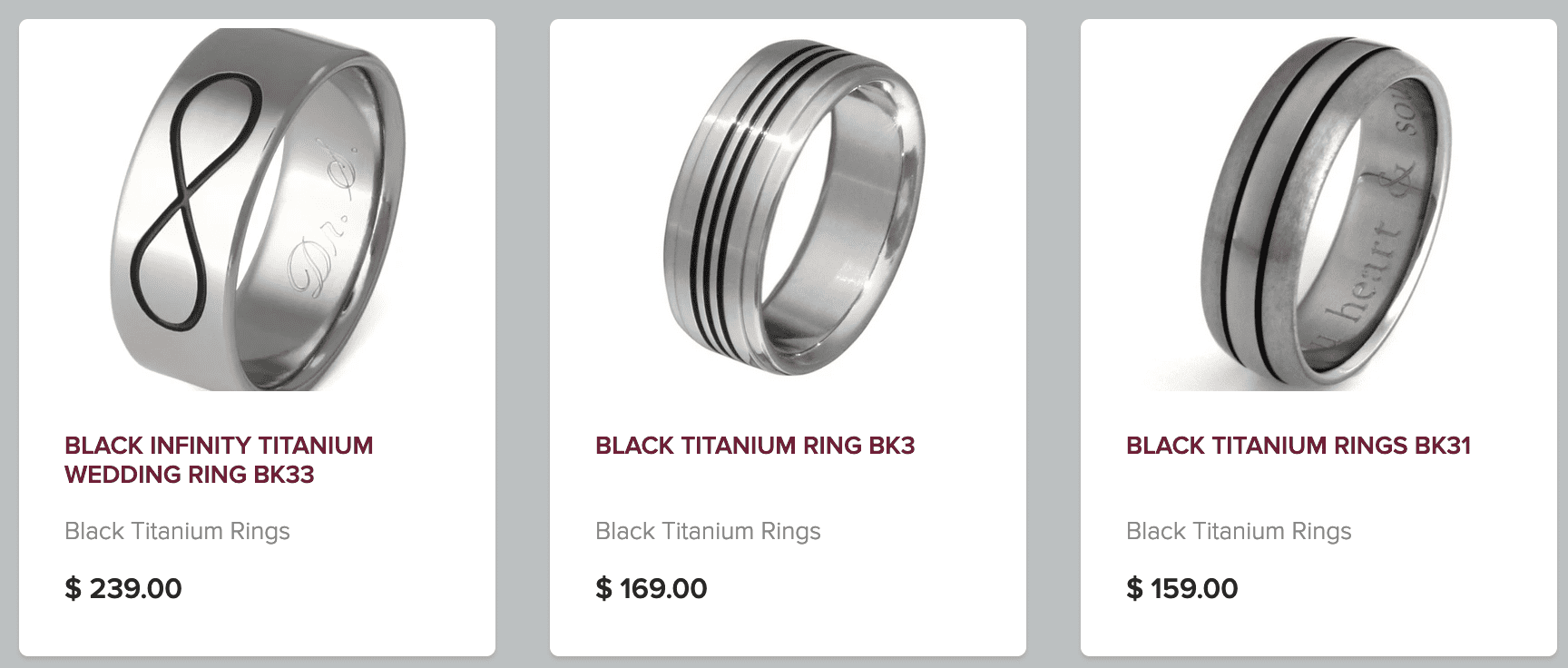 Looking for just a touch of black? This collection features classic titanium bands with black stripes with modern and classic designs. Rings are priced from $99 to $239 and feature a classic, polished finish. Useful for a contemporary promise ring or wedding band, this collection is fairly priced and a great option if you want a black accent but not a fully black ring. You'll also have to worry less about fading. Rings are available in matte, satin, and polished, as well as with custom engravings. My favorite ring of the collection is the Infinity Knot Ring, priced at $239. Shop the Collection Here. 
Tiffany & Co Black Titanium Rings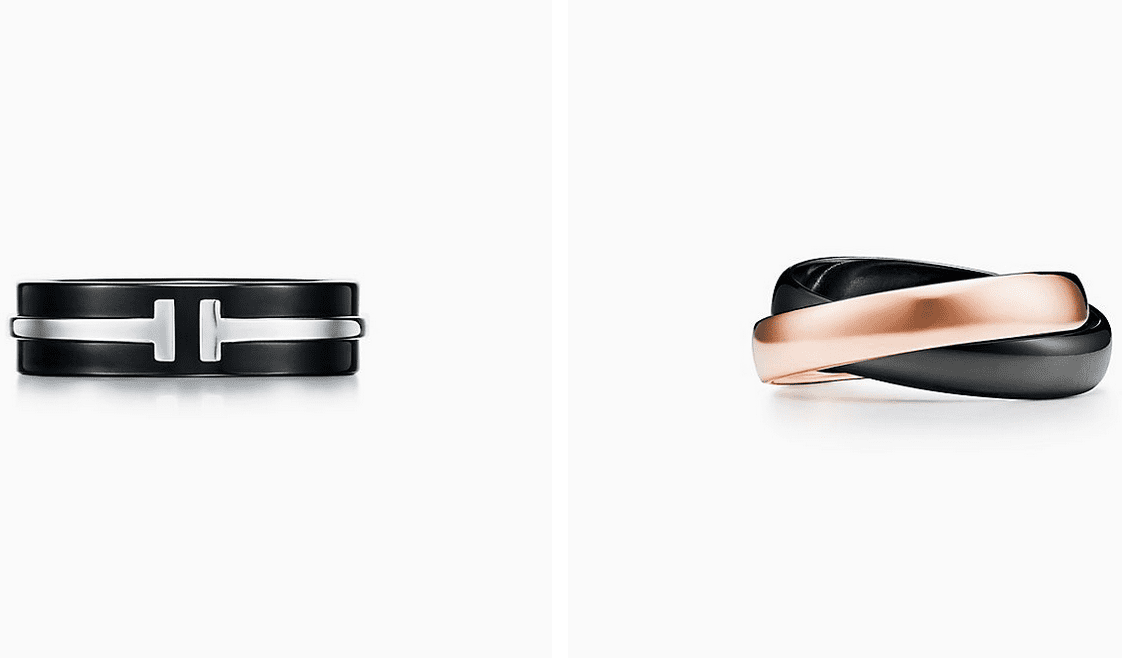 Tiffany & Co shines with its new ring collection. Since it's a luxury designer, you can expect to pay more– rings are priced from $400 to $1,100– but there's no denying their handsome craftsmanship and one-of-a-kind designs. The four-ring collection includes a comfortable Groove Ring ($550). But my favorite is Palamoa's Melody Ring, which pairs interlocking bands with rose-gold and black tones ($1,100). Shop The Collection Here. 
Black Tungsten Rings
For black tungsten rings, I recommend the Blue Nile. The Blue Nile, most known for its selection of diamonds and fine gemstones, offers modern styles, stylish craftsmanship, and quality materials. With standards for sourcing and customer service, their black tungsten ring collection is a great place to shop. 
Blue Nile Tungsten Ring Collection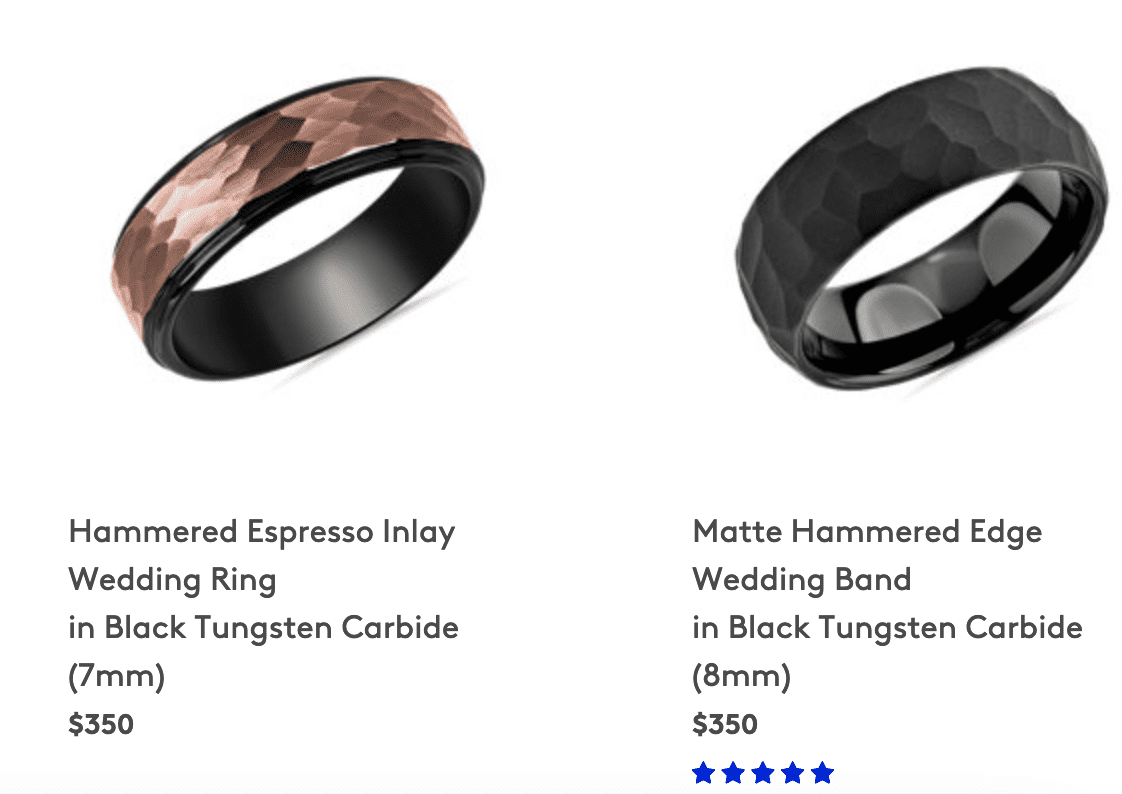 Faceted, smooth, and ridged– a variety of textures are at play in Blue Nile's contemporary black tungsten ring collection. Priced from $195 to $490, this stylish collection is highly rated and also versatile. Sandblasted, hammered, and smooth finishes keep on top of trends, while still achieving a timeless look. 
Stand-outs from the collection include Matte Hammered Comfort Fit Ring ($272), a Two-Tone Espresso Wedding Ring ($350), an Asymmetrical Black and Blue Band ($351), and a Single Black Diamond Ring with Tungsten ($490). What I love about this collection is that it's all tungsten carbide, with it a higher quality and more durable than the average tungsten ring. Shop the Collection Here. 
Black Zirconium Rings
Revolution Jewelry is my top recommendation for black zirconium rings. The company specializes in men's rings, with over 2,000 styles. The black zirconium ring collection offers a range of styles and prices, crafted with care. With solid customer service and a thoughtful collection, shopping for black zirconium rings is easy. 
Revolution Jewelry Black Zirconium Ring Collection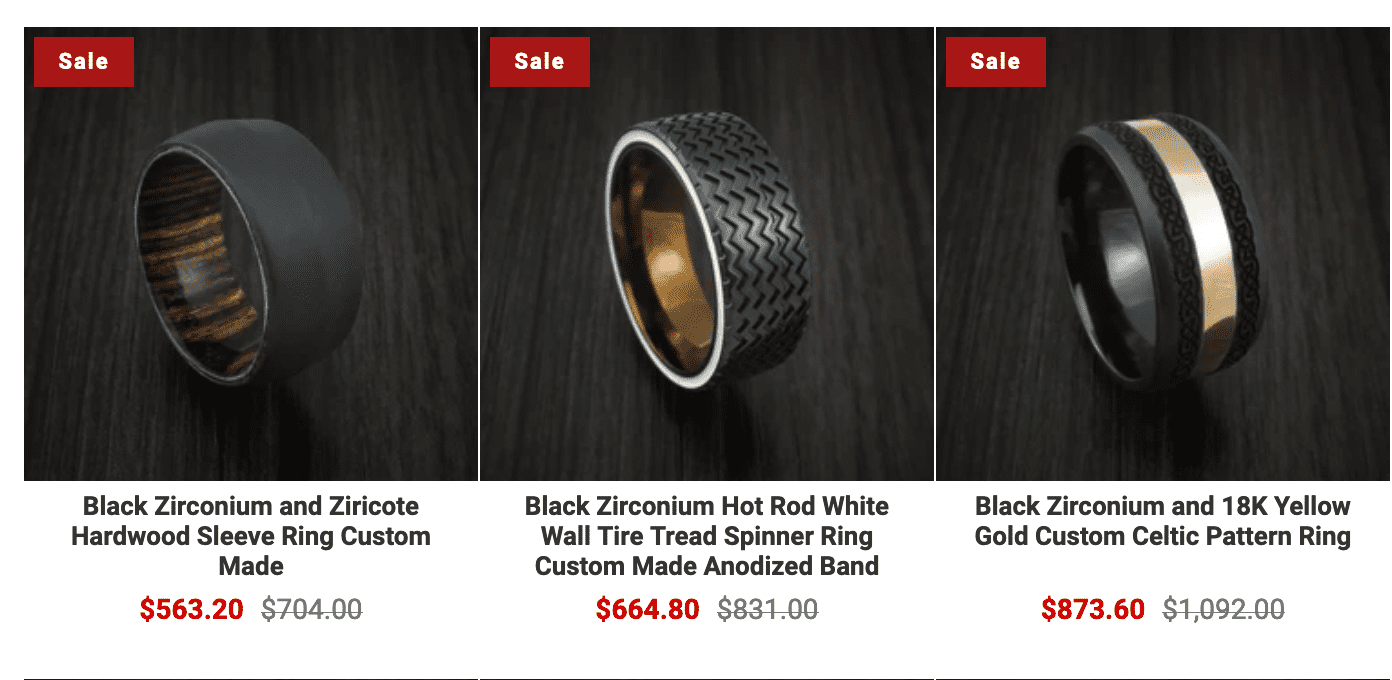 This impressive collection of black zirconium rings not only has a great selection but allows you to also design your ring. There's an impressive 16 pages of rings, with designs ranging from modern to eclectic. The collection is priced from $272 to $5,240. There are options for fairly plain designs, but also with other precious metals, including 18K gold. Some of my favorites from this upscale collection include a Tree Bark Finish Black Zirconium Ring ($275) Black Zirconium with 14K Rose Gold ($1,062); and Black Zirconium and Dichrolam Ring ($935). Shop the Entire Collection Here. 
Elysium (Crushed Diamond) Rings
Elysium rings are made and sold through Revolution Jewelry Designs. The highly-regarded company holds an A+ on the Better Business Bureau and is known for its innovation. Elysium rings are made with genuine crushed diamonds, are hypoallergenic, and are oddly lightweight. They're as durable as you can get for a black ring– so if you have the money, this is my number one recommendation. Styles are fairly plain, featuring mostly smooth luxury shine. 
Revolution Jewelry Crushed Diamond Ring Collection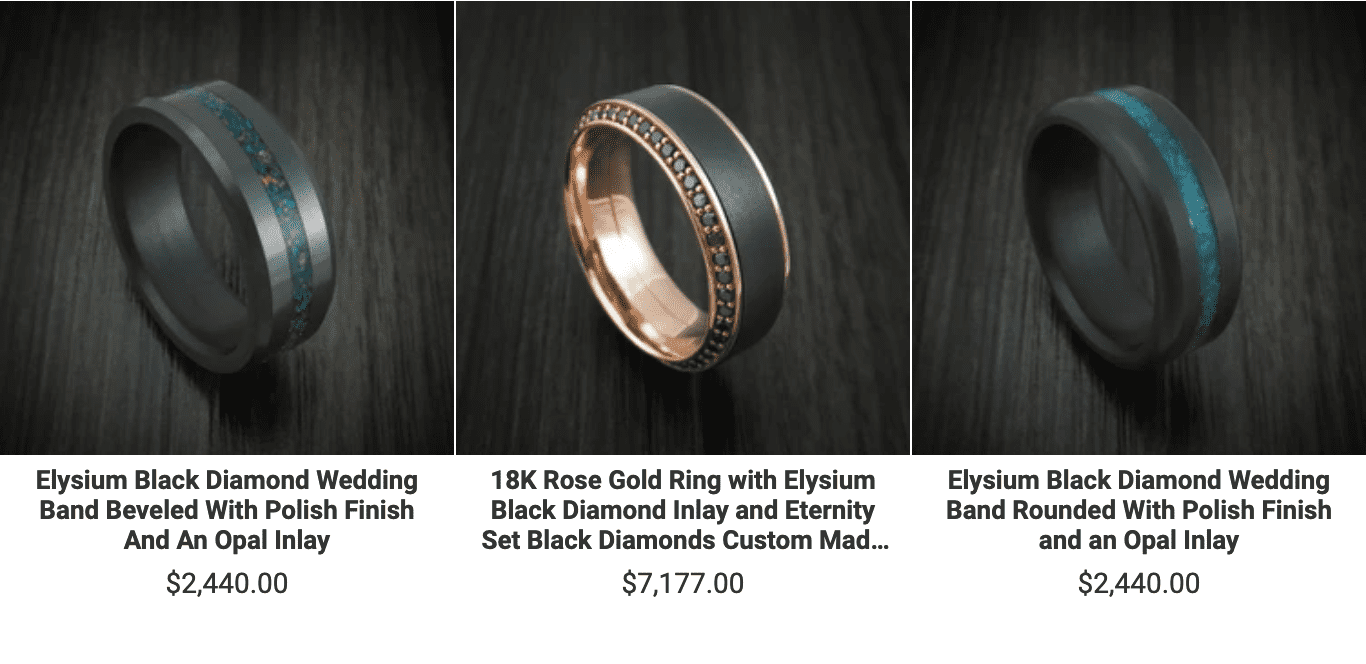 Diamonds are fused with millions of pounds of pressure to create this collection. While luxurious, their allure is understated and sleek. There are options with other precious metals, including 18K gold and even platinum. The collection is priced from $499 to $7,919, offering a wide range of both prices and styles. Some of the bestselling rings from this stately collection include an Elysium Black Diamond Ring with a Matte Finish ($1,499), an 18K Rose Gold Ring with Black Diamond Inlay ($7,177), and a Platinum and Black Diamond Ring ($6,559). You can Shop the Entire Collection Here. 
Frequently Asked Questions
Question: What Does Wearing a Black Ring On Your Middle Finger Mean?
Answer: A black ring can mean anything you want it to. Black rings are used for engagement rings, promise rings, and wedding bands. Some who identify as asexual wear a back ring on their middle finger. The symbolism and styles of black rings continue to evolve. 
Question: What Metal is Bulletproof?
Answer: Kevlar is the metal commonly listed as bulletproof. It's a form of synthetic fiber that's lightweight, as well as strong, and resistant to heat. While used for bulletproof vests and other bulletproof products, it's not used commonly in fine jewelry. 
Question: Is Black Tungsten Plated?
Answer: Technically, black tungsten is plated, but it's a process that's distinct from gold plating. Gold plating is accomplished by pounding gold into a fine layer. Black tungsten is ion-plated. Ion plating does fade but doesn't corrode the same way gold plating does. Ion plating deposits particles at high speeds, making for a more durable exterior. 
Final Thoughts
Black rings are unique– but becoming increasingly popular. While there is no perfect black ring, you can find a style and material that suits your needs, whether that's a more affordable or luxurious option.
Still, looking for more black rings? Black stainless steel is cheap, lightweight, and strong, though it is susceptible to wear and tear. Try Zales Black Stainless Steel Rings. You'll find comfortable fits, bevelled edges are diamond accents.  There are also casual fashion rings. Prices start at as little as under $20. Shop Zales Black Stainless Steel Rings Here. 
Recommended Reads: