Latest posts by Erin Jamieson
(see all)
David Yurman has been a mainstay as luxury jewelry and lifestyle brand for a while. And one of the most popular accessory ideas is David Yurman rings, just as a new collection is being introduced.
While the pandemic posed obstacles for jewelers around the world, one consequence was a spike in innovation.
Designers went back to the drawing board in terms of how to market products. But for David Yurman, that included creating a new collection to stun and wow consumers around the world.
David Yurman and his wife and fellow designer Sybil spent a year in lockdown not bemoaning the impact of the pandemic–but instead working on an exquisite, personal collection that was introduced in March 2021.
The new Elements Collection features statement pieces that are not only beautiful but also symbolic. Pendants and rings were designed with themes such as the circle of life, hope, and connection. Healing stones, like Jasper, made their way into rings and other pieces of jewelry.
But what's the hype around David Yurman, and is this luxury designer right for you? Consider this your guide, the David Yurman rings. I'll tell you what you need to know before you buy, how to care for your ring, and the best rings you can buy in 2022.
What's so special about David Yurman?
David Yurman is a luxury brand that has made a name for itself with signature and timeless designs. But David Yurman and his wife and painter, Sybil have distinguished themselves from competitors by drawing inspiration from art, history, and design. You can see that many accessories, for instance, are influenced by paintings.
Where is David Yurman jewelry manufactured?
While David Yurman is based in New York City, like many luxury designers, most pieces are not actually made in New York. Yurman has claimed that pieces are made around the world, but a bulk of them are indeed produced in China.
Are David Yurman diamonds real?
With any diamond or gemstone ring, you want to make sure you're either purchasing a lab-grown or natural gemstone or diamond. Simulants are not only less valuable but are typically not as durable.
The good news is that their diamonds are all-natural, and sourced in adherence to the Kimberley Process. The Kimberley Process ensures that diamonds with this distinction aren't being used to finance civil wars. They're also known as conflict-free diamonds.
The use of natural, conflict-free diamonds is another way in which David Yurman has distinguished itself from competitors in the luxury jewelry industry.
Do David Yurman rings tarnish?
One downside, however, is that some David Yurman rings can tarnish over time, and you'll notice tarnishing sooner if your ring isn't properly cared for. Some David Yurman rings are made from sterling silver. While a beautiful option, sterling silver, as opposed to solid gold or platinum, can tarnish.
To avoid or delay tarnish, keep your ring protected. If you're not wearing your ring, one trick is to place it in its own ziplock with a piece of chalk or another drying agent. This protects it from moisture and scratches. This is important if you decide to buy sterling silver rings.
How do I select the best David Yurman ring?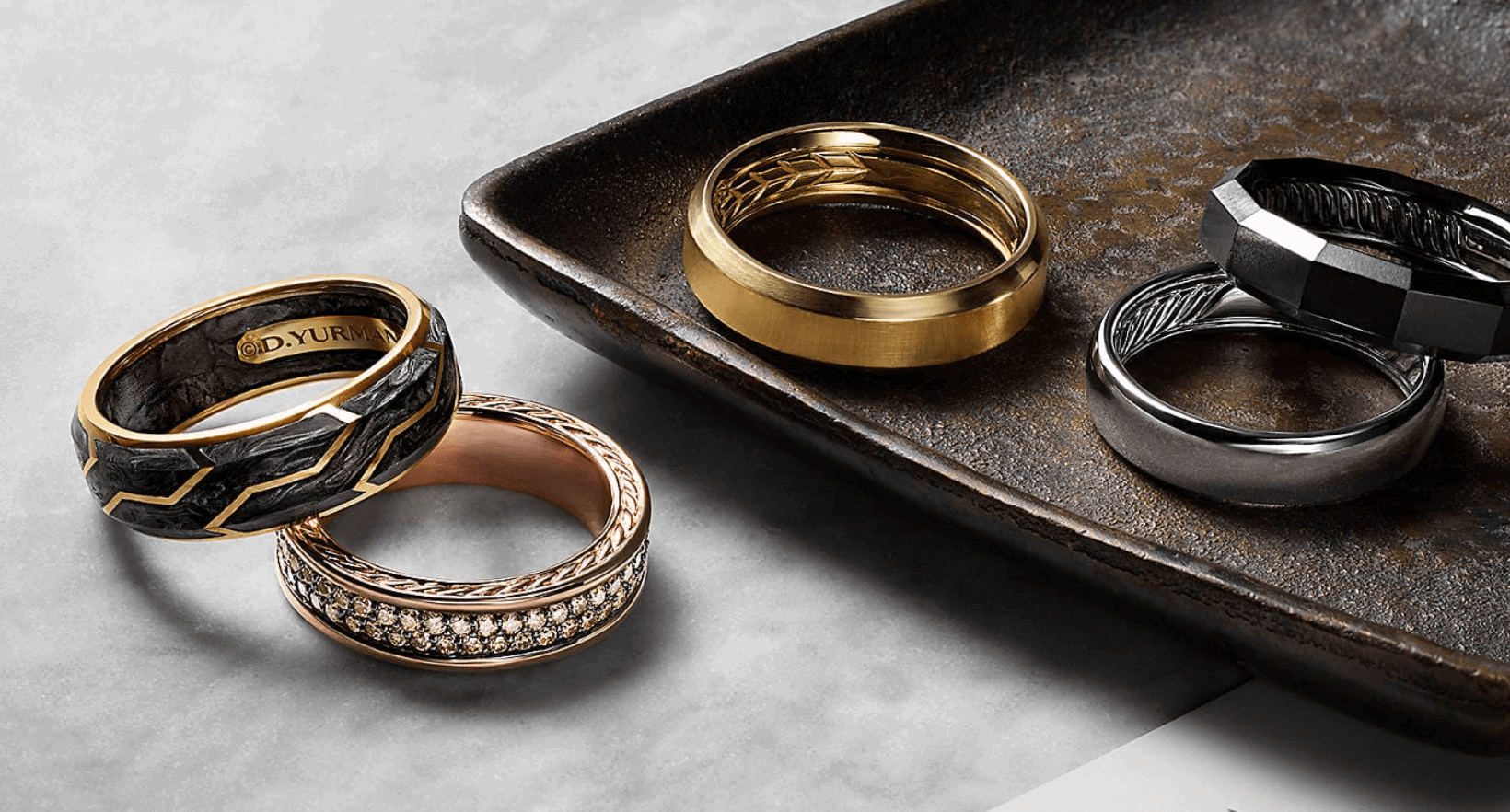 What are David Yurman rings made out of?
Men's and women's rings are finished in titanium, sterling steel, and 18K solid gold. Sterling steel is the only metal of these three that's prone to tarnishing.
Titanium Rings
Titanium may seem like a less conventional option for rings, but it has several advantages. Solid titanium, like David Yurman uses, tends to be quite durable. Titanium rings are resistant to rust and corrosion, common issues with sterling silver. They're also resistant to heat and are not easily scratched or bent out of shape. Finally, they tend to be more affordable and more hypoallergenic friendly than solid gold rings.
The biggest cons to titanium rings are that they do not have the same shine and luster as solid gold rings. Titanium rings also cannot easily be shaped, or have a prong setting.
18K Gold Rings
18K gold is generally seen as a desirable metal for rings. It's a metal with a gorgeous shine and is considered one of the purest forms of gold. Valuable and beautiful, however, it is easily scratched compared to other options and requires care. 18K gold rings also tend to be more expensive than titanium.
Regular cleanings and careful care will be more important to retain the beauty of 18K gold rings. On a positive note, 18K gold doesn't rust and generally holds its shine.
How can you tell if David Yurman is real?
It is not uncommon to find an excellent deal– only to realize that you've been duped (or maybe not even realize until much later) with a fake ring.
To avoid this situation, the ideal would be to have access to close-up photos of the ring. If the seller refuses to provide clear, focused close-ups, then I recommend shopping elsewhere. With the close-ups, you should first look for one of the following stamped on the ring: D. Yurman, 'D.Y. simply or David Yurman.
The next sign you need to look for is the purity of the metal. Sterling silver should be stamped with a sterling silver 925, and gold pieces should have the specific purity of gold imprinted as well.
David Yurman Rings: My Picks
For my picks, I'm including my favorite ideas for both men's and women's rings. From solid bands to signet rings, here are my selections.
David Yurman Men's Band Rings
Titanium and 18K gold comprise this collection of band rings. Twisted cable, smooth finishes, and beveled designs make for a balance of modern and timeless.
Faceted Band Ring with Diamond Baguette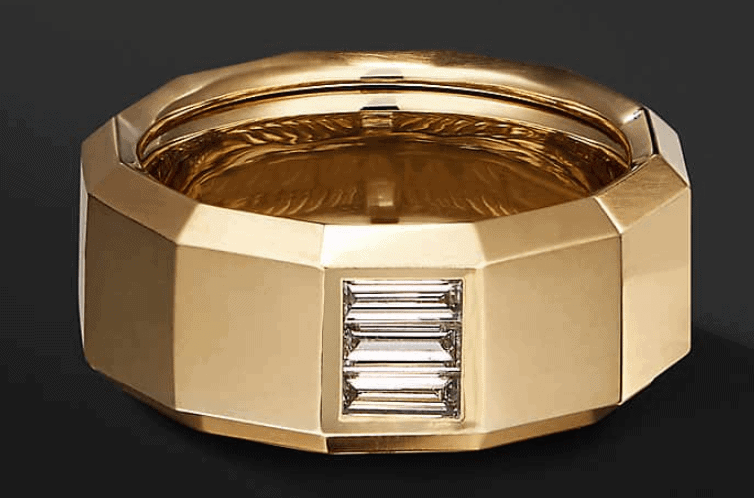 Retailing for $5,500, this 18K yellow gold ring features a smooth, polished finish and slightly geometric design. While there's a modern appeal, the 0.45-carat baguette diamond and gold make for a sense of timeless charm. Buy Here or a similar model in White Gold Here (for $7,000).
Torqued Faceted Black Titanium Band Ring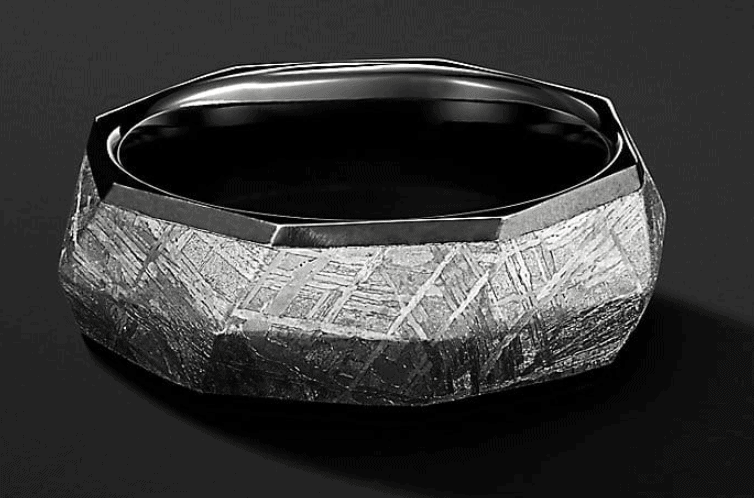 These unique men's bands have a futuristic and industrial feel. Torqued and faceted titanium is balanced with a meteorite overlay. The black and silver hues and attention to craftsmanship are appealing– just note that meteorite rock is not meant to get wet. Retailing for $825, you can Buy Here.
Streamline Three Row Pave Band with Black Diamonds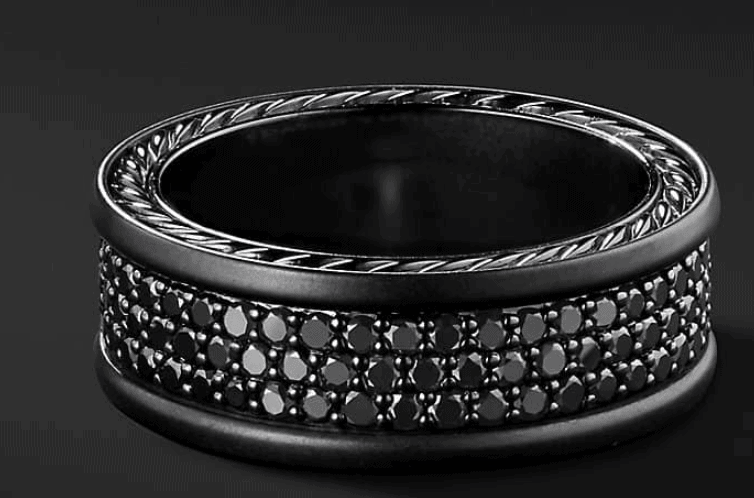 Black diamond rings are hard to come by, and this $2,950 is a stunning option. Sterling silver presents a timeless feel, while titanium helps enhance the durability of the ring– though it still should be treated with care. 2.45 carats of black diamonds are set meticulously by hand across the polished band. Buy Here.
Armory Band Ring in 18K White/Yellow Gold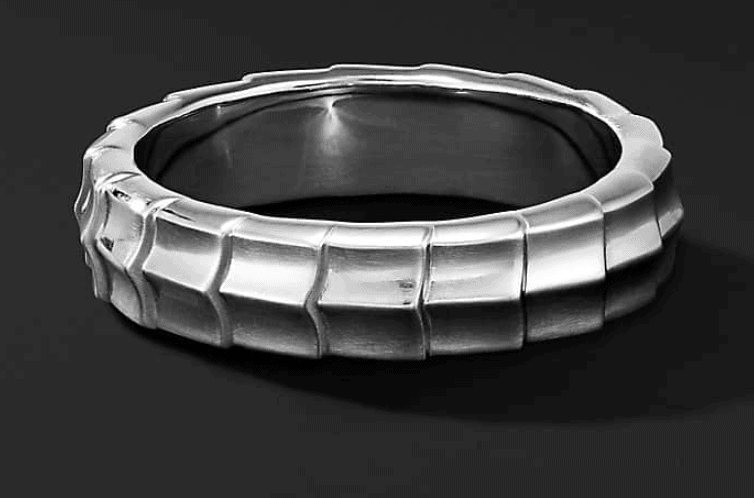 This ring proves that David Yurman can produce rings with subtle details that make a difference. Also available in 18K yellow gold, the band is accented with careful cutouts for added texture. Retails for $2,300; Buy Here.
18K Gold Beveled Band Ring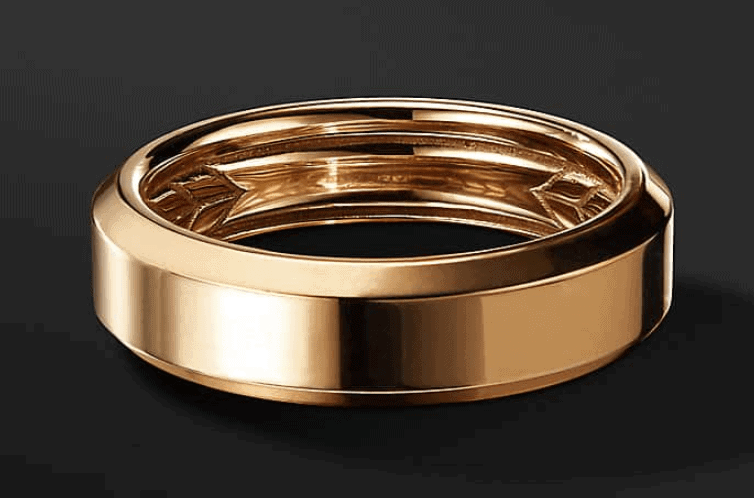 Select from white, rose, and yellow 18K gold for a timeless look. Retailing at $2,100, there's an undeniably polished look to this David Yurman ring. Buy Here.
18K White Gold Cable Band Ring with Black Diamonds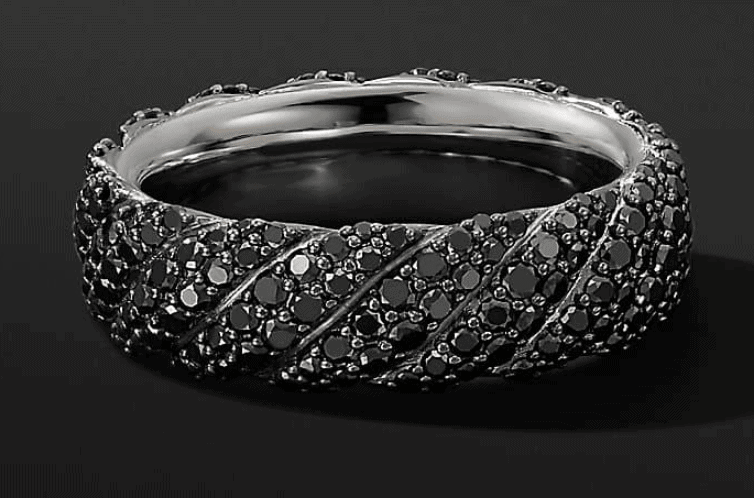 If you're looking for a David Yurman ring with refined glitz, look no further. This 18K white gold ring is accented with 2.96 carats of evenly distributed black diamonds. Bordering classic and vintage, it's a true stand-out. Retails for $5,900; Buy Here.
David Yurman Men's Pinky Rings
A collection of just 11 rings nonetheless is compelling with its clean designs and classic appeals. You'll find both gold and sterling silver options. You can shop the collection here.
Petrvs Bee Signet Pinky Ring with Black Onyx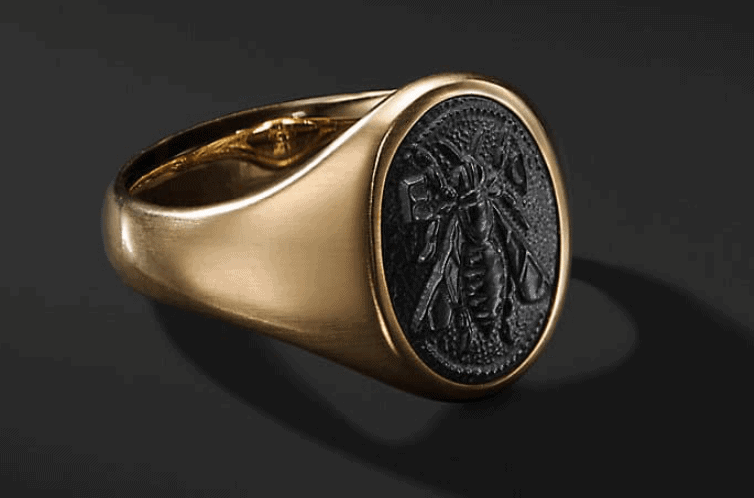 Select from solid 18K gold, sterling silver, or a mix of the two. All rings in the Petrvs Collection are inspired by coin collecting and ancient stone carvings. A subtle bee design is set on a cabochon cut, quality black onyx. Retails for $425 for solid to sterling silver to $2,700 for solid 18K yellow gold; Buy Here.
Streamline Pinky Ring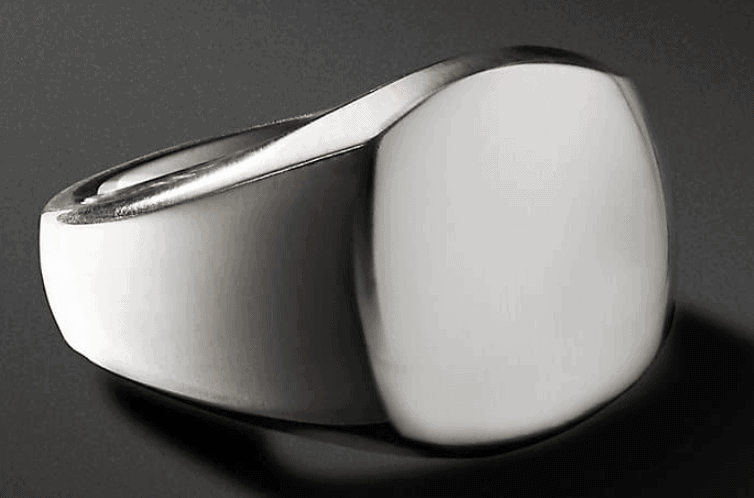 Available in solid 18K yellow gold or sterling silver, this ring is sleek and sophisticated. If you just need an accent to an outfit that's versatile, this may be a good choice. Retails for $395 for sterling silver or $2,700 for solid gold. Buy Here.
David Yurman Men's Signet Rings
Signet rings are making a comeback, especially for men. David Yurman currently offers just a little under 70 unique styles for signet rings. Ranging from postmodern to classic, colorful and exotic gemstones and unique craftsmanship define this collection.
Exotic Stone Signet Ring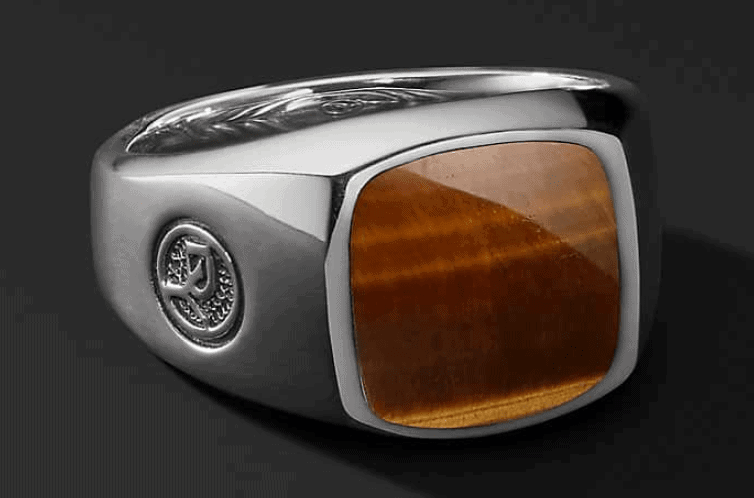 Tiger's Eye is growing in popularity for its signature fiery hue. But you can also opt for Black Onyx or the alluring blue hue of Pietersite. The cabochon cut is optimal for shine for these stones and set on polished sterling silver. Be especially careful with this ring– it's an eye-catching option but I recommend it for special occasions. It's also, of course, more affordable than some other David Yurman rings. Retails for $395 to $470; Buy Here.
Petrvs Scarab Signet Ring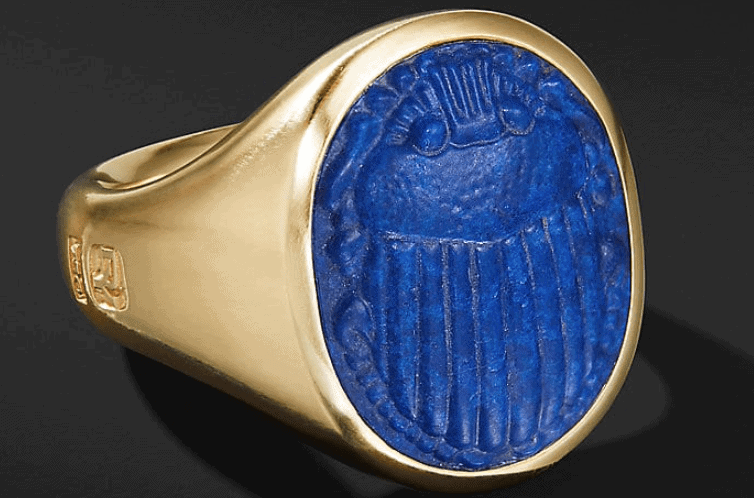 Retailing from $1,750 for sterling silver to $5,200 for solid 18K yellow gold, this signet ring makes a statement. The sophisticated design features a polished curved band and center stone. Select from Tiger's Eye, Lapis Lazuli, or a solid gold center. Metal finish options include solid gold, sterling silver, solid gold with sterling silver, or solid gold with titanium– leaving you plenty of room to order a unique ring. Buy Here.
Waves Signet Ring with Black Diamonds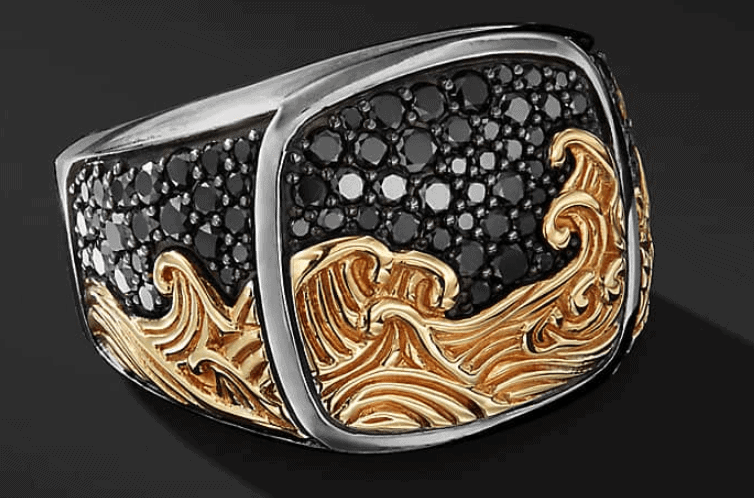 This ring makes a dramatic statement, with a cleverly crafted design of 18K yellow gold waves contrasted with 1.67 carats of pave black diamonds. It's also available in sterling silver, but the black diamond and 18K yellow gold options are far bolder and eye-catching. Priced at $2,600; Buy Here.
DY Fortune Faceted Signet Garnet Ring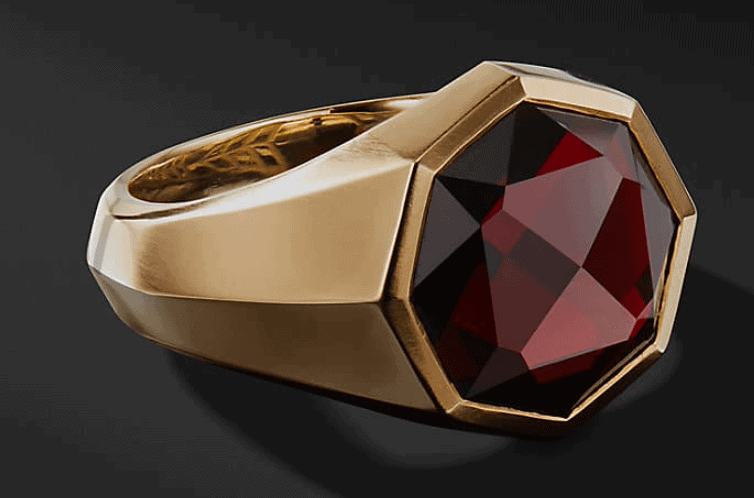 Garnet jewelry is a beautiful option if you love red gemstones but don't want to pay for a rare ruby. This signet garnet ring is available in both 18K yellow gold, with faceting for beautiful brilliance. Priced at $3,300; Buy Here.
Streamline 18K Yellow Gold and Sterling Silver Signet Ring
There's something to be said for simplicity– and this signet ring is versatile for any outfit. 18K yellow gold with sterling silver offers a polished, sleek, and modern style. Priced at $1,600. Buy Here.
David Yurman Women's Rings
David Yurman offers even more options for women's rings. Select from bands, petite and pinky rings, stackables, and iconic statement rings.
Women's Band Rings
A selection of just over 120 styles, David Yurman band rings for women includes cable, eternity, twisted, and countless classic options. Metal finishes include solid gold, platinum, and sterling silver.
DY Eden Band Ring with Gemstones or Diamonds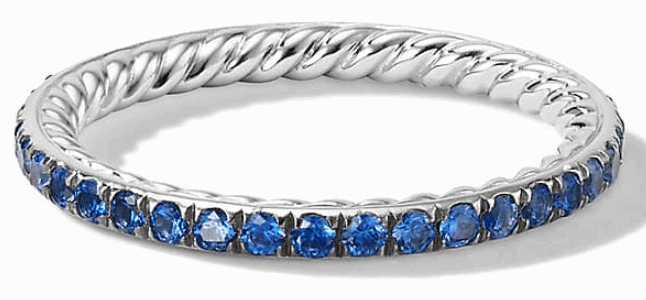 This David Yurman ring is nothing short of a classic– and a perfect option for a wedding band, with plenty of choices when it comes to metal finish and gemstone accents. A streamlined band features cable detailing for an elegant effect. Select from 18K rose or yellow gold or platinum. For gemstones, you have the choice between blue sapphires, colorless diamonds, pink sapphires, Tsavorite, cognac diamonds, or black diamonds. Prices range from $1,650 to $1,950. Buy Here.
DY Unity Cable Wedding Band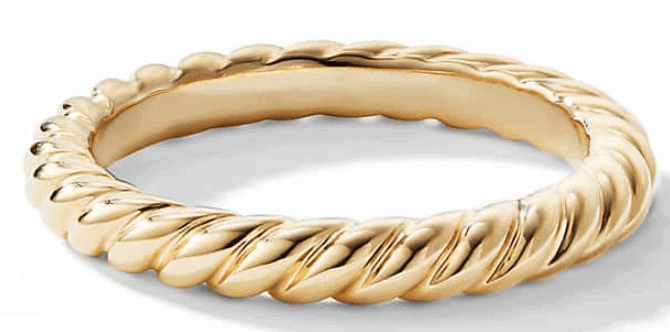 Priced at $795 to $1250, this band is ideal for anyone in search of a refined, classic, solid wedding ring. The cable detailing adds the perfect touch to polished metal. Buy Here.
DY Lanai Pavé Wedding Band with Diamonds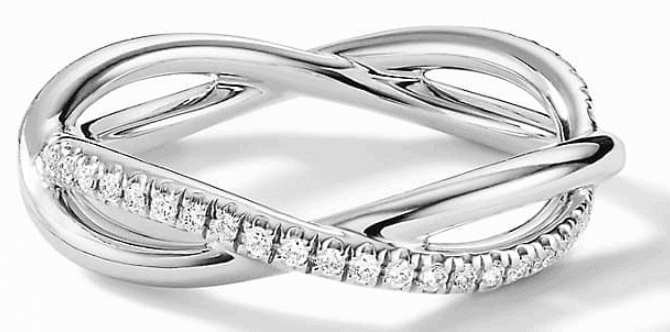 This wedding ring is at once elegant and unique. Priced at $1,650 to $2,100, you have the option of platinum of 18K solid rose or yellow gold. 0,19 carats of diamonds add accented shine to the interlocking design. Buy Here.
Starburst Cluster Band Ring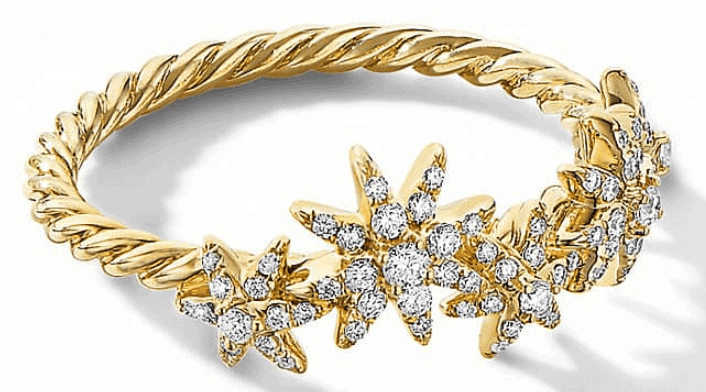 This unique band ring could work as a whimsical wedding band, or even as an accent ring for a special occasion. 0.23 carats of pave diamonds are set on starburst designs on an 18K yellow gold cluster band. Priced at $1,600; Buy Here.
Modern Renaissance Ring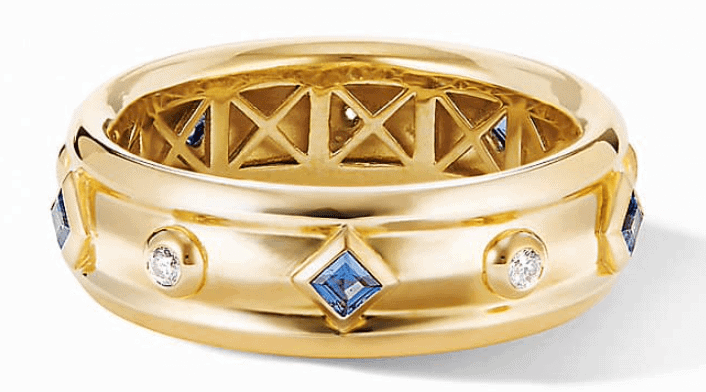 This ring certainly isn't for everyone– but it's unique, well crafted, and says a lot about your personality. A modern take on a Renaissance ring, select from blue sapphires, diamonds, emeralds, and rubies. Made with 18K yellow gold, this quirky David Yurman ring retails for $2,500 to $2,800. Buy Here.
Women's Pinky Rings
Select from a little over 30 pinky rings, as well as two custom ring options. Solid metal and pave diamonds offer sleek and modern sophistication.
Sculpted Cable Pinky Ring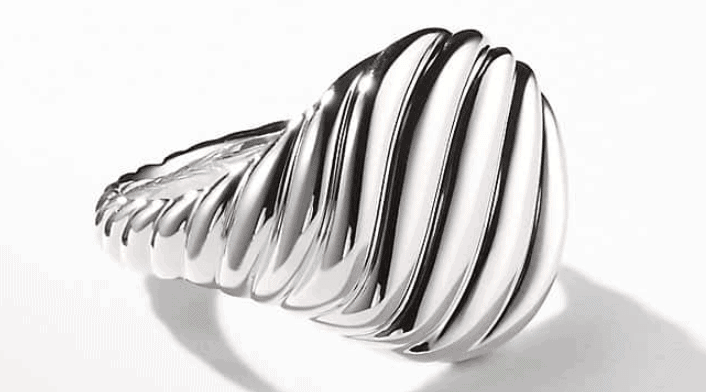 A beautiful, sleek, or sophisticated look– this cable pinky ring is a great choice for versatility. Modem, with undeniable elegance, chooses from 18K rose, yellow, or white gold. All options are priced at $1600. Buy Here.
Petrvs Small Horse Pinky Ring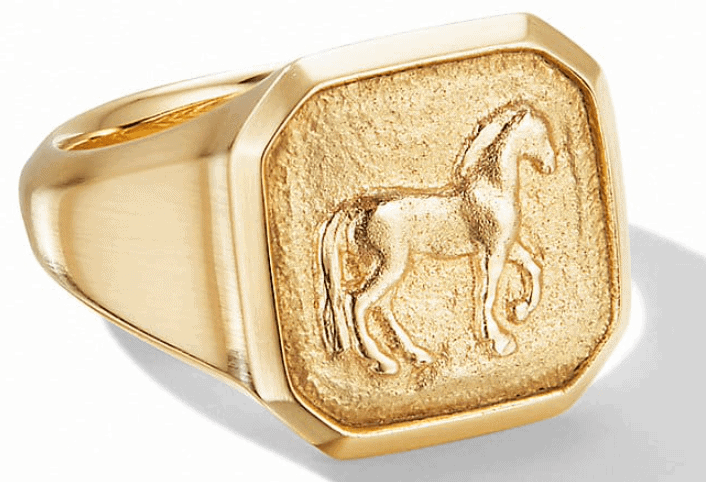 Inspired by ancient sculptures, there's a timeless but unique appeal to this David Yurman pinky ring. A horse design is accompanied by a polished 18K yellow gold band– perfect for the horse lover or history buff. Priced at $1750; Buy Here.
Evil Eye Mini Pinky Ring with Diamonds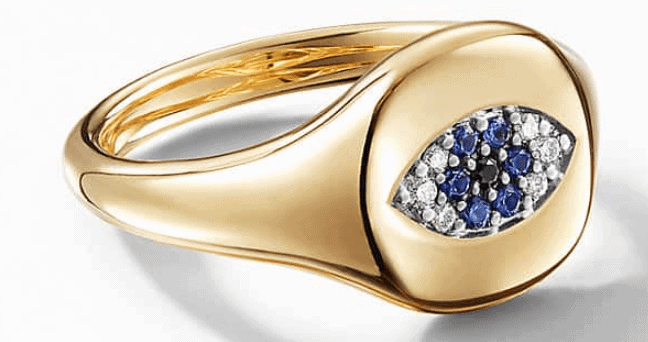 Evil Eye jewelry has soared in popularity. The Evil Eye is tied to culture but also seen as an emblem of protection. This mini pinky ring features a brilliant mosaic of pave diamonds and light blue sapphire, complete with an 18K yellow gold band. Buy Here.
Chevron Pinky Ring in 18K White Gold with Gemstones
With a dazzling, dramatic pinky ring, you'll have an option of Emerald, Ruby, or Blue Sapphire gemstones. The 18K white gold is a beautiful cool complement to the pave set stones. Priced at $6,000; Buy Here.
Small Engravable Pinky Ring in 18K Yellow Gold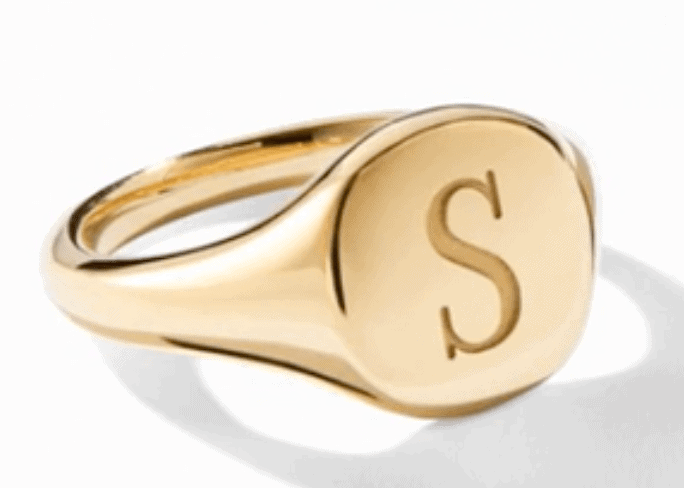 This custom pinky option is not only more affordable– priced at just $1,000– it's also more personal. Send in your unique design or monogram for your personalized engraving. Do note that this ring is a final sale only. Buy Here.
Stackable Rings
Curved and infinity rings keep things classic in the stackable ring collection. At the same time, the stackable ring collection allows the signature craftsmanship of David Yurman to shine, with the beautiful attention to detail.
Crossover Collection Wide Ring with Diamonds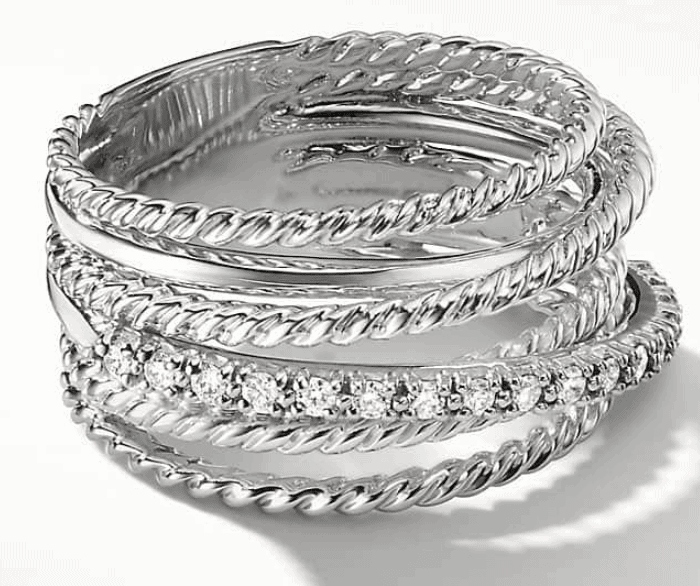 David Yurman "explores the rhythmic weaving of line to create form and movement" with rings in the Crossover Collection. Layers of smooth and cabled bands are intertwined for a dramatic and artistic ring. Choose from all sterling silver, or 18K rose or yellow gold. Prices start at $875 for sterling silver and $2800 for solid gold. Buy Here.
Cable Collectibles Ring in 18K Yellow Gold with Diamonds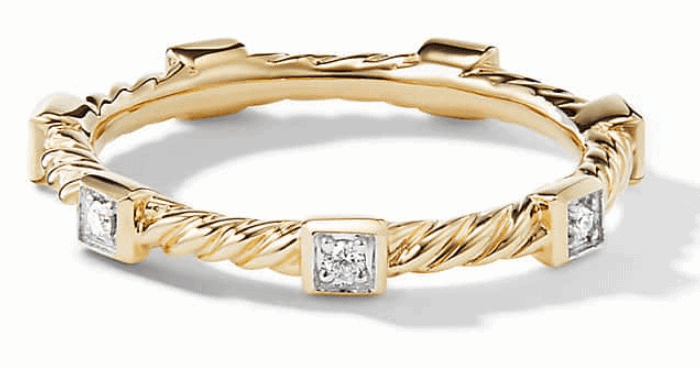 Meant to evoke a symbol of universality, the cable design is one which David Yurman is known for. Select from rose, yellow or white gold. 0.06 carats of pave diamonds add just a touch of refined sparkle. Priced at $750; Buy Here.
DIY Origami 6-Row Cable Ring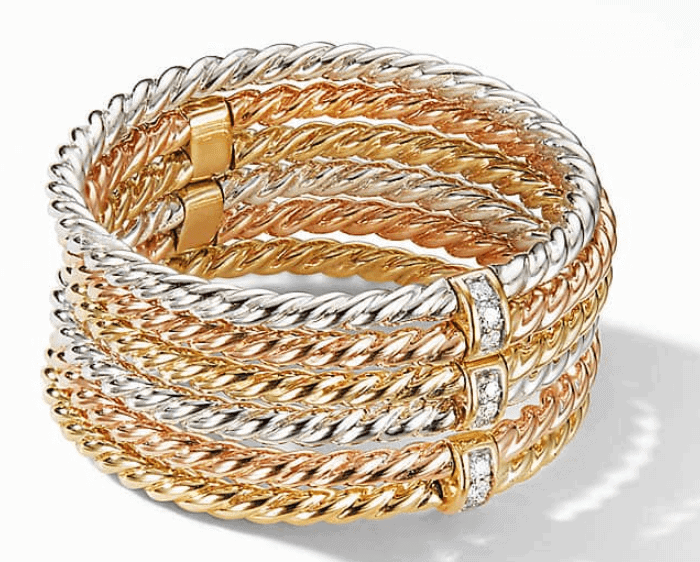 Love the look of a cable ring but want a more dramatic touch? This cable ring features 6 dazzling rows of 18K yellow or multicolored solid gold, accented with pave diamonds. Priced at $1900; Buy Here.
Stax Single Row Pave Chain Link Ring with Diamonds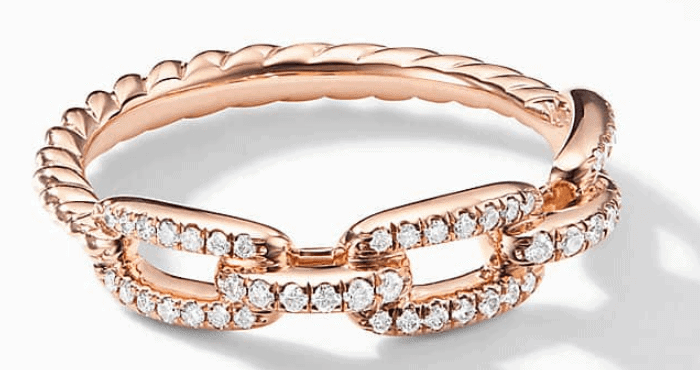 A contemporary interpretation of David Yurman's classics, this chain-link ring wows with subtle elegance and a signature design. Choose from 18K rose, yellow or white gold. This ring retails for $1600; Buy Here.
Statement Rings
Select from a generous collection of over 130 rings. David Yurman statement rings for women Rectangular shapes, diamonds, colored gemstones, and sleek solid gold and sterling silver make for dramatic but classic statements.
Chatelaine Pave Bezel Ring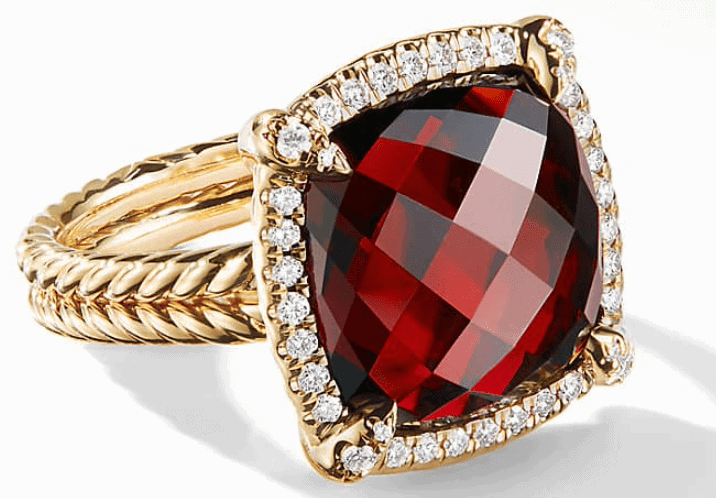 This statement ring is actually designed by both David Yurman and his wife and painter/ sculptor Sybil. Choose from Black Onyx, Blue Topaz, Lemon Citrine, Champagne Citrine, Red Garnet with a unique bezel setting. Metal options include sterling silver or 18K rose or yellow gold. Prices start at $1800 and go up to $5800. Buy Here.
DY Elements® Ring in 18K Yellow Gold with Pavé Diamonds and Black Onyx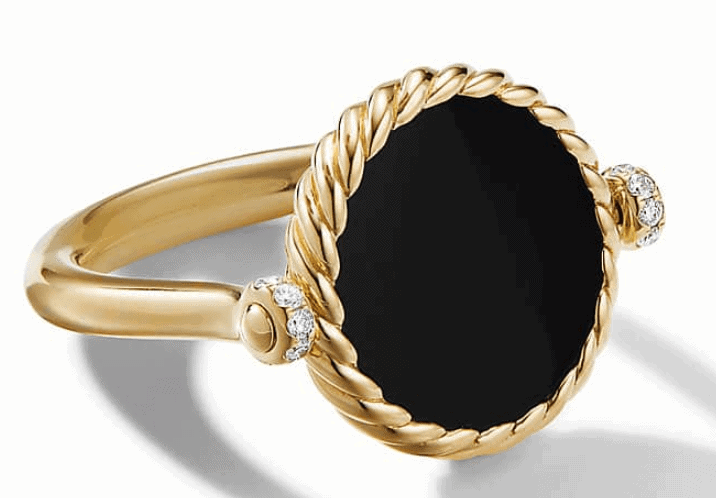 Timeless, this elegant cocktail ring features a dramatic contrast and Black Onyx with Mother of Pearl and diamond accents. The disc actually reverses, providing two looks in one– an unusual detail that showcases David Yurman's innovation. Priced at $1500; Buy Here.
Pearl Cluster Ring with Diamonds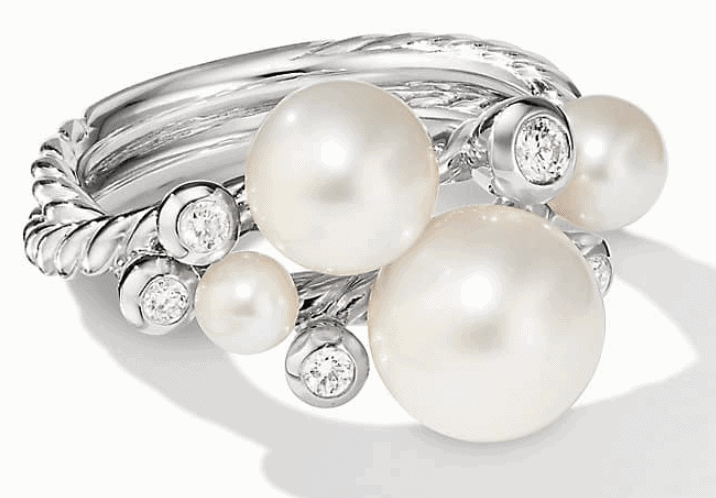 Available in sterling silver or 18K yellow gold, this statement ring makes an impression but is also more versatile than other options. Exuding refined elegance with cultured freshwater pearls, this ring costs $1100 for sterling silver or $1950 for all gold. Buy Here.
Tides Statement Ring in 18K Yellow Gold with Morganite and Diamonds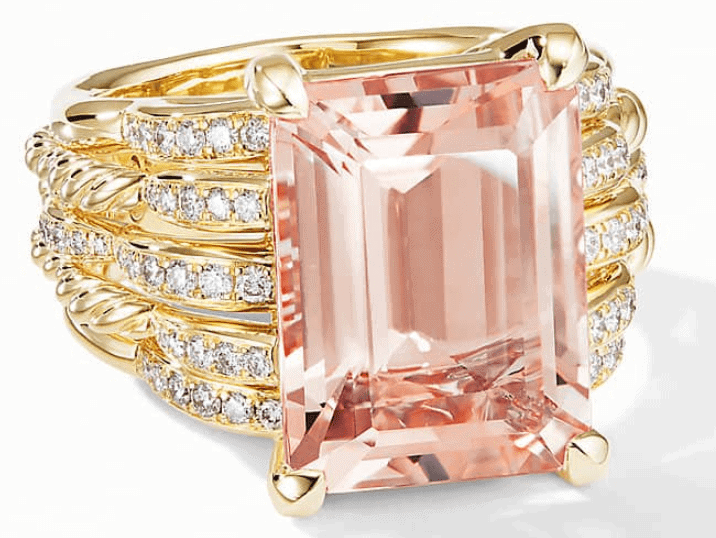 A glamorous statement ring is sure to make an impression. 0.49 carats of pave diamonds accent strands of 18K yellow gold, balanced with a square cut pink Morganite stone. Retails for $7900; Buy Here.
Solari Bypass Ring in 18K Gold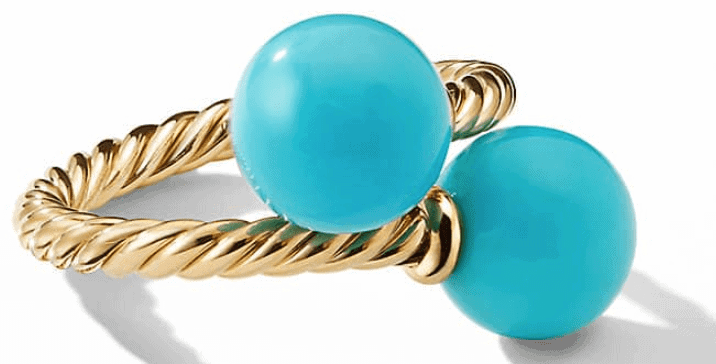 An artistic statement ring for under $1000, the Solari features an 18K gold twisted cable helix, juxtaposed with two turquoise stones. Compared with other David Yurman statement rings, it's minimalist and understated. Buy Here.
Frequently Asked Questions
Question: Why is my David Yurman ring turning my finger green?
Answer: The only reason why a ring may discolor, or stain your own skin, may be related to tarnish. Sterling silver can tarnish with time and without proper care. Make careful decisions when deciding what ring to buy if you're worried about this, but also make sure to follow cleaning and care instructions.
Question: Who wears David Yurman?
Answer: David Yurman has been worn by many celebrities and popular figures, ranging from the British Royal Family to supermodels like Kate Moss and Noami Campbell.
Question: What is the most popular David Yurman bracelet?
Answer: While David Yurman has many bracelet styles that are sought after, the Cable Classics bracelet is considered the most popular. In fact, the 7mm bracelet was the first bracelet designed by Yurman, yet it remains the top seller in 2021.
Final Thoughts
David Yurman rings are not cheap–but they are unique. Offering artistic and modern designs, Yurman rings are eye-catching for their attention to detail, no matter what type of ring you're buying.