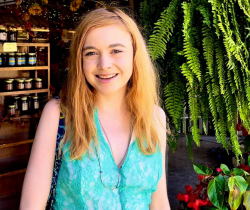 Latest posts by Erin Jamieson
(see all)
Diamond rings— even black or fancy colored — may be the first idea that comes to mind for engagement and cocktail rings. But Alexandrite, with its stunning ability to change hue under different lighting, may just provide inspiration going into 2022.
Perhaps few understood the value of an Alexandrite ring like Shawna Rodrigues. On a slushy, cold day in Portland, Rodriques noticed a couple struggling with a stuck car. Hoping to help, Rodriques bundled up– only to learn a stuck car wasn't the only problem, but a lost Alexandrite ring.
The ring in question was a beautiful Tacori platinum ring with a purple-blue Alexandrite stone. The couple and a helping neighbor searched in the wintry weather, but ended up calling Ring Finders.
Ring Finders, a metal detection service that operates nationally, can be called to detect lost rings. Luckily, they were successful: the stunning Alexandrite ring was found, Portland snow aside.
Amazing as this story is, one thing Ring Finders can't do? Select a ring for you in the first place. Consider this your guide to Alexandrite engagement rings and statement rings. I'll discuss what Alexandrite is, pros and cons of an Alexandrite ring, and where to buy the best rings.
What is Alexandrite?
Alexandrite is a beautiful but rare natural gemstone with a unique, chameleon-like quality to change color under light. In fact, for this quality, Alexandrite is often nicknamed by the phrase, "emerald by day, ruby by night."
First discovered in a mountainous region of Eastern Russia during the 1830's, Alexandrite can also be found in Brazil, Eastern Africa, and Sri Lanka.
Why is Alexandrite so rare?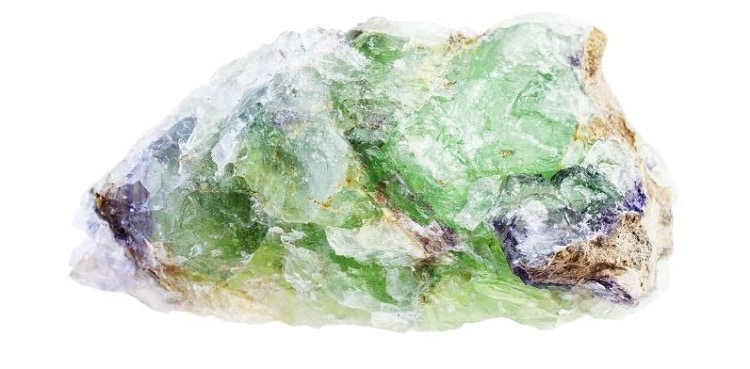 Natural Alexandrite is both expensive and rare. To our knowledge, it is found in Brazil, Sri Lanka and Eastern Africa– a much smaller area around the world than some other precious gems.
One way Alexandrite is rare is when you consider its chemical properties. Alexandrite is a type of chrysoberyl, which is an illuminati of beryllium. Doesn't sound familiar? Beryllium, in turn, is actually quite common. This is a member of the family of earth elements, such as magnesium, calcium, barium, and radium.
But despite this connection, Alexandrite is rare as it is made up of an extra trace element–chromium. And it is that chromium which provides the emerald color you'll see in daylight.
What is the true color of Alexandrite?
Asking what color Alexandrite is, is far from simple. Unlike other gemstones, that may simply look a bit lighter or darker under different conditions, Alexandrite truly seems to transform in hue. Under daylight or fluorescent lighting, it trends more green, while, at night, it leans towards purplish red.
The gemstone in question will impact the hue during day and night– with the most desirable Alexandrite stones being bluish green by day, purplish red by night. It is possible to see more green or more brown undertones with some color ratings.
Of course, its ability to change hue may be an attractive quality for some, and a turn off for others.
Is Alexandrite good for rings?
If you're already getting ideas or filling out inspiration boards for Alexandrite rings, first you need to consider if this type of ring is right for you. Whenever I'm contemplating a type of jewelry, I think about a few things: style, price point, use, and durability. Alexandrite is no doubt a stunning and unique option for both engagement rings and statement rings– but there are some factors that need to be considered.
Is Alexandrite more expensive than diamond?
Alexandrite is more expensive than many other precious stones, and natural Alexandrite is, in fact, just as, or more expensive, than both diamonds and rubies. Alexandrite value, as always, depends on the cut, clarity, carat and color.
The price ranges vastly, from as little as $500 per carat for a poor quality, to over $10k per carat for the most rare and precious. Expect to pay a little more than you'd pay for a diamond per carat.
Of course, like diamonds, there are lab grown options.Lab grown Alexandrite has two advantages: it tends to be far more affordable, and it also does not have the same ethical concerns some mined gemstones have.
Is Alexandrite good for daily wear?
With a Mohs hardness scale of 8.5 out of 10, Alexandrite is a fairly durable stone and suited for everyday use. While not as hard as a diamond, Alexandrite is also rated as a tough gemstone, and doesn't not cleave easily upon impact.
In addition, Alexandrite is considered a stable stone: it will not alter under regular temperature, light, and mild chemical contact (chemicals such as regular household cleaners). Cleaning is easy: warm water and soap will not harm the gemstone.
All told, Alexandrite is a durable option, suited for everyday wear.
How do I select the best Alexandrite for my ring?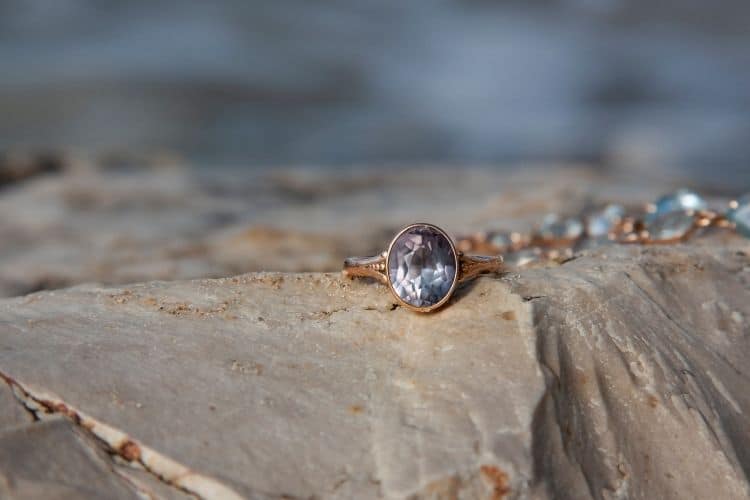 Whether you're looking for an engagement ring or fashion ring, you want to make sure you understand what you're buying. While I recommend you go up in quality for an engagement ring, it doesn't mean you have to buy the most expensive Alexandrite possible for a great overall value.
Here are a few things you should consider, depending on your priorities and budget.
What is the best cut for Alexandrite?
The best cut for Alexandrite rings is a cut that helps make the gemstone appear large– which leans towards rounder shapes. That said, you may get the most value out of something like an oval cut Alexandrite stone. This is because it makes the stone appear large, but it's not as expensive as something like a cushion cut.
Ultimately, though, it is somewhat a matter of choice. While some other cuts may not maximize the stone in the same way, you may either save money, or simply find it matches your personal taste more.
How can I tell if Alexandrite is real?
To ensure that the Alexandrite ring you're buying is authentic, ask to have an official AGS or GIA report. Many companies offer this with your purchase. These reports should provide certification, as well as rating when it comes to factors such as cut, clarity, color, and carat.
What other factors should I consider?
Expect to buy a smaller carat size than you might normally. Not only is Alexandrite expensive, but rings that are premade tend to lean more towards under a carat and less towards larger carats. Due to its bold hues, you may find that carat size doesn't take precedence.
Look for the color grade, and aim for very good to ideal good; good is acceptable as well. Alexandrite does not have the same scintillation as a diamond, and is more prized for both its rarity and signature hues.
Finally, if you're buying an Alexandrite ring, opt for a durable metal, especially if you plan to wear it everyday. I recommend 12K gold and above or platinum.
Where can I buy Alexandrite rings?
Now that you know everything you should consider before buying an Alexandrite ring, I'll give you a few of my favorite options for both engagement and cocktail rings. Since Alexandrite rings are less common than diamond rings and other popular gemstones, such as sapphires, you may find you'll need to shop online or custom order.
Though some traditional retailers do carry Alexandrite, they are not as likely to be featuring Alexandrite rings at physical stores. Still, with a little shopping around, you can find some beautiful options.
Our Top Recommendations
Alexandrite Engagement Rings
Alexandrite engagement rings may not be the cheapest option– but, if you're willing to opt for a smaller carat size, you can easily find an engagement ring for under $5,000, and even as little as $1500. Stunning and a standout from other engagement rings, there are a few places I recommend shopping.

For a truly one of a kind ring, one of my favorite options is building your own through Brilliant Earth. Brilliant Earth is a stand out as a company committed to sustainability and ethical sourcing. It is also a company heralded for its quality and authenticity. You'll begin by selecting a lab grown gemstone, then your setting and metal type.
The custom engagement ring builder allows you to preview your completed ring and will show you your price point as you shop. It's truly a beautiful collection of Alexandrite in about any cut you can imagine. Since they are lab grown, they are also less expensive than a natural gemstone option. Shop Here.
Best Handcrafted Rings: Capucinne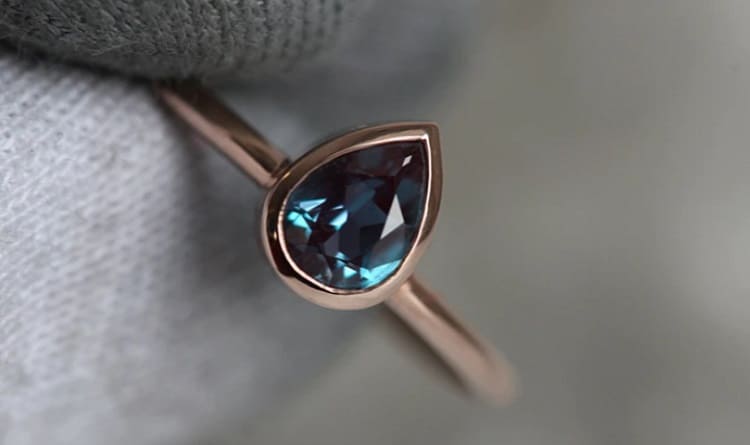 Stunning, handcrafted rings, with modern classic to some vintage nods– this collection from Capucine is truly remarkable. Though there are just 30 engagement ring designs, you also have the option to customize your order.
Rings are priced from as little as $750 for a solitaire Alexandrite ring, to a pear-shaped Alexandrite ring with elegant diamond accents for just over $3,000. Not only is this collection relatively affordable for Alexandrite, but it's also unique and beautifully crafted. Buy Here.
Best Diamond-Accented Rings: Safiya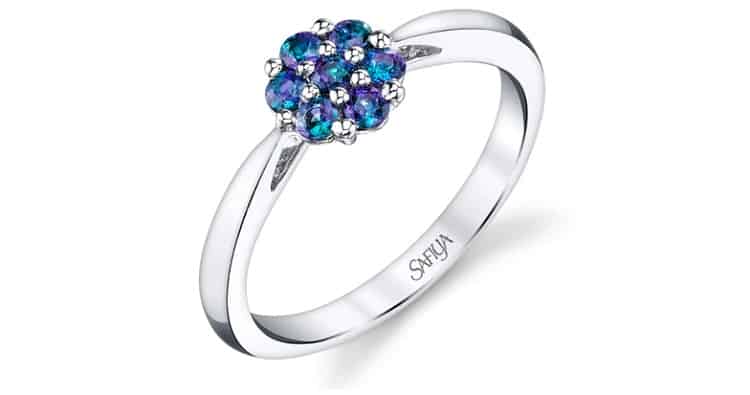 If you're looking for a modern take on engagement rings with the glitz and glamour of diamond accents, you may enjoy the collection from Safiya. Alexandrite is the center stone, but diamonds are plentiful. This collection is best for someone who loves the unique hue of Alexandrite, but doesn't necessarily want it to be the central focus.
You'll find both relatively affordable, but also luxury ring options. Rings are priced from $999 for the Precious Petals Alexandrite ring to an eye watering $93K for the Dream Seeker, a 3.88 carat Alexandrite surrounded by 1.88 carats of diamonds.
All told, it's a glamorous collection, with modern and some nature inspired looks, and truly one of a kind. Shop Here.
Alexandrite Cocktail & Statement Rings
Cocktail rings, also known as statement and fashion rings, are worn to formal and semi formal occasions. These tend to be bold fashion pieces and are meant to be worn with dresses, pantsuits, and other formal attire.
Most of the time, the focus is on the center stone, and such rings may be a bit bolder than other ring types. Alexandrite, with its chameleon-like color qualities, makes a truly unique splash at any formal event.
The challenge is that Alexandrite cocktail rings can also be admittedly difficult to find. For that reason, I've selected one collection and a few of my individual picks.
Best Cocktail Ring Collection: Etsy

Etsy is truly your best bet for Alexandrite cocktail rings if you're looking for one stop shopping. There are risks to buying from Etsy, so the challenge is to look at each individual company and review their ratings and history of sales.
Keep in mind that there are many options under $500– these are stimulants. Simulants should be used only for casual use. You should know that stimulants are not as durable or valuable as real Alexandrite. That said, you can Shop the Collection Here.
Individual Picks
I actually prefer shopping individually. Tricky to find as they are, there are a few beautiful options for Alexandrite cocktail rings by established online retailers.
Retro Alexandrite Cocktail Ring- Brilliant Earth

Though sold now, Brilliant Earth allows you to request a ring designed just like this beautiful vintage cocktail ring. The ring has an emerald cut Alexandrite stone with rose gold floral details. Learn More Here.
Alexandrite and Diamond Ring – Ruby & Oscar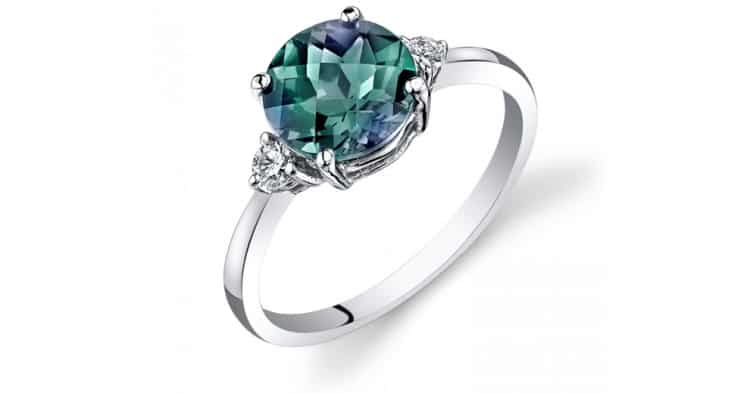 Though this ring could also double as an engagement ring, the bold center stone and elegant diamond accents makes for a beautiful statement for a formal wedding or other black tie affair– a classically modern design. Buy Here.
Oval Lab Alexandrite and Diamond Ring – Allurez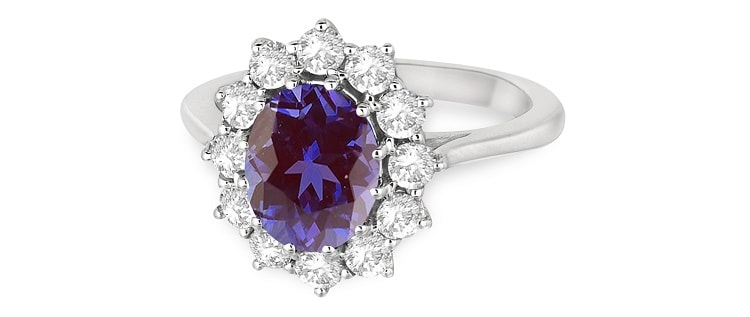 My favorite pick for an Alexandrite fashion ring, this makes a bold statement. Taking inspiration from the late Princess Diana, the ring features an oval shaped Alexandrite stone. 12 brilliant cut, nearly colorless diamonds provide a halo accent, all set on 14K white gold. Buy Here.
Lab-Created Alexandrite & White Sapphire Ring – Helzberg Diamonds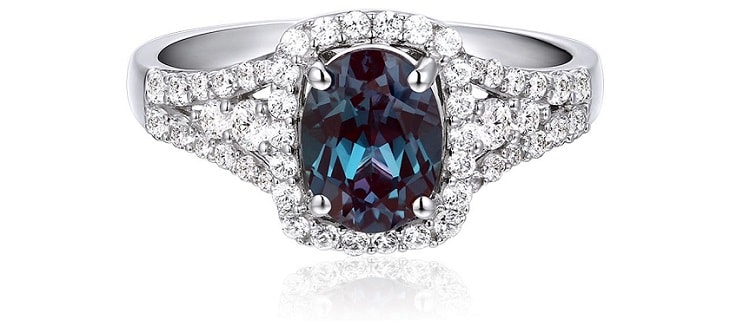 If you're searching for an affordable Alexandrite statement ring, this may be a good option. It is made with sterling silver, so you'll have to use it with care. Still, it's a beautiful ring, featuring a lab created Alexandrite center stone, flanked by white sapphires for a bit of glitz. Buy Here.
Frequently Asked Questions
Question: What Does the Stone Alexandrite Mean?
Answer: Like every precious gemstone, Alexandrite is steeped with rich meaning and symbolism. As a whole, Alexandrite is representative of peace, hope, and calm. The red purple hues present energy, power, and passion. With its ever changing powers, Alexandrite of any kind makes for a bold jewelry statement.
Question: Why is Alexandrite so Expensive?
Answer: Natural Alexandrite is quite rare, which means you can expect to pay around the same price as a precious diamond or ruby. While becoming more popular, there still are fewer places to buy Alexandrite vs many other gemstone types. However, lab grown gemstones provide for more affordable and plentiful options.
Question: Is Alexandrite Hard Enough for an Engagement Ring?
Answer: Rated at a 8.5 out of 10 on the Mohs hardness scale, Alexandrite is hard enough for everyday wear, and thus suitable for an engagement ring.
Though Alexandrite, like most other gemstones, is not hard as a diamond, it doesn't cleave or fracture the way others do. Tough, hard, and stable, Alexandrite is an excellent choice for a diamond alternative.
Question: Is Lab Created Alexandrite Valuable?
Answer: Lab created Alexandrite is not as valuable, obviously, as natural Alexandrite, which is quite rare. Alexandrite that has been lab grown is not as valuable, but there is a sizable difference between lab grown vs synthetic Alexandrite.
Lab grown Alexandrite should come with a certification and analysis from the GIA or AGS and has the same physical properties as natural Alexandrite.
Question: What is The Rarest Birthstone?
Birthstone jewelry, from different types of bracelets to necklaces, rings and earrings, can make for meaningful and personal fashion statements, but some are harder to find than others. Alexandrite is one of birthstones for the month of June, but, while rare, it is not the rarest. The rarest birthstone is likely the red diamond.
Final Thoughts
Alexandrite, without a doubt, is both a beautiful and durable option for engagement and cocktail rings. With its unique ability to change hue, and the beauty of those colors, Alexandrite is a gemstone not to be underestimated. With a little inspiration, you can find something for you or your partner.