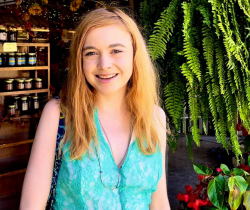 Latest posts by Erin Jamieson
(see all)
When it comes to luxury jewelry, one of the biggest names is Hermes. And, heading into 2022, Hermes has more selections than even when it comes to on-trend fashion-forward bracelets for men and women.
A report on Seeking Alpha confirmed that Hermes remains not only a popular but also a powerful brand heading into 2022. According to the report, Hermes is the third most valuable luxury brand internationally, and is on pace to continue its success.
Hermes is also at a crossroads. While it enjoys brand name recognition and revenue, there are some uncertainties as to who will invest in the brand in the future. Yet, much of this uncertainty has little to do with Hermes itself– in fact, Hermes may prove that the luxury jewelry market still has much to offer.
Bracelets, watches, earrings, and other accessories, like handbags, appeal to customers worldwide. Trailing just behind Chanel, Hermes offers beautifully crafted and well-marketed accessories that are stylish, classic, and still appeal to a modern audience.
But what exactly is so special about Hermes? And what are the most popular Hermes bracelets that will complement your wardrobe?
Consider this your guide to all of the popular Hermes bracelet ideas. I'll give you ideas for how and what to buy, and my picks for the best of the selection in 2022 and beyond.
What is the Hermès brand?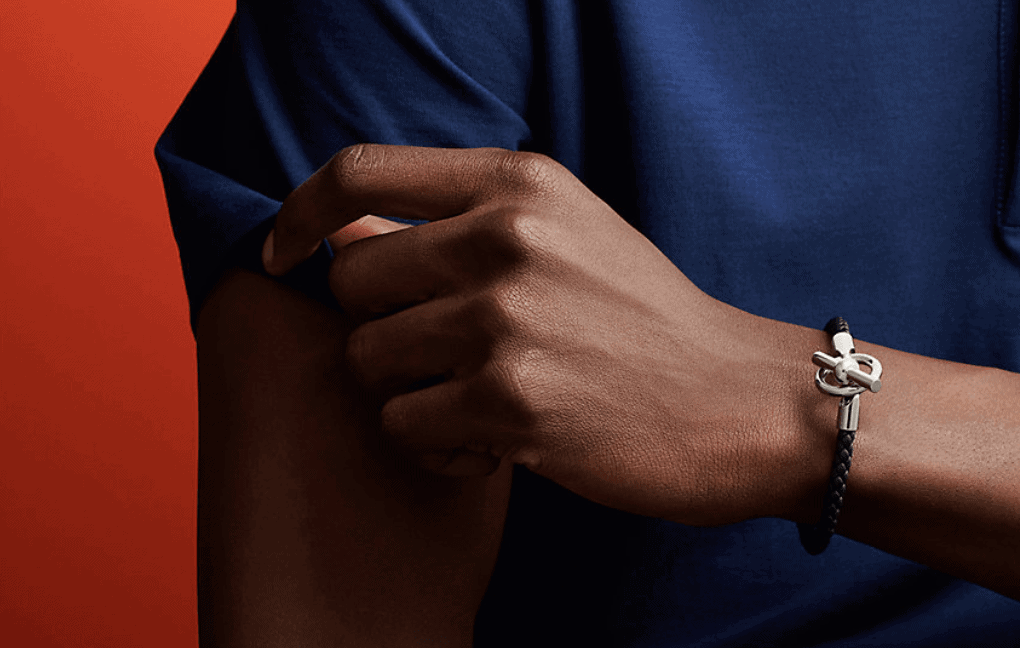 Hermes is a French luxury brand that's been around for quite some time– it was first established in 1837. Today, it is known for its accessories, such as handbags, bracelets, watches, and other jewelry. Hermes also sells furniture, and even supplies for dogs and horses.
When was Hermès founded?
Though the founder was born in Germany, Thierry Hermès and his family moved to France in the late 1820s, where the brand was established.
What started as a family business focused on producing saddles slowly grew. By 1914, Hermes was employing around 80 to make hand-crafted saddles. During the 1920s, accessories were added, and the first storefronts in Paris appeared in the mid to late 1920s.
Hermes jewelry, leather jackets, and scarves, continued the brand's popularity in the 1930s. The 1950s and 60s saw the implementation of the now-famous Hermes logo, as well as a dive into producing purses, and eventually, perfume.
Why is Hermès popular?
Hermes remains one of the most popular luxury brands for both jewelry and accessories, alongside other big names such as Burberry and Prada.
The French luxury brand has established itself as a fine manufacturer of leather and exclusive styles. Hermes keeps itself popular in a few ways. For one, its marketing is constantly updated and stays on-trend. For another, Hermes offers consistency and a sense of timelessness– while offering exclusive or limited time styles.
Bracelets from Hermes tend to be seen as sophisticated, chic, and versatile for both men and women.
Why is Hermès so expensive?
Of course, with the popularity and the luxury brand name comes some expensive products. Hermes bracelets, and especially handbags, tend to be expensive.
But there's also the fact that many of their products are both exclusive and handcrafted. This adds a sense of value, and also makes them more attractive to many consumers.
How do I select a Hermès bracelet?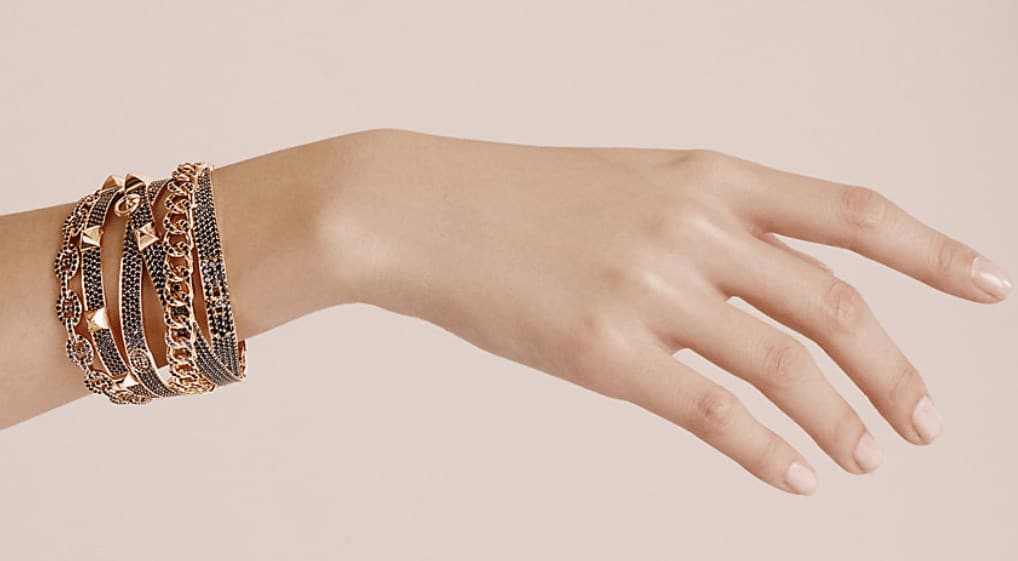 Before you start shopping for Hermes bracelets, there are a few factors to keep in mind that should guide your purchase. Hermes bracelets may appear classic, timeless, and beautiful, but there are some details you need to consider regardless of your style preferences.
Do Hermès bracelets tarnish?
Hermes bracelets should be treated with care to prevent wear or tarnish. One myth is that you cannot wear a Hermes bracelet daily. You can, but how you wear it matters.
You should not shower with a Hermes bracelet. You should also remove your bracelet before swimming, engaging in sports, or using cleaning products.
You'll also need to properly care for Hermes bracelets to reduce wear. Avoid high heat and moisture and keep it stored in a cool, secure environment. Consider a professional cleaning once a year or every six months, depending on how you wear it.
If you're concerned about tarnish, solid gold and platinum is preferable to sterling silver for any jewelry you buy.
How can you tell if a Hermès bracelet is real?
One caution I have is that some deals are too good to be true. If you are trying to save money and shopping outside the official Hermes site or an official Hermes store, you want to make sure you're not buying a knockoff. Not only are knock-offs less valuable, but they also tend to be more poorly made.
For Hermes Clic Clac H bracelets, there should be a slotted screw. Counterfeits may have a Philips screw instead. The letter H is also a good place to focus. The H should be perfectly proportioned. One sign of a fake is one leg of the H is smaller than the other side.
Packing can also be a great way to spot a fake. A real Hermes bracelet should be packaged in a box that's chocolate brown and a bag with a grainy texture. Fakes often have smooth paper and a black box.
The biggest sign is the price. If you find a bracelet that's new or like new and costs far less than a normal Hermes bracelet, I recommend exercising caution and researching your seller before buying.
Is the Hermès bracelet real gold?
Hermes bracelets are mostly made with gold plating. Gold plating is 'real gold' but it's also not the same thing as solid gold. Gold plating features a fine layer of gold over another metal. Gold plating is aesthetically pleasing and similar to solid gold– even identical– but it's typically not quite as durable and requires more thoughtful care.
What is the most popular Hermès bracelet?
If you're worried about being on-trend, look no further than the Collier de Chien, also referred to as CDC. This bracelet is not only the most popular Hermes option but remains one of the most sought-after styles in the world.
Hermès Bracelets: My Picks
While there are countless styles of bracelets in the Hermes collection, here are my favorites. I'm including both men's and women's, and where to buy each bracelet.
Hermès Men's Bracelets
The men's collection from Hermes is much more limited than the women's– there are just over 20 bracelets in total. Still, these bracelets are timeless and classic, featuring the most popular designs that Hermes is known for. Prices range from $305 to $620.
Glenan H Bracelet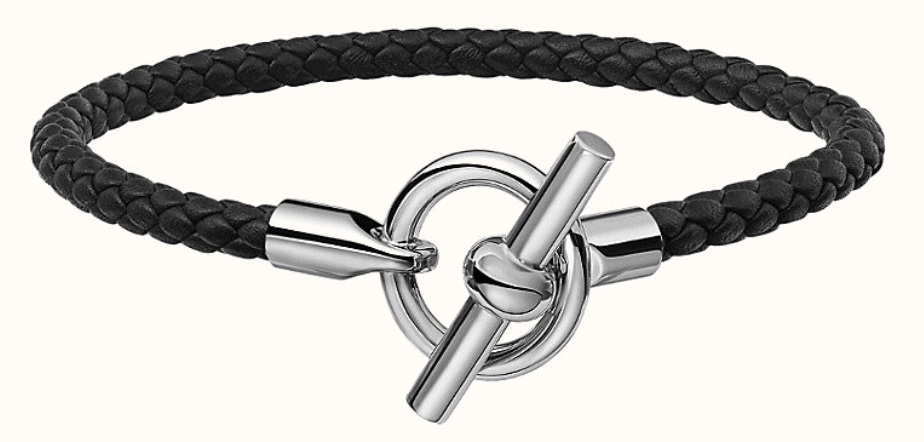 Made in Italy, this minimalist bracelet is among the most versatile. A braided bracelet in Swift calfskin is finely crafted. The palladium Glenan closure adds a sleek modern touch. Priced at $335 and available in Noir (black) or Étain (deep tan). Buy Here.
Goliath Bracelet

Priced at $365, the Hermes Goliath bracelet is about as casual as you can get. Made with the same Swift calfskin the Glenan H uses, the braided band is also nearly identical. The difference is the palladium closure, which is a solid bar instead of the interlocking features of the Glenan. Another difference is in the colors offered. Select from Gold, Mykonos (turquoise), Noir, Étain, and bright Orange. Buy Here.
Tournis Tressé Bracelet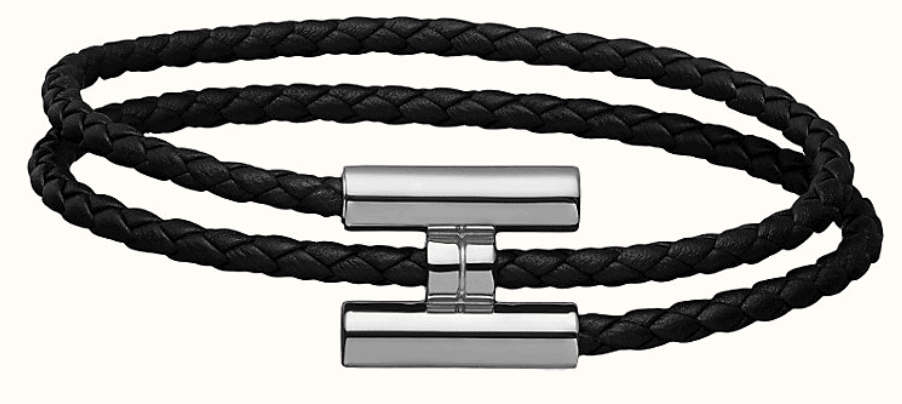 Retailing for $395, this Hermes men's leather bracelet combines concepts for a layered, braided bracelet. Still casual but more interesting in terms of textures, the Tournis Tresse bracelet features intertwining Swift calfskin braided bands, complete with a solid bar palladium Glenan closure. Available in Gold, Indigo, and Noir; Buy Here.
Clic HH Bracelet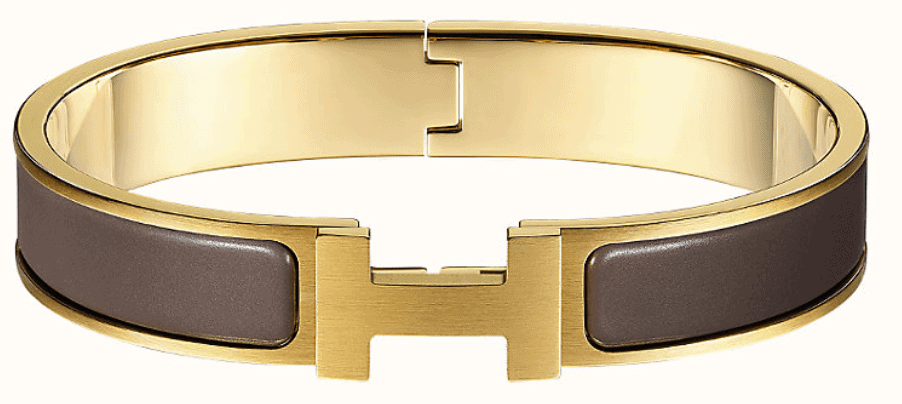 The Clic HH is one of the most sought-after Hermes designs, and it's clear why. This instant classic is sophisticated and can be worn with business casual to formal attire. Priced at $620, a narrow band of matte enamel is finished with brushed yellow gold plating. Available in Noir, Bleu, and Étain, the deep matte enamel colors are complemented by the warmth of the gold finish. Buy Here.
Kelly Men Bracelet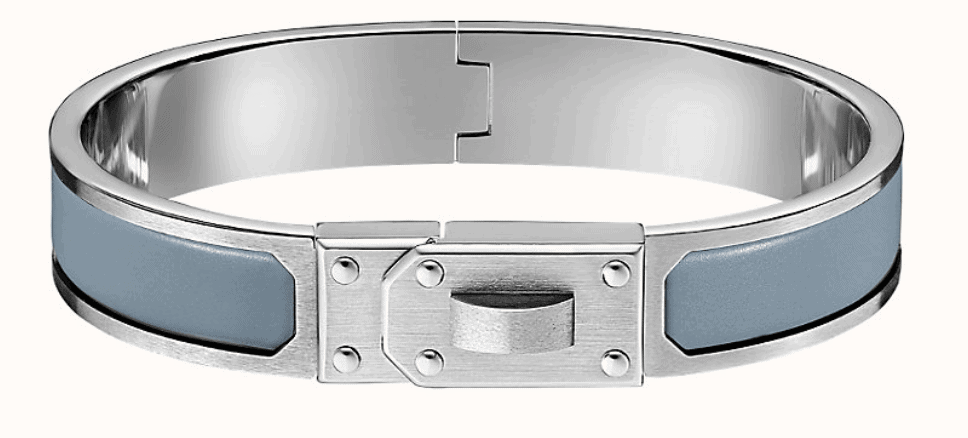 If you like the sophistication of the Clic HH bracelet but prefer a silver hue, consider the Kelly Men bracelet. Constructed with the same narrow band design, plain enamel is complete with brushed palladium hardware. Priced at $620 and available in all the same colors as the Clic HH, as well as a lighter blue; Buy Here.
Hermès Women's Bracelets
Hermes offers a generous selection of options for women's bracelets. In total, there are 151 varieties of bracelets, including different swatches, priced from $270 to $2,125.
From playful hinged bracelets and refined classics, here are my favorite ideas for 2022, from most affordable to most expensive.
Under $300
Glenan Bracelet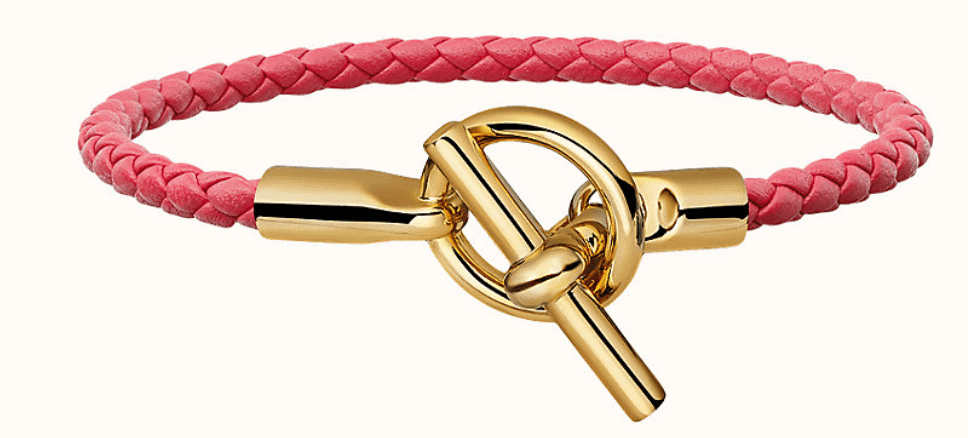 Just as it's a classic bracelet for men, this bracelet for women is versatile and minimalist. Priced at $270, it's also the most affordable in the collection. Braided swift calfskin is complemented with a sleek enclosure, brushed in gold. Available in Étoupe (a medium tan), Gold, Noir, and Rose Azalée (a medium pinkish-red). You can also shop separately from bright yellow. Buy Here.
Jumbo Bracelet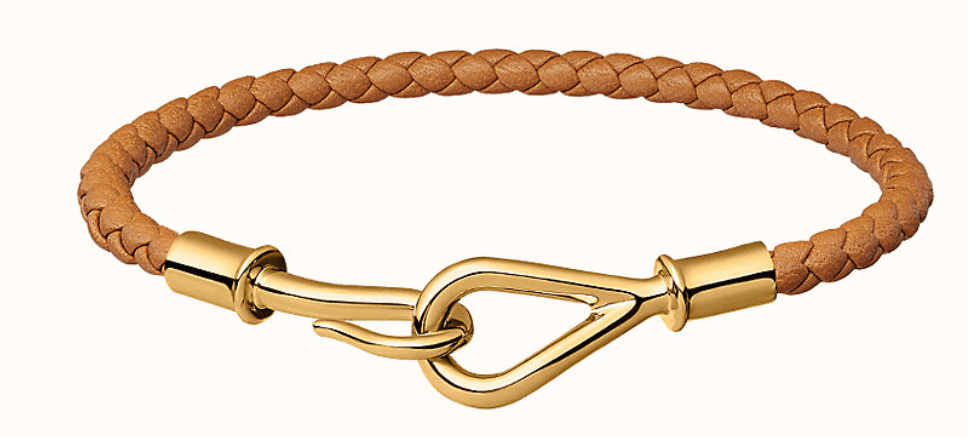 If you like the calfskin and braided band of the Glenan, but want a Hermes bracelet with a chunkier enclosure, consider this option. Priced at $270, the Jumbo style is at once modern and a little retro, complemented with warm, golden yellow plating. Available in Étoupe, Gold, and Rose Azalée. Buy Here.
Uni Bangle

Sometimes you just want a simple statement. The Uni bangle may not be the most eye-catching piece from the Hermes bracelet collection, but the enamel bracelet offers sleek, minimalist modern sophistication for both casual and semi-formal outfits. The $285 bracelet is made in France and features a narrow band in Noir, Rouge (red), and Rose (pink) enamel, complemented with gold plating. Buy Here.
Under $400
Behapi Double Tour Bracelet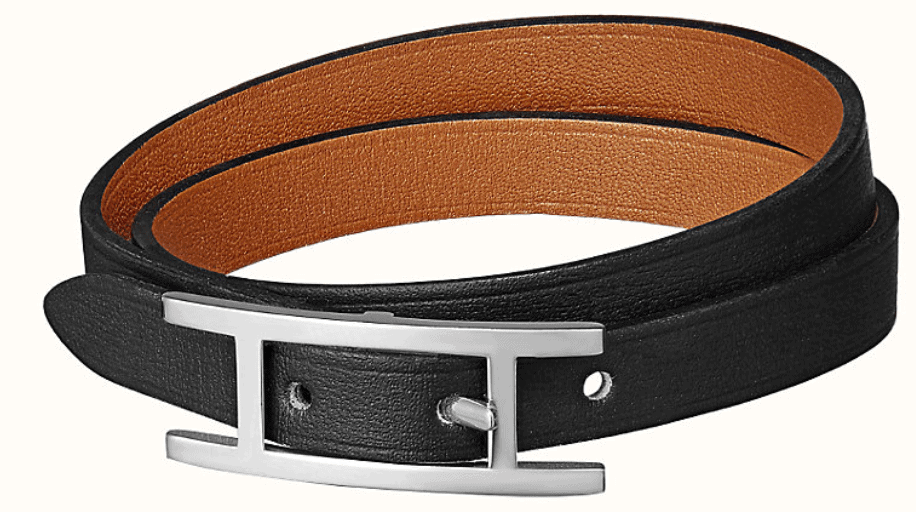 This bracelet goes back to Hermes roots with a belt style and high-quality Swift calfskin. The reversible leather bracelet is made with a palladium-plated Hapi closure for a look that's at once classic and statement-worthy. Priced and $330 and available in Gold/Orange, Navy/Gris (gray), and Noir/ Fauve. Buy Here.
Medor Aluminum Sunset Bracelet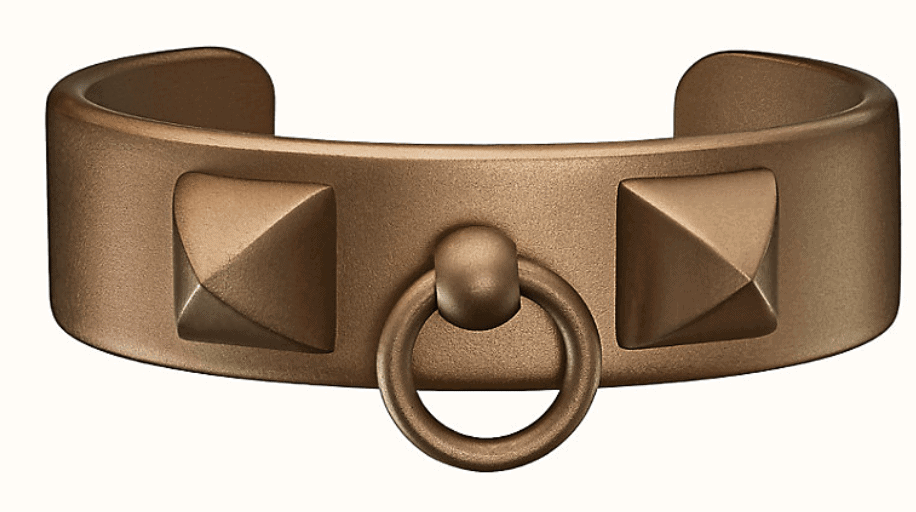 A chunky but still slim Hermes bracelet, this style is at once unexpected and welcome for anyone looking for an alternative classic. Priced at $370, a narrow band has chunky textures with Sunset aluminum hardware. Available in Jaune (yellow), Noir, Rose, and Grès ( akin to a light copper brown). Buy Here.
Under $500
Rivale Mini Bracelet

Priced at $425, this is perhaps my favorite Hermes bracelet in the current collection. Swift calfskin is complemented with rose gold plated hardware and available in a Gold or Noir finish. There's something simple, sophisticated, and classic about this bracelet– and it's not nearly as expensive as some more popular options. The mini design is also well suited for more petite women. Buy Here.
Couvertures et Tenues de Jour Bangle

Like Hermes bracelets but want something that stands out from the rest of the collection? This $440 playful but intricate bangle bracelet may be just that. Printed enamel nods to Hermes' roots with an equestrian theme and is complemented by a gold plating finish. Buy Here.
Under $600
O'Kelly Bracelet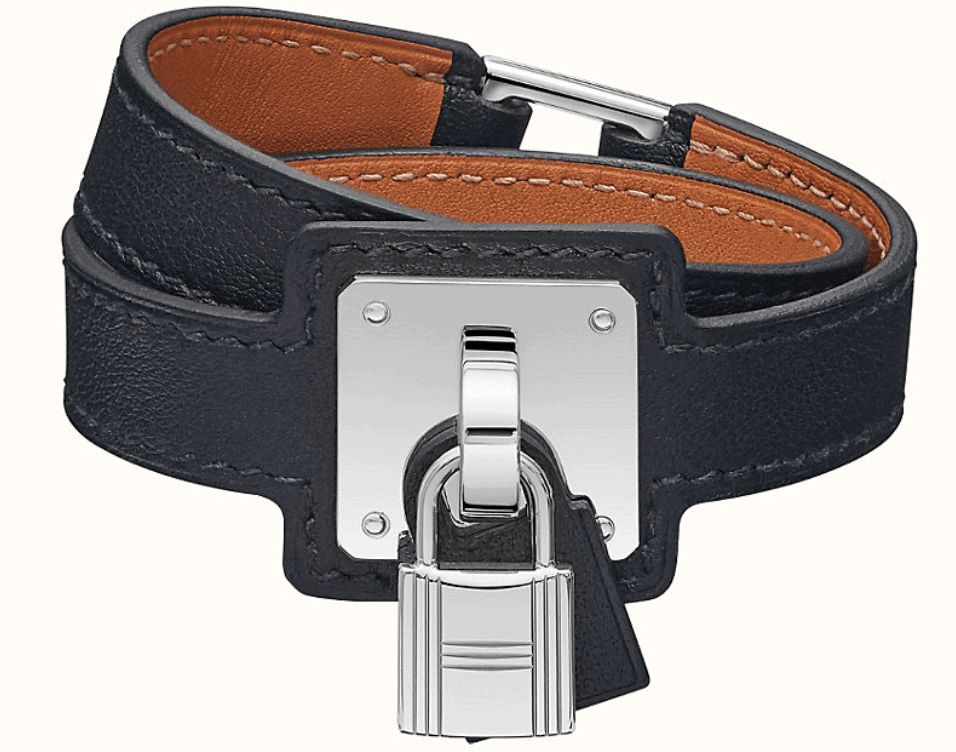 This bracelet style may not be as well known as some other Hermes bracelets, but I love how it combines classic styles with a modern twist. Priced at $550 and made in France, this Swift calfskin bracelet features a slimmed-down leather padlock with palladium-plated hardware. Available in Rose, Gold, and Noir; Buy Here.
Under $700
Clic H Bracelet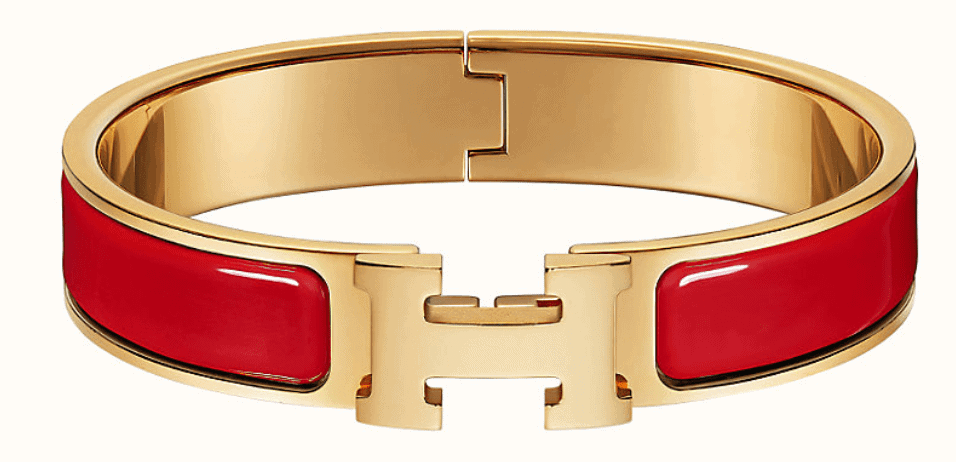 The most popular Hermes bracelet style, the Clic H is priced at $620 and is elegant and timeless. A narrow band of sleek enamel is complemented by warm gold plating and a simple and beautifully crafted closure. Available in 8 colors, from white to black and some colorful hues, it's easy to see why the Clic H is so popular. Buy Here.
Under $800
Collier de Chien 24 Bracelet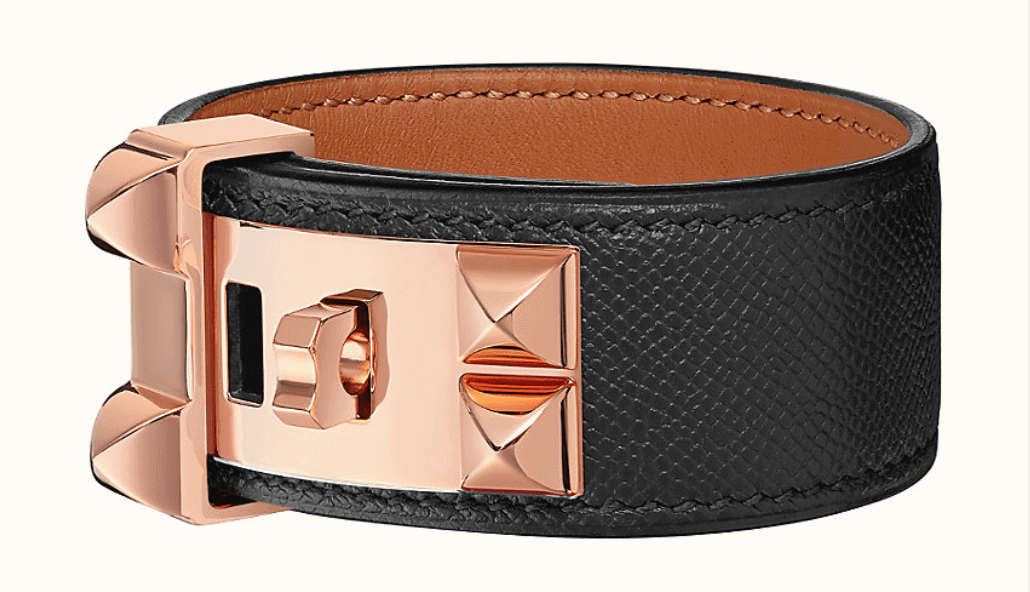 If you've ever seen a bracelet from Hermes, chances are you may have come across the Collier de Chien bracelet. This distinct and sophisticated style dates back to 1927 and features faceted Medor studs. The 24 is a reinterpretation of the classic. Priced at $730, the more pared-down look costs about ⅓ of the original design– making it a savvy compromise. You'll still get quality Swift calfskin and thoughtfully designed, rose gold plated hardware. Available in Noir, Rose, and Gold; Buy Here.
$2,000 and Up
Collier de Chien Bracelet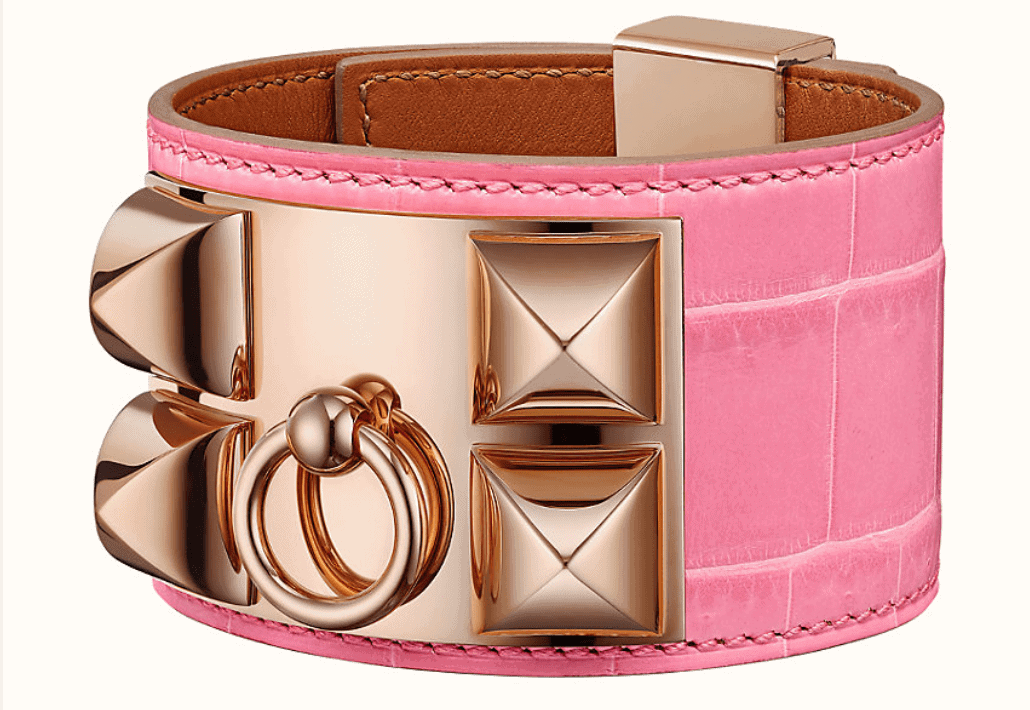 Of course, the classic Collier de Chien is a classic for a reason. Priced at $2,125, I still think you may be better off with the 24– but it's undeniably a sophisticated bracelet. The sheer craftsmanship of the design and quality materials make this bracelet timeless. Satin Niloticus Boreal crocodile, precious leather, and an adjustable closure are set with gold plated Medor pyramid studs and a ring. Buy Here.
Luxury Options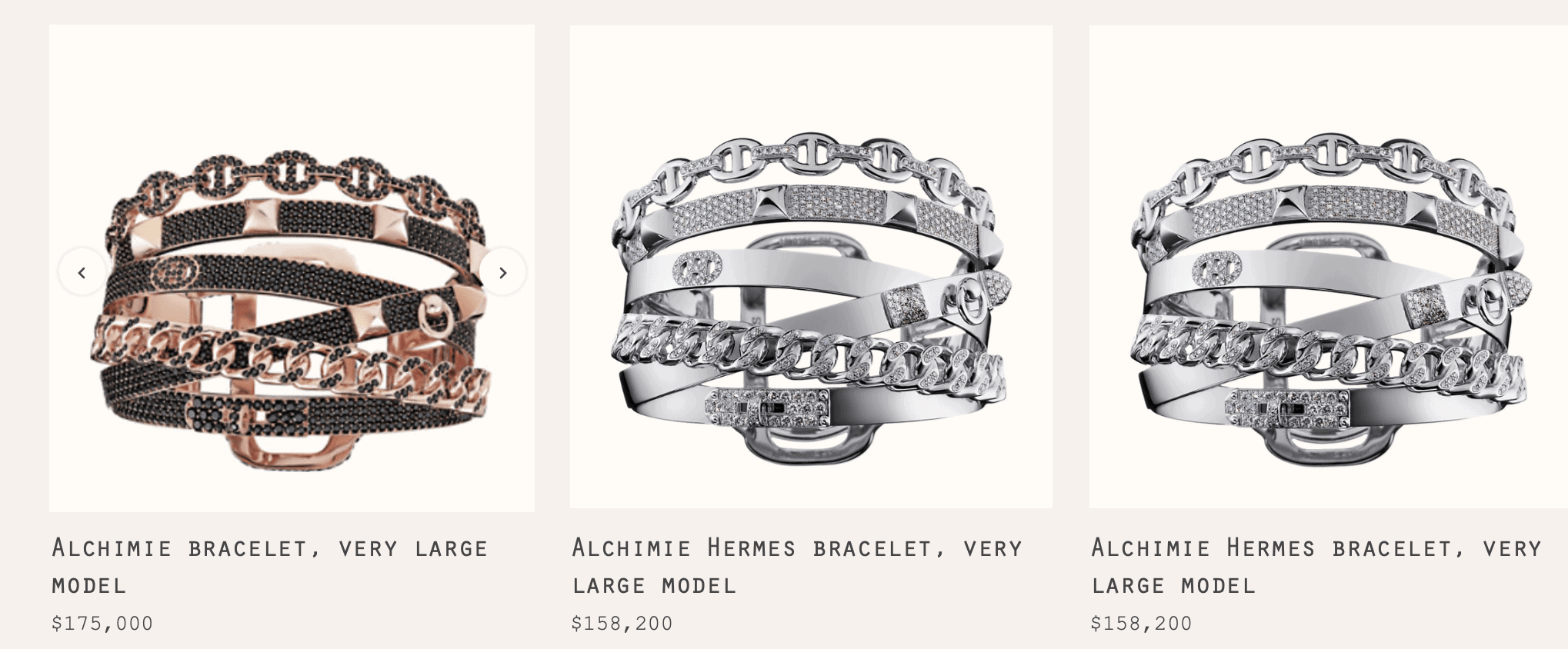 Of course, there are distinct, luxury options. These veer away from the classic looks and feature intricate designs– with hefty price points. Even if you can't afford these bracelets, they may offer ideas for layering other Hermes bracelets with cheaper options. Sorted by highest to a lowest price point. Buy Here.
Frequently Asked Questions
Question: Which Hermes leather is the most expensive?
Answer: Hermes uses Swift calfskin for much of its bracelet collection, but that's not the most prized type of leather they sell. Barenia leather is prized leather, which is especially desired for making saddles. Not only is it smooth and attractive, but it's also durable, and resistant to both scratches and water.
Question: Which Hermes leather is the cheapest?
Answer: On the other hand, while still durable and well made, Epsom is considered the cheapest type of leather Hermes uses. Swift, Tadelalt, and Evercolor are used for both bracelets and handbags and are considered a balance between durability and price point.
Question: Is Hermes better than Louis Vuitton?
Answer: For Hermes vs Louis Vuitton, it's not a simple matter of which of the two luxury brands is inherently better. Both are well respected and offer beautiful accessories. It is true that Hermes tends to be more pricey. Hermes is also known for its greater emphasis on exclusive designs.
Final Thoughts
Hermes bracelets can be expensive, but there's something timeless about their design. Keep in mind that you don't have to buy the most expensive Hermes bracelet– in fact, some of the more affordable options are highly versatile and may just become your new go-to for casual and semi-formal outfits alike.