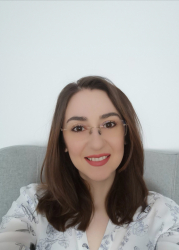 Latest posts by Alexandra Gavrilescu
(see all)
Having sensitive ears makes the entire process of purchasing earrings tedious and difficult. I know what I'm talking about because I too have sensitive ear lobes. If you're also dealing with this issue, you must be very careful about what types of materials your earrings are made of to avoid getting allergic reactions.
There are many cute and cheap earrings out there. I get it! But, most of them are made of mystery and low-quality metals that can lead to irritations and itchiness. To sort things out, I have researched some of the best hypoallergenic earrings that are made especially for sensitive ears.

Top 8 Best Hypoallergenic Earrings Options
I only included products that I personally like. So, below, you will find those accessories that I myself have already tried or, if not, I have talked with people who have worn them or researched them online in a thorough manner. I avoid recommending products that I don't know much about.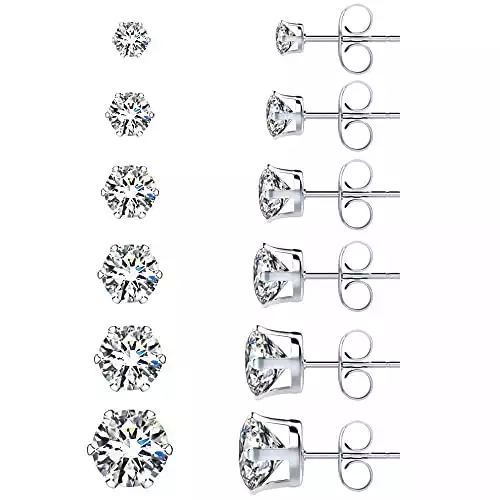 Hypoallergenic Stud Earrings | Amazon
Classic shiny CZ STUD EARRINGS sparkle from multiple angles of cubic zirconia and create breathtaking reflections to adding your temperament.
Buy at Amazon
We earn a commission if you make a purchase, at no additional cost to you.
08/02/2023 11:59 pm GMT

These UHIBROS earrings are made of surgical-grade stainless steel so they will protect your sensitive earlobes from any allergic reaction. They don't contain nickel and they can be worn every single day. The "surgical-grade" label is a reliable detail that ensures a good-quality product.
These earrings come in 6 different sizes and they are created with cubic zirconia. They have received thousands of positive reviews from online users who declared themselves to be satisfied with the way these accessories look and feel. The smallest size measures 3mm, whereas the largest pair of earrings measures 8mm.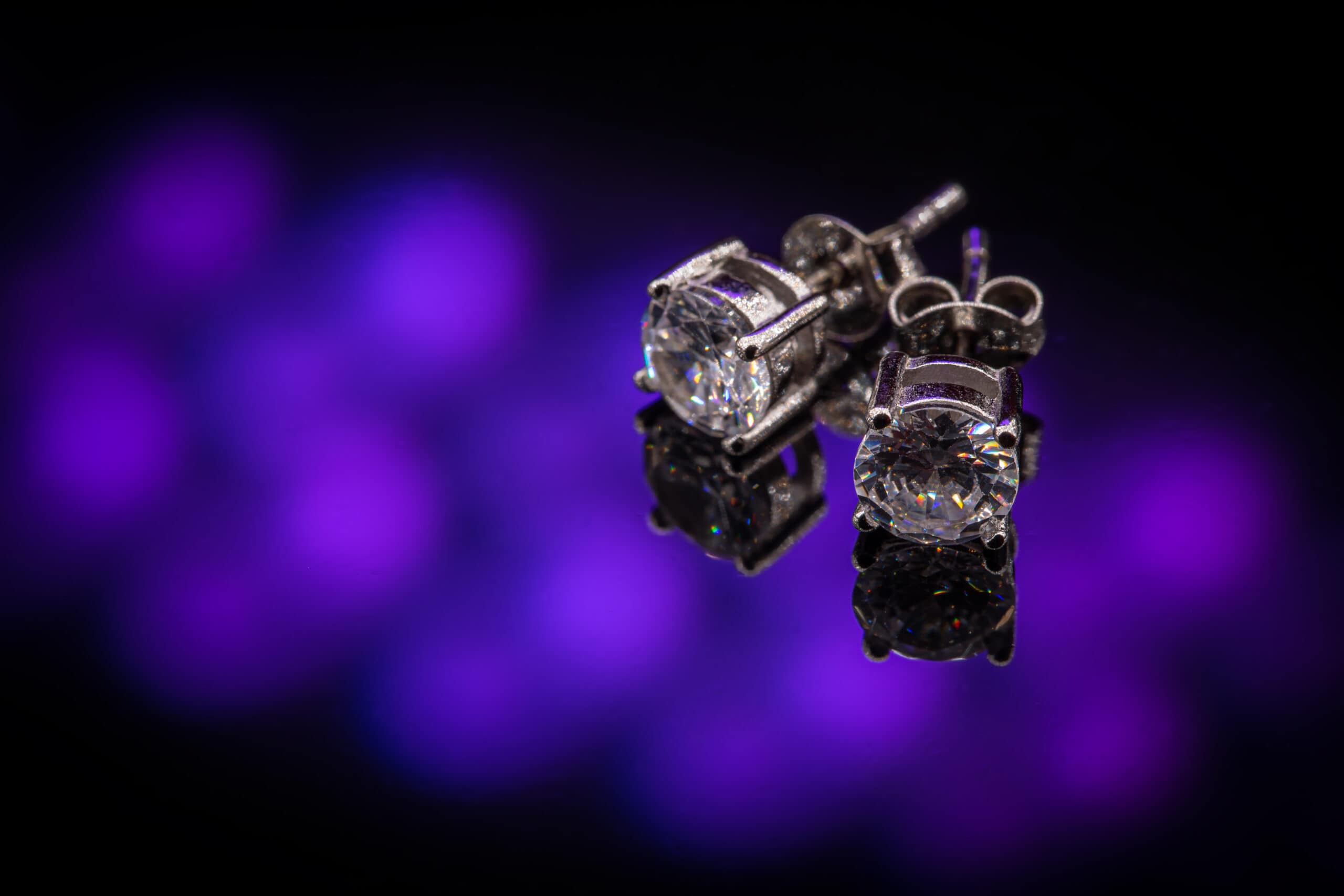 Pros
These earrings are hypoallergenic so they won't cause allergic reactions or skin rashes;
The package contains no less than 6 different pairs of earrings, in different sizes;
The earrings are made of durable metal, stainless steel, that will never rust;
Their design is timeless and classic;
They have a closing feature that ensures secure fastening to your earlobe.
Cons
Although these are hypoallergenic earrings, some reviewers don't believe they are surgical-grade accessories;
One reviewer said that the earrings, despite the company's claims to be hypoallergenic, caused her a rash on her ear lobes.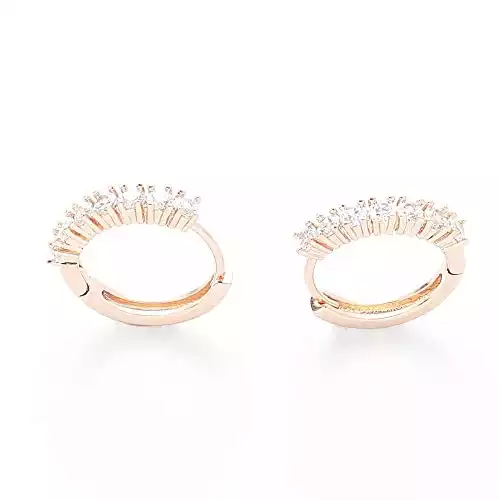 Dainty Huggie Hoops | Amazon
Huashengmi provides the most beautiful, unique and elegant jewelry accessories. It is suitable for everyday wear and wildness and matches perfectly with any other accessories.
Buy at Amazon
We earn a commission if you make a purchase, at no additional cost to you.

These hypoallergenic ear hoops are made of cubic zirconia and plated with 14K gold. Their design is beautiful and unique. The earrings are suitable for everyday wear and they're chic and trendy. The metal used to create these adorable hoops is brass which is a pretty safe metal. You will receive the jewelry in an exquisite and elegant gift box.
You can wear them at special events or the office since the model is very versatile; it's easy to match these hypoallergenic earrings with numerous outfits.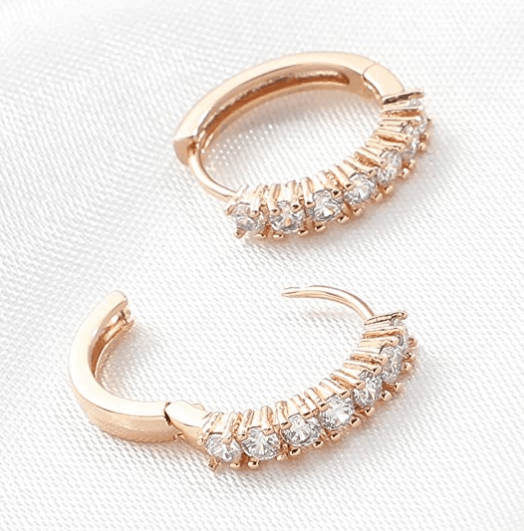 Pros
The earrings are stunning and they're also delicate to the touch;
The gems are sparkly and resemble diamonds;
According to many clients, these lovely earrings are made of high-quality materials and they look durable and sturdy.
Cons
I could not find any negative reviews about these hypoallergenic earrings. On the other hand, I am not sure if they contain nickel or not. They're listed as hypoallergenic but that doesn't mean they're nickel-free.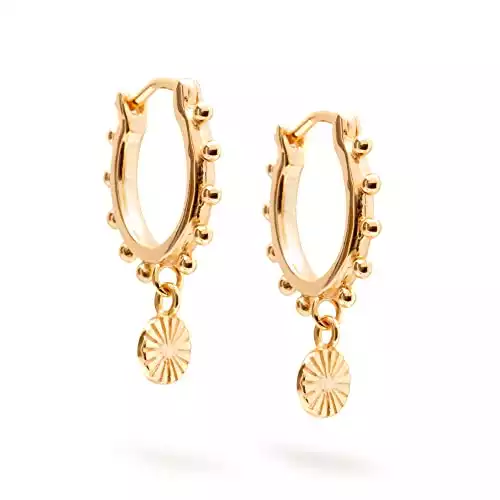 Timeless Mini Clasp Gold Earrings | Amazon
Spruce up your lovely lobes with barely-there earrings or statement hoops that could easily transition from day to night.
Buy at Amazon
We earn a commission if you make a purchase, at no additional cost to you.
08/03/2023 02:03 am GMT

These 18K gold earrings don't contain nickel and they're plated with gold vermeil. They're drop-down earrings but their size is pretty small so that they look subtle and delicate on your earlobes. One thing I love about them is the fact that they're created with real gold and they are supposed to help you avoid any irritation or allergies related to nickel.
Their studded design is cute and fashionable. Each hoop has a small charm attached to it that reminds me of a sand dollar. I bet you will love wearing these hypoallergenic earrings when you're going out with your friends or daily, regardless of your daily activities since they are big enough to be noticed but small enough not to become an inconvenience.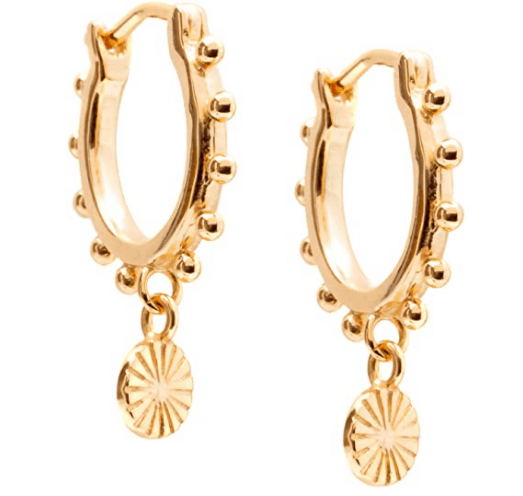 Pros
These are hypoallergenic earrings that are free of nickel;
They are plated with 18K gold;
Their design is very cute and chic;
These accessories can be worn with almost any type of outfit. 
Cons
All clients said they were more than happy with these earrings, their design, and their quality. Hence, I wasn't able to find any critical reviews.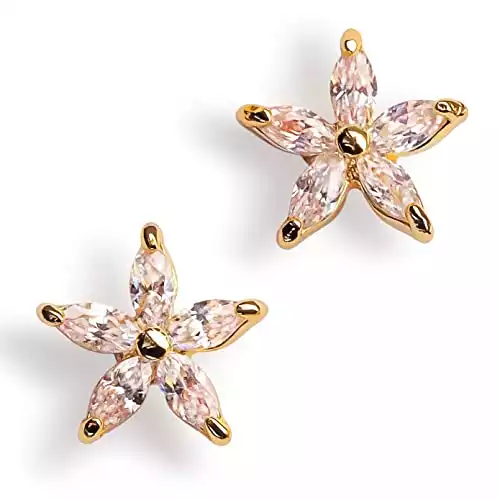 These elegant Benevolence earrings are made of stainless steel and plated with 14K gold. They look very cute and stylish. Moreover, if you're into subtle, feminine, and delicate looks and outfits, these accessories should be your go-to option. These beautiful earrings are truly hypoallergenic since they don't contain potentially harmful metals such as nickel, cadmium, and lead. You can choose from three available styles and the stones are made of cubic zirconia.
The metal parts are plated with 14K gold. Underneath, there's stainless steel that, according to the manufacturer, it's surgical-grade. You will love these accessories due to their level of comfort and stylish design.
Pros
These hypoallergenic earrings are as cute as can be;
They are versatile and can be worn on multiple occasions;
They're free of cadmium, nickel, and lead;
You can choose between white and pink gemstones.
Cons
What stroke me as a huge surprise was how tiny these earrings are. So, if you're looking for a very subtle look, they're great but, if you want to make a statement, these earrings are way too small.
Nana Sterling Silver Earrings | Amazon
These CZ earrings are classic and so elegant that women of all ages can enjoy them all day every day. Forget all those earrings that would cause skin irritations and rashes.
Buy at Amazon
We earn a commission if you make a purchase, at no additional cost to you.
08/03/2023 07:51 am GMT

These hypoallergenic stud earrings feature beautifully crafted details and Swarovski gemstones. They're made of solid sterling silver that's also plated with platinum. So they're both durable, precious, and comfy to wear. The earrings are small yet chic and elegant. You can choose from 3 available alternatives, based on your desired choice of metal color: white, yellow, or rose.
In fact, this jewelry is made of a mix of metals that includes gold, silver, and platinum. Each gemstone is one carat. They will offer you that extra sparkle that you can pair with any outfit of your choice.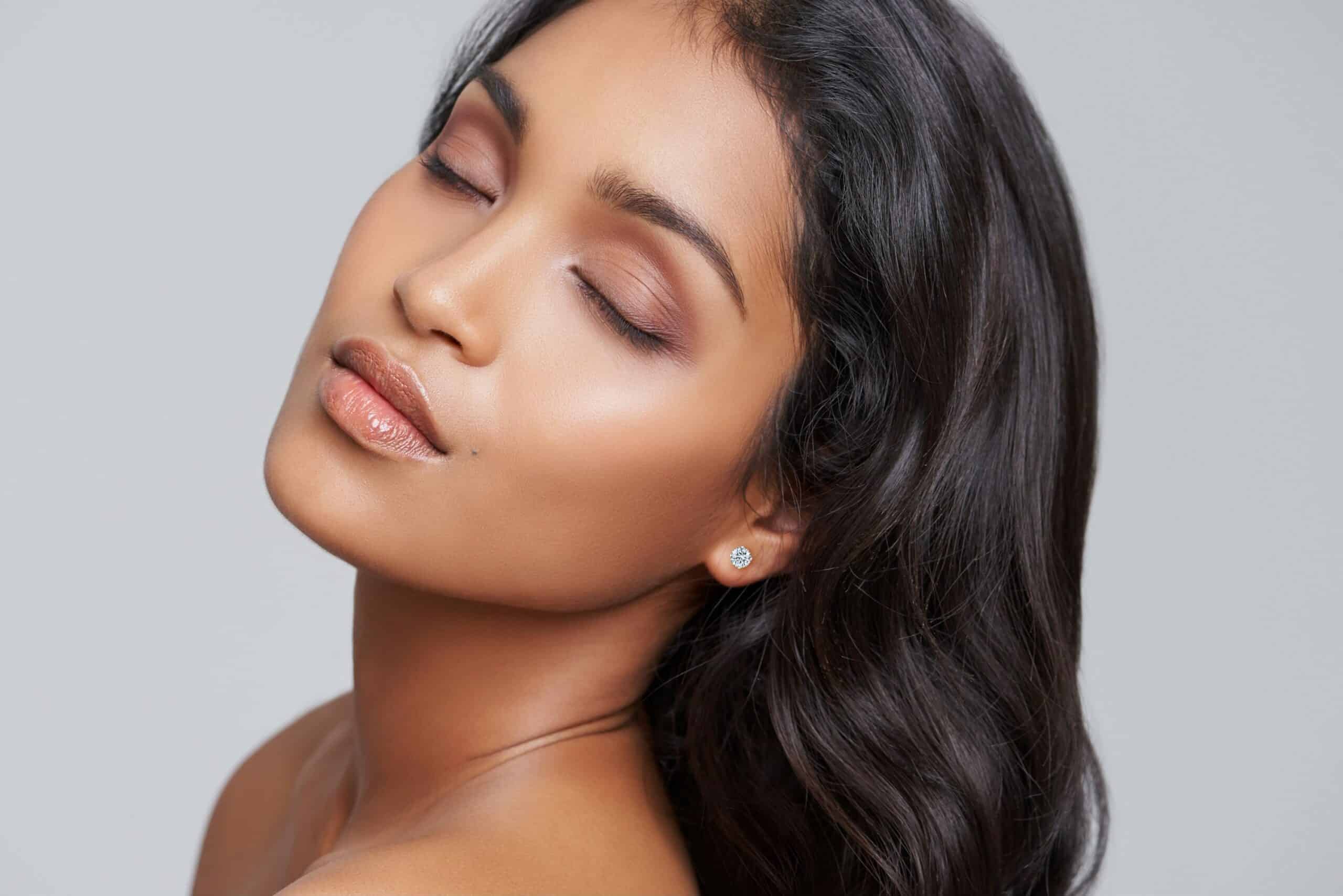 Pros
You can wear these hypoallergenic earrings for a long time without experiencing any irritation or allergic reactions;
They are cute, chic, elegant, and subtle;
They received many positive reviews online from satisfied clients who said these earrings represent simplicity and elegance;
You will get excellent value for the price.
Cons
A few clients, however, declared themselves disappointed because, after wearing the earrings, they noticed mild allergic reactions occurring around their earlobes.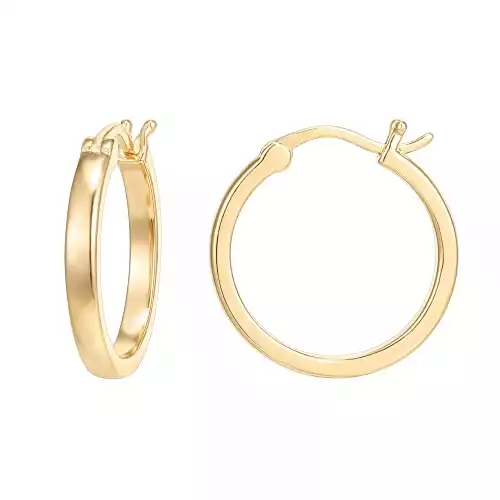 Pavoi Gold-Plated Hoop Earrings | Amazon
This hoop earring is crafted to be lightweight for easy all-day wear. They are plated in 14K Gold for a long-lasting brilliant finish and to be hypoallergenic.
Buy at Amazon
We earn a commission if you make a purchase, at no additional cost to you.
08/03/2023 05:13 am GMT

These Pavoi hoops are very lightweight and the sterling silver metal is plated with 14K gold. There's no trace of either lead or nickel in these earrings, hence they're safe to wear even by those who have sensitive ears. You can choose from 3 available tones: rose gold, yellow gold, and silver. The hoops measure 0.75 inches in diameter.
You can pair them with a wide range of other accessories, from delicate jewelry to chunkier alternatives. In terms of thickness, these earrings are somewhere in the middle; not too thick but not thin either. Over 6,000 online shoppers offered this product five-star reviews.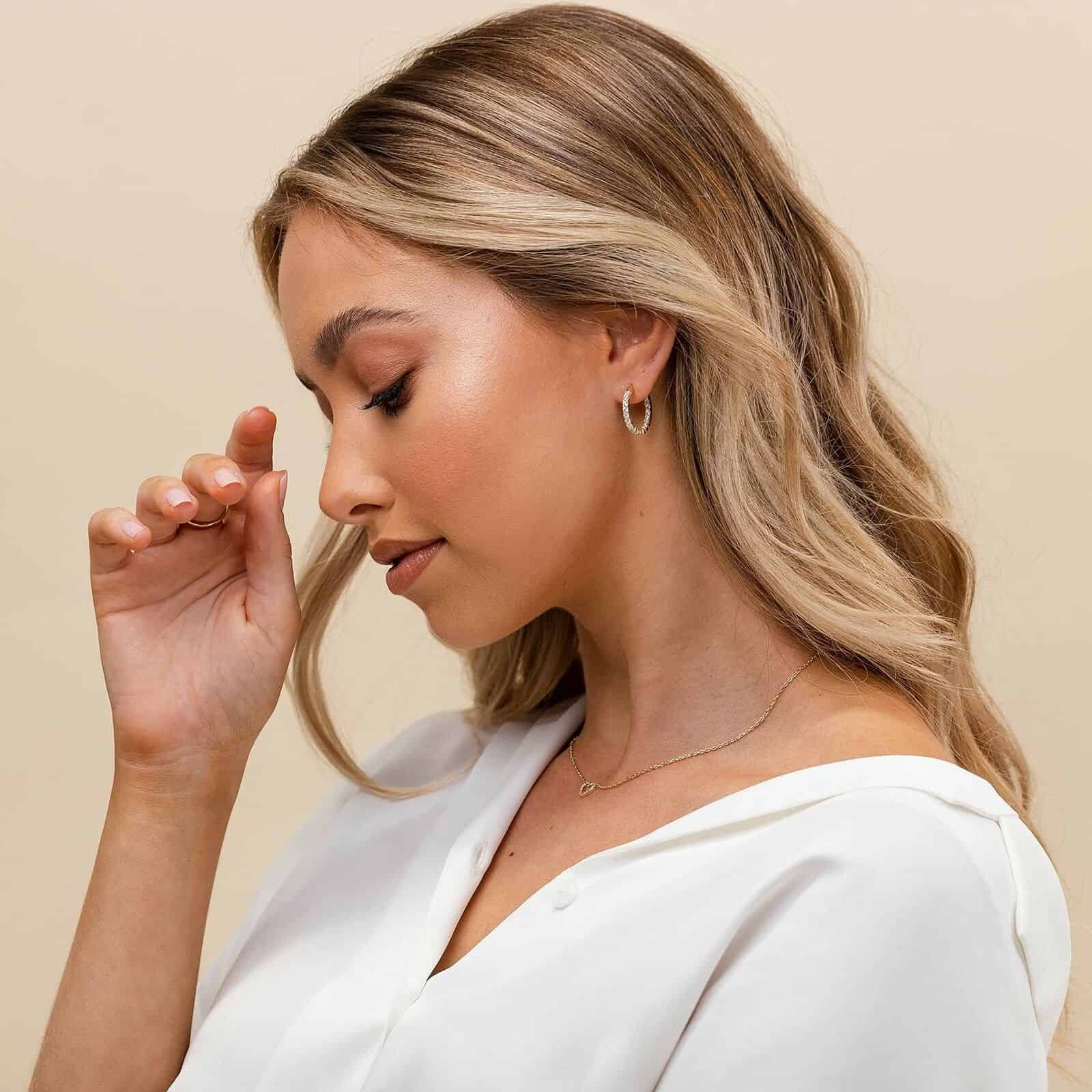 Pros
These hoop earrings are safe to wear and they're hypoallergenic;
They are stylish and trendy, being statement pieces;
You will also receive a 90-day return guarantee;
Despite being quite thick, these earrings are lightweight.
Cons
One client complained about the fact that she had a hard time opening and getting the hoops through her ears;
The gold hue seems to have a pale silvery color.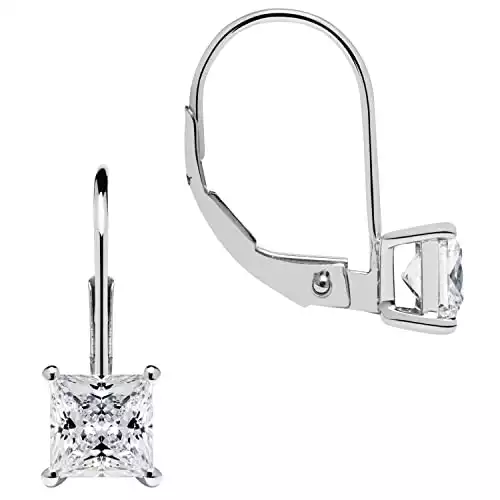 Everyday Elegance Drop Earrings | Amazon
A shimmering princess cut Cubic Zirconia (CZ) stone catches the light perfectly in these lovely drop-dangle earrings.
Buy at Amazon
We earn a commission if you make a purchase, at no additional cost to you.
08/03/2023 11:13 am GMT

These drop earrings marketed by Everyday Elegance feature cute gemstones made of cubic zirconia and a solid white gold structure. These 14K gold earrings don't contain nickel. They are indeed a bit pricier but the design is a classy and timeless one. Many satisfied clients said they wore these accessories for days at a time without experiencing any issues, whatsoever.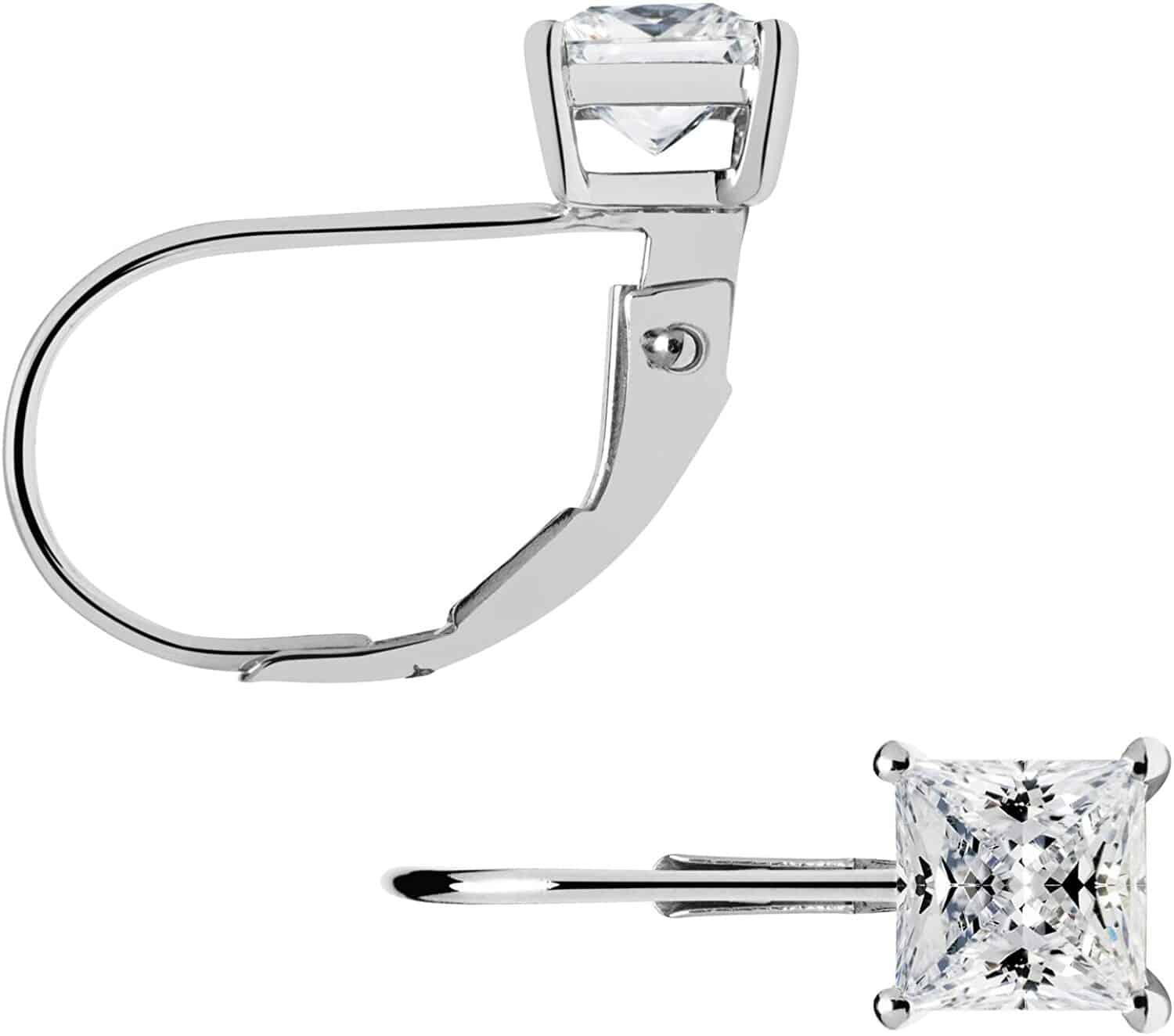 Pros
They're hypoallergenic earrings that won't cause any allergic reactions;
They look mesmerizing and they're easy to wear, put on, and take off;
Most clients love these high-quality earrings;
One of their greatest features is the shimmering gemstones that have a beautiful princess cut.
Cons
One client said she looked for the 14K gold marking on the earrings but she couldn't find one;
Another reviewer claimed that the metal structure feels a tad thinner compared to what she saw in the photos.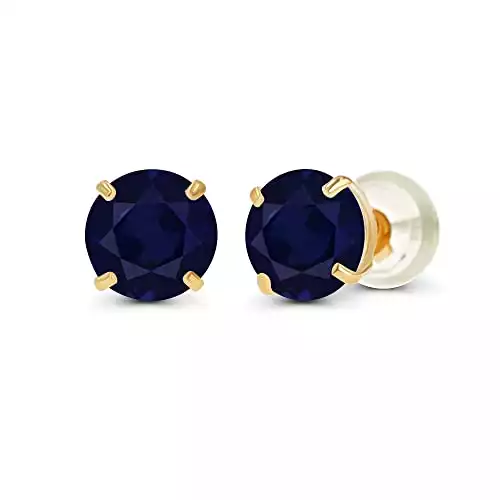 Decadence Blue Sapphire Earrings | Amazon
Looking for the perfect compliment piece? With this clean and classy look, our 14K Yellow Gold 4.00mm Round Blue Sapphire Stud Earring can be worn for a casual everyday look yet it can complement a more upscale outing.
`Buy at Amazon
We earn a commission if you make a purchase, at no additional cost to you.
08/03/2023 09:41 am GMT

These Decadence sapphire earrings are beautifully crafted and they don't contain lead or nickel. They could be the ideal gift for yourself or for a loved one. What I love about them is the numerous varieties of available gemstones that you can choose from. My personal favorite ones are aquamarine, blue sapphire, blue topaz, emerald, and ruby.
They're made of 14K solid gold and they even come with a certificate that proves their quality. Besides their certification, you will also see tiny stamps on both earrings that say 14k and the code for solid gold which is 585. Most clients are more than happy with their purchase, saying that the price matches the quality of this jewelry.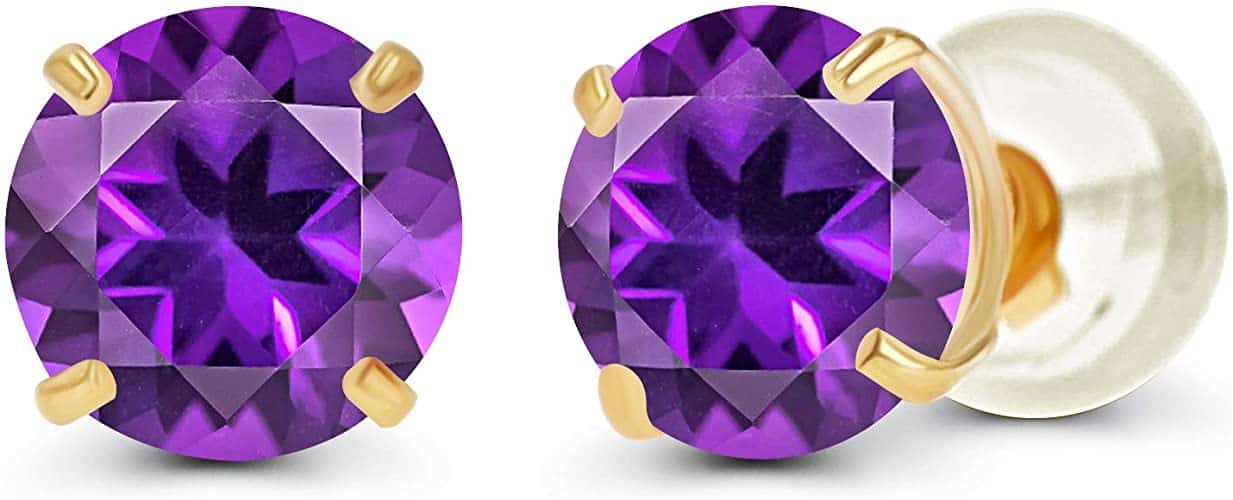 Pros
They're both nickel-free and lead-free;
These sapphire earrings look amazing and they can be worn on numerous occasions;
They represent the ideal choice if you want a subtle look;
Their design and features are very well made.
Cons
These earrings are super tiny which isn't a bad thing but if you want something more noticeable, these might not be the perfect choice for your preferences;
One reviewer said that the earrings didn't fit properly because of the posts which are a tad short.
The Best Hypoallergenic Earring Options – Frequently Asked Questions
Question: What Are Hypoallergenic Earrings?
Answer: Not all hypoallergenic accessories are made the same. So, in some cases, even though the label might say "hypoallergenic," the product might not be totally safe to wear after all. That's because hypoallergenic earrings lower the risk of rashes and other skin reactions but they don't eliminate them.
Many of these reactions occur when your sensitive skin touches certain metals such as nickel. However, some companies restrict the use of other metals like lead and cadmium, while still including nickel in their products.
Nickel-free earrings represent an important matter if you want to avoid any allergic reactions from now on. So, when buying new earrings, don't settle for something very cheap because. Cheap earrings might still contain nickel right under their surface.
Question: What Hypoallergenic Metals Are There?
Answer: First and foremost, forget about searching for jewelry that's entirely made of pure gold or silver because these precious metals are very soft in their natural form so nickel or other metals must be added to create more durable accessories.
While gold plating represents a good option, other alternatives are better solutions for those who have sensitive ears. The best kind of hypoallergenic jewelry is the medical-grade nickel-free one. Stainless steel is good but medical-grade plastic and titanium are the best. These two materials are durable, comfortable to wear, and versatile.
Question: Why Can Ears Be Sensitive?
Answer: To begin with, we're talking about a delicate area of your body. The earlobes are normally thinner and resemble the skin that's found on your lips or eyelids. This makes ears more prone to allergic reactions, rashes, and irritations. Earrings could lead to skin reactions because we tend to wear them for extended periods.
The problem that most people with sensitive ears are experiencing is so-called allergic contact dermatitis. That's a type of skin eczema that could be described by dry and red patches on your skin after it was exposed to specific chemicals.
The Best Hypoallergenic Earring Options – Bottom Line
If you notice rashes after wearing earrings, it might mean you have sensitive ears. But, having sensitive ears, does not mean you should avoid wearing beautiful earrings altogether. Instead, you must opt for those that are hypoallergenic such as the ones I have detailed in today's article.
So, the next time you're purchasing a new pair of earrings, make sure you choose a safe alternative. Hypoallergenic accessories will provide you with the comfort you deserve without compromising elegance and style. Choose earrings that are made of either stainless steel, titanium, or platinum since these metals are less reactive.