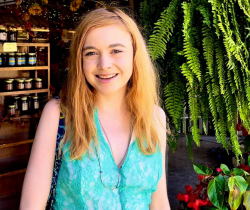 Latest posts by Erin Jamieson
(see all)
There's your pair of go-to earrings– perhaps solid gold studs or small gold hoops. But 2022 is one of the best years to grab a pair of statement earrings 
Statement earrings are making a splash everywhere, from runway fashion to budget-friendly brands. While minimalism was embraced in 2019, 2020, and 2021 has been years for bigger, bolder fashion. And that includes stunning statement earrings.
That includes Nordstrom's "Siren Earrings." Fashion setter and Duchess of Winsor Kate Middleton has worn high fashion brands, but also everyday designers like Monica Vinader. Those include these charming earrings– now being offered half off through Nordstrom Rack.
What exactly is so special about these earrings? Aside from being worn by Middleton at least ten times, there's something breathtaking– and also versatile– about the design.
Green onyx gemstones are set in yellow gold with a dramatic drop style. While Nordstrom has sold out of the iconic green onyx stone, you can buy the earrings at full price here.
But you don't need to be a royal– or love green– to rock a fantastic pair of statement earrings. I'll tell you how to select statement earrings, plus give you my favorite picks for 2022. 
| Product Image | | Primary Button |
| --- | --- | --- |
| | | |
| | | |
| | | |

What is statement jewelry?
First I want to discuss what statement jewelry is– and isn't. The problem is that the term is often used in many ways. You can wear statement rings, earrings, necklaces, and even bracelets. The idea is like it sounds: to make a statement. Statement jewelry is bolder, often larger in scale, and many times, colorful. Statement jewelry can also include sparkling diamonds with beautiful brilliance.
That said, statement jewelry can be expensive, but it doesn't have to be. The main concept is that statement jewelry is meant to be the centerpiece of an outfit. As such, many times someone might pick one piece of statement jewelry and underplay the rest of their accessories. 
Statement jewelry usually is worn to parties and other festive occasions, but more casual boho styles have been introduced wearing statement jewelry to elevate outfits as simple as t-shirts and jeans. 
Are statement earrings in style for 2022?
While statement earrings never go completely out of style, they're especially stylish in 2022. That's likely due to more Americans longing for bold looks that are a bit more expressive. 
How do you wear statement earrings?
One of my favorite things about accessories in 2022 is now fewer and fewer people are following certain fashion rules and instead of making their own. But statement earrings are often at their best when they're the focal point of an outfit.
For statement earrings with multiple colors, textures, or patterns, a solid top would be the best way to make them pop. 
Opt for a complementary color–look on the opposite side of the color wheel. For instance, statement orange earrings look spectacular when paired with blue. Diamond statement earrings sparkle against darker hues, especially black, navy, and scarlet. 
Of course, you can also have them match your outfit– this makes for a cohesive look, but they won't stand out as much. Whatever you do, I do recommend keeping other accessories minimalist.
How do you find the best statement earrings?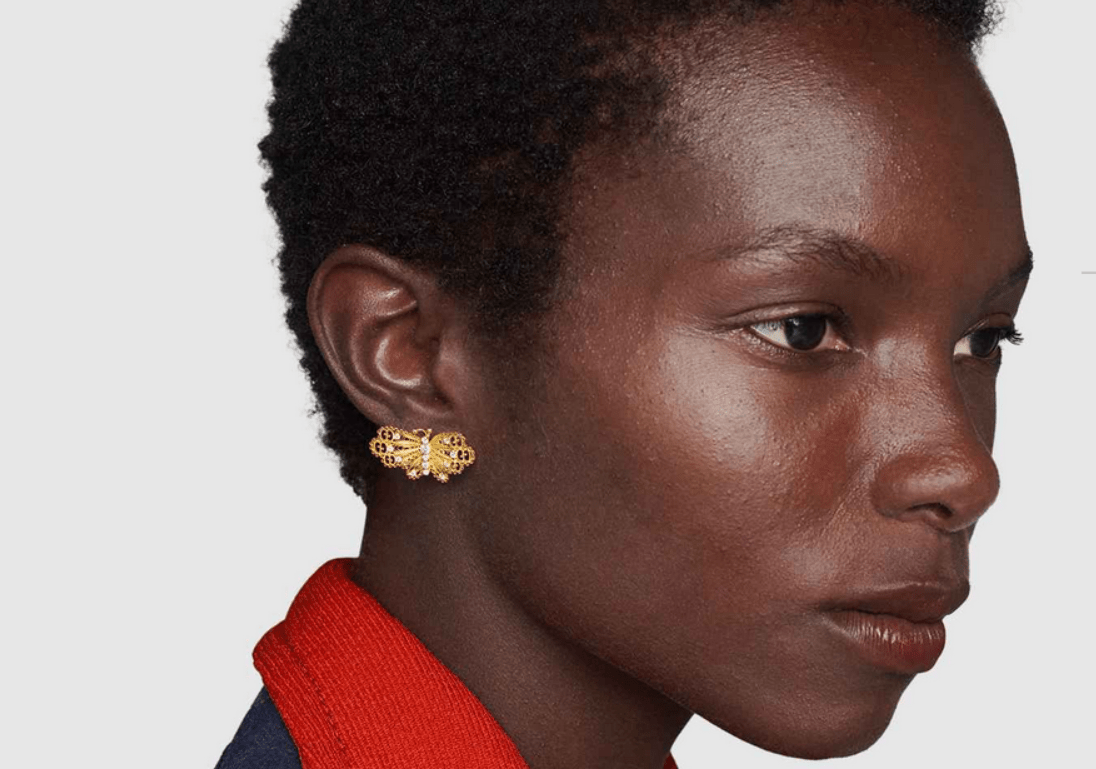 Truly, the best statement earrings are ones that make you feel confident and that complement your personality. But if you're looking for statement earrings you can wear more than once– even many times– then you may want to be a little more choosy. Here are the questions that I ask myself before looking for fantastic statement earrings that'll be worth my money. 
What's the best type of earring for statement earrings?
Statement earrings should be bold and unique. While it's possible to buy statement earrings you can wear casually too, the whole idea is that they should stand out from your typical go-to earrings. I mostly recommend chandeliers and dangle or drop earrings. The dramatic drop or fanning out makes for a louder statement vs stud earrings, which typically are more classic and subtle.
Another option is large hoop earrings. But hoop earrings tend to not feature as much color, sparkle, or dramatic shapes as you'll get from longer earring types. So if you do opt for hoop or stud earrings, make sure they offer a unique design and textures or colors that make them stand out. 
What type of earring metal is best for statement earrings?
You can buy earrings in just about any metal you'd find for other pieces of jewelry. If you want an affordable option that's classic and sleek, sterling silver tends to be popular. However, if you want these statement earrings to last for years, opt for 14K to 22K gold or platinum earrings. Steer away from gold plating, which typically only lasts a few years.
But when it comes to hue, that's more of a style preference, and there are different moods and looks that each hue exudes.
Yellow Gold
Few colors are as iconic or statement-worthy as the classic yellow gold. Yellow gold, in its best quality, exudes warmth. Yellow gold looks spectacular with warm and neutral skin tones. It also is a spectacular backdrop for diamonds and precious gemstones. Yellow gold is perhaps the most dramatic option– adding a statement without trying hard. 
While there is a difference between white gold and platinum in terms of hue, both have silvery and white undertones. This set the stage with cool and sparkly styles. White gold and platinum complement cool skin tones and looks great on neutral skin tones as well. These classic hues are a little more understated— but can still make for iconic statement earrings when paired with exemplary styles and statement gemstones.
Rose Gold
Rose gold brings a softer, romantic hue. While not as common for statement earrings, that's part of the beauty. The rosy undertone is less expected and can make your earrings stand out from other statement earrings. Rose gold is also especially flattering, complementing all skin tones. Plus, a wide spectrum of colors compliment rose gold earrings, including white, blue, neutrals, and pinks. 
Statement Earrings: My Picks
Here are my picks for my favorite statement earrings in 2022. These are made by luxury designers and follow the latest trends. I'll also include a link to more affordable statement earrings at the end of my article– but my focus here was on quality, alluring and unique designs, and materials that last. 
David Yurman Statement Earrings
David Yurman is a luxury designer that embodies "everyday luxury." As the first known designer to set diamonds in sterling silver, Yurman is known for combining glamour with modern allure.
With help from his wife, who works as a sculptor, his accessories have made a splash for their innovative designs and geometry–making for spectacular statements. His chandelier earrings in general make a splash and perfect statement– with dazzling colorful gemstones, framed by 18K yellow gold. Expect to spend $1,000 to $3,000 on average, more for luxurious diamond designs.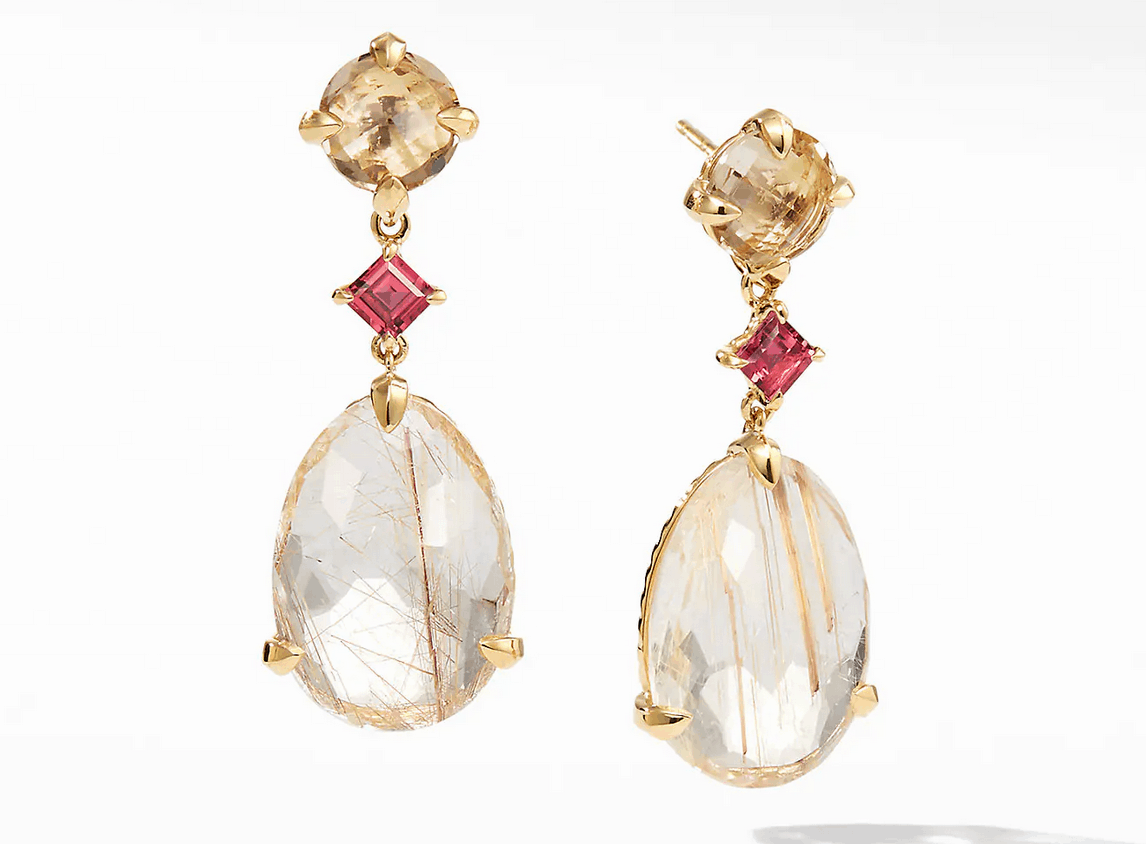 Talk about statement-worthy. These David Yurman statement earrings feature a dramatic earring drop, with an iconic dangle style. Crafted in 18K yellow gold, quartz, champagne citrine, and pink tourmaline gemstones pair for a rosy, jewel-toned aesthetic. Elegant but also expressive, these gorgeous earrings are one of a kind. Priced at around $2,800; Buy Here.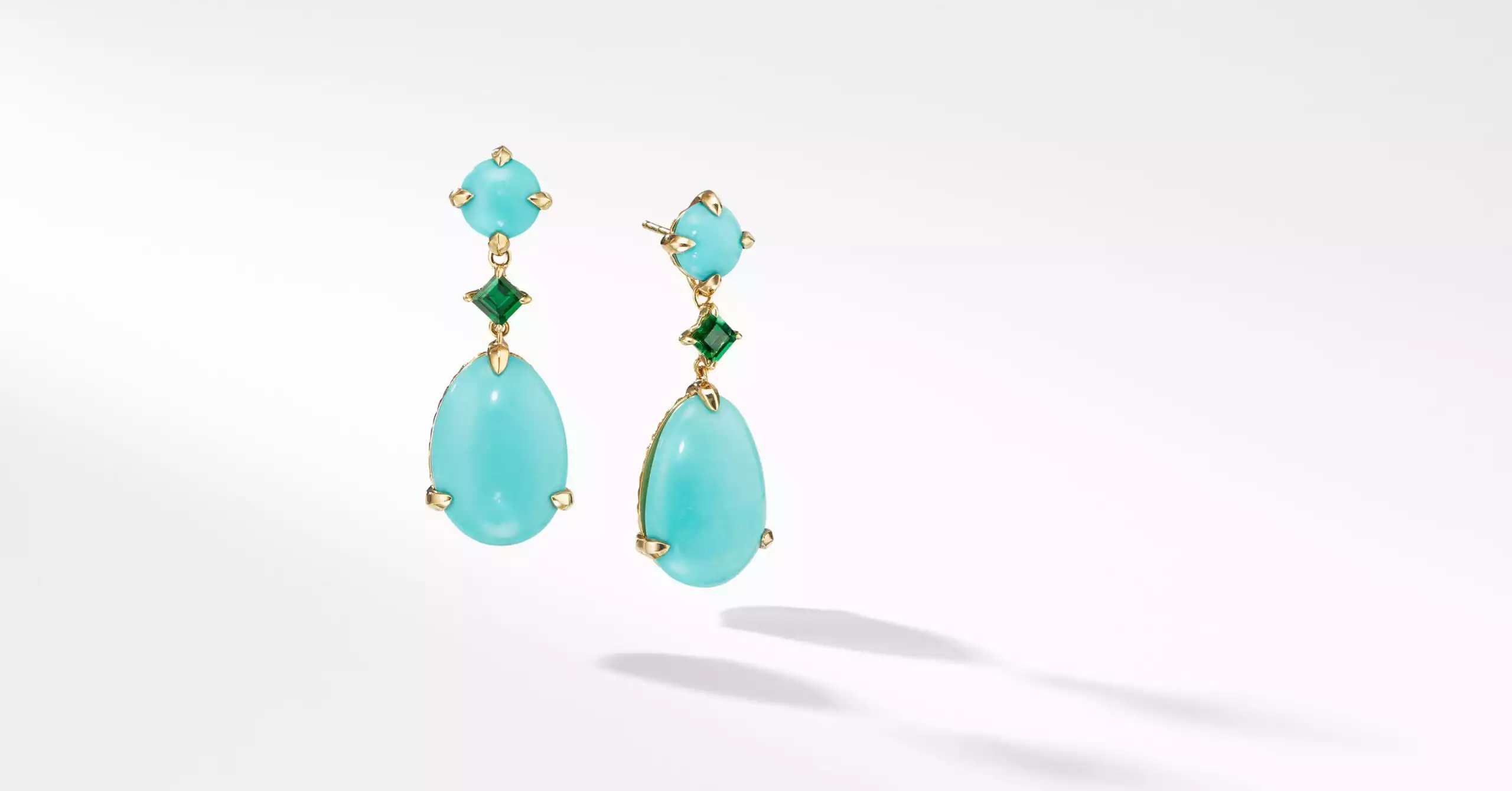 Chatelaine Drop Earrings | David Yurman
The Châtelaine Collection is a perfect fusion of David and Sybil Yurman's combined art—the marriage of a sculptor and a painter—form and color.
Check Price
We earn a commission if you make a purchase, at no additional cost to you.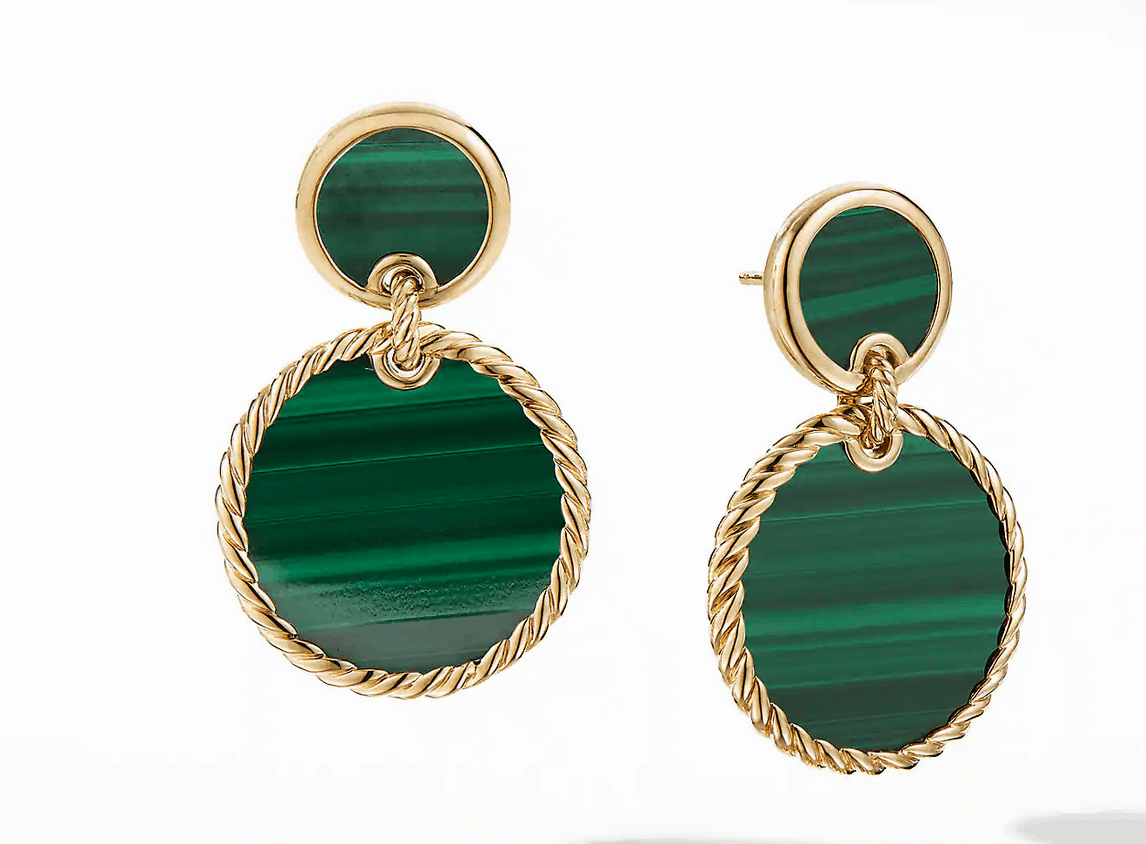 David Yurman often starts with a classic design– and takes it to the next level. These double drop earrings have a retro aesthetic, with striking green malachite. You can also buy these earrings with turquoise, mother of pearl, and black onyx- but the 18K yellow gold looks spectacular with the green hue. Priced at around $2,500; Buy Here.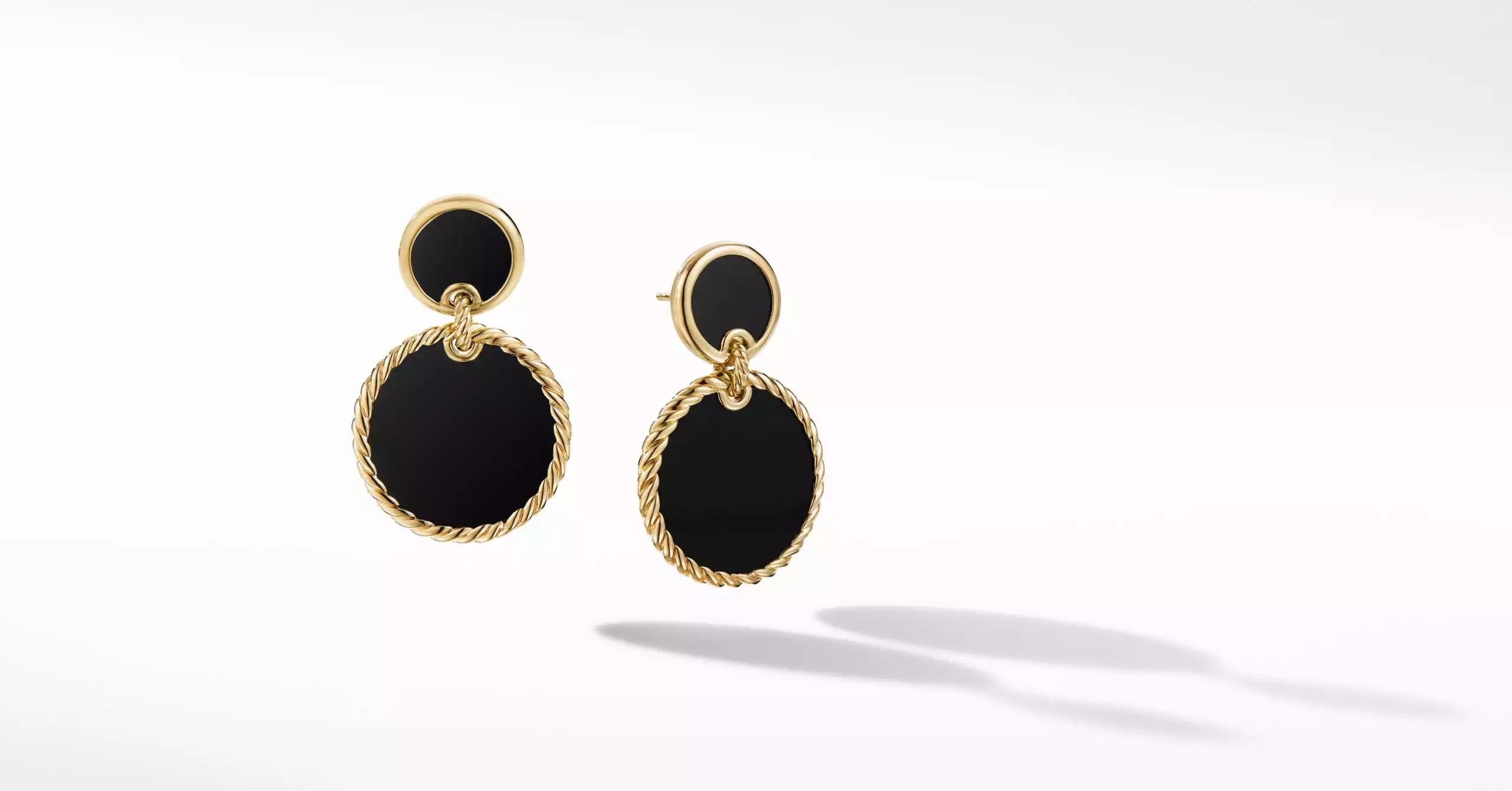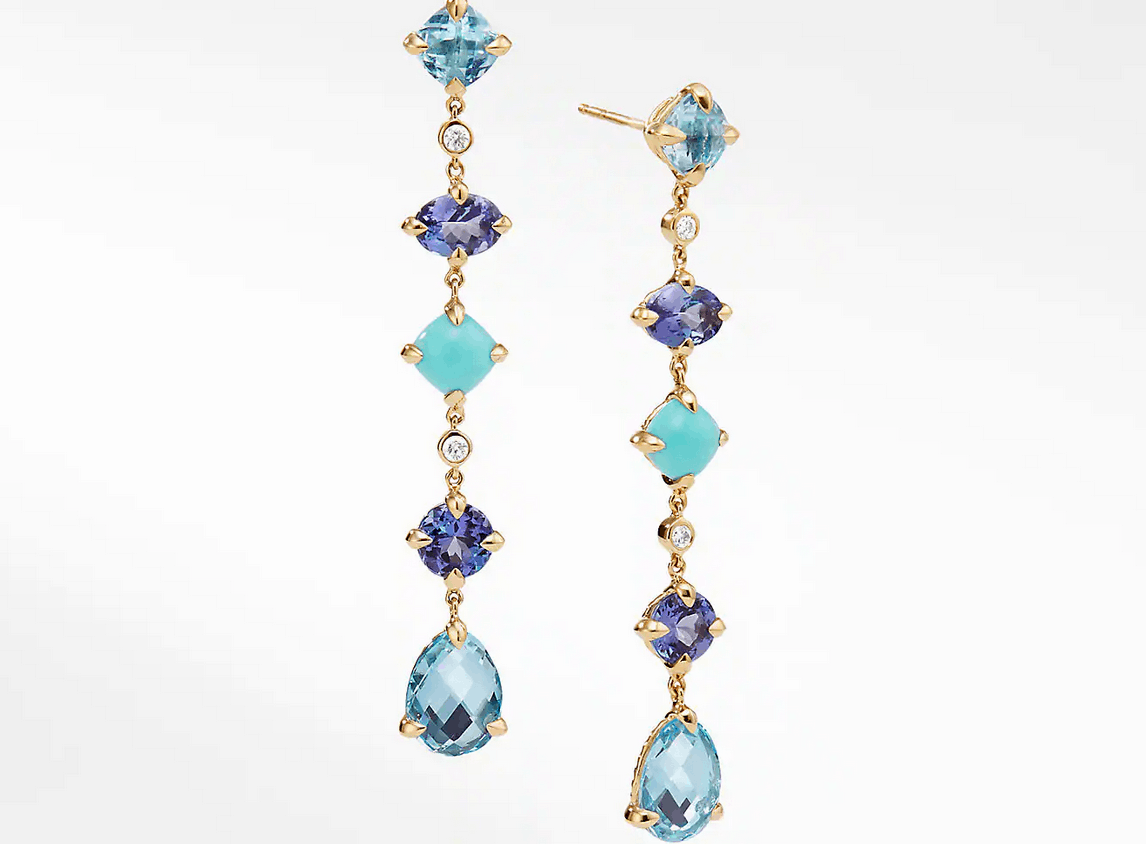 Wow with this modern and artistic pair of statement earrings. No matter what gemstone combination you go for, the graduated color look is in– and draws your attention from top to bottom, making for a dramatic splash– accented with a touch of sparkling diamonds. Gemstone combinations include lemon citrine, pink tourmaline, and peridot; green orchid and black onyx; or blue topaz, tanzanite, and turquoise. Priced at $2,555 to $4,100; Buy Here.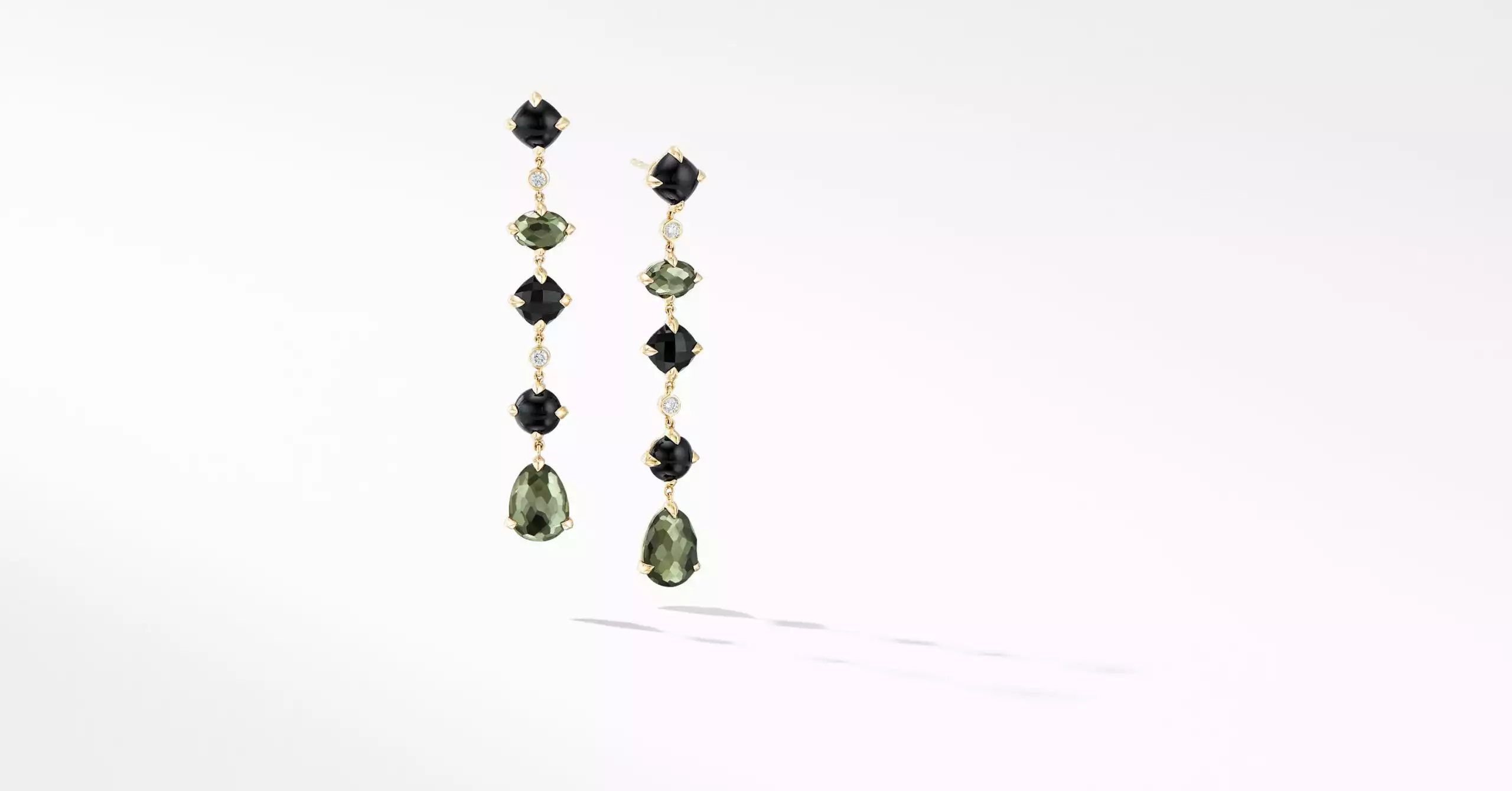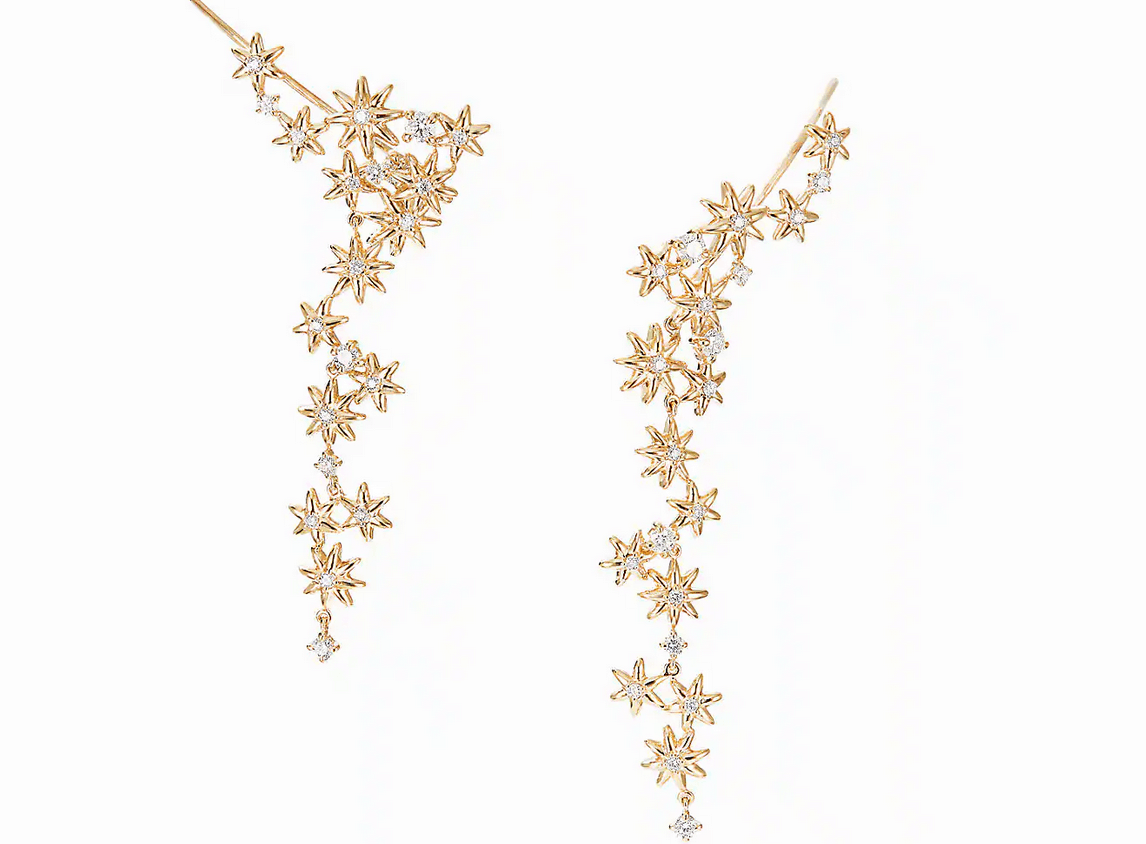 Dazzle with these glamorous statement earrings. David Yurman makes diamond earrings as you've never seen before, with this enchanting, fantastical design. 0.9 carats of pave diamonds hug the ear and drop in a dramatic style. Embodying twinkling stars in a night sky, these earrings are nothing short of magical. Priced at around $4,900; Buy Here.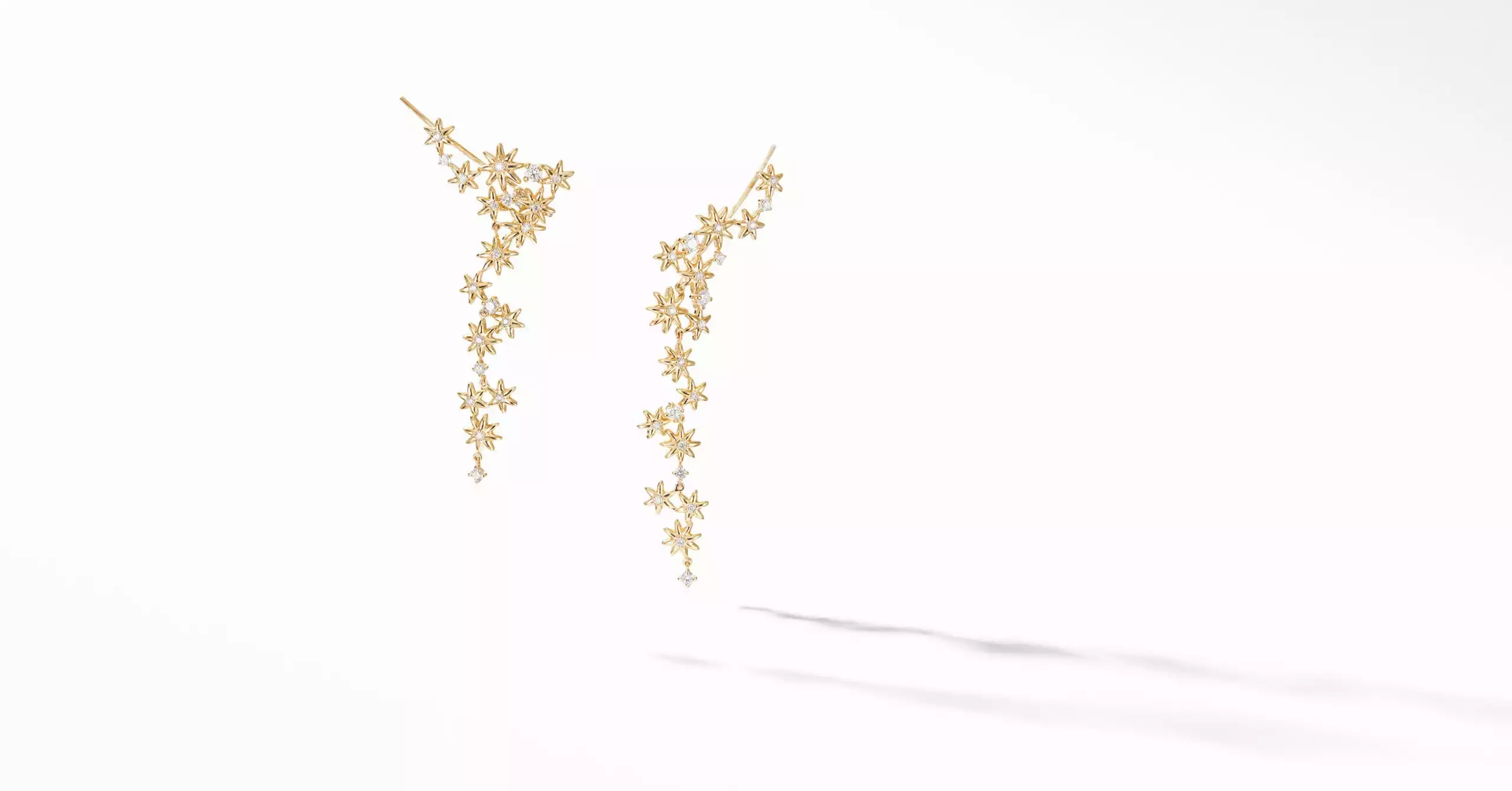 Starburst Cluster Drop Earrings | David Yurman
Starburst was born from David and Sybil Yurman's experience watching fireworks illuminate the Paris night sky. The magical bursts of light greatly moved Sybil, inspiring David to create designs of brilliant star motifs.
Check Price
We earn a commission if you make a purchase, at no additional cost to you.

If you love the idea of a statement earring but aren't into colored gemstones, Gucci's small collection of statement earrings may provide some ideas. Classic white and yellow gold tones are given a modern update with dramatic drop styles, floral motifs, and little details that make these earrings statement-worthy–just in a more subtle way.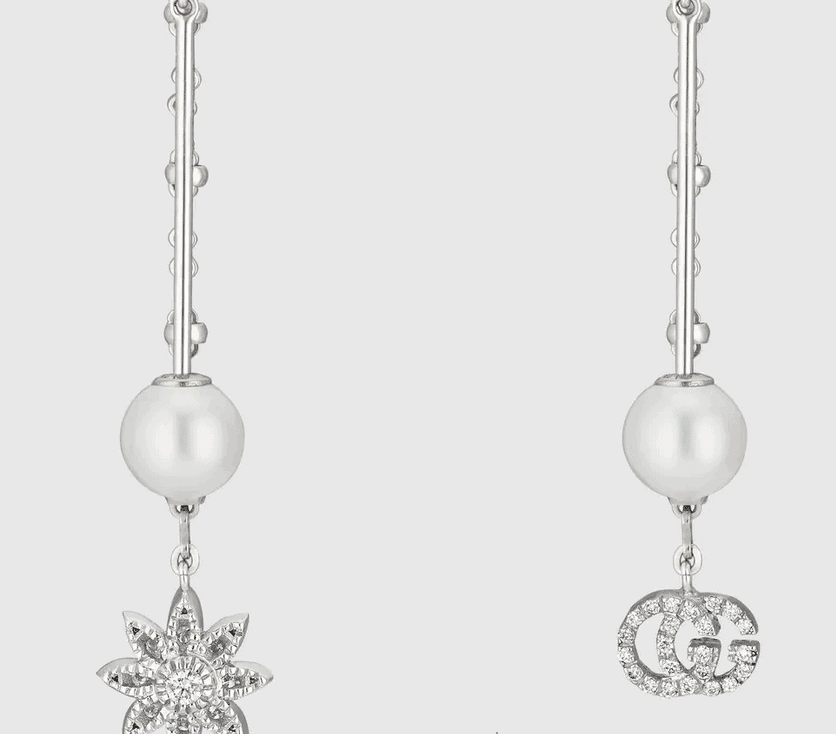 These statement earrings are inspired by the '70s– with modern, glam updates. The trendy, asymmetric design is crafted in 18K white gold for a polished icy tone, with iconic Gucci Double G and floral motifs. 64 small diamonds add sparkle along with the "wow" worthy drop. Priced at around $3,300; Buy Here.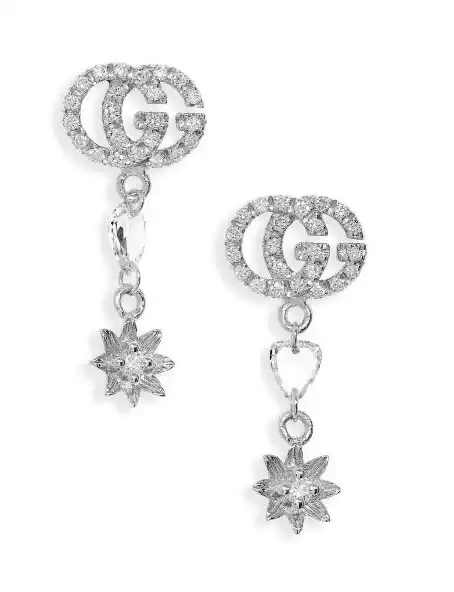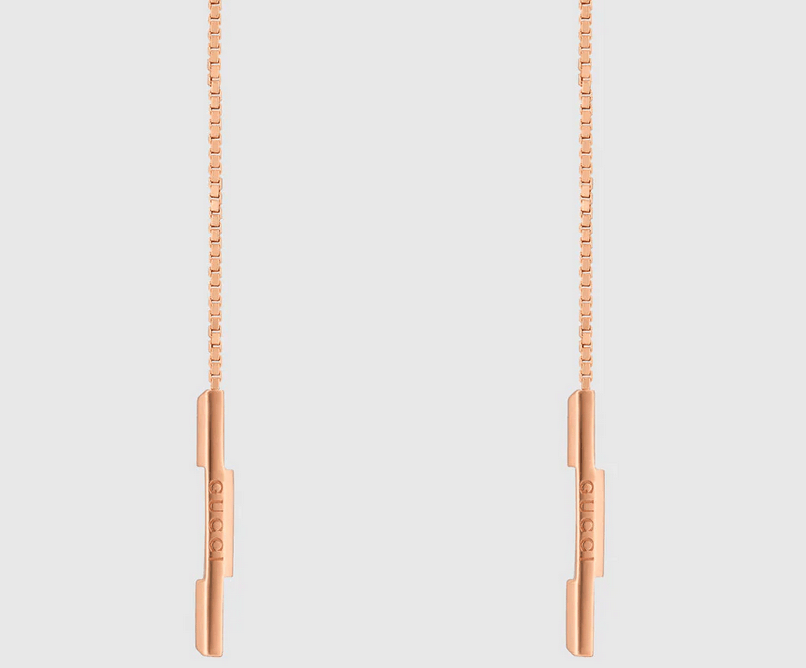 These aren't the usual fit for statement earrings– they're sleek and minimalist. But don't underestimate these iconic, long drop earrings– especially in 18K rose gold. The chain earrings add an edgier undertone, combined with textured and polished metal that adds a statement in a sneakier– but modern and classic- way. Priced at around  $1,250; Buy Here.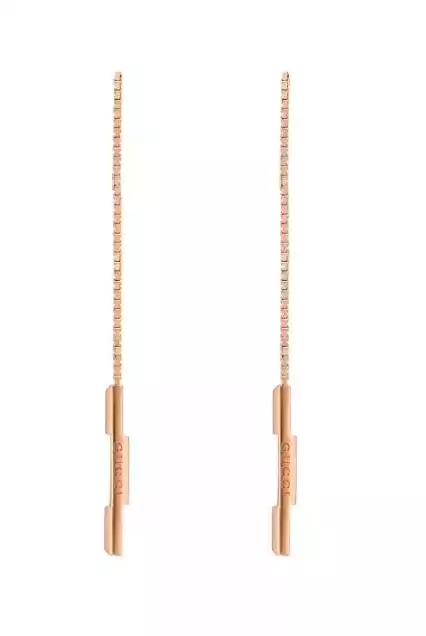 Le Marché des Merveilles 18k Earrings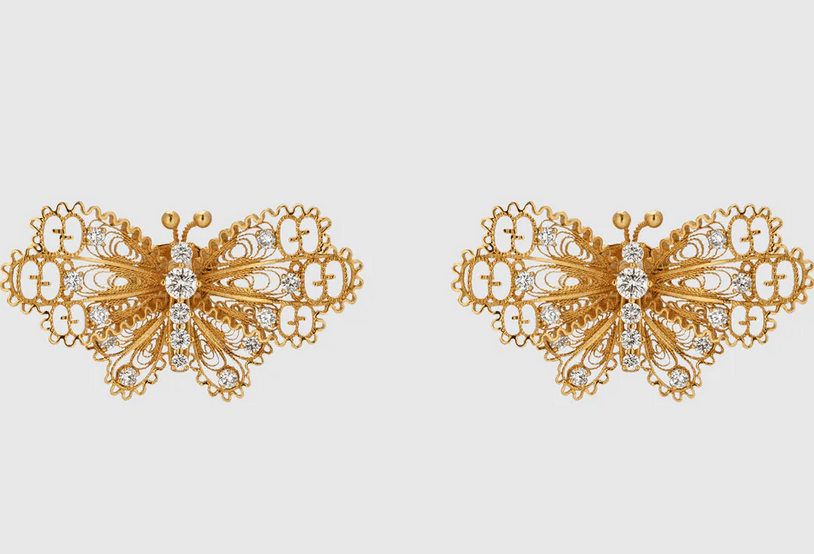 One of my favorite pairs of Gucci earrings also makes for a fantastic statement. These earrings are my only picks for stud earrings that work as statement earrings on this list– but they more than earn their spot. Gorgeous butterflies are crafted in 18K gold, with sparkling white diamonds. Luxurious, ethereal, and statement-worthy, these earrings are sure to turn heads. Priced at around $2,950; Buy Here. 
Kendra Scott Gold Vermeil Statement Earrings
Sometimes you want the elegance and allure of statement earrings, but without shelling out too much money. This collection of gold vermeil earrings may be the option for you. Kendra Scott is also a sustainable jewelry designer– and the maker of some very modern and popular designs. They have both gold plated and gold vermeil earrings– opt for vermeil, which can last many years longer and is the most durable form of gold plated jewelry you can buy.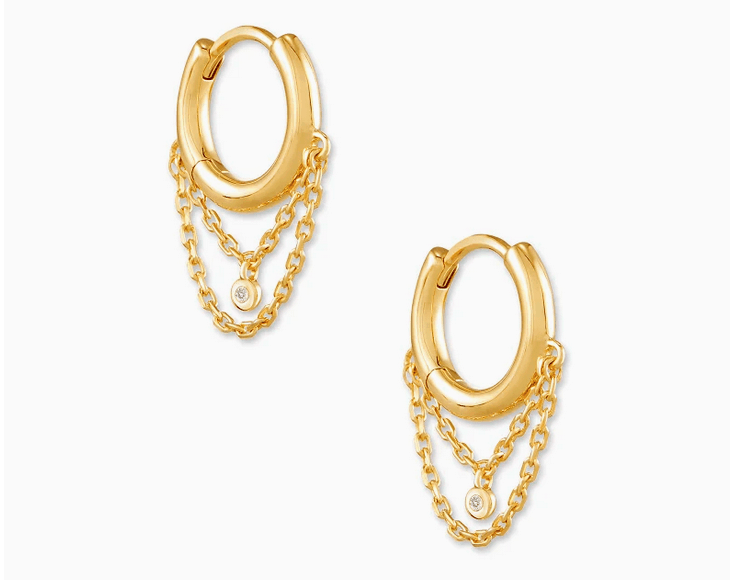 Hoop or drop earrings? Who says who can't have a little of both? These iconic statement earrings take a classic huggie hoop with spectacular shine and pair it with dangle chains. Micro sparkle from tiny white diamonds creates allure with every step you take. 
Priced at around $148; Buy Here.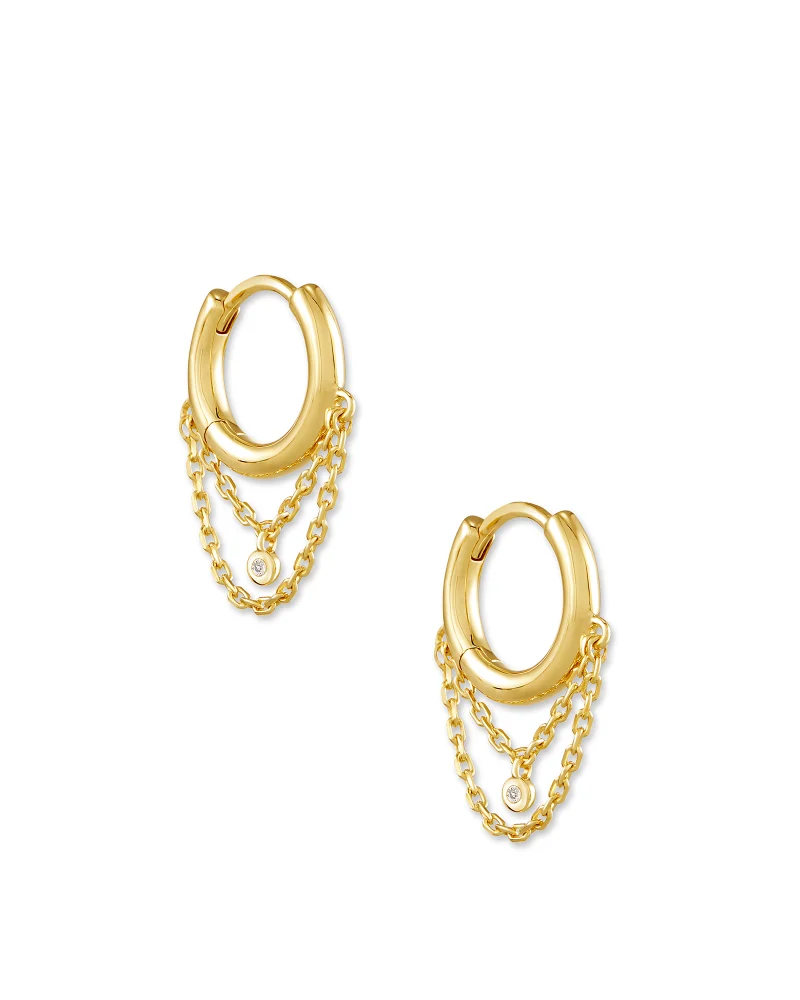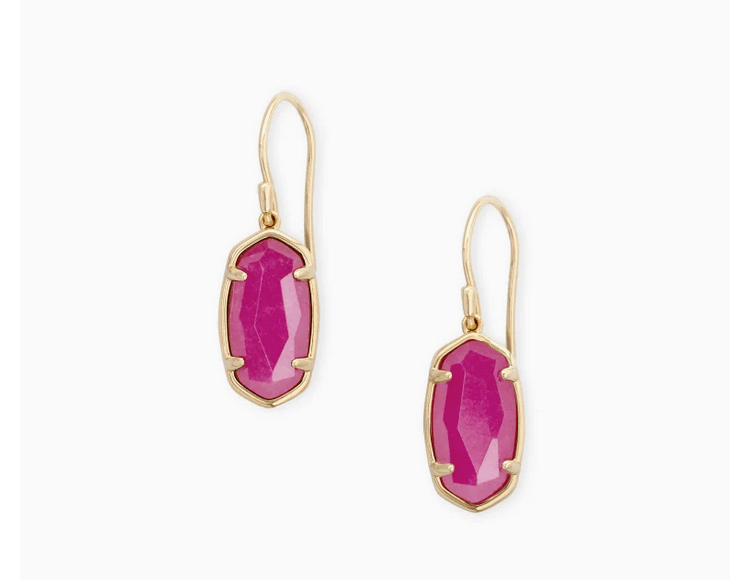 Gemstone earrings are given a modern update with these alluring gold vermeil earrings. Make a statement with bright pink quartz, blue lapis, turquoise, or labradorite. The unexpected pops of color are made statement-worthy by a unique oval frame. Priced at around $148; Buy Here. 
Lee 18k Gold Vermeil Drop Earrings | Kendra Scott
This oval icon goes dainty in the Lee 18k Gold Vermeil Drop Earrings in White Sterling Opal. Perfect for everyday wear, this pair of delicate drop earrings add a touch of elegance to any outfit.
Check Price
We earn a commission if you make a purchase, at no additional cost to you.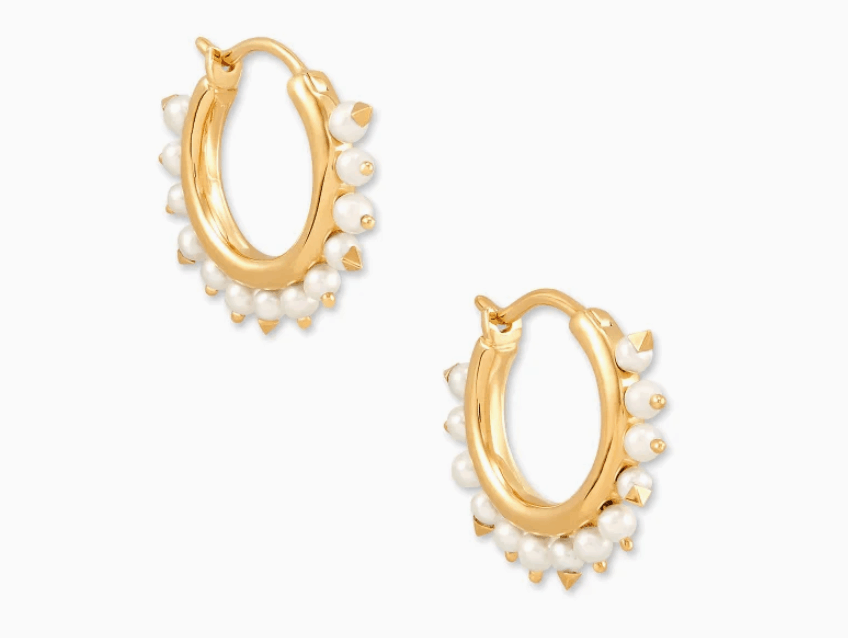 Pearl earrings are always a classic but can they be statement-worthy too? This fun twist on a pearl earring wows with a textured hoop, studded with playful white pearls and a statement-worthy, artistic design. While these aren't the finest pearl earrings you can buy, they're innovative, modern, and balance between statement and versatile. Priced at around $298; Buy Here.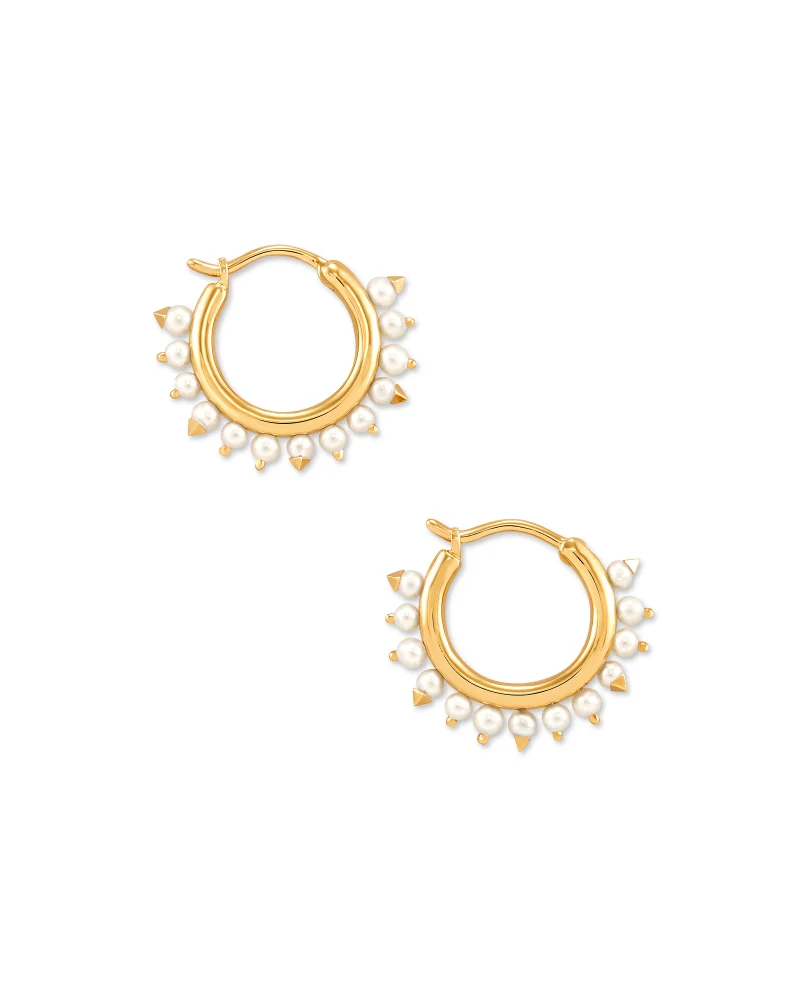 Tiffany & Co Statement Earrings
Tiffany & Co may be known for its timeless, modern designs- but they also know how to make a fantastic statement earring. These edgier, sleeker statement earrings feature triple drops, links, climber, and glamorous gemstone designs. This collection of statement earrings isn't cheap– but it's one of the most alluring collections available in 2022. 
Elsa Perriti Mesh Earrings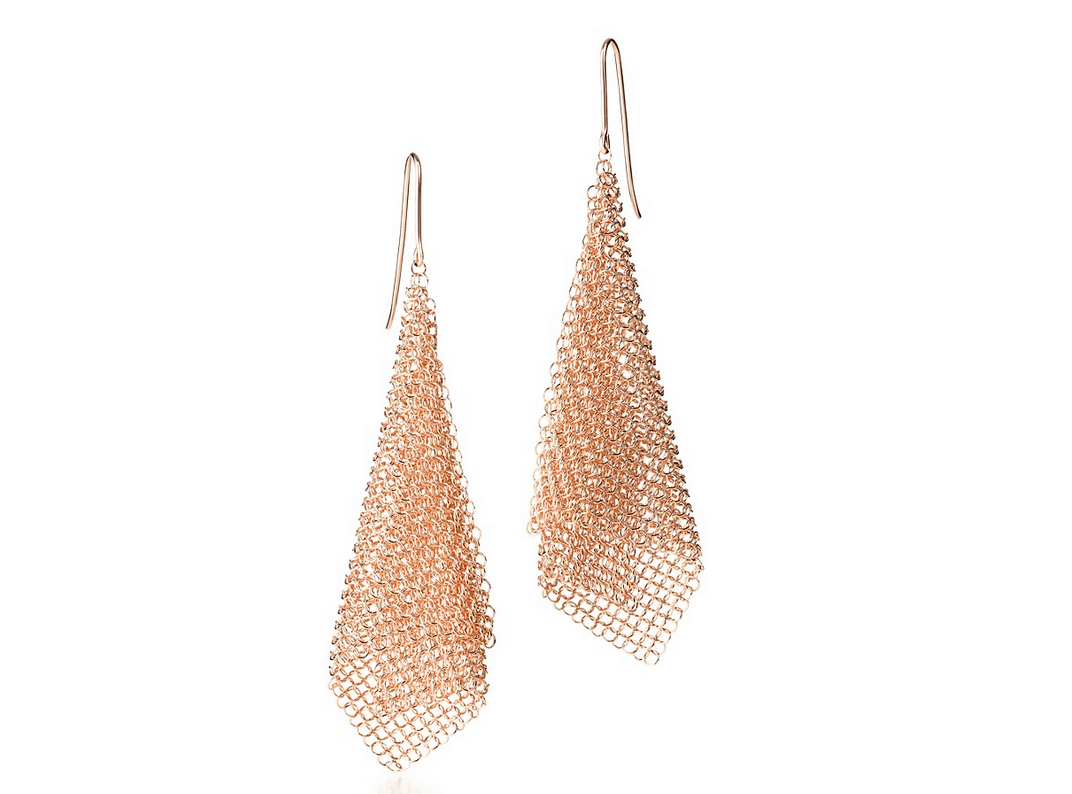 When I think of a statement earring, I think of an earring like this. These gorgeous earrings make a statement with breathtaking elegance. The draped style moves with you, with intricate detailing, available in 18K rose and yellow gold. Priced at around $2,500; Buy Here. 
Triple Drop Earrings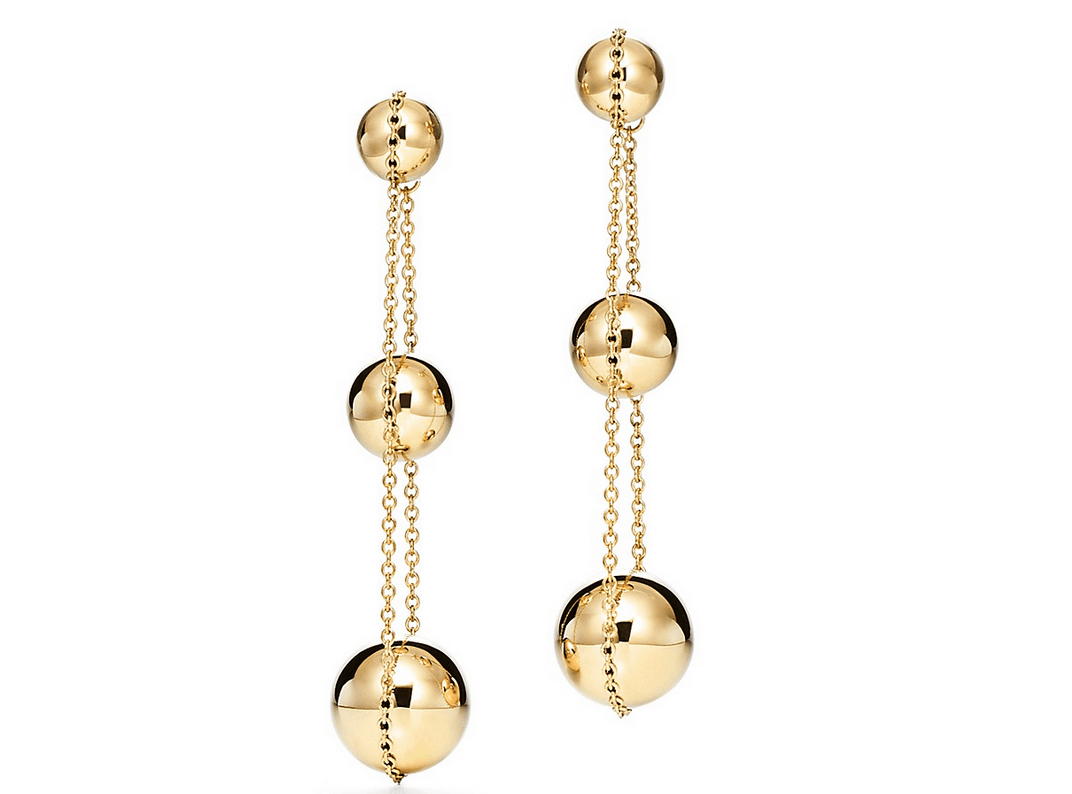 These edgy statement earrings are crafted in polished 18K gold. Subversive, these earrings are meant to capture the spirit of New York women, playing with proportions in a dramatic balance of proportions, shine, and shapes. Priced at around $3,400; Buy Here. 
Tiffany Knot Drop Earrings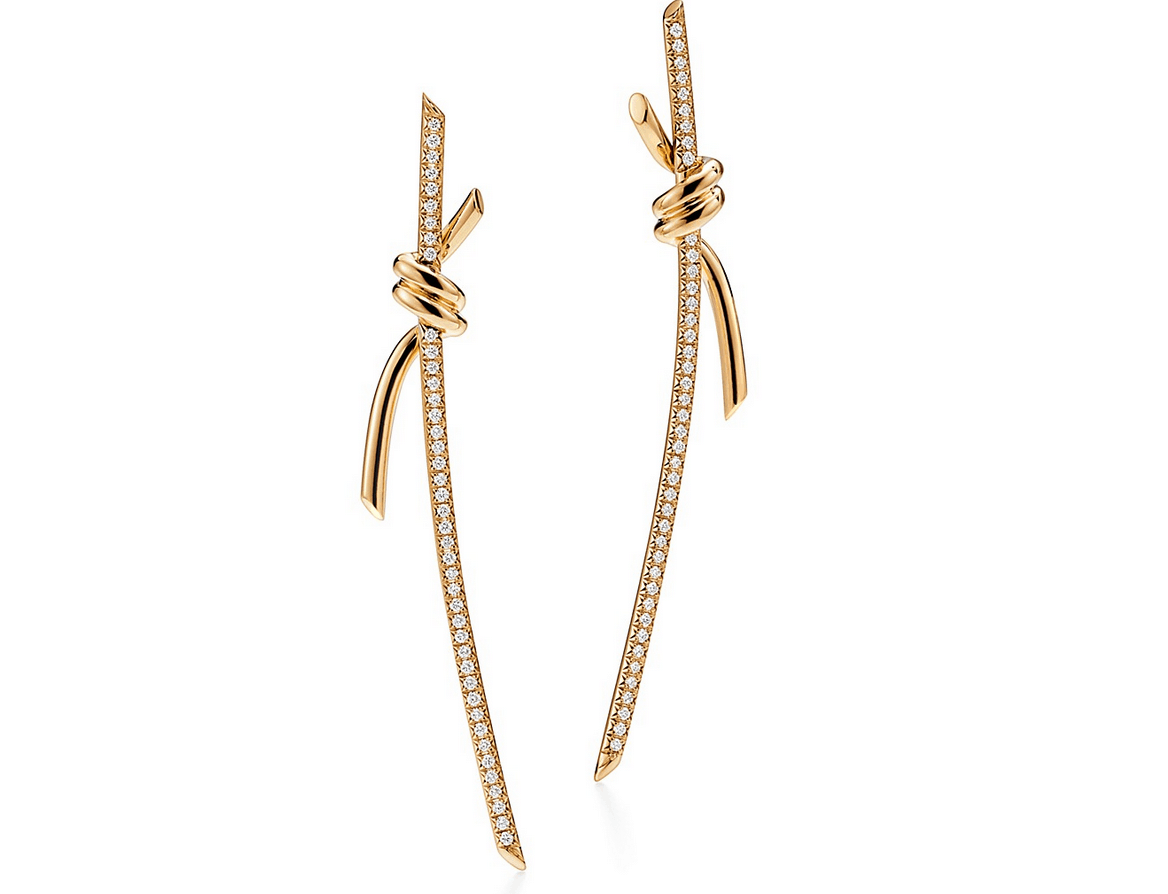 These stunning statement earrings exude modern elegance– with enough glamor to turn heads. The classic tiffany knot is crafted in 18K yellow or rose gold. One of their newest earrings, these earrings are accented with .31 carats for dazzling sparkling along with the entire drop. Priced at around$5,000; Buy Here. 
Paloma Picasso Olive Leaf Earrings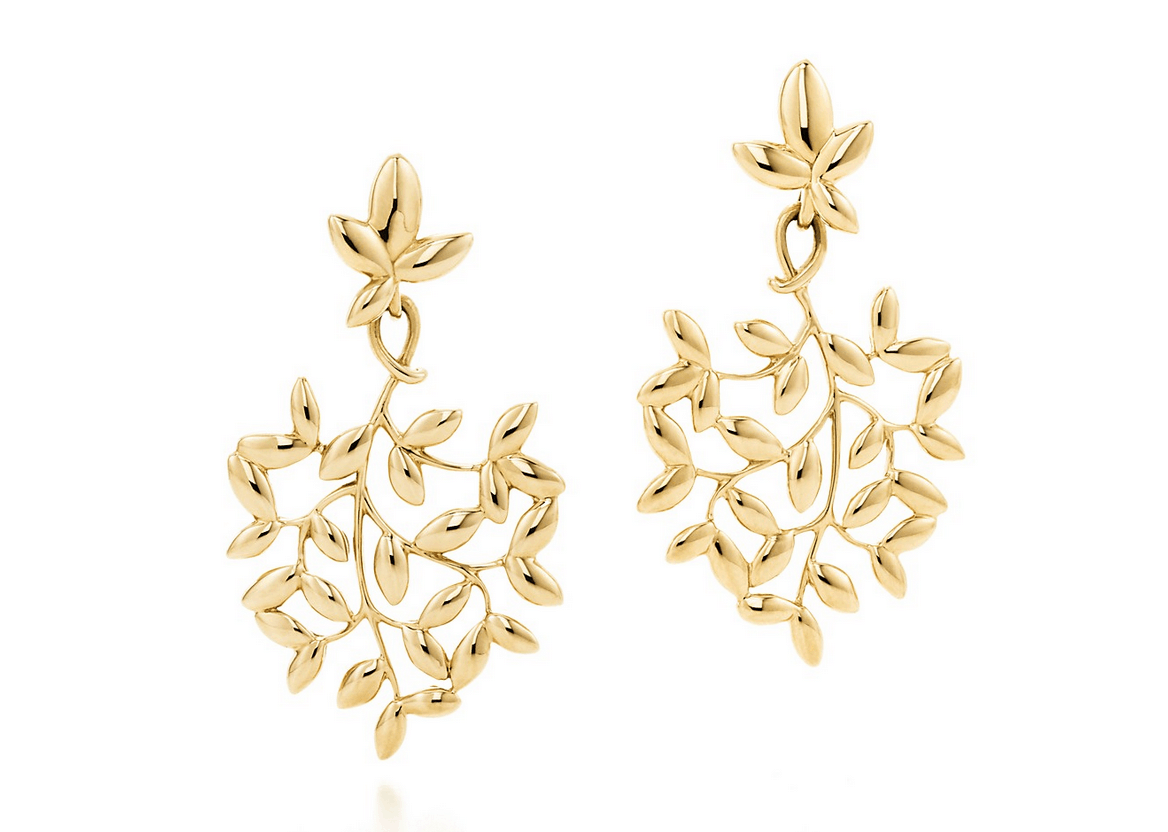 As a symbol of peace and abundance, these earrings are not only statement-worthy but also meaningful. Crafted in 18K gold, these earrings manage to be bold but also graceful. Intertwined vines provide movement and artistic touches. These expressive earrings may not have any precious gemstones– but the sheer detailing makes them stand out from the crowd. Priced at around $2,650; Buy Here. 
Frequently Asked Questions
Question: What earrings are trending?
Answer: Statement earrings, with chunkier, bold styles are being seen everywhere in 2021. Earrings with precious gemstones, sparkling diamonds, and plenty of colors are in. Also in big hoop earrings and earrings with playful geometric designs. You'll even see asymmetrical earrings to show off a bit more personality. At the same time, classics are still popular, such as diamond stud earrings. 
Question: Are mismatched earrings in Style 2021?
Answer: Another clever trend? Mismatched earrings. Often, the mismatched earrings are sold as a pair but offer a unique motif or design on each side. To keep the look cohesive, much stick with the same metal type. Others stick with the same design but mix and match metals. 
Question: What earrings are most attractive?
Answer: The truth is that there is no one type of earring that is considered the most attractive. Many times, people feel comfortable with classics: small gold hoops, diamond studs, pearl earrings, and simple gold tones. But the most attractive earrings are really those worn with confidence. To make your earrings all that attractive, be conscious about the accessories you choose to pair them with. Statement earrings are perfect with more subdued accessories. 
Final Thoughts
Statement earrings are what you make of them. Choose a style that's flattering to you and your personal style. Of course, sometimes you want a more casual statement earring– for one occasion. If that's the case, you could save money by using some of my picks but buying in sterling silver.
Looking for fun statement earrings with a boho look for under $50? One of my favorite collections is Francesca's Statement Earrings. From beaded circle drops to tassel earrings, these are playful, whimsical– and most are priced under $20. 
They aren't going to last for years– but they can be fun in a pinch and provide a look that's both unique and expressive. Shop Francesca Statement Earrings Here.
| Product Image | | Primary Button |
| --- | --- | --- |
| | | |
| | | |
| | | |

Further Read: